Are you looking to bring a new pet to your home? Do you love cats? Also, do your kids want a fun kitty to play with? If so, consider adopting a different type of cat in a larger size. The black Maine Coon cats are wonderful to play with and raise despite their large size.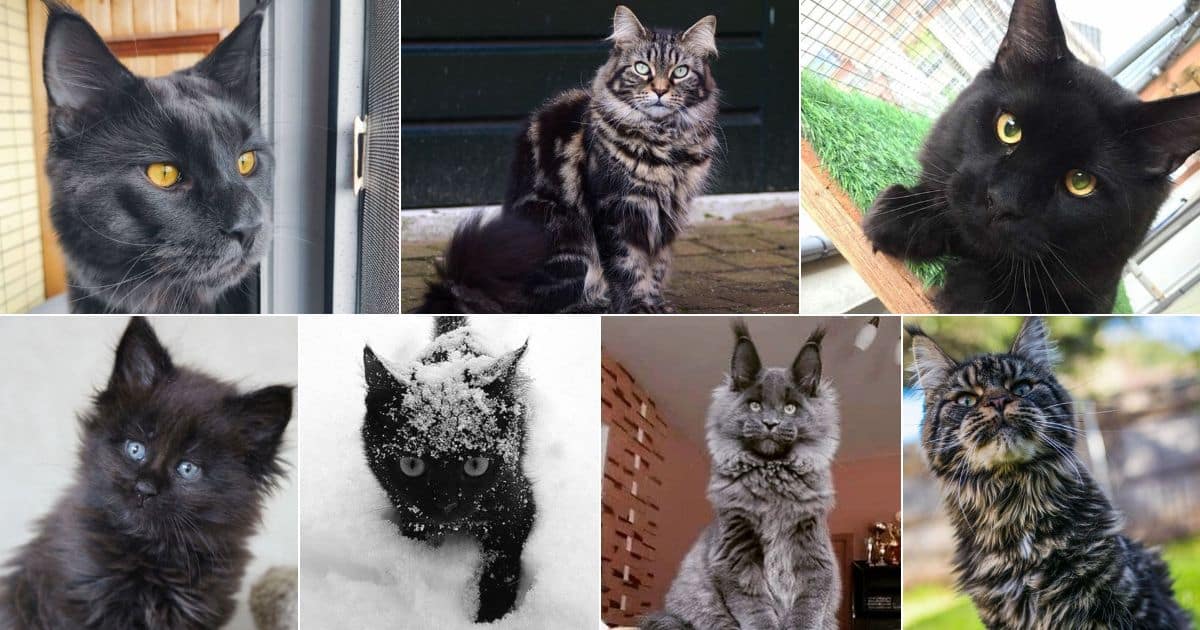 In the guide below, you can look over 33 images of beautiful and majestic black Maine Coon cats. We will also outline why these are great cats to adopt. Ready to learn more? Let's get started!
Jump to:
Why You Should Consider Getting a Black Maine Coon Cat
There are numerous reasons to get a black Maine Coon Cat, including its gorgeous coat color and its beautiful almond-shaped eyes. Do you love Halloween and witches? Well, the black cat is often associated with these spooky topics.
The 33 Most Beautiful Black Maine Coon Cats
Below, you can see photos of the top 33 most gorgeous and majestic black Maine Coon cats.
1. The Yellow-Eyed, Dark Grey Cloud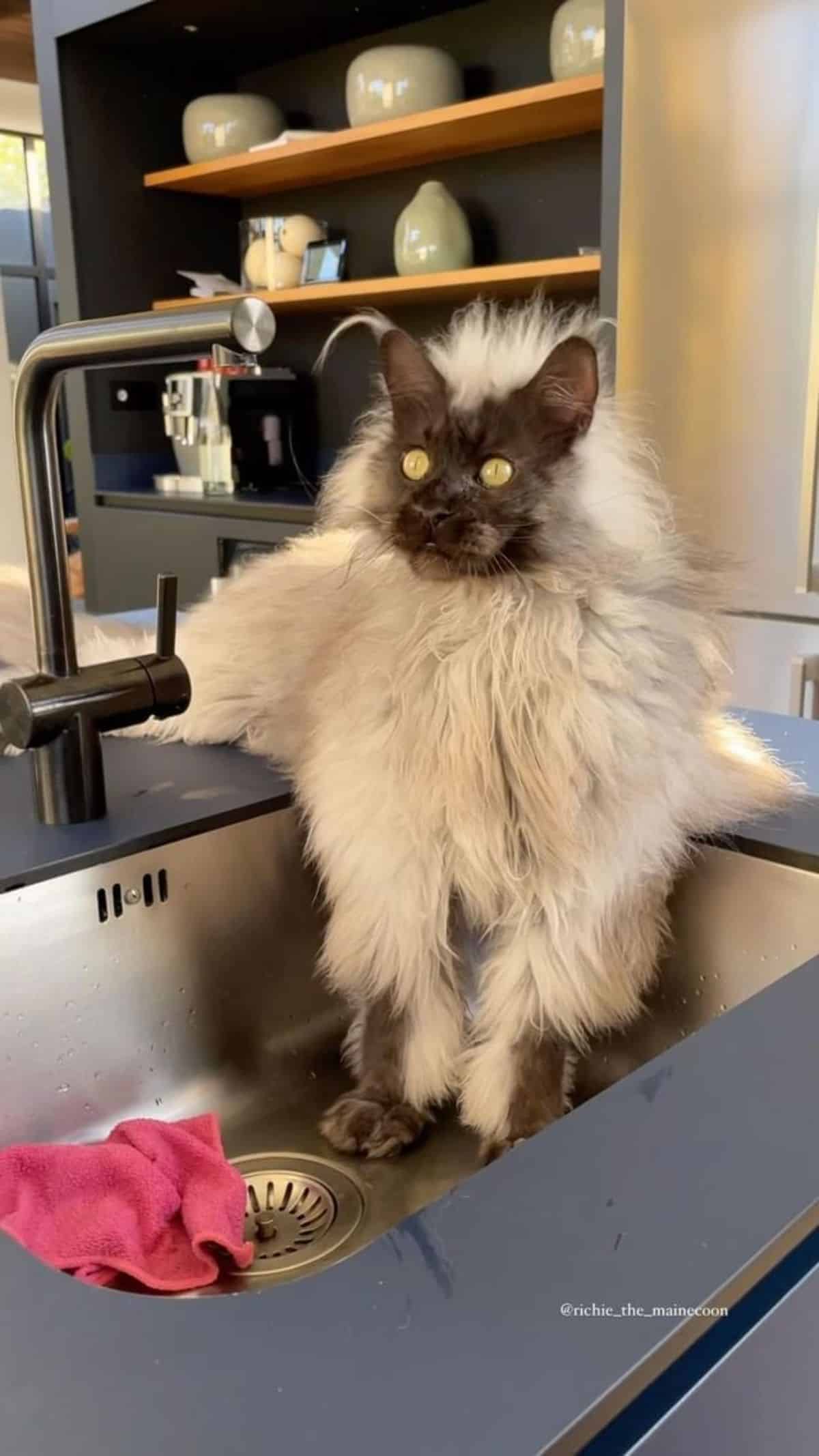 The kitty here has almond-shaped and yellow eyes with a coat the color of dark grey clouds. The coat changes into a whiter color as it goes down the cat's neck. The silly kitty is playing with a rope.
2. The Maine Coon Cat With the Heart of a Lion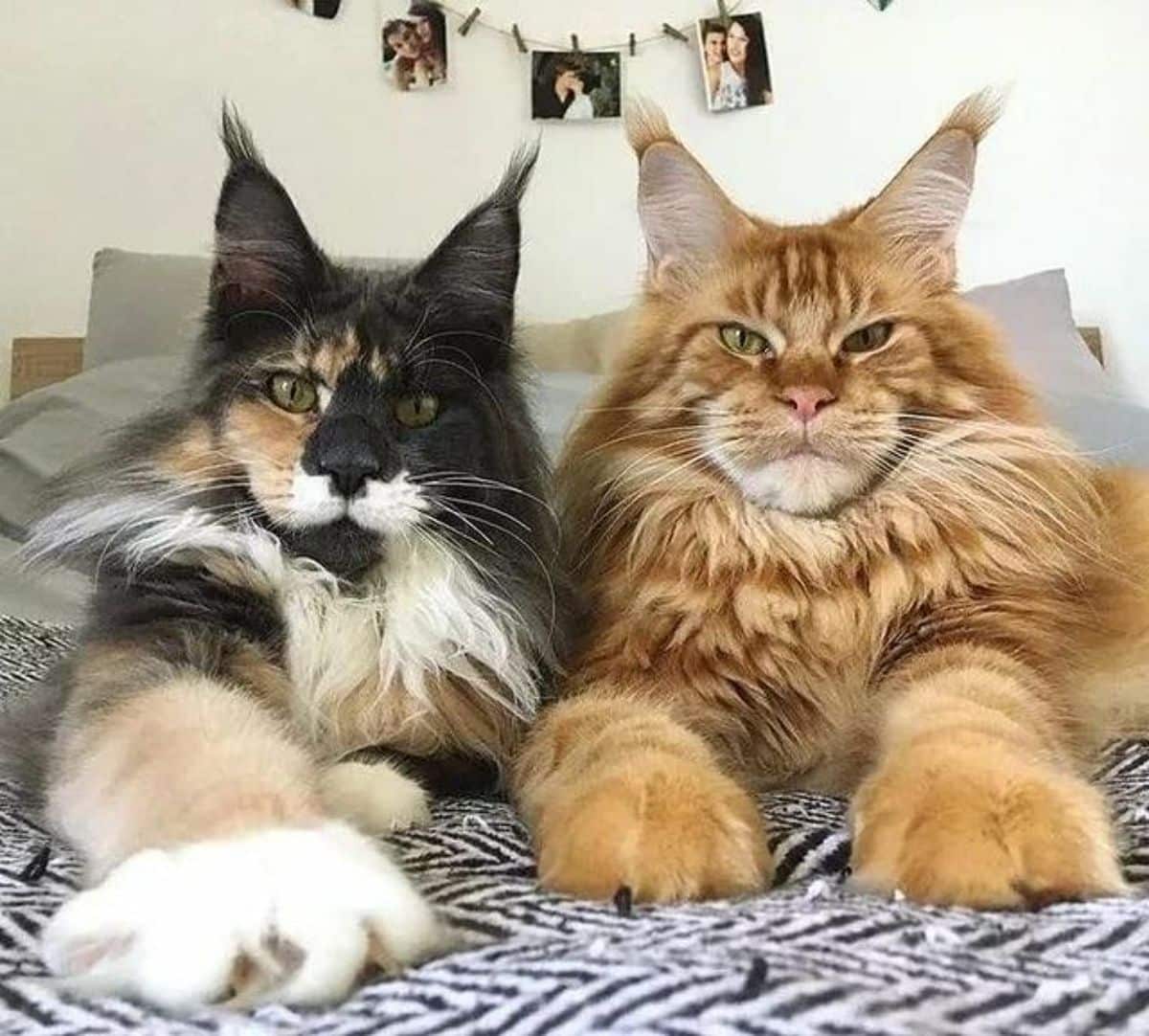 This cat has a coat with orange and black streaks and a white chest. However, it also looks much like a lion with a mane and yellow-orange coloring.
3. The Black Maine Coon Cat on Alert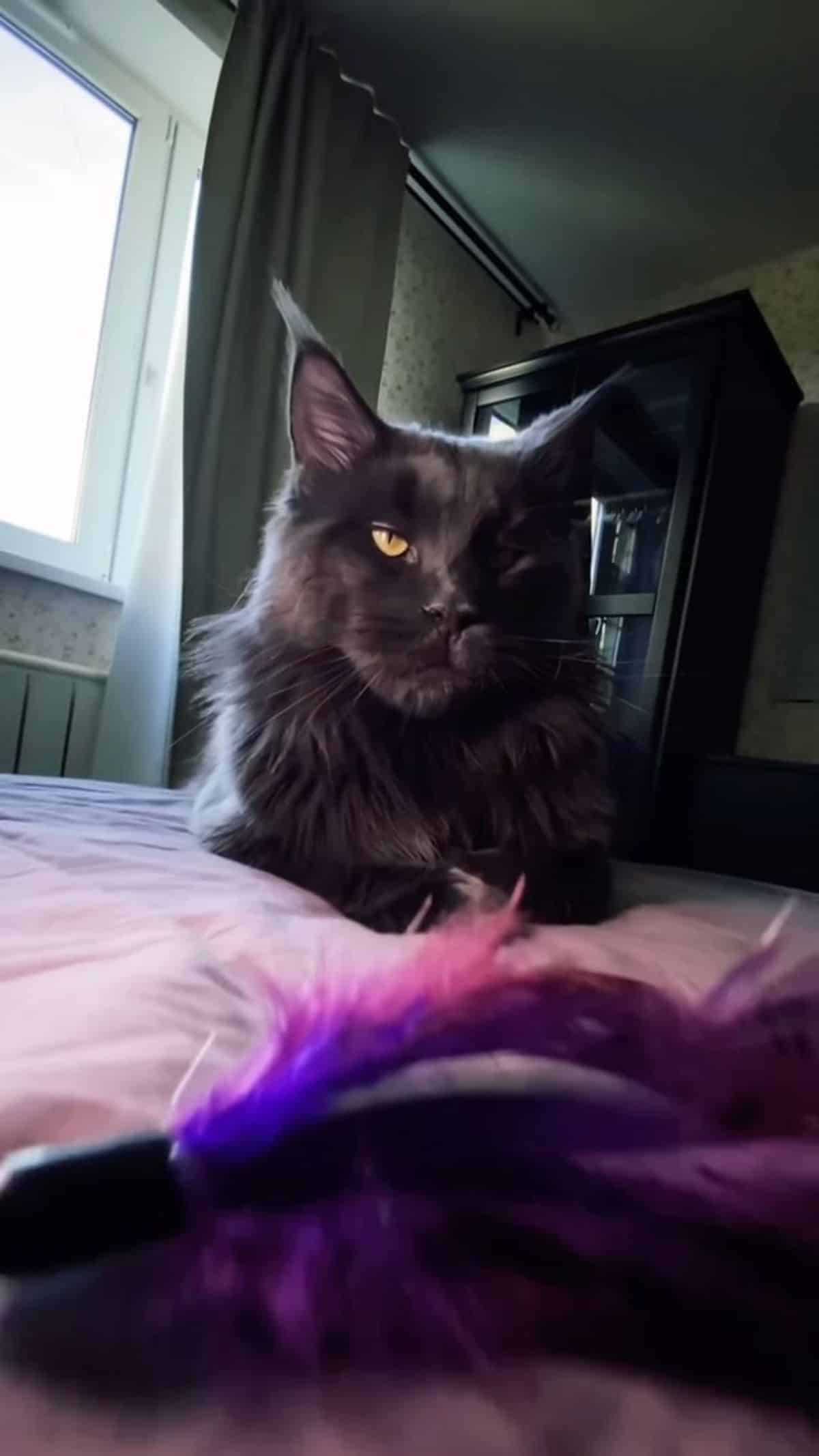 This image has a fun black cat with its ears up and on high alert. The kitty is hanging out on a cozy bed with pink sheets.
4. The Happy Child With the Huge Kitty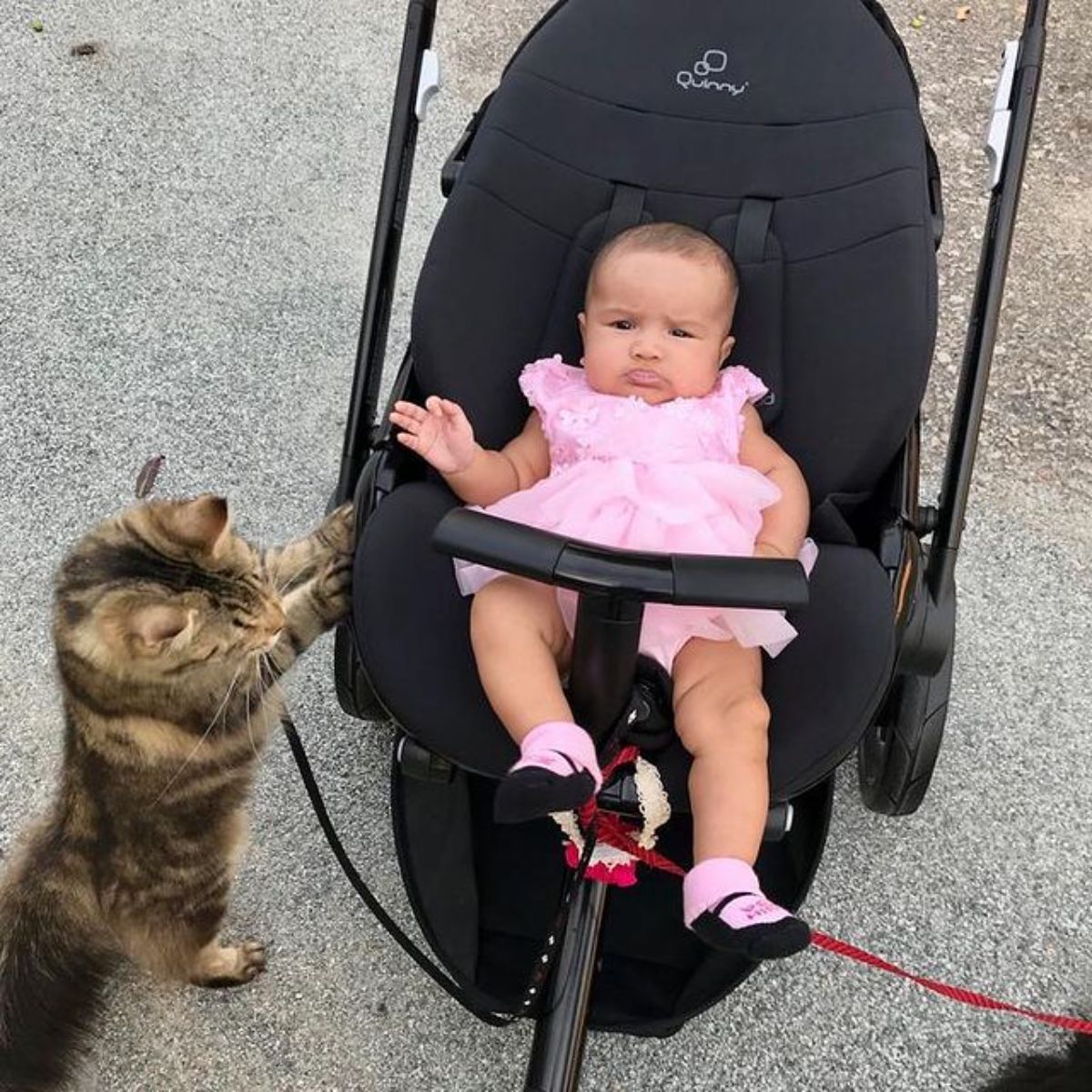 Take a peek at this photo of a small child waving at her large Maine Coon cat. She's wearing a fun dress while the cat looks interested and careful.
5. The Regal and Dark-colored Cat
This kitty has a rather regal look with a well-kept black coat. You'll love looking into this cat's yellow eyes. Anyone would be thrilled to give this beautiful cat a big hug.
6. The Sleepy and Disheveled Kitty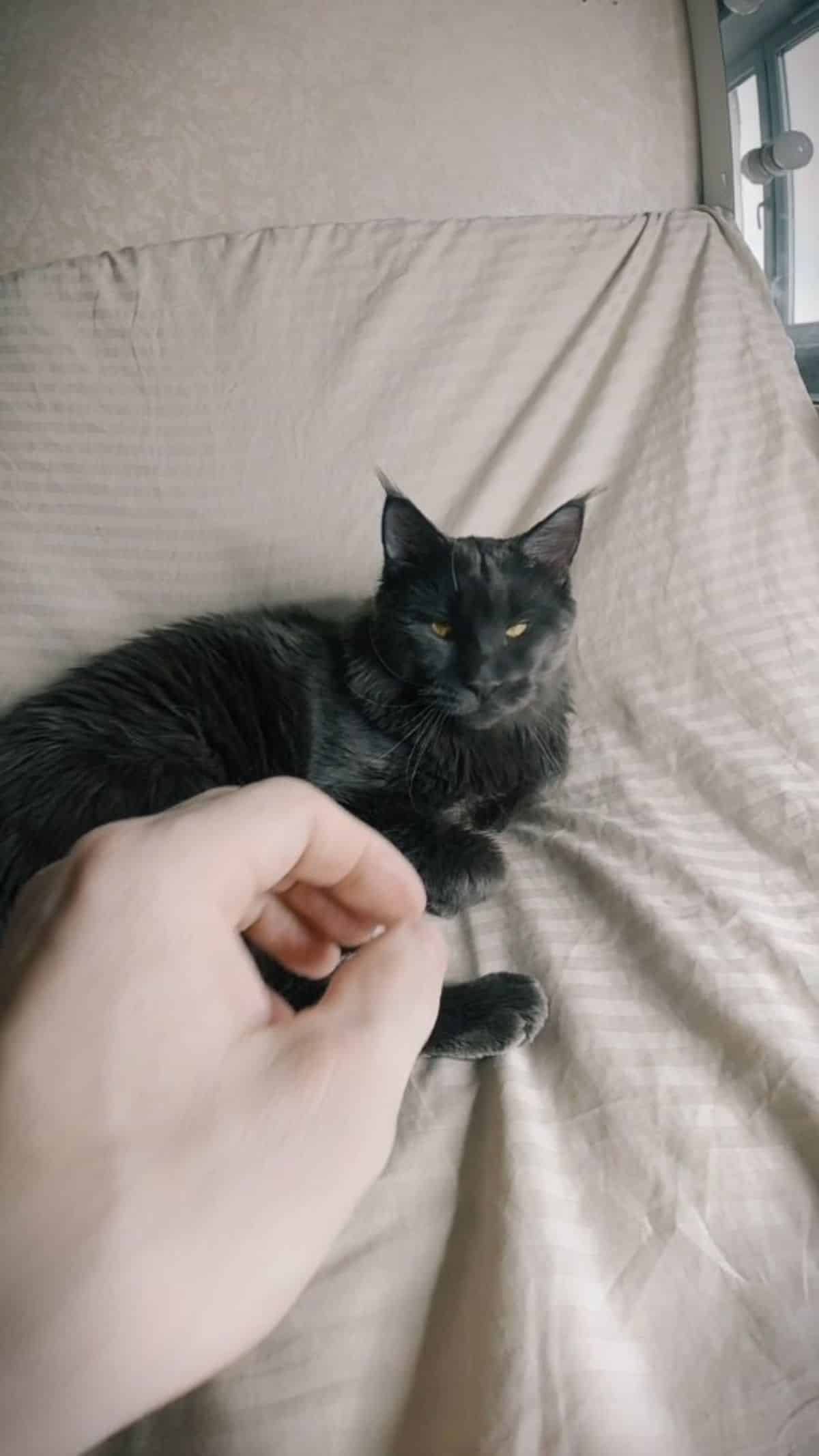 This large cat has a rather disheveled look with messy, black fur. In addition, the kitty has a sleepy look on her face with droopy eyes.
7. The Moody Black Cat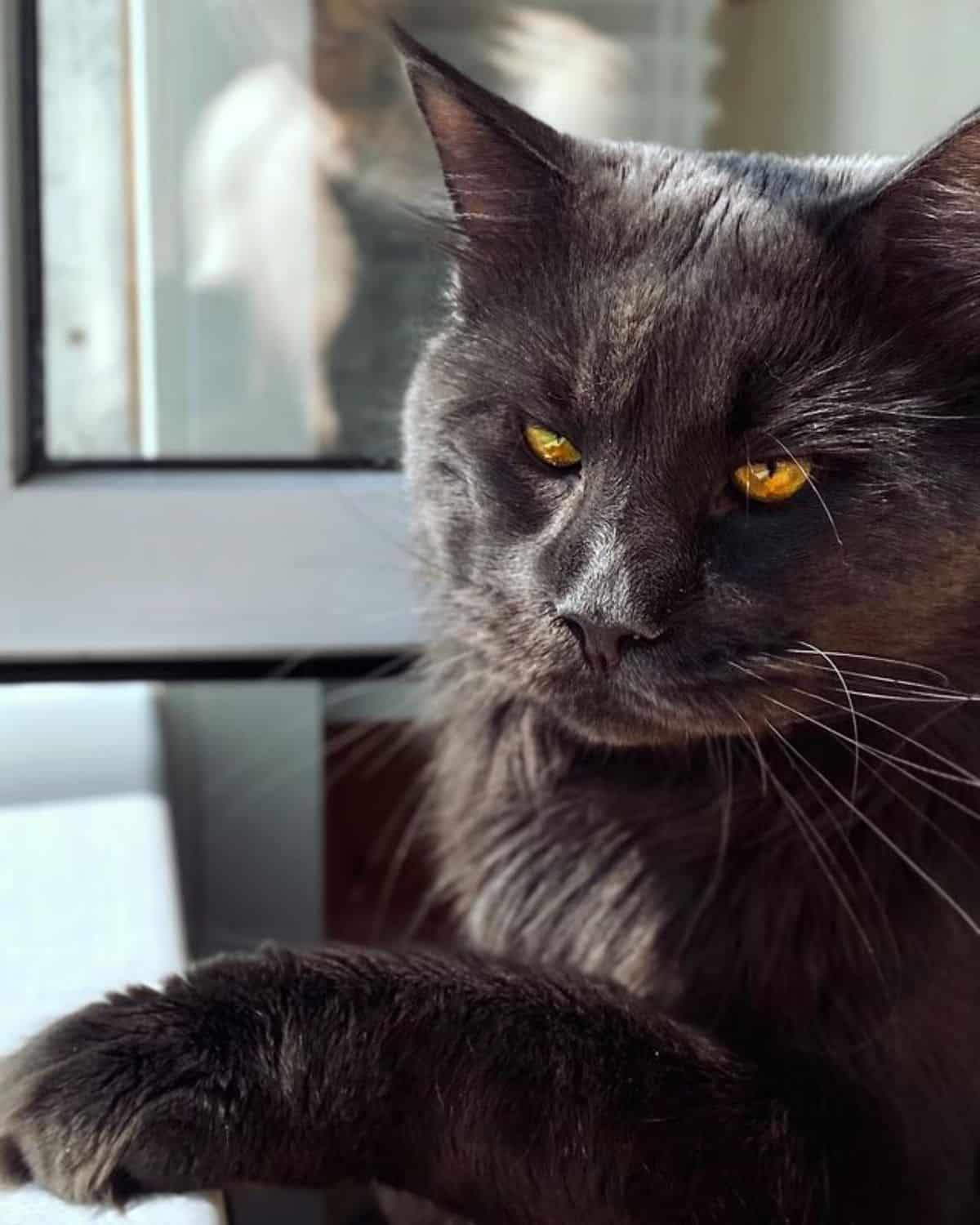 In this photo, the black cat looks rather angry, pissed off, and moody. You'll want to keep your distance from a large and angry cat. You never know what he's capable of!
8. The Large, Black Maine Coon With Wisps of White Hair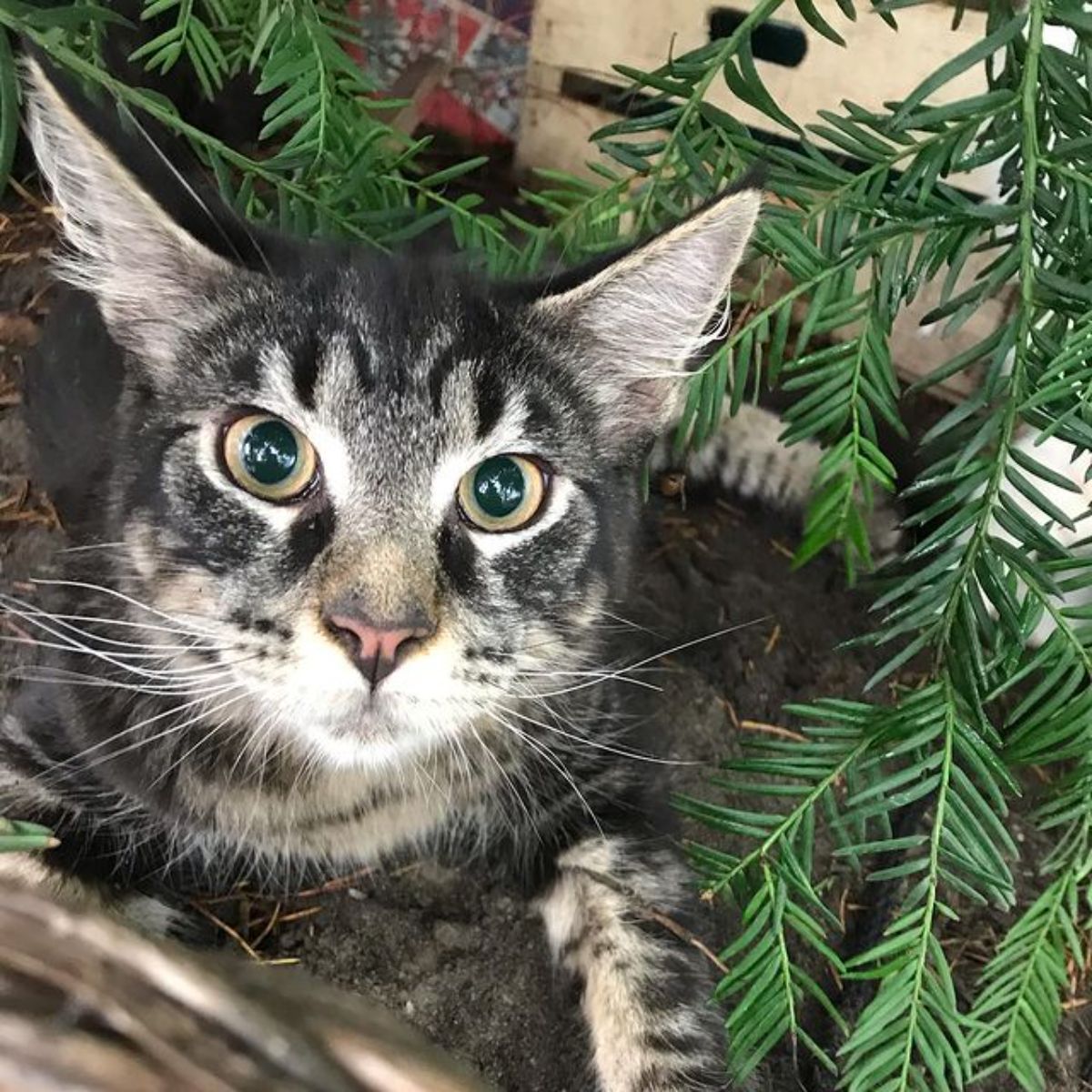 There are numerous reasons to love that photo of a Maine Coon cat, such as:
Its large, pointed ears
Its big, yellow eyes
Its mane of wispy, white fur
Its well-kept black coat
9. The Black and White Cat With a Fluffy Tail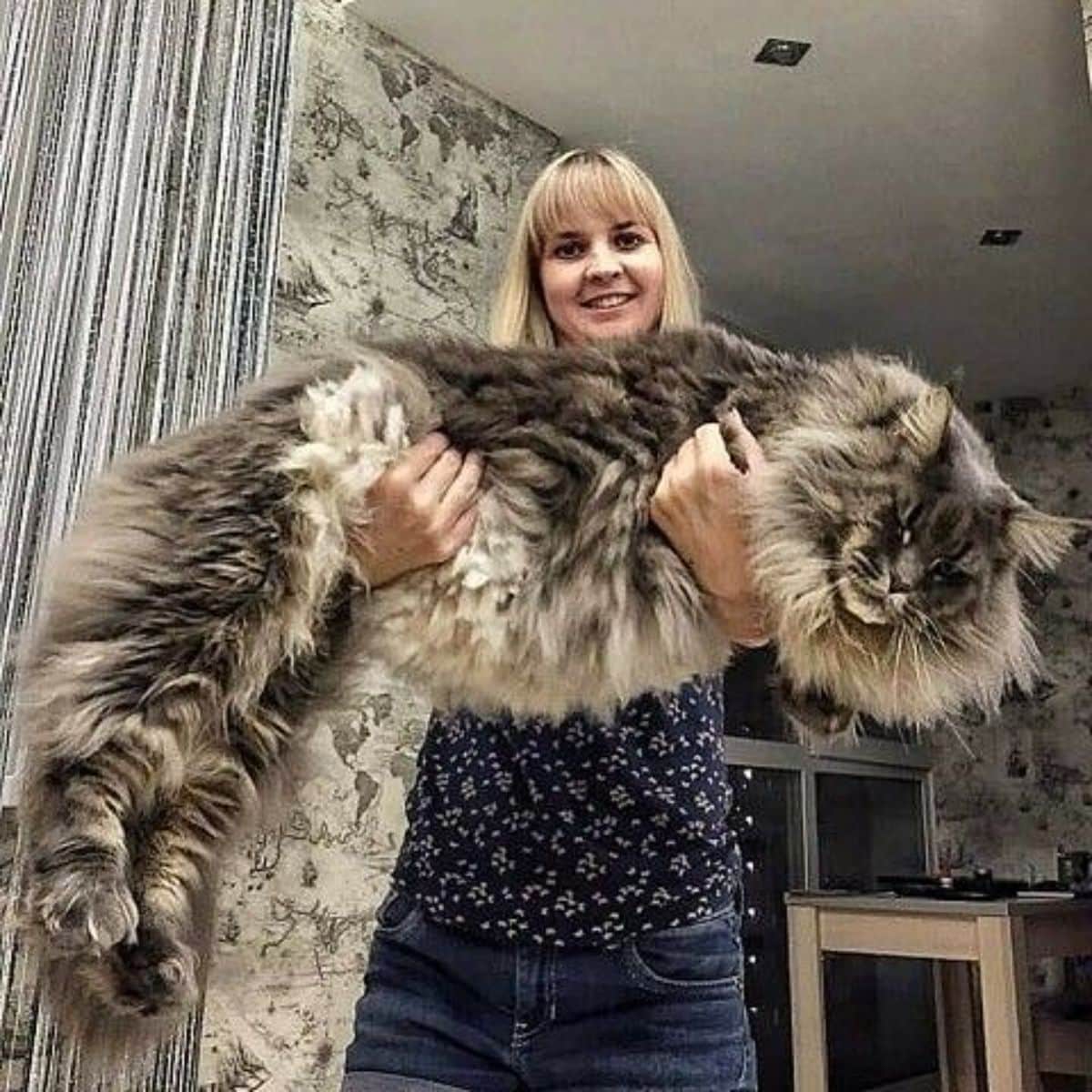 The cat here looks huge and has a fluffy, grey tail. You'll love the mix of white, black, and grey in its coat. You will also like its position of lying down and sleeping in its owner's arms.
10. The Green-Eyed Black and White Kitty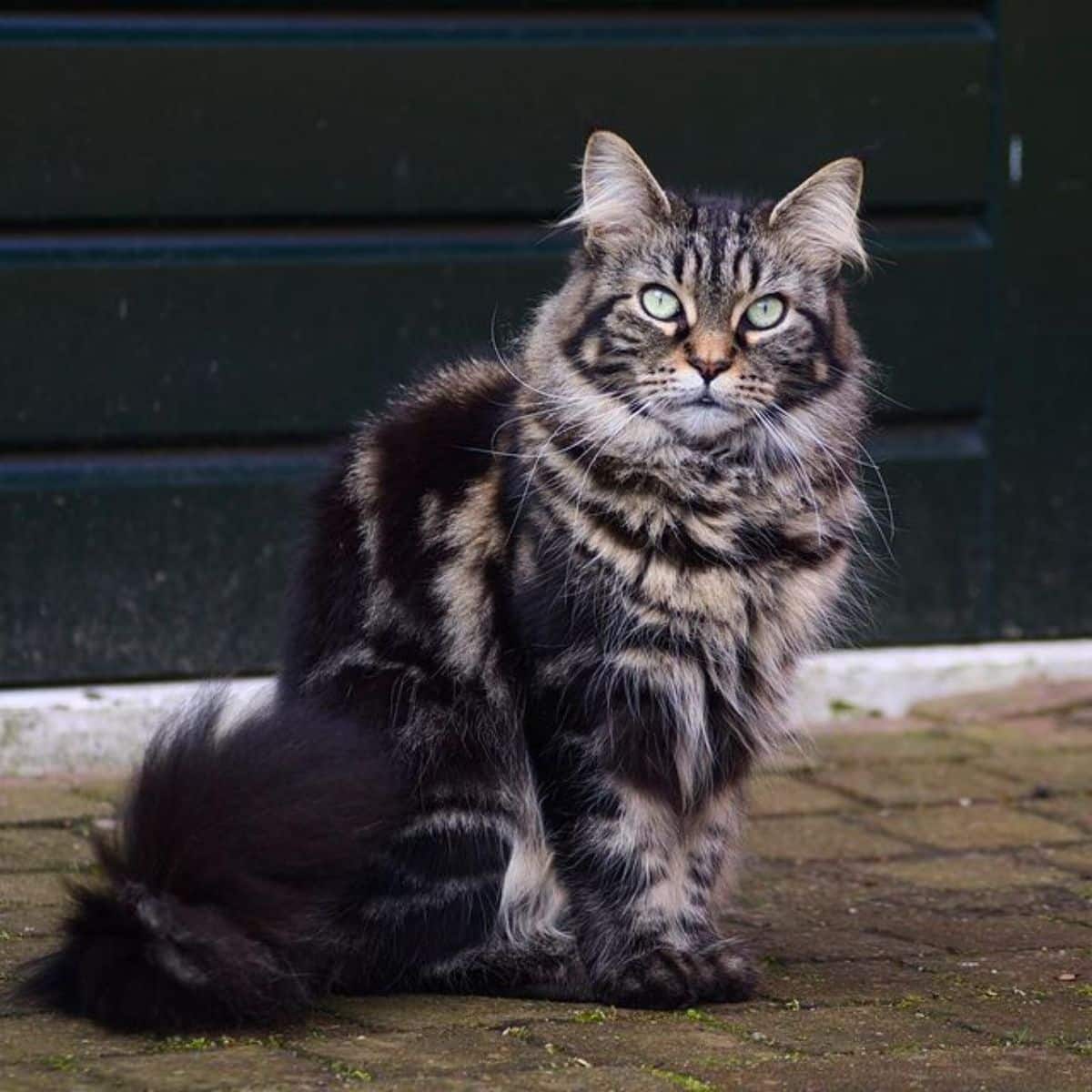 The close-up of a black and white kitty looks especially amazing when those big, green eyes stare right into your soul.
11. The Surprised Maine Coon Cat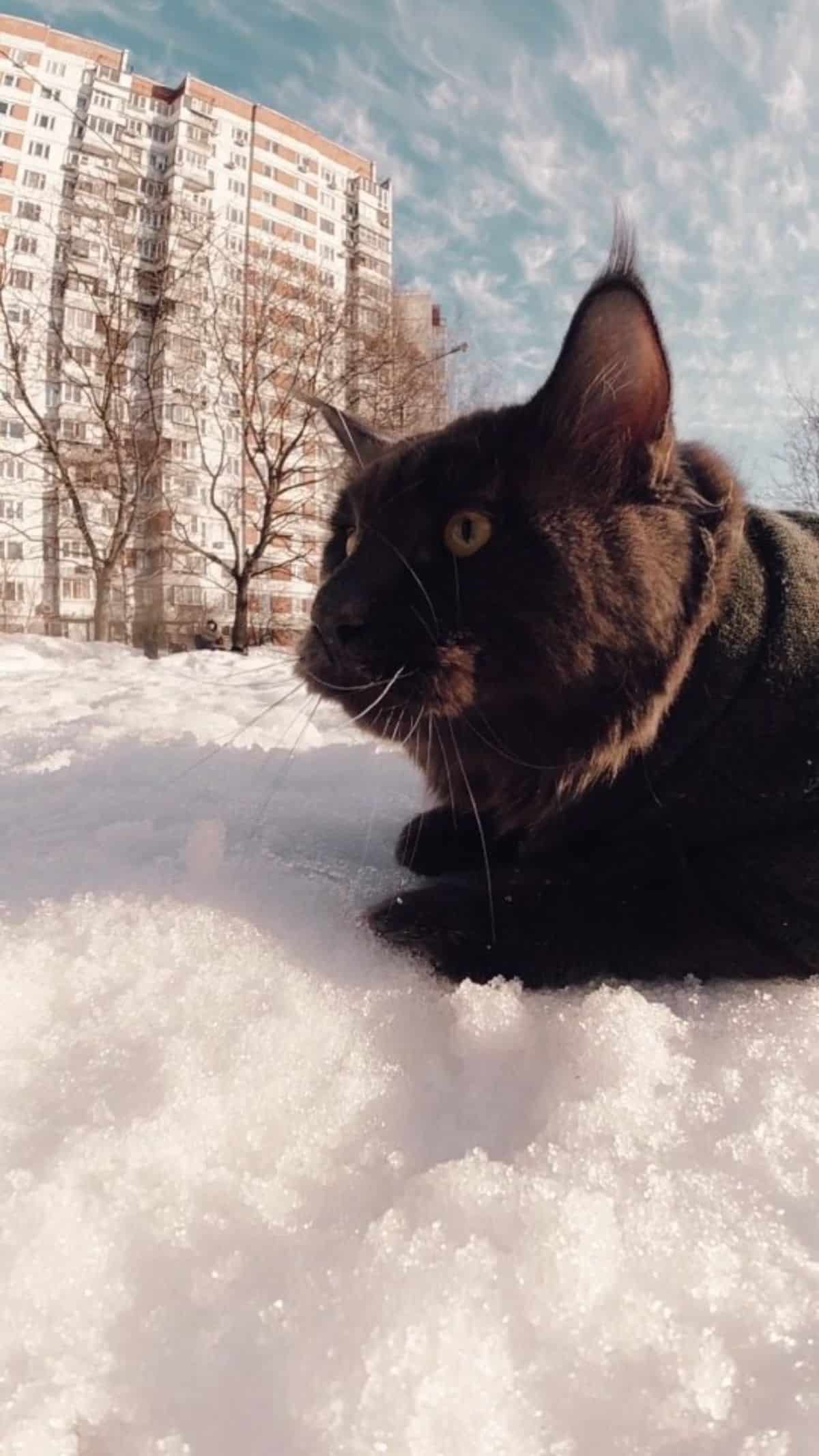 The black Maine Coon cat here has a very surprised look on its face. You'll also like the black colors on its coat and its cute white whiskers.
12. The Large-Eyed Black Cat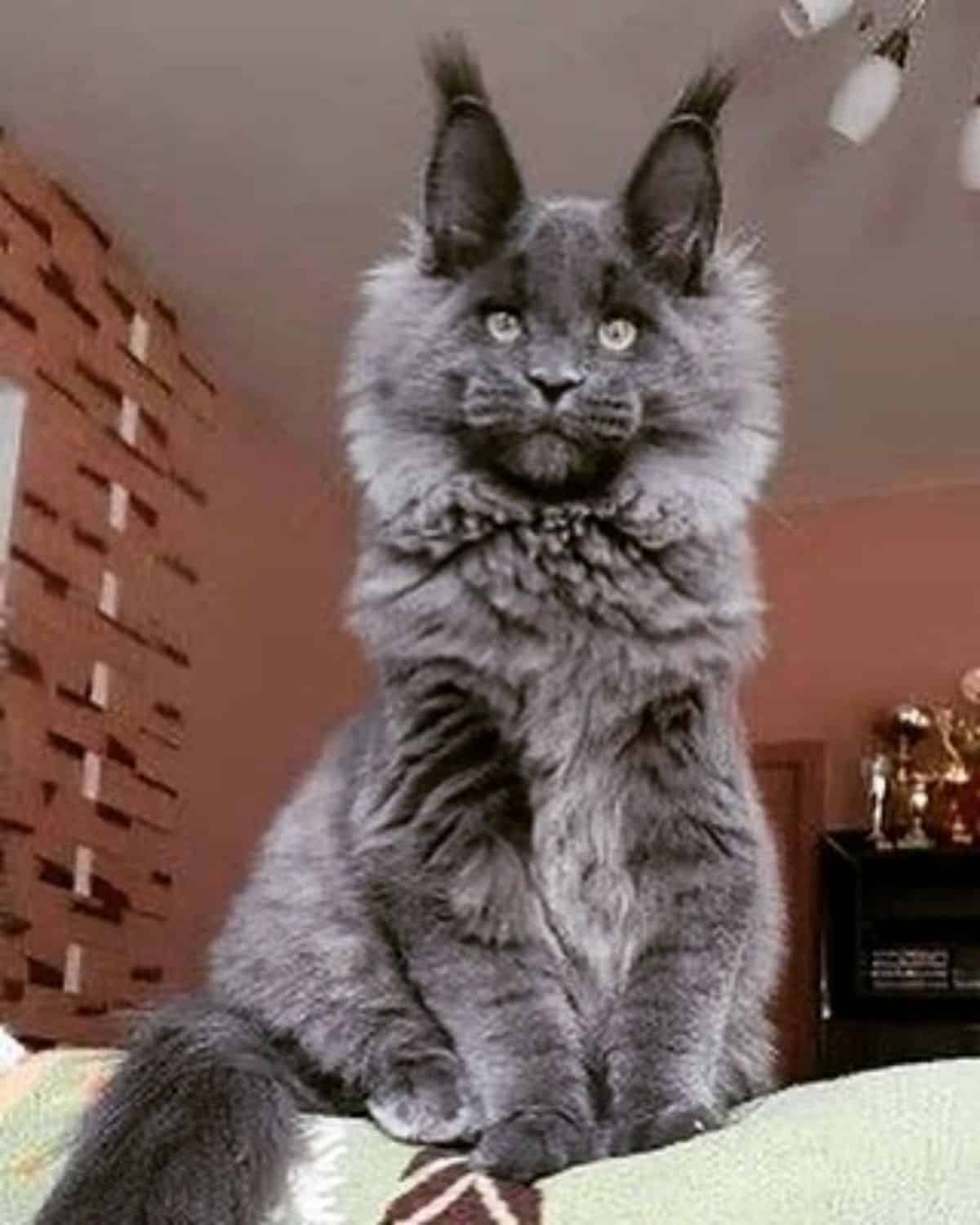 This cute kitty has pointed black ears and large, yellow eyes. It's sitting on the couch, and you're sure to love petting the Maine Coon cat.
13. The Black Maine Coon Cat Freezing in the Snow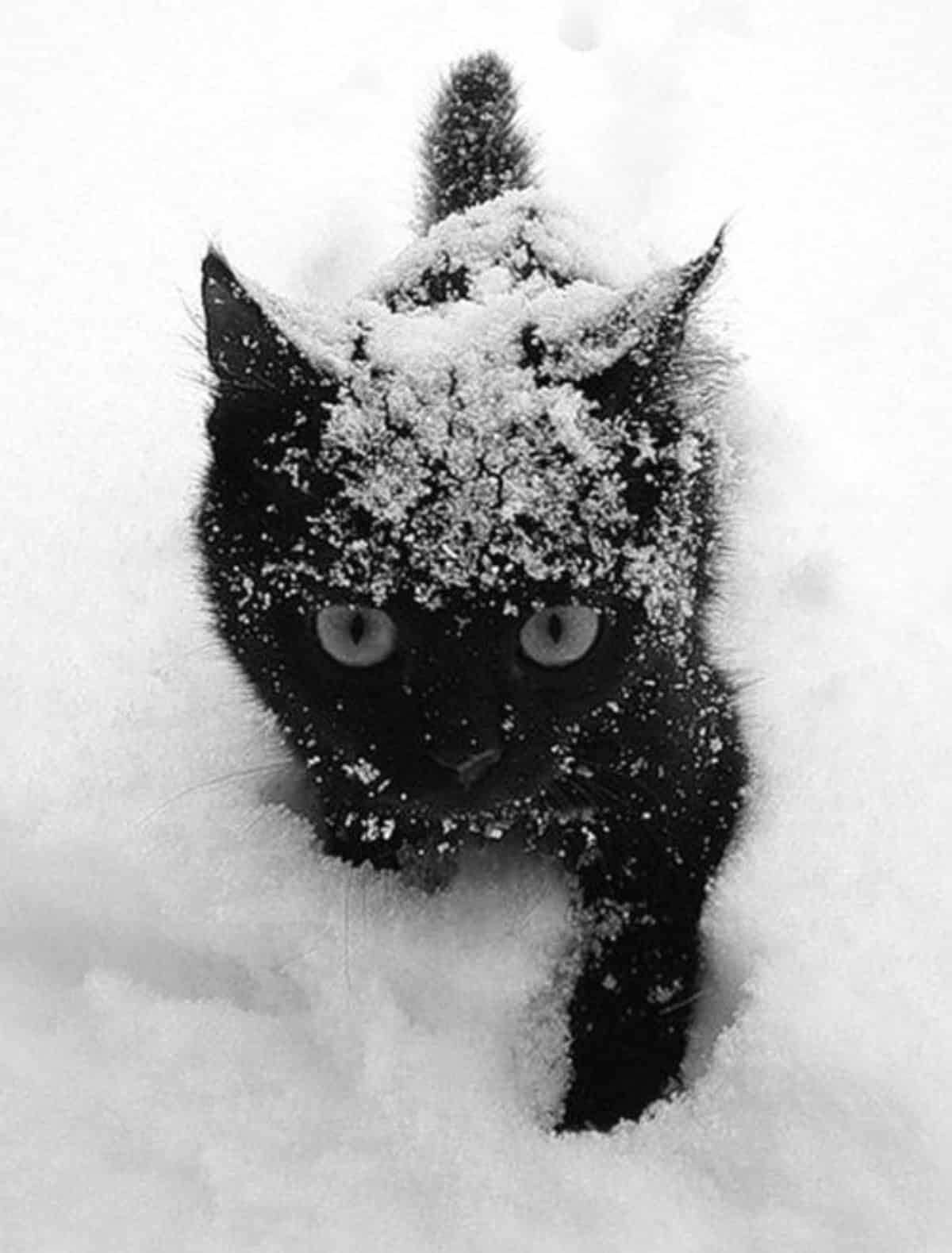 This cat stands right in the snow on a winter day. The Maine Coon Cat stands straight up with its tail to the sky. It's looking rather cold.
14. Black Kitty Bundled In Blankets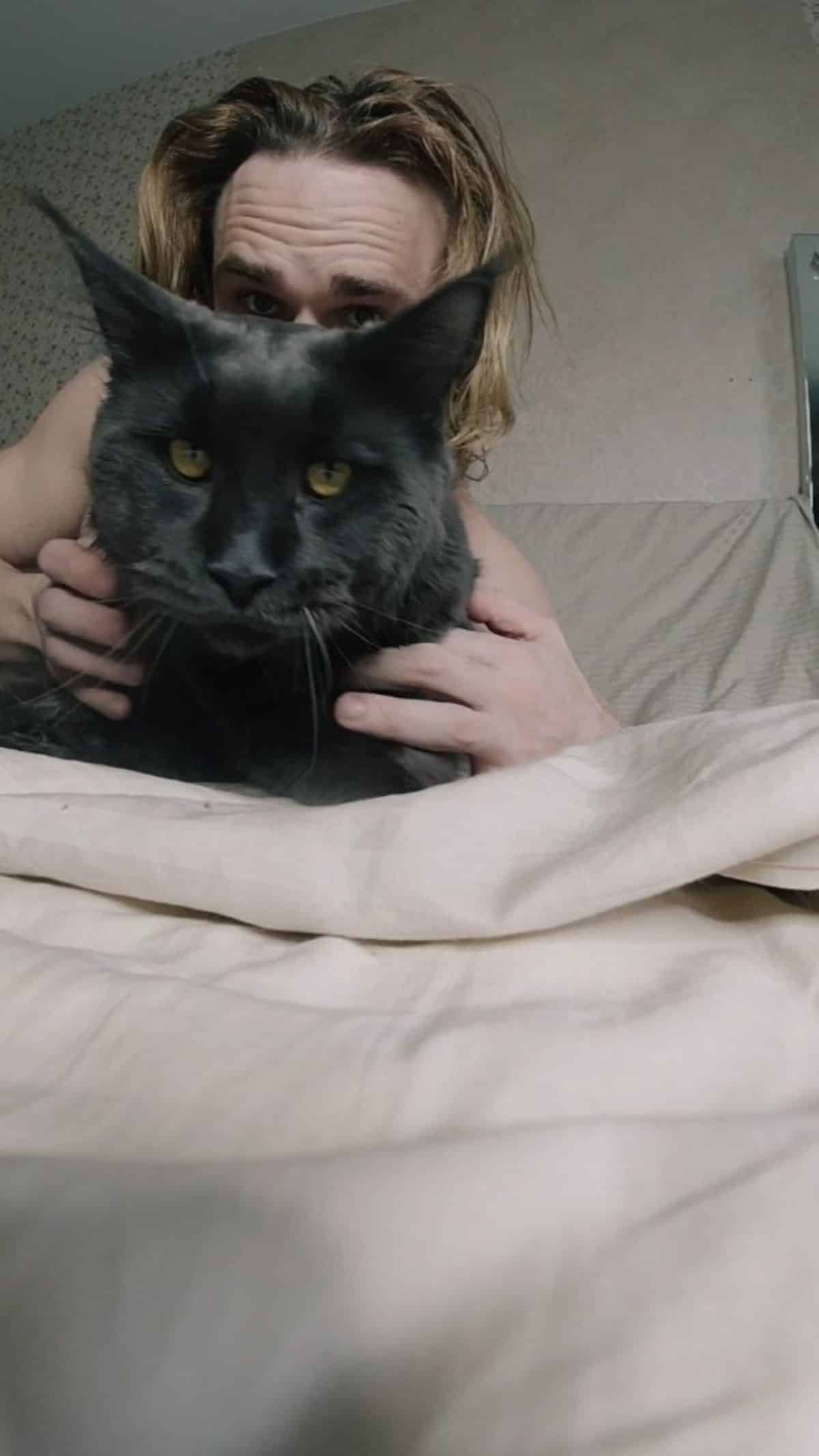 This cute black kitten is bundled in a bunch of light tan blankets. Its eyes match the blanket's color and are looking straight at you.
15. Black, Regal Cat With Shiny Fur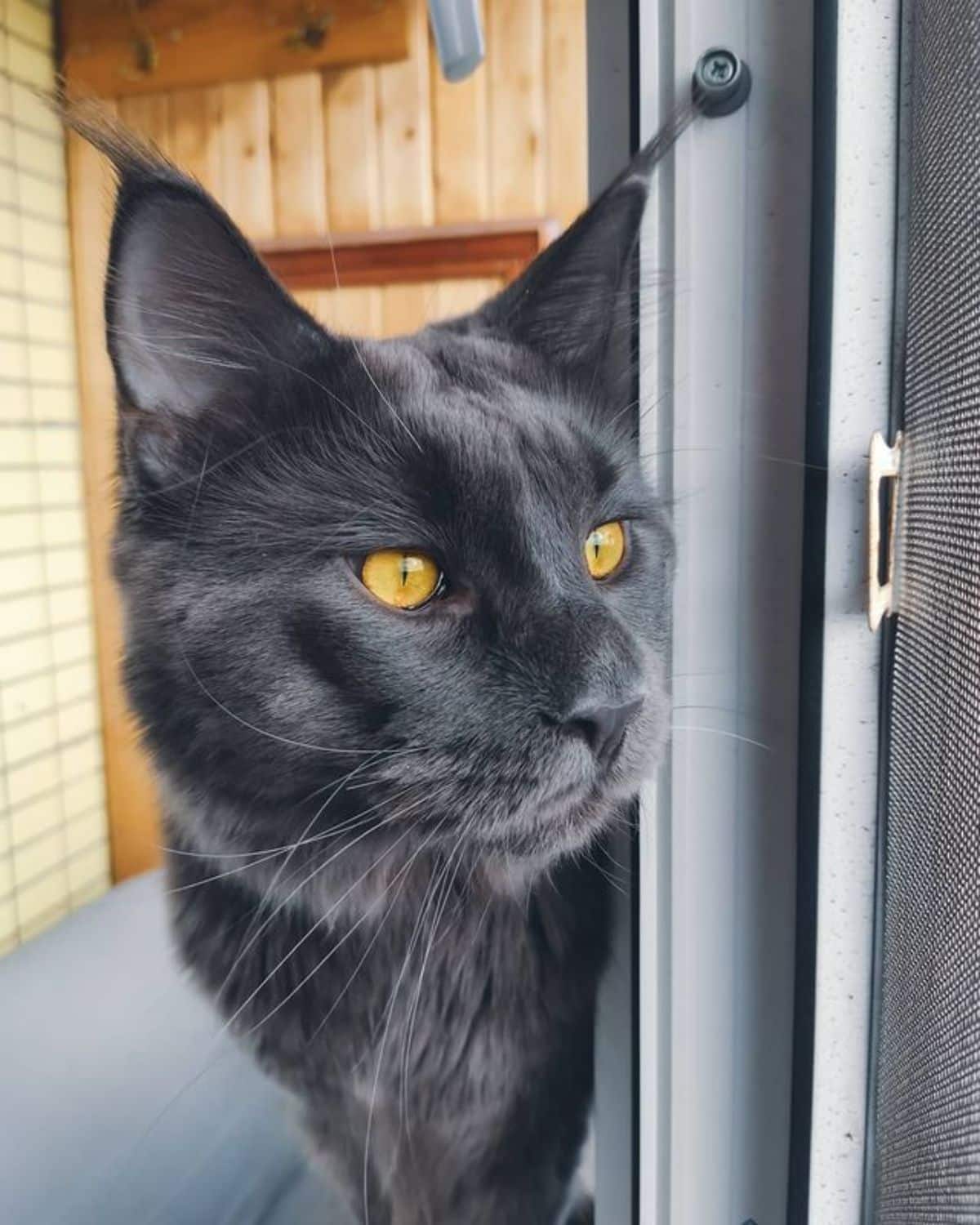 The photo here has a well-kept and regal-looking cat. Its fur seems to have a nice shine to it. The yellow, round eyes look to the side.
16. Black Kitty Cuddling With a Toy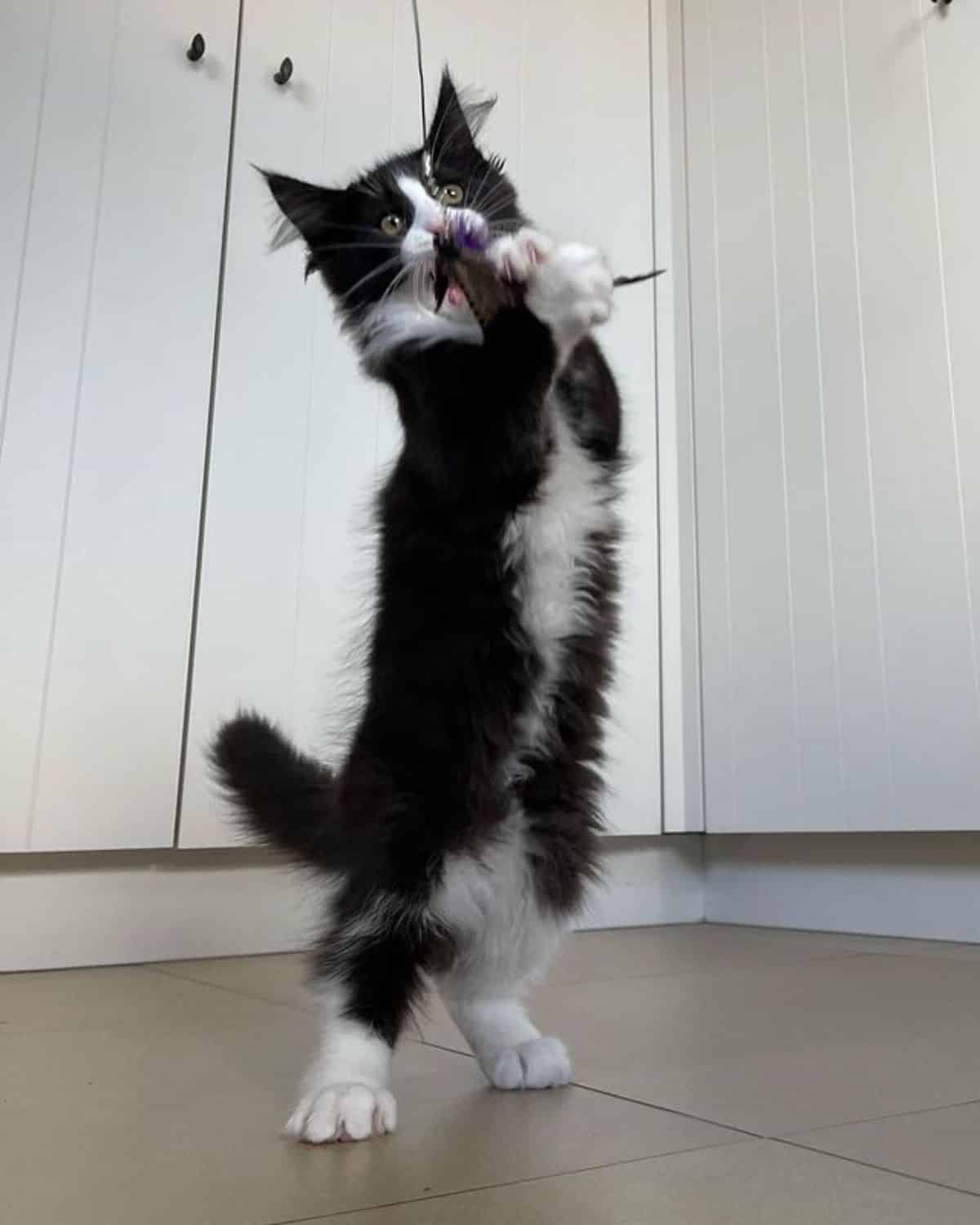 If you want a playful cat, choose one who likes to cuddle with a teddy bear, toy, or other stuffed animal. This black kitty is a great choice for any family.
17. A Scared, Black Kitten Staring Ahead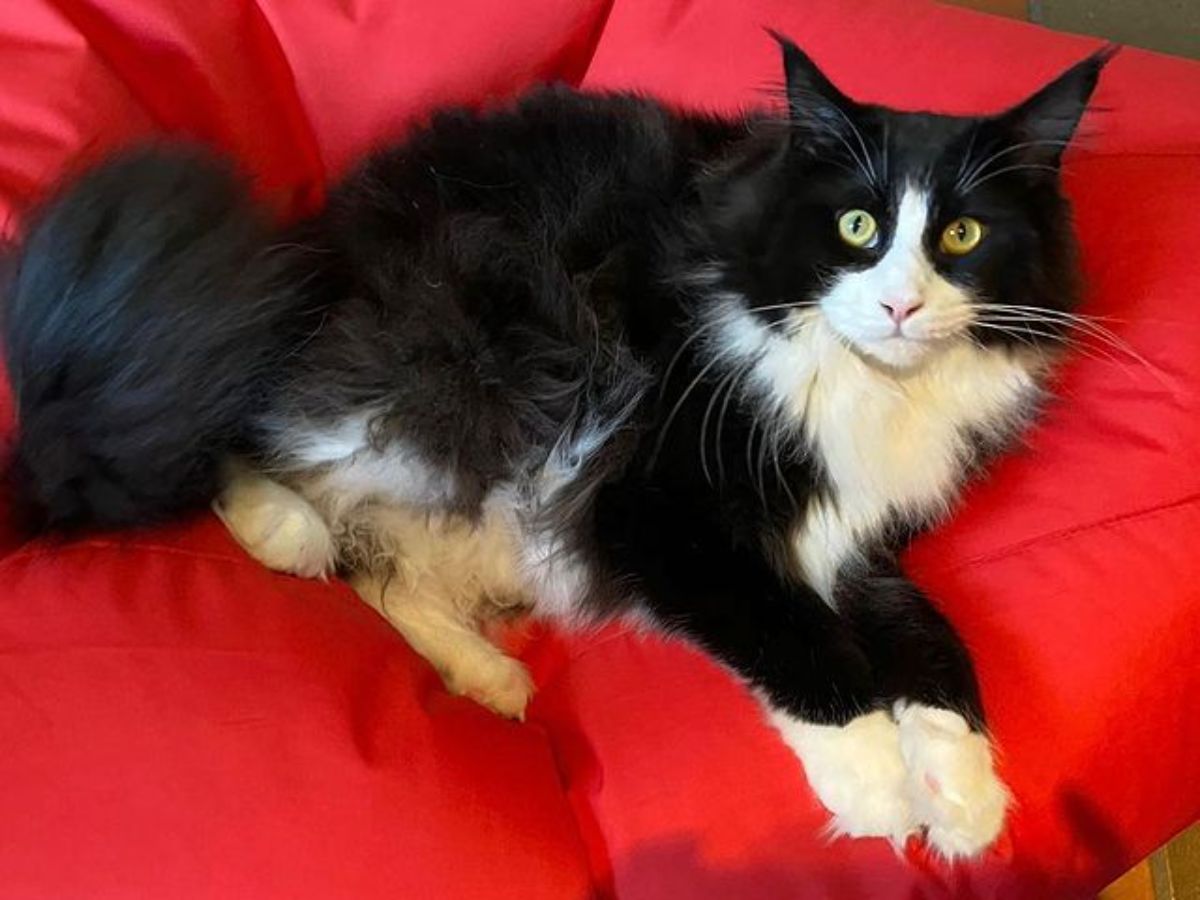 In this photo, a beautiful black kitten stands and looks right into the camera. However, the poor kitty has a scared look on its face. Hug it to ensure you bring a smile to the cat's face.
18. Yellow-Eyed Maine Coon Kitten Relaxing on a Couch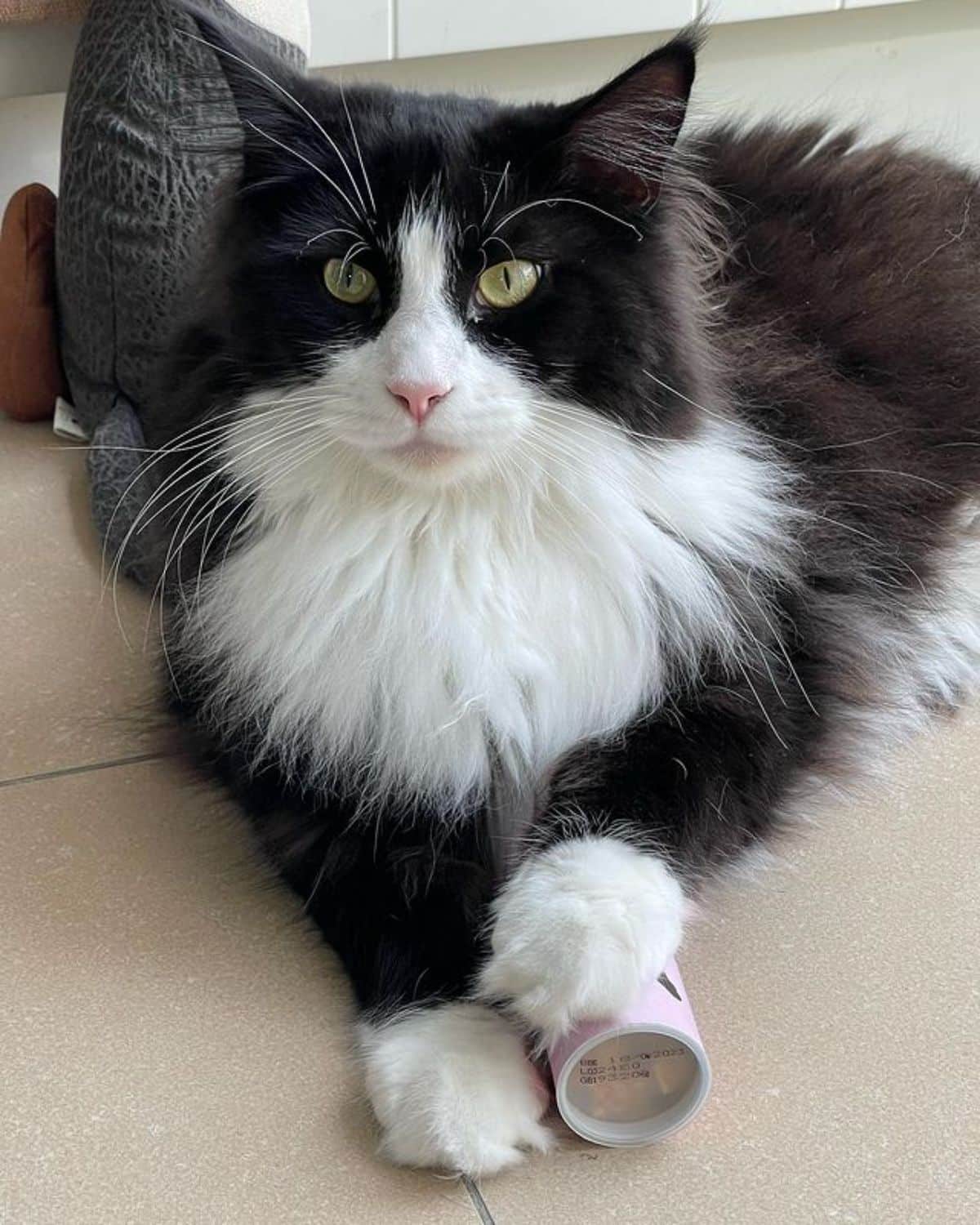 This gorgeous, yellow-eyed kitten is sitting and relaxing on the floor with soft pillows in the background. Enjoy the photo!
19. Determined Cat Climbing on a Cat Tree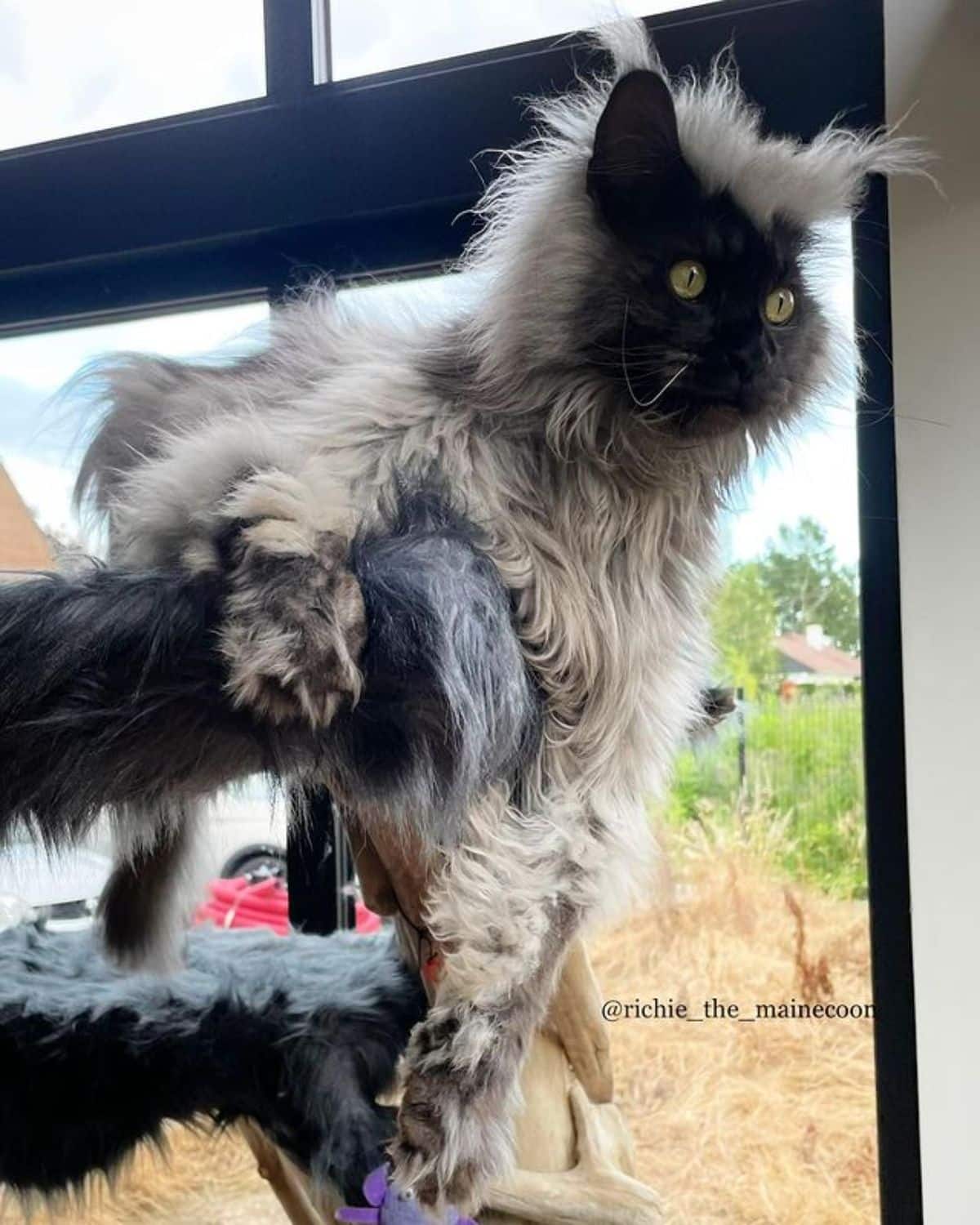 This large black and white cat looks very determined as it climbs up the cat tree structure and hangs out on a big branch. The colors in the background also match the cat well.
20. Completely Black Cat Sitting Against a Blue Backdrop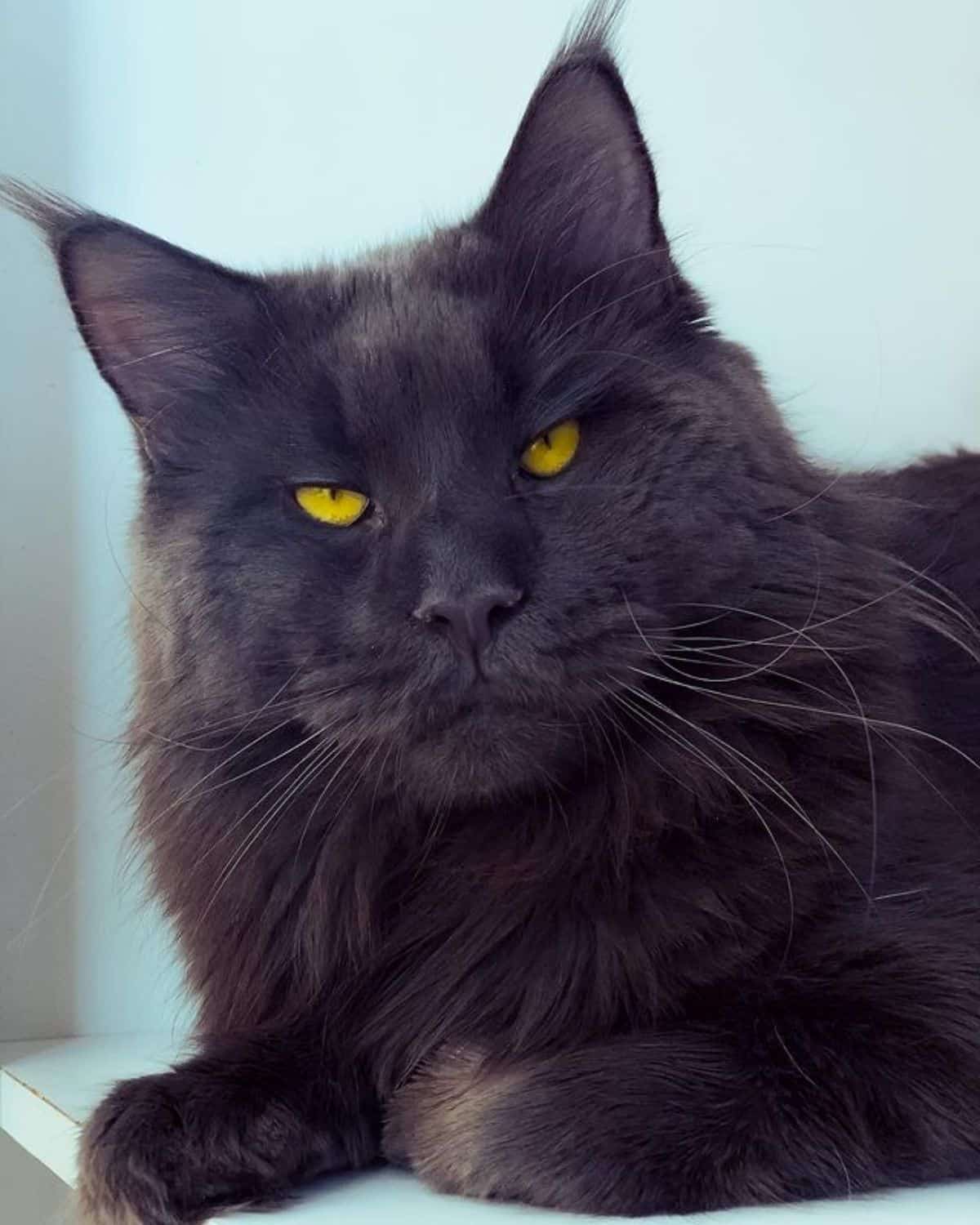 In the photo, the black cat has no defining features except the large, yellow eyes staring straight at you. The black color of the cat's coat looks beautiful against the blue backdrop.
21. Fuzzy Cats Sitting Outdoors
The cute black cats here have somewhat fuzzy fur and are hanging out in front of some pumpkins. The orange pumpkins make a great addition to the black coat of the gorgeous Maine Coon cats.
22. Black Maine Coon with Colorful Leaves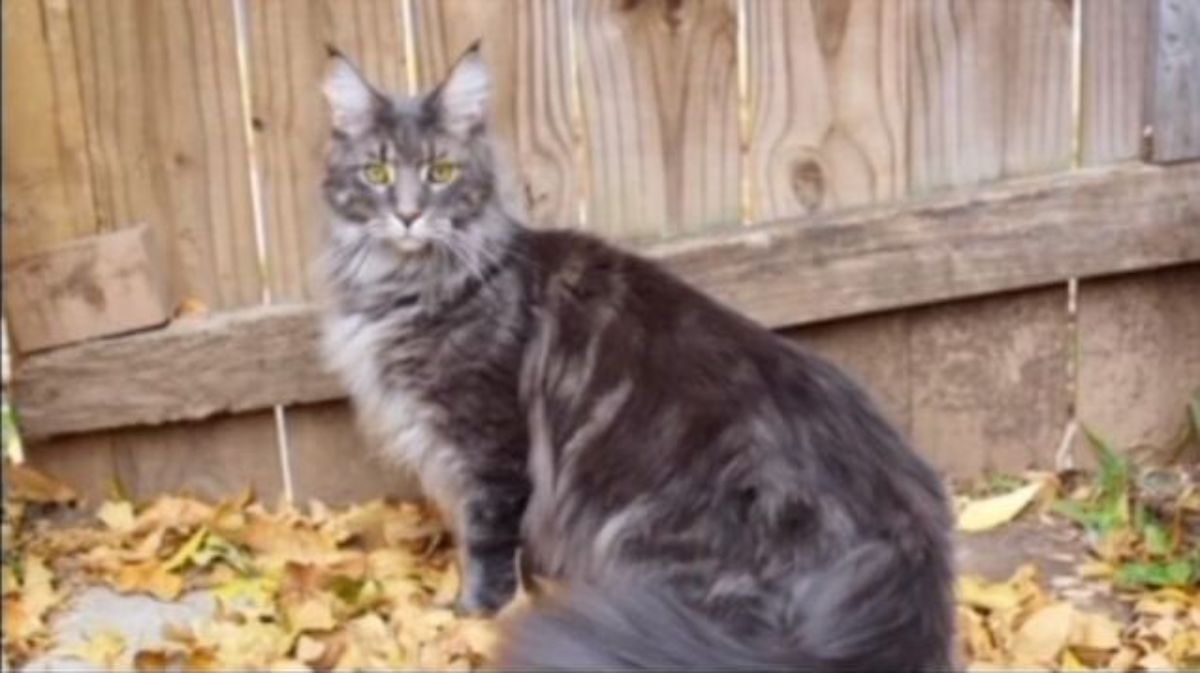 The leaves underneath this adorable Maine Coon cat are full of different colors. The cat itself has nice, pointed ears and round, yellow eyes.
23. Black and Elegant Cat Sitting on a Play Structure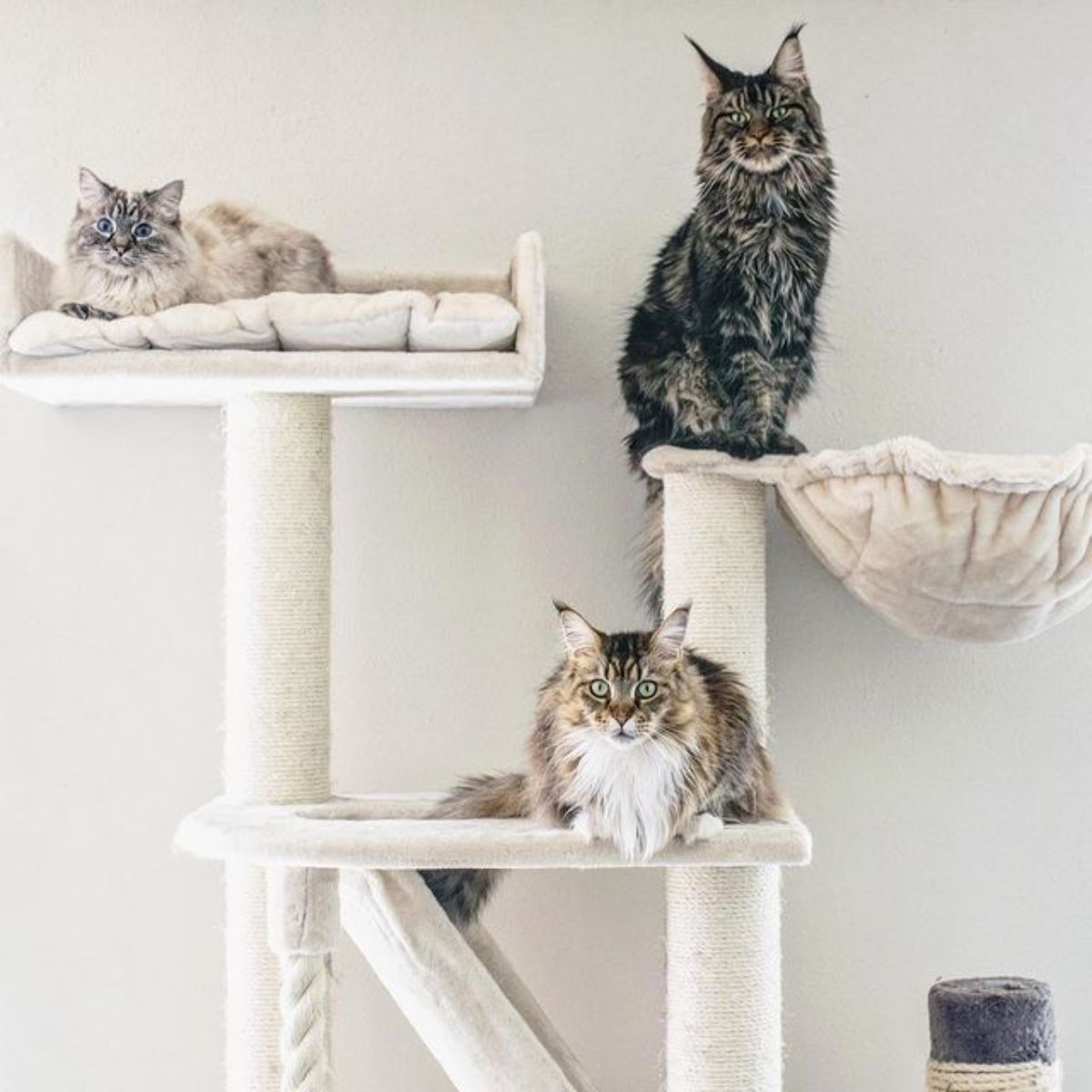 The photo here has an elegant cat hanging out on a cat play structure. The white-colored cat tree stands out in color against the black coat of the Maine Coon cat.
24. Sweet Cat Sitting on a Porch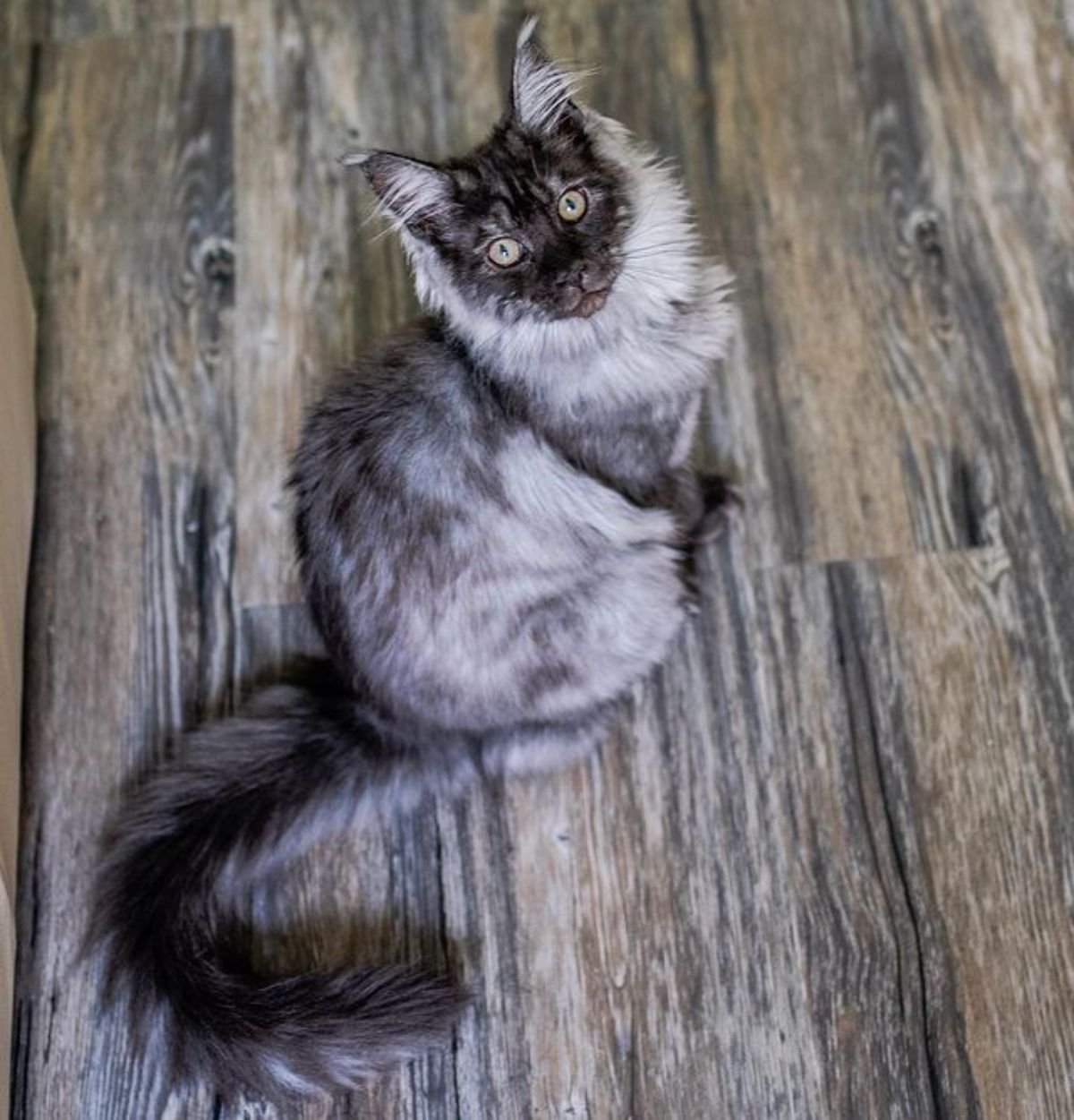 This sweet and lovely cat is sitting on a porch. It's quite an elegant and regal cat, as it has a grey-colored mane and a smooth, well-brushed black coat.
25. Furry, Black Cat Roaming on a Lawn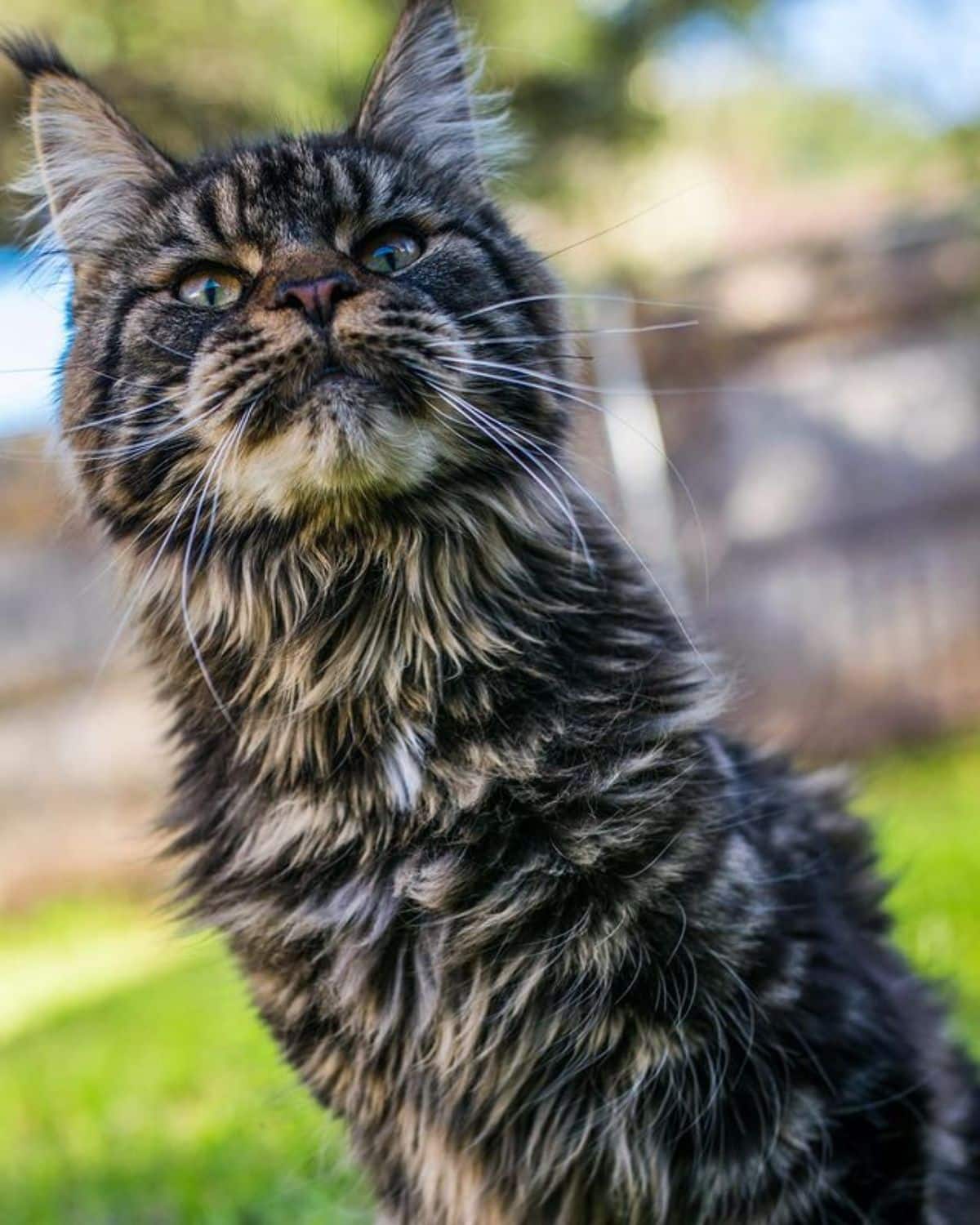 The black cat in the photo has extra fur around its body. It's sitting on a lawn in the backyard. The green grass looks great in the background.
26. Black Kitten Sitting Among a Bright Orange Pumpkin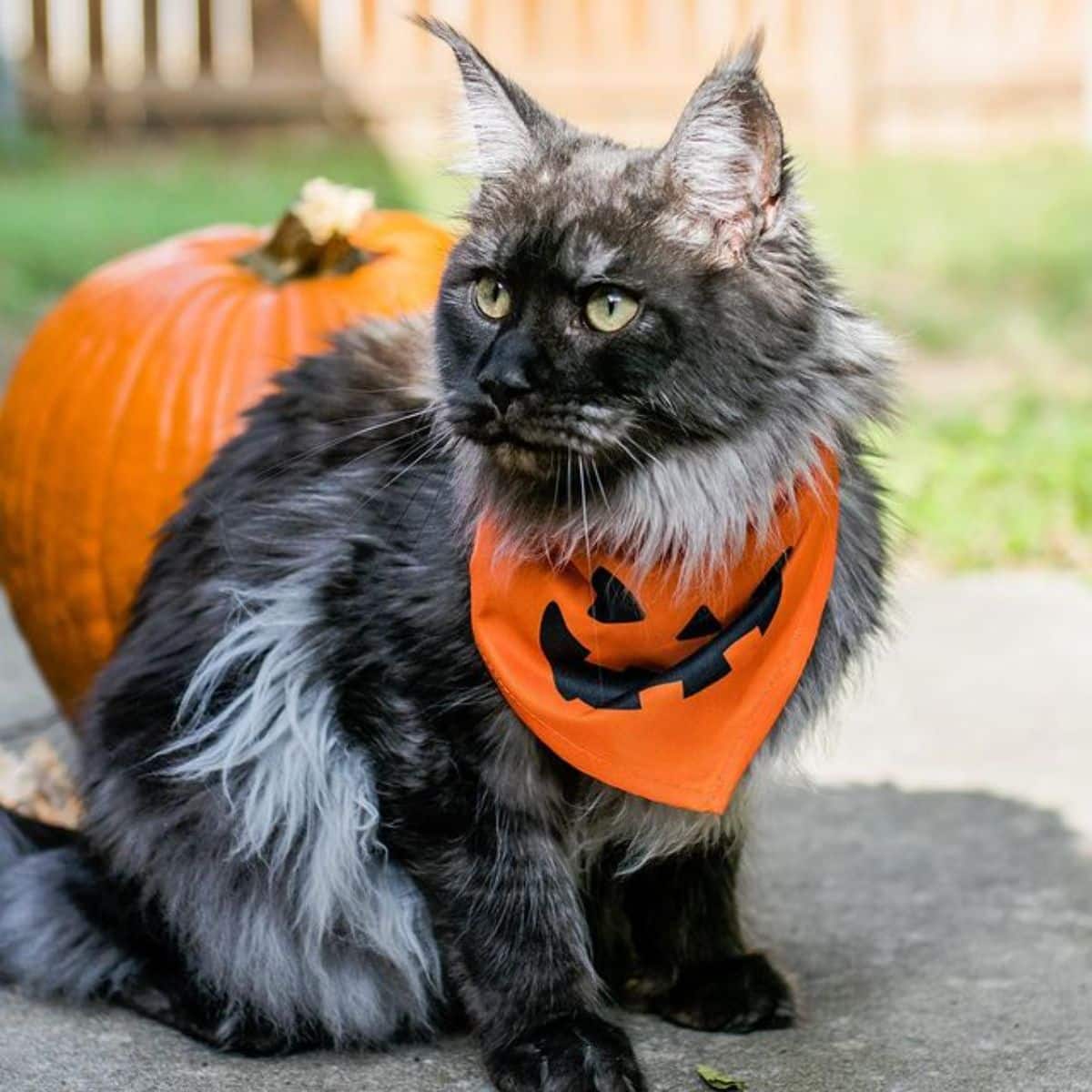 Who doesn't love a cute kitten? This one, in particular, looks adorable since it's hanging out in front of a bright orange pumpkin.
27. Maine Coon Cat Hanging Out in Bed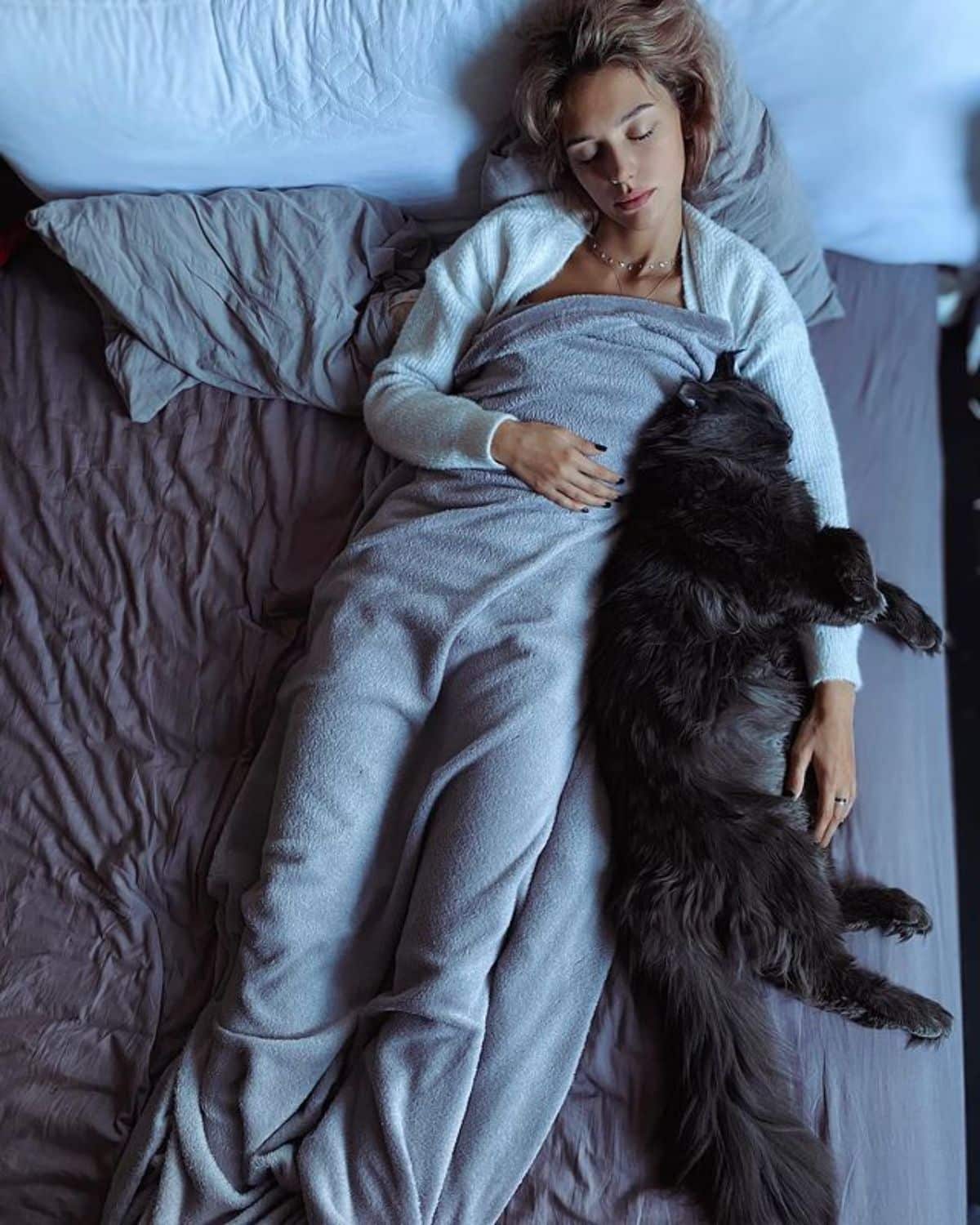 Here, the photo of the black Maine Coon cat is wonderful. The adorable cat is hanging out and sleeping in a big bed of fluffy blankets.
28. Black Cat Hanging Out By a Wooden Wall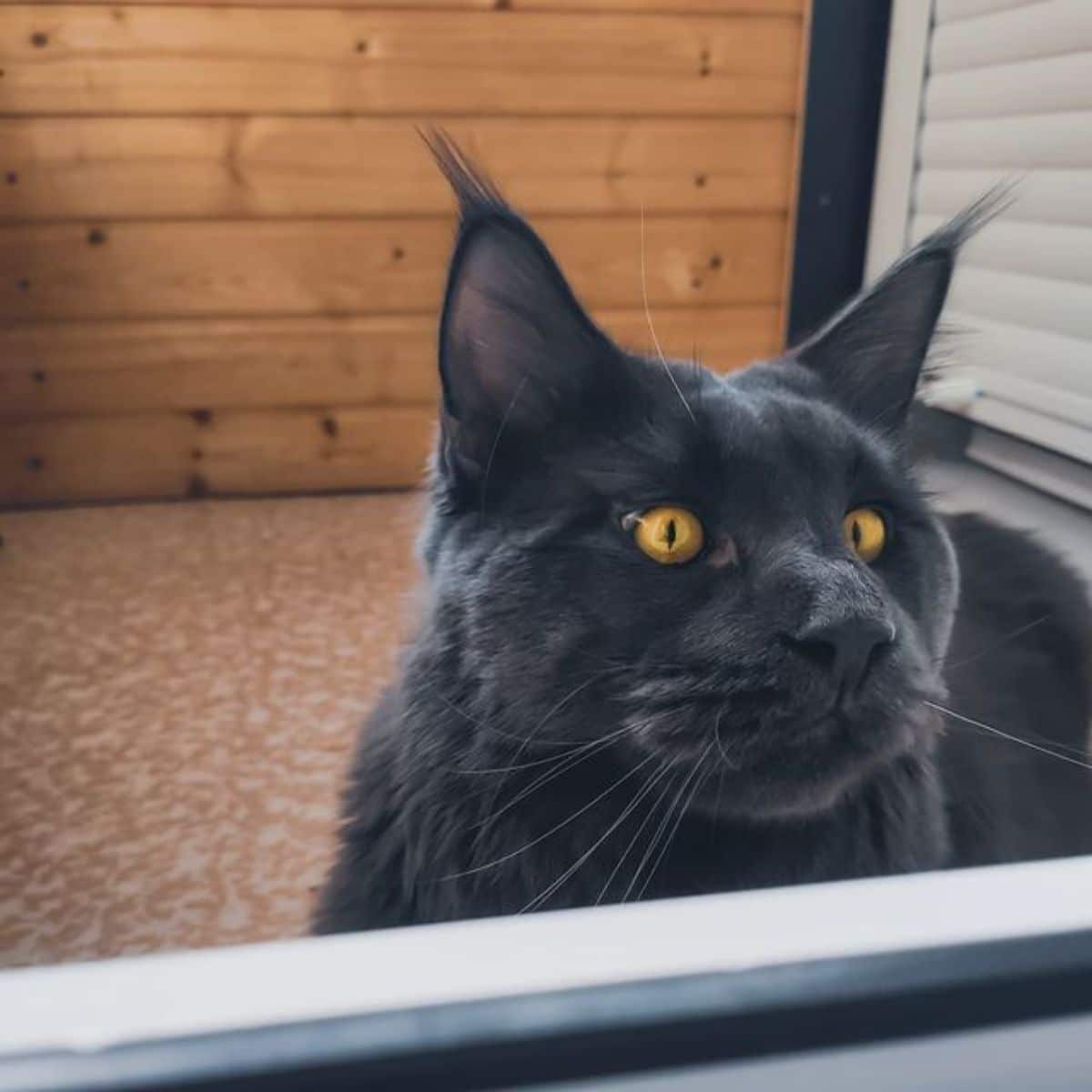 In the photo here, the black cat is standing in front of a wooden wall. The fluffy cat has gorgeous yellow eyes and white whiskers.
29. Lovely Black Cat With Wisps of Grey Hair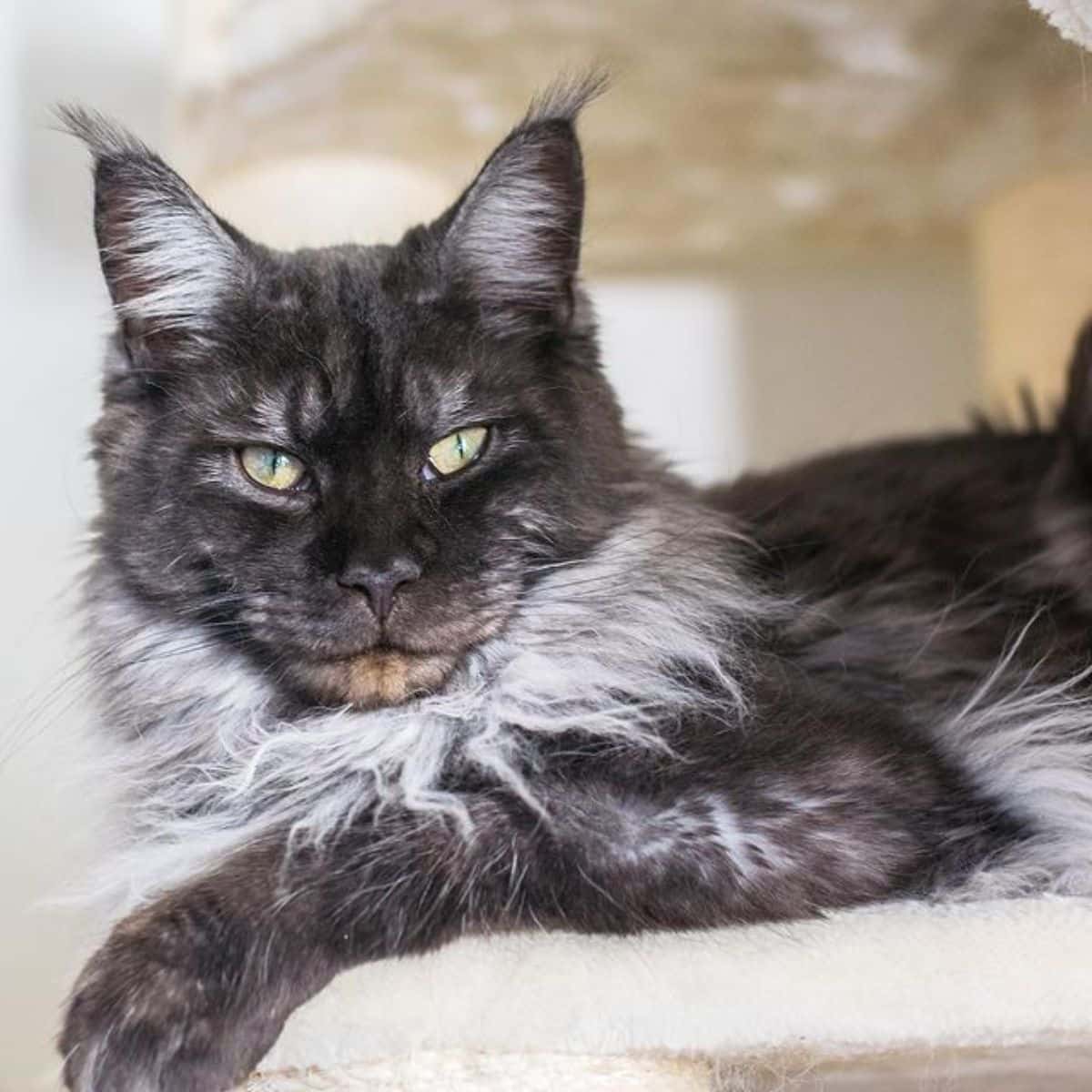 The wonderful black cat has wisps of grey and white hair growing around its neck and chest. It is looking straight with its yellow eyes on a white pillow.
30. Blue-Eyed Kitten Ready for Snuggles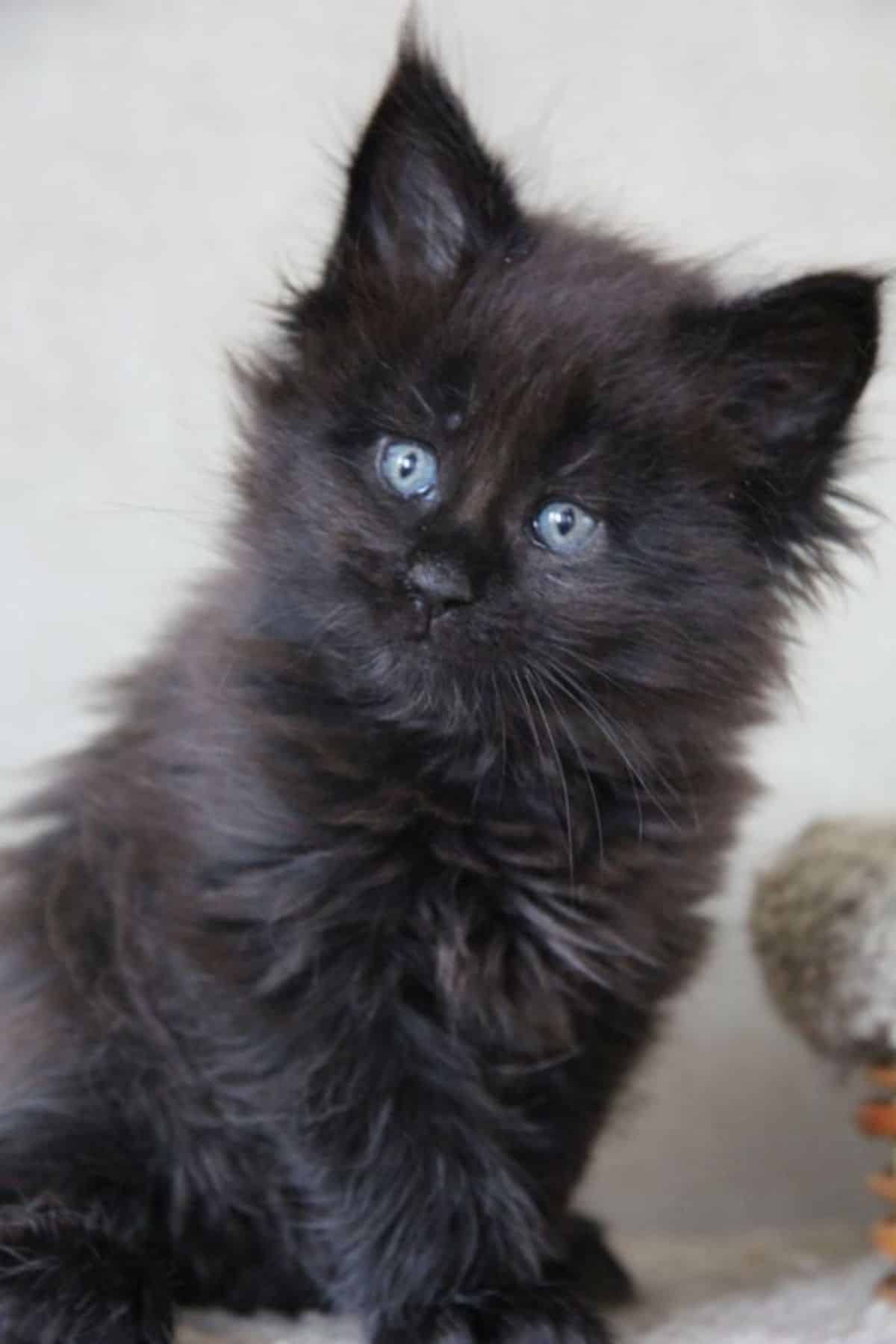 The adorable kitten here has large blue eyes and tiny feet. The kitten is sitting up and looking ready for cuddles.
31. Furry Black and Grey Maine Coon Cat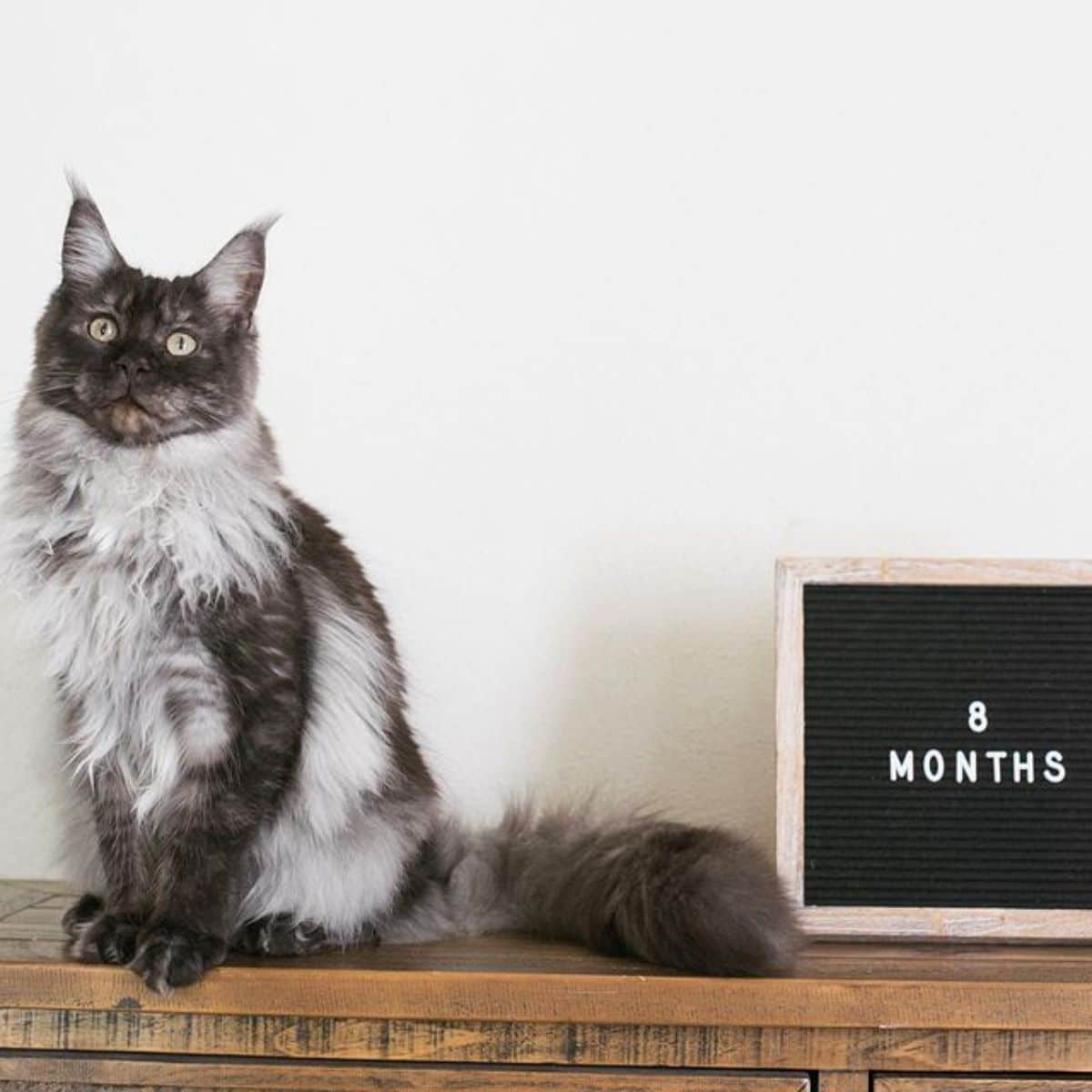 The amazing black and grey Maine Coon cat here looks truly magnificent against the white backdrop. Its black feet and white mane give the cat a perfect look.
32. Miniature Green-Eyed Maine Coon Sitting on the Kitchen Floor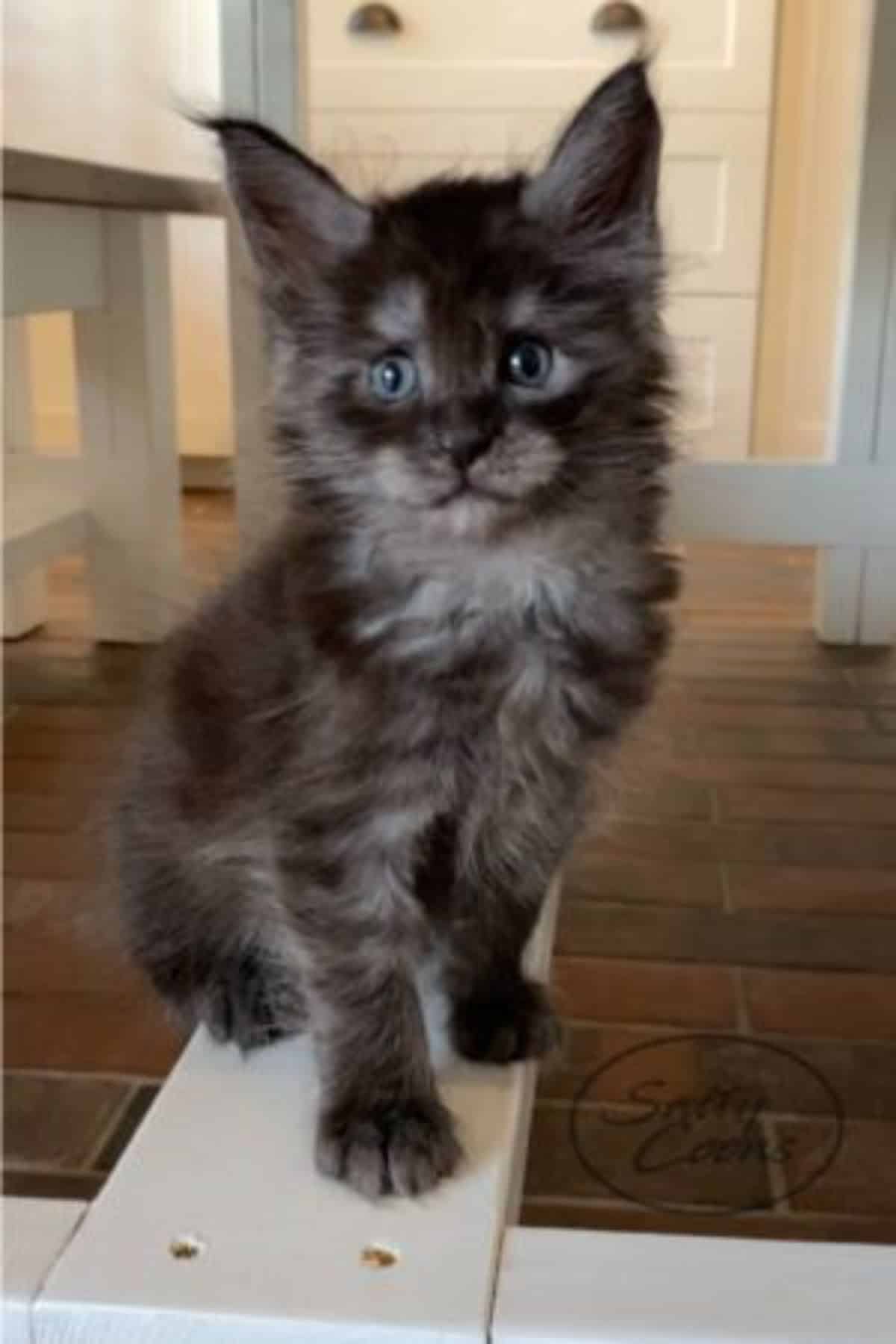 If you're in love with cute and disheveled kittens, this is the photo for you. The miniature-sized Maine Coon cat with its green eyes is sitting on the kitchen floor.
33. Adorable Black Cat Snuggled in a Cat Tree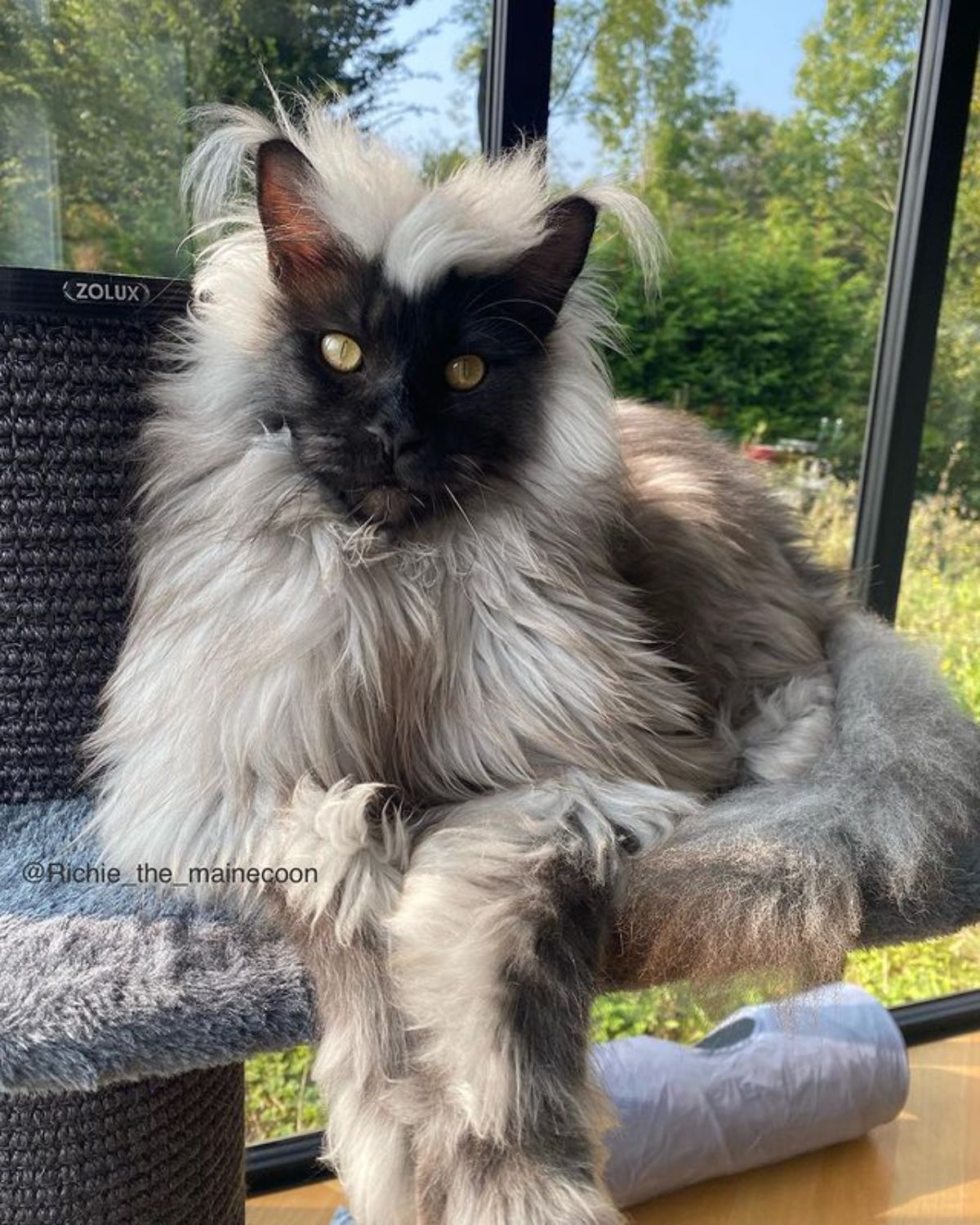 The sweet black and white cat in this photo with its pointy ears is hanging out in a cat tree. It looks like a content kitty.
Before You Go
After looking through these pictures of 33 amazing black Maine Coon cats, it's time to get to a breeder or a local animal shelter to bring one of these gorgeous creatures home. Enjoy your new and wonderful life with a lovable Maine Coon cat.