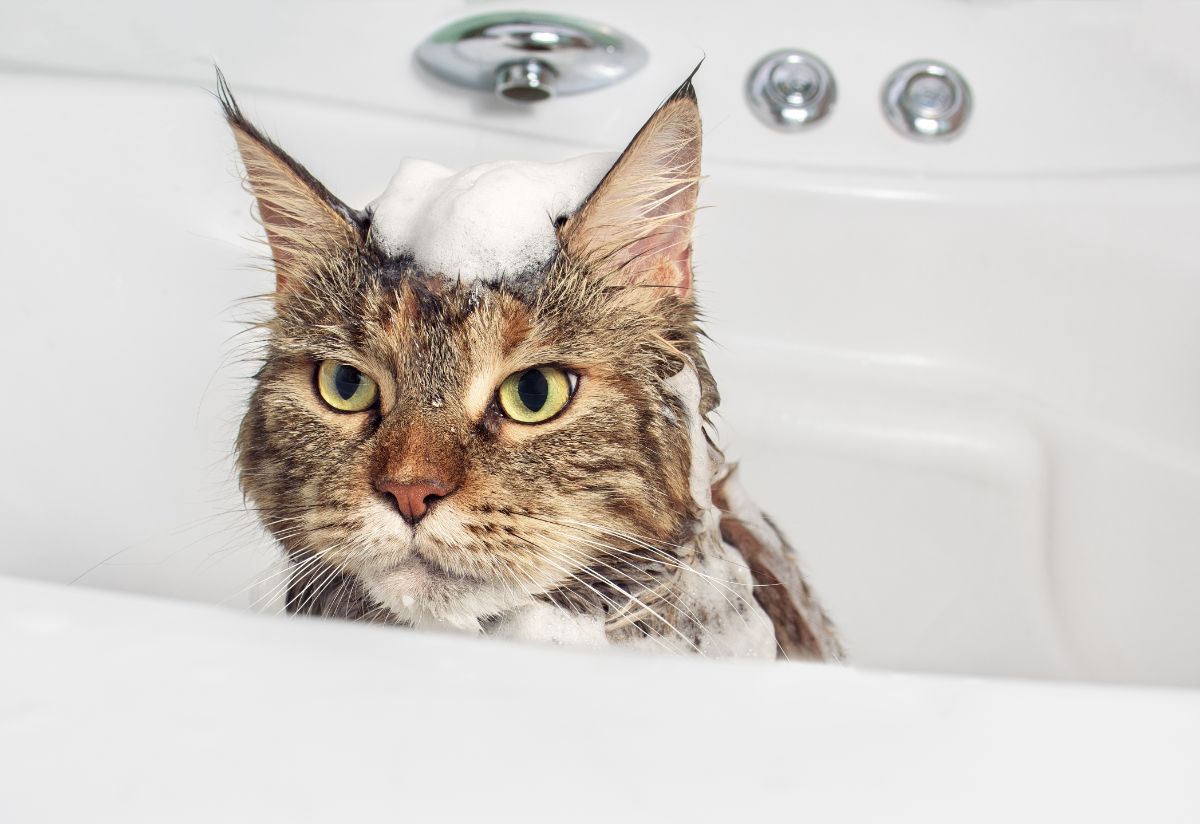 Although cats are self-grooming animals, you may have to clean them occasionally, especially if they get dirty when feeding or make a mess in the litter box. Regularly cleaning your Maine Coon cat prevents parasites from attacking your pet. It also prevents your cat from developing a foul smell or dirt-related health issues.
Here are seven expert tips on how to bathe your Maine Coon cat.
Jump to:
1. Prepare the Bathing Tub
Before bathing your cat, it's crucial to prepare the tub you'll use to wash them. The first step when preparing the tub involves laying a textured or rubber mat in the tub to give your cat traction, preventing it from sliding.
When a cat slides, it may panic and scratch you. Also, there is a risk of injuries if your cat slides in the tub. If you can't find a mat, fold a towel and place it at the bottom of the tub.
You can also consider placing a cooling rack in the tub to give your cat something they can cling to when bathing.
2. Trim the Nails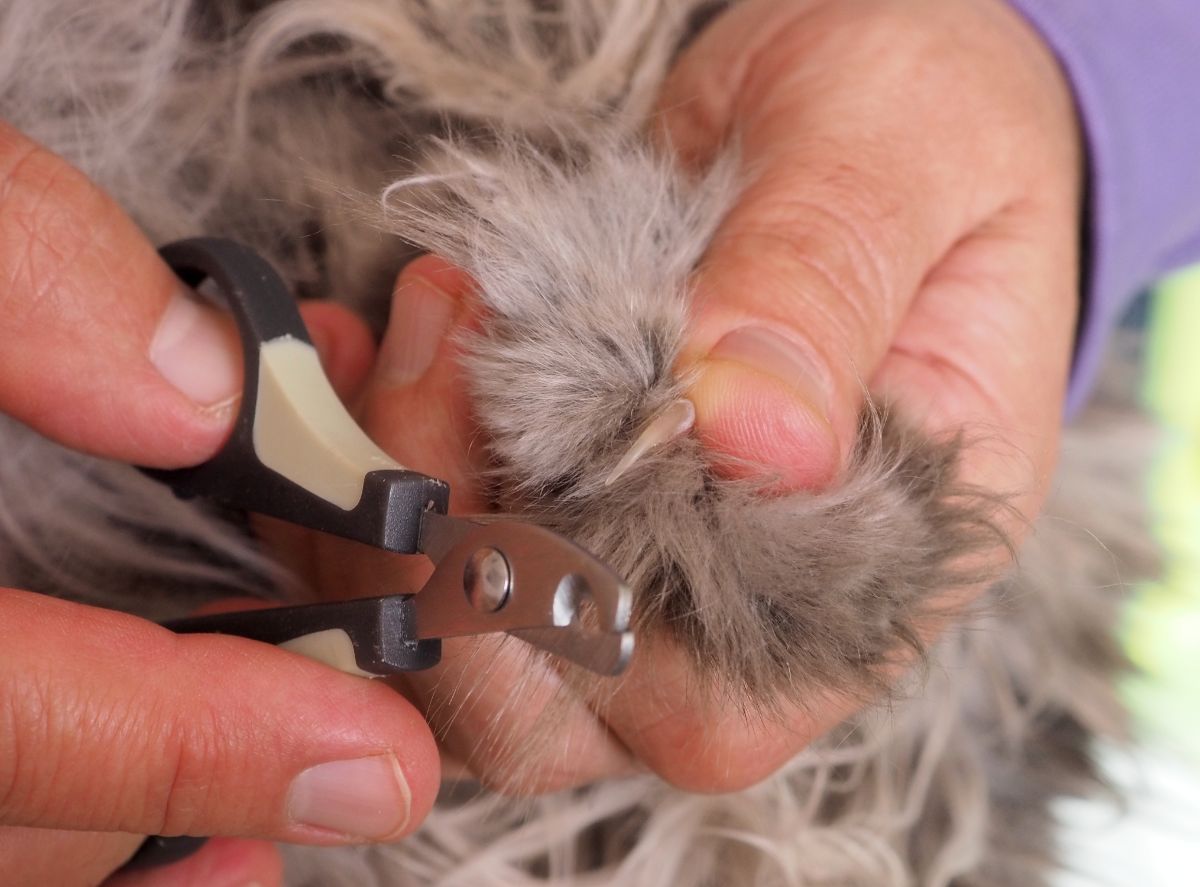 Most Maine Coon cats like water, especially if you introduce them to water at a young age. However, some Maine Coons may not like water and can resist as you try to get them into the tub. As such, you risk getting scratched by your cat.
Cat scratches are painful and can leave permanent marks on your skin. These scratches may also lead to severe infections.
To protect yourself from scratches, trim your cat's nails. When trimming the nails, use a unique set of cat nail clippers designed to hold a cat's claw in place.
You may also use a guillotine nail clipper to trim your cat's nails. If you can't find any of the tools, use human nail cutters instead. Whichever tool you choose, ensure you know how to handle it carefully to avoid accidents.
You should be careful when trimming your cat's nails. Squeeze your cat's paw a little using your index finger and thumb to extend the nails and trim them. Concentrate on cutting the tip to avoid hurting your cat.
After trimming your cat's nails, give it a few hours to calm down before bathing it. You can also wait until the next day.
3. Brush Your Cat's Fur
Before pouring water on your Maine Coon or soaking it in water, remember to comb its fur first. During the process, concentrate on its belly, legs, coat, and the top of its head.
This step is essential since it helps to remove knots and tangles on the cat's fur. Pouring water on a cat's unbrushed fur only worsens the knots. Some Maine Coons also love it when you comb their fur, helping them to relax. Bathing a relaxed cat is relatively easy.
However, some cats panic when you brush their fur and may get agitated. If your cat doesn't respond positively to brushing, give it time. You can also play with your Maine Coon as you brush it for some time to calm it down. Giving your cat a treat while brushing it can help it become more comfortable.
In addition to detangling your cat's fur, brushing removes loose fur on your cat's body. Loose hairs can clog your sink, causing severe problems to your plumbing system.
4. Have a Fun-filled Bathing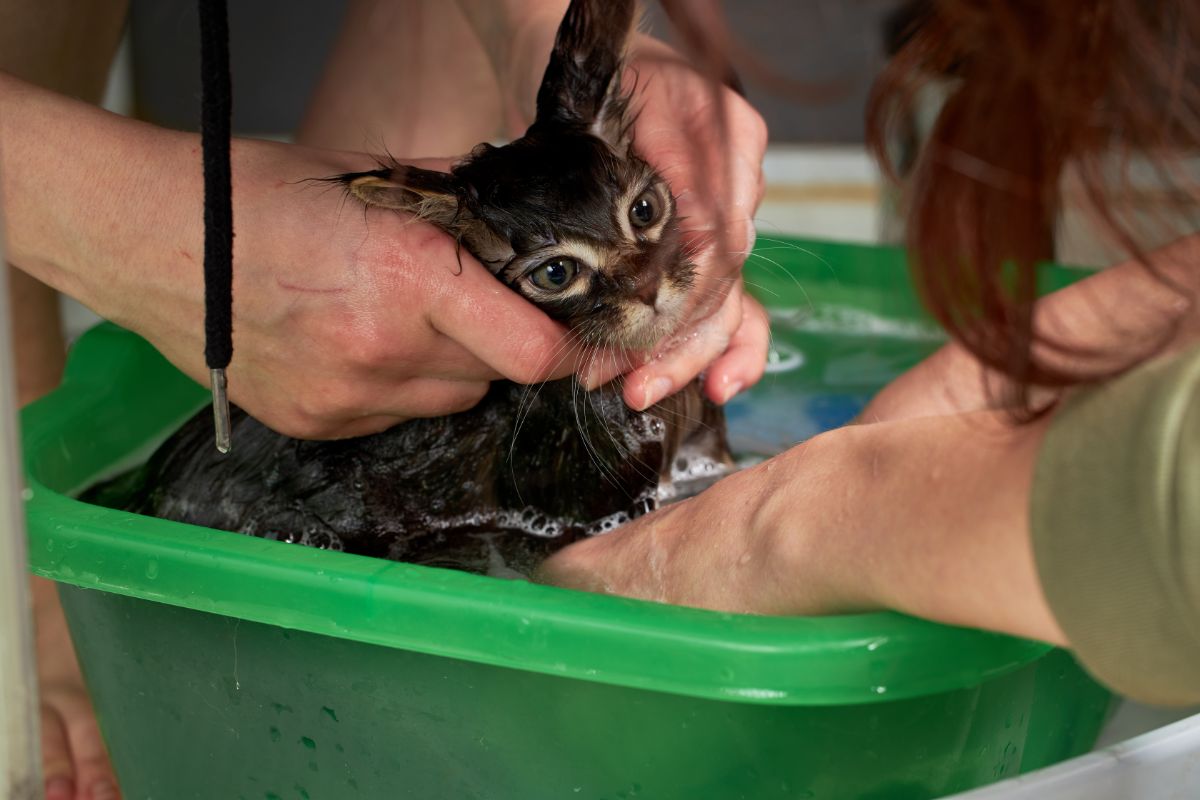 Having fun-filled bathing will help your Maine Coon cat relax and cooperate, especially if it's their first time. Once you choose the sink or basin that you'll be using to bathe your cat, place a few toys inside to make it inviting.
Allow your cat to play with toys in the sink or basin without bathing them to help them relax. You can also play with the cat in the sink to make them more comfortable. Since Maine Coon cats, especially kittens, naturally love water, they will soon start to enjoy bathing, giving you an easy time.
Cats love familiarity and sticking to a consistent routine. When you choose a sink or basin that you'll be using to bathe your cat, use it every time. Also, stick to a specific time, e.g., afternoon hours, use the same cleaning products and preferably use the same toys or play items.
5. Use a Cat Shampoo
Never use human shampoo, as cats have a special shampoo for bathing formulated to take care of their fur. Human shampoo is not advisable since it may damage your cat's skin.
When bathing your Maine Coon cat, avoid applying shampoo on its skin directly. You should mix the shampoo with water in a small dish and use the lather to wash your cat. Gently rub the shampoo from the neck toward your cat's tail while avoiding its ears, eyes, and face.
Avoid the scented type when choosing a shampoo for your Maine Coon cat since felines have a strong sense of smell. Scented shampoo can irritate their nose.
Ask your veterinarian for further directions to know the best shampoo to use. You can also go to the nearest pet store and ask for advice.
6. Thoroughly Rinse and Dry Your Cat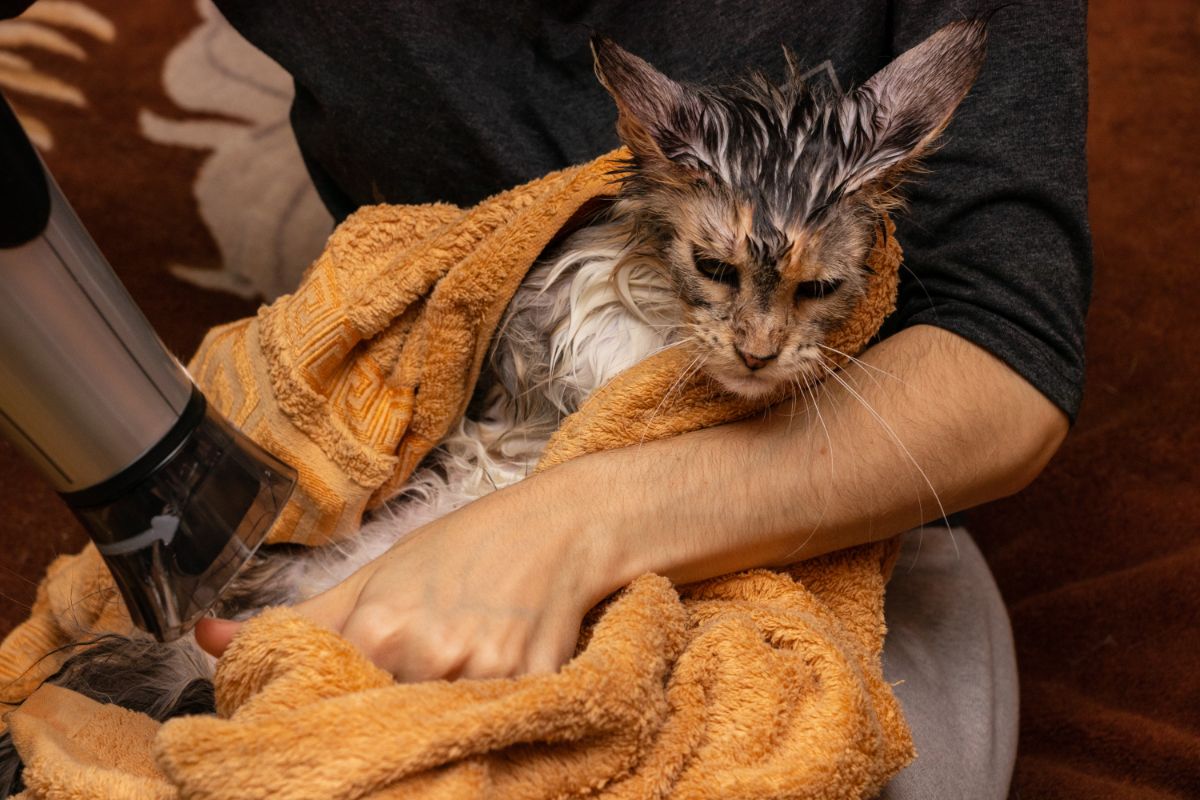 After lathering your cat, rinse off the shampoo with clean lukewarm water. Use a lot of water to ensure you wash off all the soap.
Rinsing is essential because your cat may lick the shampoo residue on its fur, causing health issues. Soap residue may also irritate your pet's skin or attract extra dirt.
For your Maine Coon cat to become more comfortable, thoroughly dry its fur with a large towel. Wrap the towel around your cat and gently press it to take up most of the water. When the first towel gets too wet, get a new one. Repeat the same procedure until your cat becomes dry.
Some people use hair dryers to quickly dry their cat's fur and keep them warm. However, it's not advisable since the hot hair may burn your cat's skin. Additionally, a hair dryer produces sounds that can scare away your cat.
If your cat has long hair, detangle it with a wide-toothed comb to prevent mats. Cat mats are unsightly and can cause skin infection and irritation if you fail to remove them on time.
7. Use Treats
Although Maine Coon cats love water, their initial bathing experience can be scary, and you need to acknowledge that. When you finish bathing your cat, try to show it some affection by cuddling and kissing it. You can talk to your cat in a low, calm, and friendly tone and tell them how good they are.
You can also give your cat treats as a reward for bathing. Use your special delicious treats, which you've preserved for special occasions. This way, your pet will associate bathing with good things giving you an easy time the next time you want to clean them.
Wrapping Up
Grooming your cat is crucial to raising a clean and healthy pet. As a pet owner, you should establish a regular cleaning routine to ensure your cat is always clean.
If you are bathing your cat for the first time, introduce it slowly into the routine until it becomes comfortable with water. Also, use quality products to avoid affecting your cat's skin.