If you have never had a long-haired cat, you may not know how to safely get knots out of a Main Coon's fur.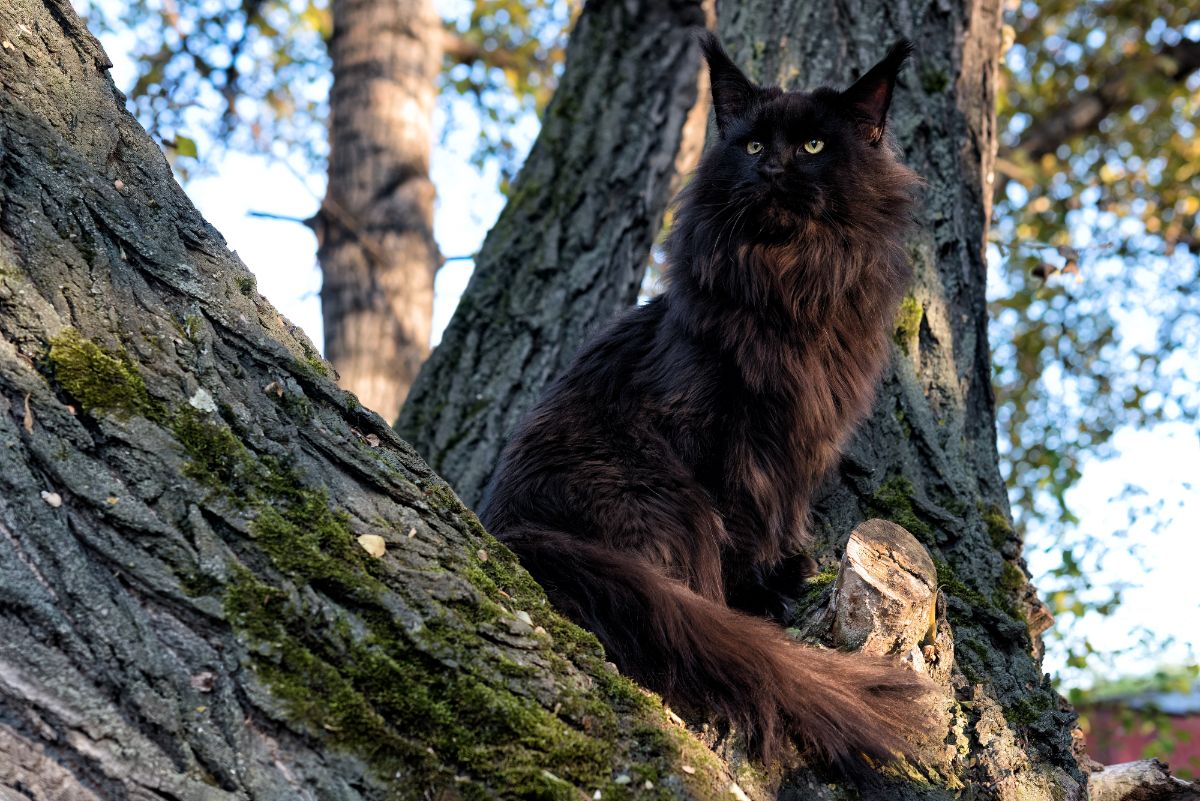 There are several ways to do this. When done correctly, they are all safe for your cat. Here are several ways to safely detangle matted cat fur.
Jump to:
Use Your Fingers
Before you begin the elaborate procedure of grooming your Maine Coon, one of the safest ways to remove knots is with your fingers.
You can do this if the knots are still small and loose. Carefully lift the knot and rub it between your thumb and forefinger until it dissolves in your hands.
There are a couple of things to remember as you do this. Firstly, never pull on the knot. That can cause it to tighten.
The other thing to consider is that for the procedure to be effective, you need to keep your Maine Coon relaxed. Maine Coons are naturally gentle giants, but even they become stressed if they feel uncomfortable or in pain.
While you work the knots out of your cat's fur, keep an eye peeled for signs of stress. Stop if you spot any.
Use a Soft-Bristle Brush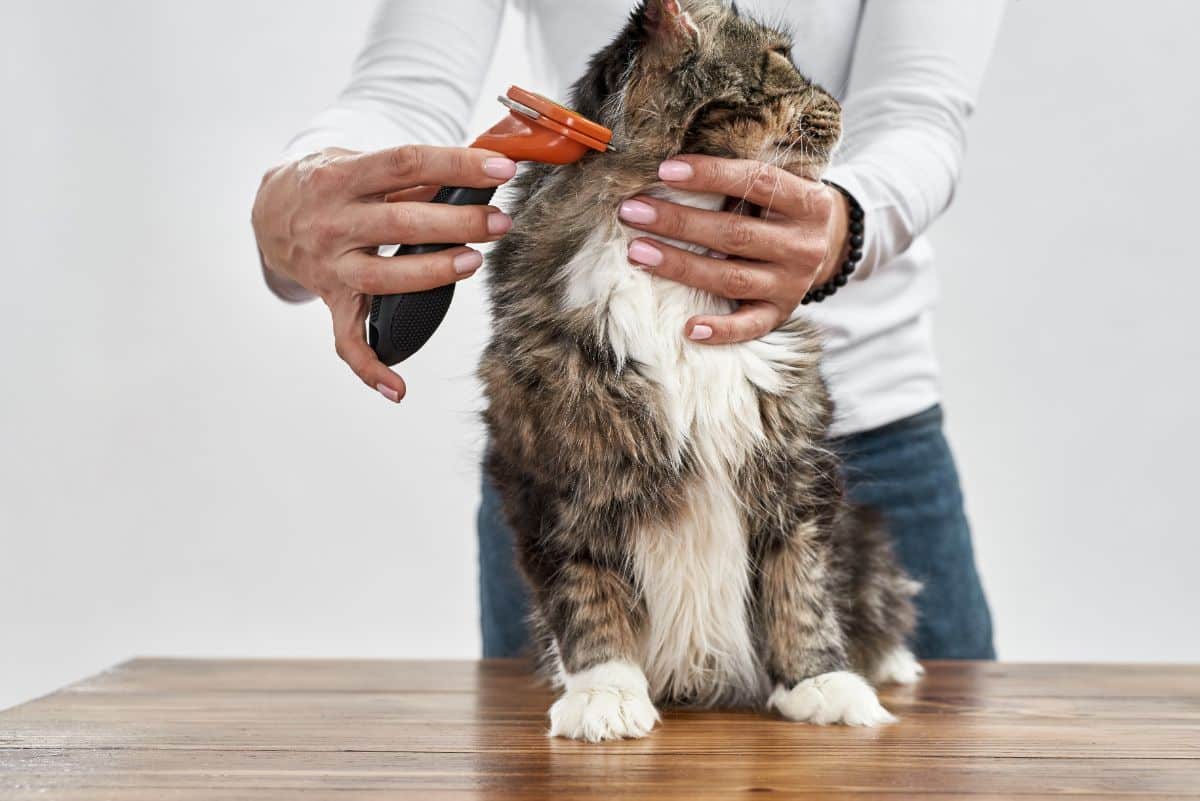 If you can't budge the mat with your fingers, the next way to try and safely get a knot out of your Maine Coon's coat is with a brush.
Soft-bristle brushes are the favorite brush for this job because they lift and sift fur without pulling on it.
However, they aren't the most effective brushes for entrenched knots, but if you are working a relatively loose knot free, they are efficient and painless.
For the best results, hold the mat between your fingers and brush sideways. This extracts knotted hair and detritus trapped in the fur. Frequently changing directions as you brush also helps dissolve the knot.
Use a Detangling Tool
If you can't remove the knot with a brush, it's time to experiment with a higher caliber of grooming equipment.
A detangling tool helps to safely extricate knots from cats' fur. Run it sideways through the knot until it breaks down, and remember not to pull.
Keep the detangling tool away from your Maine Coon's skin. While the detangler is safe, it could cut the skin, and if that happens, the accrued dirt from the knot leaves your cat vulnerable to secondary infections.
Apply Conditioner or Shampoo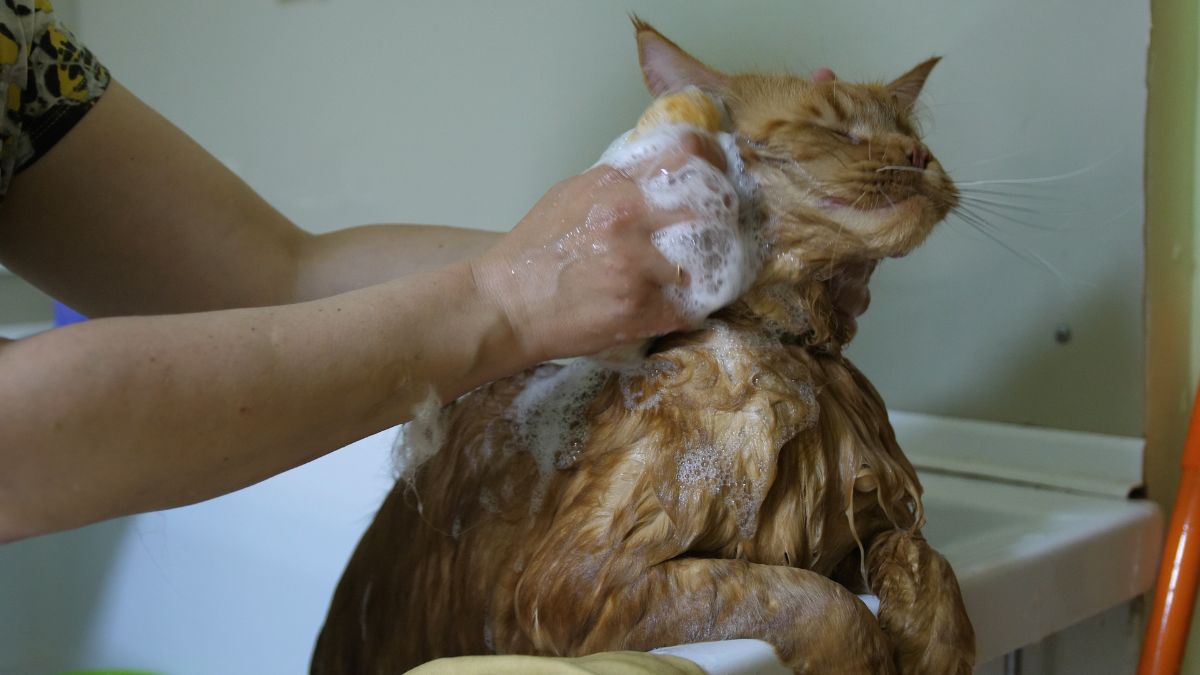 If the knot still doesn't budge, it's time to try adding a loosening agent.
One of the safest is a pet-specific conditioner or shampoo. Rub some on your fingers. Then, as before, rub the knot between your fingers until it begins to dissolve.
If your fingers can't loosen it, combine the loosening agent with a comb or other grooming equipment.
Crucially, you should never apply water to the knot. Knots tighten in water, and you don't want that to happen. You can wash the conditioner or shampoo out once you have de-matted your cat.
Try Cornstarch
Alternatively, you can safely remove knots from your Maine Coon's fur by sprinkling it with cornstarch.
It's a surprisingly effective and inexpensive remedy that most people have lurking in their pantries.
Lightly sprinkle cornstarch on the knot and gently rub it until you feel it loosen. As ever, take care not to pull on the knot.
Sprinkle Baby Powder on the Knot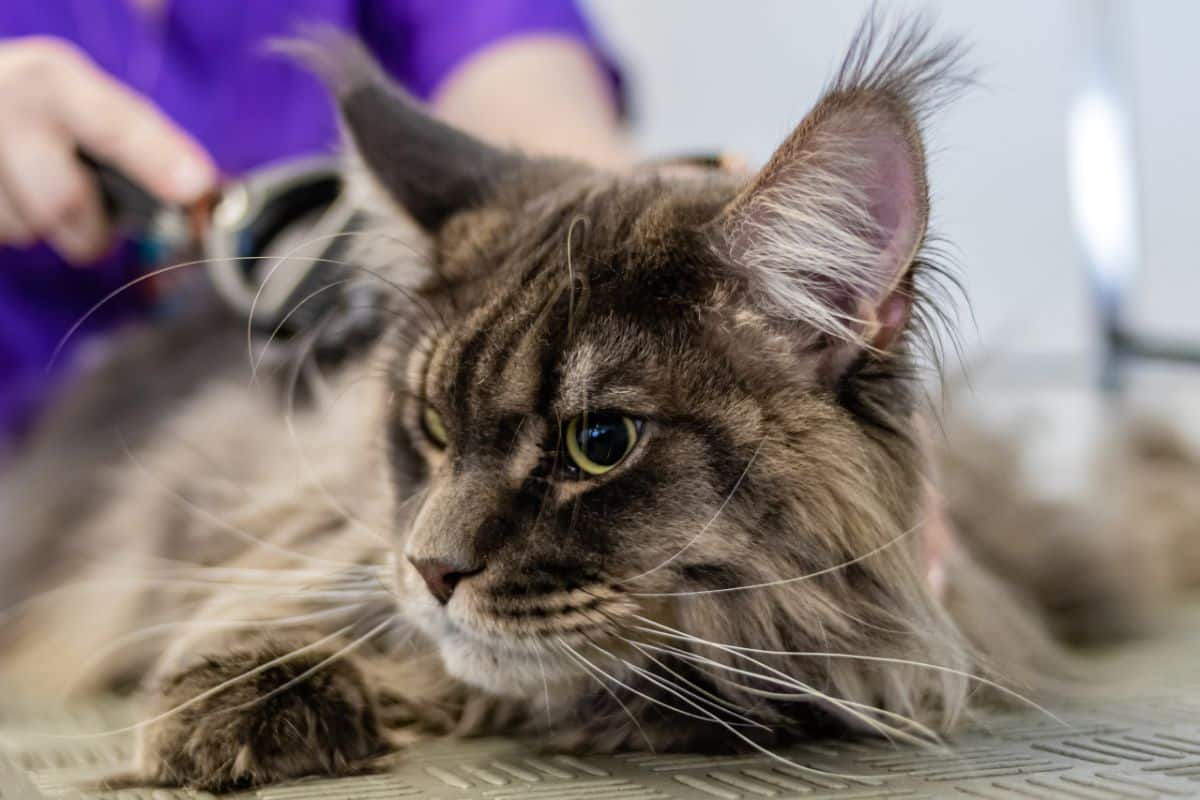 Another tried and tested technique for safely de-knotting your Maine Coon is to use baby powder.
This works the same way cornstarch does. However, you should pay careful attention to the ingredients list. Lots of baby powders use talc, which can be toxic to cats and humans.
So, if you decide to use baby powder to loosen the knots in your Maine Coon's fur, bathe it thoroughly afterward.
Experiment with Coconut Oil
If you have reservations about using baby powder to safely remove knots from your Maine Coon's fur, you can also try coconut oil.
Like other products we mentioned, it helps loosen the knot. Once it takes effect, you can coax the knot out using your fingers, a comb, or a detangler.
Turn on a Humidifier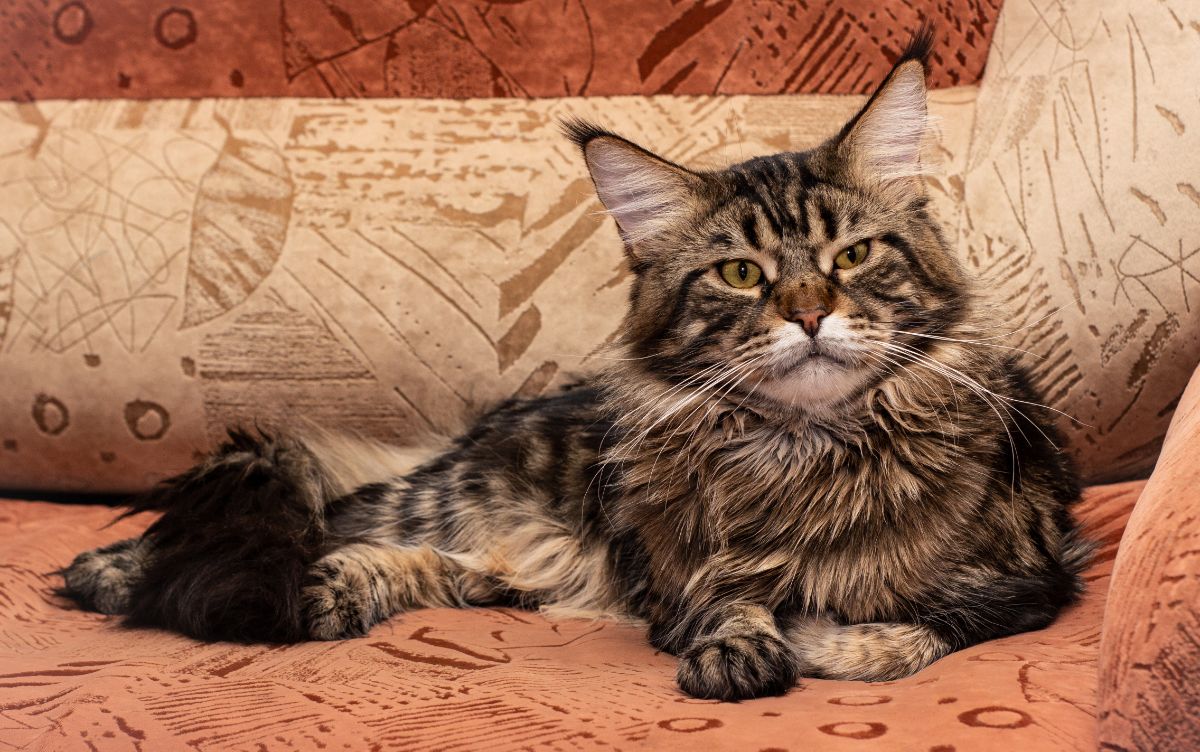 If nothing seems to loosen the knot, another trick to safely loosen knots from a Maine Coon's fur is to turn on a humidifier.
These are ideal during the winter because they eliminate static from your Maine Coon's thick coat. That allows you to brush out the overcoat, undercoat, and guard hair without causing your cat discomfort. It also reduces the likelihood of you pulling on the knot and tightening it.
Bathe Your Maine Coon Often
Water and knotted cat fur have an adversarial relationship. However, regular bathing helps reduce the chance of knots forming. The shampoo and conditioner help loosen fur that might get trapped in the undercoat and remove it from your cat's fur.
Instead of forming knots, the excess fur washes down the drain. However, bear in mind that cats do not need frequent bathing, if at all.
You should still brush your Maine Coon routinely, but wait to do this until their fur dries.
Trim Your Maine Coon's Fur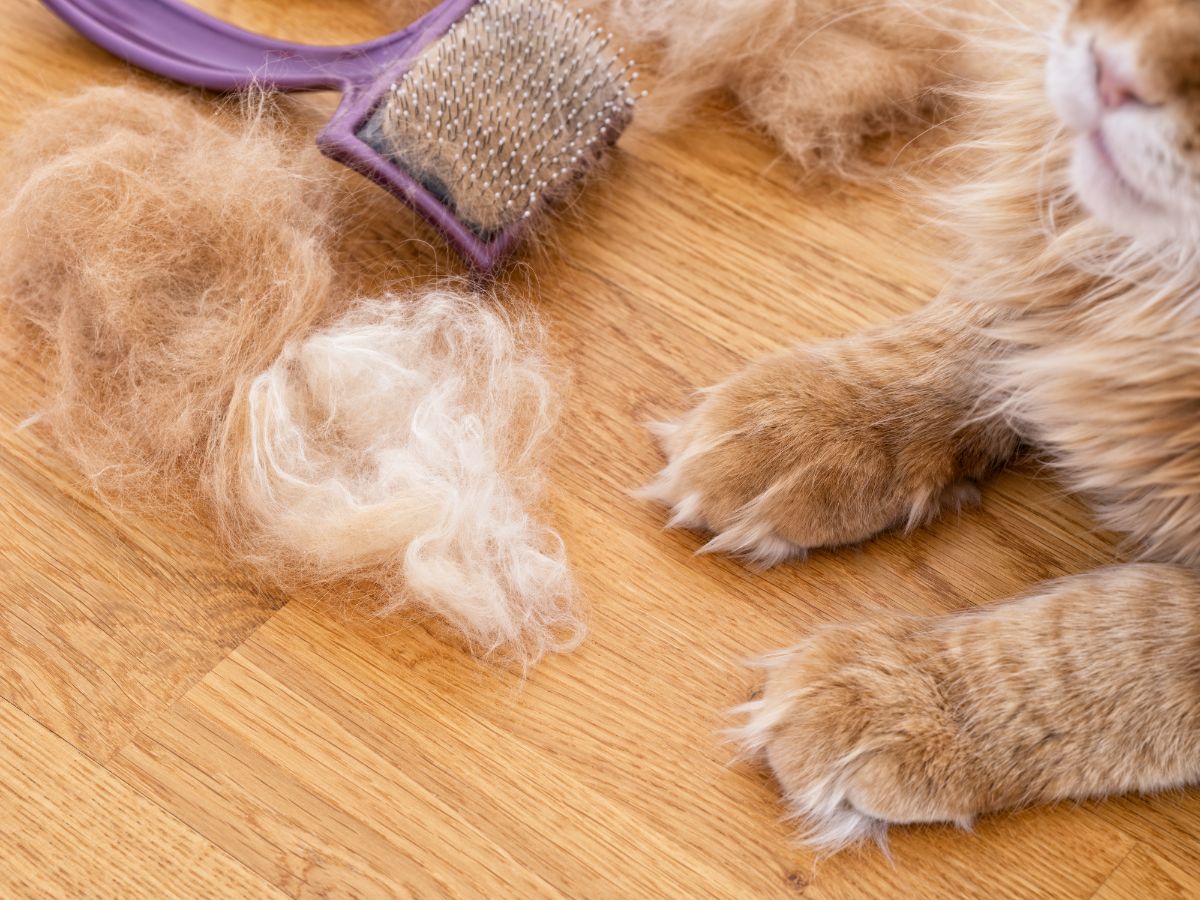 Sometimes when trying to safely remove knots from your Maine Coon's fur, you must take drastic action.
If no combination of grooming equipment and loosening agent works, it may be time to trim your Maine Coon's fur.
You can try this at home using a pair of dog and cat-tailored clippers to cut away the knot and excess fur while keeping your Maine Coon safe and comfortable.
Avoid cutting the cat's skin, and ensure your cat stays relaxed. Distracting it with treats can be an excellent way of doing this.
Less confident owners should discuss the possibility of having their Maine Coon's fur professionally trimmed to remove knots safely.
Your Maine Coon's fur will be shorter, but it means less grooming and a healthier, more comfortable cat.
Cut the Knot
If nothing else works, it's time to cut the knot. For this, you will need a pair of sharp scissors designed to cut animal fur.
Always start by ensuring your cat is relaxed. To safely cut the knot from your Maine Coon's fur, lift it carefully away from the skin.
With the knot in your fingers, slip the scissors under the knot.
Taking care not to nick your cat's skin; cut the stubborn knot away from your Maine Coon's fur.
To ensure your Maine Coon continues to respond positively to home grooming, it helps to reward them with a treat or favorite toy afterward.
FAQs
If you still have questions, here are other things many people wonder about.
Can I cut knots out of my cat's fur?
Yes. You can safely cut knots from your Maine Coon's fur, provided you have reliable scissors and can keep your cat relaxed.
When trying this at home, remember to ensure you don't cut the cat. If you do, you must have a first aid kit on hand to treat the cut and minimize the chance of infection.
How do you detangle matted cat hair without cutting it?
If you don't want to detangle matted cat hair by cutting it, you have options. The most effective involves using a combination of brushes and detangling equipment to coax the knot out.
For stubborn knots, you can also use a loosening agent like:
Cornstarch
Olive oil
Baby powder
Coconut oil
Final Thoughts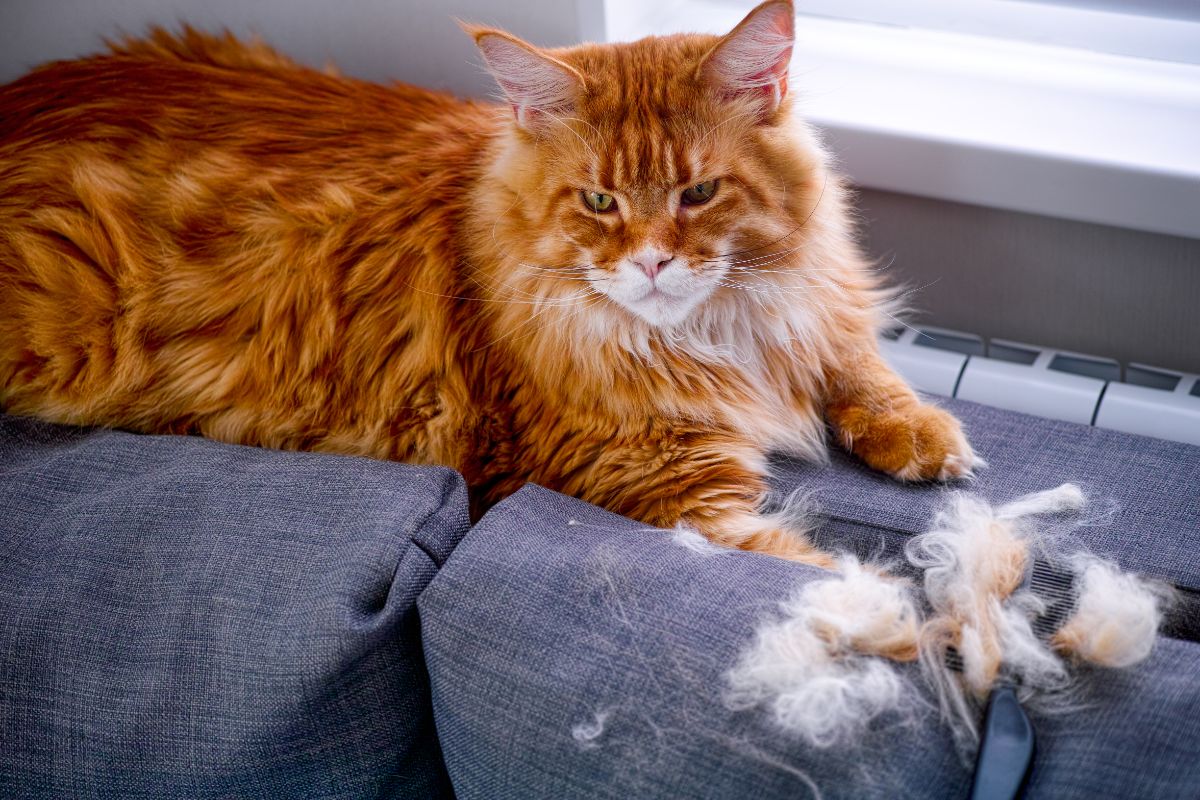 There are several effective ways to safely remove a knot from a Maine Coon's fur before you need to resort to cutting it.
Whatever method you choose, ensure your cat feels comfortable. And keep a first aid kit on hand. Hopefully, there won't be any accidents, but if there are, you can treat them.