Maine Coon cats are known for their gorgeous fluffy fur, enormous size, and dog-like personalities. While their exterior features and lovable personalities make them a popular cat breed, cat enthusiasts are more aware of their necessary maintenance than the general population.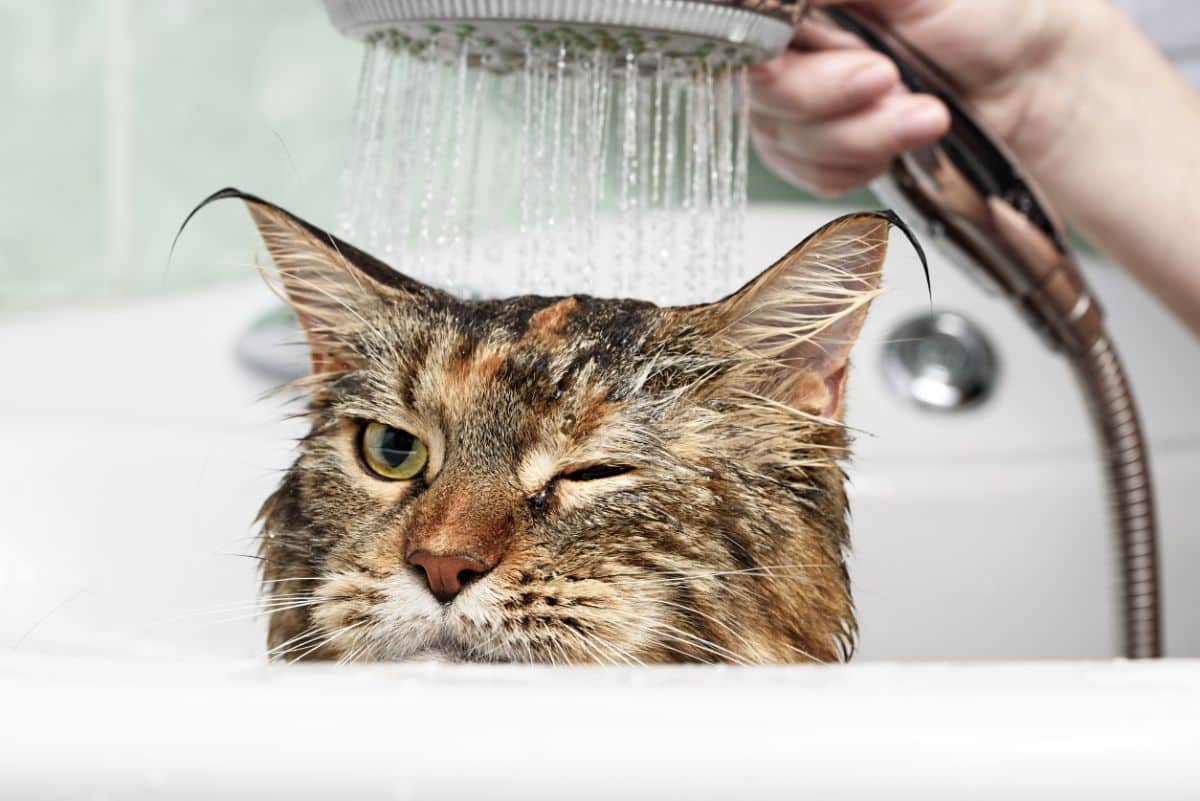 To keep a Maine Coon healthy, they require a strict diet and frequent grooming. If they are not groomed frequently, their hair can become matted, and their skin can dry out. While giving your Maine Coon a bath is not a life or death part of the cat's maintenance, it can boost their hygiene. If you are giving your Maine Coon a bath, attempt to bathe them once a month.
A once-a-month bath for your Maine Coon will help with overall hygiene and keep their long fur soft and vibrant. Keep in mind that over-bathing a Maine Coon can mess up their fur and prevent them from accurately regulating body temperature. Therefore, you should never bathe a Maine Coon more than once every 30 days.
Jump to:
11 Tips For Bathing Your Maine Coon
Bathing your Maine Coon doesn't have to be a difficult task. Follow these 11 expert tips to know when to bathe your cat and what precautions to take.
Tip 1: Best Maine Coon Bath Frequency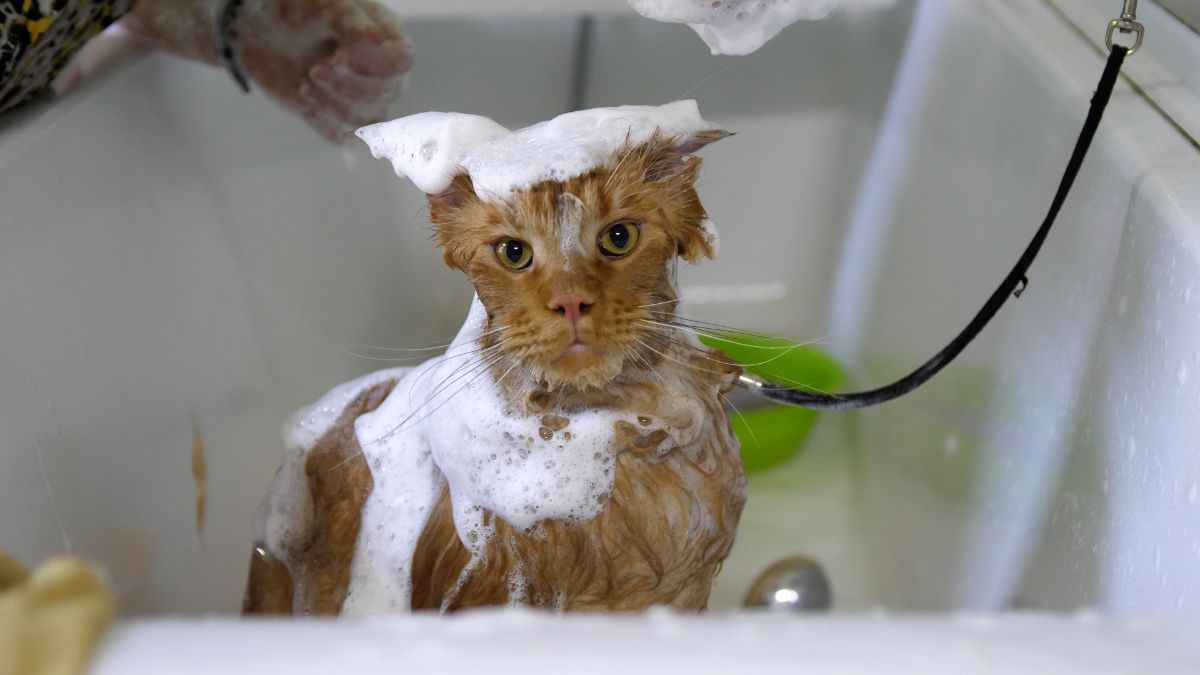 Bathing a cat may not necessarily be on your radar when you decide to get a Maine Coon. While giving your Maine Coon a bath is not required, it can help with its overall health and will help keep its fur looking fluffy and majestic longer.
If you decide that regularly bathing your Maine Coon is going to be on your chore list, attempt to bathe it once a month.
Tip 2: Choosing the Best Shampoo for Your Maine Coon
Choosing the best shampoo for your Maine Coon can quickly become an overbearing task. The best type of shampoo for a Maine Coon provides a natural formula and leaves their coat looking full. The best shampoo for a Maine Coon is Pet Oatmeal Shampoo. This shampoo helps remove dead skin and fur and soothes skin with its anti-itch formula.
You should never bathe a Maine Coon with human shampoo - the chemicals found in those shampoos are harmful to the cat.
Tip 3: How to Prevent Scratches During Bath Time
Every once in a while you may find a cat that enjoys splashing in the water, but it's common knowledge that cats and water don't typically mix well. While this is true of most cat breeds, Maine Coons have very dog-like personalities and more often than not, enjoy bath time, making scratching precautionary measures unnecessary.
However, for those Maine Coons that prefer their paws to be dry, try getting cat claw covers or trimming their claws before bath time to save your skin from cat scratches.
Tip 4: Preventing Matted Hair After A Bath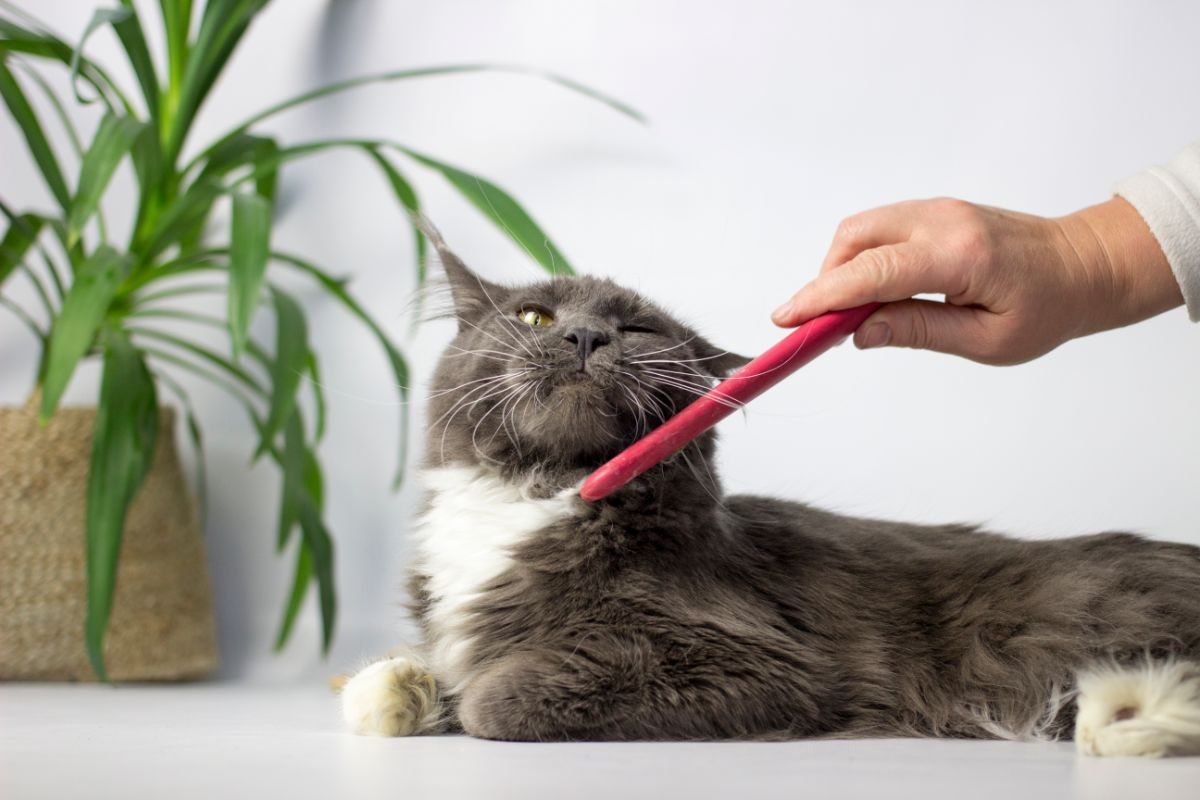 An essential part of bath time for cats with long hair is the grooming that takes before and after. For best results when giving your Maine Coon a bath you should brush their fur before you soak them and after their bath has finished. Brushing helps prevent their hair from matting and becoming a pet owner's worst nightmare.
Tip 5: Necessary Accessories for Bathing a Maine Coon Cat
For the best cat bath results, ensure you have everything prepped and ready to go before the start of the bath. Nothing is quite as frustrating as starting bathtime with your Maine Coon only to find that you don't have a towel ready to dry them off.
To ensure bath time goes as smoothly as possible, prepare necessary accessories like cat-specific shampoo, towels, a brush, and anything you need for scratch prevention.
Tip 6: Can You Overwash Your Maine Coon?
Yes! It is possible to overwash your Maine Coon. You don't want to bathe your Maine Coon more than once a month. If you wash them more than once a month, you risk messing up their fur and preventing them from having the ability to regulate body heat. Overwashing can also dry out their skin.
Tip 7: Can You Use a Conditioner On Your Maine Coon?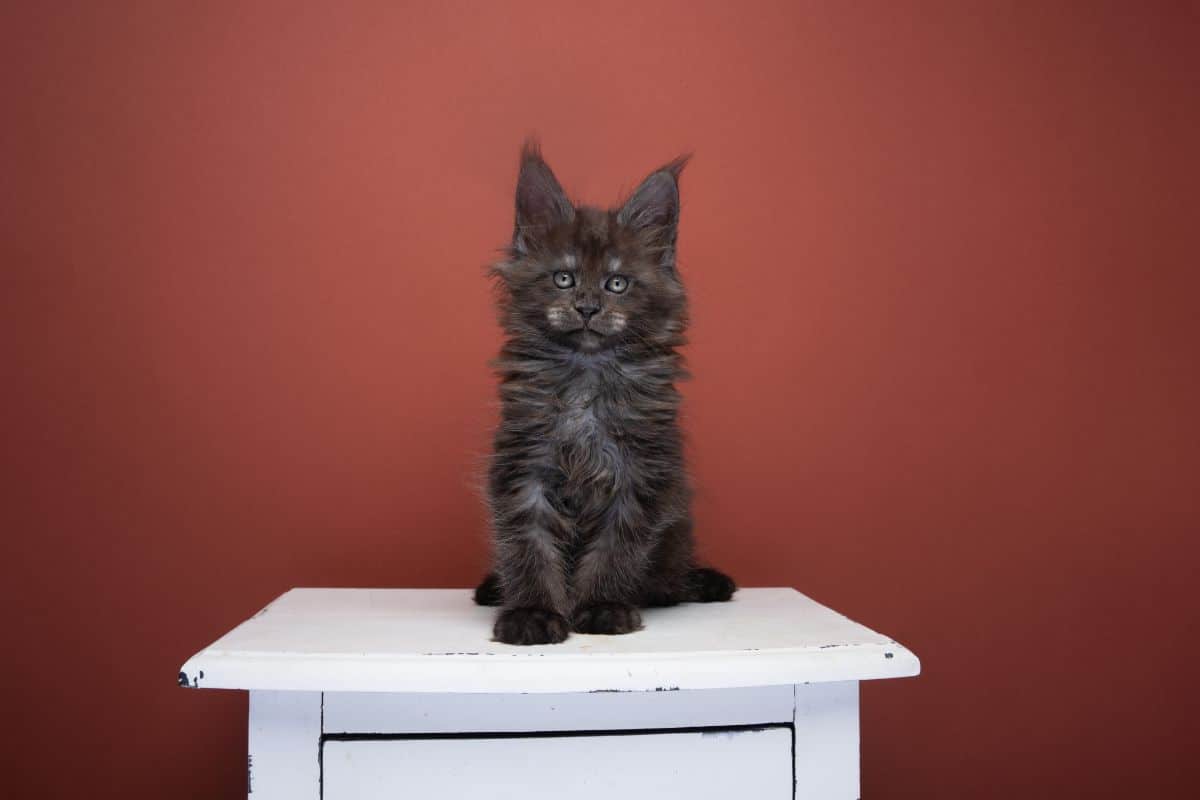 As with humans, using conditioner on your Maine Coon's fur will help detangle their long hair when it comes time to brush. Before applying conditioner to your Maine Coon, ensure you are using a cat-specific formula like the Pet Oatmeal Conditioner. Using conditioner designed for human hair can cause more harm than good to your cat's luscious coat.
Tip 8: Dry Bathing a Maine Coon
It's no secret that Maine Coons have a say in how well bath time goes. If your Maine Coon is one to put up a good fight in resistance to bath time, you may want to seek an alternative method to shampoo and water.
For dry bathing, consider a waterless shampoo like John Paul Waterless Oatmeal Shampoo. This shampoo is the perfect way to get around bathing your cat in the water and offers optimal treatment for cats with sensitive skin.
Tip 9: Ensure Your Maine Coon's Coat is Dry
The thick fur on a Maine Coon makes drying them after their bath time-consuming. While this process takes more time than you may want it to, their fur needs to be completely dry. If you don't ensure their fur dries, it can tangle easily and cause a mess. To best dry, use a high-absorbent towel and a hair dryer, if the cat permits.
Tip 10: I Don't Have Time To Bathe My Maine Coon, What Should I Do?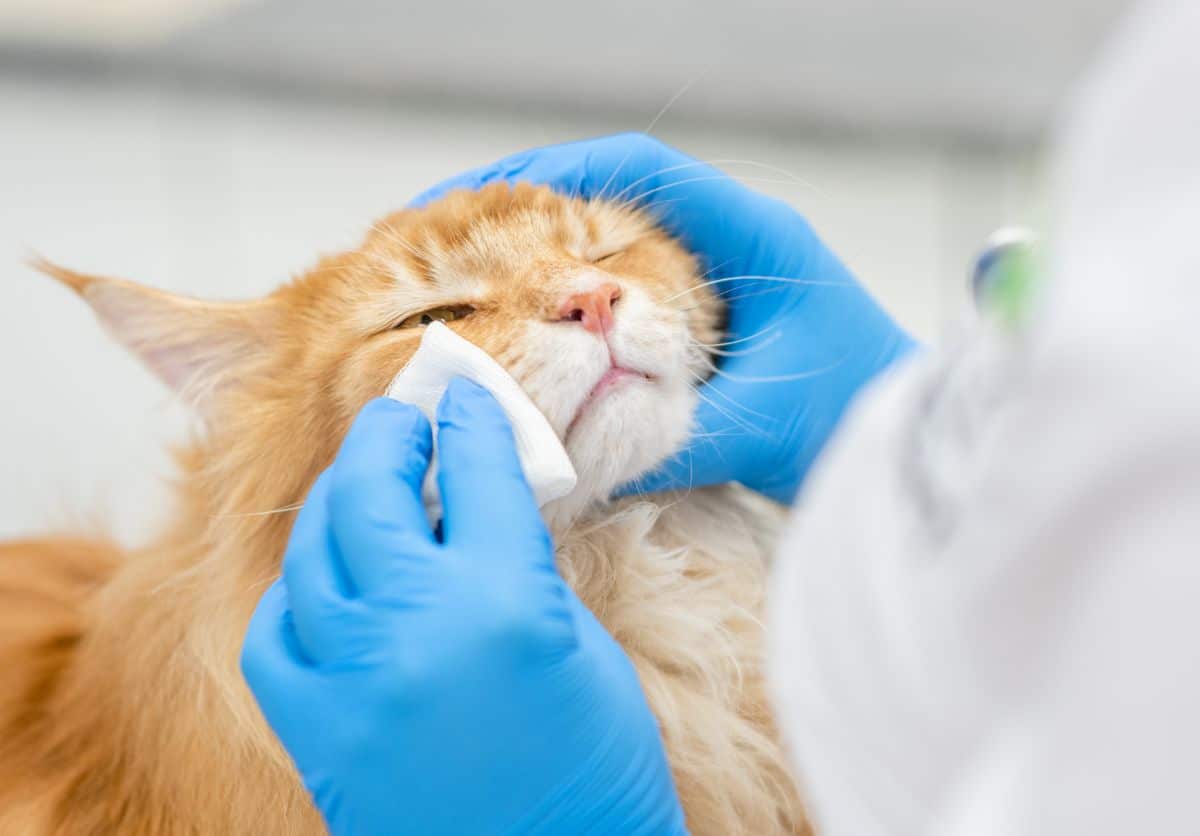 If you are short on time but your Maine Coon needs a bath, the best alternative is dry cleaning the cat with wet wipes. Not only do wet wipes provide a quick bath alternative, but they also provide dandruff control and can make your cat's coat shinier.
Before using wet wipes on your Maine Coon, ensure they are designed specifically for cats and don't have any harmful chemicals.
Tip 11: Do Indoor Maine Coons Need Baths?
You may be wondering if your indoor Maine Coon needs monthly baths. There is no cut-and-dry answer to this question as it depends on the home situation and preference of the owner.
If your Maine Coon never goes outside or is never in contact with outside animals, they may not need regular baths. However, if your Maine Coon is an indoor/outdoor cat, monthly baths are recommended as the likelihood of fleas is higher.
Final Thoughts
Whether you're thinking of getting a Maine Coon cat or you already have one, it is vital to the cat's health that you understand how frequently to bathe them. If you bathe them too often, you risk interfering with their natural body heat regulation and drying out their skin. If you never bathe your Maine Coon, they may develop skin issues, and their coat can become dull.
Ensure you know the best steps for bathing a Maine Coon before undertaking bath time for your cat.