Maine Coons are famous for their gentle giant status. They also take time to fully mature, so chances are that the crate you buy for your Maine Coon kitten won't last into its adulthood.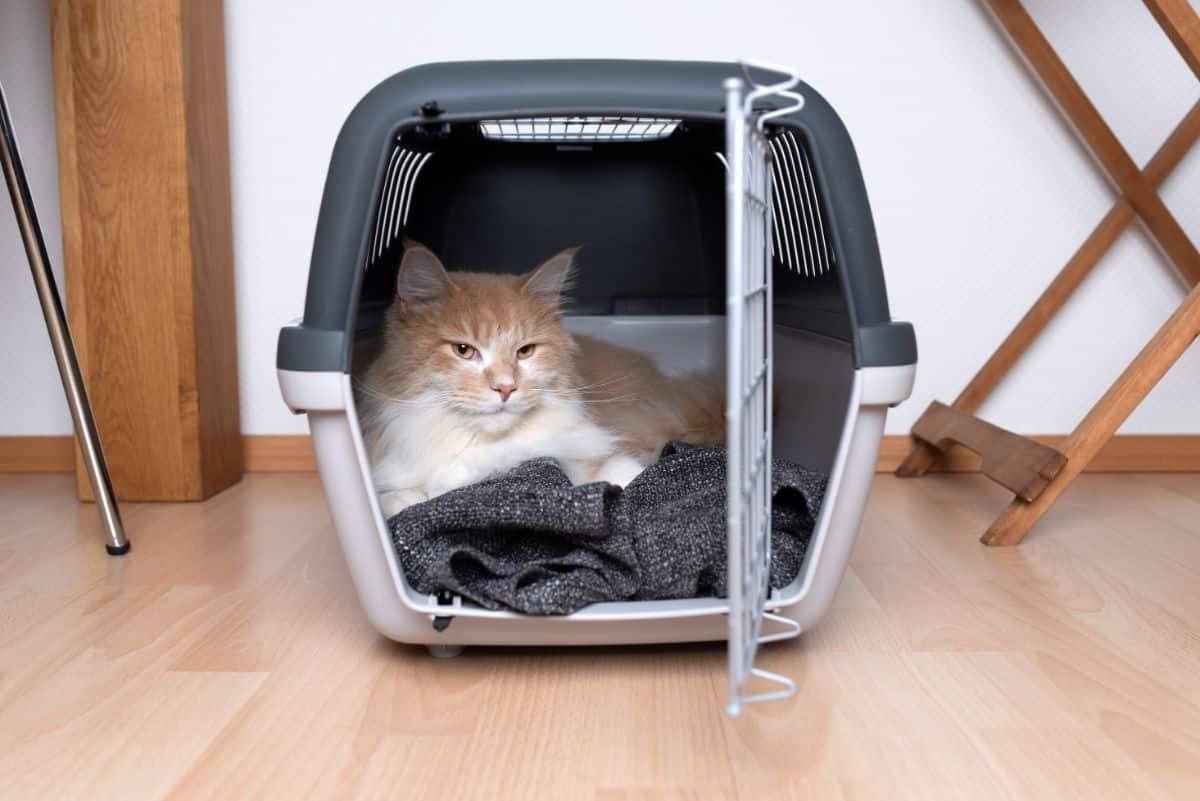 Jump to:
11 Best Pet Carriers for Maine Coons
When investigating the best pet carriers for Maine Coons, there are several factors you must consider.
Crucially, you need an extra large cat carrier so your Maine Coon can stand up and turn around comfortably while in the crate. You also need a sturdy crate to support the weight of an adult Maine Coon.
Here are the best pet carriers for Maine Coons.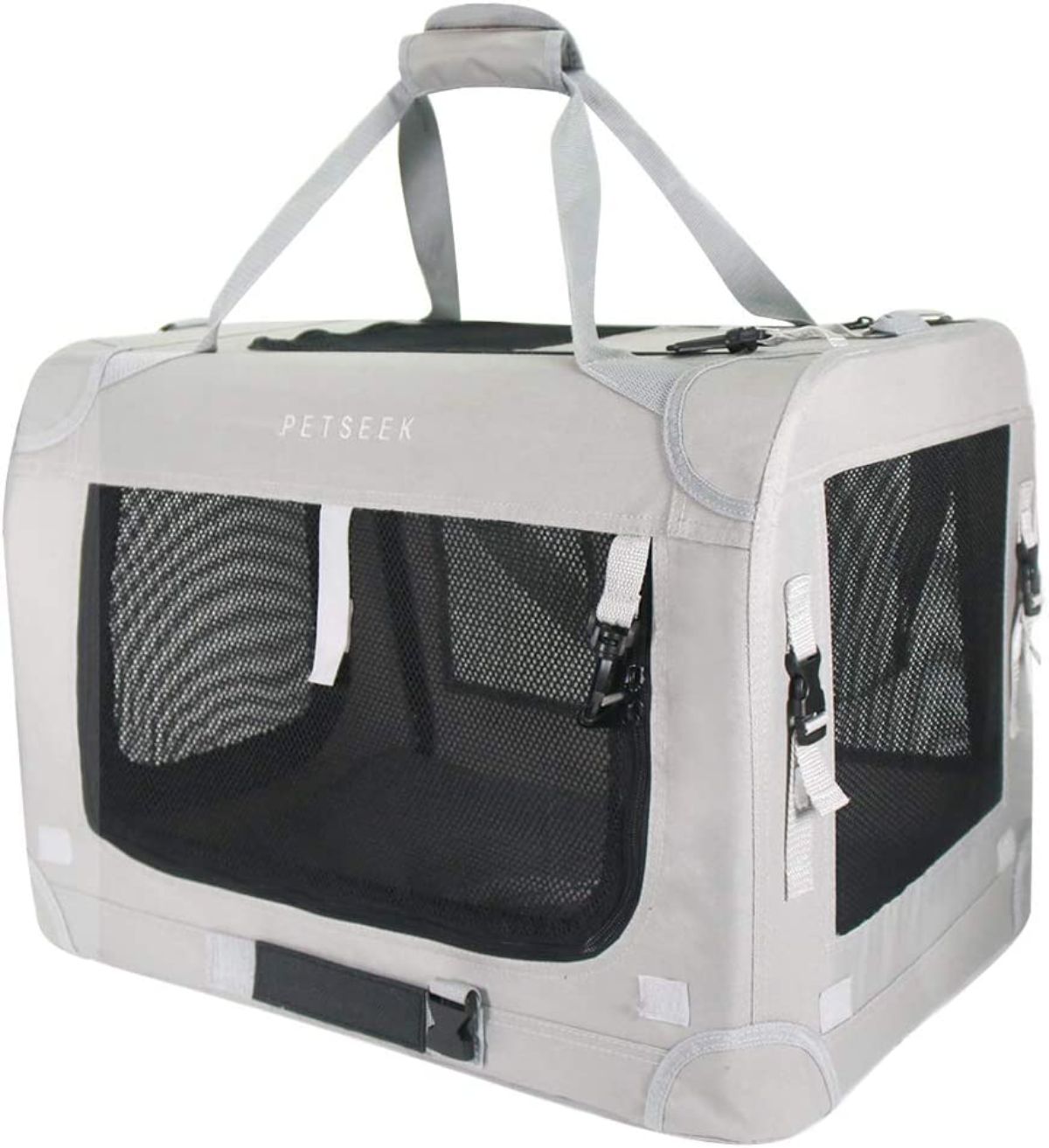 The PetSeek Extra Large cat carrier is large enough to comfortably accommodate a Maine Coon. It's a soft-shell crate but sturdy enough to support your cat's weight when you need to transport it to the vet or cattery.
It's also collapsable, so it doesn't take up significant storage space between uses. The top and front-loading options make it easy to transition your cat into the carrier.
Pros:
Shoulder strap
The cat can turn around comfortably
Top/side loading options
Cons:
Expensive
Anxious cats may eventually claw through the mesh
The Pet Life Folding crate is ideal for Maine Coons. It's an extra-large cat carrier long enough to comfortably house your feline giant.
It includes a leash fixture that helps tether and calms an anxious cat and sturdy mesh windows. It requires some assembly but easily collapses between uses, so you don't need to worry about it taking up floor space.
Pros:
Leash tether for anxious cats
Big enough for Maine Coons
Collapsable
Cons:
Requires assembly
No top-loading entrance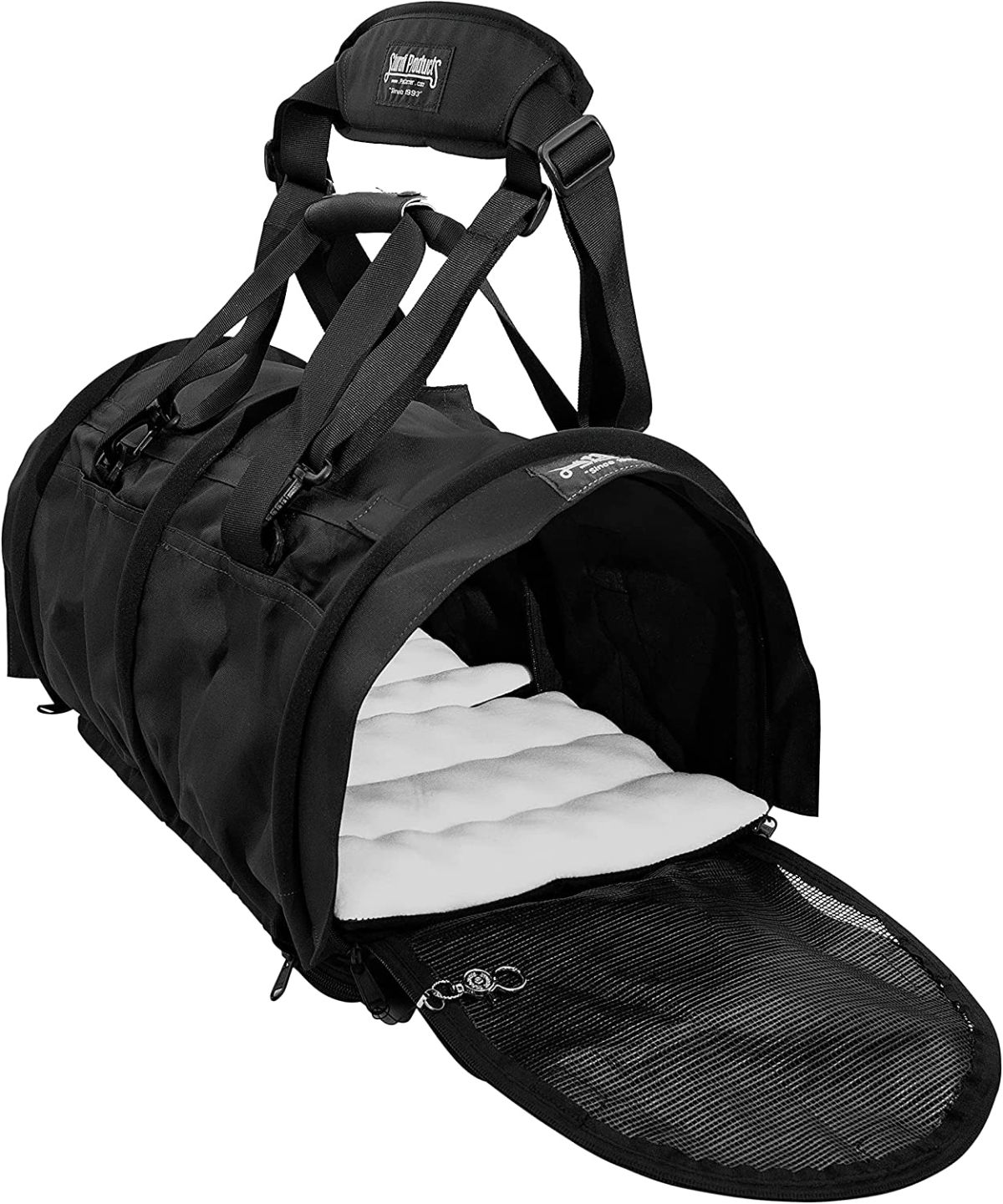 Sturdibag is another extra-large cat carrier ideal for Maine Coons. It comes in various styles and has a strong shoulder strap to help you maneuver the crate.
The crate doesn't collapse but 'softens' for easier storage, even as it retains its shape.
Pros:
Sturdy crate
Airline compliant
Leash/harness tether on inside
Cons:
Dense mesh limits the cat's view
Not collapsible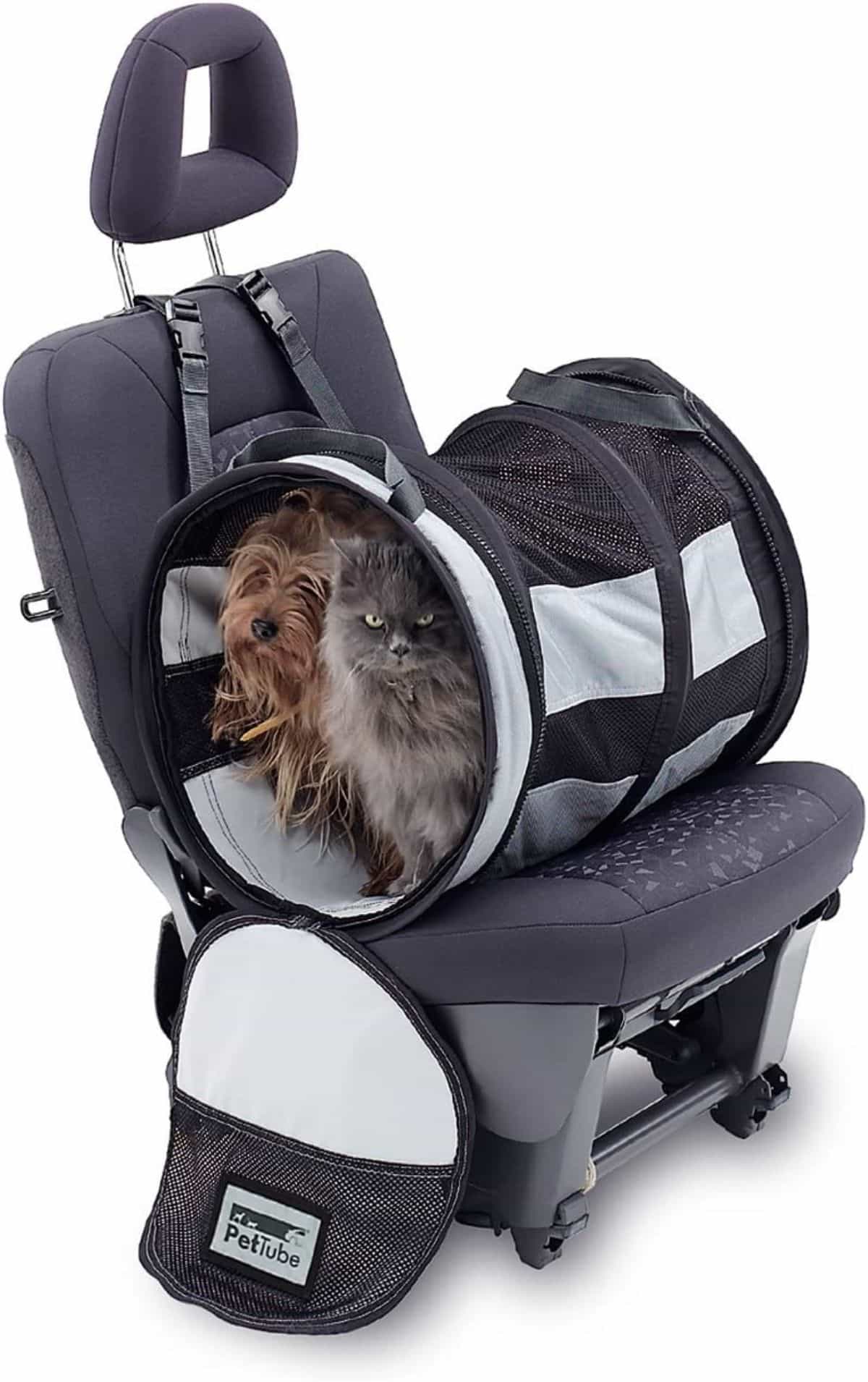 One of the reasons the Petego Pet Tube is one of the best carriers for Maine Coons is its size. The tube's length is adjustable, making it large enough for your Maine Coon. In multi-cat households, you can also contract it to accommodate smaller cats.
Despite its size, the carrier collapses for convenient storage. It's made of heavy-duty material.
Pros:
Adjustable length
Collapsible
Sturdy material and shoulder strap
Cons:
Carrier weighs eight pounds without the cat
Not crash-proof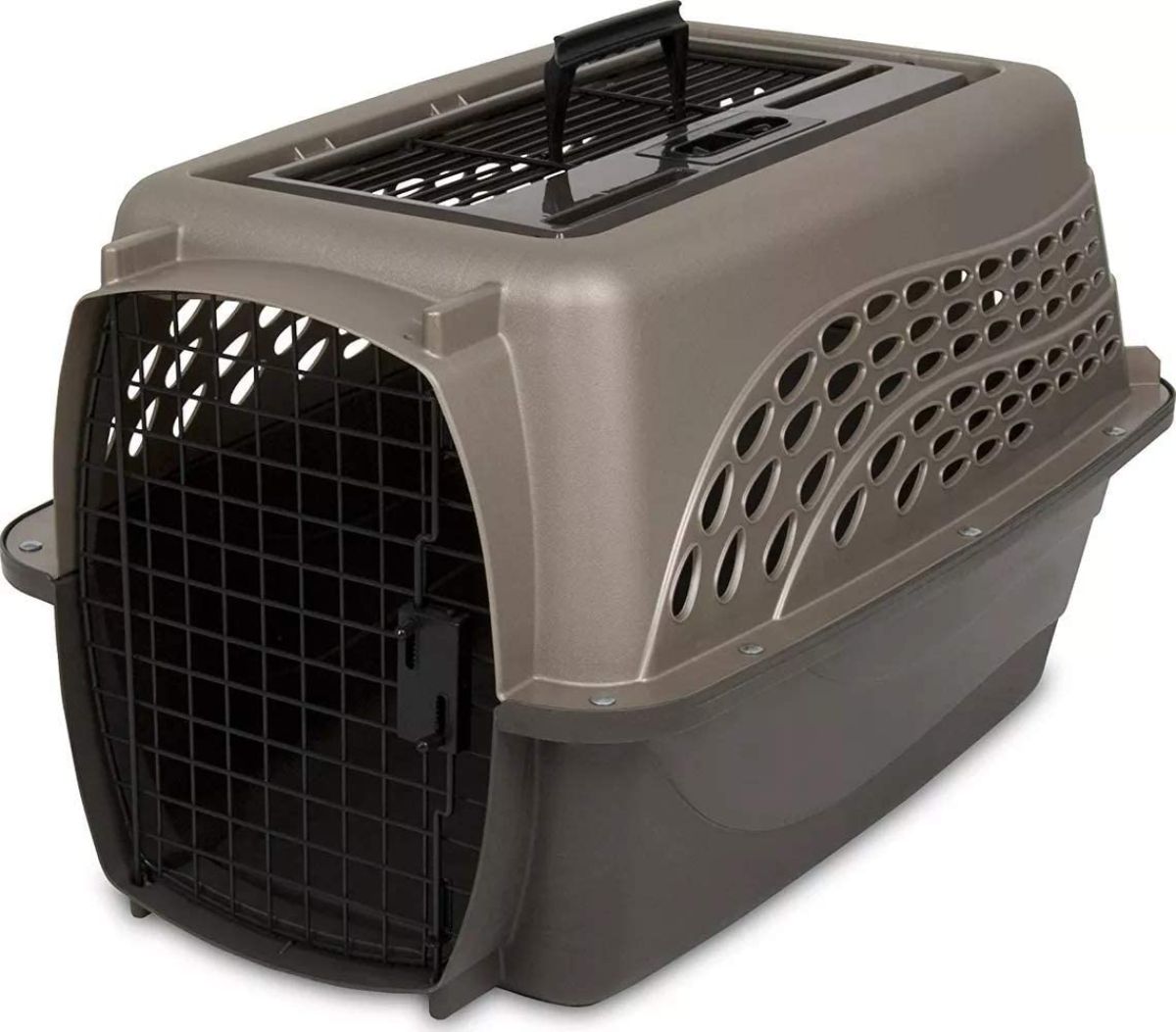 Sale
Petmate makes hard-shell carriers that offer extra protection when traveling with your Maine Coon.
The crate has two entrances and comes in a variety of colors. There's no inner lining, but it can be softened with a towel or a favorite blanket. However, although big enough for your Maine Coon it doesn't collapse unless you disassemble it.
Pros:
Extra protection from hard-shell exterior
Variety of colors/styles
Top and front loading entrances
Cons:
Not collapsable
Requires assembly
JESPET's soft crate for extra large cats is another crate that comes in several styles and accommodates a Maine Coon.
It has a fleece inner lining and is made of heavy-duty material. There's only one front entrance and a reliable shoulder strap to transport the cat and carrier.
Pros:
Collapsable
Several styles to choose from
Durable
Cons:
Expensive
No top-entry option
AmazonBasics hard-shell carrier is an affordable pet carrier that's big enough for your Maine Coon.
There are several models, including one with an additional vent for cats that need more ventilation or like to watch the world go by.
It requires assembly, but customers find construction and deconstruction easy. Like other hard-shell carriers, it can't collapse, but the added protection and sturdiness of the carrier compensate for that.
Pros:
Fits a Maine Coon up to 20lbs
Several styles available
Affordable
Cons:
Requires assembly
Doesn't collapse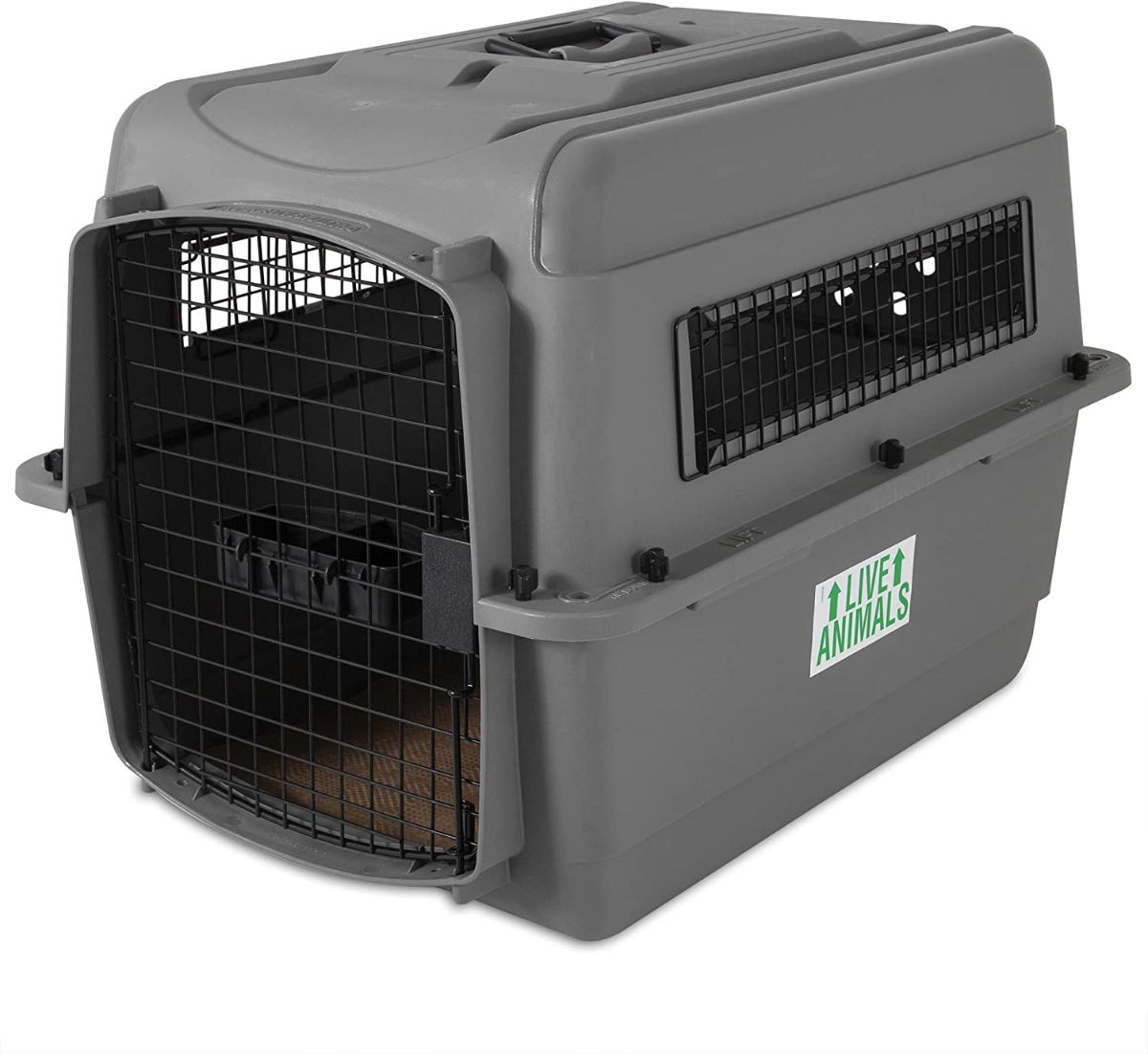 Petmate's Sky cat kennel is another Petmate carrier suitable for Maine Coons. It's made of sturdy material and features a cat-proof door.
It's also airline-approved and comes with clip-on travel dishes and ID stickers for your pet.
Pros:
Cat-proof door latches easily
Airline approved
Vents on all sides
Cons:
Awkward to carry
Door can jam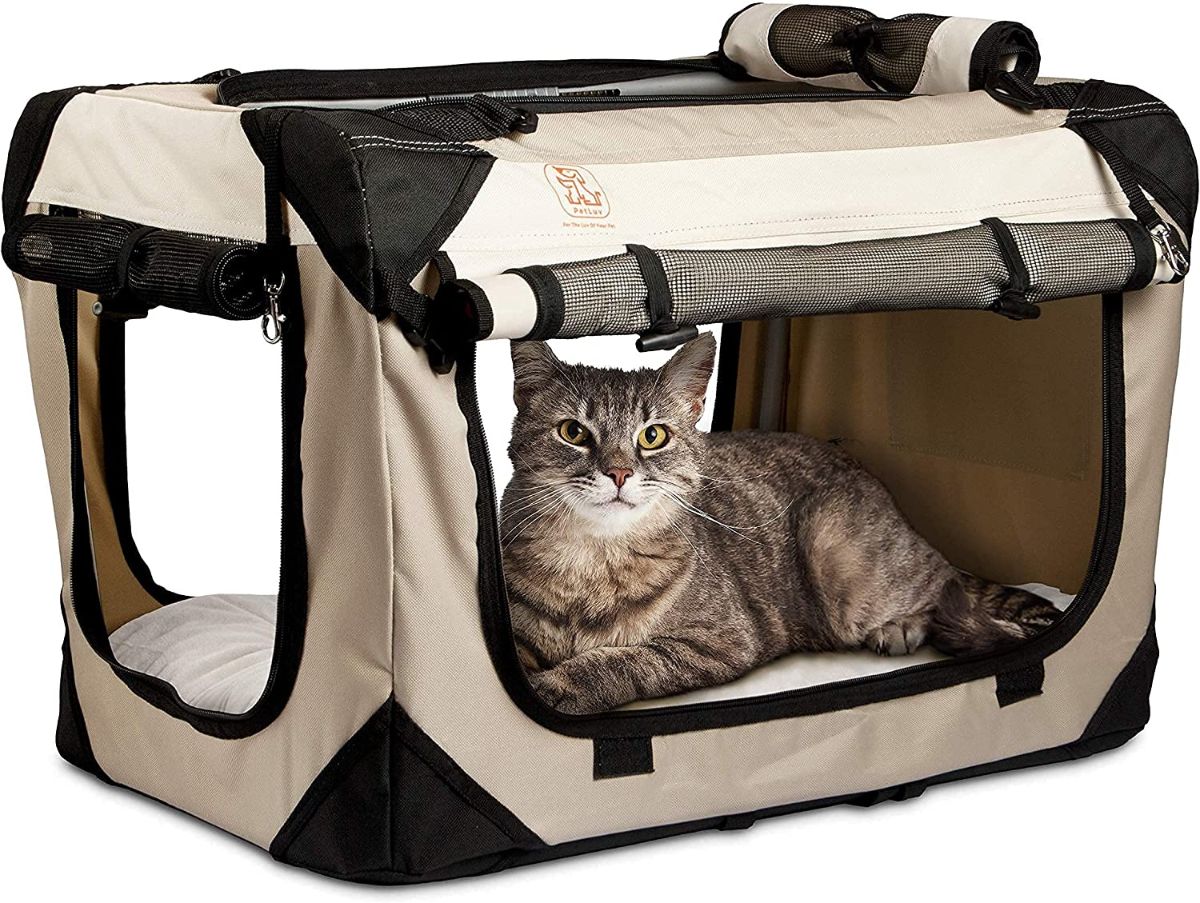 PetLuv's Happy Cat carrier is another of the best pet carriers for Maine Coons. It has a soft-shell exterior reinforced by metal poles.
It collapses for convenient storage and features multiple entrances to quickly and efficiently bundle your Maine Coon into the crate.
When empty, it weighs approximately six pounds, making it noticeably lighter than other carriers discussed here.
Pros:
Top/front-loading entrances
Collapsable
Sturdy material and shoulder strap
Cons:
Unsuitable for anxious cats
Expensive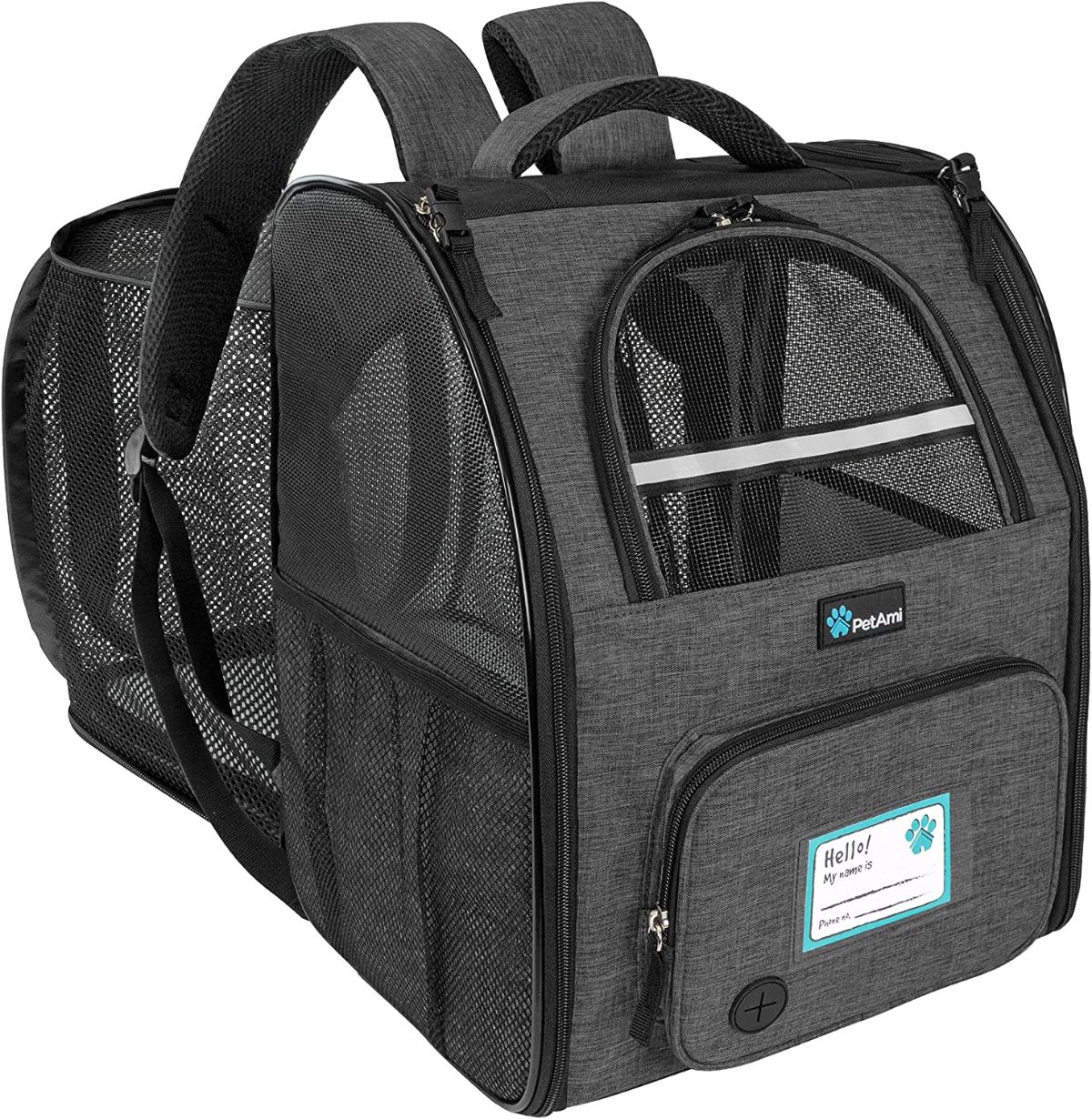 Sale
PetAmi's expandable backpack offers a creative alternative way to transport your Maine Coon. It expands to comfortably hold a Maine Coon and features a comfortable, breathable material.
Additionally, it stores easily between uses. However, despite its durable material, some customers expressed concern that the backpack structure failed to provide adequate support for a fully-grown Maine Coon.
Pros:
Durable
Breathable
Expandable
Cons:
May not support an adult Maine Coon properly
Heavy to carry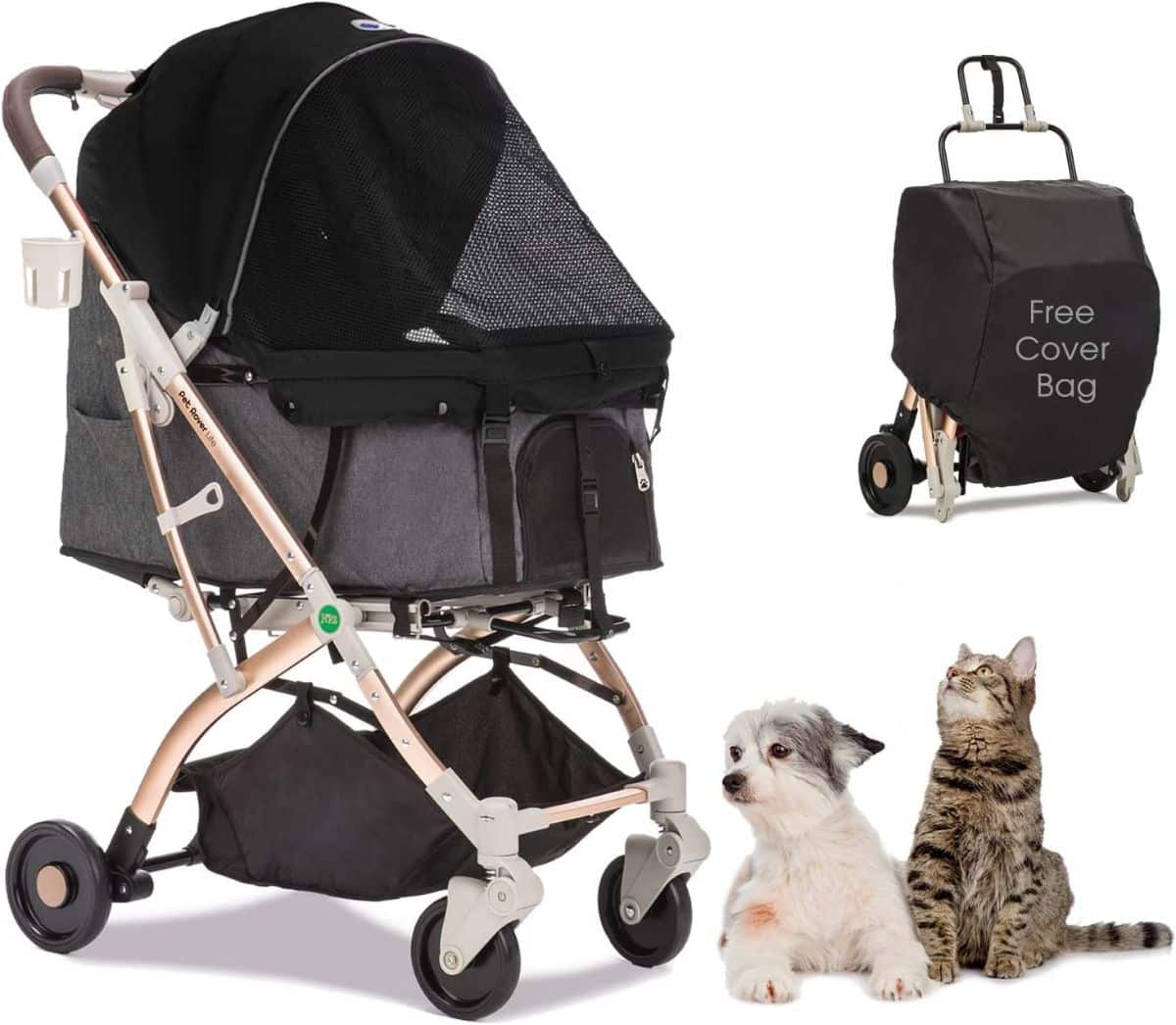 Finally, the Pet Rover Stroller is the best pet carrier for Maine Coons with wheels.
The carrier uses a heavy-duty, breathable material and collapses for storage. There are various sizes and models to choose from.
However, it is the most expensive pet carrier on this list.
Pros:
Variety of styles
Several ways to use it
Stores easily
Cons:
Expensive
Even collapsed, it takes up considerable storage space
FAQs
Here are other questions people had about choosing a crate for their Maine Coon.
How do you carry a Maine Coon cat?
Because Maine Coon cats are significantly larger than other domestic cats, there are a few tricks to picking them up.
Use your dominant arm when stabilizing your cat's upper body. Then place your free hand supportively on your Maine Coon's near the hind foot. This gives their hindquarters support and prevents you from crushing their vital organs.
Do cats prefer hard or soft-sided carriers?
You can make a crate more appealing, but ultimately, the choice for a hard or soft crate is yours.
Hard carriers offer more stability and protection and suit cats prone to clawing or scratching during transit. Soft carriers are lighter and can be effective with more placid cats.
Can you walk a Maine Coon cat on a lead?
You can indeed walk a Maine Coon cat on a lead. It requires a sturdy harness since they are large cats, and you need to control them.
However, it's different from walking a dog. Be prepared for your Maine Coon to try to lead you into hedges and up trees in search of prey.
Do Maine Coons like to walk on a leash?
Maine Coons are adventurous, energetic cats. With the right training, they can enjoy walking on a leash.
However, if you want to walk your Maine Coon on a leash, it helps to start young so they become familiar with the harness and leash as soon as possible.
Conclusion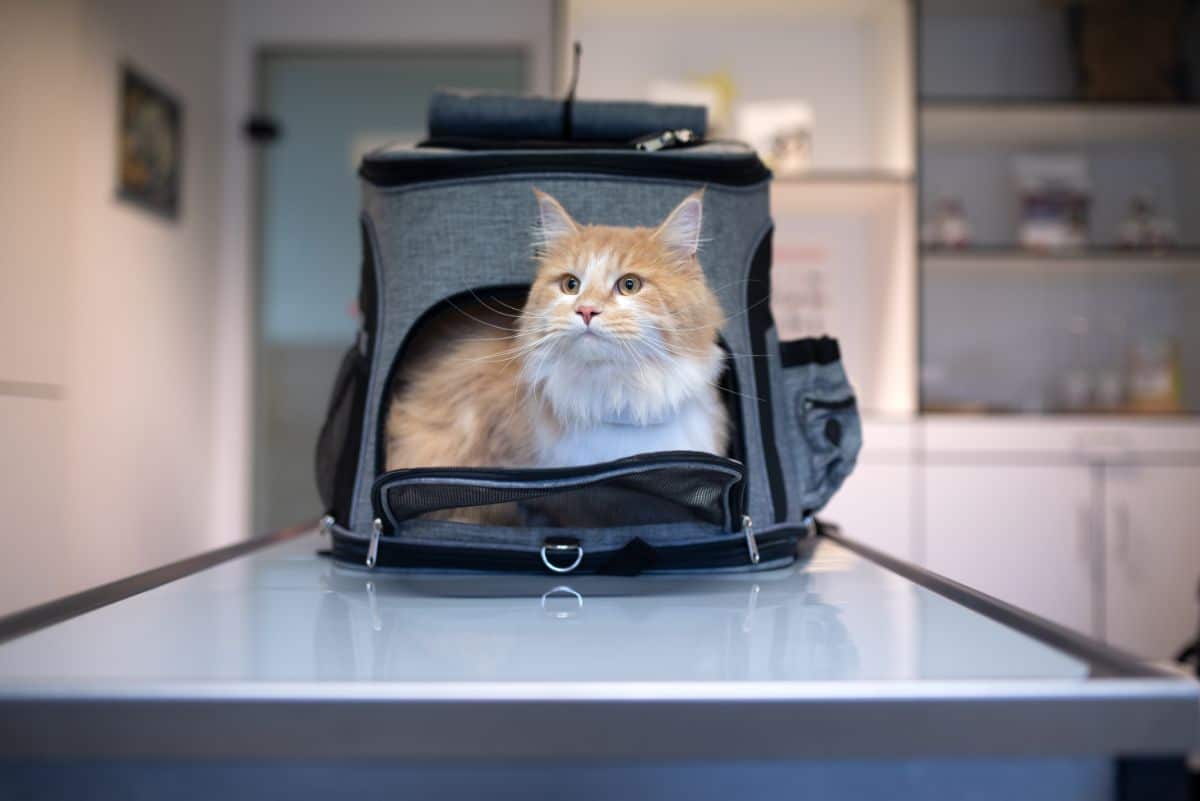 Remember, when choosing the best pet carrier for a Maine Coon, you need something with ample space for your cat to stand up and turn around comfortably.
You also want a carrier made of sturdy material that doesn't take up all your closet space when you store it.
If it does all those things, it's an excellent fit for you and your Maine Coon. Now all you need to do is persuade the cat to use it.