Cats are one of the most common household pets in the country, and for good reasons. They are adorable, independent, and require less daily care compared to dogs.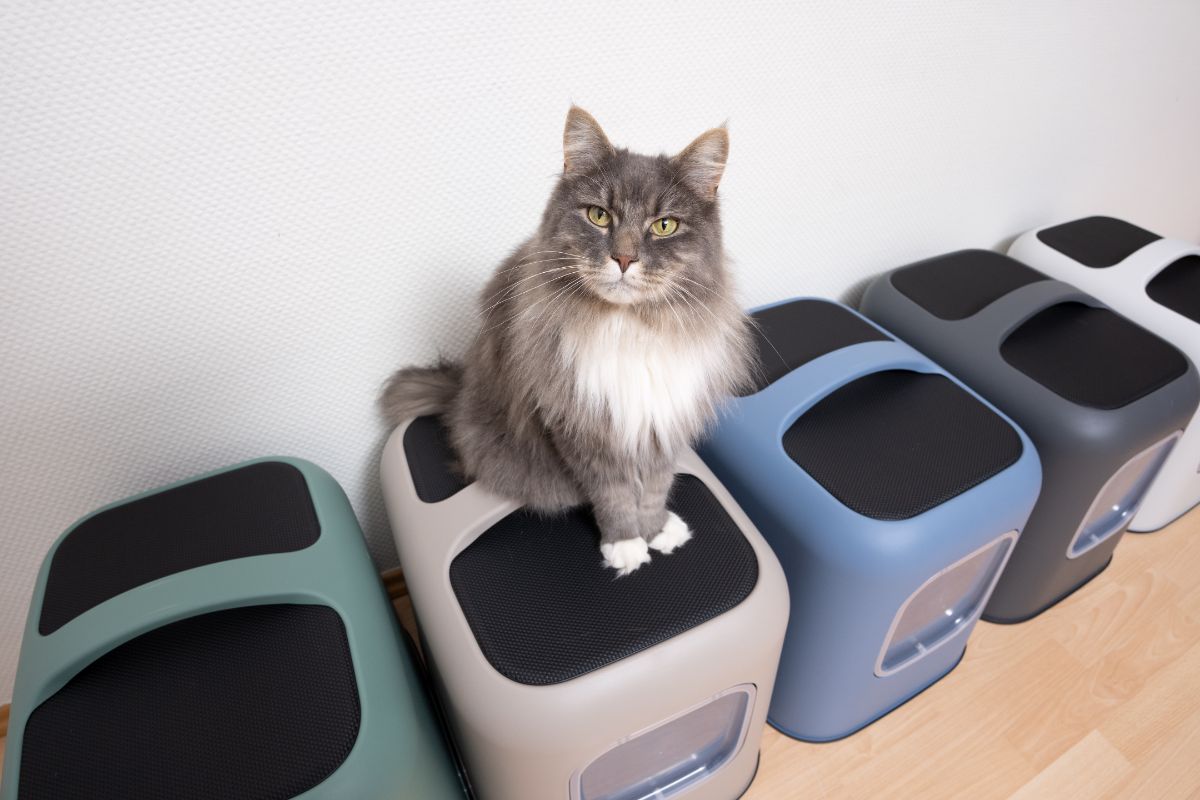 One of the essential elements of taking care of a cat is maintaining the litter box. But what happens if you have more than one cat? Must you have more than one litter box? How does this affect the number of cleanings?
We'll start with a short section covering some key features to look for when buying a litter box that more than one cat will use. The last section will include answering some of the most frequently asked questions about allowing two or more cats to share a litter box.
Be sure to keep reading until the end to learn our top 11 recommendations for the best litter boxes for multiple cats!
Jump to:
Litter Boxes for Multiple Cats: What To Look for
There are three key features you need to be on the lookout for when shopping for a litter box that will serve more than one cat. You want this box to be large, uncovered, and have some form of odor control.
Size
With more than one cat using this space to perform its needs, size is an essential concern. More cats mean more waste, and a wider surface area of litter will help keep the space cleaner and more manageable to maintain.
A big litter box is also necessary in case your cats need to use it at the same time.
Uncovered Top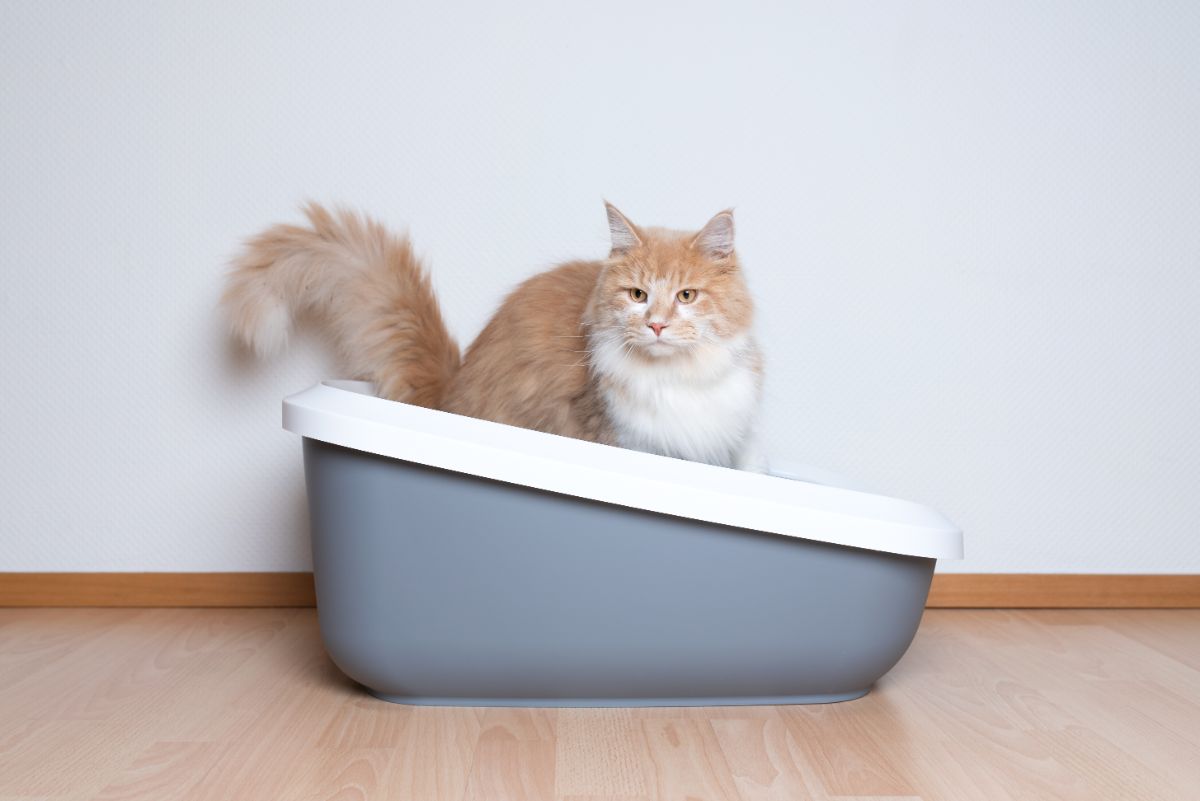 Some litter boxes come with covers that are intended to help cats feel safe and protected when they are in a vulnerable position. However, depending on the dynamic of the cats in your household, a cover on top of the litter box may end up being detrimental.
A cover helps the box feel more like a cave or a den, and if one of your cats is more territorial or dominant, they may be more likely to claim this space for themselves and not allow the other cats to enter.
An uncovered litter box, on the other hand, helps to keep the area neutral and prevents one cat from dominating.
Odor Control
Litter boxes are notorious for being stinky. When more than one cat shares the same box, the smells that will come out of it will double or triple. A litter box with some element of built-in odor control, such as an antimicrobial lining, will go a long way in helping you keep your home smelling fresh.
11 Best Litter Boxes For Multiple Cats: Our Top Picks
These are our top 11 picks for the best litter boxes for multiple cats. These litter boxes also work if you have only one large cat, like a Maine Coon or a Norwegian Forest Cat.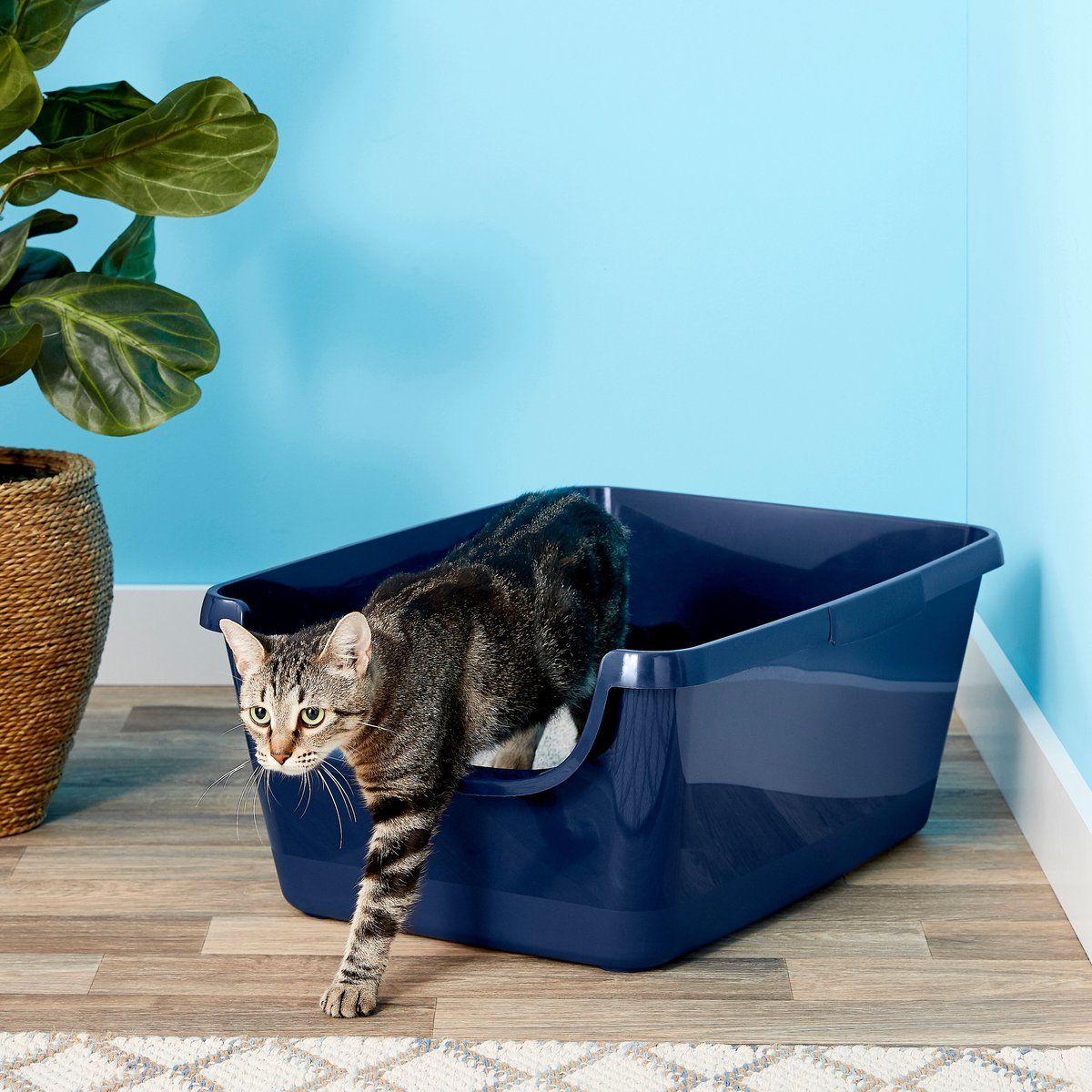 This somewhat basic option is affordable, functional, and practical. High walls keep kitty messes well-contained, and it can work for two cats.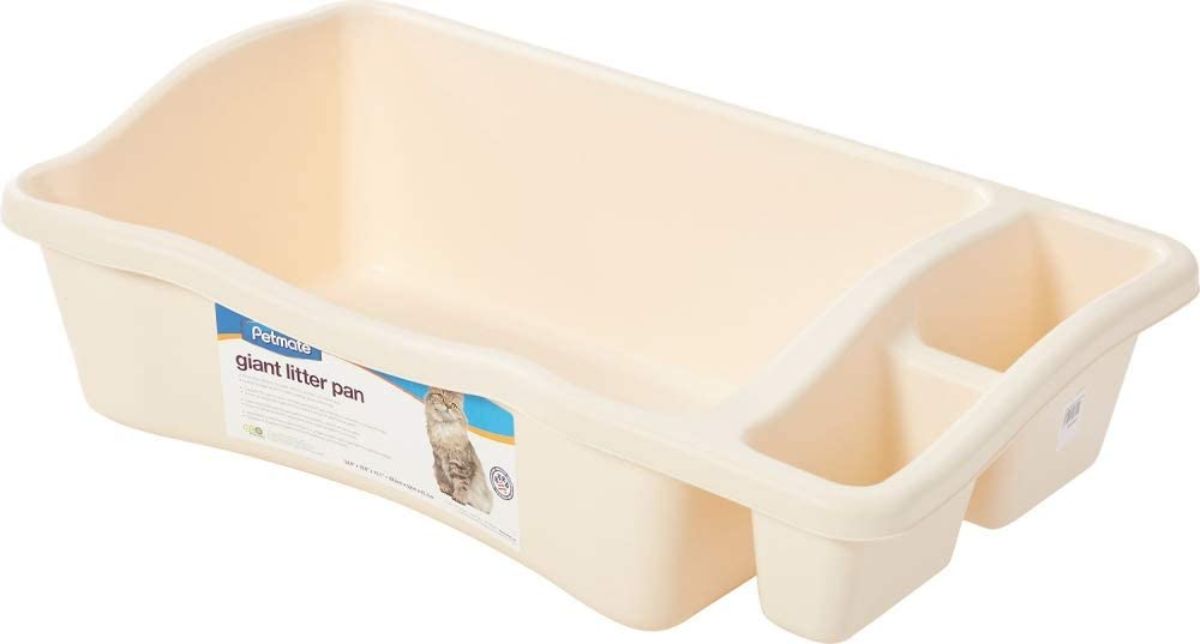 This giant-sized litter pan can easily accommodate more than one cat and even comes with built-in compartments to store your cleaning supplies.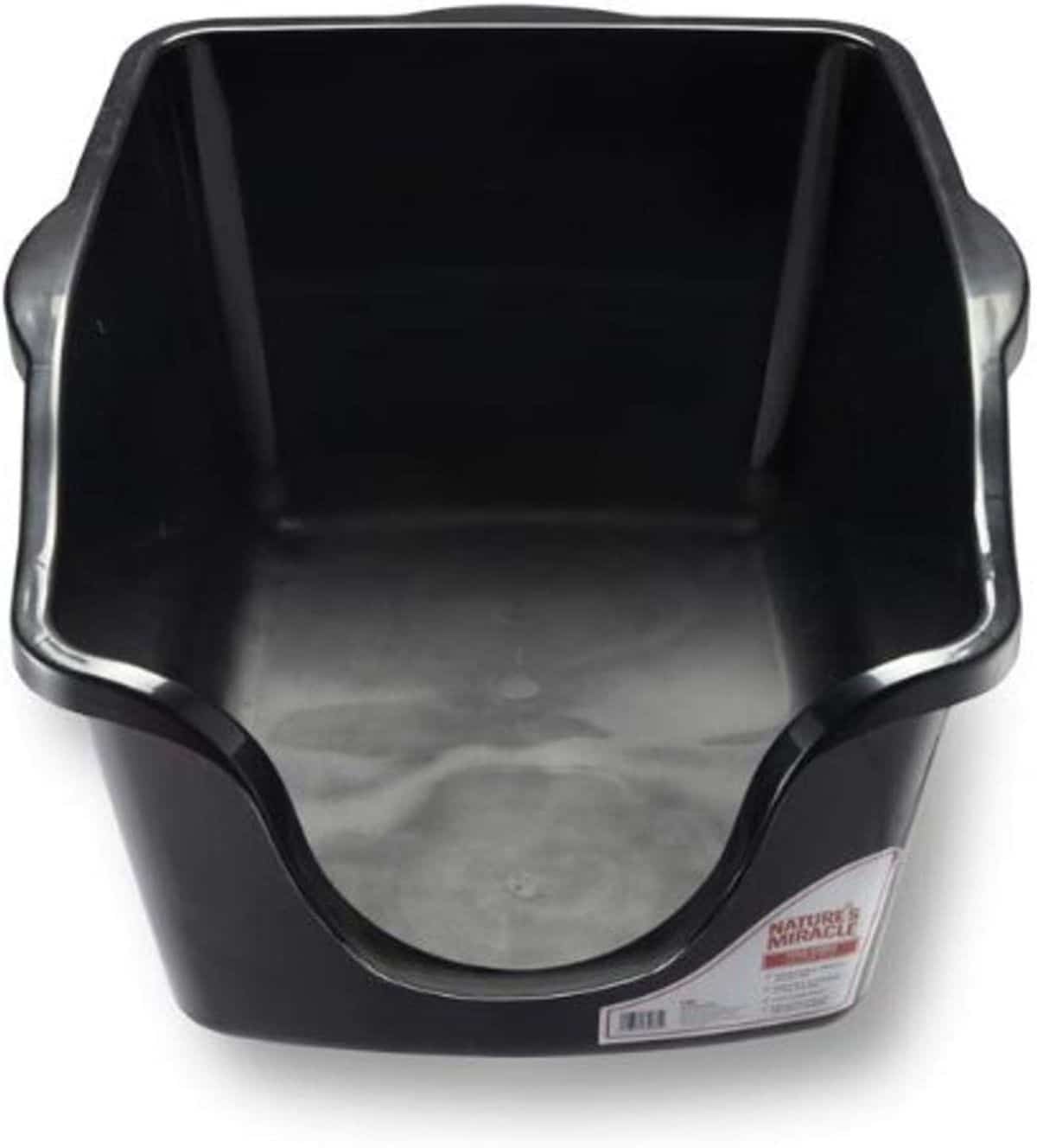 Made of durable hard plastic, this litter box can stand up to daily use by multiple cats. It has high sides to contain litter and waste but a low and rounded front end that is easy for cats to enter and exit.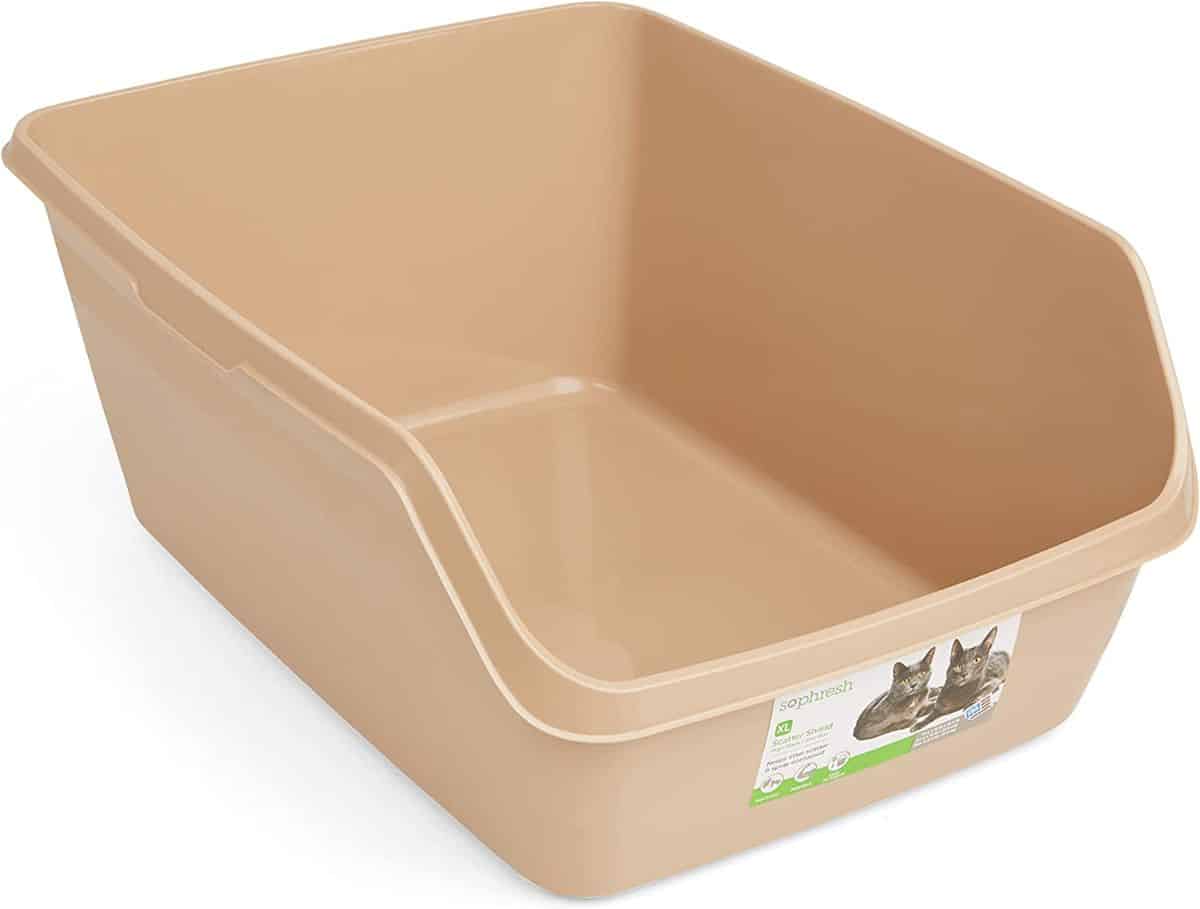 Like the top pick from Frisco, this box has tall side and back walls to prevent spraying and kicking.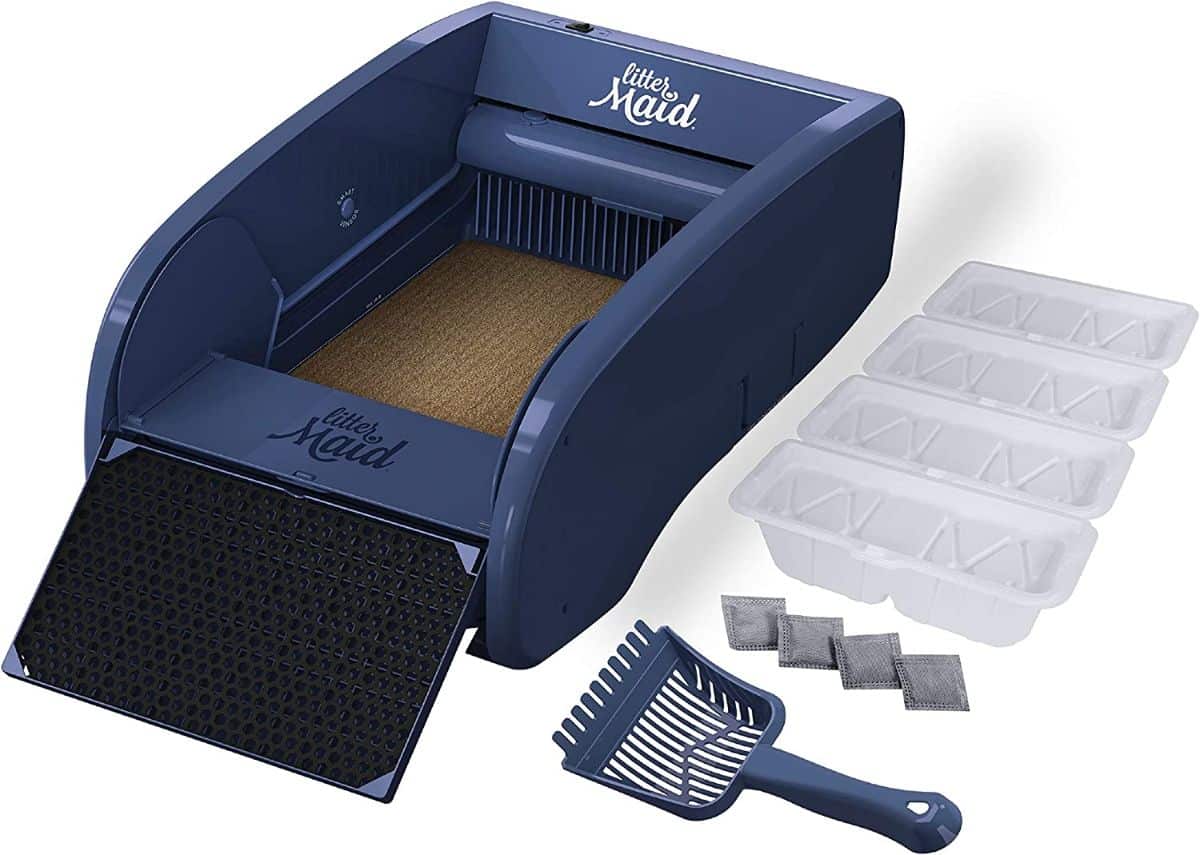 If scooping the litter box every day is your least favorite chore, you should consider this self-cleaning model, which only needs to be scooped once per week.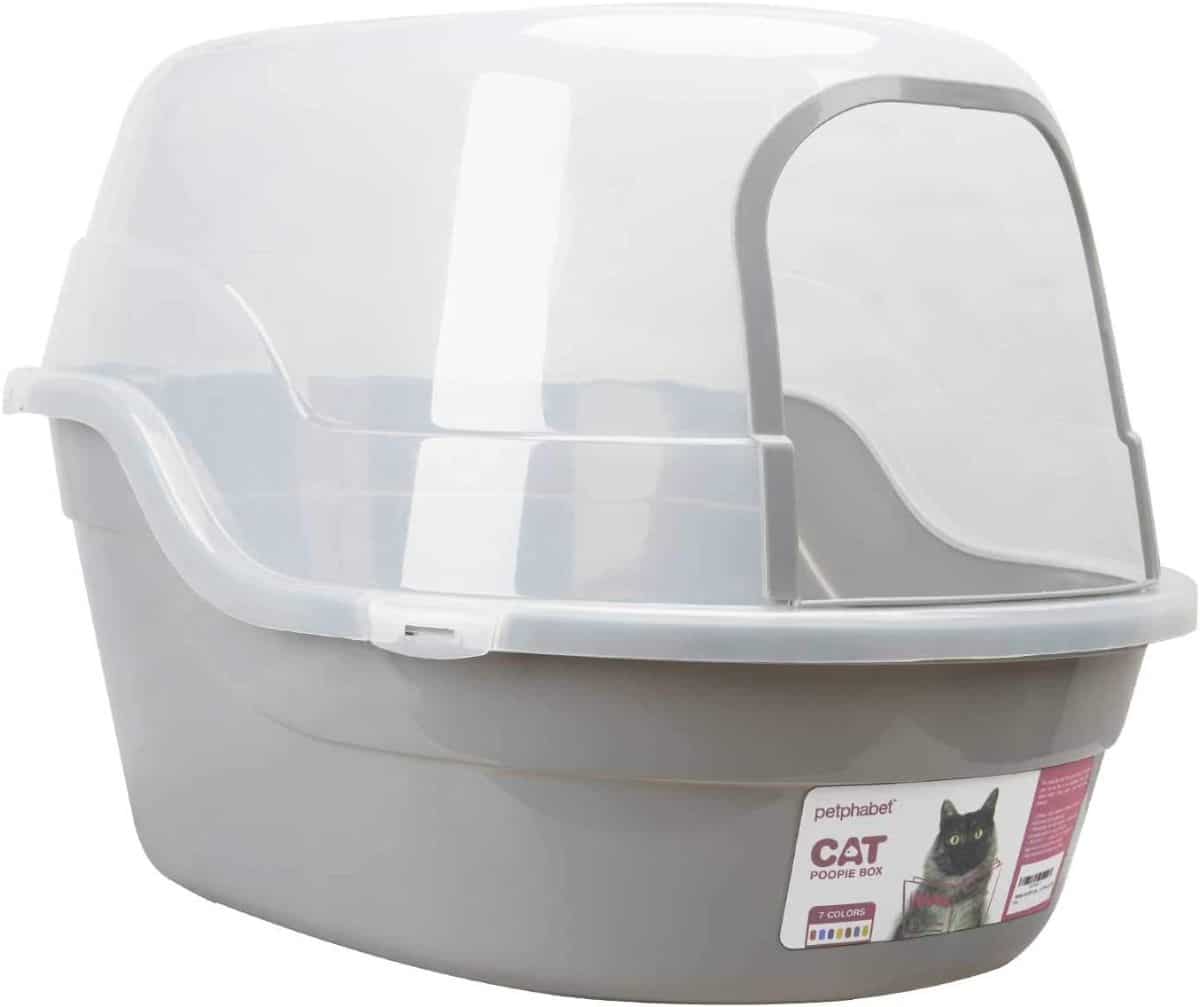 If you are set on only having a covered litter box in your home, this option's translucent cover makes it an excellent choice. It offers privacy without being too den-like.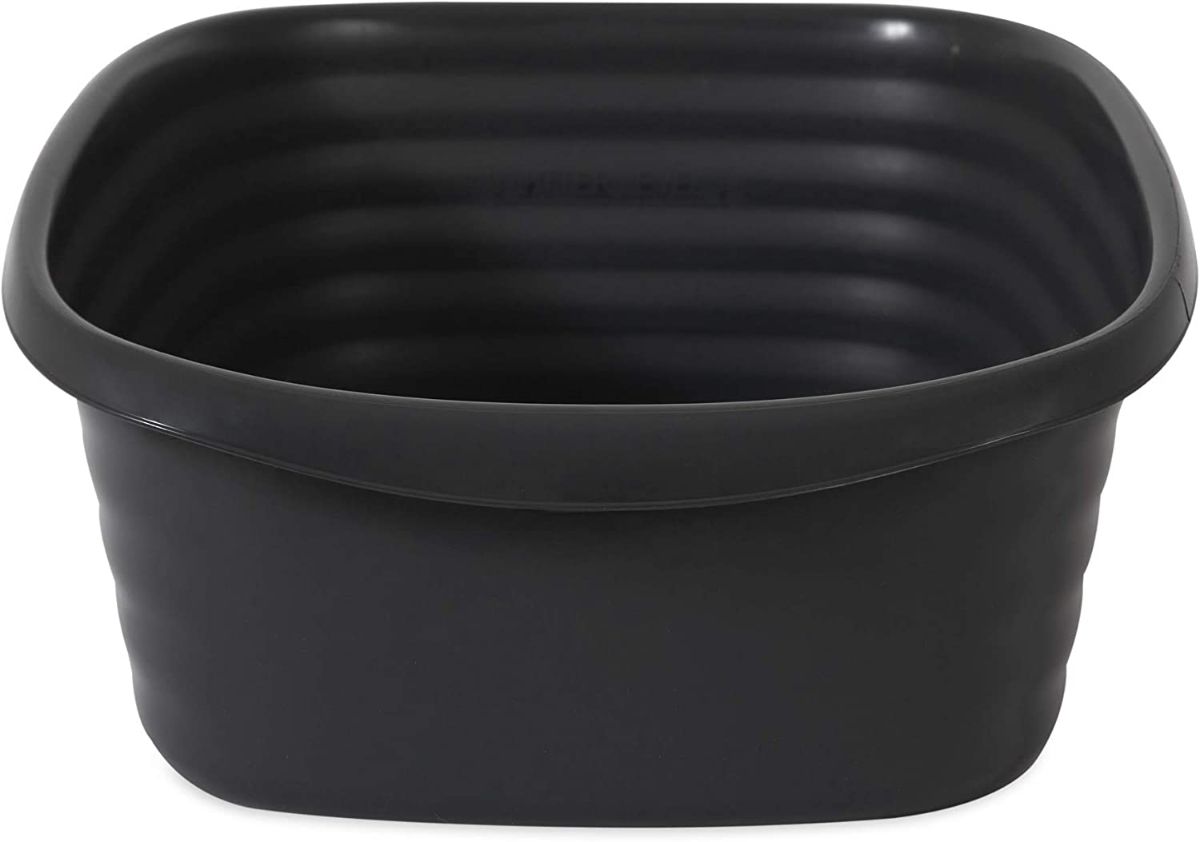 This box from Arm and Hammer is made of plastic covered in an antimicrobial coating to help your home stay smelling fresh all week!

Sometimes high-sided litter boxes are a huge plus. However, for older cats with arthritis or other mobility issues, the low sides of this model are ideal for helping them get in and out without significant troubles.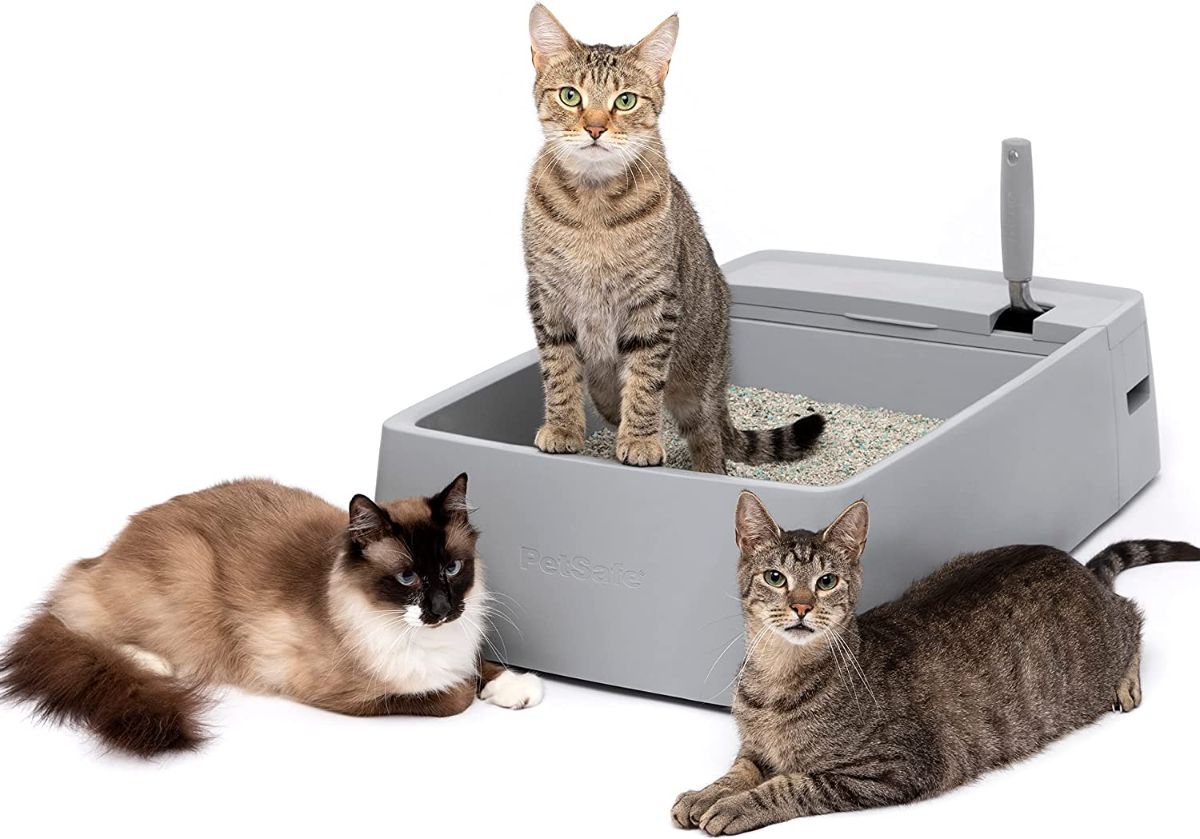 While this litter box is more expensive than most of the other models included on this list, it is well worth the extra upfront cost. In addition to being oversized, it features a sealed waste compartment that traps unpleasant odors and makes cleaning a breeze.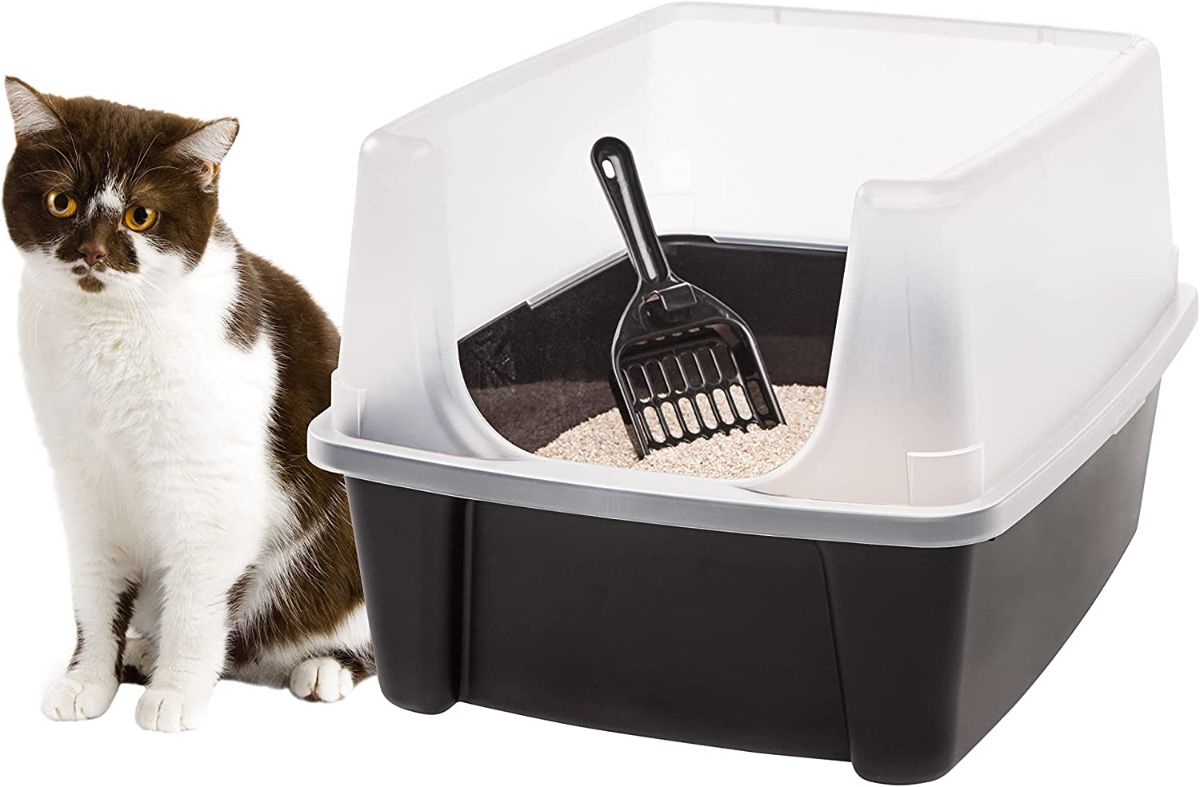 This model from IRIS is a hybrid of both enclosed and open designs. The top is open for easy accessibility for you and the cats. However, the sides are much higher than regular litter boxes, which provides a feeling of privacy and also prevents messes from spreading around the room.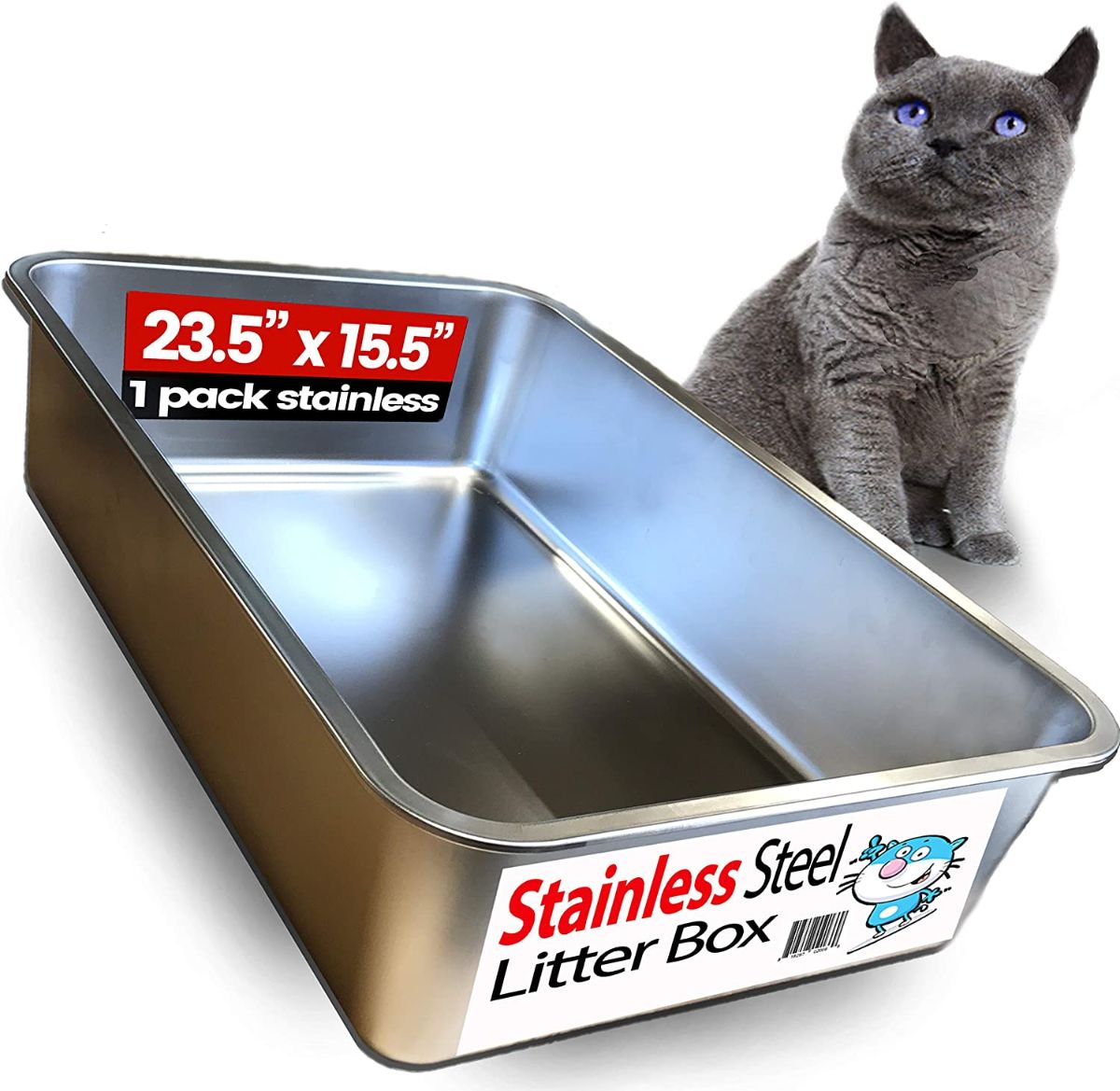 Some cat owners prefer the look and feel of stainless steel to plastic when it comes to litter boxes. Stainless steel also has the advantage of preventing odors and stains. This particular model is extra deep and can hold more litter than an average litter box.
Sharing a Litter Box: Frequently Asked Questions
This section will answer some of the most common questions cat owners have about multiple cats using one litter box.
What is the best kind of litter box for multiple cats?
The best kind of litter box for multiple cats is large enough to accommodate higher levels of use. Ideally, it will also be uncovered and contain deodorizer to help you keep the stinky smells under control.
Is it OK for three cats to share a litter box?
Three cats can share one litter box, so long as it is not the only litter box in the house. Generally, it is recommended to have one litter box per cat and at least one litter box per each floor of your home. In other words, you will need to have more than one litter box to maintain three cats.
Can multiple cats use the same litter box?
Two cats can share a litter box, provided it is of a large enough size, you clean it often, and the cats' personalities don't clash when it comes to sharing a toilet. For any number of cats greater than two, you will want to have more than one box for them to use.
Can four cats use one litter box?
Four cats are too many to share one litter box. If you have four or more litter boxes for four cats, it is no problem if they share since they have a variety of other places to go.
Final Thoughts
What's better than just one feline furry friend? Two of them! But when caring for more than one cat in your home, they must have a sufficient litter box setup to ensure that they are comfortable and that your space remains hygienic.
Upgrade to one of these 11 best options with the cats in your household.