Finding worms in your cat's stool is not only disgusting, but a sign your cat needs some help from you. Unfortunately, worms are all too common with cats that have access to the outdoors. However, indoor cats can get worms, too.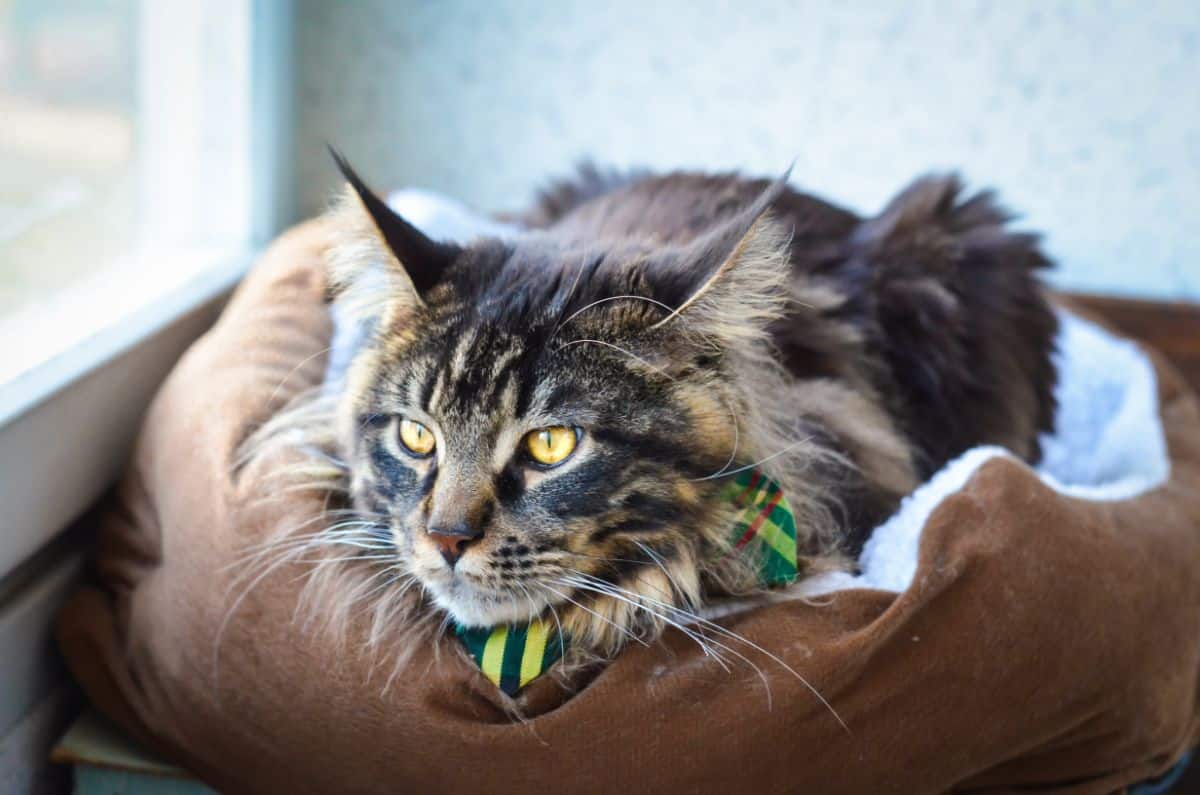 So, your cat has worms. What's the next step, a pricey vet visit? If you're worried about potential vet bills, your cat really hates the vet, or you don't have a veterinarian close by, here are five great options for deworming your cat without a visit.
Jump to:
Our Top 5 Picks
If tapeworms are plaguing your cat and you don't feel your feline needs a vet visit, check out Elanco's Tapeworm Dewormer. This treatment comes in tablet form and can be administered directly into the mouth or crumbled over food.
This dewormer's active ingredient is praziquantel, which is effective against dipylidium caninum and taenia pisiformis tapeworms.
This treatment is safe to give to cats over six weeks. You can order this treatment from Chewy.com, and each package comes with three doses.
Customers love this product, earning an average of 4.5 stars with over 1,000 reviews. Customers say that the tablets work very quickly, although they can be tricky to break in half.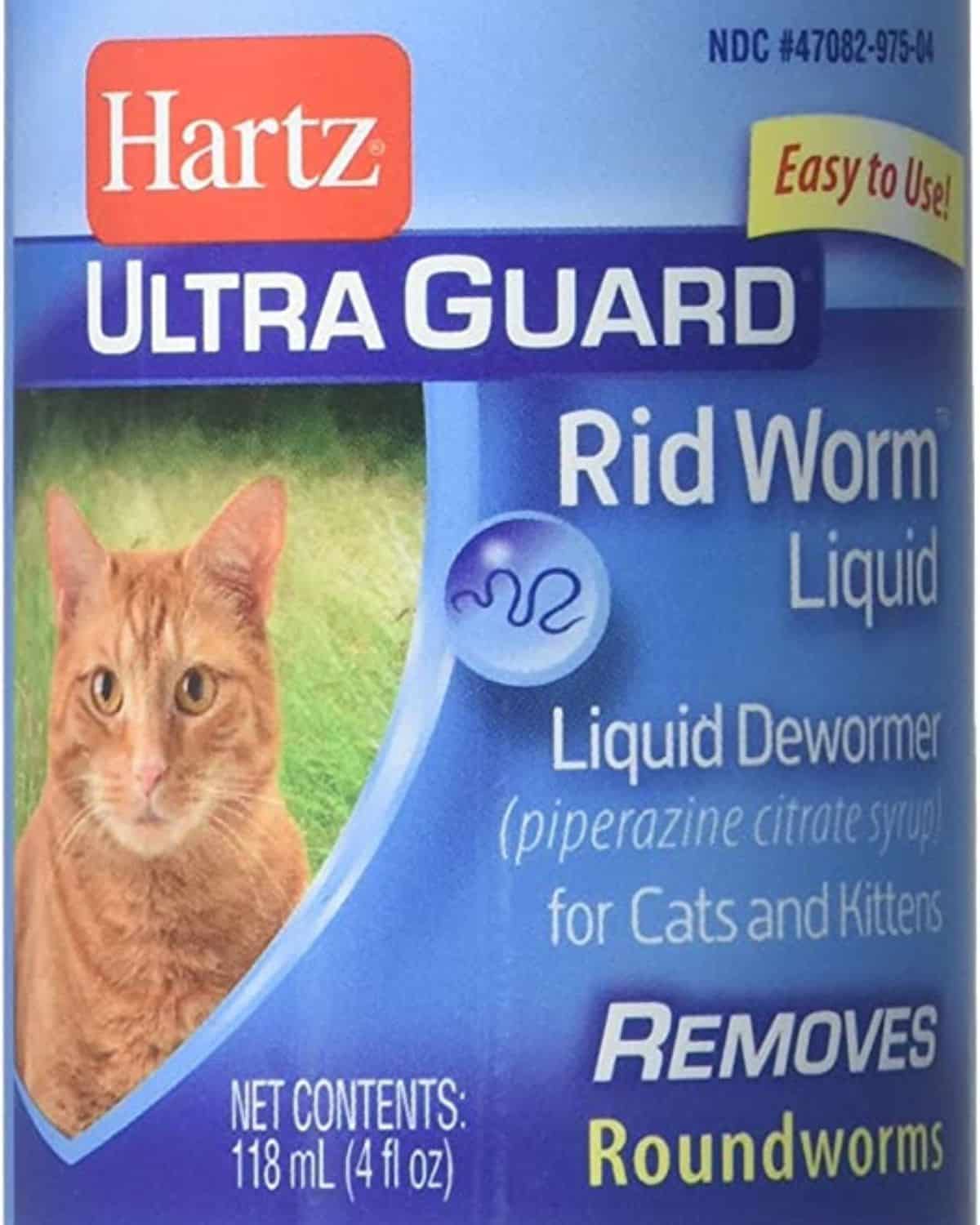 If you suspect roundworms are presenting an issue for your cat, look into Hartz Ultraguard Rid Worm Dewormer for cats. Customers love that this dewormer is in liquid form. No tablets to crush or trick your cat into eating! Simply apply the dosage directly into your cat's mouth or on their food.
Repeating this treatment for 14 days is essential to completely eradicate the roundworm problem.
This treatment is safe for cats eight weeks of age and older. Customers love this easy, affordable solution for roundworms. The best part? No vet visit is necessary to receive this medication on Chewy.com!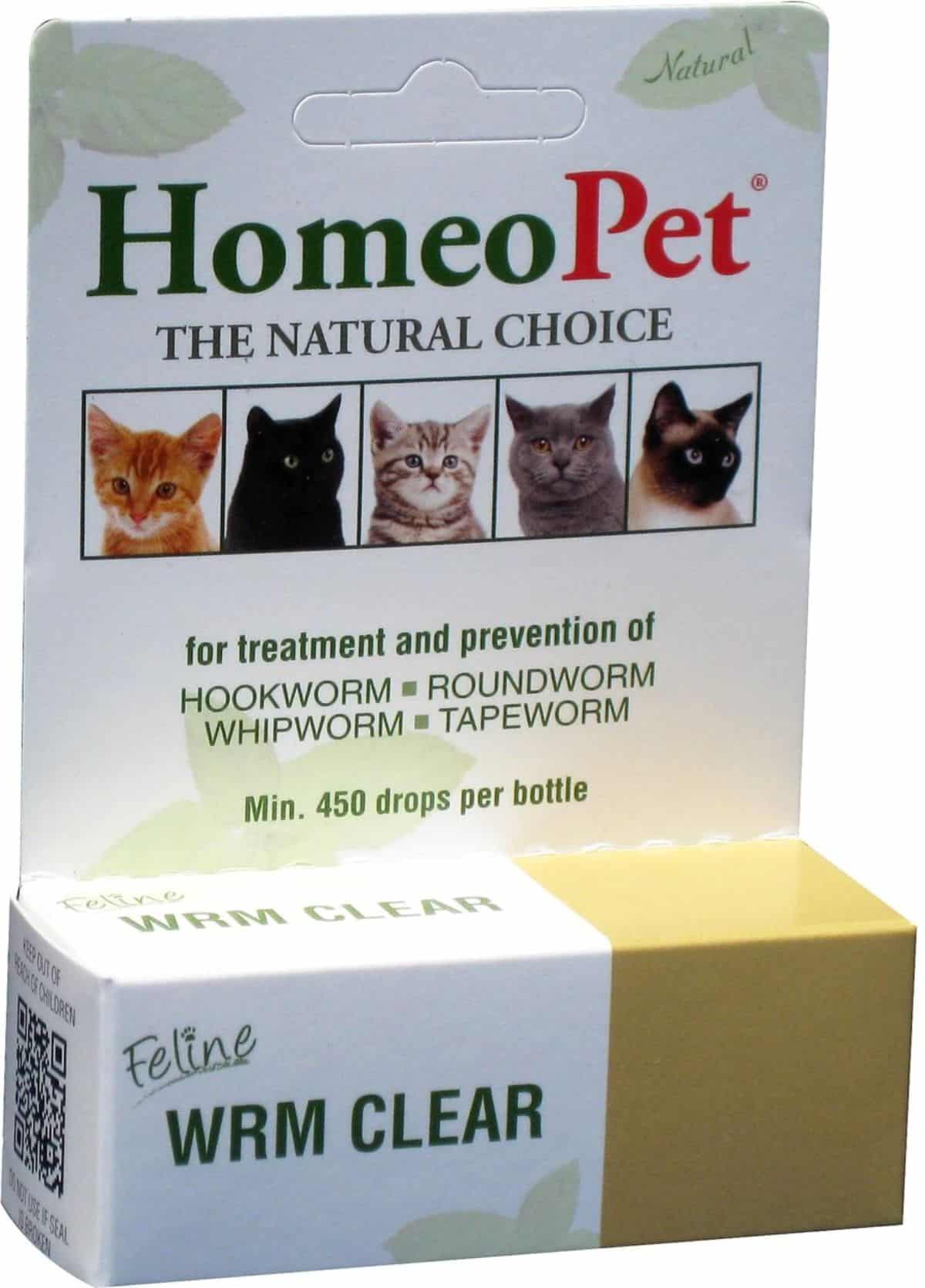 If you're looking for a more natural solution to your cat's worms, check out Homeopet's Clear Dewormer. This is an excellent product because it is effective against a variety of parasites. The treatment is effective against hookworms, roundworms, tapeworms, and whipworms in cats.
This treatment flushes the worms from the body without actually killing them. How? The product works to create an undesirable environment for the worms. Homeopet's solution contains natural ingredients safe for all cats, including kittens and pregnant felines.
Be sure to continue the dosage for two weeks for maximum effectiveness. You can order Homeopet's Clear Dewormer from Chewy.com.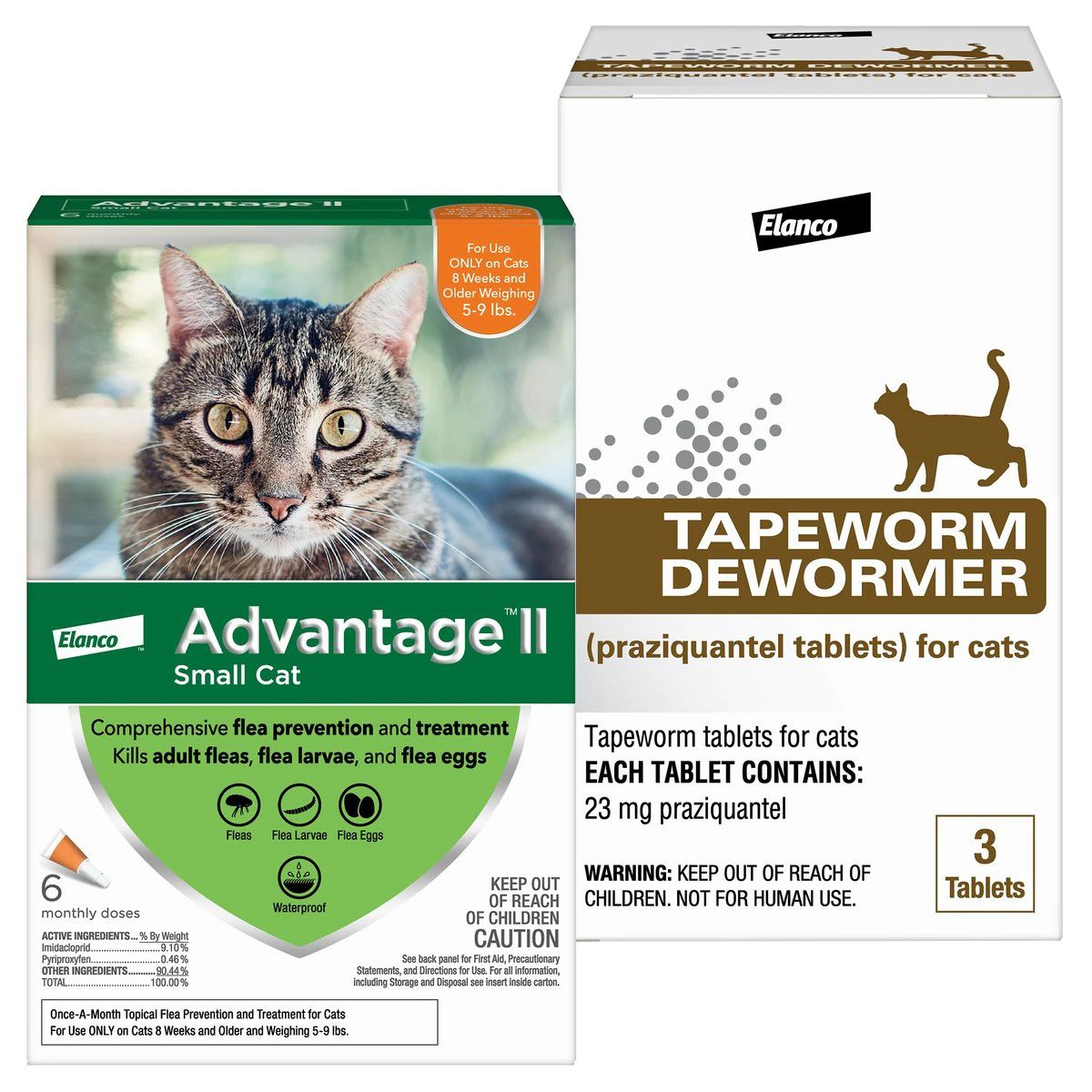 Sometimes when you're dealing with one problem, you don't want to think about the possibility of dealing with another. If that sounds like you, a bundle of treatment options might be a good idea.
The Advantage II Flea Spot Remover bundled with the Bayer Tapeworm Dewormer is a great deal if you're looking to cover all of your bases.
The flea treatment works to stop the lifecycle of fleas, and the tapeworm dewormer is effective against dipylidium caninum and taenia pisiformis tapeworms. You can find this bundle offer at Chewy.com.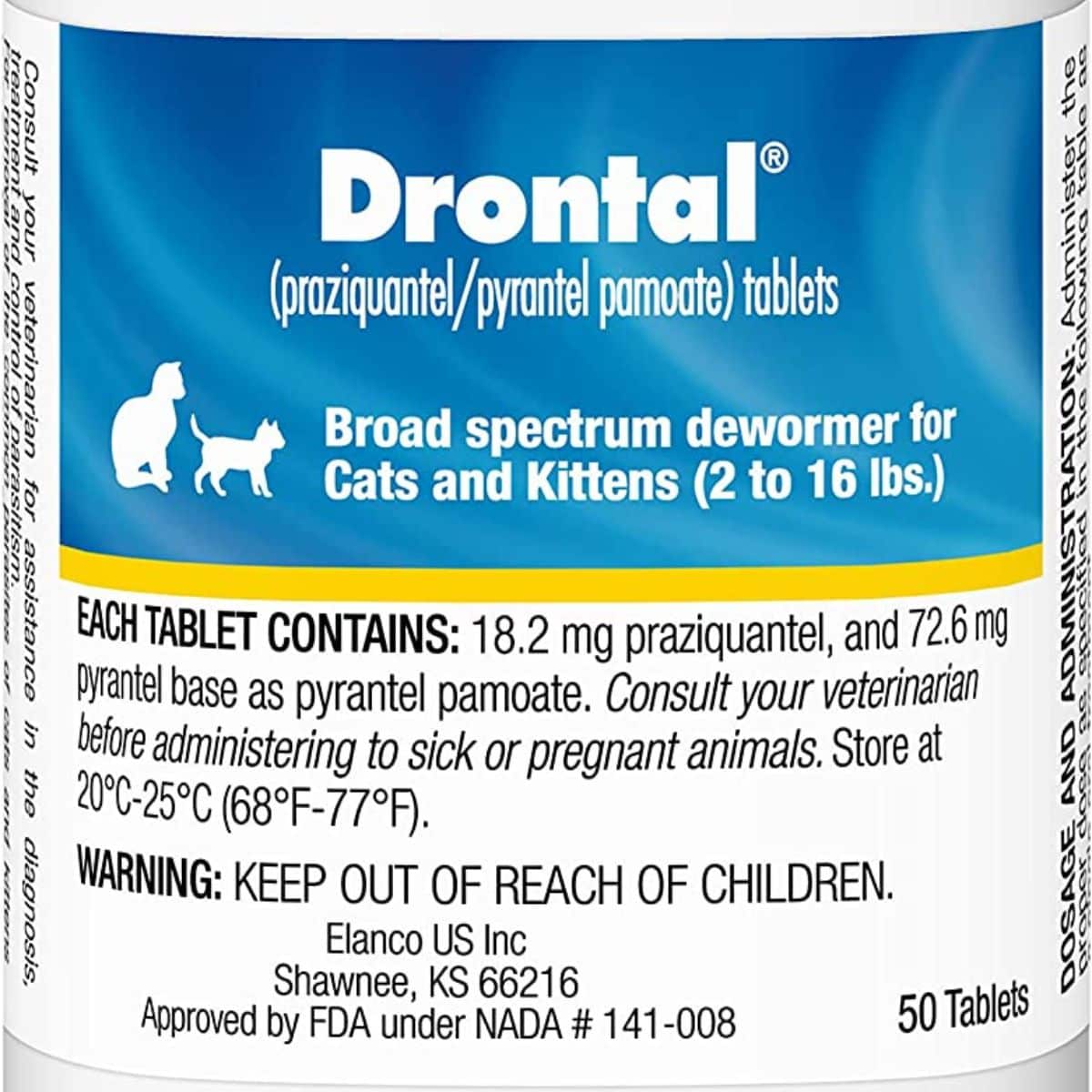 Maybe you're looking to cover all your bases with a newly adopted cat, or you're not sure what kind of worms your cat has. A great comprehensive option that is effective against a variety of parasites is Drontal's Dewormer. It is effective against tapeworms, roundworms, and hookworms.
While this product is on the pricier side, many happy customers report the price is worth saving a visit to the vet. As cat owners know, they can be violently opposed to visiting the vet.
FAQ
You've got questions about non-prescription cat dewormers, and we've got answers!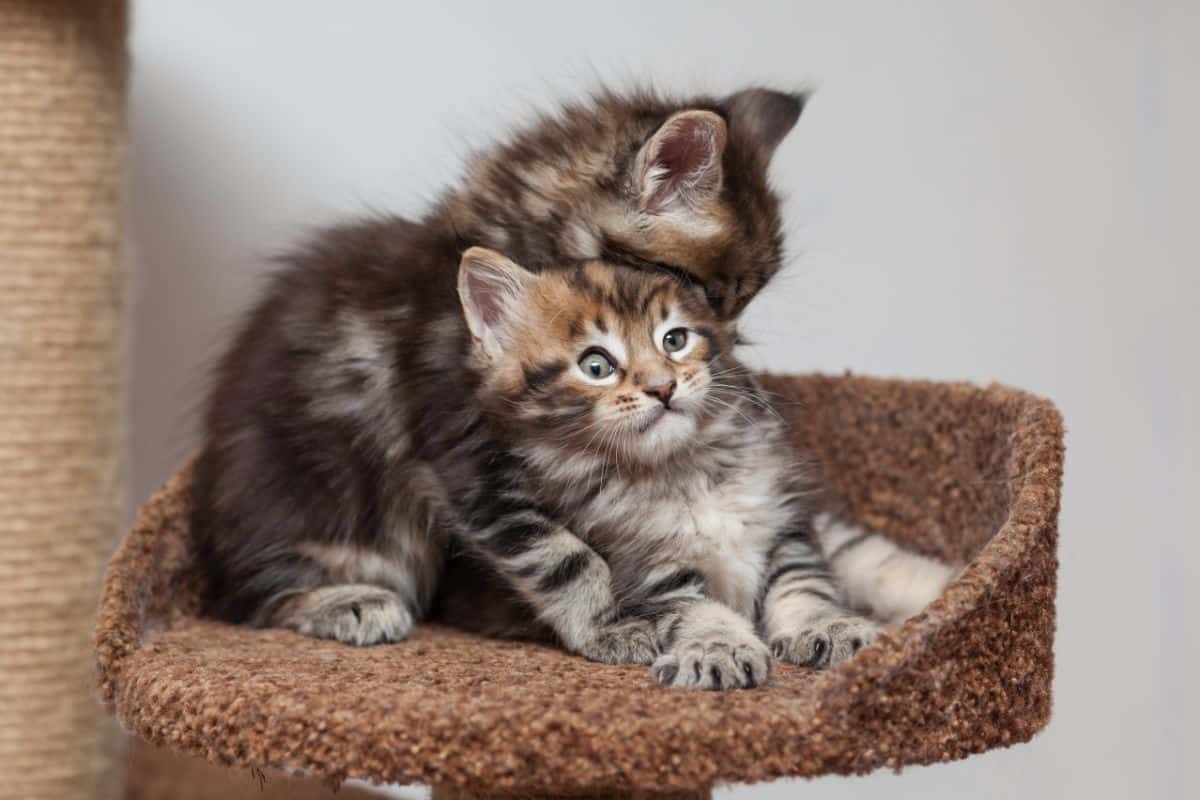 What is the best cat dewormer over the counter?
There are so many great cat dewormers available over the counter, and it depends on what type of worms are plaguing your cat. The best comprehensive treatments are the Drontal Dewormer and the Homeopet Clear Dewormer.
What wormer kills all worms in cats?
There are lots of great options for comprehensive dewormers available over the counter. Look for a product that treats roundworms, tapeworms, and hookworms. These are the most common worms that infect cats.
Is over-the-counter dewormer effective for cats?
Yes! There are thousands of positive reviews on a variety of over-the-counter products for cats.
How can I deworm my cat without medicine?
If your cat has worms, it will likely need medication. However, a vet visit usually isn't necessary as there are a variety of over-the-counter options available to purchase to treat your cat at home.