Maine Coons are a stunning and energetic cat breed. These cats have a luxurious coat of hair and can grow large. With an equally as stunning price tag of several hundred or thousand dollars, it may come as no surprise that cat owners will want to ensure their furniture stays intact to prevent further costs after buying their Maine Coon cat. However, like all cat breeds, Maine Coon cats like to scratch and need a scratching device to keep from destroying your furniture.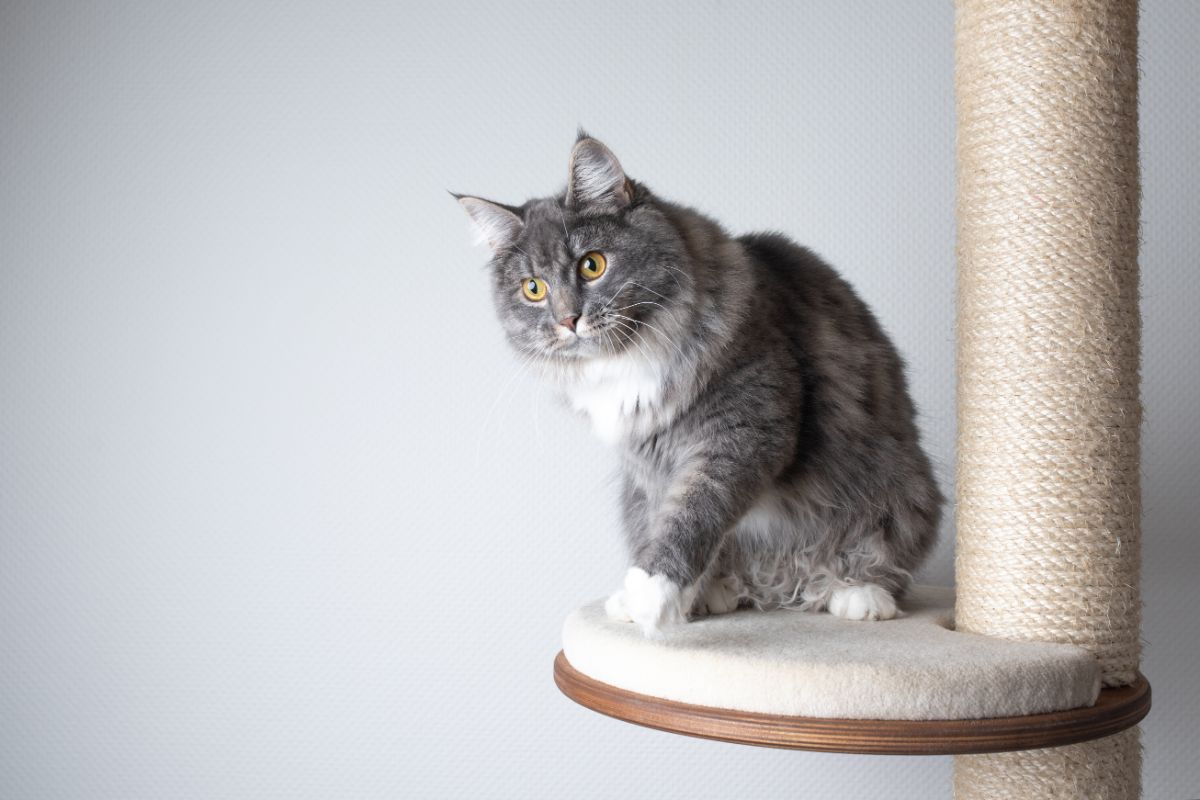 Read on to learn the best scratching posts for Maine Coon cats and how you can prevent your precious feline from destroying your home.
Jump to:
What Kind of Scratching Posts Do Cats Like Best?
Maine Coon cats will enjoy elaborate scratching posts the most. However, you don't need to break the bank to find one. Some of the best scratching posts for Maine Coon cats are the type that includes a cylindrical post in the center and have a rough texture that will allow your cat's nails to get a good grip as they tug.
Other features to look for in a scratching post for your cat include those that have ropes, balls, and other toys to play with. Additionally, your Maine Coon cat will likely enjoy the texture of a rope under its paws as they engage in its clawing instincts.
Do Maine Coons Claw Furniture?
Maine Coon cats, like all cats, will claw at furniture if they don't have an alternative to discourage this behavior. Most cats will tear your furniture to shreds until they are trained not to or have a scratching post that will draw their attention in and help them handle this behavior.
Buying a scratching post with plenty of additional features will help draw your cat's attention and keep them from going to your furniture to engage in inappropriate scratching.
11 Best Maine Coon Scratching Posts
Maine Coon cats will need a scratching post, but many may not be up to the challenge. However, these 11 scratching posts can protect your home without your cat feeling stifled. Set up your cat's scratching post in a comfortable place and watch them manicure their nails for hours.
1. Purrfect Post Mondo Standard
The Purrfect Post Mondo Standard is modular and customizable. This tool is one of the best scratching posts for Maine Coons because you can purchase it in one of many colors, stains, and configurations.
This product doesn't have many other features, but the scratching material is resilient and will keep your cat entertained for hours as they engage in instinctual clawing. Additionally, the multiple color options will help the post blend in with your furniture.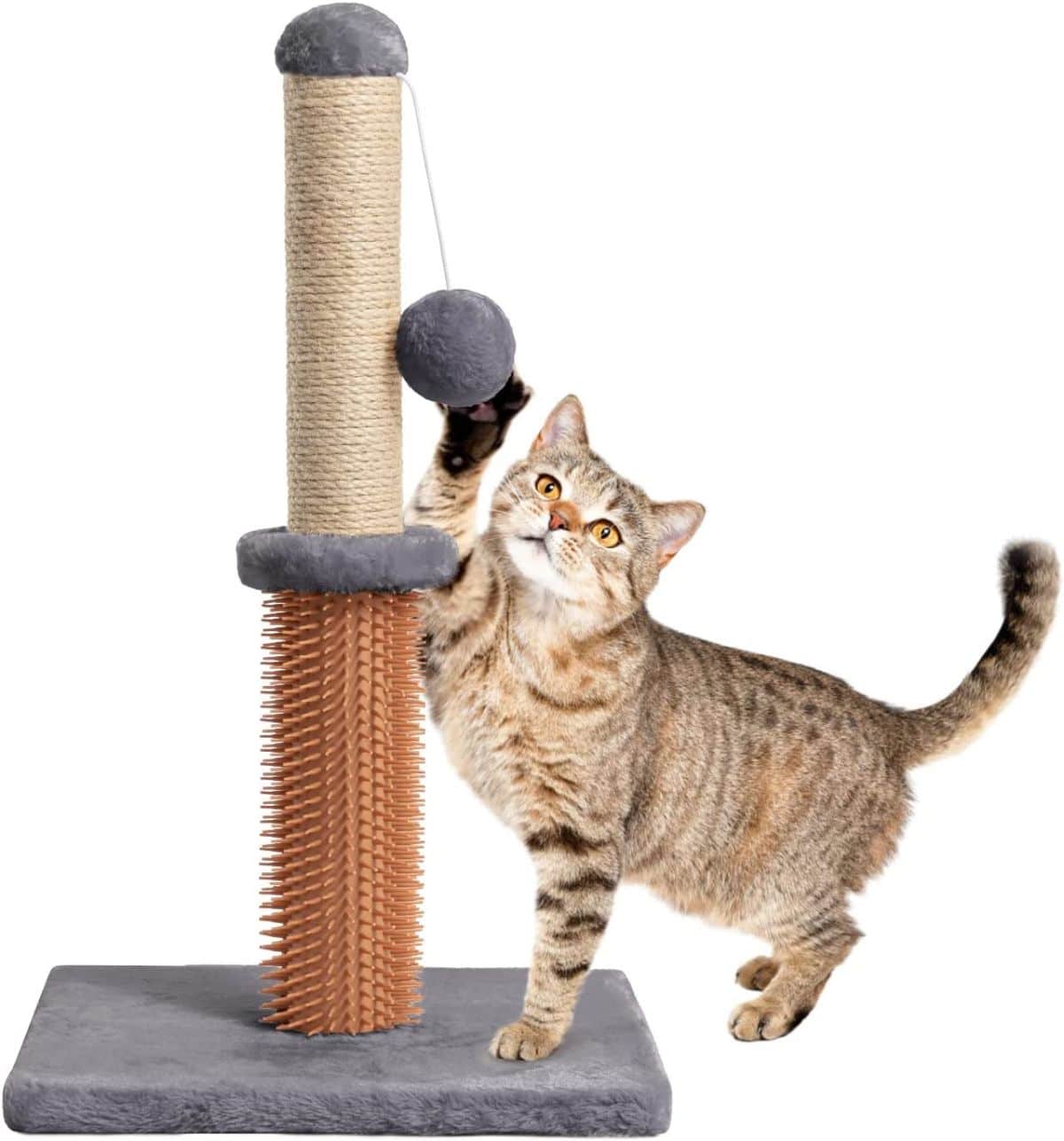 The TSCOMON Cat Scratching Post is one of the best cat scratching posts for Maine Coons because it contains multiple textures and colors to keep them visually and physically satisfied. This product has a carpeted base to ensure they remain comfortable as they enjoy their new device.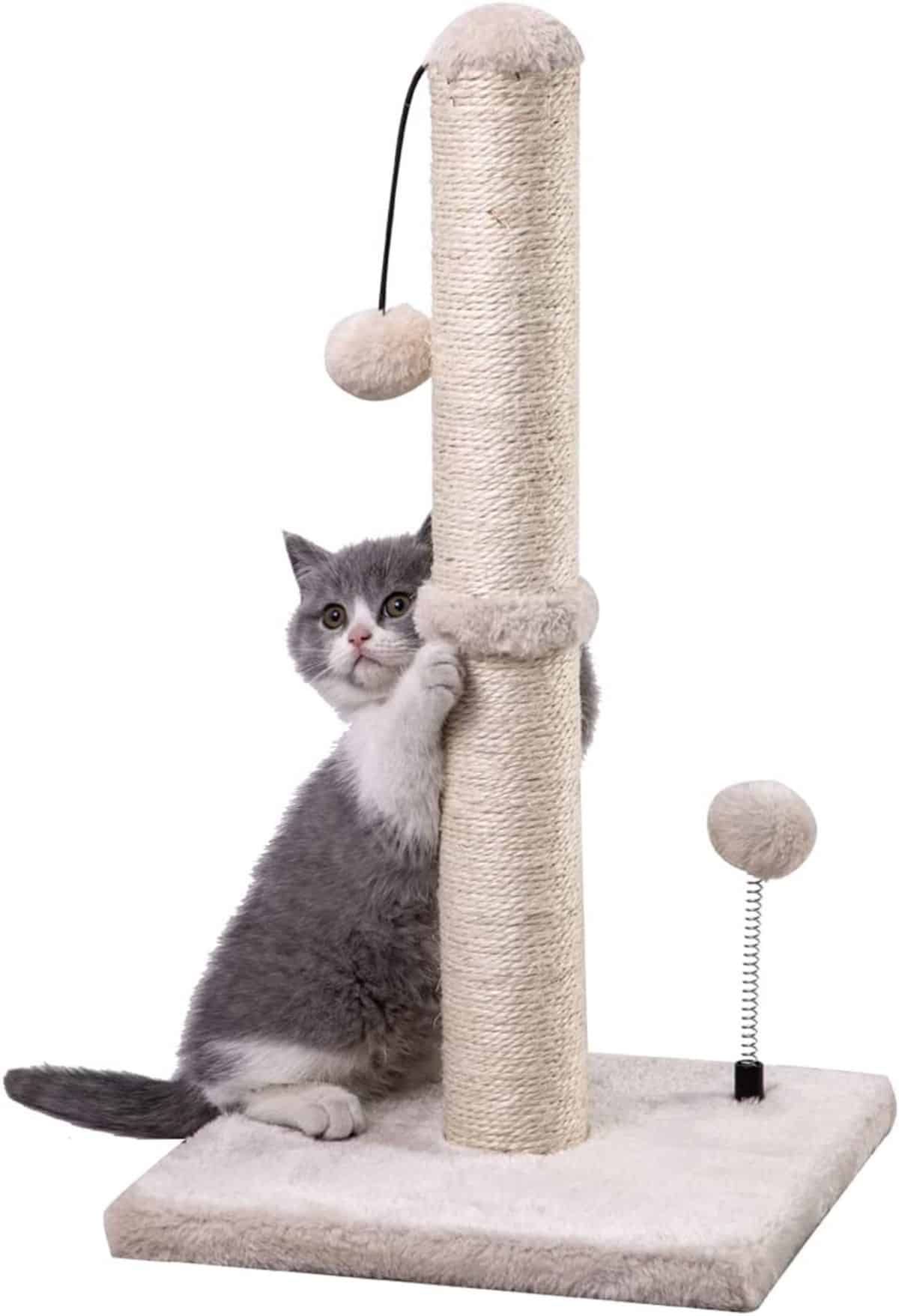 Sale
The MECOOL Cat Scratching Post Premium Basics is a perfect tool for cats who engage in clawing infrequently. This item has fuzz balls that will draw your cat in and make them want to play, which will then encourage them to use the cylindrical scratching post in the center.
This item has a bumped band around the middle that will offer your cat added texture and make them more interested in scratching at the product.
This Amazon Basics Cat Scratching Post includes a lounging hammock and two scratching posts. There is also a fuzzy ball hanging from the middle hammock, which will draw in your cat and make them want to play.
The two scratching posts are perfect for helping your cat get out their clawing urges and make them feel satisfied with their play and instincts. A band in the middle of the posts will ensure that your cat is satisfied with the texture under its paws, making them come back again for more.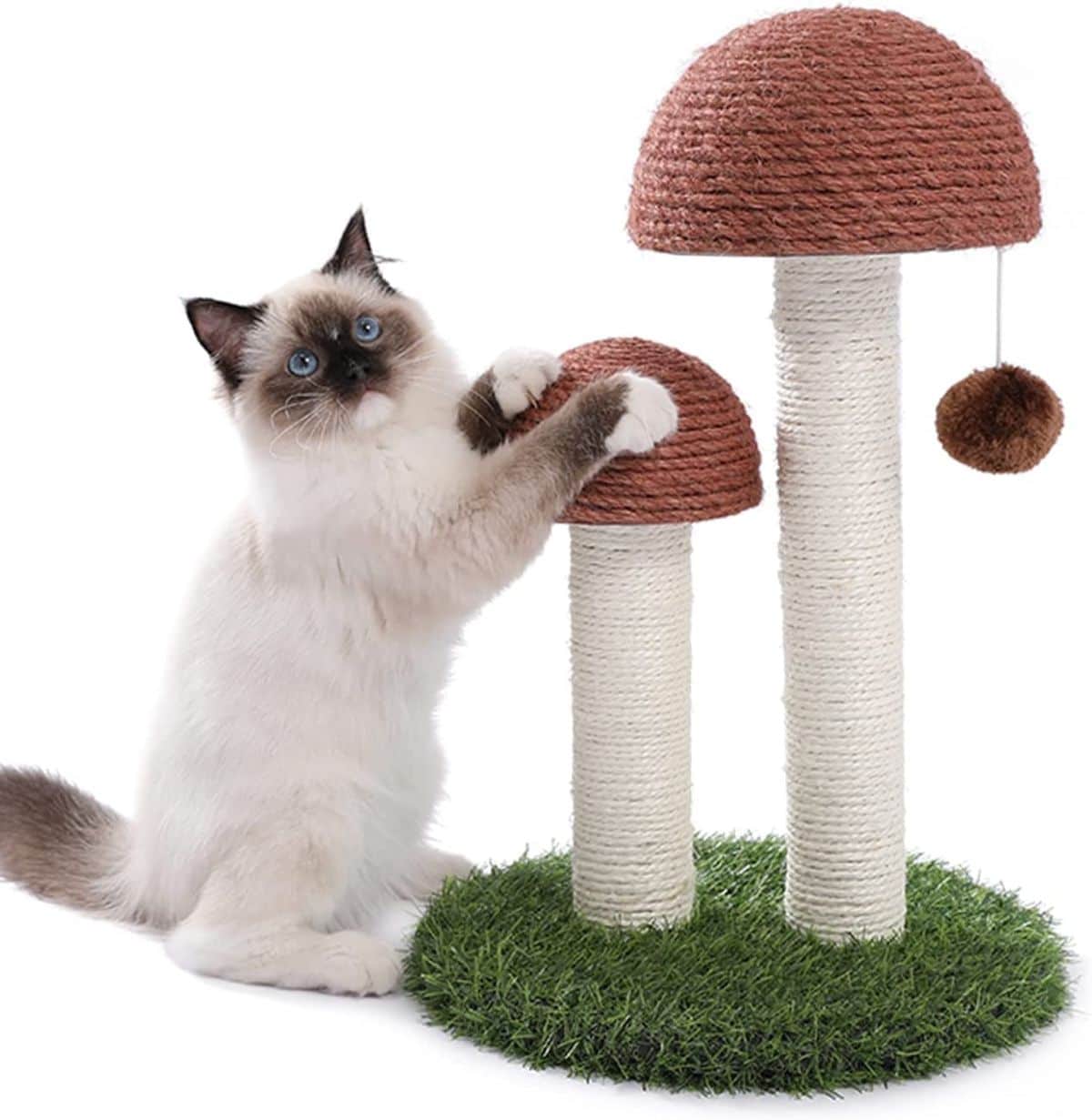 Sale
The PETEPELA Cat Scratching Post is shaped like a mushroom and is perfect for a cat-lover with eclectic tastes. This small cat scratching post includes a small, fuzzy ball for your cat to play with and a mat of fake grass that their paws will enjoy. This scratching post has a reddish-brown top that is made of the same texture as the scratching posts, making the whole item beneficial for your cat.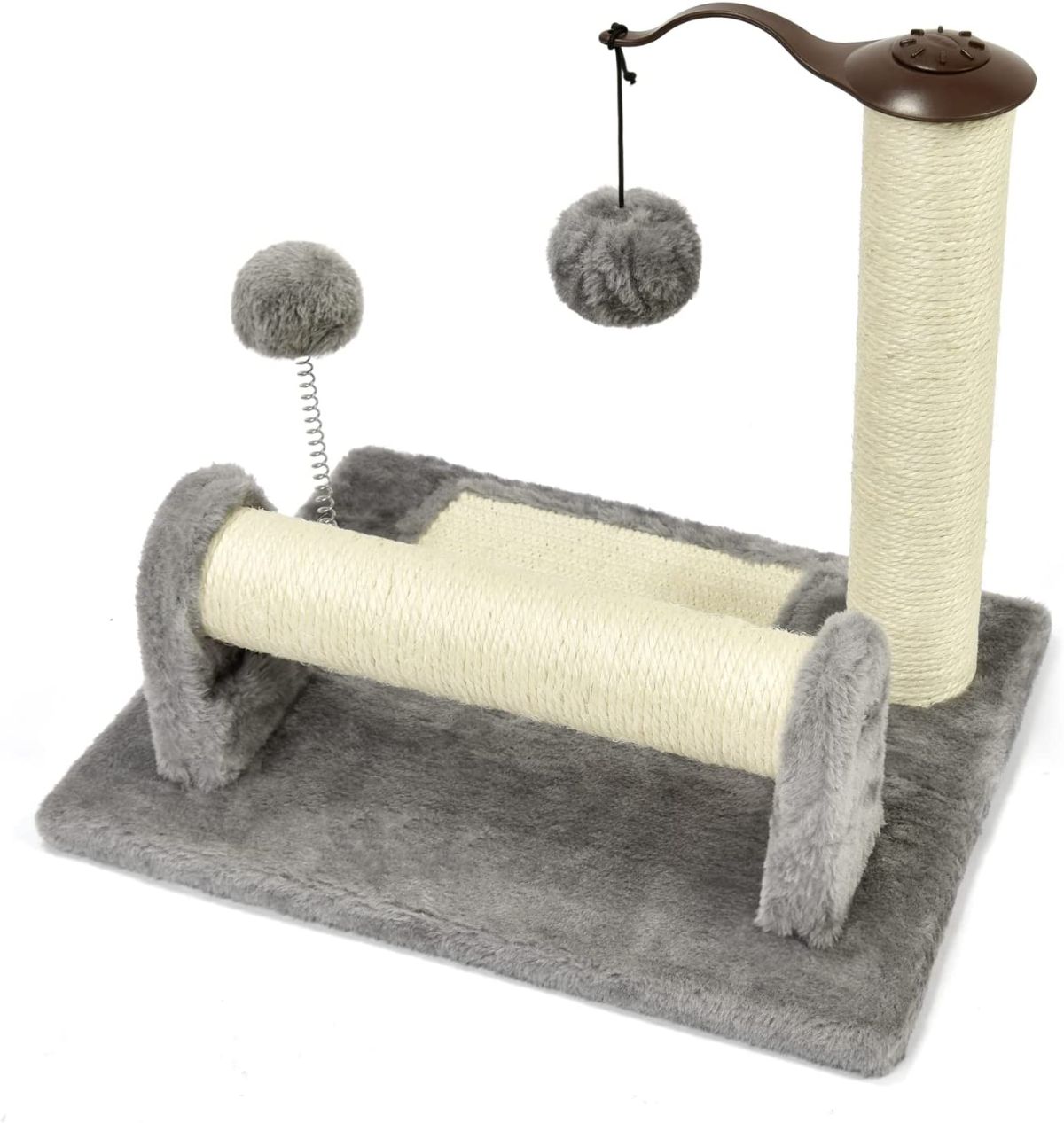 Unlike other cat scratching posts, the Petellow Cat Scratching Post and Pad has plenty for your cat to enjoy and play with. This product has a platform and two scratchers that will keep them busy for hours and two fuzzy balls that will keep their attention.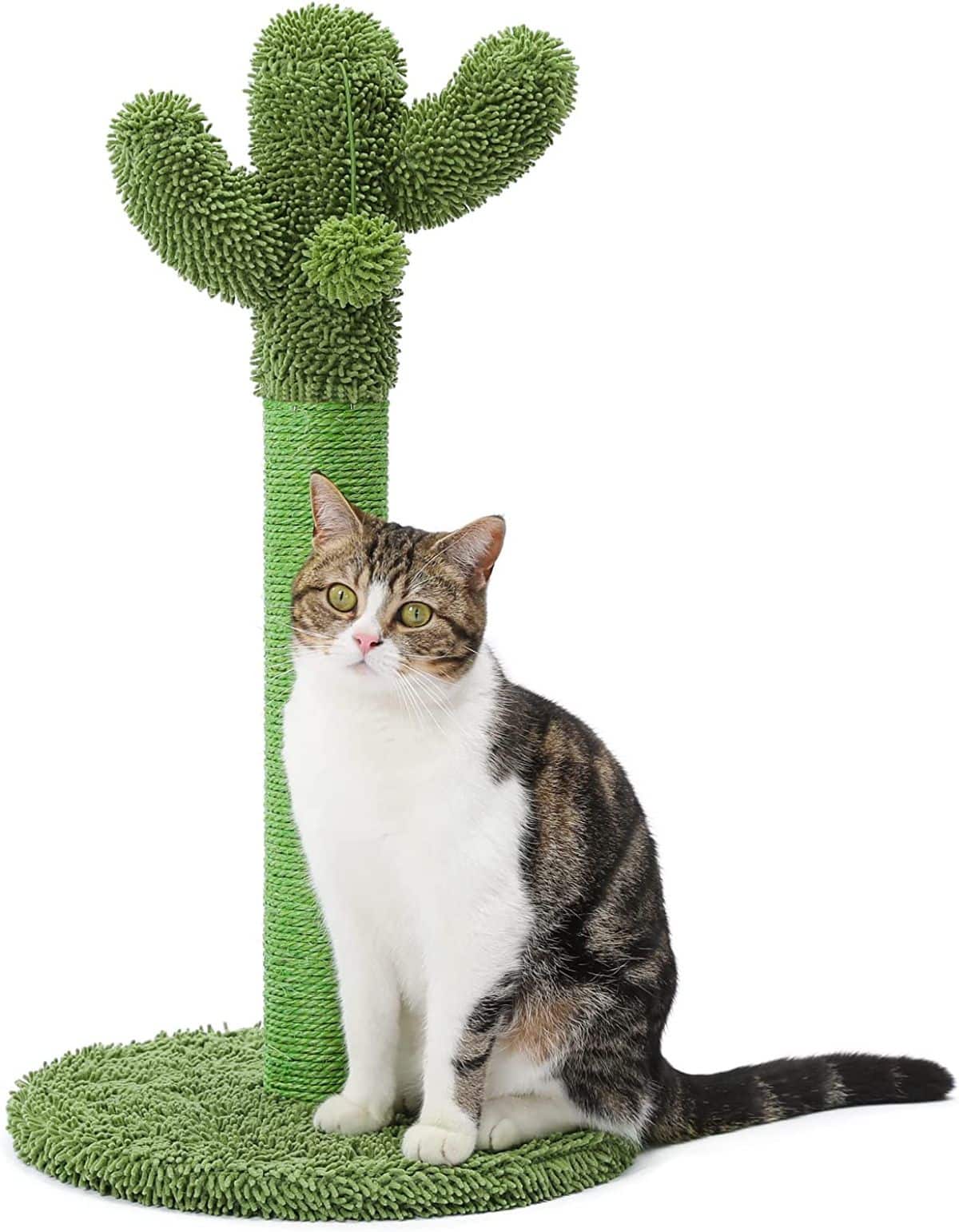 Sale
The Made4Pets Cat Scratching Post is shaped like a cactus and embodies a small stature, making it perfect for a cat owner living in a small area like an apartment or small home. This item holds multiple textures, making it perfect for your cat, and is sure to draw them in.
This product has a small, green fuzz ball that your cat can play with and enjoy after they are done scratching at their post.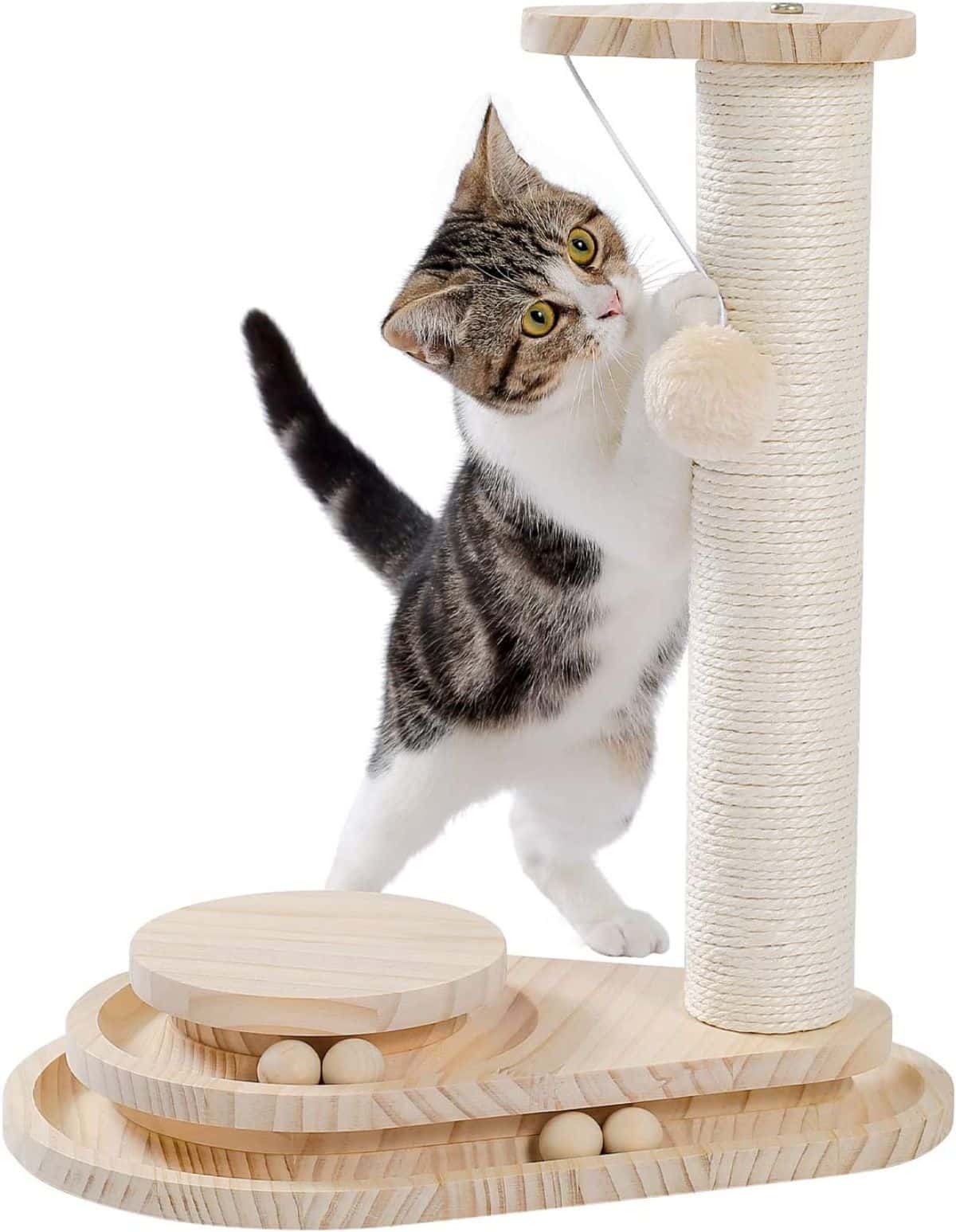 Sale
The Made4Pets Wooden Cat Scratching Post has a wooden base that sets it apart from all other cat scratching posts on the market. This product has three tiers of wood that your cat can step on, and each tier has grooves with wooden balls that your cat can bat around when they feel bored.
This wooden scratching post has a long cylinder wrapped in a tough texture that will help your cat engage in their natural clawing instincts and manicure their nails.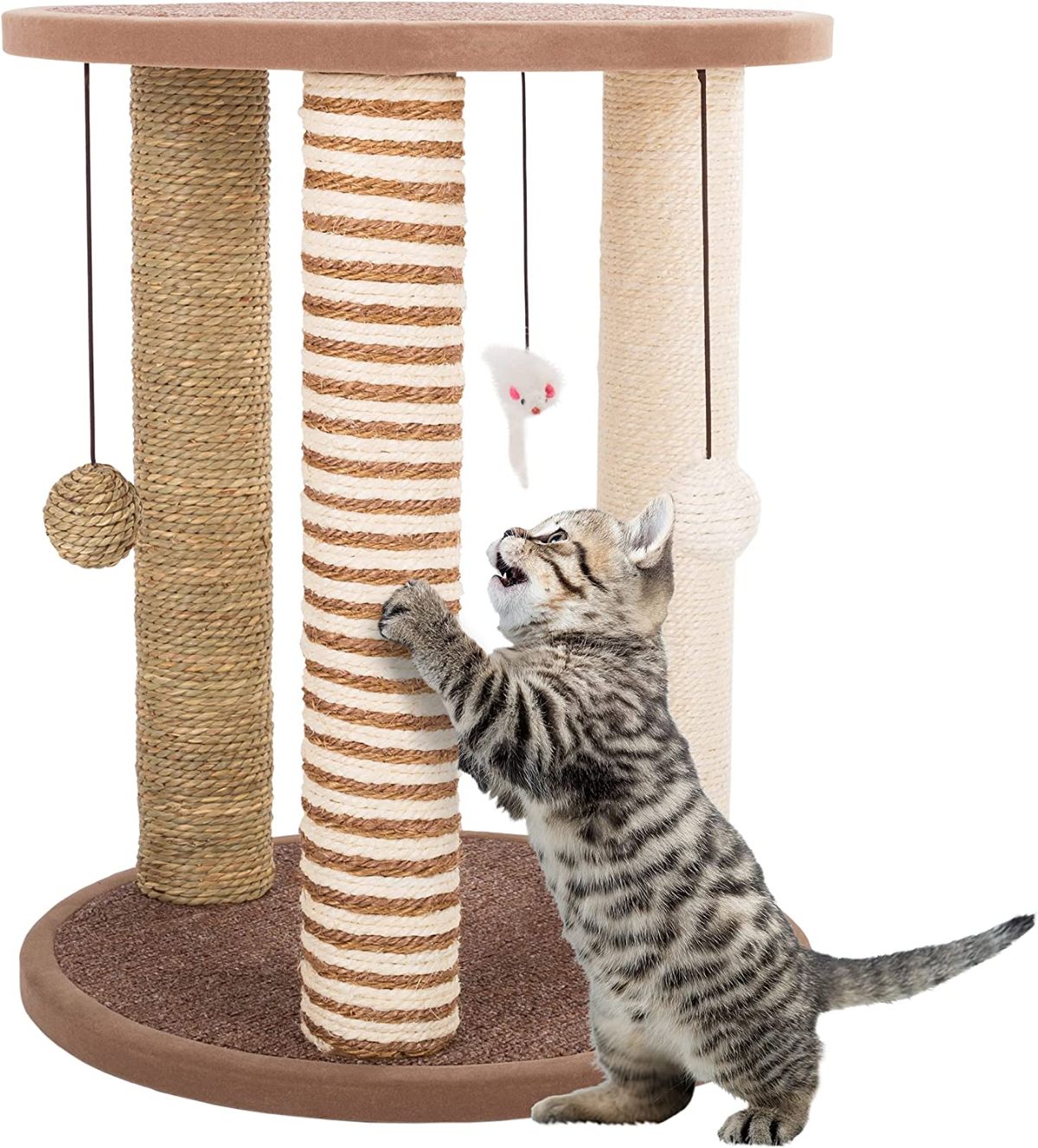 The PETMAKER 3-in-1 Cat Scratching Post is a carpeted cat scratching post that has three hanging toys from its ceiling that will draw your Maine Coon cat in and make them too curious to back away. This product has three cylindrical cat scratching posts with different styles and textures to help your cat feel engaged.
The carpet on the bottom level offers your cat the utmost comfort as they sit down and scratch or play on the bottom level. Additionally, your Maine Coon might decide to perch atop the post to observe the world around them.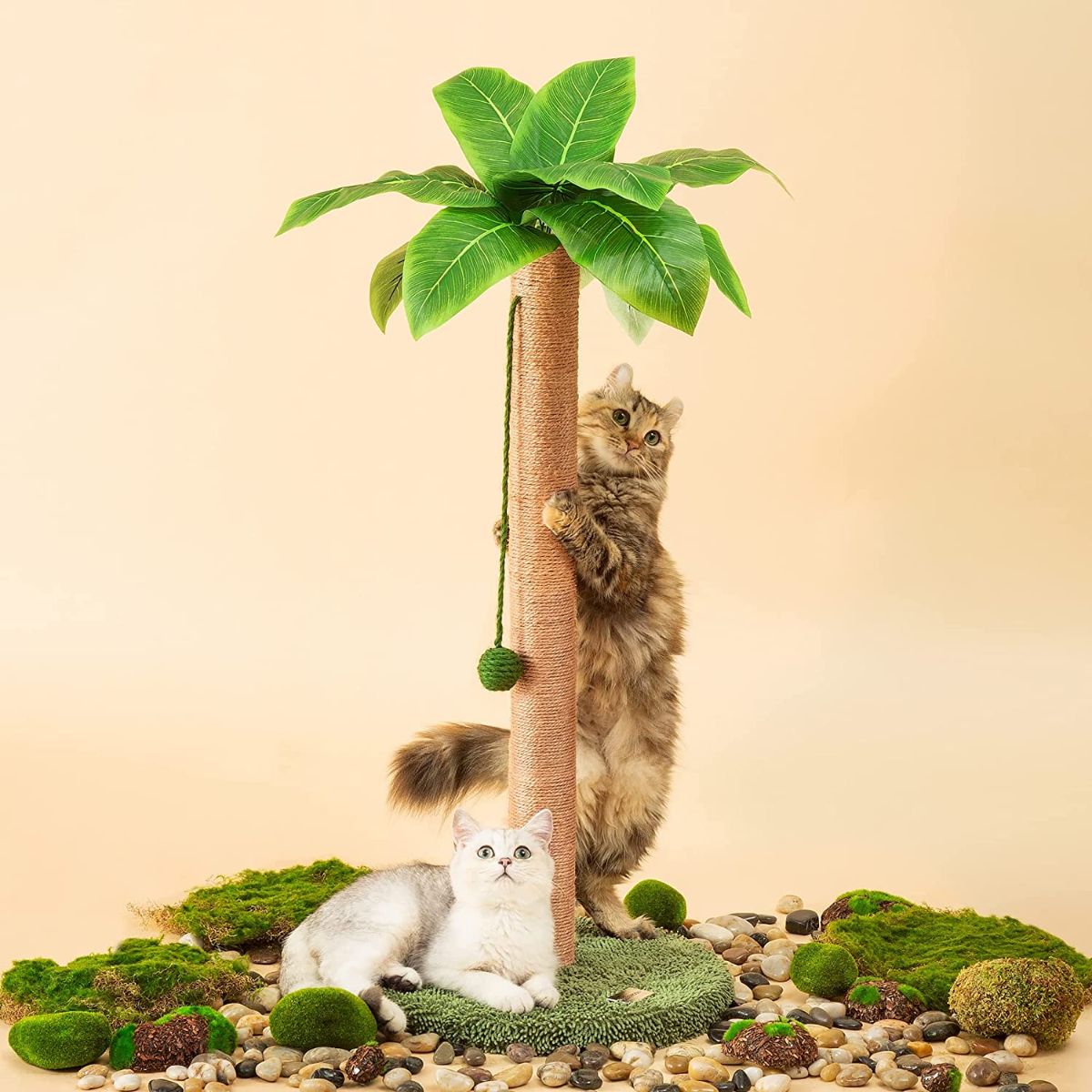 The Meowoou Cat Scratching Post is a perfect addition to any tropical home. This palm tree-shaped cat scratching post has a long cylinder in the center with a green, carpeted base that will offer your cat varying textures to enjoy.
The leaves on the top of this scratcher add to your cat's overall enjoyment.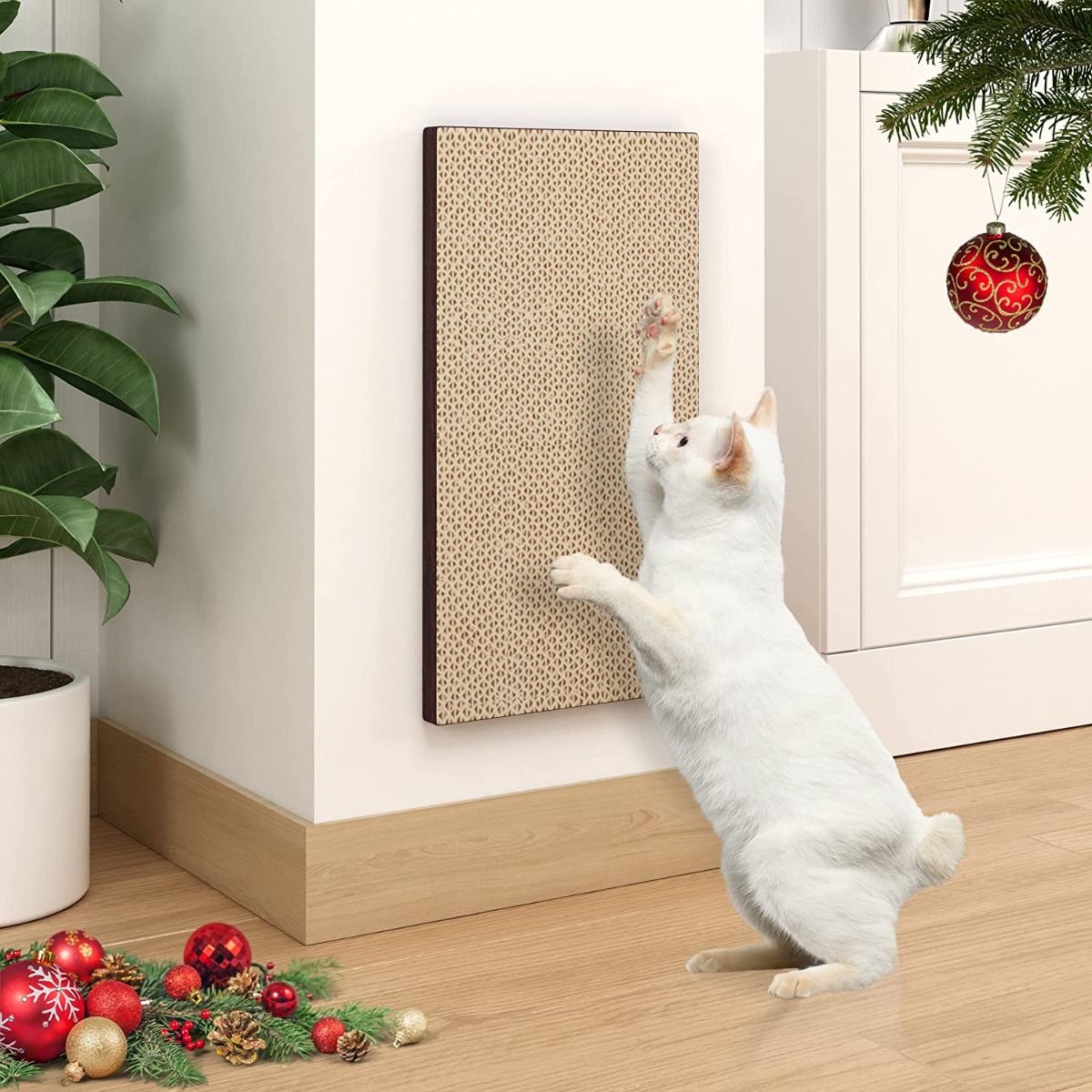 Cat owners who don't have much space will love the Way Basics Premium Wall Mount Scratcher. This product mounts onto the wall and can keep your cat engaged for hours as they claw and scratch to make their instincts happy.
Final Thoughts
Maine Coon cats are stunning creatures with long, luxurious coats of hair. Although these cats may need to manicure their nails and have the instinct to scratch up everything in sight, a scratching post can ensure that your home stays organized, safe, and scratch-free.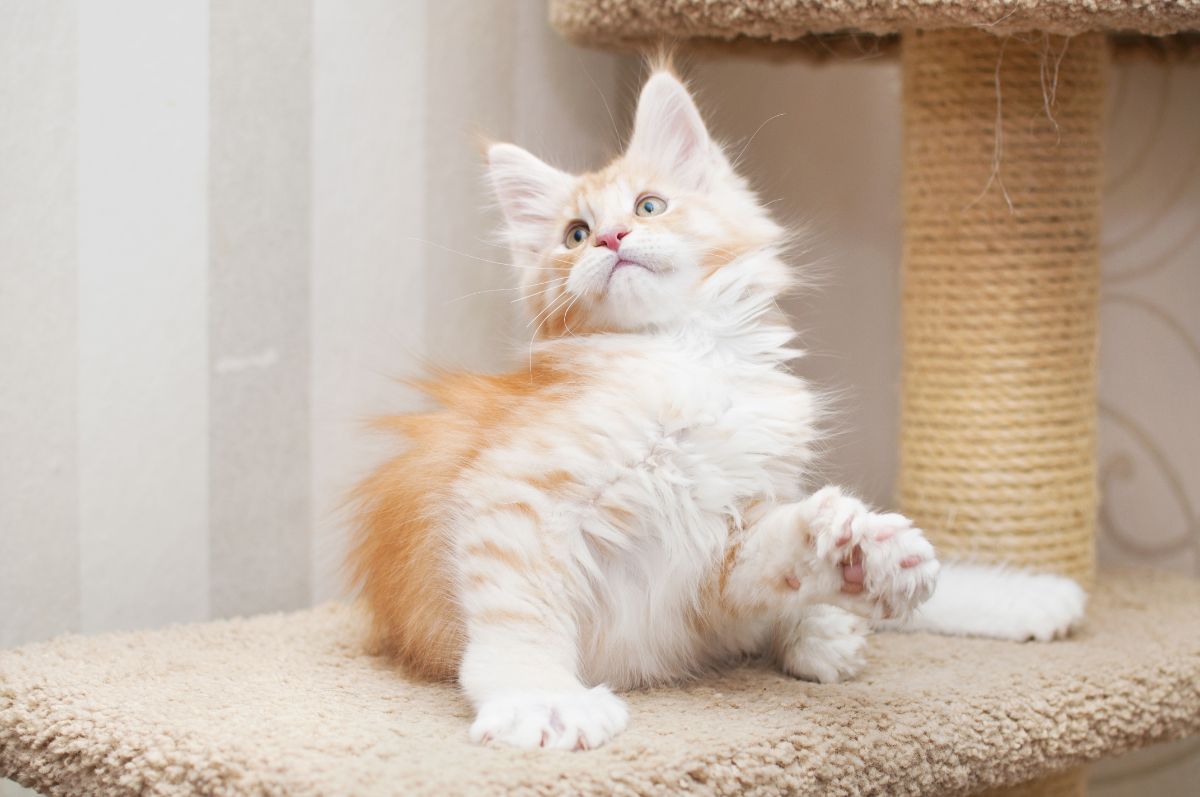 Consider purchasing one of these scratching posts for Maine Coons to make them feel comfortable and safe when engaging in their instincts.