Maine Coon cats are among the top picks for cat lovers everywhere, especially those who live with small children and other pets. These cats are related to Nordic cats, making them perfect for families living in cold climates.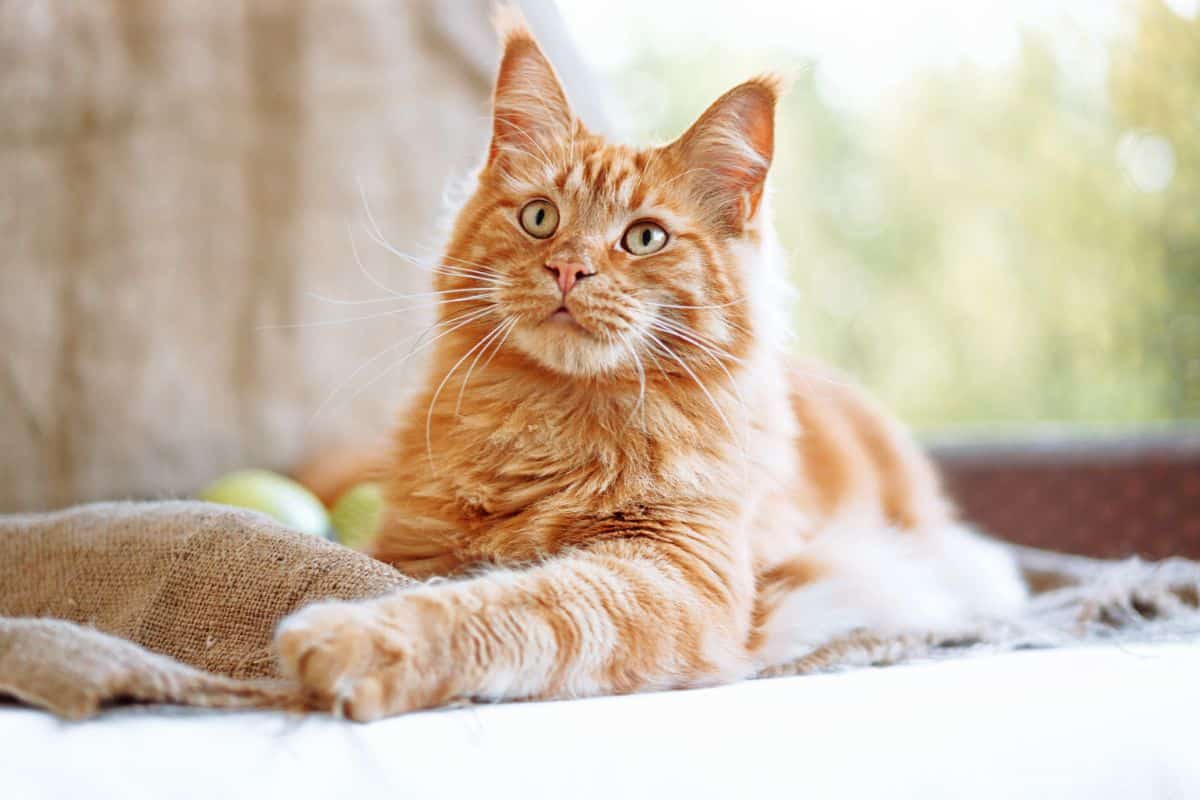 Maine Coon cats are spunky cats who adore spending time with others and have no problem following you everywhere around the house.
Before getting your own Maine Coon cat, you'll likely need to get an idea of how these cats behave every day. Although surprising, these cats act only a little like their feline siblings and more like small, independent dogs.
Read on to learn about a day in the life with a Maine Coon.
Jump to:
They Follow You Everywhere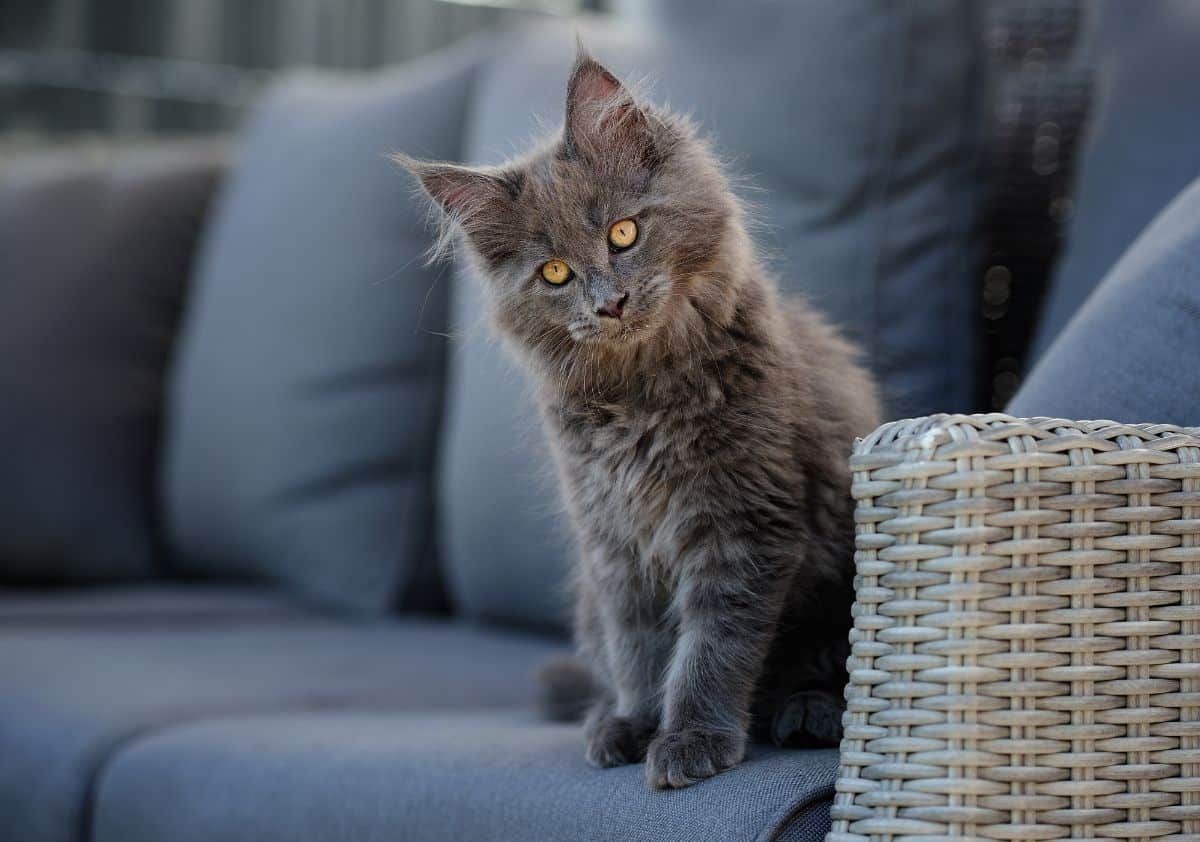 Maine Coon cats are like dogs in many ways, but one of the most interesting facts about them is that they have no problem following you around the home.
These cats will happily wait by the door and learn your schedule so they can greet you when you come home. Maine Coon cats will also follow you into the bathroom, wait while you shower, and spend as much time as possible with you.
You'll likely have to share your bed, couch, and dining room chairs with your Maine Coon cat.
Constant Play Time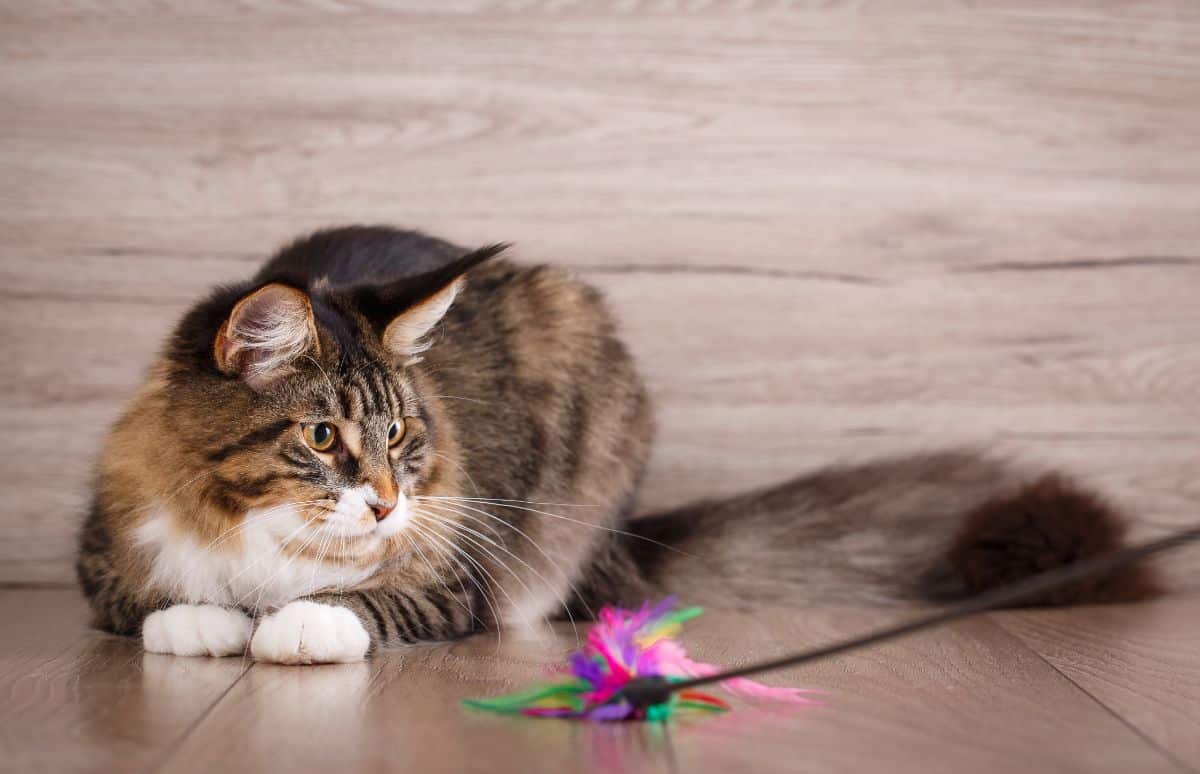 Maine Coon cats love to play and have adventures. These cats will be happiest when they have access to a whole bucket of toys and other things to keep them active. It may be a struggle to find a cat tree that will fit the hefty size of your Maine Coon since it can be as much as 20 pounds.
These domestic cats enjoy playing with other animals, including cats or small dogs. However, Maine Coon cats may get overwhelmed by large dogs in the home and hide during roughhousing or playtime.
Belly Rubs Galore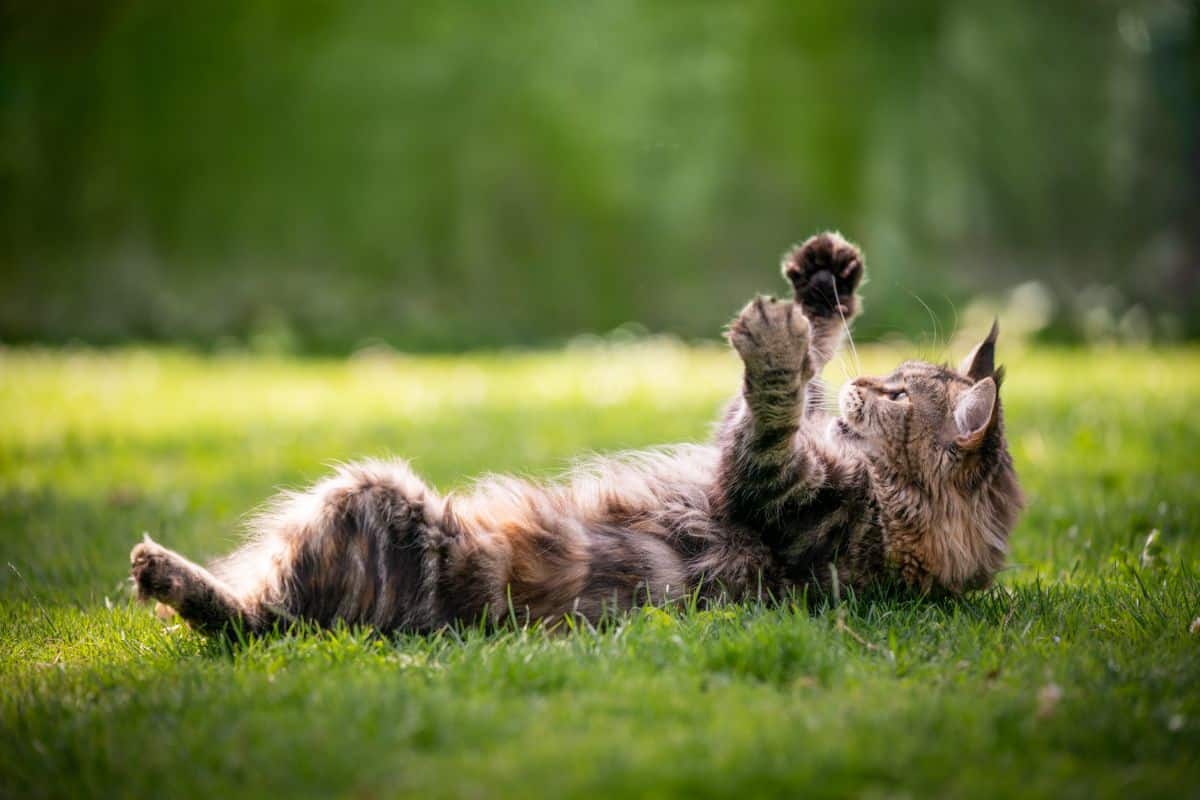 Usually, cats don't like to be rubbed on the belly, but Maine Coons are different than most other cat breeds. These cats will happily roll over and let you rub their tummy and scratch their chest.
These cats act similar to dogs in this way and prefer to receive plenty of rubs on the belly over rubs on the head.
You may notice your Maine Coon cat butting you with their head to capture your attention and get your hands on its belly. Rest assured that Maine Coons are determined and likely won't rest until you've given them all the rubs they want.
Get Ready For All Day Vocalizing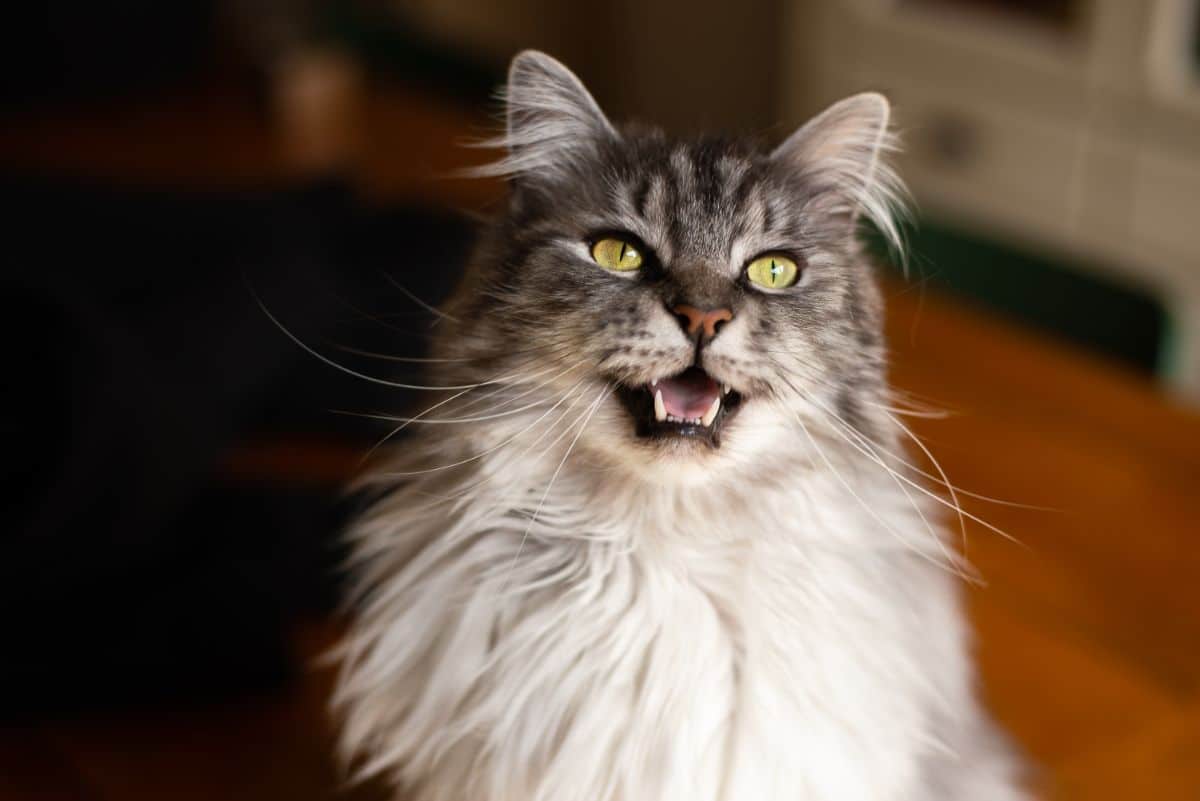 Most Maine Coon owners will tell you that you'll likely be woken up in the middle of the night because of your Maine Coon.
Although these cats will spend a lot of their time sleeping, a day in the life with Maine Coons will mean getting woken up in the middle of the night when your cat decides to wander the home.
Maine Coons are a little unconcerned with your activities and may not think about or care that you have a schedule to adhere to during the day. Your Maine Coon will also come up to you and vocalize throughout the day, including expressing contentment and happiness.
Maine Coons Help You Make Friends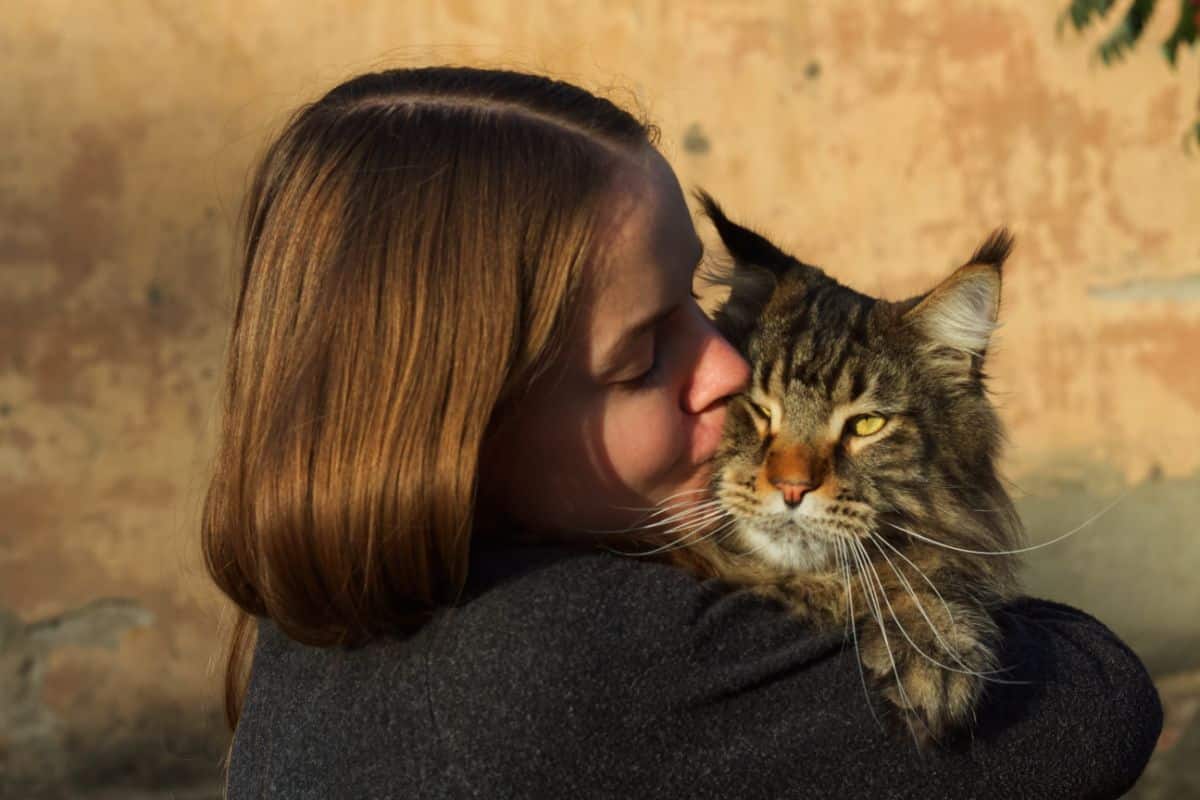 Maine Coons are highly social and will enjoy being around any living creature. Although Maine Coons prefer the company of other cats, dogs, or family members, they'll likely be quick to make friends with strange animals and people they've never met.
Many Maine Coon owners have taught their precious feline to go for walks while wearing a harness, and these cats are naturally charismatic, drawing people in and getting all the attention.
Your Maine Coon will leisurely lead you to others and vocalize to drum up conversation.
Be On The Lookout For Paw Communication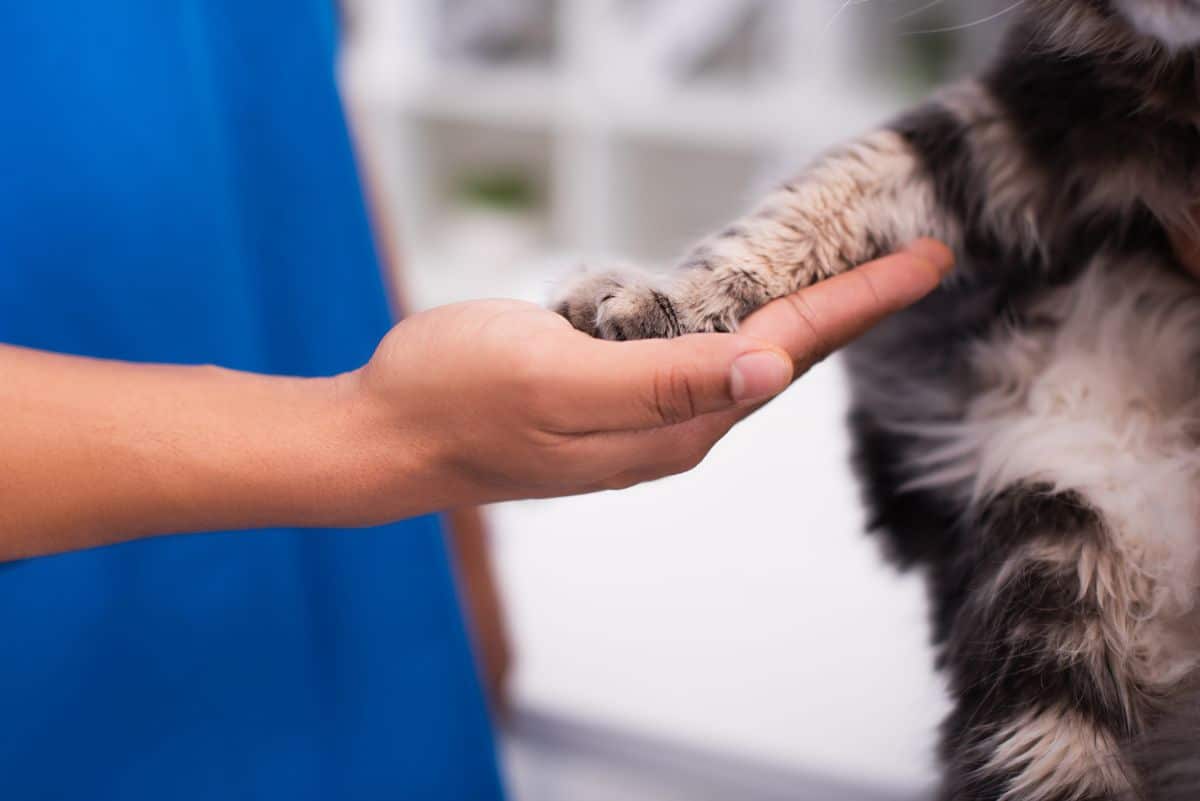 A day in the life of a Maine Coon will include communicating with its paws. These cats will likely vocalize a lot during the day, but when they have your attention, a Maine Coon might use their paws to indicate what they want or need.
These cats are famous for their ability to point at things, knead others, or swipe to show humans what they are asking for.
Maine Coons can swipe or point at any time during the day. Watch their behavior to see them communicate with their paws. Always check to see what they point toward.
Mischief Makers: Keep Your Eyes Peeled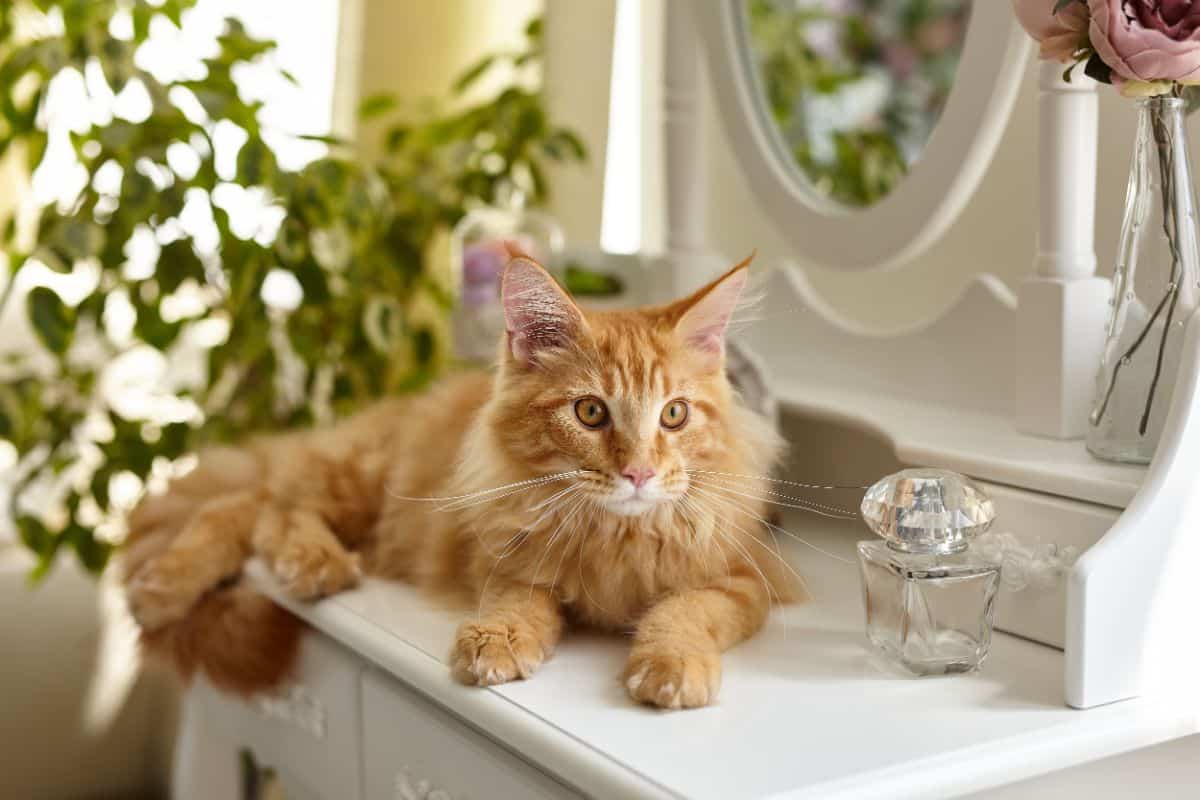 Maine Coons are naturally mischievous and will get into trouble when you aren't looking. Part of daily life with a Maine Coon is being on the lookout for their behavior. These cats might knock things off end tables or countertops when they're feeling troublesome.
Be mindful of how much time you spend with your cat to ensure they don't feel lonely and start acting out. Seek out your Maine Coon if you haven't seen them in a little while.
These cats are happy to swipe around at the decor, try and pull down objects they know aren't toys, and walk around on the kitchen countertops or tables.
Independent But Social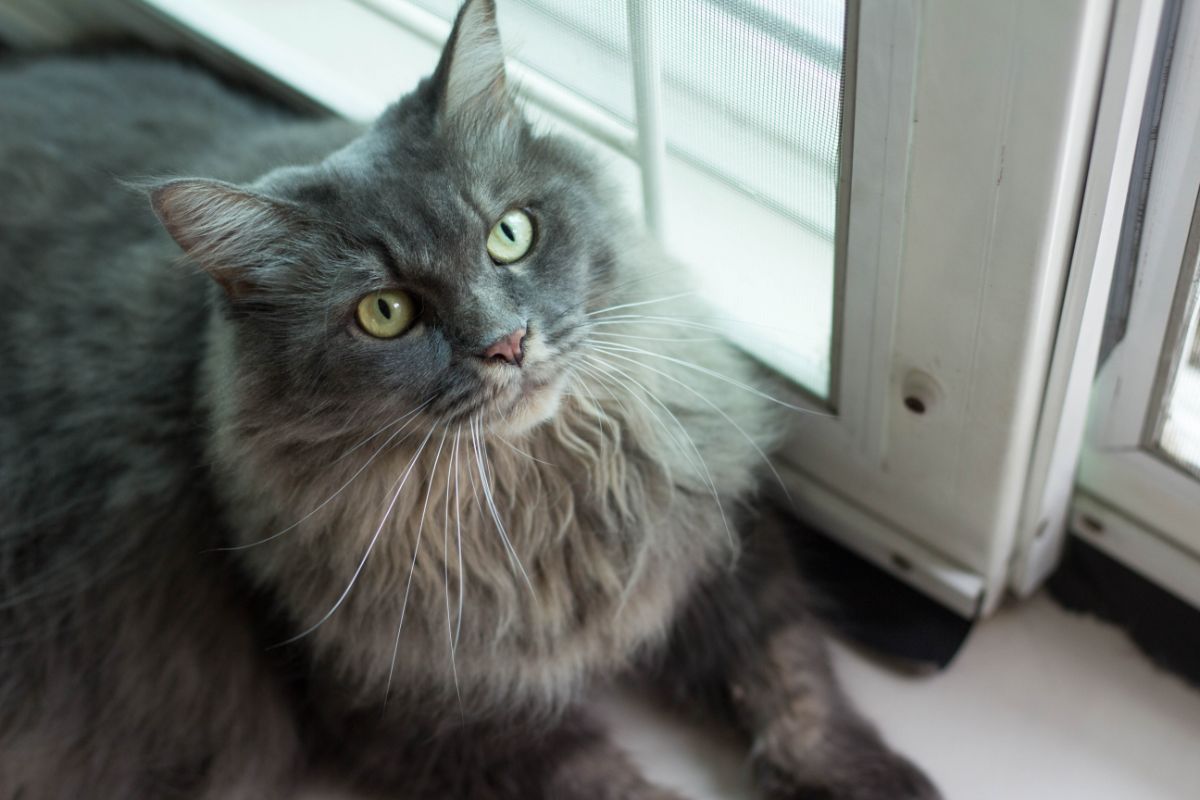 Maine Coon cats are very independent but thrive on social interaction. You may need to pause and give your cat all the attention they need to be happy throughout the day.
These cats have no problem jumping into your lap while you working and knocking over your things if it means they get your attention. To a Maine Coon cat, even negative attention is better than no attention.
Frequently Asked Questions
Maine Coon cats are some of the best cats for family homes with other animals and small children. However, some people may need a few answers before deciding if this cat breed is right for them.
Are Maine Coons difficult to own?
Maine Coons aren't difficult cats to own and can be easy to keep calm, occupied, and happy. As long as these cats get plenty of quality time with you, they will be happy.
Can Maine Coon cats be left alone all day?
Maine Coon cats can be left by themselves for around 12 hours, but these cats will be clingy when their owners come home after a few hours.
Do Maine Coons like to be walked?
Maine Coon cats love to go for walks and hikes. These cats are perfect companions for family adventures and will gladly go with their owners outside.
How long do Maine Coon cats live?
Maine Coons can live for 13 to 14 years, meaning there is plenty of time to make unforgettable memories.
Do Maine Coon cats need another cat?
Maine Coons will need a companion to feel happiest. However, these cats are happiest if there is another cat in the home.
Final Thoughts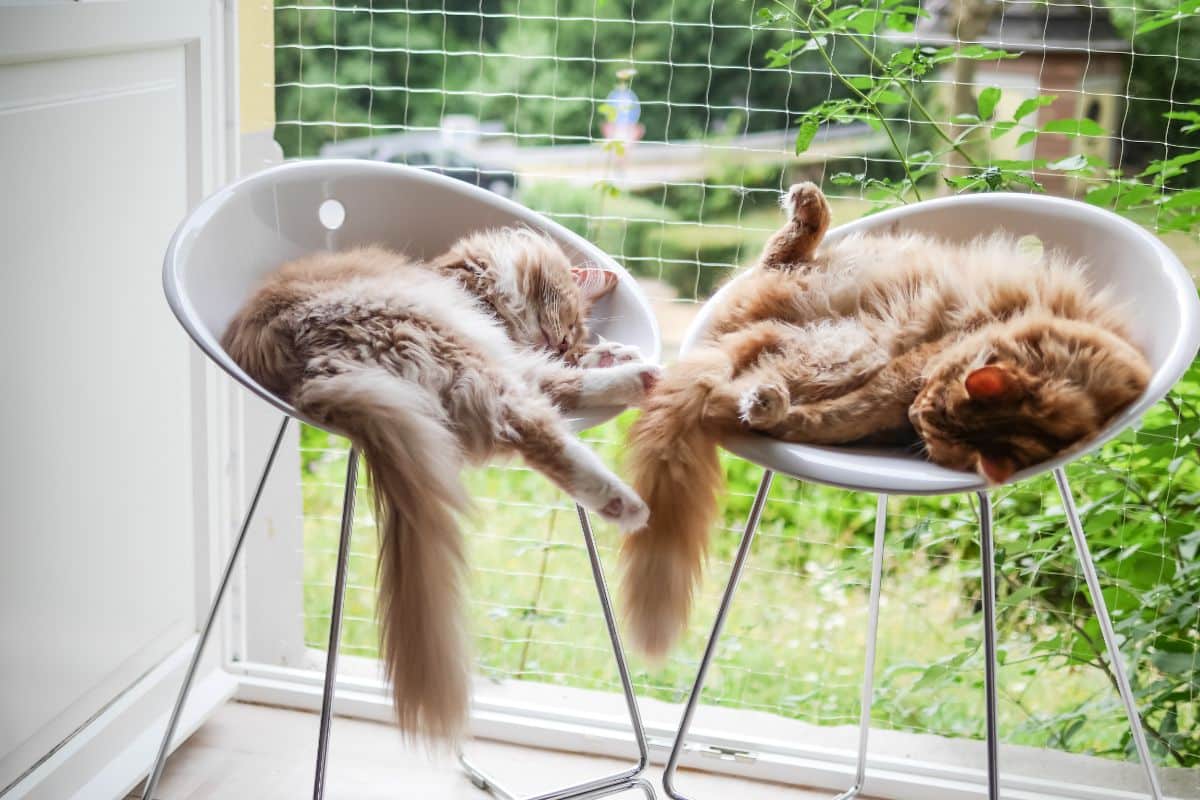 Maine Coon cats can be stunning additions to your home and family. However, these cats can be a lot of work and may require you to make space, room, and time for them.
Maine Coon cats tend to act independent like their feline siblings, but this cat breed thrives on social interaction with others, whether animal or human.
A day in the life with a Maine Coon cat can be thrilling, fun, and lively. However, you'll need to access your funny bone since these cats can easily get into trouble and make a lot of life more troublesome for you and your family.
Make sure to give your Maine Coon cat plenty of love, attention, and time to keep them from getting mischievous around the home.