When the mercury starts rising to unbearable temperatures in the middle of summer, it's hard to watch your Maine Coon walk around in the heat sporting a thick, fluffy fur coat.
Most owners' first thought is shaving their Maine Coon, but in most cases, your cat is much better off with its coats intact.
Read on to learn how a Maine Coon's fur helps keep them happy and healthy, as well as a few situations where shaving might be appropriate.
Jump to:
Maine Coons Require Regular Grooming
One of the most common reasons Maine Coon owners cite for shaving their cat is that the hair becomes unruly, matted, or soiled.
While most short-haired cats are more than adept at keeping their hygiene up, long-haired cats need a little extra help keeping their luxurious coats in good condition. Weekly brushings are crucial to keep minor grooming issues from escalating to requiring a shave.
Maine Coon Cats Have Three Layers of Fur
Maine Coon coats are complex, consisting of three different layers of hair: a short, downy undercoat, a longer undercoat, and a coarse layer of guard hairs.
These three hair textures work together to keep Maine Coons warm in their cold native climates and repel water to protect their skin from snow or rain.
Long Fur Helps Regulate Temperatures All Year Long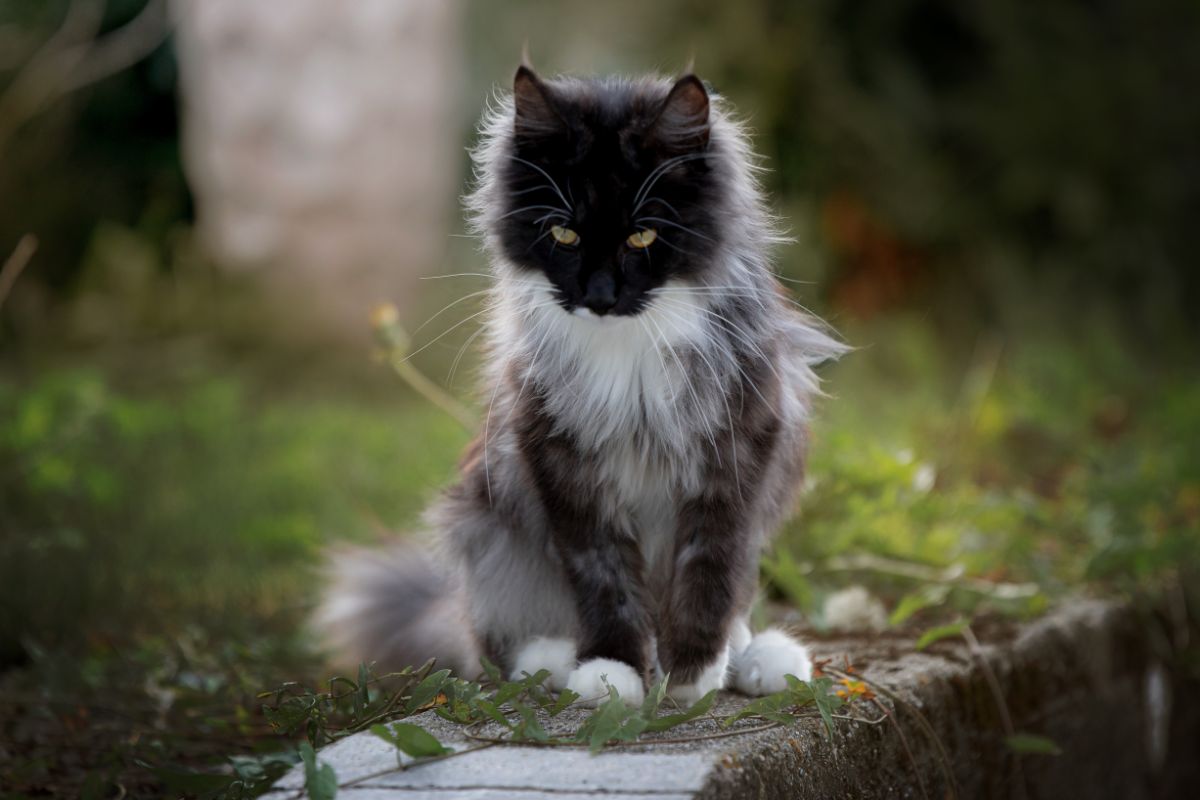 It may seem counterintuitive, but Maine Coon fur helps them survive temperatures on both sides of the spectrum.
In the warmer seasons, you'll notice that the downy undercoat sheds away, leaving the water-repellant guard layer behind to help heat escape from the surface of their skin.
You Can Often Remove Mats Without Shaving
Even with regular grooming, Maine Coon fur can still get snarled up into hard-to-handle mats. If you catch them soon enough, owners can typically get rid of them by snipping them away with scissors.
Occasionally trimming mats away is a much better option than resorting to a full-body shave, especially in the wintertime, when your feline friend relies on their coat for protection from the elements.
A Shaved Maine Coon Is Vulnerable to Sunburns and Bug Bites
Like humans, cats are susceptible to summertime discomforts like sunburns and bug bites. Fortunately, they have a thick coat that acts as an SPF and insect repellent, so shaving your Maine Coon can cause more issues than leaving their hair long.
Some Cats Get Seriously Stressed During a Shave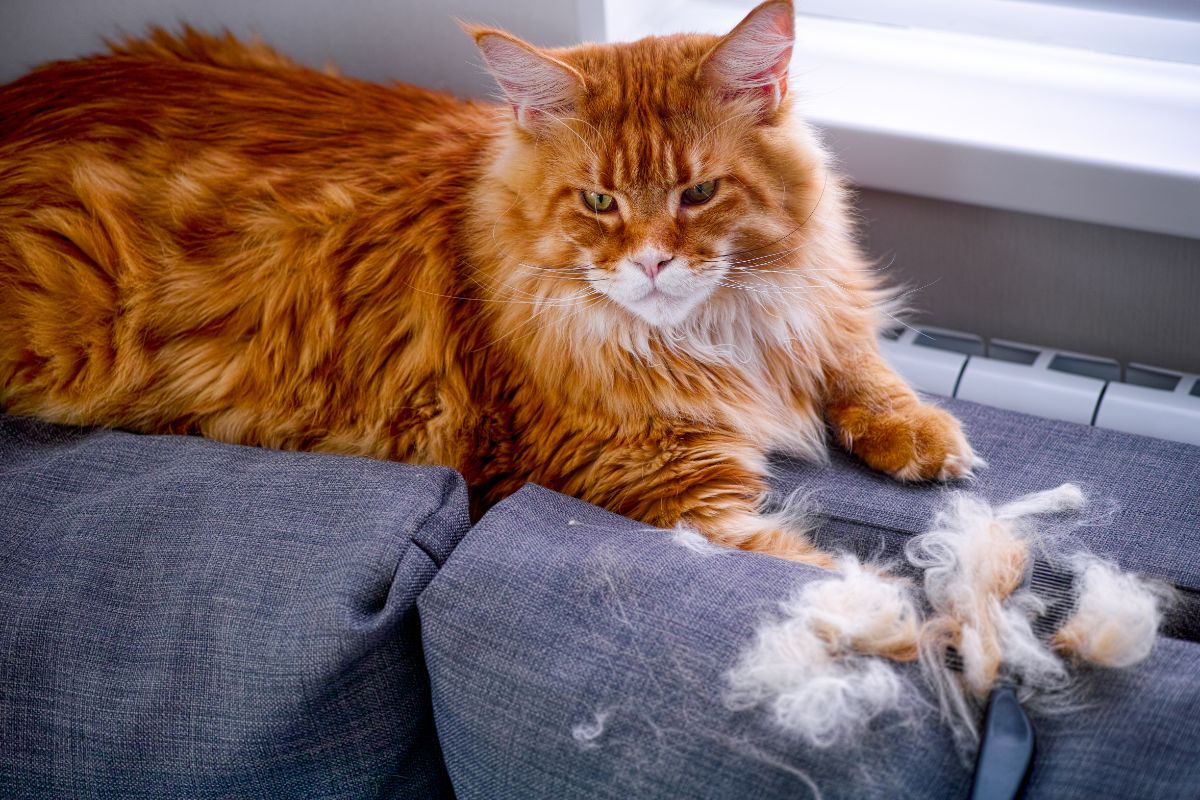 Grooming clippers are loud, and for a skittish Maine Coon, listening to their buzzing drone can cause panic, stress, and even trauma, making future grooming appointments much more difficult for everyone involved.
Additionally, cats who have never had their fur shaved before can have a hard time adjusting to the difference in how their body feels.
Just as humans with long hair would struggle to deal with having their heads shaved, shaving a Maine Coon removes a physical layer of security and warmth that they're familiar with.
Lion Cuts Don't Come Cheap
One of the most popular styles for Maine Coon cats is the lion cut, where most of the body is shaved, but the groomer leaves behind a "mane" and a tuft of fur at the end of the cat's tail.
While there's no denying it's a cute look, the cost of maintaining it can quickly add up, as most groomers charge $60-80 per appointment. Often, that doesn't account for bathing and nail clipping costs.
Some Vets Recommend Shaving for Medical Reasons
There may come a time when your feline has an injury or health concern that requires surgical care. At that time, your veterinarian will likely shave the spot where they intend to operate to ensure a sterile environment and easier access to the skin for cutting purposes.
Once the surgery is complete, be sure to speak with your vet about keeping the area clean and comfortable for your cat.
Another common veterinary-recommended reason for shaving is if a cat has a skin condition that requires routine care or that fur can worsen. In that case, it's best to follow your vet's advice and treatment plan.
Shaving Can Help Older Cats Maintain Their Hygiene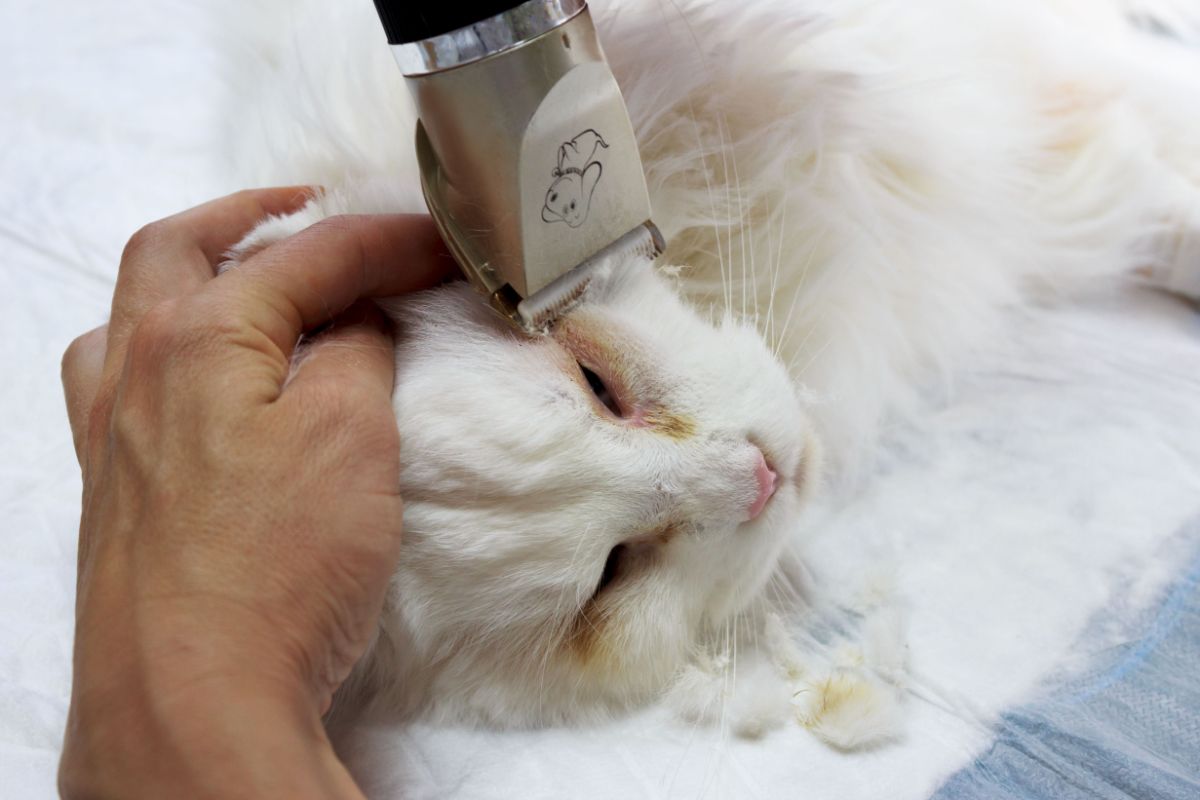 Health issues like arthritis or immobility can make it very difficult for senior cats to twist their bodies in the directions necessary to clean their entire bodies.
In these cases, veterinarians recommend addressing that problem by removing the fur to make the feline more comfortable and avoid unmanageable matting.
Once the cat is shaved, you'll have to be extra careful to keep your pet safe from heat, cold, and other hazards. In the summer, ensure your kitty has a nice, shady spot to escape when they get too warm and a cozy spot to sleep in the wintertime.
Additionally, keep an eye out if you have any other cats in the house. Typical bickering and disputes over territory can become a much bigger problem should one cat scratch another without the protective fur layer.
Chronic Shedding May Be Symptomatic of a Bigger Issue
If you're thinking about shaving your Maine Coon because their shedding seems excessive, start treating the source rather than the symptoms.
Just a few of the issues that could cause a cat to shed more than usual include:
Malnutrition and poor diet
Age
Pregnancy
Stress
Start by assessing whether your Maine Coon has recently undergone any anxiety-inducing events, like a big move or rehoming. You should also check that your choice of cat food is nutritionally balanced and that you're feeding your pet appropriately according to their weight, age, and activity level.
Leave Shaving a Maine Coon to the Professionals
If you think you have a good reason for shaving a Maine Coon, do not do it yourself. It's easy to become overwhelmed by a squirming, yowling, highly stressed animal while handling a pair of clippers, which can lead to painful accidents.
Let a professional groomer take care of the issue. Many have tools and sedatives that make the process less stressful for your beloved pet.
Wrapping Up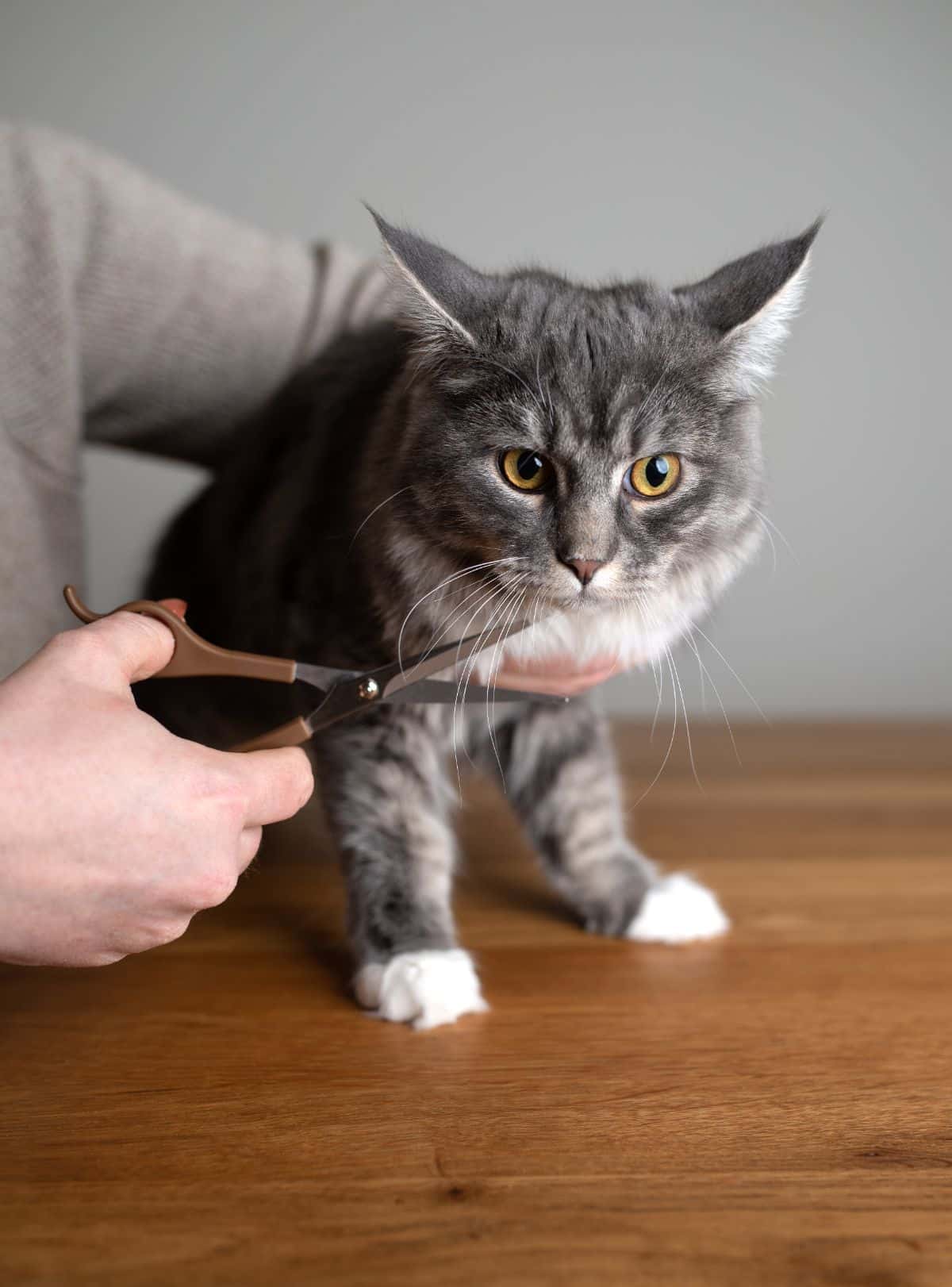 Shaving a Maine Coon is a tough decision, especially when considering the different ways their coats protect them from harm.
The best thing a cat owner can do is speak with a vet and let the professionals handle the process. It's the only way to ensure their experience is as low-stress as possible, which means a happier cat and better outcomes.