If you've never seen a Maine Coon, oh boy, you're in for a treat! This enormous breed is a gentle giant. While every Maine Coon on the planet is adorable and admiration worthy, some are especially cute. Today, we'll reveal 21 brown Maine Coons that deserve an "awww."
Jump to:
1. Lucy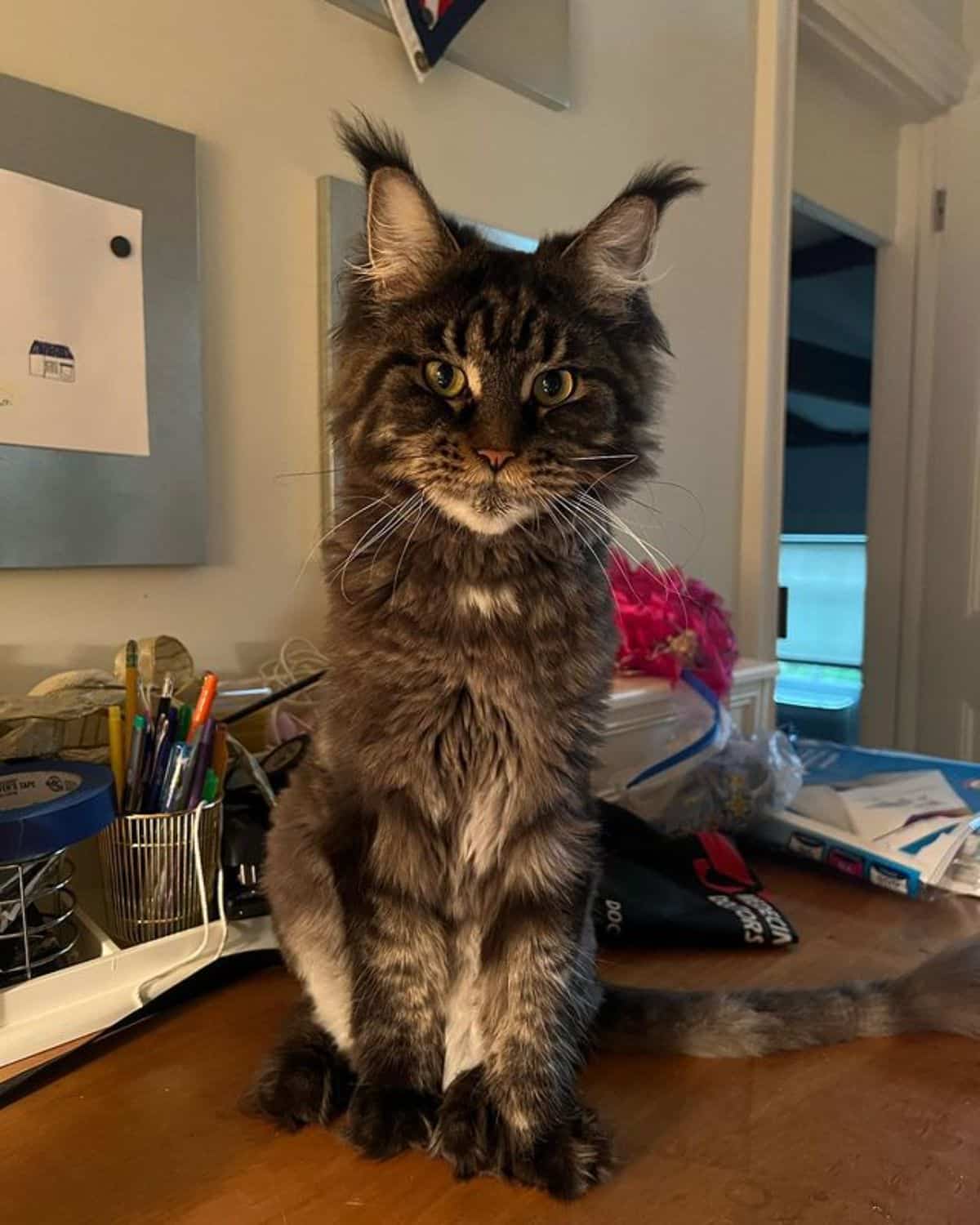 Lucy (aka Lucy Lou) may not be as big as some other Maine Coons, but small is mighty! And she's truly majestic with her deliciously cute lynx tips (the tufts on the tips of her ears). Those are some big ears, too. This kitty is in charge at her house.
2. Bruno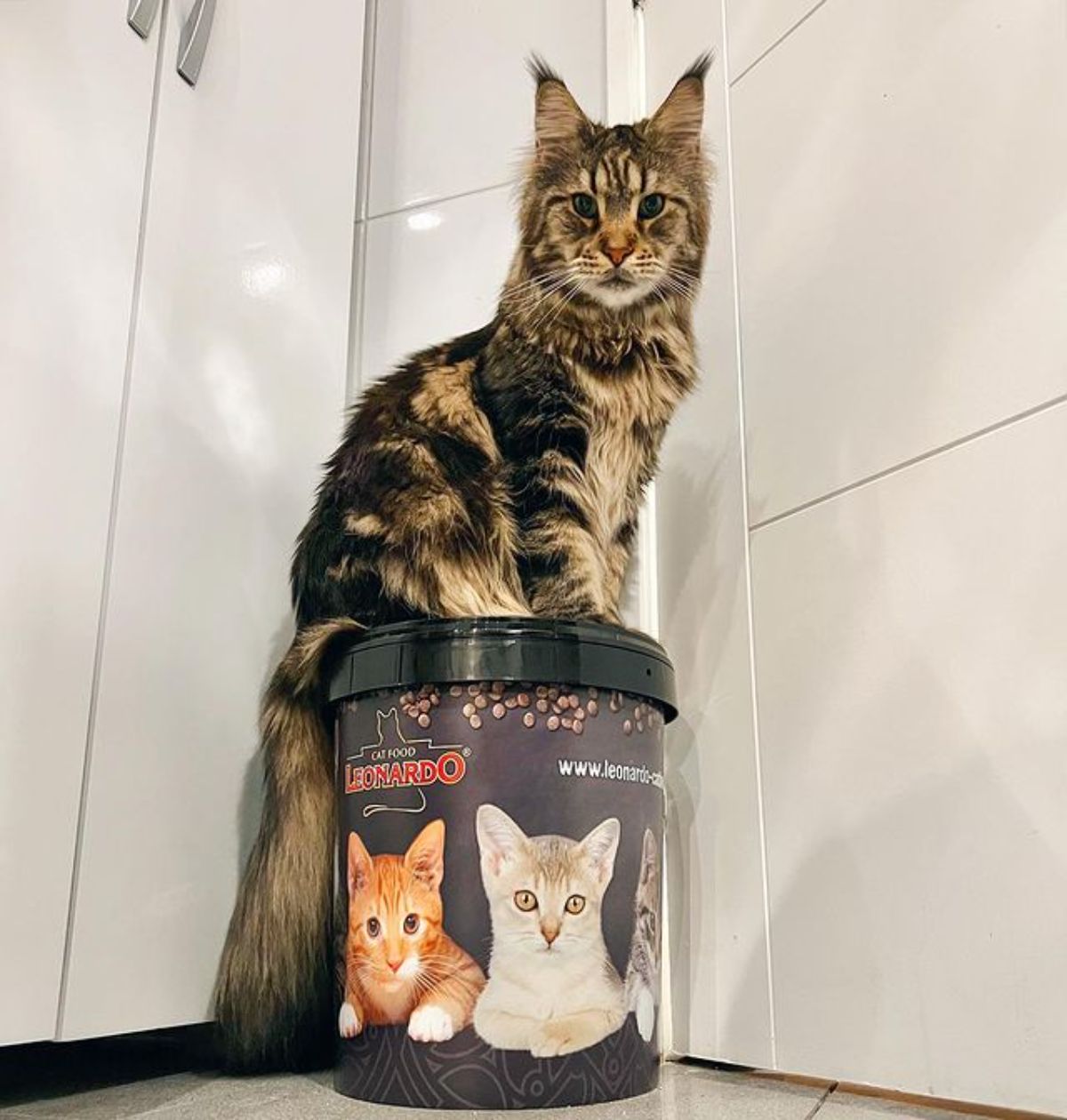 Another impressive Maine Coon with brown fur, Bruno sports an intricate pattern. He loves showing off his long and fluffy tail, so he enjoys sitting on a cat-decorated platform for his photos.
Bruno's long-hair coat is plush and soft, and his eyes are bright. He looks in a playful mood and is ready to romp with his humans.
3. Hugo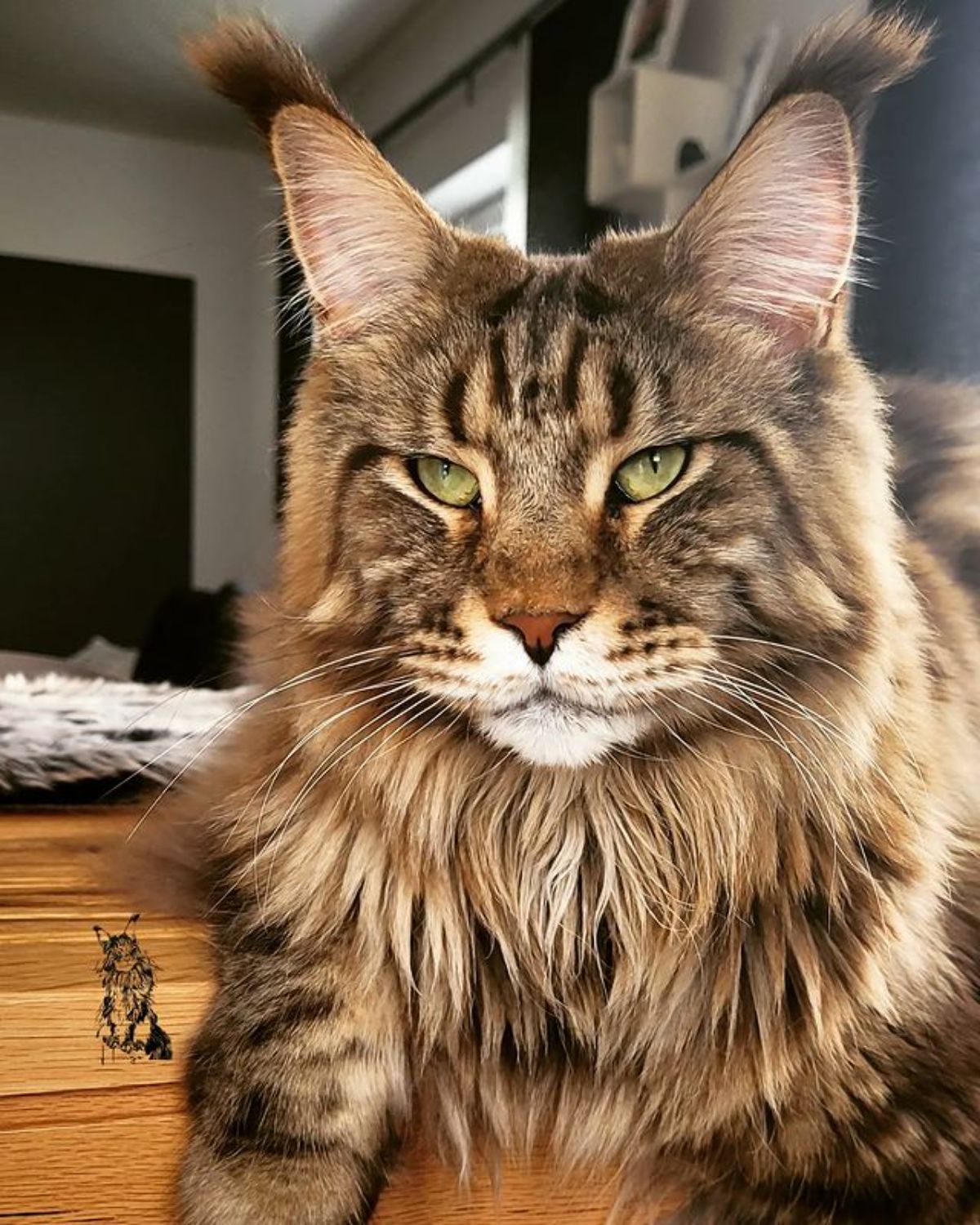 We've never seen lynx tips as thick and dark as these! We're talking about the fur on the tips of Hugo's ears. Wow! No other Maine Coon can quite compete. His ear tips are dark brown, which goes perfectly with the brown hues and shades on Hugo's coat.
4. Mr. Vivo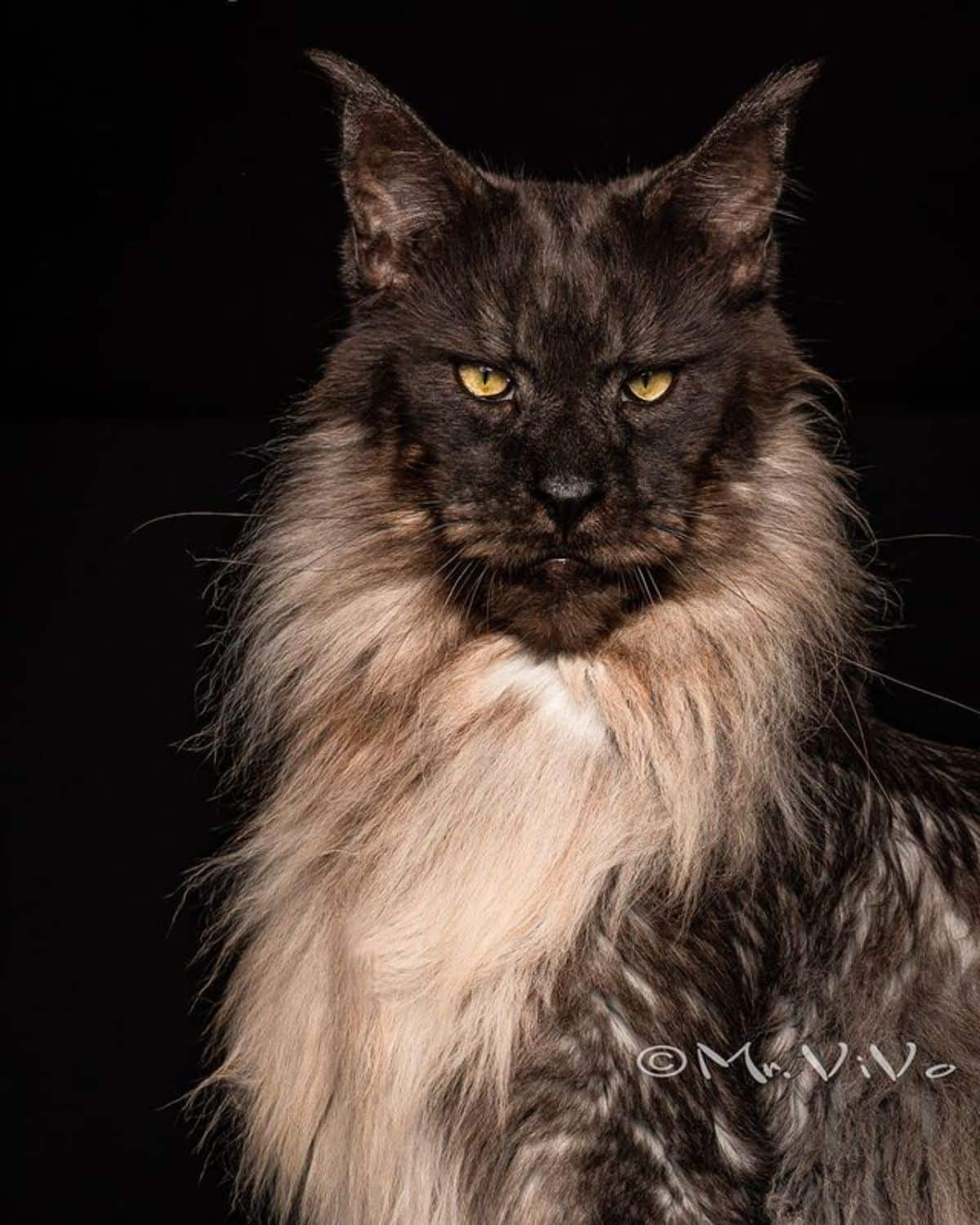 If you didn't know better, you might feel intimidated by this gigantic feline. His face looks almost human. Mr. Vivo is adorned with dark chocolate brown fur on his face, complementing a lion-like long white ruff. Mr. Vivo isn't for the faint of heart. Even a dog might think twice before barking at this formidable feline.
5. Gastone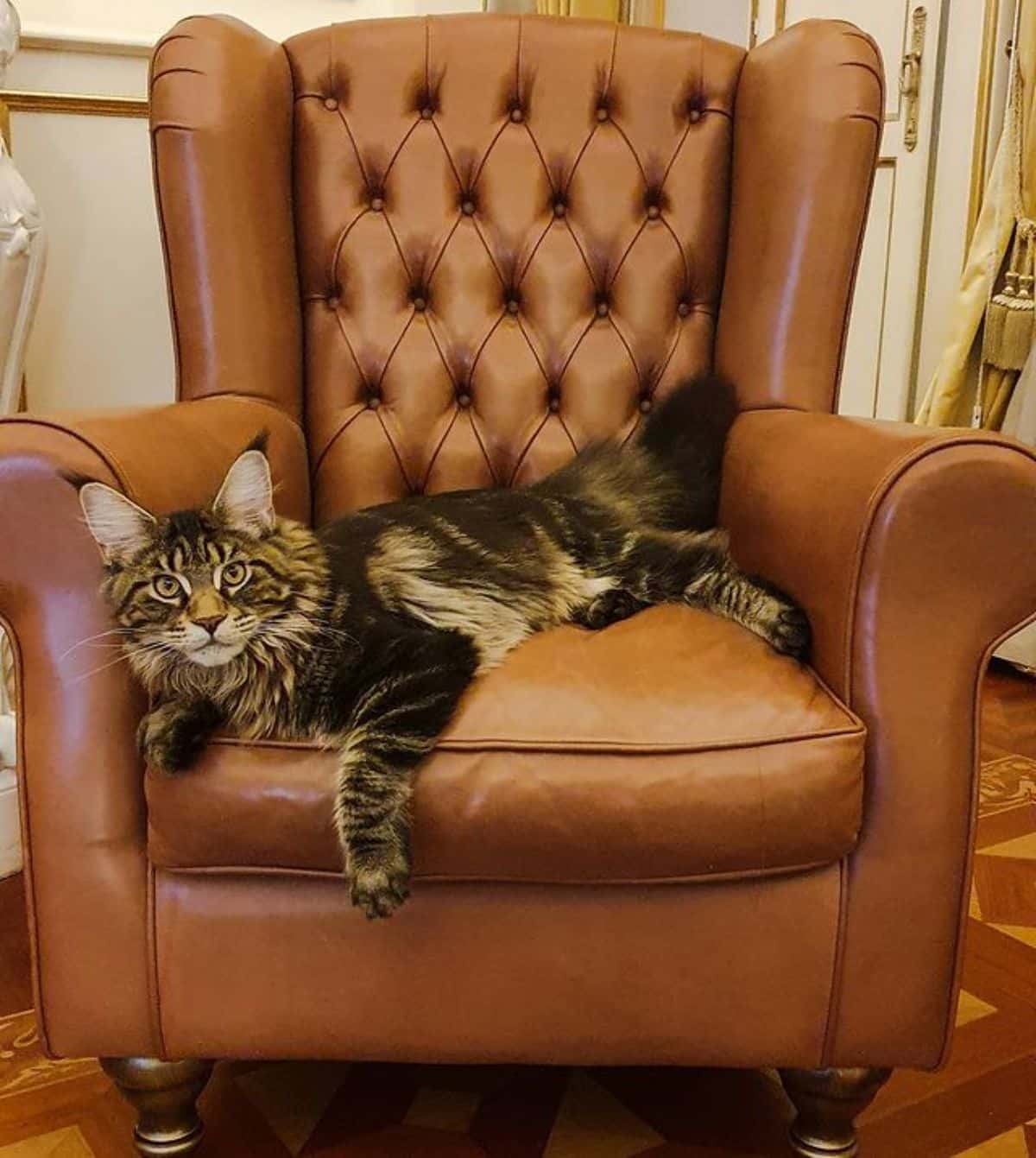 Gastone knows how to live life! Just look at him lounging on a luxurious leather chair. This beautiful Maine Coon boy boasts a brown coat with various hues. We love the light flecks and tips in his luxuriant ruff.
This brown Maine Coon is so big it's almost too long to fit on his seat. A front paw dangles from the front while he gives the human a warning look. "Don't interfere with my nap," he seems to say. He's not sleeping now, but he will be soon!
6. Mr. Bingley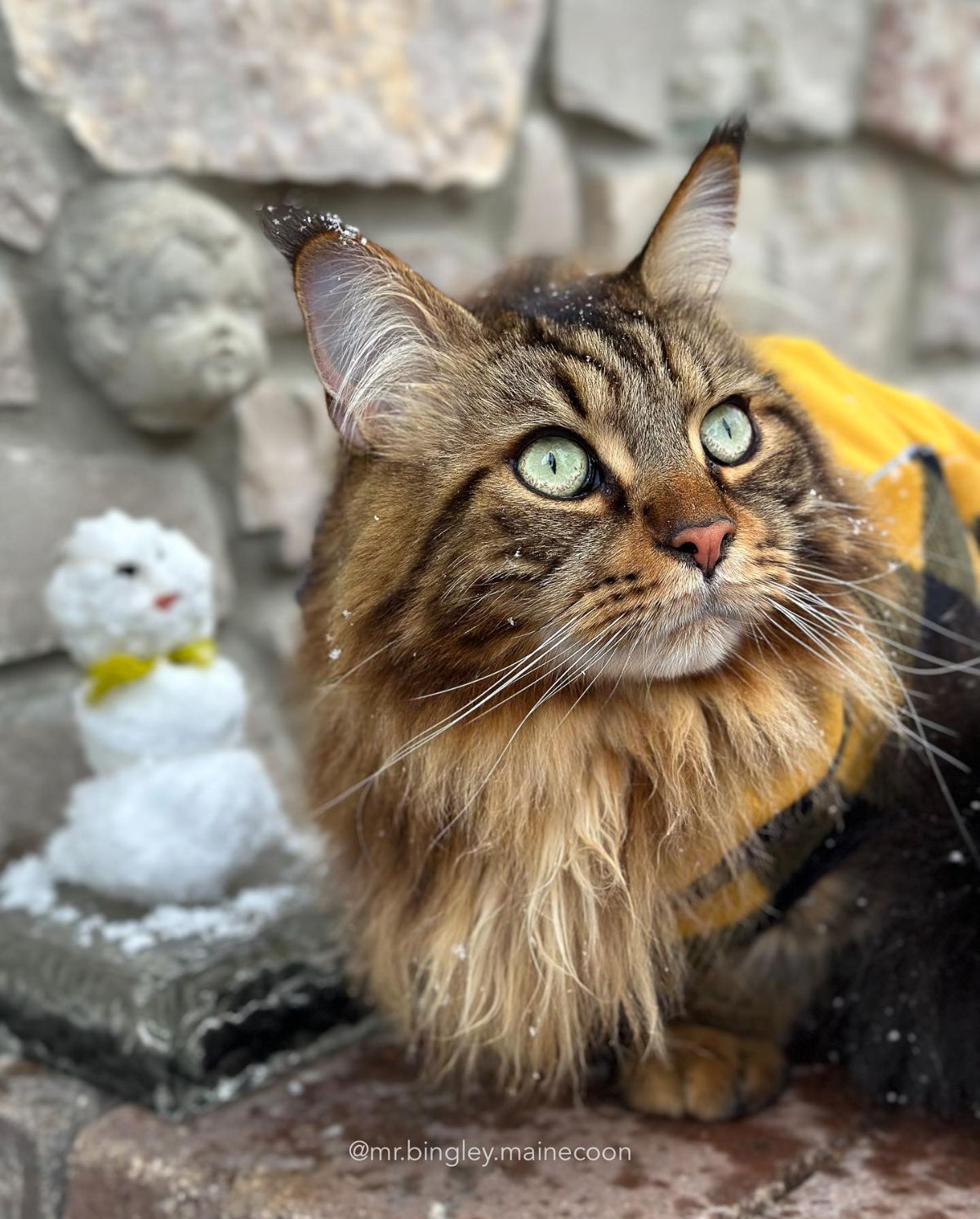 Mr. Bingley's not too sure what to make of that miniature snowman. It must be some strange creation from the humans. It's impossible not to admire this lovely brown Maine Coon, named after a Jane Austen Pride and Prejudice character. This kitty has unique dark brown markings on the light brown fur of his angelic little face. No doubt about it, Mr. Bingley has a beautiful coat.
7. Moose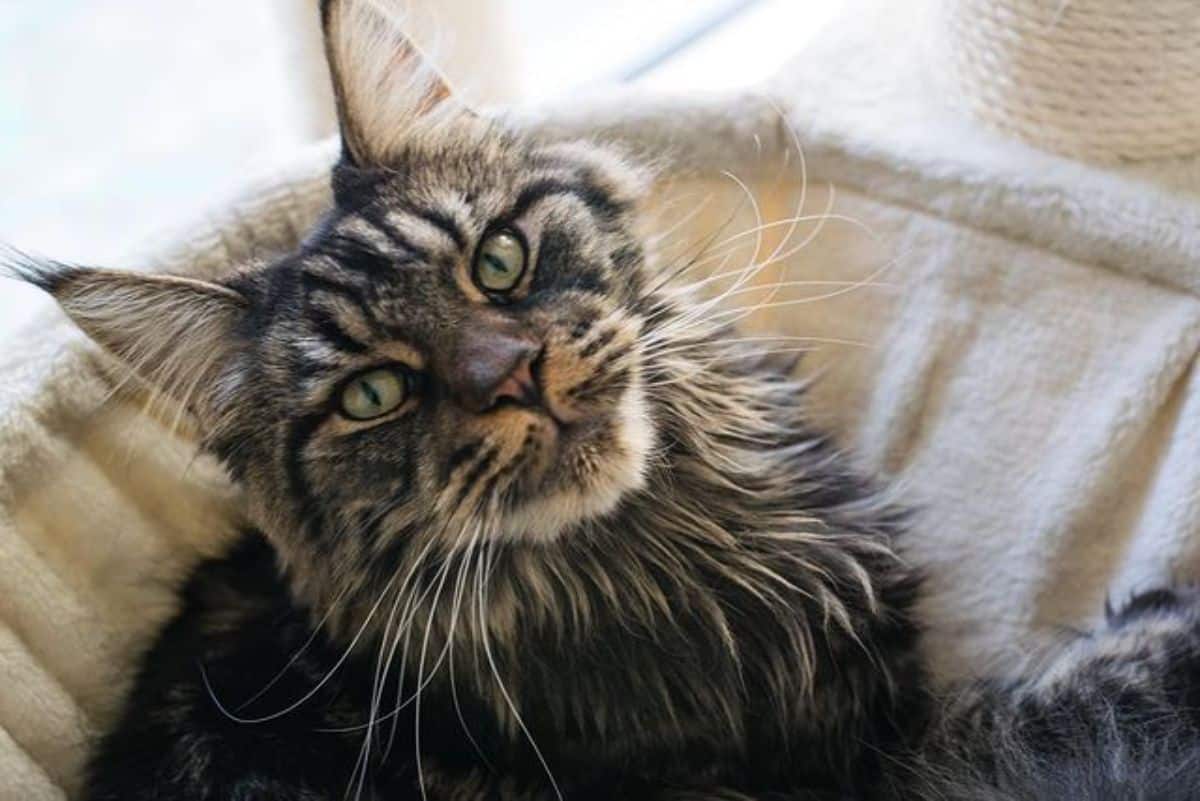 You can tell from his picture just how sweet and loving Moose is. He's staring up at his human with love! This Maine Coon has a brown coat with a grayish tinge and white flecks. As a true Maine Coon, Moose has the signature "M" pattern on his forehead and lots of ear fluff. And don't forget the whiskers. These whiskers are wild and grow in different directions!
8. Heidi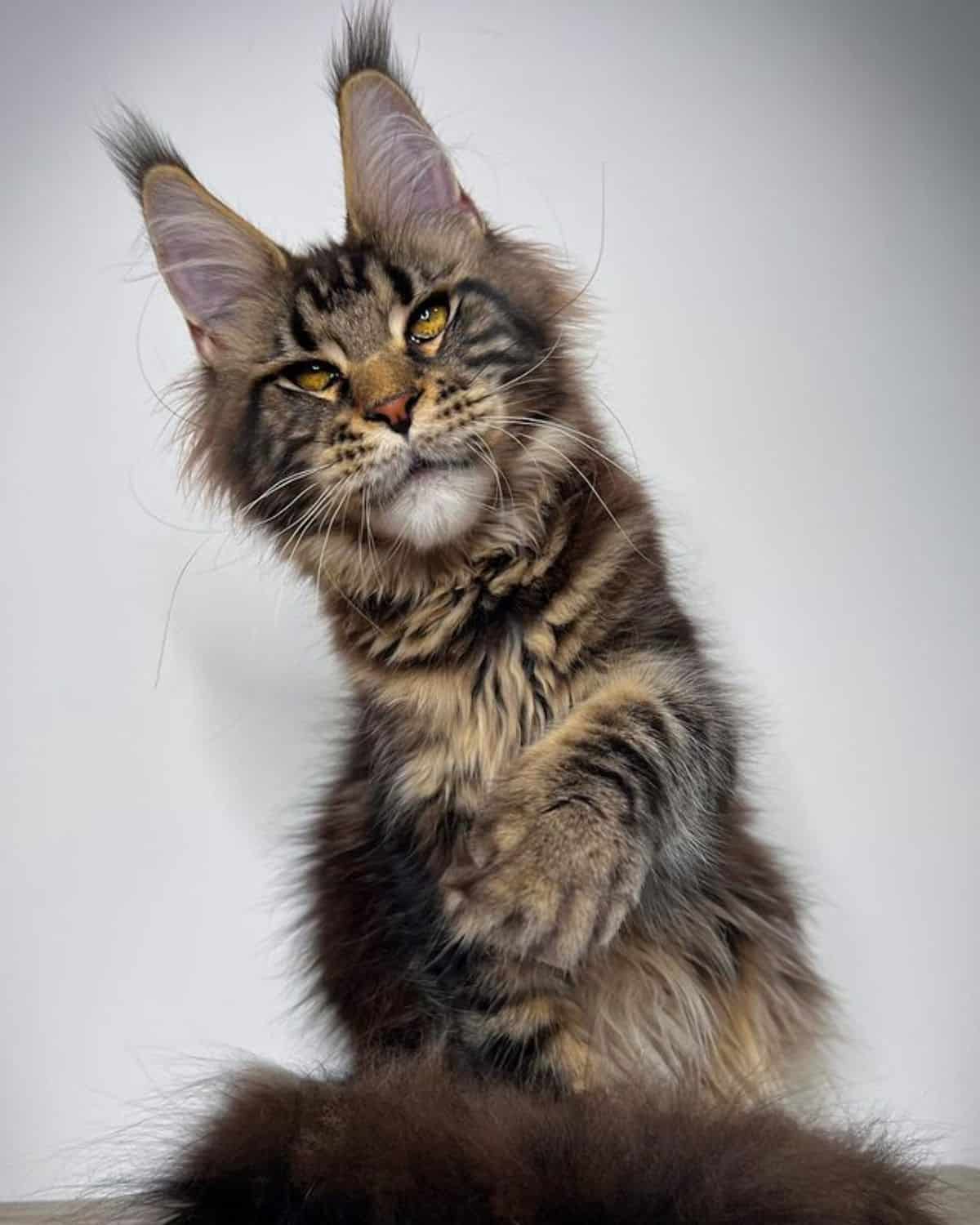 I love many things about Heidi, but one of my favorites is her chin, which is so big with a lovely white color. It gives this kitty a human look. Check out those ears, too. Talk about triangular and fluffy! Heidi knows how to pose for the camera, and her human got the perfect shot.
9. Tony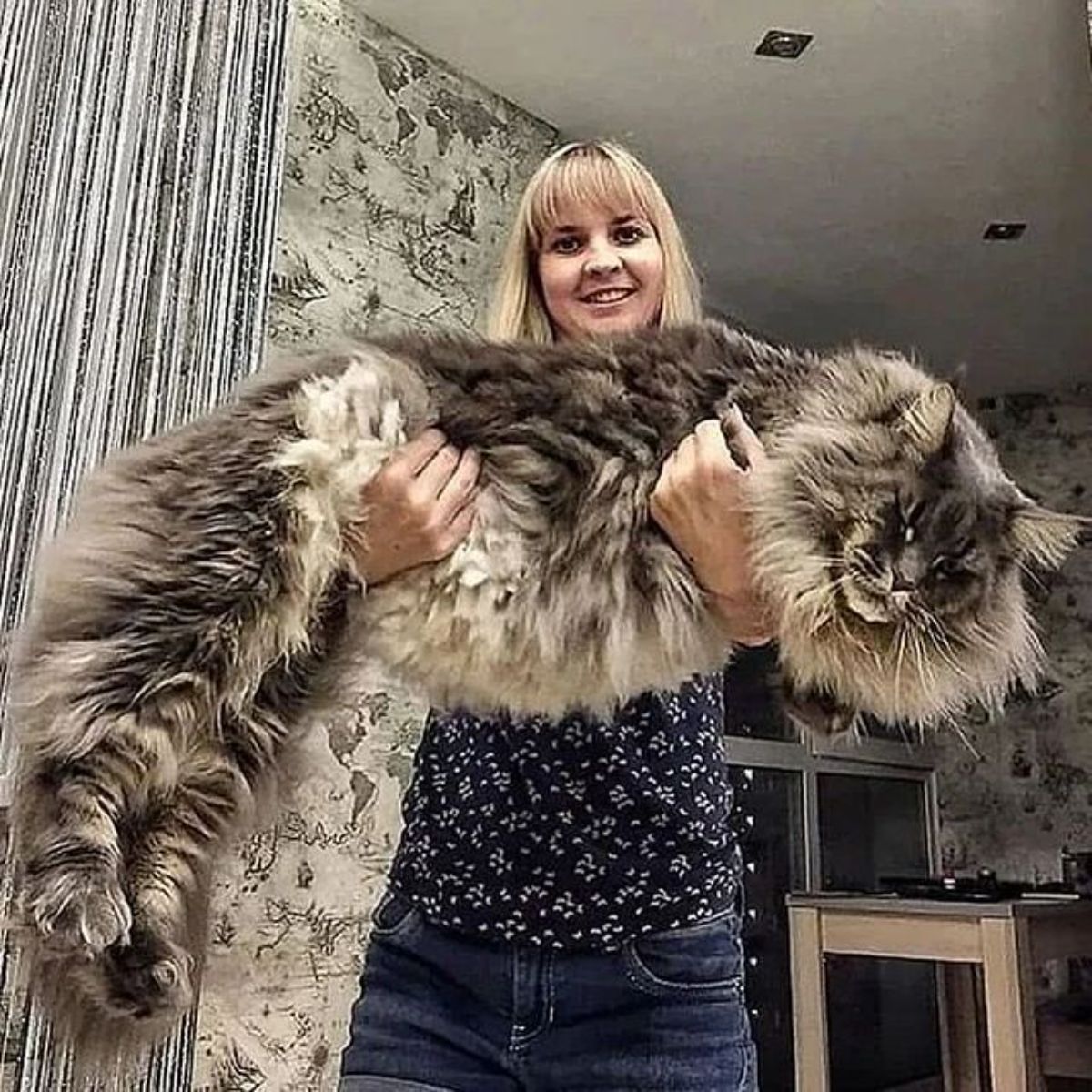 Woah! We've heard of enormous Maine Coons, but this one should be in the record book! Look at his size compared to the human holding him. Absolutely amazing! Yet Tony is so sweet and docile, letting himself be picked up and lovingly displayed for the camera. This monumental feline has a luxurious coat with different shades of brown.
10. Nemo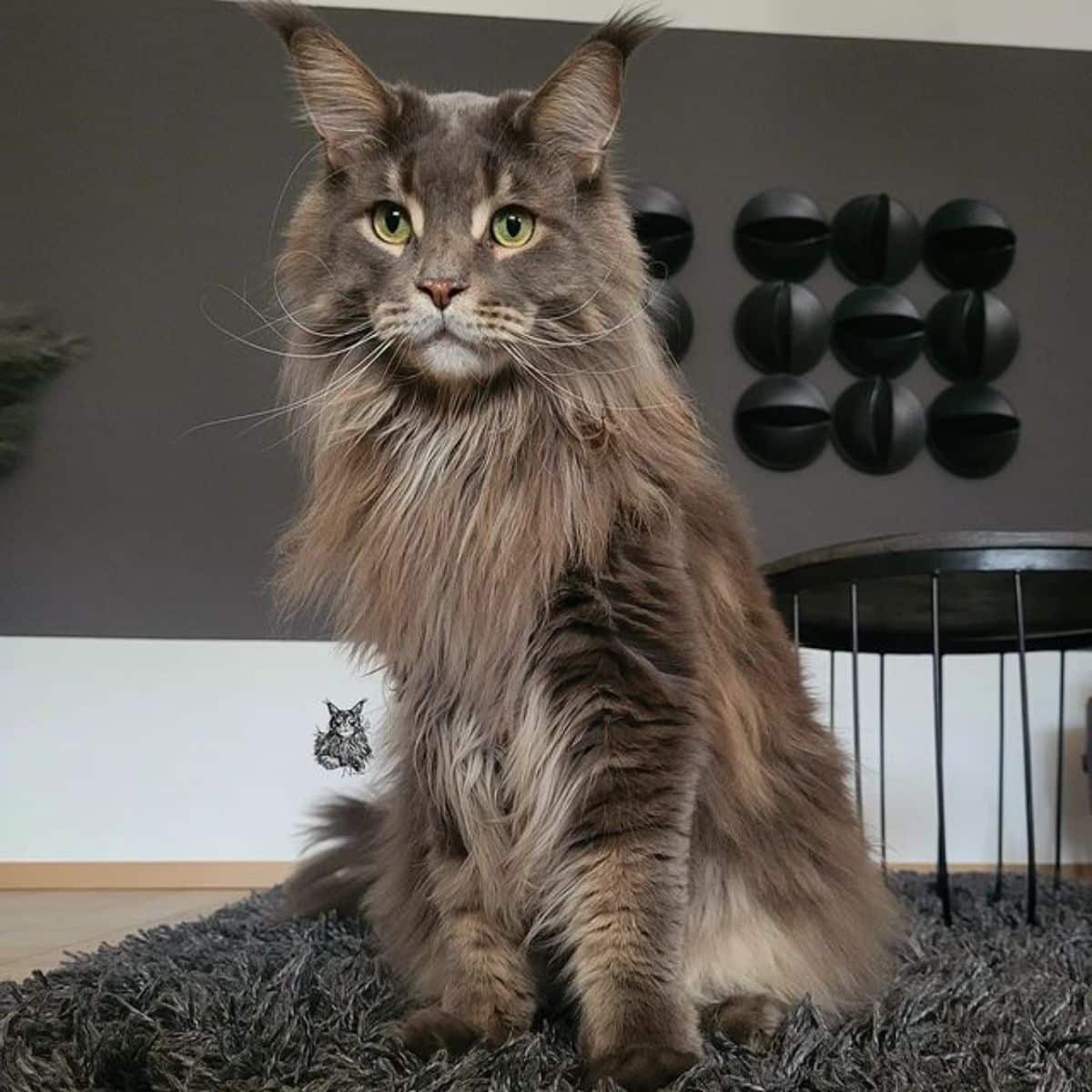 Nemo is a young and small Maine Coon with a lot of promise. His coat has a taupe-brown color, with all different shades and hues. Wouldn't you just love to stroke this soft little cat? Nemo has a loving human companion and loves to show him off whenever they can.
11. Mana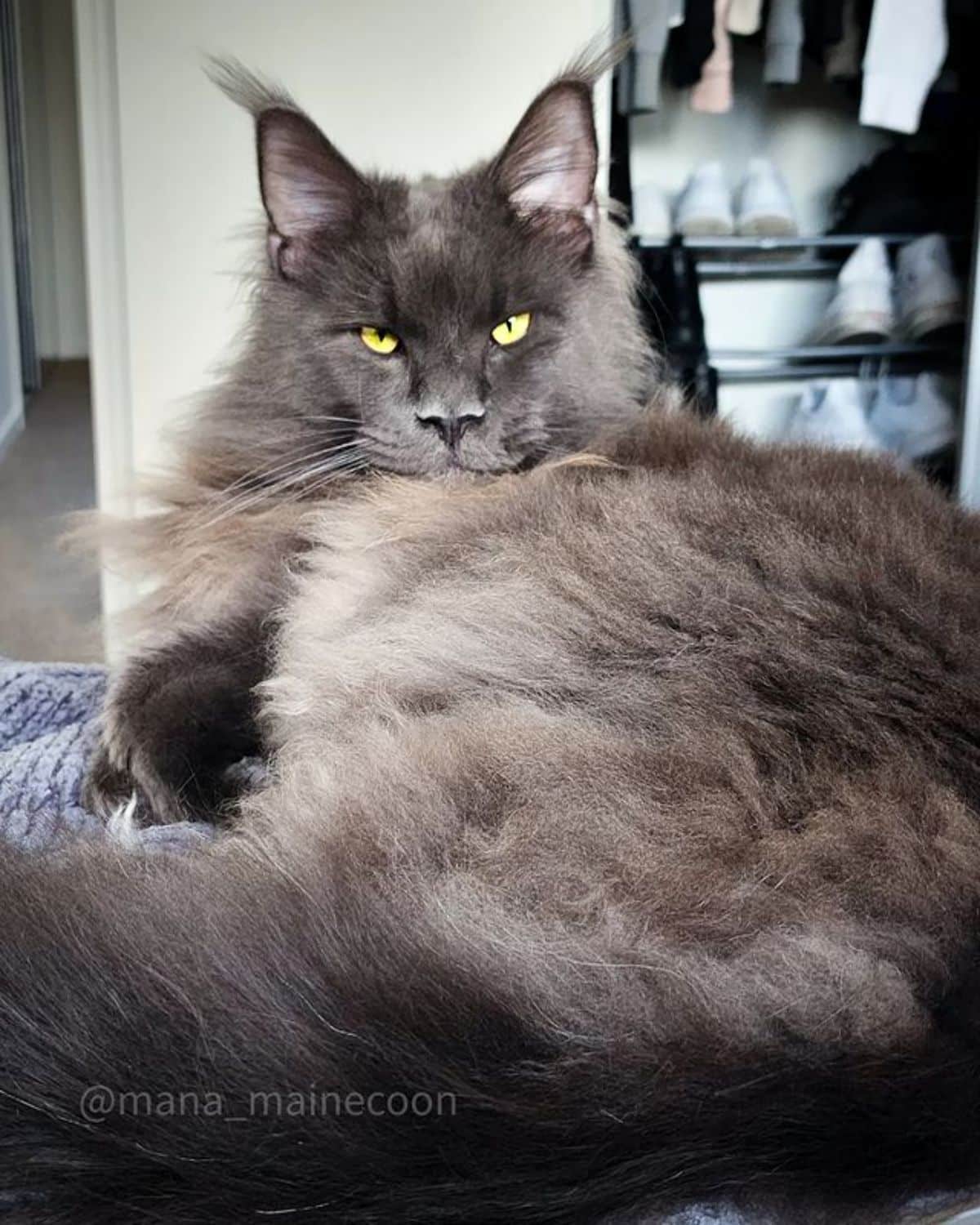 Mana is a serious-looking cat. We've never seen eyes so yellow and bright. He seems a bit annoyed with his human, warning them to stay away during his nap. They're obviously thinking of stroking him, but he's telling them back off for now (at least until you bring me treats!) Mana's coat is a smokey brown, and he's a majestic feline.
12. Terra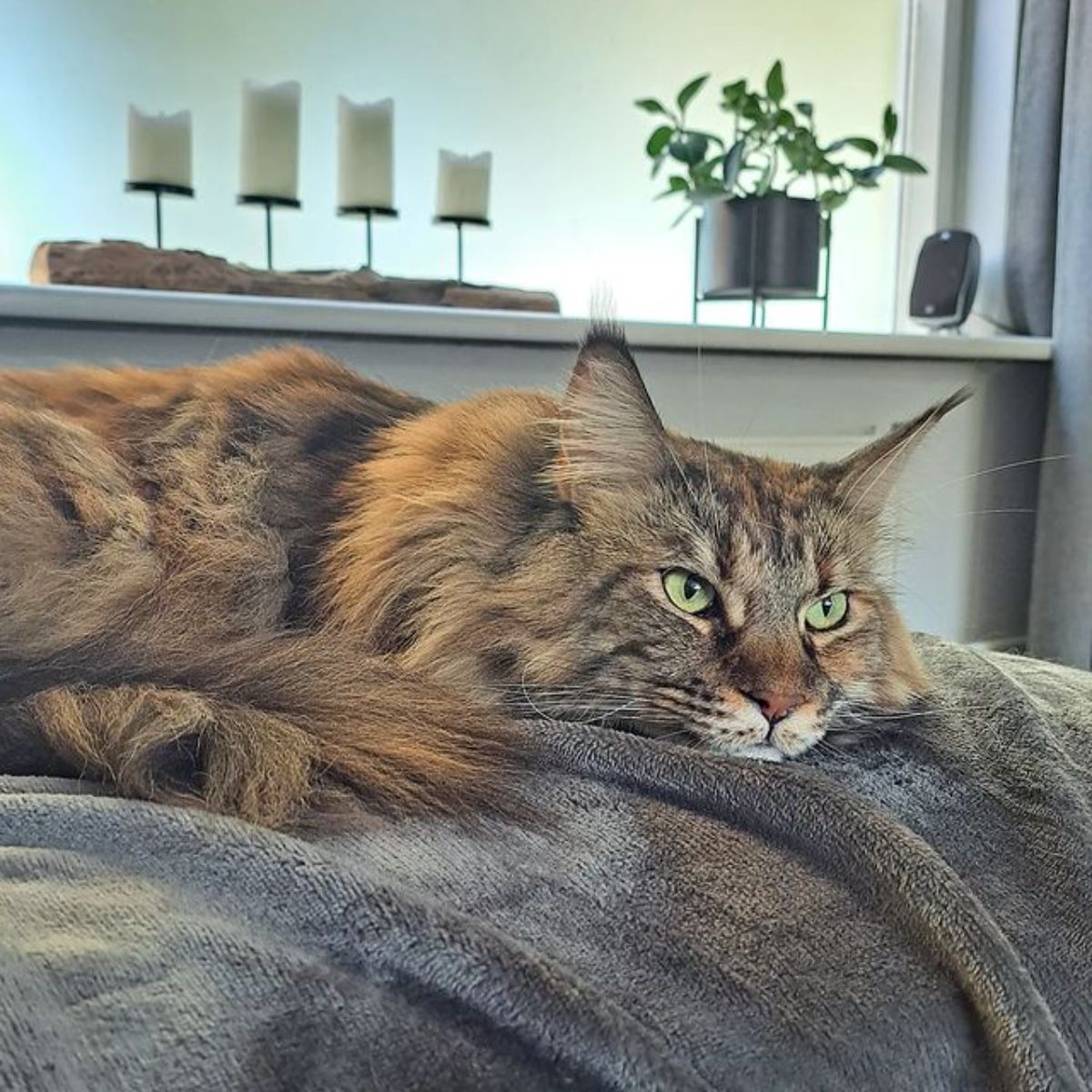 Terra is in a state of deep introspection. What is the meaning of life? Is there a mouse behind the sofa? What about a bug I can chase? Whatever she's thinking, this feline is adorable. Her eyes are bright green, and she has a light brown tabby coat with golden hues. A perfect Maine Coon, Terra has a lush long hair coat.
13. Jack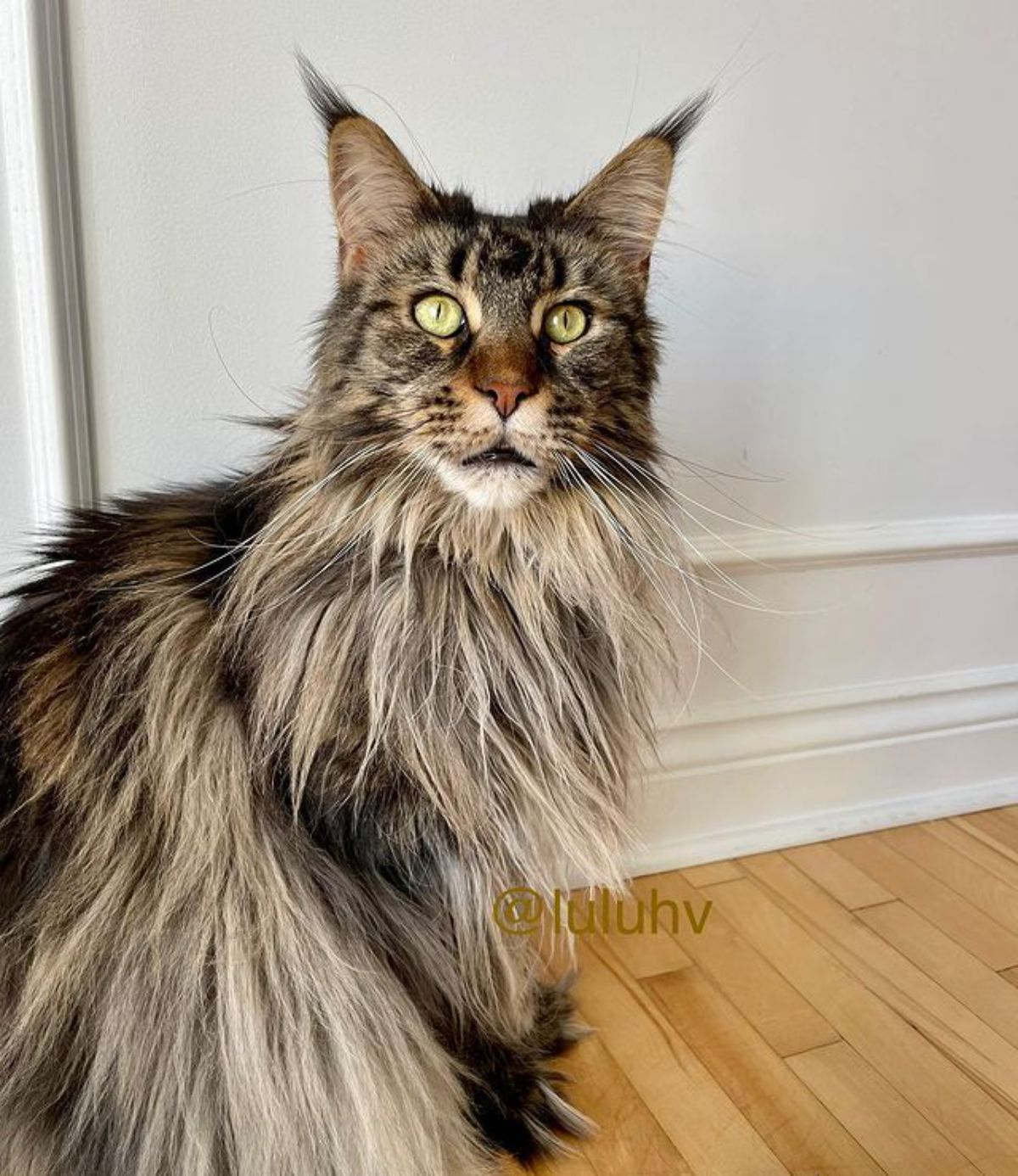 Wow, look at this bib and ruff! Lulu is like a lion. His humans have caught him by surprise in this picture. Maybe he was up to mischief, or maybe he was just looking for somewhere to take a comfy nap. Whatever the case, Lulu is a wonderful Maine Coon. Her brown-hued coat must take quite a bit of grooming, though.
14. Griffin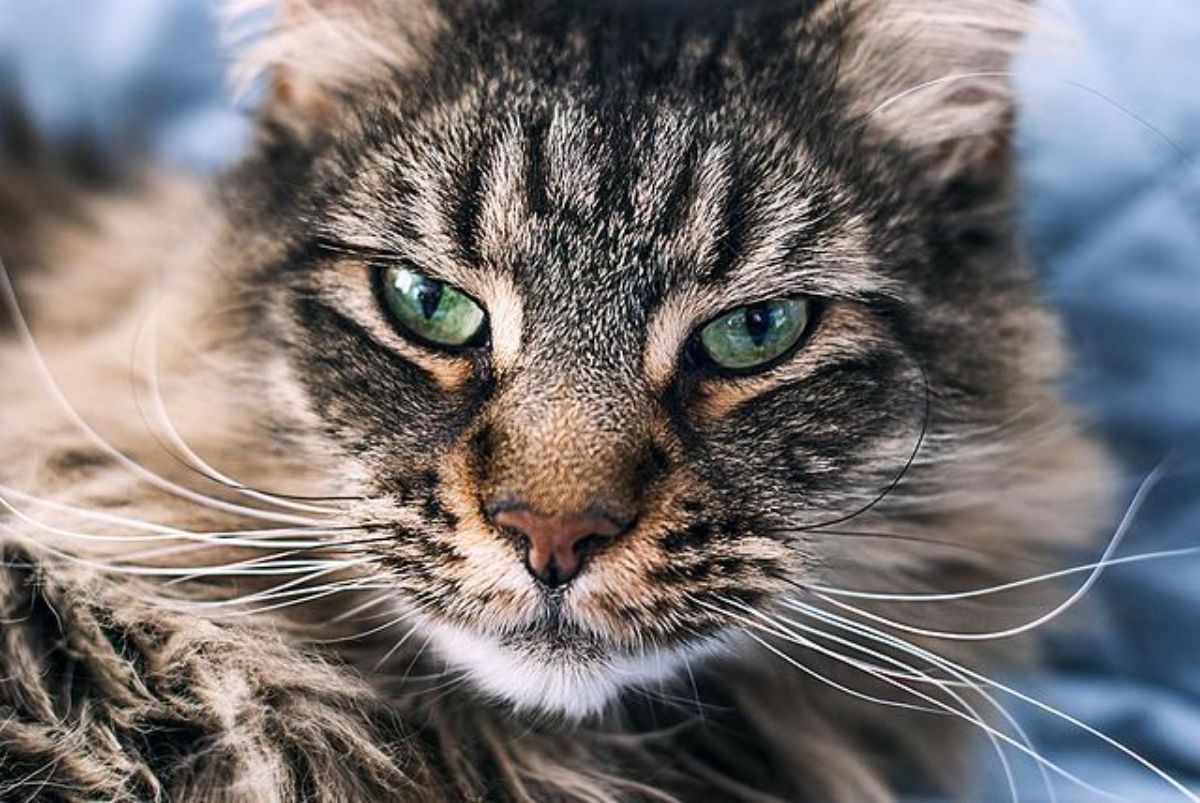 Griffin's green eyes are one of his best features. They complement his brown tabby coat so nicely. Look at how some of his whiskers curl upwards, which is a signature Maine Coon Trait. Griffin loves to sleep (no big surprise there), and he's comfy on his human bed.
15. Allegra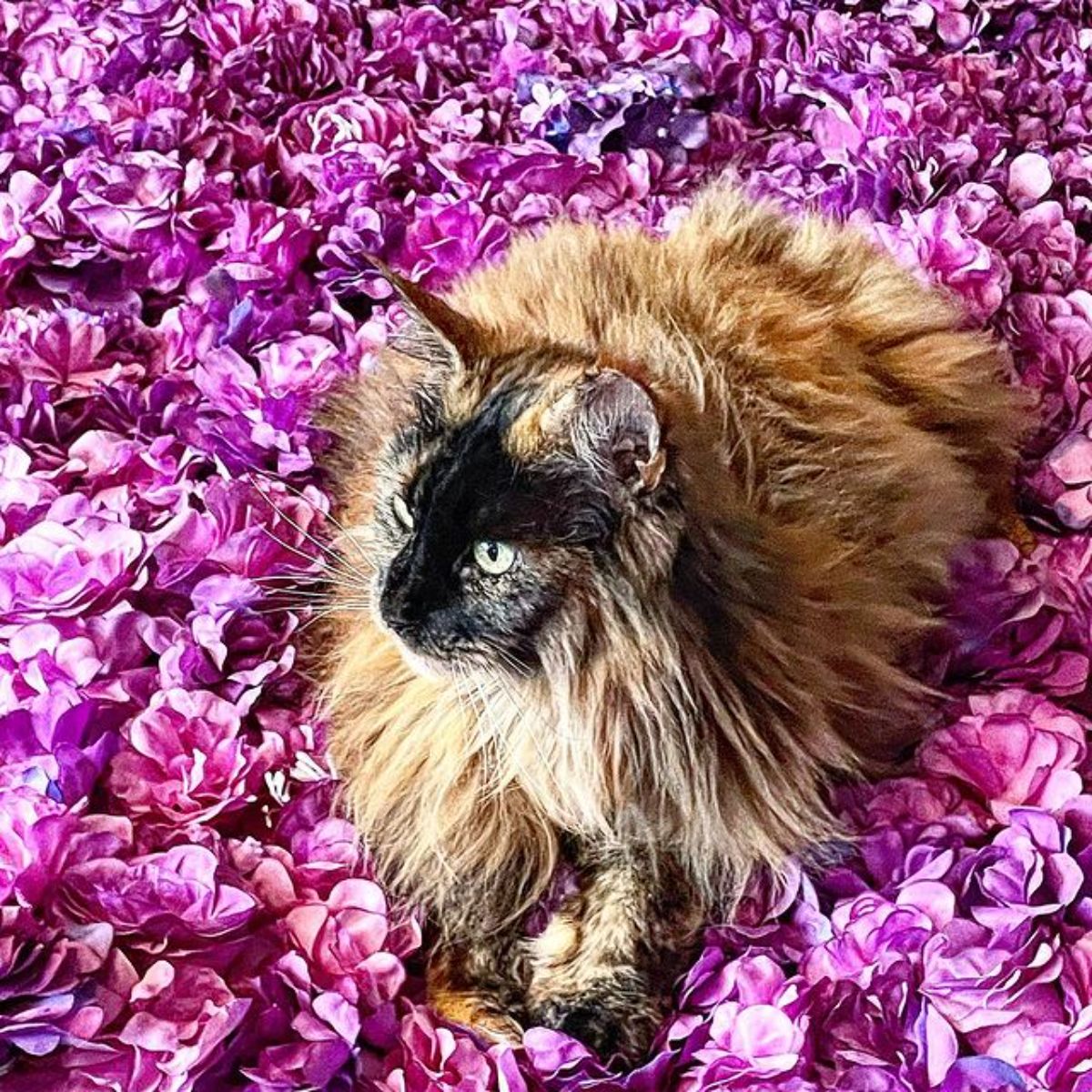 We love how they posed the beautiful Allegra on a bed of violet-pink flowers. So sweet. Allegra the Maine Coon boasts a light brown coat with dark brown fur on the face, which looks lovely with her light green eyes.
16. Donnatello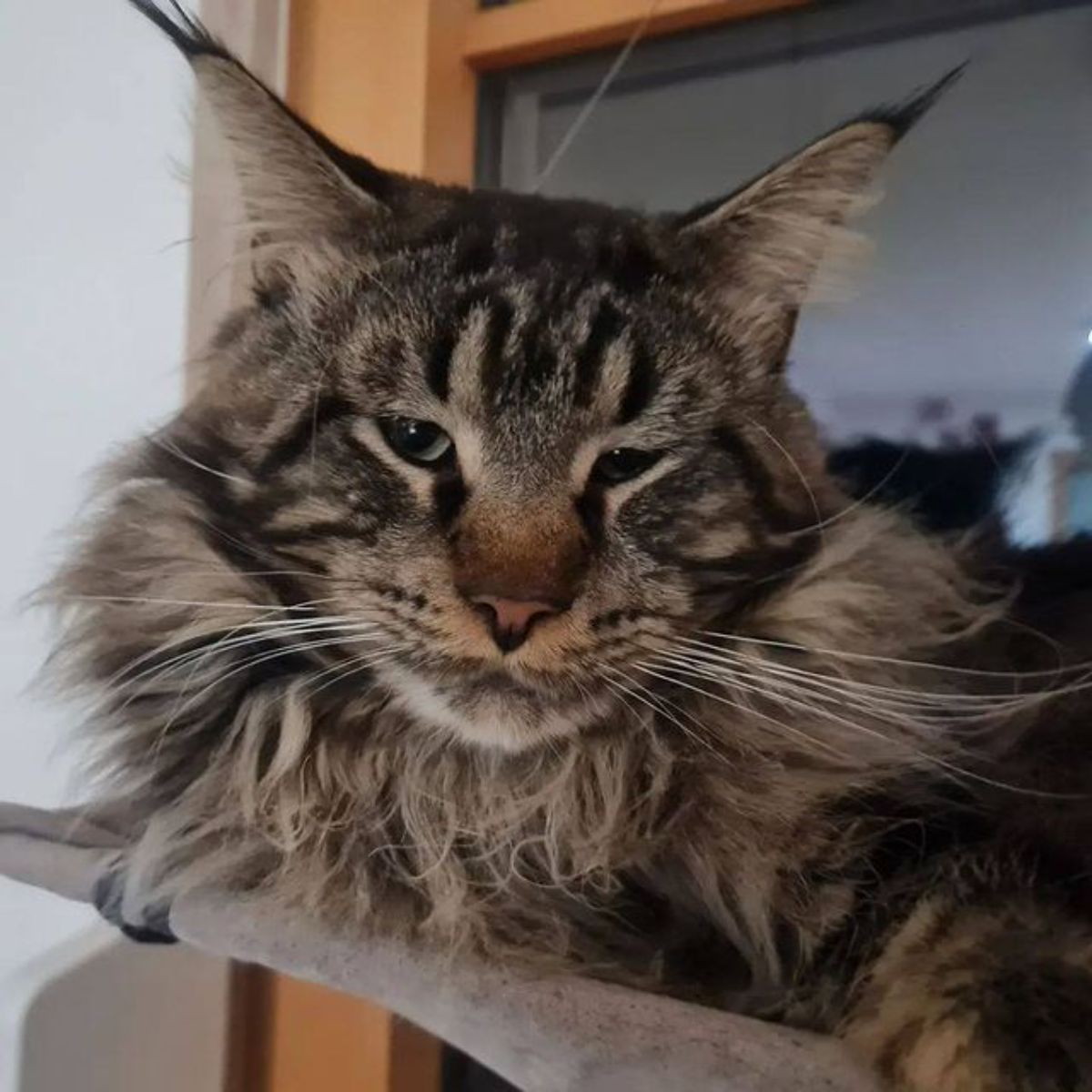 Donnatello is a sleepy boy. He just wants to nap, but his human companions are determined to get a picture. He's very sweet, though, so he puts up with it. How could we not admire his long and bristling whiskers and his shaggy ruff?
17. Juniper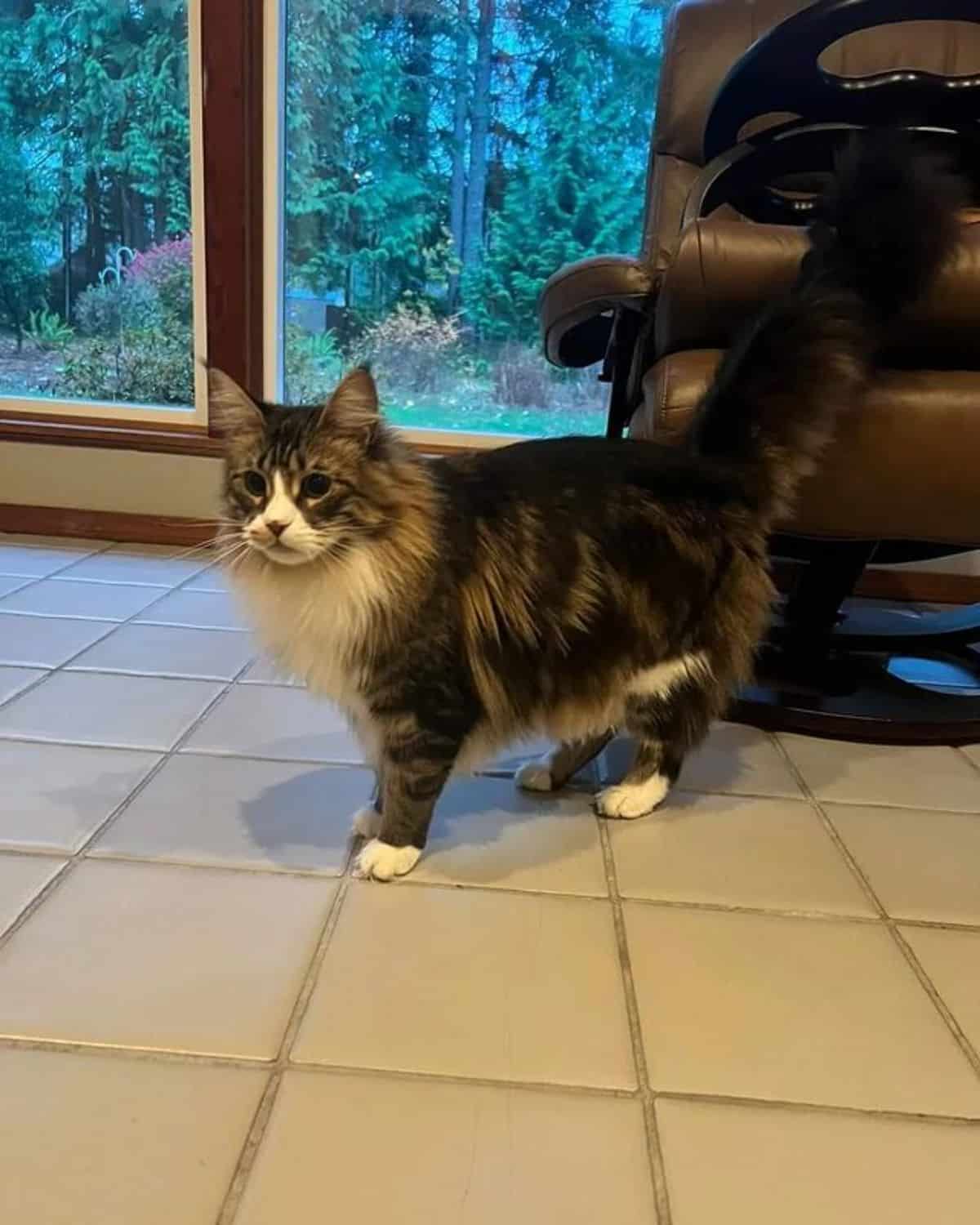 Juniper the Maine Coon is a young cat, and she loves adventure. So she's thinking about where to go and what to do in his adorable picture. Should she find something to scratch first? Or does she want to ask the humans for a treat? So much to do! And we all admire her brown coat with white ruff and nose.
18. Lobo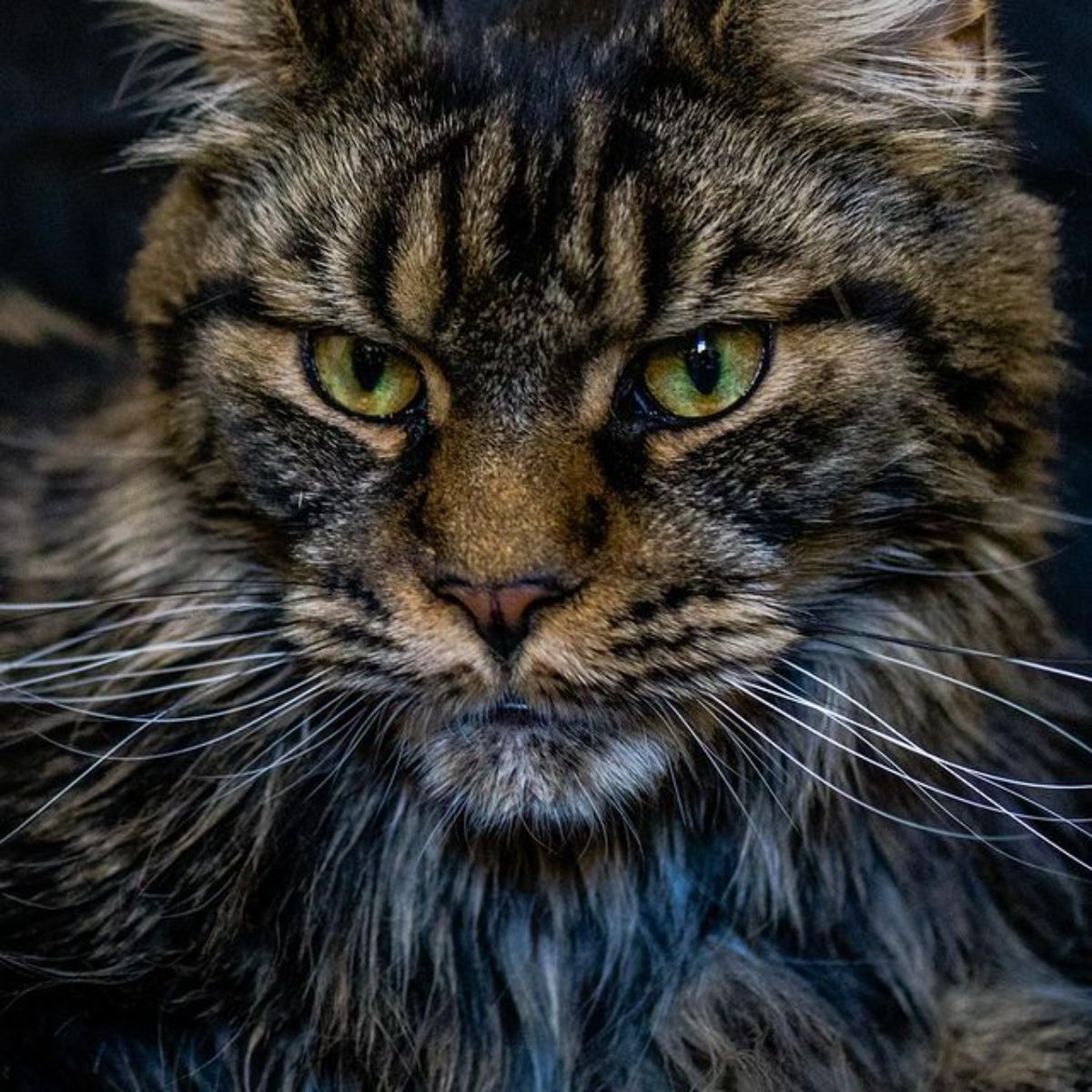 Awww, Lobo looks worried about something. We don't think he is, though. He just can't understand why everyone wants to see his picture. Well, we can't help it, cute boy. He's just an adorable feline. He looks like an older cat, but he's still going strong.
19. Albus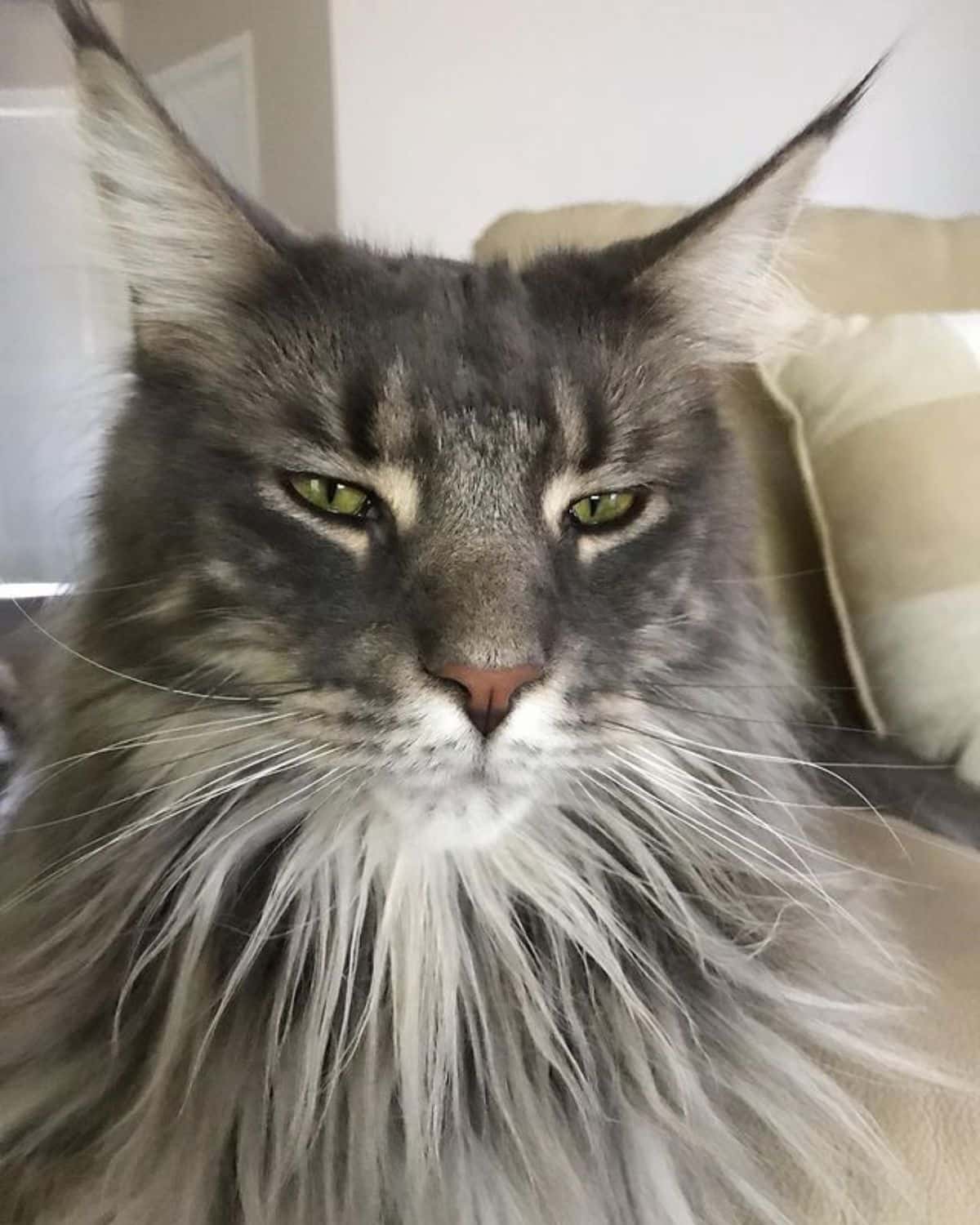 Albus is a quirky kitty! His beard is white and spindly, stretching over his chest, which, combined with his narrow muzzle, makes for a funny look. He's thinking intently about something here, probably how beautiful he is. And who can blame him?
20. Spike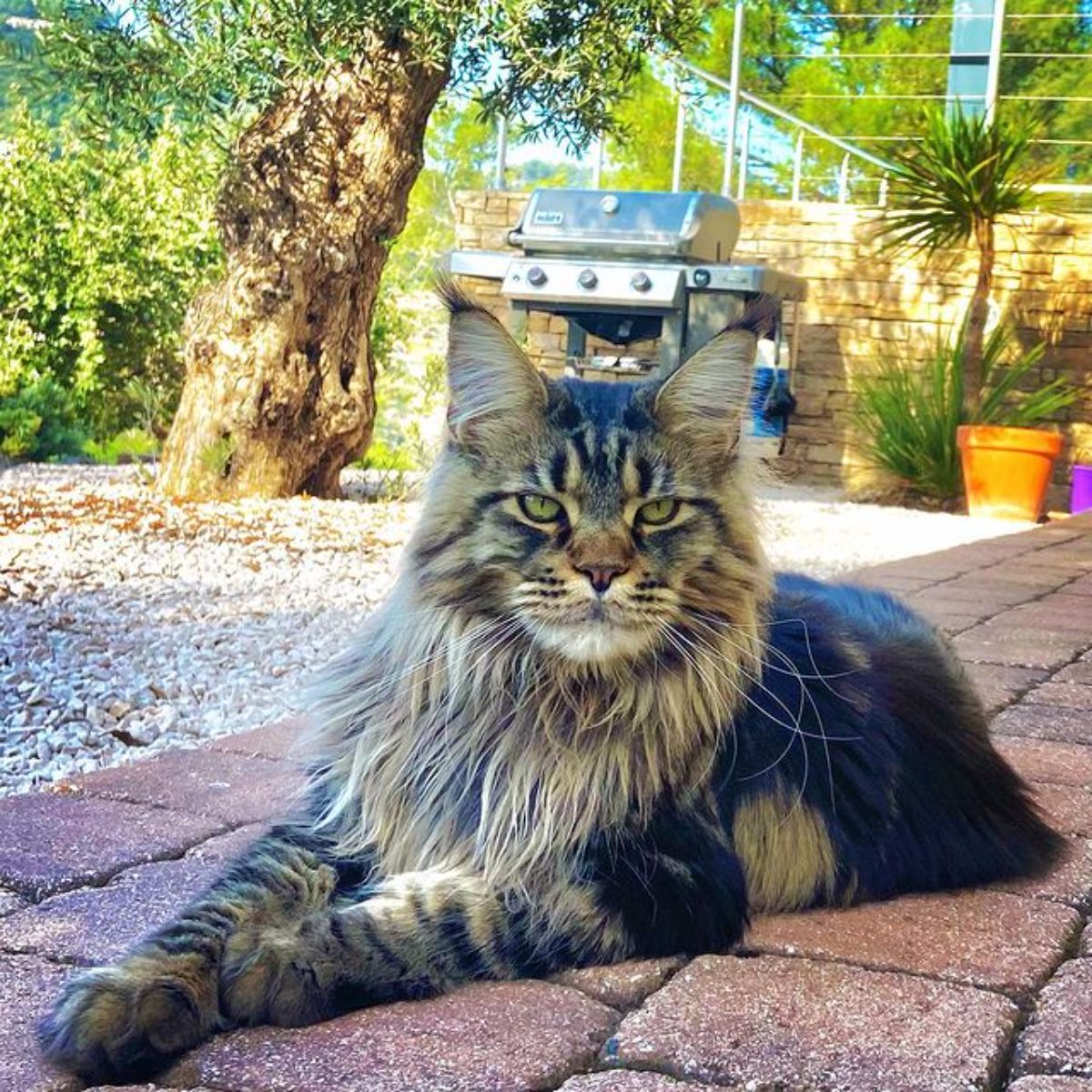 Spike is lounging outside, surveying his territory. He lets the human sit with him, too, but he doesn't take any nonsense. Soon his human will want to brush his multi-shaded brown coat, but he hasn't decided yet whether he'll allow it.
21. Giuseppe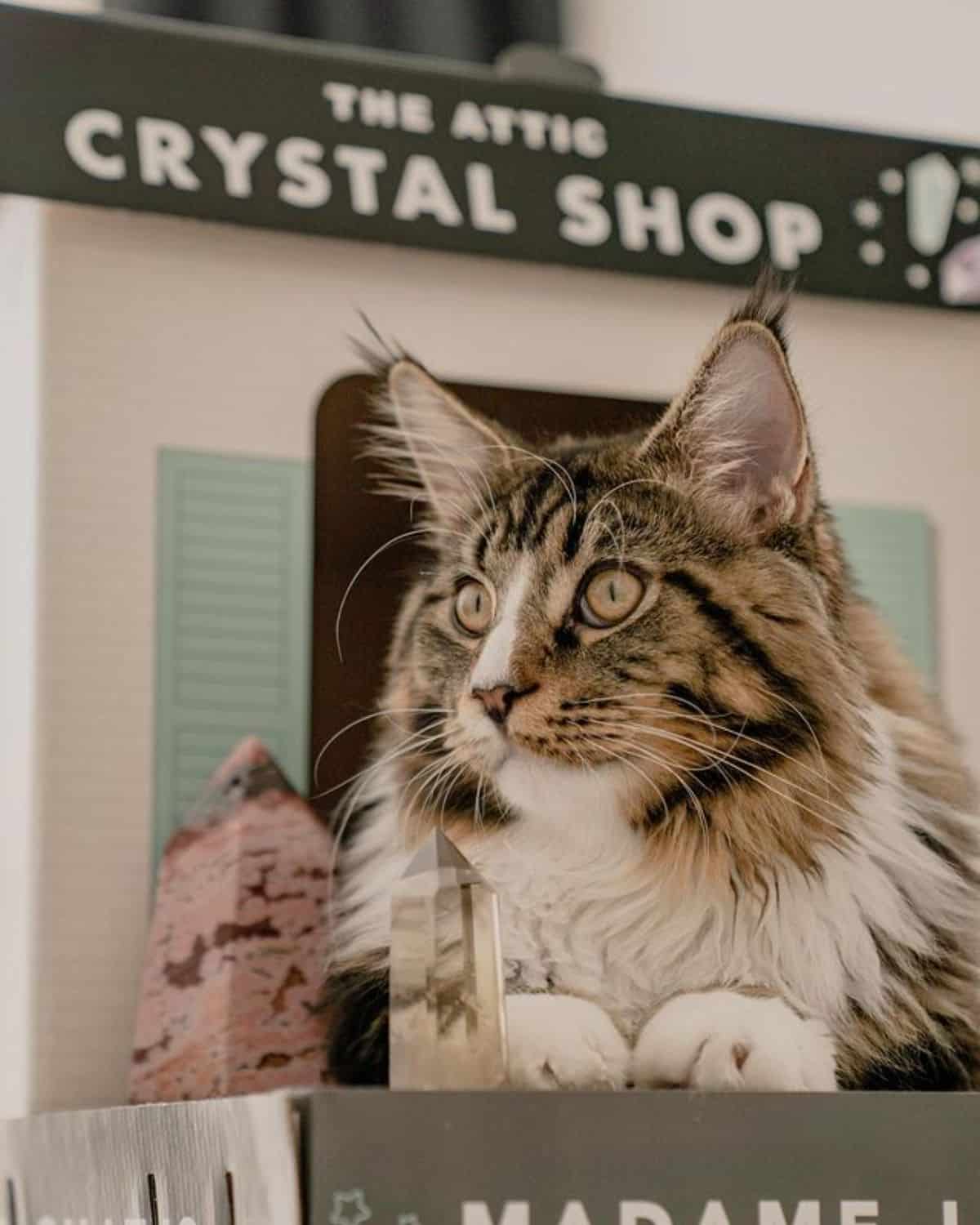 Giuseppe is a mystical kitty. Or at least that is what his humans said here at Halloween. He was setting up his own business as a "paw reader" and crystal expert! Don't be fooled by his furry face. Giuseppe has all the ex-purr-tise you need.
Final Thoughts
Hope you've had fun admiring all these lovely brown Maine Coons. No matter which one you like best, we can all agree they deserve an "awww."