Depending on how you feel about them, tortie Maine coons may be intimidating, cute, or outright elegant. Tortie Maine coons are some of the more particular cats there are, and it's hard not to love them if only for that. Be it their poise, their straightforward look, or their fur and colors; you'll find a ton of reasons to adopt one. That's why we decided to list the 33 Maine coons for adoption.
Jump to:
1. Ginger Genes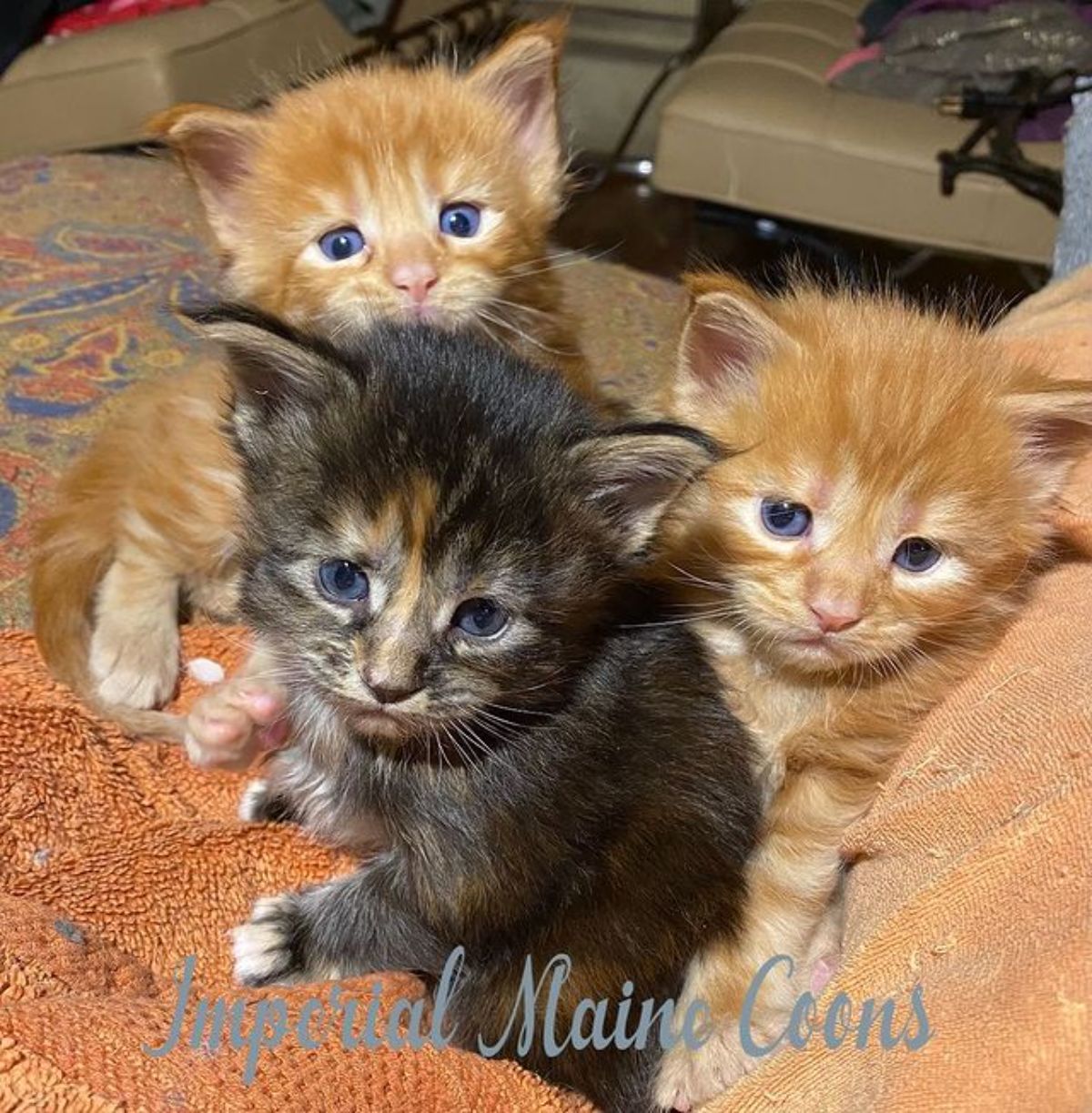 A tortie can be born from two solid-colored parents as long as one is red. The gene that causes red fur is necessary to make a tortoiseshell cat. This little kitten is different from her ginger siblings, and her mix of black and orange makes her extra special.
2. Madrona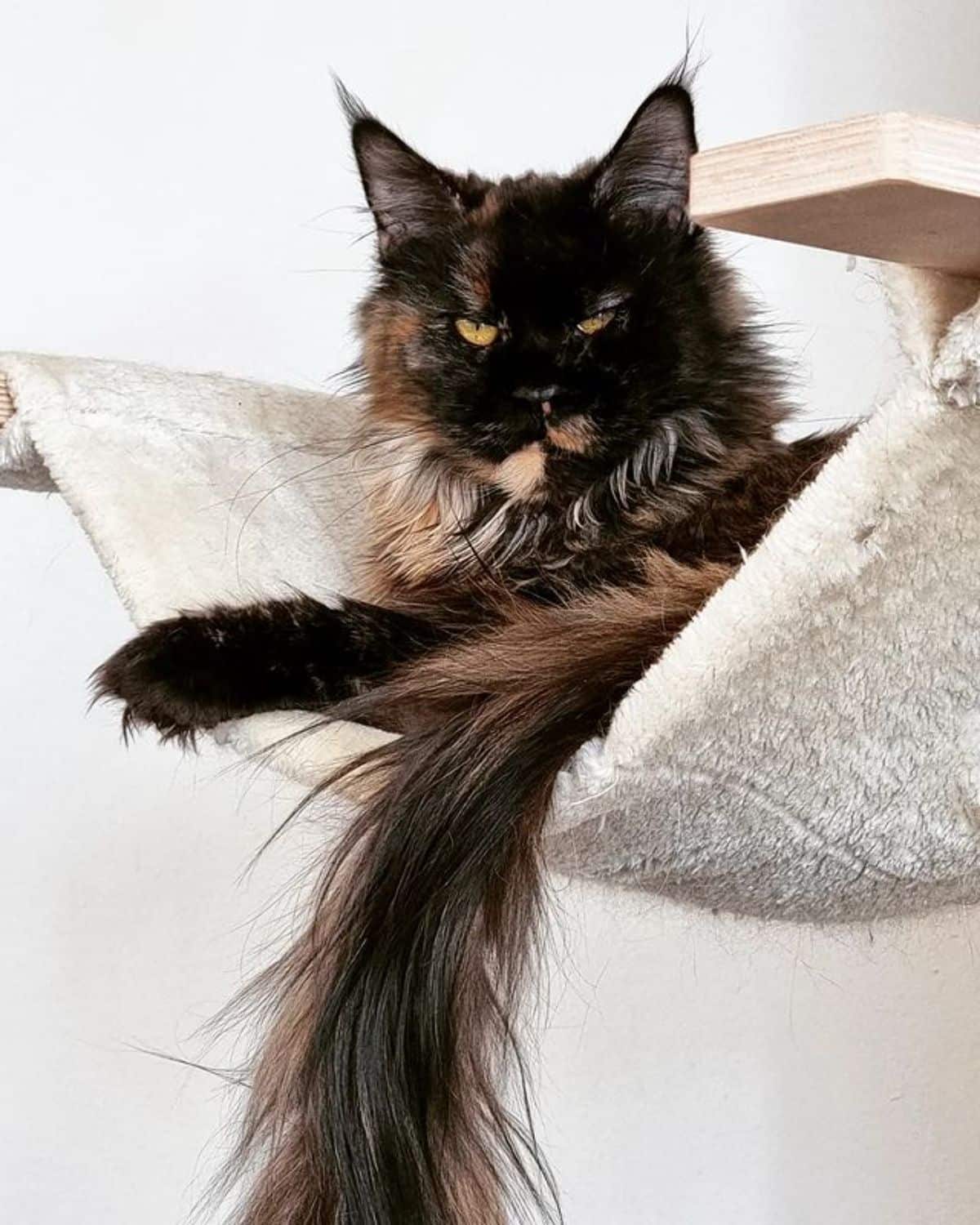 Madrona is a majestic Maine Coon cat from Felis Amiranda Cattery in Croatia; Long-haired tortoiseshell cats have such a mysterious look! Their coloring already makes them a bit of a camouflage artist, but the long fur adds yet another cloak of intrigue.
3. Spot On
This Turkish Maine Coon appears primarily gray, but the one spot of light orange gives her away; she's definitely a tortie! As you can see, she's ready to travel. She even has her pet passport. We wish her the best and hope she's doing well in her new home.
4. Trixie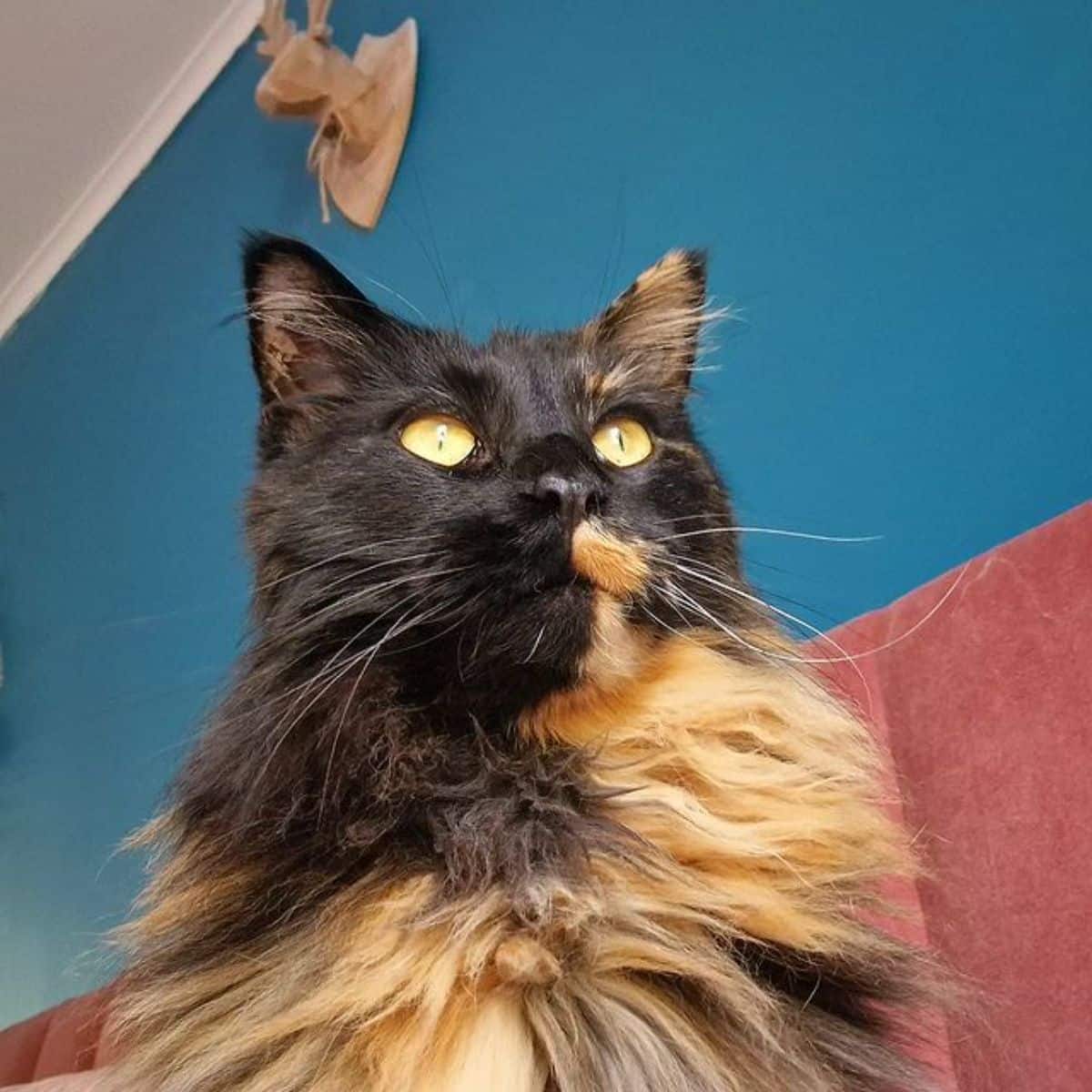 Tortoiseshell Maine Coons can come in so many different patterns. Sometimes, the fur coloring makes the cat's face look as though it has a unique shape. Just like people contour with makeup to enhance or hide specific features, cats with different colored facial fur can fool the eye.
5. New Mom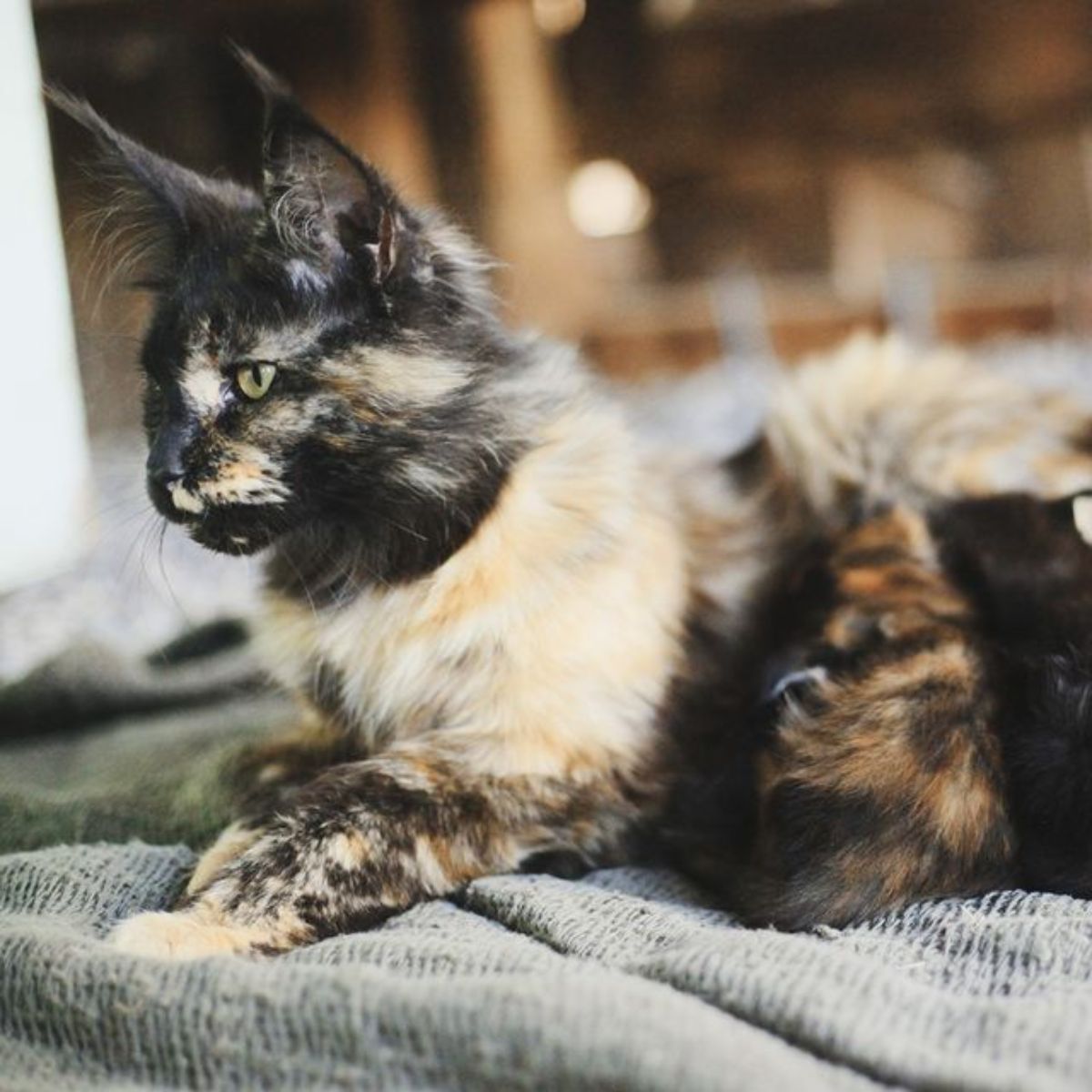 This tortie Maine Coon cat is discovering the joys of being a mom. It looks as though she's passed down her tortie genes to make some mini-me's!
6. Marcelina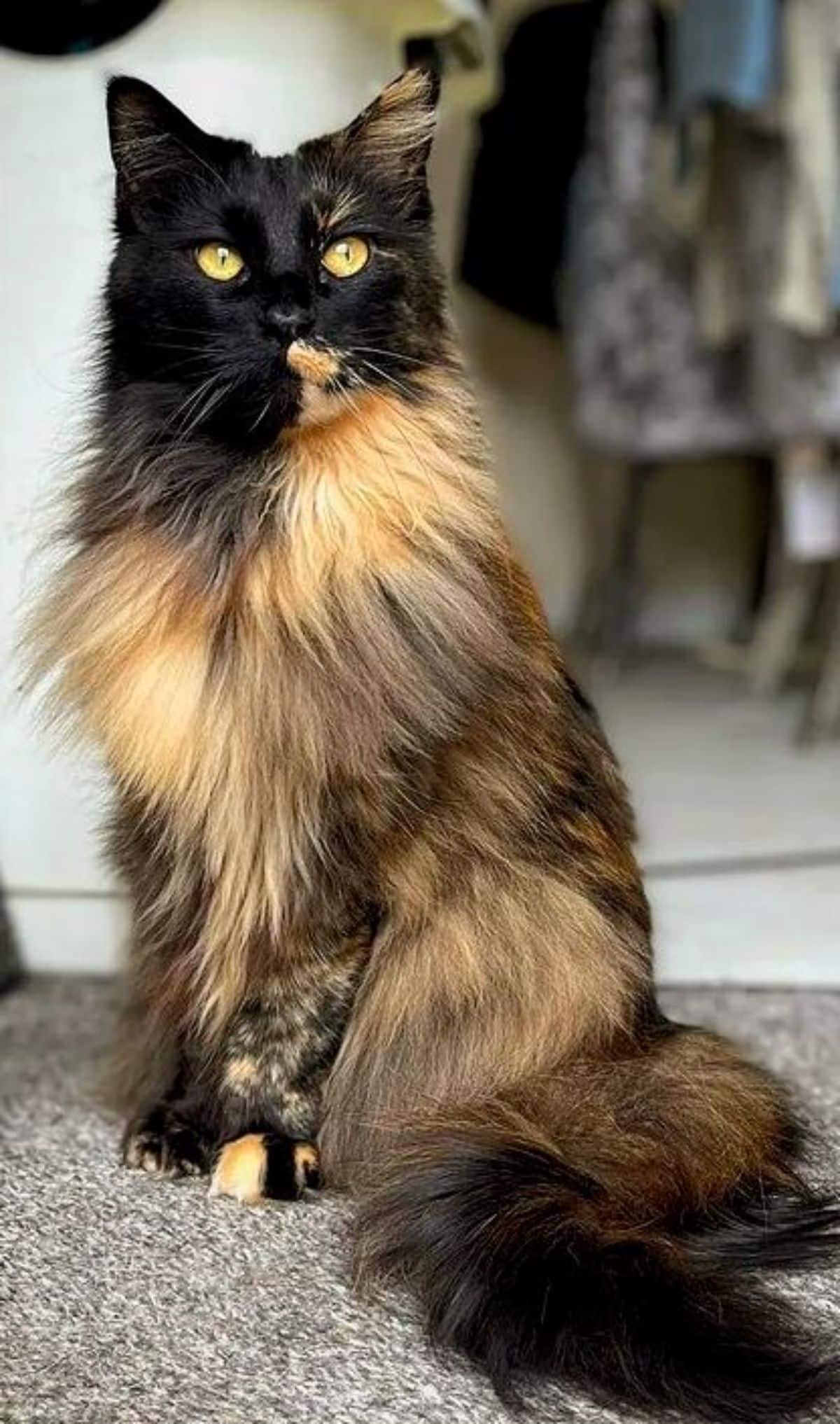 Maine Coons have a regal, lion-like appearance even when they're torties. Marcelina here rocks her long fluffy Maine with grace and pride. She belongs to a household of Maine Coon enthusiasts in Poland, and she has nine cat siblings to play with. What a lucky girl!
7. Dolly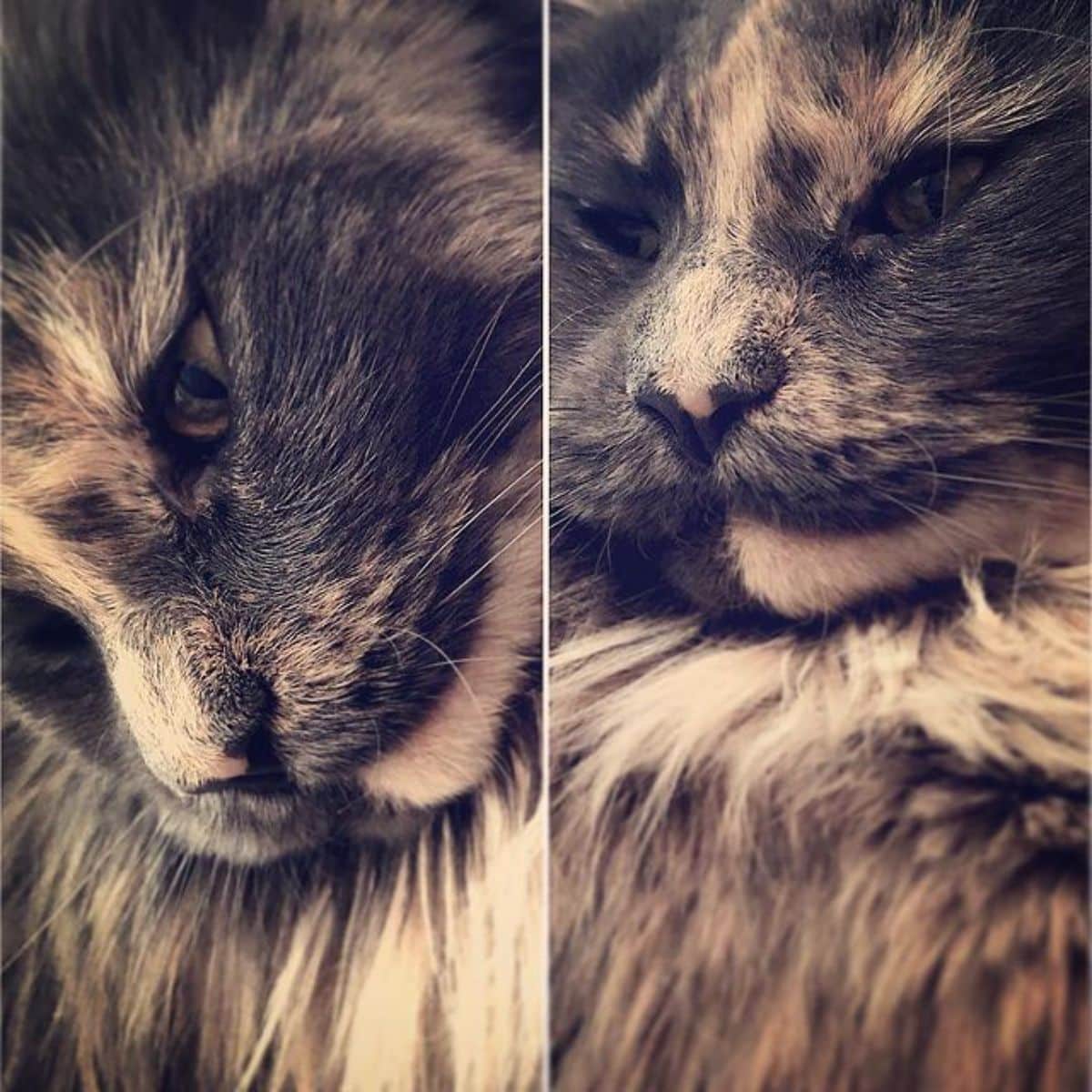 Hello, Dolly! With her rare coloring, graceful pose, and silky long fur, she makes the perfect model. This smokey gray color Dolly has is one of the alternatives to black you might find on a tortie Maine coon.
8. Sana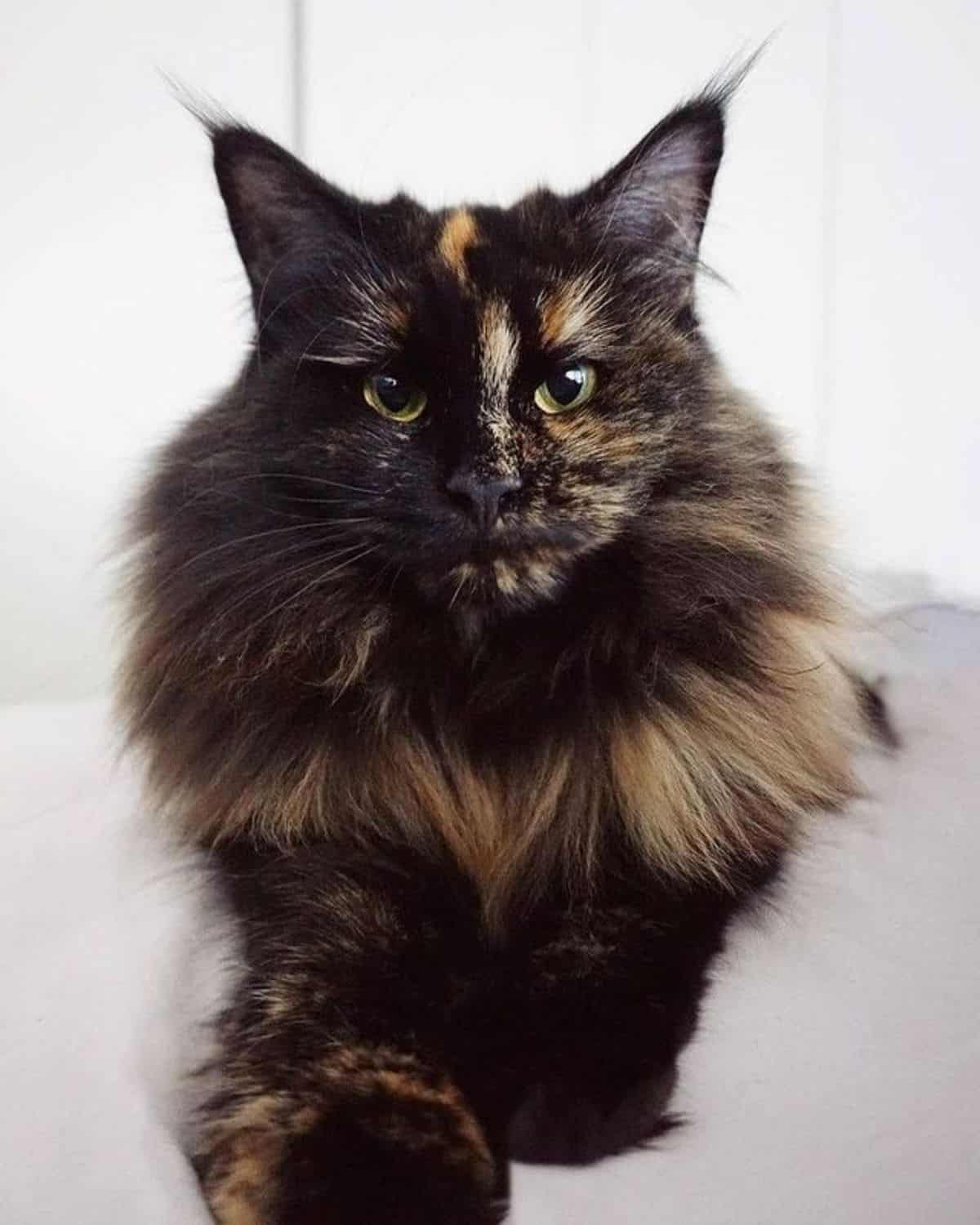 Sana is a tortie Maine Coon who resides in Paris, France. Among her more adorable traits are her huge green eyes which, along with her tapered face shape, give her the appearance of always being surprised. We imagine Sana lives a fun, elegant life in her apartment in Paris.
9. Nairobi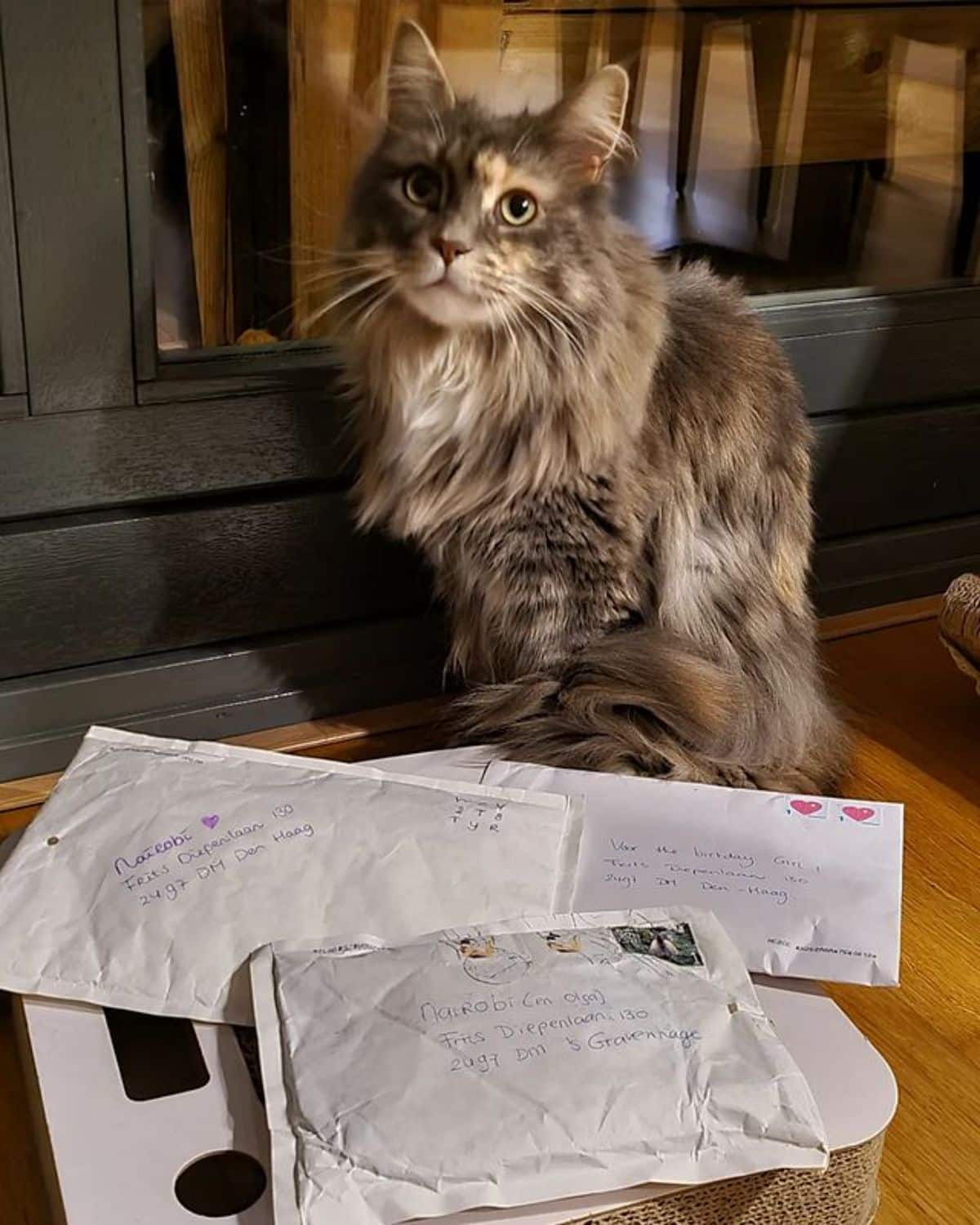 Some social media cats are so popular they get gifts and fanmail from their followers. Nairobi here has earned herself that level of fame. She likes to hear all the nice things her fans say about her, and she especially enjoys playing with the fun toys they send.
10. Storm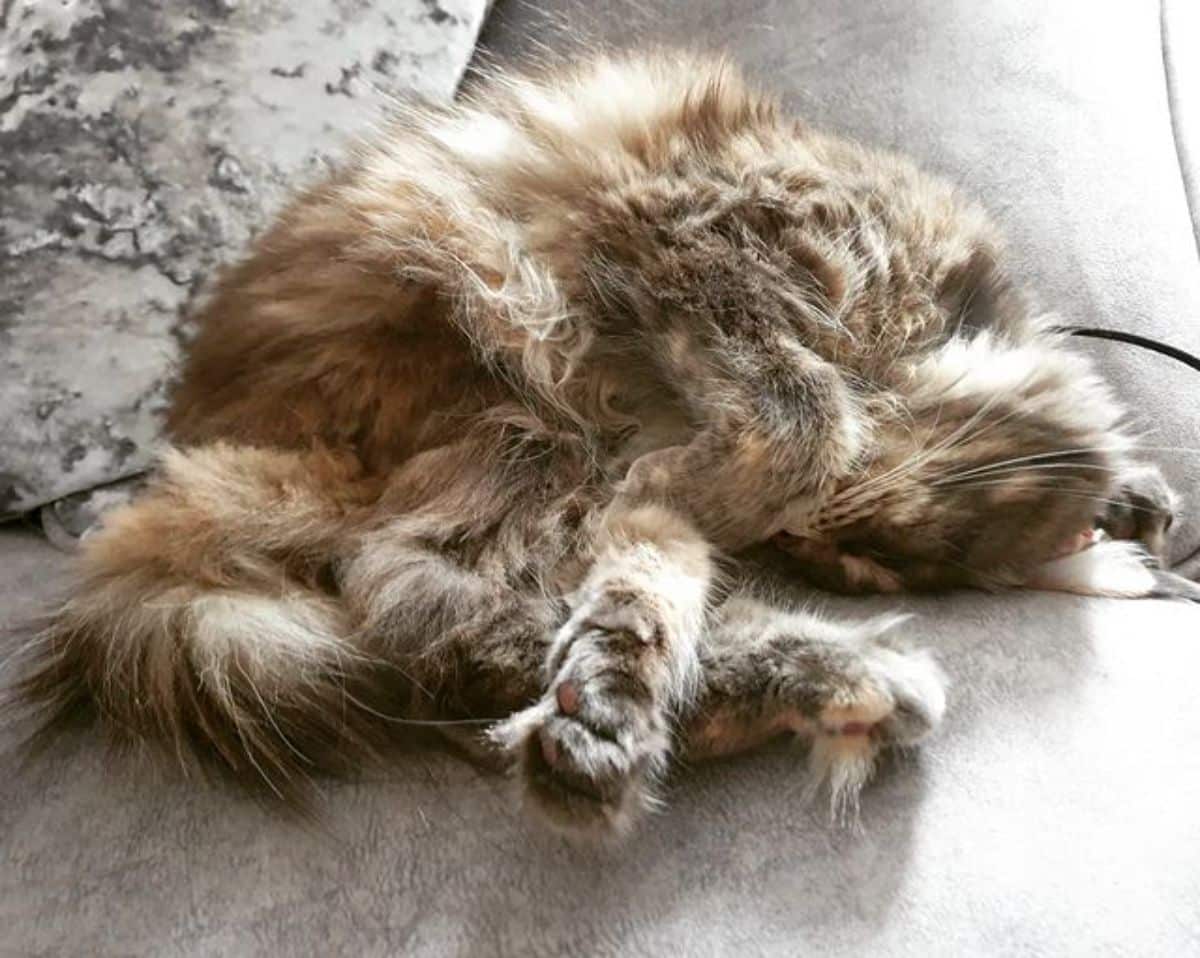 Is it a big, fuzzy hat? A pile of dryer lint? Nope! It's Storm, a dilute tortoiseshell Maine Coon cat who lives in Hampshire, UK. In this photo, she's clearly enjoying a much-deserved nap.
11. Lina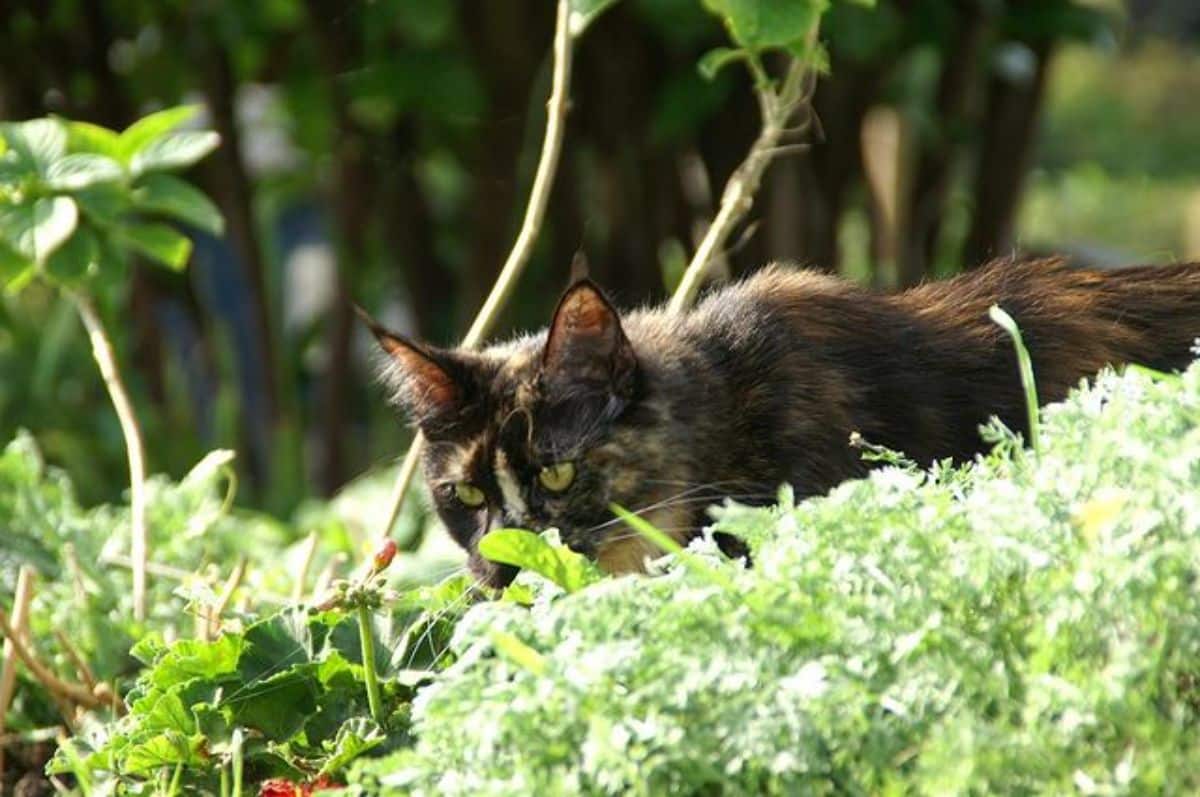 Look out, 'cause here comes Lina! You'll notice Lina has shorter hair than many Maine Coon cats, but it's just one variation you may find among this breed. It makes her beautiful coloring even more defined.
12. Maddie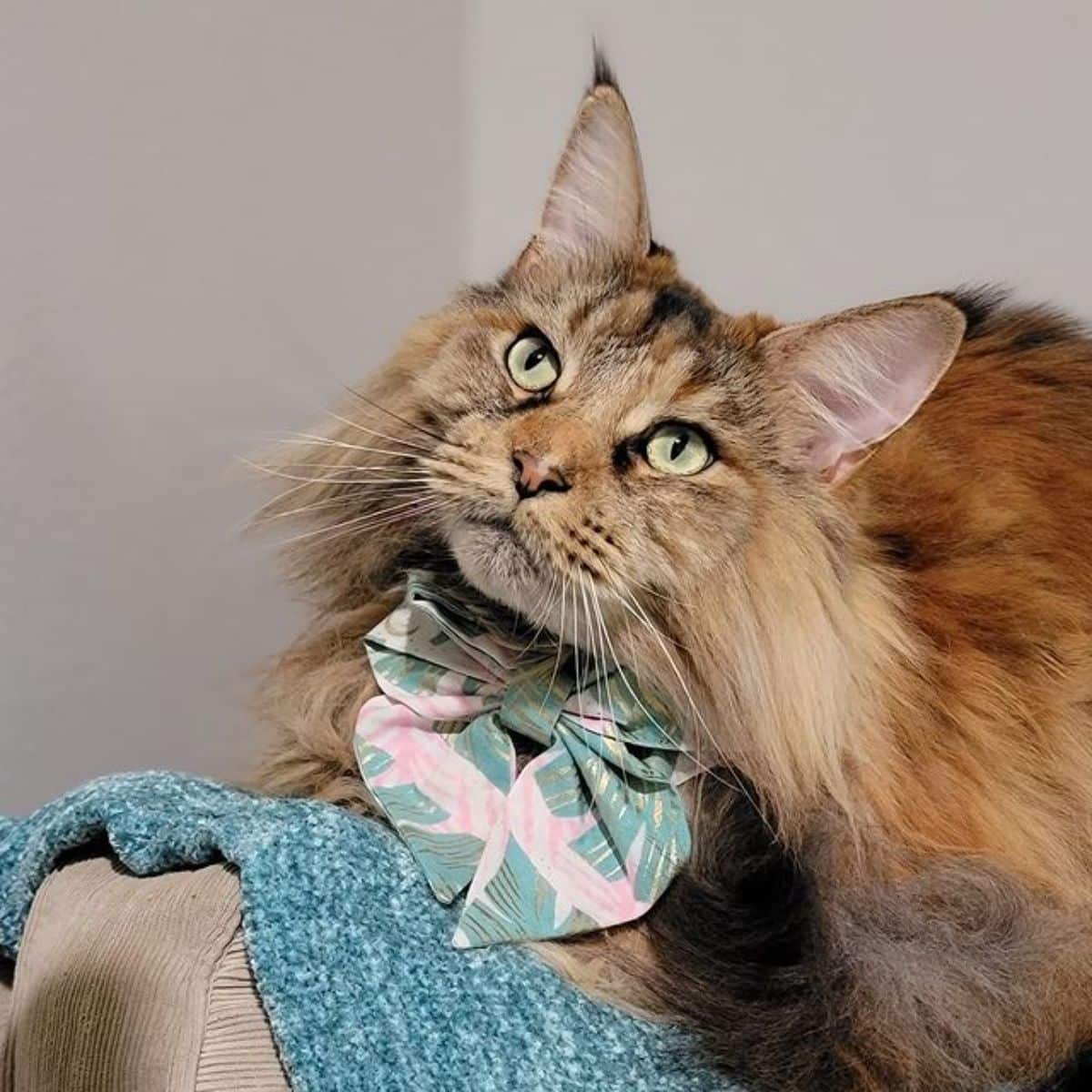 From her gingery long fur to her fancy bow to her seafoam green eyes, Maddie is an explosion of color. This Washington-USA-based tortie Maine Coon loves wearing bows and neckerchiefs, playing outside, and enjoying the adoration of her thousands of Instagram followers.
13. Diva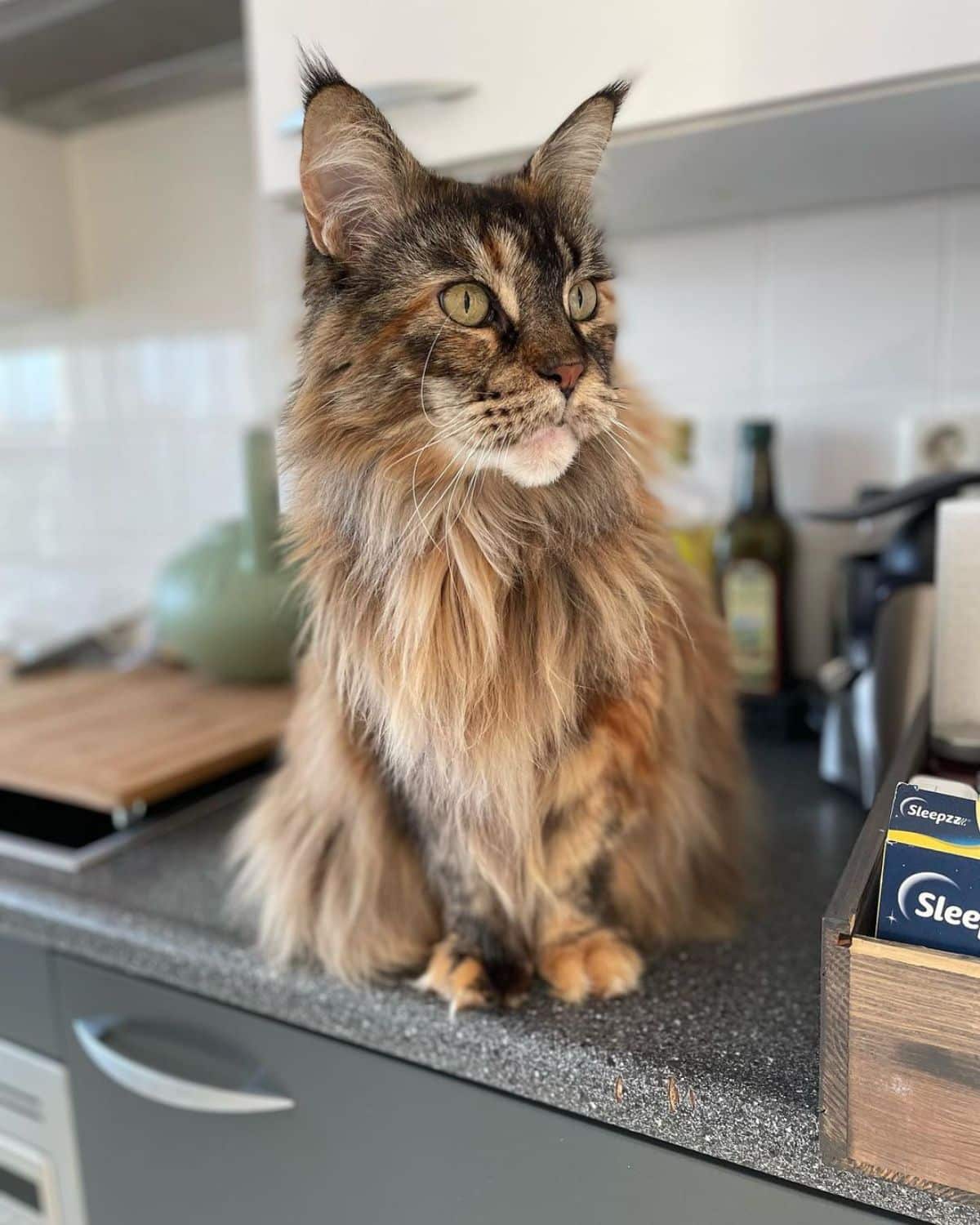 Diva has such a great face, and her bright fur has many intricate patterns. This adorable kitty cat lives in Rotterdam and has several four-legged siblings to share her life with.
14. Baby Blue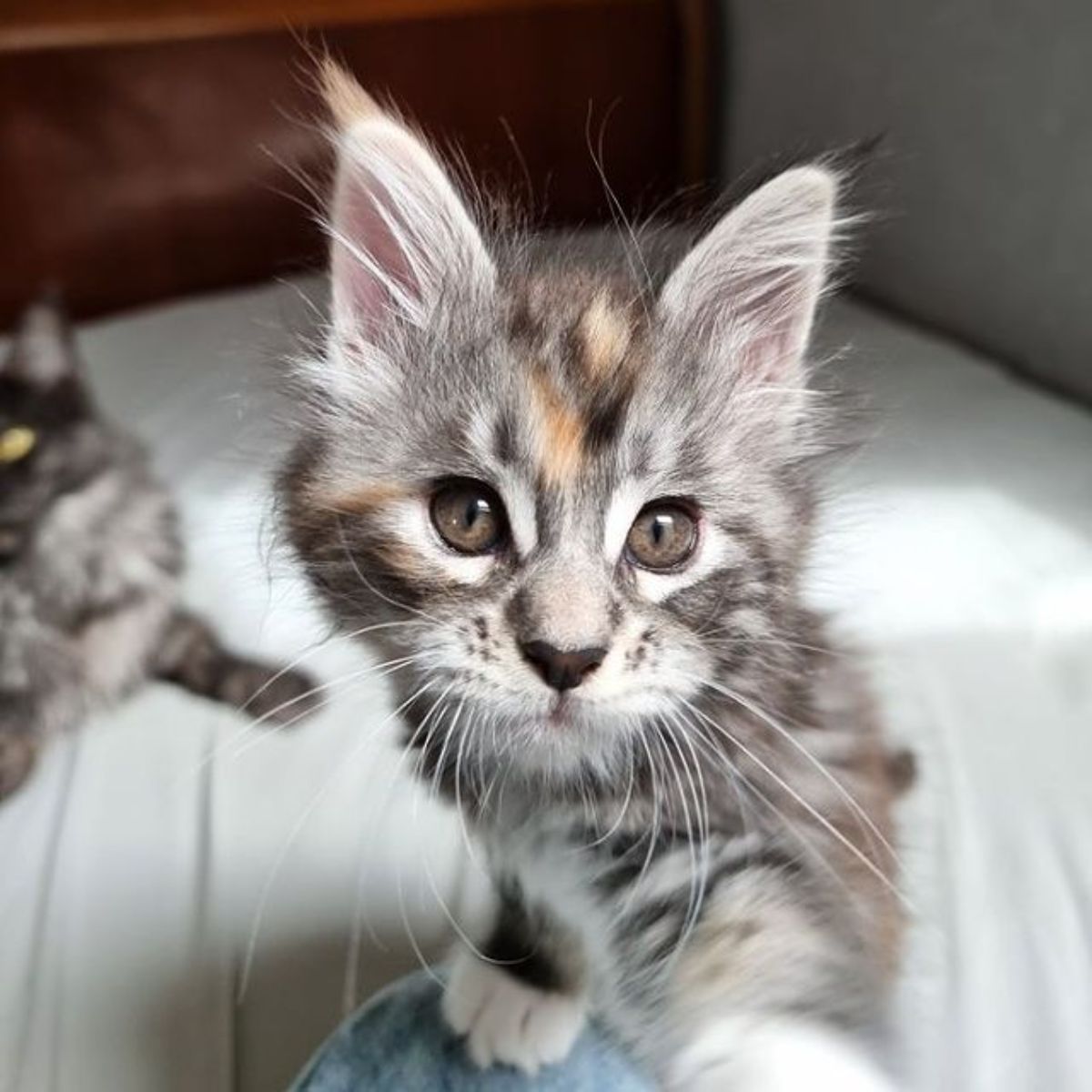 This tortie tabby Maine Coon kitten has a bright future ahead of her. She looks happy, healthy, intelligent, and alert. Her coat is remarkable as well. It features light gray with darker gray stripes and just a touch of orange on her face.
15. Sissy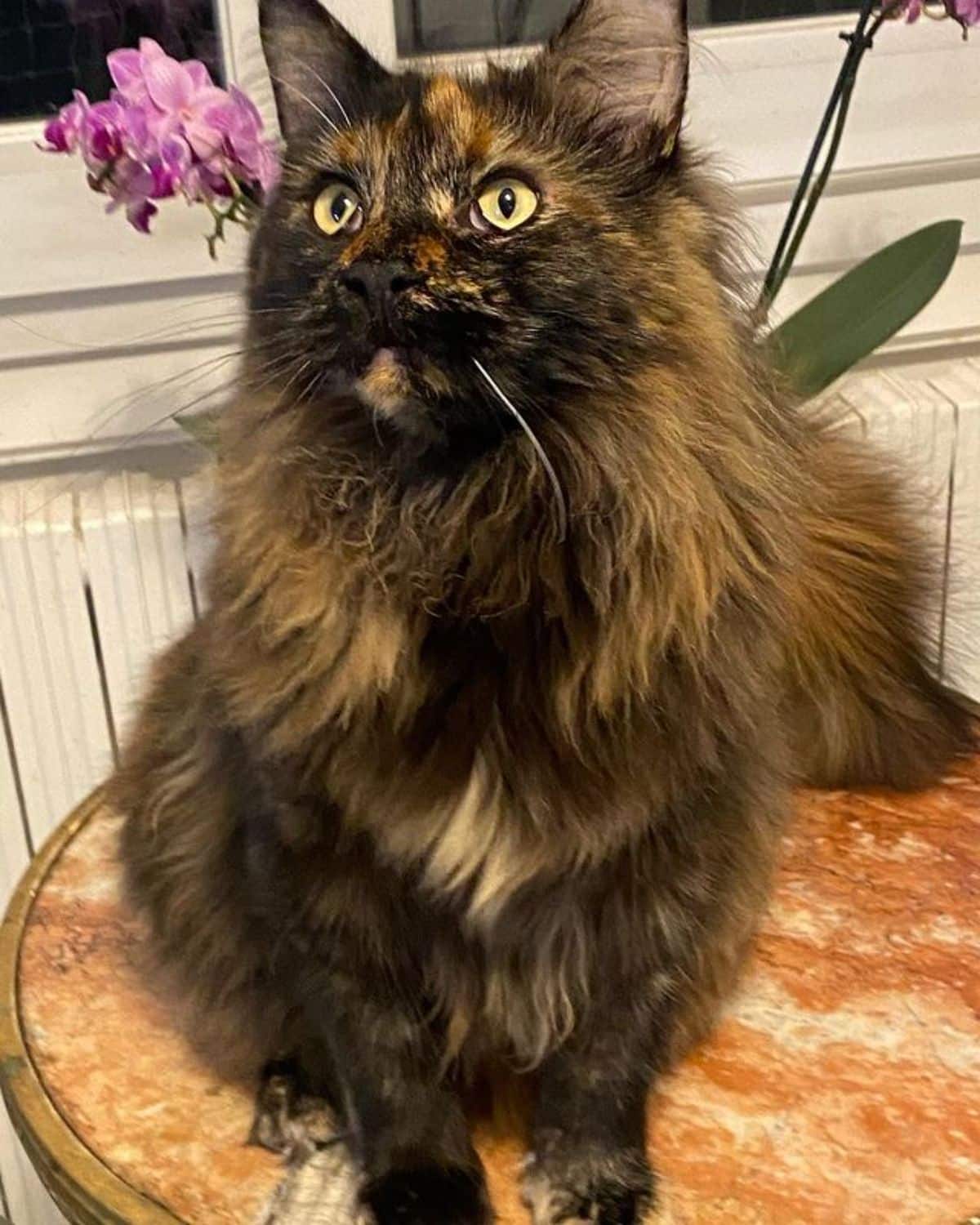 Sissy is a black tortie Maine Coon cat with plenty of personality. Her pictures show that besides being extra fluffy, she's quite a large cat. She lives in France with her very stylish owner and enjoys all the perks of being a social media cat.
16. Hope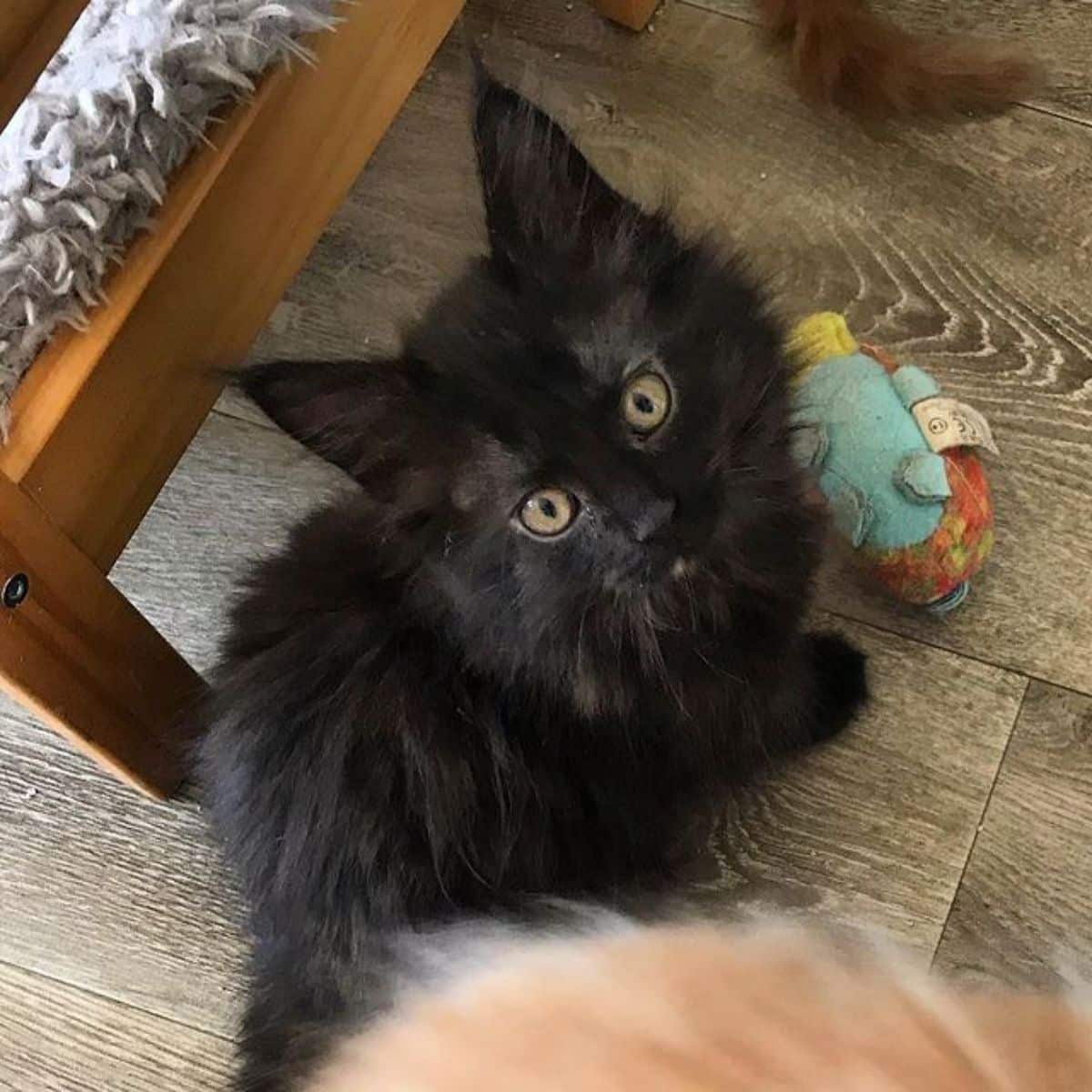 This kitten looks almost all black, but if you look closely, you can see some orange fur coming in around her mane, ears, and mouth. It's impossible to know precisely the color pattern her coat will take as she grows up, but even if she has one little spot of orange on her body, she qualifies as a tortie.
17. Ophelia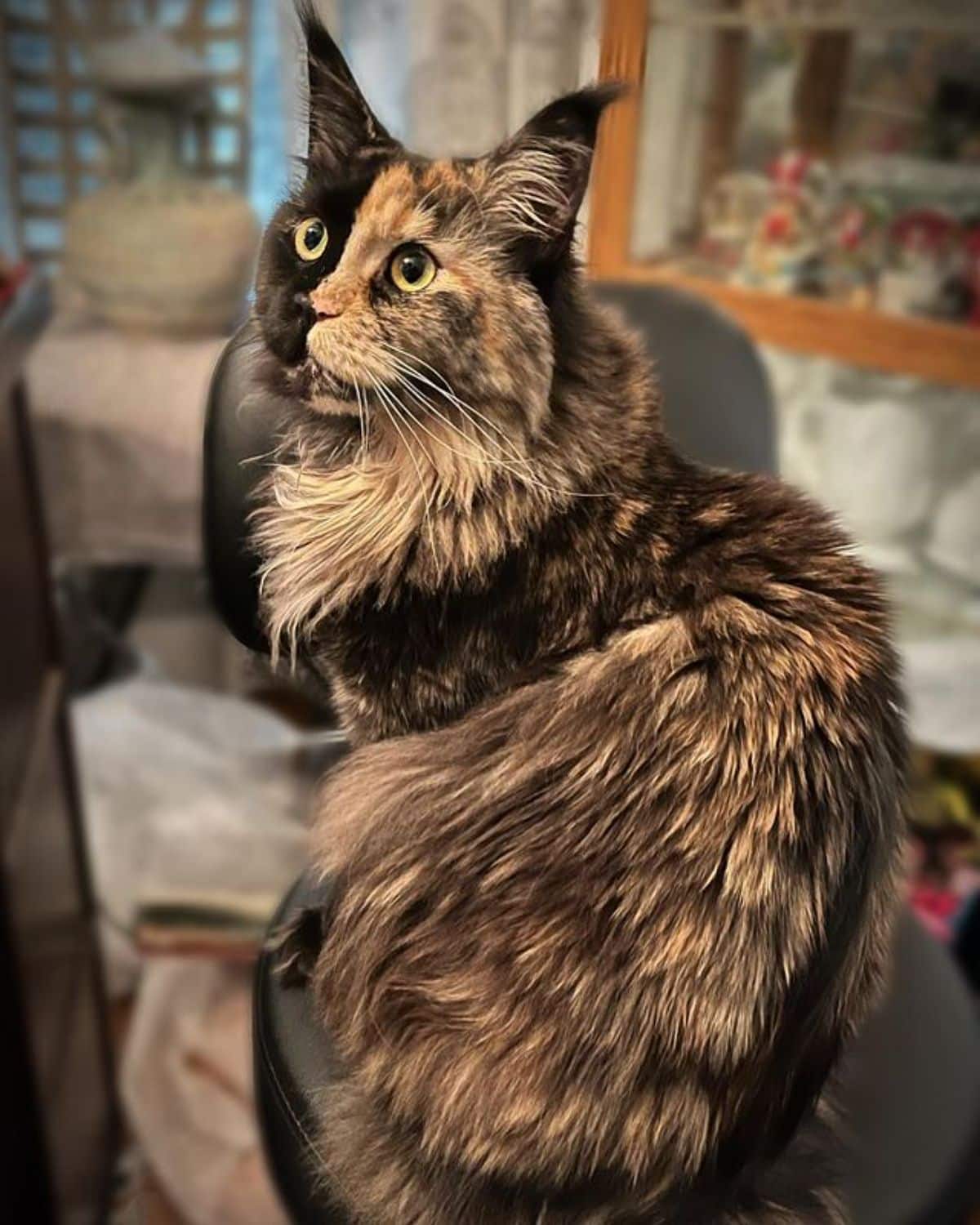 Usually, the term "two-faced" has no good connotations at all, but when we're talking about Ophelia, it refers to a unique beauty. This Alabama-based tortoiseshell Maine Coon cat has garnered attention on social media for her "split" face; black on one side, orange on the other.
18. Rihanna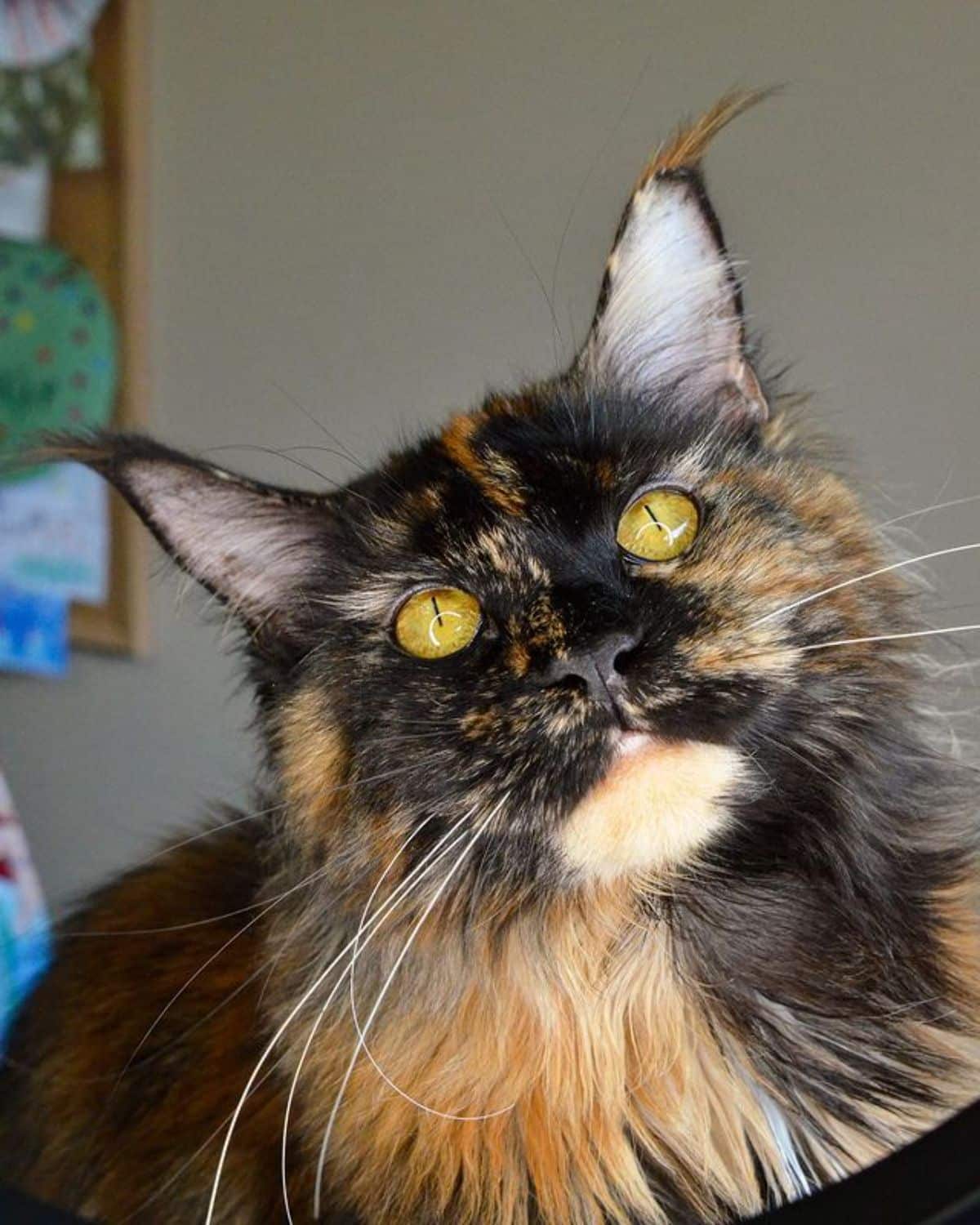 This tortie Maine Coon cat's fur is undeniably lovely, but her striking eyes draw the most attention. They're a light orange-yellow color that stands in contrast to her dark orange and black fur.
19. Sleep Smile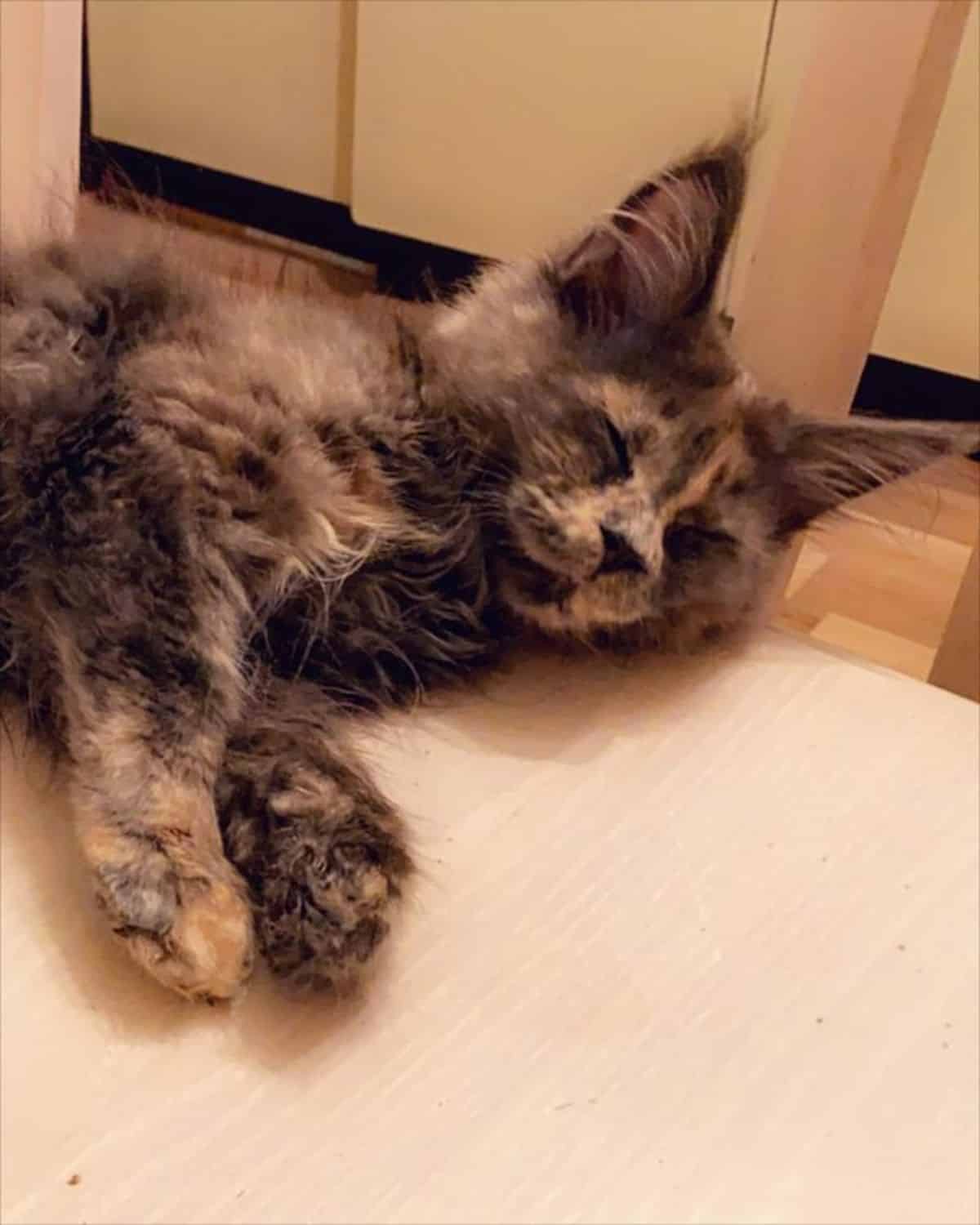 This dilute tortoiseshell Maine Coon kitten is sleeping with a smile on her face. She must have been having a wonderful dream. Or maybe she was pretending to sleep so her owner wouldn't remove her from the kitchen counter.
20. Fluffy Girl Mai Tai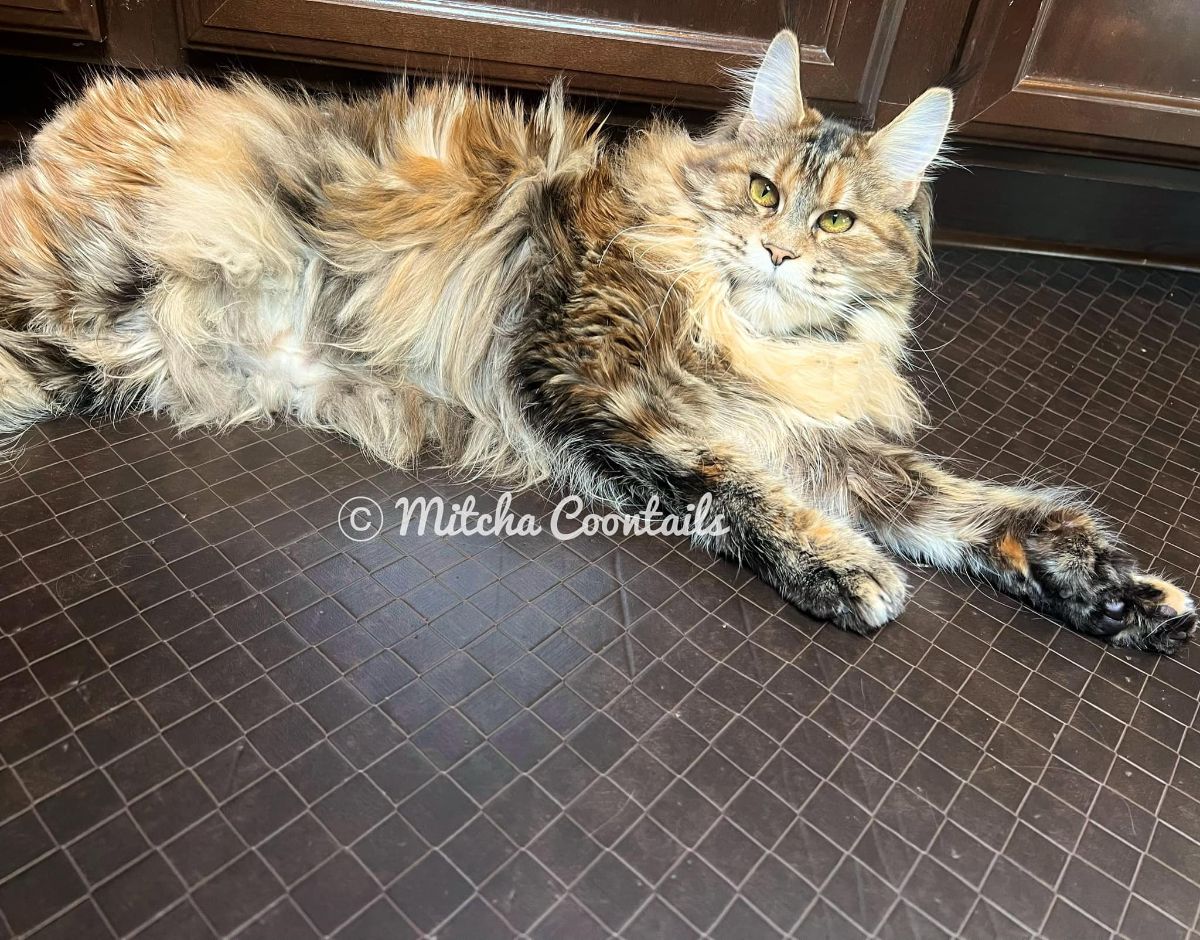 Some tortie Maine Coons' coats feature a golden or peachy color rather than a strong orange. This is the case with Mai Tai. She's one of the breeding mamas at Mischka Coontails, a Colorado-based cattery that specializes in European Maine Coons.
21. Storie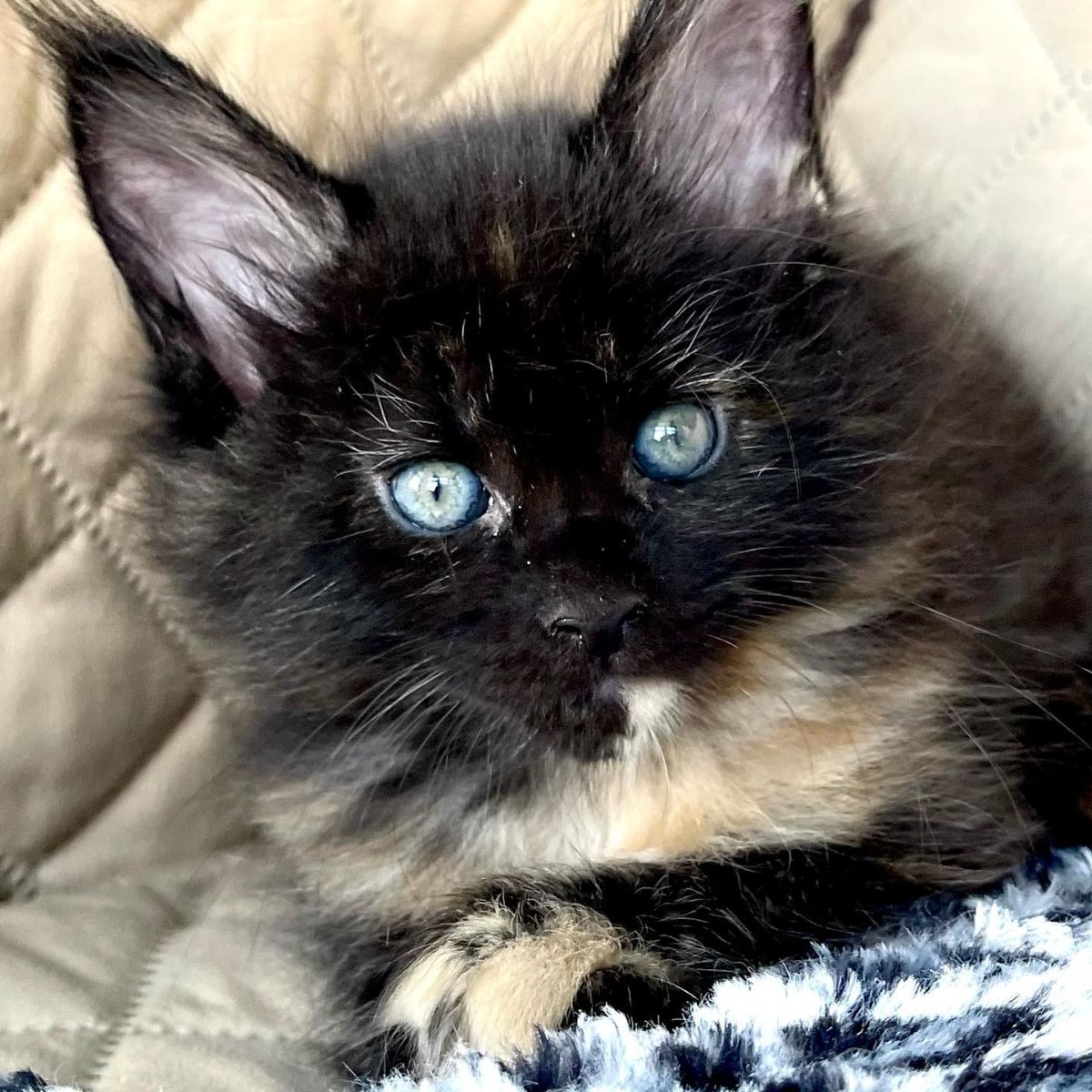 This kitten's black fur sections stand out strongly against its frosty orange portions. Usually, black fur occurs alongside dark orange, while gray/blue fur occurs in conjunction with light peach. This is a fairly uncommon combination in tortoiseshell cats.
22. Macy Gray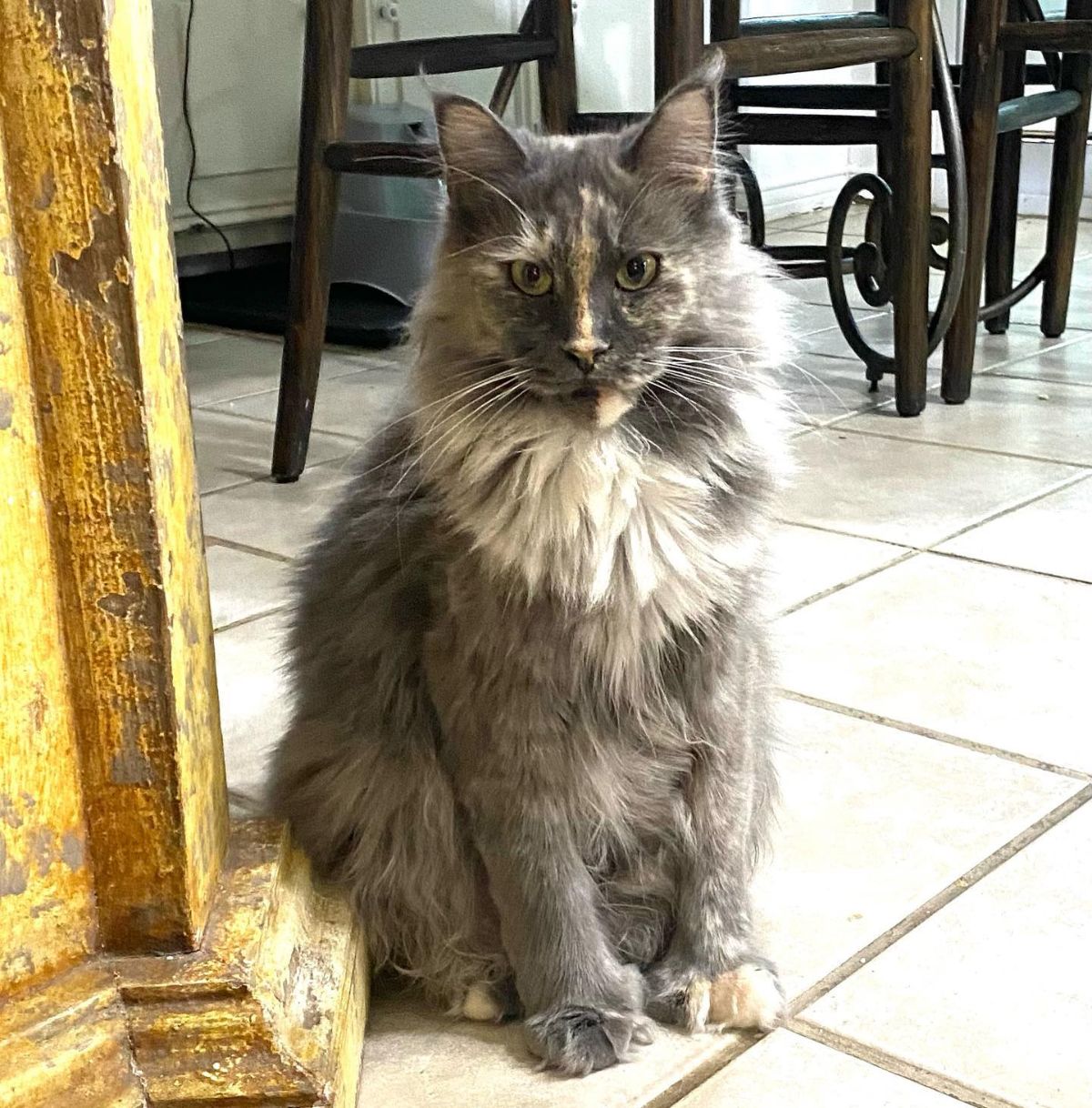 Macy Gray is so beautiful! Her smoke-gray fur and lilac mane go incredibly well together, and her peachy-orange patch is almost perfectly centered down her nose and on one side of her chin.
23. Castalia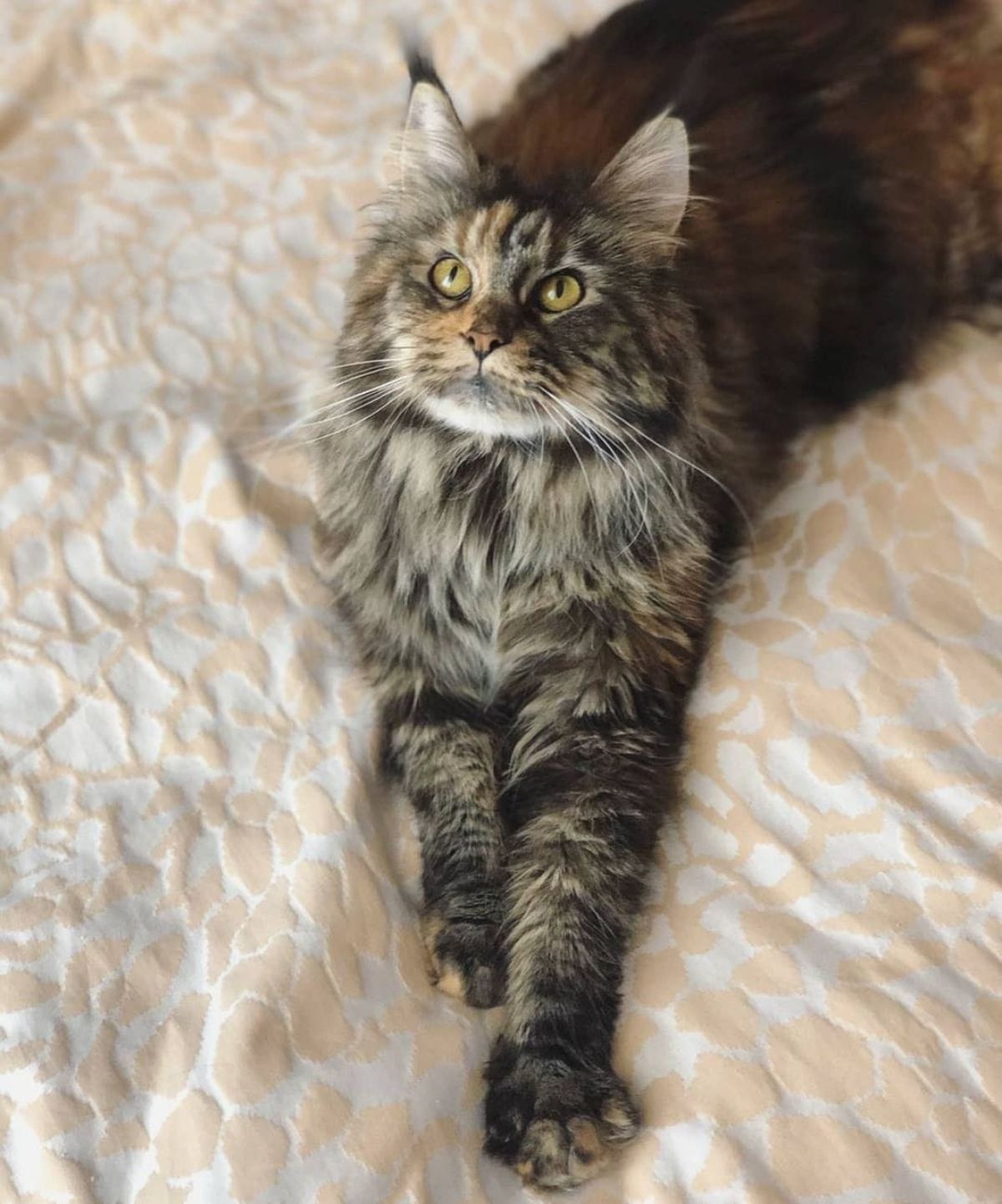 Torbies are tortoiseshell cats who are also tabbies. While stripes might be more difficult to see when a cat has mottled colors and long fur, you can usually identify a tabby by the "M" marking on its forehead. You can see that mark on Castalia's head; she also has vivid stripes on her legs.
24. Sassafras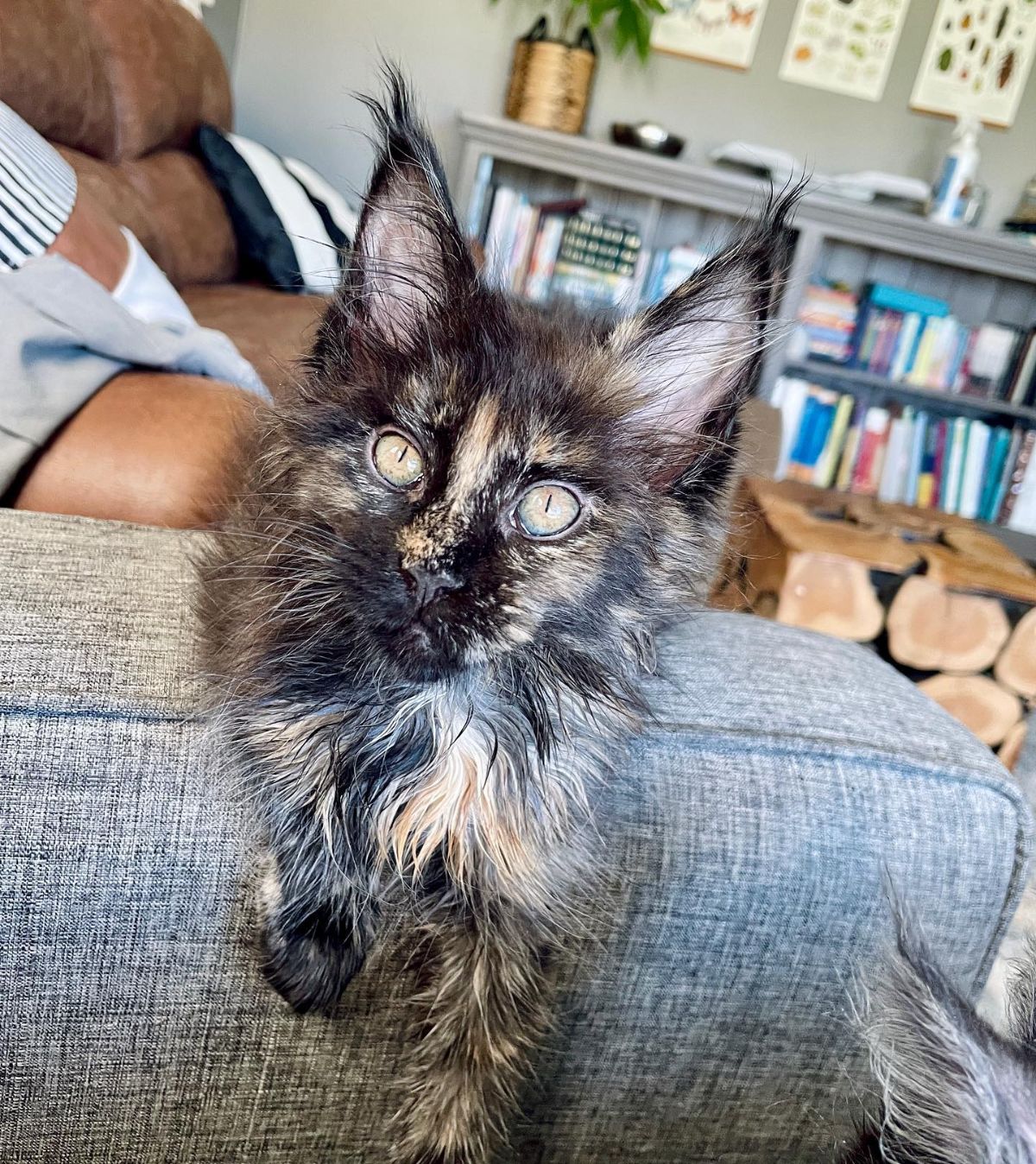 Sassafras' colors are all a jumble! This tortie Maine Coon kitten already has an air of mystique thanks to her camouflage markings.
25. Leia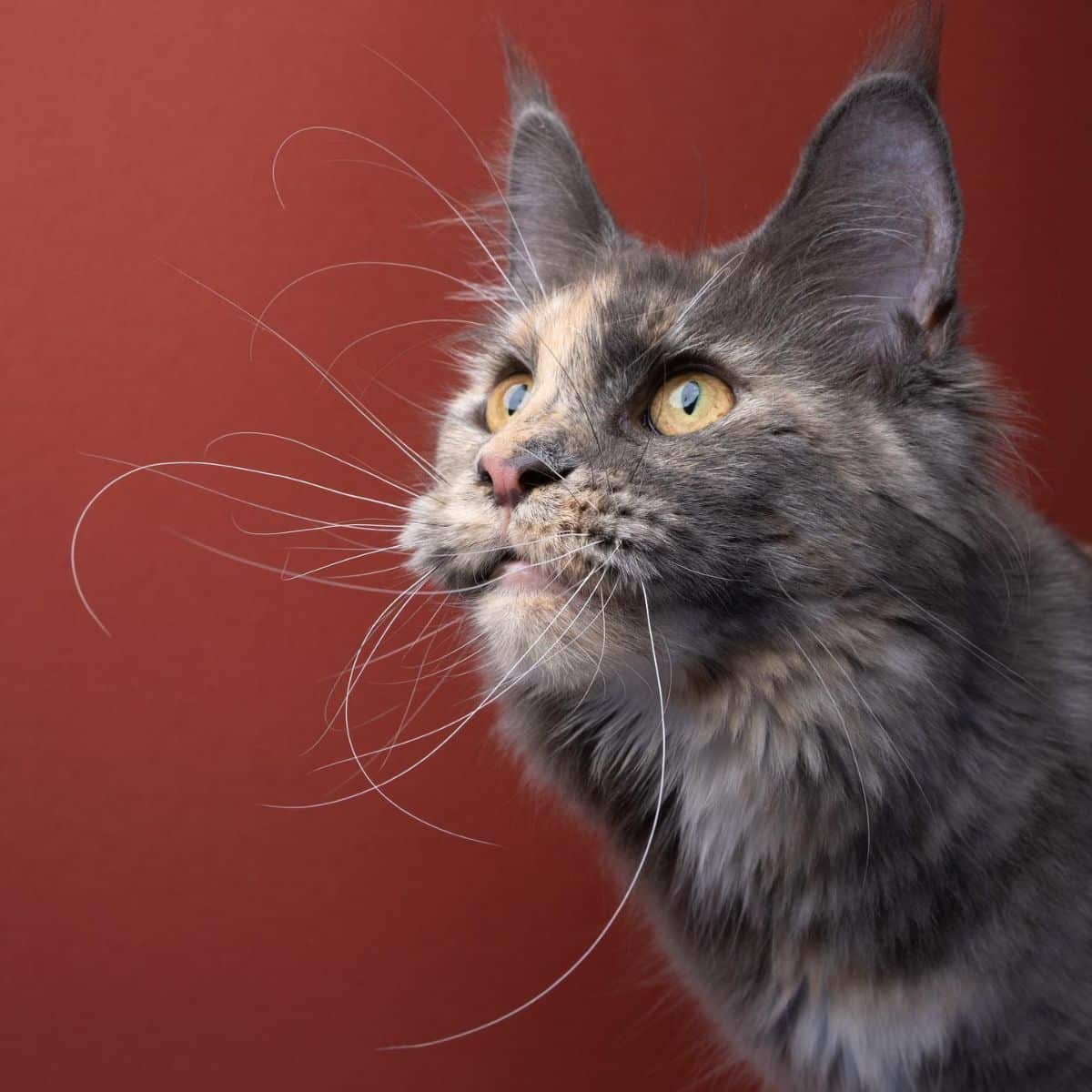 This German Maine Coon tortie has such a gentle, wise face. Her facial features are more delicate than the typical Maine Coon. That's one variation with the breed, particularly with its females.
26. Amazing Ears
Check out the impressive ears on this tortie Maine Coon Cat! These ear tufts, also called lynx tips, are one of the most easily recognizable traits of the breed. Tuft size varies and is passed down genetically. Some Maine Coons develop their tufts at only a few months old, while others don't see full development until two years of age.
27. Like a Cloud
This is Molly. Not only does she have a super-cool dilute color combination, but she also has an impressively fluffy, thick mane that looks like cotton candy or a cloud. We're sure her owners love to pet and cuddle this fuzzy girl.
28. Molly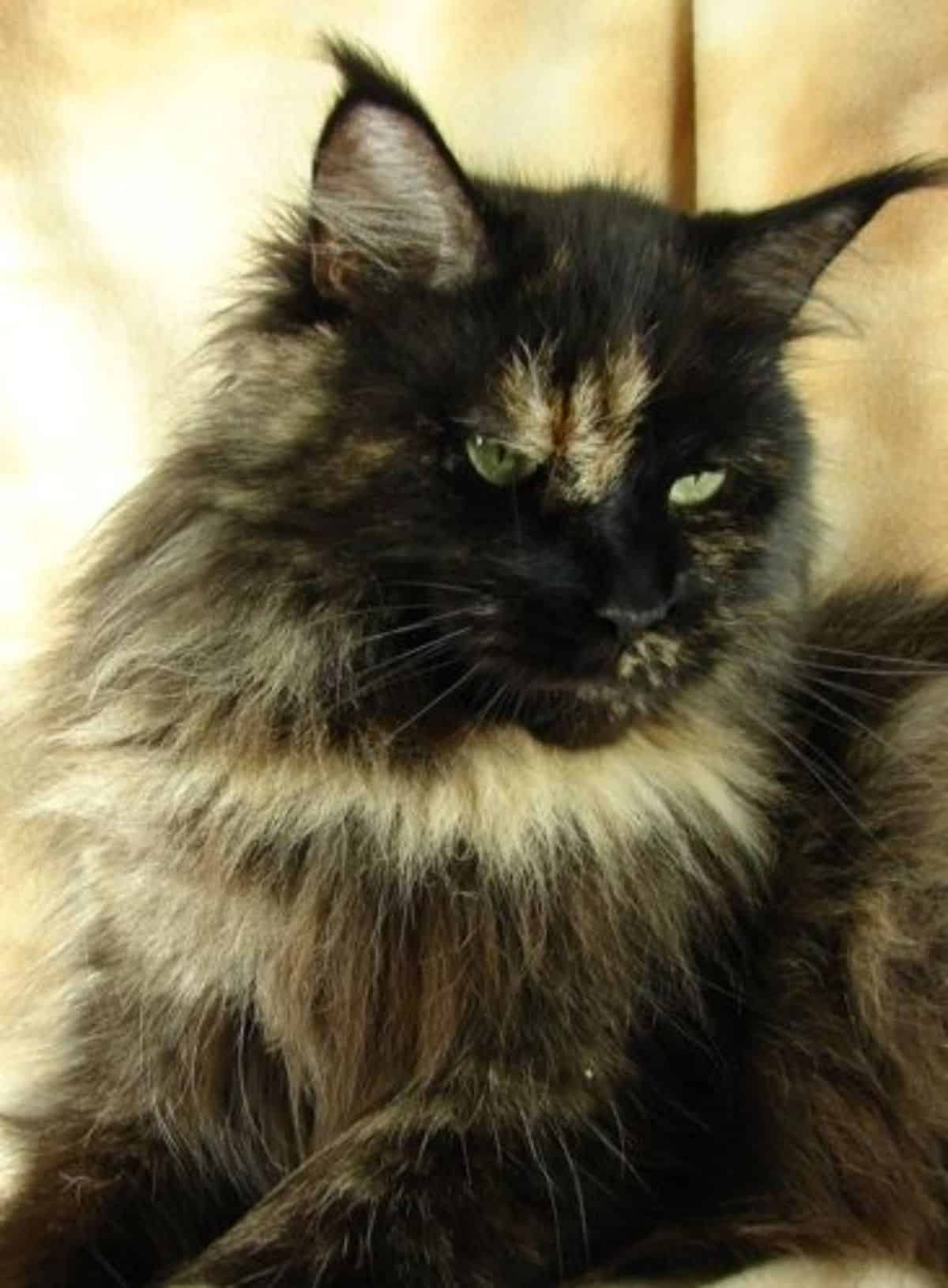 Molly looks like a very serious kitty cat. Between her mottled facial colors, strong features, and narrow eyes, this tortie Maine Coon seems fierce! Many cat owners are familiar with the term "tortitude" which refers to the extra spicy attitude many torties are said to have.
29. Mustache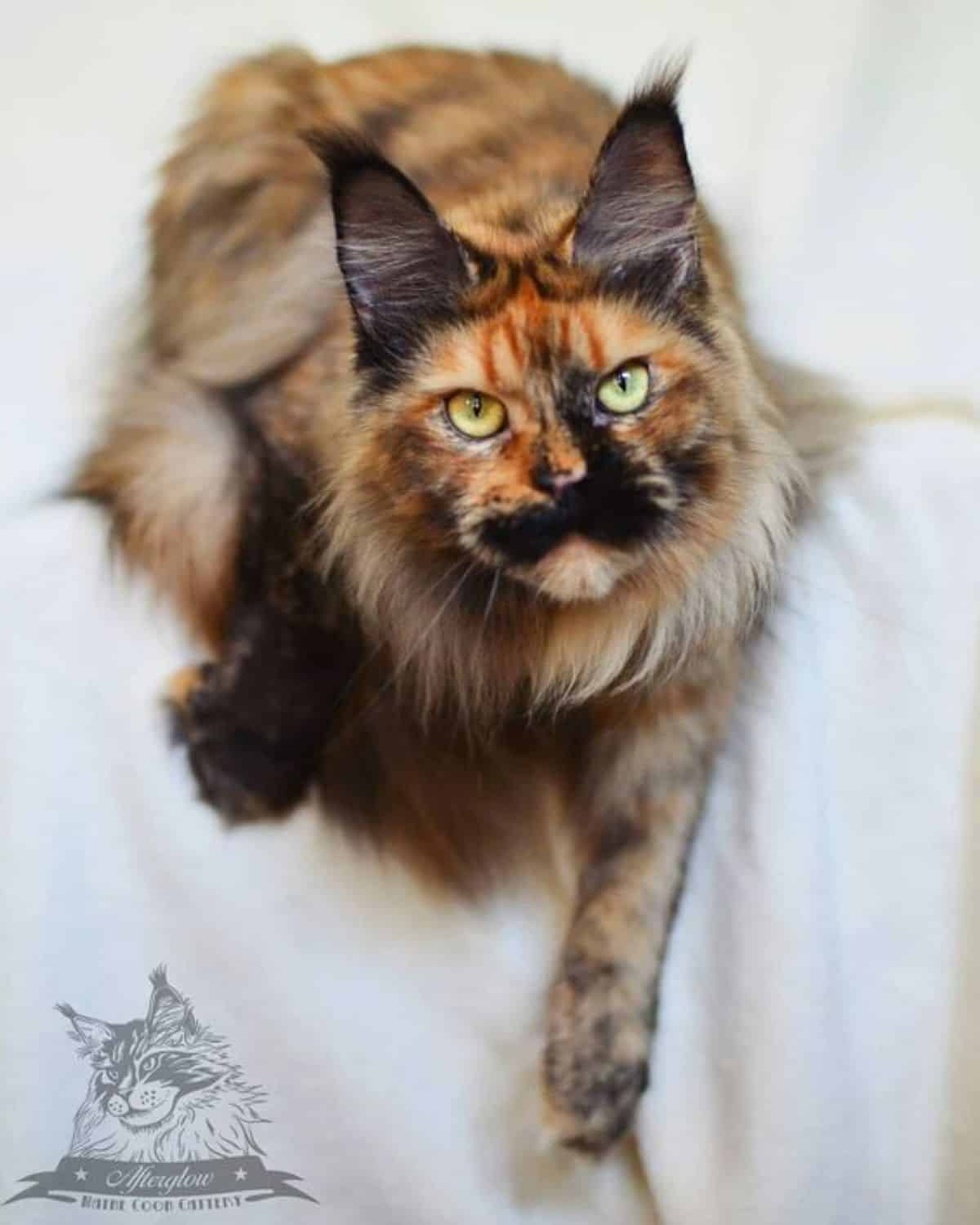 Sometimes, a tortie Maine Coon cat's facial markings happen to be configured in a funny way. The patch of black fur under this kitty cat's nose makes it look as though she has an old-time gentleman's mustache! The bright orange "M" on her head is also an attention-getter.
30. Different Tufts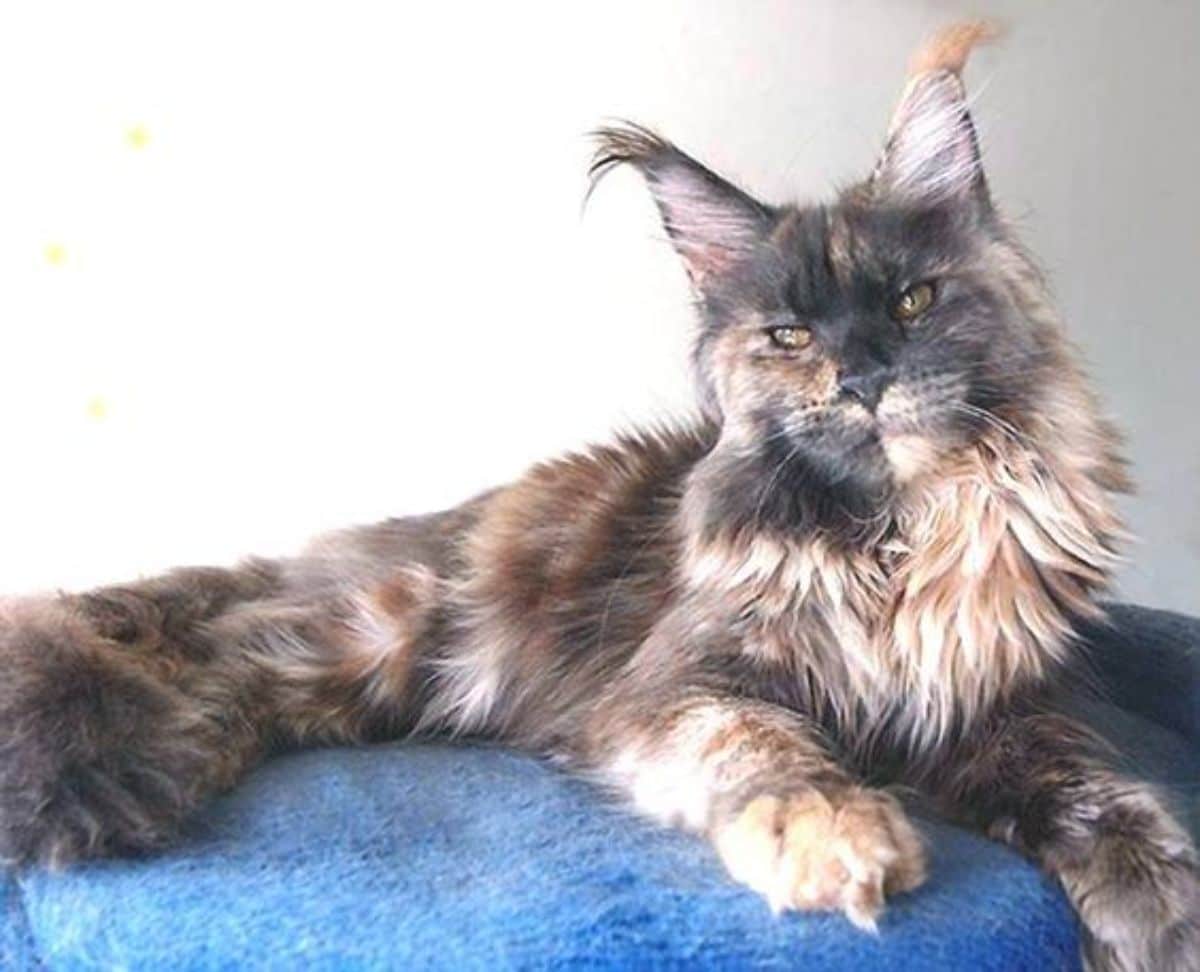 This Russian Maine Coon has a typical dilute tortie mixed coat, but her ears are what really stand out. One tuft is a deep smokey gray-black, while the other is a bright ginger orange.
31. Smoldering Eyes
This cat looks a bit pensive or sad at first, but when she lifts her head to look at the camera, she's pure strength. This type of tortoiseshell Maine Coon is a very light dilute, featuring fur colors in light lilac and creamy peach.
32. Sweet Kitten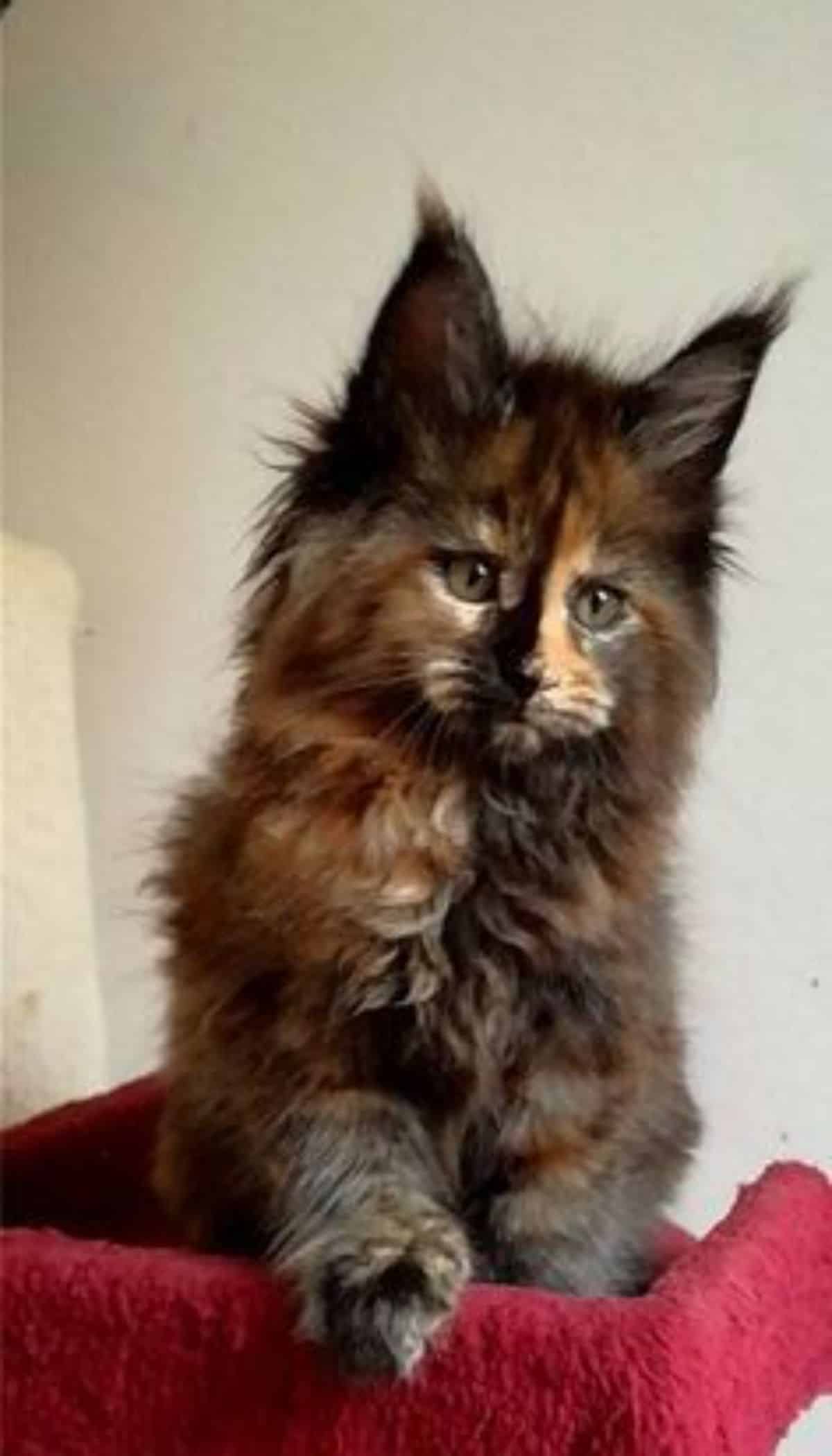 This kitten is going to be a beautiful cat someday. Her fur is already extra fluffy, and her vivid colors are well-defined. She also has coloring that makes her nose look split in the middle.
33. Tortie Twinning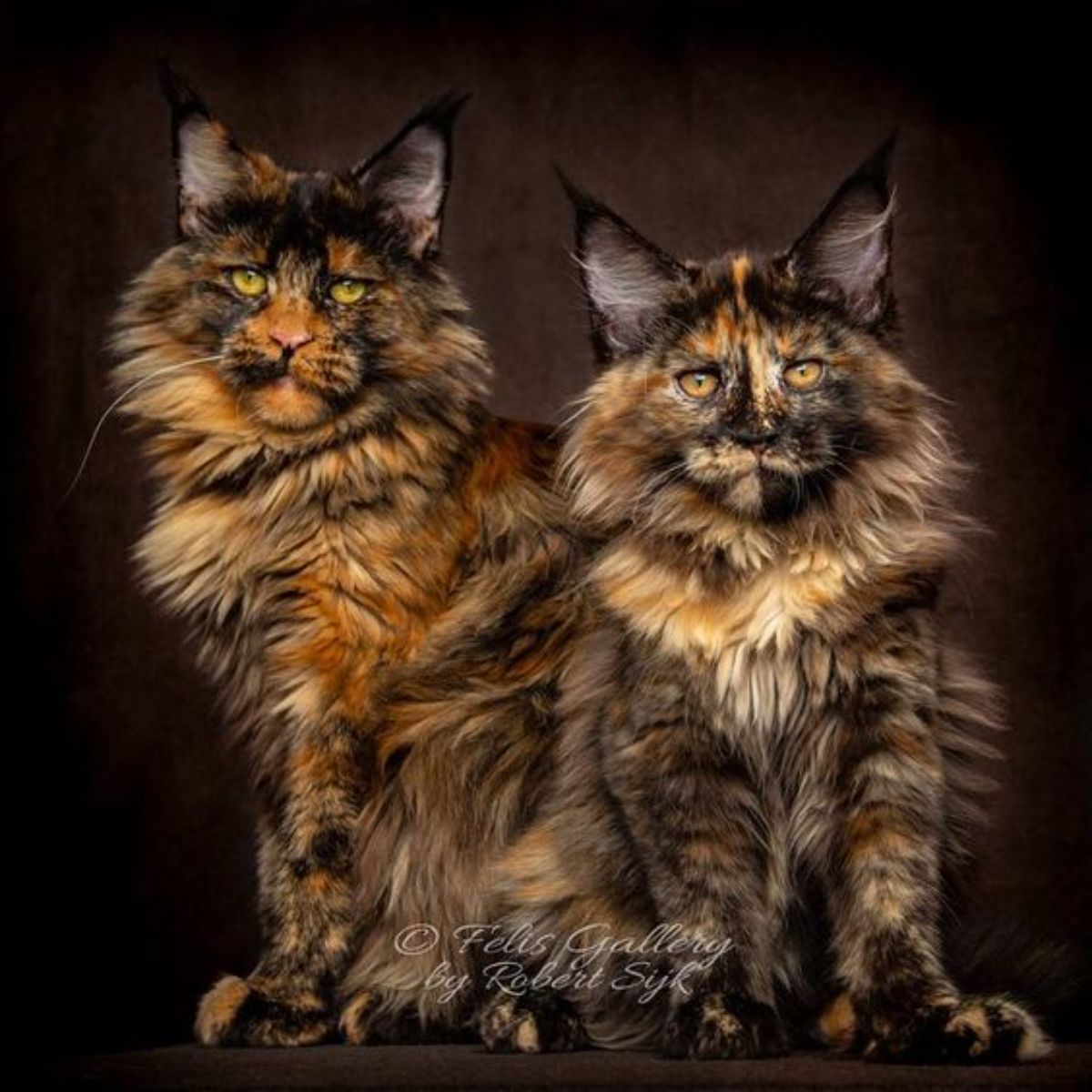 These two tortie Maine Coon cats look a lot alike, but each has its own distinguishable traits. The one on the left has brighter colors and green eyes, while the lady on the right sports slightly more subdued coat colors and orange eyes. Together, they make a gorgeous pair of models.