Are you interested in getting a new cat for your family? If so, it might be time to consider a unique type of cat. You will love playing with your new, beautiful, large orange Maine Coon.
If you love cats and want a unique breed, take a peek at the 27 photos of gorgeous orange Maine Coon cats below. You will also learn why this type of cat is best for you. Want to learn more? Read on!
Jump to:
Why You Should Adopt an Orange Maine Coon Cat
Do you like the idea of a large and beautiful cat? Adopting an orange Maine Coon cat is a good idea. The typical cat of this breed weighs around 20 or 30 pounds, but some weigh less while having a larger bone structure.
Do you love snuggling with your cat and having the kitten sleep on top of you? If so, you will adore the Maine Coon cat, as this feline is known for sleeping on its owner.
The 27 Best Photos of Orange Maine Coon Cats
Do you want to adopt a sweet and beautiful kitty? If so, check out the 27 best photos of gorgeous Maine Coon cats and their orange coat. If you like their look, it is time to consider adopting this feline breed.
1. The Christmas Cat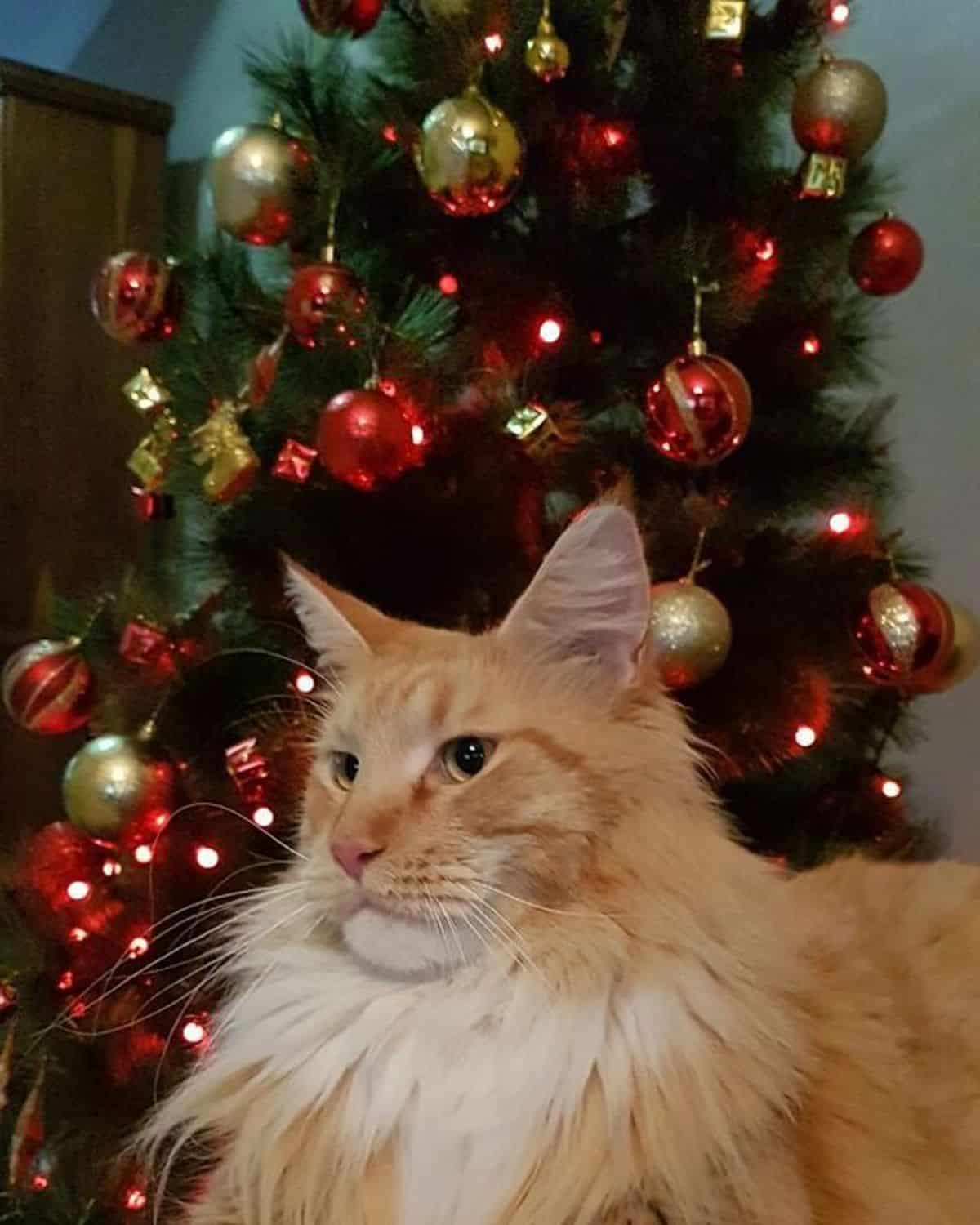 A wonderful orange cat sits against a background of a colorful Christmas tree. The shiny ornaments have a mix of gold and red colors. Yet, the Christmas tree would tumble the second the kitty starts climbing on it.
2. Kitten Staring Up At You On Top of Kitchen Tiles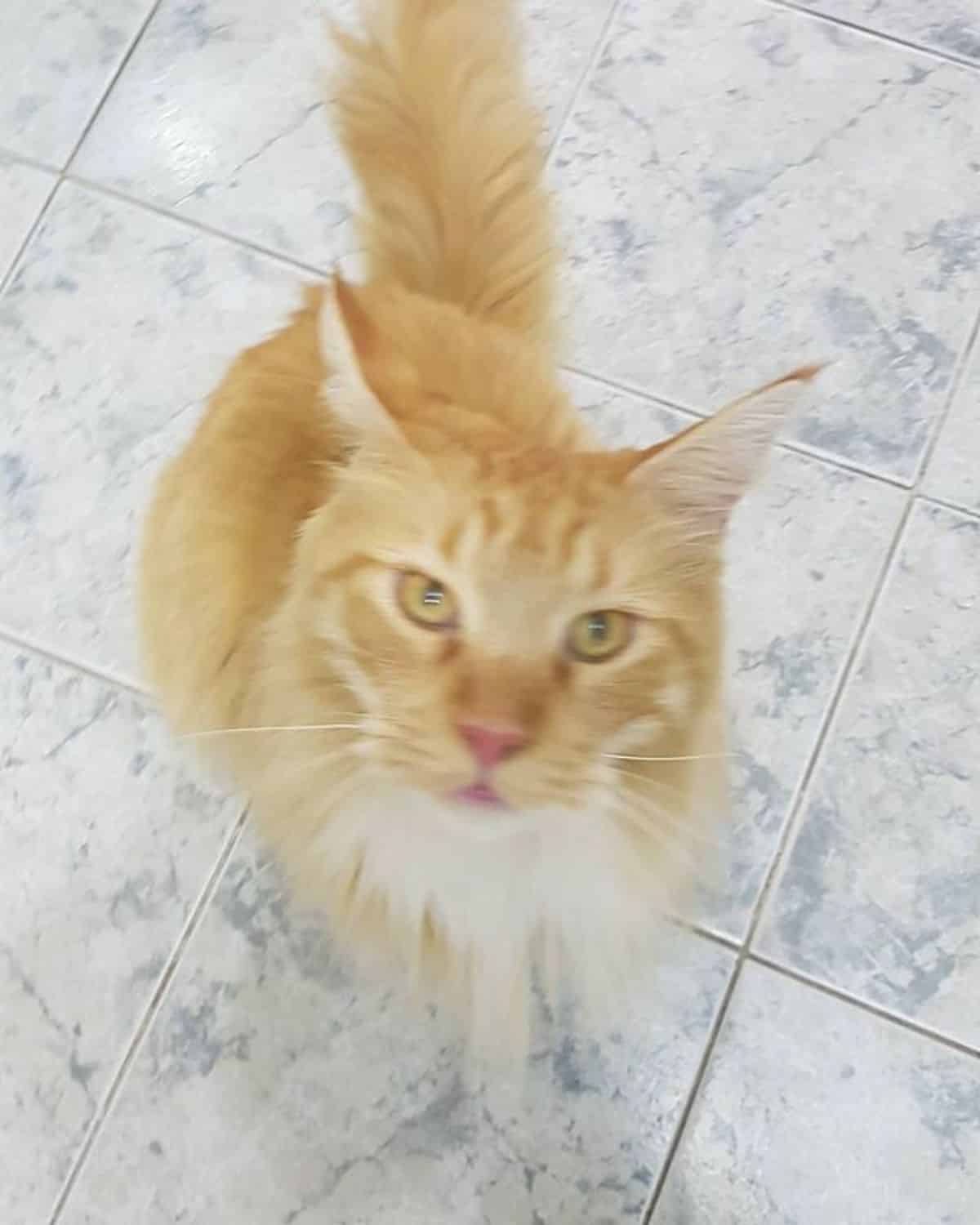 An orange kitten stands in the kitchen and looks straight up at you with its almond-shaped, yellow eyes. Do you not love its pointy ears and pink nose?
3. Orange Kitty Hanging Out In a Garden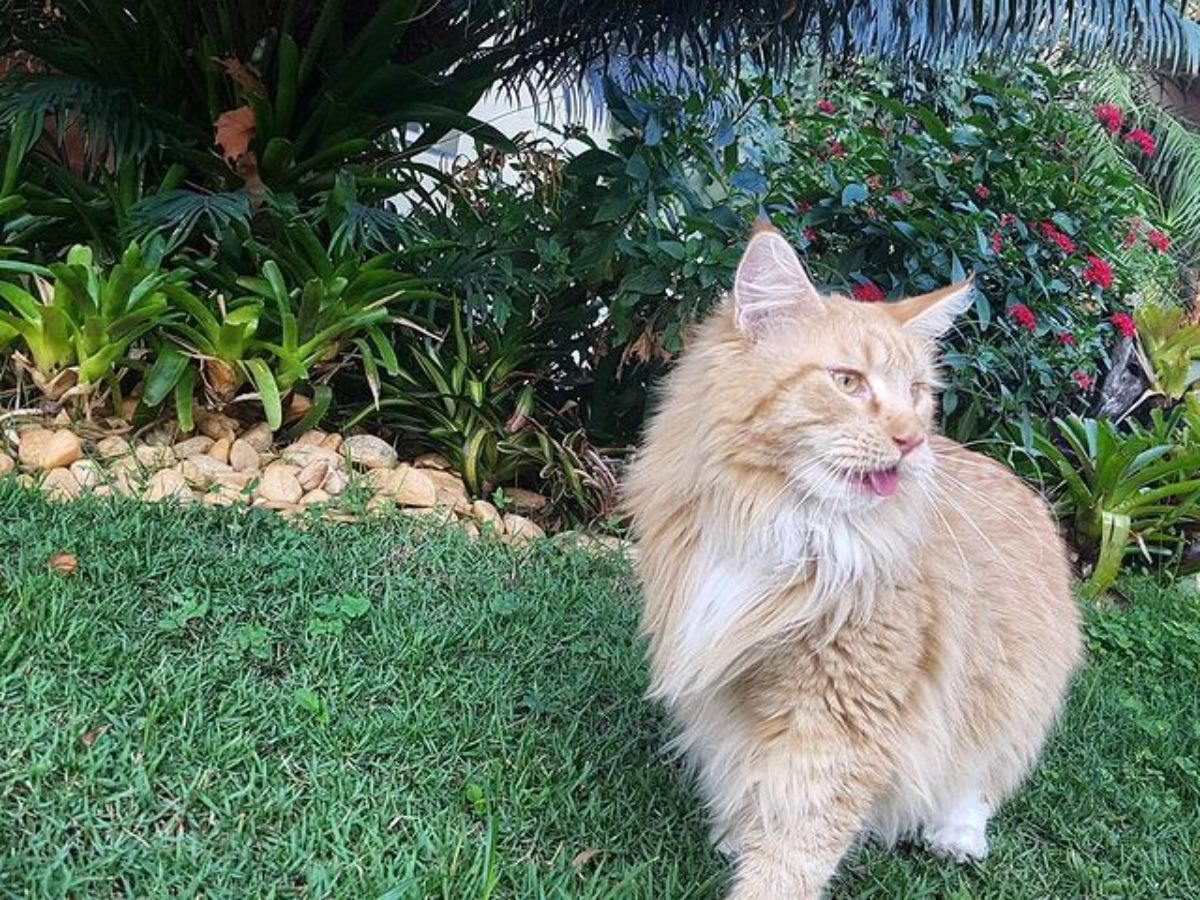 This cat looks like it is having fun in the green garden with red flowers. The cute kitty has its tongue sticking out as it wanders through the lawn.
4. Black and Orange Maine Coon Cat On Top of Comfy Pillow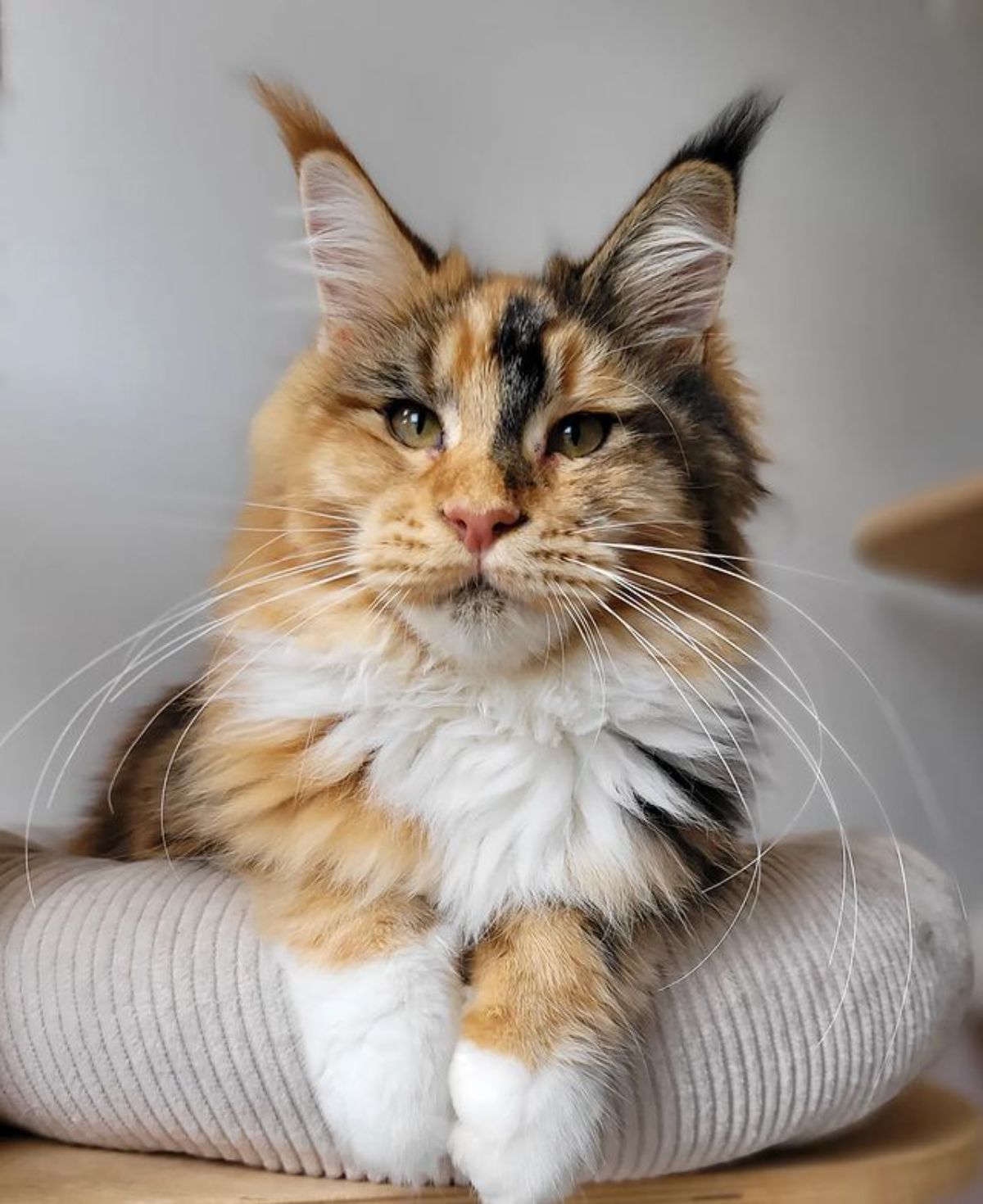 The black and orange cat here has a beautifully patterned coat. The sweet cat reclines on a soft pillow. You will love looking at its white paws, white mane, and green eyes.
5. Orange and Black Kitty Lying Down On Fluffy, White Rug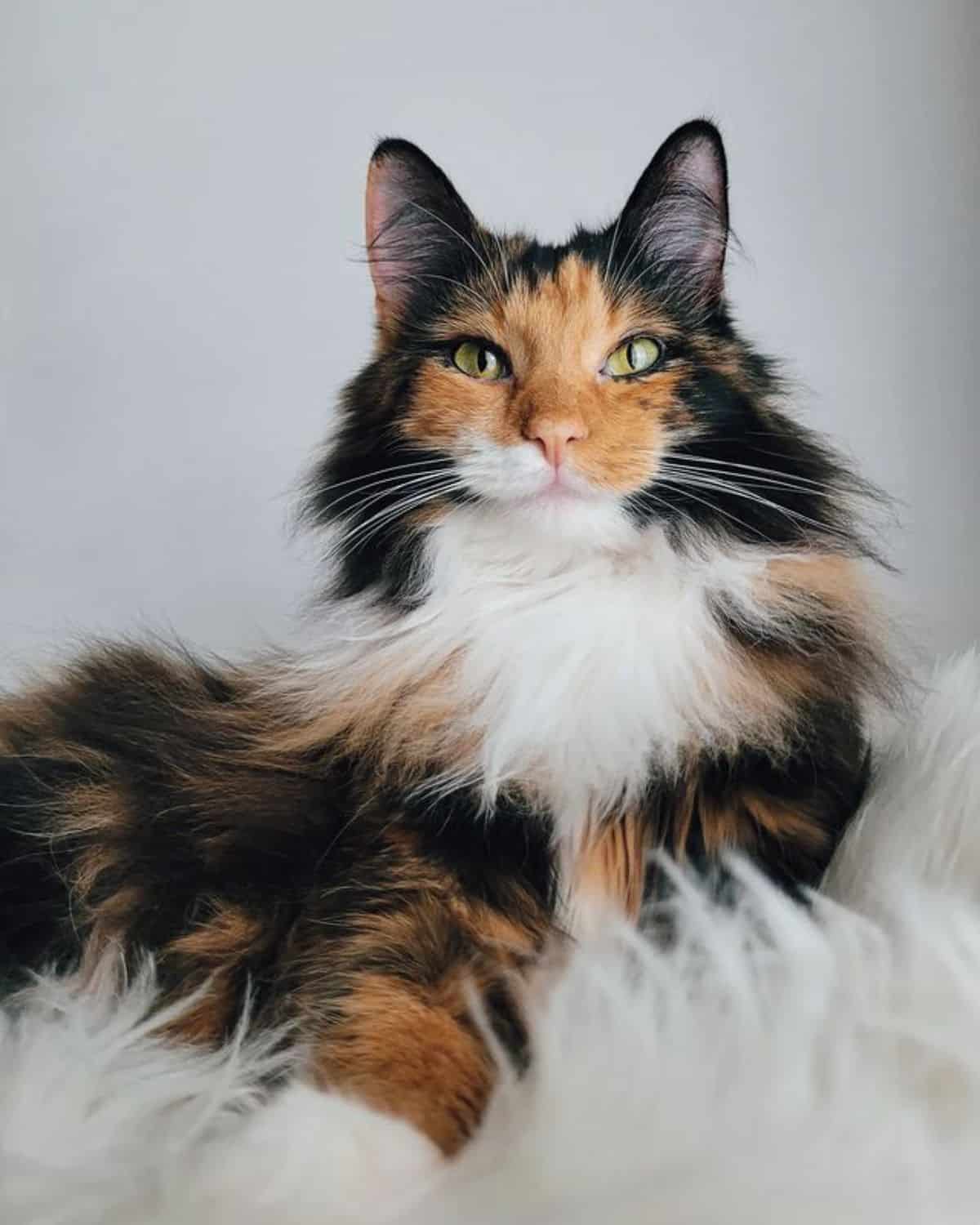 You will enjoy looking at this gorgeous orange, black, and white cat with its big, green eyes. The feline looks like she is having a good time relaxing on a fuzzy white rug.
6. Young Woman Holding a Large Orange Maine Coon Cat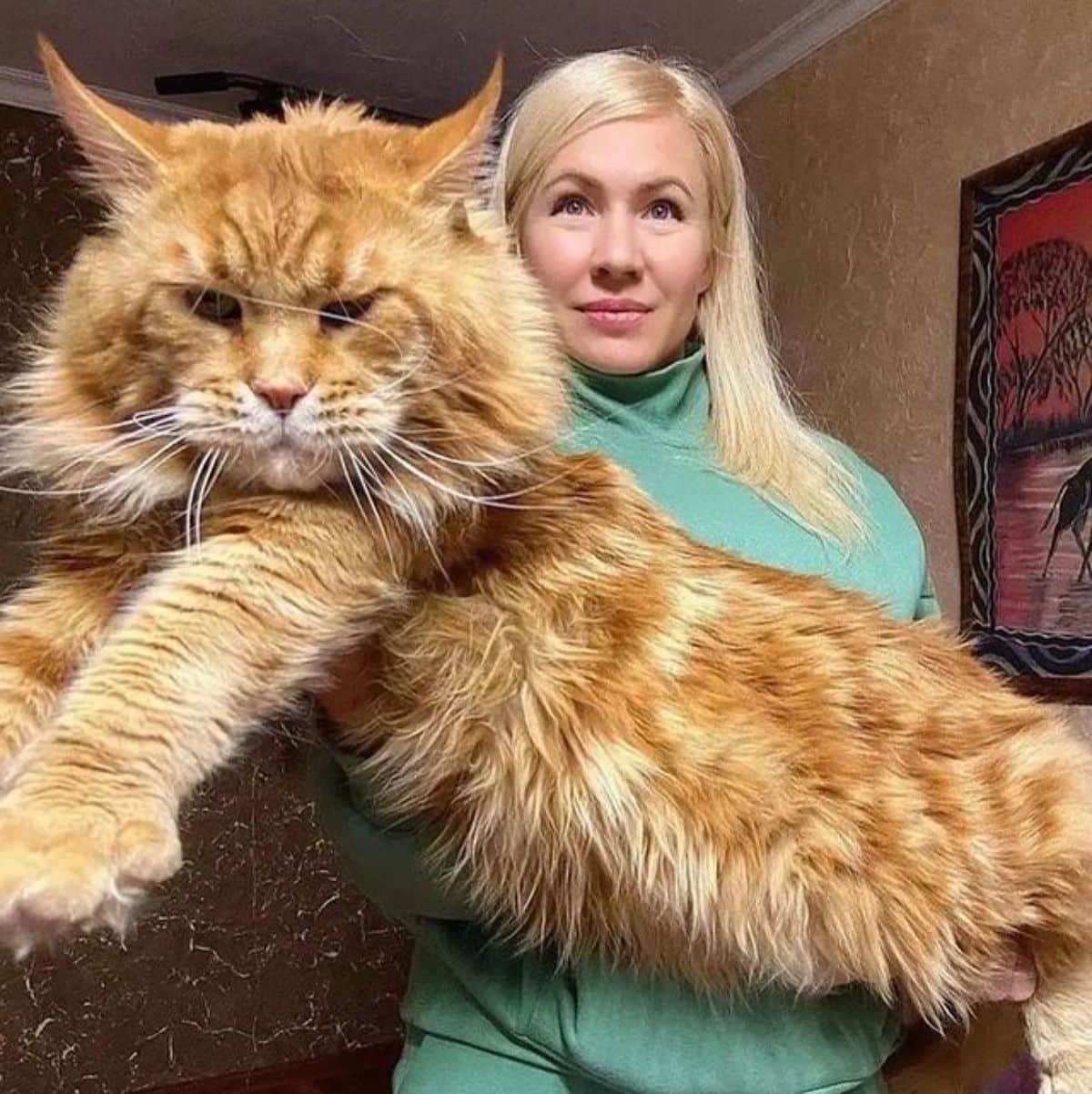 A young blond woman is standing in front of the camera, holding a huge Maine Coon cat. You will love the fluffy look of this feline and its nice orange coat.
7. Two Orange Kitties Hanging Out On Cat Scratching Tree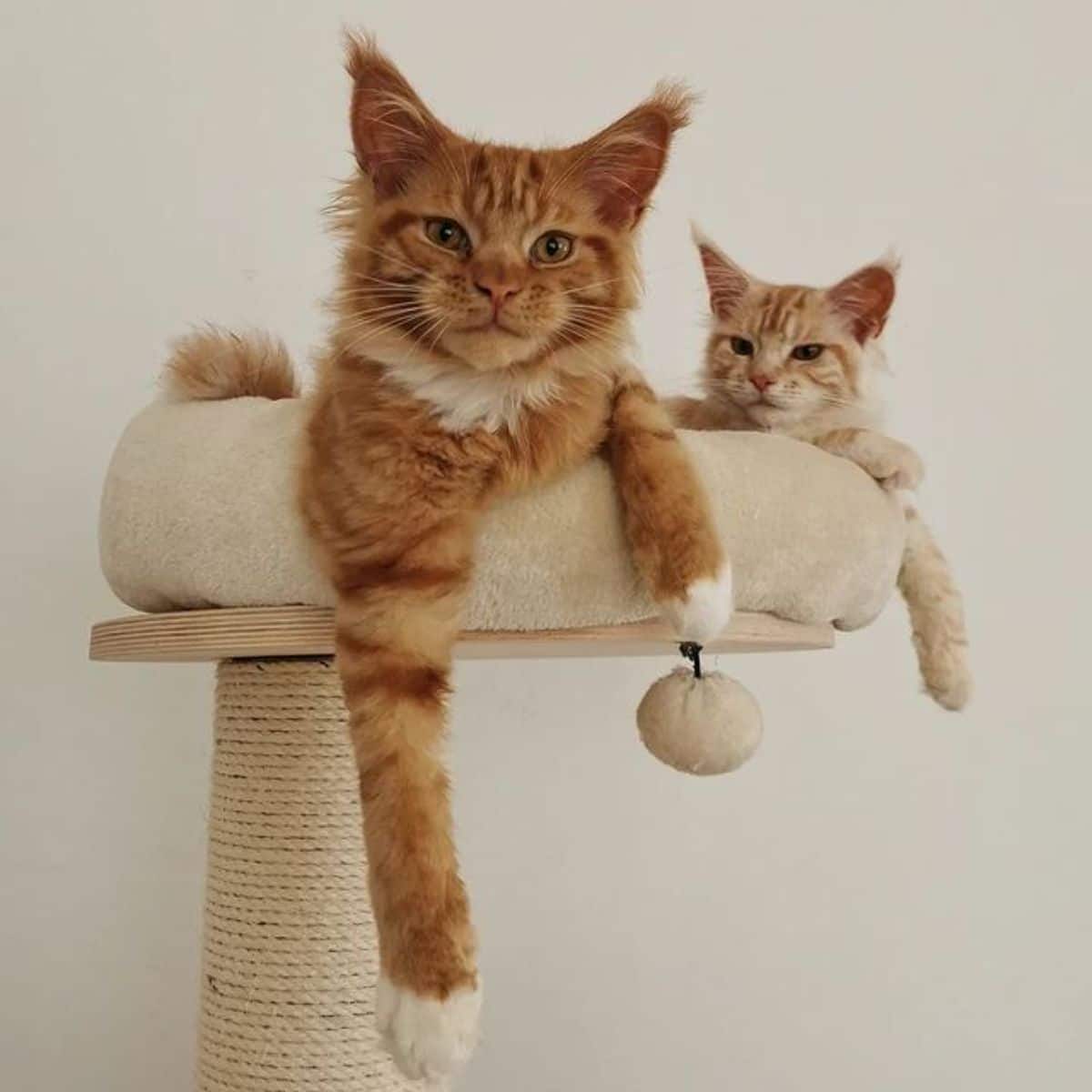 This picture displays an older cat and a kitten lying around on a cat-scratching tree. The orange and white colors of the cats look great against the eggshell background.
8. Adorable Orange Cat and Its Kissing Booth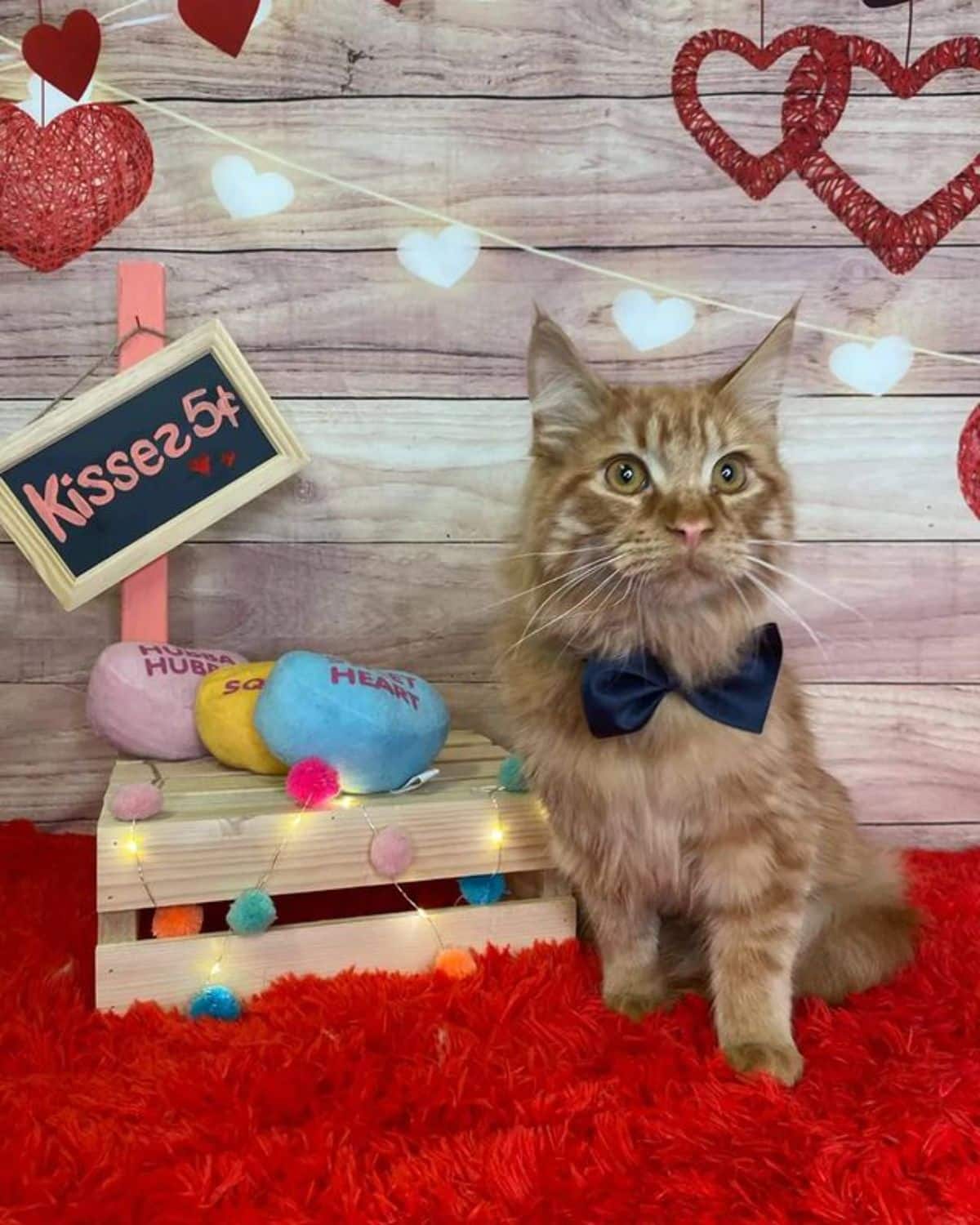 The cute kitty here is wearing a black bow tie and standing in front of a kissing booth. Who would not love to give the kitten a cuddle and a kiss? The beautiful hearts hanging above also make the photo stand out.
9. Large Kitty Scampering In a Refrigerator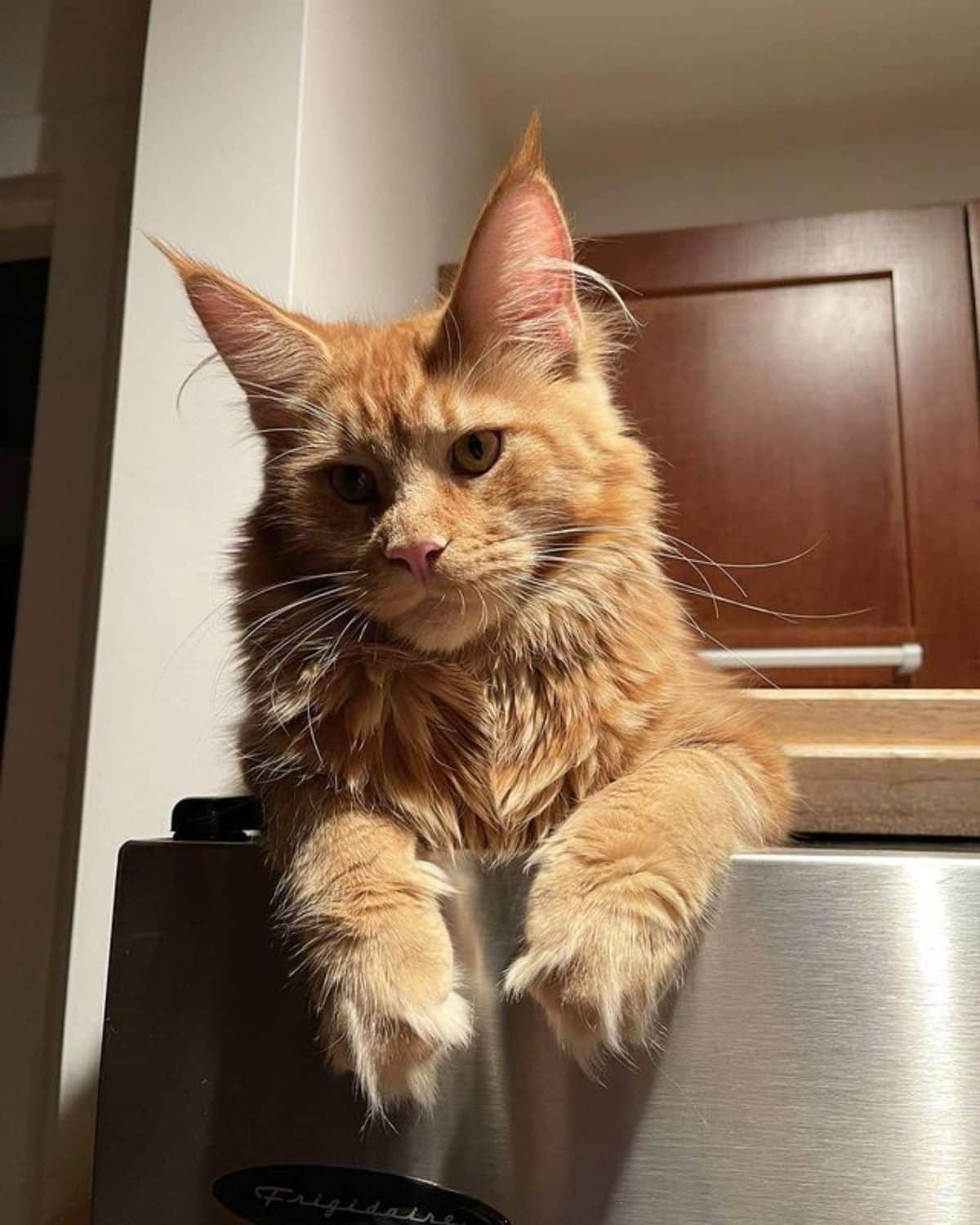 Do you want a mischievous cat? This one is a great choice, as it has made its way into the fridge to pick out some food.
10. Cute Orange Maine Coon Cat Sitting In Front of the Television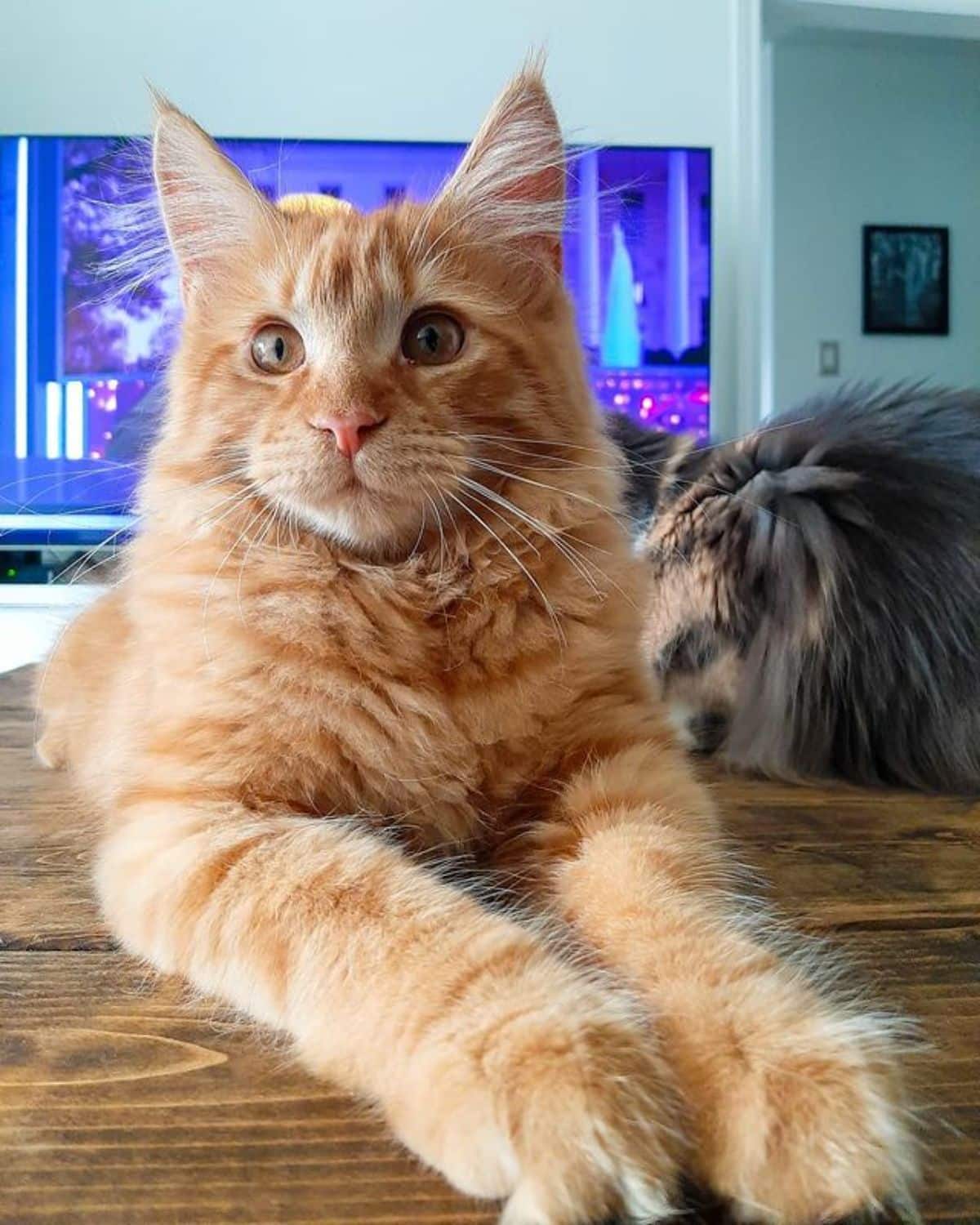 This fluffy orange cat sits close to the camera in front of the purple-colored television screen. Its adorable pink nose and yellow eyes will steal your heart away.
11. Silly Kitty Lying Down On the Wooden Floors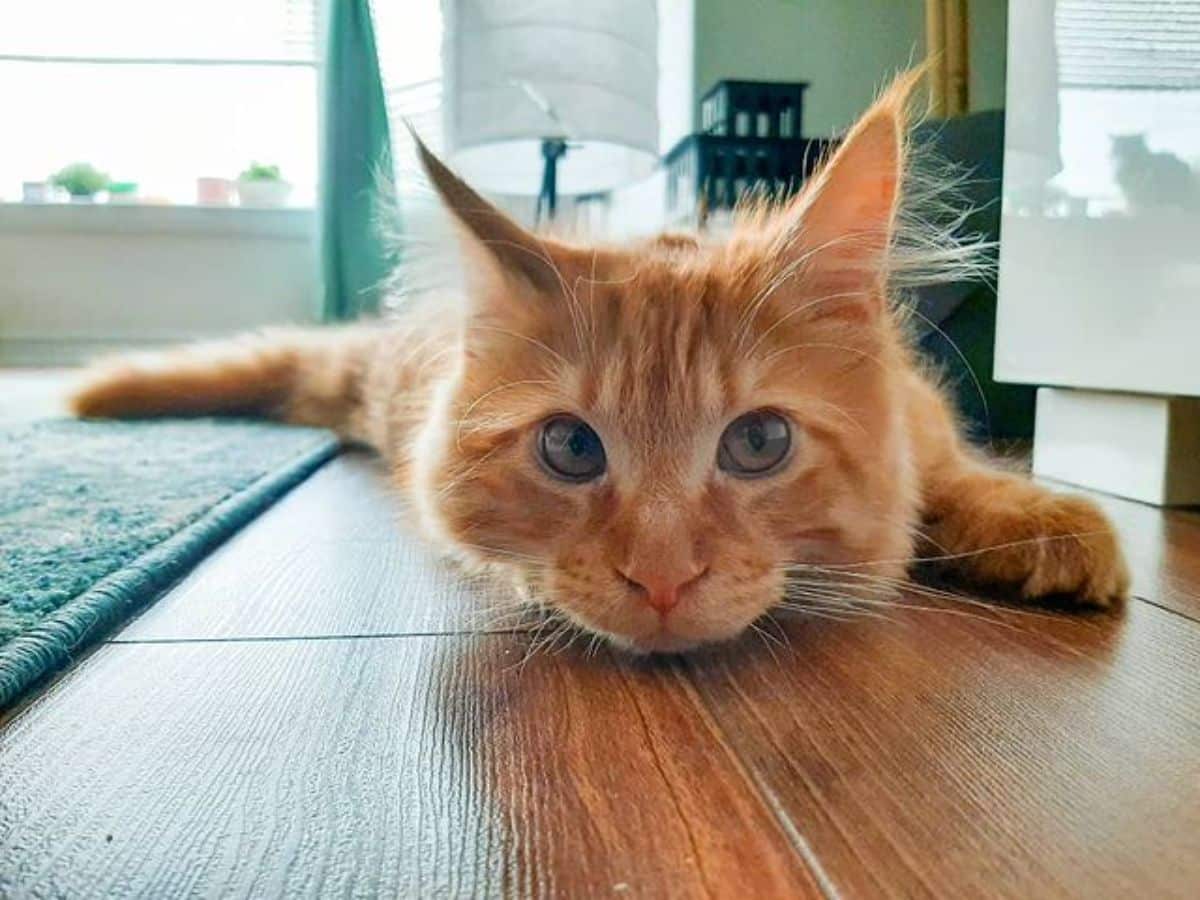 This kitten has a silly look on its face. It is lying down and scratching against the wooden floors. His big green eyes will look directly into your soul.
12. Orange Kitty Relaxing In a Blue Bin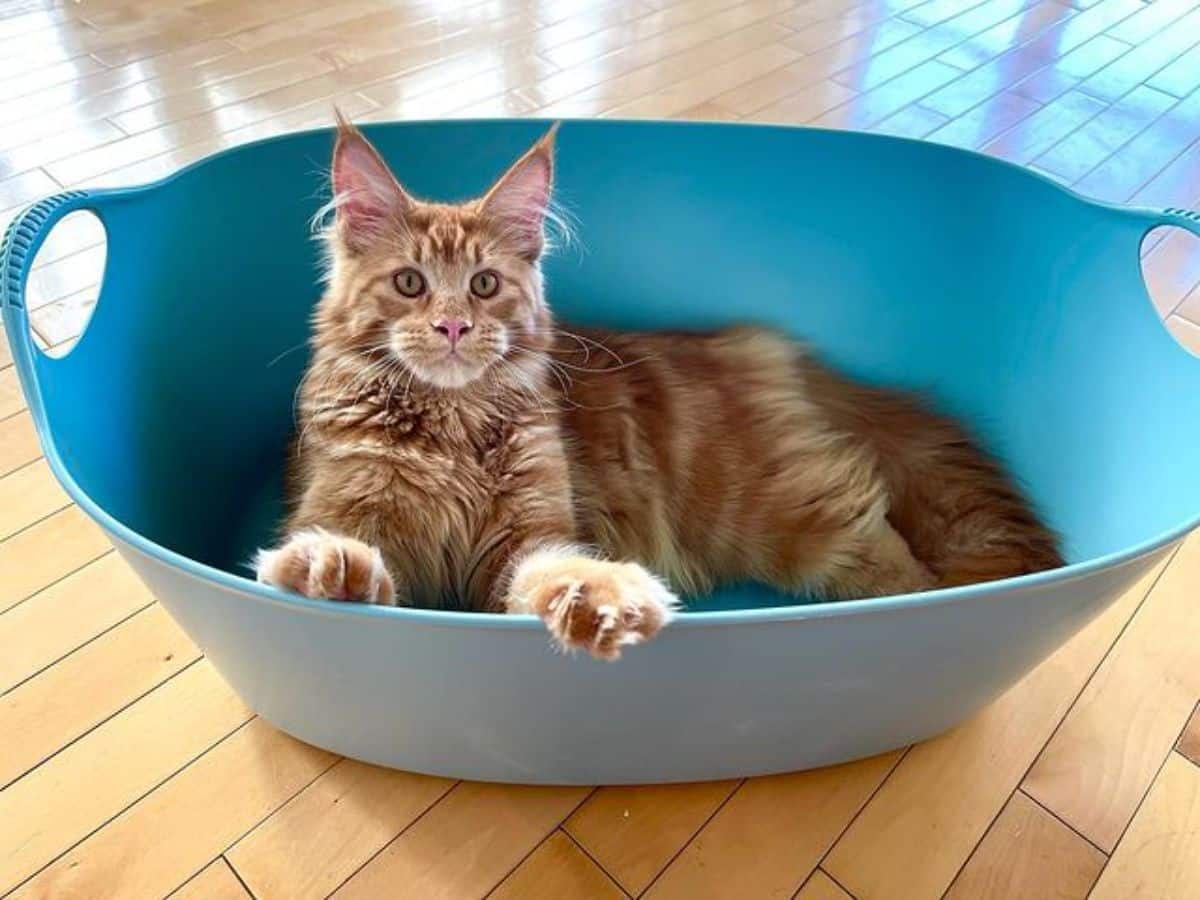 The large orange cat in the photo is lying down and relaxing in a big blue bin. Its ears are pointed up, and its yellow eyes stare straight ahead.
13. Maine Coon Cat Dressed Up For Halloween
The cute, orange Maine Coon kitten is dressed up as a blue butterfly for Halloween. You'll love its adorable hat and blue wings. It also wears a nice pink scarf.
14. Orange Cat On a Black Couch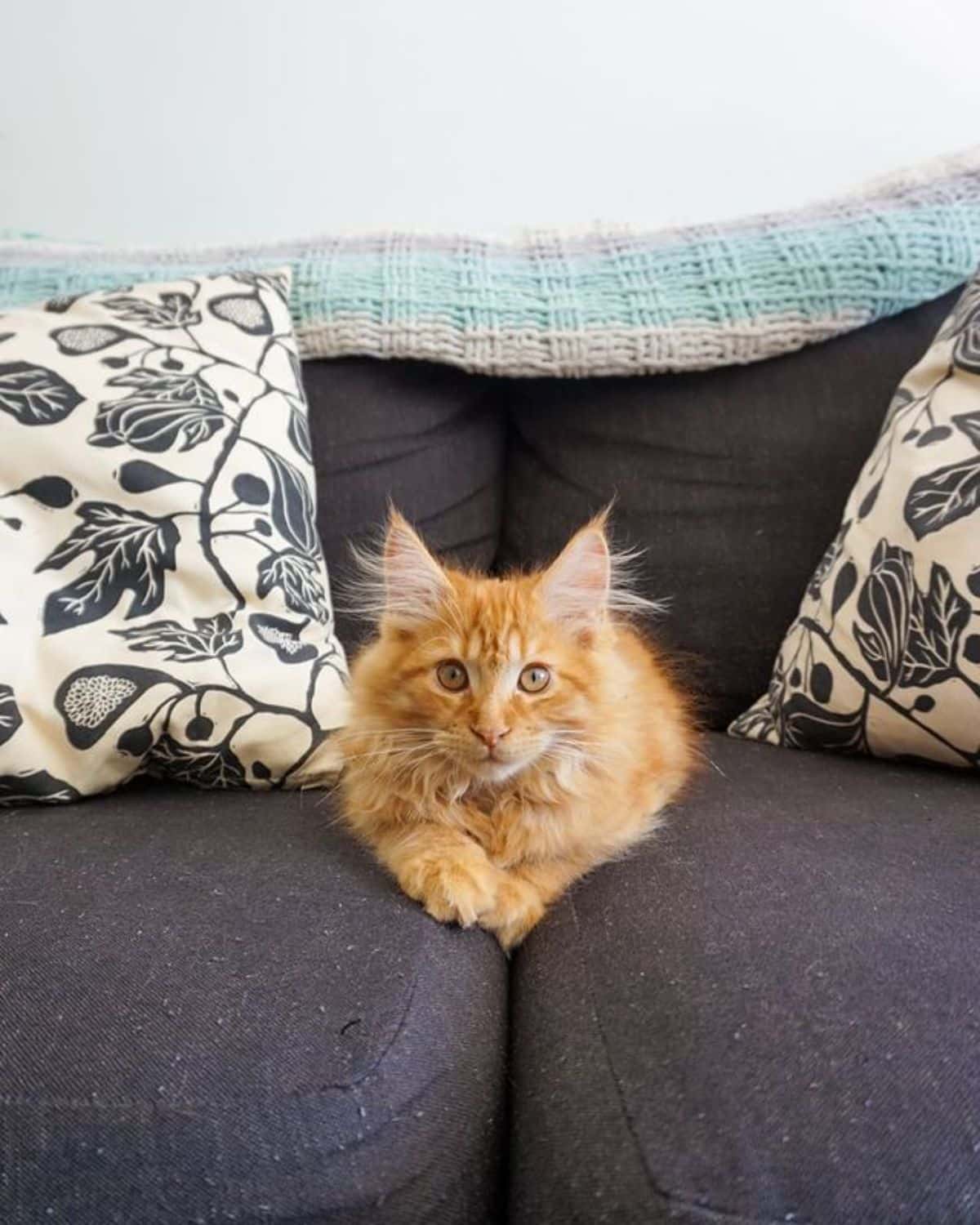 The fuzzy and disheveled cat in this photo sits between the cushions of a black couch. You'll love the yellow-green eyes staring straight at you.
15. Funny Cat Dressed Up As a Cowboy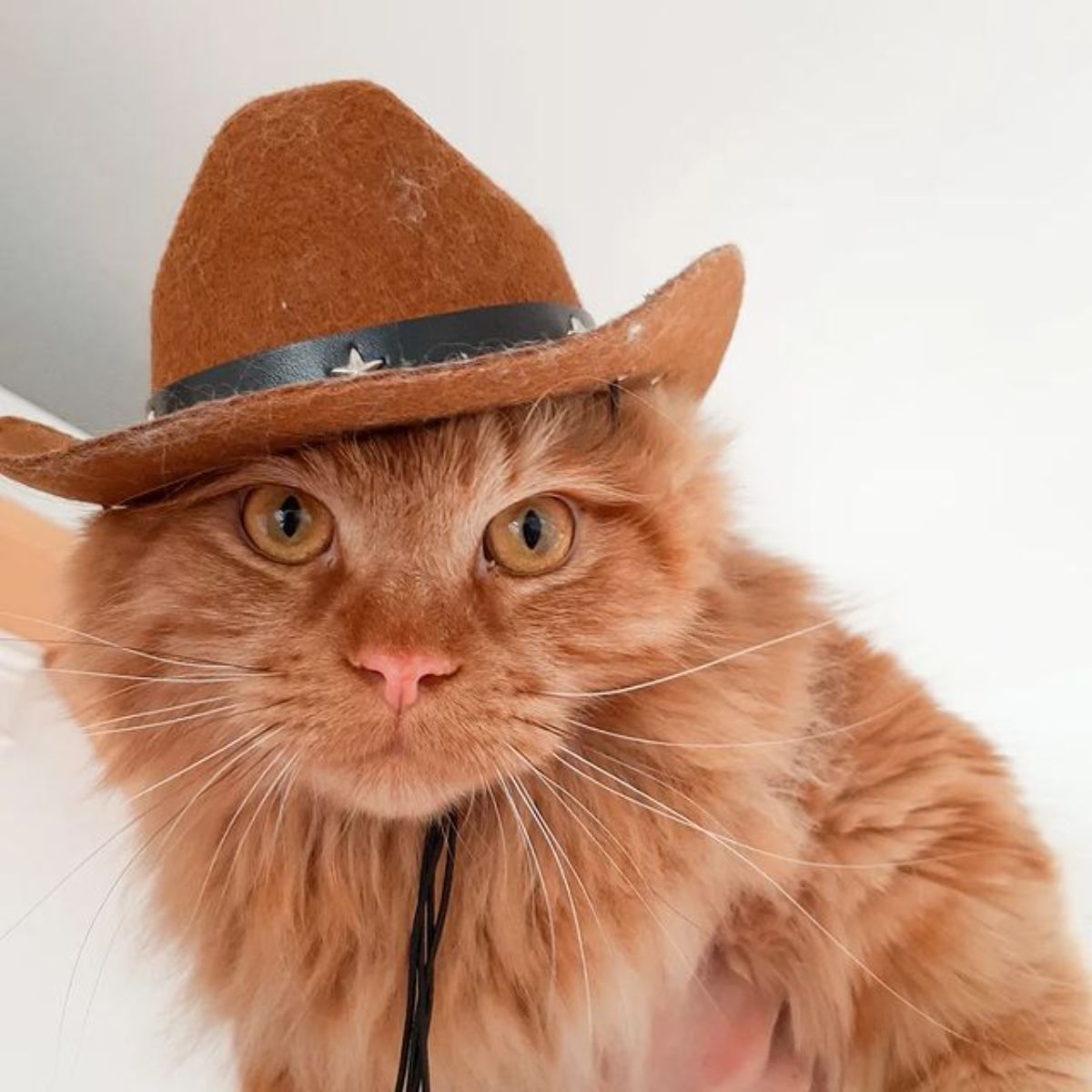 Another great pet costume for Halloween is the cowboy outfit, which may consist solely of a cowboy hat. Its orange coat blends well with the color of this cat's eyes.
16. Orange Maine Coon Cat Relaxing Outdoors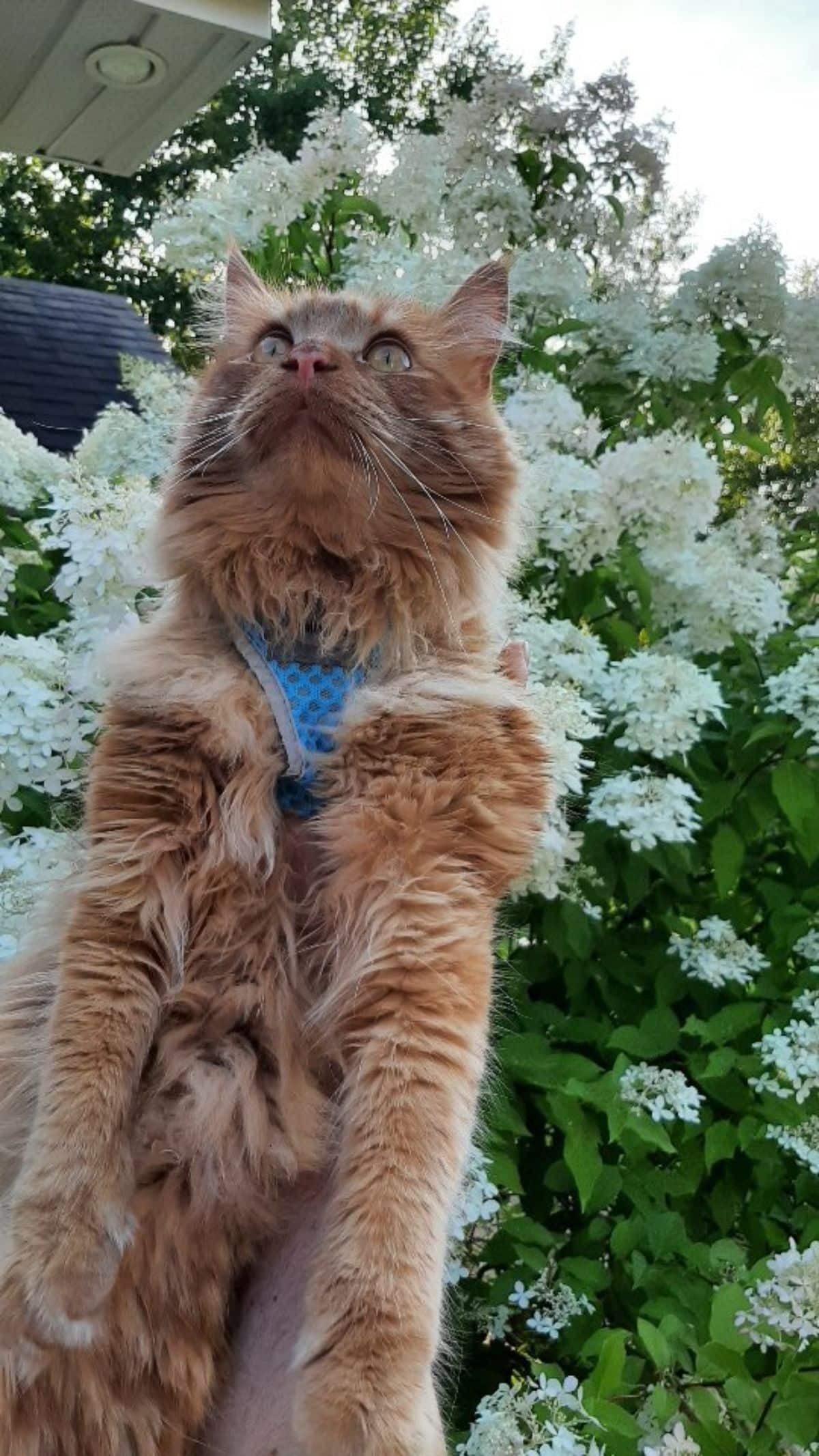 The orange cat in the video here is relaxing by some white flowers outdoors. The cute cat starts walking among the bushes with a friend. Its friend is a grey and white kitty cat.
17. Beautiful Maine Coon Cat on a Sofa
You can't see the face of this Maine Coon cat, but its well-kept and beautiful orange coat makes it a perfect addition to any household. It seems to be a very calm cat, as it is sitting and relaxing on a sofa.
18. Two Disheveled Kitties on a Table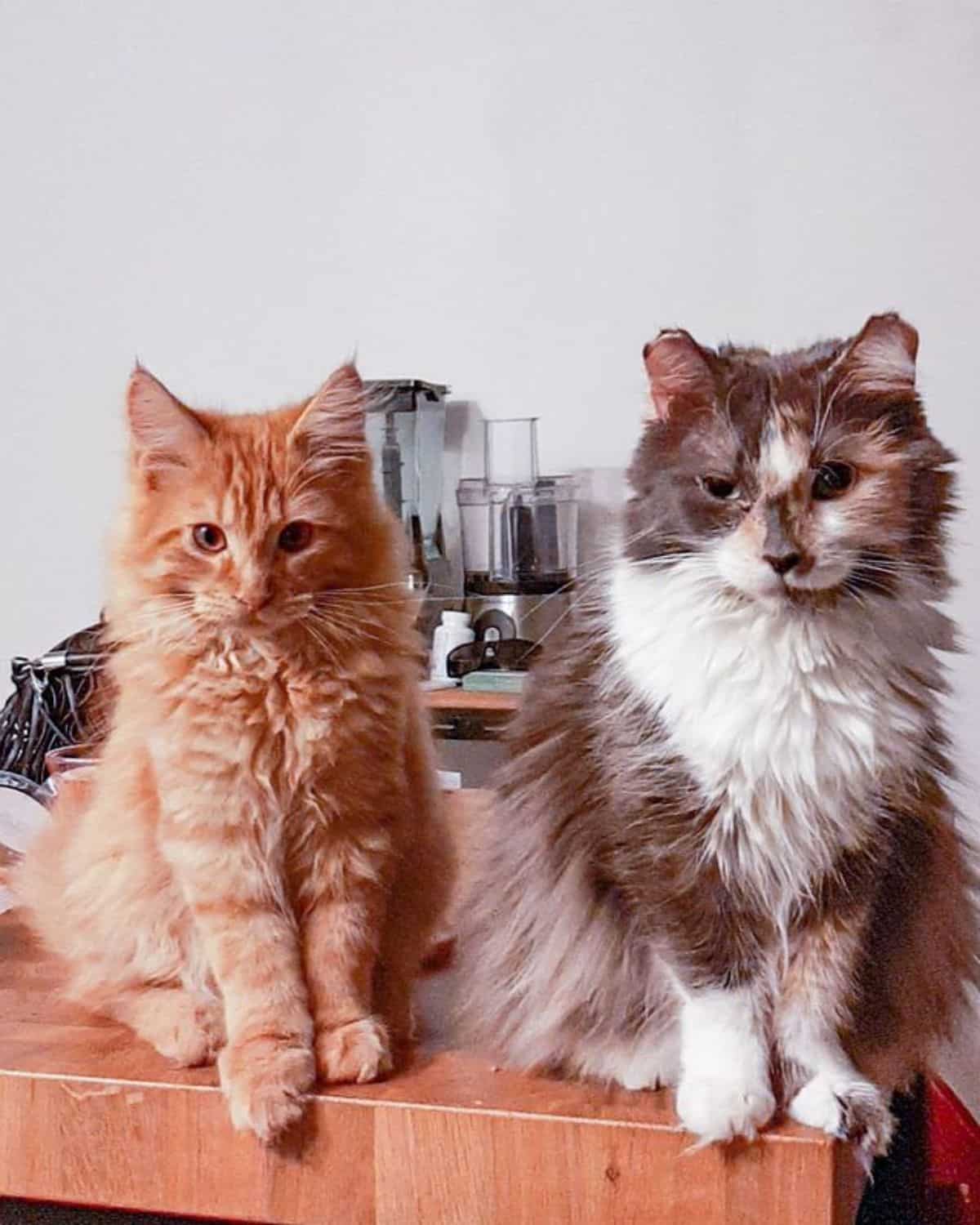 These two cats have extra fur and look rather messy. The orange kitty has pointed ears, while the other one has round ears. They're both sitting on top of a kitchen table.
19. Furry Orange Cat With the Body of a Lion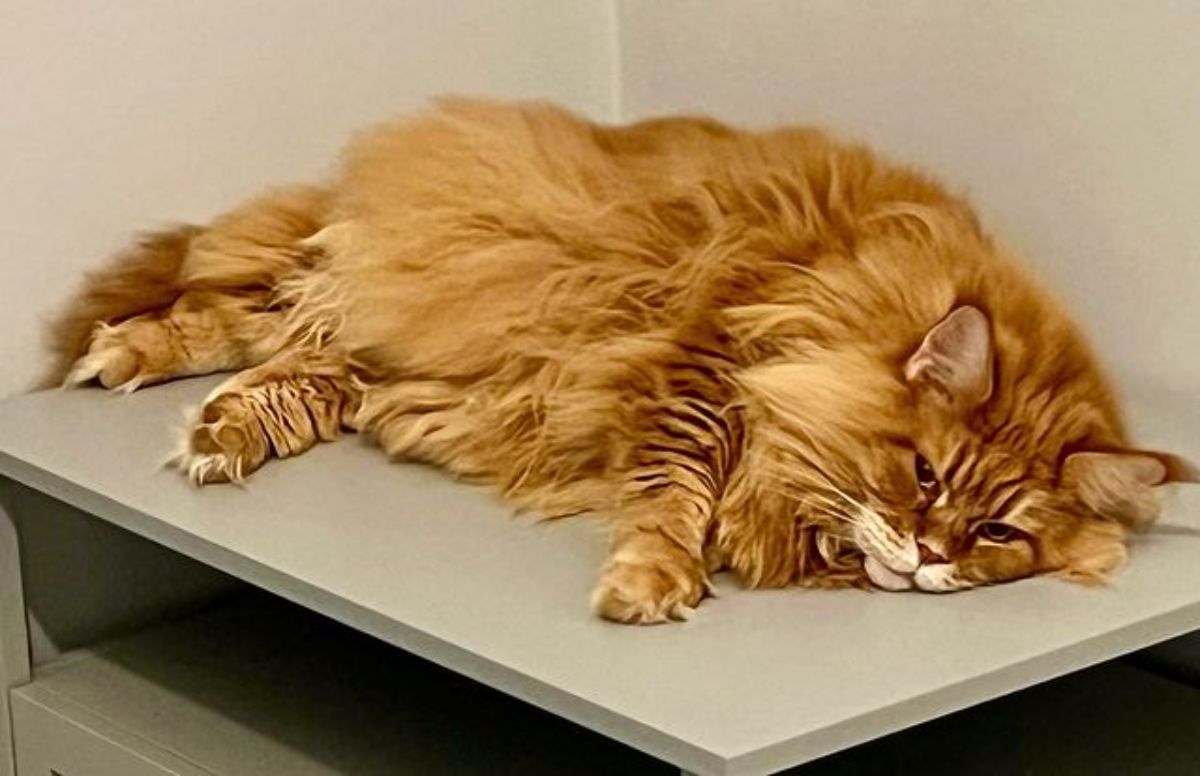 The owner here hasn't given the cat a haircut in a long time. The amount of orange hair growing all over the feline makes it look more like a lion than a cat.
20. Orange Kitten Looking Determined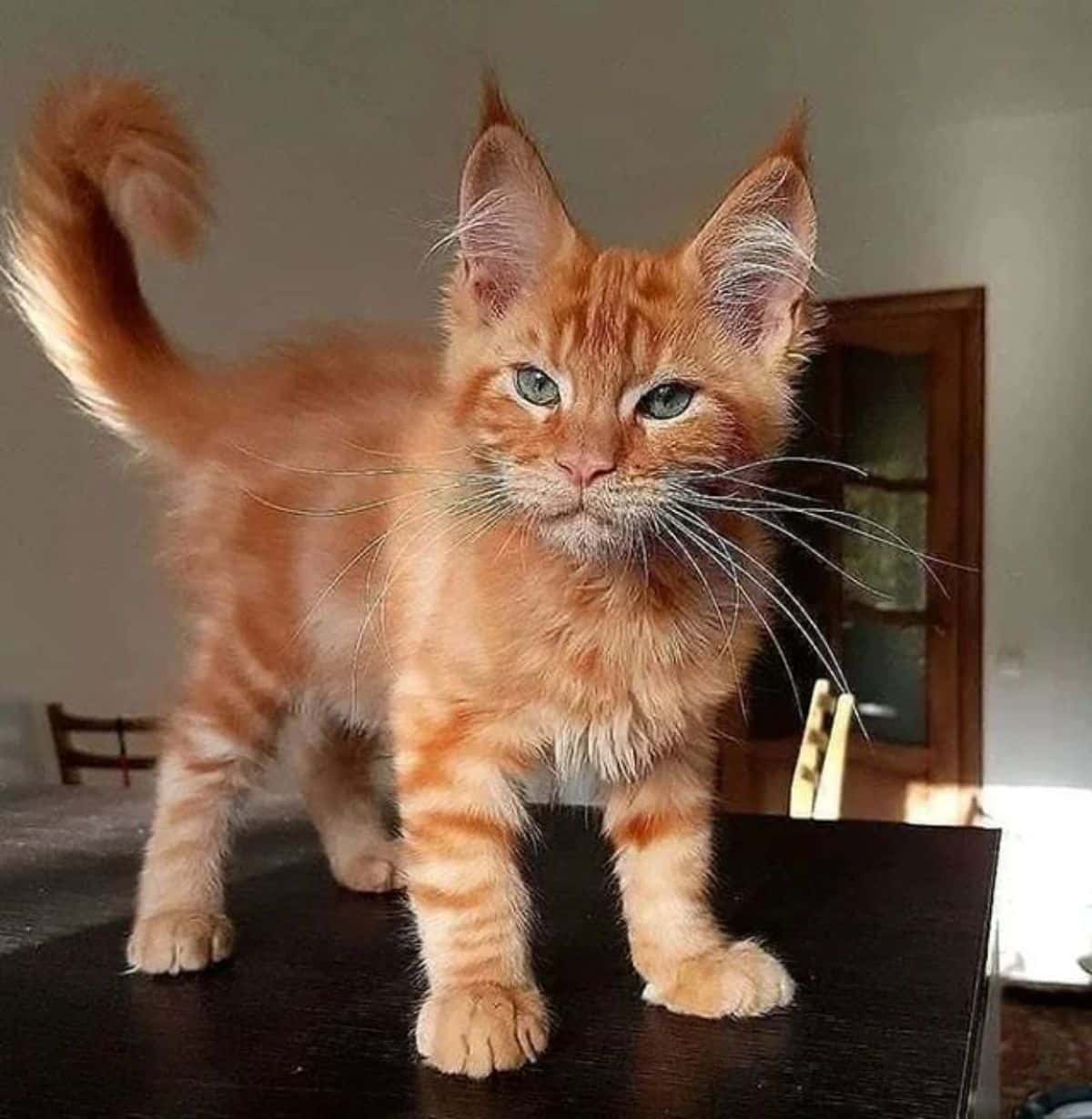 This determined kitten is standing on a black-colored dining room table and staring straight ahead with its large, green eyes. The orange kitten has a cute coat pattern, too.
21. Elegant Orange Cat With Pointed Ears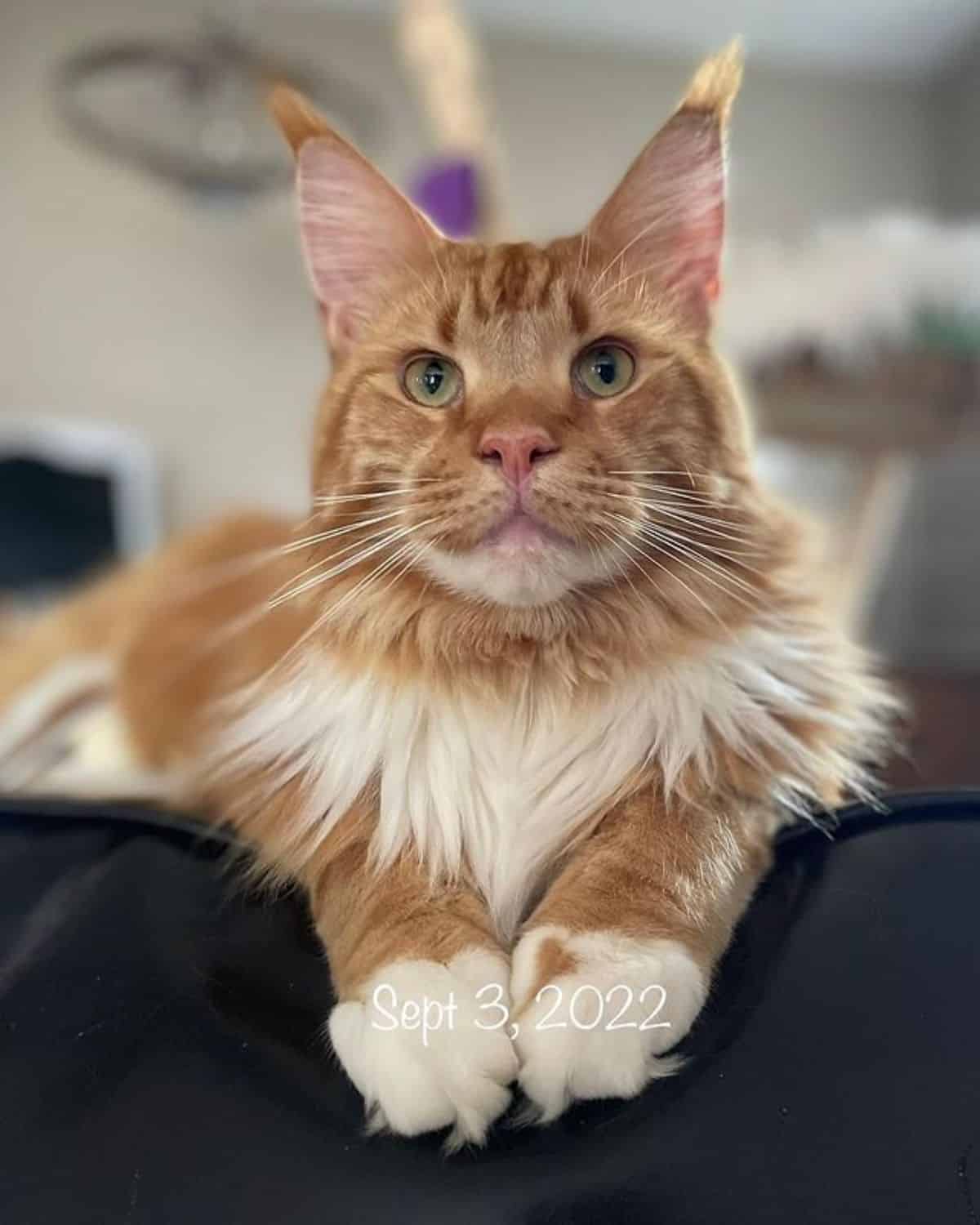 The elegant and majestic orange cat in this photo has a wonderful white mane and white feet with pointed ears. You'll adore its yellow eyes and pink nose!
22. Pet Owner Looking Identical to His Large Cat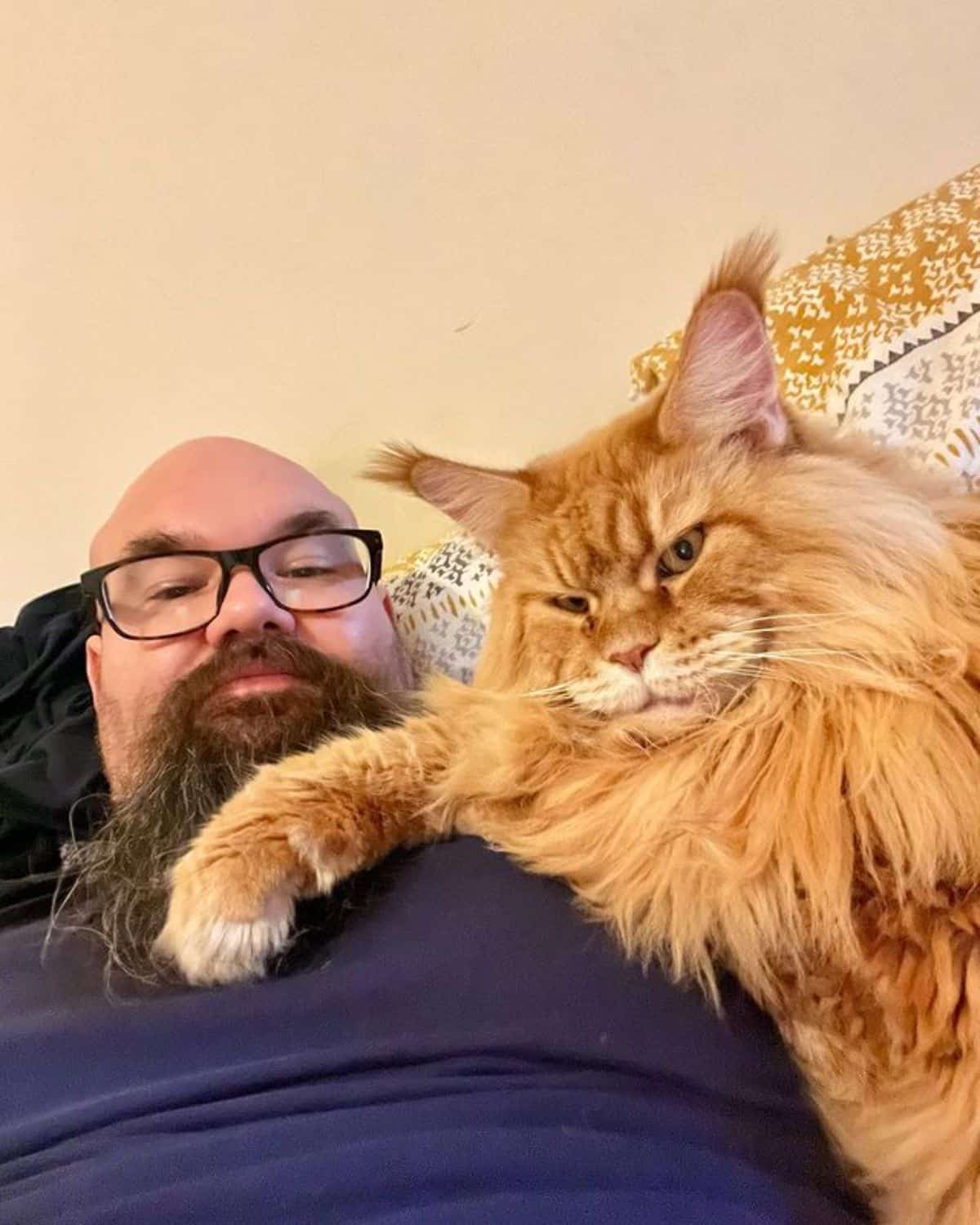 Have you heard how pet owners end up looking like their pets after a while? In this photo, that's a complete truth. The cat has a similar appearance on its face as its owner.
23. Orange Kitty Cocking His Head and on a Rug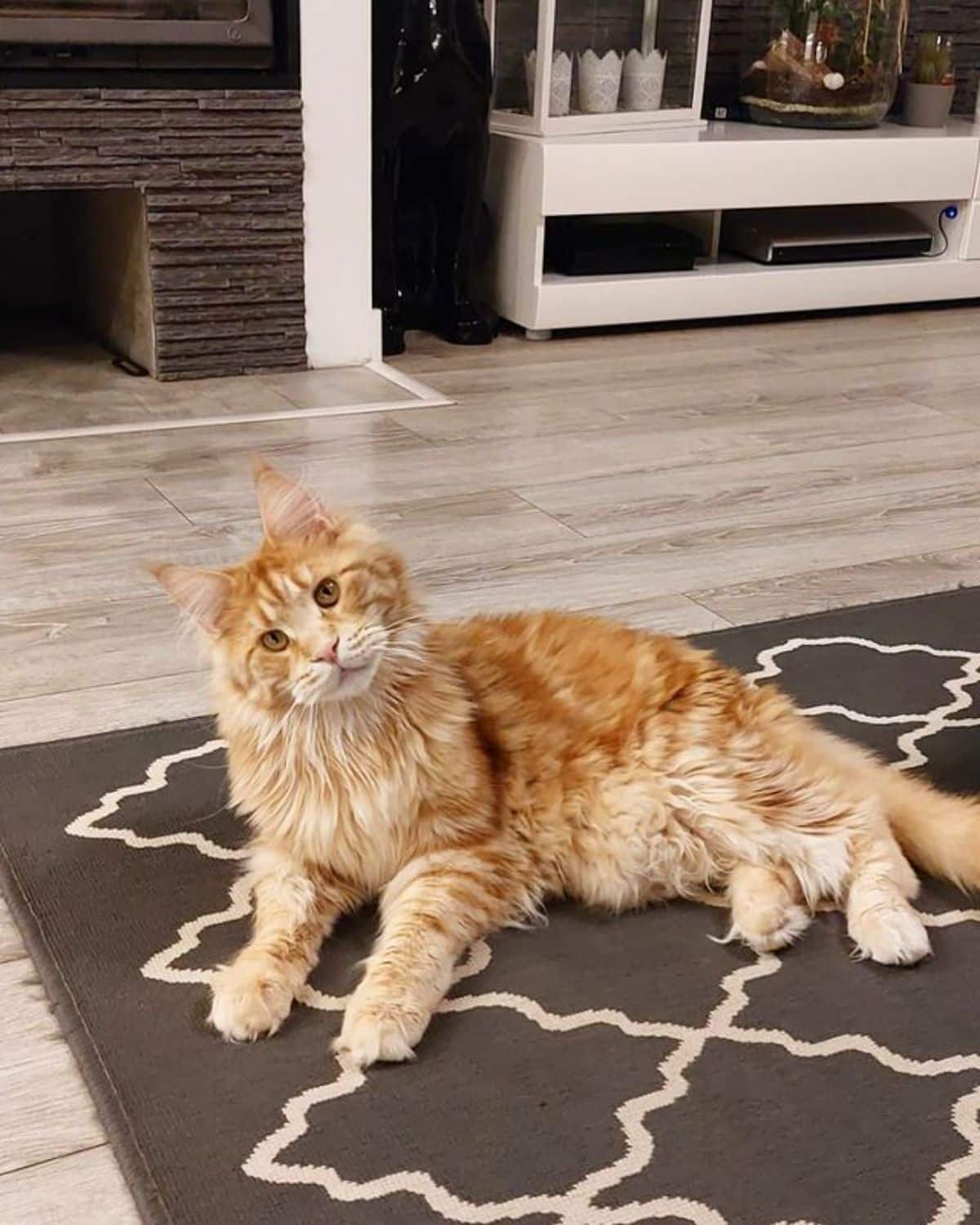 The fluffy, orange cat in the photo is cocking his head to the side and hanging out on a dark-colored rug. The fireplace next to it makes it an even more cozy atmosphere.
24. Sleepy Orange Kitten With Tired Owner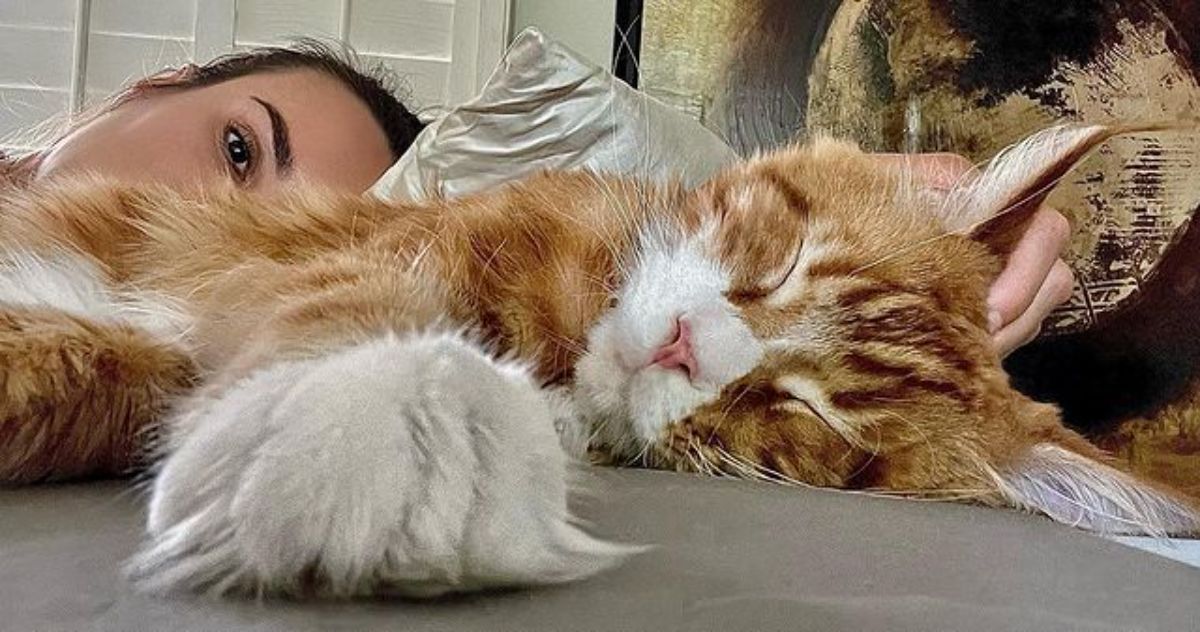 In the image here, the small orange and white kitten is fast asleep. Right behind, you can see the pet owner dozing next to the kitty, but does have one eye open.
25. Cat Sitting Up Tall In Front of a Window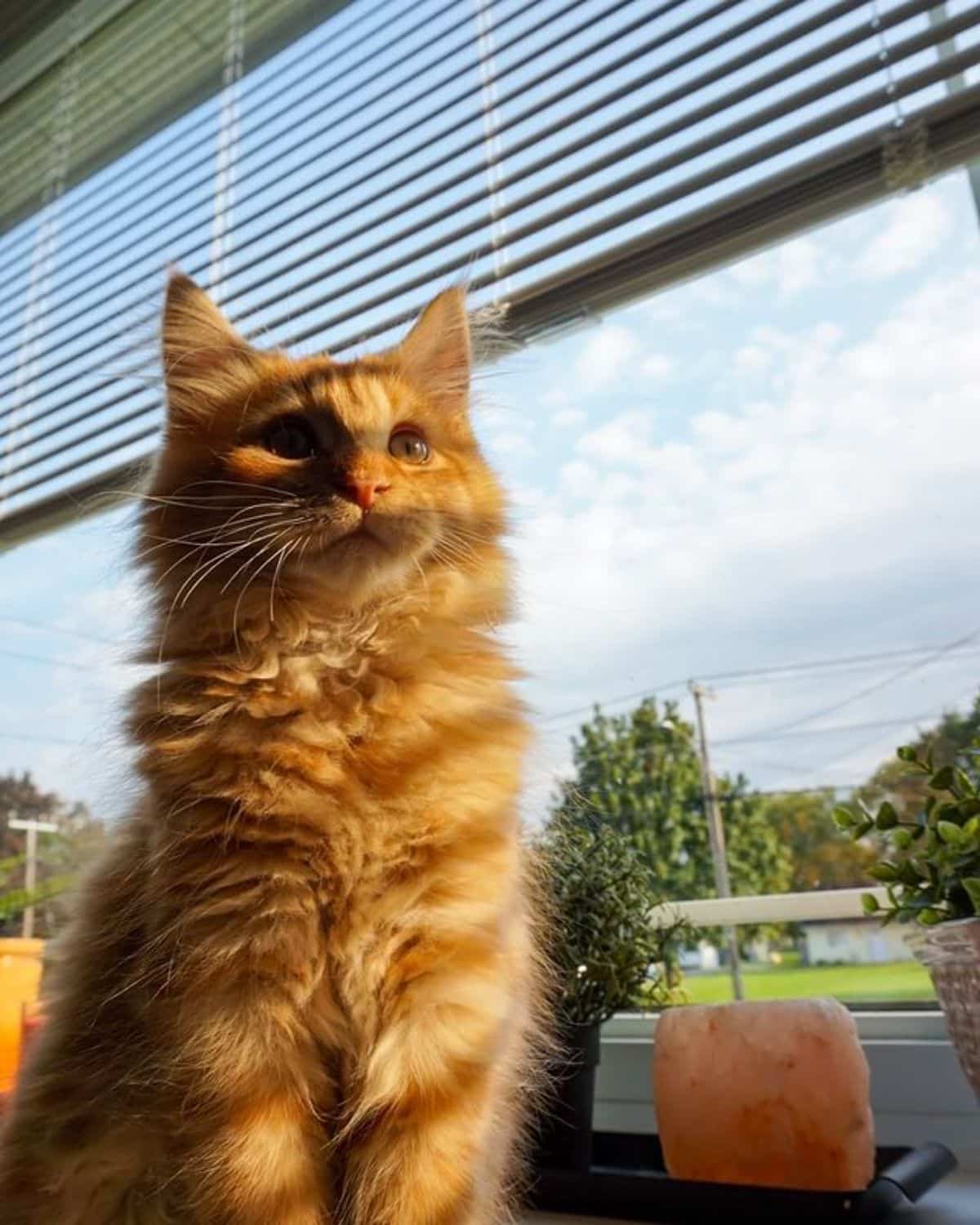 Who doesn't love to see an adorable cat looking out a window when walking past suburban homes? The photo here displays an attractive cat sitting up tall right in front of a window.
26. Cat on a Couch, Much Like a Human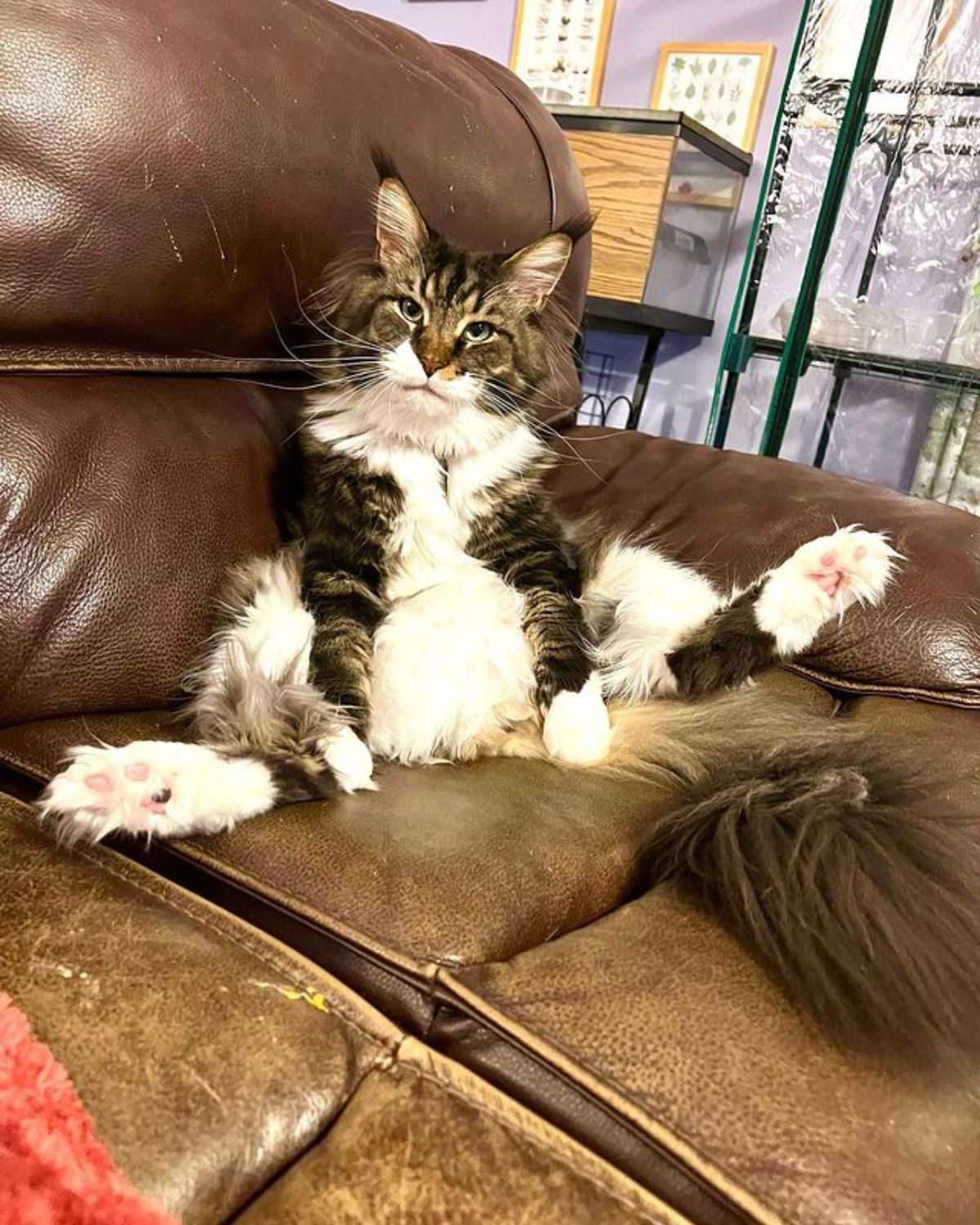 The cat in the photo here is sitting with its back against the sofa and its legs out in front. Its position looks just like the way a person would sit.
27. Orange Maine Coon Cat Sleeping on a Scratching Tree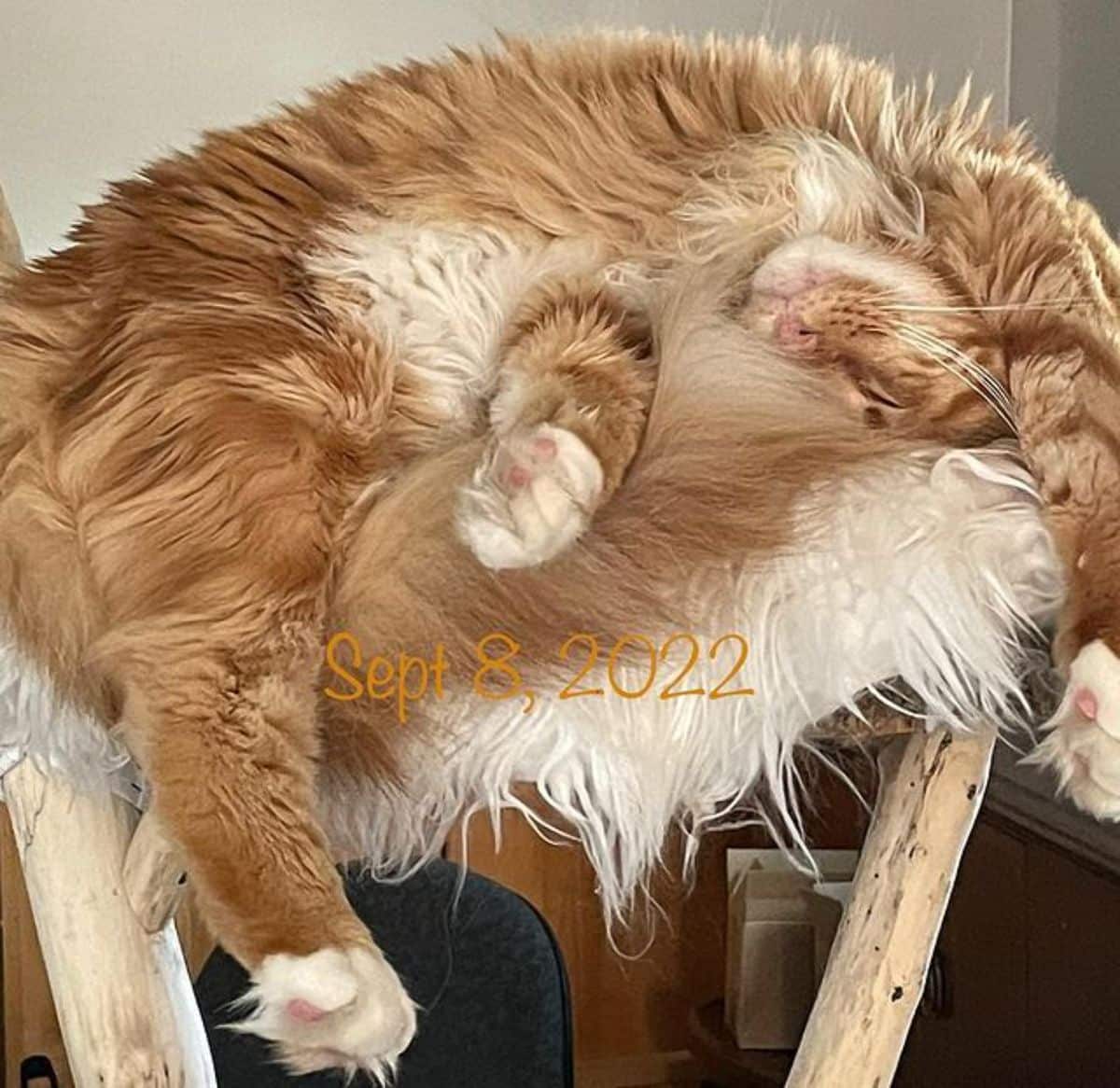 You won't find a picture of a more relaxed cat than this one, where the kitty is sleeping on a cat scratching tree.
Wrap Up
If you loved the photos of these gorgeous orange Maine Coon cats above, it's time to bring your own beautiful kitty home. You will love adopting a Maine Coon cat and playing with it every day.