Maine Coons are always adorable. The sheer size of these enormous felines always amazes the uninitiated. But there's just something about a cat with its litter robot that wins the cuteness prize. So, you're in luck! Today, we're going to show you five cute Maine Coons with their litter robots!
You should think about getting a litter robot if you're a cat owner, especially if you own a gigantic Maine Coon! Litter robots automatically remove all the icky stuff from the litter, making life easier. So, let's get started with our list of fabulous felines.
Jump to:
Can a Maine Coon Use a Litter Robot?
Yes, a Maine Coon can use a litter robot, but it needs to be big enough. Remember, this is the largest breed of domestic cat. If the litter robot box is too small, your Maine Coon will hesitate to get in for fear of getting stuck.
Bestseller No. 1
Bestseller No. 2
Bestseller No. 3
Even if you don't use a litter robot, your Maine Coon will require a larger-than-average litter box. If you have a male Maine Coon, or one that's particularly large, you'll definitely have to shop around for a more expansive litter robot.
1. Sonya the Maine Coon Investigating (and Using) Her Litter Robot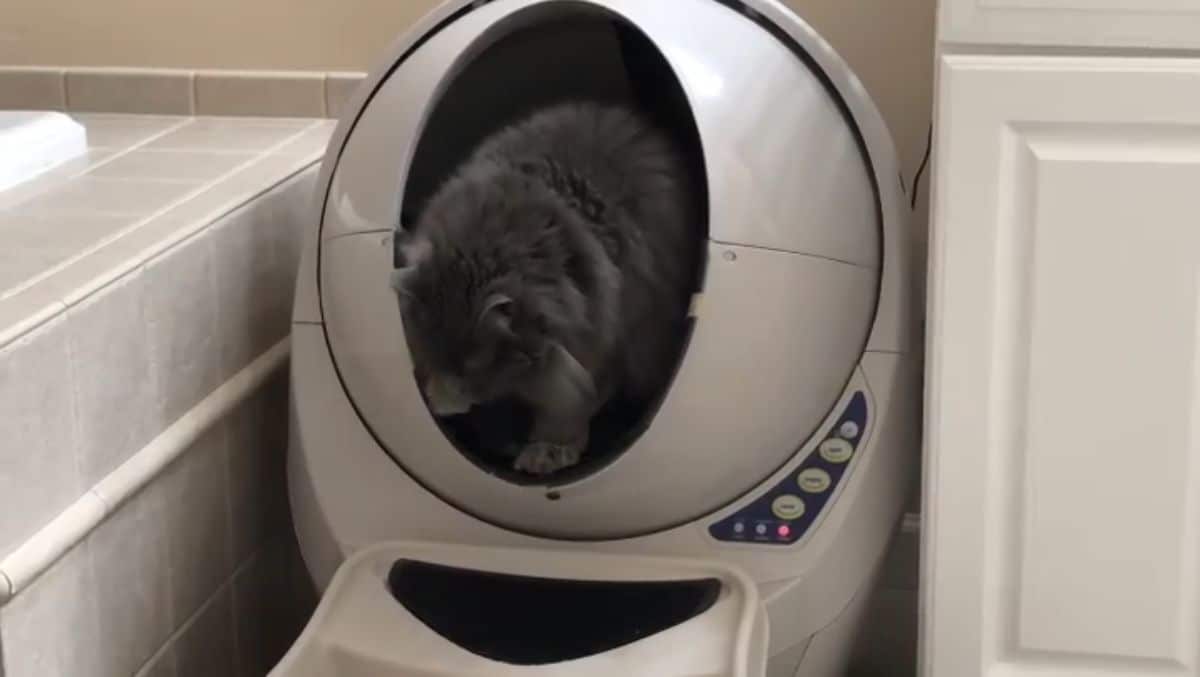 Sonya looks a little alarmed by this new contraption. A litter robot? What's that? Maybe she's used to a regular litter box and isn't sure what this is. But she seems to get used to it quickly. Of course, her human is there, giving her encouragement while she embarks on new territory.
As Sonya's social media manager (aka human companion) mentions here, this furry friend is rather annoyed at having her bathroom adventures put on video. But it's all part of being a feline celebrity.
2. Orange Cat Smelling Her New Litter Robot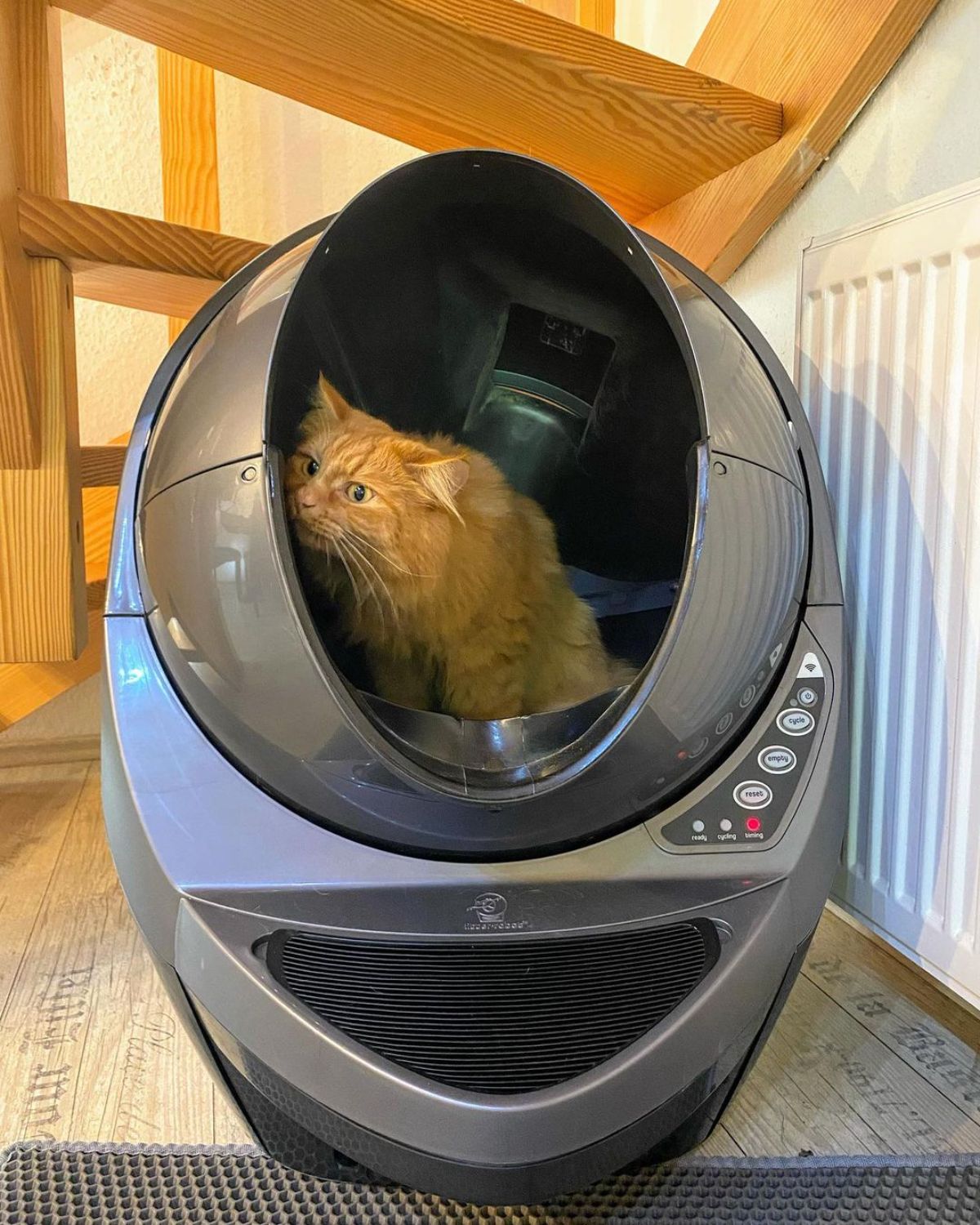 Lucie the Maine Coon is not too sure of what's going on here. As her social media manager says, this kitty is a little suspicious. After she got used to it, we're sure that Lucie thoroughly loved her new bathroom spot. After all, shouldn't a beautiful Maine Coon have only the very best?
This Maine Coon is like a tiger in the wild, sniffing and making sure that no other ferocious felines have been on her territory. This is her litter robot and hers only! If this is a brand-new litter robot, this orange cat is probably smelling the scent of the store on it.
3. Gray Tabby Maine Coon in Litter Robot During the Holidays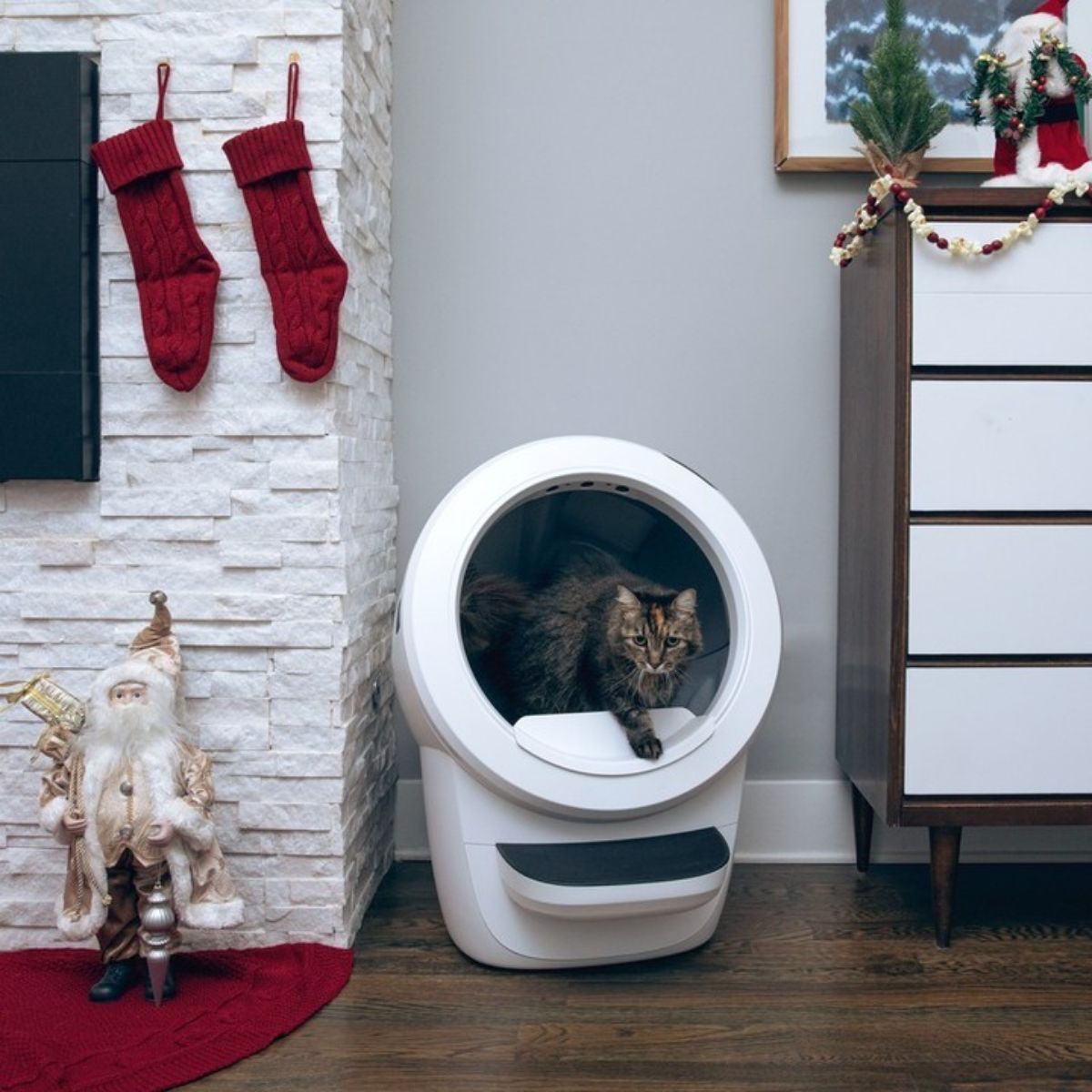 Another Maine Coon enjoying her litter robot, this gray tabby Maine Coon is clearly finished using the potty. She's all ready to join her humans by the fireplace or Christmas tree. If her owners aren't there, maybe she'll even climb the tree for a little bit of fun.
Check out the Santa underneath the stockings. Wonder what this cat must make of it? It's like a miniature human, but one that doesn't move! But the litter robot is there, so she'll probably have mercy on him. Or maybe she'll mark him as her own anyway!
4. Enormous Orange Maine Coon in Litter Robot, in Bathroom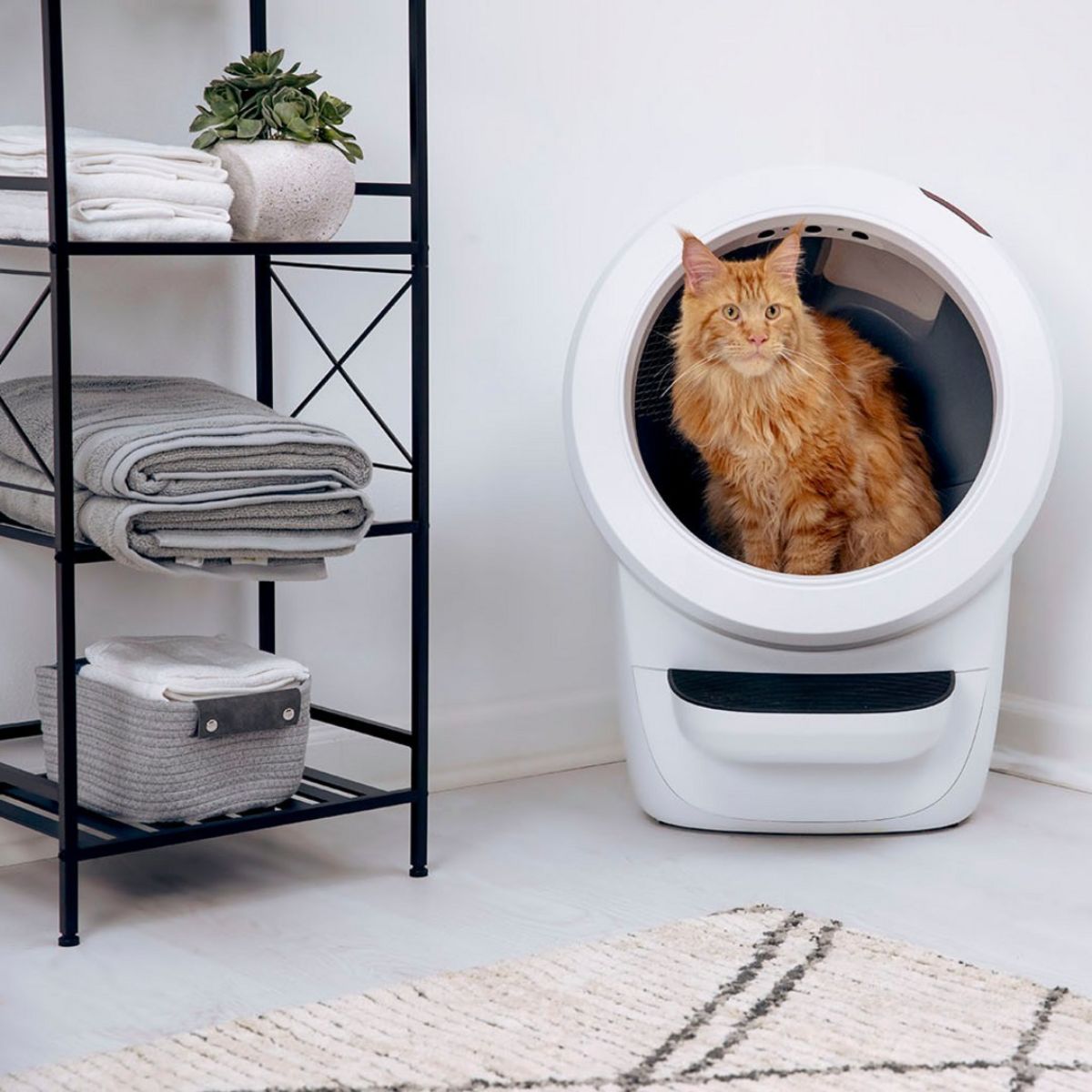 This giant Maine Coon, complete with a shaggy orange tabby coat, is surveying his territory from his luxurious litter robot. He knows it's just for him, and he's proud his owners bought it for him. He's probably a model, as he's such a beautiful kitty.
It's a good thing the humans thought of getting this state-of-the-art potty for this majestic Maine Coon. We can only imagine the mess he might make otherwise! He's a big boy.
5. Litter Robot in Laundry Room Visited by Curious Maine Coon Cat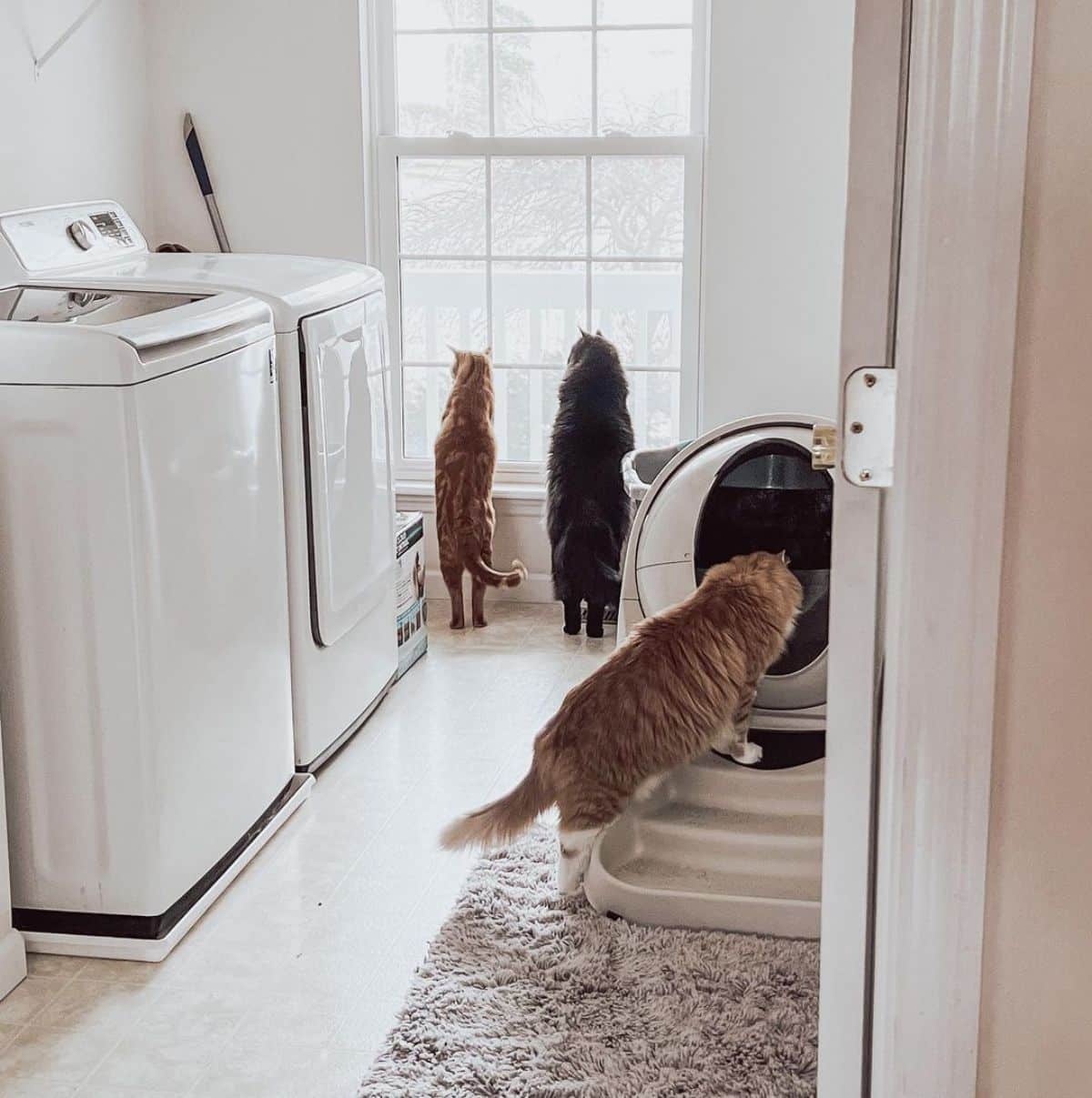 There are three kitties in this picture, two of which look to be Maine Coons. The ginger and white one is investigating the litter robot, probably needing to use the potty. He knows the others are being silly, preoccupied with the window. So he gets to claim territory of the litter robot all by himself!
So, Which of These Litter Robot Accompanied Maine Coons Do You Love Best?
Wow, such an adorable selection of Maine Coons with their litter robots! Which one do you love the best? No matter what the breed, felines are curious and inquisitive creatures. Even if they're scared of getting in their litter robot at first, they'll eventually check it out.
The human companions made sure that they bought litter robots big enough to accommodate the considerable size of a Maine Coon. So, there's nothing to worry about. No chance of one of these giant kitties getting stuck while they're going potty.