Maine Coon cats are some of the most beautiful and interesting-looking domesticated cats in the world. Originally from Maine, hence the name, these cats are a large breed, but their beauty, intelligence, and playfulness make them some of the best cats to bring into your home.
Here are 17 beautiful baby black Maine Coon cats that will make your day.
Jump to:
1. Wasaby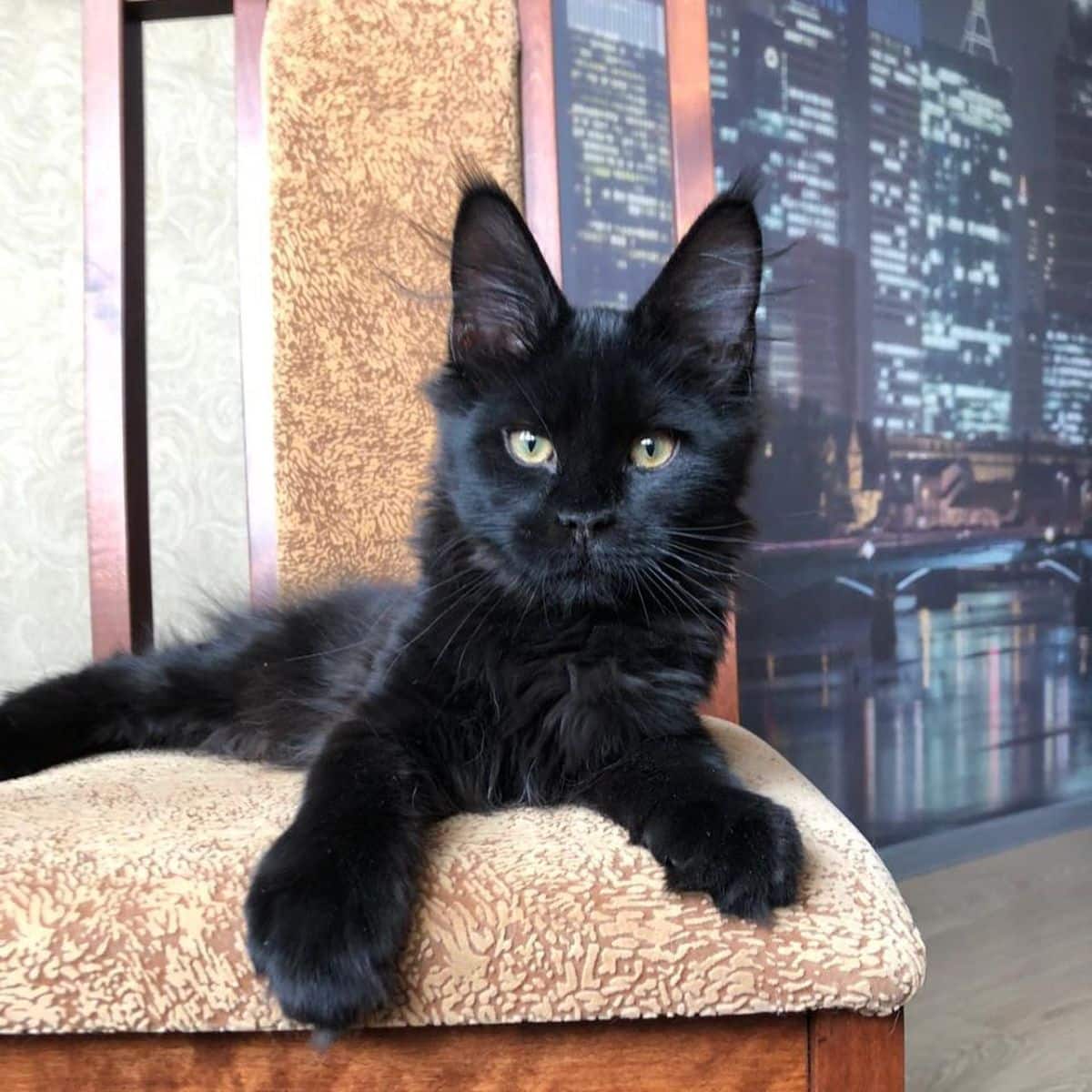 Wasaby is an adorable black baby Maine Coon who comes from a long line of Maine Coon breeders. He has pure black fur all over his little body and has some of the most piercing green and gold eyes around. He has a way of staring into your soul! Most of his pictures feature him lounging around on cat trees or hanging out with his Maine Coon siblings.
2. Clark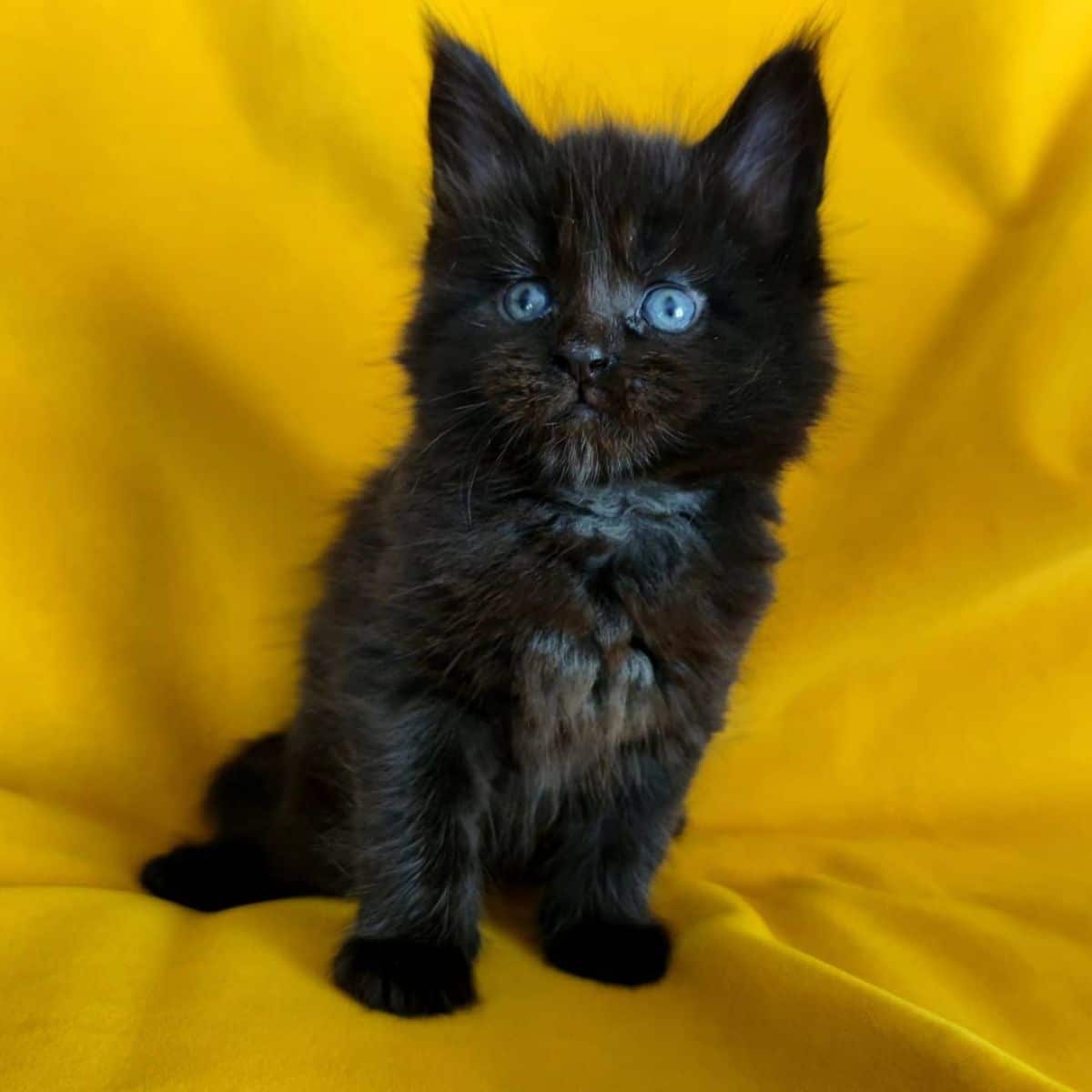 Clark, affectionately called Clark Kent, is one of the tiniest little Maine Coons! He has a gorgeous black coat of fur and bright, sky-blue eyes. His bright round eyes are full of life and playfulness. When he's not posing for the camera, he's busy playing with all the other Maine Coons that live under the same roof as him.
3. Madina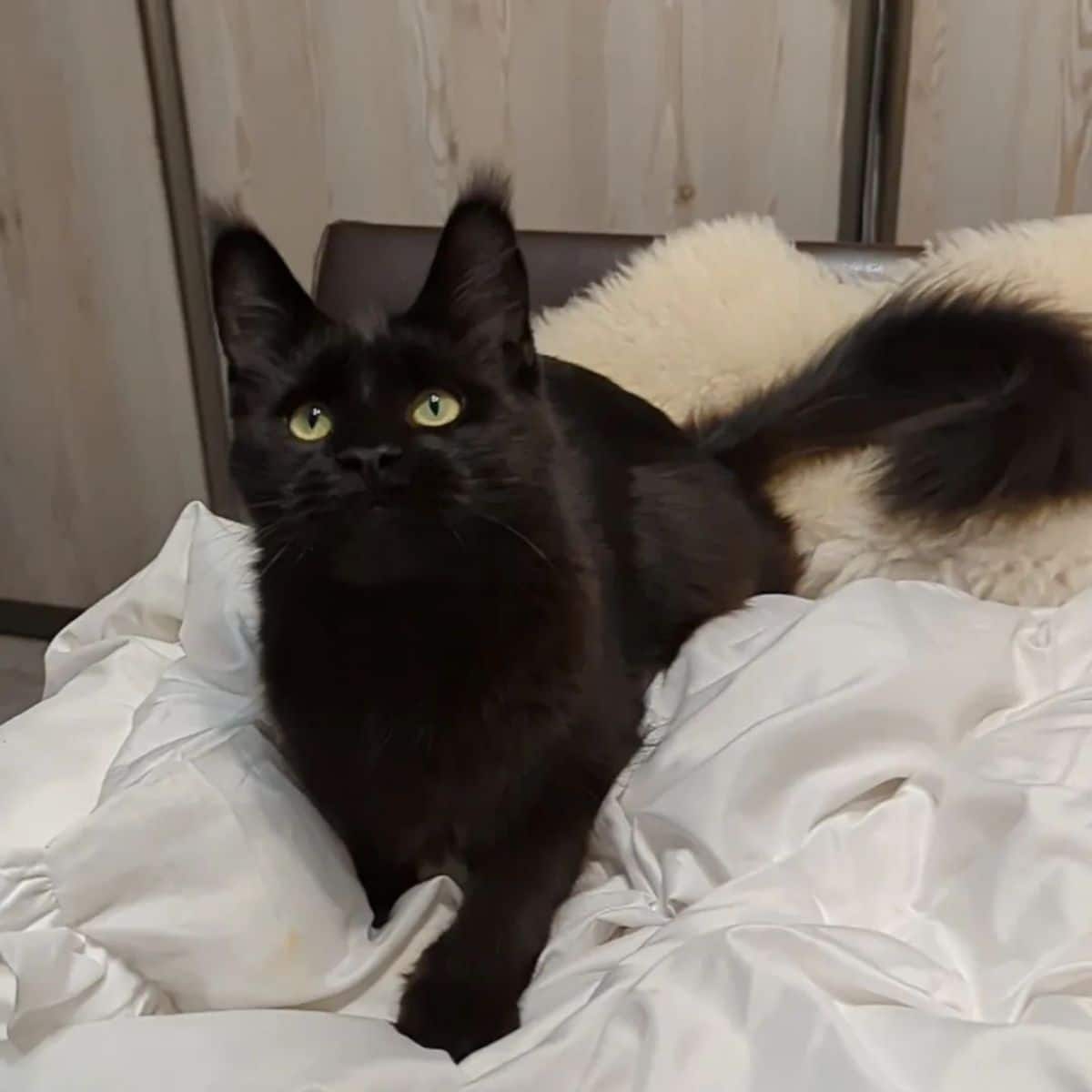 Madina is a baby Maine Coon from the United Kingdom. She's not as small as some of the other baby black Maine Coons on our list, but her reasonably small stature assures that she's still a baby Maine Coon. It's clear she's a little social cat because she grew up surrounded by other adorable Maine Coons at her breeder's house.
4. Daemon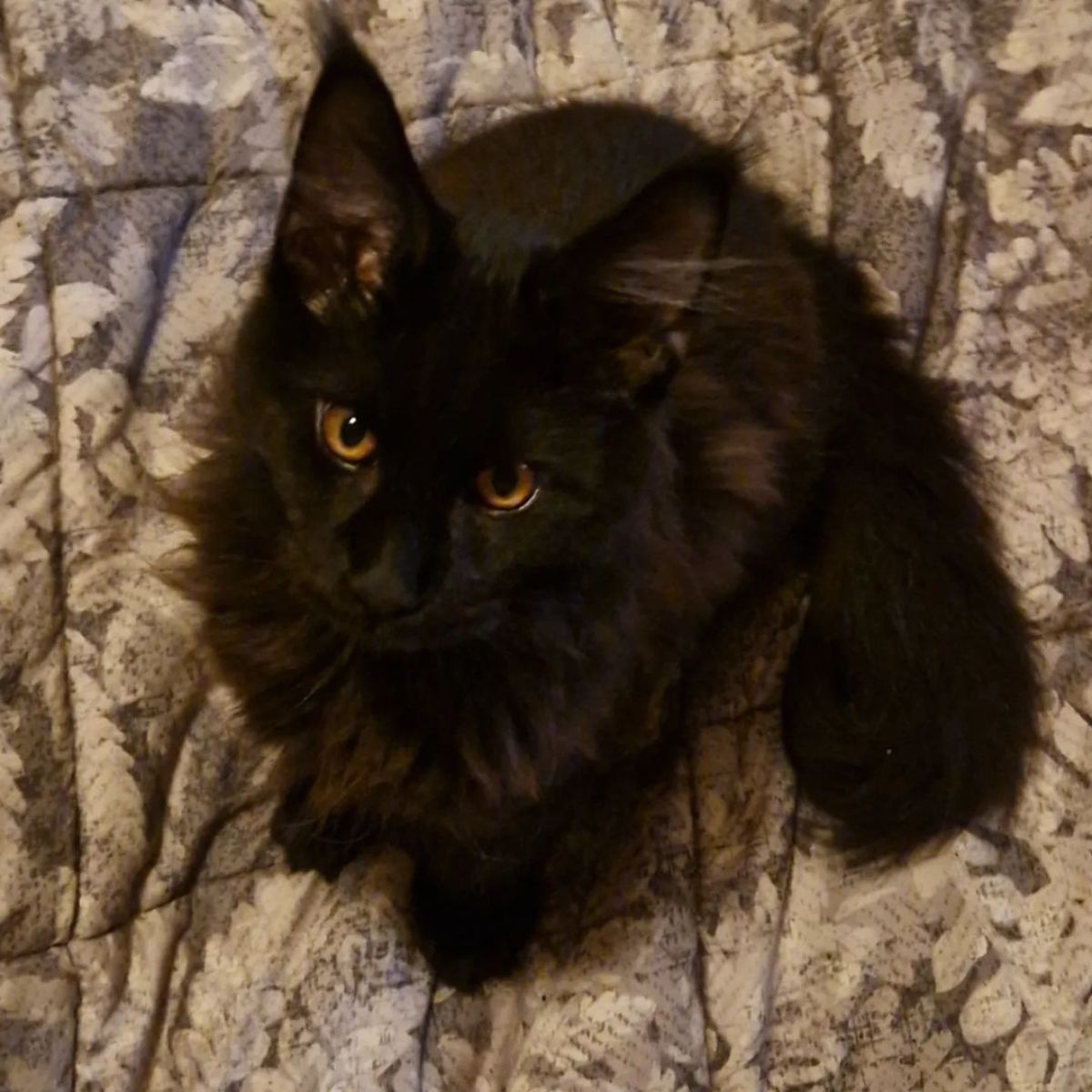 Meet Daemon! He's a beautiful baby Maine Coon with fur as dark as the night sky without stars. Much like other black Maine Coon cats, he has vibrant eyes that look extra bright against his dark coat. Daemon lives with his cat brothers and sisters. You can see him playing with his cat friends and his favorite humans on his Instagram feed.
5. Coco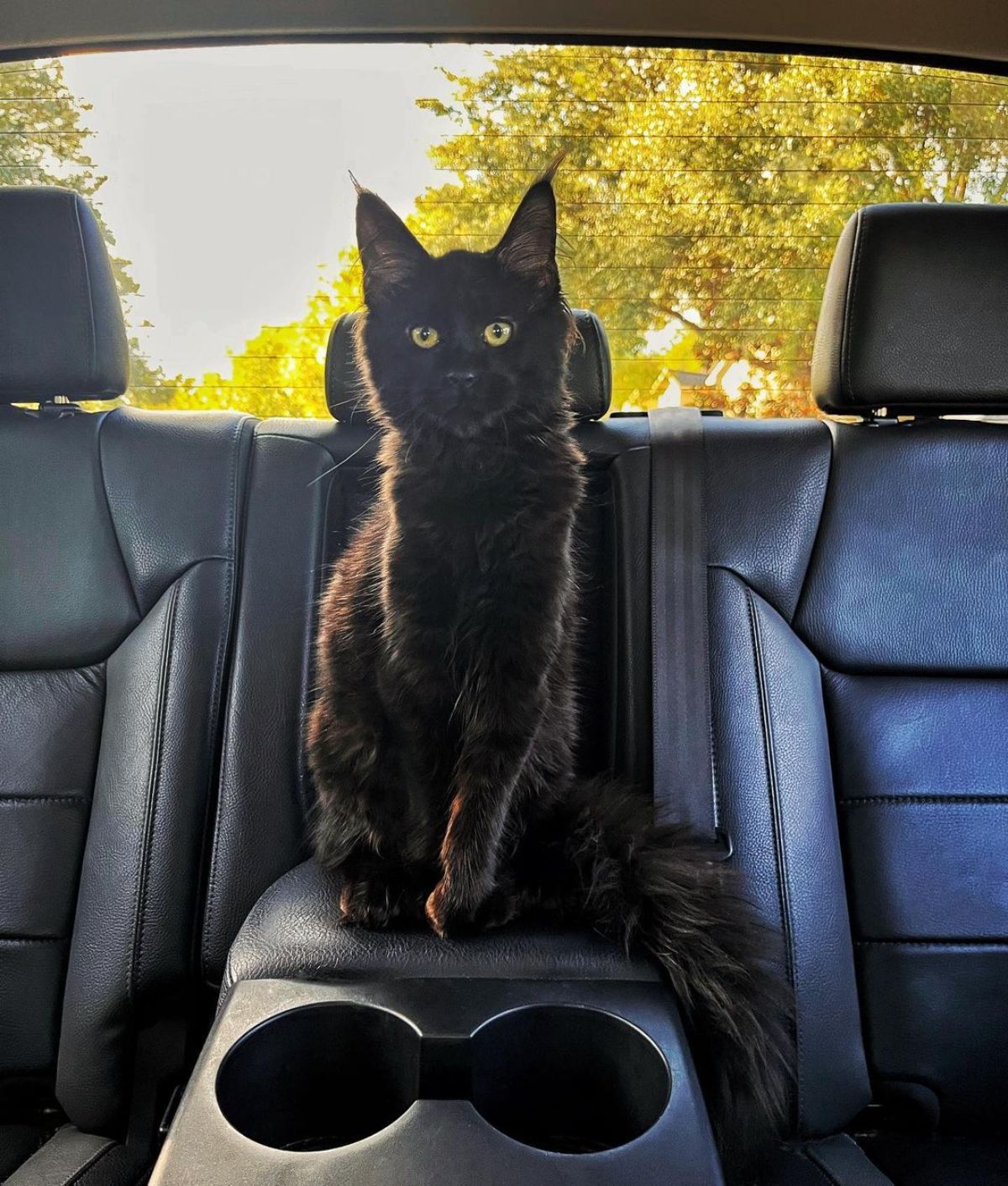 Coco is a baby Maine Coon that has a sense of adventure. Coco lives with her Maine Coon friend, Chanel, and together the two are one of the cutest baby Maine Coon duos. Coco loves snuggling with his white Maine Coon friend Chanel, climbing in the cat tree, and taking road trips with their humans. You'll love the festive photos of Coco throughout the holidays!
6. Carmen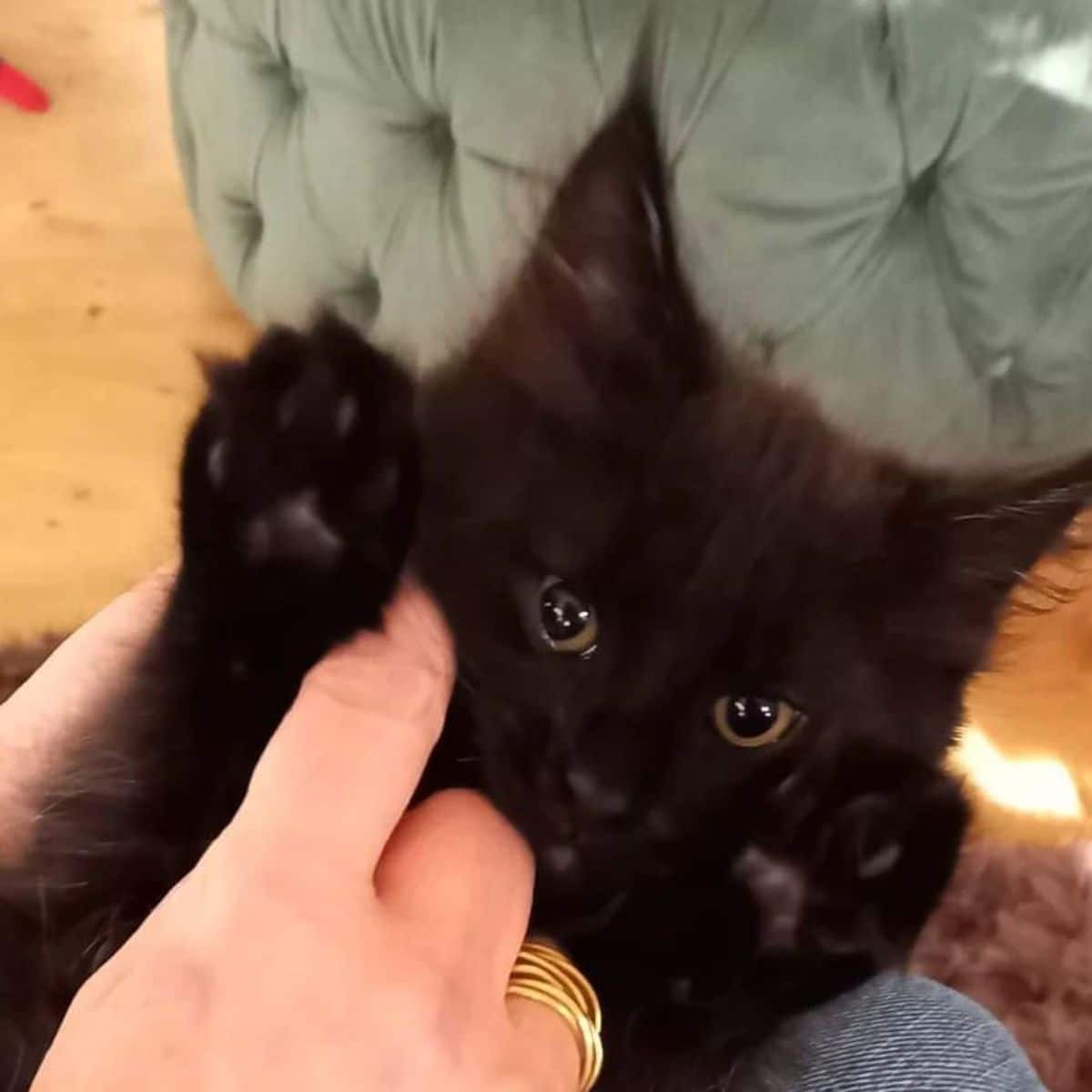 Carmen is a baby Maine Coon that was up for adoption. She has soft, deep dark black fur and the most beautiful gold and yellow eyes. You can see how docile and loving she is in the photos of her lying on her back with her belly exposed. It's photos like this one of Carmen that reminds you there's not much better than kitten cuddles.
7. Wallace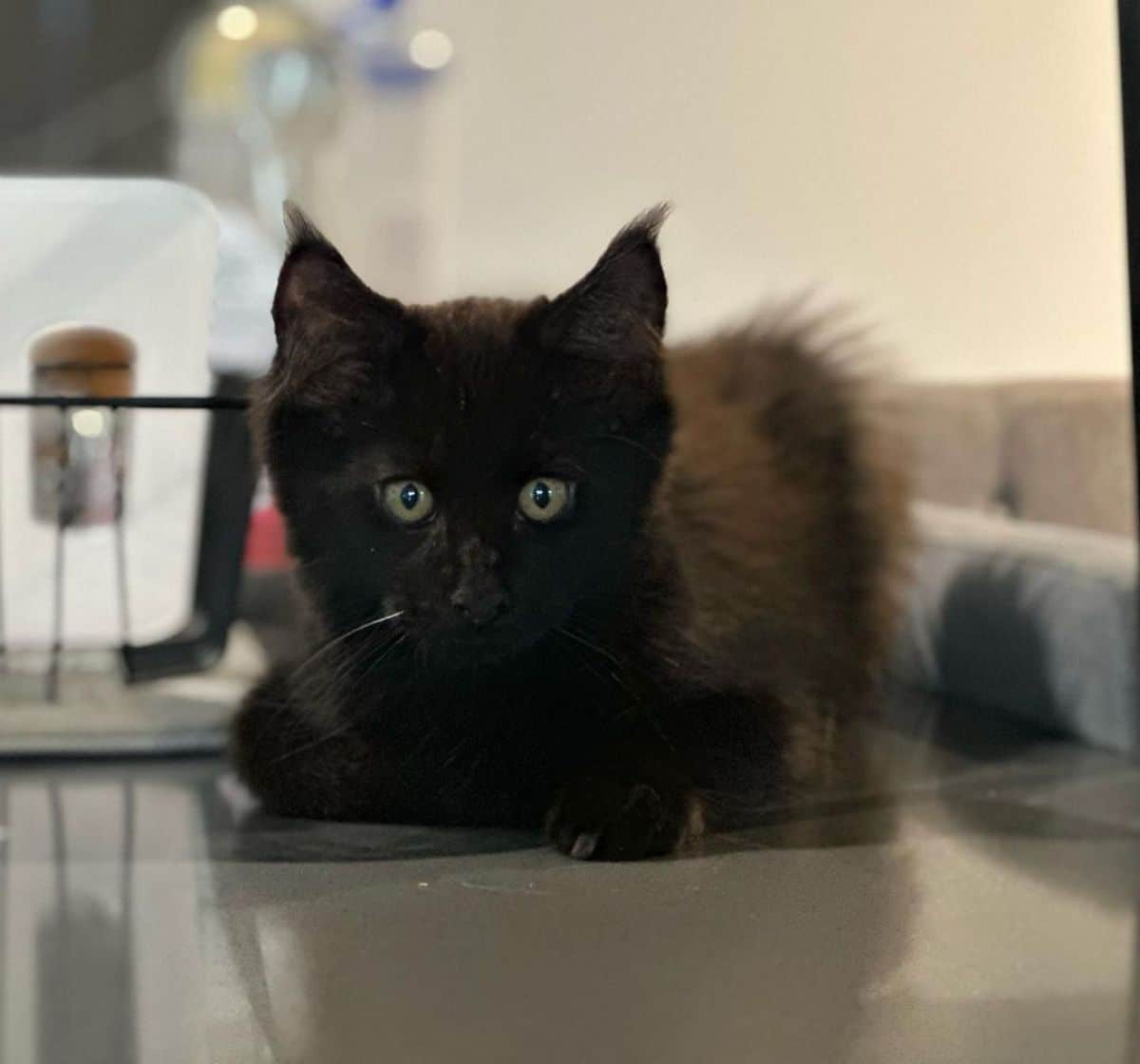 The vast majority of black Maine Coon cats have super long white whiskers, but not Wallace. Wallace is a beautiful baby Maine Coon with whiskers as black as his fur! Once you see this photo, you'll find it hard not to scroll through the Instagram account it's linked to. Those baby green eyes will put a spell on you!
8. Pepper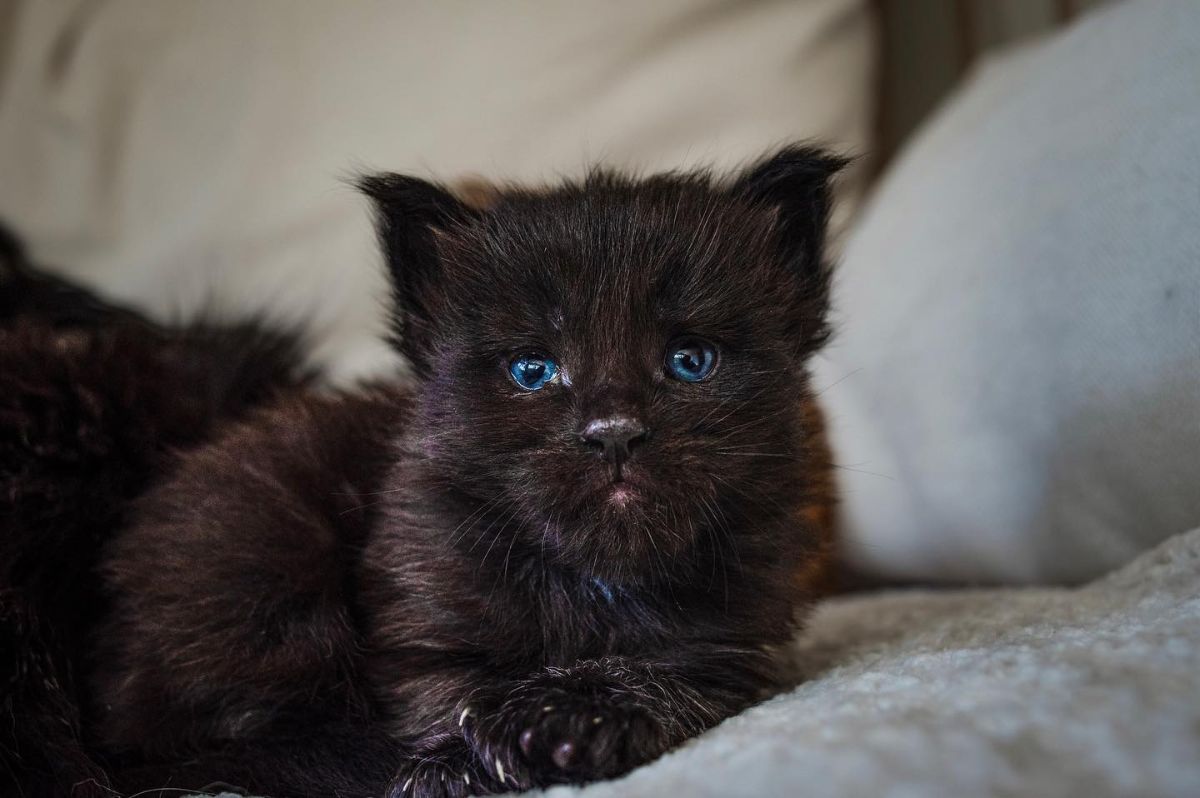 There's something about Pepper's eyes that makes your jaw drop. This baby black Maine Coon has dark black fur and the deepest blue eyes we've ever seen. It might just be the one photo, but Pepper looks like she has some of the softest black furs.
9. Saiko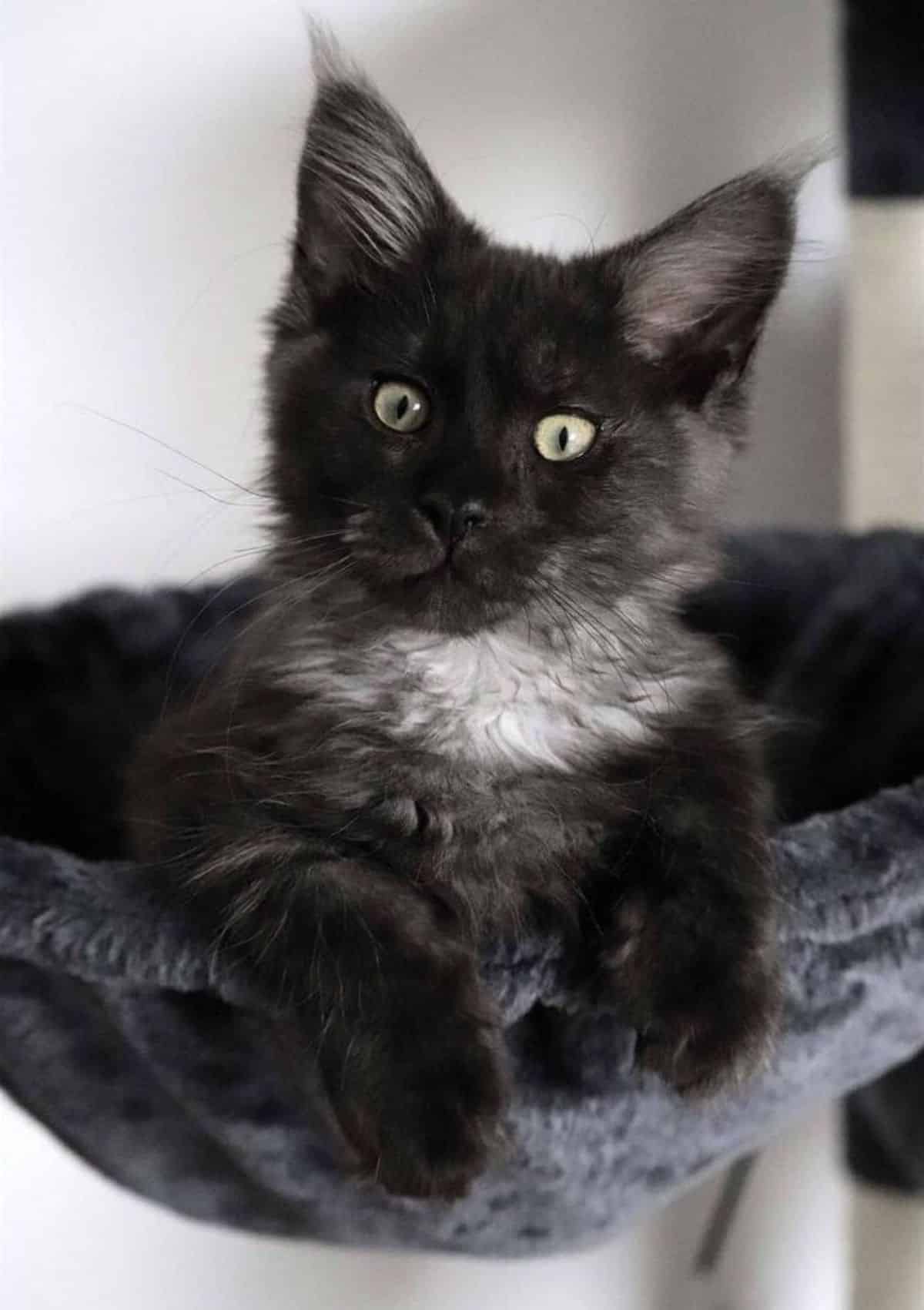 If you're wondering if cats can have adventures, you haven't seen Saiko yet. Saiko is a baby black Maine Coon with tons of photos of her traveling around with her humans! She's often seen in her adventure carrier, with her harness on, and exploring the world outside of her home. She's a beautiful black Maine Coon living a beautiful life.
10. Sigrid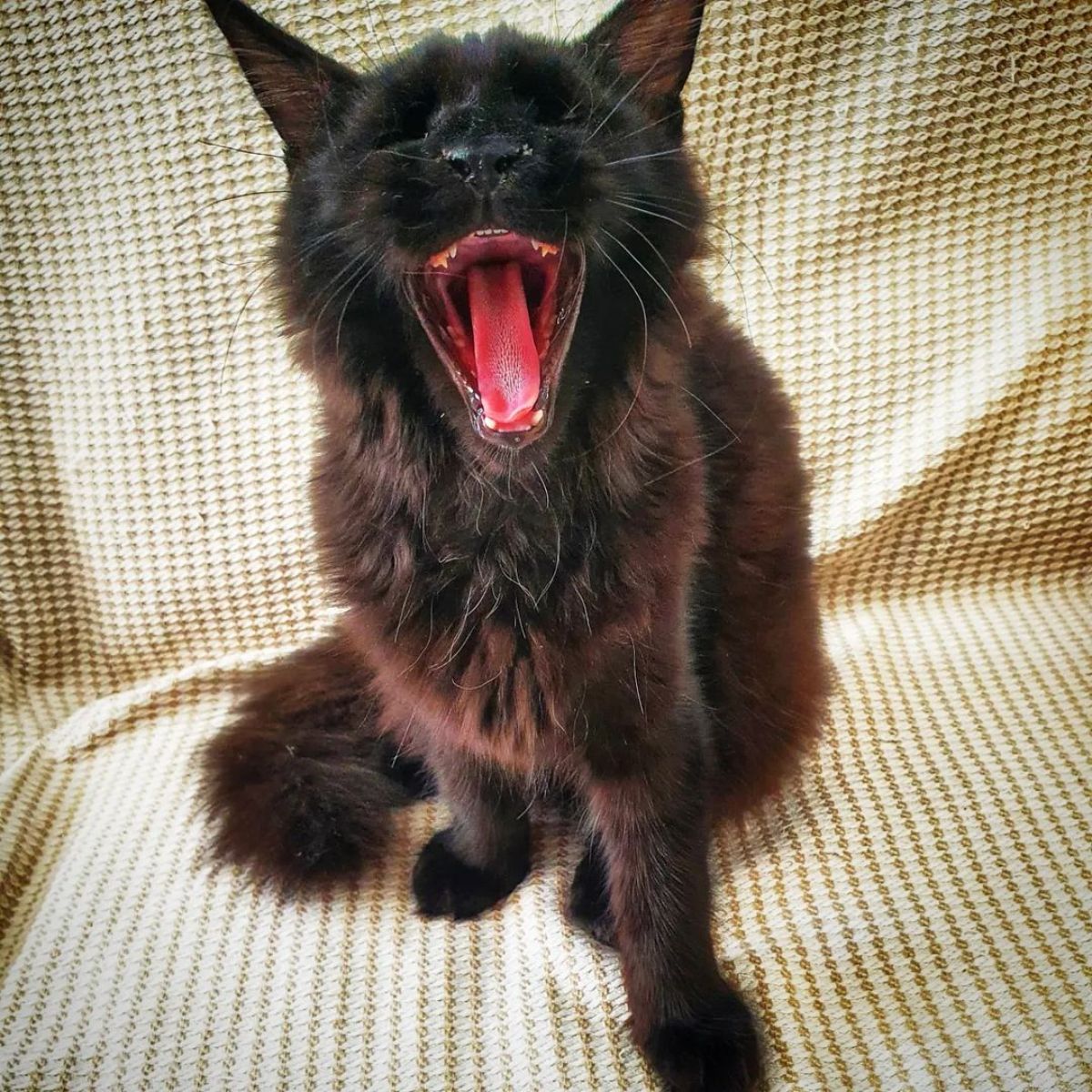 Sigrid has such beautiful black fur that, in the proper lighting, many streaks of it look like deep chocolate shades. This baby black Maine Coon sure knows how to work the camera. This photo of him showing off his teeth and bright red tongue is just the tip of the iceberg. He loves lounging around at home and going on walks around town.
11. Battie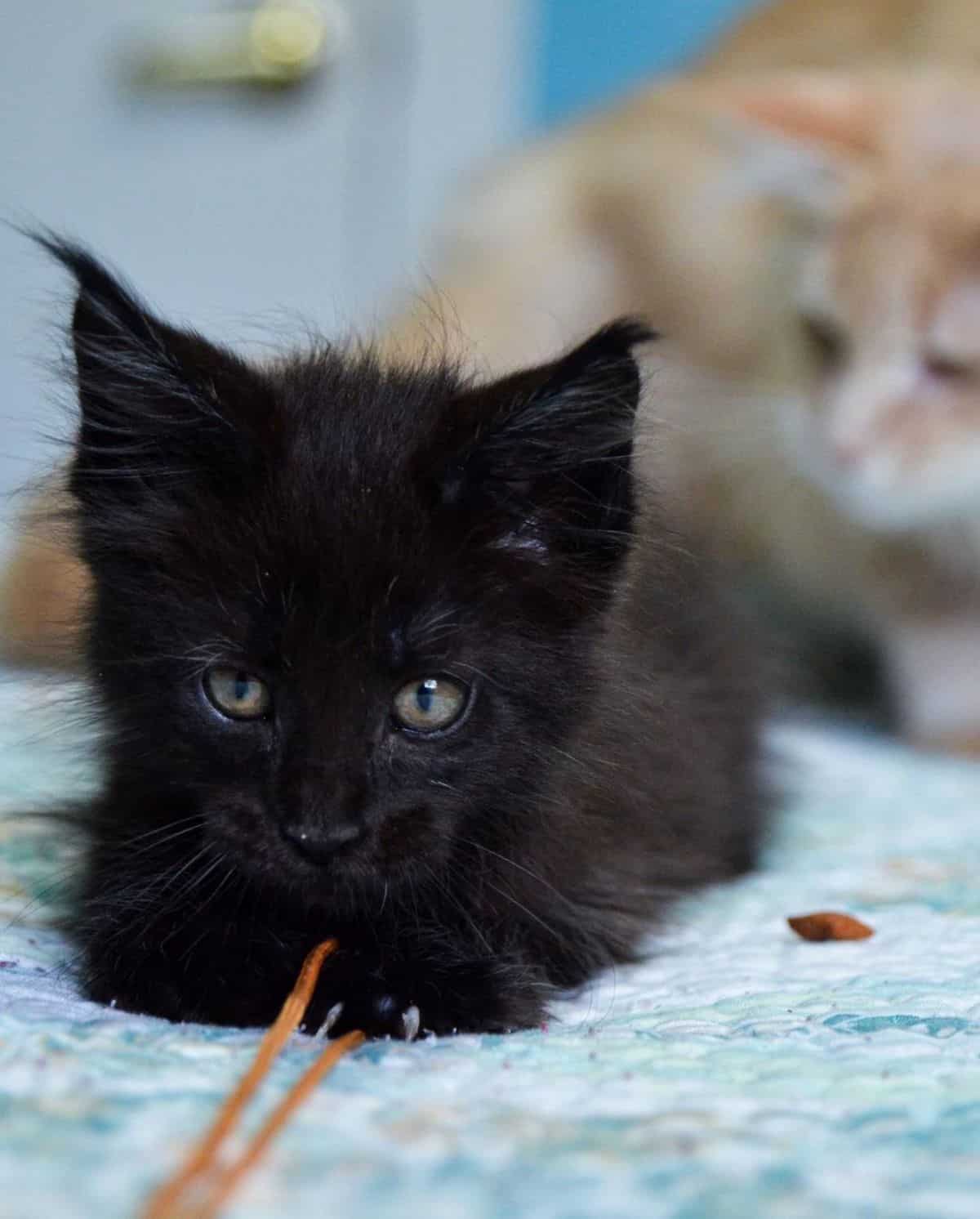 Battie is a black baby kitten who sure loves playing with string and other cat toys. She has beautiful gray and brown eyes that compliment her black fur almost better than her vibrant eyes.
12. Salem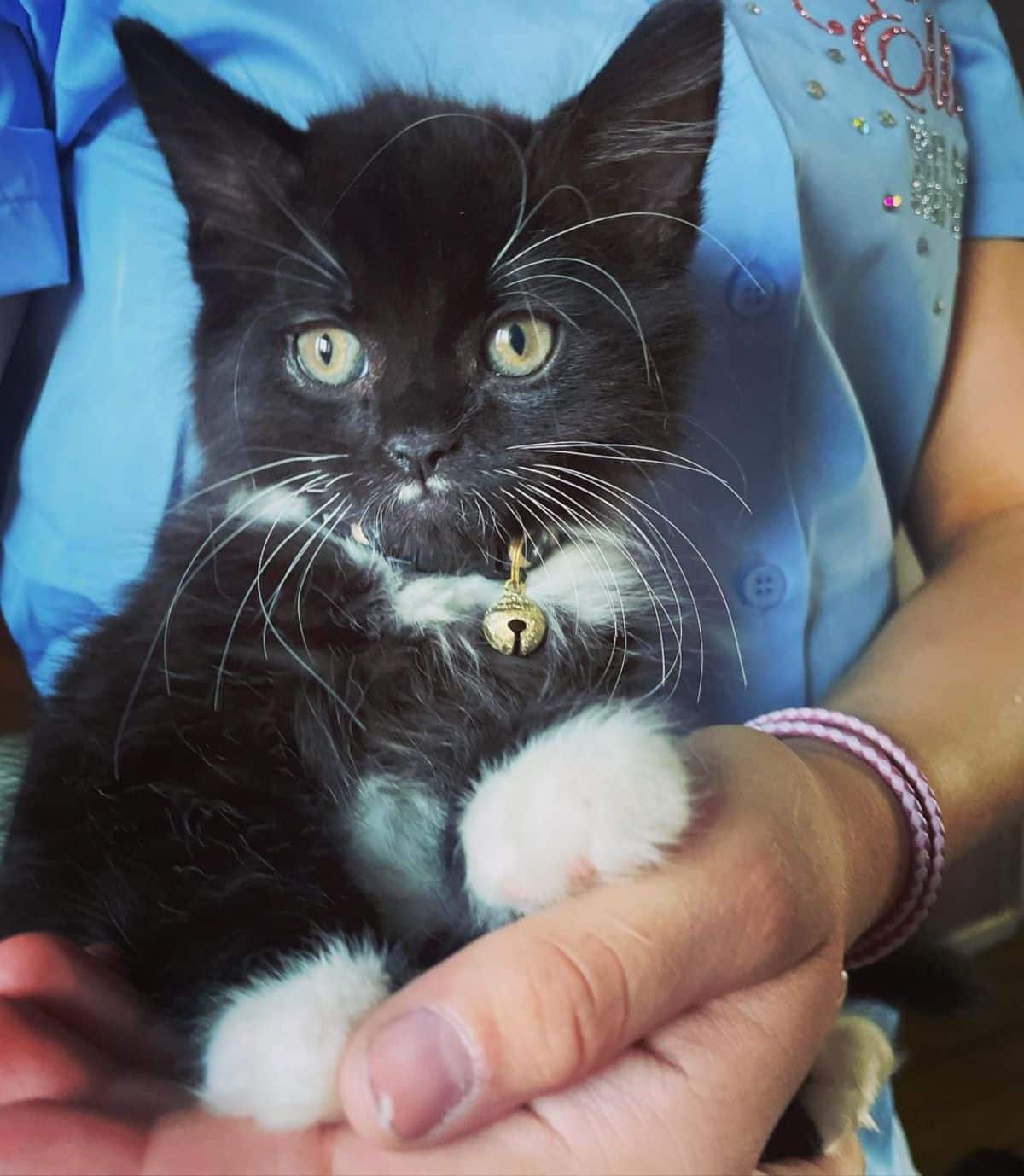 Salem isn't an entirely black baby Maine Coon, but he's so cute that we couldn't leave him off our list. He's more of a tuxedo Maine Coon, but he's mostly black. He has an adorable collar with a bell, so his owners know where he's at and to ensure he's not being mischievous. He loves cuddling and getting into things he probably shouldn't.
13. Wolfie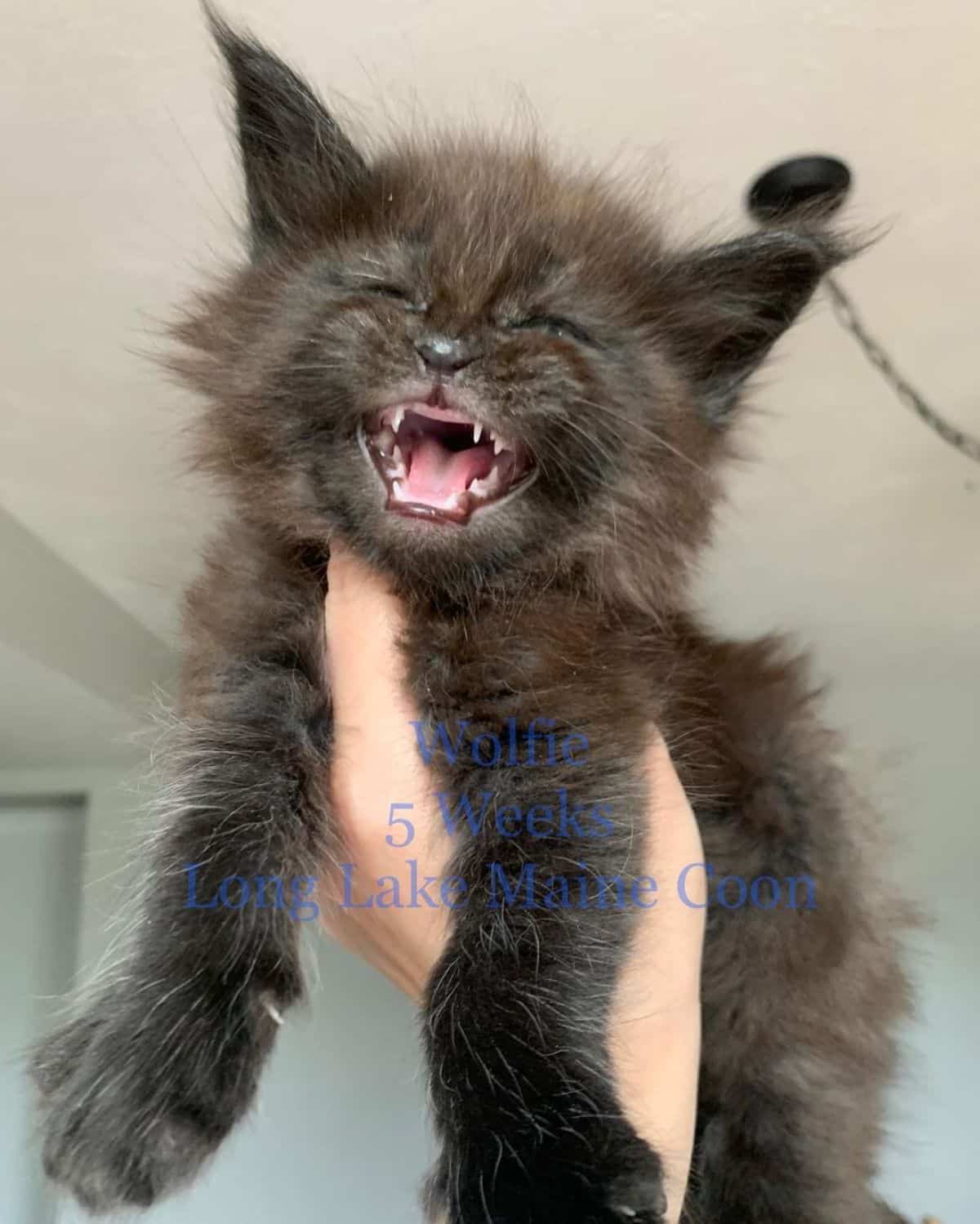 Wolfie not only has an adorable name, but this baby black Maine Coon is one for the dramatics, which can be pretty cute in a kitten. He's often photographed meowing or yawning, making him look extra dramatic. He's a playful little kitten who loves being held, despite what the picture above might suggest.
14. Prince Henry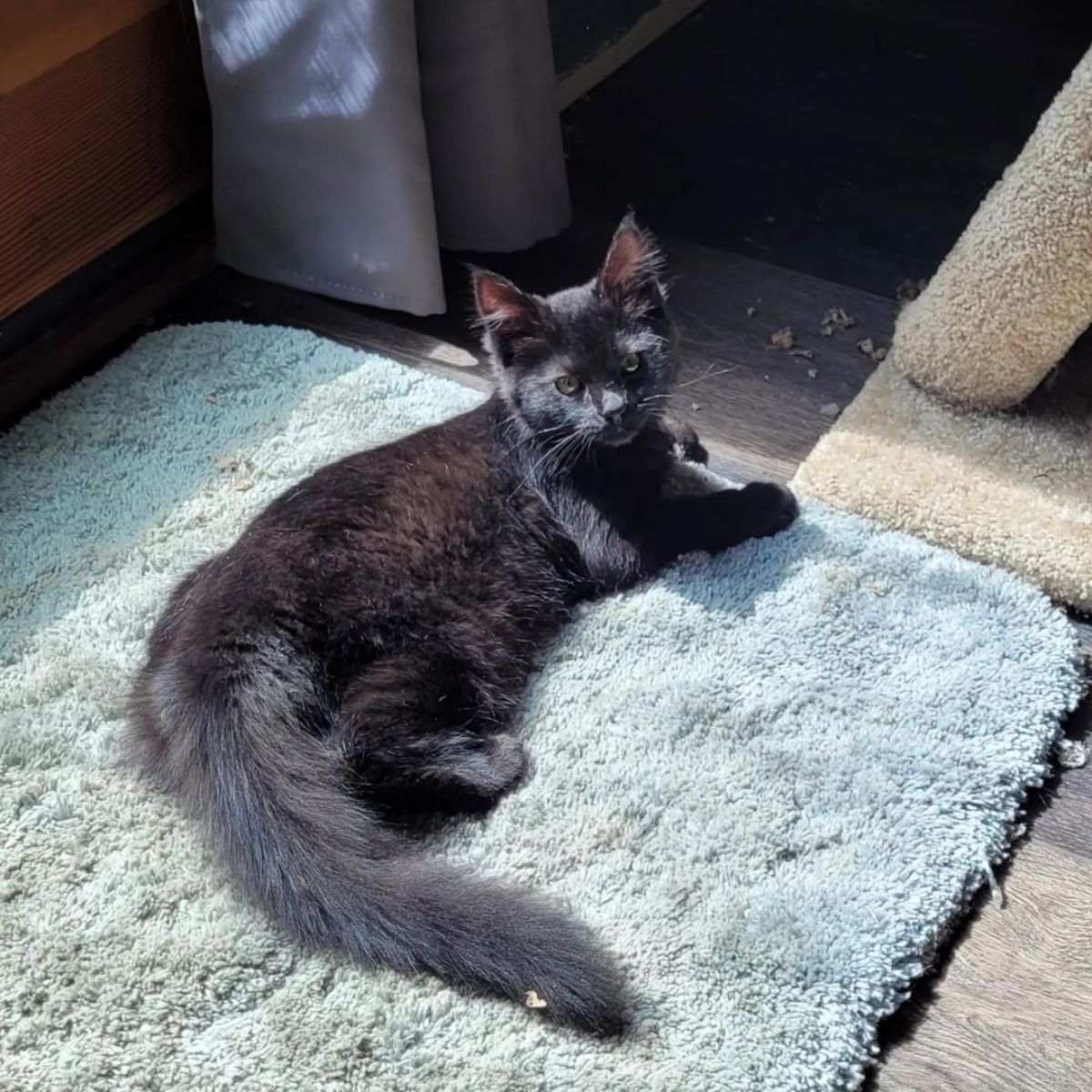 Something about kittens having too big features for their little bodies makes them ten times cuter. Prince Henry is a black baby Maine Coon who has one of the fluffiest and longest tails we've seen! If you look through his Instagram feed, you'll see him sunbathing inside, playing on the cat tree, and snuggling with his cat friends.
15. Boaz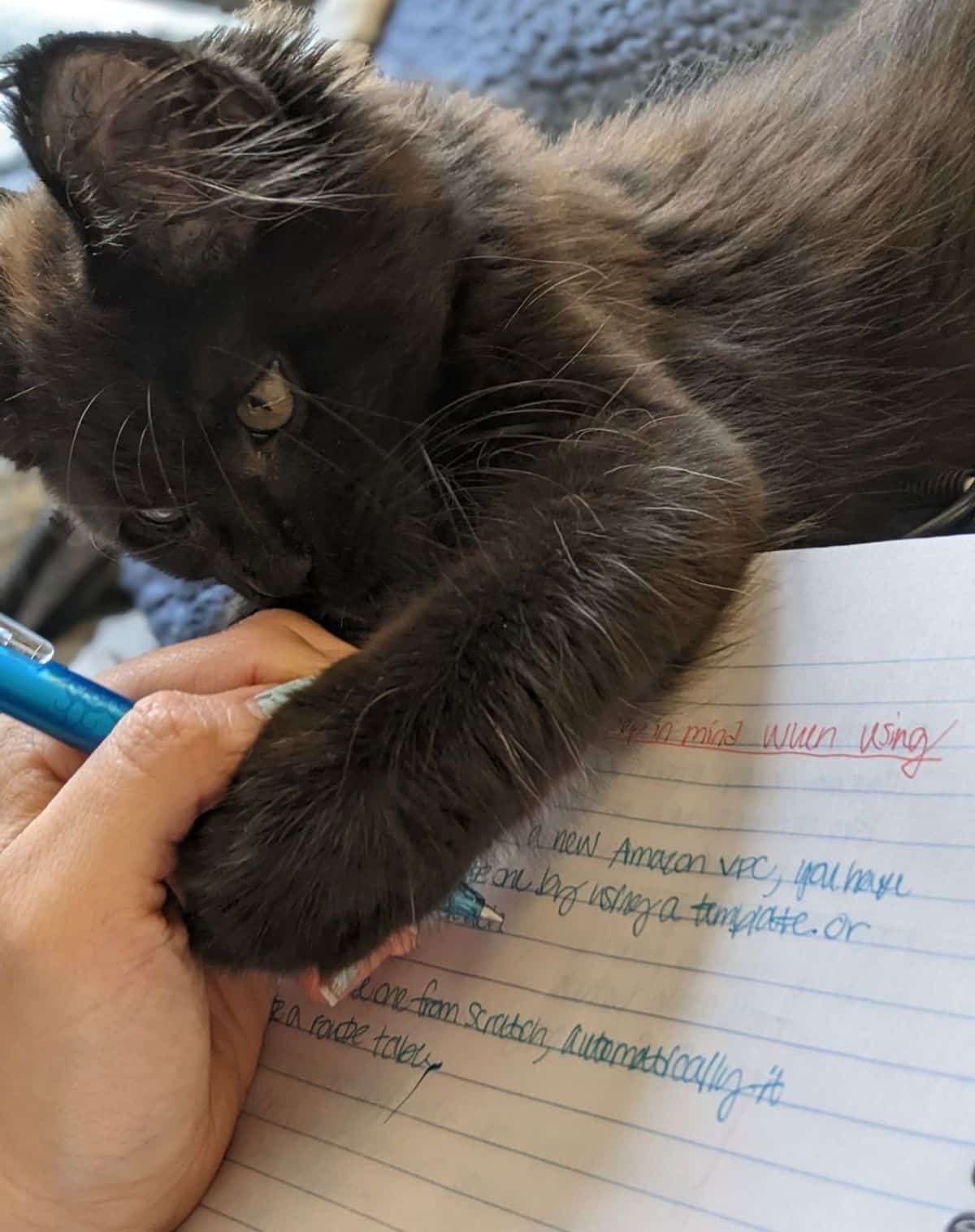 Boaz is a beautiful baby Maine Coon with dark black fur and stunning eyes. He's a rambunctious kitten of only 18 weeks old who loves playing and even prevents his human from writing notes, as you can see in this photo. He's a little social guy who spends his days playing with toys, snuggling, and being held by his humans.
16. Steve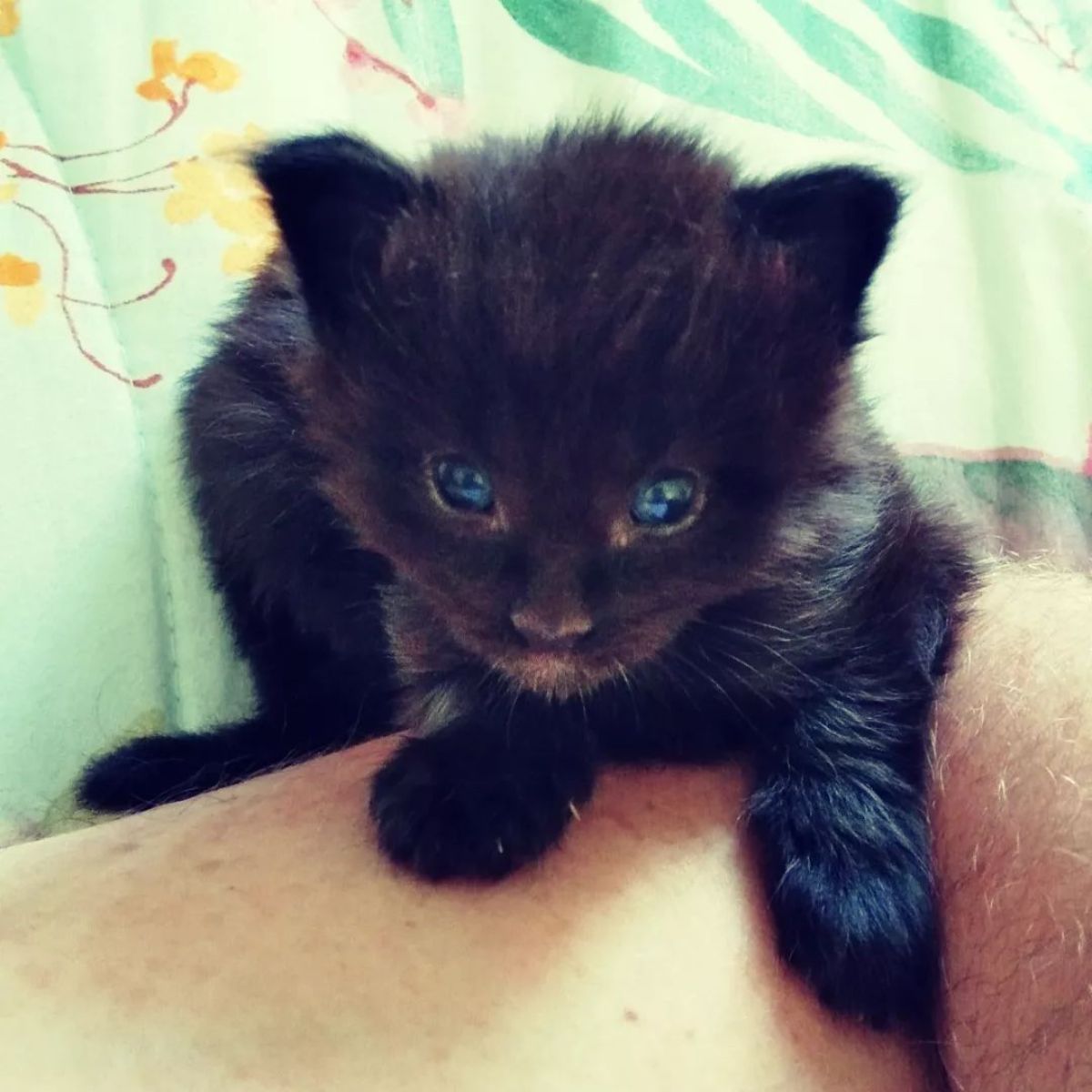 Most black Maine Coons tend to have very bright eyes, but Steve is an adorable kitten with dark eyes! His eyes are almost as dark as his black fur, which adds to his charm. He's a tiny Maine Coon who, despite his size, still has all those Maine Coon features that he'll grow into as he gets older.
17. Leo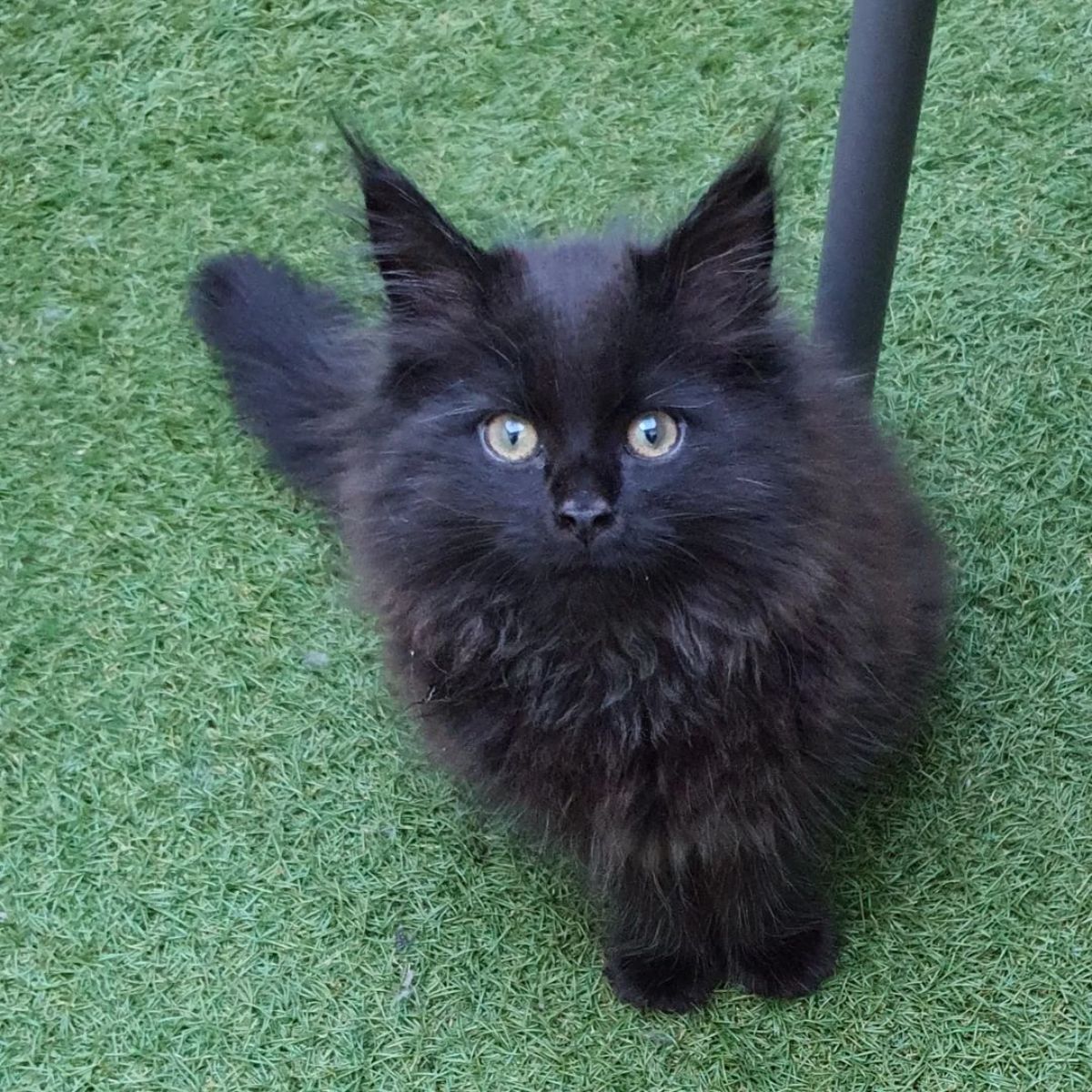 Last but certainly not least, we have Leo. Leo lives with several other Maine Coons, so he's never lonely. He's a beautiful baby black Maine Coon with pale yellow eyes that only make him cuter. His black fur is very long and makes him look larger than he is. He loves spending time outside on artificial turf and with his cat siblings.
Final Thoughts
All Maine Coon cats are stunning creatures, but there's just something about babies that puts a smile on your face. These 17 beautiful baby black Maine Coon cats are just the tip of the iceberg of how cute kittens of this breed are.