Most people know Maine Coon cats for their thick, shaggy coats of fluffy fur. They have fluffy tails that flick and sway to show their emotions and provide warmth. Even their paws have extra tufts of hair to keep them warm and help them walk on snow.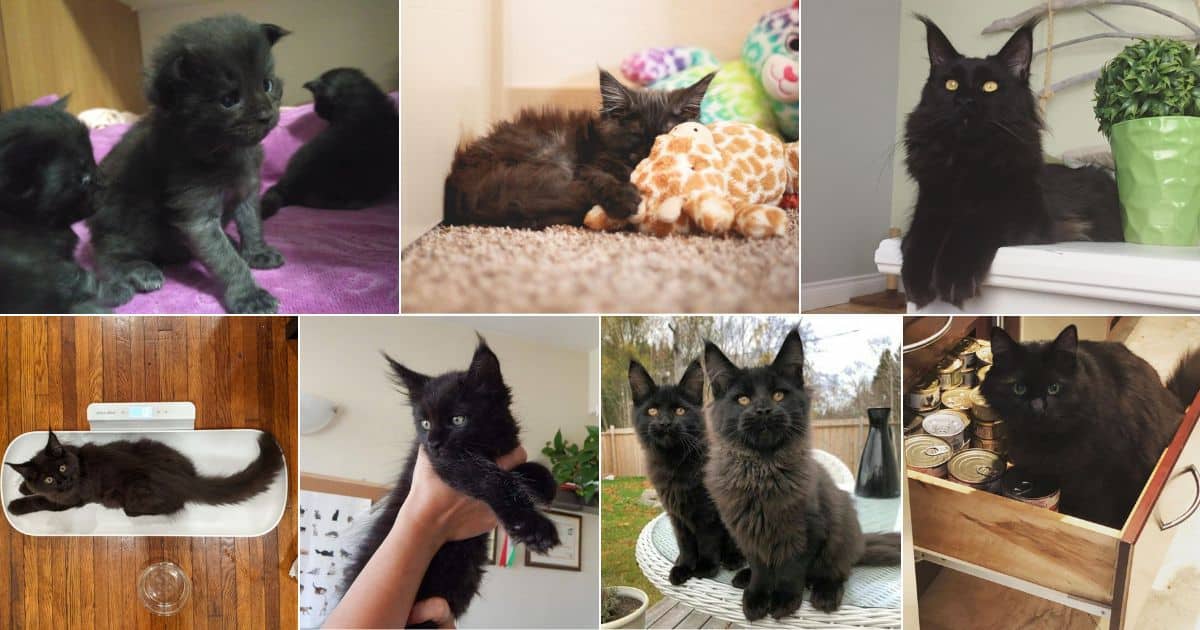 Black Maine Coon cats are rare because they have black fur on all three layers. You might see lighter hair only at the tips of its ears. Even their noses and paw pads are black. There are a few ways to get a black Maine Coon, such as:
Mating two solid black Maine Coons
Mating two black tabbies, both with the non-agouti gene
Mating a black Maine Coon with a blue Maine Coon
Depending on the parents' lineage, you can also find black smoke Maine Coon cats. Some breeders focus on black Maine Coons, while others breed a rainbow of cats since tabby patterns are popular.
These stunning Maine Coons resemble sleek panthers and represent prosperity and good luck in Japan and Scotland. This rare fur color makes baby black Maine Coon cats some of the cutest kittens.
Jump to:
1. Salem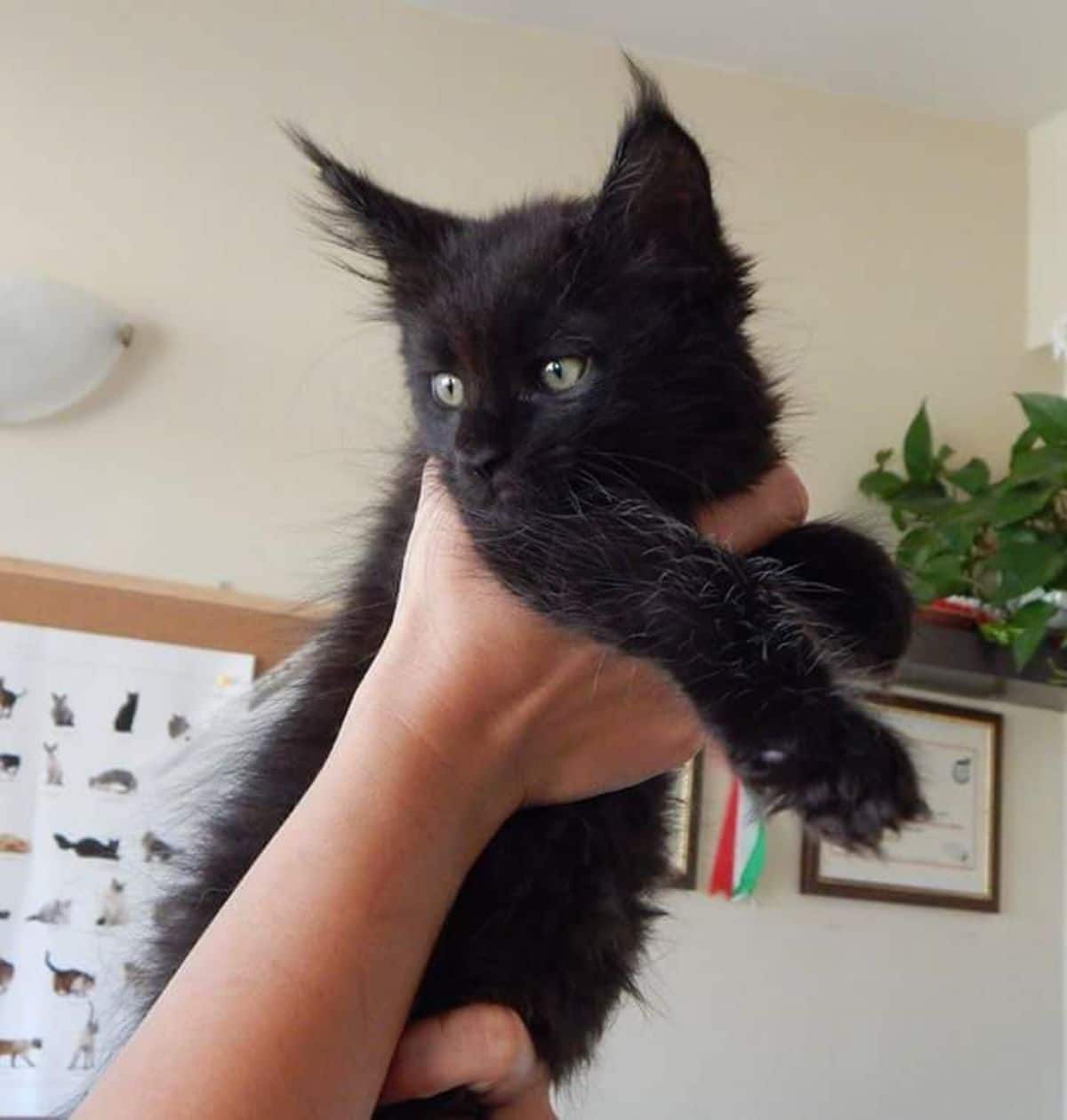 Salem is a massive black Maine Coon cat now, but his owner often posted pictures of him when he was a baby. He's always had a thick dark coat, and even the hair on his ears was black. As he's grown older, he's started to show some rust undertones. And, like the best of us, Salem has started to get a little gray. But he's still a sweet black Maine Coon.
2. Elon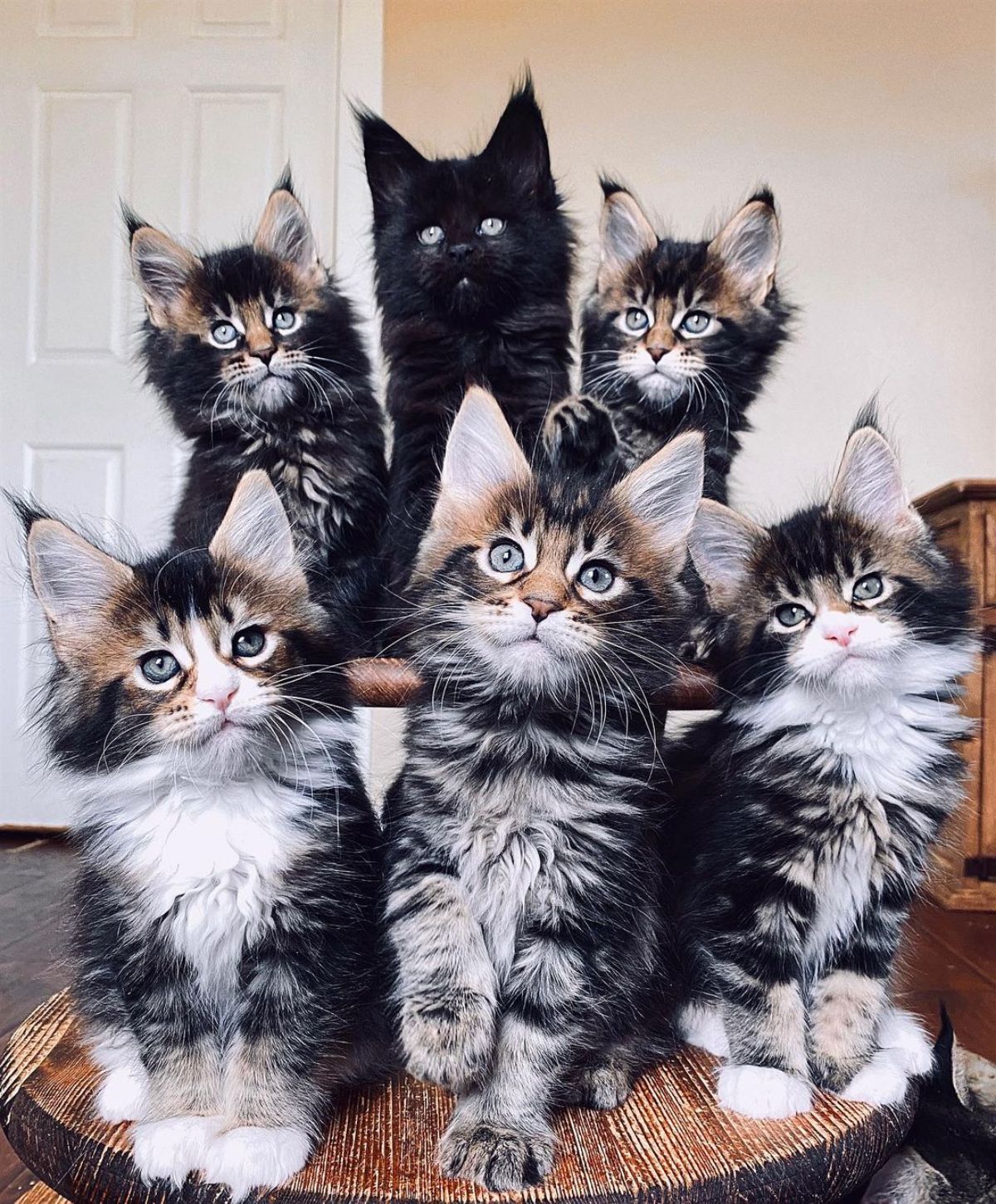 Elon is a baby black Maine Coon that stands out among other litters from his breeder owner. He's a fluffball who likes to spend time on the cat tree and cozy up with the other Maine Coons at MetatronEyes breeder. The breeder got its name from Metatron, an angel with vibrant eyes that flash like lightning. Elon has gorgeous blue eyes, which are rare for a black Maine Coon.
3. Babayka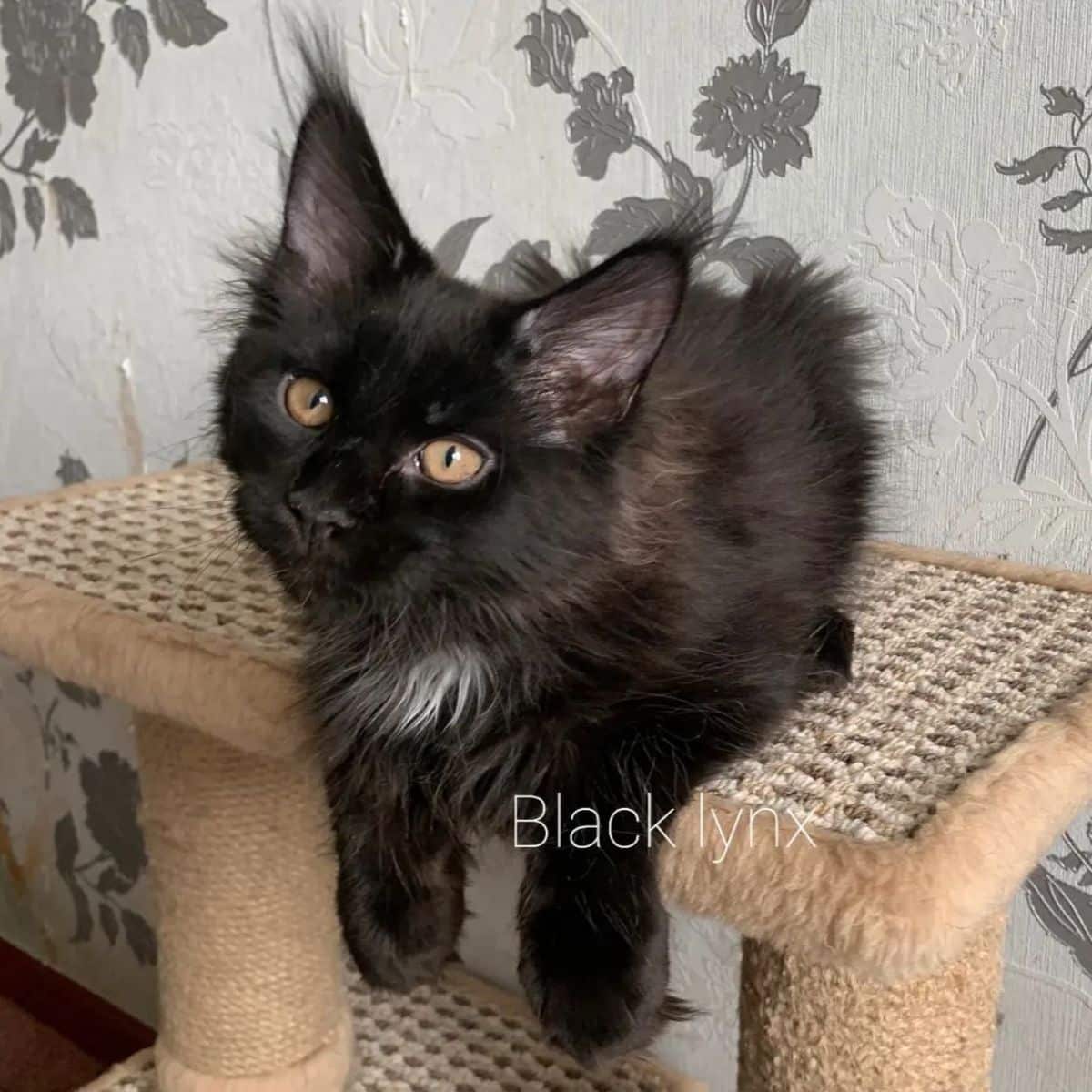 This family of Maine Coon cats includes several variations, including cream, blue, tabby, and the black baby Babayka. He's a black lynx with a thick, rich coat, yet he has a small white tuft on his chest. The white patch resembles a bow tie and makes Babayka look like the fanciest Maine Coon you could meet.
4. Hades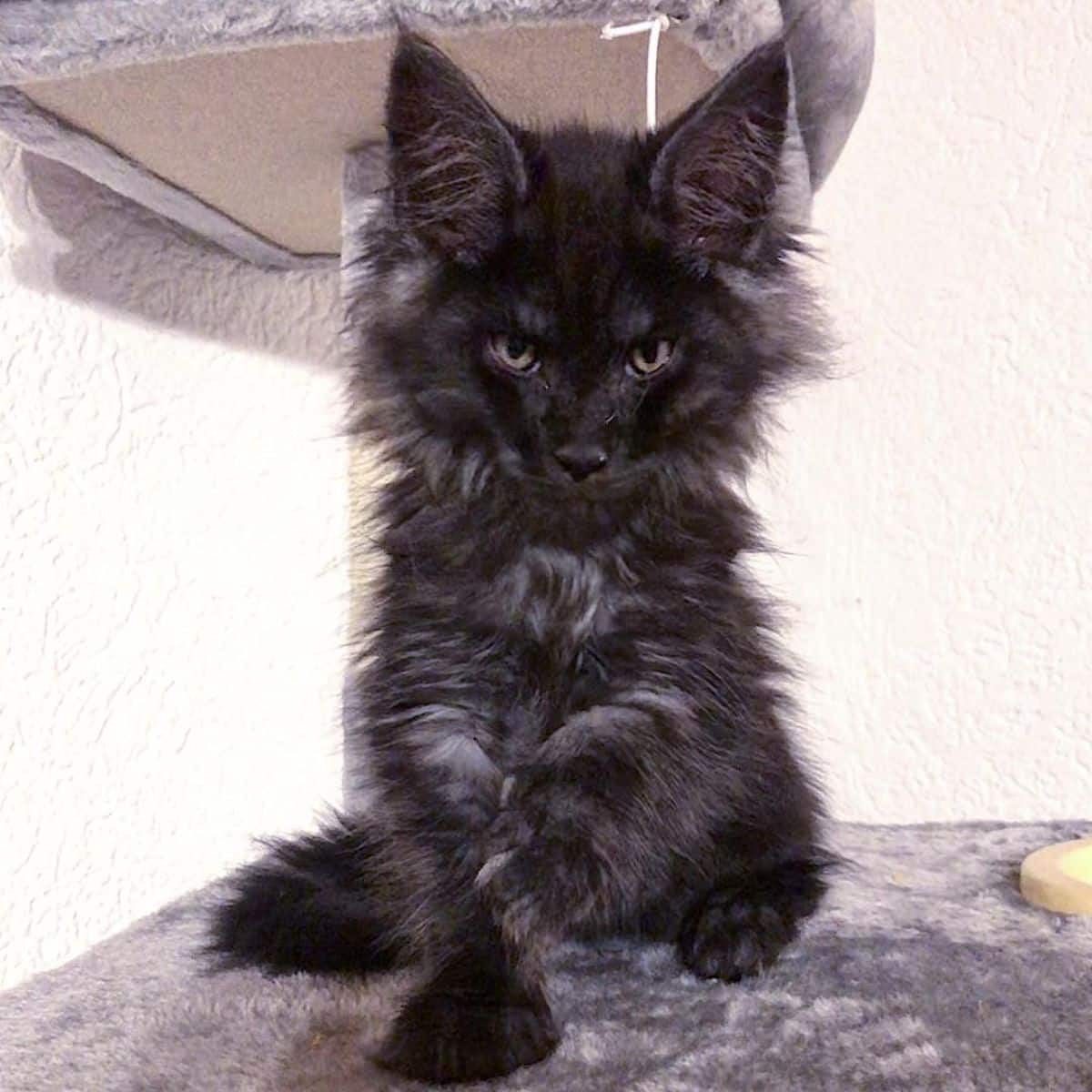 This mischievous baby Maine Coon loves getting into trouble. Hades has a black coat peppered with gray, making him look even fluffier than layers of complete black fur. He lives with a gray cat named Lucifer, and they both like to fight to prove who can live up to their name the most. They're a handful, but seeing such a sweet black kitten stand up to a bigger cat is fun!
5. Lassie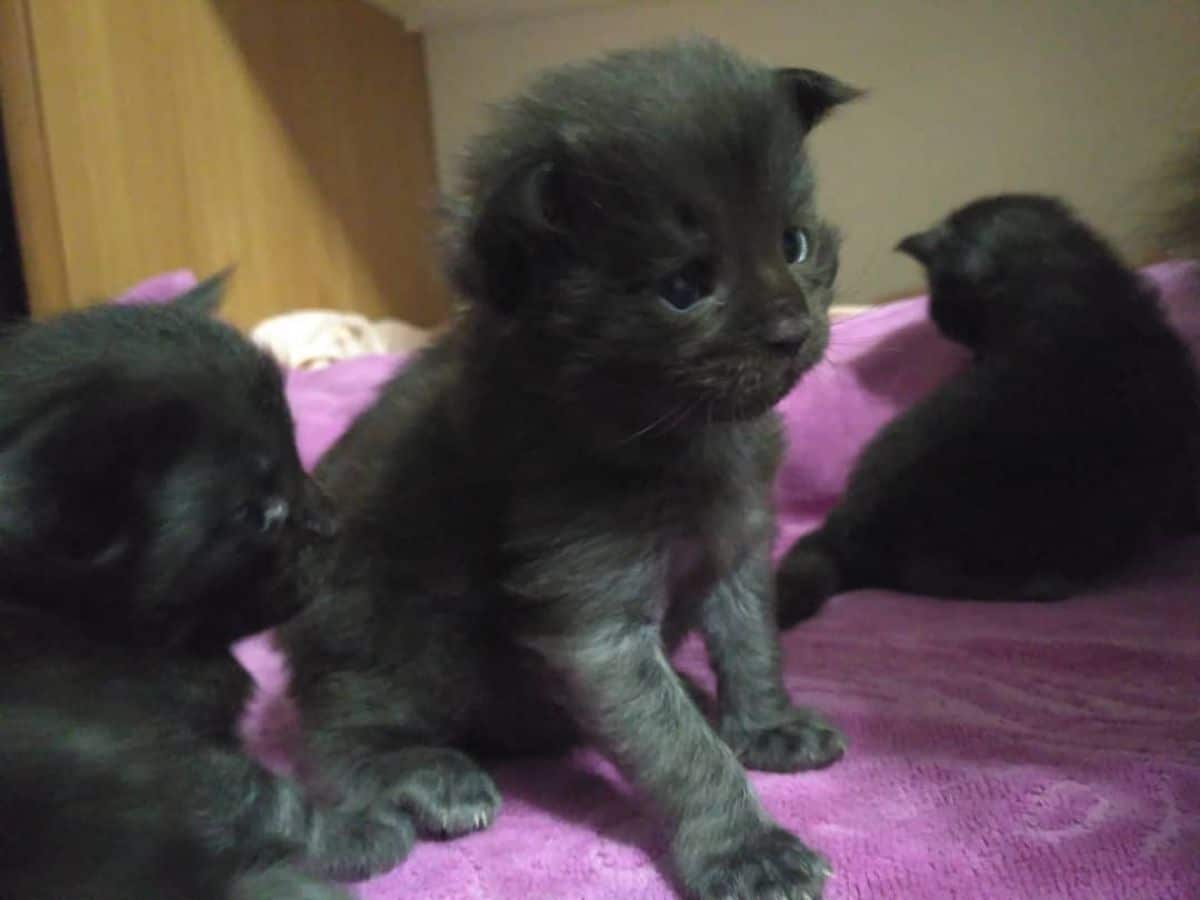 Lassie is the mother of these cute kittens, who don't have names from the breeder. She's a big black Maine Coon that had a litter of four boys and one girl. It's sweet to see other images of the kittens growing up on this account, from newborns up to several months old. The progression of photos shows you how quickly Maine Coon cats can grow.
6. Don Julio Corona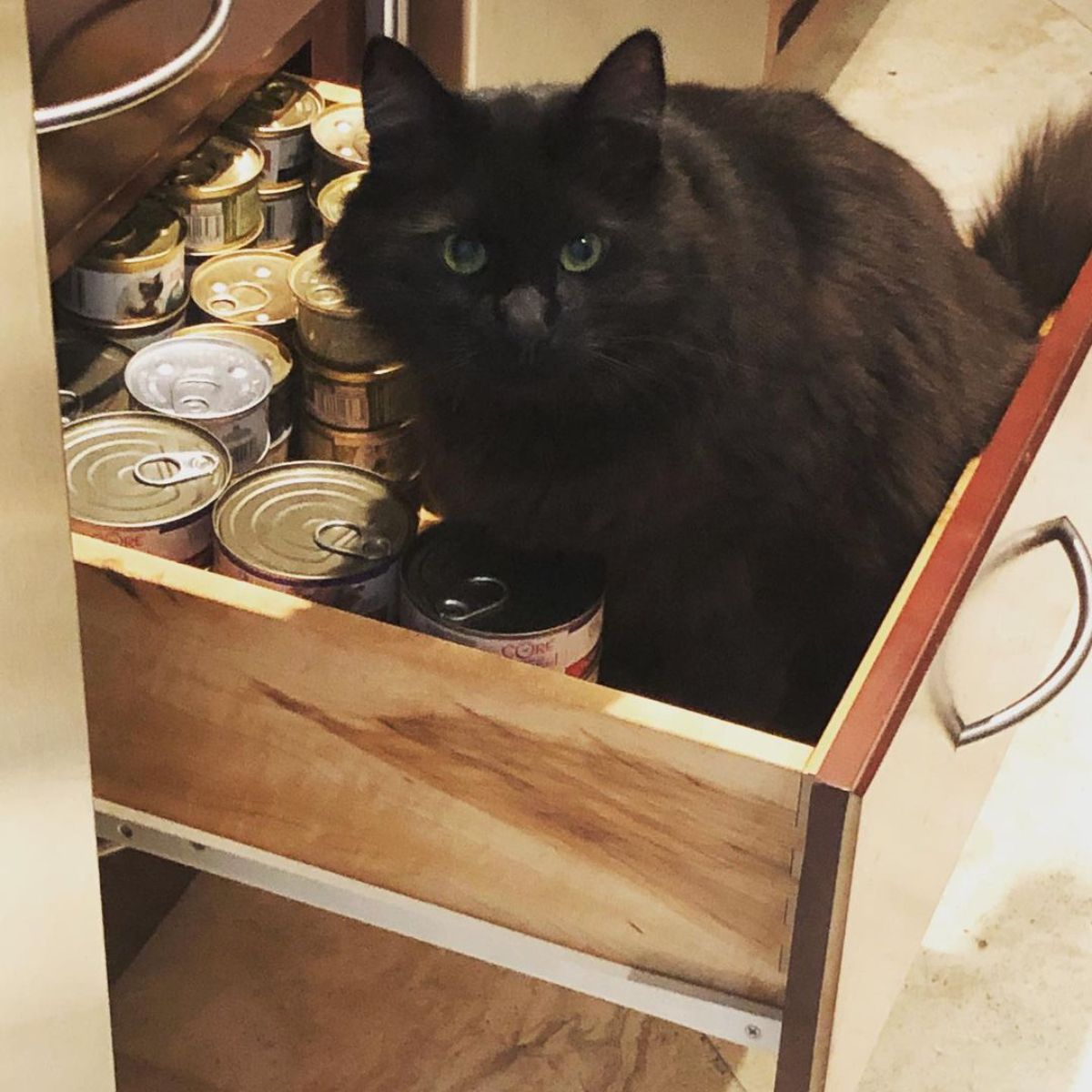 Don Julio Corona, commonly called Donnie, is a mischievous black Maine Coot kitten. He loves to play with his scratching post and lay on comfortable blankets, but he often gets into trouble. While he managed to find himself in the drawer of cat food today, he wasn't able to open any of the cans, despite his fluffy Maine Coon paws.
7. Luna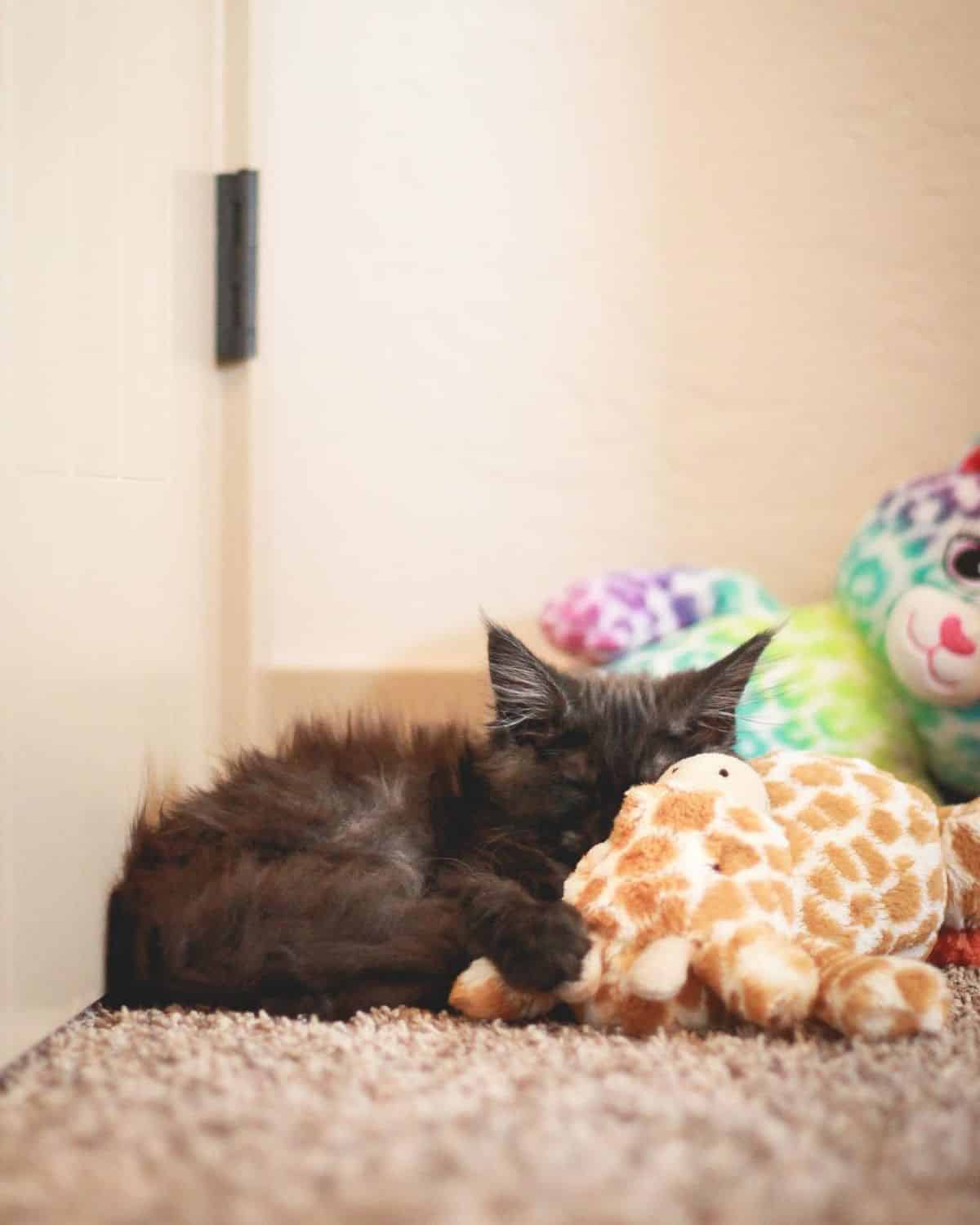 Luna is a tiny black smoke Maine Coon. She looks solid black in a certain light, but you can catch glimpses of the gray smokiness of her undercoat. She loves eating snacks and playing with human toys, sometimes even taking a nap on the softer stuffed animals. Luna's owners adopted a gray cat named Abigail to become Luna's sister, and the family also owns a dog.
8. Boaz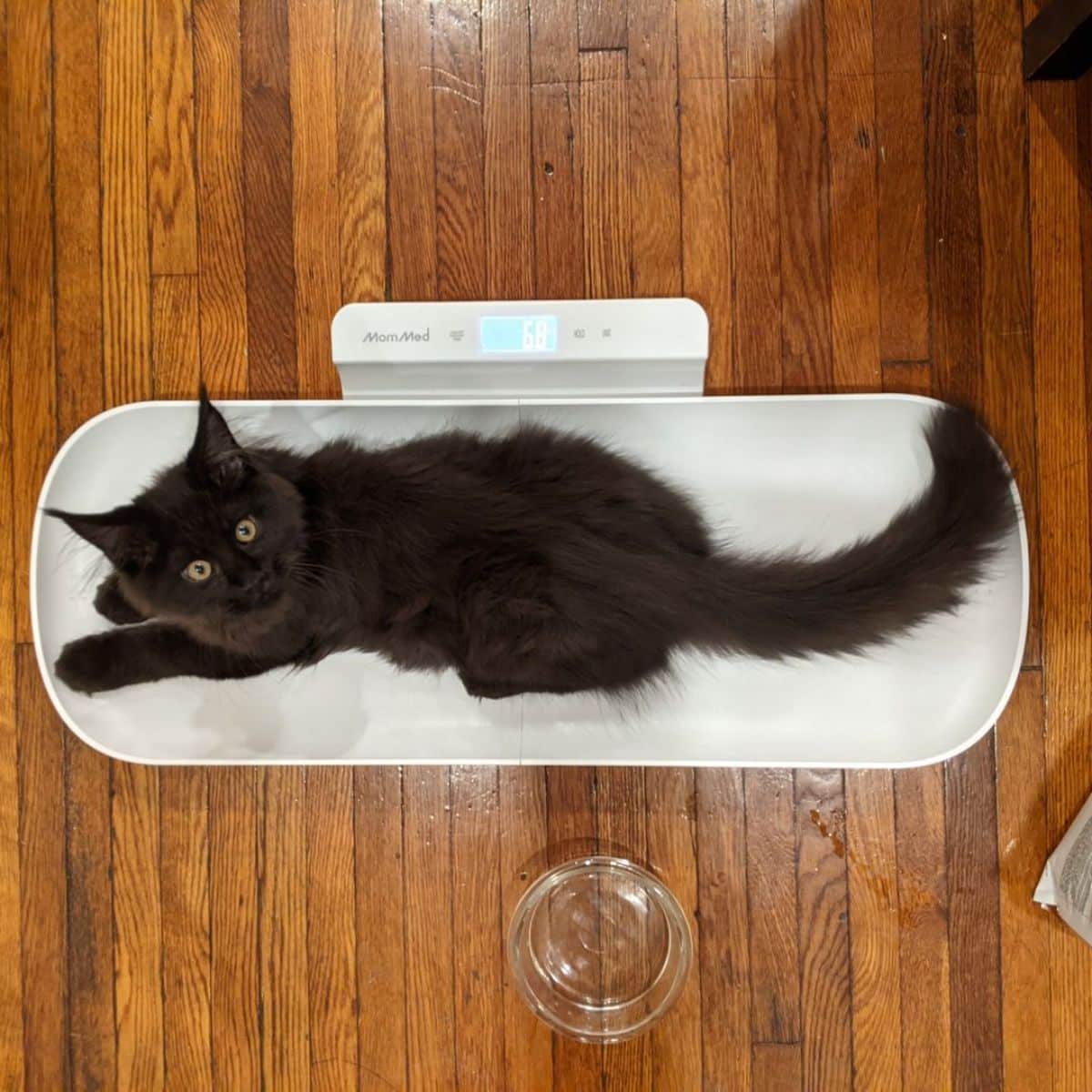 Boaz is a sweet black Maine Coon cat that's growing quickly. When his owners adopted him, he was a tiny guy who loved to nap on soft surfaces. Within a few weeks, he gained two pounds and became more playful—and mischievous. You can find Boaz playing with his cat toys and trying to get his humans to pay attention to him at all times as he grows more curious.
9. Arlo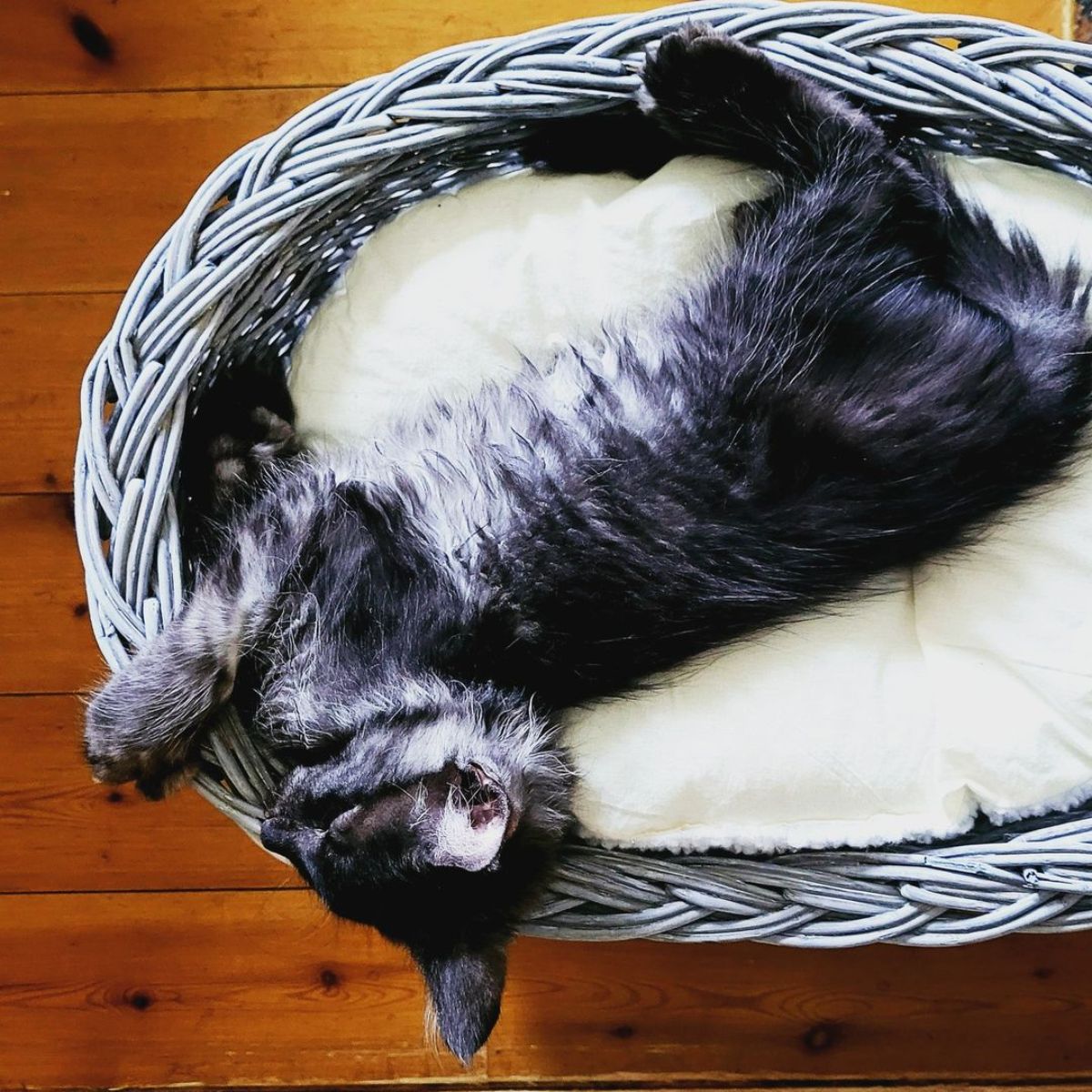 Arlo is a sweet black-smoke Maine Coon who loves to nap in his soft basket or curl up into a fluffy ball. His fur looks black on his head and back, but you can see the light gray smoke on his belly and down his legs. As he matures, his fur color can change even more. However, he'll always stay curious and happy to go on walks with his owner—as long as he stays on his leash.
10. Oprah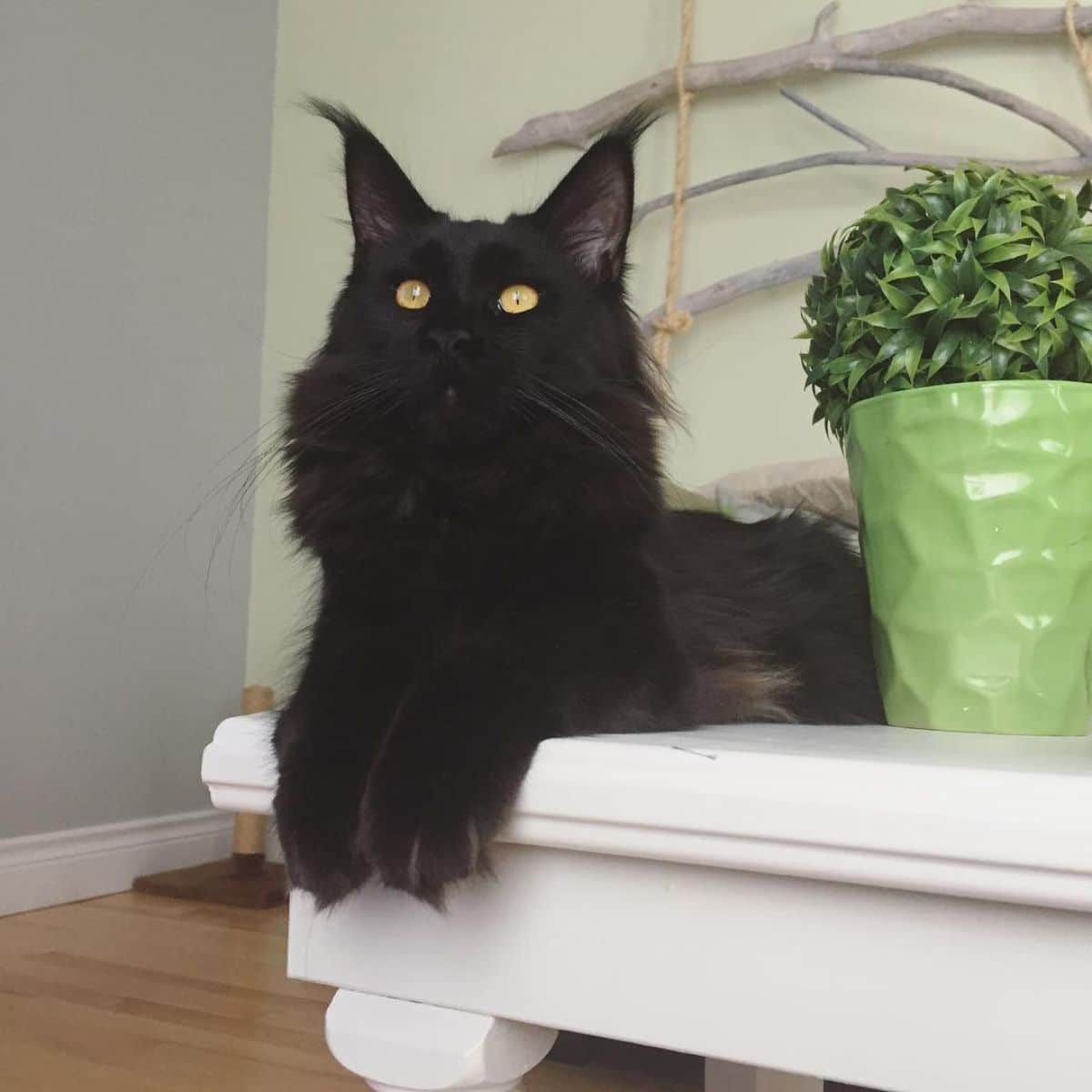 Oprah is a fluffy black Maine Coon that lives with Watson, a ginger Maine Coon. They love to play together and lay together, providing a stunning visual contrast for their owners in Canada. Though they don't go out much in the Canadian snow, since they're Maine Coons, they'd definitely stay warm in the weather, thanks to their luxurious fur and special snow-ready paws.
11. King and Kit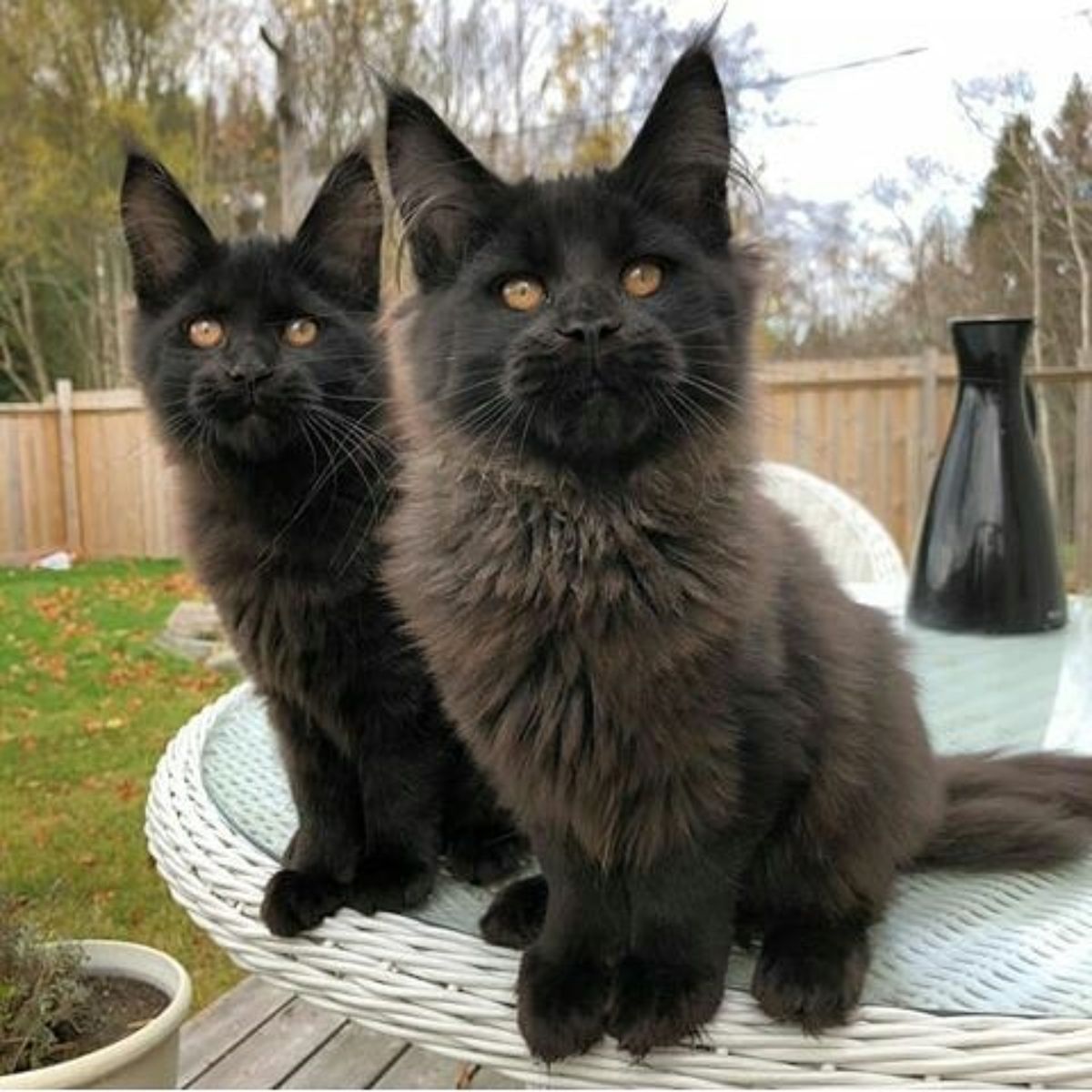 The only thing better than one black Maine Coon kitten is two of them! King and Kit are sweet brother cats who get along well, despite slight alterations in their appearances. One has more rust undertones, making him appear brown in the sunlight, while the other looks solid black. They both have rich golden eyes, so you can tell they're related in many ways.
Conclusion
These black Maine Coon kittens are so cute that you're sure to want your own to cuddle. As black Maine Coons are rare, ensure you're getting your new pet from a reputable breeder. You want to adopt a cat that's healthy so you can have a happy life together. Make sure to share plenty of sweet pictures of your baby black Maine Coon for others to love.