Maine Coon cats, affectionately referred to as feline "gentle giants," are among the most popular cat breeds in the world.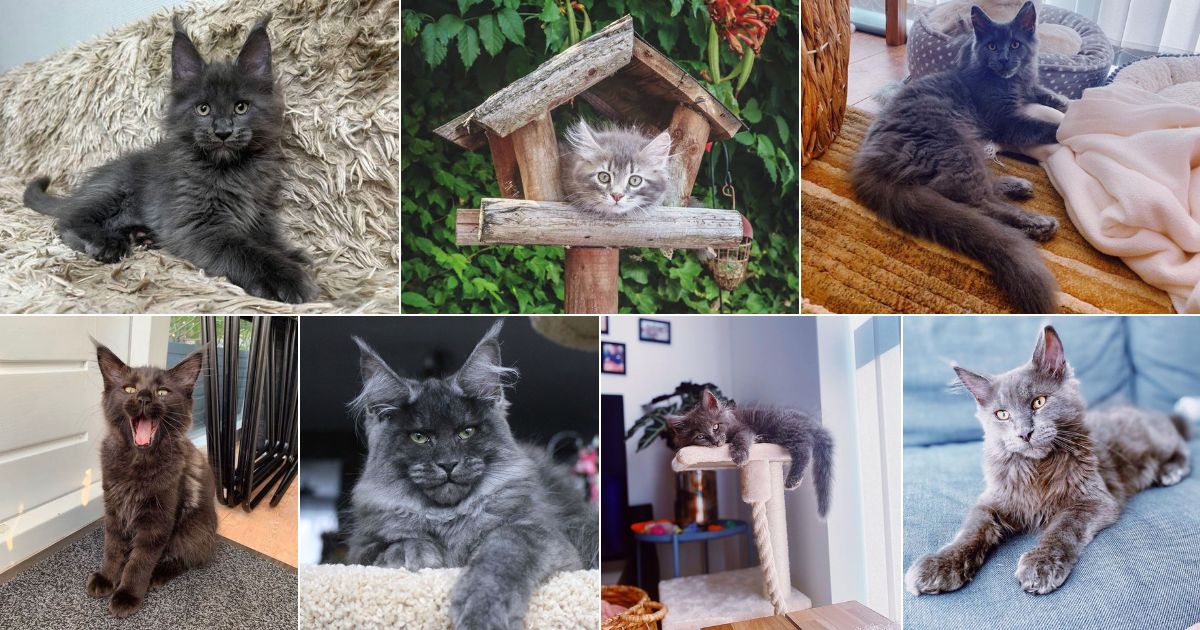 Maine Coons came in a close second (after the Ragdoll) in the Cat Fanciers' Association's Top 10 Cat Breeds of 2021.
Although these affectionate kitties come in many shapes, sizes, and colors, none are more popular than the silver-haired Maine Coon.
Jump to:
An Irresistible and Perplexing Coon
Gray Maine Coons, officially called "Blue Maine Coons," are famous for their gorgeous silver coats, striking blue or green eyes, and friendly personalities.
As kittens, these beautiful creatures are energetic, mischievous, and curious—as the following pictures will testify.
Whether you own a Maine Coon or aspire to adopt one, these adorable pictures of baby gray Maine coons will warm your heart.
1. Maine Coon Kittens Make for Big Babies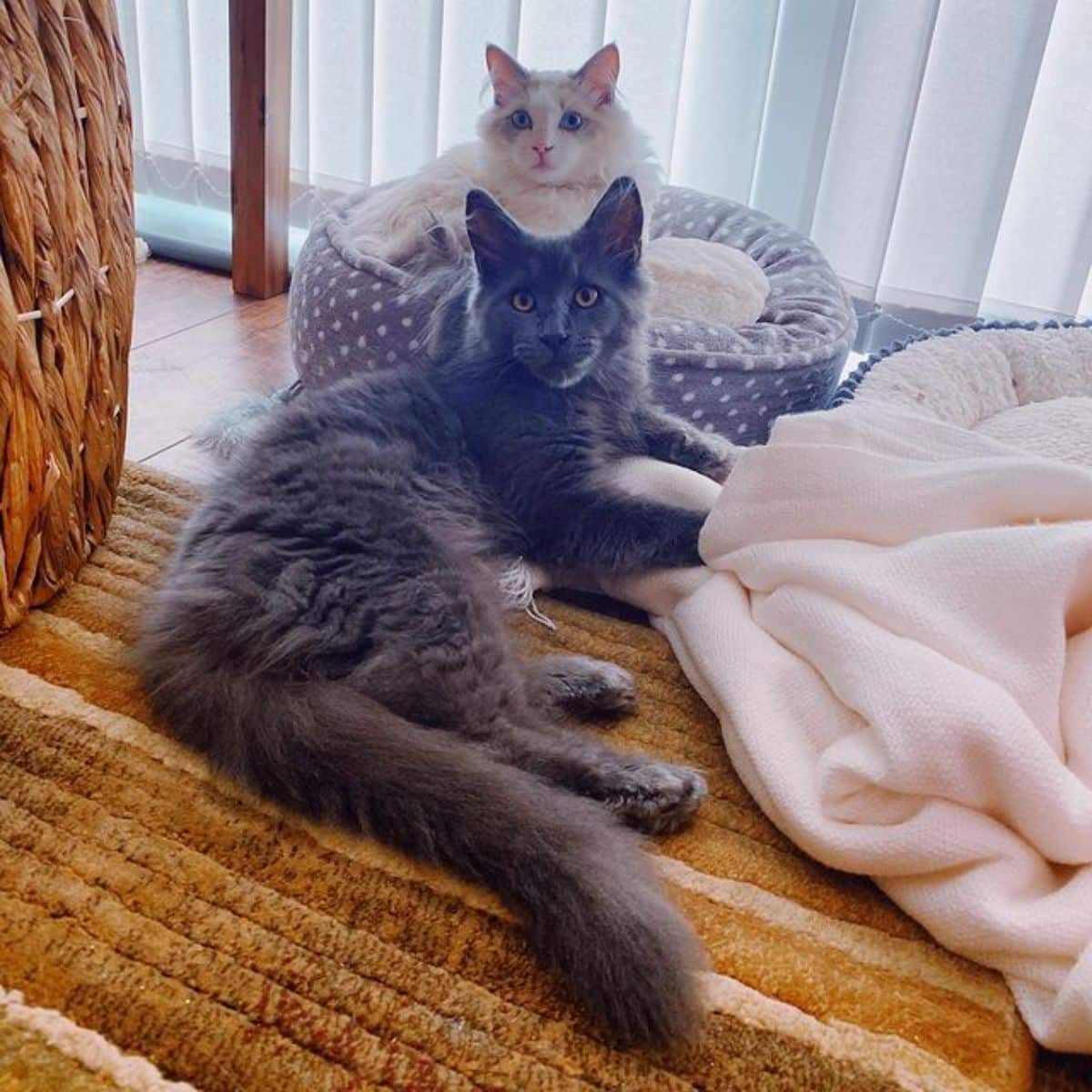 Maine Coons represent the largest breed of cats in the world; just look at this beauty of a cat!
For their considerable size, many people refer to Maine Coons as the "gentle giants" of cats—and for a good reason: they are intimidatingly large yet very gentle.
Maine Coons typically weigh between five and 11 kilograms—far more than any other cat breed.
However, as you can see from this picture, they are pretty friendly with humans and animals.
2. Maine Coons Are Marvellously Mysterious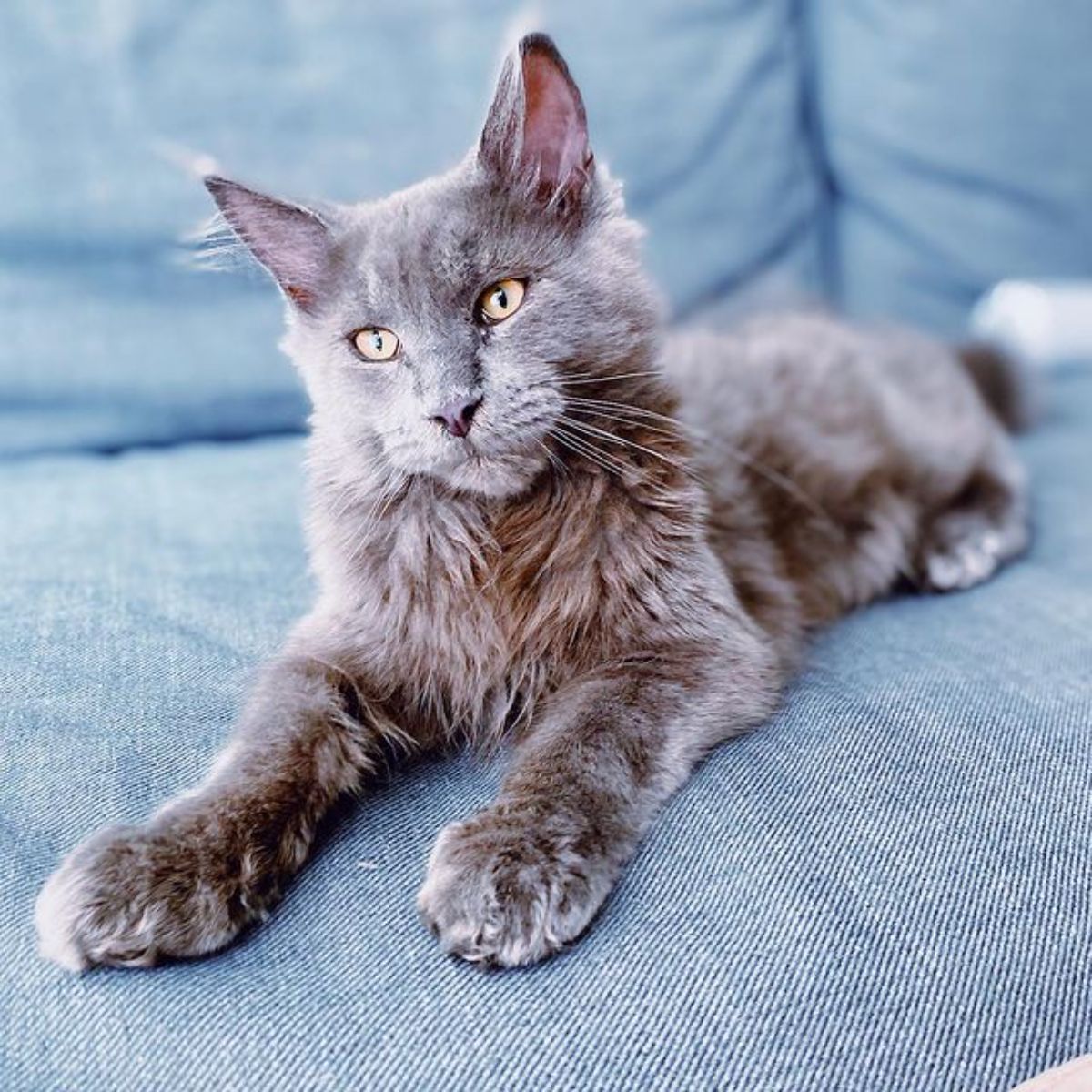 Maine Coons are the only cat breed to originate in the United States—but their actual origins remain in secrecy. Yep, just like this coon, we're left with many questions.
While some claim that Maine coons were once bred with wild raccoons (which is physically impossible), others argue that they are descended from Marie Antoinette's cats, which she sent to America while facing the threat of execution.
Ultimately, the most likely explanation contends that Maine Coons are descendants of Norwegian forest cats and American domestic shorthairs.
3. Multi-Colored Cats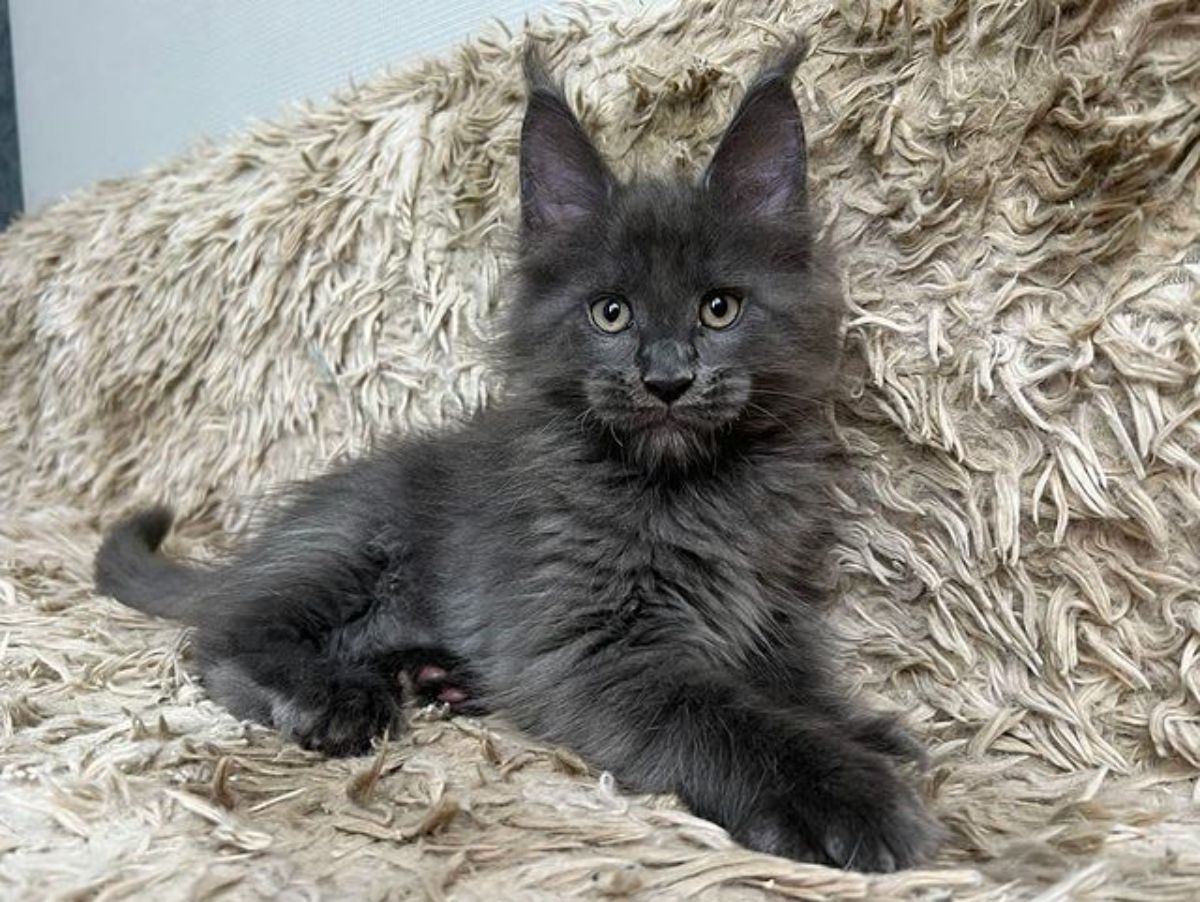 Maine Coons come in various colors—75, to be exact.
Gray is the most popular color for a Maine Coon kitten. As a result, gray Maine Coons are the easiest to find.
The rarest color includes white, gold, orange, and multi-colored since those colors often prove difficult to select when breeding cats.
Maine Coons also have various possible eye colors—from green and blue to hazel and gold.
The baby Maine Coon in this picture appears to have a gray coat—but his fur is tinged with blue and silver in the sunlight
4. Maine Coons Are Playful and Mischievous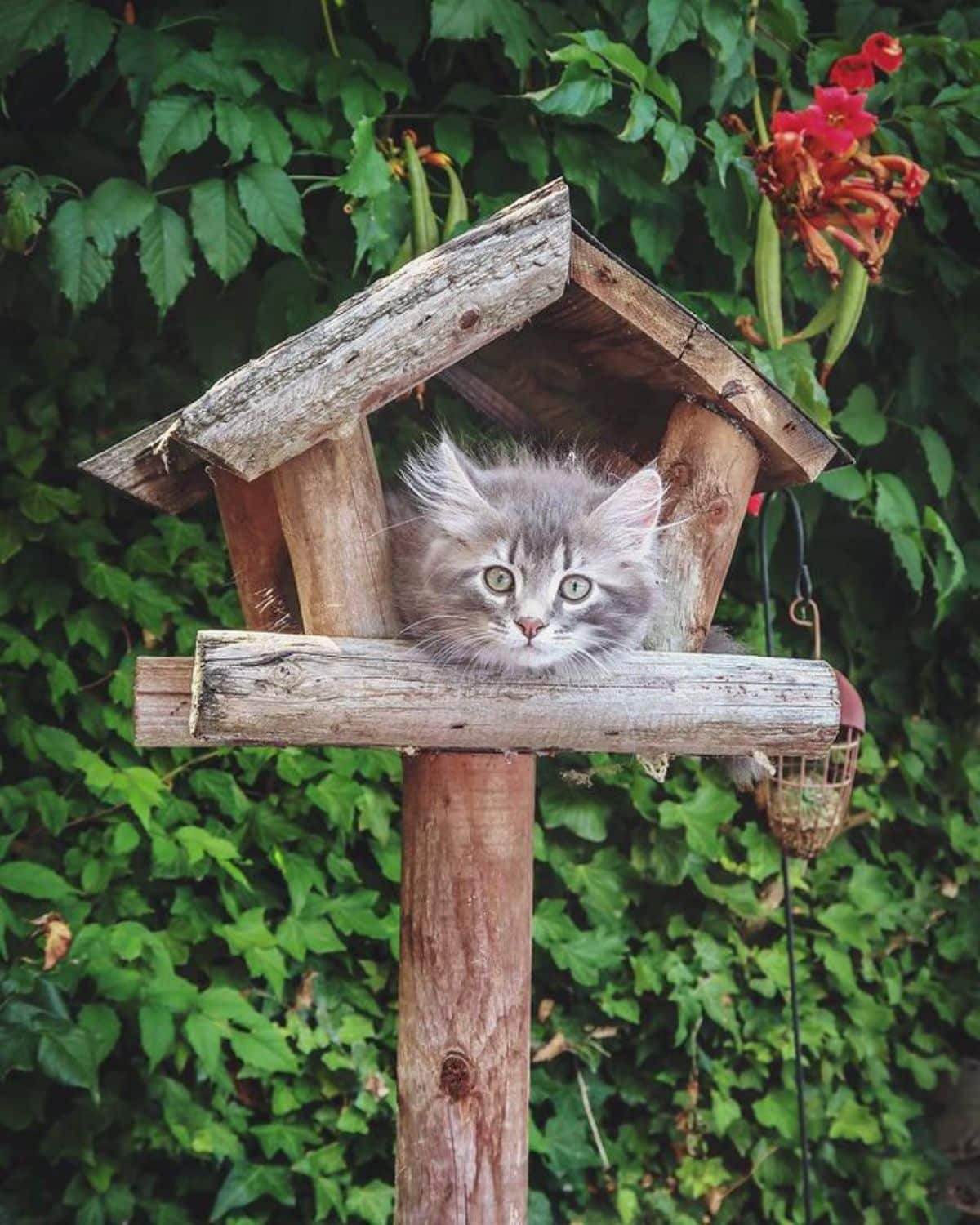 Wait, what happened to my pigeon?!
Maine Coons are generally very playful and like getting into trouble!
This kitten is perched in a birdhouse, patiently awaiting an unsuspecting visitor.
Maine Coon cats—and kittens in particular—require lots of room to run and play and frequent exercise to remain healthy.
They love to climb, chase, and even swim!
If you are looking for a playful cat, look no further.
5. Maine Coon Kitties Love to Play in Water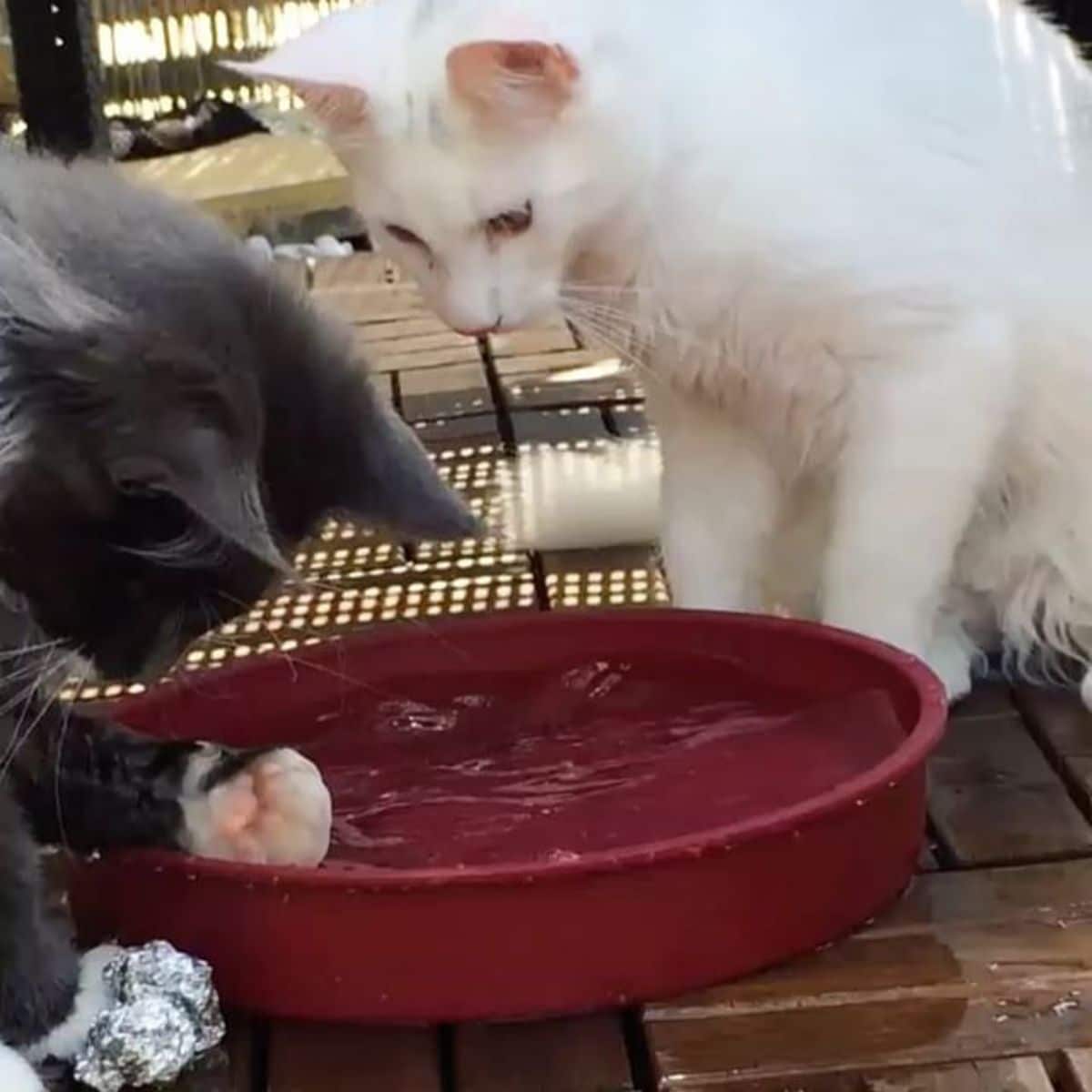 Maine Coon cats are known for their love of water—and kittens are particularly inclined to play in your bathtub, sink, or water hose.
Their mysterious origins may hold the secret to their love of aquatic play; Maine Coons may descend from Vikings' feline companions, the Norwegian forest cat, which spent their lives on the water.
You may find your Maine Coon splashing sink water, patting water out of their bowls, swimming in natural bodies of water—or even in a swimming pool!
Rest assured, this behavior is perfectly normal for the unique Maine Coon. You can even take them to the shower with you if you want to kill two birds with one stone.
6. Maine Coons Don't Meow — They Talk!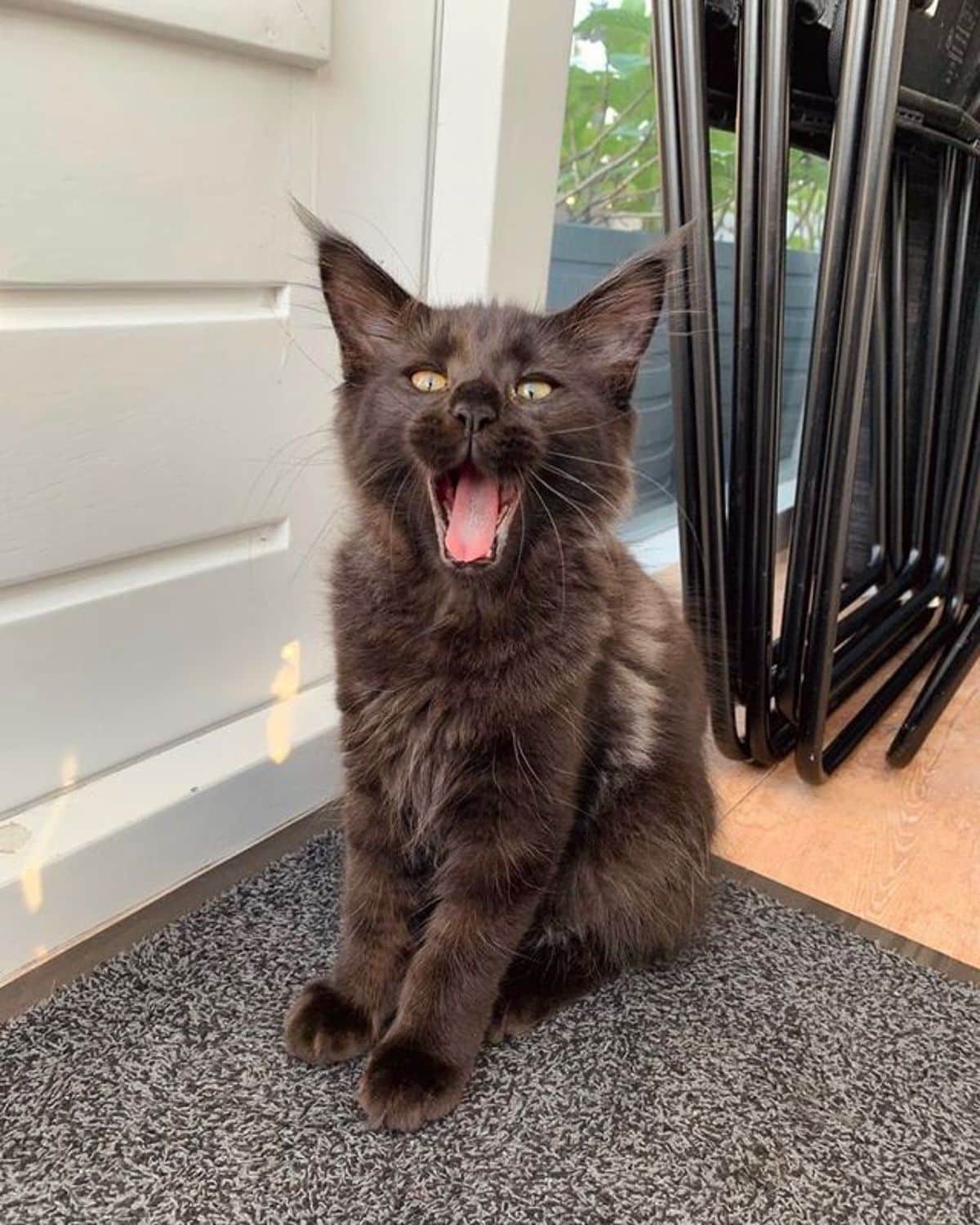 Maine Coons are very vocal.
Unlike other cat breeds, however, they are unable to meow. Instead, they emit squeaking and grumbling noises that pet owners call "talking."
Maine Coons will emit these noises to communicate with their owners—particularly when they want to eat or go outside.
They may also communicate when upset or angry, and owners will learn to recognize the unique inflections particular to each emotion. Although, this coon's expression really has us wondering what it wants.
7. Maine Coons Have Many Unique Features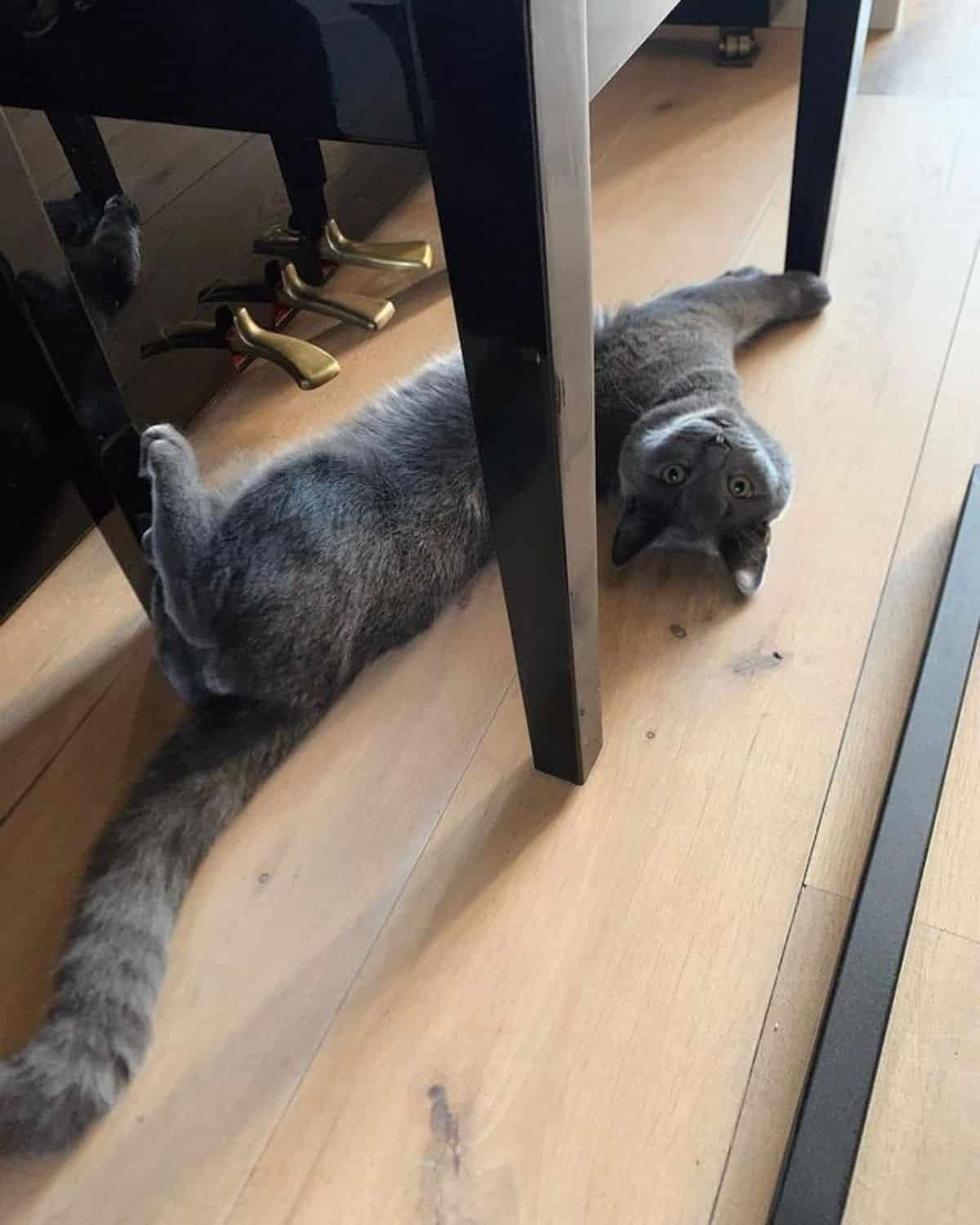 Maine Coon cats can boast many unique features.
For example, the cat in the above image has a striped tail and various colored markings on her body.
In addition to the over 75 possible color combinations, Maine Coons may also have unique features and genetic differences.
For example, Maine Coon cats are sometimes polydactyl, meaning they have more than the average amount of toes on each paw!
8. Gray Maine Coon Kitties are Curious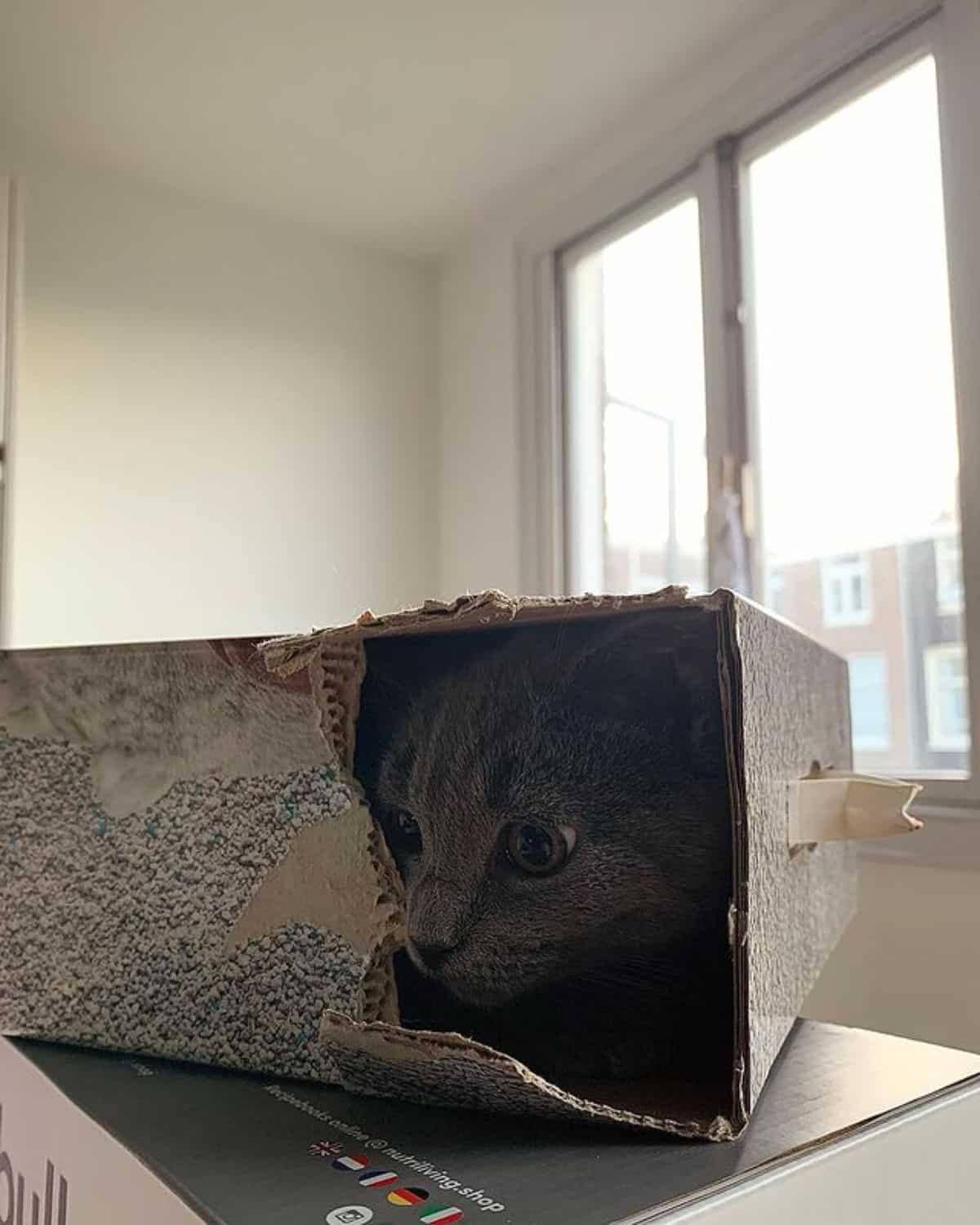 Jesus, how did you get in there? Maine Coon kittens are curious creatures.
They often like to go outside, and many owners walk their Maine Coons on leashes!
Additionally, they like to hide and burrow in small spaces, so look out when you do your laundry or take out the trash! There may be a cat in the last place you would expect.
9. Maine Coon Kittens Love Their Friends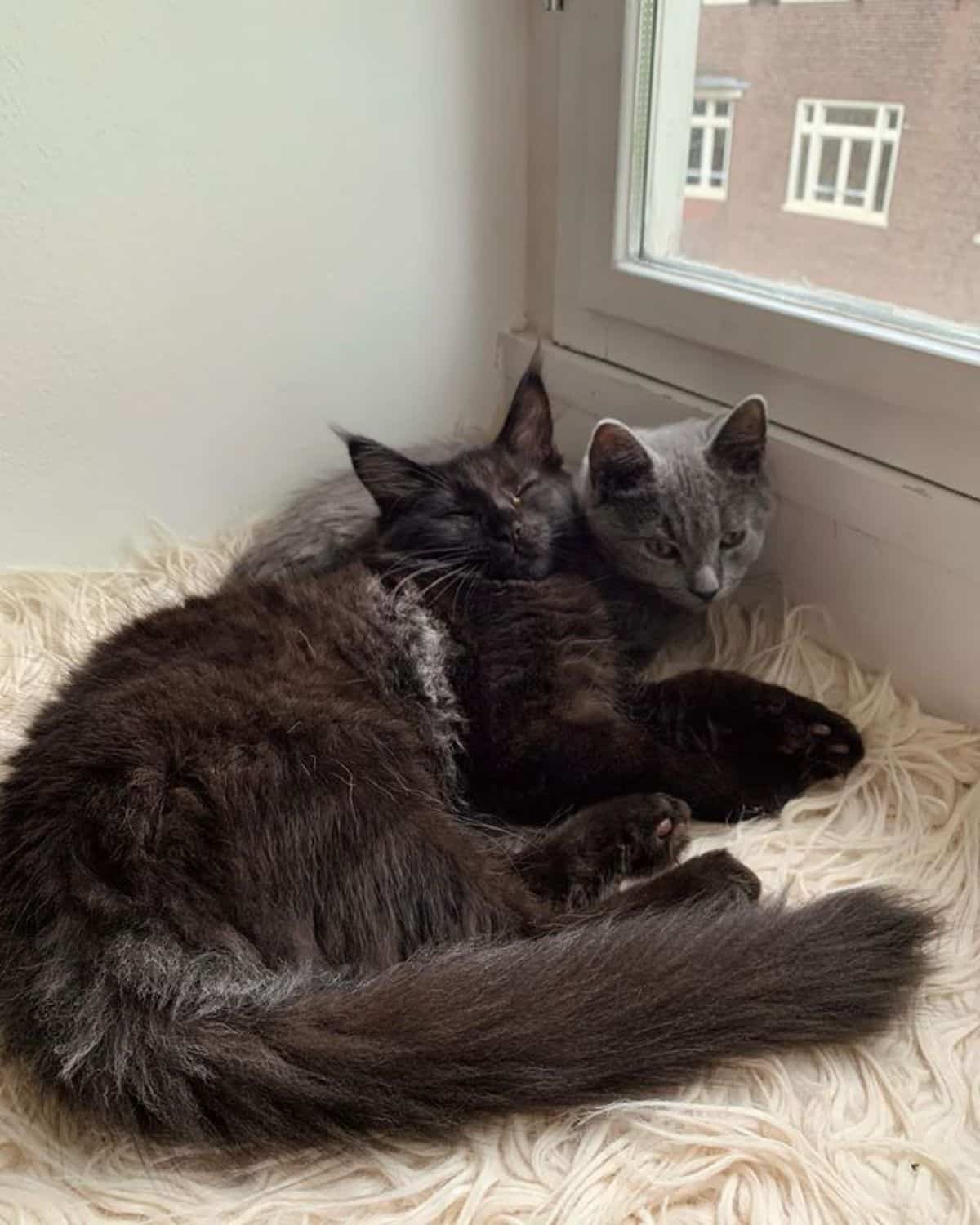 Maine Coons are amiable cats, and many Maine Coon kittens adapt quickly to multi-animal homes.
Because these cats are highly interactive, they benefit from sharing spaces with other cats (and animals).
It's always best to socialize a cat young, so if you have a Maine Coon kitten or are contemplating getting one, remember to undertake the proper socialization procedures.
With suitable precautions, your Maine Coon can make many friends!
10. Maine Coons Love to Climb (And Sleep!)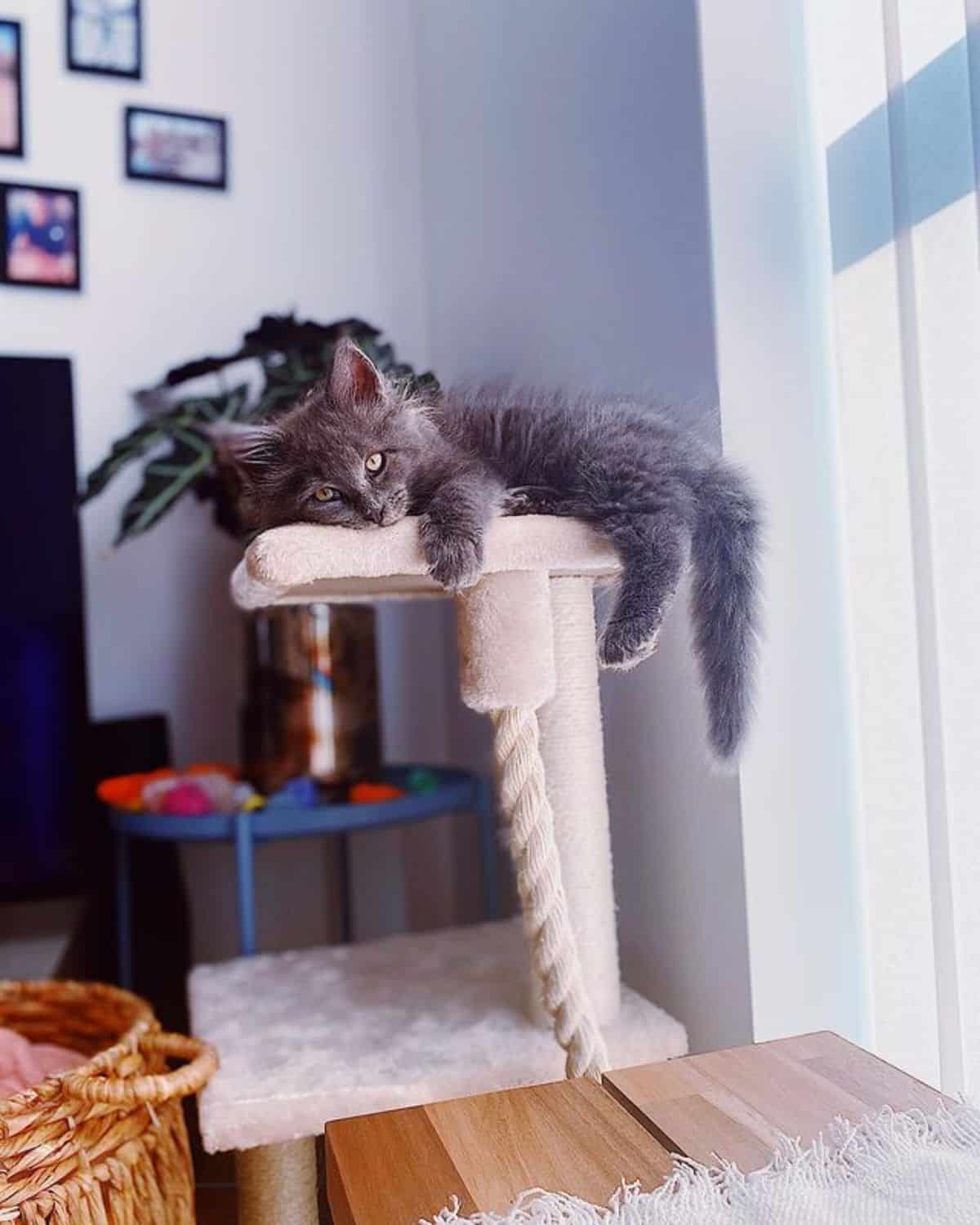 Like most other cat breeds, Maine Coons love to climb.
The difference is that they are typically much bigger than traditional felines, so they require much larger cat trees!
If you are getting a Maine Coon kitten, expect them to find the highest point in any room—and instantly fall asleep!
11. Warm Hearts & Grumpy Faces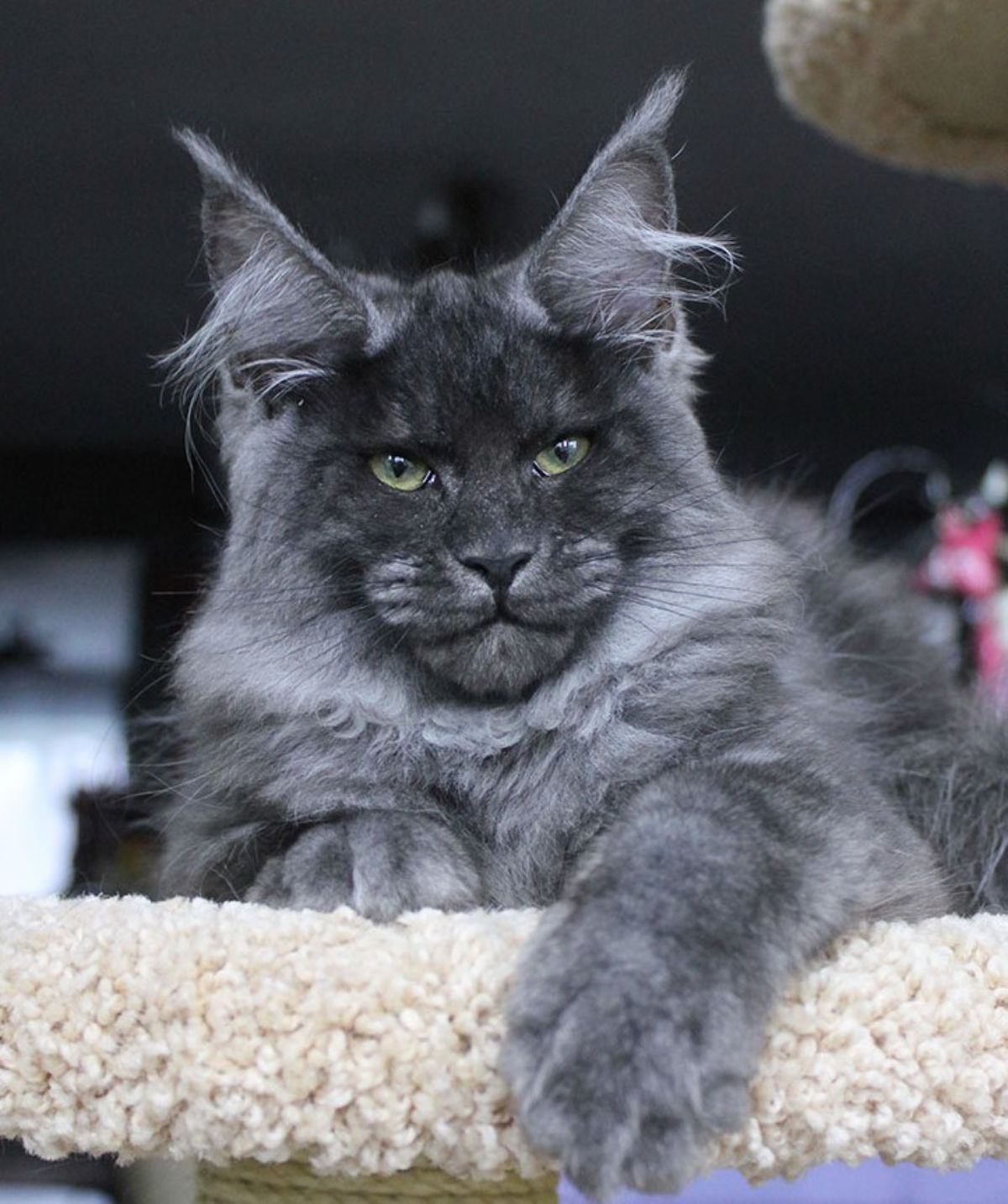 Maine Coone kittens bear a striking resemblance to angry older men. But don't worry; they're as likely to yell at you as you are to yell at them. Which is zero, we hope.
Consider this photograph of Catsvill County Cattery's Blue Wolf baby grays, whose grumpy mugs make them look perpetually upset (and so cute!).
Gray Maine Coon kittens are just as sweet and affectionate as adults, and their facial expressions can be deceiving since they are most often in a good mood.
Before You Go
Maine Coon cats come in so many beautiful variations.
Although these adorable baby grays are one-of-a-kind, you can find Maine Coons in every possible color, pattern, and size.
Whether you came for inspiration or entertainment, may you leave with a Maine Coon!