Kittens can elicit an "aww" from even the most stone-faced individual. Even people who prefer dogs cannot deny the warm, fuzzy feeling brought on by the sight of a tiny feline.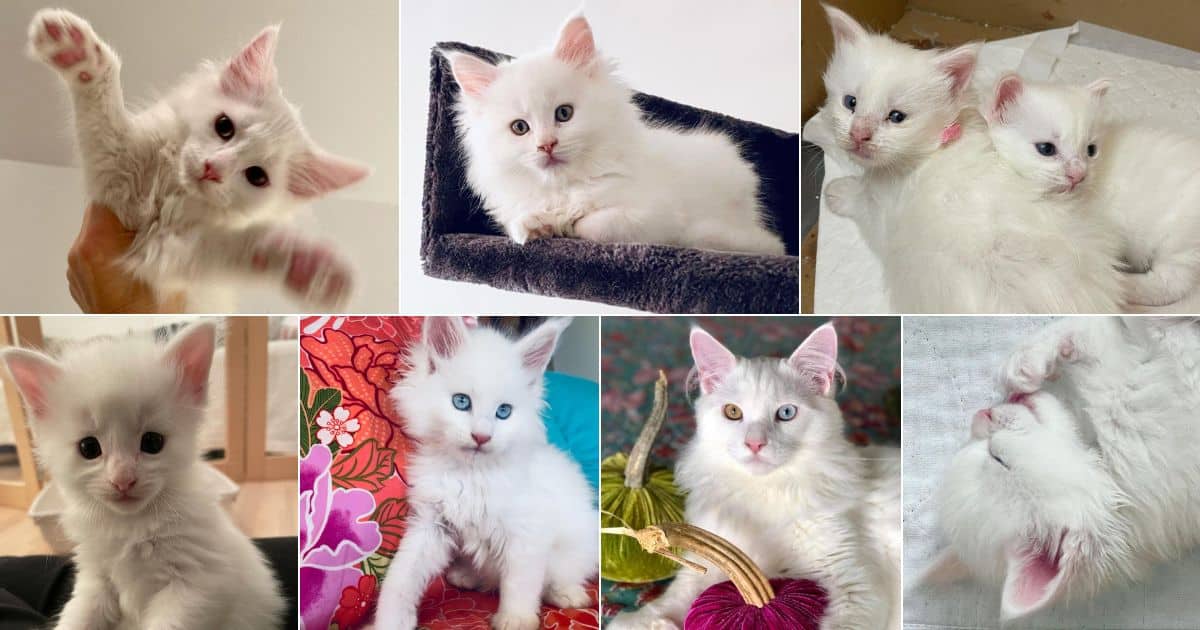 While all kittens have unique charms, there's something about Maine Coon kittens that stands out. The extra-plush fur, the "human-like" facial features, and the tufted ears give them the look of tiny fantasy creatures. Of course, this goes double if they happen to have white fur.
Jump to:
White Maine Coons
Among mammals, the melanin-producing gene that creates darker coloring is dominant, so an animal lacking melanin is rare. This rarity often makes them the subject of legends, myths, and art - i.e., the White Buffalo, the White Whale -and favorites for people looking to acquire a pet.
The most common coat colors among Maine Coons are darker ones, like black tabby, blue-gray, and tortoiseshell. Cats that are entirely white or ginger are on the rarer side of the spectrum.
Let's look at these white Main Coon kittens and learn some facts about these gentle giants.
1. Cotton Candy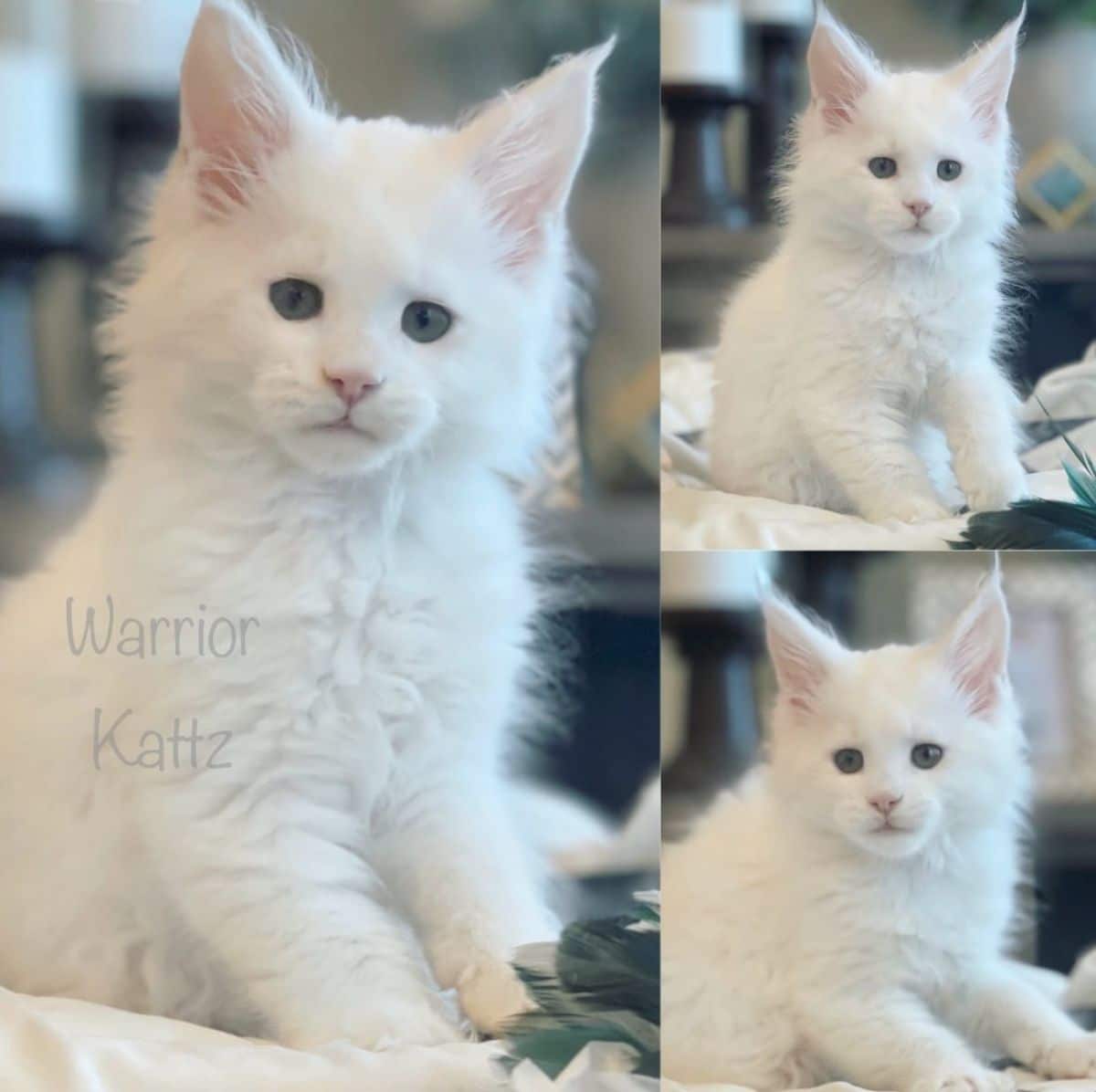 Baby white Maine Coons have a beauty all their own, with cotton candy-like fur. While they usually don't have their full coat until they are at least a year old, these cats are known for being incredibly soft as kittens.
Many people wonder where Maine Coons came from and how they developed such a thick coat. Some wild stories are floating around about Maine Coons' origins, including a genetic relation to raccoons- something that is scientifically impossible.
One of the most plausible explanations of Maine Coons' origins is that they were brought over by Vikings who were exploring the Eastern coast of what is now the United States. This theory makes sense, considering their physical similarities to European forest cats.
2. Stunning Eyes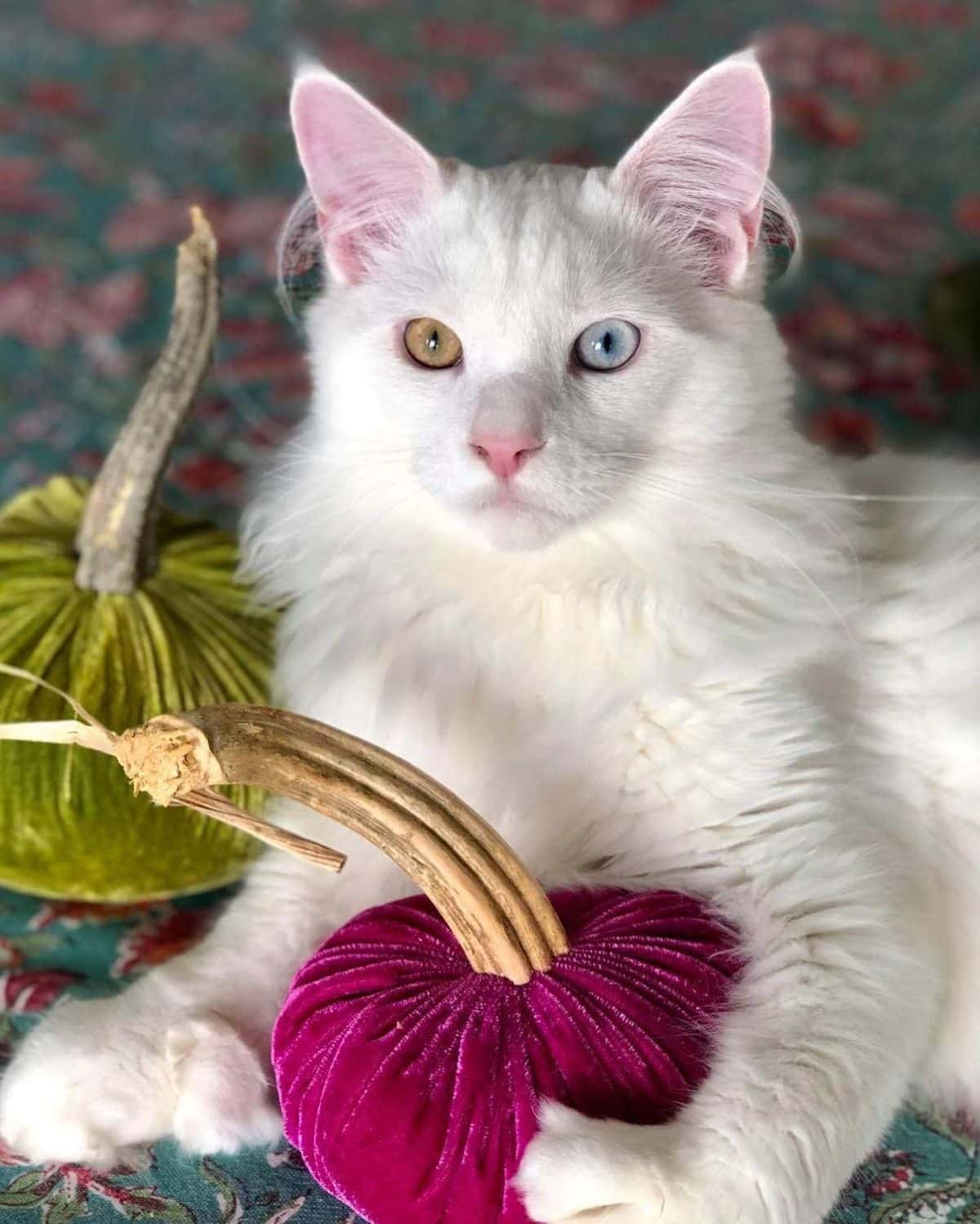 Cats with two different colored eyes are often called "odd-eyed." The scientific term for this condition is heterochromia. Cats with heterochromia usually have no vision issues associated with their different eye color, but they are sometimes deaf. White cats are more prone to this genetic variation than cats of other colors.
Cats can sometimes also have what's known as sectoral heterochromia, which is when a single iris has two different colors in it. Sometimes the color variation is mild, but other times it's extreme, for example, with half of the iris being blue and the other being amber.
3. Ivytail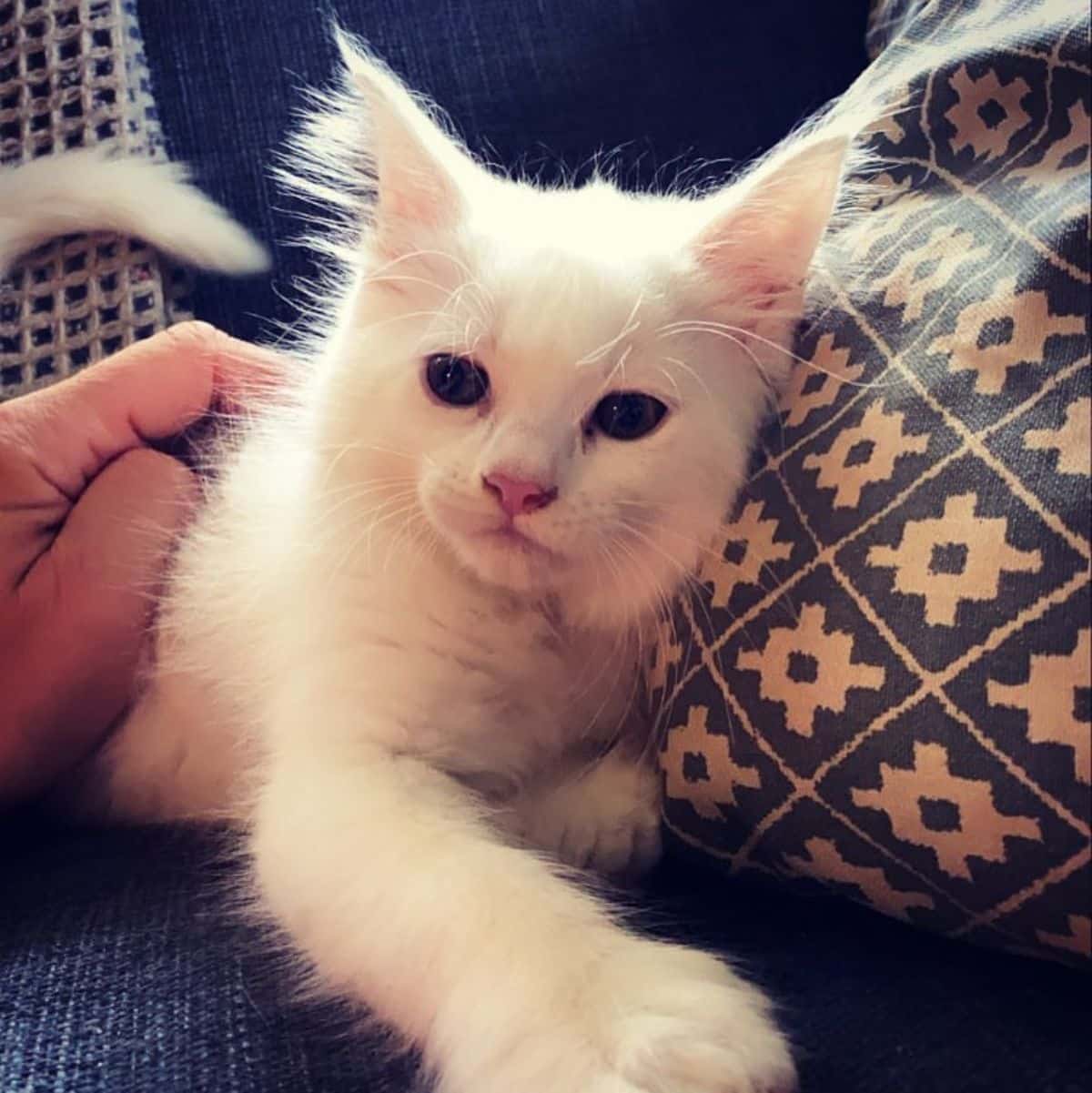 Ivytail is one of the newest additions to Lynx Luna Cattery. Her sweet little face and cloud-white coat make her look like a doll. She's sure to go to a home that will love her like no other!
White Maine Coon kittens are among the most sought-after colors for people looking to purchase or adopt a cat of this breed. Other popular colors include blue, cream, and red.
4. Sneak Peek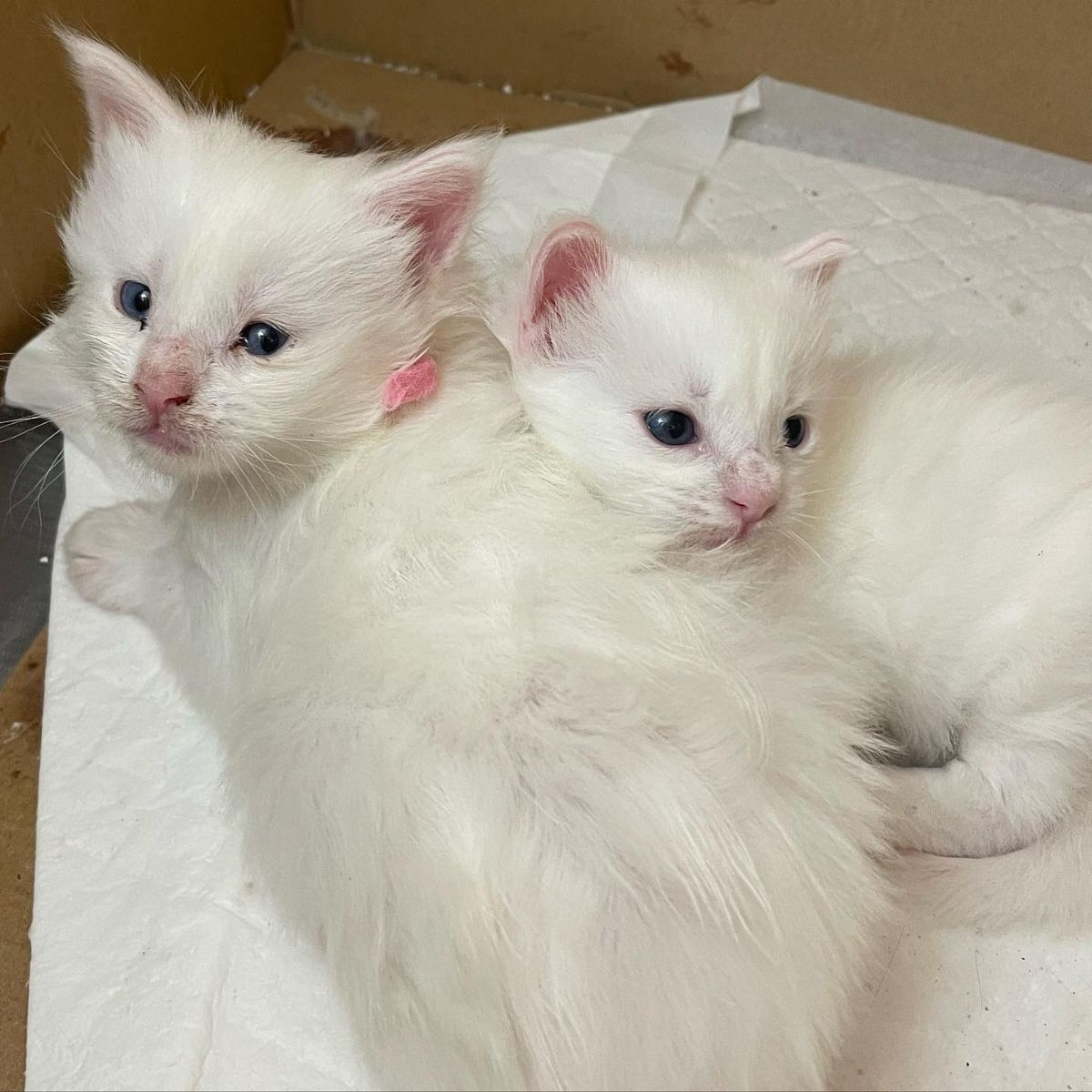 You can tell by this picture who the more dominant cat will be. The white Maine Coon kitten on the left looks directly at the camera, while the one on the right is snuggled next to his sibling, looking shyly away.
These two siblings will get along fine, but if you're hoping to socialize new or unrelated cats, you will likely run into some bumps in the road. Cats with different personalities may sometimes rub each other the wrong way and will take time and patience to adjust to one another.
5. Camouflage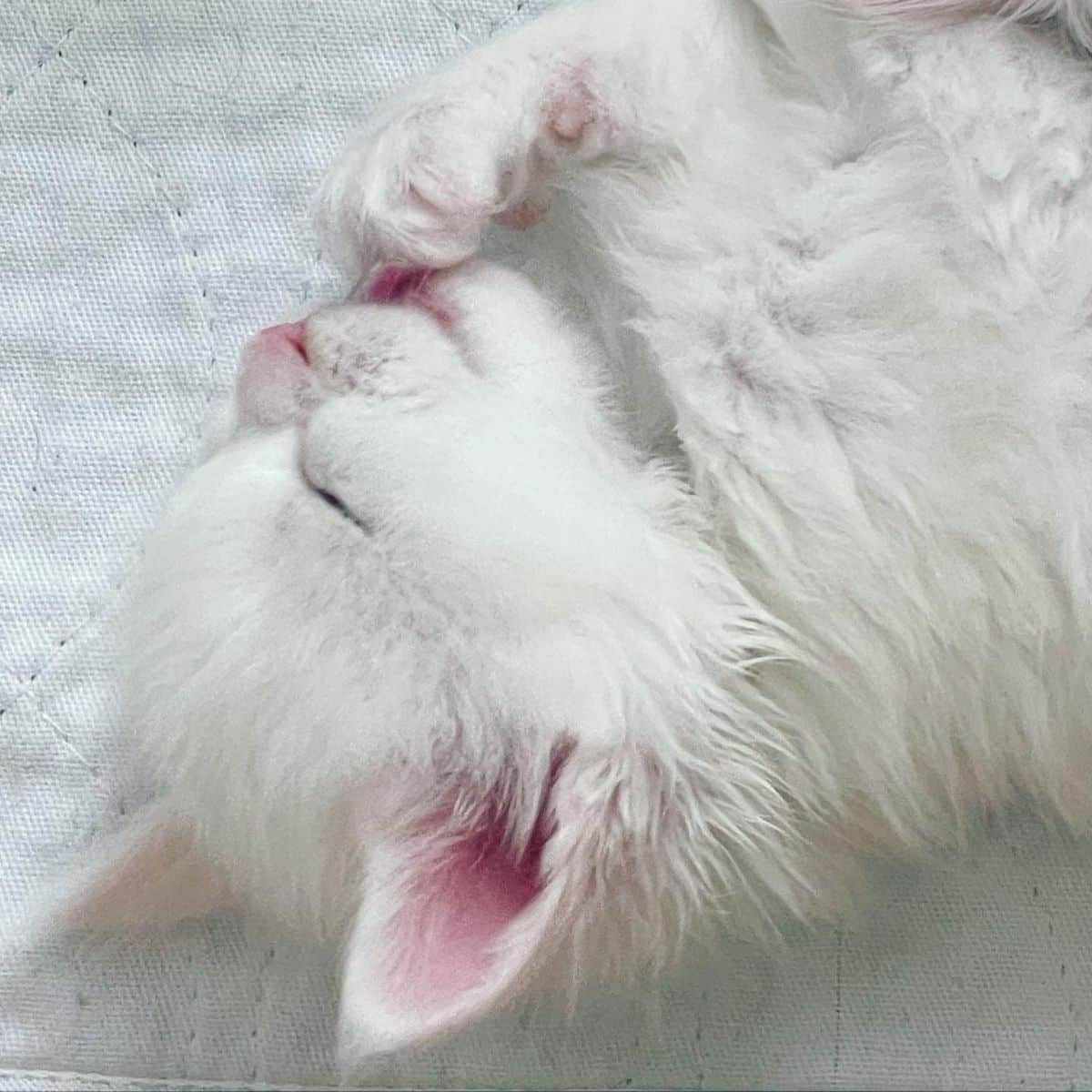 White cats have a way of blending into any white background. This baby Maine Coon is the same color as his blanket, making it very difficult to see him. Thankfully, his little pink nose and paw pads give him away.
It's amazing how cats with white coats keep their fur so clean and bright. Cats have excellent grooming skills and can almost always manage their own coats. However, a trip to the groomer may be necessary for particularly tough messes and periodic maintenance.
6. Island Flower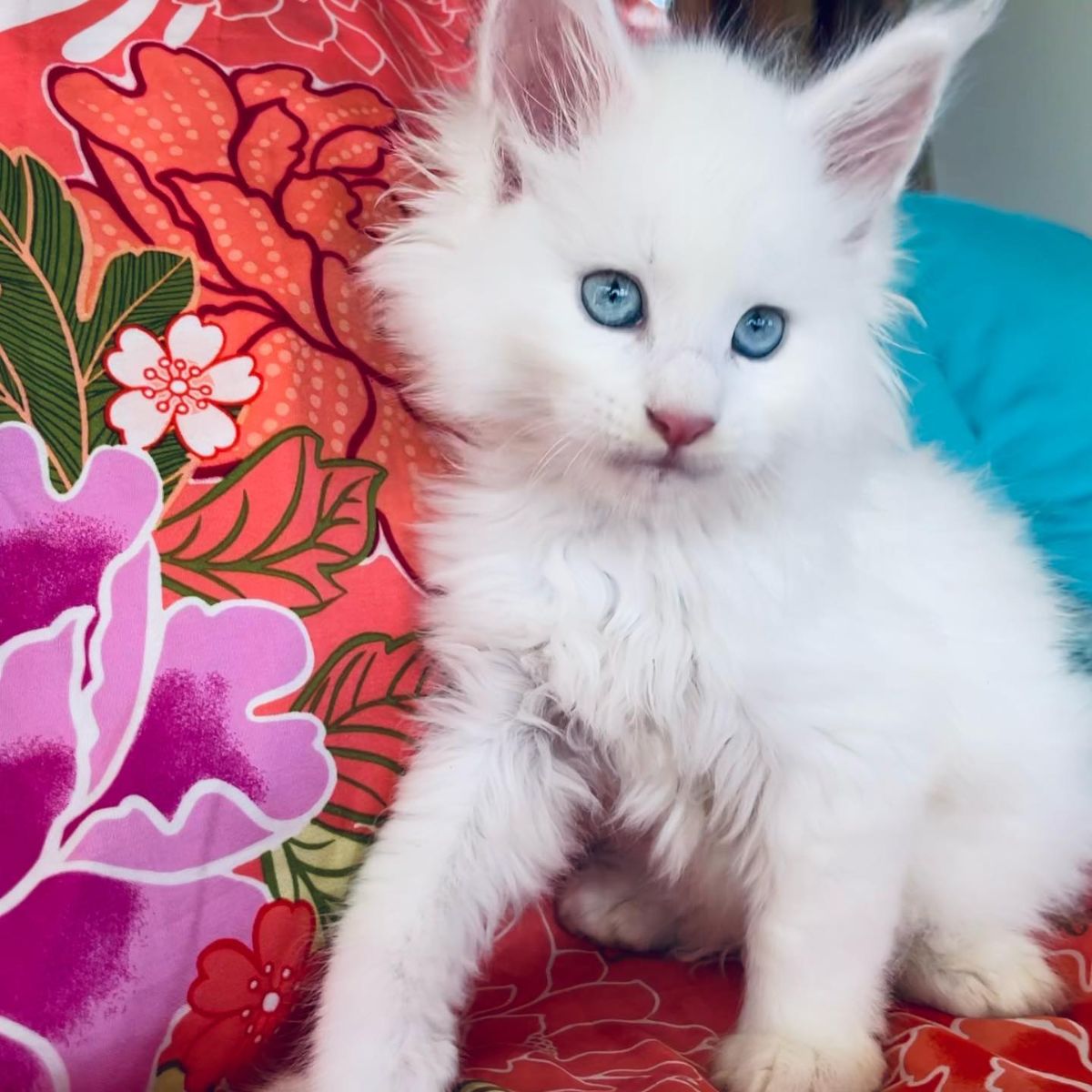 Maine Coons can handle a wide range of climates. This little girl makes her home in Hawaii and seems very happy there. When she grows up, she will probably enjoy exploring the tropical foliage in her owner's backyard and lounging in the sun. In this photo, the floral background on the pillow brings out the blue in her eyes perfectly.
7. Angel Eyes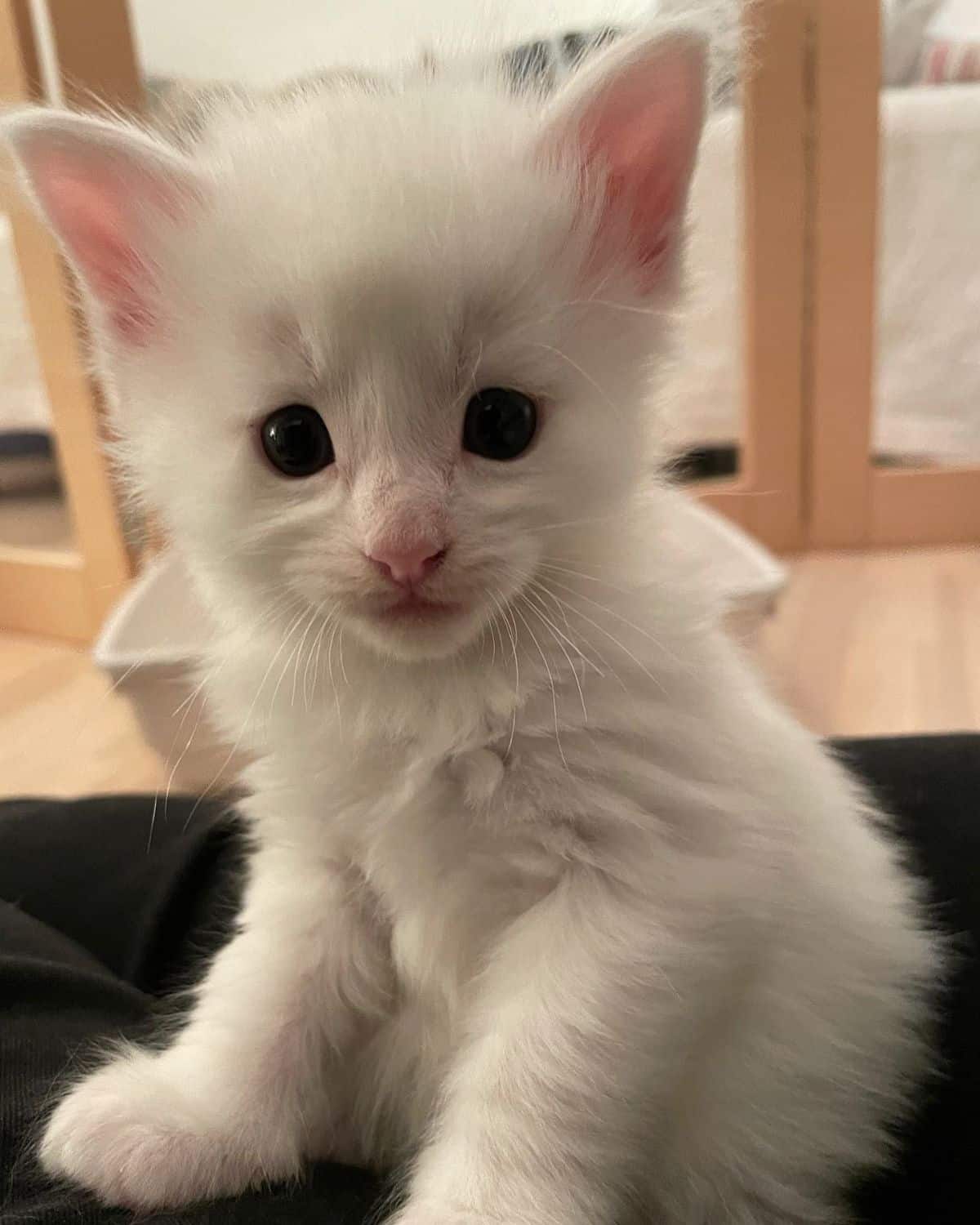 This baby white Maine Coon's eyes look dark because of the photo's lighting. Most kittens are born with blue or gray eyes, which turn to whatever their permanent color will be within a few months. White cats are likelier to have blue to green eyes than yellow or orange. Whatever color eyes she ends up with, we're sure they'll look great on her.
8. Mommy's Little Snowflakes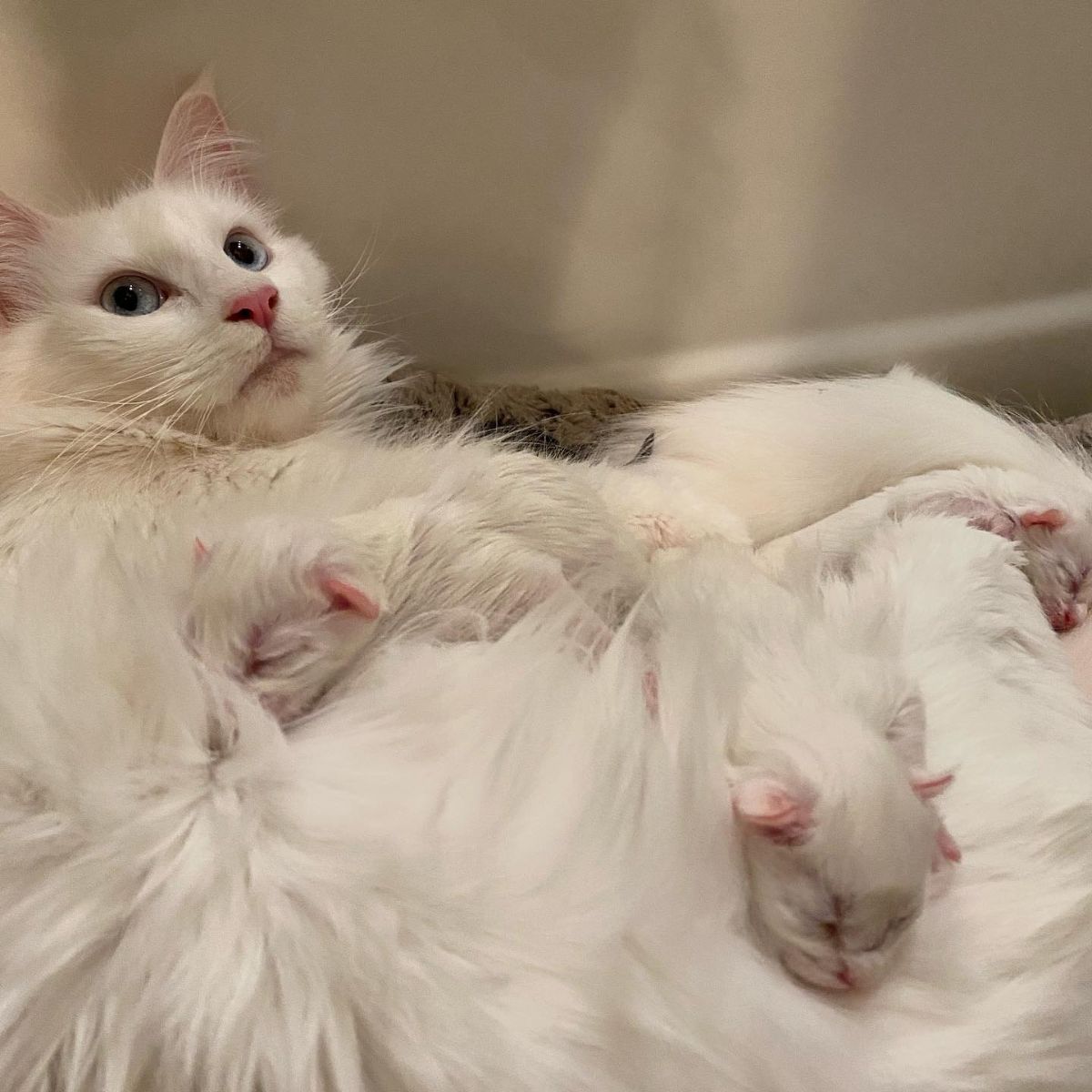 You may have to look twice to notice the newborn white Maine Coon kittens in this picture. They're snuggling up close to their beautiful mama, blending right into her long, fluffy fur. It takes at least one white (or partially white ) parent to get solid white babies. The white gene is recessive, making fully-white coats the rarest color. Only about five percent of all cats are entirely white.
9. Out On A Limb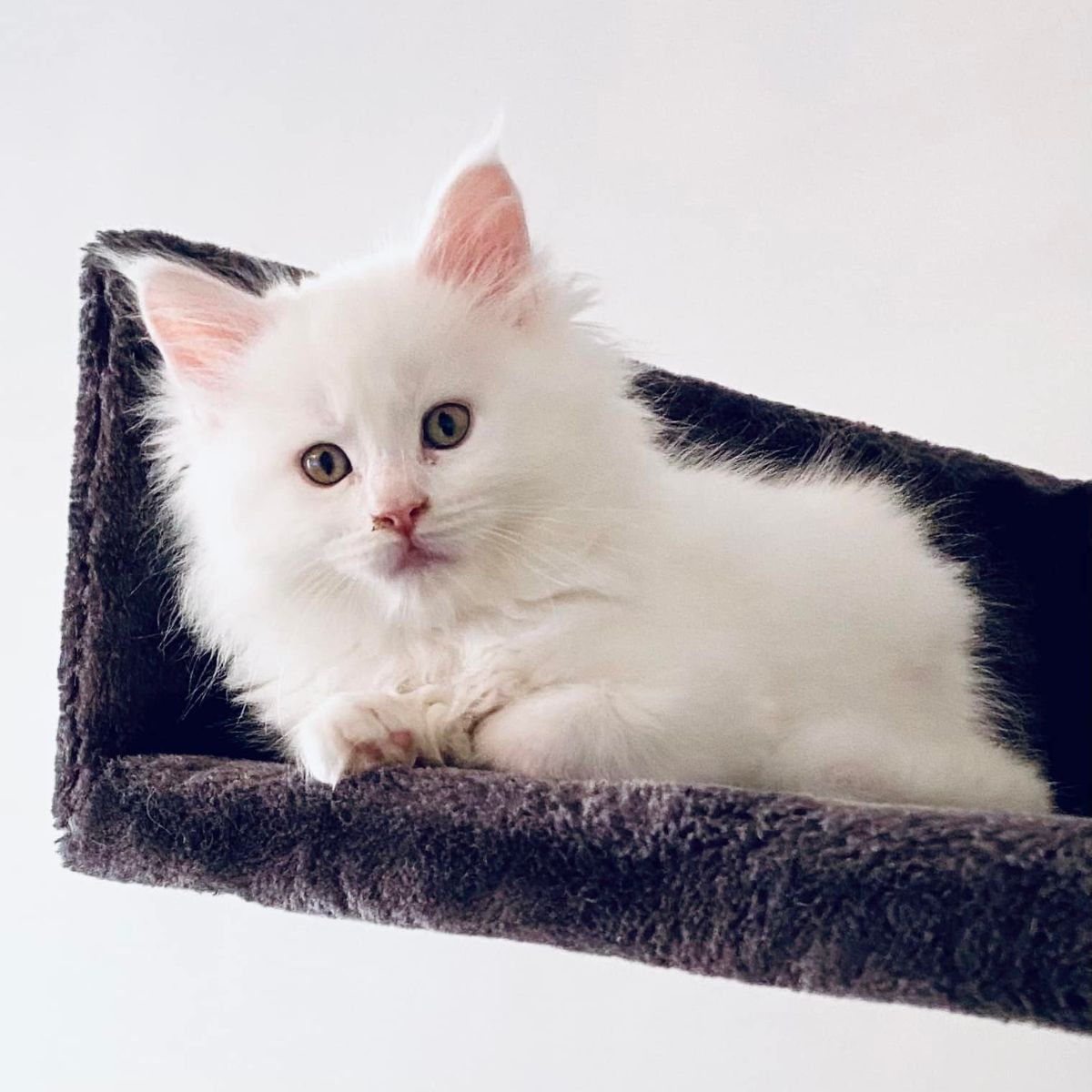 This white kitten is spending time on her cat tree. A cat tree is a great way to help your kitten exercise its climbing skills. It gives them a place to sharpen their nails, other than on your furniture!
Maine Coons are outdoorsy cats, so it makes us wonder if this kitty imagines herself perched on a tree limb in the forest.
This particular baby has more delicate features than the average Maine Coon, but that's just part of the breed's diversity.
10. Grumpy Baby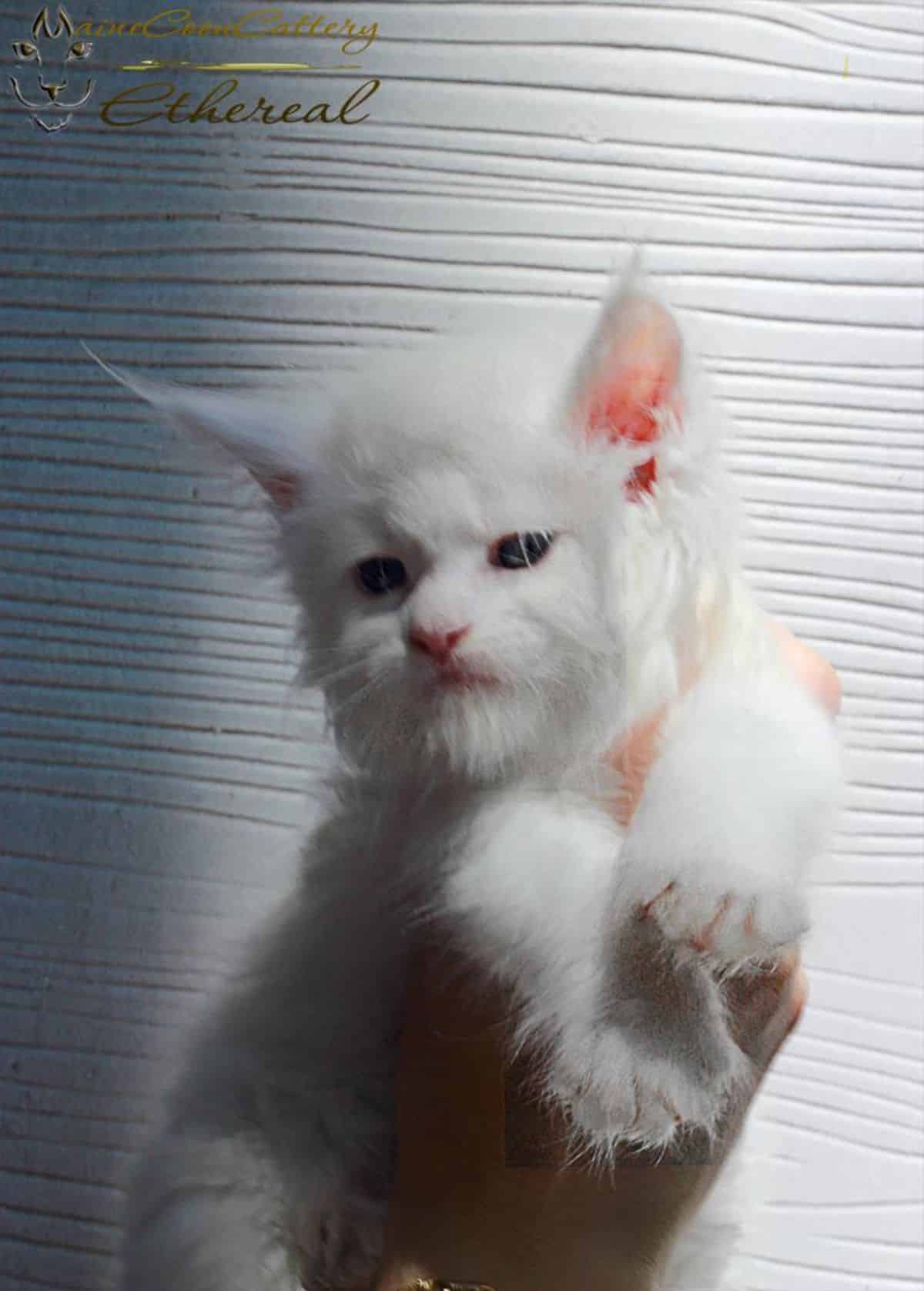 This white Maine Coon kitten is looking away from the camera and making a face that seems to say, "leave me alone." Is he tired? Having a bad day? Maybe he just doesn't like the camera.
Most Maine Coons are placid cats and don't tend to be grumpy or aggressive, but sometimes they will get overstimulated by too much action or attention. Either way, this baby is still adorable.
11. Ready To Play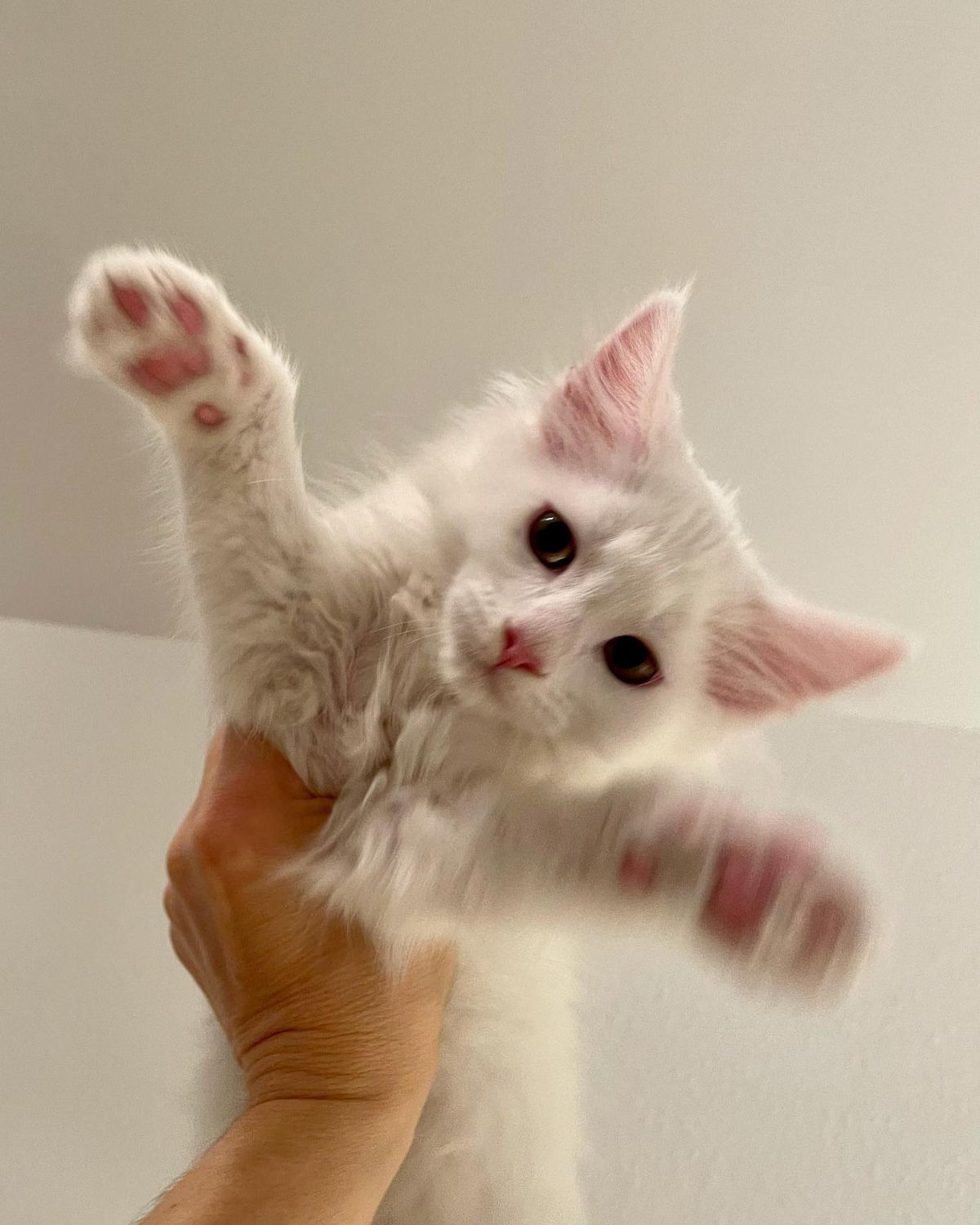 Weeee! This playful kitty is enjoying his time with his human. Most kittens are very active, so it's important to ensure you spend enough time interacting with them while they're going through their energetic stage.
If you have more than one kitten at a time, they can feed each other's need for physical activity, fun, and mischief, but they still need you to guide them and keep their space safe. Keeping plenty of cat toys where they can find them will help inspire their playtime.
Conclusion
If you're looking to adopt a cat, there is no way to guarantee you'll find the baby white Maine Coon of your dreams. You'd have to purchase instead and go with a reputable breeder who will contact you when a litter with white kittens is born.
No matter how you get your white Maine Coon cat or any other kind of cat, the thing that matters most is that you give it all the love and care it deserves.