If you've never seen a Maine Coon, you'll be amazed at how large and unique this cat breed is. Coming in a wide range of colors, Maine Coons are large and in charge (of their humans and households, that is).
Everything about the Maine Coons is beautiful, especially their long-haired coats and fluffy tails. Their impressive size and gorgeous eyes are other charming features. Let's get started with our list of 17 beautiful Maine Coon cats that deserve an "awww."
Jump to:
1. Barivel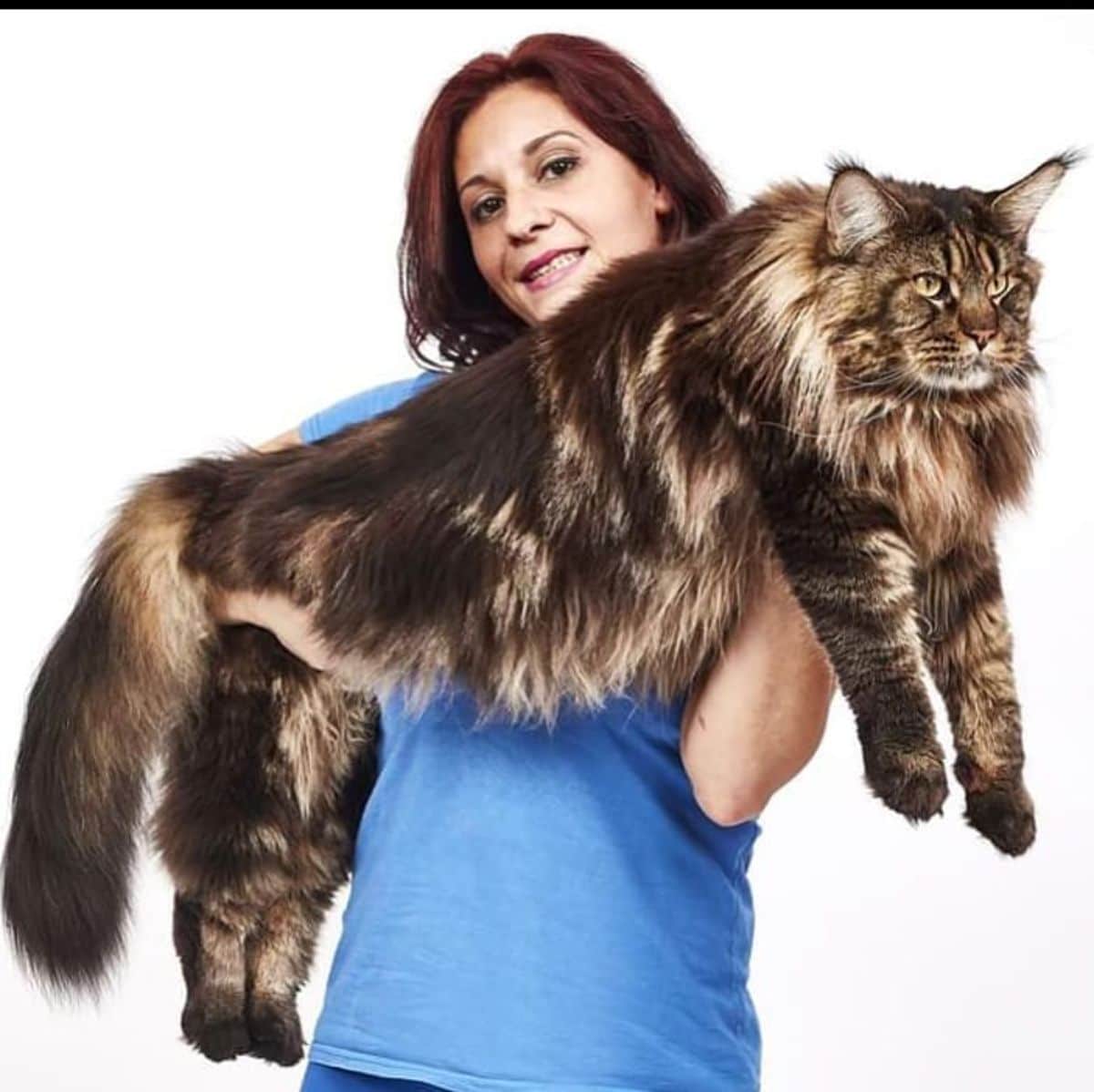 Like with most other breeds, male Maine Coons are larger than females. That's why many people love seeing pictures of male Maine Coon cats, and this specimen is one of the most striking.
Many admire Barivel for his size, which you can see is considerable. He's such a sweet boy, though. Barivel's human loves showing off this kitty's body length and glorious coat.
2. Ron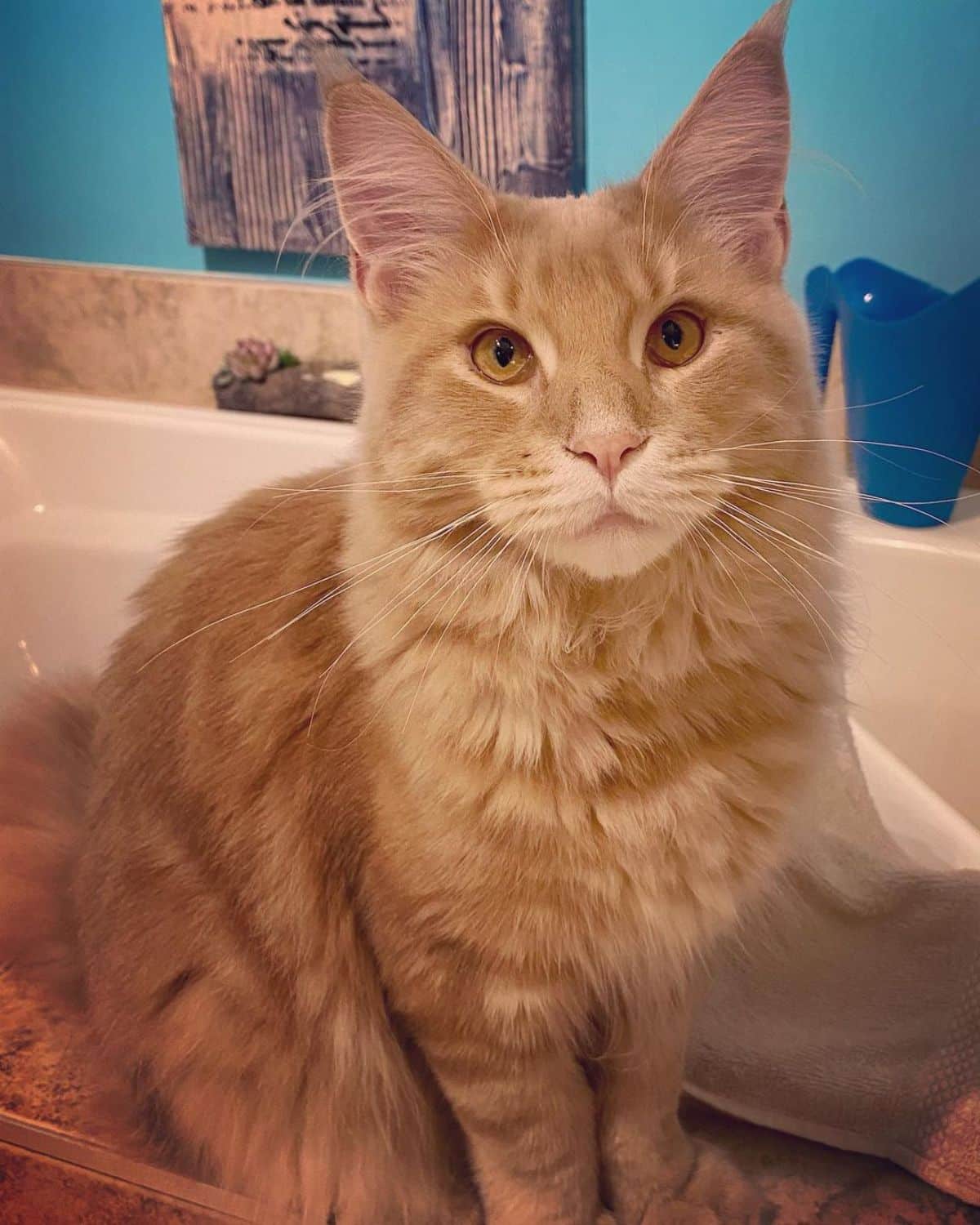 Like Barivel, Ron is a beautiful male Maine Coon cat. This feline is divine, with his orange tabby coat, long and bristling whiskers, and bright green eyes. Obviously, Ron loves having his picture taken.
And who can blame him? Ron is one gorgeous cat. He's still young, so he's got a lot of growing to do. Ron is ready for adventure!
3. Gerard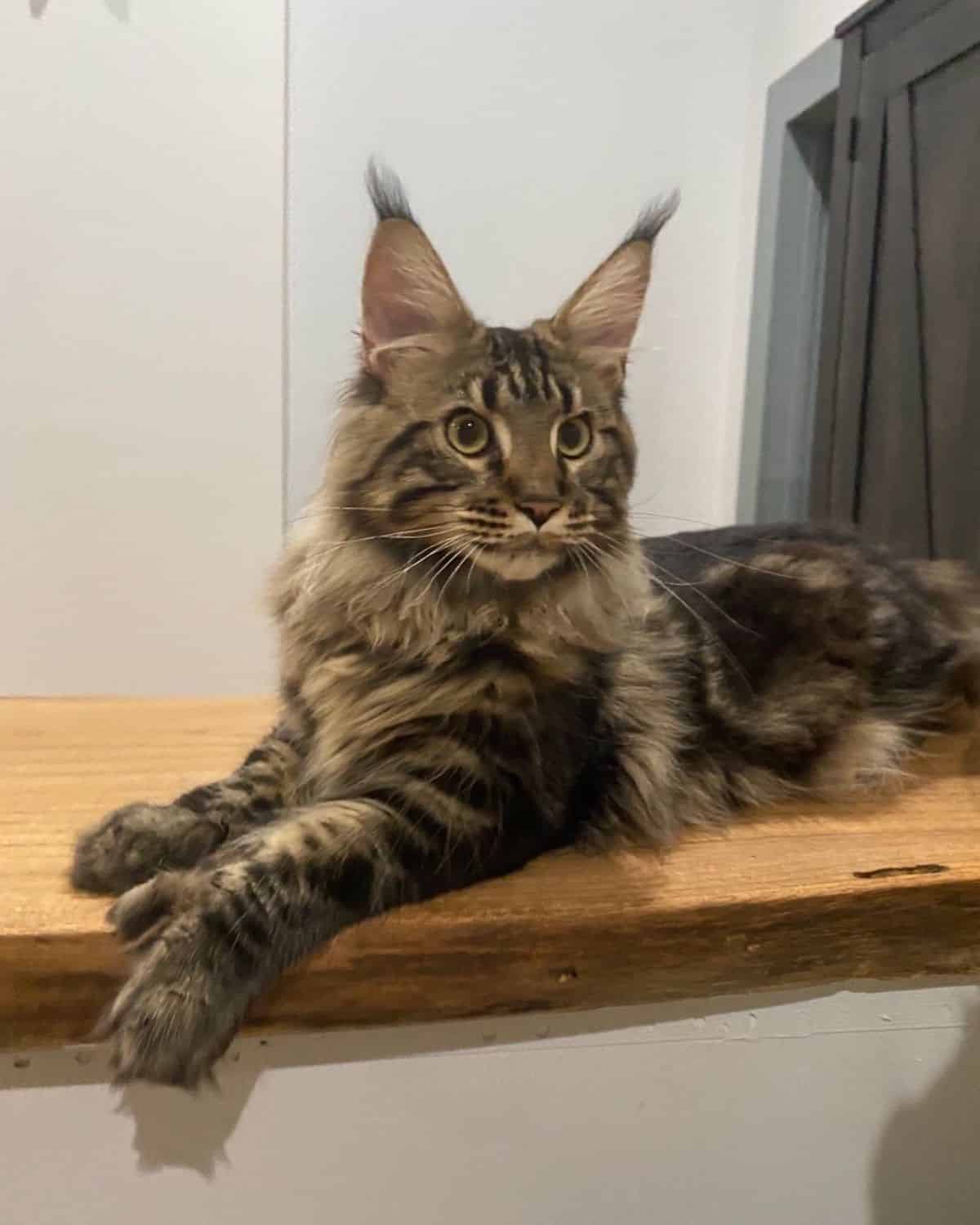 Gerard is still a kitten, but we can already see how majestic he will be as an adult. He already knows the art of the pose, showing off for his human. His ears have the typical triangular shape, with tufts at the tips. Gerard is a polydactyl cat, which means he has extra toes. When it comes to Maine Coon kittens, Gerard is a stand-out favorite.
4. Ezra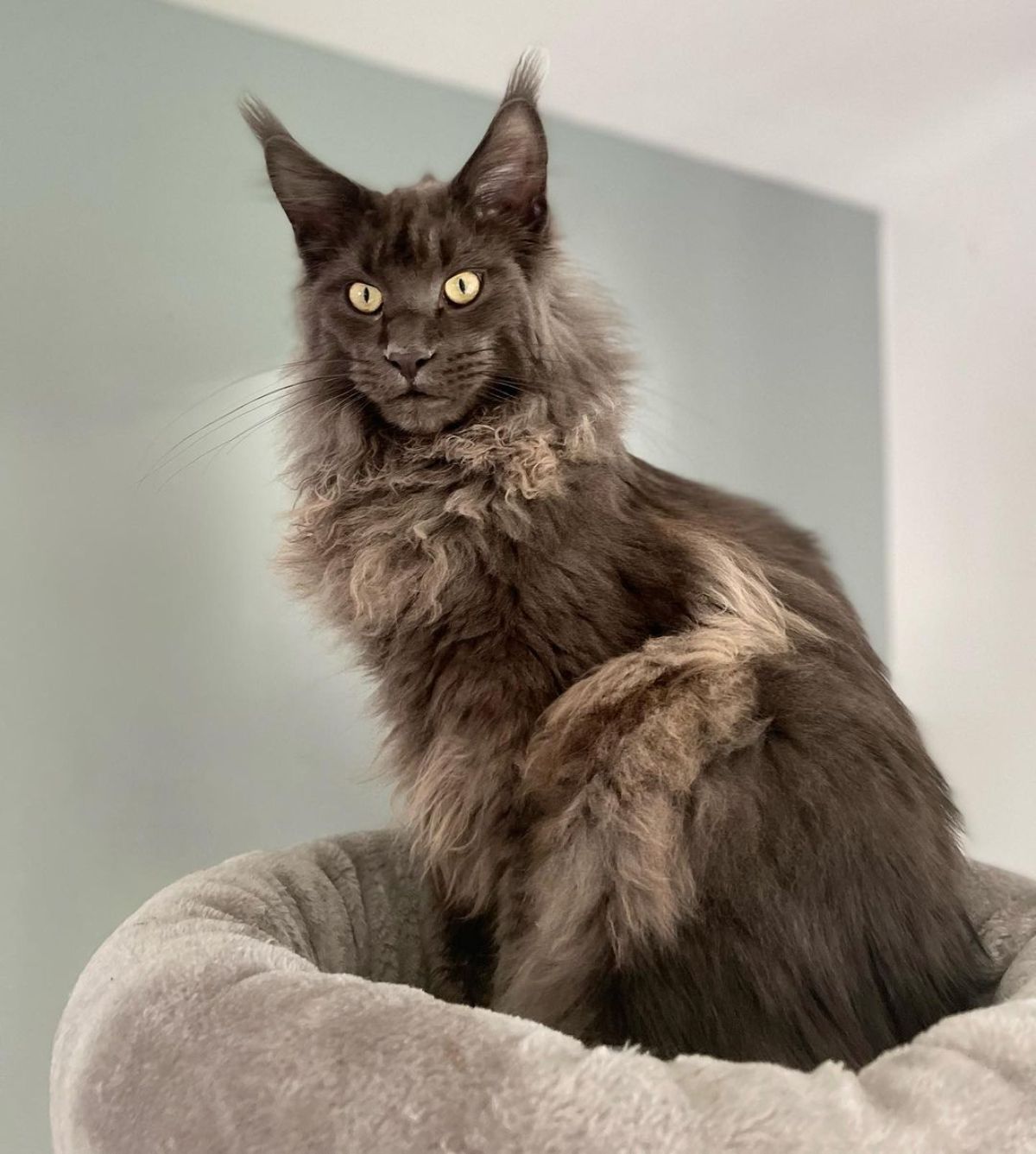 Ezra is the king of his cat bed, and he looks a bit annoyed. Maybe his humans were making too much noise when he wanted to nap. But whatever the reason, his stance makes for a majestic picture.
His dark coat with light patches is impressive, and it complements his yellow-green eyes. Ezra knows he's handsome, and he is ready to be admired.
5. Lobellan Peter Pan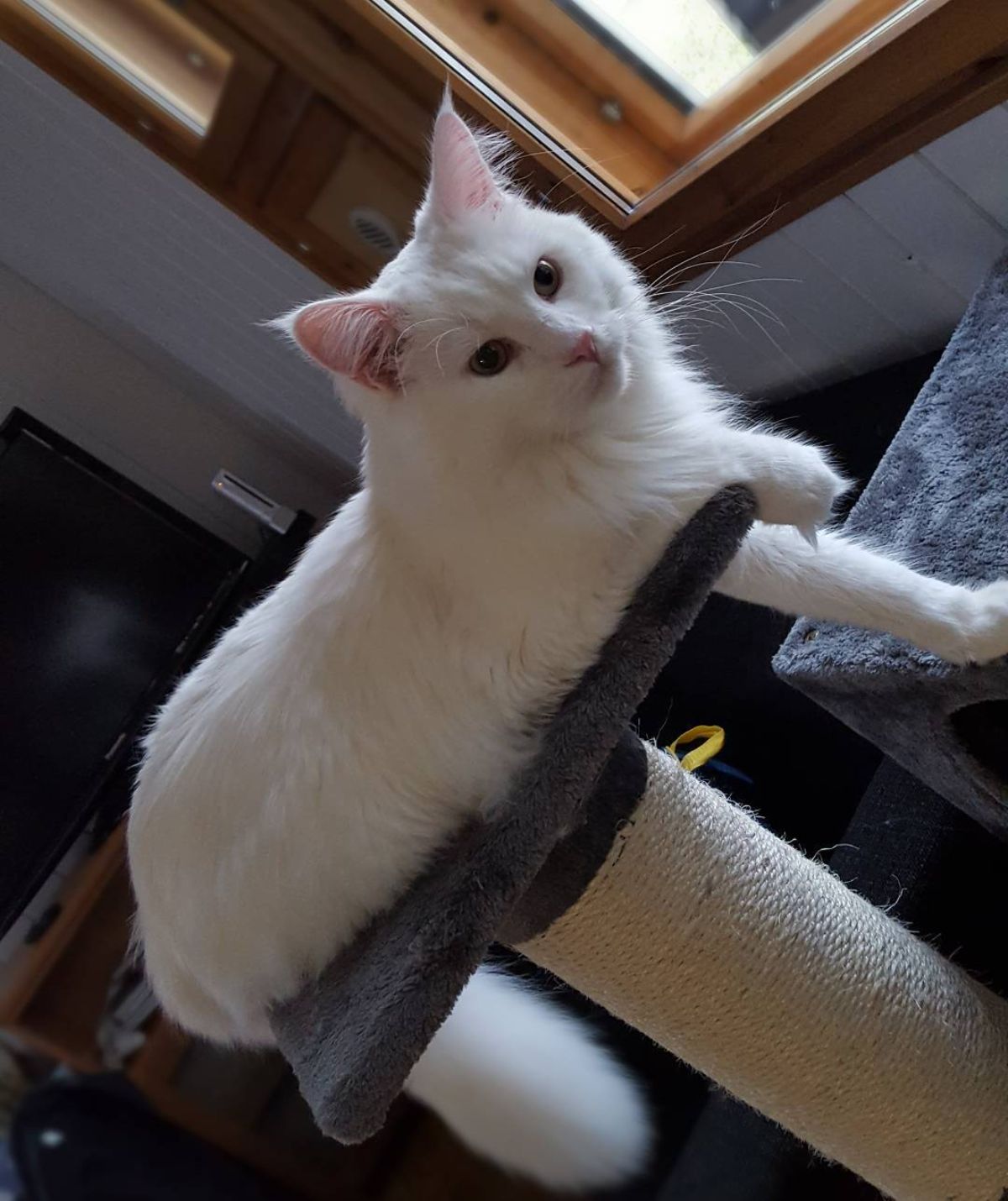 With a snowy white coat, Lobellan Peter Pan is a real beauty. Here he is, lounging on top of his scratching post cat tree. He's such a big boy that he can't fit his front legs and tail on the platform, so they gracefully hang over the side.
This kitty looks deep in thought. Probably contemplating how to make some tuna appear in his food bowl or maybe even the meaning of life.
6. Max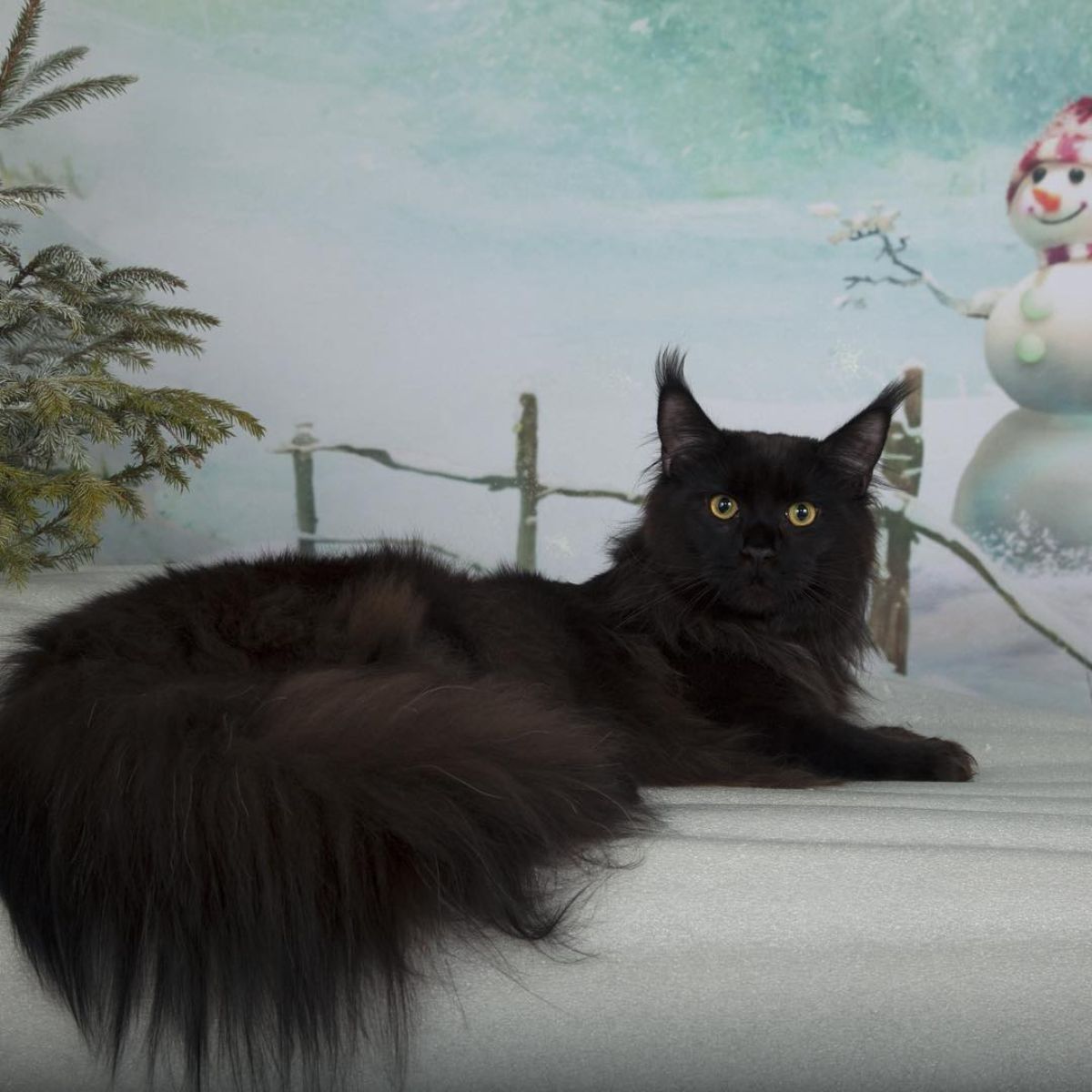 Can you believe that Max is still a kitten? That's Maine Coons for you. They're certainly bigger than your regular kitten. Max still has plenty of growing to do, but he's a confident feline.
He's proud of his big, fluffy tail and glowing eyes. His human companion has posed him in front of a winter scene. What a perfect image for the holidays!
7. Maru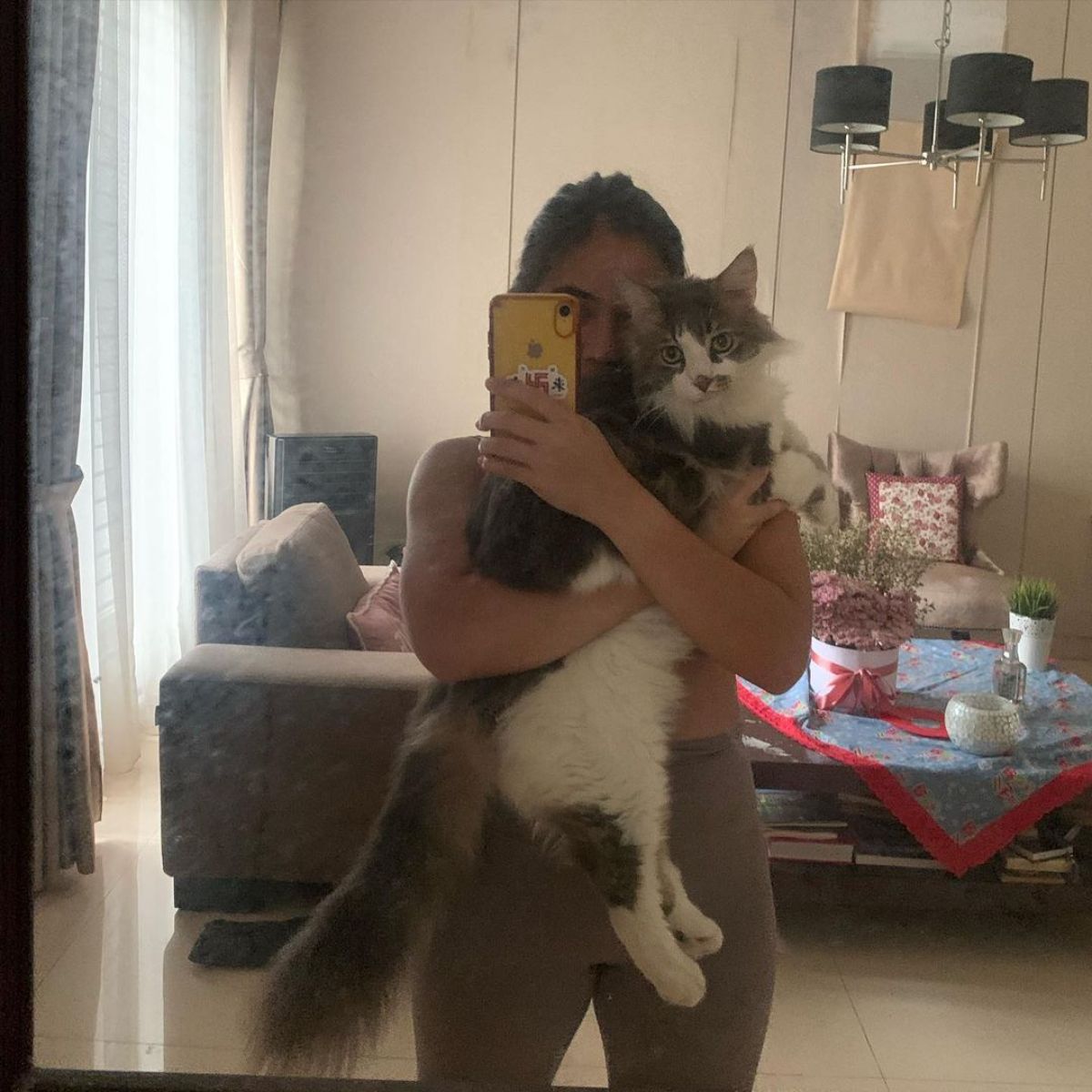 A gorgeous Maine Coon, Maru, is posing for a selfie with his human companion. He's letting his owner take the picture, but everyone knows cats are the best photographers.
Or they would be if they had fingers! Anyway, Maru is a big feline, and he'll get bigger. We love his fluffy white belly and long legs.
8. Orion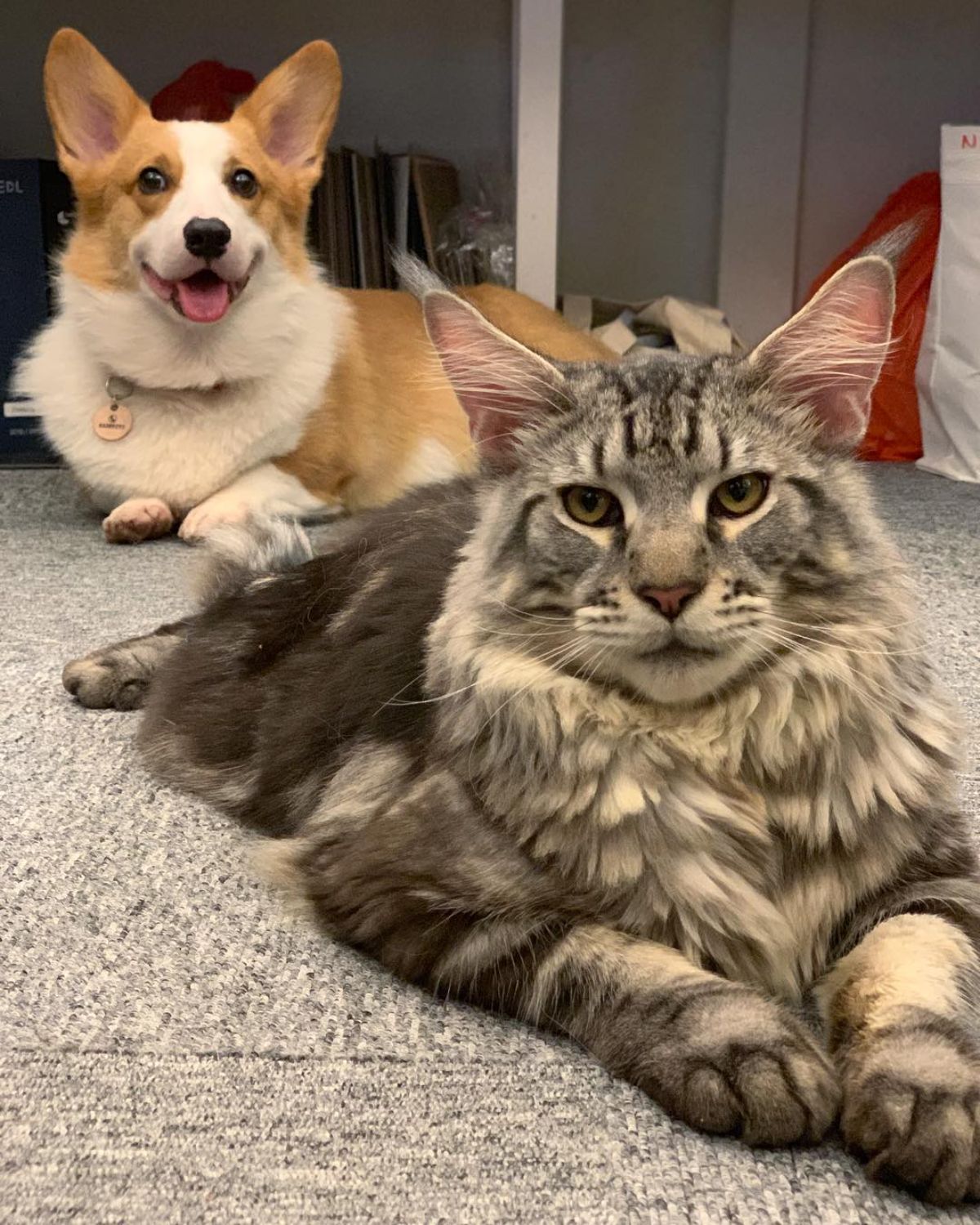 Orion knows he's beautiful and that his corgi friend simply cannot compare! But he likes being around this canine companion, and they do get along well. Orion is the boss, though, and the corgi knows the feline is in charge.
As their human social media manager says, this is a bromance. There's so much to admire about Orion, but his fluffy neck ruff really stands out. Orion and the pup will probably go and play. Or maybe they'll just take a nap.
9. Midawi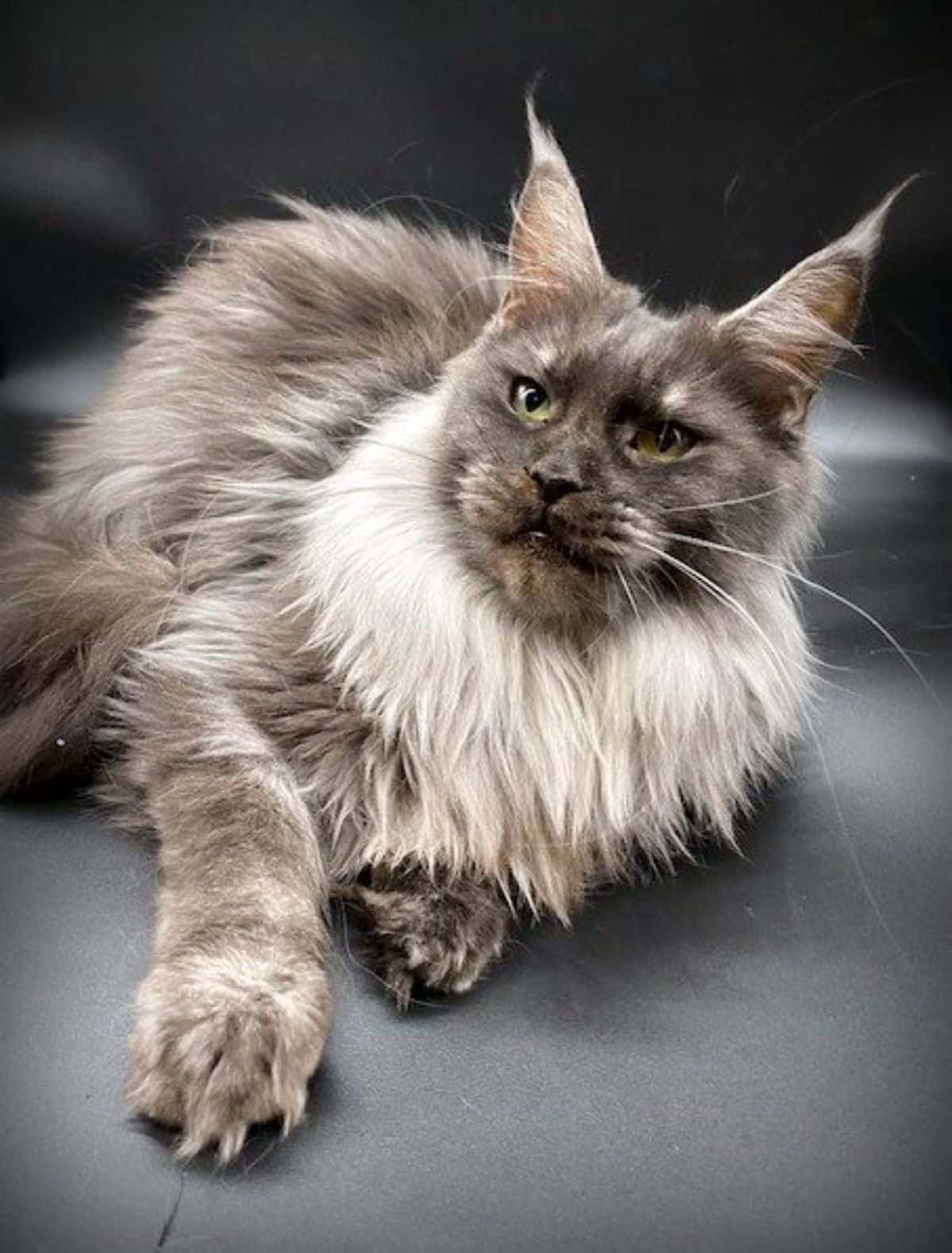 Midawi is a wise old man as well as a beautiful Maine Coon. He thinks he's a lion, and he looks a little bit like one.
Just look at that face. Most Maine Coons have great whiskers, but Midawi's are especially impressive. He looks inquisitive in this picture. Wonder what he wants to ask his human?
10. Bailey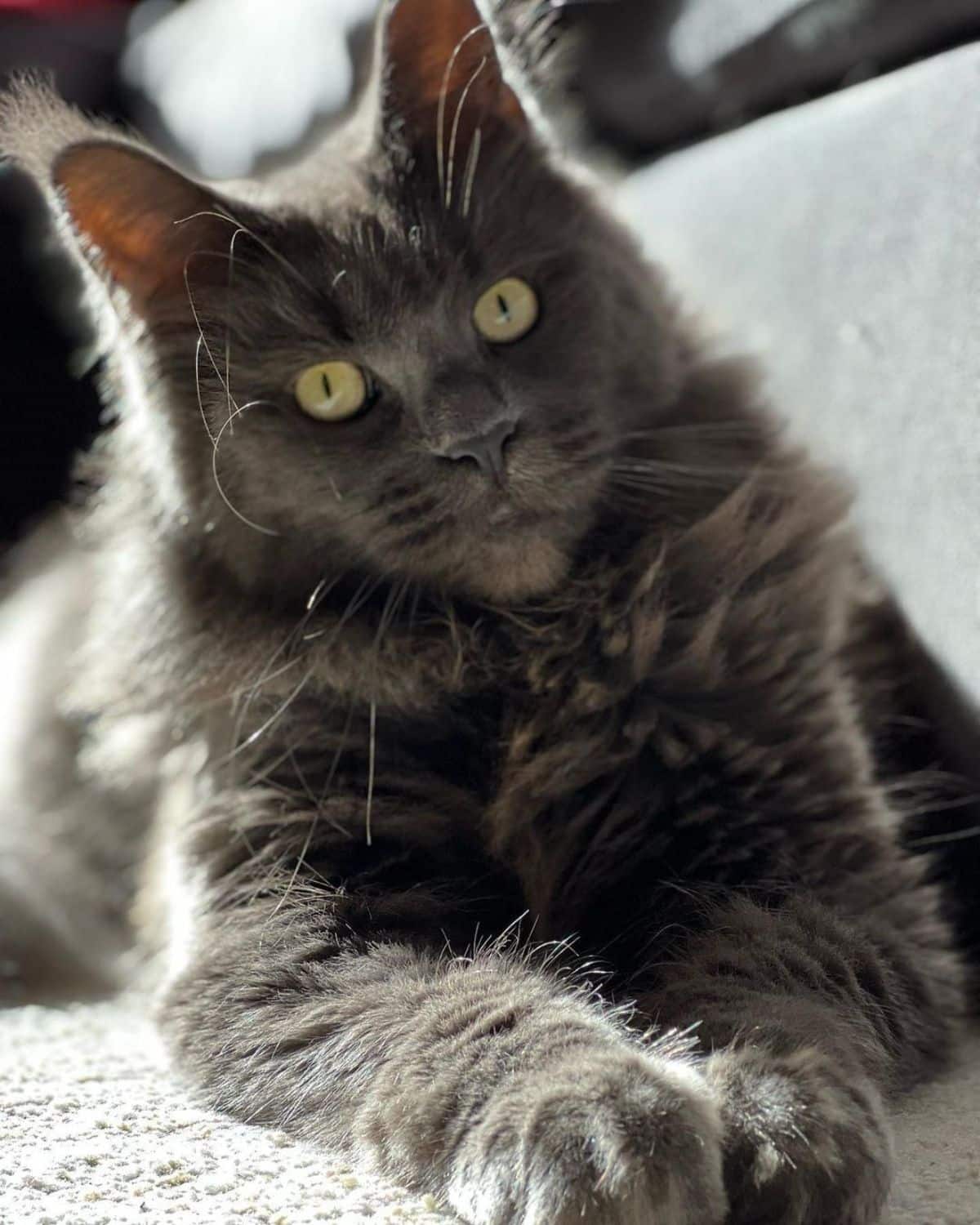 Talk about a ball of fluff! This Maine Coon has some serious fur. He has a serious expression, probably pondering the meaning of life. We love the combination of his dark gray fur with those yellow-green eyes.
It looks like he's relaxing on a bed, probably getting ready for a nap. One thing is for sure: he's beautiful!
11. Milo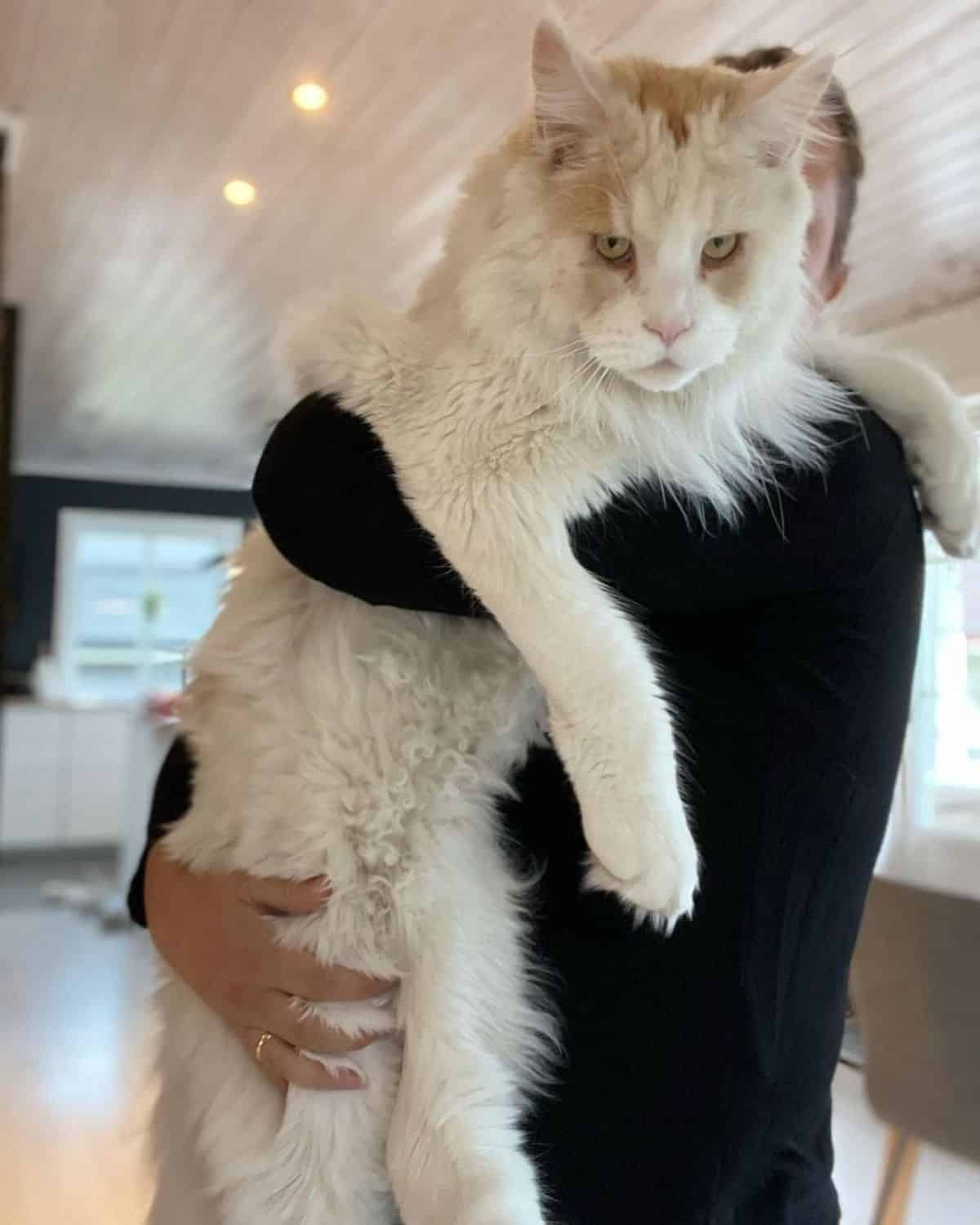 Woah! That's one big feline! His owner can hardly pick him up. Luckily, this kitty is sweet and docile, so he's not fighting to get back down. Milo is a huge boy, and you can see he makes his human proud.
We can understand. After all, if you had a cat like this, you'd want to show him off too! Milo loves spending time with his humans, and his fans give him the admiration he deserves.
12. Dizzy
Dizzy has an identity crisis. He thinks he might be a tiger! Just kidding, but we couldn't blame him if he did. Such a serious face. He definitely means business. This gorgeous kitty probably scares off mice and birds for miles around. Dizzy is a sweetie, though. He's friendly and loves people.
13. Gizmo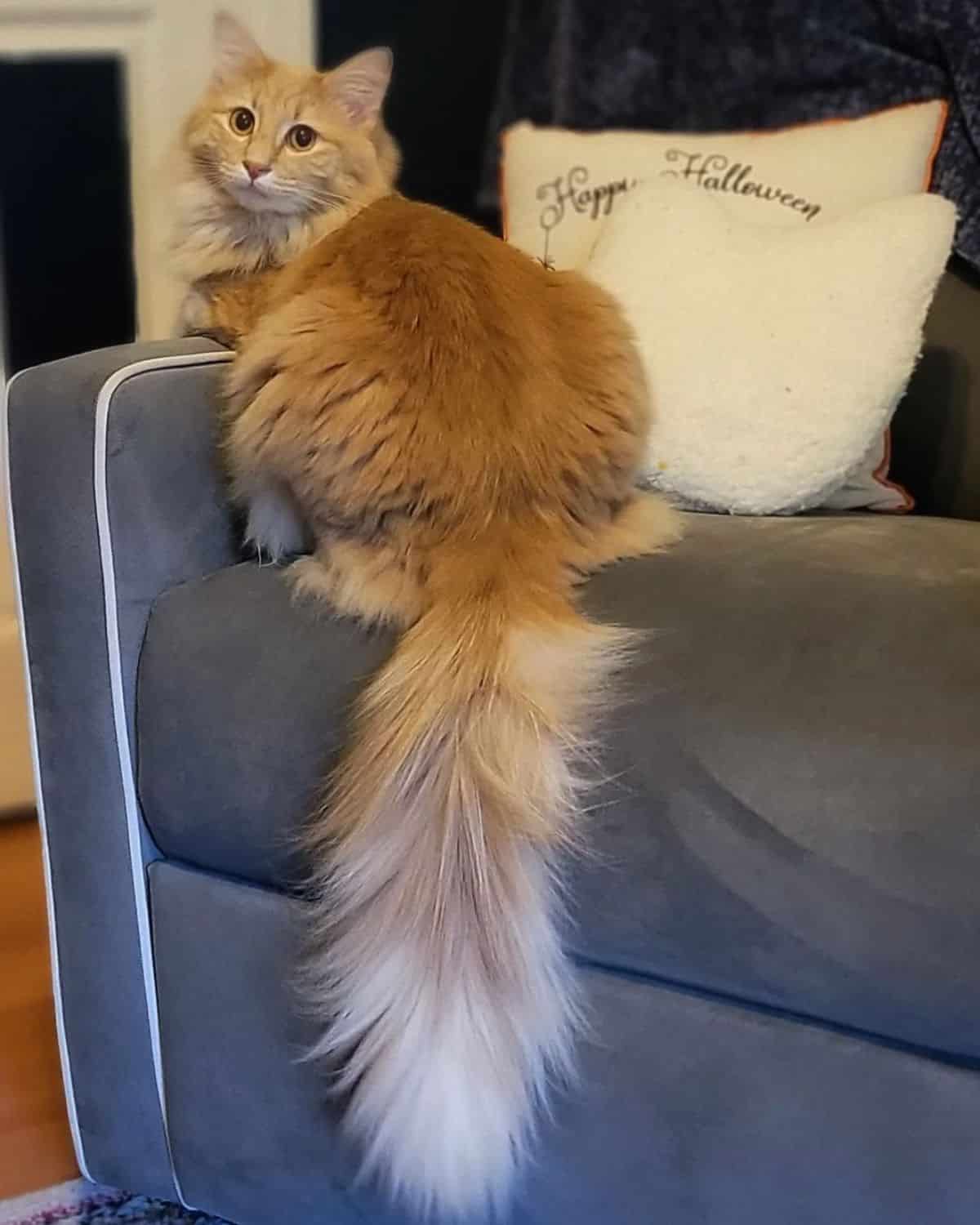 What a tail! It's simply glorious. Gizmo seems to know how gorgeous he is, and he's posing for his picture on the comfy sofa. No wonder Gizmo has so many admirers. He is adorned by a gorgeous ginger coat that looks so soft and plush.
14. Hugo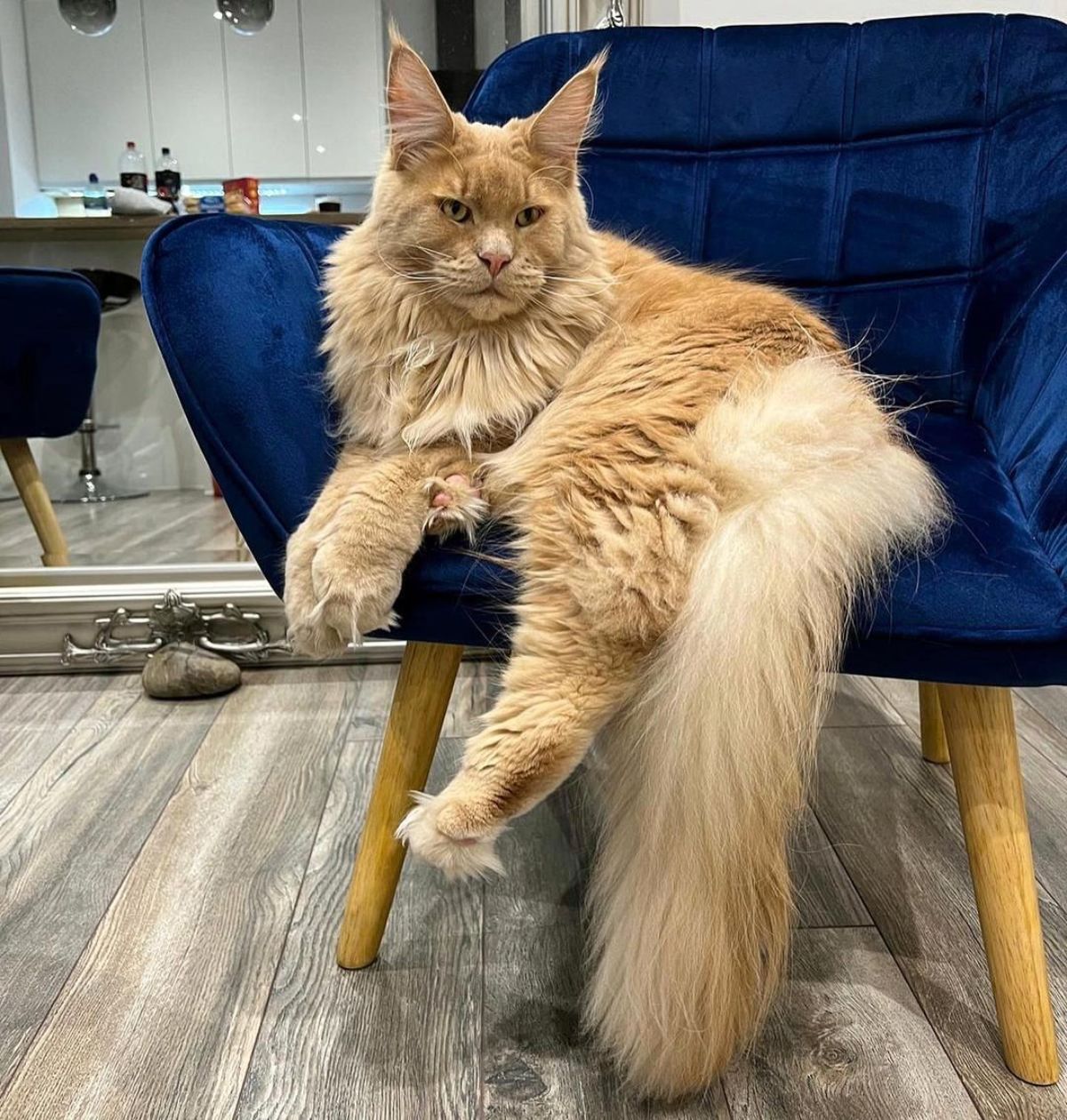 Hugo is a very sophisticated gentleman. Look and admire him draped on a fashionable blue chair. He is showing off his thick ginger coat with a big fluffy tail. Hugo is an enormous Maine Con, and his humans talk about how affectionate he is. Everyone admires his large paws and impressive neck ruff.
15. Iris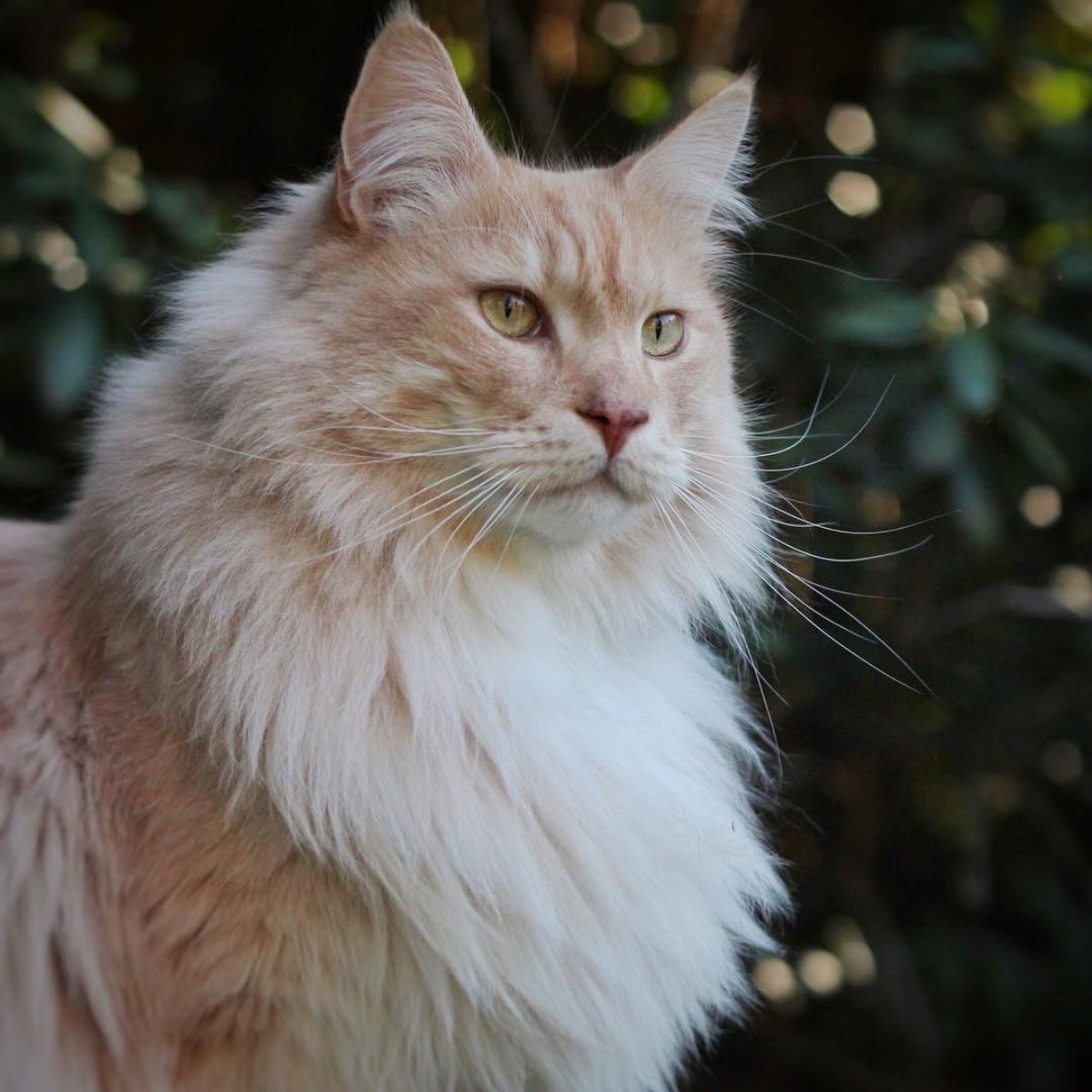 Most of the cats we've talked about here have been boys, but this is a beautiful Maine Coon girl. Iris is a majestic feline with one of the fluffiest neck ruffs we've ever seen. So fabulously fluffy!
Don't you love her light ginger coat with white accents? So lovely. Iris is enjoying the fresh air outside, as we can see the foliage behind her.
16. Teddy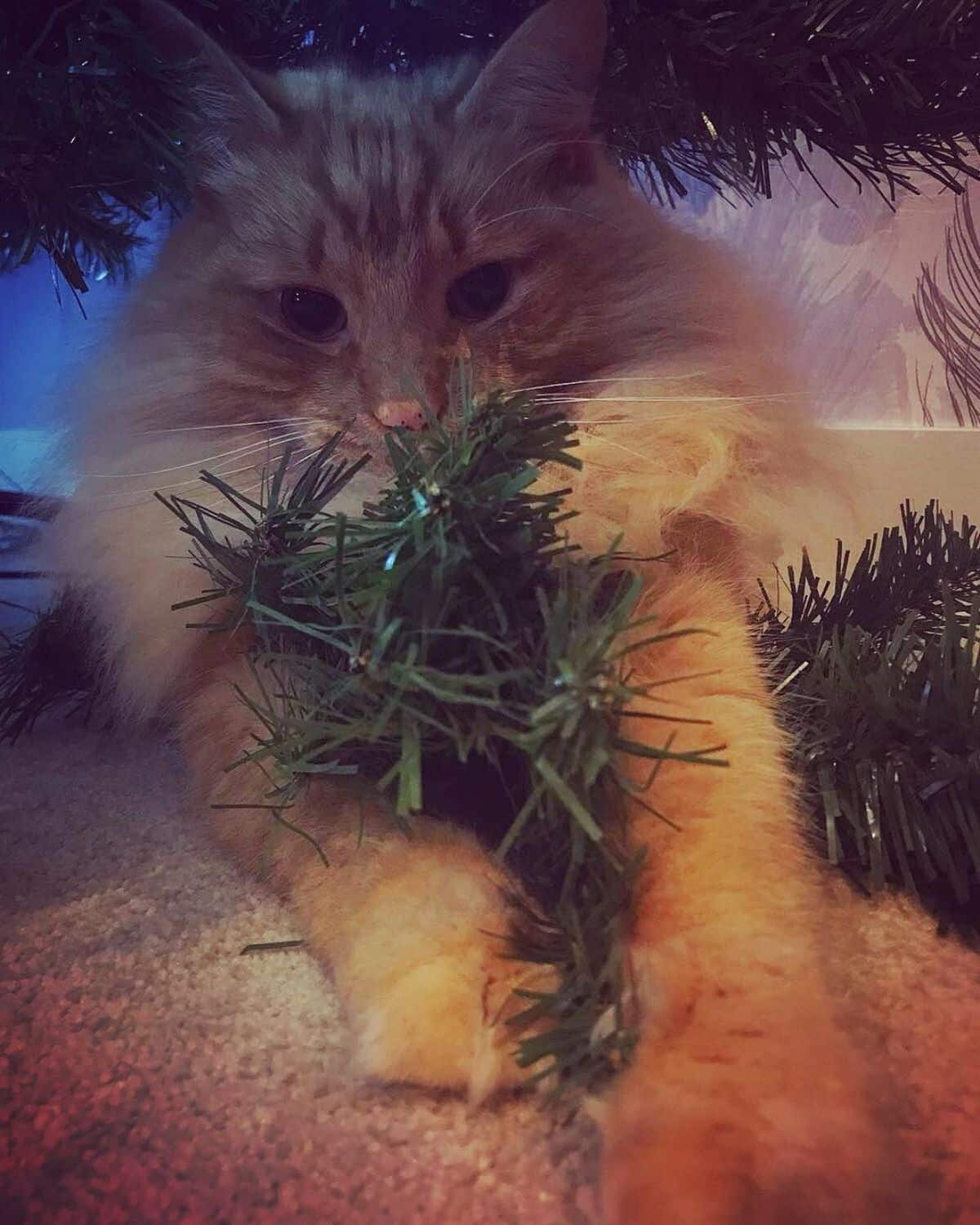 Like many other cats, Teddy just loves a great Christmas Tree. Clearly, he's just attacked one, or at least part of one. He has a branch in his grasp, and he's looking at it with admiration.
Teddy is a silly feline, and he's one beautiful Maine Coon. Do you think he'll knock over the rest of the tree or that his humans will rescue it just in time?
17. Pandora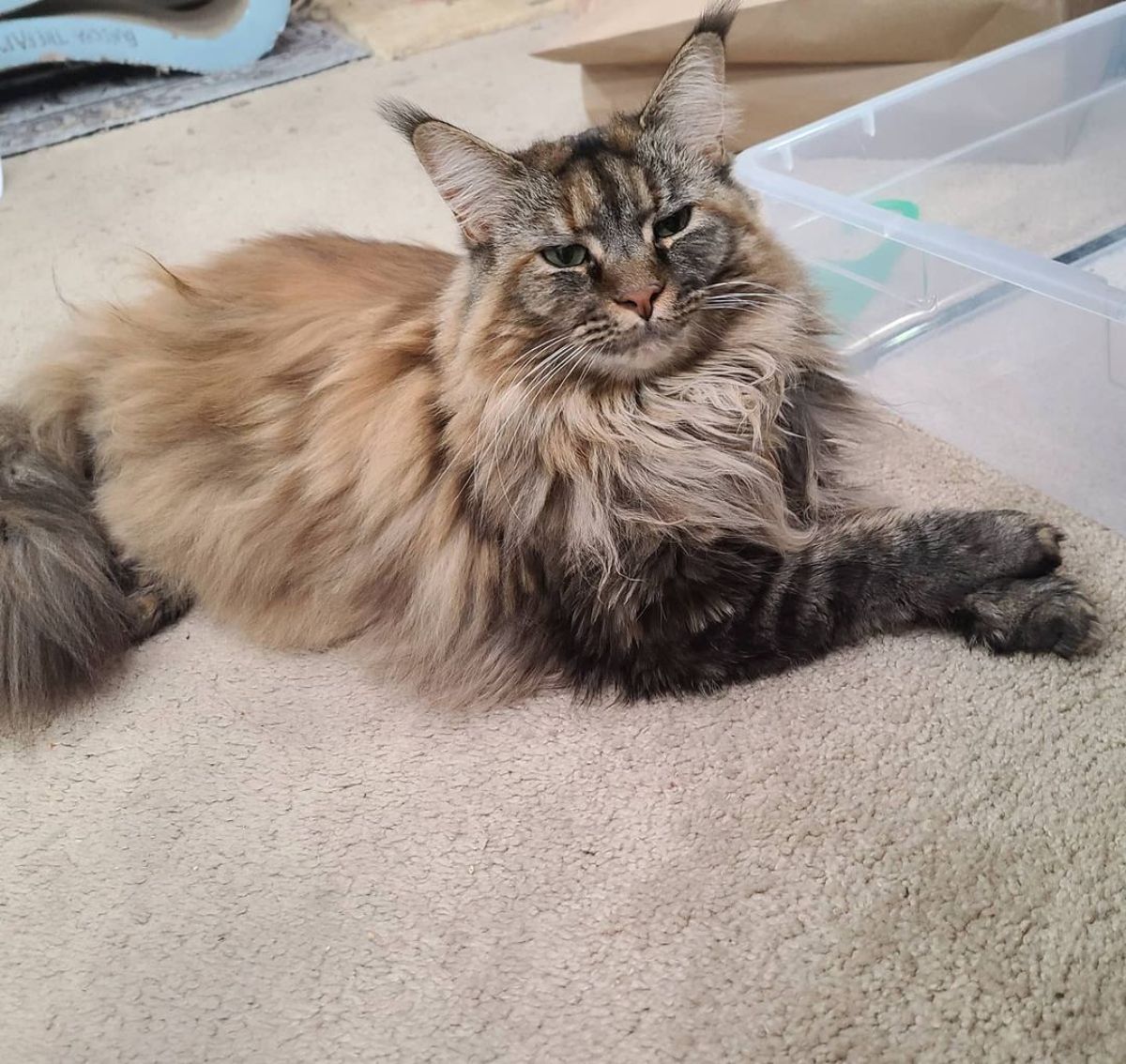 A female Maine Coon, Pandora is famous for her prettiness. That's why her humans call her Princess Pandora. She really does look like a princess, and she knows how beautiful she is. She looks on the smaller size for a Maine Coon, but she has a luxuriously fluffy coat.
Final Thoughts
So, there you have it! These 17 lovely Maine Coons demand your devoted attention and ardent admiration. Which kitty do you think is most beautiful?