It's nearly impossible to resist the imposing size, loving personality, and plumes of fur that come standard with the Maine Coon, especially when you find a coat color that speaks to your tastes.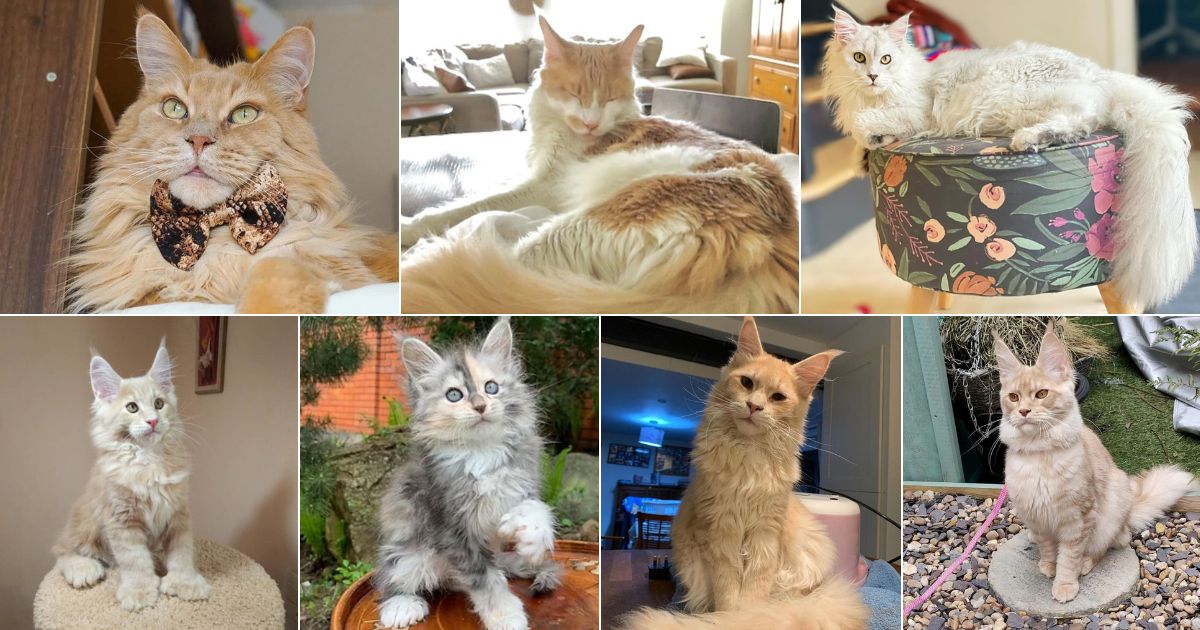 Cream Maine Coon cats are unusually stunning, with touches of warm-toned, tawny fur that looks rather inviting in all of its iterations.
Jump to:
What Are Cream Maine Coon Cats?
Cream Maine Coon cats feature buff-colored fur that is darker than white but lighter than brown. It can come in various patterns, from solid to tabby stripes, and range from barely-there ivory to faded red.
While many factors determine the final coat, all cream Maine Coon cats have the dilute red gene, which gives ginger cats their stunning color.
27 Beautiful Cream Maine Coon Cat Coats
Cat Fancier's Association identifies 26 "official" cream Maine Coon cat coats, with lavender or chocolate cream classified as "unofficial" colors.
Let's take an in-depth look at these buff beauties.
Solid Color
Maine Coon cats come in so many color and pattern variations that seeing a solid color can be quite eye-catching.
1. Cream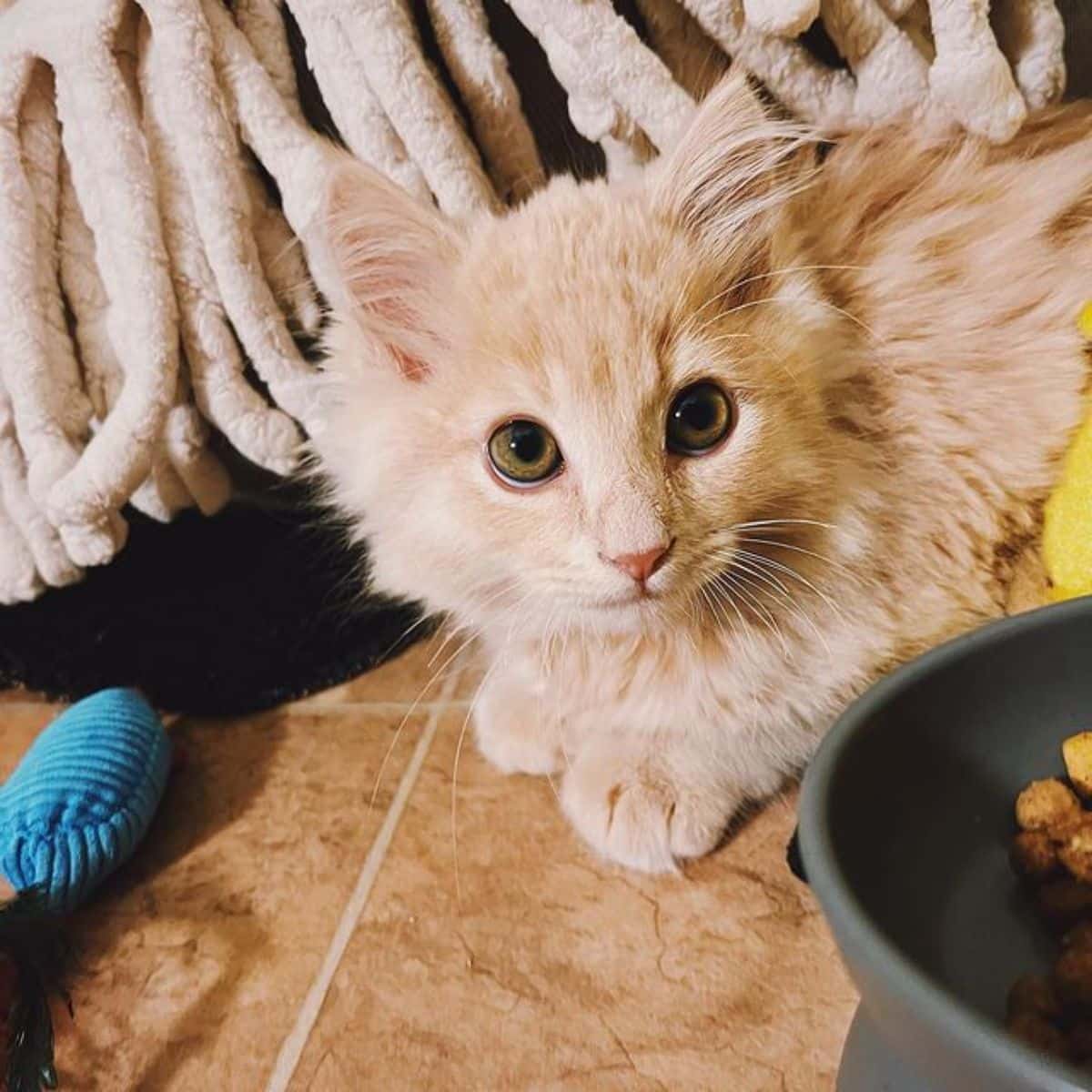 The purest form of the cream Maine Coon is solid. They won't have markings or stripes anywhere on their coat.
Tabby
Though people often mistake "tabby" for a breed of cat, it's a category of patterns, of which there are five:
Blotched or Classic: distinctive swirls that loop over the entire body.
Spotted: spots organized into a "dotted line."
Ticked: individual hairs are striped down the shaft, creating a more subtle pattern.
Mackerel: thick "tiger" stripes radiating from a central vertical bar along the spine.
Patched: large patches of color with tabby stripes or spots over the entire coat.
These Maine Coon colors combine cream with other colors and feature blotched mackerel or ticked markings.
2. Silver Patched Tabby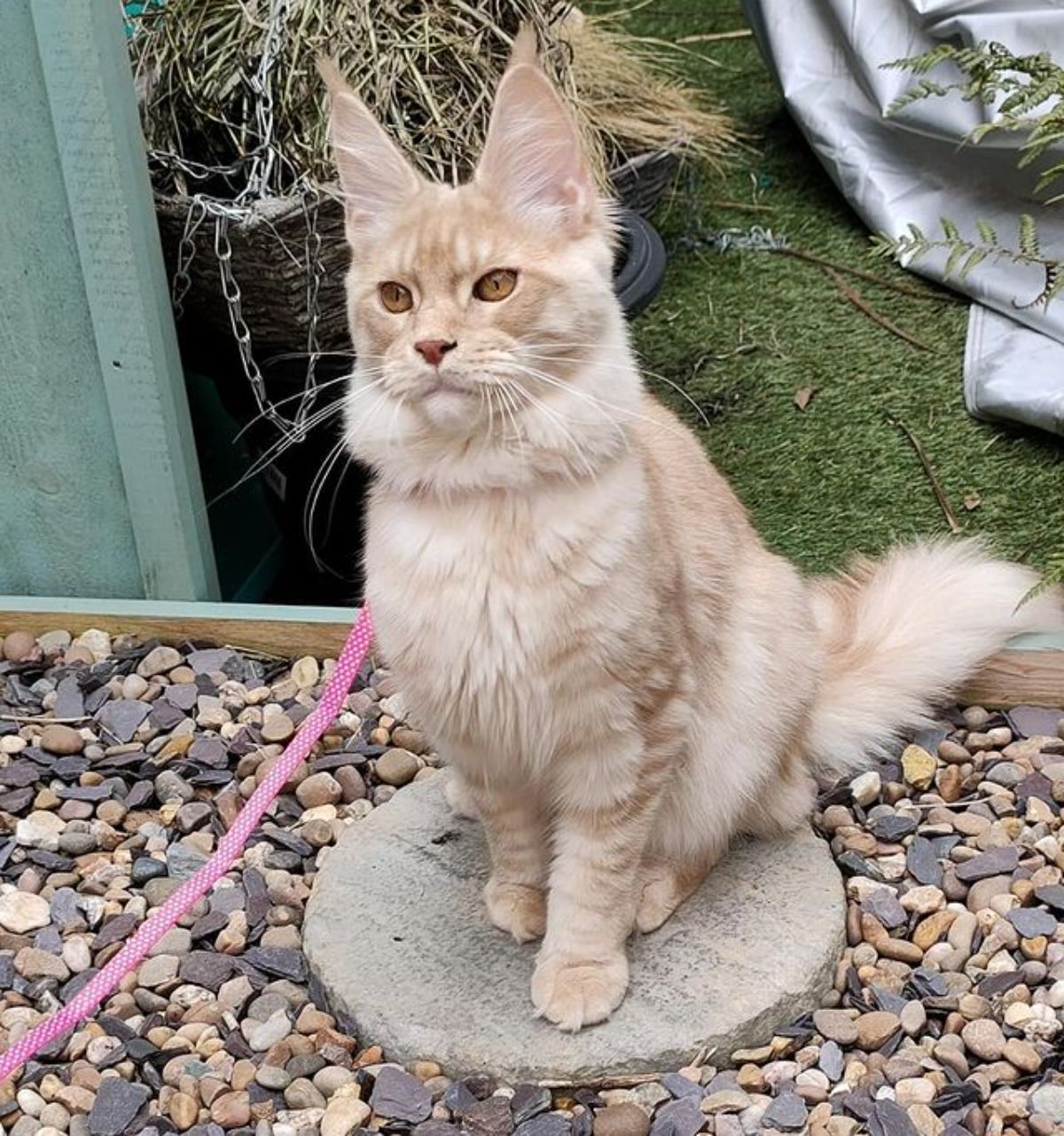 The breed standard coat is pale, silvery gray with cream-colored patches and silver patterning.
3. Blue-Silver Patched Tabby
Maine Coons classified as blue-silver patched tabbies, have a silver base coat with patches of cream accented in darker markings.
4. Blue Patched Tabby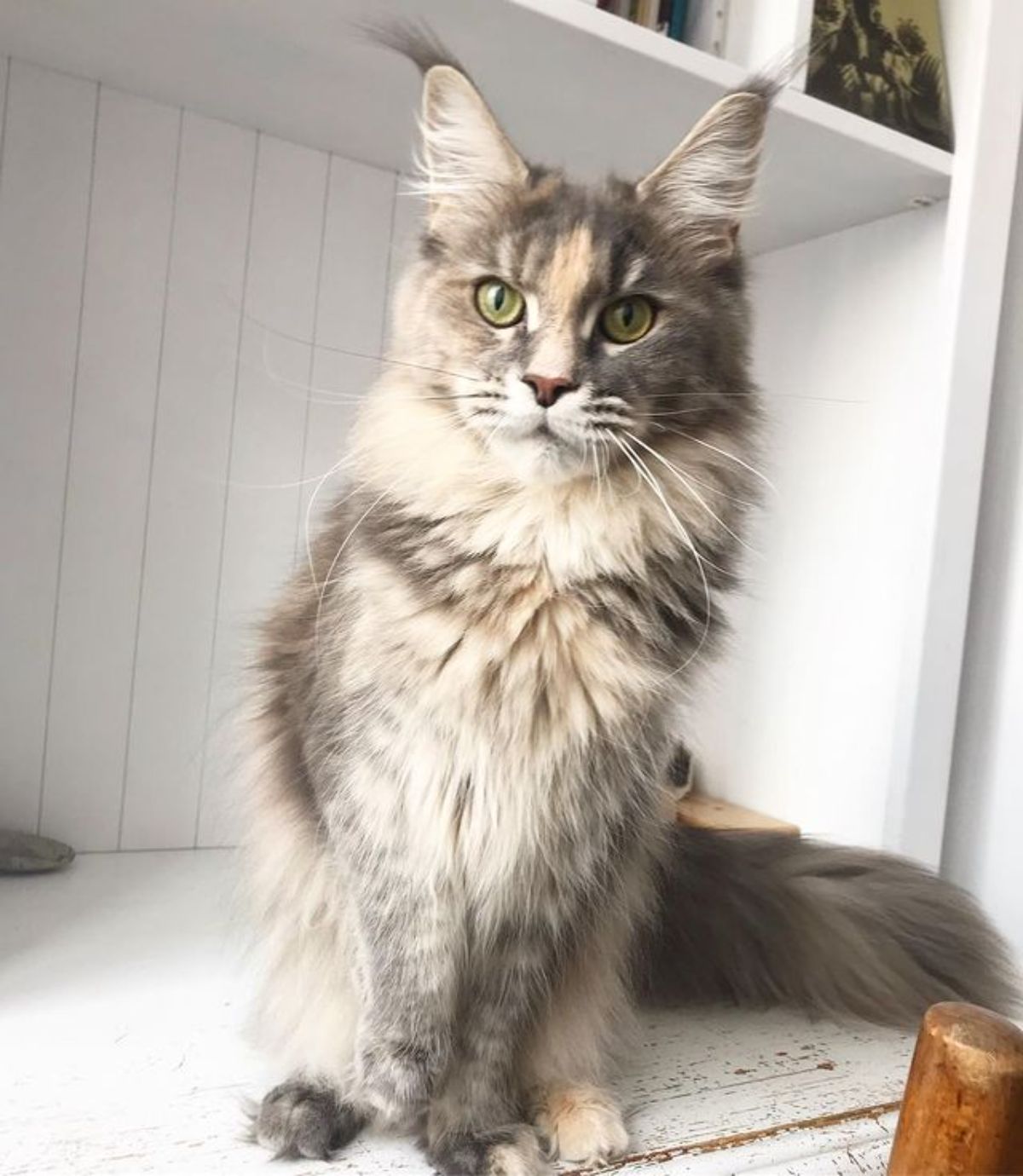 The blue-patched tabby looks very similar to the blue-silver patched tabby, but these kitties have a blue-gray coat.
5. Cream Tabby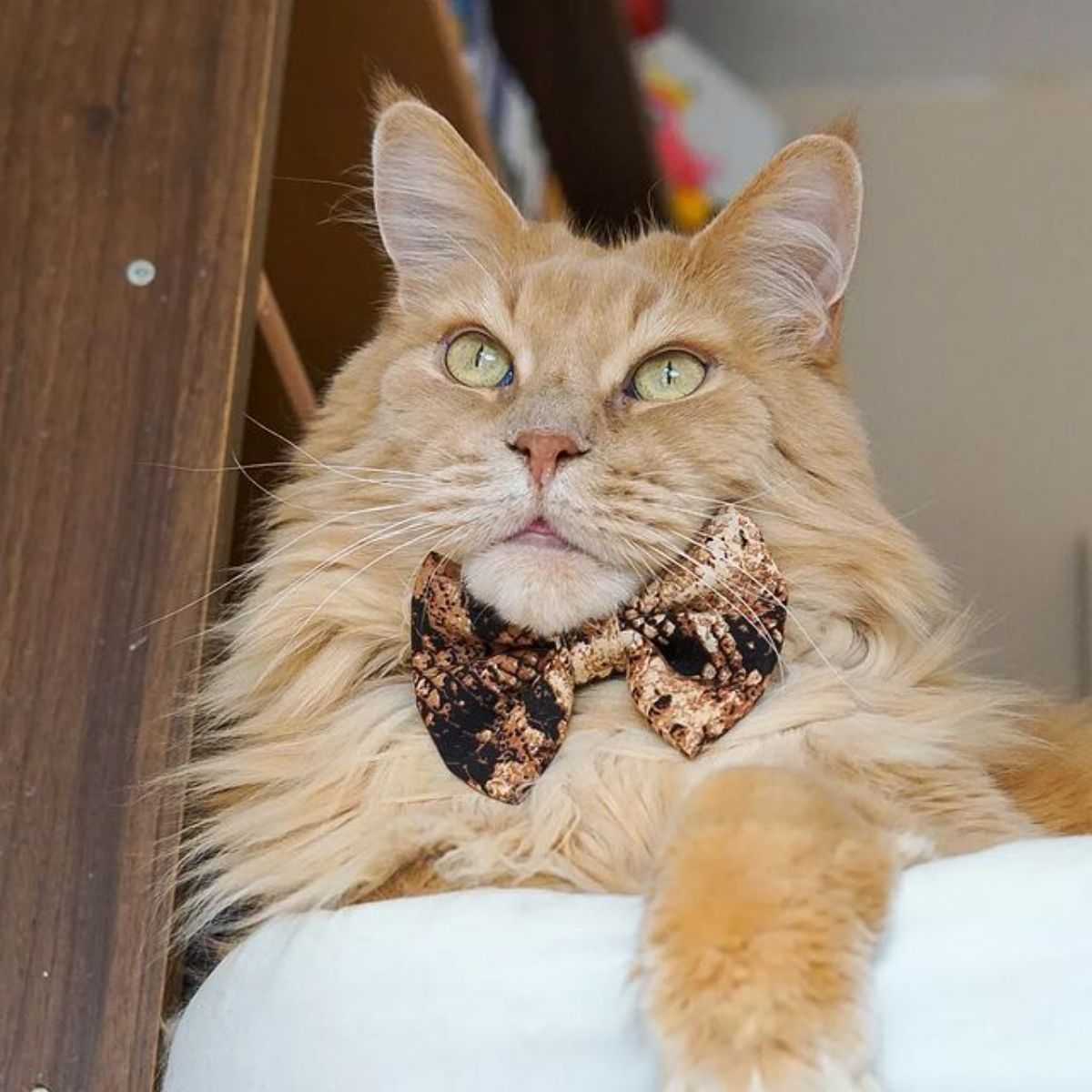 Like the world's fluffiest lightly-toasted marshmallow, cream-tabby Maine Coons are tawny beige with darker buff marks.
6. Cream Silver Tabby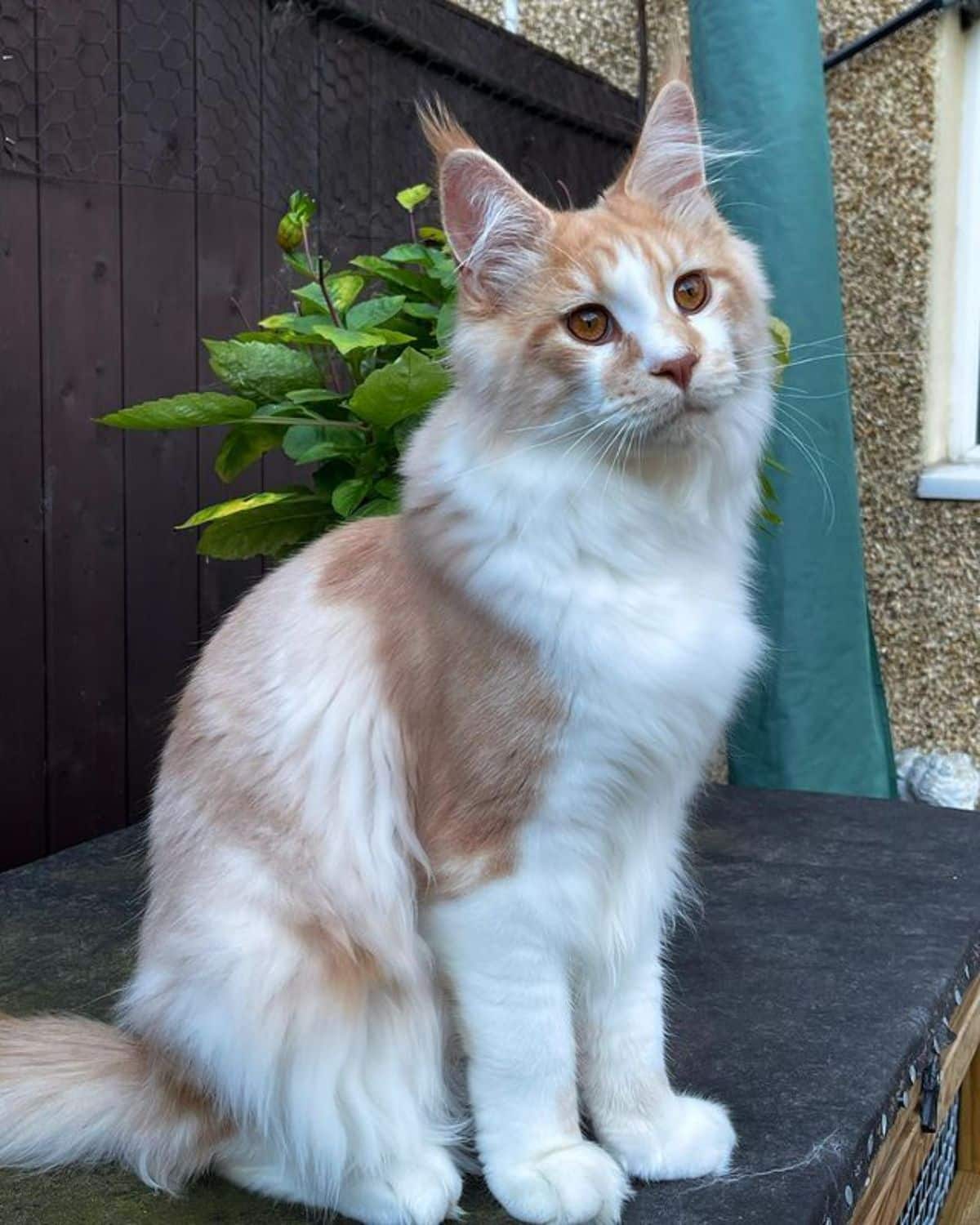 You can identify the cream silver tabby by its light ivory coat and cream blots with a white undercoat that gives it a gentle glistening shine.
7. Cream Tabby and White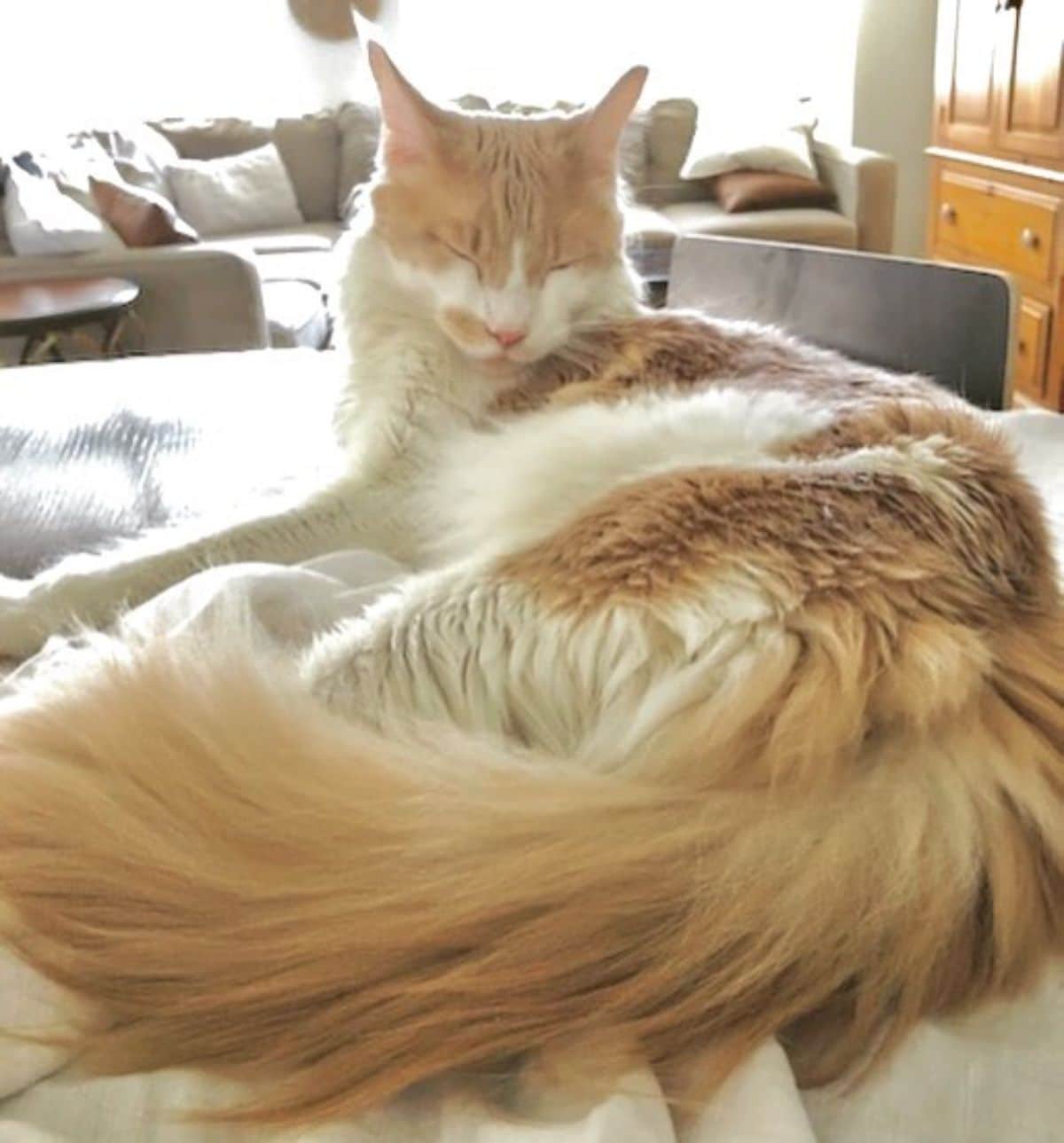 If you prefer extra creamy coffee, the tabby and white coloration will appeal to you. They are cream tabby with white, fluffy patches on their bellies, boots, and bibs
8. Cream-Silver Tabby and White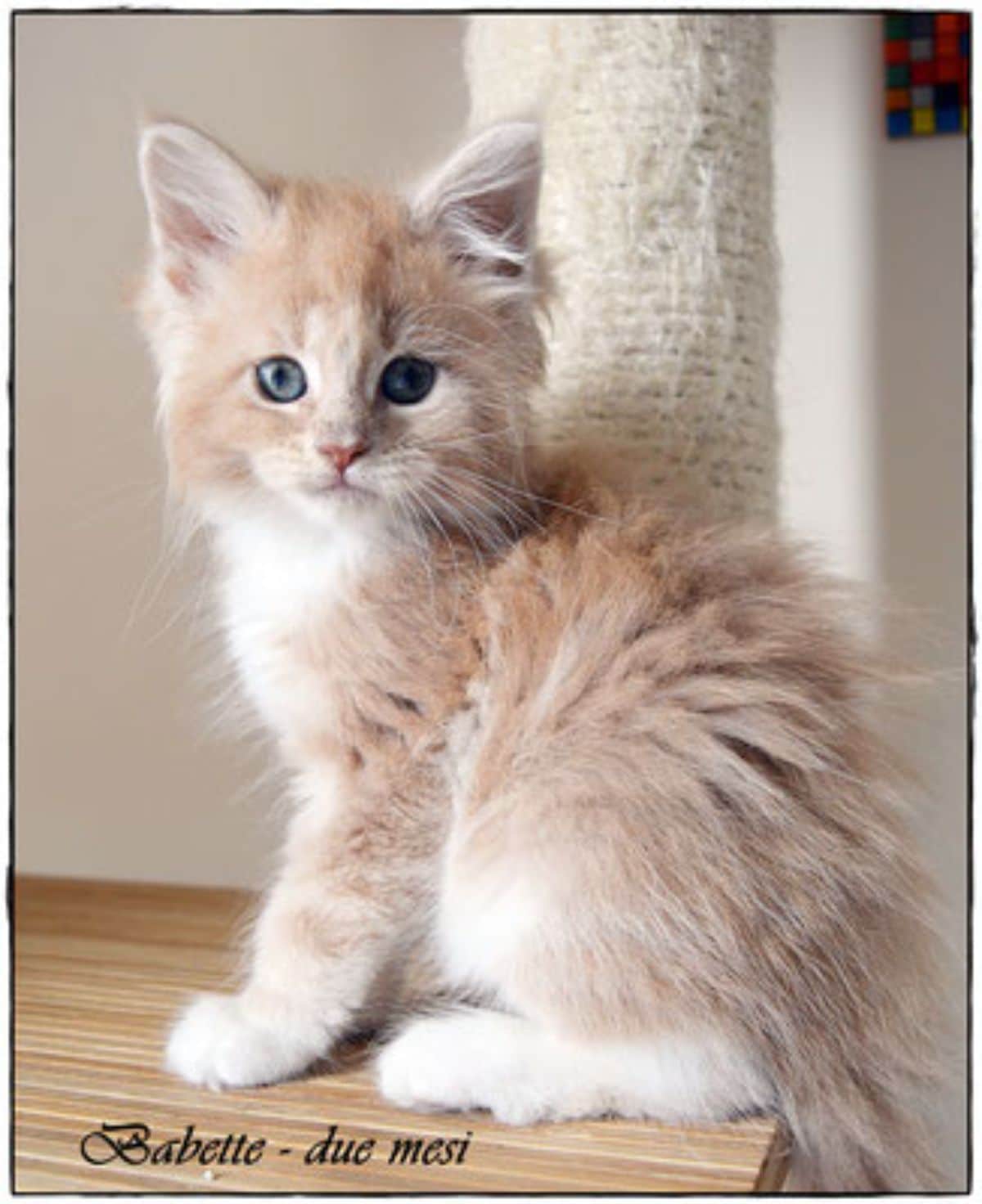 Unlike its close brethren– cream tabby and white– this coat color has a pearly white underlayer instead of being beige down to the roots.
Bi-Color
As the name implies, bi-color Maine Coons lack the tabby markings in favor of a dual-toned coat.
9. Cream and White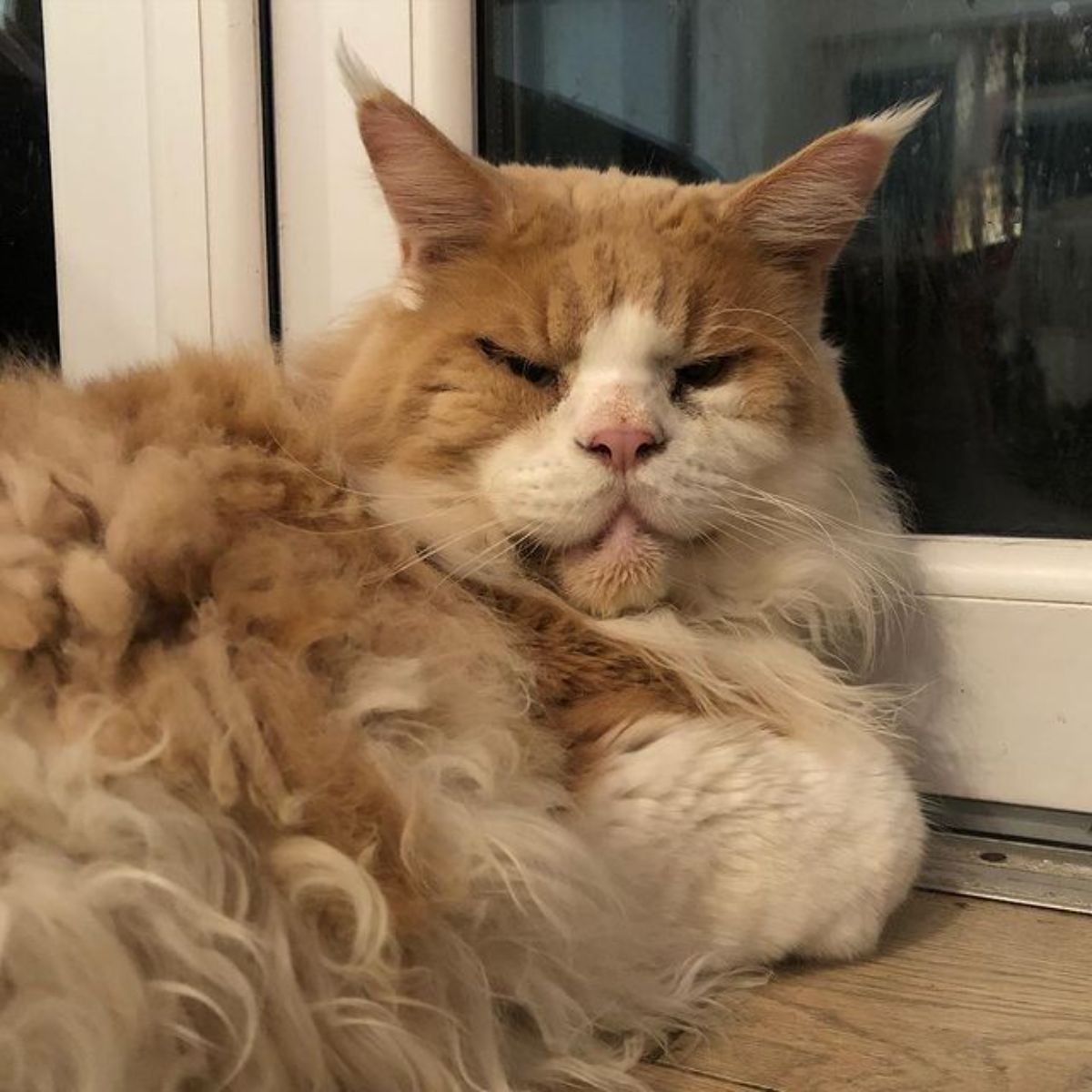 These furry friends keep things on the paler side with a cream-colored coat and white paws, bibs, and undersides. They might also have white on their face.
Parti-Color
While "parti" might sound like a festive name for Maine Coons with confetti-like spots, it refers to primarily white coats with large areas of a different color.
10. Blue-Cream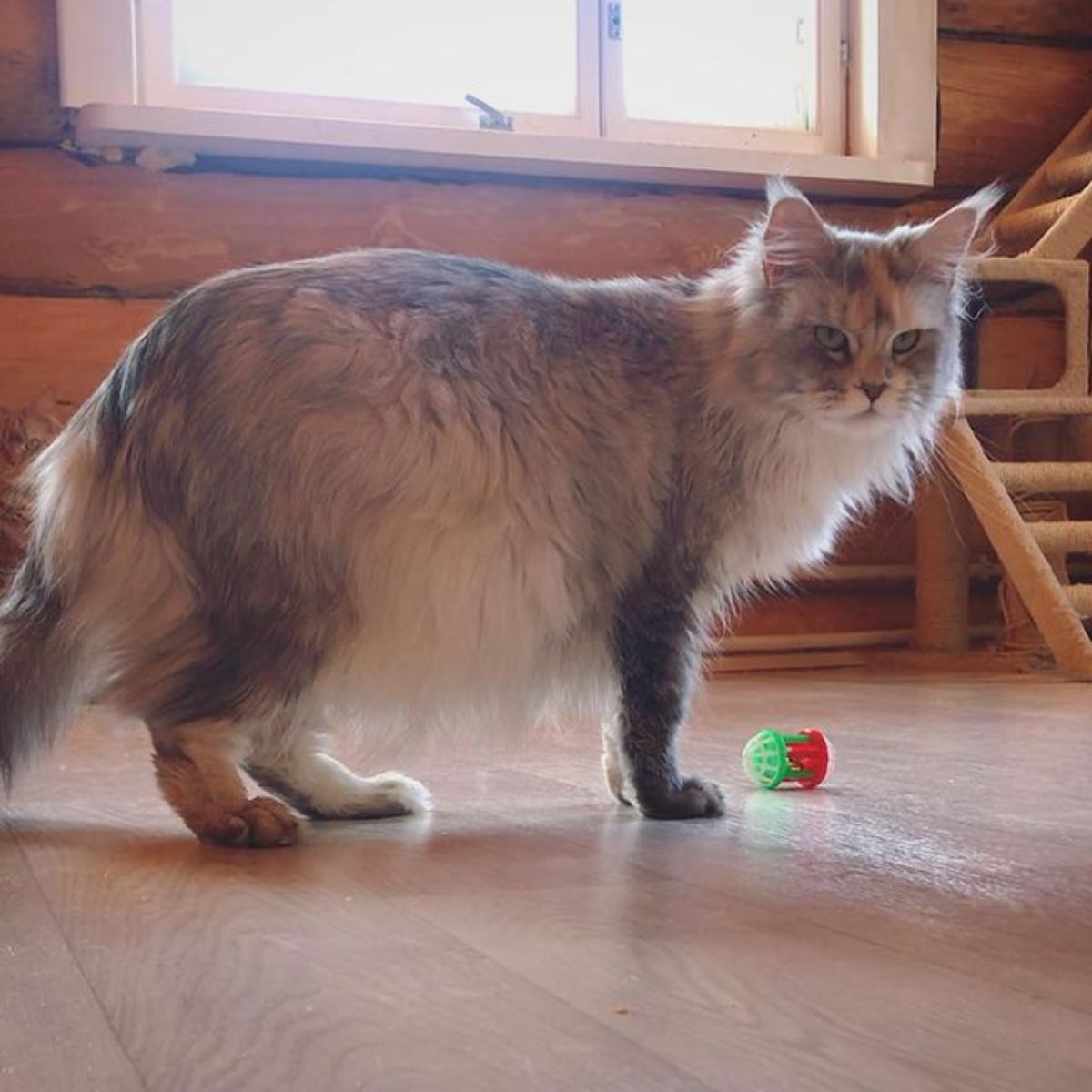 These stunners will sport smoky blue coats with creamy patches adorning their bodies and legs. The patches are subtle and well-blended.
Parti-Color and White Color
Parti-color and white felines have tri-colored coats that feature two predominant colors with snowy areas on their feet, chest, and belly.
11. Blue-Cream and White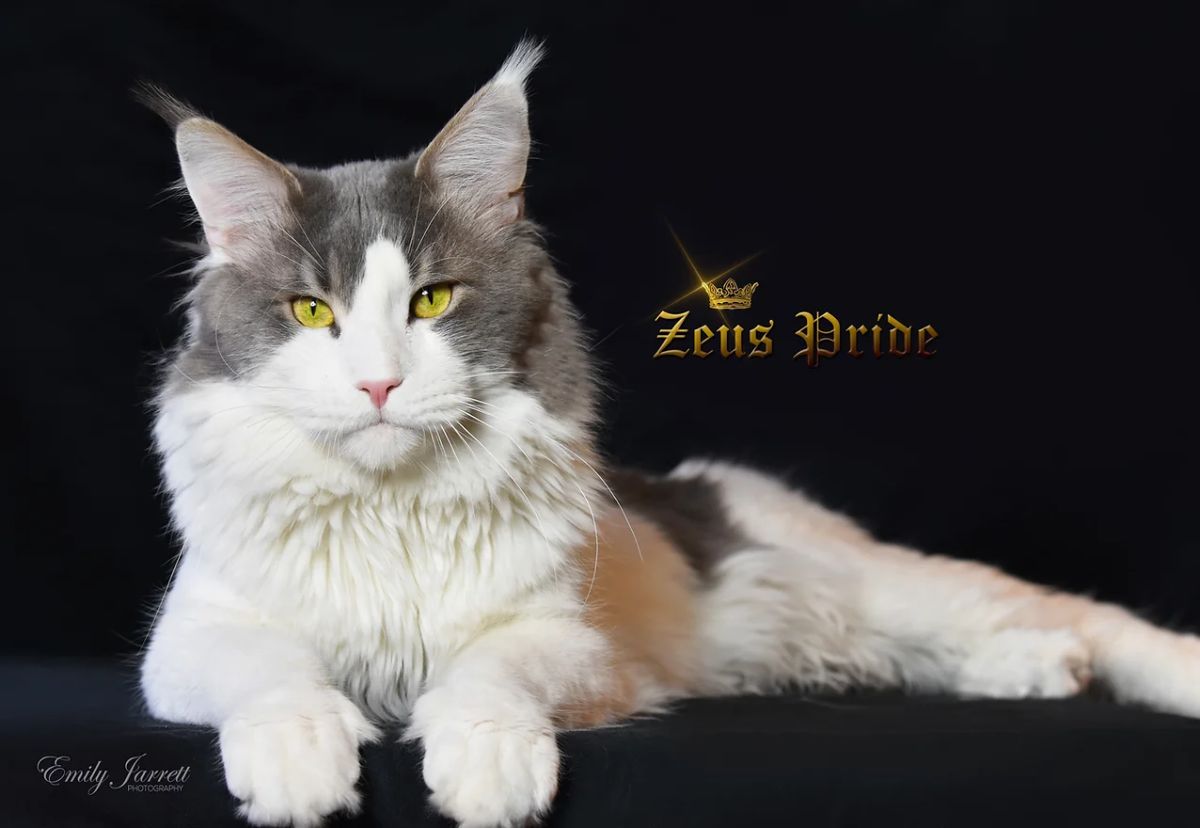 Blue cream and white fur is truly something to behold, as the basecoat looks smoky with off-white swirls, making the white pop against the dusky background.
12. Dilute Calico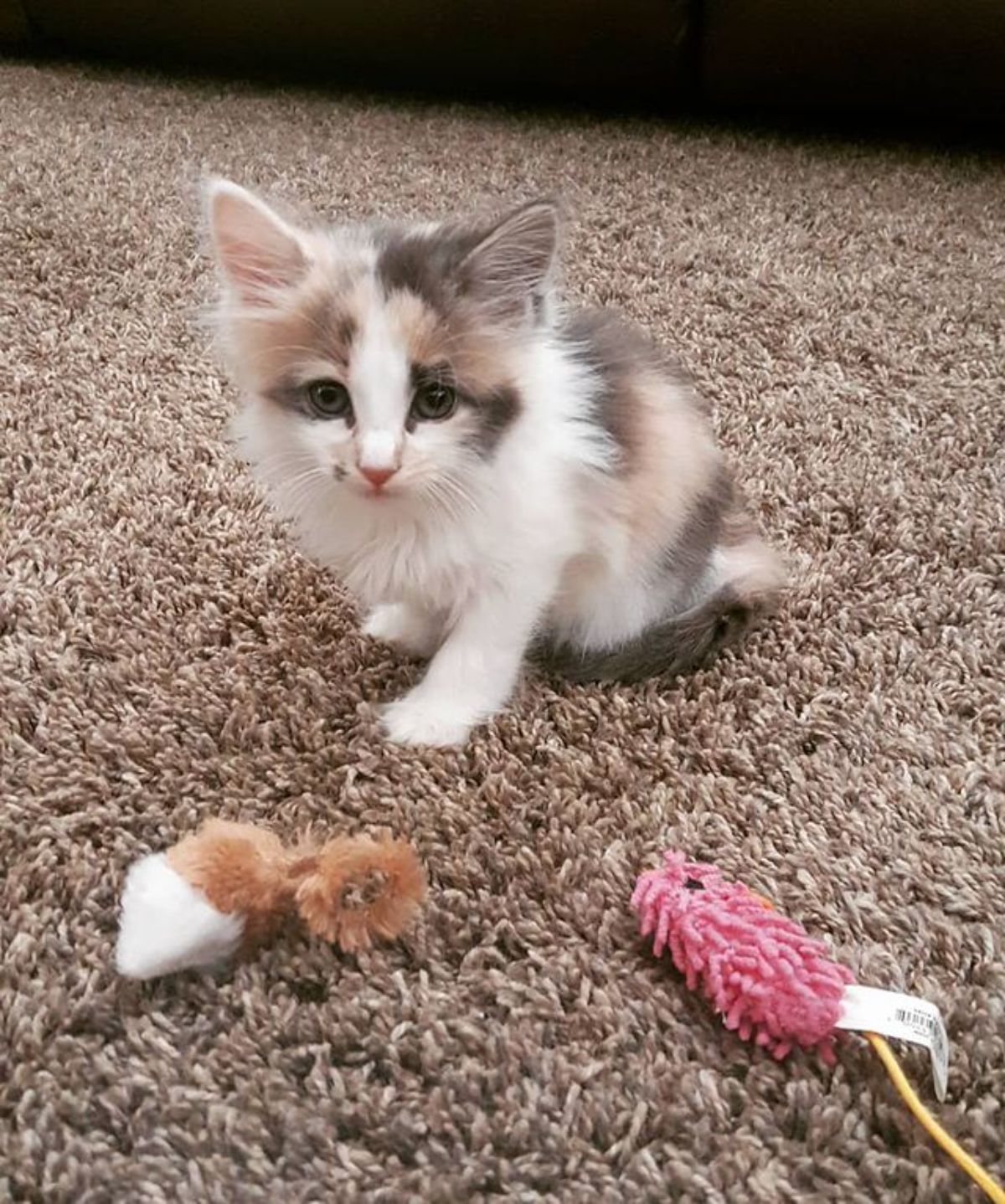 For fans of the calico pattern, Maine Coons are like the upgraded, ultra-fluffy version. They are primarily white with overlapping splotches of blue and cream. Though the patches run into each other, the colors don't blend.
Shaded and Smoke Color
Shaded and smoke– sometimes called "shell, shaded, and smoke"-- is a multidimensional white coat variant with a color gradient down the hair shaft.
Shell coats are white with the lightest touch of shade no longer than ⅛ of an inch from the tip.
Shaded coats are slightly darker, with ¼-inch of color at the tip.
Smoke coats are the most distinctive, with the white hairs creating a pearly underlayer that peeks out from beneath the ½-inch tips.
13. Shell Cream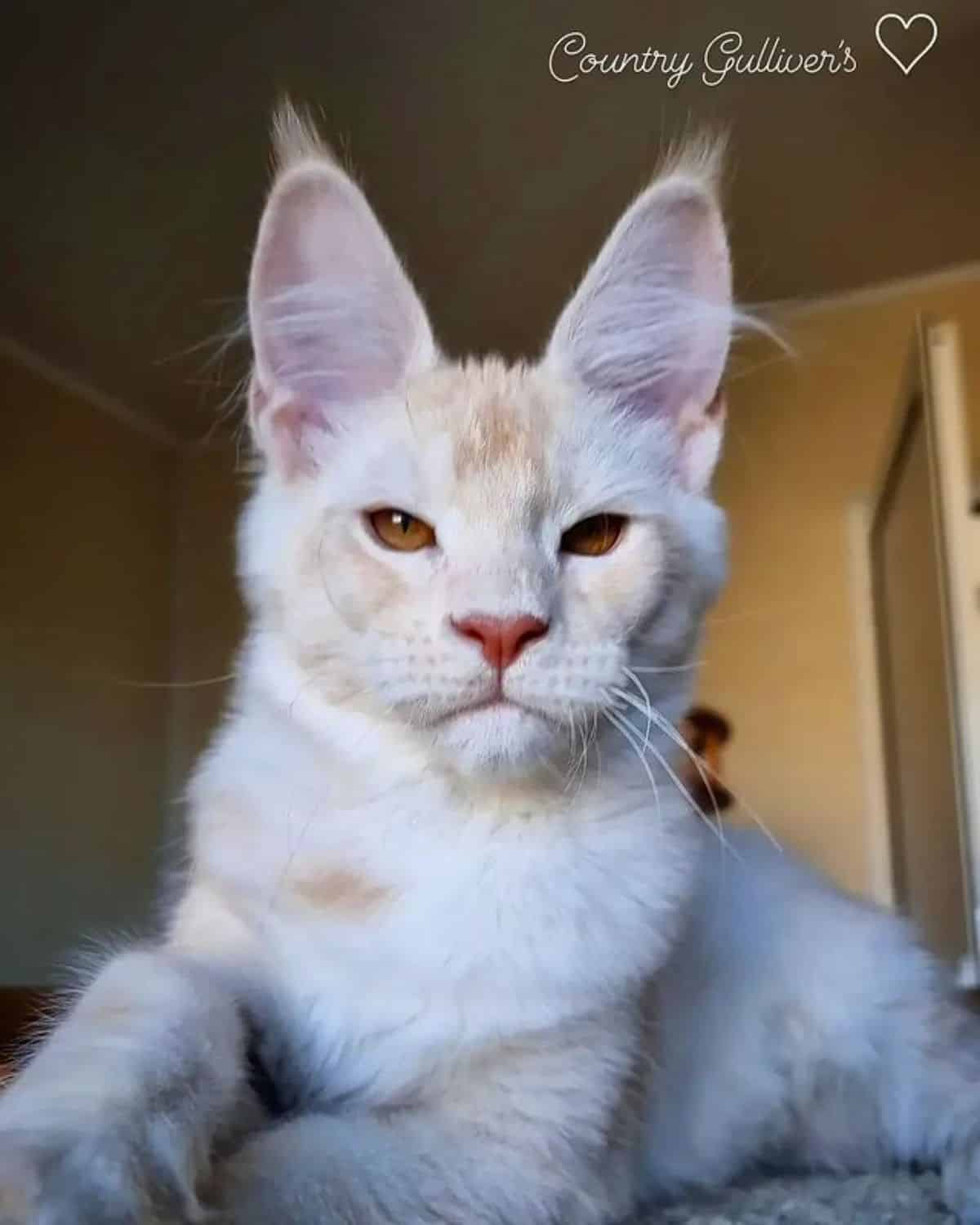 Also known as "cream chinchilla," shell cream cats have a white undercoat with the slightest hint of nude at the ends, apart from the solid pearl-colored ruff, chin, ears, and underside.
14. Shaded Cream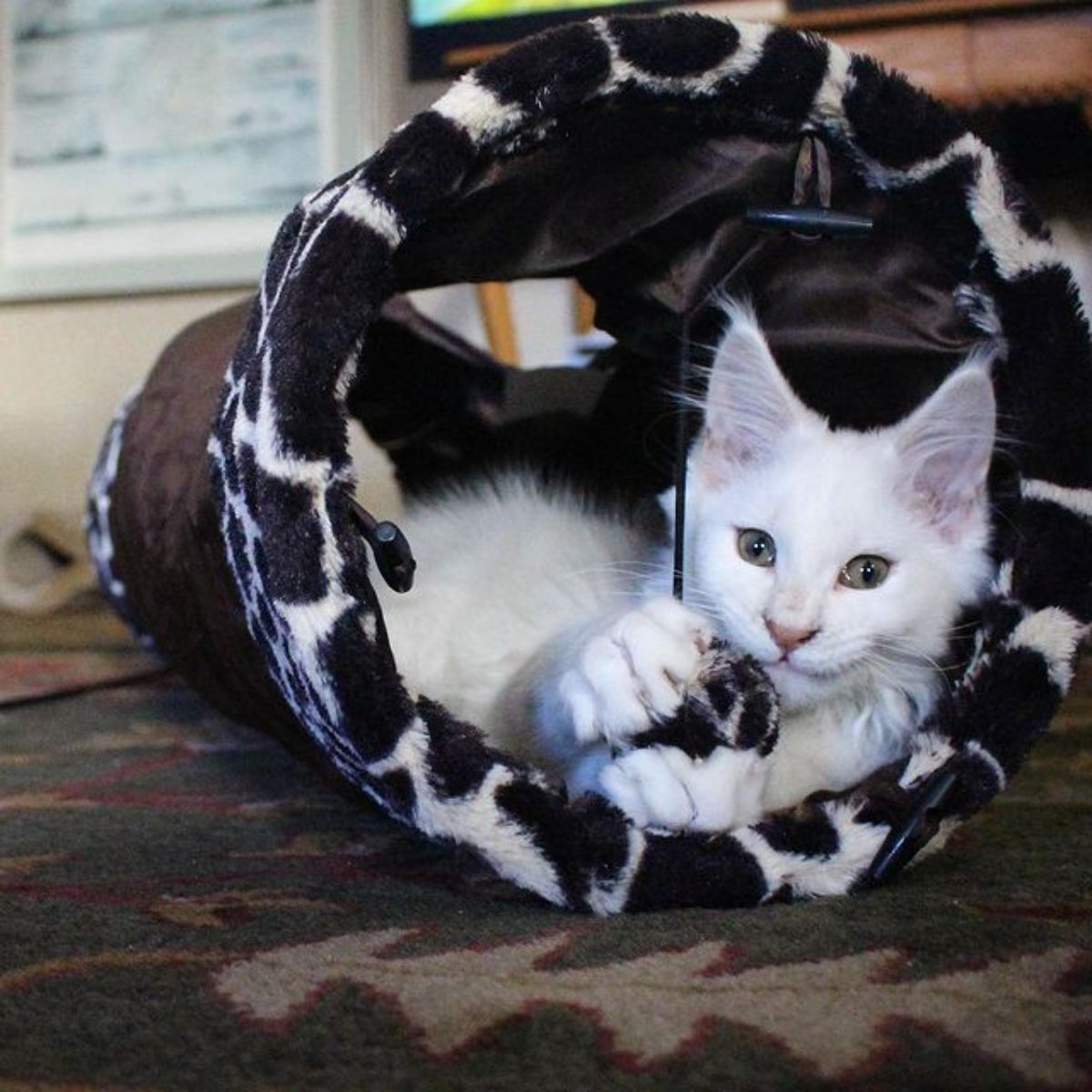 Shaded cream is an amped-up version of shell cream, with deeper color but the same white accents.
15. Shell-Blue Cream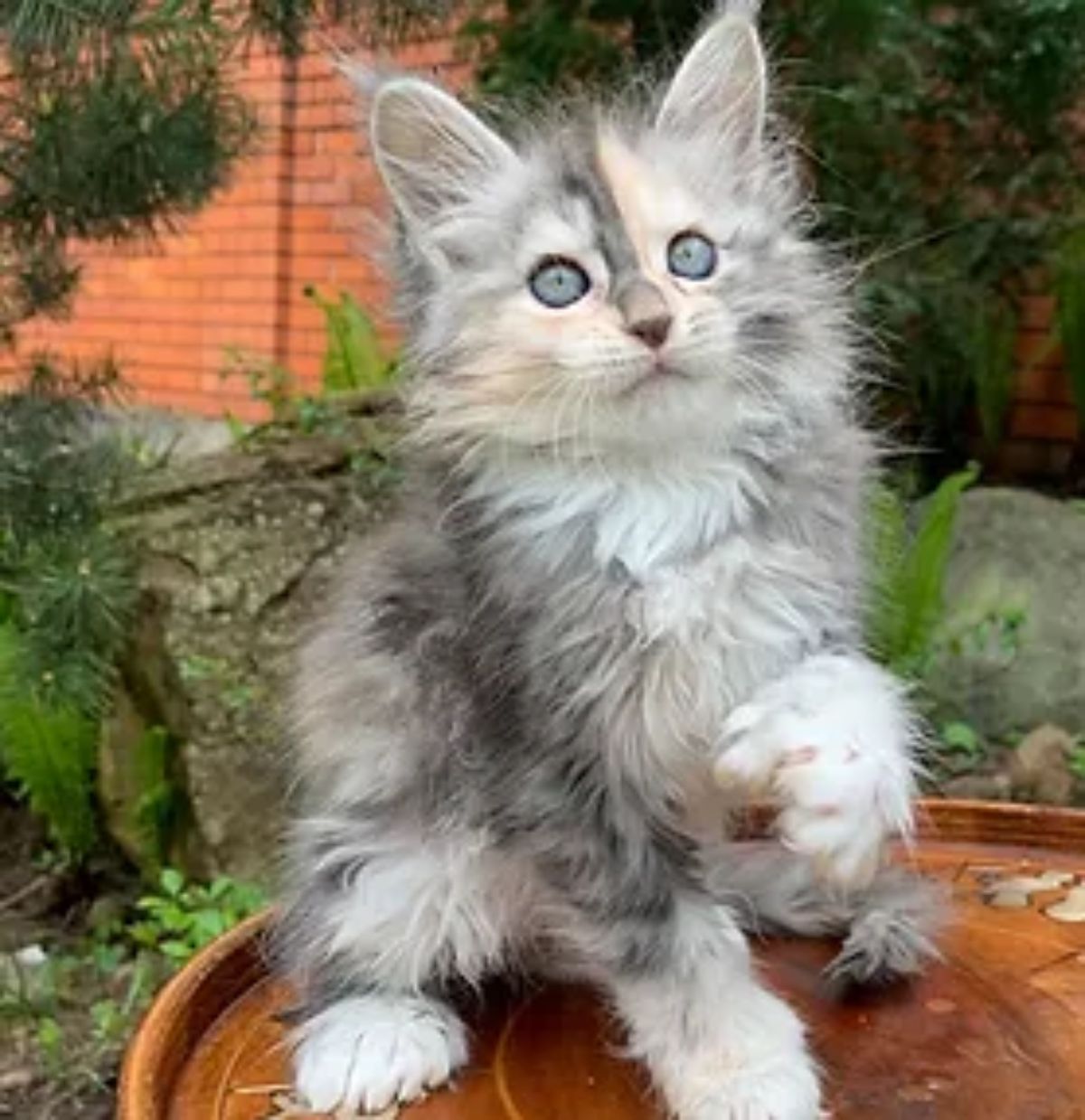 If your Maine Coon is shell-blue cream, it will have luminescent undercoats with a dusting of creamy blue tones.
16. Shaded-Blue Cream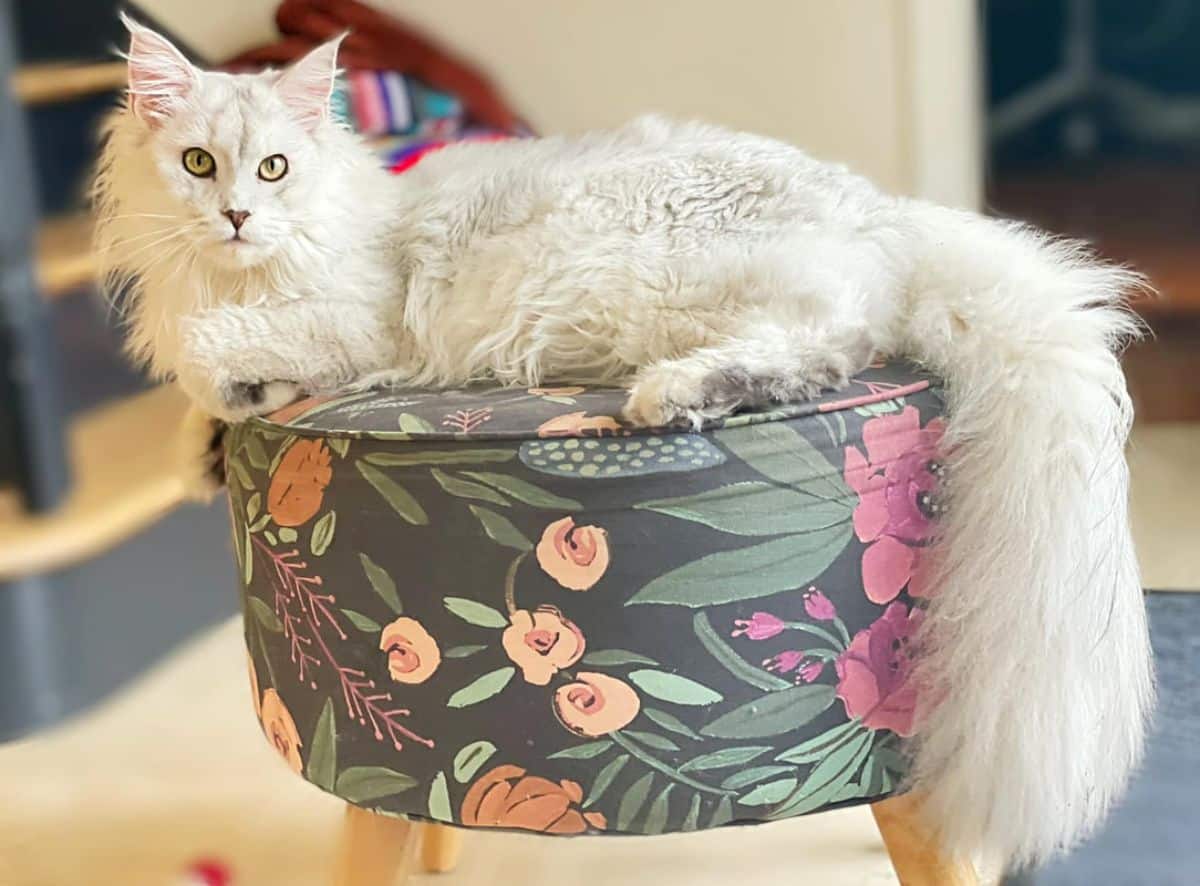 Felines with the shaded-blue cream variant might have legs and faces that look darker than the rest of their deep, blue-cream coats.
17. Cream Smoke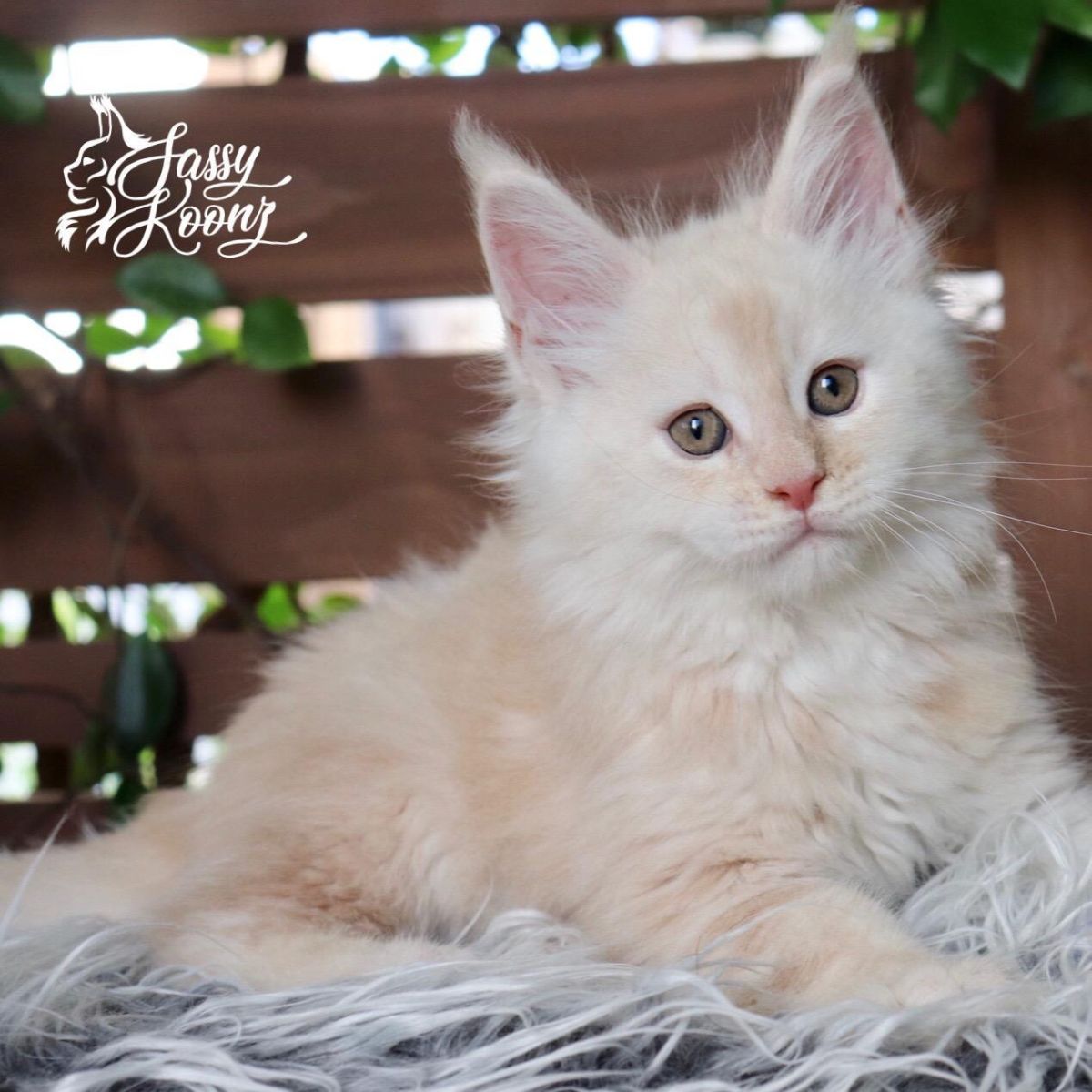 The cream smoke kitty might fool you into thinking it has a solid coat, but upon closer inspection, its ivory undercoat shows through.
18. Blue-Cream Smoke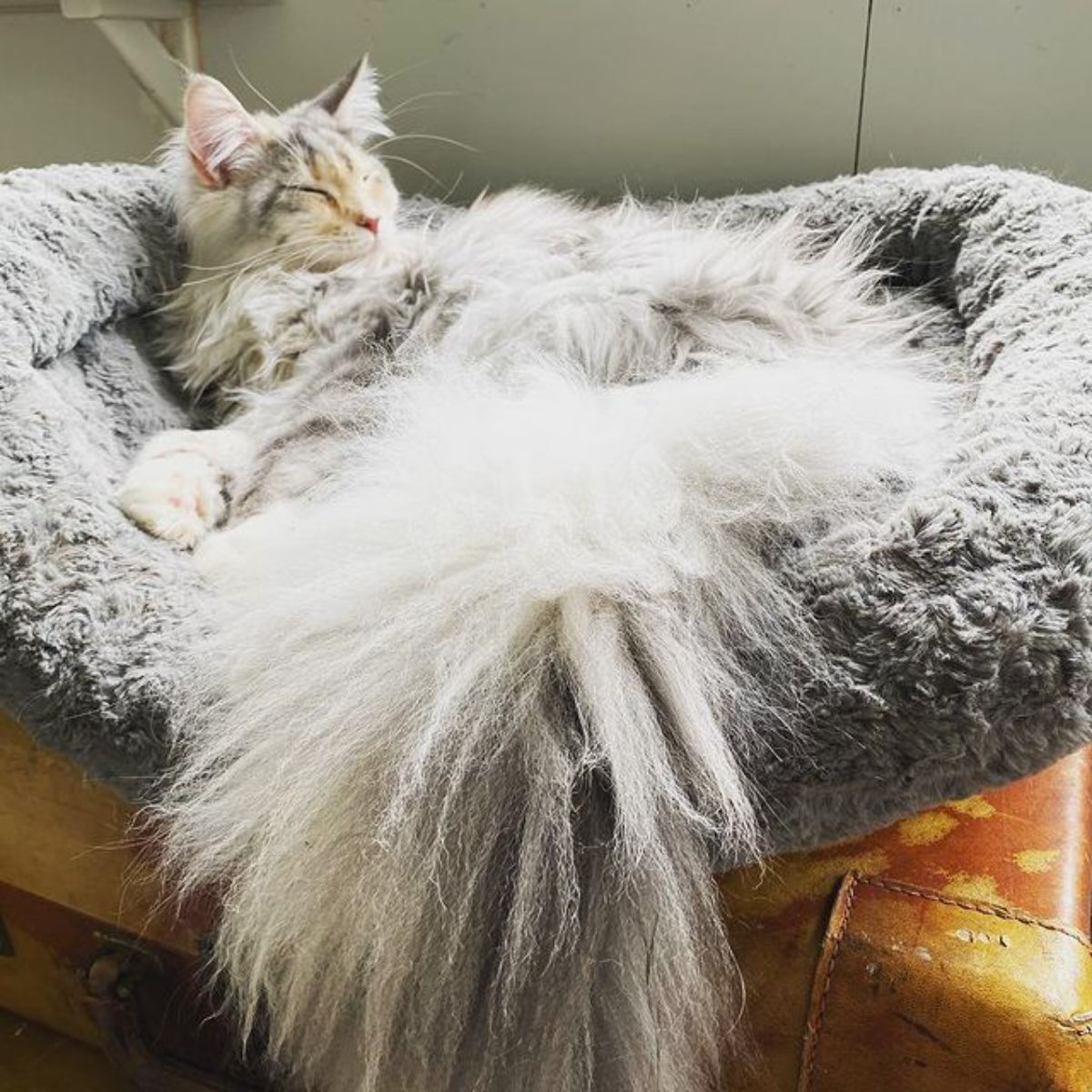 Maine coon cats with a blue-cream smoke appear solid blue with large, buff patches, but they, too, have a downy underlayer of white.
Shaded or Smoke and White
The only factor that sets shaded or smoke and white apart from the shaded and smoke categories is that these cats must have particularly-placed white patches.
19. Shell Cream and White
With their white ruffs, paws, and undersides, the light-hued shell cream and white Maine Coon is tough to distinguish from solid white.
20. Shaded Cream and White
Shaded cream and white coats have more assertive nude overtones that contrast with the pure, snowy patches.
21. Shell Blue-Cream and White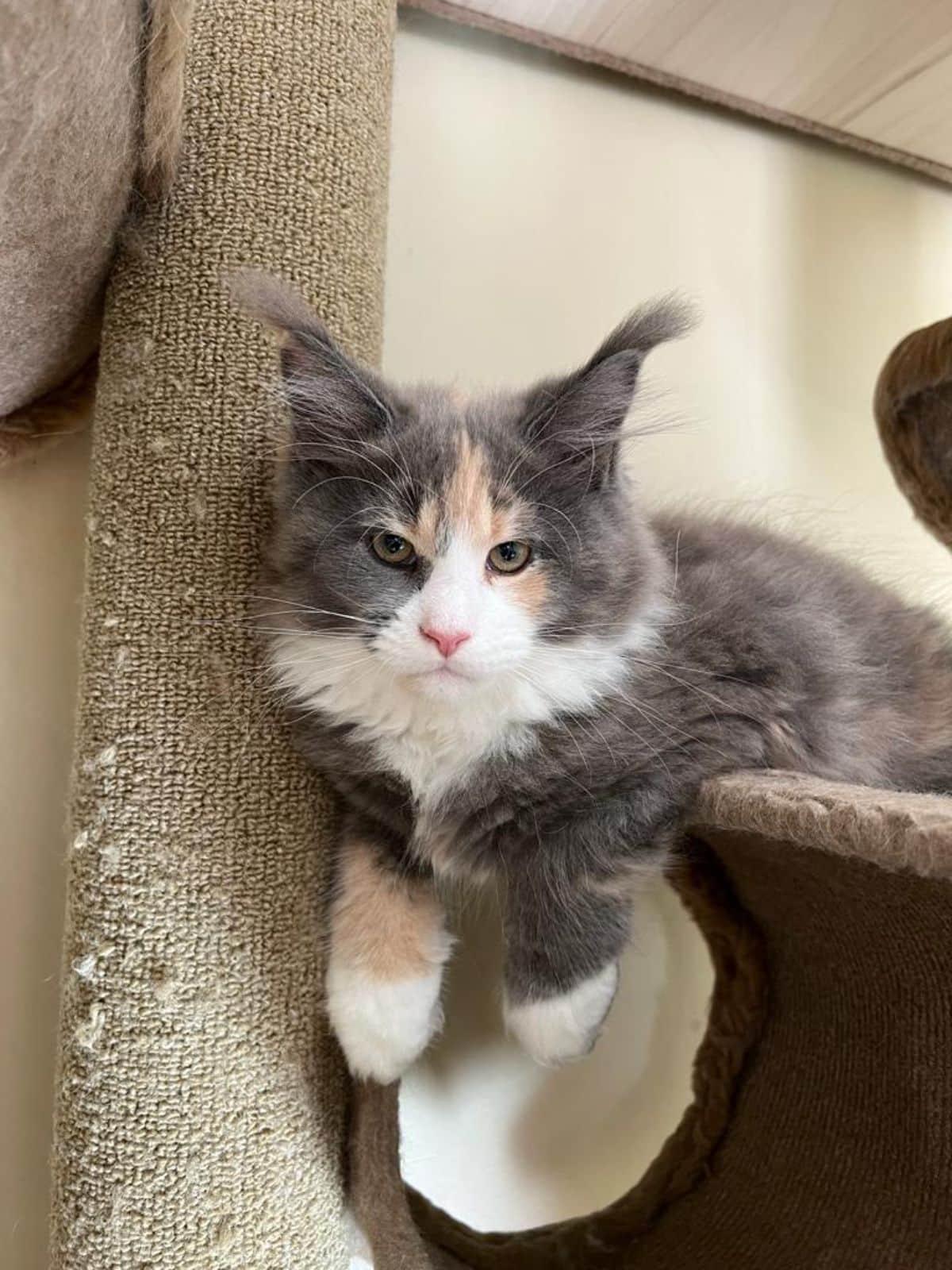 Like a distinguished gentleman, the darker coat and white chest of the shell blue-cream and white cat looks like it's dressed to the nines in a charming tuxedo.
22. Shell Dilute Calico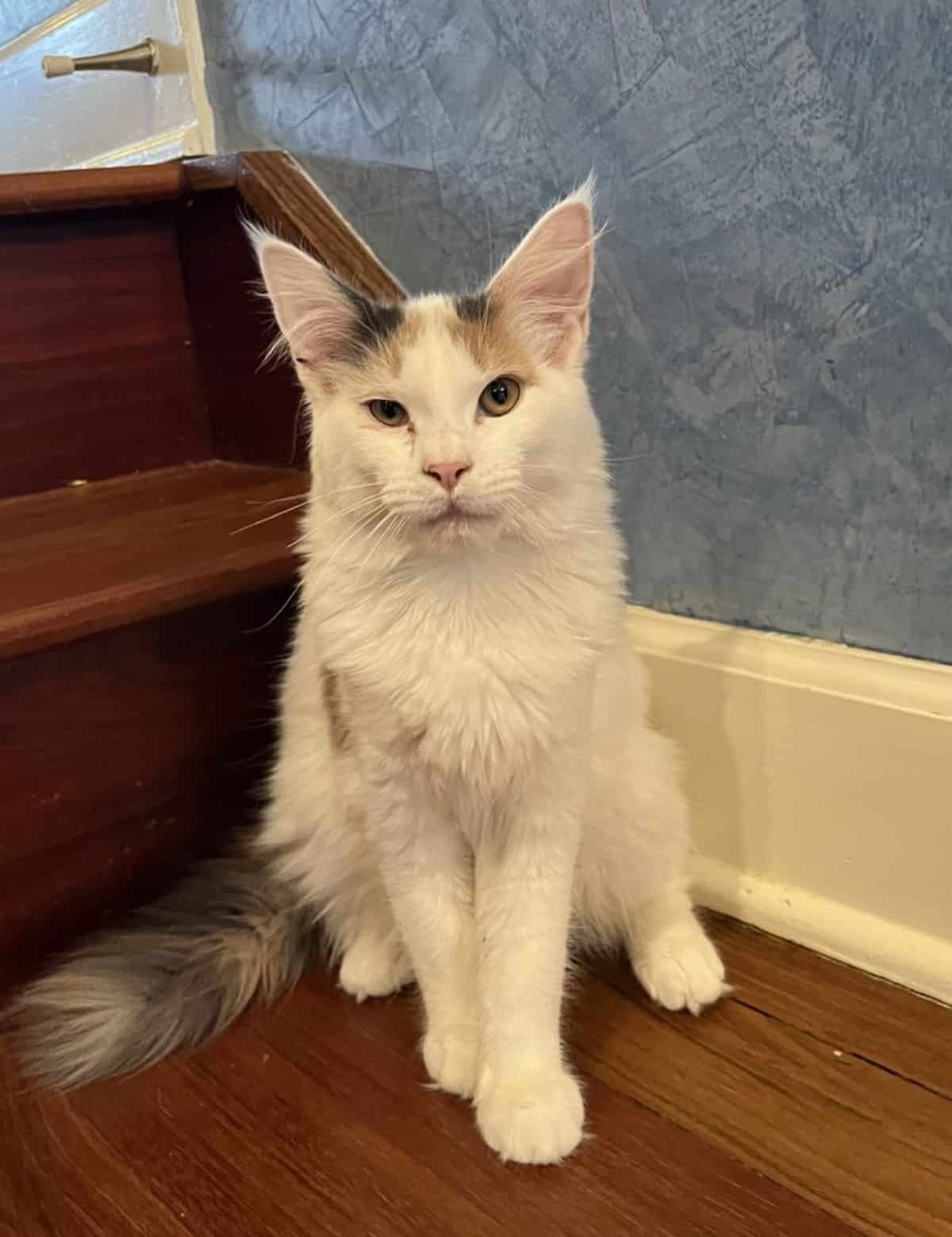 This version of the dilute calico is primarily white with barely-there patches of blue and cream. Unlike the shaded variant, these cats have lighter faces.
23. Shaded Dilute Calico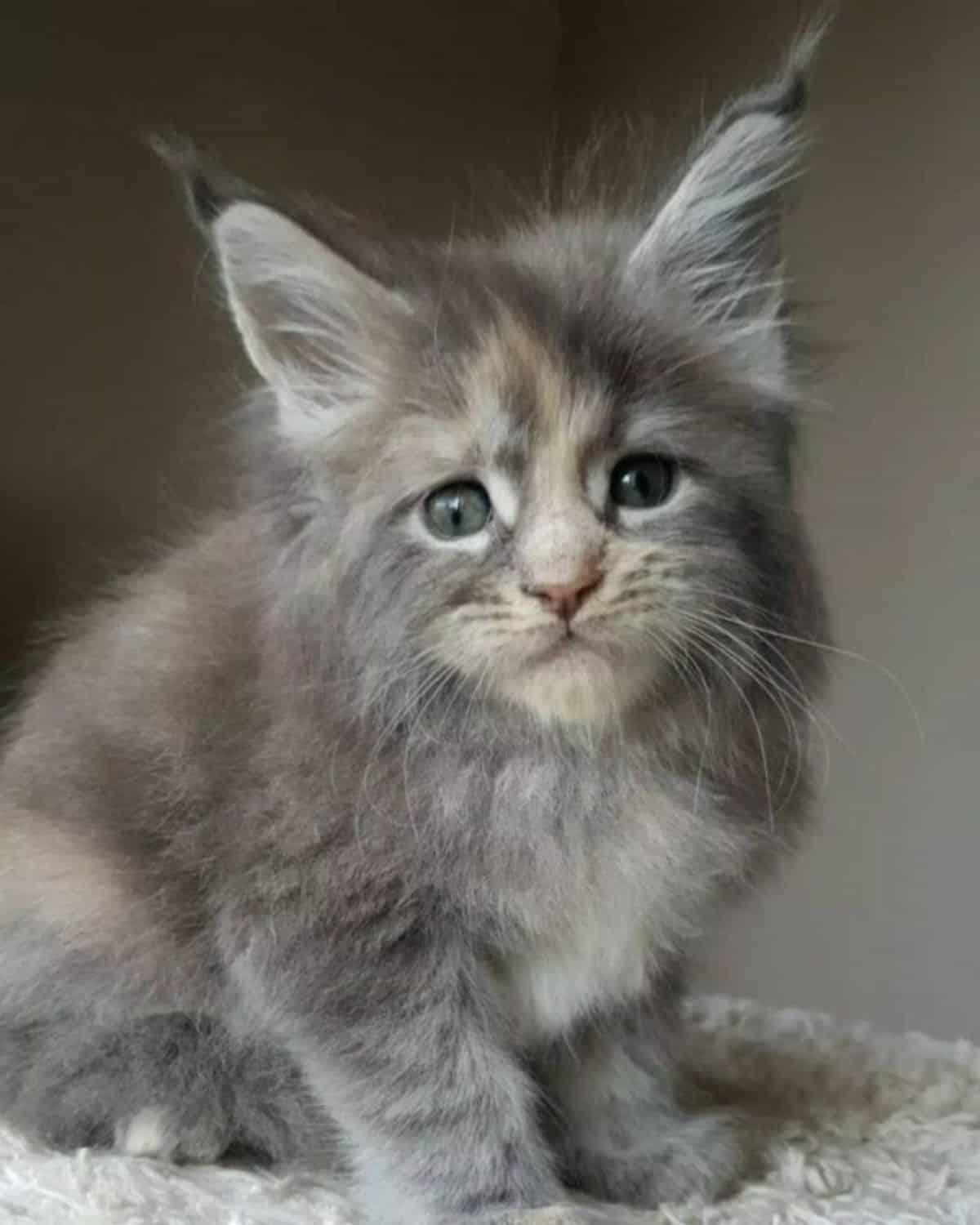 The shaded dilute calico is more pigmented than the shell, including a darker face. The fur on their chest can have a dusting of color.
24. Cream Smoke and White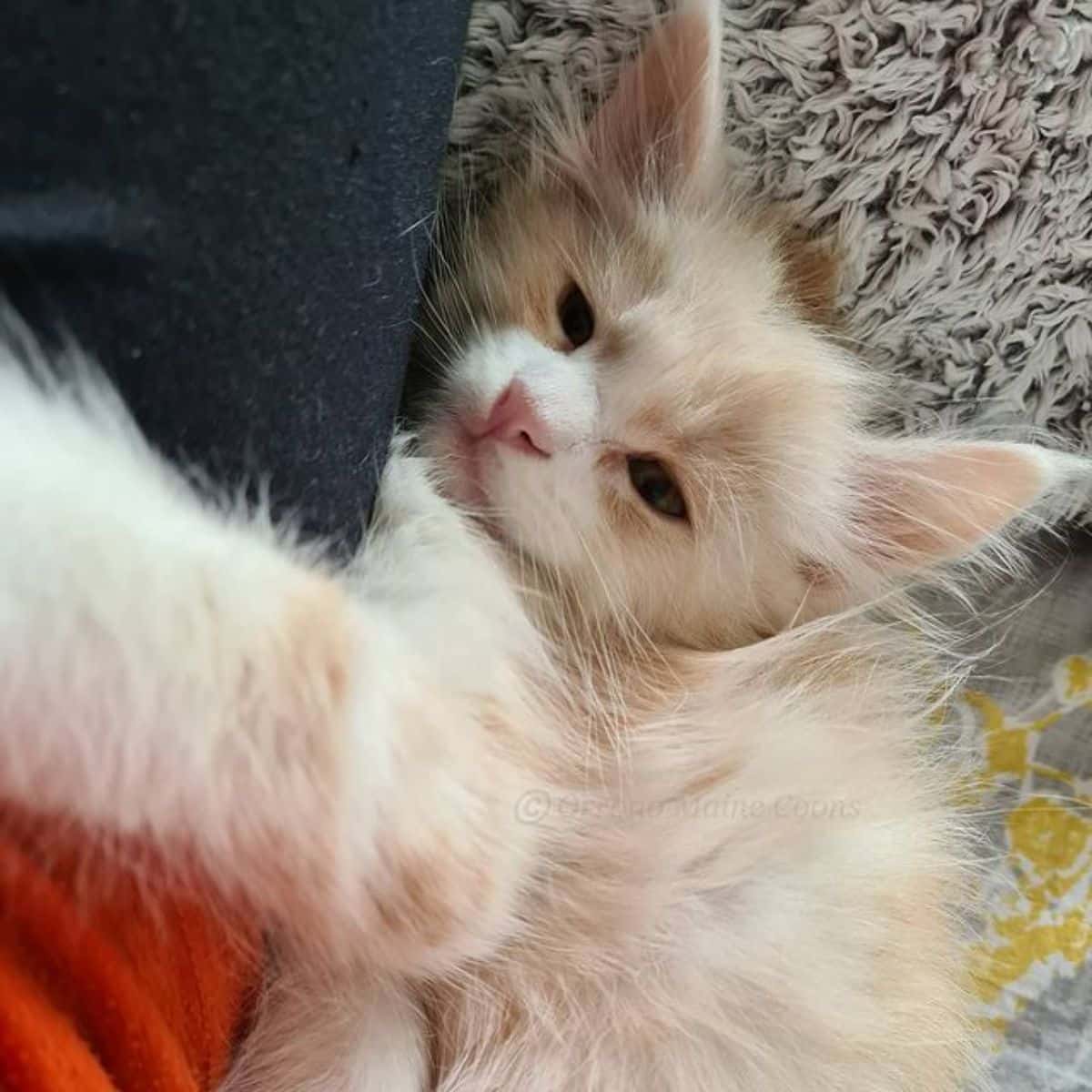 Thanks to the deeper color gradient, the white ruff, boots, and belly contrast nicely on these mostly-cream Maine Coon Cats.
25. Blue-Cream Smoke and White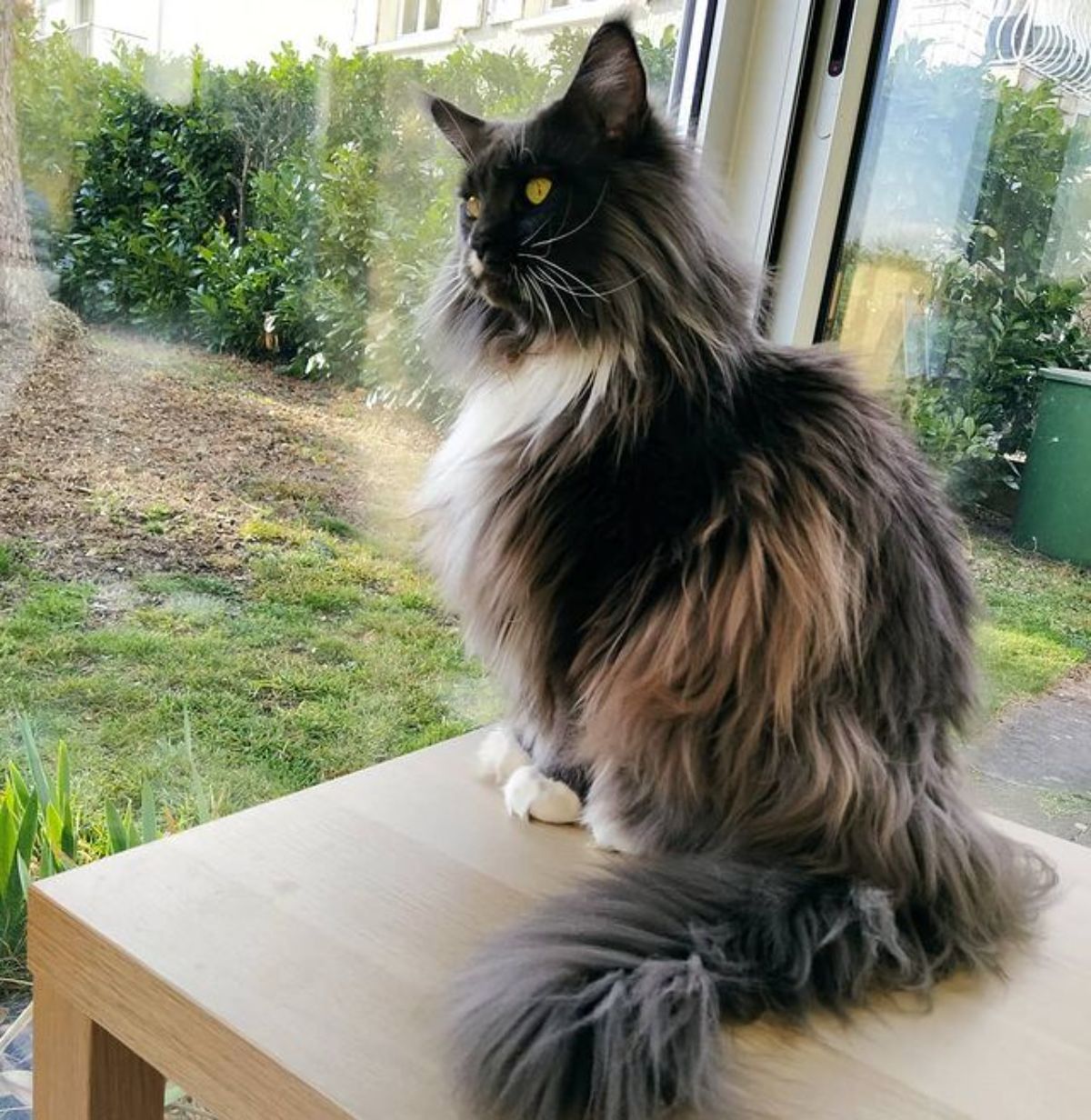 The luxurious blue-cream smoke coat gets white accessories on the paws, belly, and chest.
26. Dilute Calico Smoke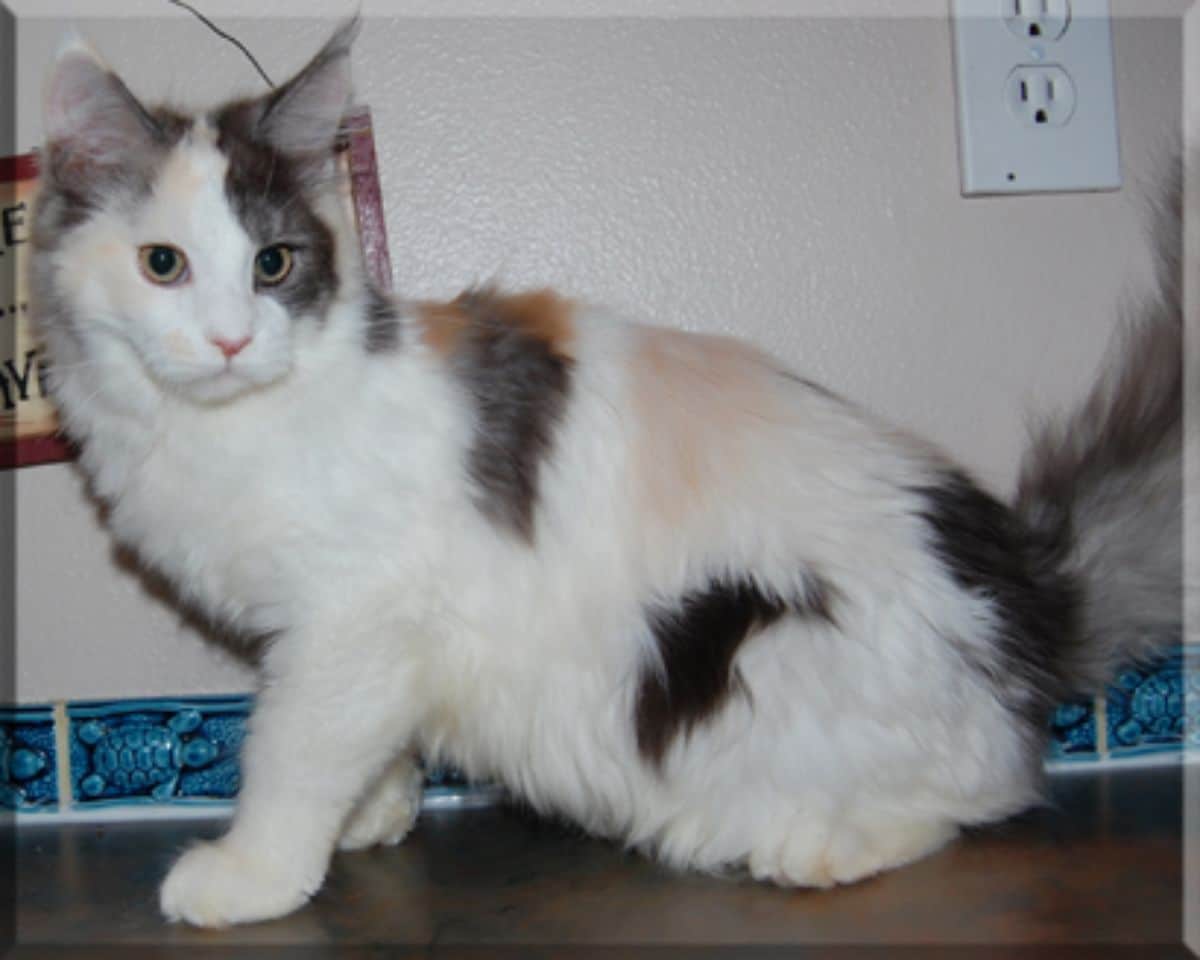 While the white coat is more evident because the color comes in patches, these pigmented areas are darker than other dilute calicos of this category.
Any Other Variety
The "AOV" coat category applies to kitties that present with color combinations outside of the norm due to hybridization or breeder manipulation.
27. Chocolate or Lavender Cream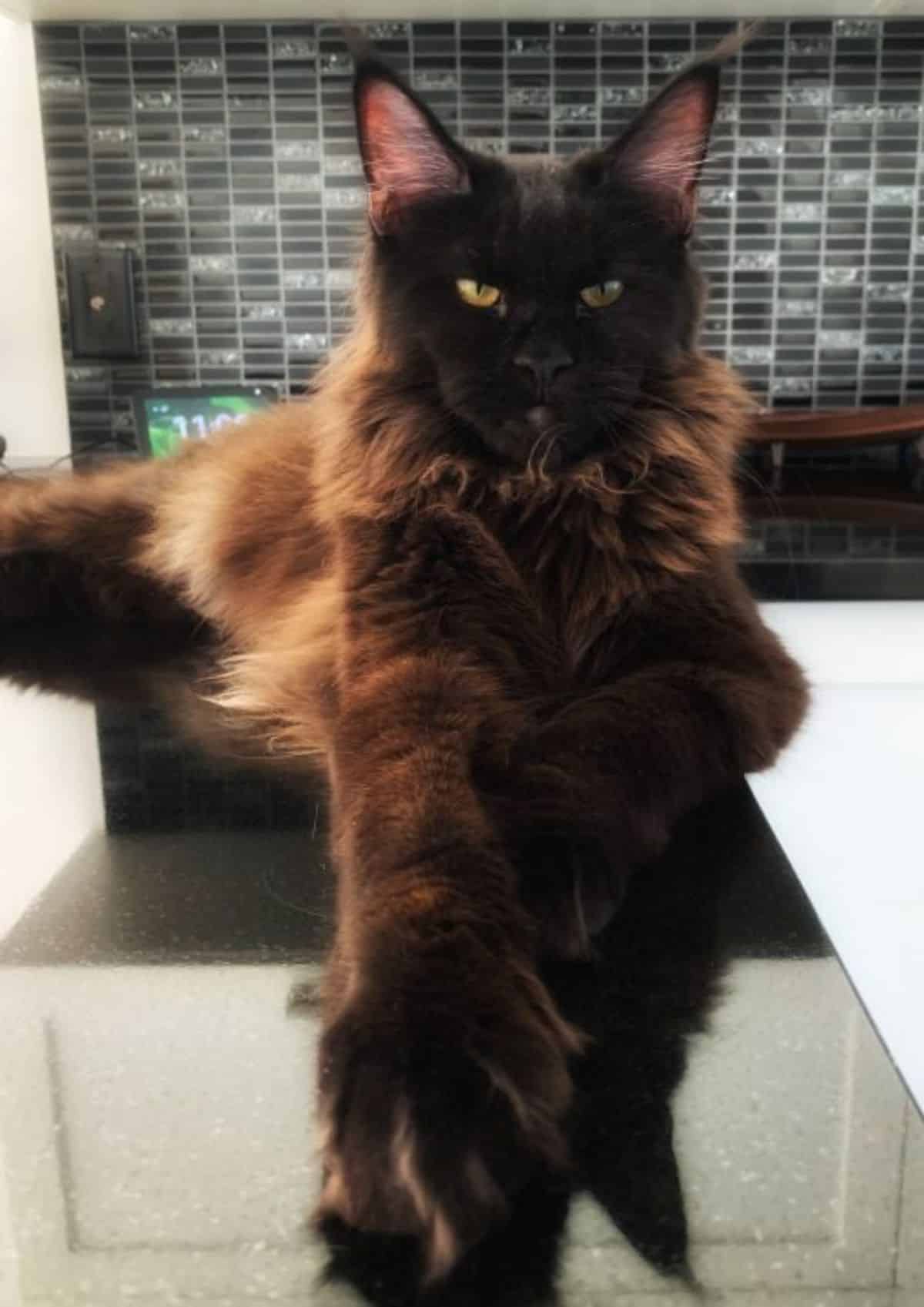 The deep, rich tones of chocolate and purplish-gray of lavender are coat color mutations, so they're relatively rare. Some breeders may introduce cream Maine Coon cats to the gene pool for warm swirls of color.
Wrapping Up
With so many shades and patterns, it's no wonder cream Maine Coon cats appeal to many breed fans. The rich, ruddy shades add soft warmth to even a chilly-toned silver or blue coat, giving owners of these jumbo-sized cats more to love.
Fortunately, cream coats are common, so those in the market for a long-haired kitty companion should easily find reputable breeders willing to entrust their buff-colored babies to a trustworthy owner.