Sometimes a rain cloud can make you feel happy. That is, of course, when the "rain cloud" is a big fluffy gray Maine Coon cat!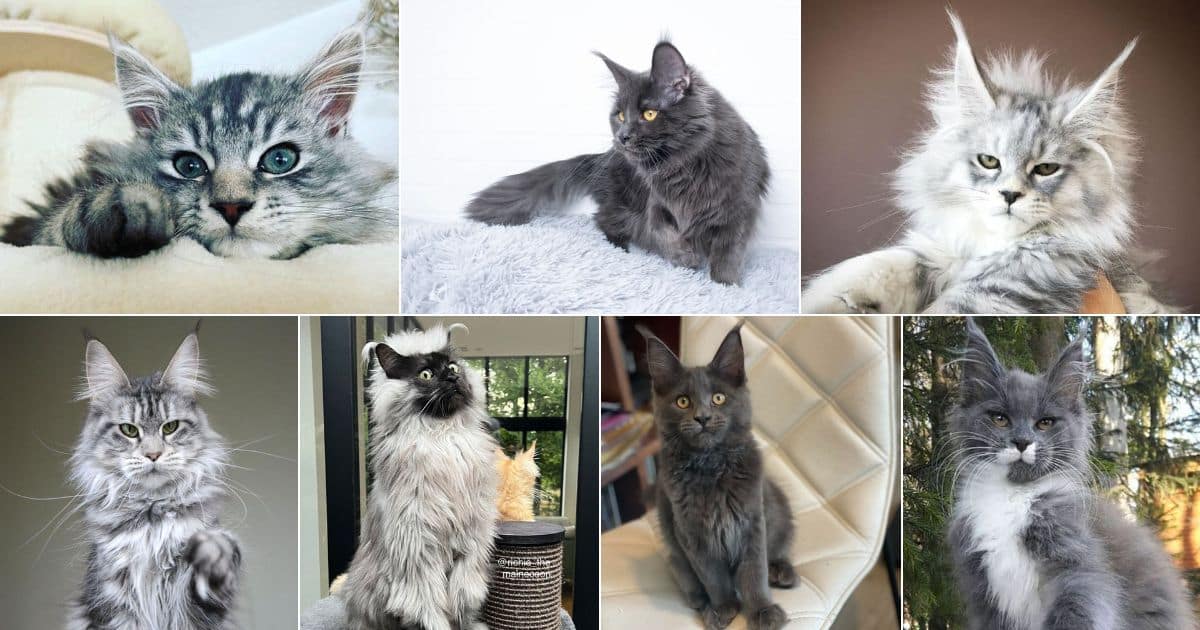 With fur tones ranging from light silver to blue to charcoal, there's a ton of variety - and lots of beauty - to be appreciated among these amazing felines.
Let's look at some gray Maine Coons making a splash on social media.
Jump to:
What Are Gray Maine Coon Cats?
Have you ever wondered what would happen if cats had royal families? We have, and we're sure gray Maine Coon cats would be at the top of it.
As the name suggests, gray Maine Coons come in shades of silver, and they all look incredibly elegant. Some have the looks of a king, while others look like the nicest pets ever. With that said, they all have a certain presence that will make anybody look their way.
1. Gray the Big Boy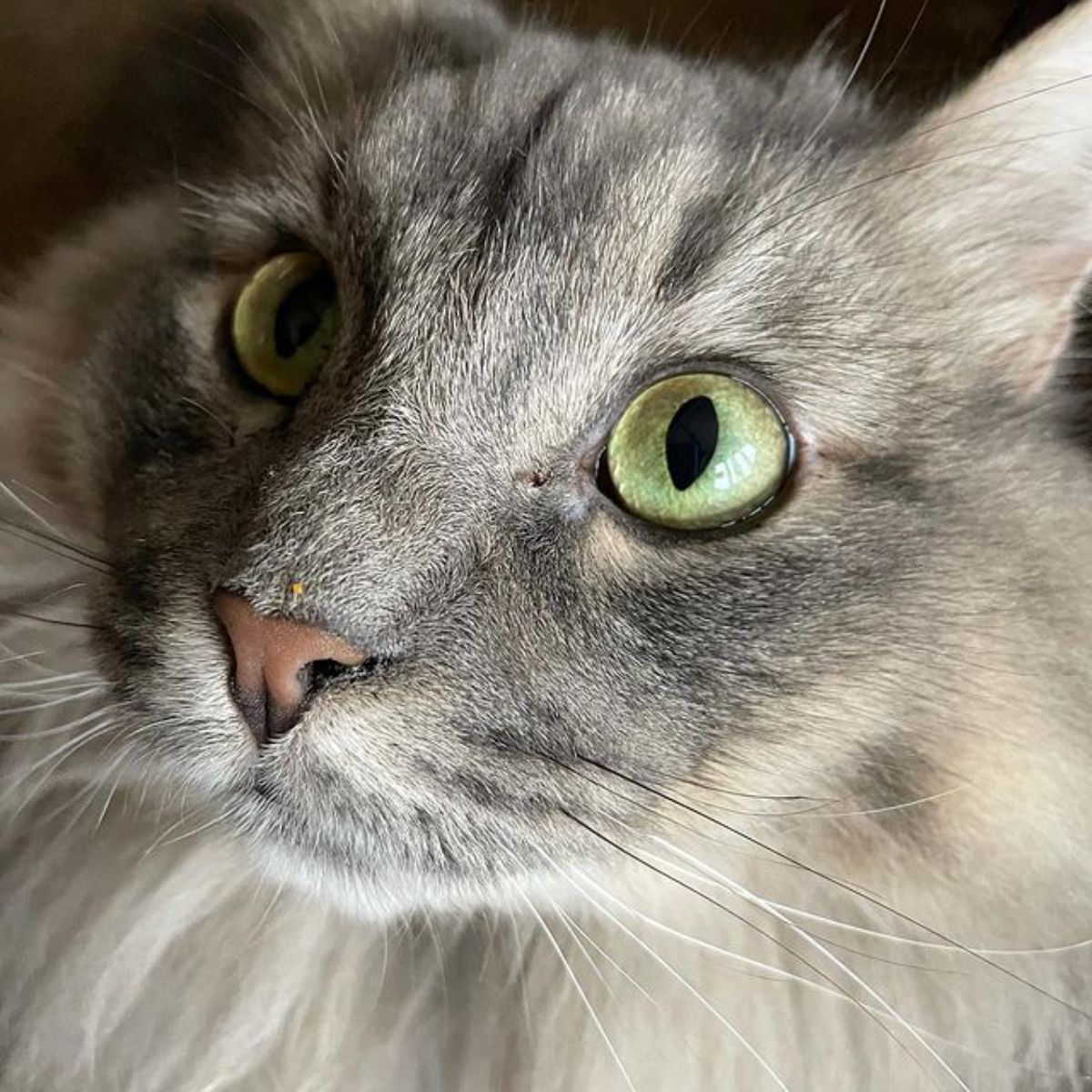 If you like big fluffy cats, you'll love Gray The Big Boy. This camera-friendly feline is a light gray Maine Coon whose formidable size and expressive face charm his followers daily. All Maine Coons have long fur, but some, like Gray, have extra fluff around their neck and face. It makes them look like they're wearing an oversized, soft infinity scarf!
2. MCO Vivo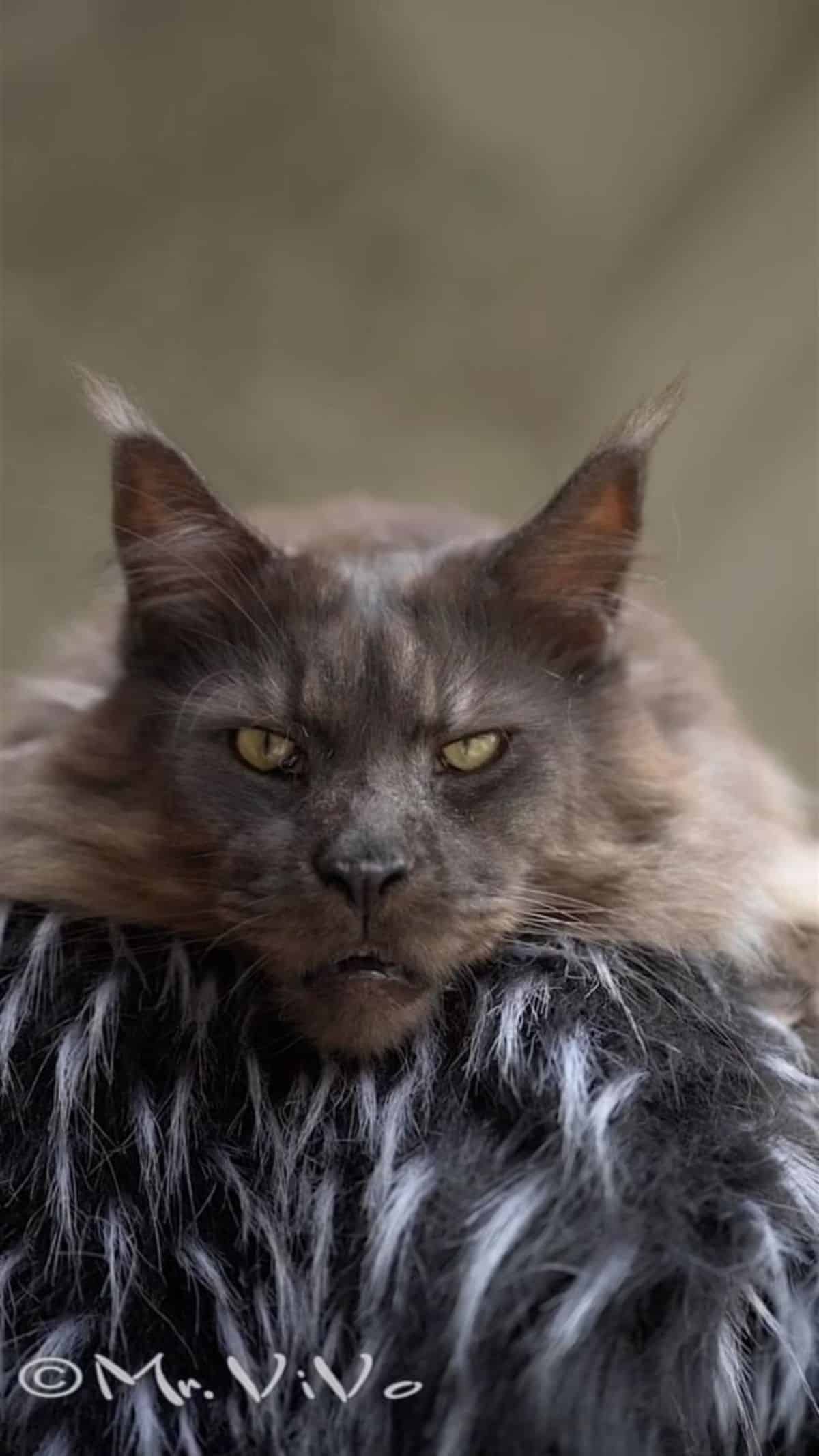 MCO Vivo is one of social media's most popular Maine Coons. His 200K+ Instagram followers love seeing his serious face and model-like poses. Vivo has a lustrous dark gray coat and a long, slinky body frame.
3. Leo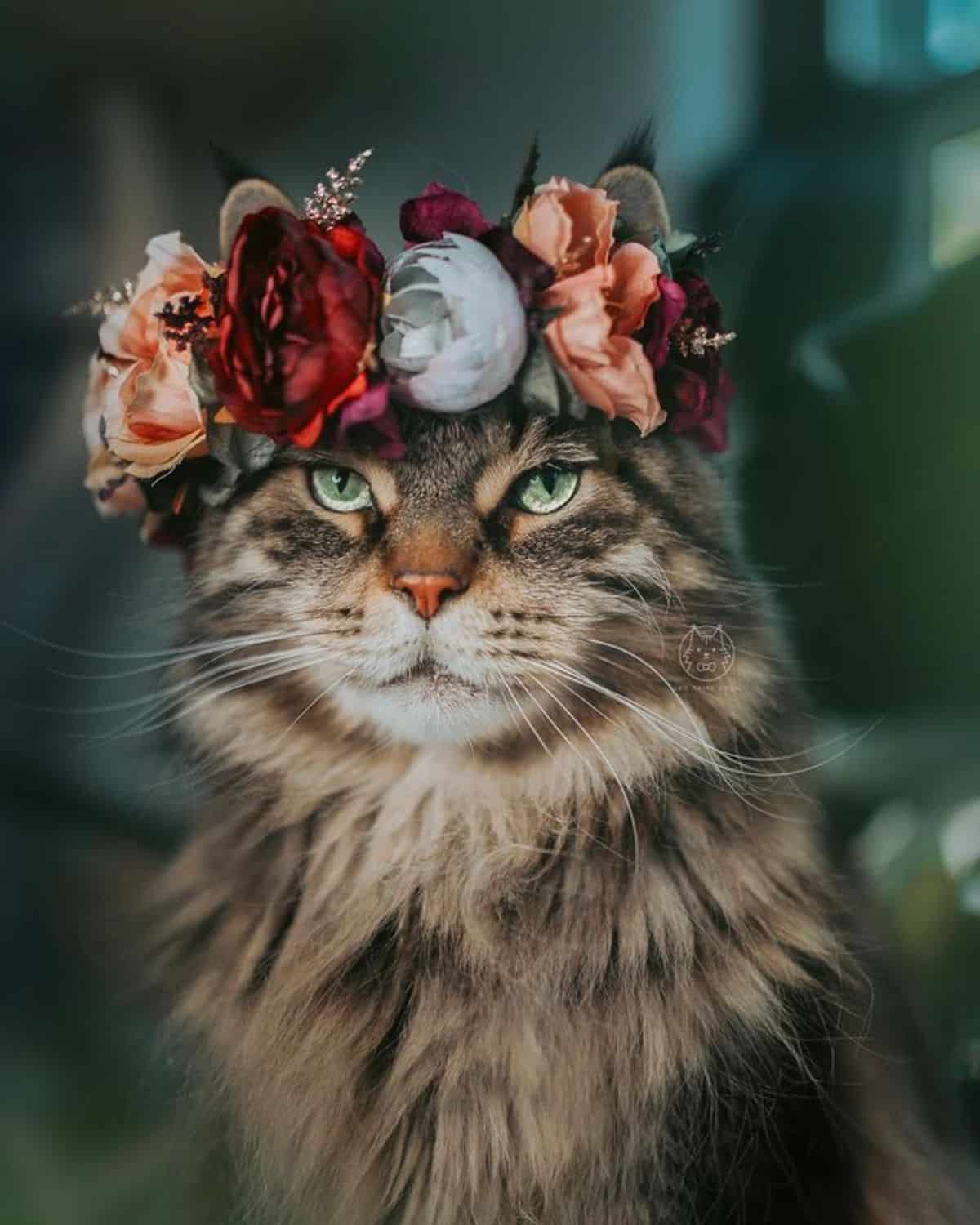 Maine Coons are often described as majestic and imposing creatures, but for Leo the Maine Coon, life is all about softness and beauty. This silver tabby likes to pose with flower crowns on his head, and the look suits him perfectly!
4. Richie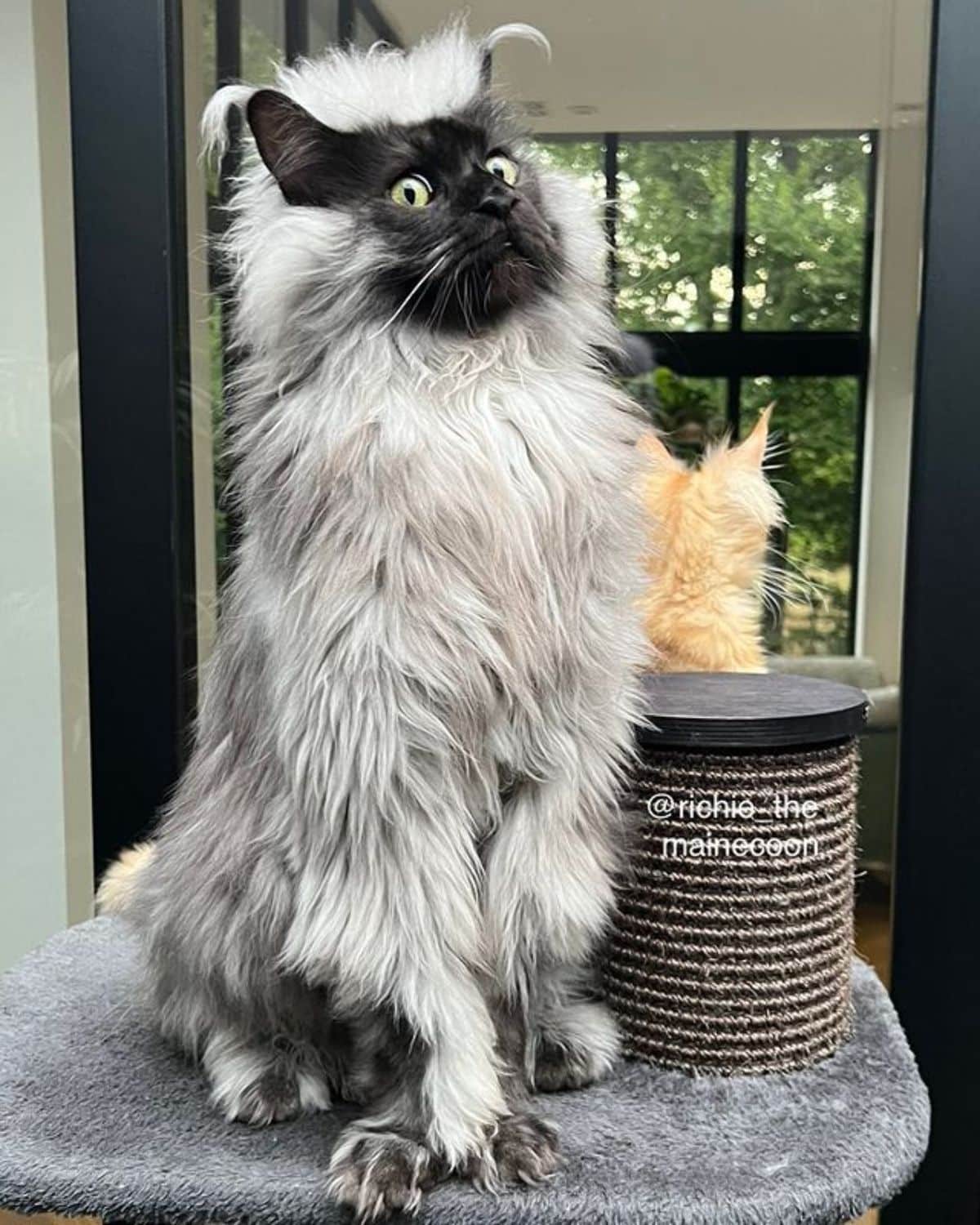 Richie has such a unique look; people often joke that he's not even a cat! His smooth, dark gray face contrasts intensely with the long, fluffy silver fur around it, giving him the offbeat look of a nutty professor.
5. Nemo of Hugo and Nemo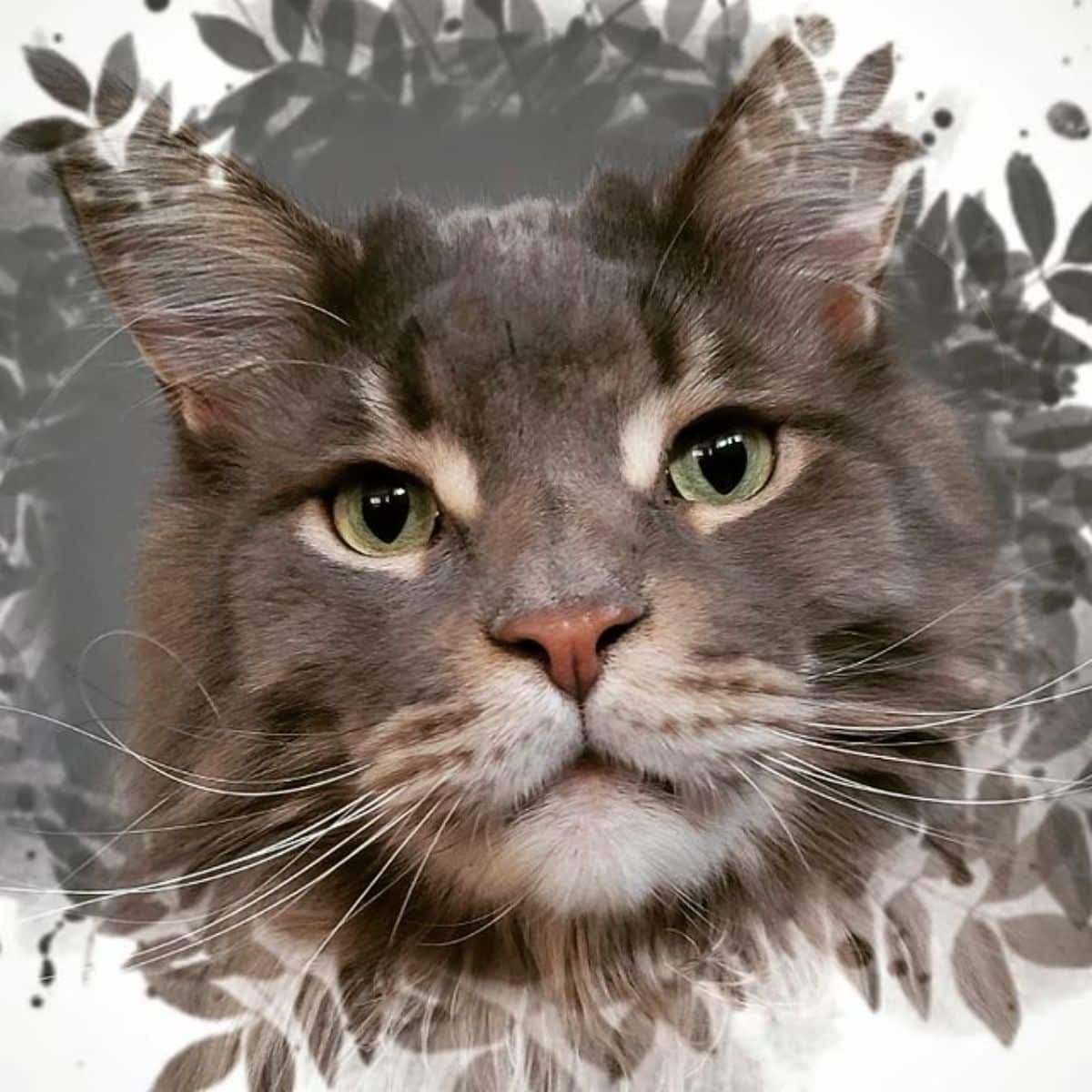 Hugo and Nemo are a duo of Maine Coons who have a presence on Instagram. Nemo is the smoky gray Yin to Hugo's golden tabby Yang. She has the sweetest face and just a hint of cream-colored markings to add some variation.
6. Memorable Face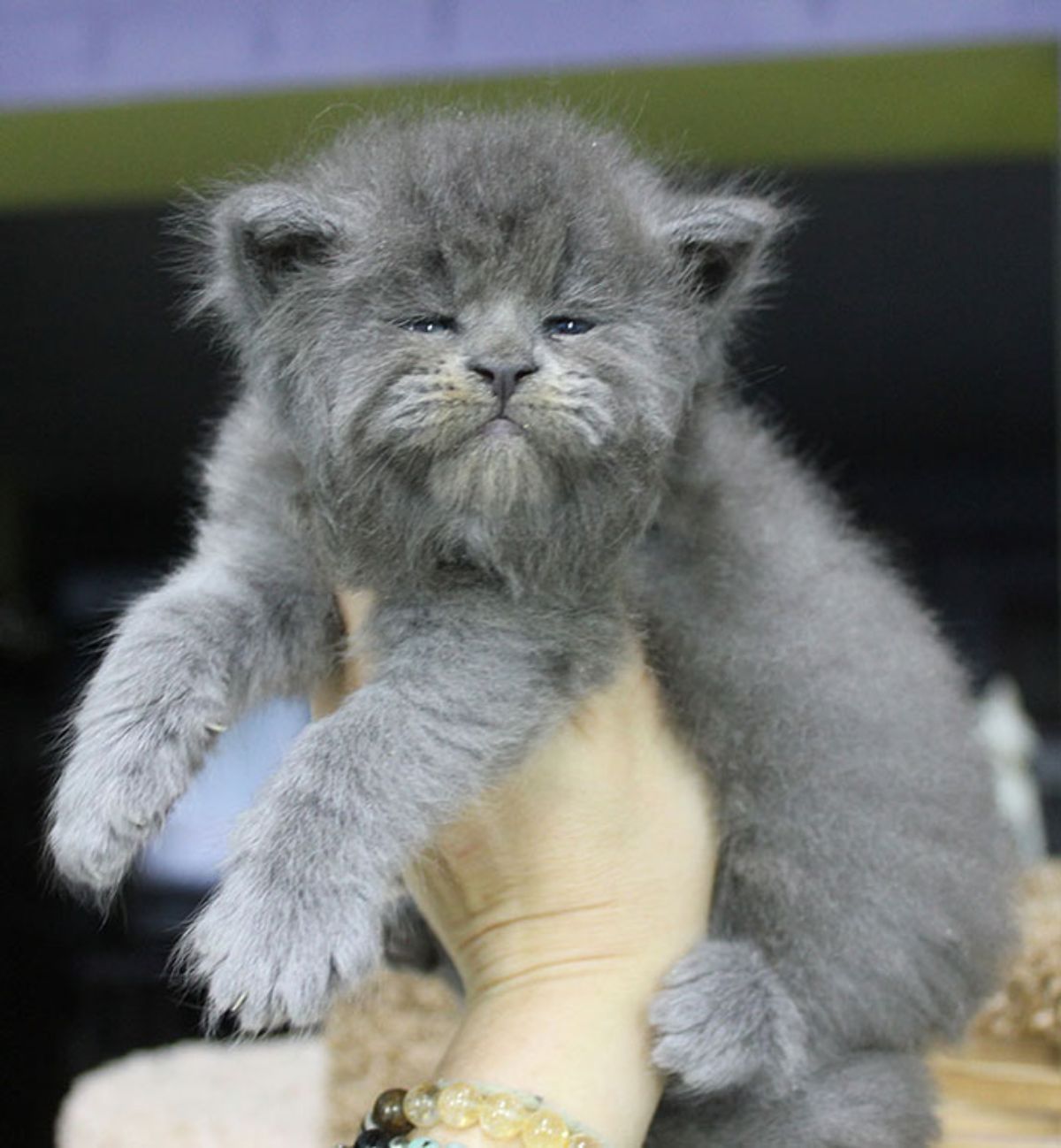 Several years ago, a litter of gray kittens was born in Russia, and they set the internet ablaze. People were shocked and delighted at their "human" faces. Anyone who knows Maine Coons knows that this is a typical face shape for the breed; it just looks a bit comical on a newborn kitten.
7. Helios
Maine Coons hold records as being some of the largest cats. Helios is a super-sized Maine Coon who, despite his stature, enjoys playing like a kitten. His long coat is a mix of lighter and darker gray tones, and some well-placed tabby stripes give his face extra character. He's named after the Greek sun god, which makes sense since he brings so much light into his owner's life.
8. Silver Princess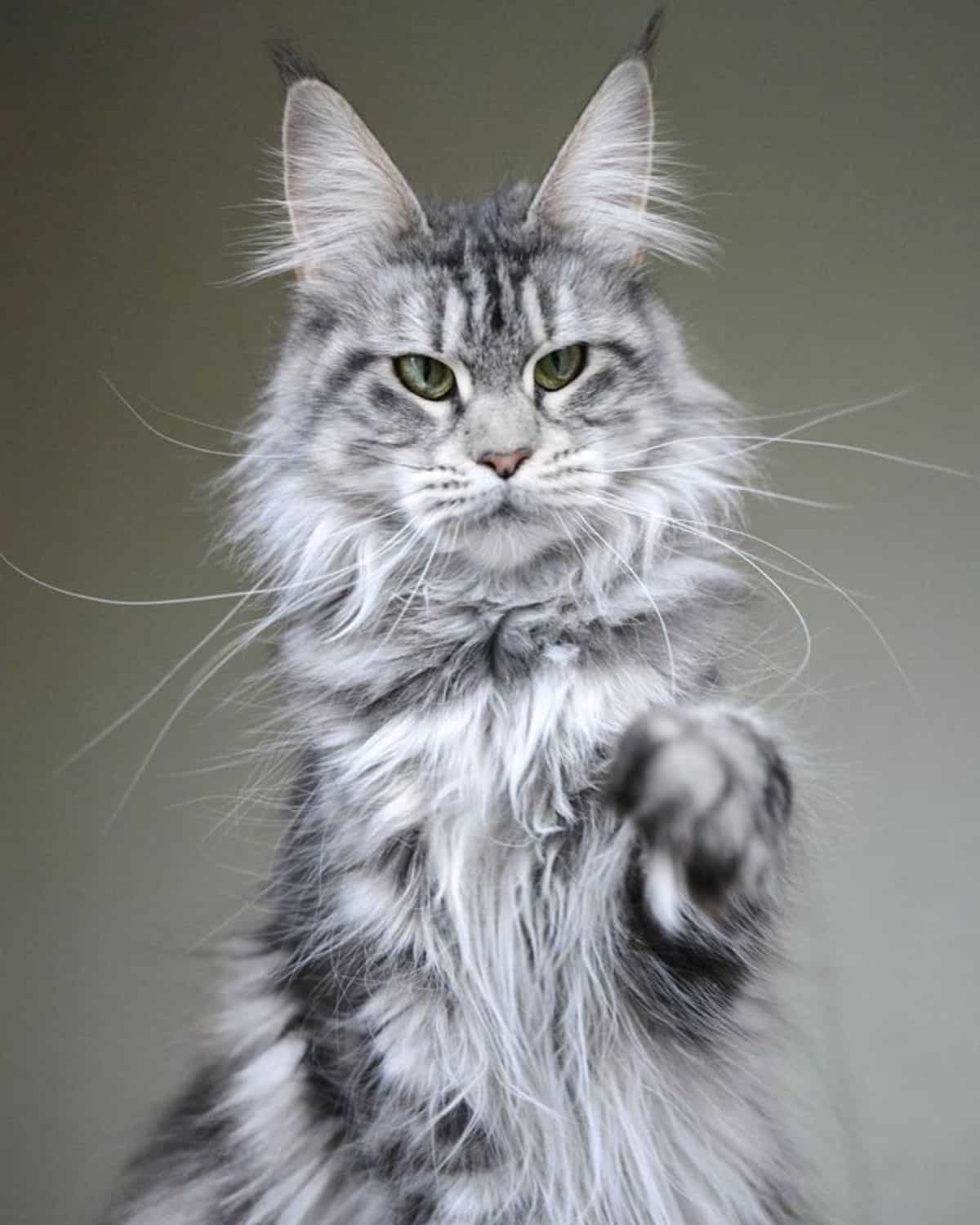 This lovely lady is from Alligator Cattery. Her bright silver fur is striking, and she looks like she has a lot of personality. Her gray-blue eyes look to be slightly crossed. This is an uncommon trait in Maine Coons, and much more typical of Siamese. Perhaps she's a mix. Either way, she wears her unique look very well.
9. Blue Mood
Gray Maine Coon cats can have different undertones in their fur. Some have gold or reddish tones that shine through in the light, while others are on the other end of the spectrum, with purplish-blue hints in their coat. This handsome guy's name is Eagle Blue, and he rocks his cool undertones fabulously.
10. Twilight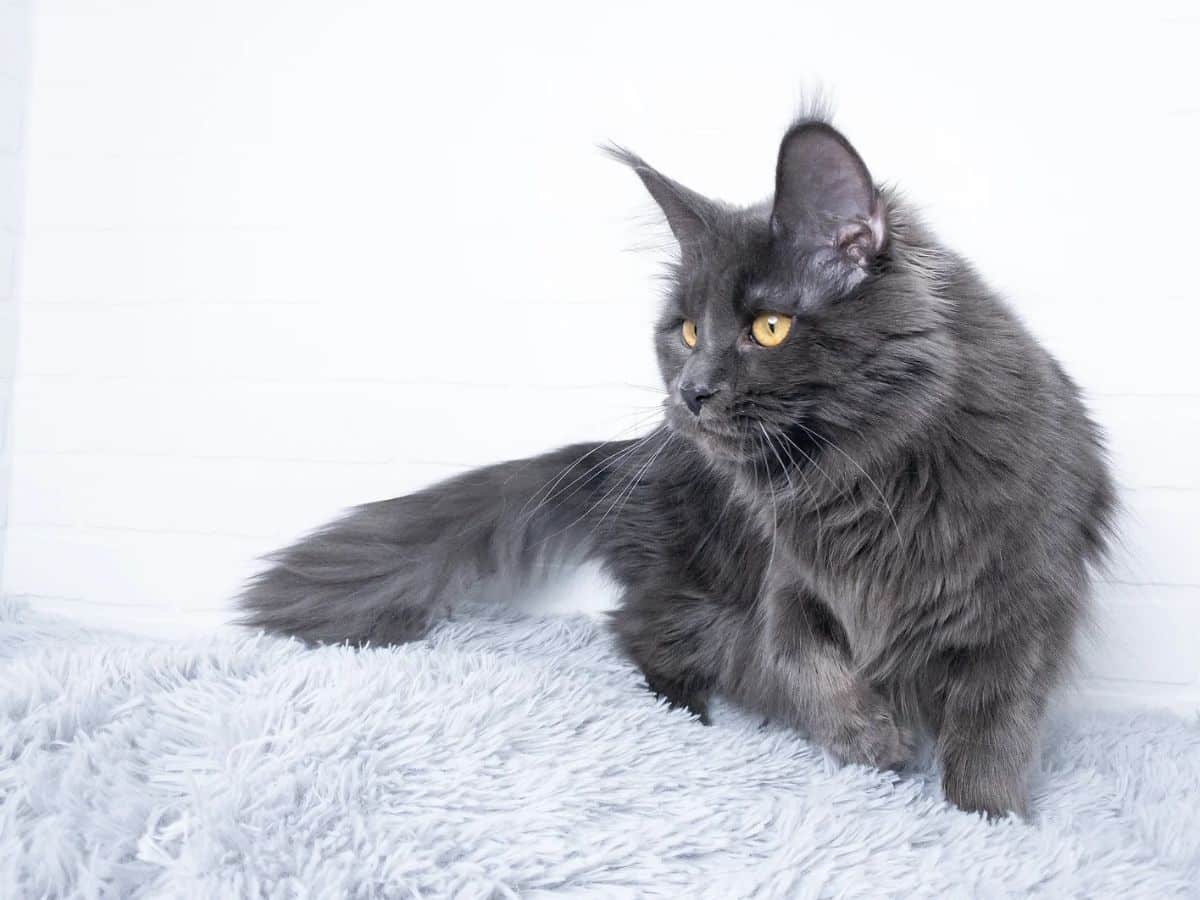 This pretty lady is also a blue Maine coon cat, but in her case, her fur is such a rich, dark color it can almost look black in some lighting. Her orange eyes contrast very well with her thick coat. It's obvious she's a very healthy, well-bred cat.
11. Fluffy Kitten from MyCat Maine Coon Cattery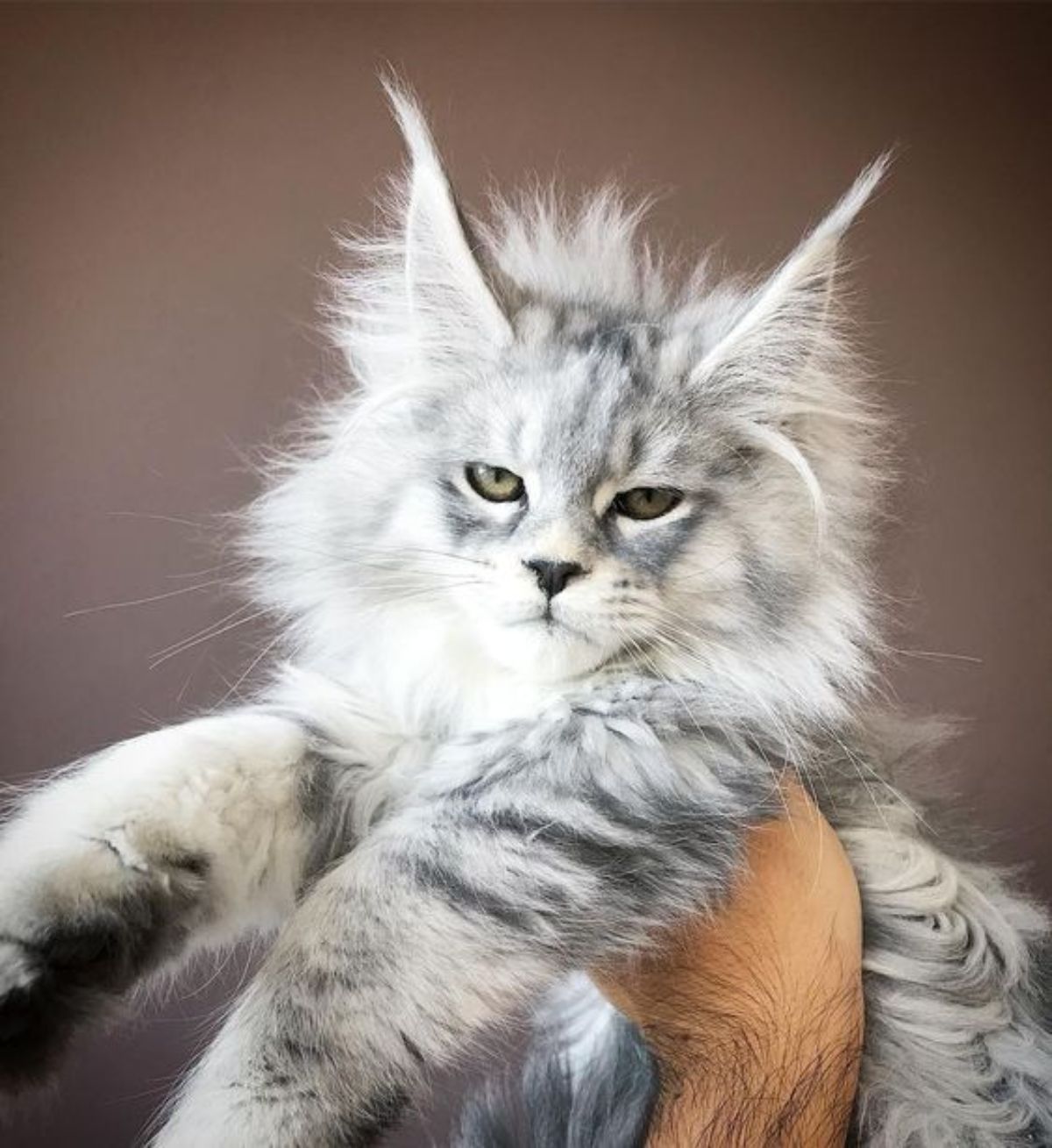 As we've mentioned, Maine Coon kittens don't look like any other breed of a kitten. Their heavy facial features give them the appearance of old souls at a young age. This silver baby is no expectation. Undoubtedly, he will grow into his mature face and be a beautiful adult cat.
12. Neige of Elevage Maine Coon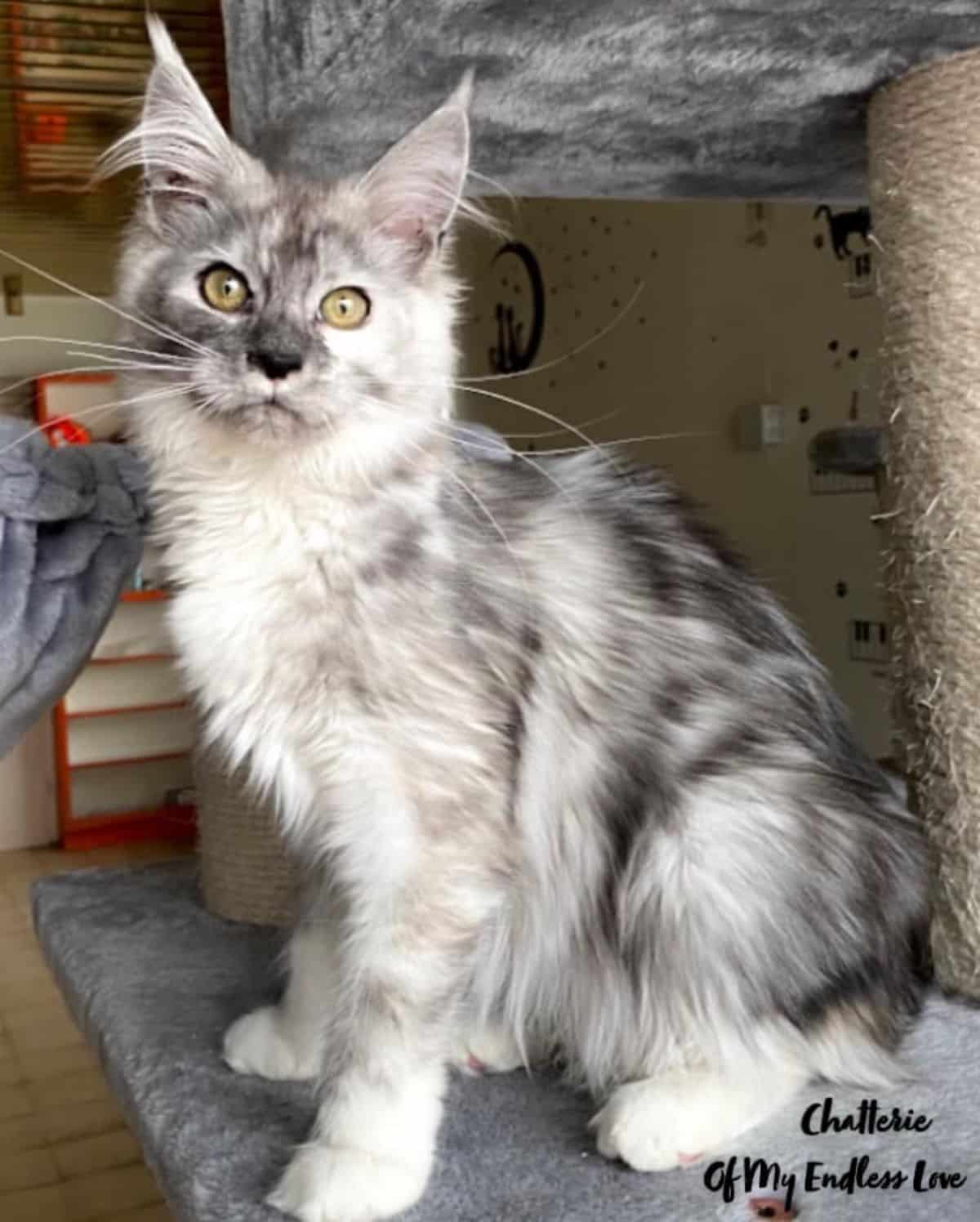 Female Maine Coon cats are often smaller and more delicate-featured than their male counterparts. This is true of Niege, a female from Elevage Maine Coons. Her smoke-gray coat is dusted with white, which is likely why she is named after the French word for snow.
13. Vhanatee Maine Coons Kitten
This alert young man looks as though he's ready to take instruction at his new job. There's so much intelligence in his eyes! He is a classic, solid gray Maine Coon cat with a mid-length coat, but he may end up with a longer coat as he ages.
14. Color Twist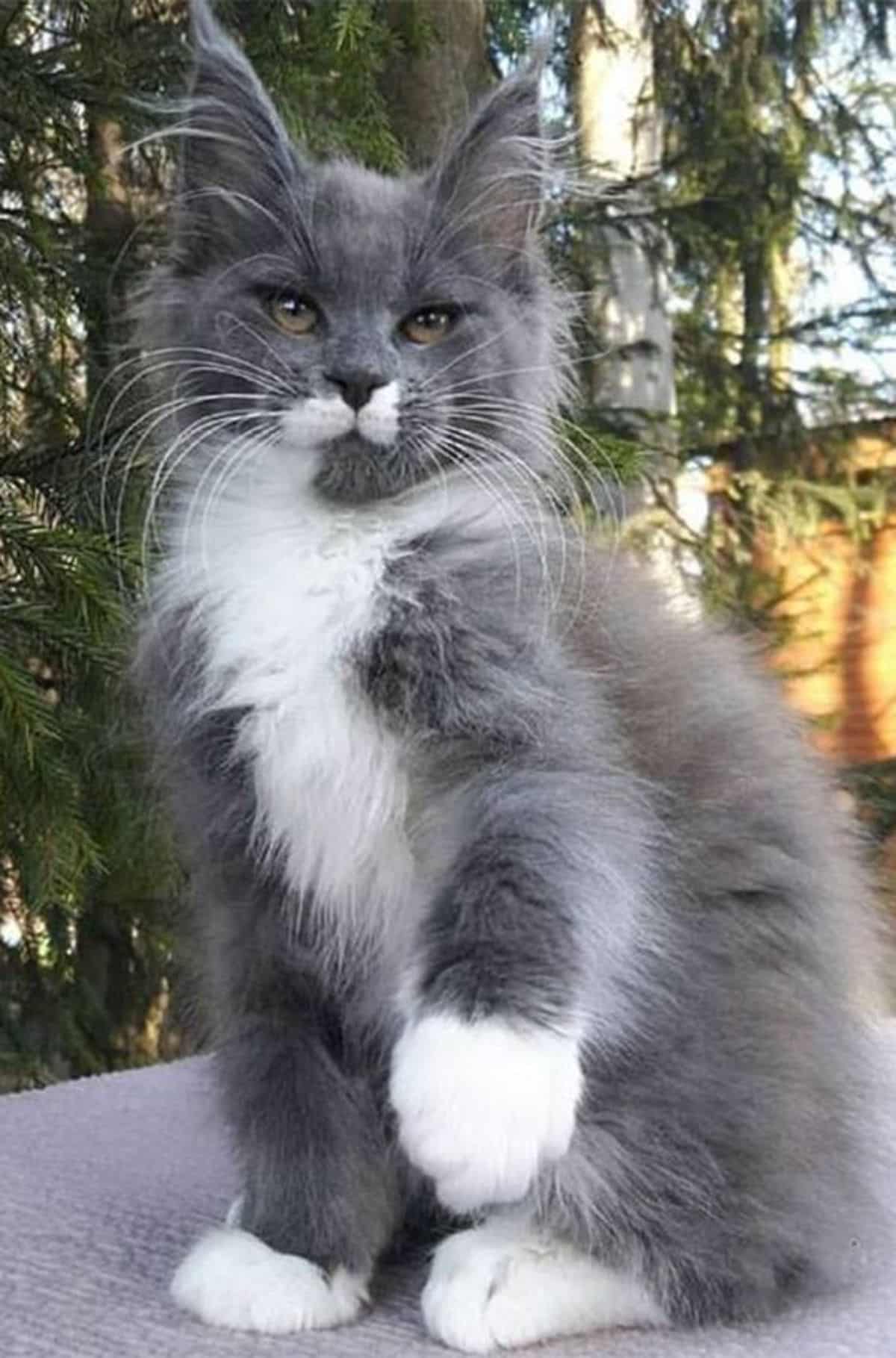 Gray and white is a chic combination that goes with just about everything. It certainly looks gorgeous on this young Maine Coon. She also has a fascinating eye color. Instead of amber, green, yellow, or blue, her eyes appear to be a version of hazel.
15. Gandalf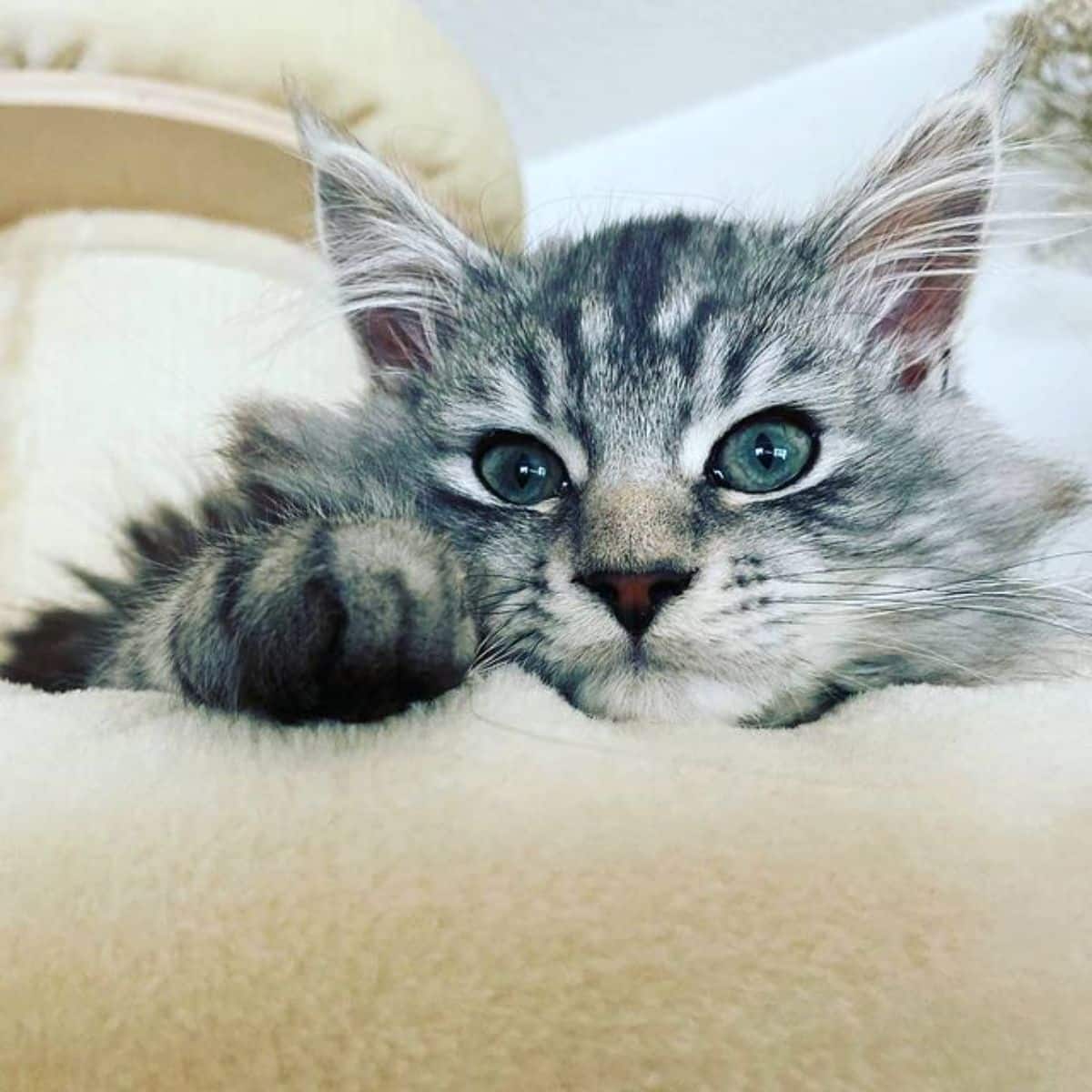 This silver tabby kitten is just too adorable. His black-lined nose and eyes bring so much definition to his cute features.
16. Mr. Gray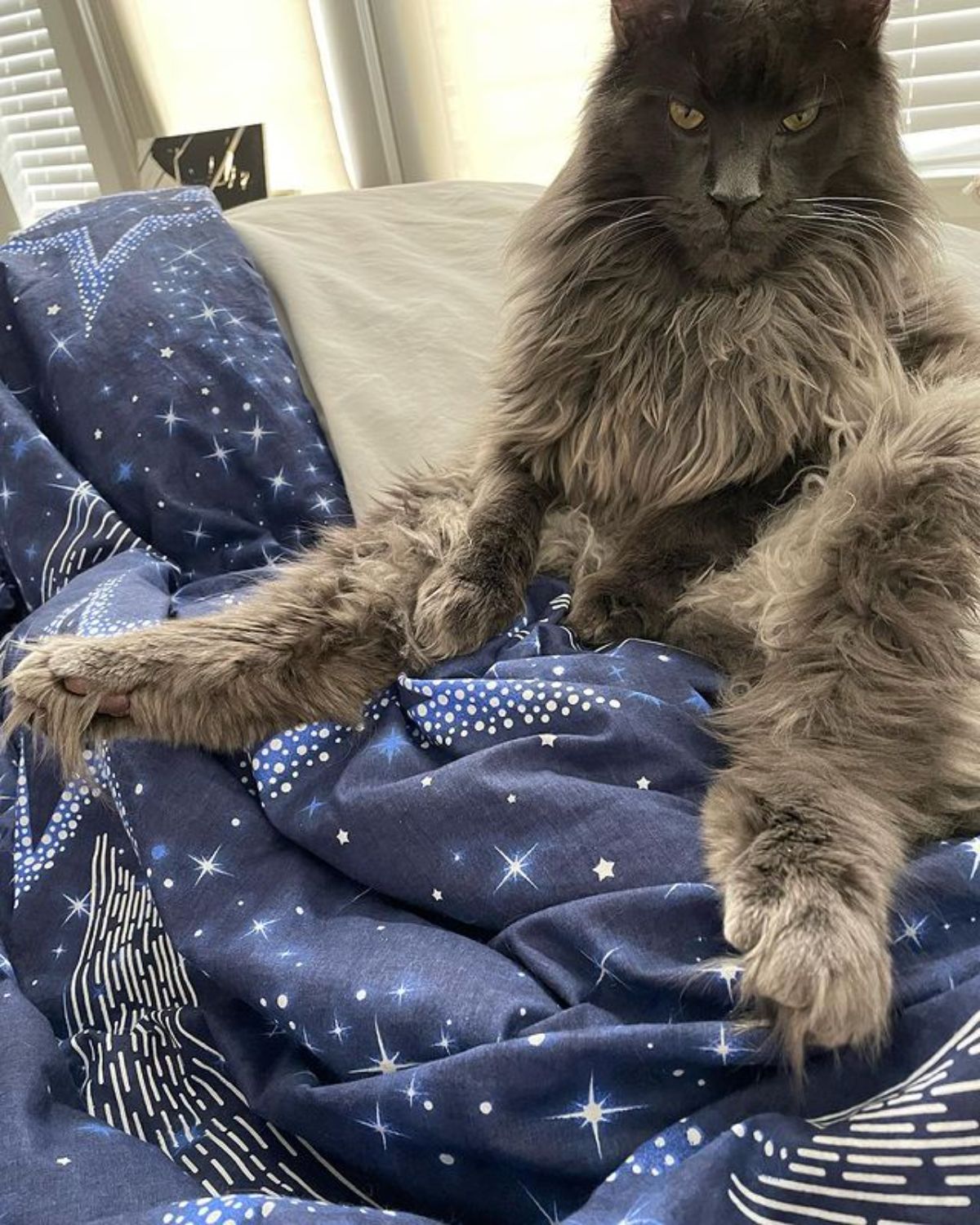 Mr. Gray is the smokey side of the duo Tisha and Mr. Gray from the Instagram account Maine Coon Tisha. As you can see, he is a very fluffy guy! Some Maine Coons have ultra-long fur all over their bodies, including on their big, fuzzy feet! Grooming these kinds of cats may take extra time and effort, but it's well worth it.
17. Greyjoy The Maine Coon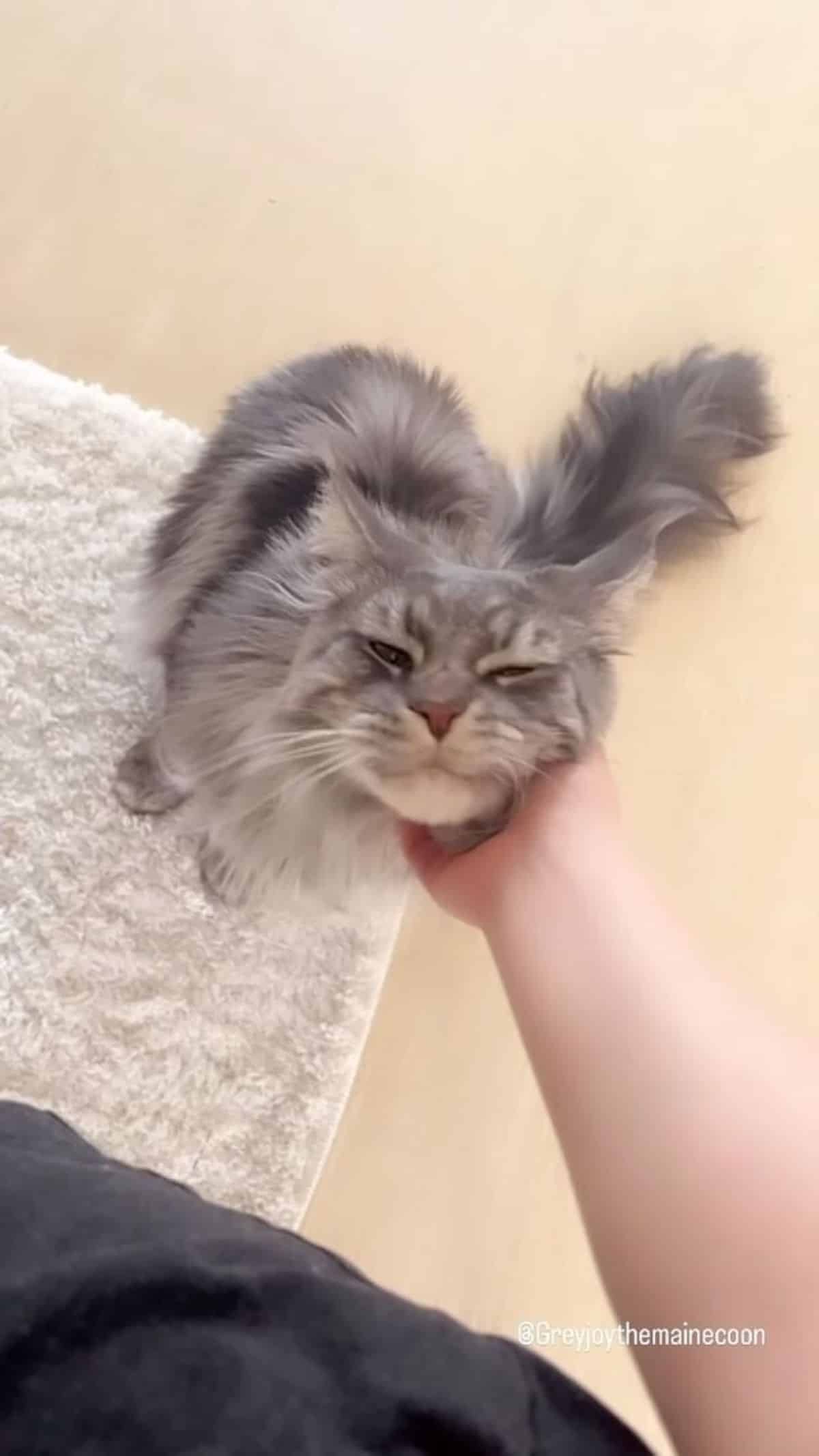 Greyjoy the Maine Coon is a very loving cat, and as shown in the video, he is loved in return. Who wouldn't fall for his soft silver tabby fur, gray eyes, and sweet personality?
18. Jack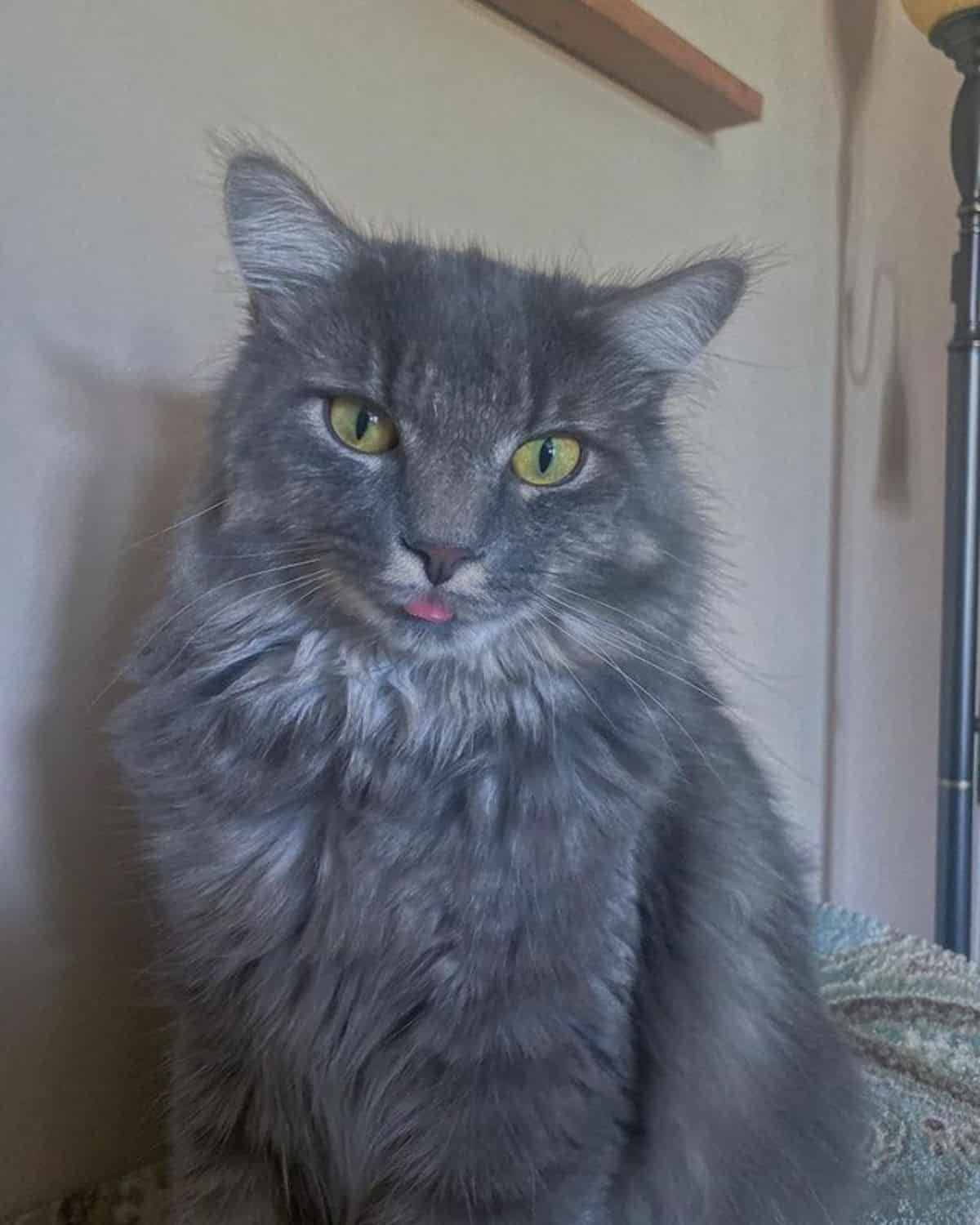 There is a good deal of variety among Maine Coon cats. Just look at Jack. His face is very different from the typical Maine Coon. It's less bulky and has a different configuration of features. This makes Jack an extraordinary feline, indeed.
19. Milo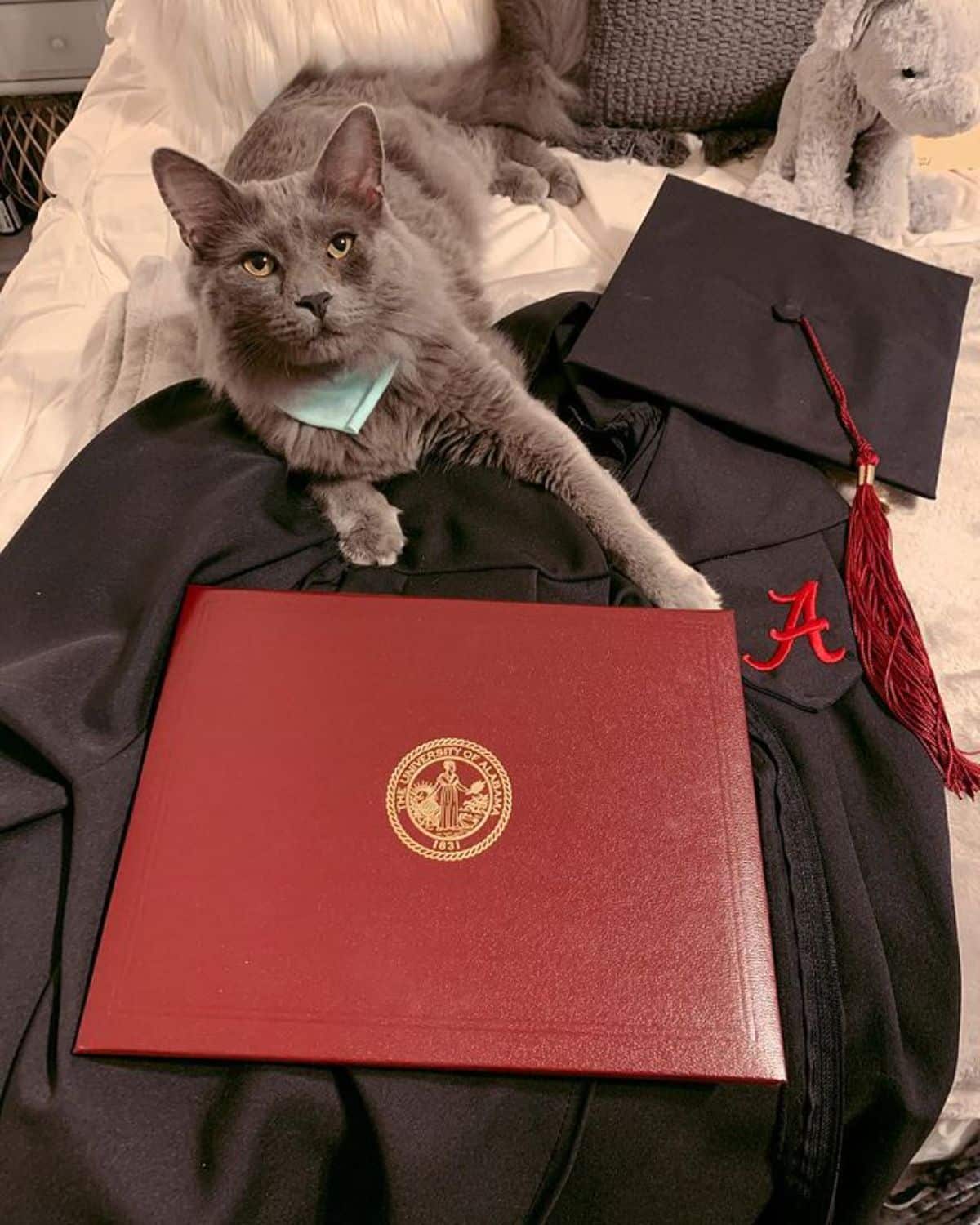 Milo strikes an elegant pose to celebrate his mommy's graduation. This Alabama-based Maine Coon cat has light blue-gray fur and amber eyes, a winning contrast combination. The account documents his life from 6 weeks old on.
20. Gideon
This regal-looking cat has one of the golden-gray fur tones often seen in Maine Coon cats. The light "mane" around his neck almost looks like a beard. He also spots a pair of bright, bottle-green eyes that go so well with his coat colors.
21. Adorable Trio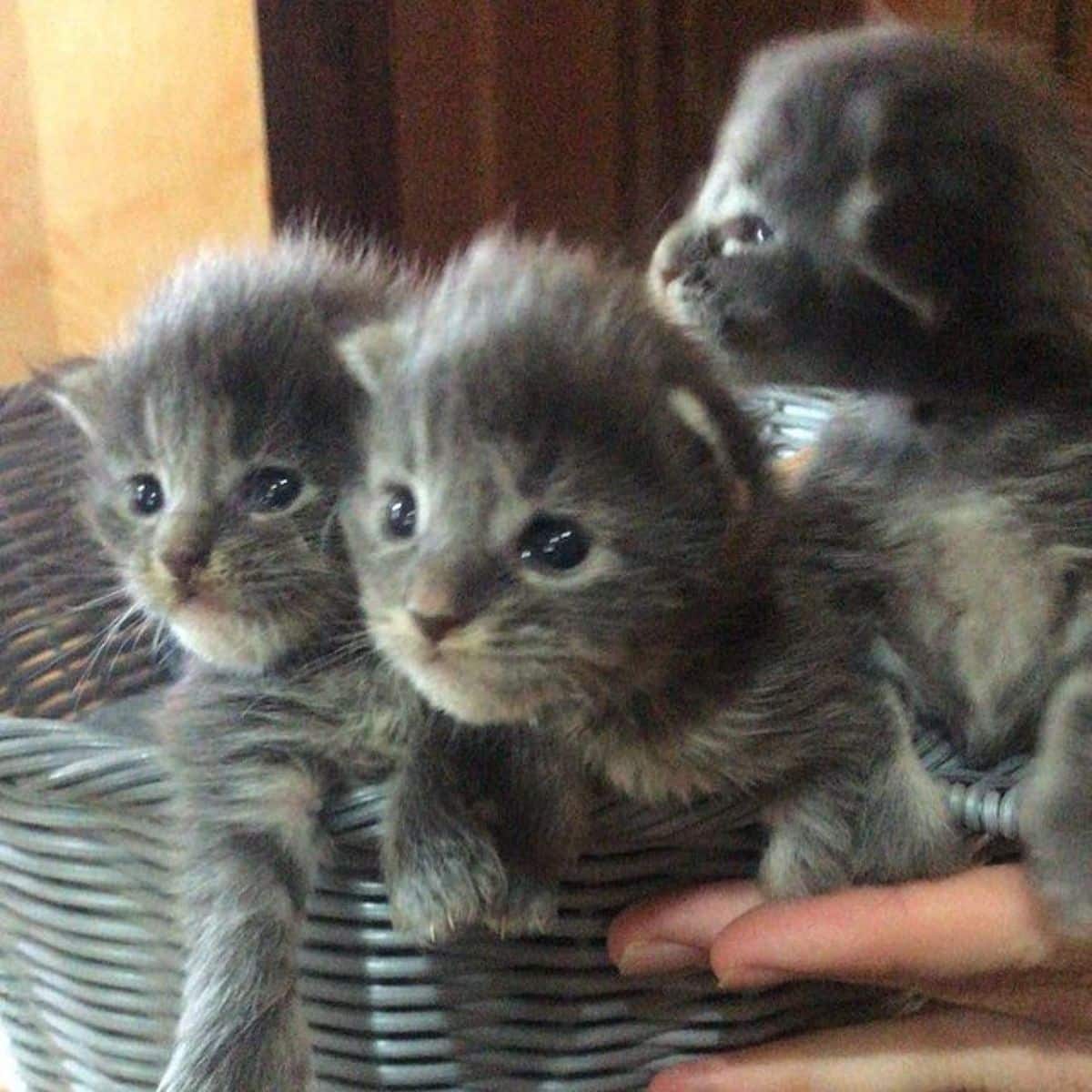 What's better than a gray Maine Coon cat? Three gray Maine Coon cats! These kittens are so young they probably haven't left their mom yet, but you can see the eagerness in their eyes. They want to explore the world! They may look identical now, but they will grow and develop their own unique features.