When it comes to family felines, there's rarely a better choice than the Maine Coon. Despite their record-breaking size and species stereotypes, these kitties have an astonishingly patient and nurturing attitude towards children.
We rounded up 21 squee-inducing Maine Coons with babies, proving that you don't need a dog to watch over your family when you have a feline friend who's up for the job.
Jump to:
1. Tame Tummy Time
Maine Coons might be full of playful energy, but these gentle giants know when to settle down for quiet play. Despite the breed's natural curiosity, this family pet gives the baby plenty of space to play without interfering.
2. Kitty Cuddles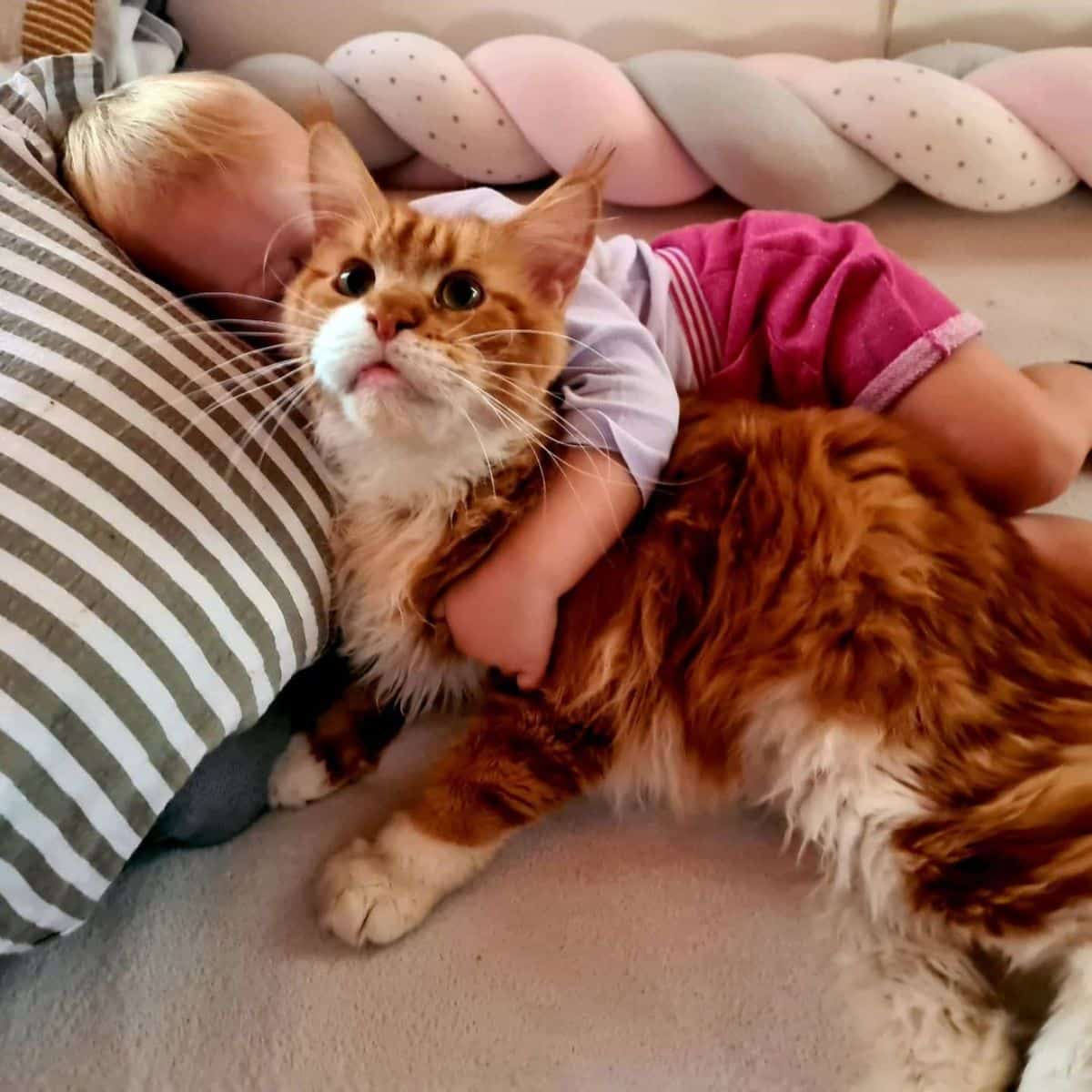 Not only is Monty the Maine Coon a stunning specimen, but he's also a tender naptime companion. The little one feels safe with her kitty, and Monty is more than happy to move around his busy schedule of chasing squirrels and chirping at birds for her mid-day siesta.
3. The Great Meow-se Detective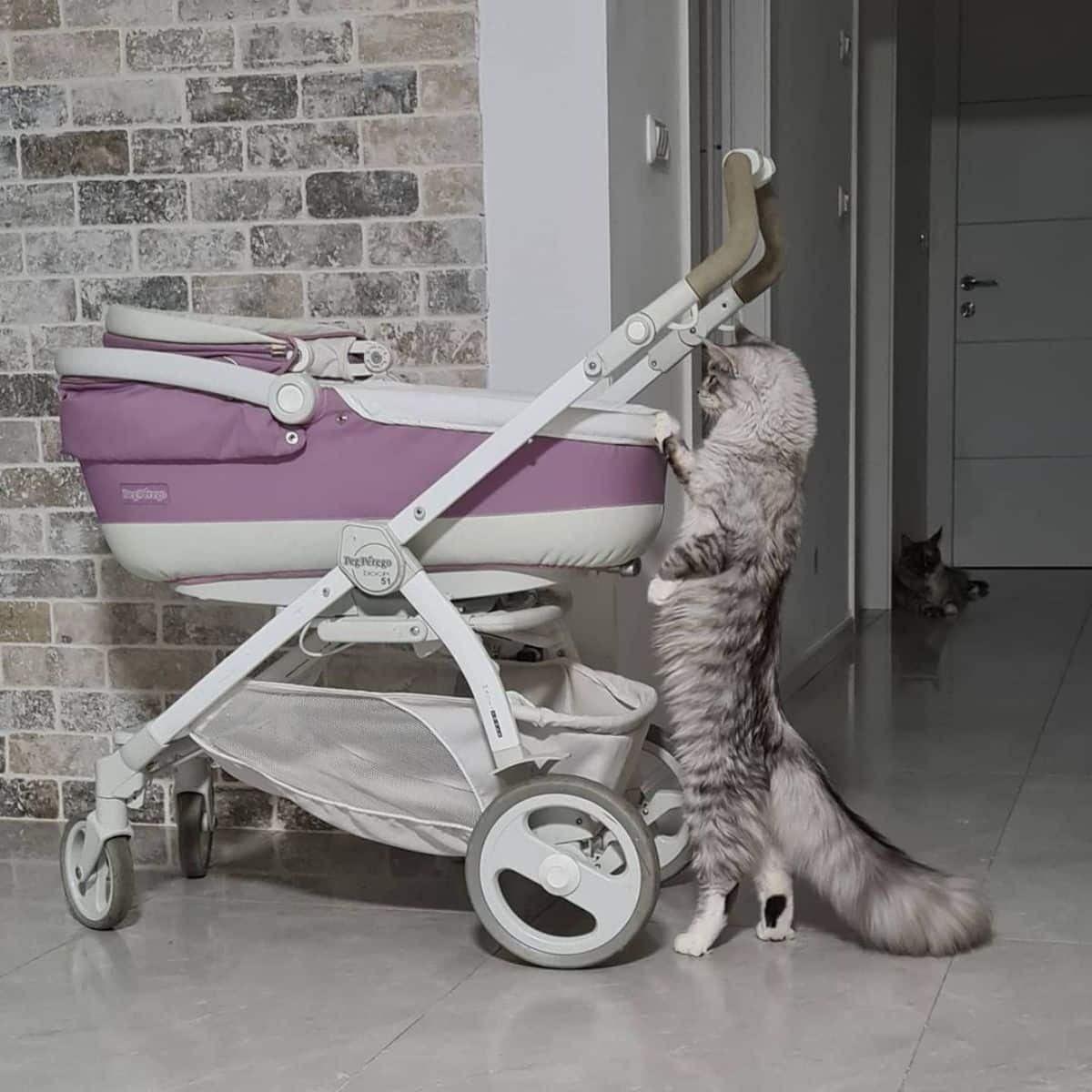 Curiosity may have killed the cat, but this silver mackerel tabby Maine Coon proves that this breed is more human than most. Like the world's cutest investigator, she's on the case of supervising naptime, gently peeking into the stroller without malice or mischief.
4. When Harry Met Matilde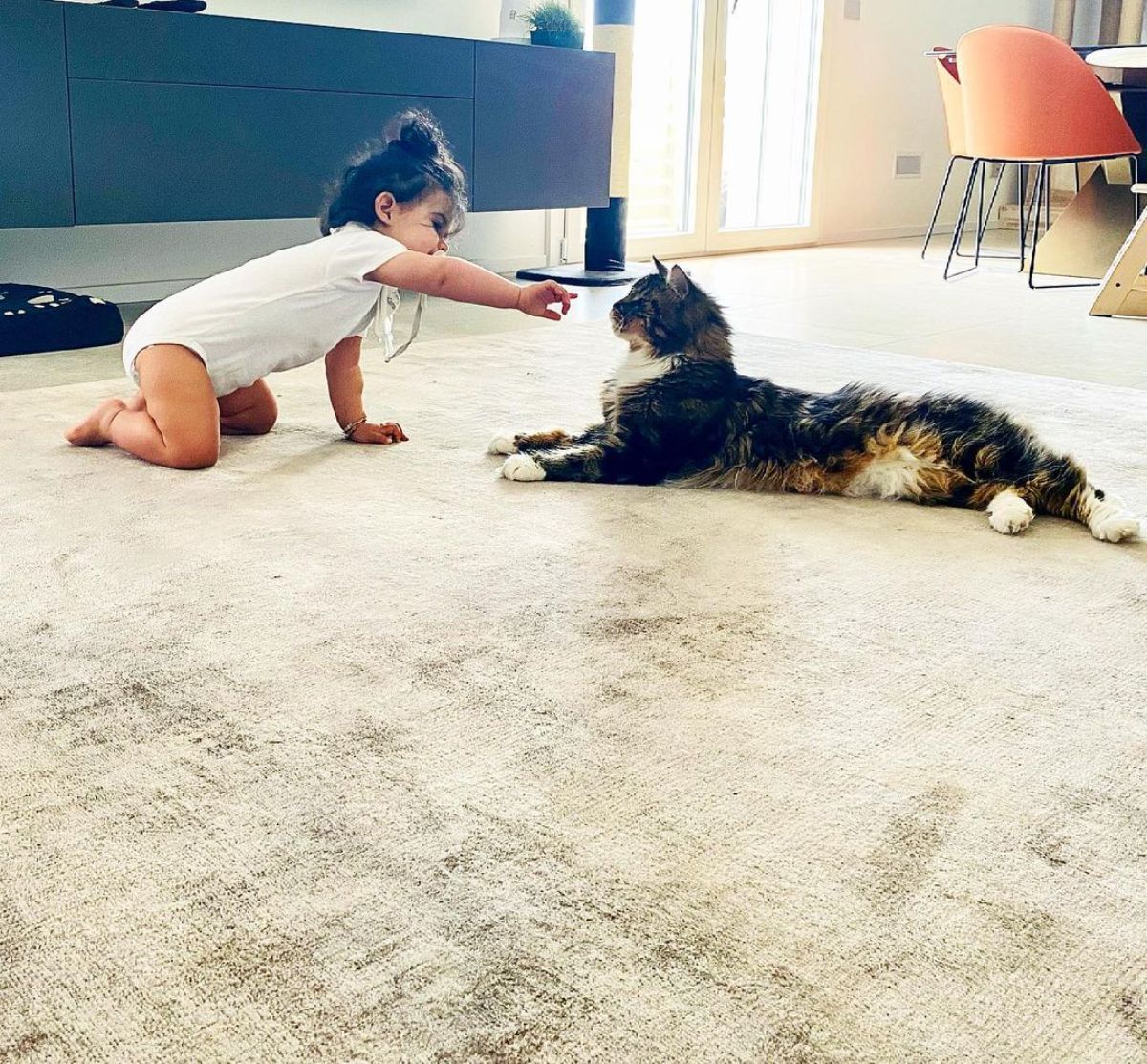 Because of their size, Maine Coons like Harry tend to be markedly less timid regarding uncoordinated toddlers. He's ready and willing to accept all the nose boops Matilde has in her chubby little fingers with an open heart.
5. "Someday, You'll Be This Long!"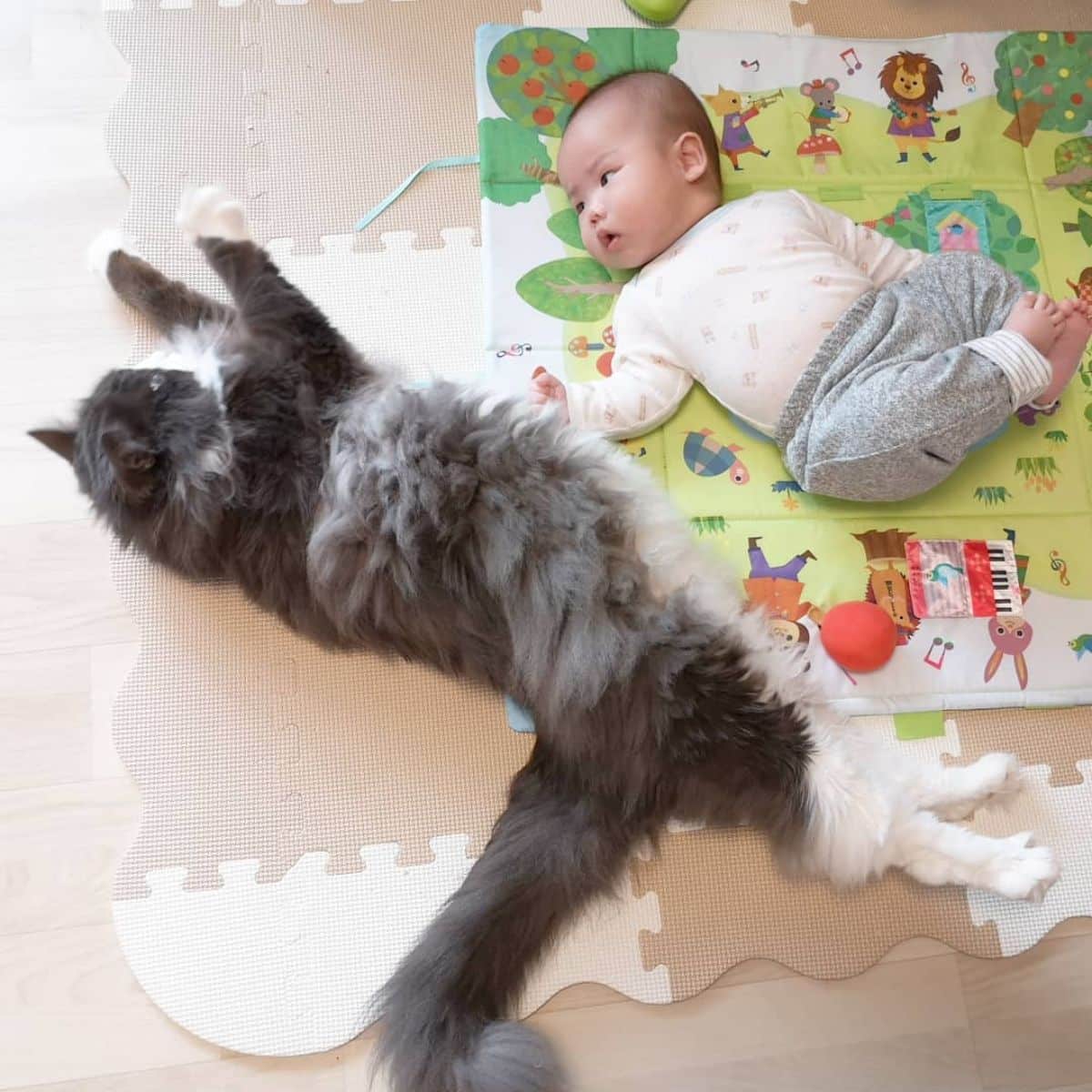 It's sometimes hard to fathom the sheer size of the Maine Coon breed, but seeing this sweet kitty stretched out next to his tiniest human puts things in perspective.
6. Green-Eyed Guardian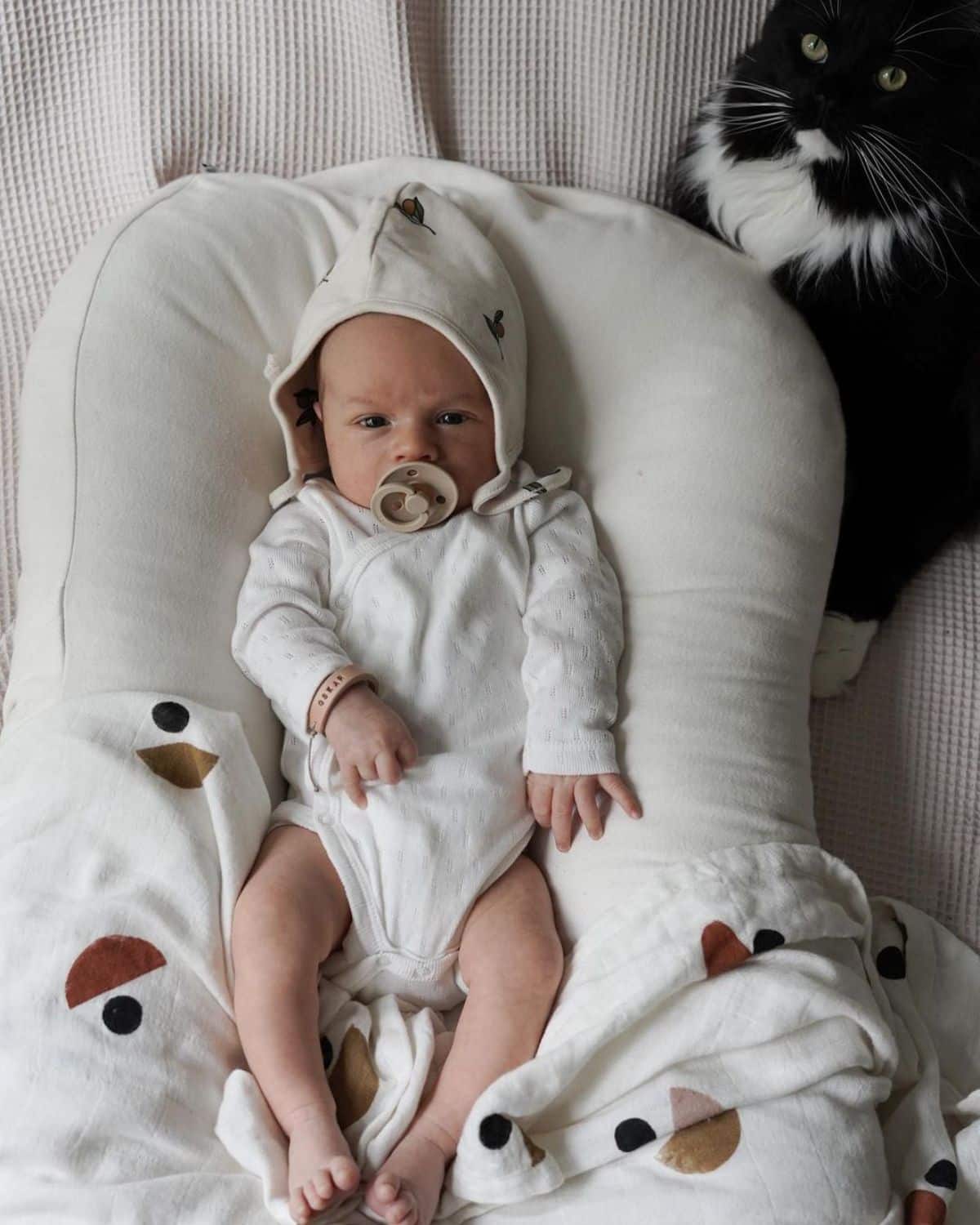 Like a proud mama cat, Moja stands guard over her family's new addition with nothing but admiration in her eyes. While the baby doesn't seem too impressed yet, they're sure to have a long, beautiful friendship.
7. Cat Napping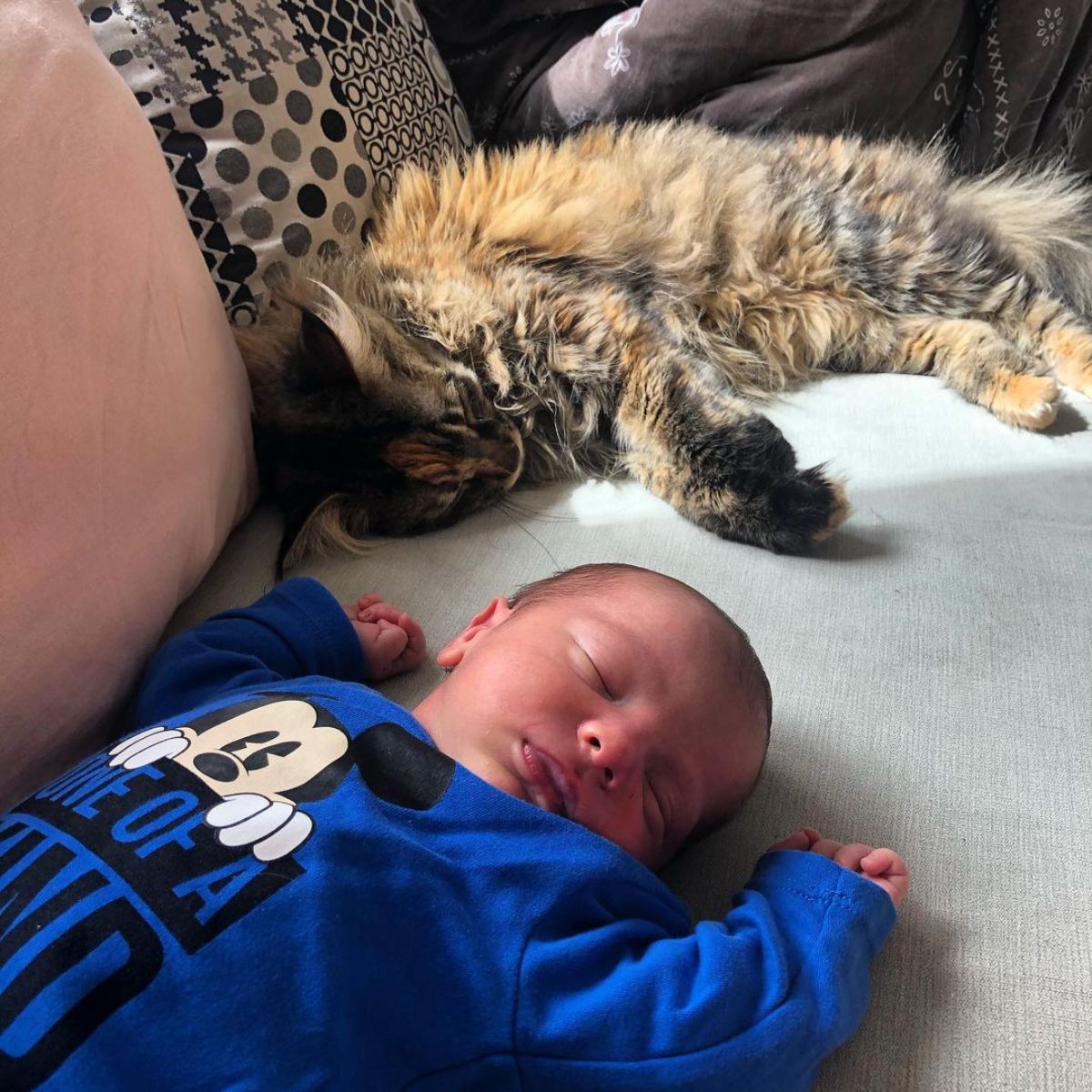 Every parent knows that the long, sleepless nights after a baby is born are some of the toughest. Fortunately, this tufted tabby knows the secret: Sneak in a snooze while the little one sleeps.
8. Sittin' Pretty on the Stroller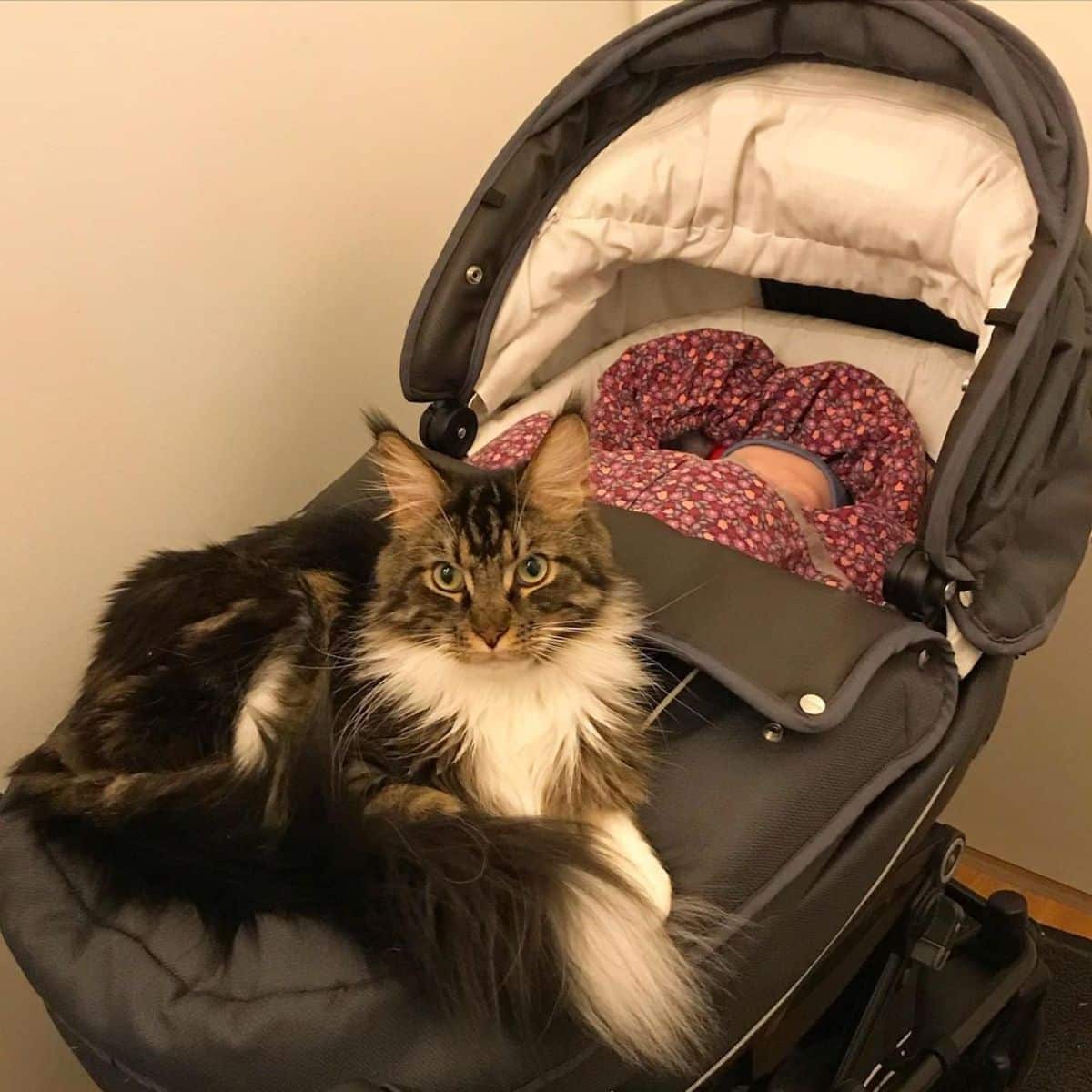 Sometimes, it's hard to find enough time to clean up around the house when a cranky baby needs attention. Fortunately, Thor does double duty as a watch cat and space heater for his tiny stroller-bound sibling.
9. Kitty and His Cub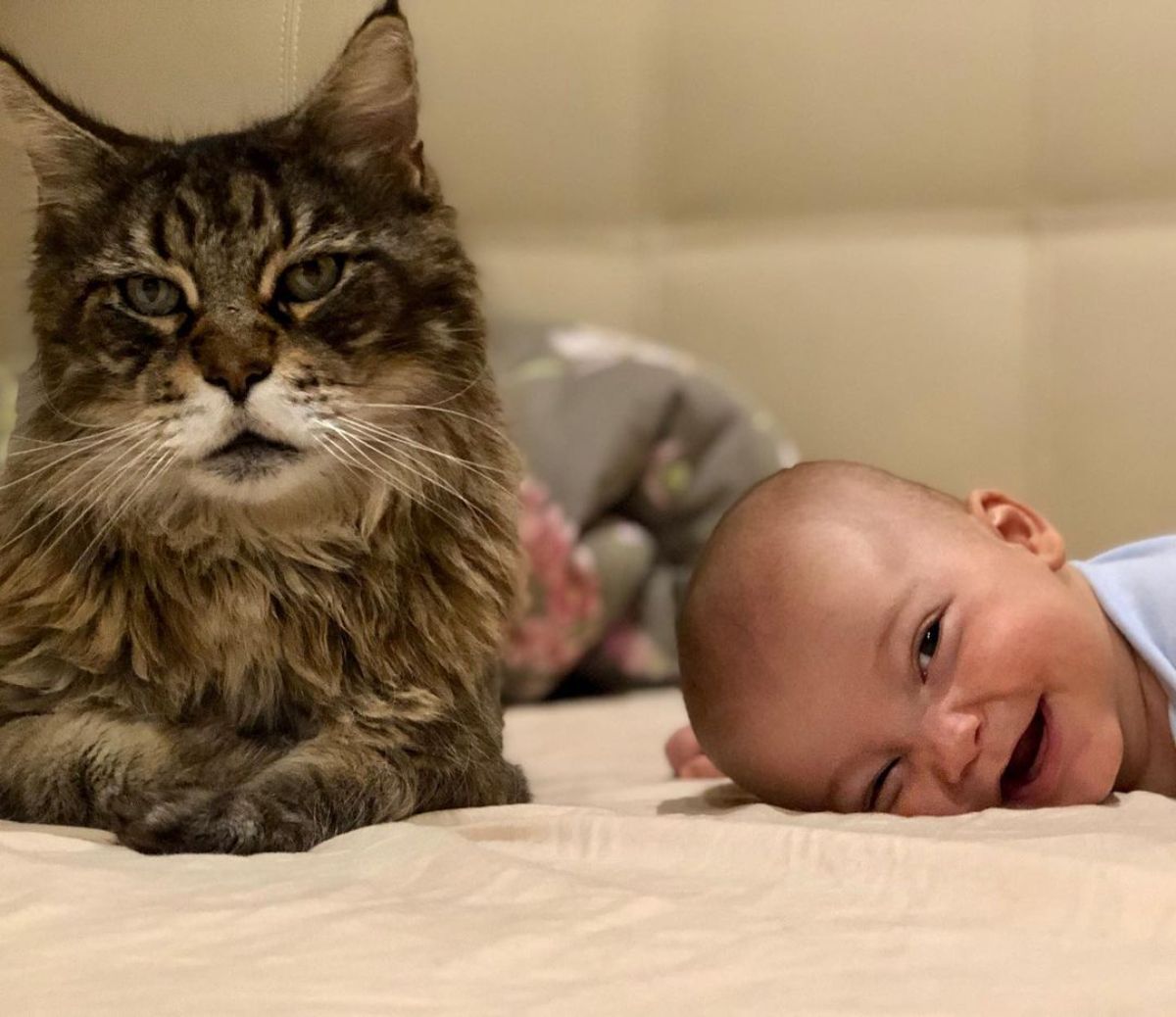 If Maine Coons could talk– outside of their adorable chirps- this protective big brother would be asking, "Can you please put the camera away? I'm trying to get the wee one to sleep for the night."
10. Adventures in Babysitting
Despite only getting their pay in kibble, these two kitties from Kyiv, Ukraine, have no problem pulling an extra shift watching the kids. It's even easier when they're both soundly sleeping instead of causing trouble.
11. Sibling Sweetness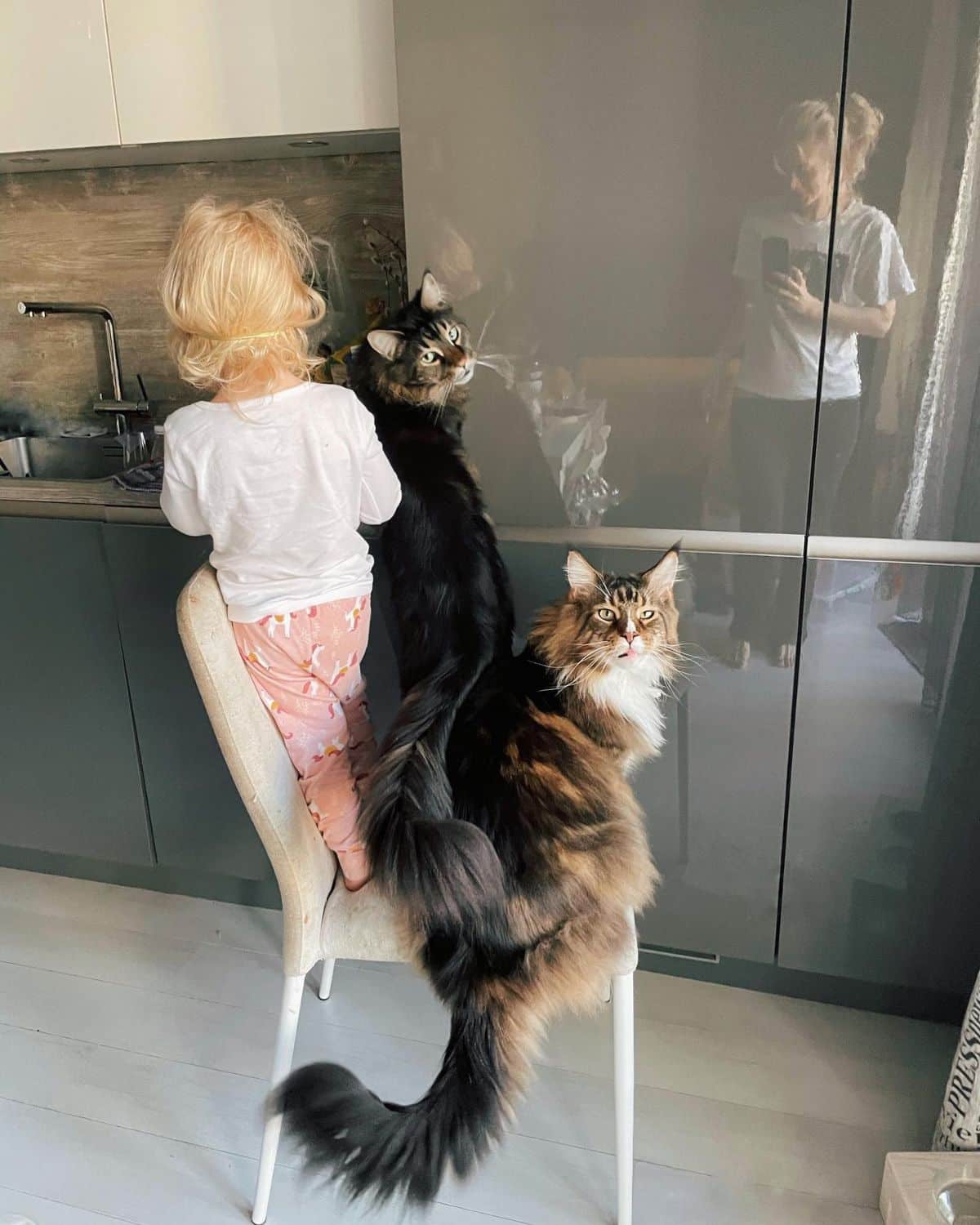 Roxy, Ocean, and toddler Vlada know that teamwork makes the dream work, even if the dream is being tall enough to open the fridge without mom's help. At least the kitty on the right has the decency to look guilty after getting caught in the act.
12. Meow You Doing?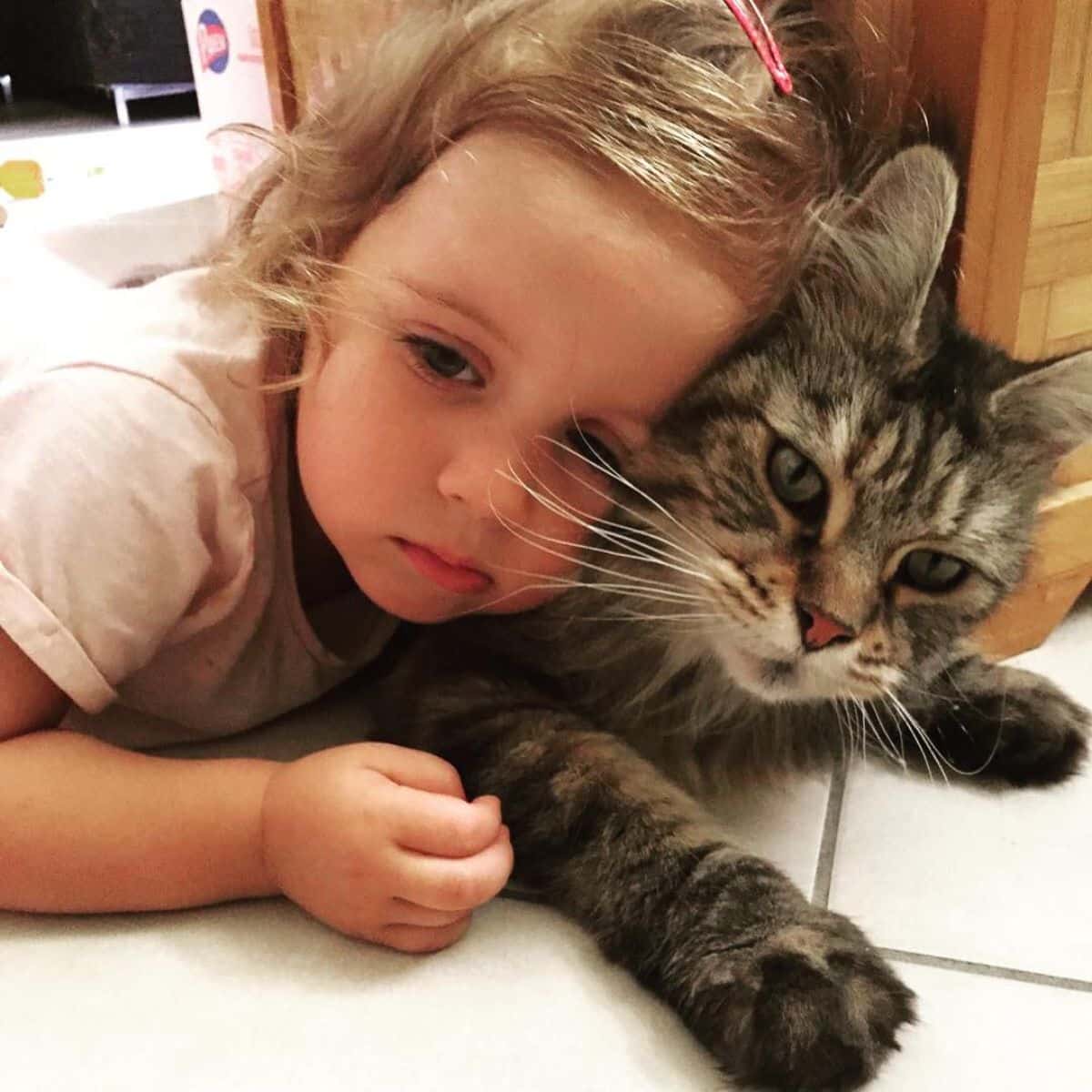 Maine Coons seem to have an instinct for understanding when its family is feeling less-than-spectacular and knows that the perfect remedy is a long cuddle with extra pouts for good measure. This photo encapsulates the canine-like patience this breed seems to have for less-than-gentle little humans.
13. What Big Eyes You Have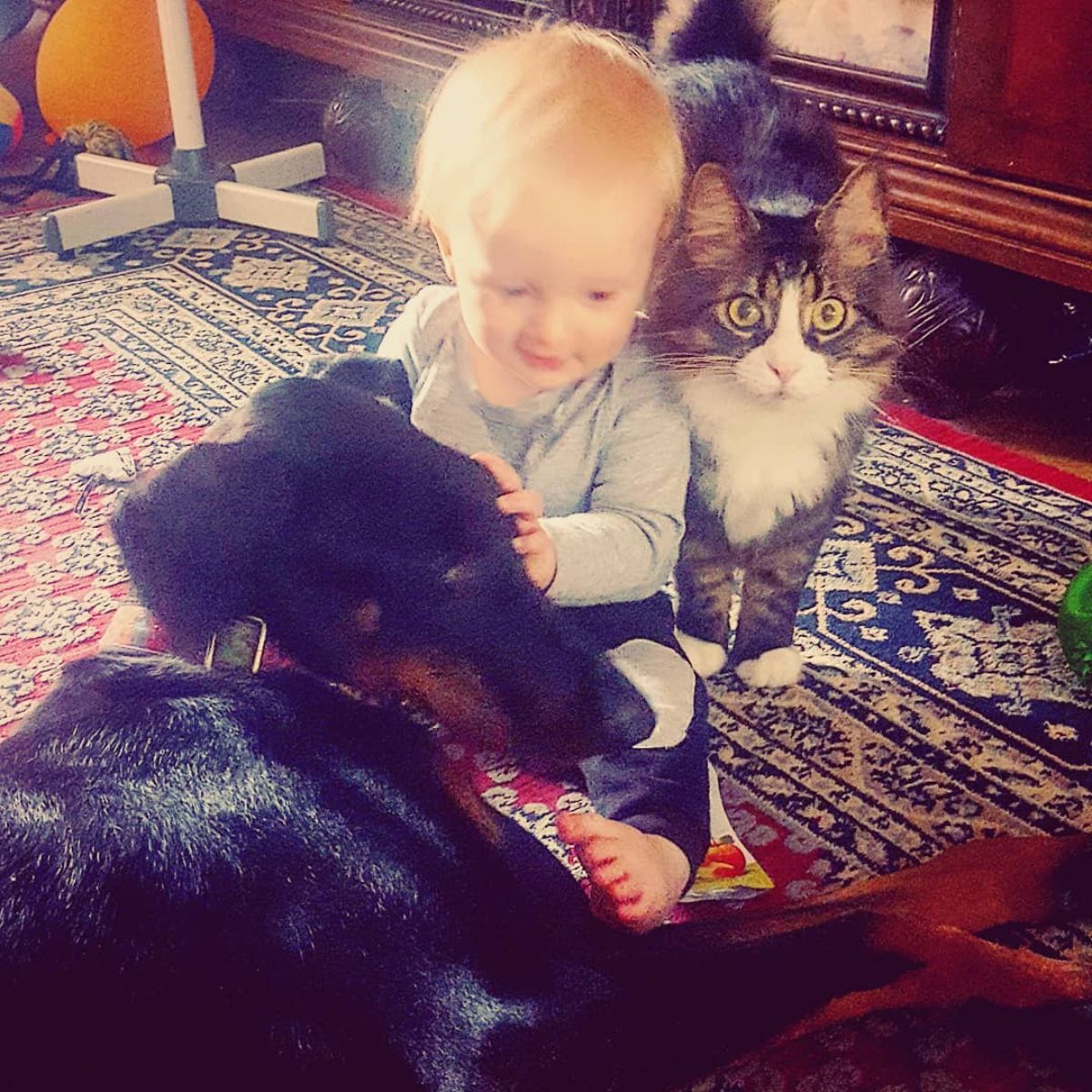 Jinks isn't sure about this Doberman fellow laying a paw on his precious human and communicates that perfectly with his stunning yellow-green eyes. His alert posture and closeness to the baby show how personally he takes pet safety.
14. Maine Squeeze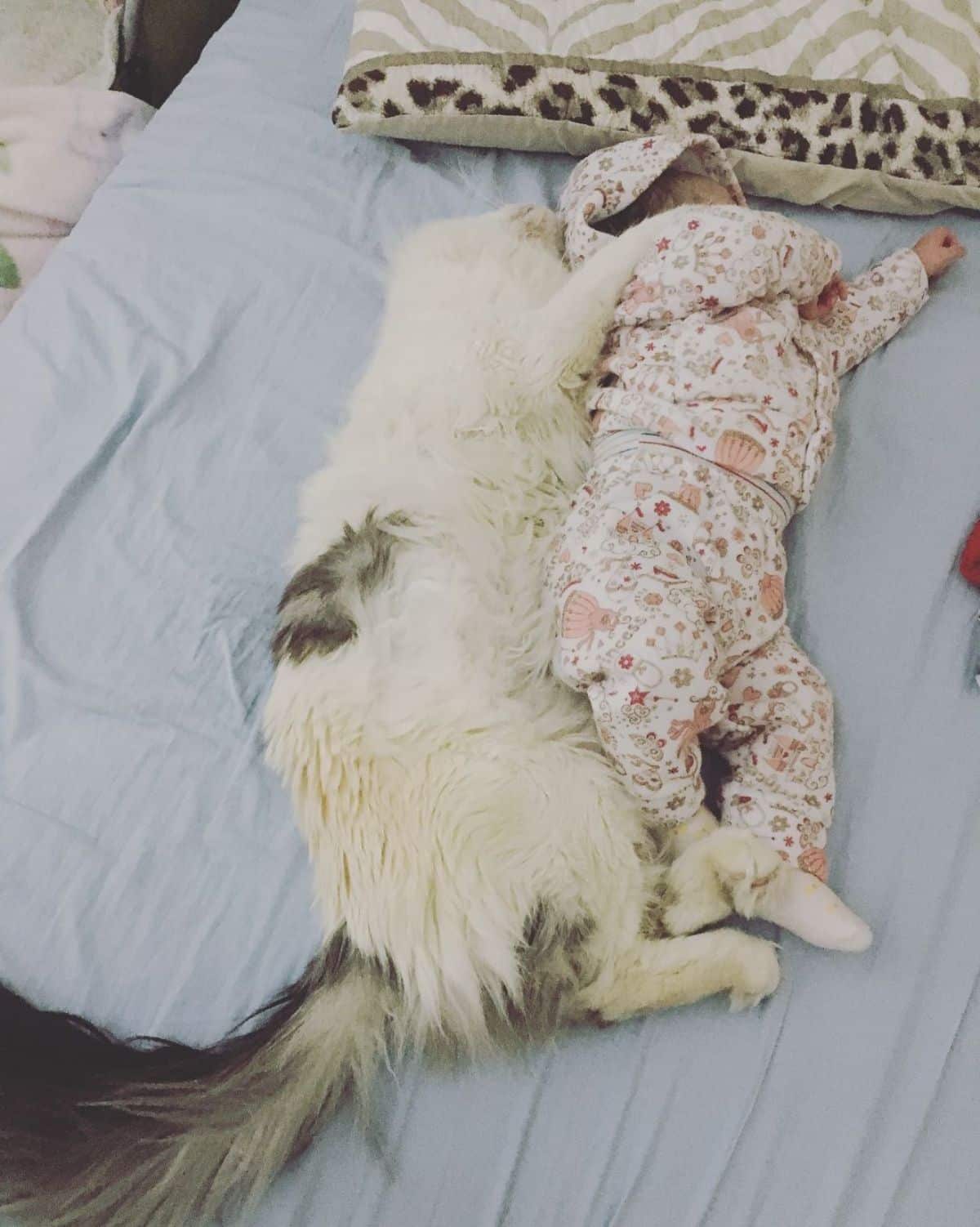 When you have a Maine Coon as your bedmate, there's no need to worry about plushies for comfort. They're more than willing to give you all the comfort you could ask for and then some. This sweet feline is utterly relaxed as she assumes her role as a motorized weighted blanket.
15. Family Over Fame
The previous title holder for the record of the world's longest housecat, Ludo, hasn't let the fame of weighing a whopping 38 pounds (17.2 kg) and measuring 3 feet, 10.6 inches (118.33 cm) get to his head. He's happy to step back from the spotlight to watch over his baby bub Ryder.
16. Future Toe Bean Enthusiast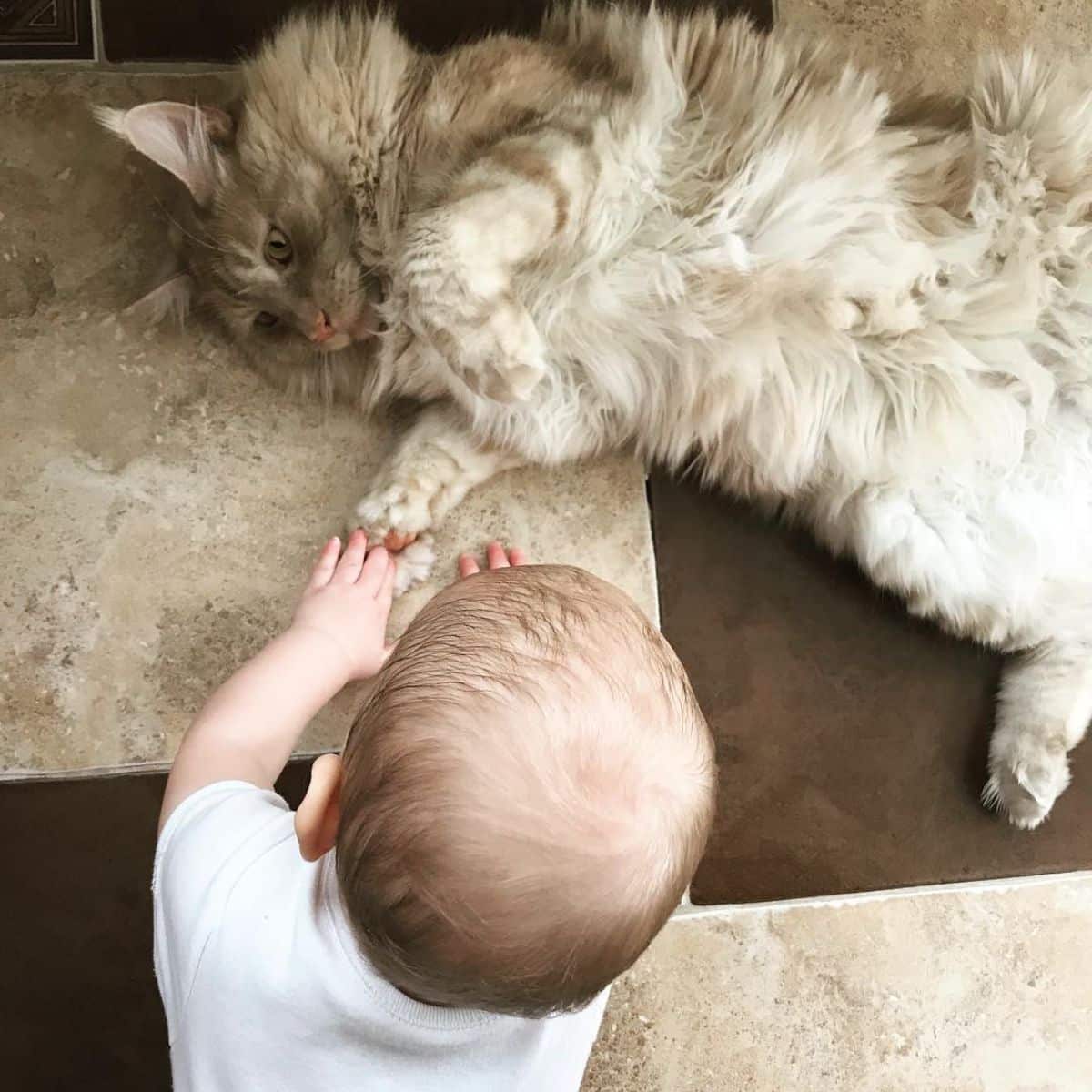 The Maine Coon's toe beans are one of the greatest joys this world has to offer, like little dew drops of squishy happiness surrounded by silky tufts of fur. This kitty looks perfectly content to let her family's tot experience the delight with hardly a heckle raised.
17. Acorn Adventures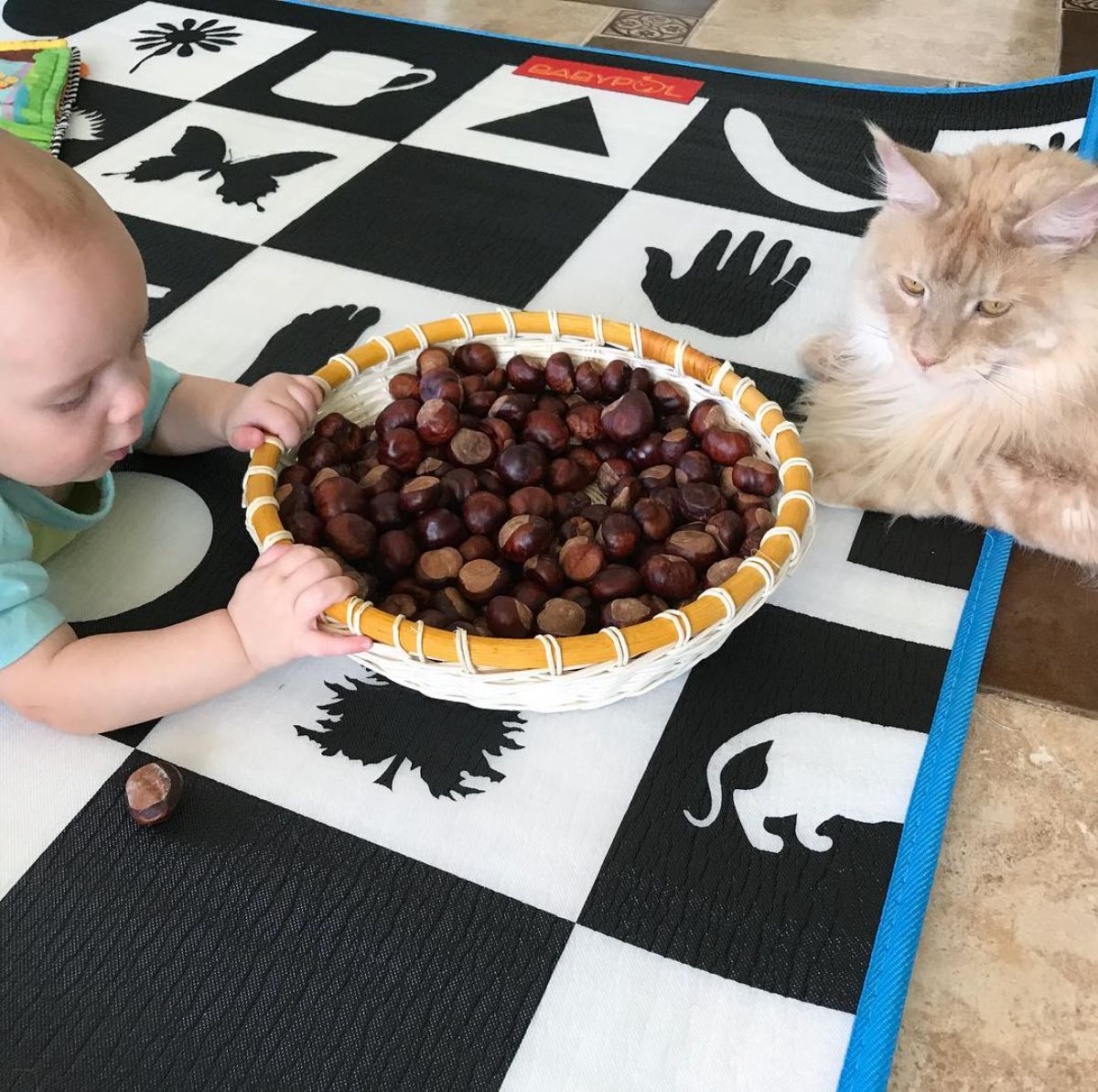 When the whole world is brand new, even something as seemingly banal as an acorn can unlock a world of curiosity. Monya may not feel the same excitement, but she never tires of spending time with her darling tot.
18. Ginger Tom with His Mini-Me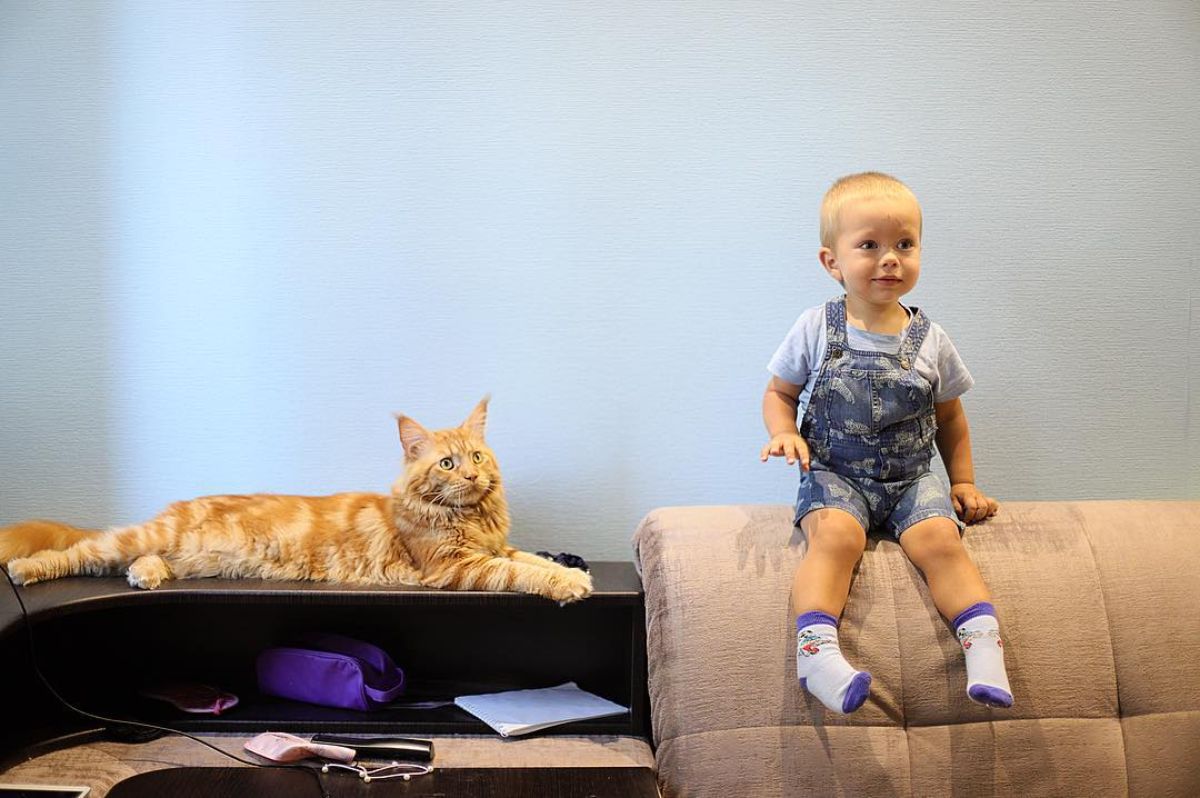 With 25.4% of American families being proud cat owners, it's hard to imagine the likelihood that this particular Maine Coon, with his spectacular, multicolor pelt, wound up with a little brother whose hair is a perfect match.
19. Road Warrior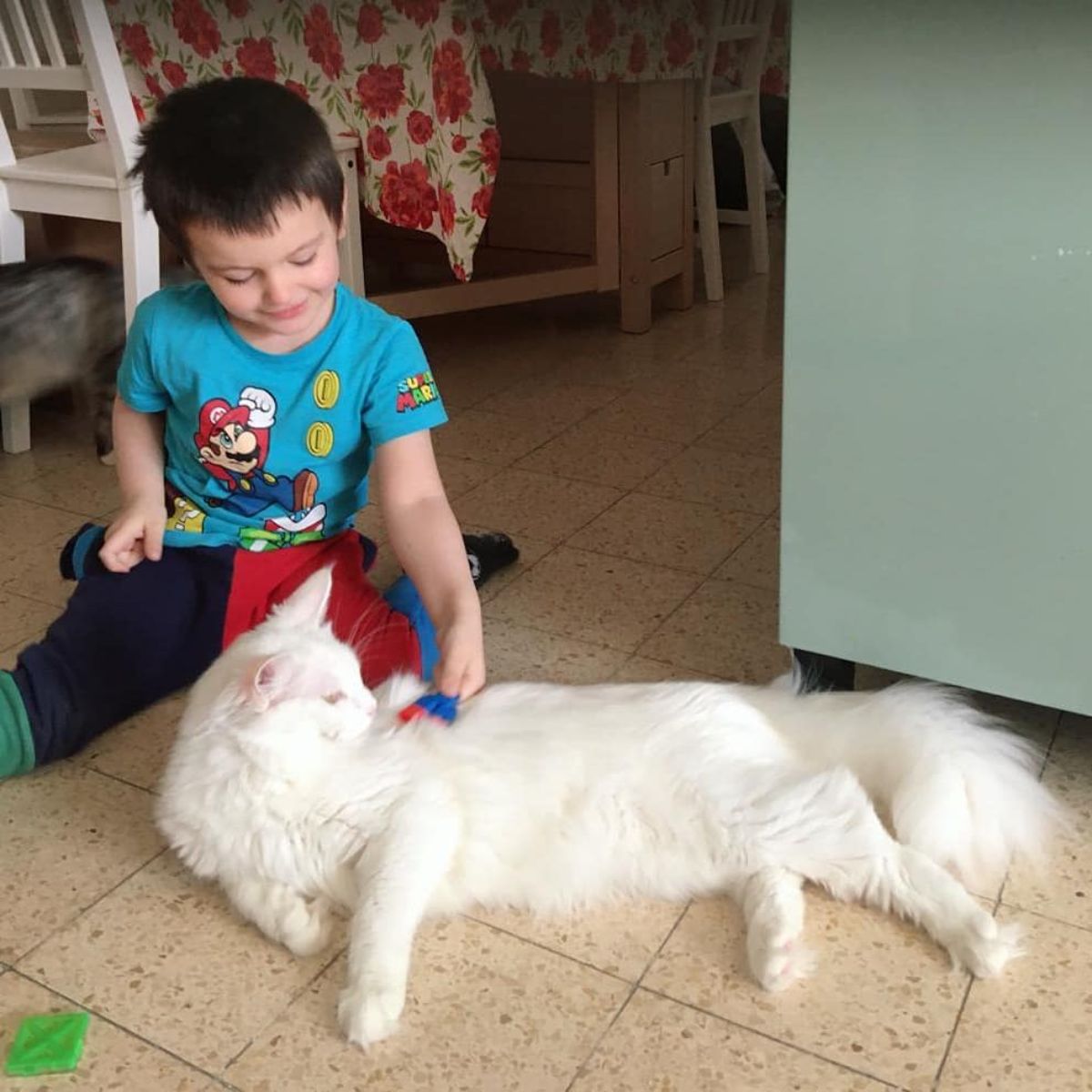 While most cats would run away the moment a toddler brings out their Tonka trucks, this massive marshmallow of a cat doesn't mind playing Meow-nt Ev-purrest with his rambunctious human. Instead, she looks happy enough just to watch him having fun.
20. Taking a Bathtub Break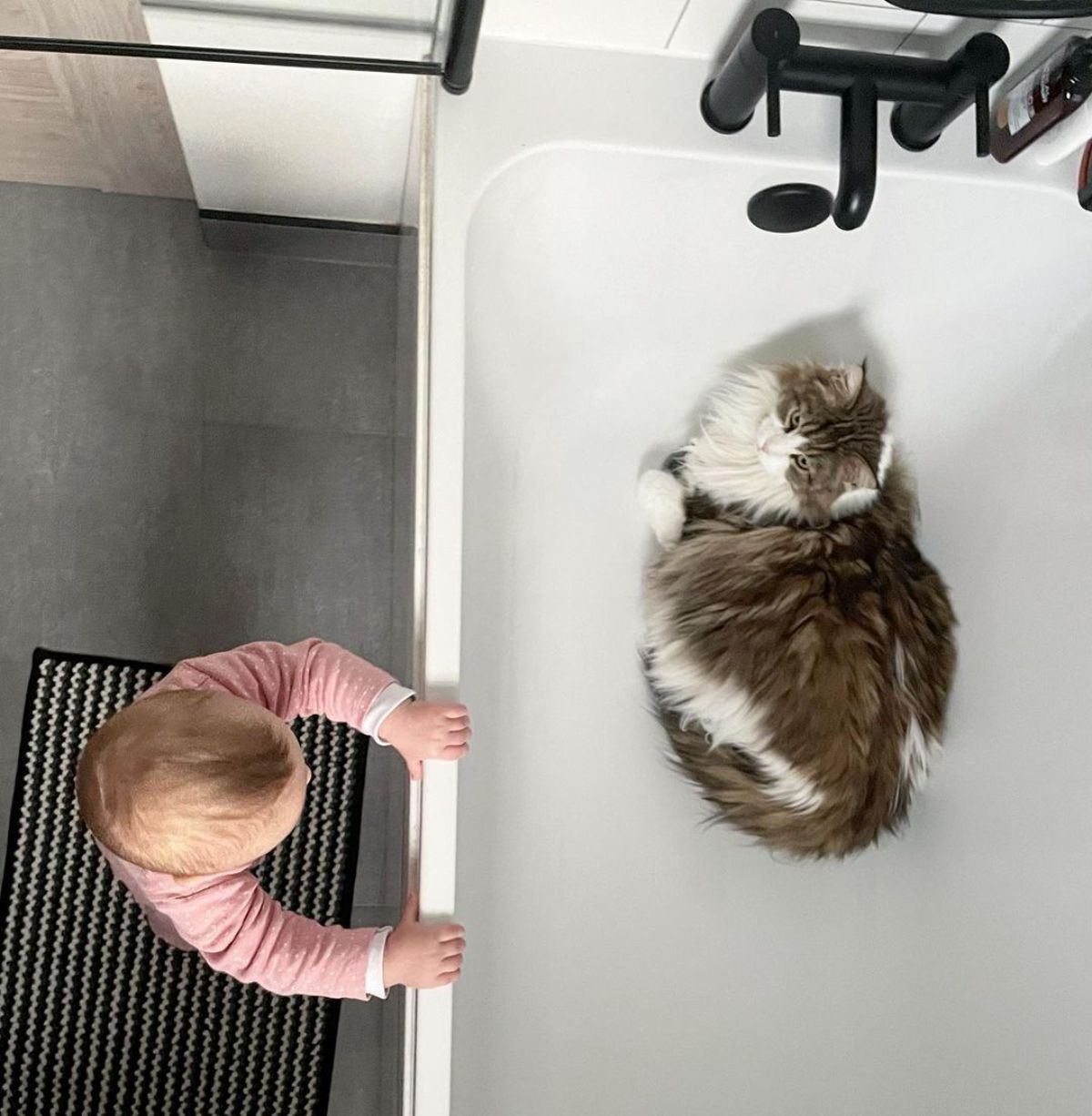 Even Maine Coons can get tuckered out when a boisterous baby has more energy than they bargained for. Rather than scratching or biting like other cats, Karcio seeks temporary asylum from the comfort of the family bathtub until he's ready to jump back in the fray.
21. Amelia and Jack, the Snuggly Pack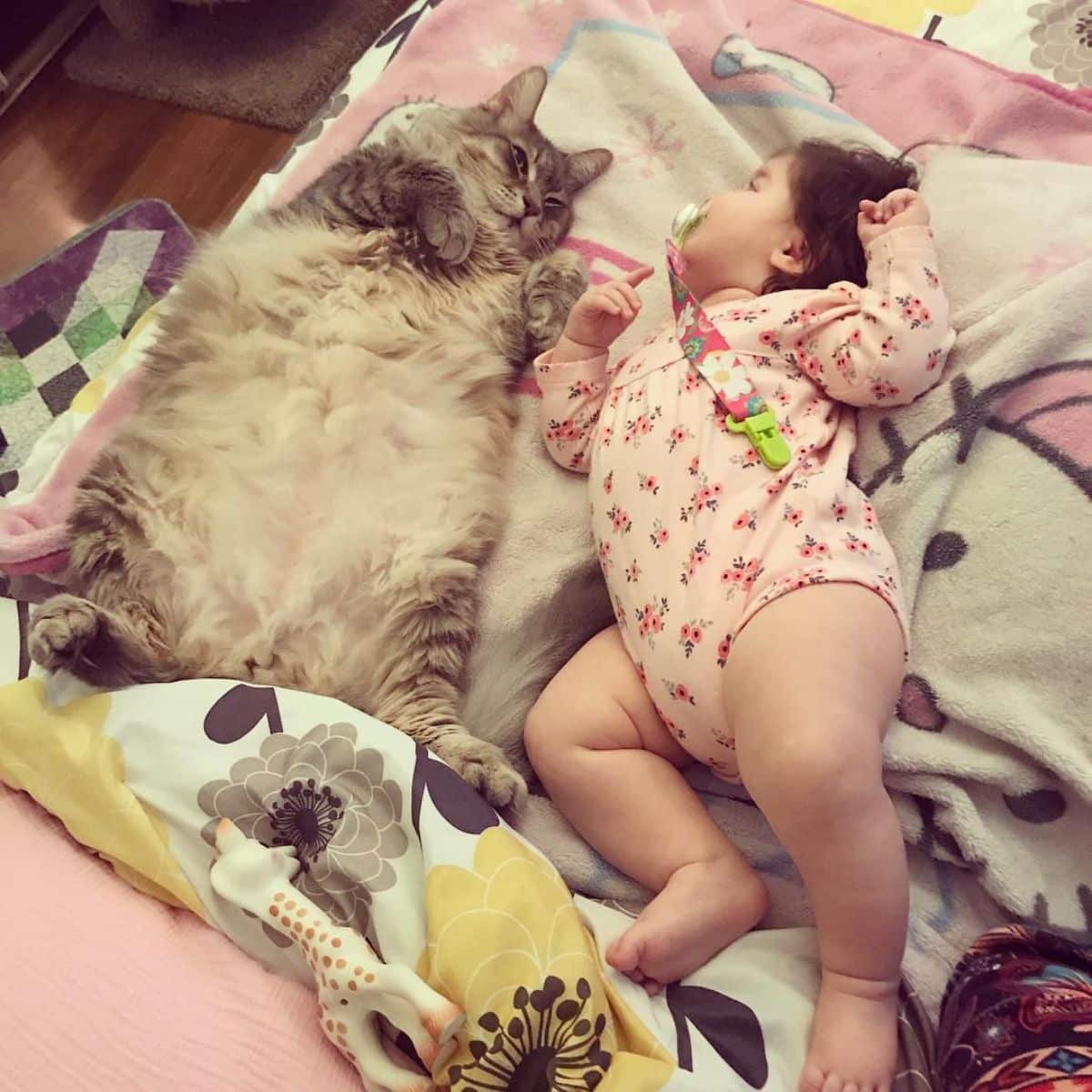 These interspecies besties know that belly up is their best angle and ensures any passerby is too enchanted to skip out on petting those tiny tummies.
Final Thoughts
Suppose these pictures of Maine Coons with babies have you considering adding a feline friend to your growing family. In that case, the breed is undoubtedly one of your best options, given their uncanny instincts for kindness, patience, and agreeableness.
That said, remember that breed temperaments aren't accurate for every member. While true that most Maine Coons are gentle, any animal can snap if pushed hard enough.
The safest practice is to continuously monitor your wee one with animals and teach them how to return your kitty's love in kind.