Maine Coon cats are among the cutest and strangest cat breeds. These cats are like dogs because of their penchant for play and their desire for affection from their owners. These cats will follow you around the house, wait by the door for you to return from work, and play with toys with you.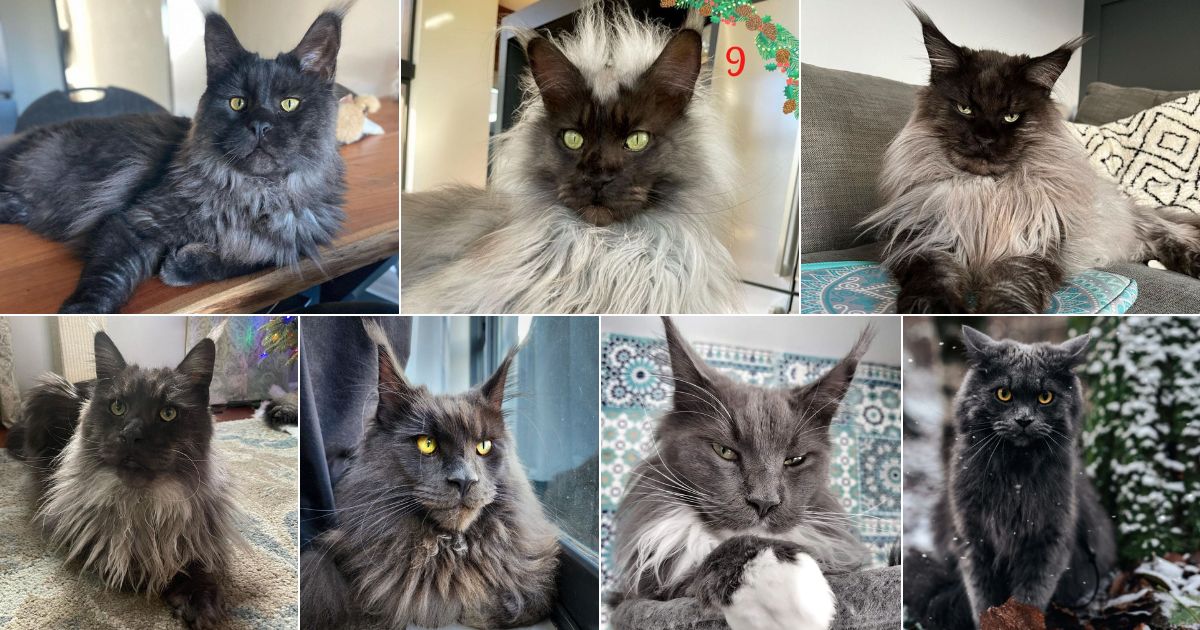 Maine Coon cats are large and often come with a stunning and thick coat of hair that makes them look elegant and regal. Your Maine Coon may also come in a variety of colors. However, finding a Maine Coon with a black face can be tough since these are rare.
Read on to learn about 17 Maine Coon cats with black faces.
Jump to:
1. Marley & Storm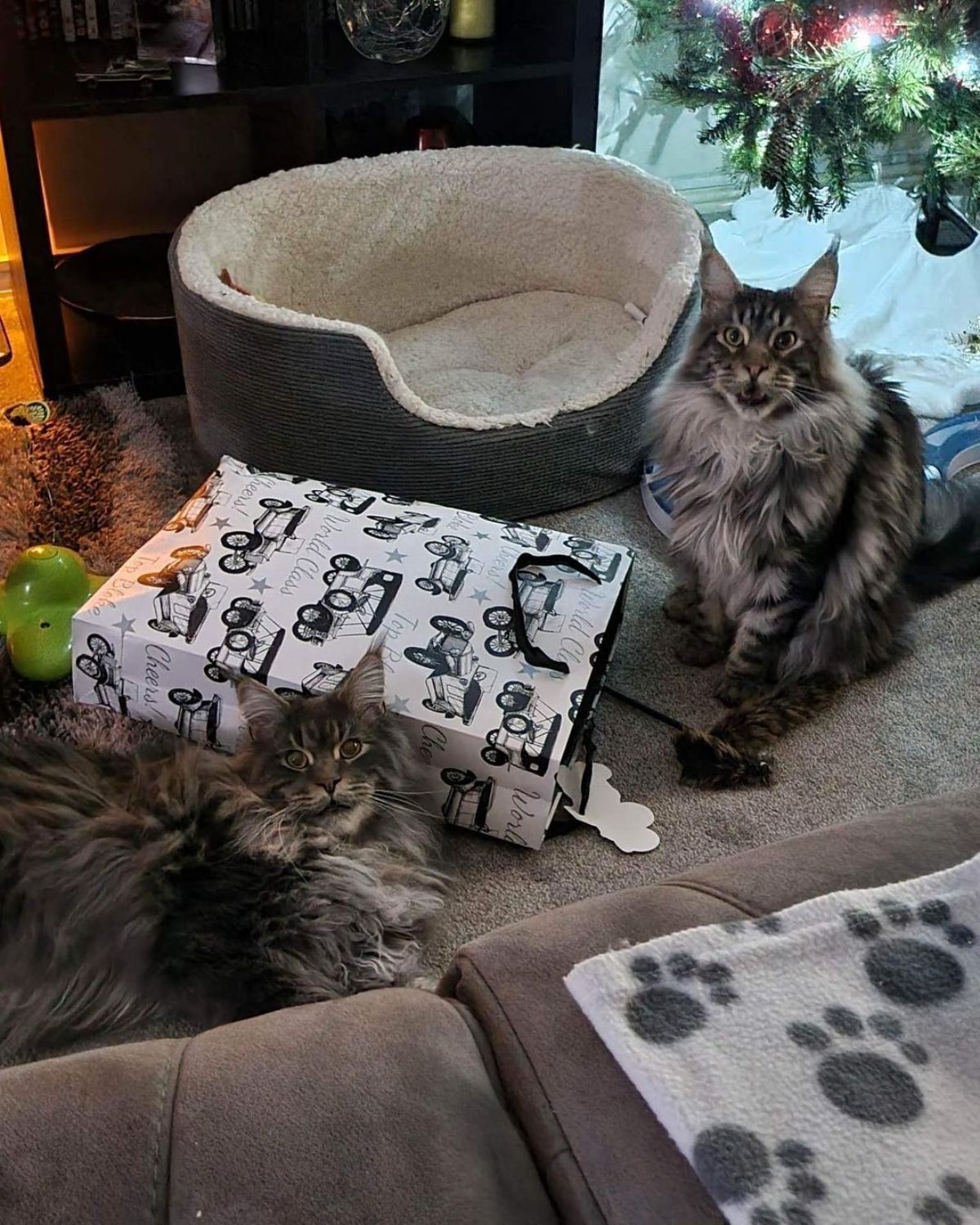 Marley and Storm are two Maine Coon cats who share a home and have matching black faces. These cats are stunning and have matching coats of hair all over their bodies. These cats are in their forever homes and have a meld of gray and black tones that mesh together to make a stunning display.
Marley and Storm are nearly identical, and it can be challenging to tell them apart since they have the same pointed ears and color patterns on their face.
2. Djerab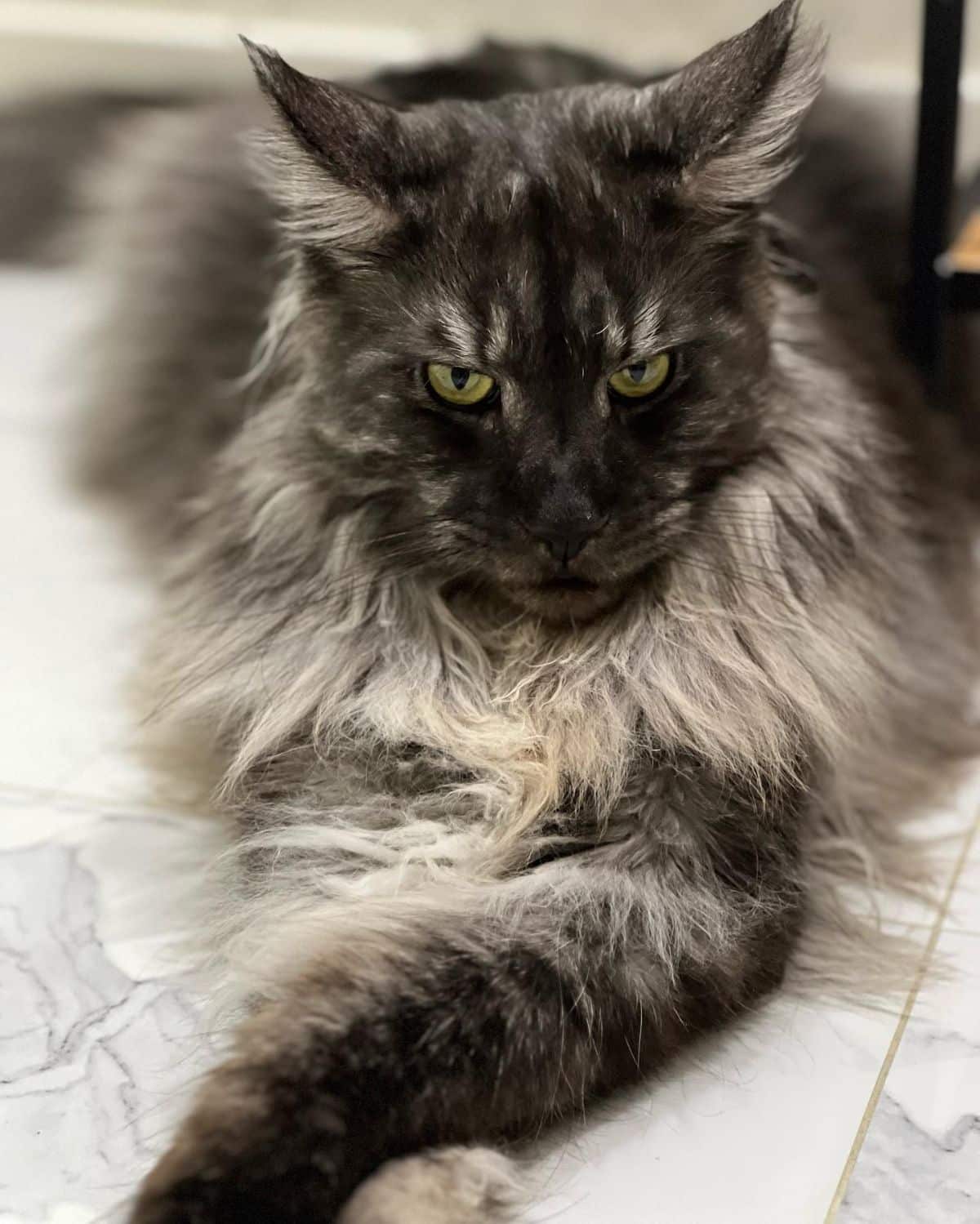 Mr. Djerab is a Maine Coon with a black face on Instagram with a strong following. This cat has a stunning display of gray, apricot, and black tones in his coat of hair, making him look regal and fierce. Although Mr. Djerab looks aggressive, he's playful and loves to lounge about the home and look outside.
3. Roger
Roger is a Maine Coon who lives with a brother named Karl and thrives on wandering outside his home. Roger, unlike many other Maine Coons on Instagram, has a stunning coat of black hair with only a tiny patch of apricot on his chest. Roger looks grumpy and felinely fierce at all times, especially with his fully black face.
4. Thor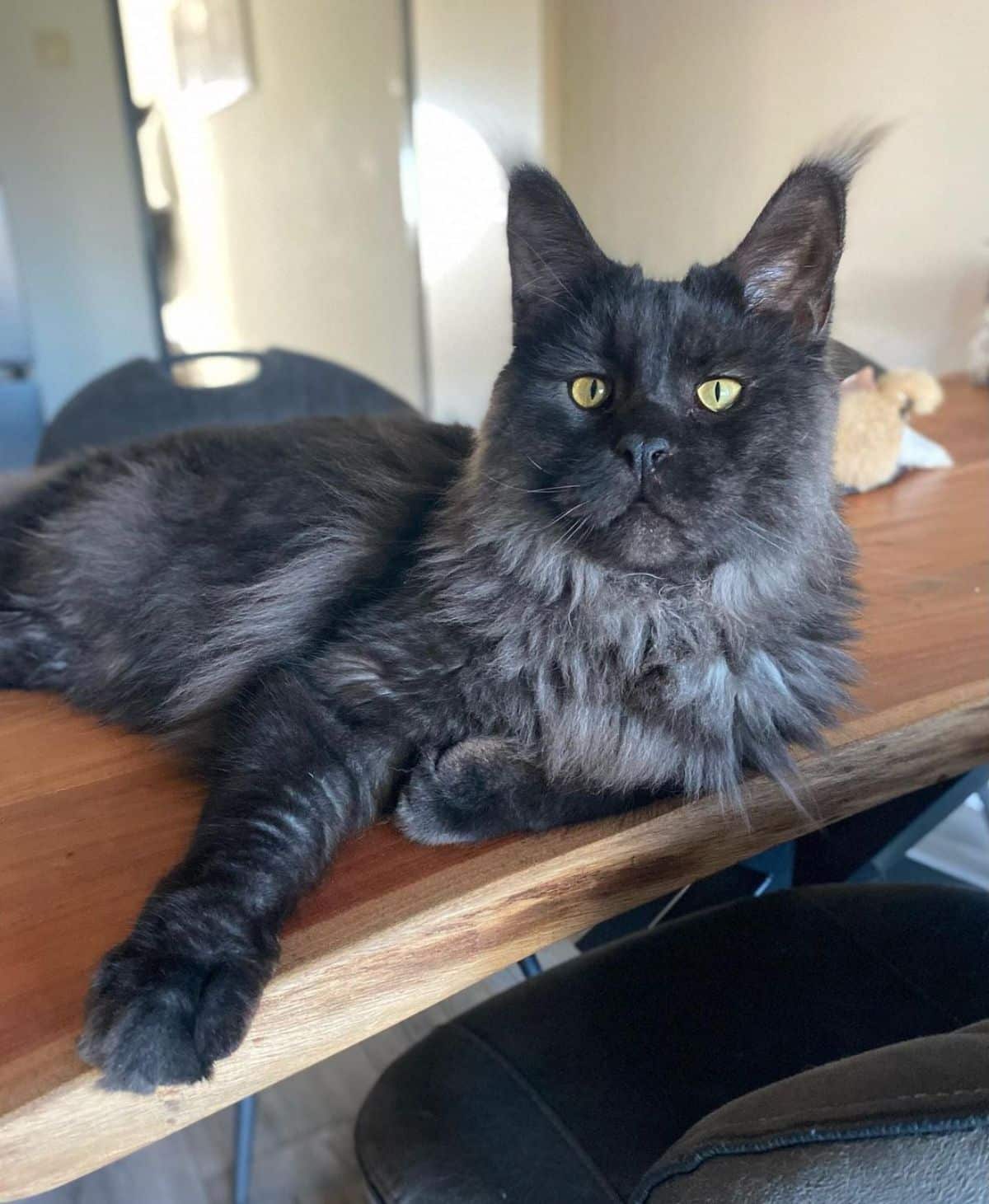 Thor is one of two cats on an Instagram page dedicated to showing off their contrasting colors and playful lifestyle. Thor has a sibling named Coco and a coat of all-black hair that looks vibrant. Thor most enjoys lounging wherever he can find a good, sunny spot. Additionally, he's often spotted by his owners cuddling with Coco.
5. Jasper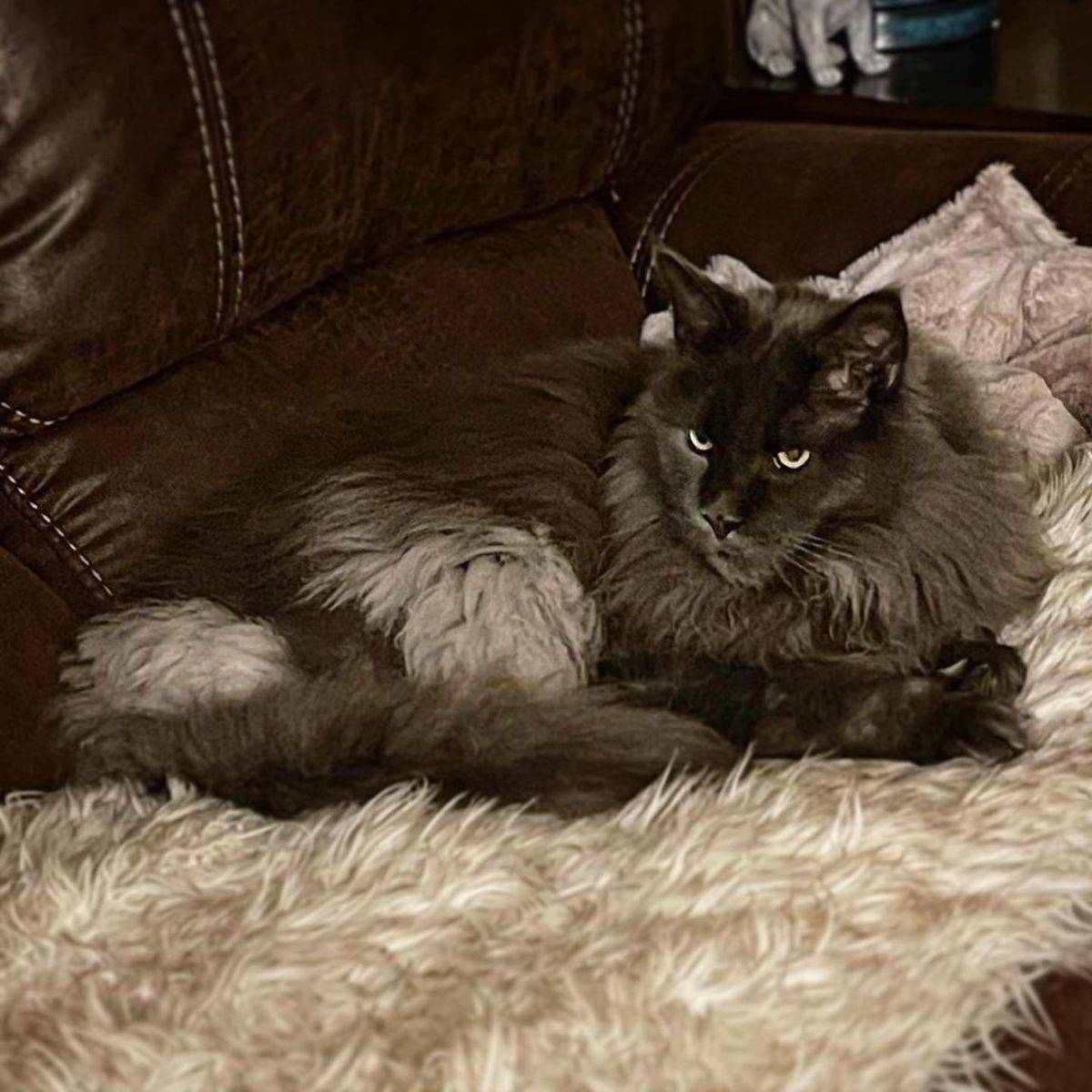 Jasper is a Maine Coon cat with a small following on Instagram and thrives most when he gets to lounge across the couch at home. Jasper is a black Maine Coon with pointed ears and some patches of light gray and white on his belly and chest. Jasper has a richly-colored black face that makes him look elegant.
6. Apollo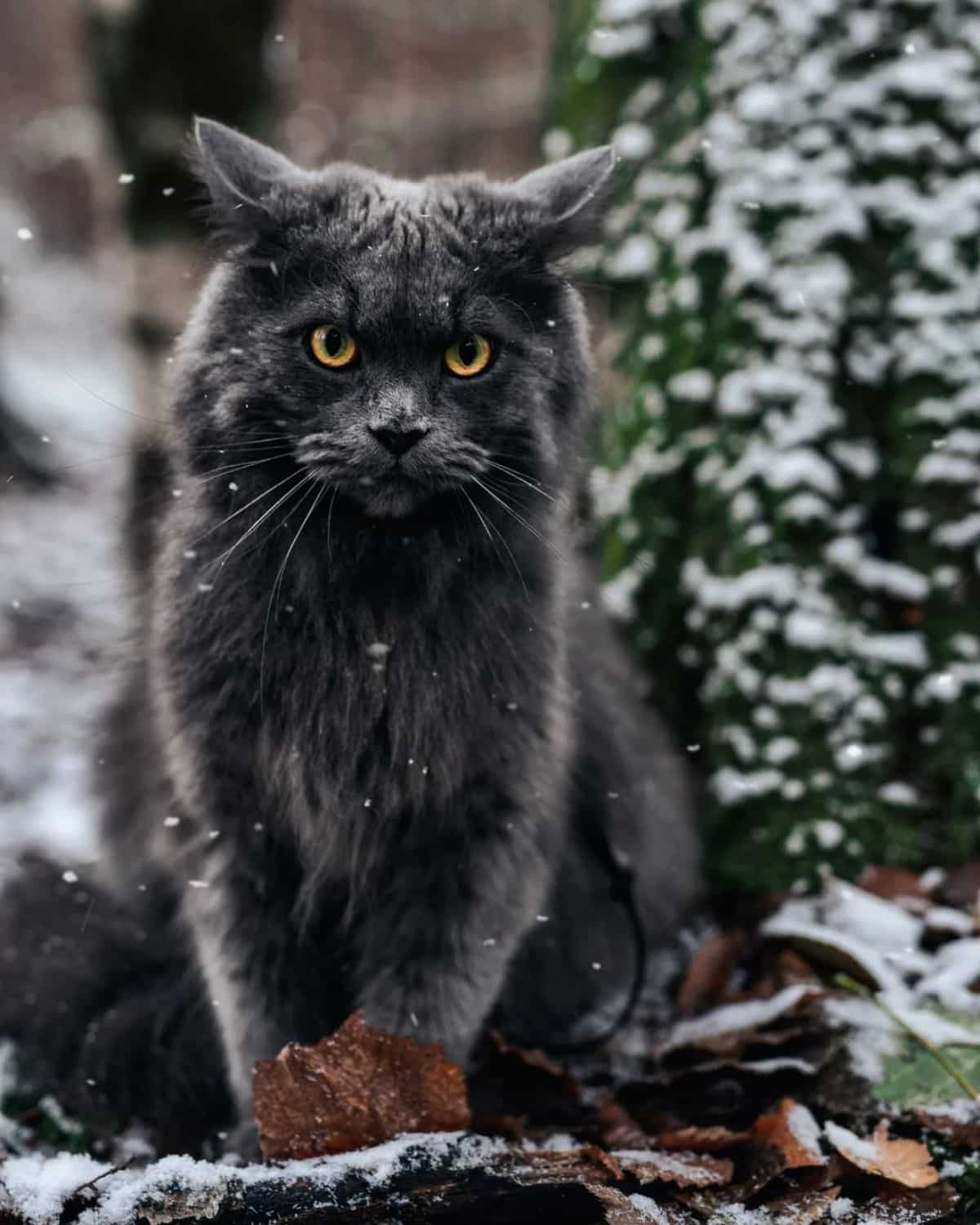 Apollo's parents are experts at taking some of the best pictures of him. This family lives with Apollo in Germany and adores taking all of their precious and lovable cats outside for adventures and traveling time. Apollo can be spotted on Instagram enjoying the snow during the Christmas season. Unlike many other Maine Coon cats, Apollo has deep yellow eyes that look like the sun - hence his name!
7. Shadow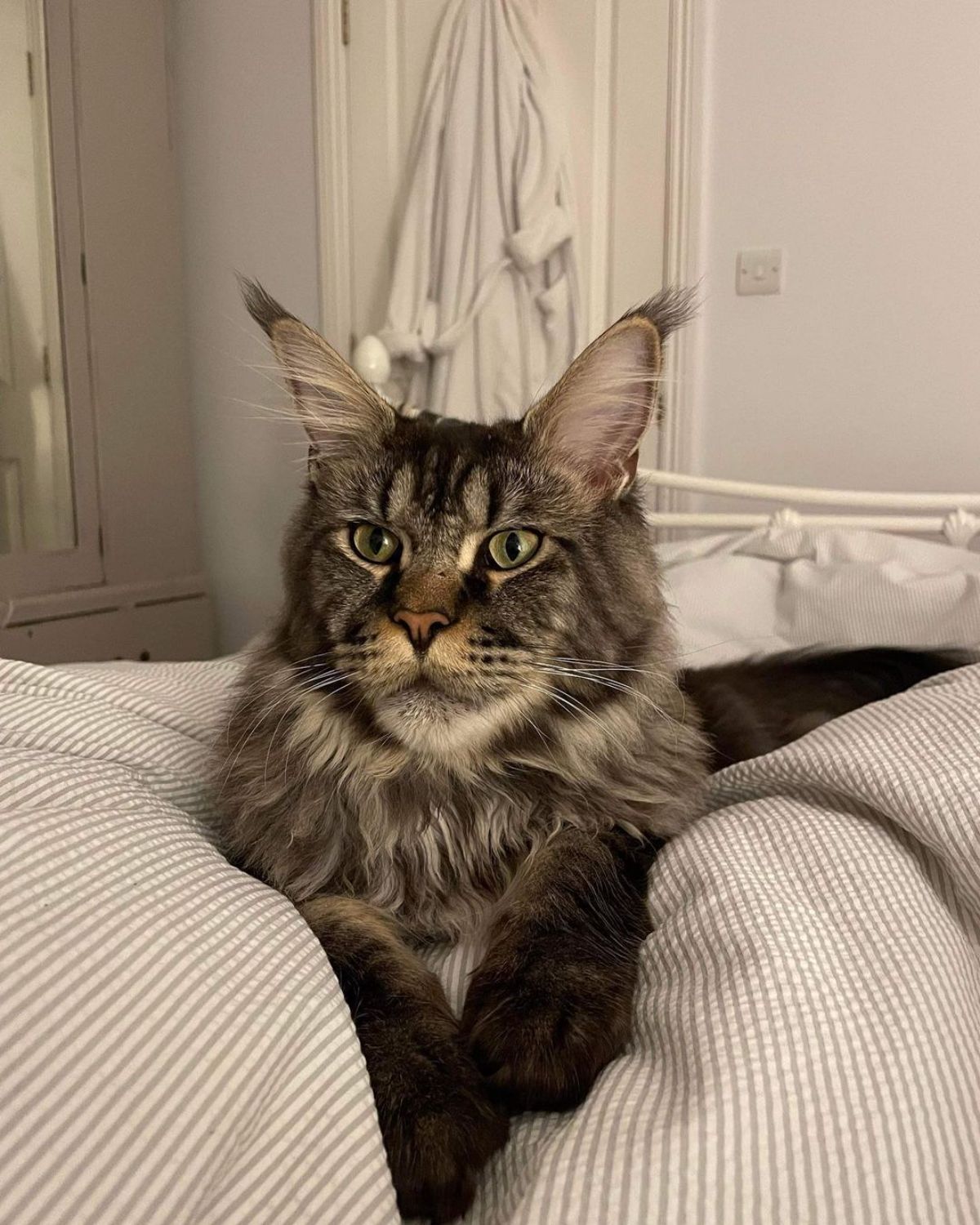 Shadow, as his name suggests, is a dark cat with a face of black and striped light colors. This cat doesn't have a solely black face, but instead a mixture of colors on his face that make him look full and regal. Shadow has dark tones on his face and stripes that will make many people want to stop and talk with him.
8. Asha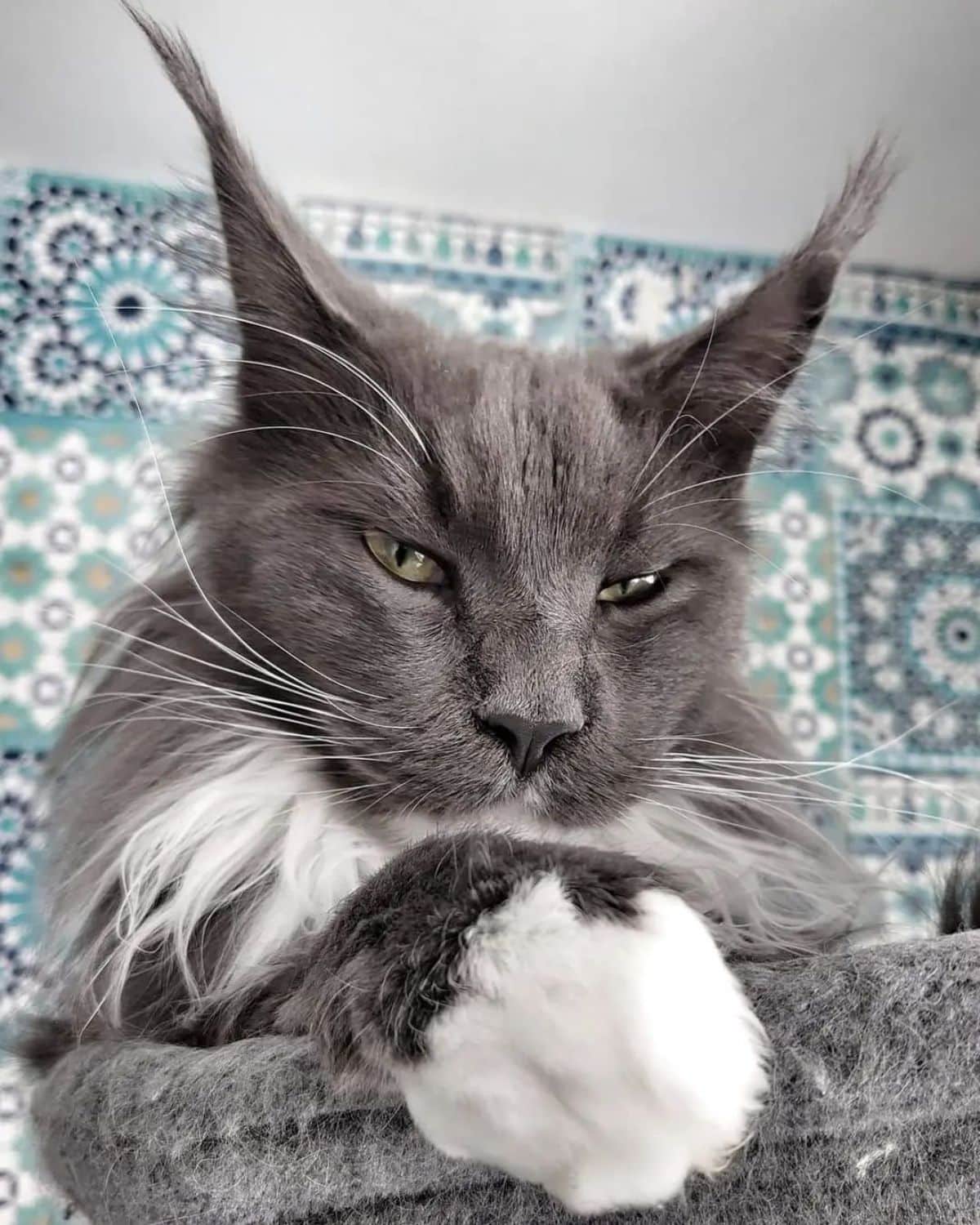 Asha is a Maine Coon cat with pointed ears and hair that makes this cat look mythical. Paired with a dark coat of hair and a face of gray and black tones, this cat is sure to capture the attention of cat lovers and Maine Coon enjoyers alike. Asha has patches of white on the paws and chest, making a beautiful contrast.
9. Mana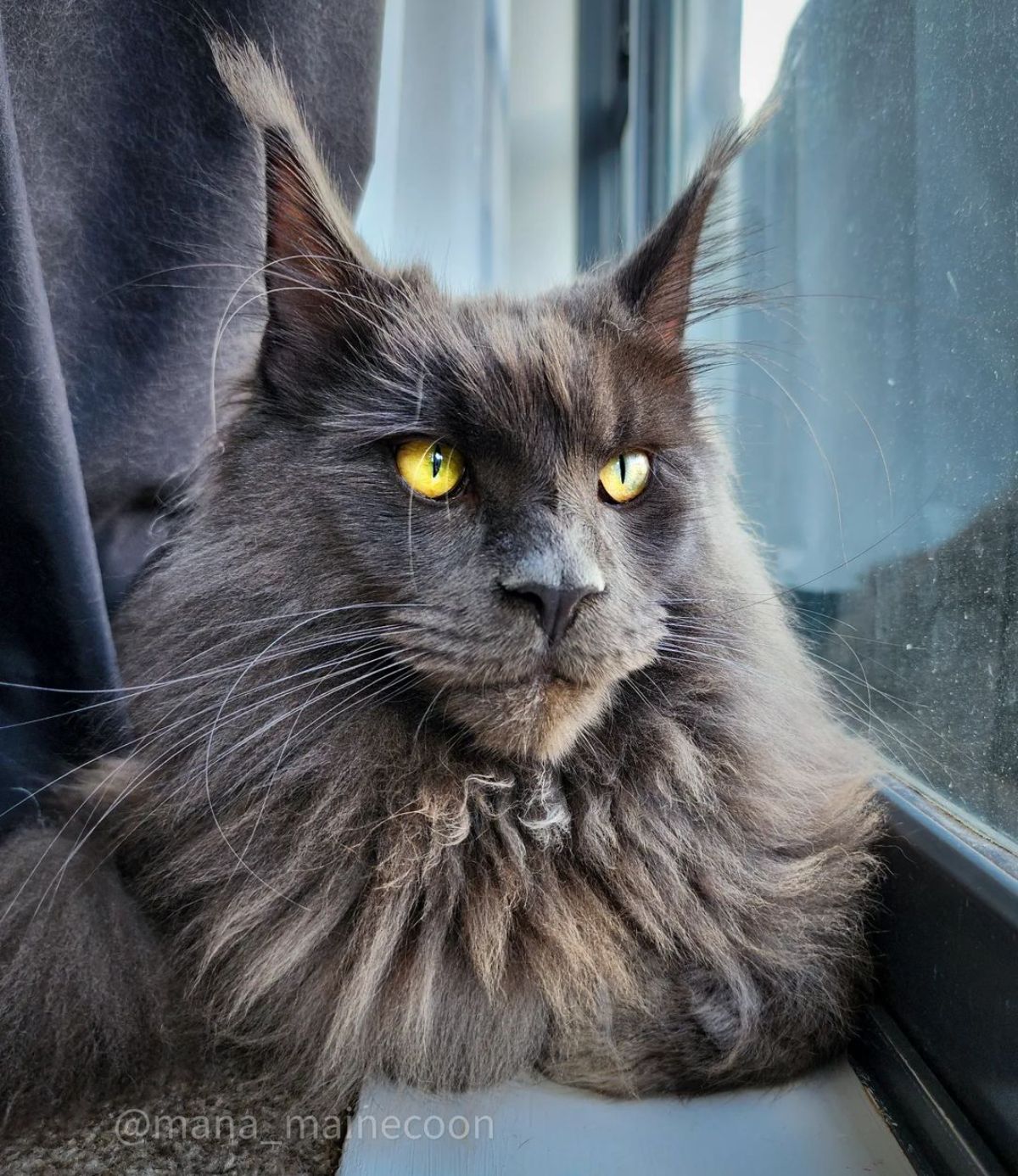 Mana is a Maine Coon cat who loves to spend time outside and lounge in the grass. This cat acts like a dog and is happy to capture the attention of its owners, and has no problem letting its family know of its needs. Mana has some apricot and gray tones on his coat, but his face is black and vibrant.
10. Leon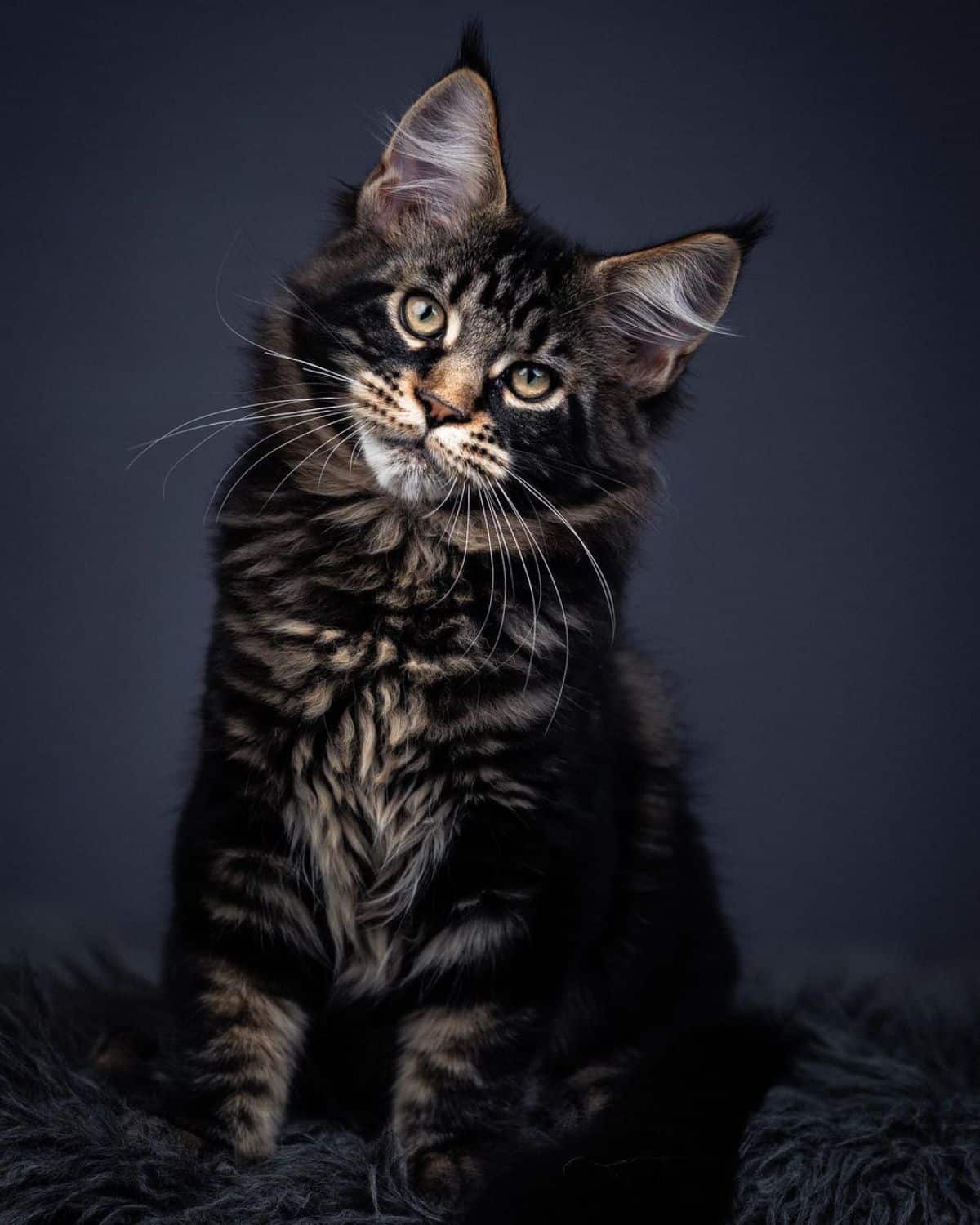 Leon is one of the most stunning Maine Coon cats on Instagram. This cat is happy to pose for photos and has a friendly and happy face. Although Leon doesn't have a fully black face, this cat does have dark black tones all over its facial features. Leon has some stripes between his eyes and a snout with light apricot patches.
11. Binx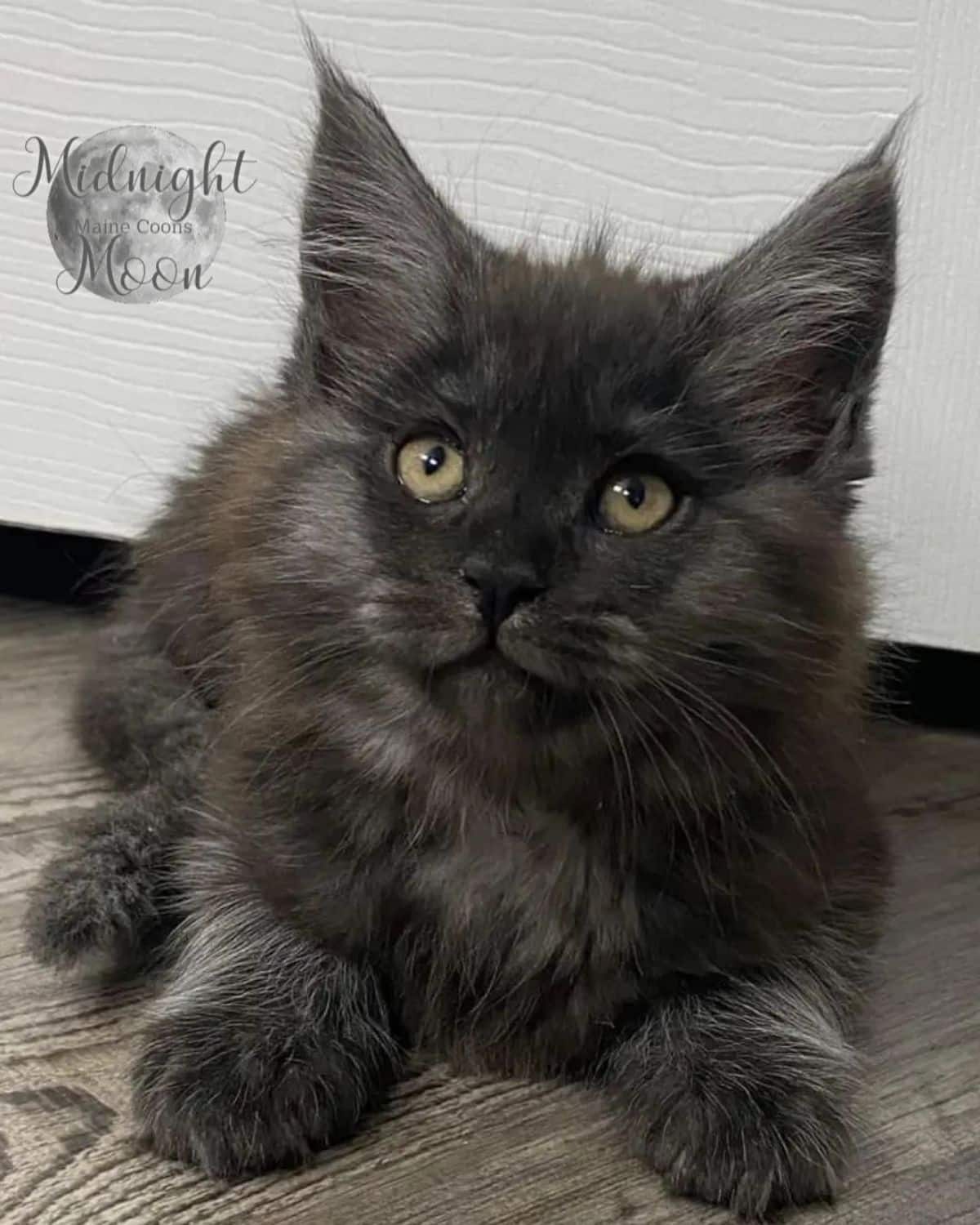 Binx is only two months old and has already captured the hearts of Maine Coon lovers and cat enthusiasts alike. Binx has a few patches of light colors in her coat, but her primary color is black, including her face. Binx lives in her forever home, where she terrorizes her loving family with rambunctious and adorable behavior.
12. Black Salem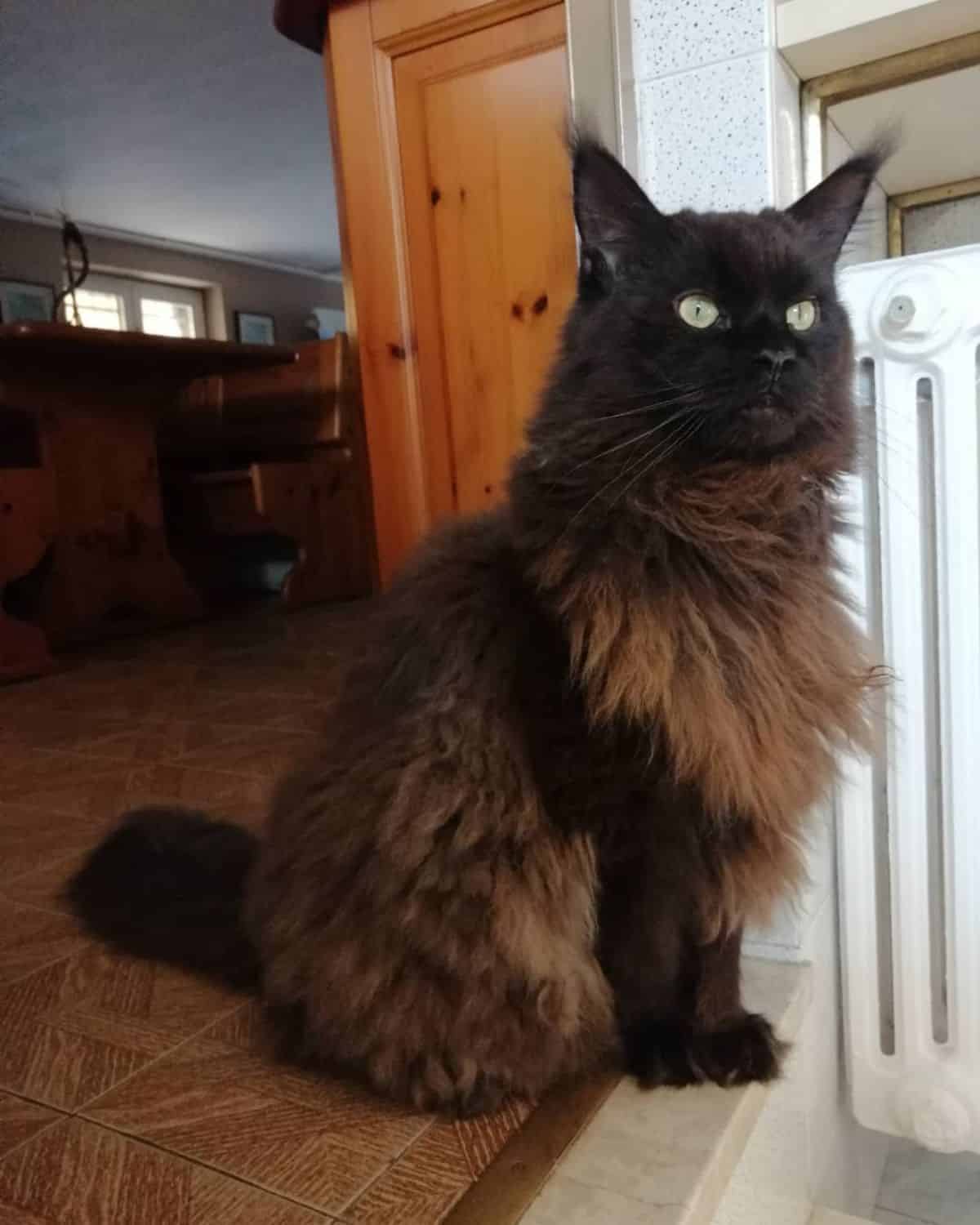 Black Salem is a Maine Coon who loves spending time with his owner and enjoys lounging about the home. Black Salem has a thick coat of black and brown hair that is unique. The brown patches are on Black Salem's chest and belly, leaving his face a vibrant black that makes him hypnotizing to look at.
13. Poppy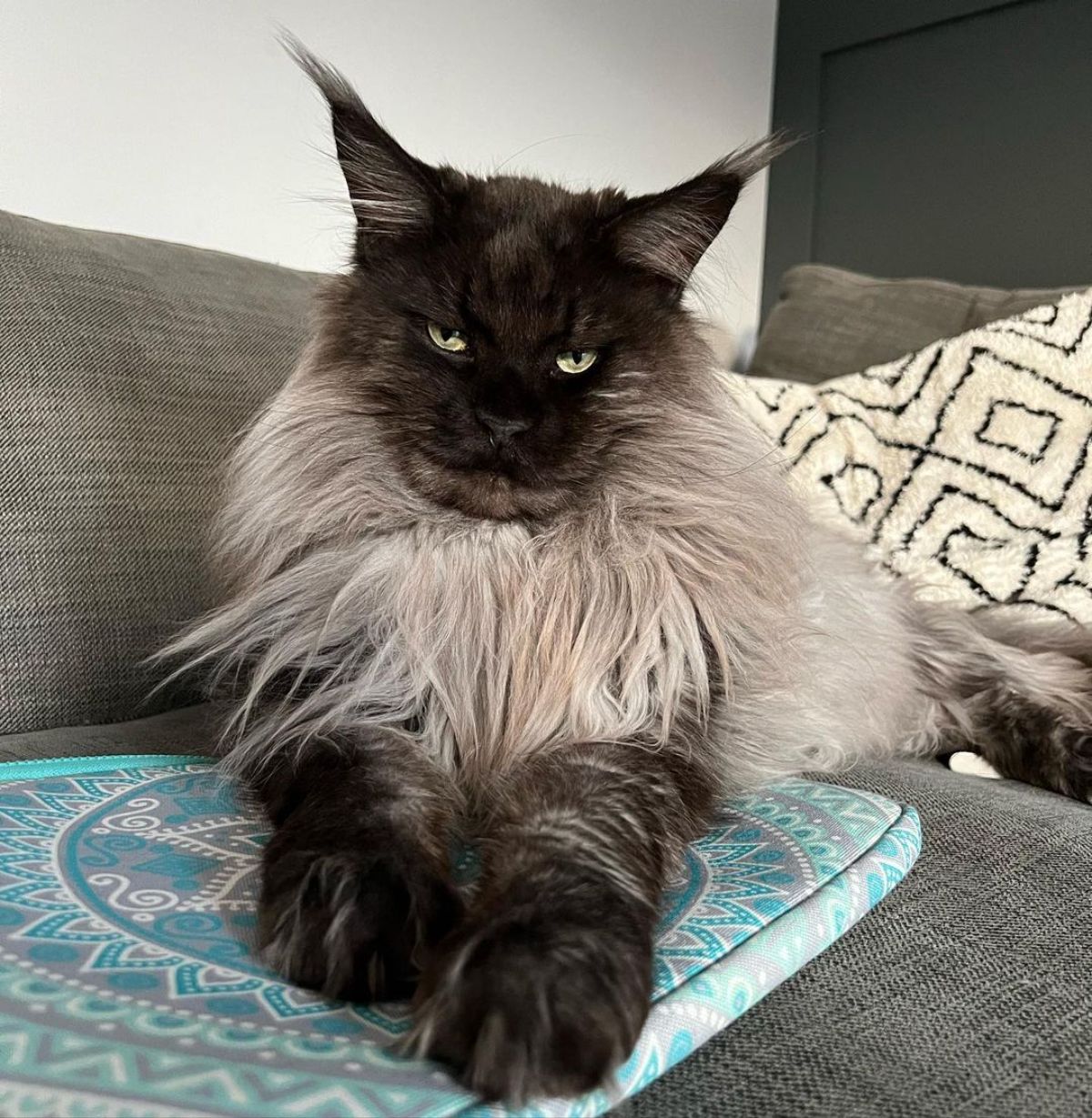 Poppy is one of two cats that are featured on an Instagram page. Poppy has unique coloration and facial features that make him look like a grumpy old man. However, this cat has a way of making you want to see more and more photos. Poppy has a gray body and a black face that is utterly captivating.
14. Oakley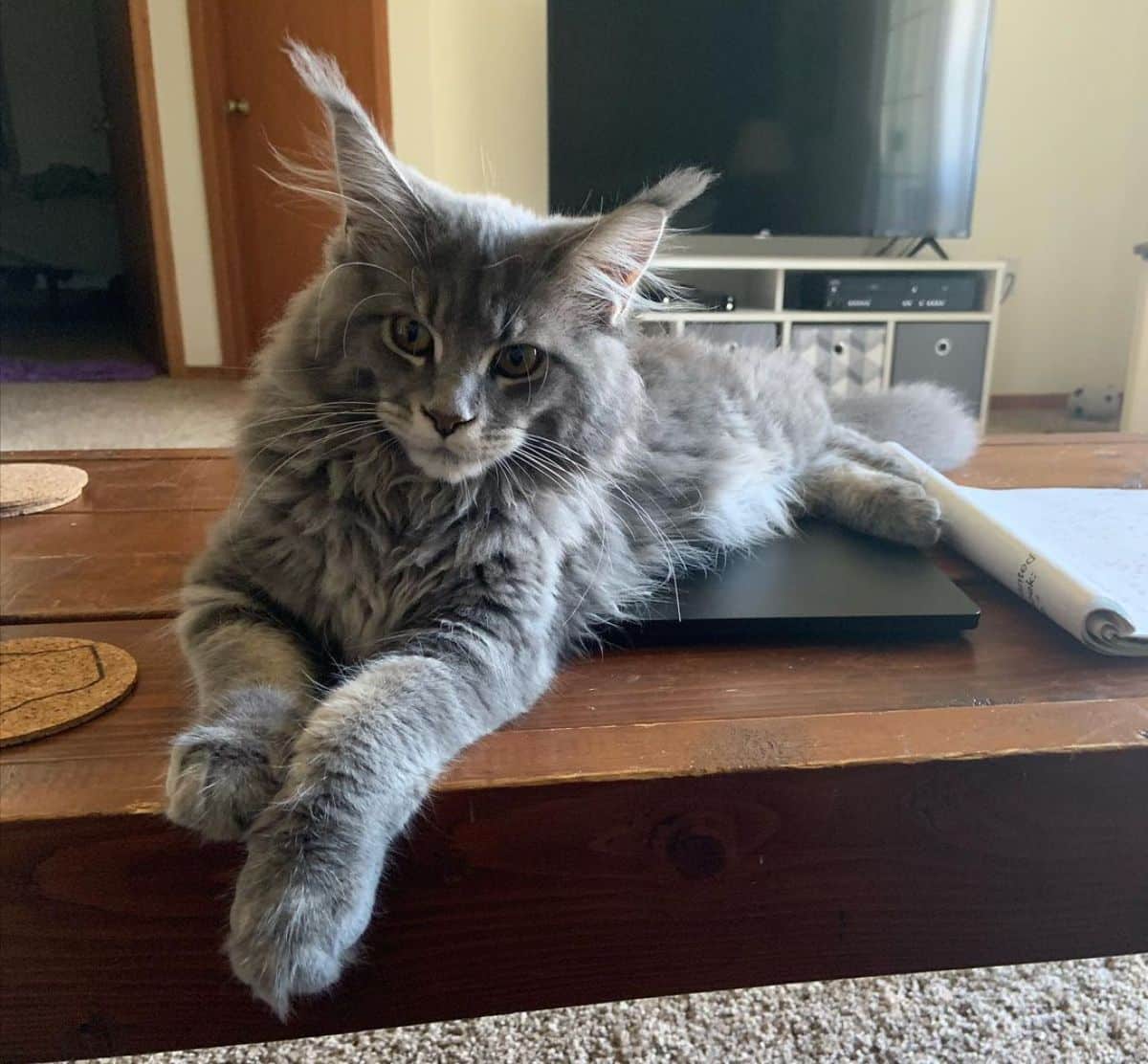 Oakley has a classic look with a stunning coat of dark fur that covers her body, including her face. This cat has been in her forever home since February 2020 and loves exploring outside and celebrating holidays. You can see this cat with her dark face and stunning gray body in costumes and strollers as her owners take her on adventures.
15. Grindelwald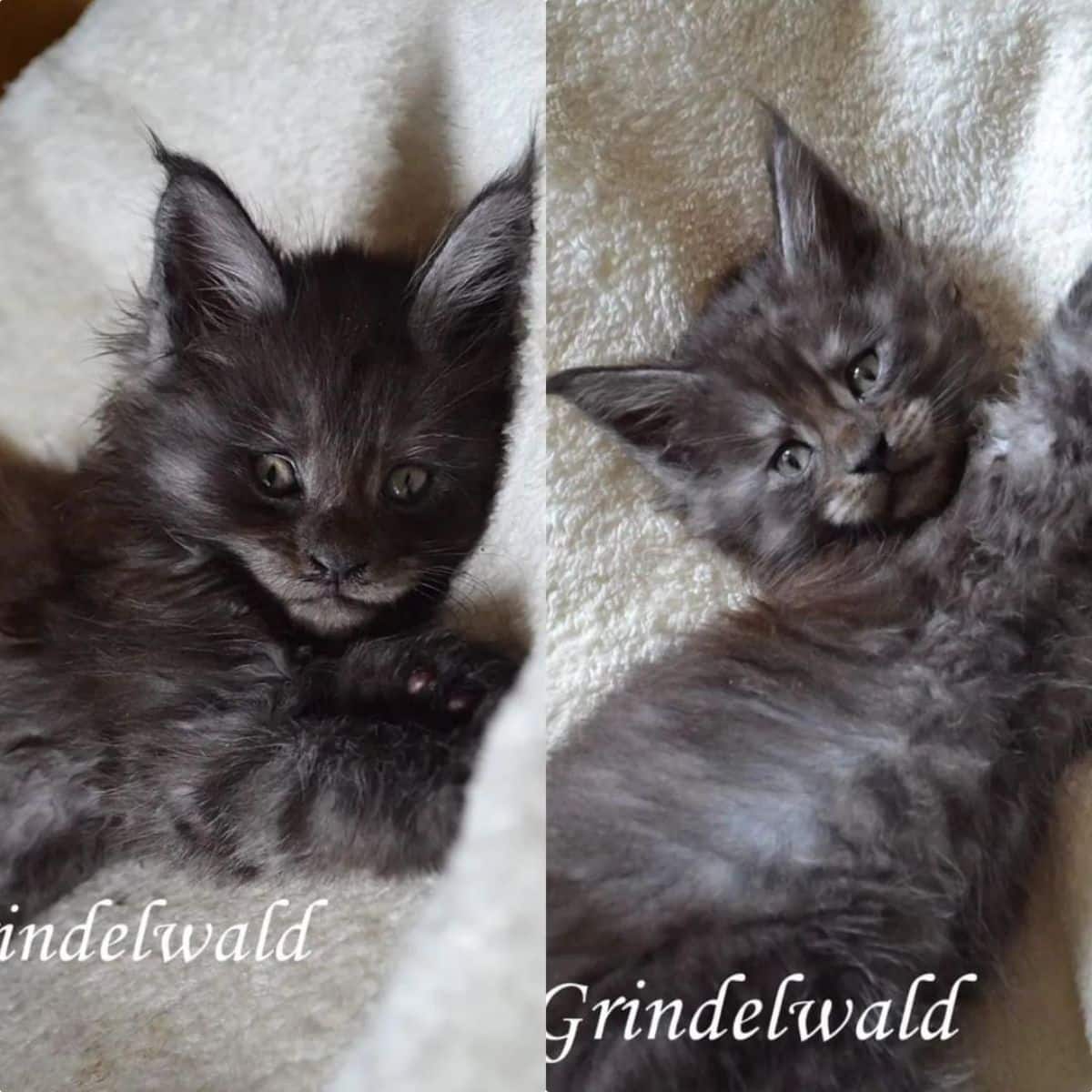 Grindelwald is a baby Maine Coon who lives with a happy family that adores him. This Maine Coon has patches of black and gray hair that make him captivating. Grindelwald is growing well and spends his days lounging, playing, and adventuring.
16. Monster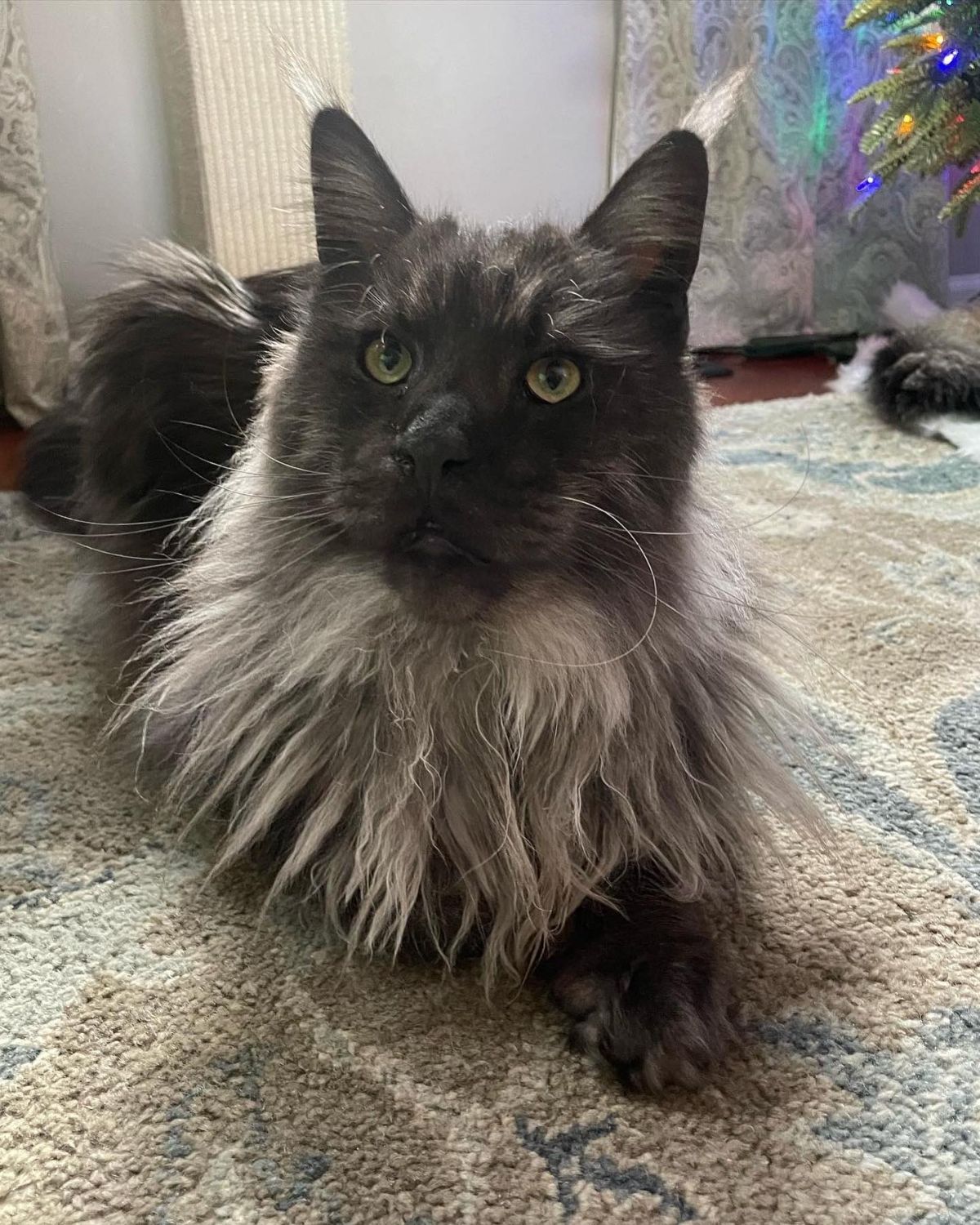 Monster is a rough and tough Maine Coon who lives with several other cats who love playtime. The monster was once a destructive kitten who had no problem tearing things apart and making a mess. However, Monster is now an adult cat with a dark, black face who loves lounging and relaxing.
17. Richie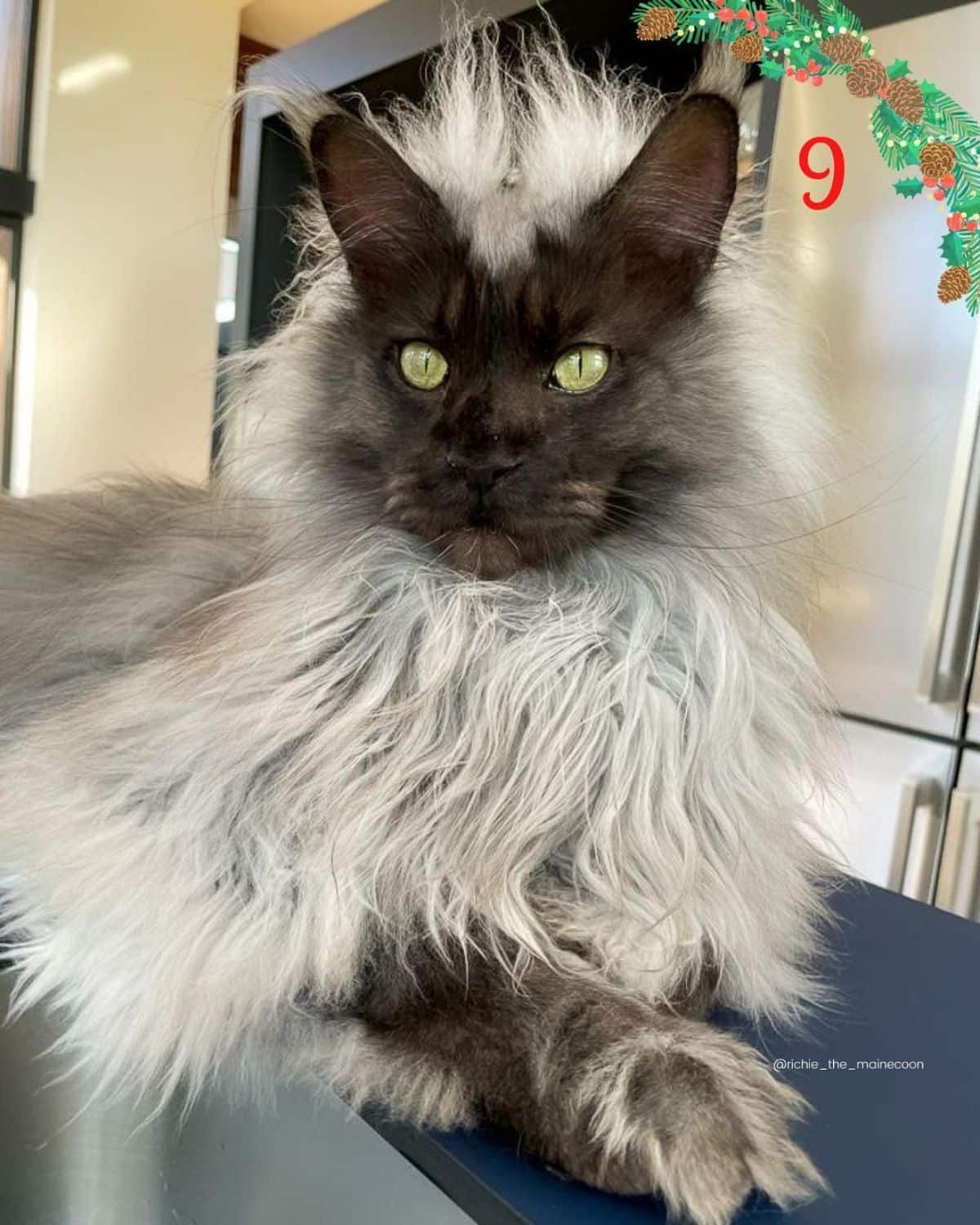 Richie is a Maine Coon cat with a black face and a coat of light gray fur. This cat loves to play with his siblings and looks more like a monkey at times because of his unique coloration. Richie adores going on adventures and having a great time with his owners.
Final Thoughts
Maine Coon cats are incredible creatures who love to play, lounge, and explore. These 17 Maine Coon cats with black faces show that these cats have stunning coats of hair that will make you want to adopt one yourself.
Consider the color patterns on Maine Coons as you browse. These cats can have dozens of shades, colors, and patterns. Finding a Maine Coon with a black face can be challenging, but these cats are rare and should be appreciated.