Maine Coon cats are among some of the most photogenic animals. They're adorable and unique creatures that can bring a smile to anyone's face. While all Maine Coons are gorgeous, there's something about one with piercing gold eyes that makes you go, "wow."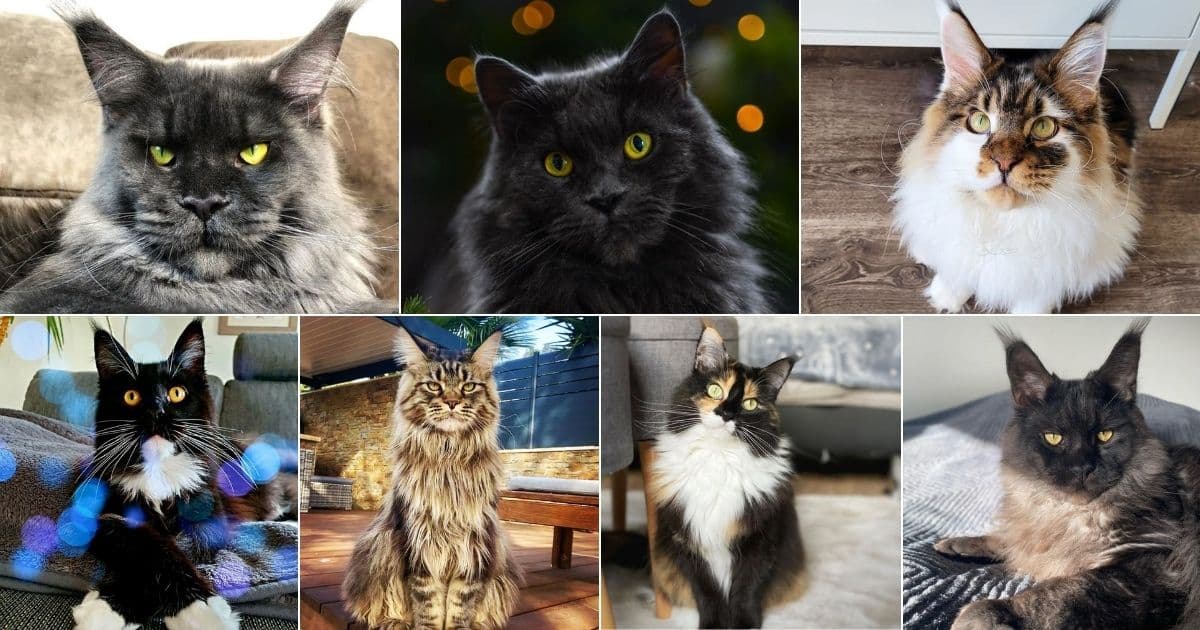 If you've never seen a Maine Coon with gold eyes, you're missing out. To make your day, here are 17 gorgeous Maine Coon Cats with gold eyes you'll love.
Jump to:
Gold Eyes
Genetics play a huge role in a Maine Coon having gold eyes, but sometimes, they will end up with gold eyes even though their cat's mom or dad didn't. Gold eyes will happen in Maine Coons, which have very active melanin-producing cells in their eyes. The more active the melanocytes, the more gold they'll appear, but they can be pale gold too.
1. Keifer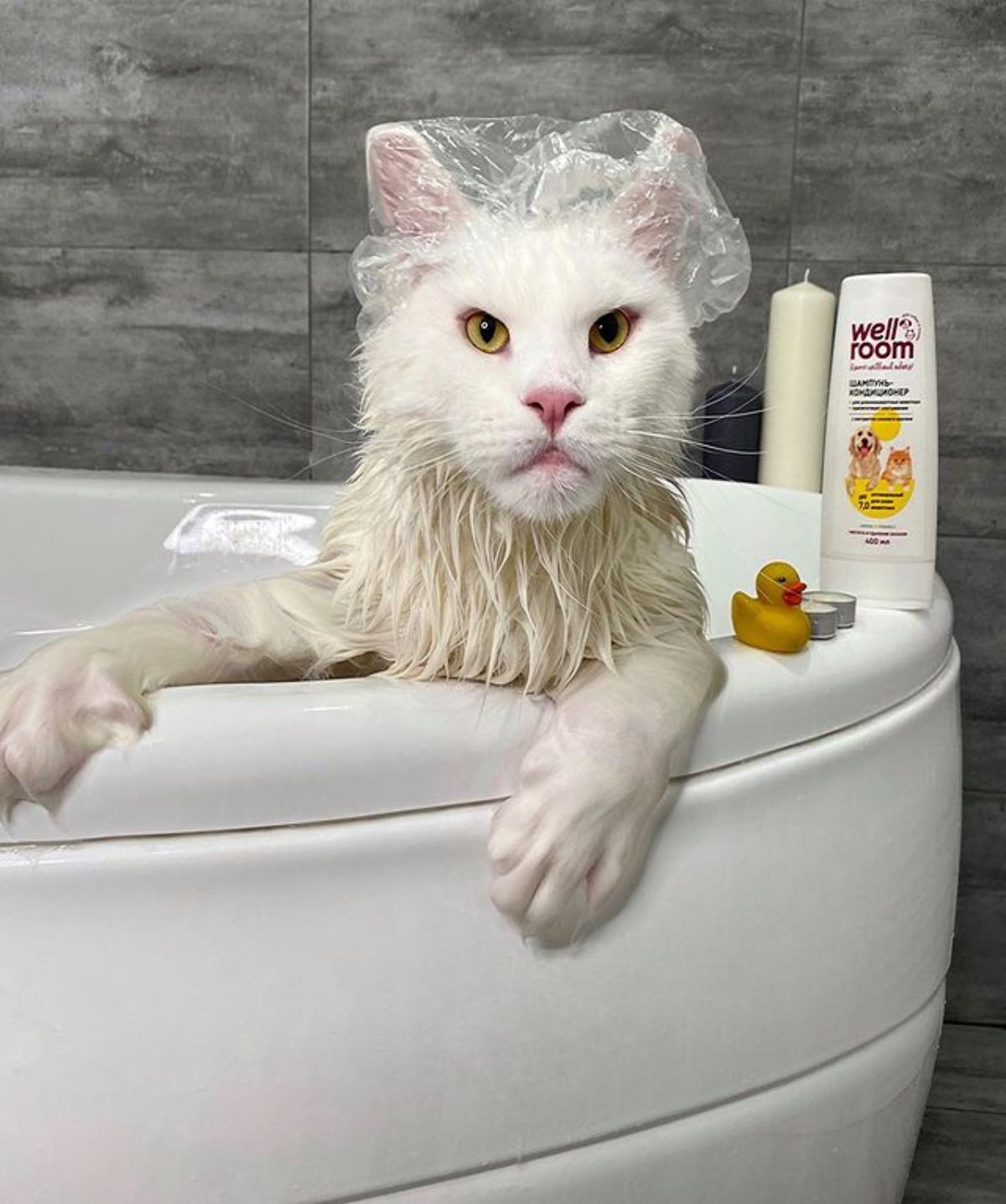 Keifer is a stunning white Maine Coon that's made waves online as being gigantic. Not only is this white Main Coon large, but his bright gold eyes are piercing. He's a beautiful cat that loves being carried by his mom, spoiled by spa nights, as you can see from the picture, and exploring.
2. Thor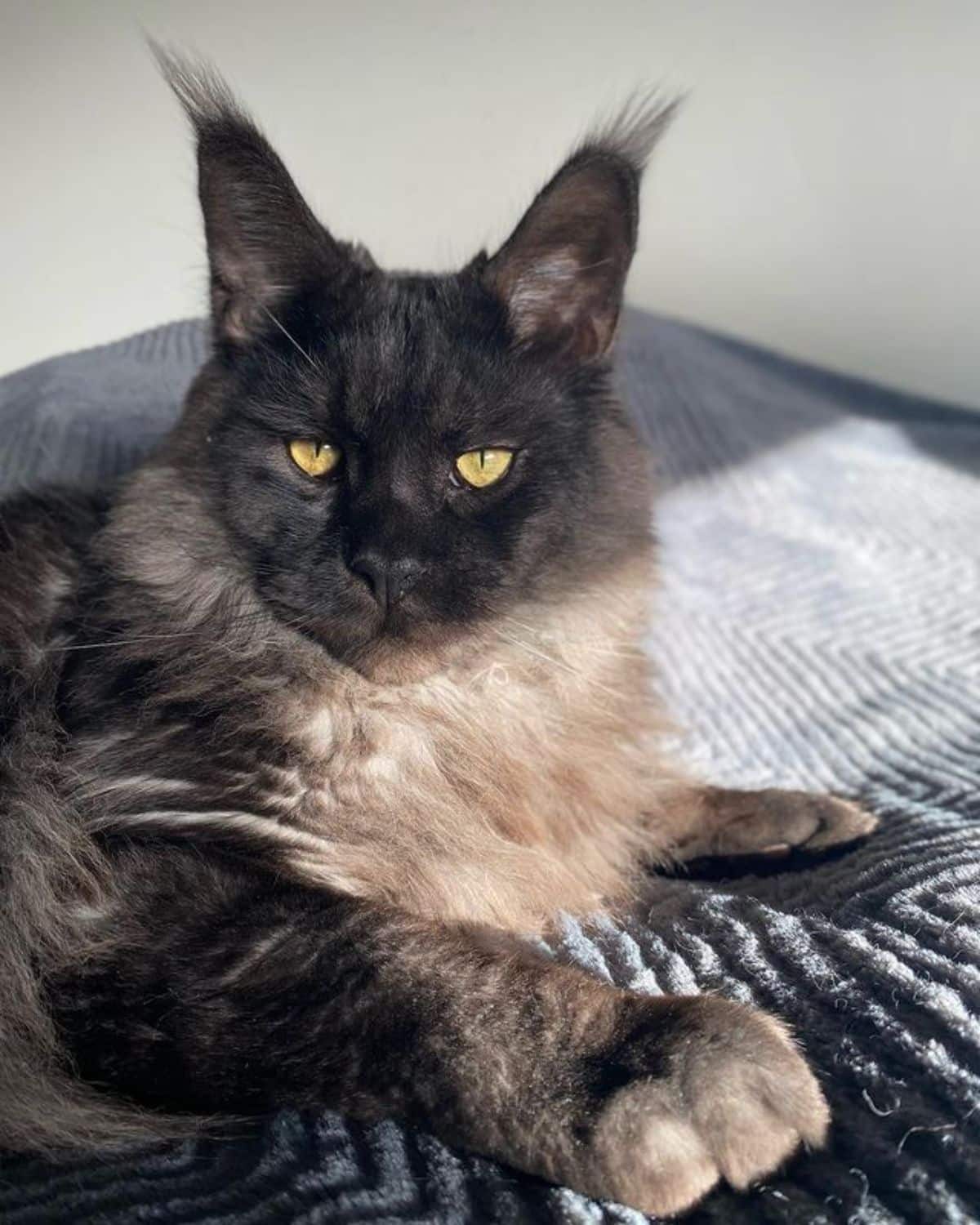 Thor and his sister Coco are two beautiful Maine Coons, but people immediately take note of Thor because of his bright gold eyes. With this black and dark brown fur, it's hard not to notice his gold eyes immediately when you look at his picture. Thor's feed is filled with him looking majestic around his home with his sister.
3. Siggy
If you've never seen an orange Maine Coon cat with gold eyes, you're in for a treat. Siggy is a beautiful orange Maine Coon that will bring a smile to your face. At only a year and a half years old, she's sure to have many more years of looking regal and making people happy.
4. Mana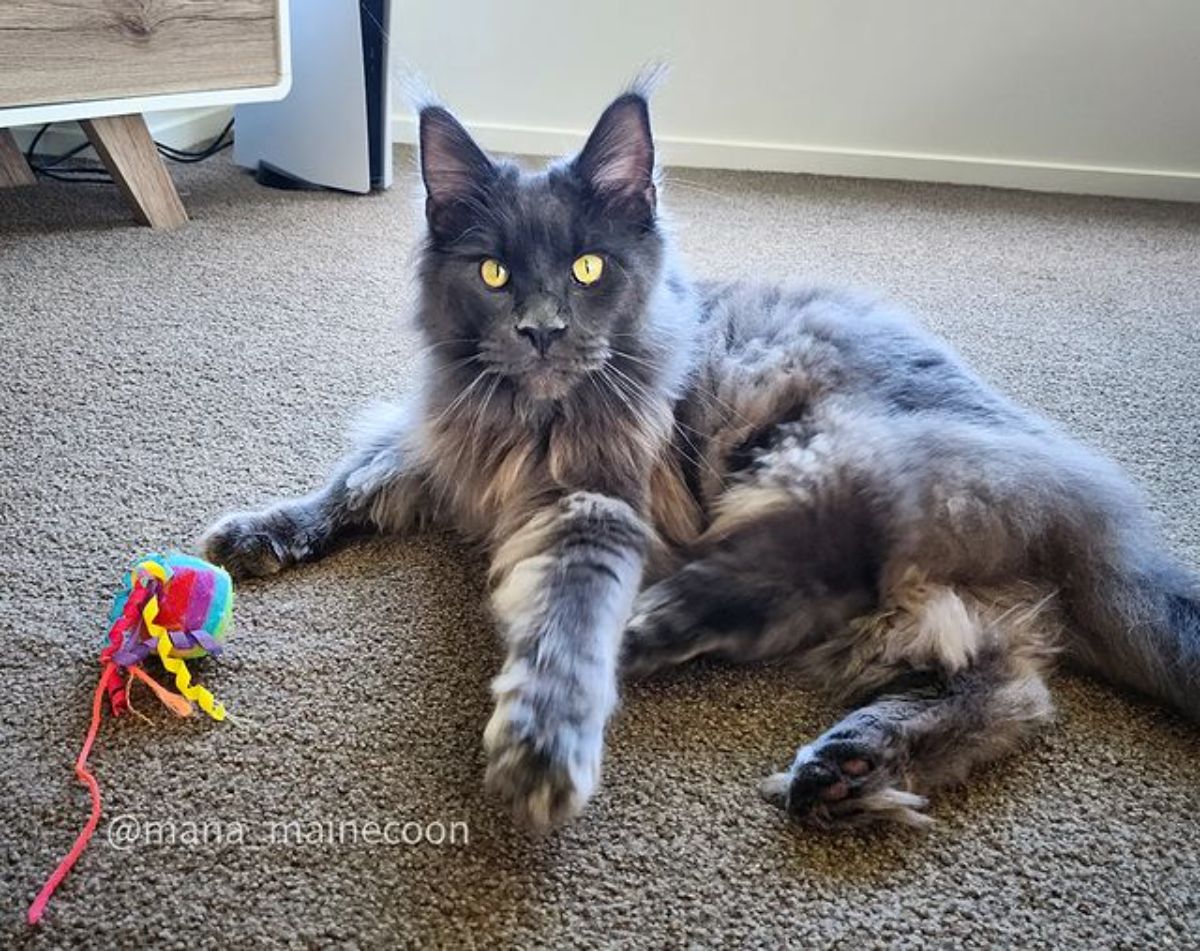 Mana is a stunning solid blue Maine Coon from New Zealand. Her gold eyes seem to shine brighter than the stars. In addition, her beautiful fur showcases just how fluffy Maine Coons are.
As you browse through Mana's Instagram, you'll find photos of him lounging around his home, looking fierce, and him going on adventures with his humans.
5. Spike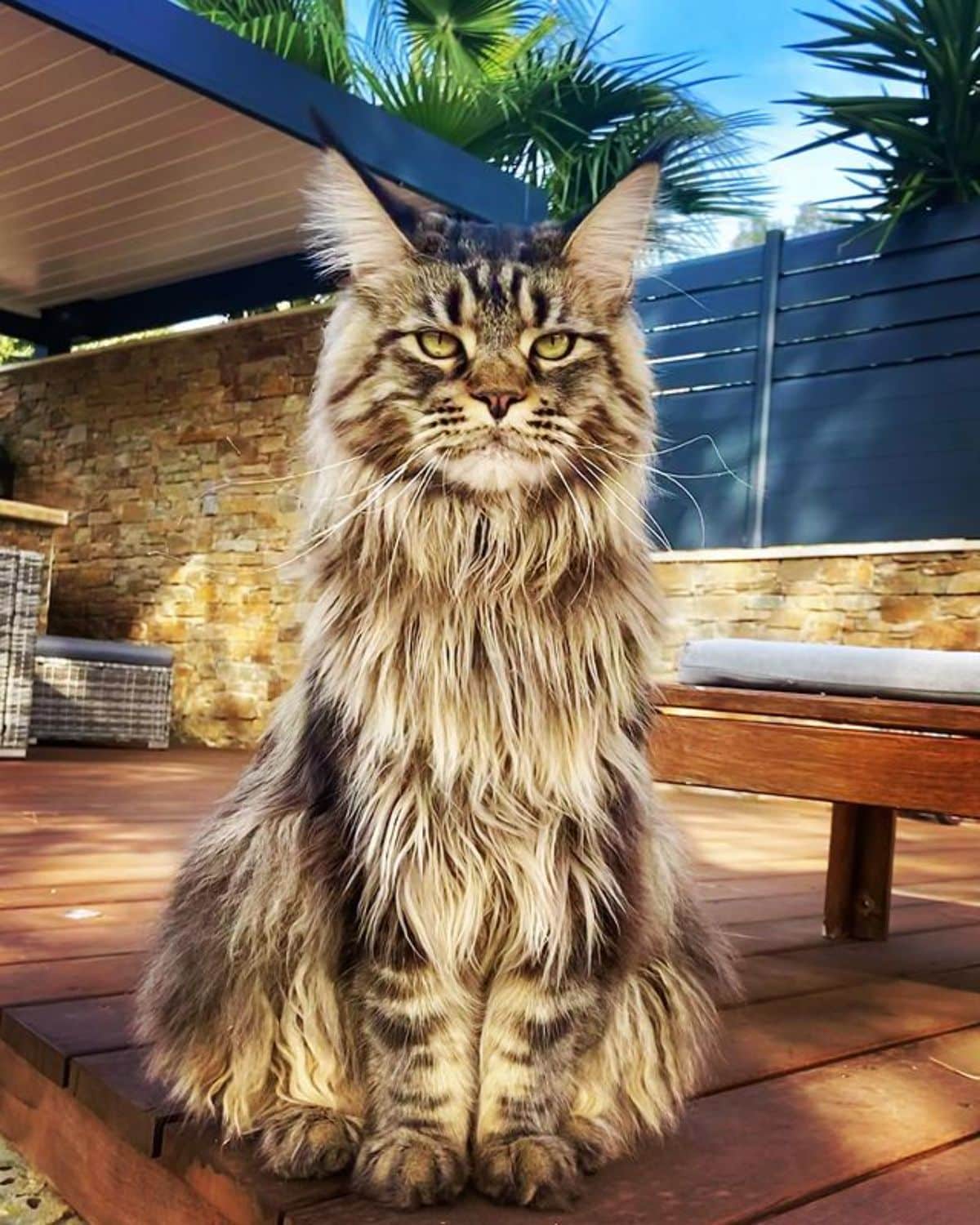 Hailing from France, Spike is a gorgeous Maine Coon with gold eyes and brown, gold, and black fur. He's the epitome of an Instagram cat model. You'll see him posing in his litter box, in trees, and in plenty of outdoor spaces. Even though his name is a little aggressive, he seems like the sweetest cat.
6. Selma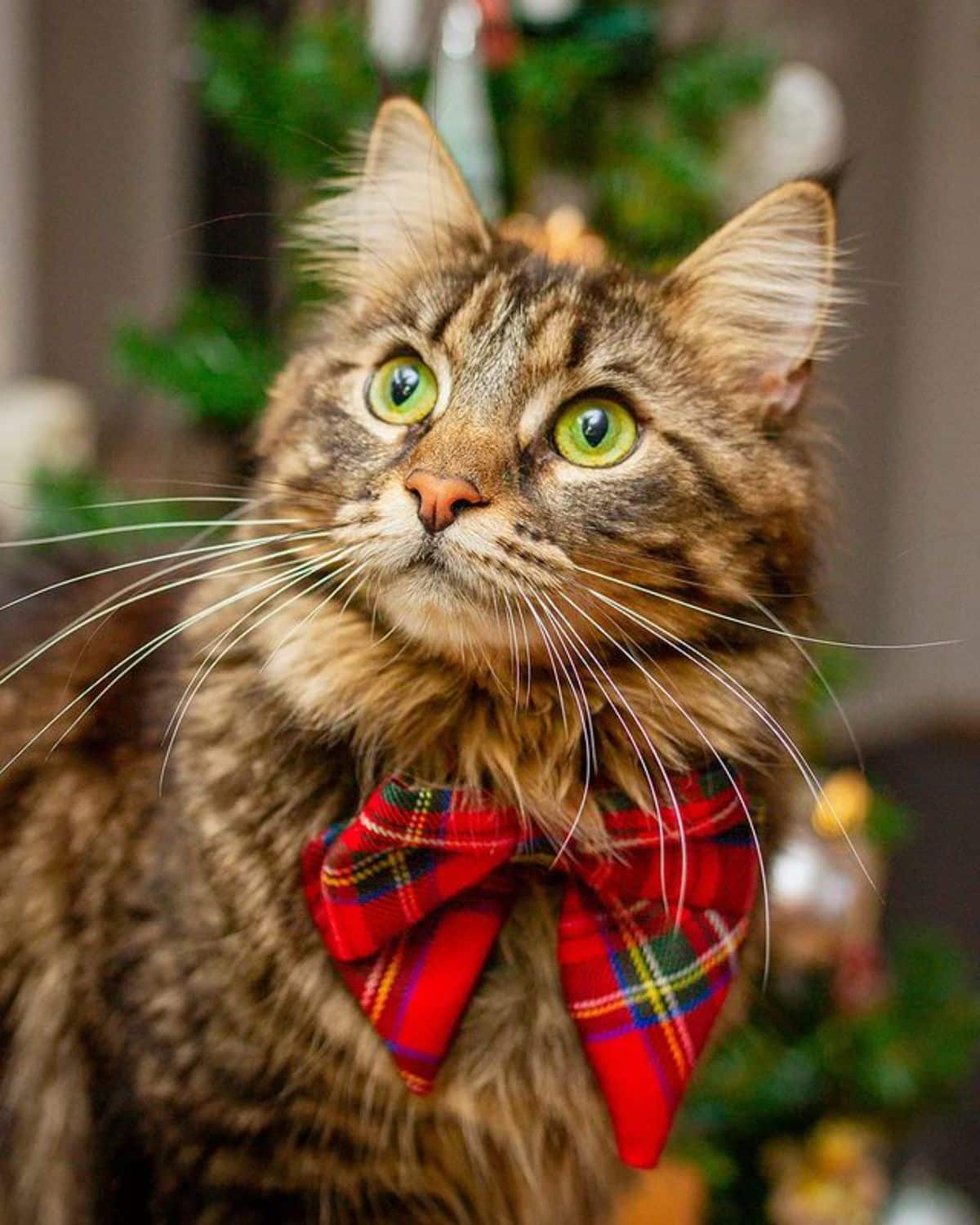 Selma is a gorgeous two-year-old Maine Coon living in Sweden with several other cat friends. She's constantly photographed wearing cute bows and bandanas and with her other cat pals that she lives with. If you look closely through her Instagram feed, you might even see a picture of her sticking her tongue out at you!
7. Jordan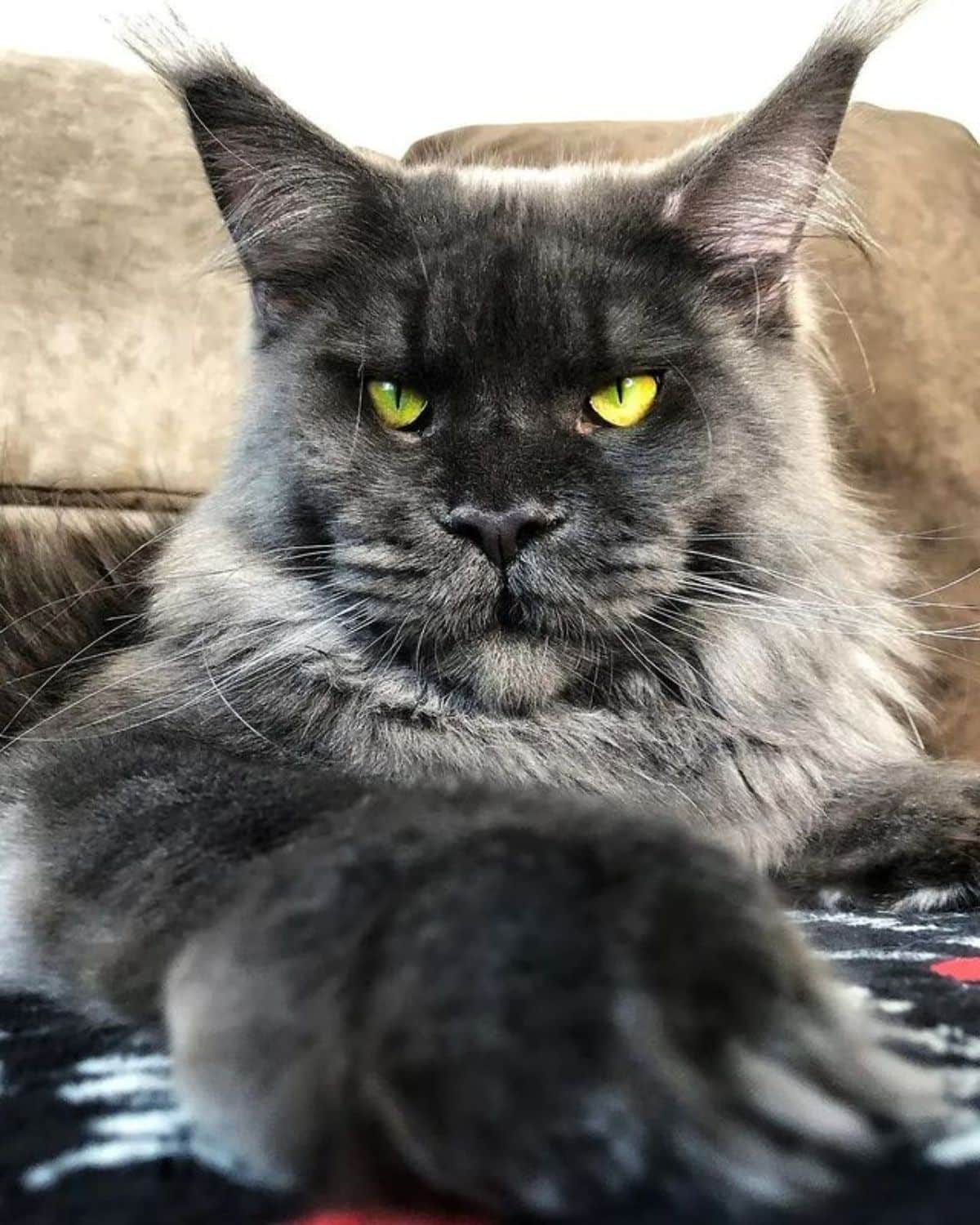 Maine Coons are goofy cats, but Jordan looks exceptionally fierce in this picture. Jordan's lounging in his living room, and this picture really accentuates how large his paws are. His golden eyes look stunning against his black and gray fur.
8. Richie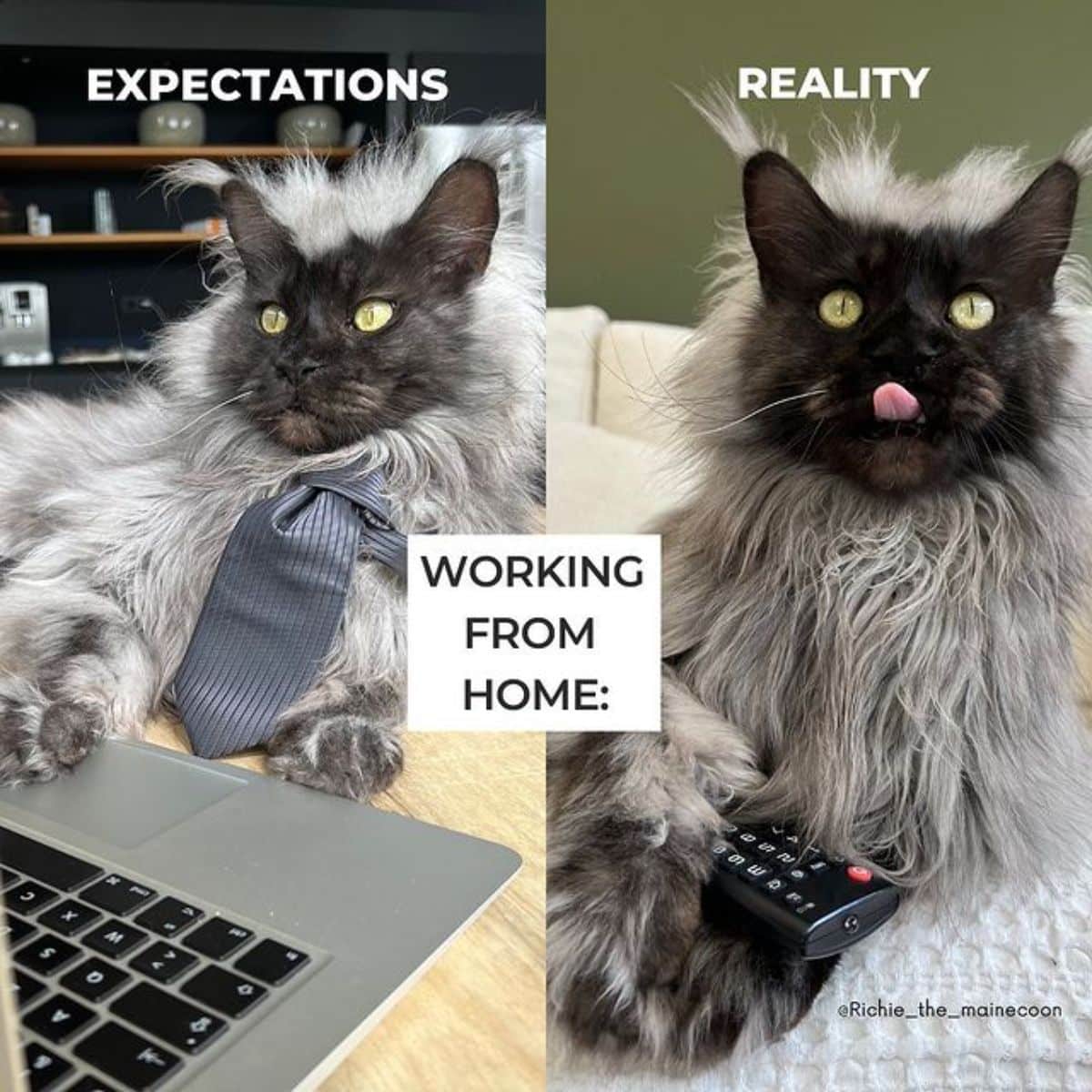 The only thing that makes Richie even more gorgeous than his bright gold eyes is his fur. His black face with a white and tan coat everywhere else makes him a unique cat, and he has plenty of personalities to match. Richie's Instagram feed is filled with classic cat pictures and funny poses like him wearing a tie and pretending to work from home.
9. Tara & Tiffany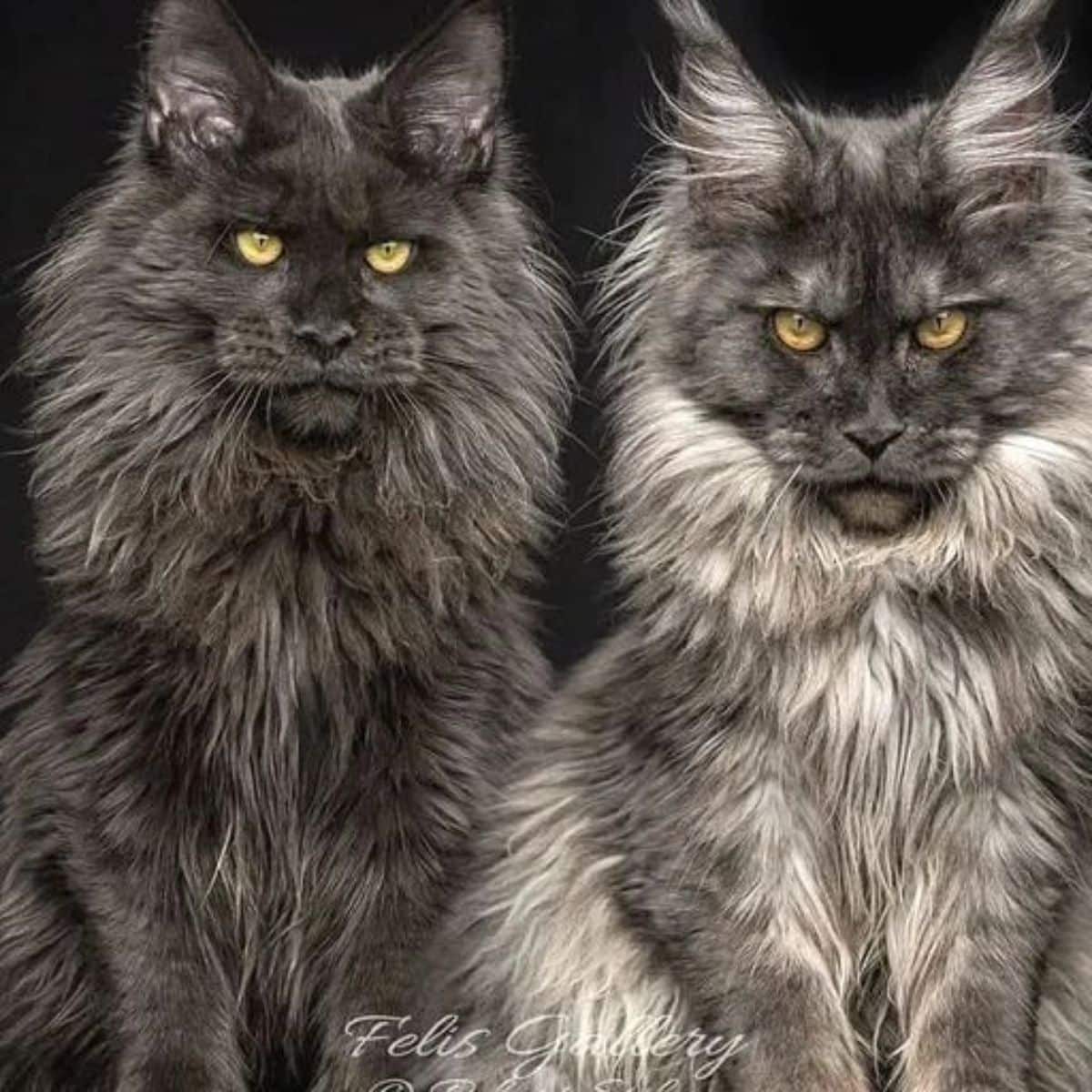 What's better than one Maine Coon with gold eyes? Two! Tara and Tiffany are gorgeous cats with the same piercing golden eyes that know how to draw you in. They love doing everything together, and you need to look closely to be able to tell them apart thanks to their similar coats.
10. Apollo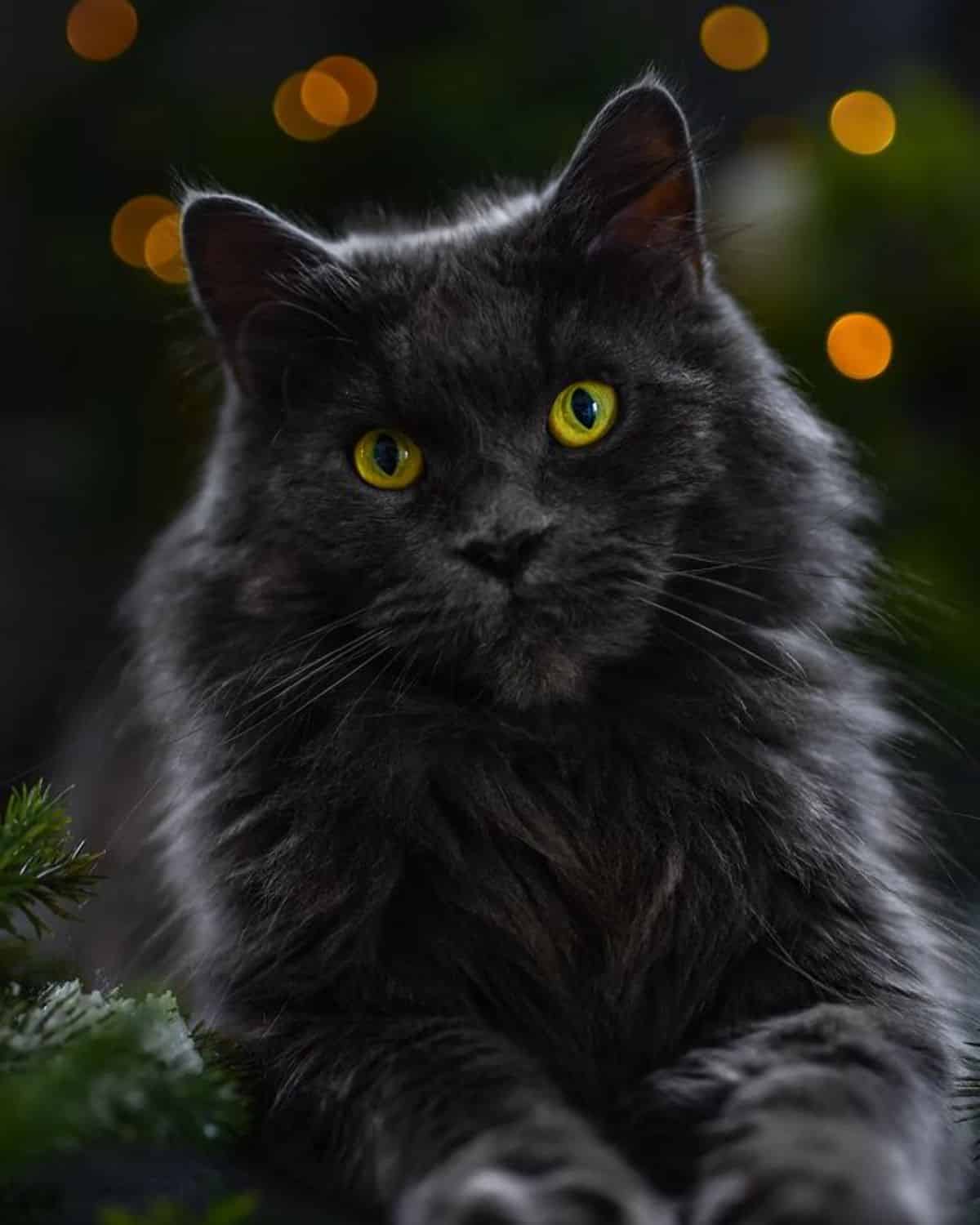 All the way from Germany is this striking Maine Coon, Apollo. His bright gold eyes that almost look green in some lights, paired with this midnight black fur, make him a gorgeous cat you'll love watching. He sure knows how to pose for the camera, whether it's in his living room, on a cat tree, or elsewhere.
11. Mango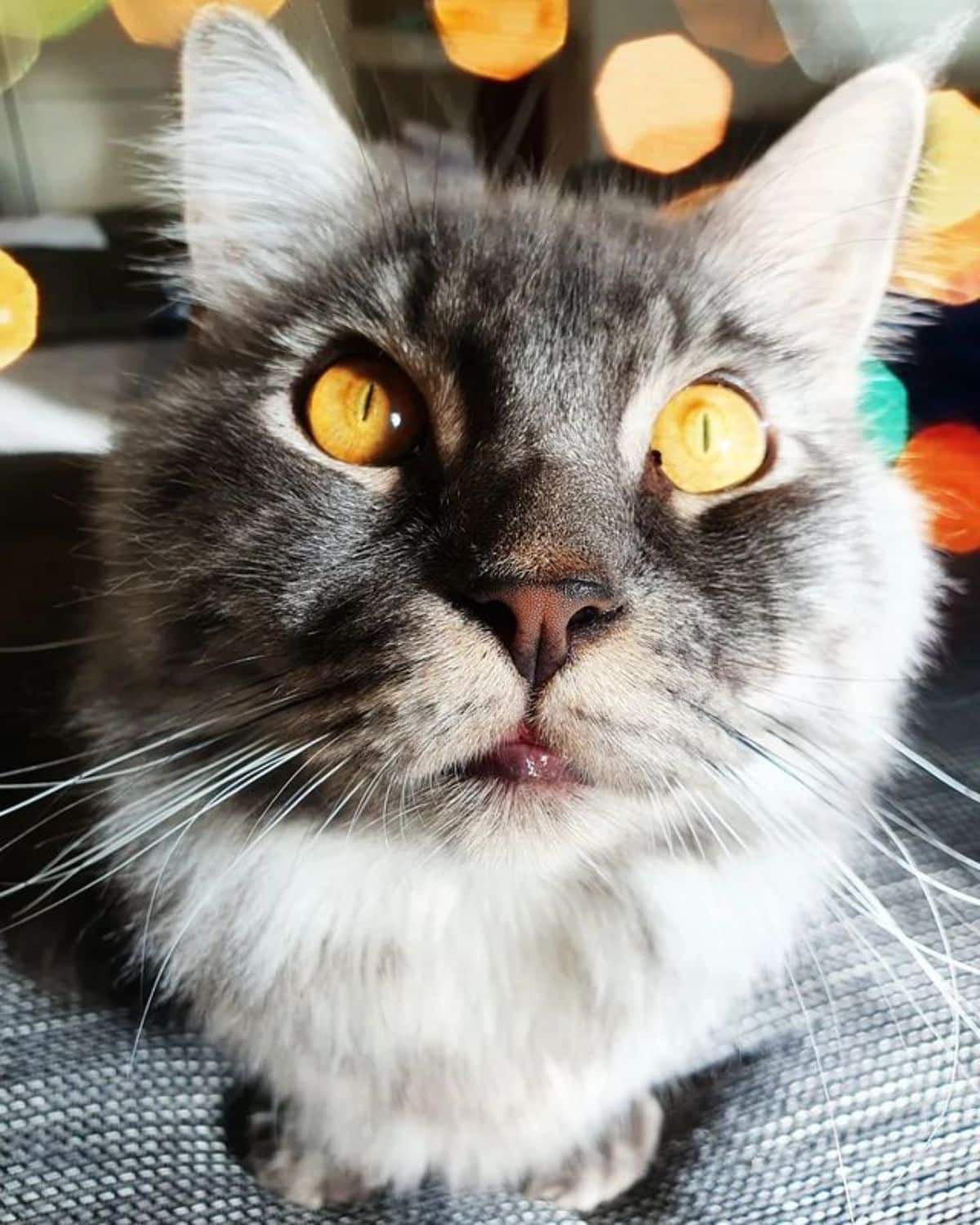 Mango almost doesn't look like a Maine Coon, but we assure you she is. She's got bright white and gray fur that pairs beautifully with her golden eyes. She lives alongside other Maine Coons like Venus, who we'll show you next! You can tell just by her photo how playful and affectionate Mango is.
12. Venus
One of the most dapper Maine Coon's with gold eyes we found is Venus. She's a beautiful cat and has plenty of manners. You'll see several pictures of her with her long paws crossed politely. What makes Venus stand out besides her gorgeous eyes is her exceptionally long white whiskers and black legs with white paws.
13. Niva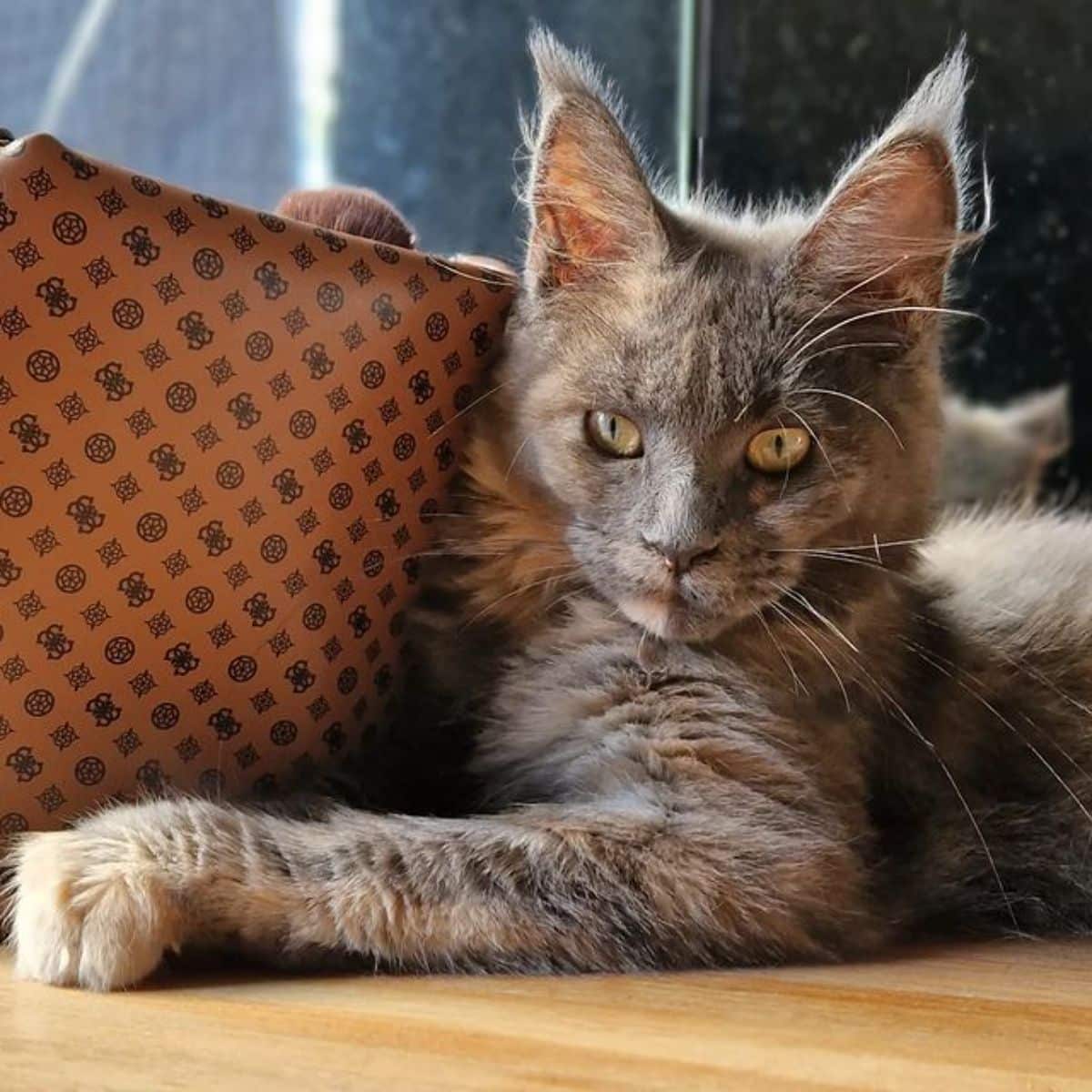 Niva is a Maine Coon with gold eyes who lives in The Netherlands with plenty of other kitty friends. She has a gorgeous dirty brown coat, unlike many other Maine Coons you'll see. She knows how to work the camera and is always ready to strike a pose.
14. Alzan
Alzan is another golden-eyed Maine Coon that lives in Sweden. He has a serious appearance that comes across in almost all of his photos, but that doesn't make him any less adorable than the other Maine Coons on our list.
15. Giuseppe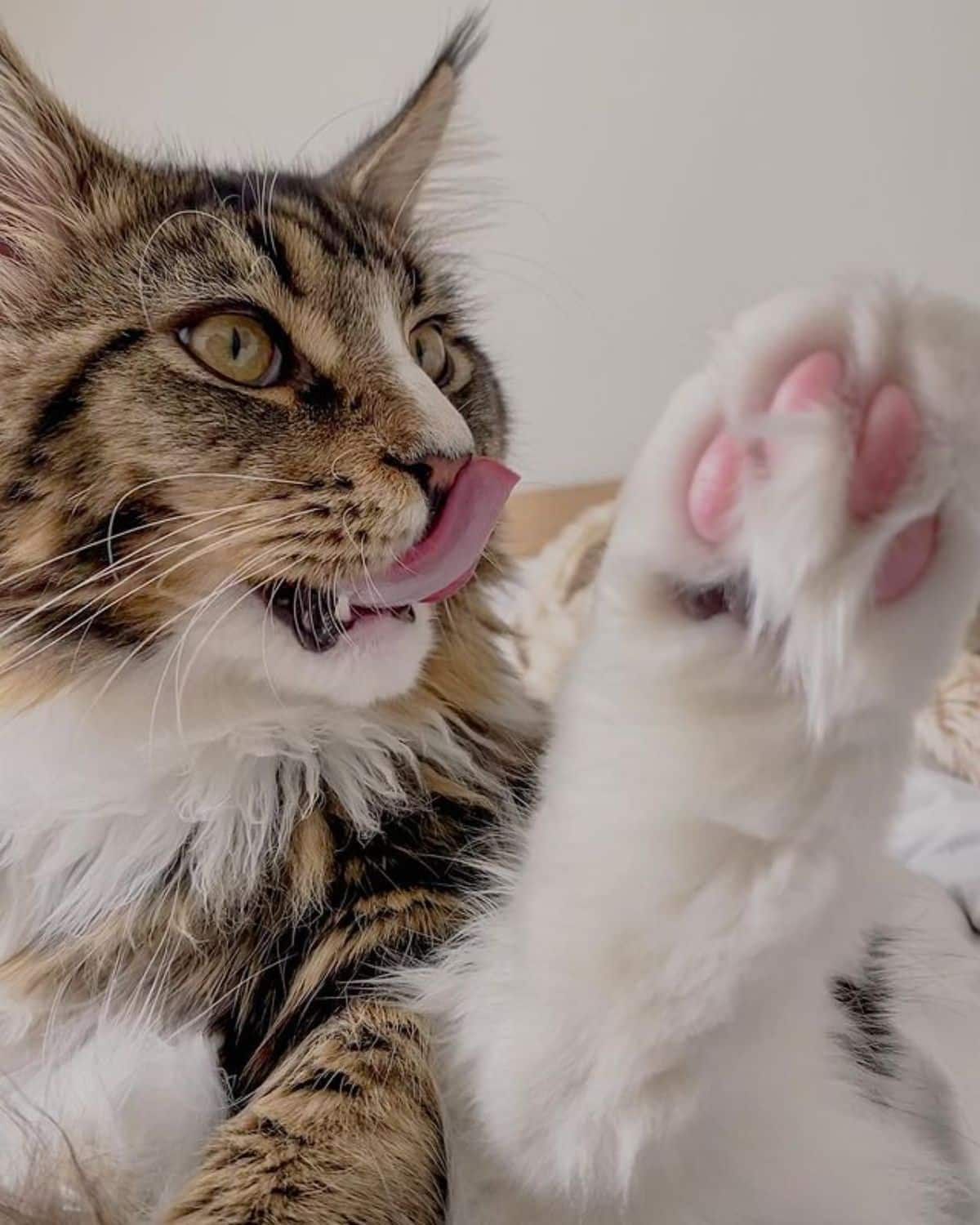 Guiseppe might be the most adventurous Maine Coon with gold eyes out there! He lives in Northern California, and there is an abundance of photos of him adventuring outdoors, participating in costume contests, and hanging out with his cat siblings.
In addition, he's quite the cat model! Posing like a true professional in various settings and outfits, it's as if he was, dare we say, born in the spotlight, molded by it.
16. Toffi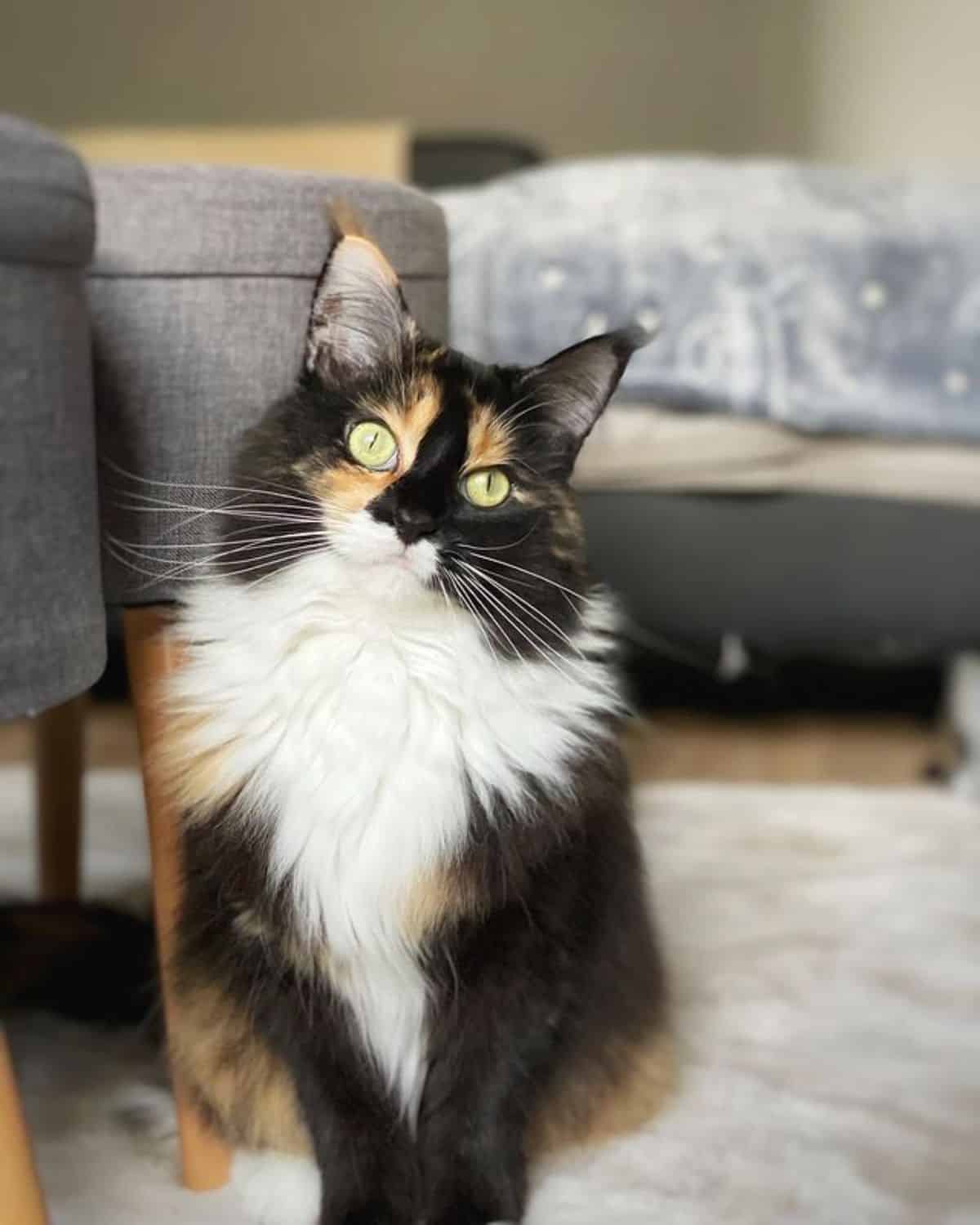 Calico Maine Coon cats are some of the most gorgeous out there. Toffi has a beautiful tri-color coat, giving her a distinct look. Moreover, her bright golden eyes seem to always be thoughtfully gazing at something.
Toffi lives in Germany with their human, two other gorgeous Maine Coons, and a small dog. Fond of naps and quite the cuddle bug, Toffi can often be seen cuddling with the other roommates.
17. Bram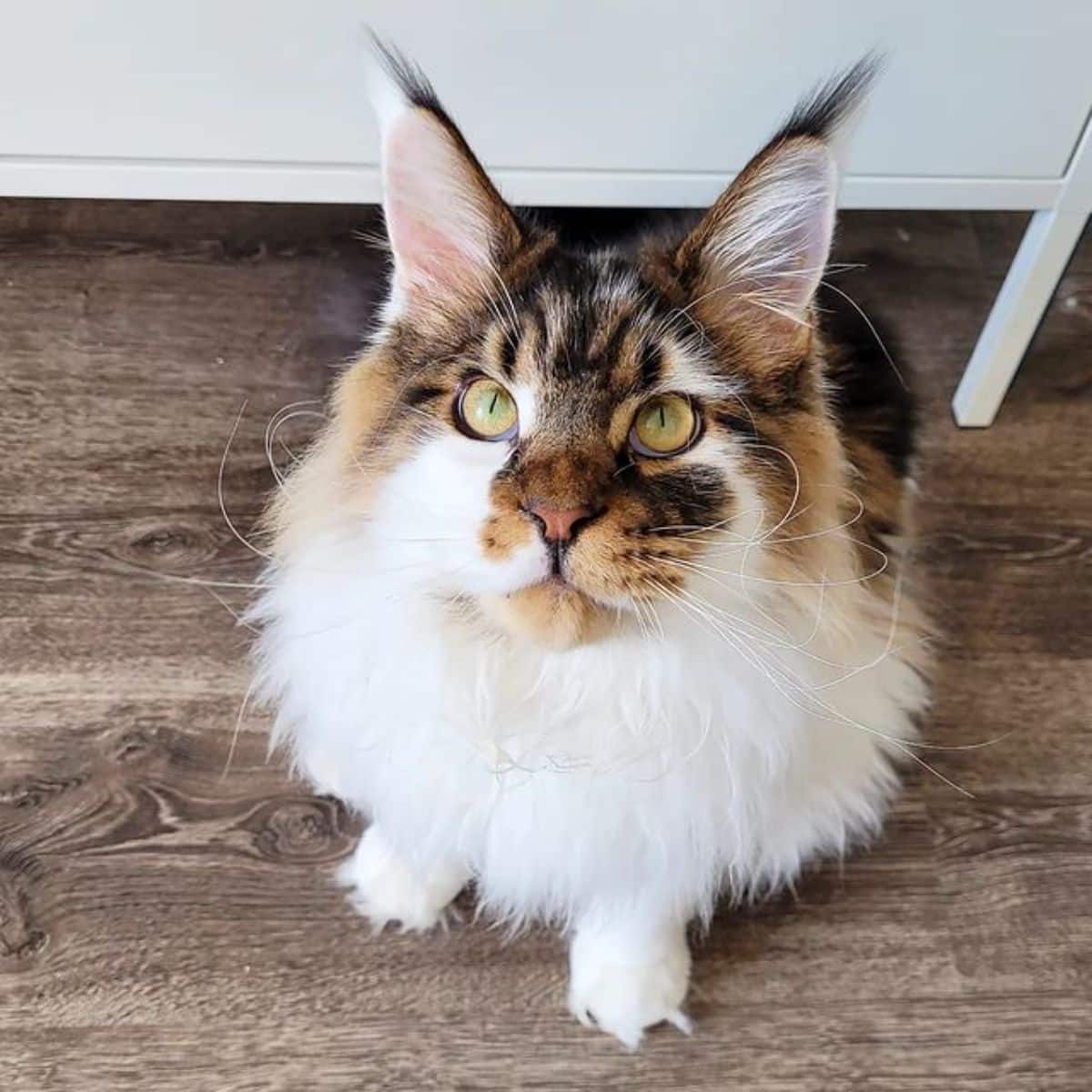 Maine Coon's are known for having long whiskers, but Bram might have some of the longest whiskers we've ever seen. Besides his excessively long white whiskers, Bram also boasts gorgeous gold eyes. Furthermore, we love his beautiful brown and white fur that compliments his eyes.

Notably, Bram has a sibling Maine Coon called Pluk that looks on the grumpier side judging by his stares but is just as cuddly and fluffy once you get to know him better.
Final Thoughts
Maine Coons with gold eyes are sure to draw your attention. These cats have bright, glowy eyes that feel like they're looking into your soul.
Whether you're interested in getting a Maine Coon for your home or simply just admiring these beautiful cats online, Maine Coons with gold eyes are gorgeous creatures.