Maine Coon cats are some of the biggest (and loveliest) cats you will ever encounter. Their sturdy build serves them well for hunting, exploring, and surviving in cold climates. One primary factor that makes Maine Coon cats stand out from other breeds is their eyes.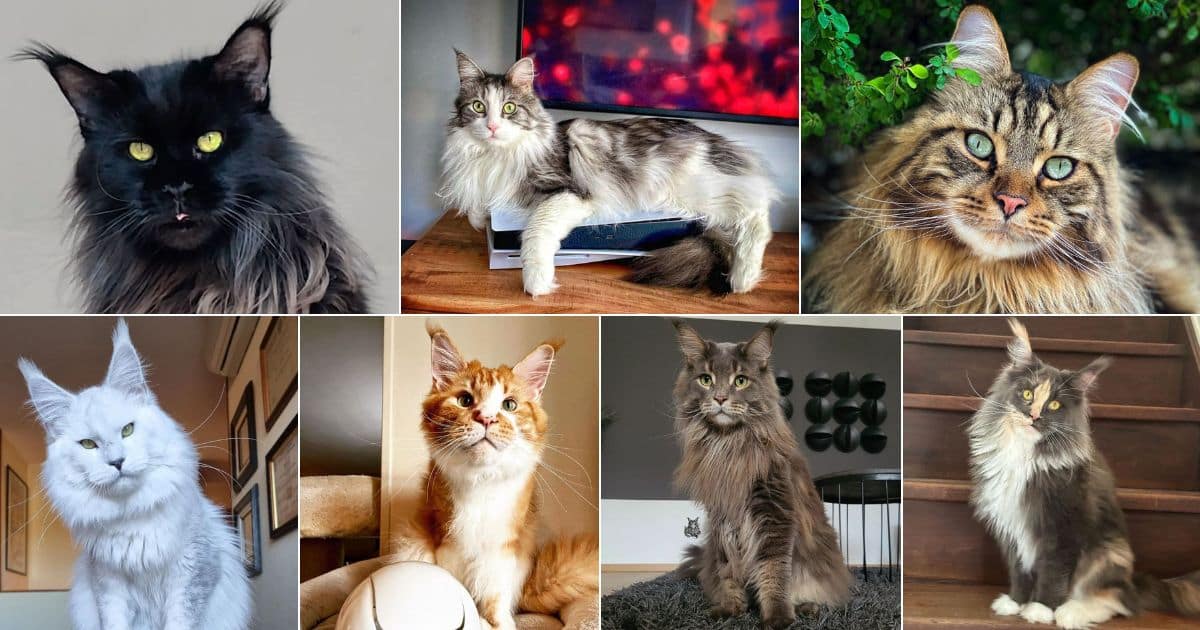 It is said that the eyes are the windows to the soul, but does this ring true for the Maine Coon cat? We've rounded up 17 Maine Coon cats with stunning green eyes from around the globe so that you can judge for yourself!
Jump to:
Maine Coons
Maine Coon cats first appeared in the United States in Maine and gradually grew in popularity among Northeasterners for their mousing skills and striking appearance.
These cats, while massive, usually love being around humans and are quite affectionate. Their wide eyes reflect the adoration they feel for their humans and capture the hearts of nearly everyone they encounter.
Green Eyes
Maine Coon kittens, like most cats, are typically born with blue eyes that change color over time. Any shade of green is a possible outcome, in addition to a goldish-yellow.
While green eyes are less common in humans, they are relatively common in cats. This is because cats have higher levels of melanin that contribute to the evolution of their iris' pigmentation.
Two primary factors determine eye color on the cellular level. These factors are melanin and melanocyte. The two variables that contribute are intensity and hue.
More melanin results in more intense color. More melanocytes mean the eyes will be darker. Ultimately, it all amounts to the cat's genetics.
1. Sally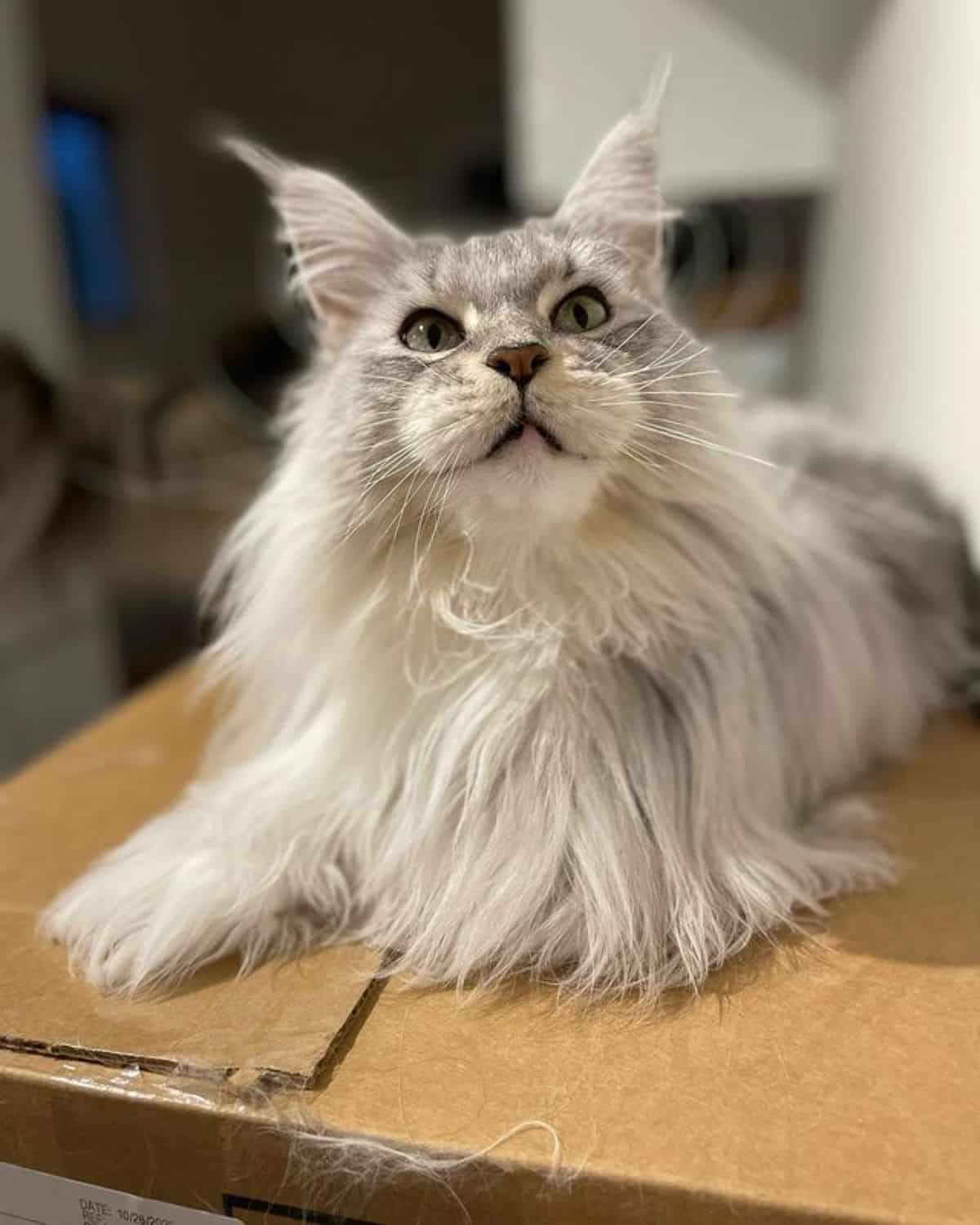 Sally is a stunning gray and white Maine coon with glowing green eyes. This lovely lady lives with two other Maine coons named Jack and Michonne (although they have copper and yellow-hued eyes). She has the standard Maine coon ears and plenty of fluff!
2. Mr. Darcy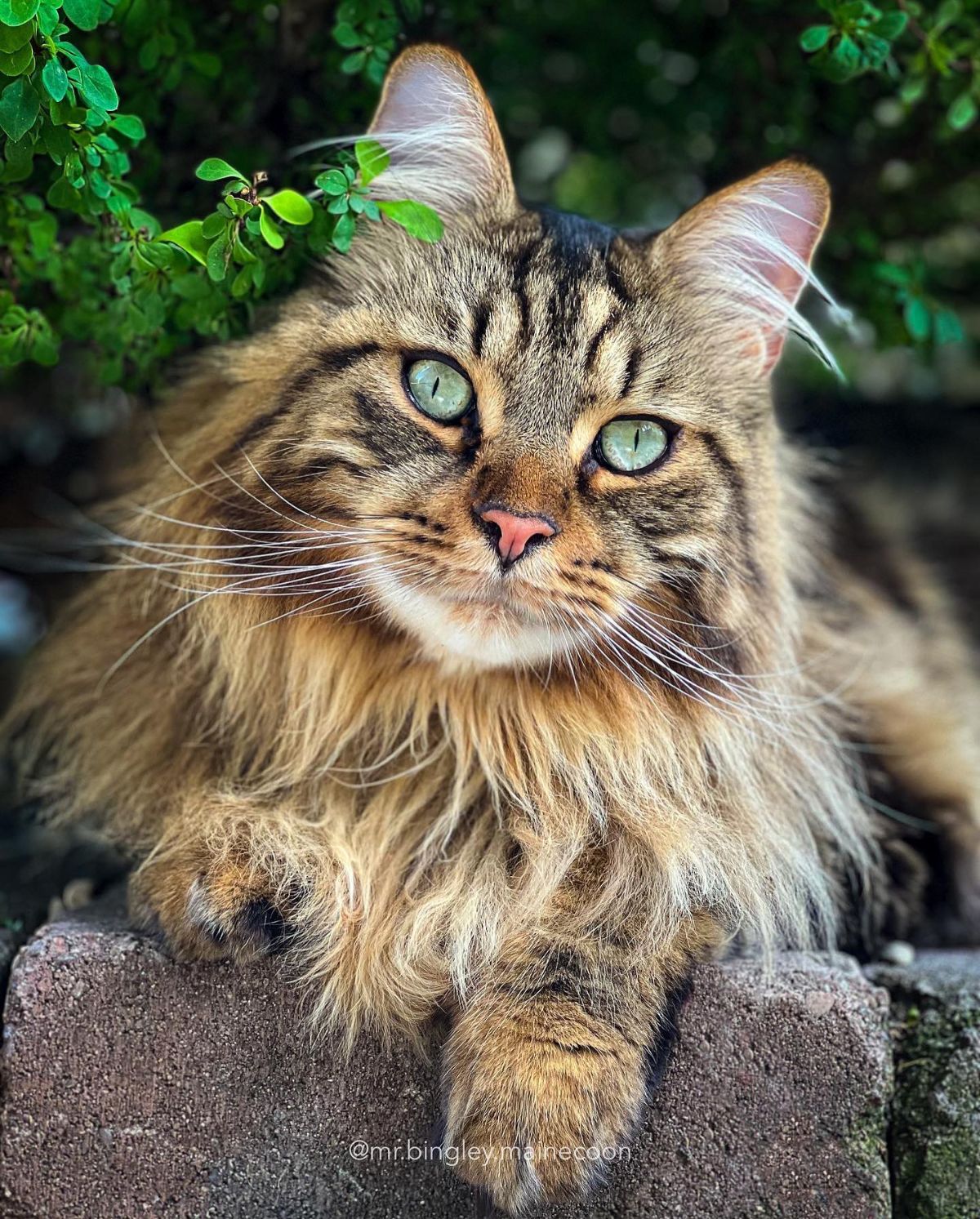 The distinguished Mr. Darcy has an elaborate coat of swirling browns, grays, and black hues, which make his emerald eyes stand out even more. He resides with several other cats, including a few Maine coons named Mr. Bingley and Emma. Mr. Darcy loves birdwatching during migration season!
3. Redboy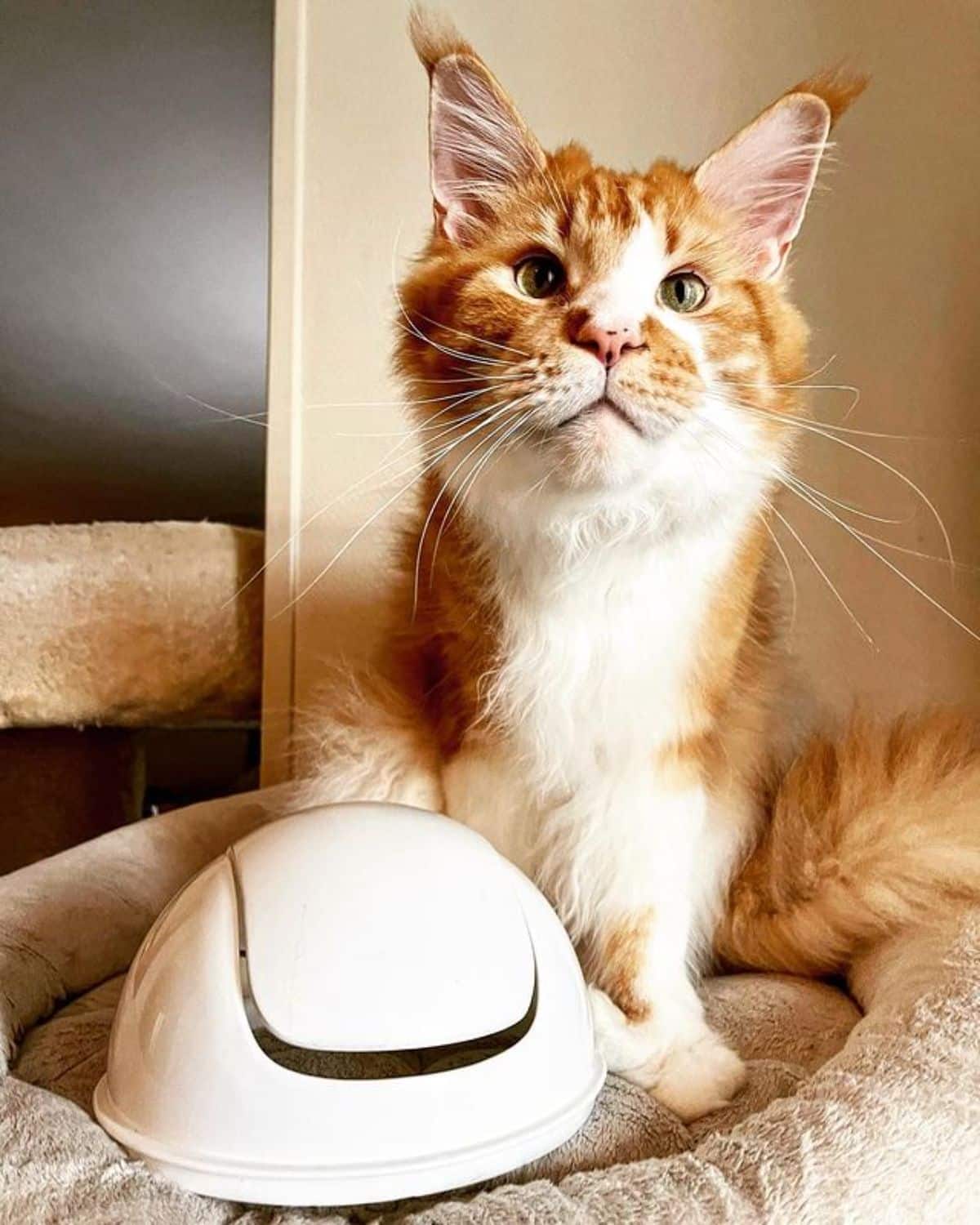 Fiery orange and white fur combined with shimmering green eyes make for a handsome Maine coon like Redboy. This fluffy guy lives in France with his family and several other Maine coons, all of which vary in coat color.
4. Nemo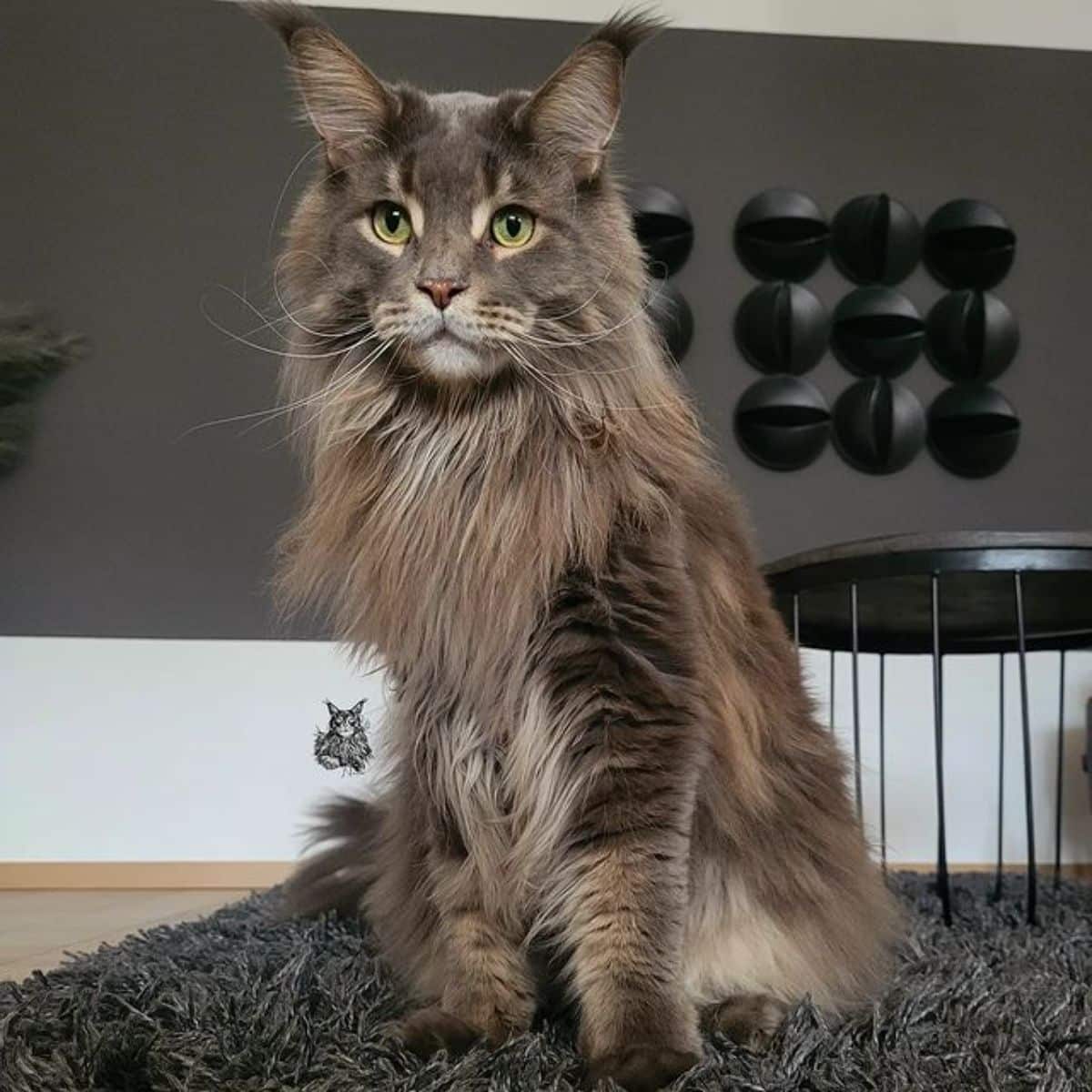 Another gray Maine coon (but this time with a dark, stormy coat), Nemo has soft white stripes framing his jade-hued eyes, making him unforgettable. He and his pal Hugo reside in Germany. Nemo is a little over three years old.
5. Bram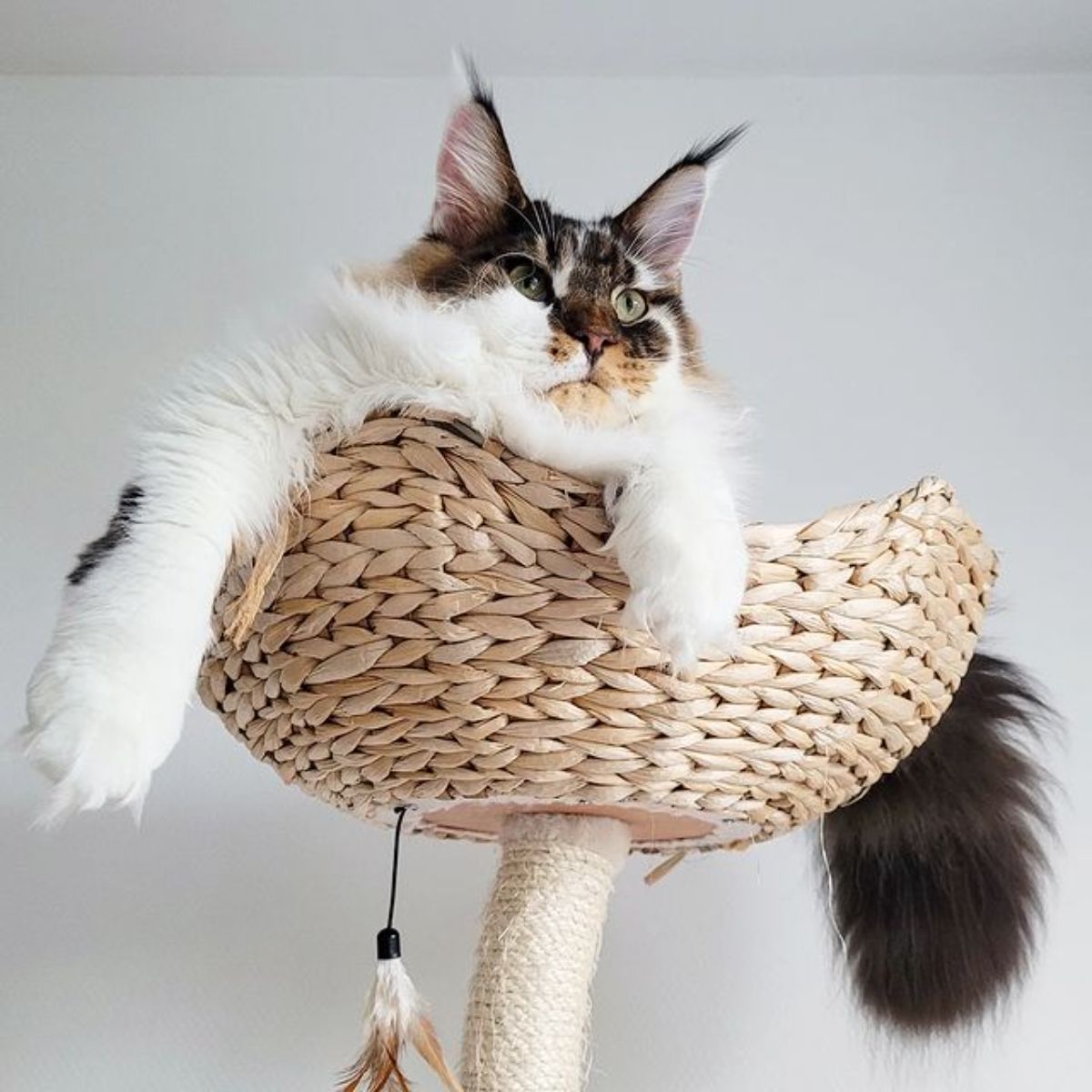 Netherlands-based Bram is a young Maine coon with lovely green eyes. His fluffy white fur melts effortlessly into tortoiseshell hues with an adorable light orange mustache around his nose. Bram lives with his fellow Maine coon Pluk and is almost one year old.
6. Ruslan
Ruslan is a blue Maine coon with dark gray paws, and light gray tipped ears. His dazzling green eyes pop against his dark fur, and his mane compliments his coat perfectly. Ruslan lives in Ukraine.
7. Harissa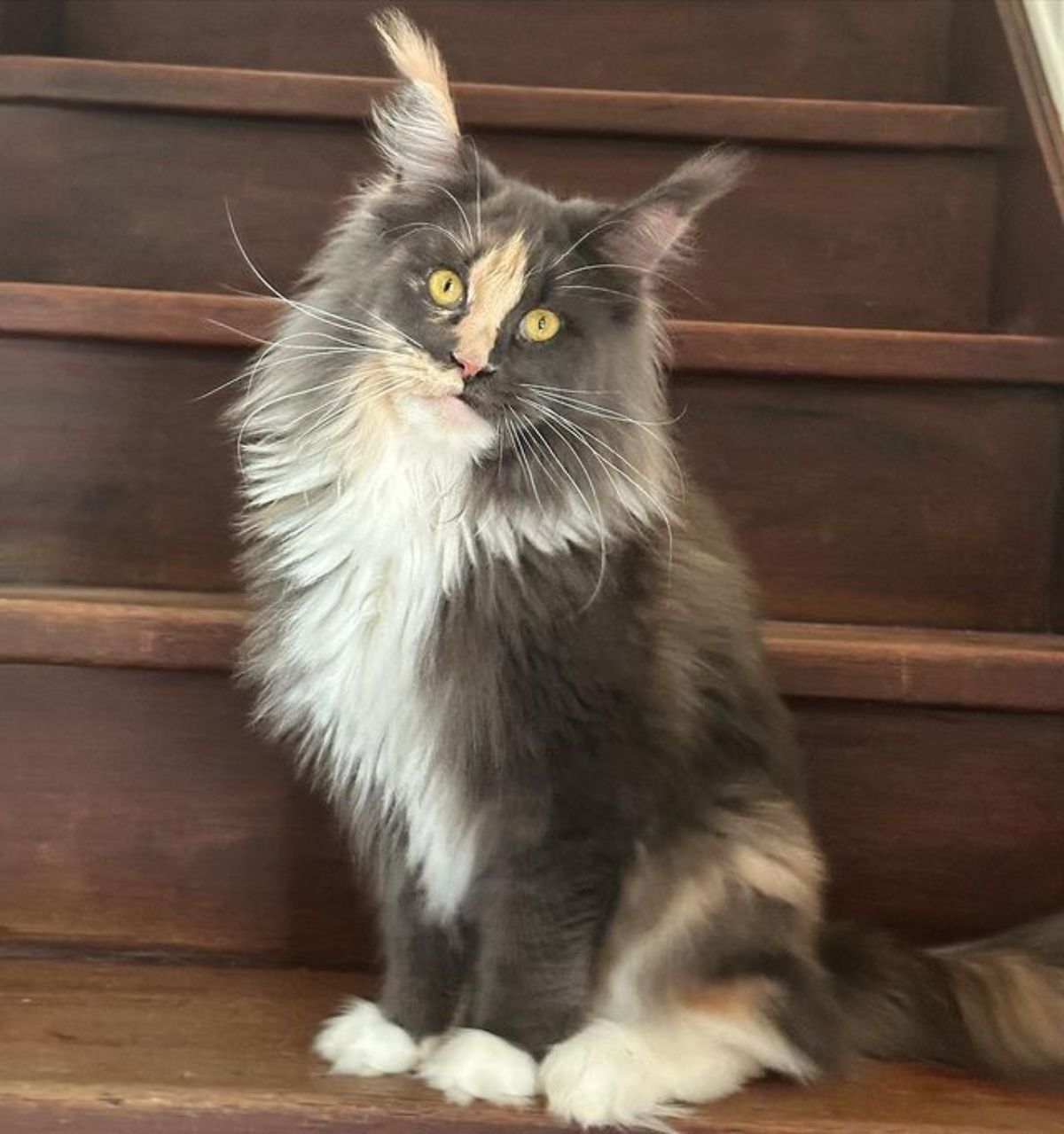 Lovely Harissa is a tortoiseshell-hued Maine coon with round emerald eyes. She's about seven years old and lives with her Maine coon siblings Pillow and Garmonia in France. Her distinct orange stripe down her nose gives her eyes the attention they deserve!
8. Dolce Vita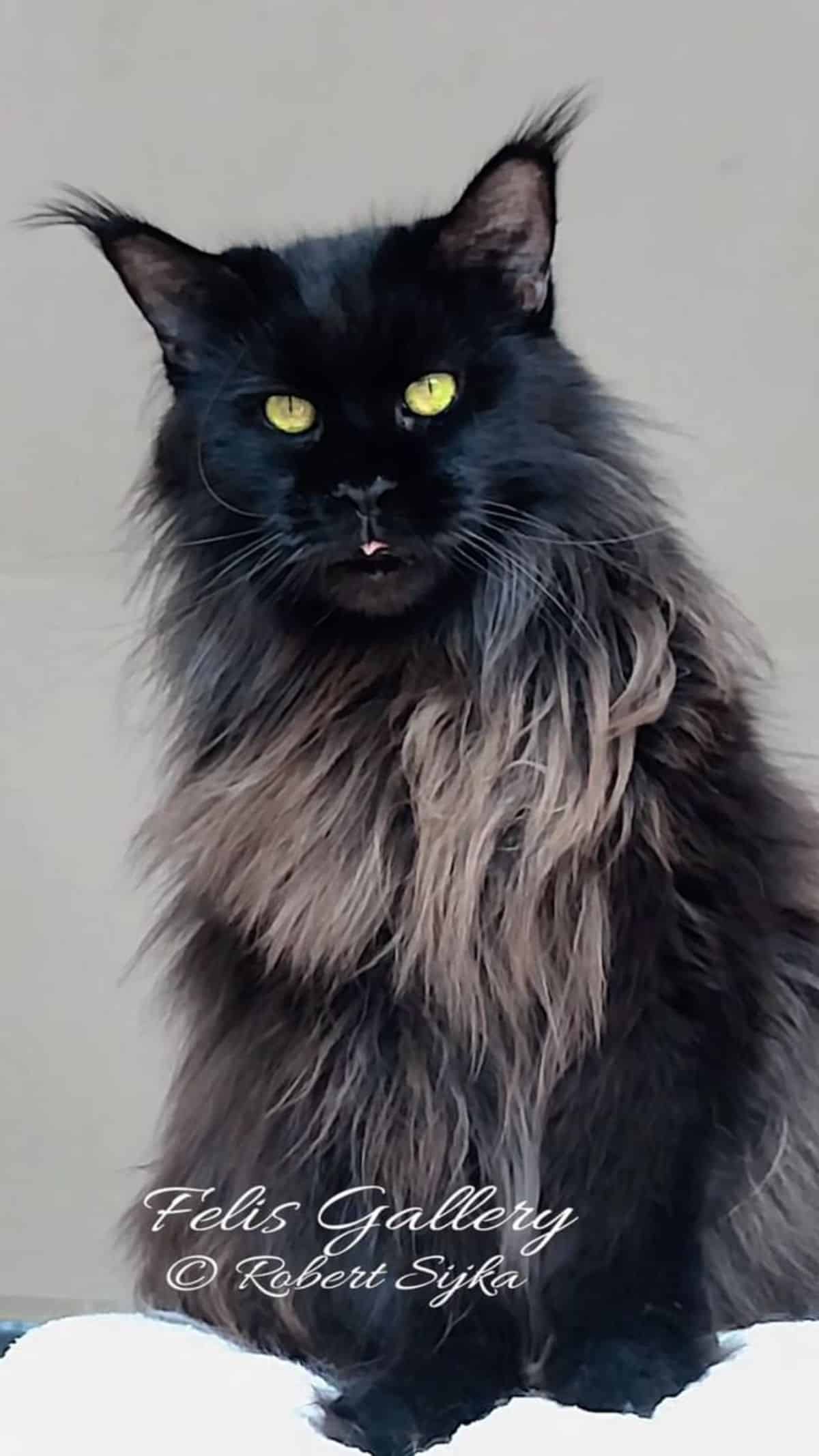 Dolce Vita is a black Maine coon with an ombre mane and green eyes that shine for miles. Her dark-toned coat makes her eyes unforgettable, while her fluff lays on the cuteness. She looks almost like a wild cat!
9. Percy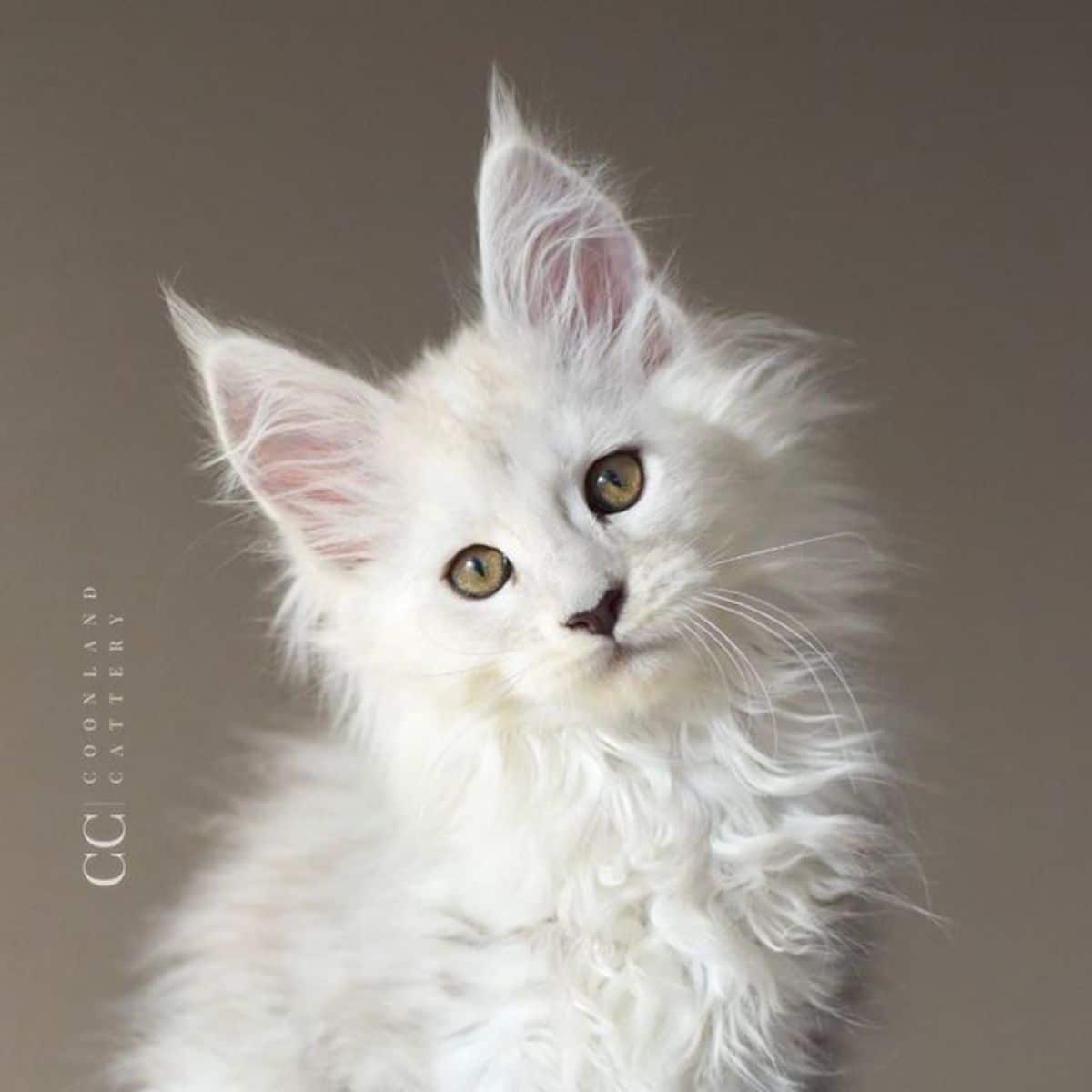 Ethereal beauty Percy looks like a cotton ball with legs - in the best way possible! This stunning Maine coon lives in the Netherlands and hasn't reached her first birthday. Her green eyes are hypnotic against her pure ivory fur.
10. Maxie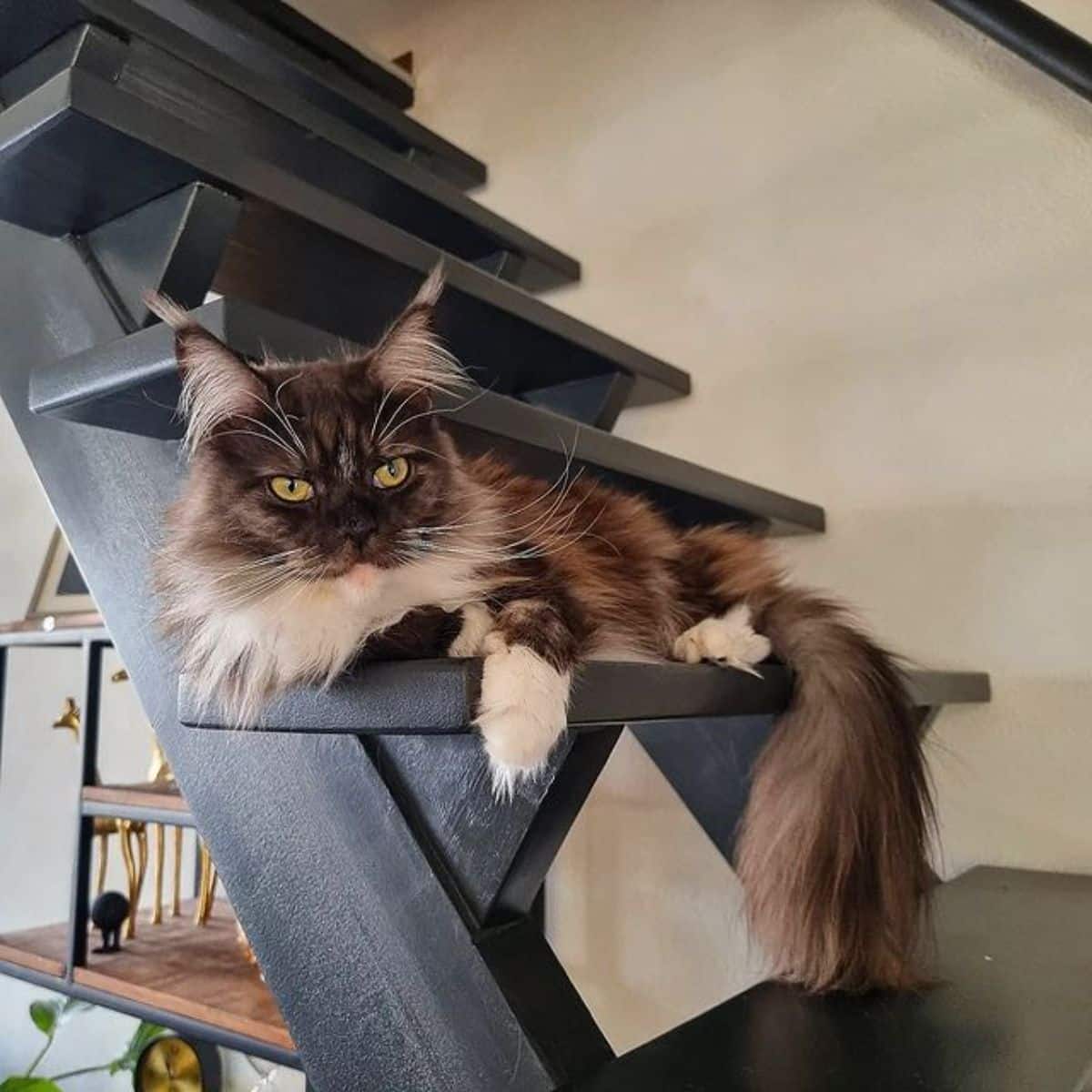 Maxie is a gorgeous tuxedo-like Maine coon with shimmering black fur and lovely light green eyes. She has the standard calm disposition of a Maine coon and has brown and orange patches along her back. Her dainty white paws make her the complete package!
11. Tiger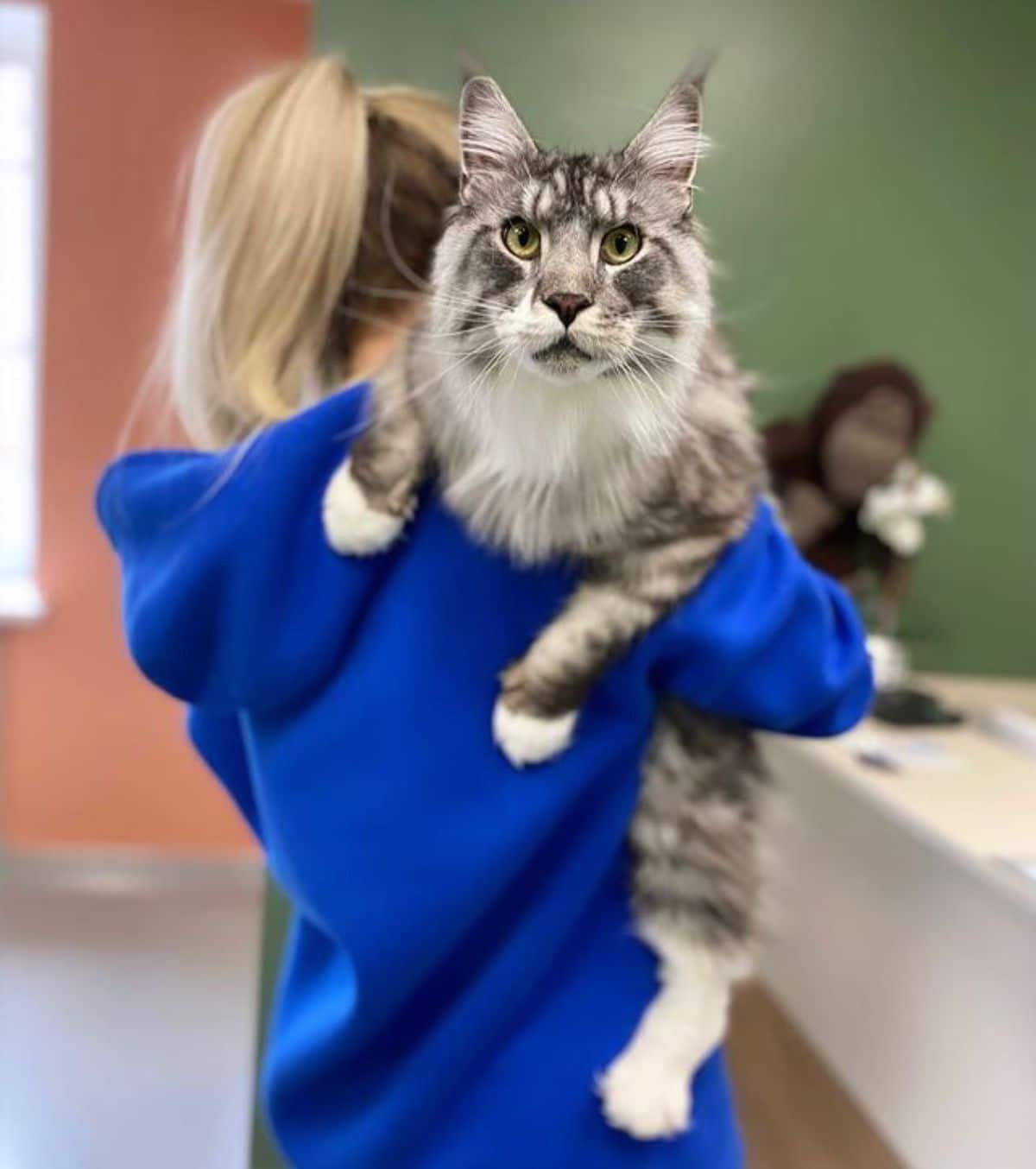 Russia-based Maine coon Tiger resembles a snow leopard or Siberian tiger. His white fur and black and gray stripes give him a stunning and distinct look. Tiger has neon-green eyes that appear rounded and friendly!
12. Cognac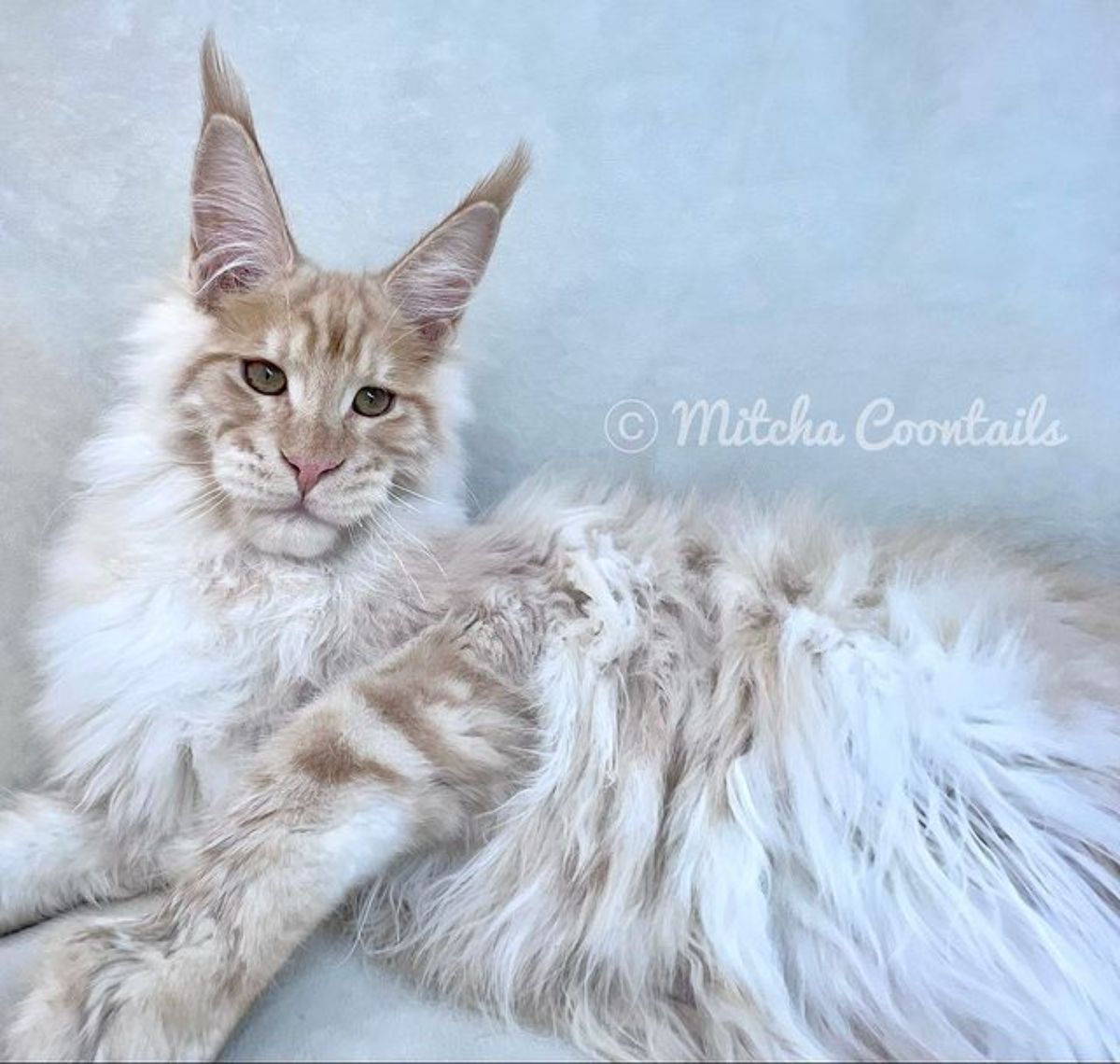 Cognac is a diluted silvery-red Maine coon that's positively swoon-worthy. His masculine, human-like face and high cheekbones accentuate his green eyes and make him quite the handsome gentleman. He lives in Texas with his fellow Maine coon comrades.
13. Samoon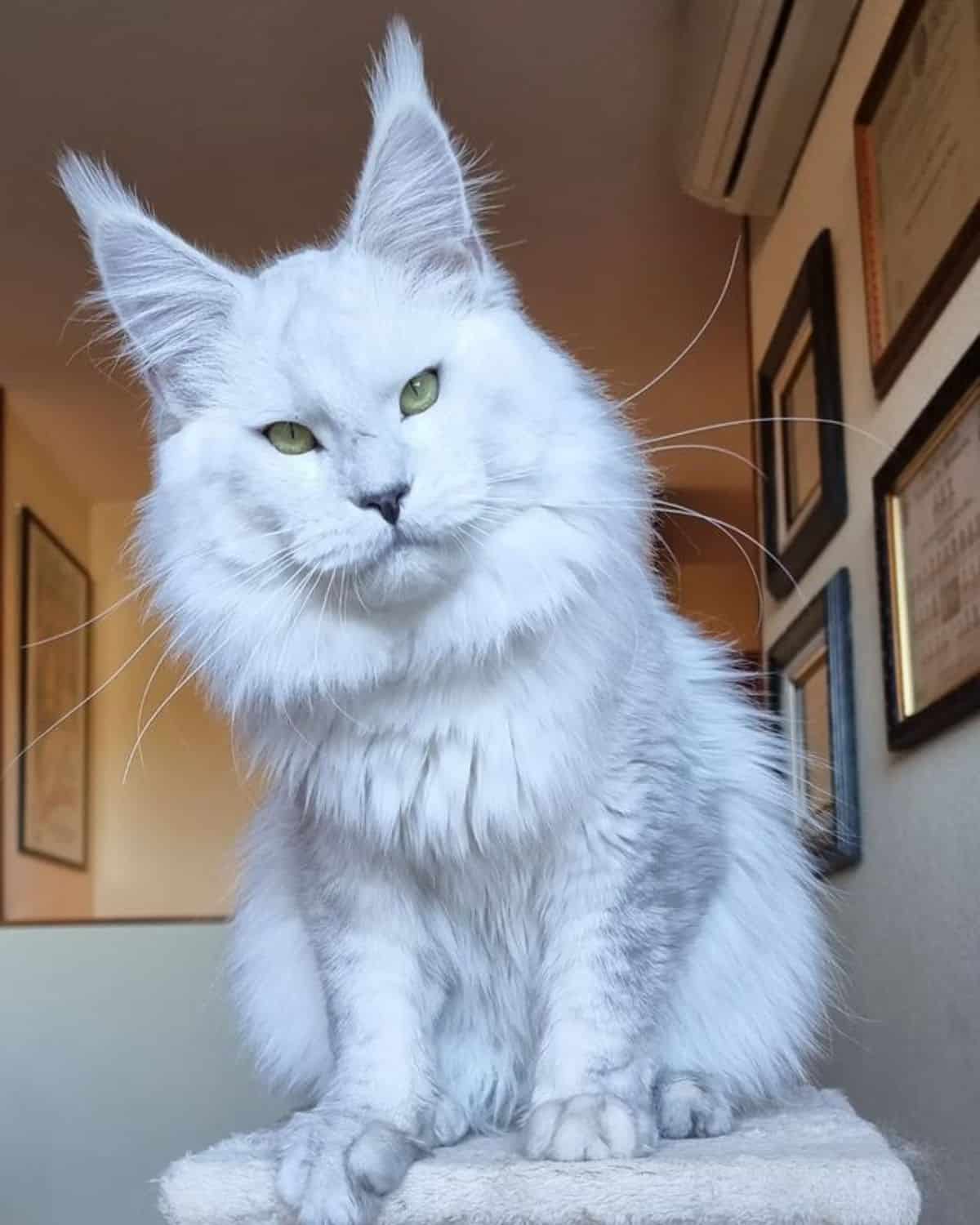 Polar bear-hued Samoon is a majestic pure white Maine coon with green eyes you won't soon forget. This fluffy and handsome guy lives in Spain and loves his cat tree! Samoon has gray-tipped paws and some tufts of gray lining his eyes.
14. Max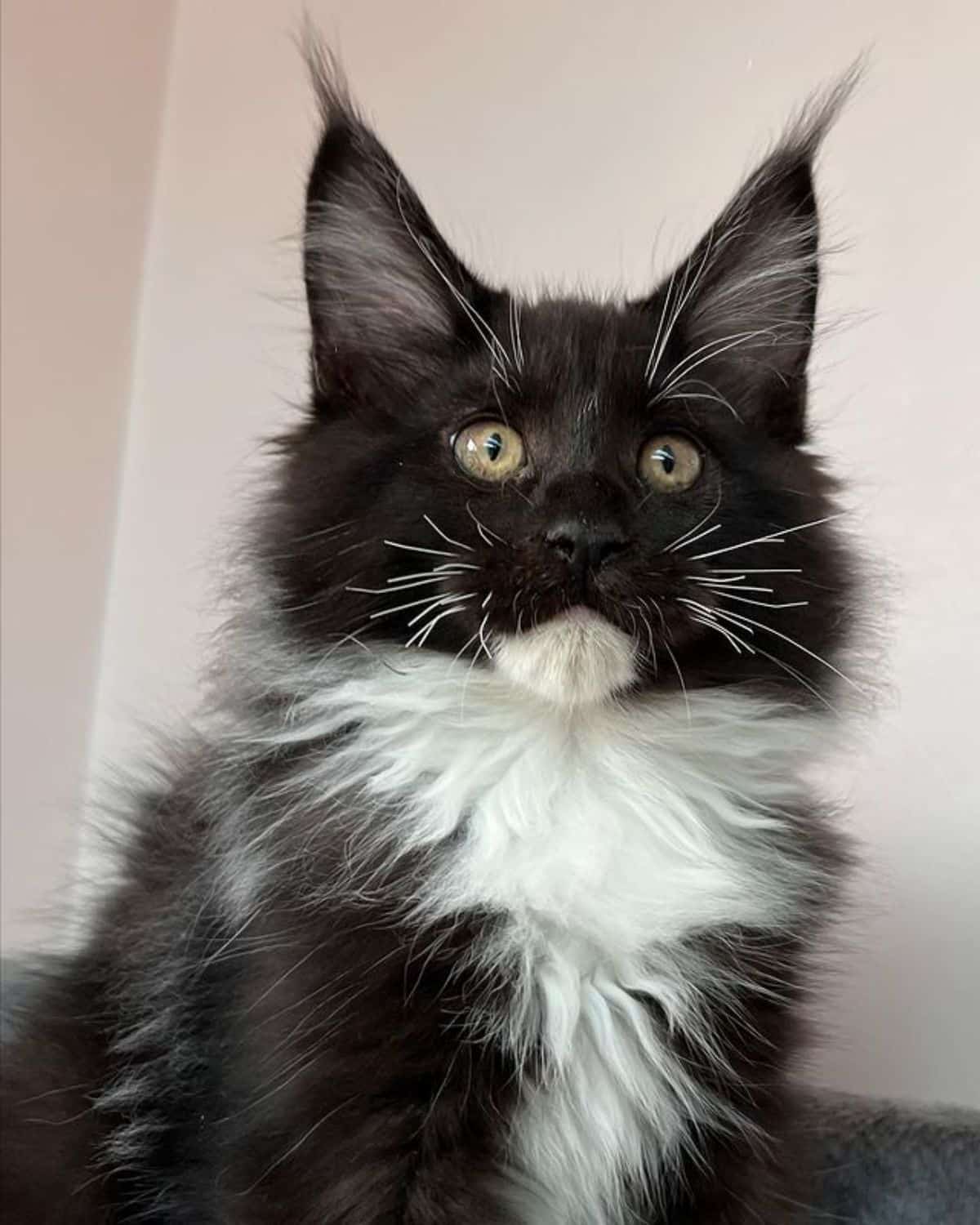 Dapper tuxedo-clad Max lives in the United Kingdom and captures the heart of everyone that sees him. Black and white Maine coon cats are relatively rare compared to the tortoiseshell varieties, so he's a pretty unique boy - and you can't resist those green eyes and pink toes!
15. Grisu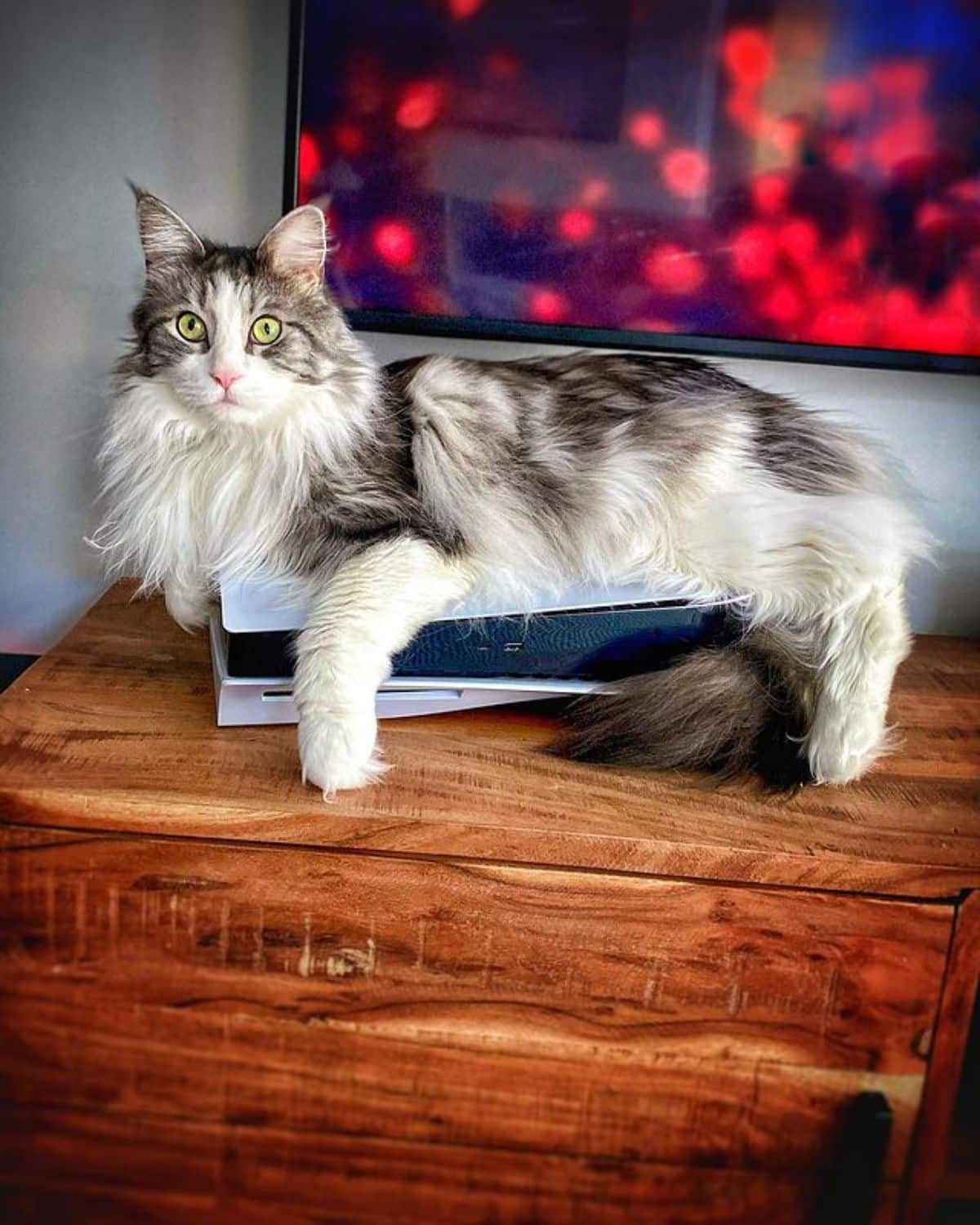 Grisu calls Germany home and lives with his brother, Chewbacca (another Maine coon). His glowing silver coat with black fur along his spine makes his green eyes striking. He looks perfectly suited for a chilly German winter and is soon to turn two years old.
16. Oliver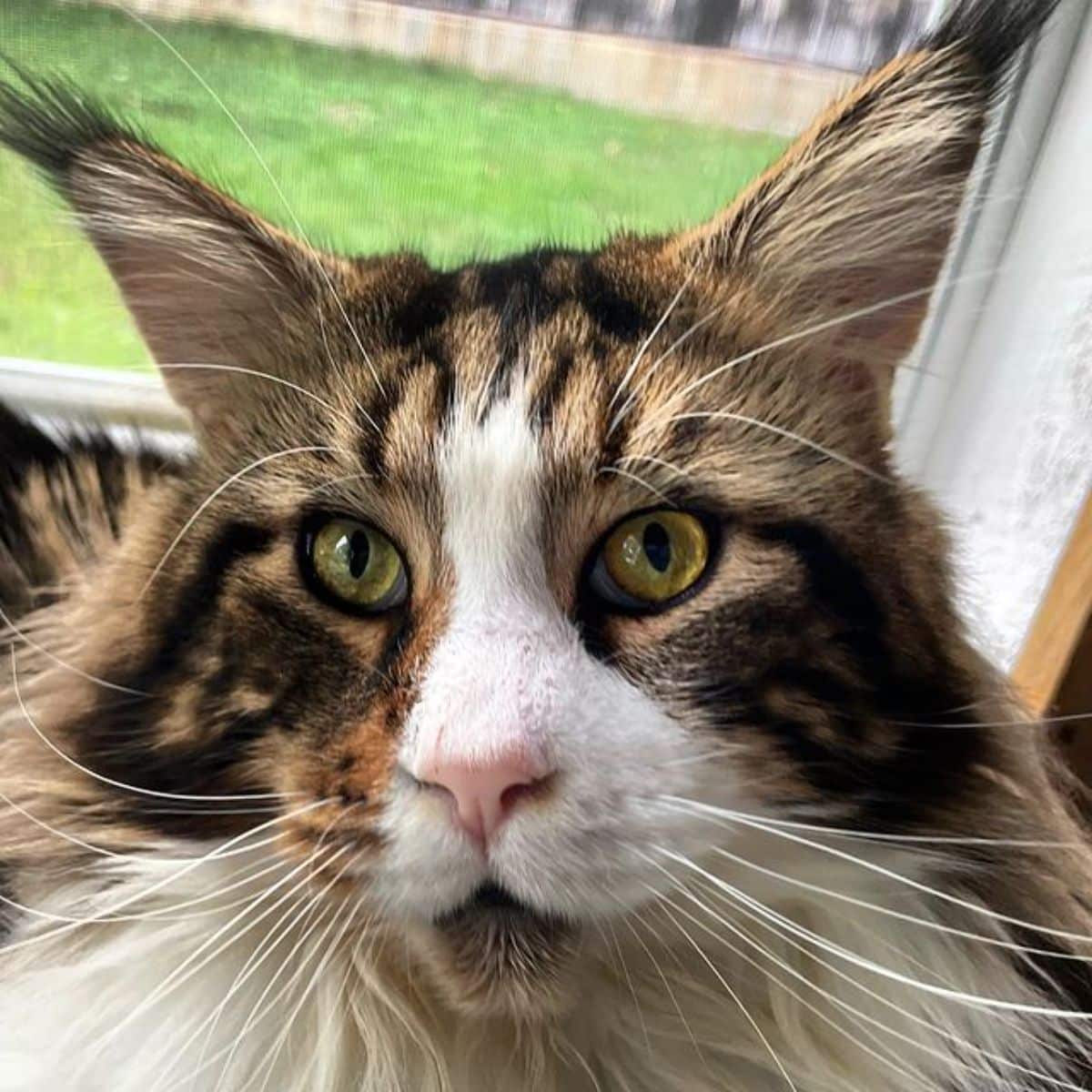 Oliver is an adorable Maine coon with gray, brown, black, and white tabby markings. His green eyes are welcoming and friendly, and he lives in Connecticut with his humans and Maine coon siblings.
17. Bubba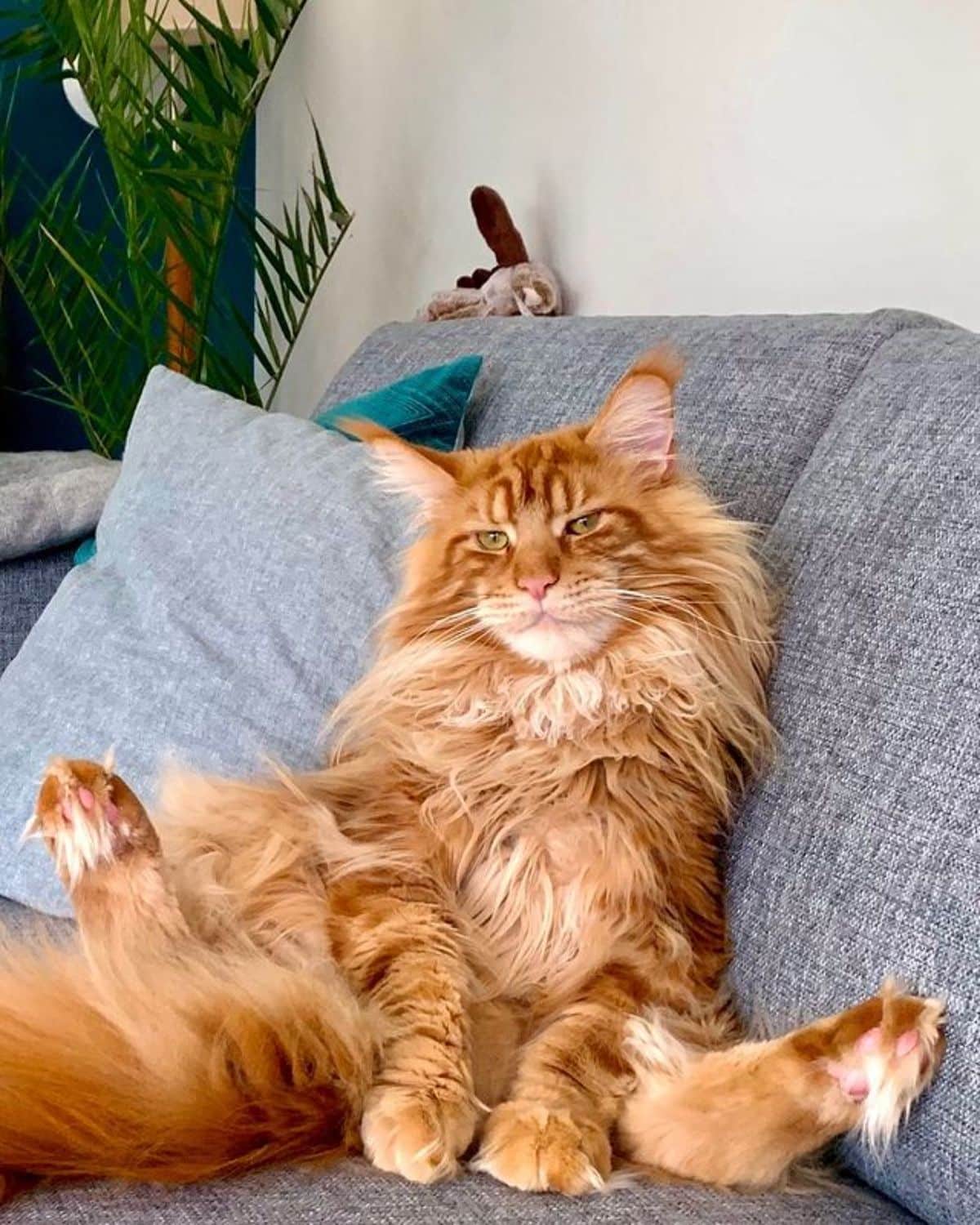 If you've ever wanted a pet lion, an orange Maine coon like Bubba may be the closest you can get. This handsome boy lives in Russia with his feline best friend, Marley. His orange fur looks incredible next to his green eyes, and who can resist that curly tummy fur?
Final Thoughts
Maine coon cats are unique and beautiful cats. Locking eyes with a green-eyed Maine coon cat will leave you mesmerized! They are not only beautiful - but intelligent and affectionate cats that leave a lasting impression.