A lion cut is one of the adorable Maine Coon cat haircuts that will make your cat look like a tiny lion. By trimming down the fur on your cat's body but leaving the fur around its neck long, Maine Coon cats go from being the king of your household to resembling the king of the jungle.
Check out these 11 adorable examples of a Maine Coon with a lion cut hairstyle for a dose of cuteness or inspiration for your cat's next visit to the groomer.
Jump to:
1. Maine Coon Cats Look Adorable With Lion Cuts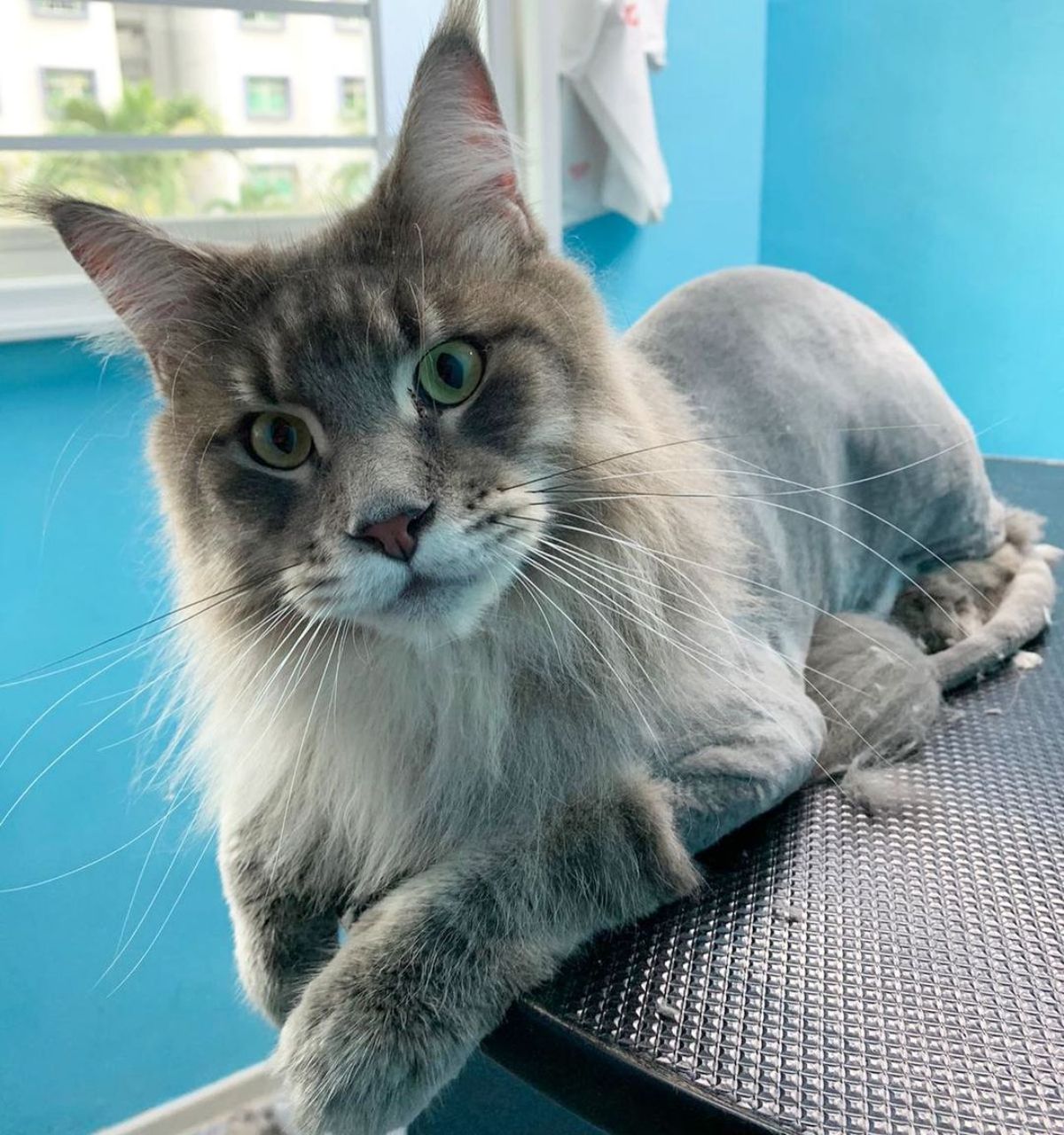 Maine Coon's are well-known for their fluffy hair and lion-like mane, but stylish pet owners go one step further and shave the body hair of a Maine Coon to make their cat look like a lion.
Groomers sometimes shave parts of a Maine Coon's fluffy tail leaving only the end unshaven for a fluffy ball of fur at the tip of the tail. Alternatively, some groomers leave the whole tail unshaven for a dramatic effect between the body and tail.
2. Maine Coons Need a Lion Cut Once Every Two to Three Months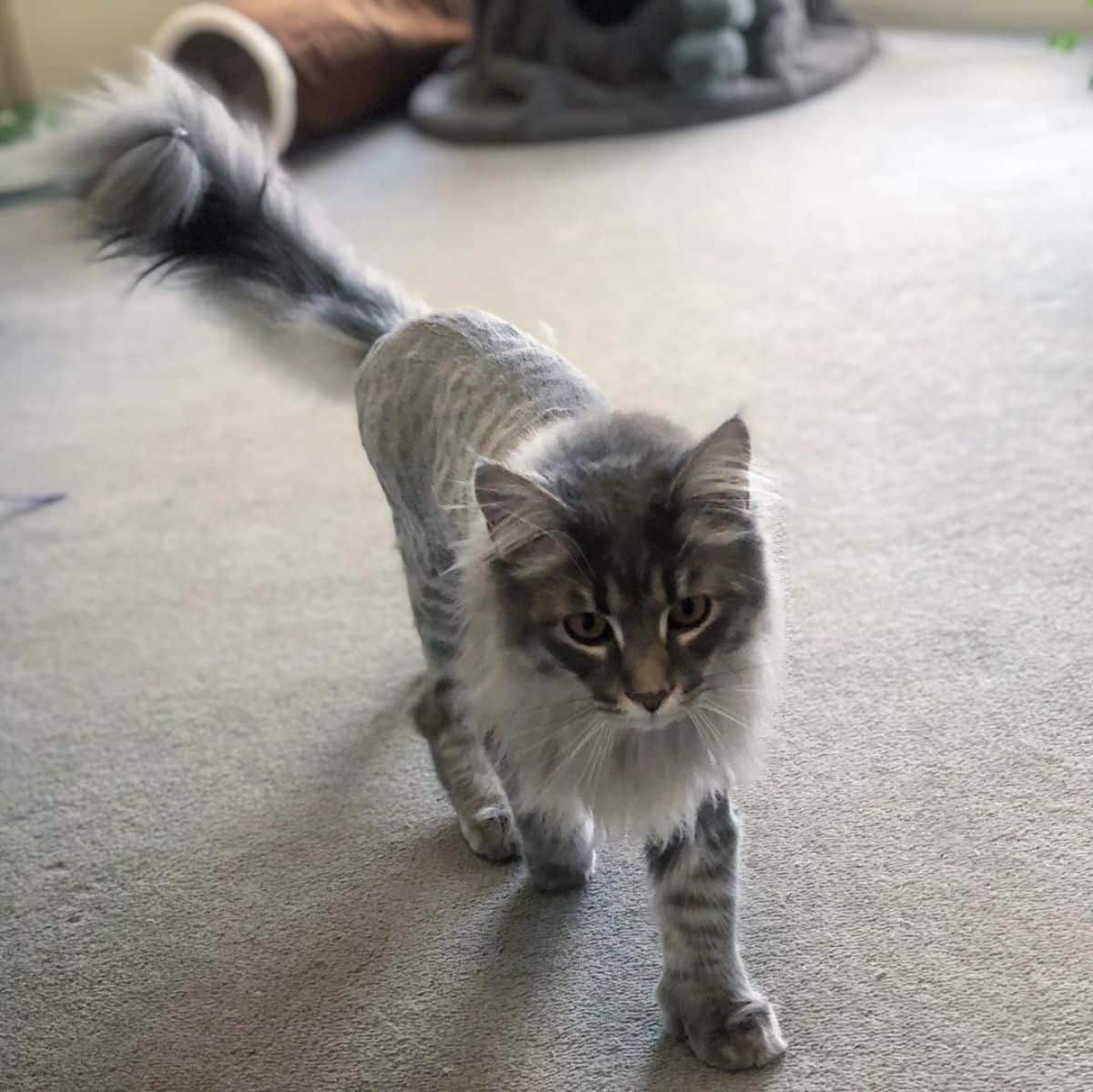 The adorable lion cut on a Maine Coon cat should be redone every eight to 12 weeks. The long fur of a Maine Coon will grow out within three months, so even if you or your cat don't love this style, it's completely reversible.
A regular grooming schedule, like every two to three months, will help keep your Maine Coon's fur free of mats and help your house stay (a little bit) cleaner from shed fur.
3. Lion Cuts Help Maine Coon Cats Stay Matt Free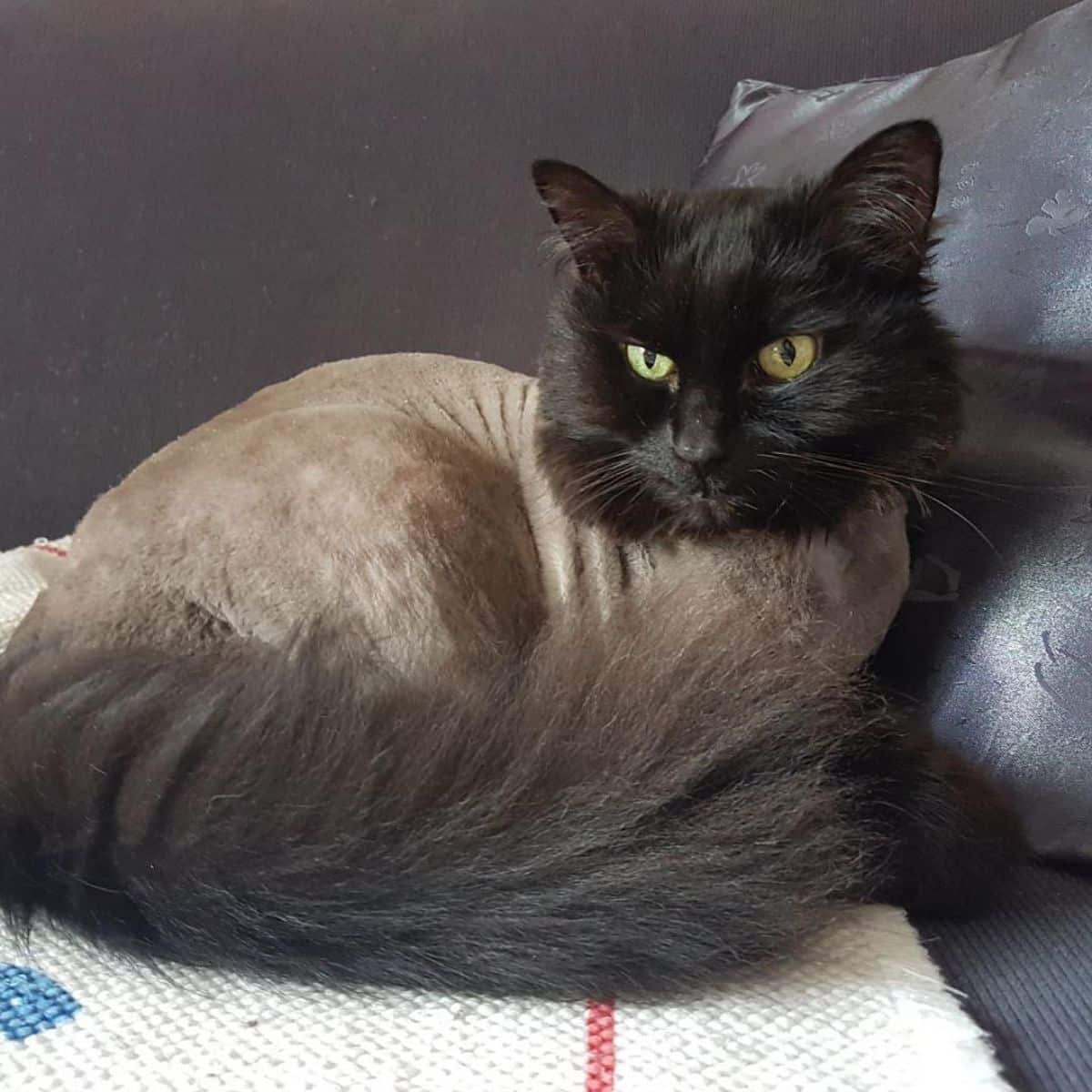 One of the reasons pet owners love Maine Coon cats is because of their long and luscious fur. Unfortunately, these adorable creatures are prone to matted fur and tangles.
The problem with matted fur is that it blocks moisture from getting to areas of your cat's skin. These blockages create dry skin that gets irritated and causes cats to scratch that area, shedding a wig's worth of hair in the process.
A lion cut on a long-haired cat like a Maine Coon will reduce the number of knots and mats, reducing skin irritations and the amount of time you spend brushing the knots.
4. Maine Coon's Are Native to Maine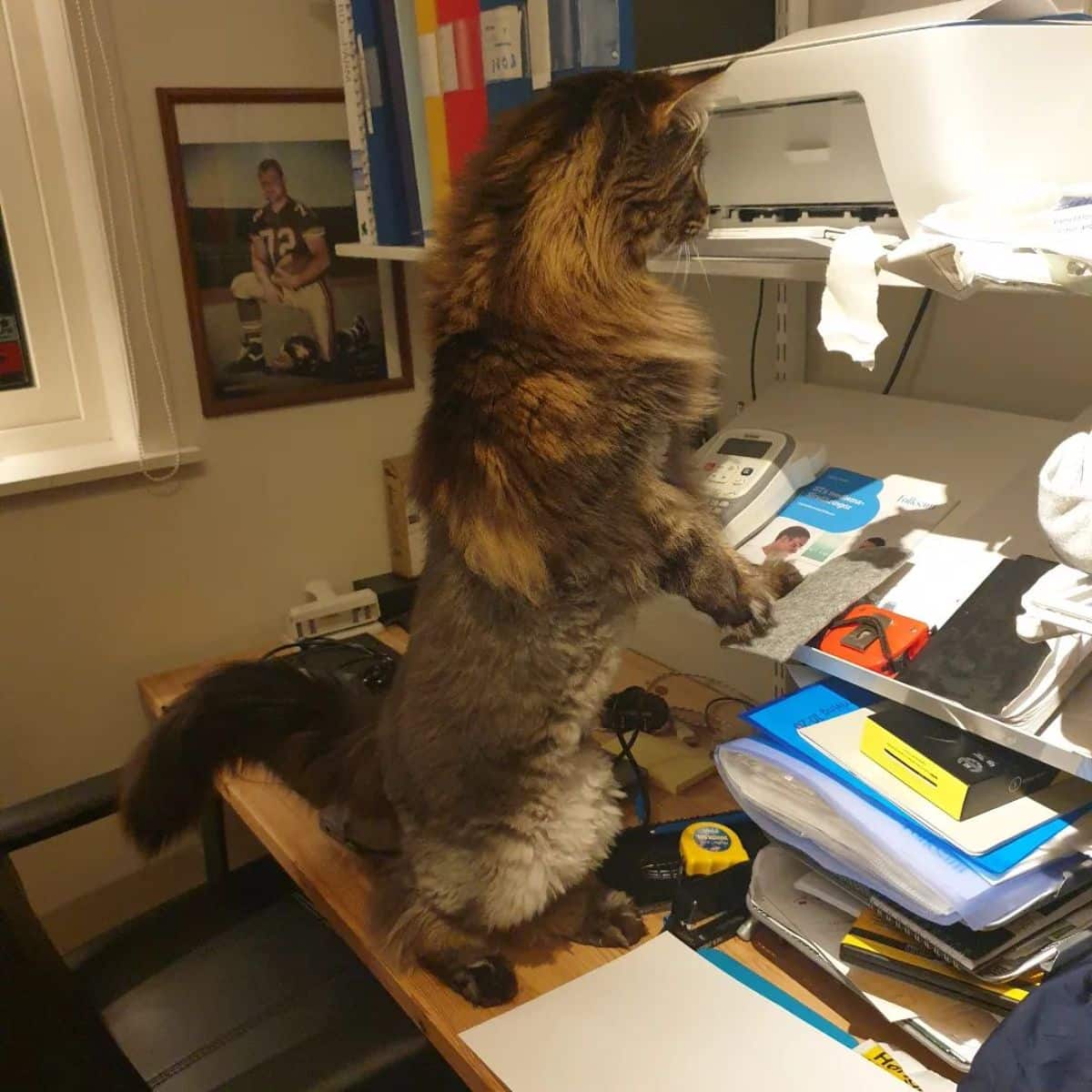 While lions are certainly not native to the United States, Maine Coon cats are. The origin stories of this adorable cat species are mysterious, with some saying they came from Viking ships, Marie Antoinette, and others believing they have raccoon DNA.
The most popular origin story involves aspects of the three theories above. When British Captain Charles Coon docked in Maine, New England, his long-haired cats would leave the ship and mate with local cats. The kittens were named after the captain as Coons' cats, creating the Maine Coon as we know it today.
5. Lion Cuts Are Best for Maine Coon's in the Summer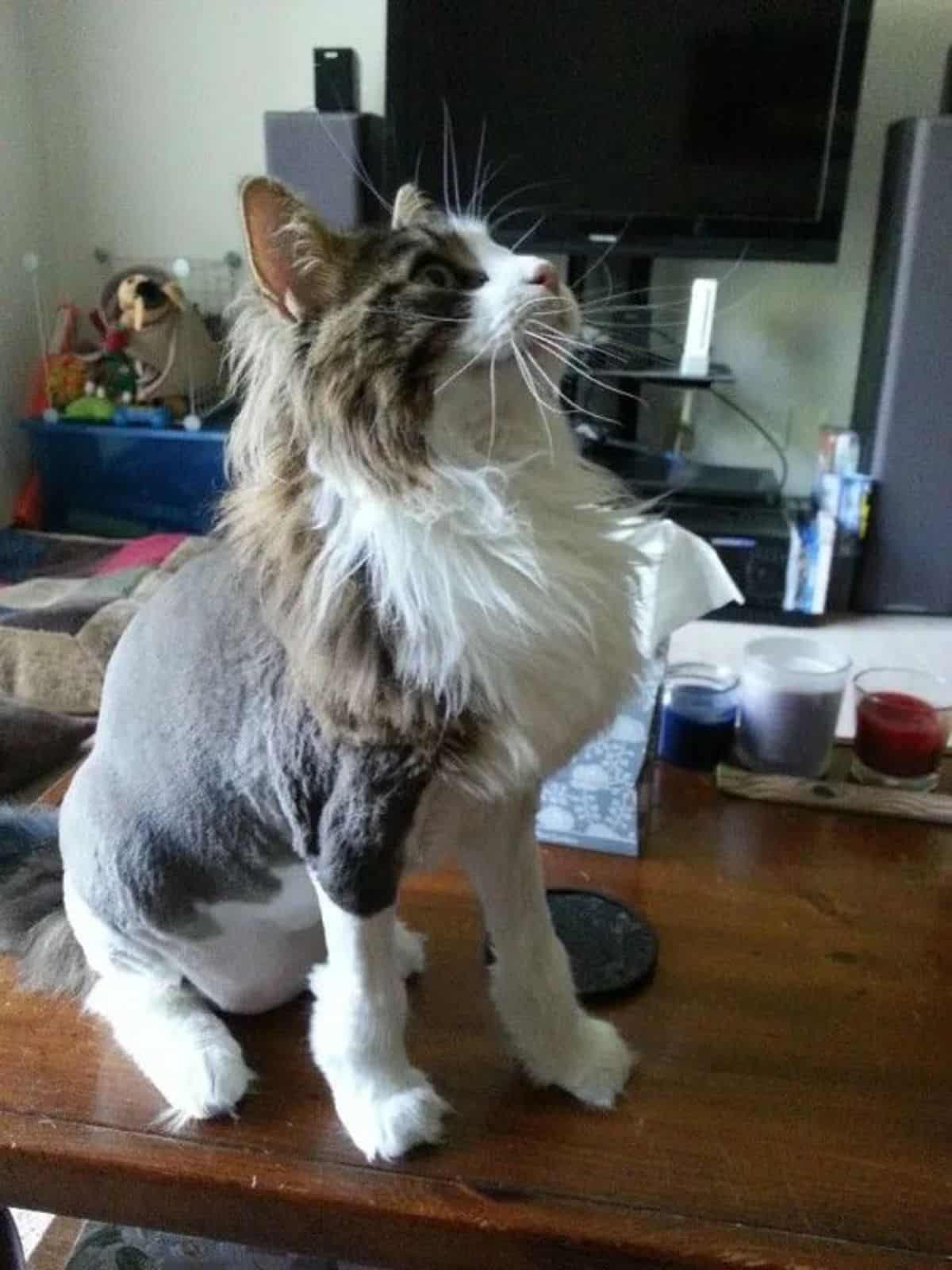 Maine Coons are well-equipped for snowy winters with their long, thick fur. That's why a lion cut is best for Maine Coons during the hot summer months.
Your Maine Coon will need its thick coat if your cat is an outdoor cat and you live somewhere that sees snow. A lion cut is a great option to alleviate excess shedding during the summer months.
6. The World's Longest Cat Is a Maine Coon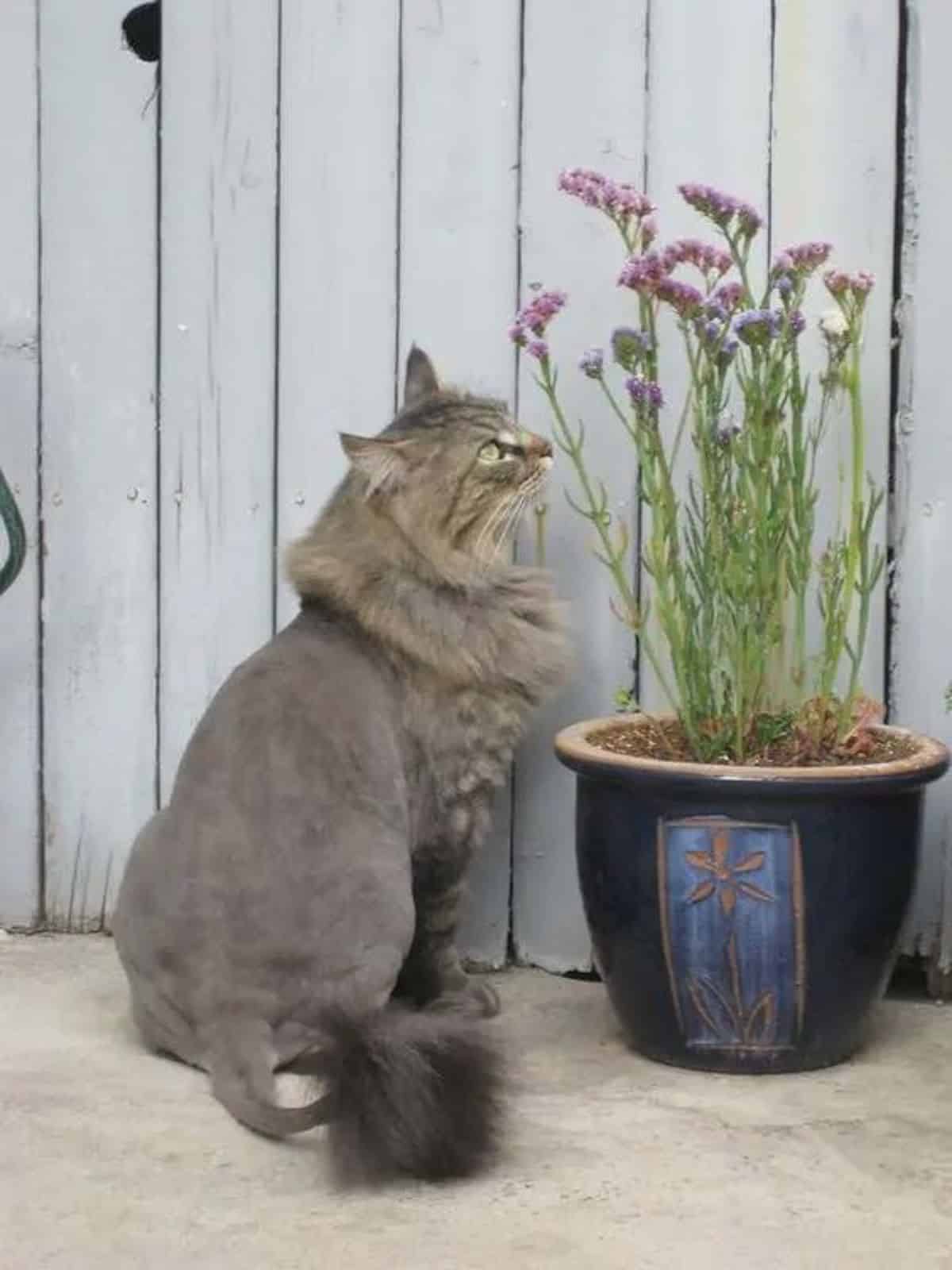 According to the Guinness World Records, the longest domestic cat living and the longest domestic cat ever are both Maine Coons.
Since Maine Coons are such long cats, their body and fur type perfectly suits a lion cut. Though a Maine Coon's length isn't on par with a lion, this haircut on these big cats will make people look twice.
7. Maine Coon Cats Like Water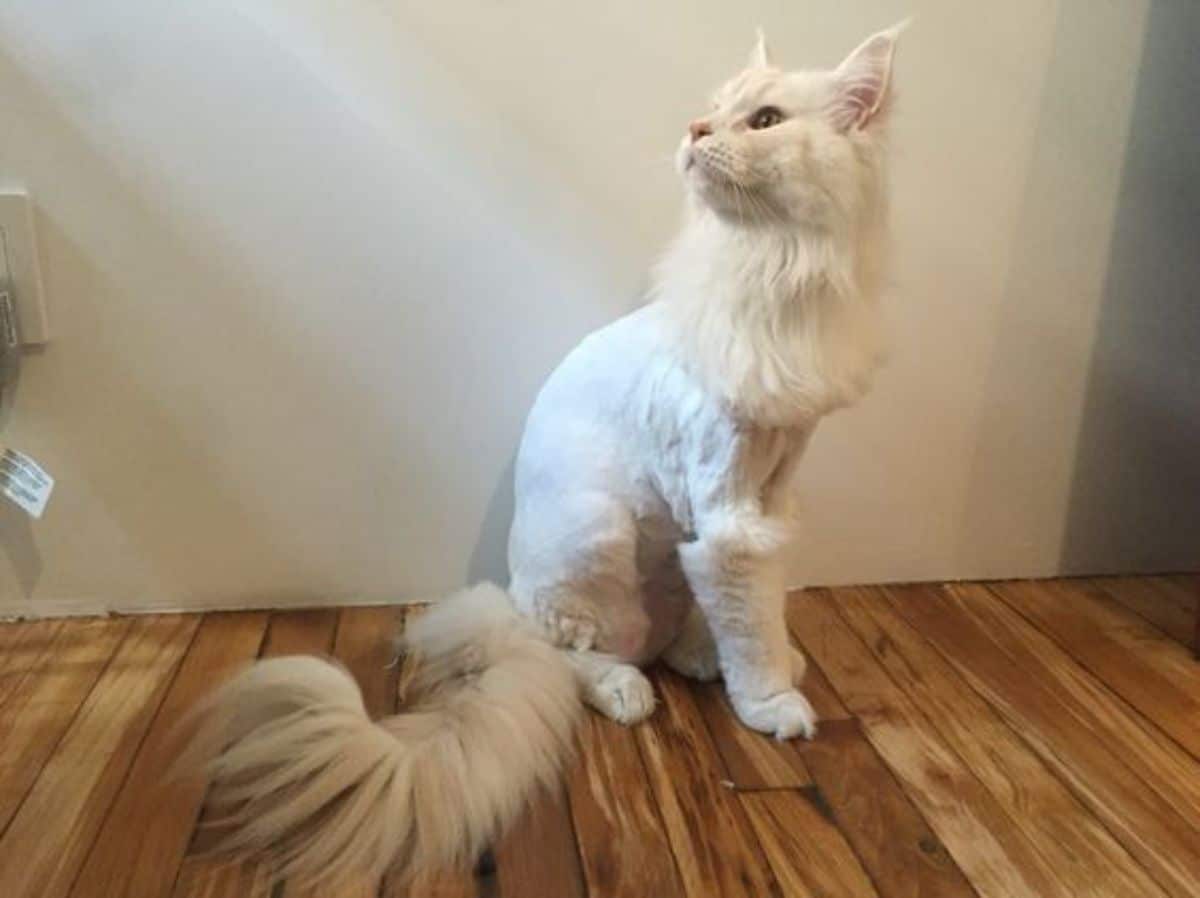 Did you know that Maine Coon cats like water? Many domestic cats hate the idea of getting wet, but Maine Coons don't despise it.
Getting a bath before a lion cut is a pleasurable experience for many Maine Coons, so this stylish haircut is a treat for both you and your furry friend.
8. Maine Coon's Have Good Tempers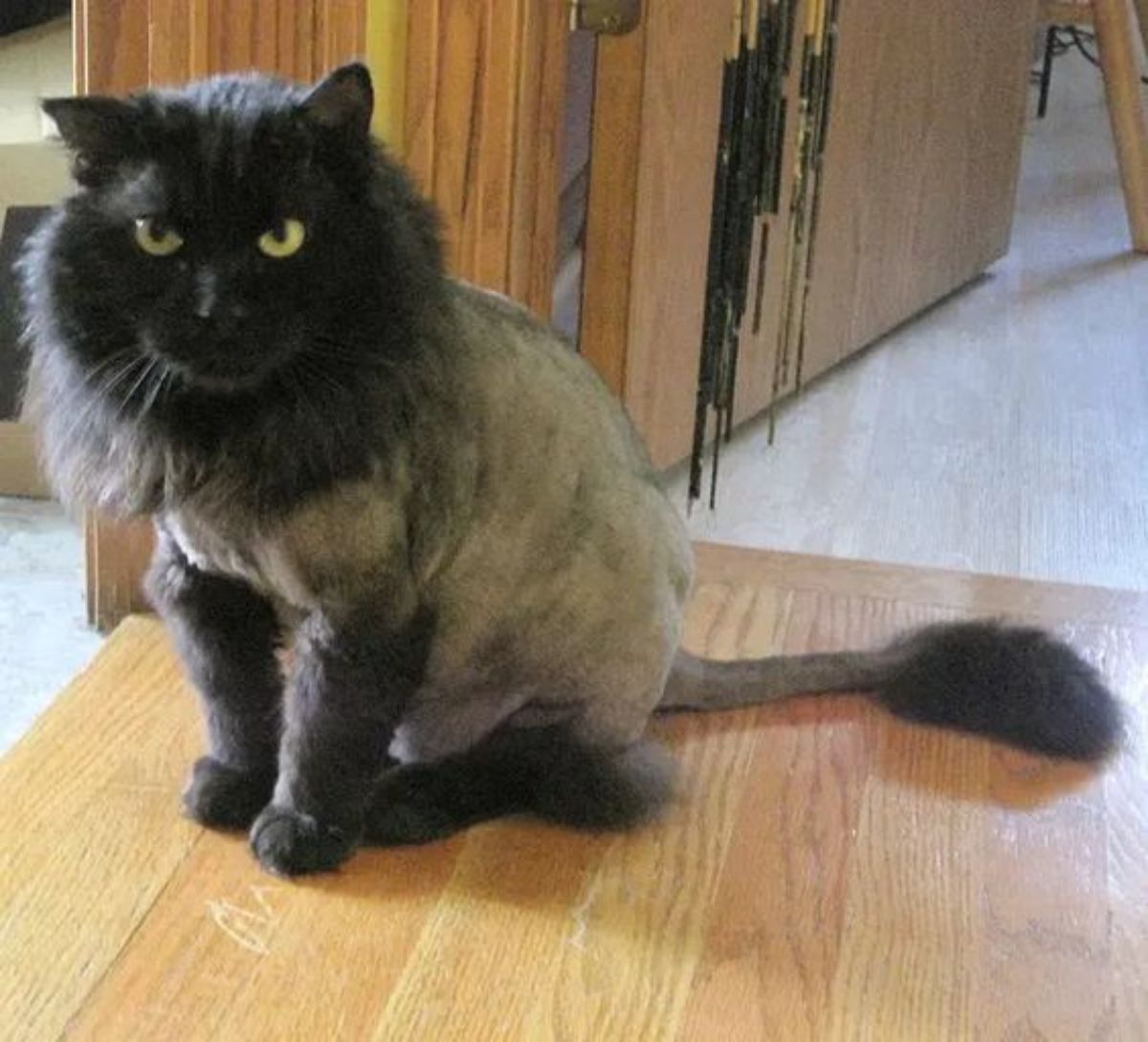 Apart from their adorable features, Maine Coon cats typically have good tempers. Unlike a savage lion hunting in the savannah, a Maine Coon with a lion cut is likely to be playful and sociable.
With a good temper and a lion cut, Maine Coon cats are gentle giants who will pose for some adorable photos.
9. You Can Train Maine Coon's With Lion Cuts To Use a Leash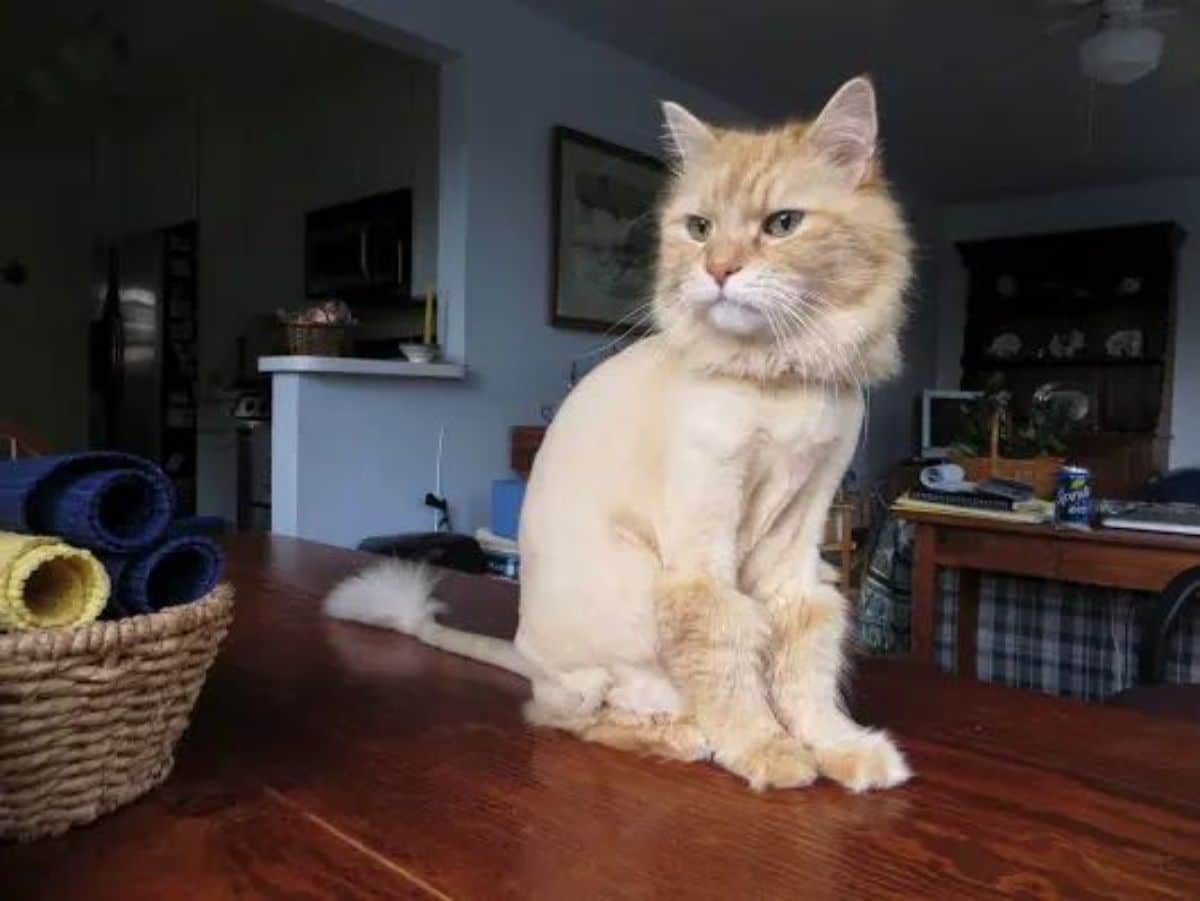 Walk your pet Maine Coon and show off its lion cut to all the neighbors. That's right; you can leash-train train Maine Coon cats.
Maine Coon cats are fast learners regarding leash training. Plus, with a fresh lion cut, your cat will be the talk of the town after strutting its stuff down the street.
10. Maine Coon Cats Starred in Harry Potter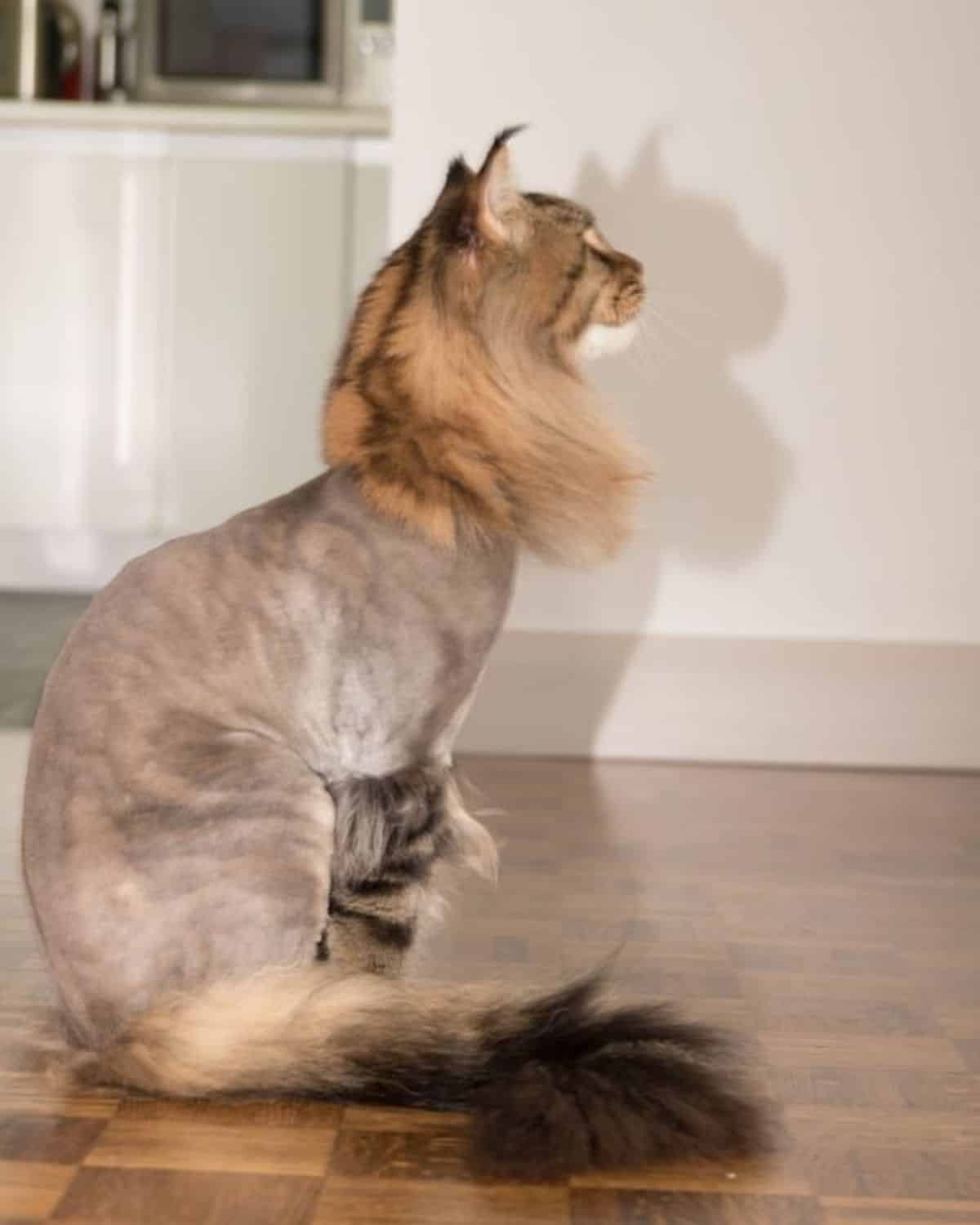 It's no surprise that Maine Coons have taken over some of our favorite Hollywood films because these feline divas only gain ten pounds of fluff on film. The Harry Potter movie series repeatedly used a Maine Coon cat to depict Mrs. Norris, the familiar of the cranky caretaker Mr. Filch.
11. Someone Successfully Cloned a Maine Coon Cat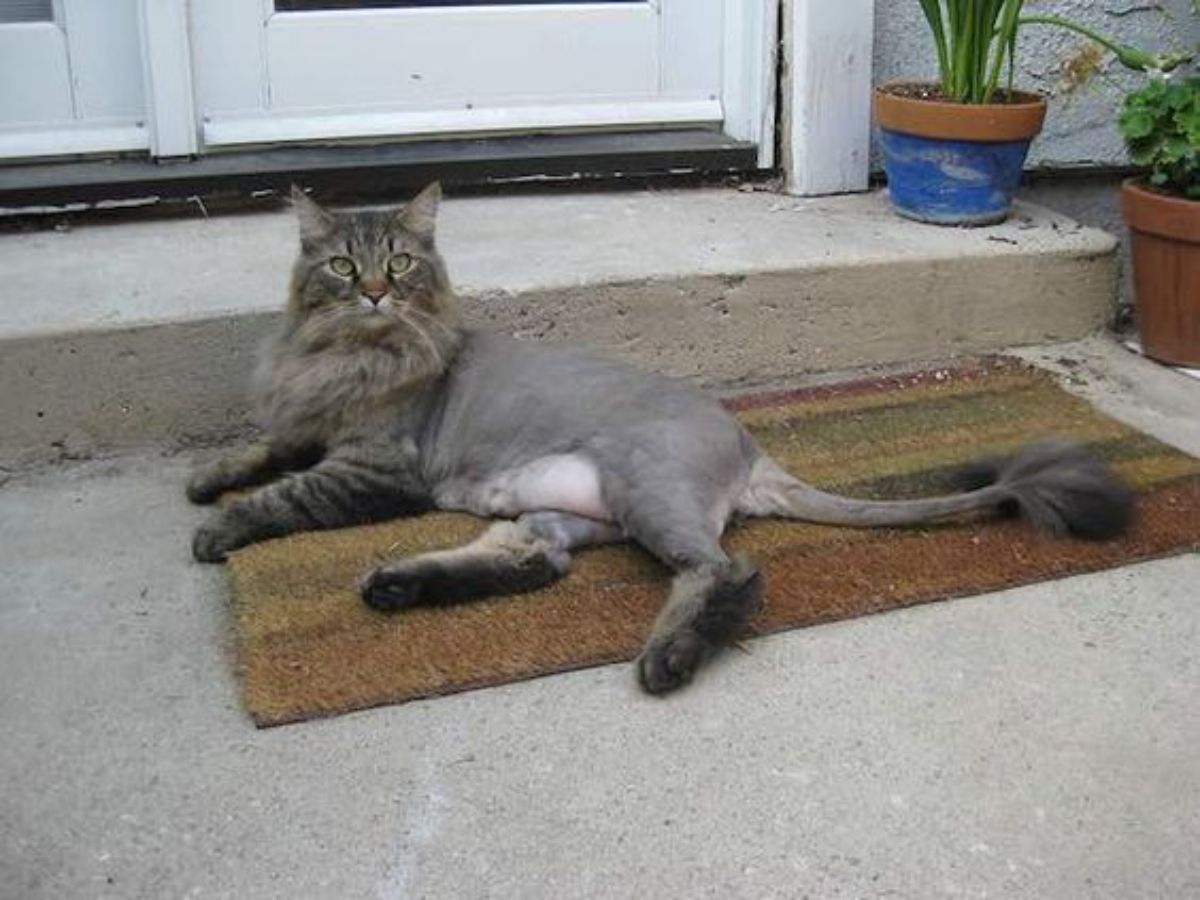 One of the wildest stories about Maine Coons is that one pet owner paid a lab to clone her dead Maine Coon cat. The owner was able to have an exact replica of her dearly departed friend. Little Nicky was born in 2004 and is the first commercially-produced cat clone. The news of Little Nicky sparked controversy amongst many animal societies.
Conclusion
Head to your next grooming appointment prepared with a preferred style for your furry best friend. Show these 11 adorable Maine Coons with lion cuts to your cat stylist and watch your kitty turn into a lion.
Frequently Asked Questions
Check out the answers to some of the most frequently asked questions about Maine Coon cats with lion cuts below.
How long does a lion cut last on a Maine Coon cat?
The lion cut on a Maine Coon cat typically lasts between eight to 12 weeks after leaving the groomer. If your feline friend isn't a fan of car rides, regularly visiting the groomer once every two months for a lion cut may help your cat become more comfortable riding in the car.
Can any cat get a lion cut?
Yes. Any cat can get a lion cut. However, long-haired cats like Maine Coons have a more visible lion-like mane. Lion cuts are typically done for aesthetics and to remove matted hair on long-furred cats. 
Is it cruel to give a cat a lion cut?
No. Giving a cat a lion cut simply means trimming parts of its fur shorter than its mane. A lion cut does not hurt the cat at all.
That said, some cats do not enjoy it when groomers shave their hair, which can cause stress. Consider an alternative grooming technique if your cat acts aggressive, scared, or abnormal after getting a lion cut or any other grooming service.