Who doesn't love baby animals? If you have a wonderful cat as a pet, you are sure to enjoy looking at and playing with kittens. One of the most interesting breeds around is the Maine Coon cat, which is much larger than the typical cat.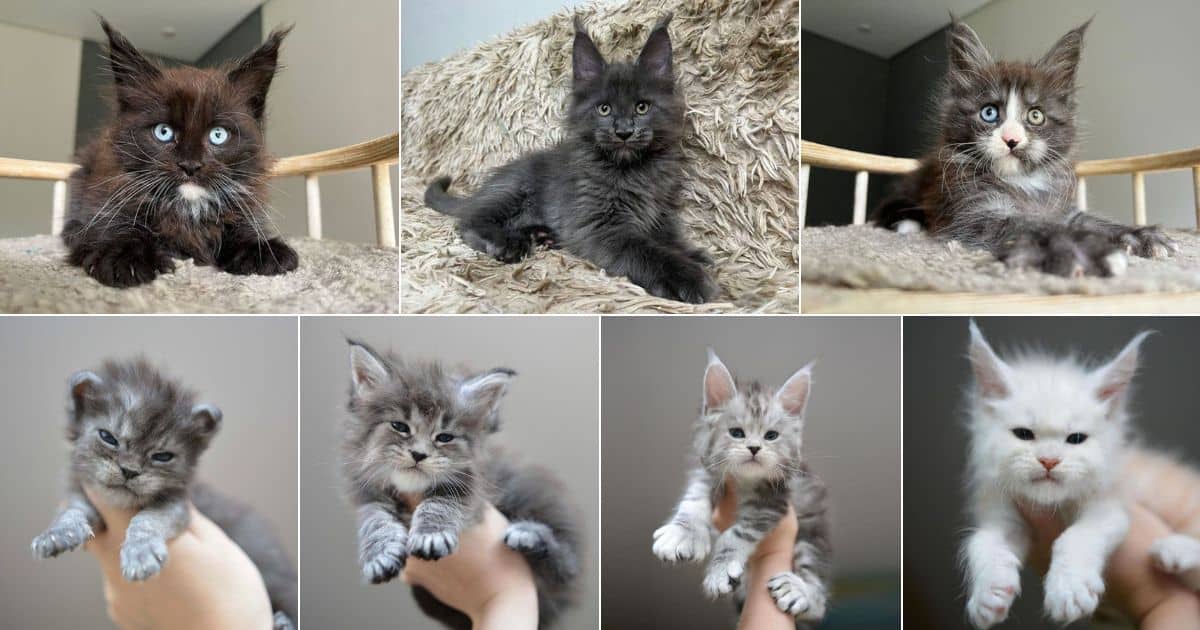 If you want to see some unique and adorable photos of tiny Maine Coon newborn kitties, we've got you covered. Below, we describe the basic information about Maine Coon newborn kittens and provide the best 17 photos of cute Maine Coon newborn kitties. Ready to get started? Then, read on!
Jump to:
How Many Kittens Does a Maine Coon Usually Have?
You will find that the typical Maine Coon cat usually has a small litter of kittens. They have about three to five kittens per litter. It's very rare for these cats to deliver six or more kittens.
How Do You Tell If a Newborn Kitten Is a Maine Coon?
You can tell that a newborn kitten is a Maine Coon breed if the kitty has large ears and paws along with a rectangular body shape. The kitten's coat is also made of medium-length thick fur.
What Does a Three-Week-Old Maine Coon Kitten Look Like?
A three-week-old Maine Coon kitten is a very cute, fluffy, and huggable animal. The fur is soft and thick. The kitten isn't quite too steady on his feet but is more determined than in the first two weeks to start moving around.
17 Images of Adorable Maine Coon Newborn Kitties
Check out these 17 photos of incredibly cute Maine Coon kittens below. You won't regret it. They come in all types of colors and have beautiful eyes. Enjoy!
1. Maine Coon Kitten with Different Eye Colors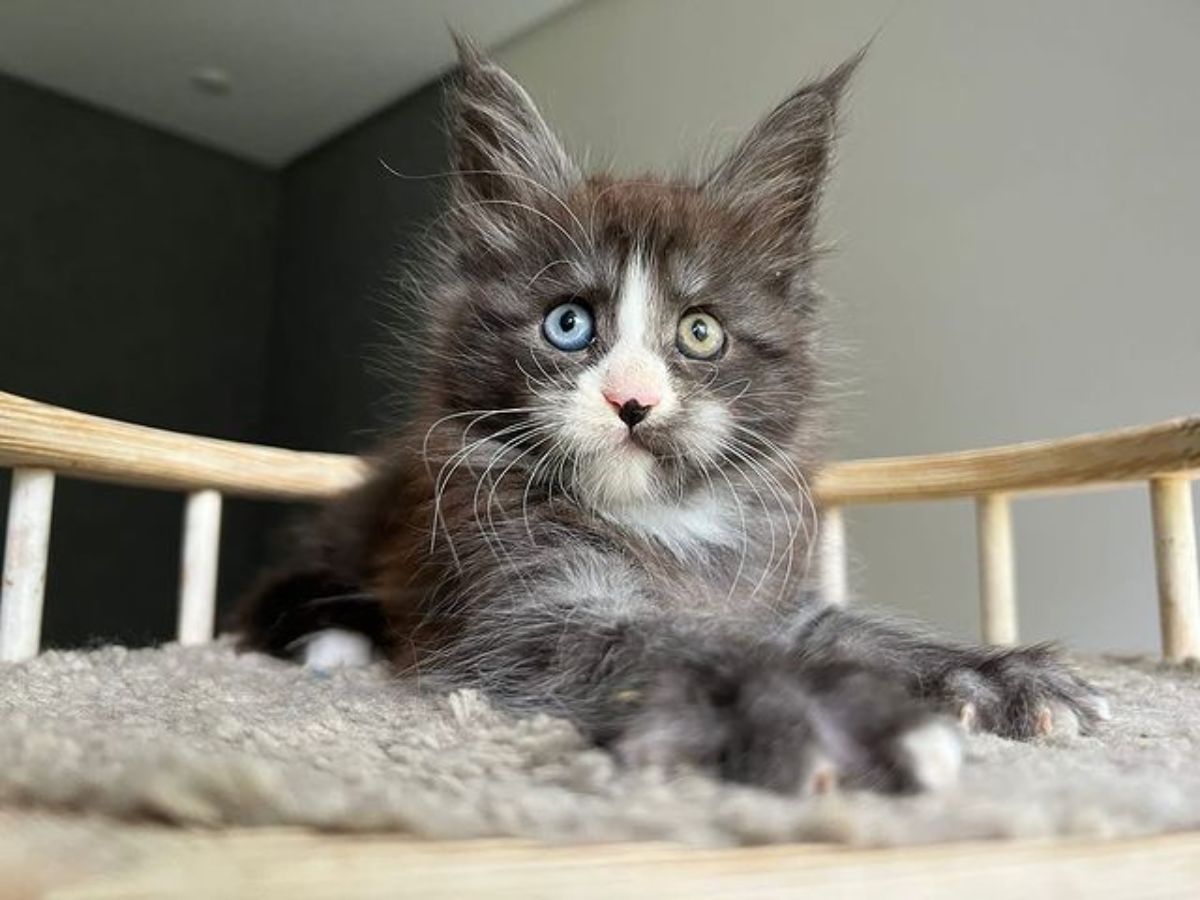 The Maine Coon kitty in this photo has one blue eye and one yellow-green eye. The kitten also has an adorable pink button nose and a black coat with white whiskers.
2. Blue-Eyed, Black Maine Coon Kitten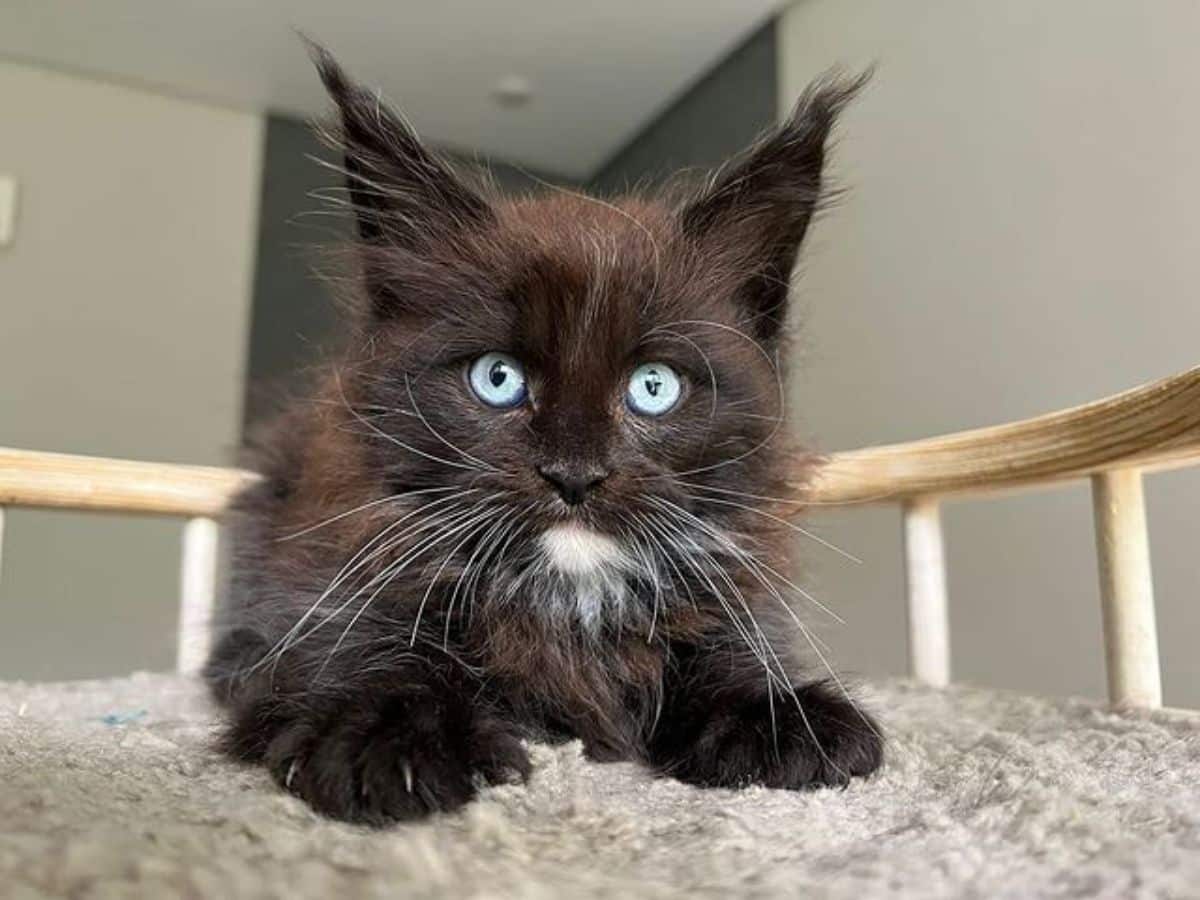 The kitten here has bright-blue eyes staring straight at you. The kitty also has large, black ears and a fluffy coat you're sure to enjoy cuddling up against. Enjoy the cute photo!
3. Fuzzy, Black Kitty with Green Eyes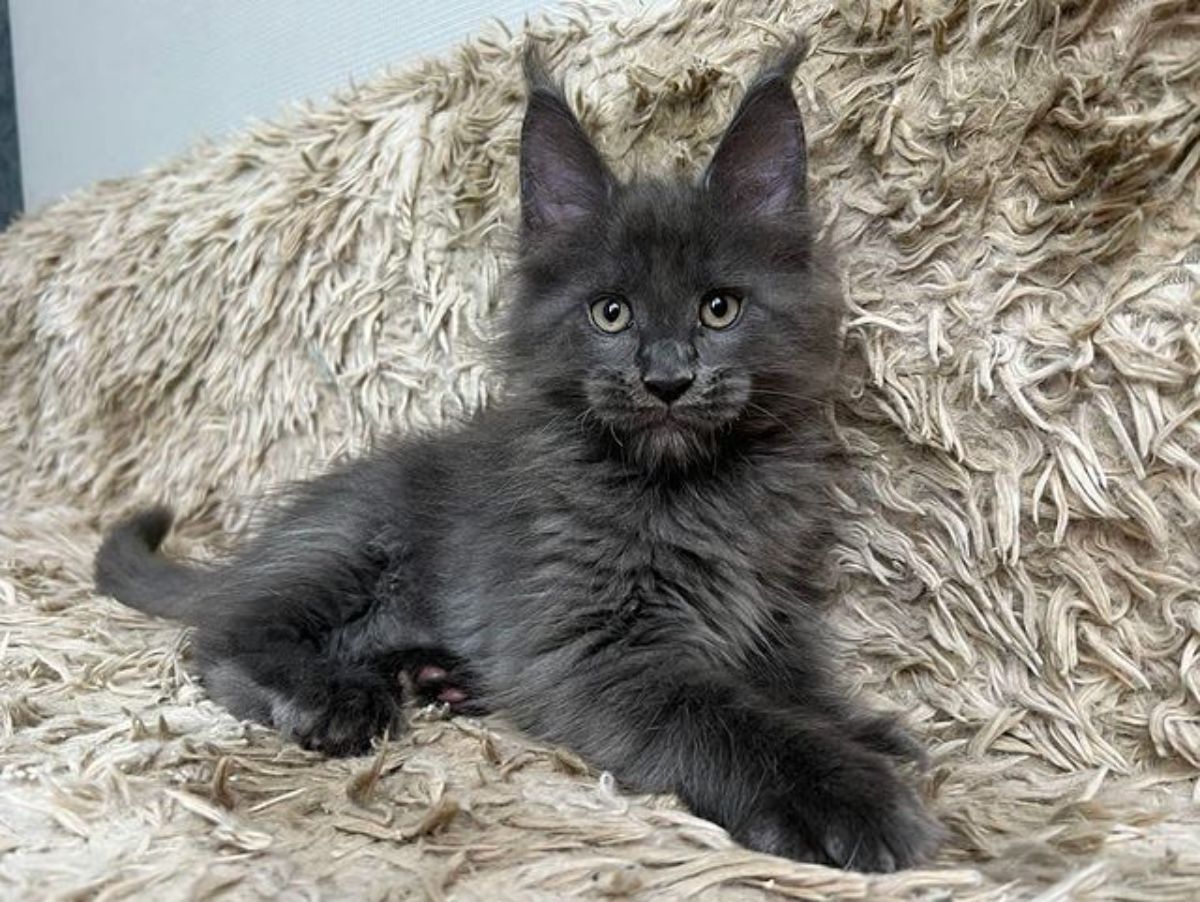 The photo of a fuzzy, black-gray kitten will make you want to nuzzle up by the pet. The kitty is sitting against a furry brown rug and seems to relax.
4. Multi-Colored Kitty with Long Ears and Sad Eyes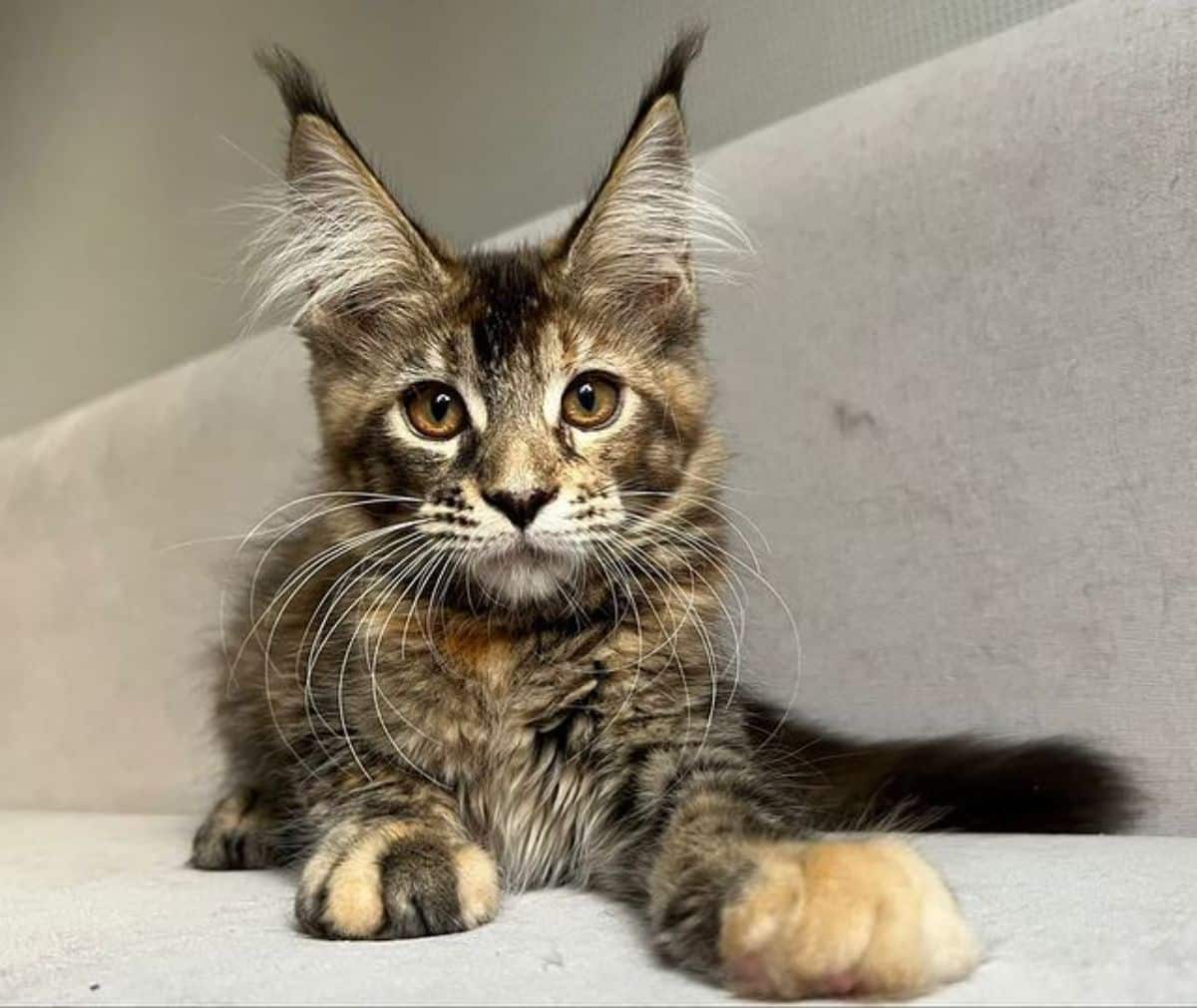 The photo of this kitten shows a multitude of colors. The pet has brown, black, white, and gold colors in its fur. The cat also has long ears and sad, golden eyes.
5. Black Kitty with White Mouth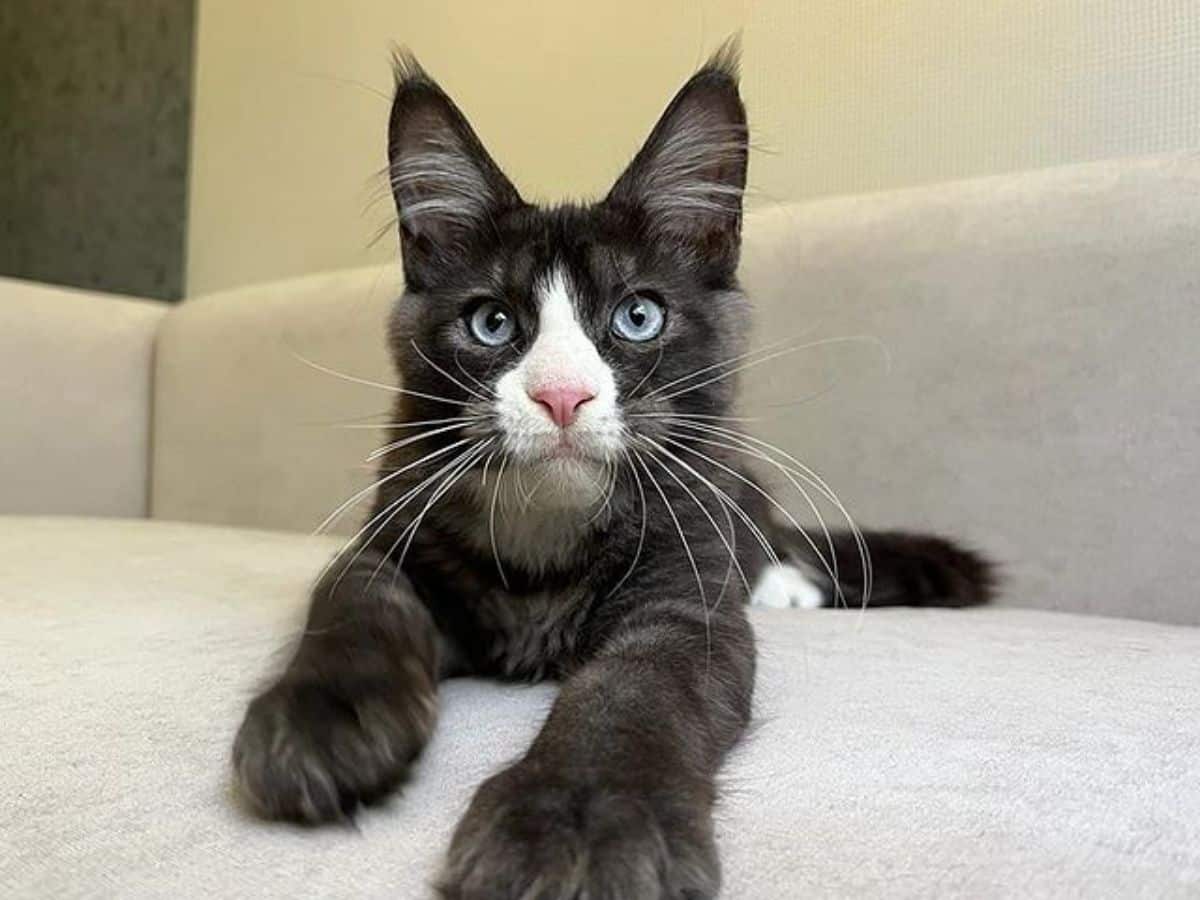 The black Maine Coon kitten in the photo also has a white-colored nose and mouth. The cute cat has blue eyes and a pink nose to sniff around the house. The sweet cat is relaxing on the couch.
6. Orange and Grey Newborn Maine Coon Kittens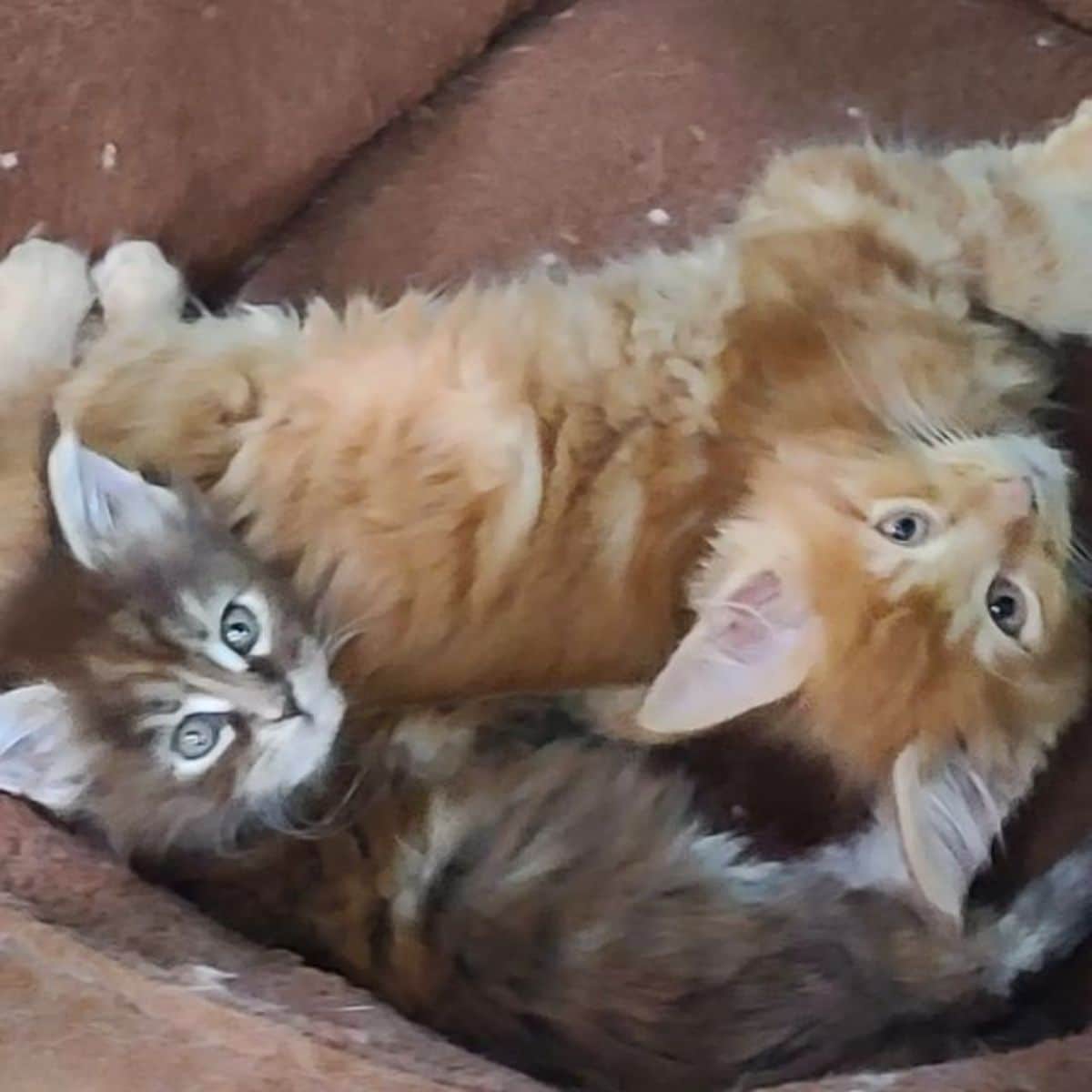 Here, the gray-colored kitten is playing and cuddling up next to the orange Maine Coon kitten. They're awfully small, so you know these playful kittens were born recently.
7. Silly Grey Newborn Maine Coon Kitten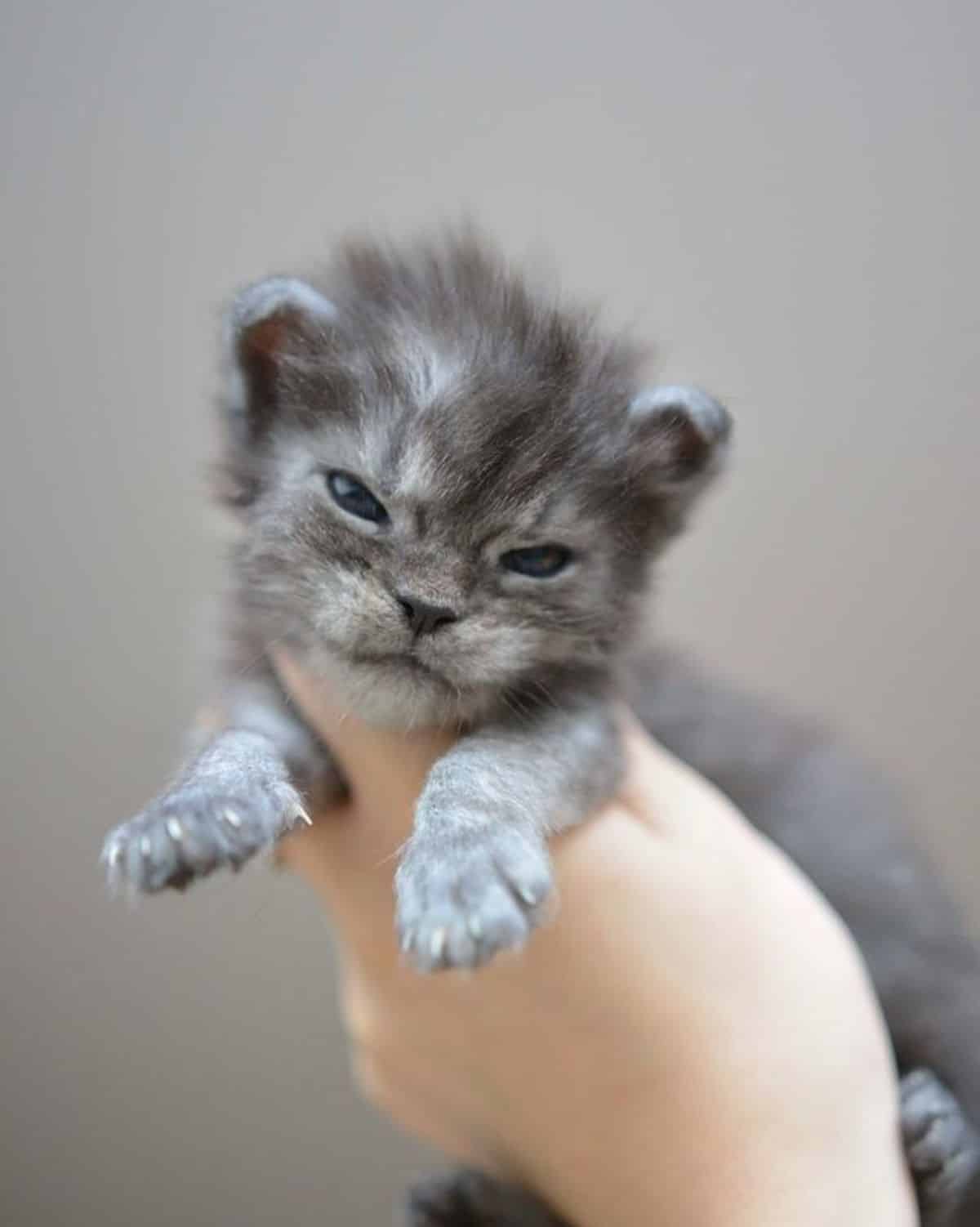 The Maine Coon kitten in the photo has cute, rounded ears. It has a silly face with its arms outstretched to hug you. The gray kitten looks tiny, so it's clear the cat was born just last week.
8. White and Orange Maine Coon Kitty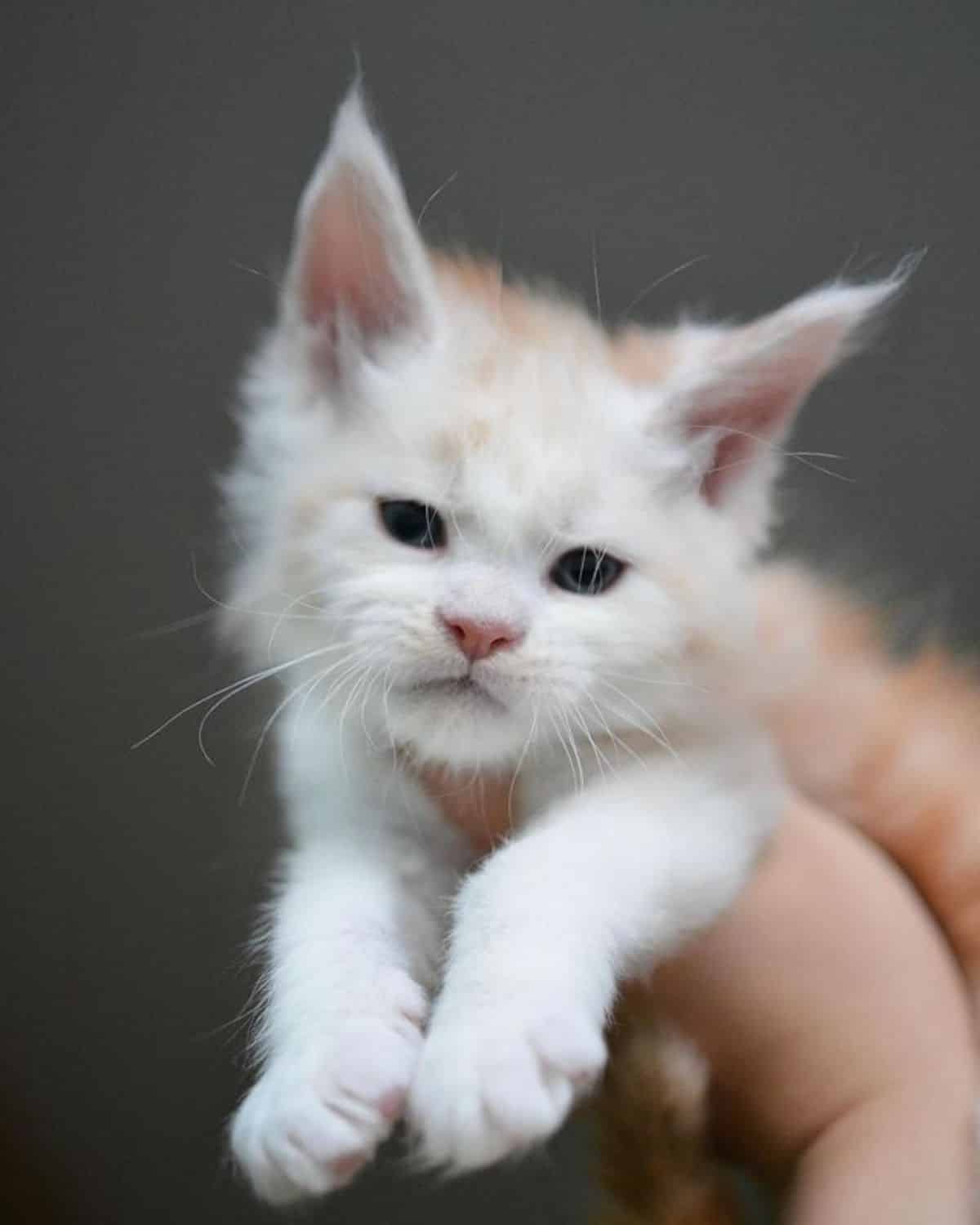 Here, the white kitten with puffs of orange fur looks so tiny and adorable. You'll love the dark eyes staring right into your face. The pink button nose is awfully cute, too.
9. The Dark-Eyed Maine Coon Kitty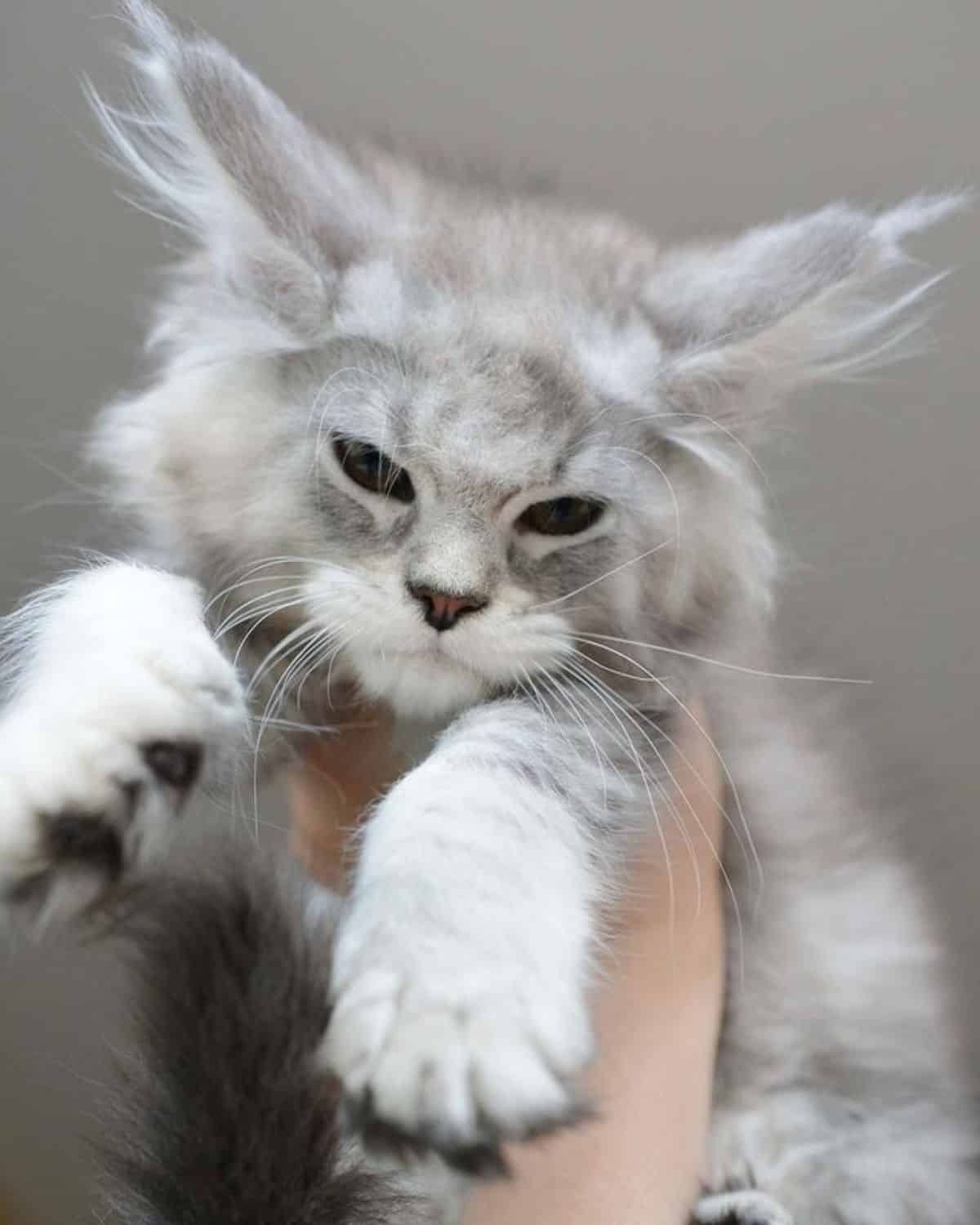 In this photo, the Maine Coon kitty has a light-gray coat with dark eyes and white paws. It has an interesting black-colored nose as well. You'll love cuddling with the fuzzy kitten.
10. The White, Pink-Nosed Angel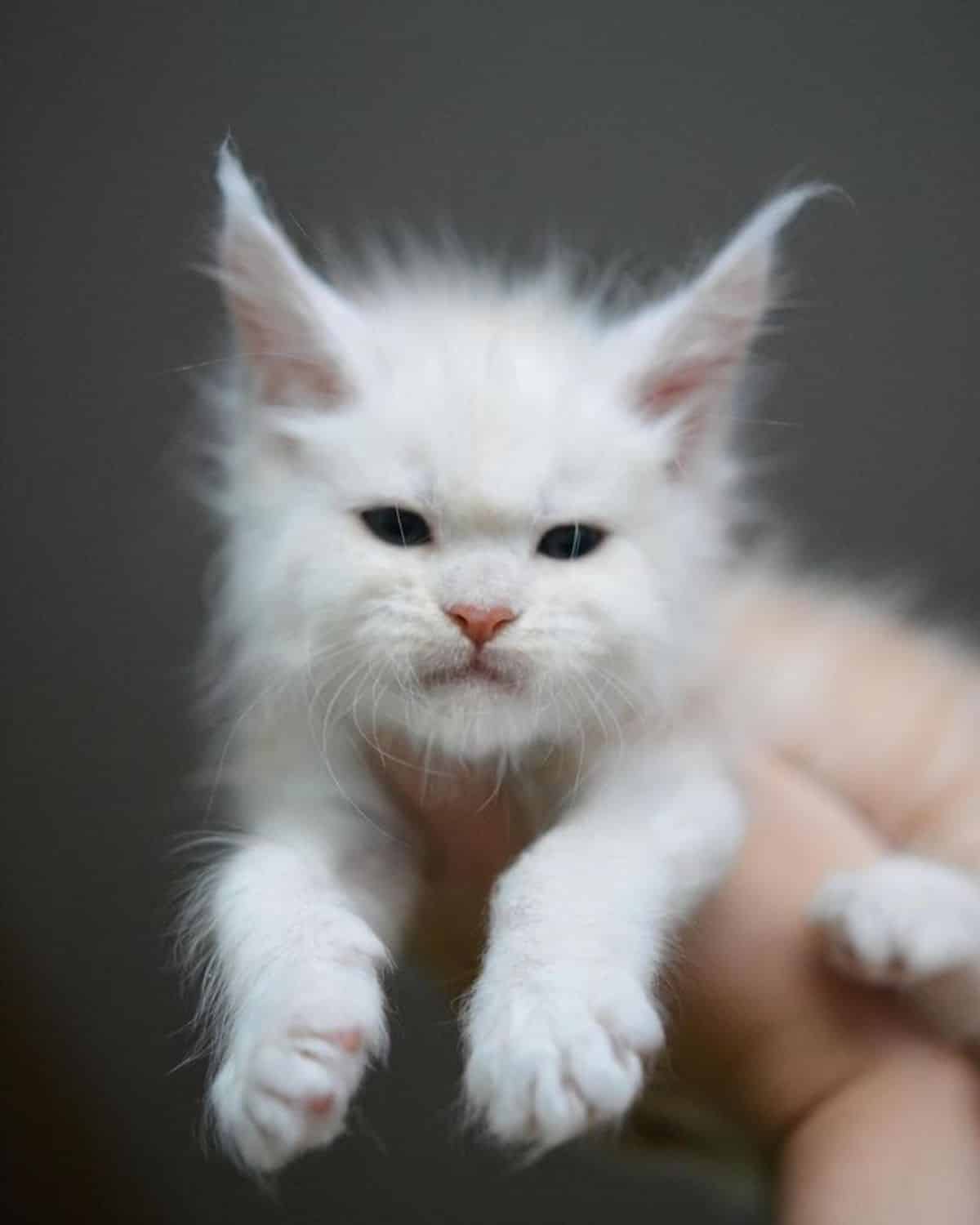 The Maine Coon kitten here looks fuzzy and adorable. The little angel is completely white with black eyes. The kitty stretched its arms out to hug you.
11. Fun, Playful Kitten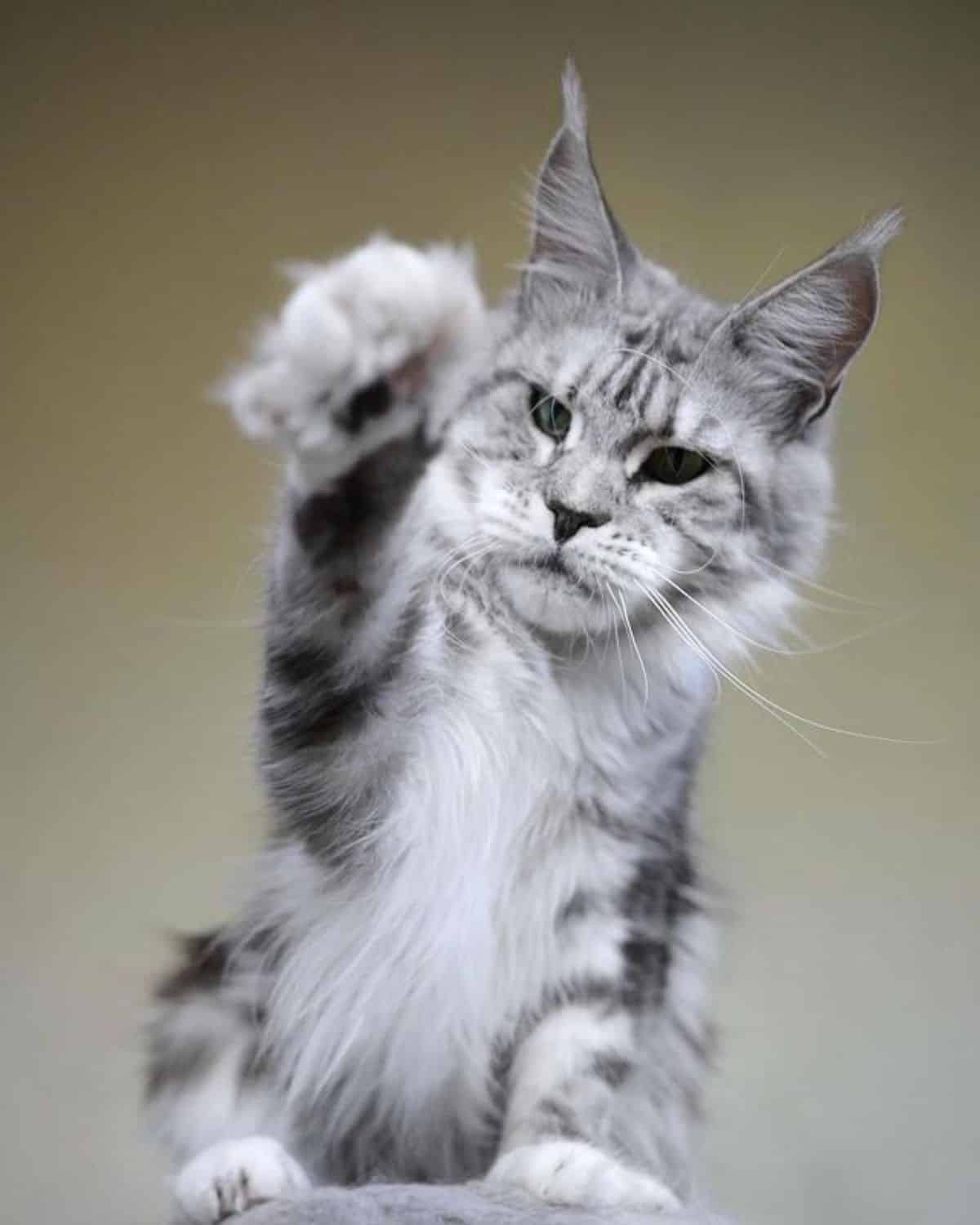 The gray kitten in the photo stretches out its hand in a playful way. Clearly, the Maine Coon kitten wants to play a game. You'll love the cat's long ears and dark eyes.
12. Black, White, and Orange Kitty Ready for Halloween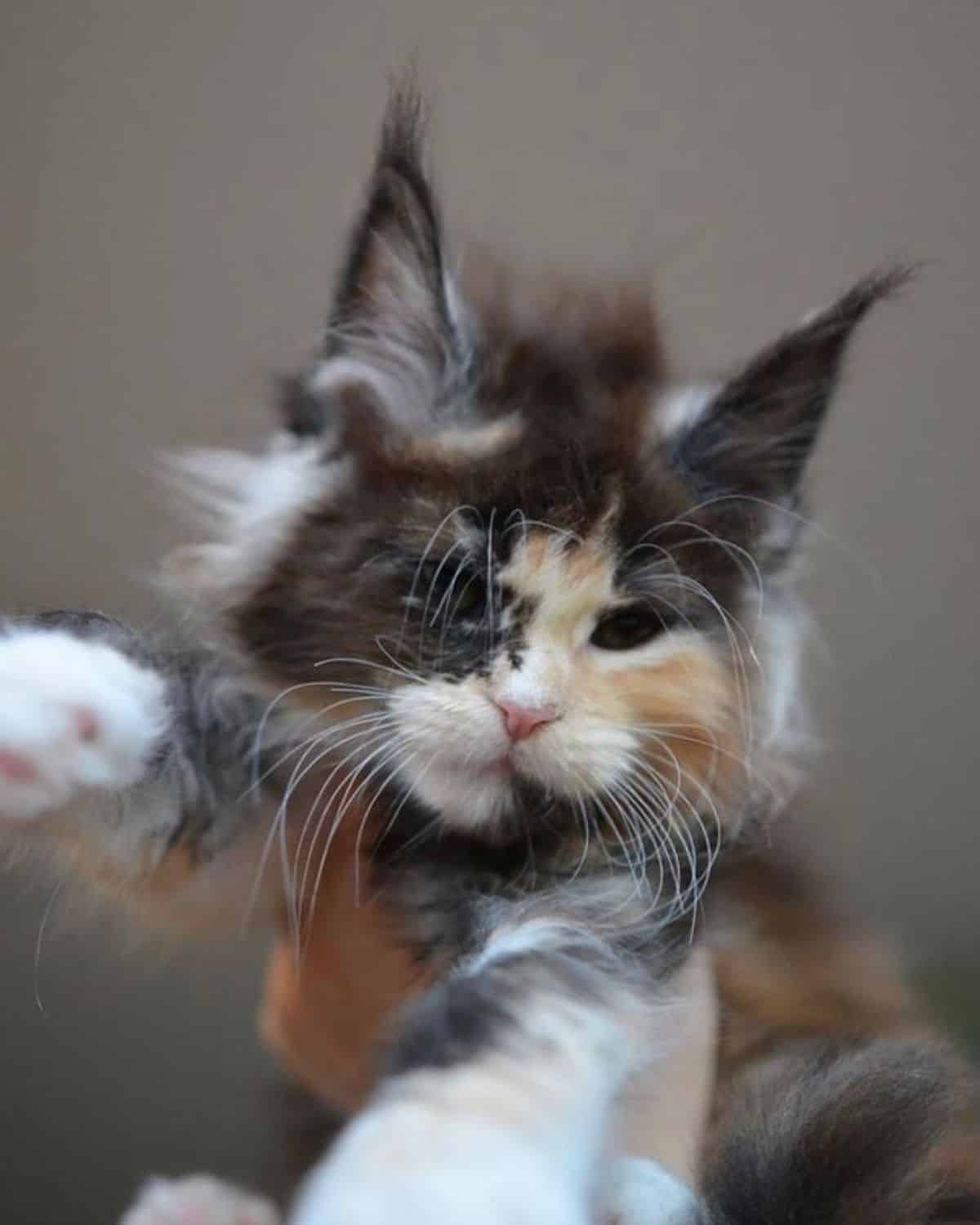 The sweet Maine Coon kitten here has a beautiful coat of three different colors. The black and orange colors resemble Halloween, and the kitty almost looks like he's dressed as Zorro for the occasion.
13. Grey Kitty with Dark Blue Eyes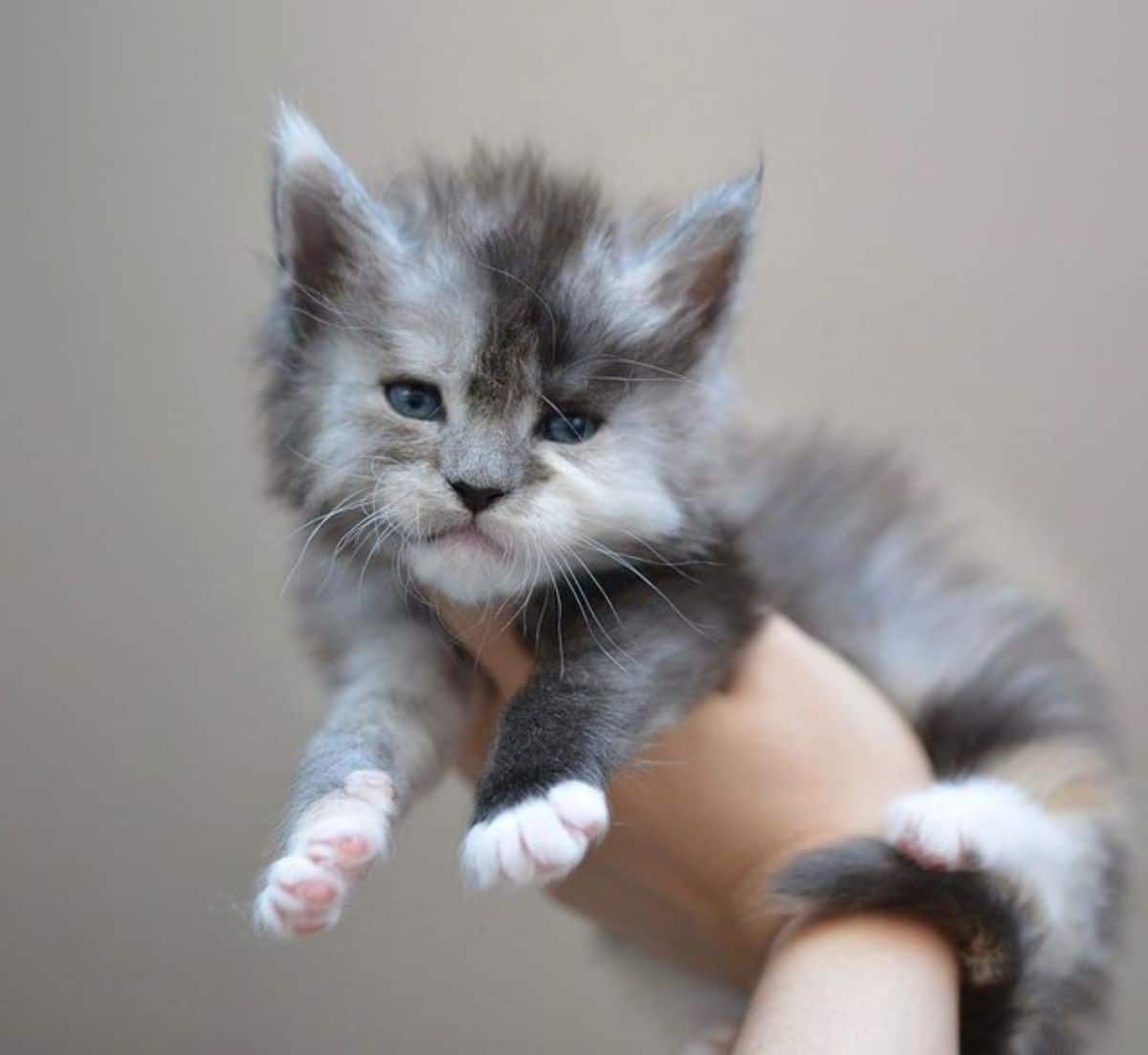 In this photo, an owner holds up an adorable, furry gray kitty with dark blue eyes. The kitten looks slightly annoyed with the way he's positioned. Enjoy the cute kitty!
14. Light Grey Kitten with Big Ears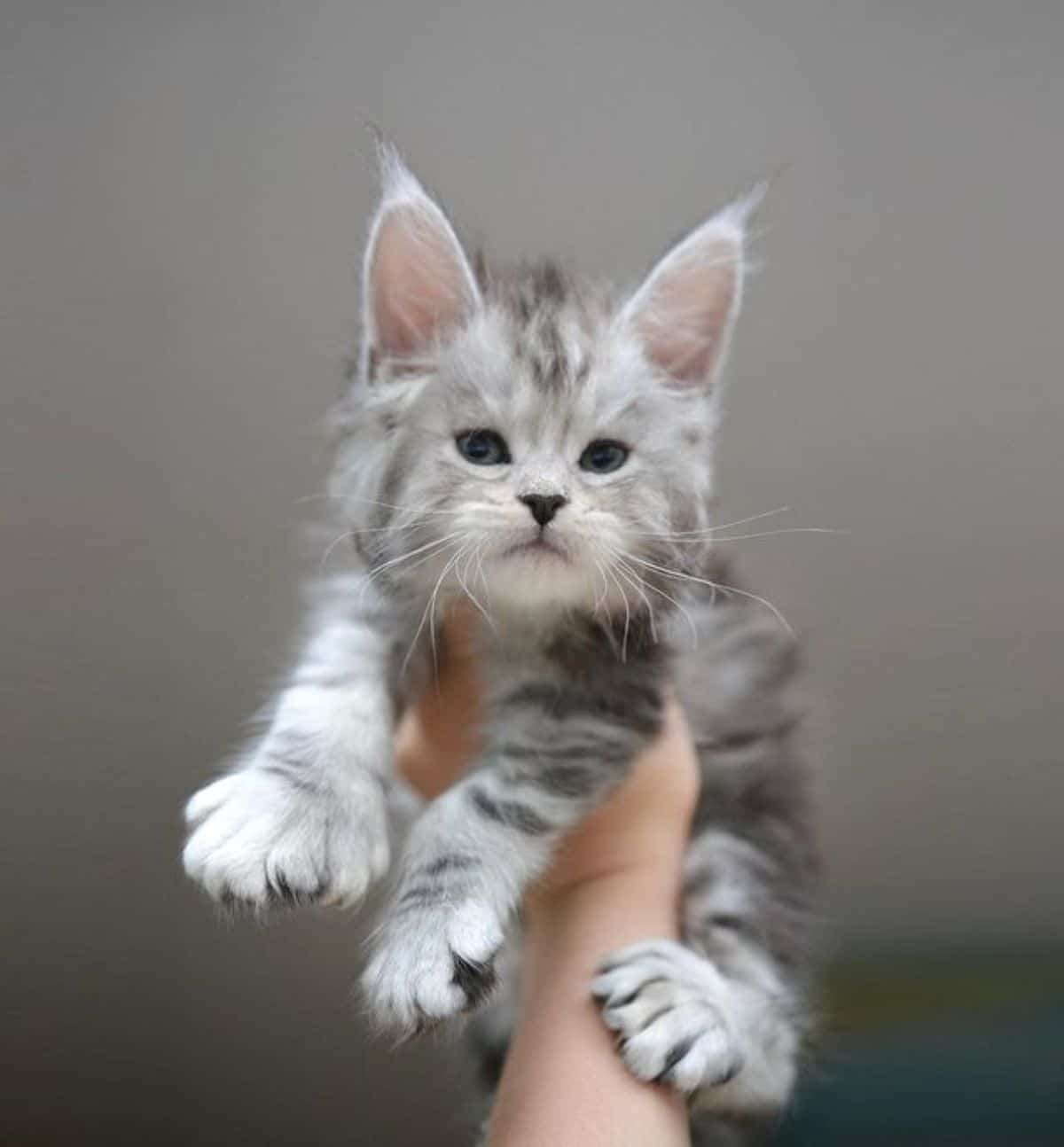 The Maine Coon kitten here has a light gray coat with some white fur. The wonderful kitty has large, pointy ears and a black nose. Its dark eyes look straight at you.
15. Cute, Tiny Kitten with Fuzzy Black Fur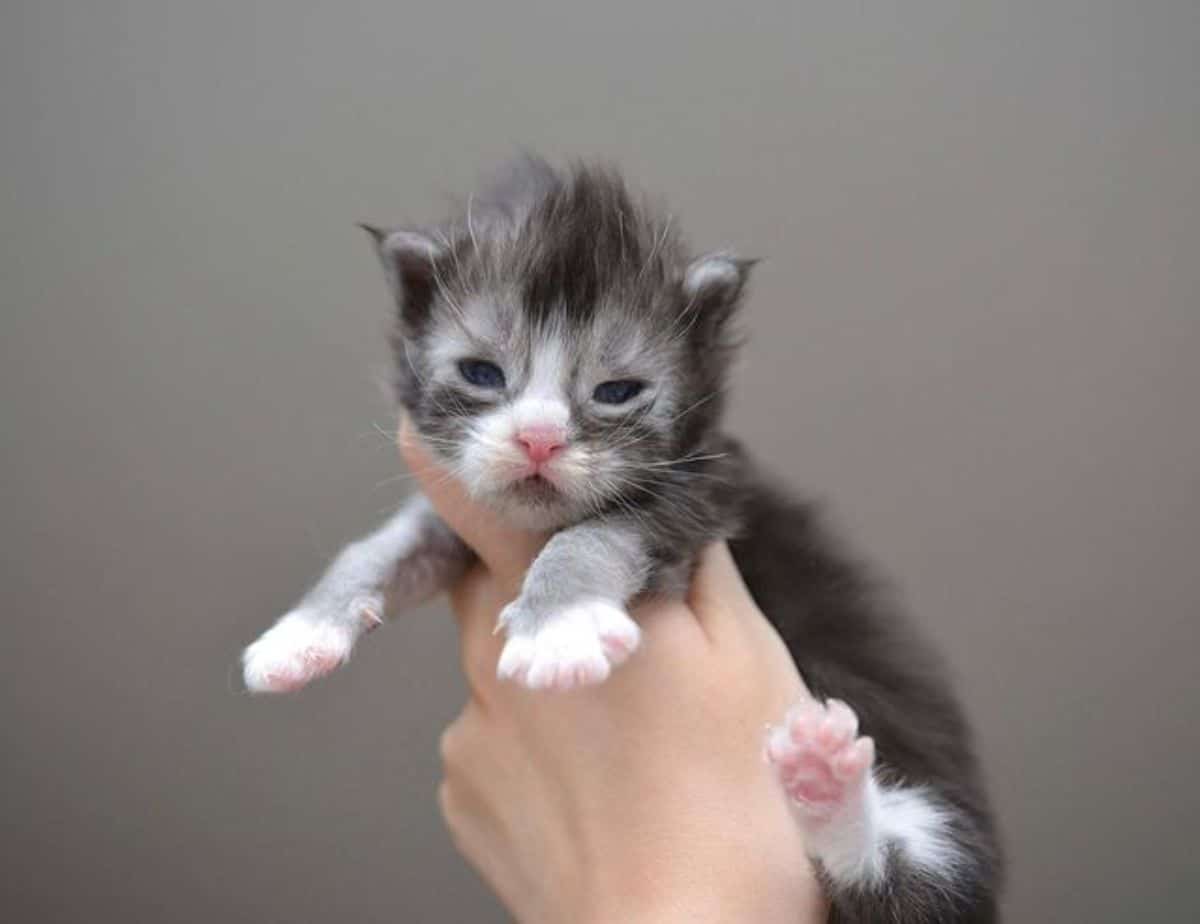 The tiny kitten in the photo here was born recently. It's an adorable kitty with black fur and a pink nose. You'll love the kitten's little white paws!
16. The Long-Eared Maine Coon Kitten with Orange Fur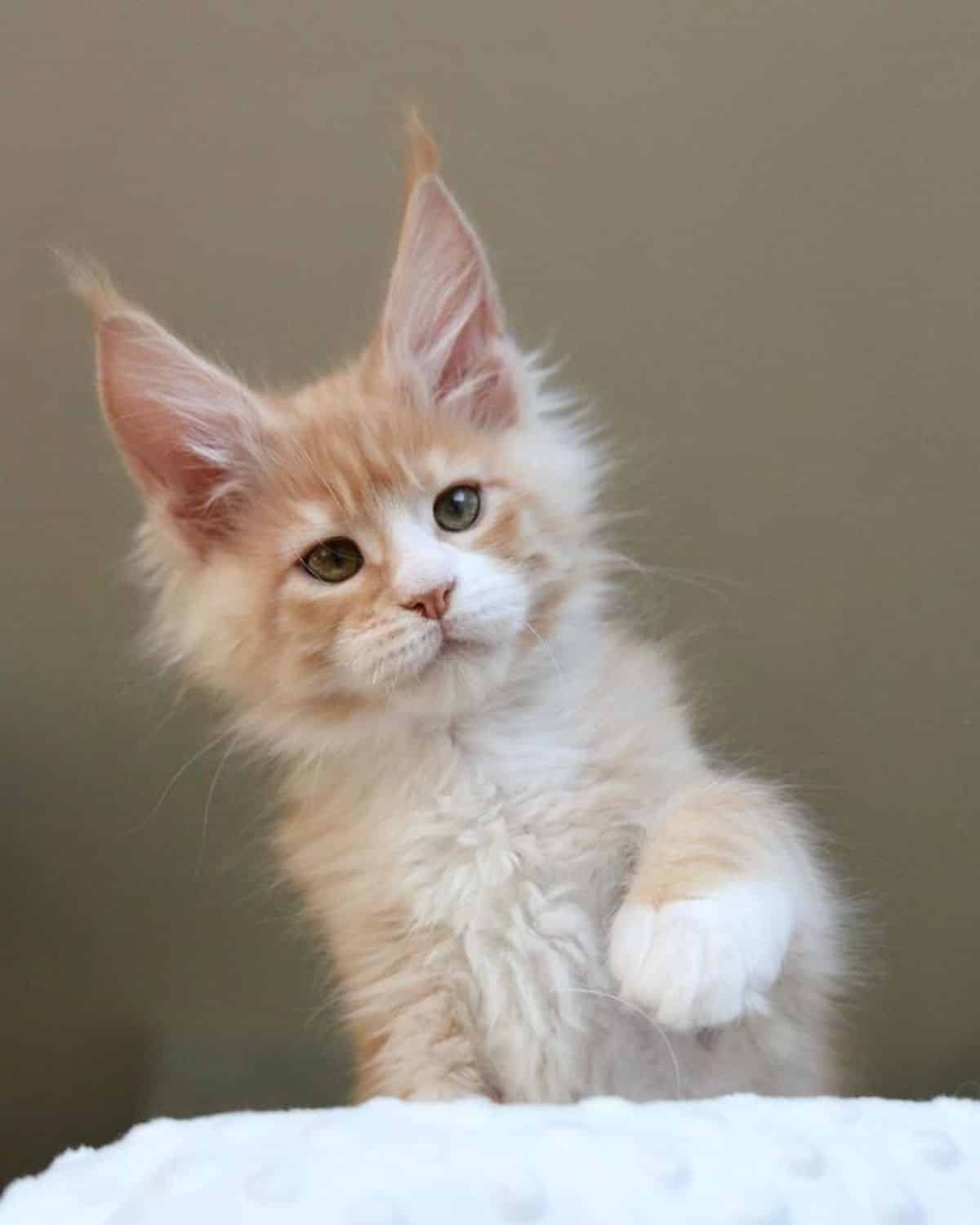 The Maine Coon kitten here has large, orange ears and a coat of white and orange colors. The kitty cocks his head to the side and looks straight into your face. It looks like the cat raised his paw to shake your hand.
17. A Fuzzy, Grey Kitten Held Up to the Sky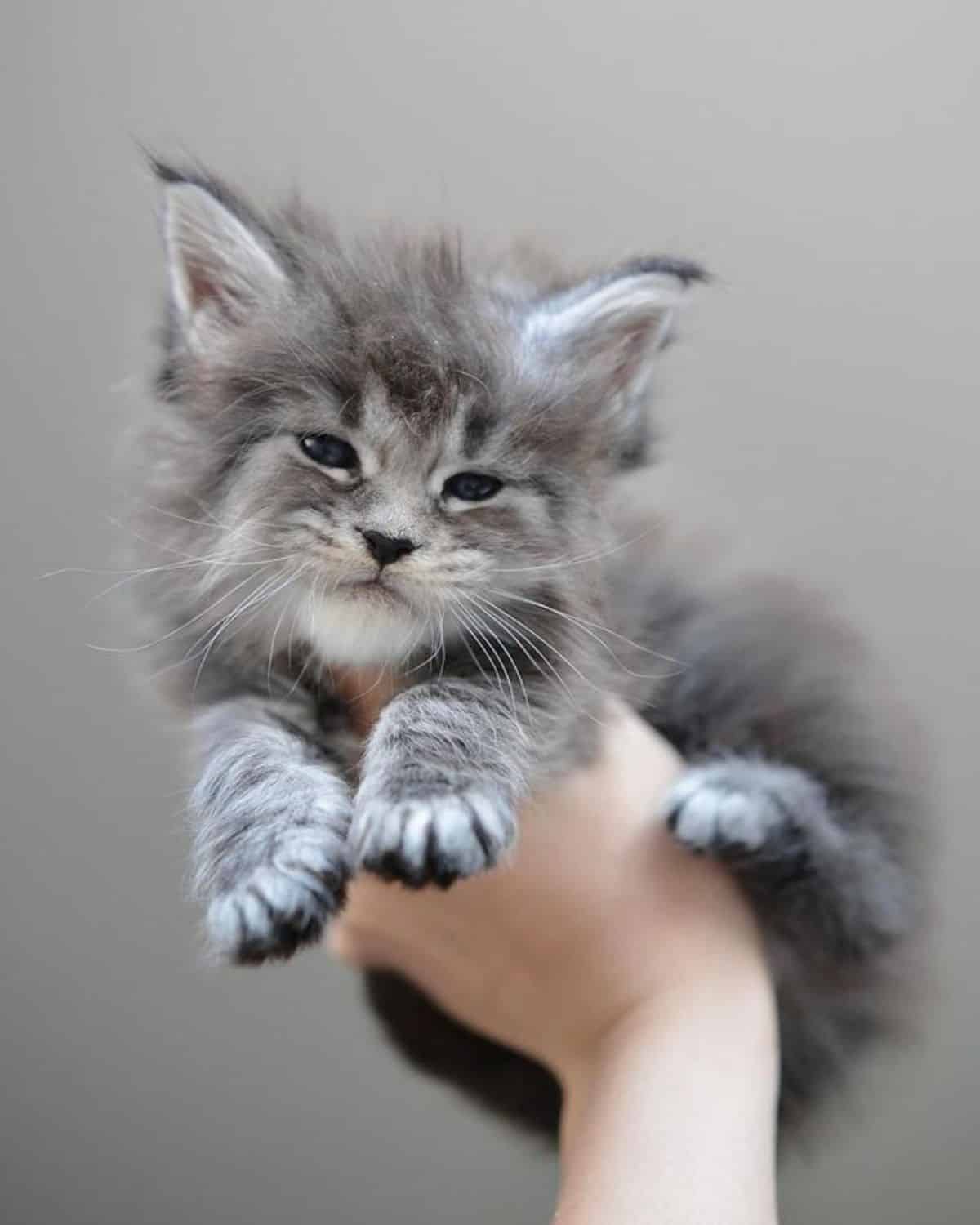 The kitten here has messy and fuzzy gray fur and a smiling face. The adorable kitty is being held up to the ceiling by the owner.
The Final Word
These photos of the most incredible and adorable Maine Coon newborn kitties are sure to get you interested in getting a kitten for yourself. If you loved looking through these images, check out your local cat breeder and see if a Maine Coon kitten is right for your family.