Cats are notoriously afraid of water, leaving their owners covered in claw marks in their scramble to escape bathtime.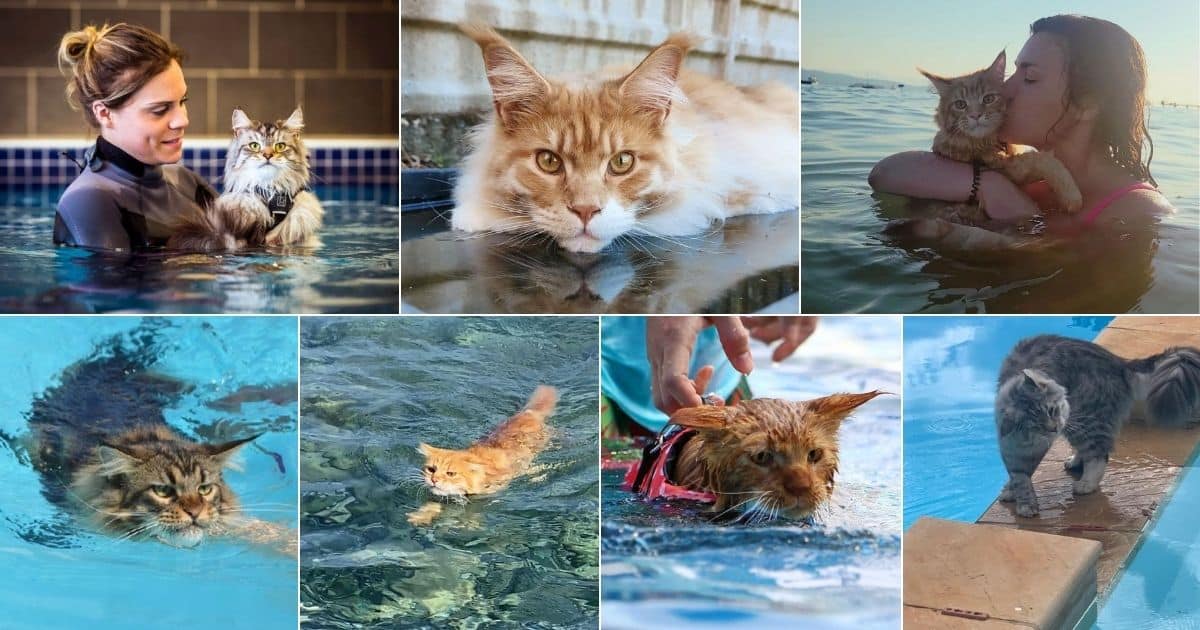 Maine Coons, on the other hand, stand out from the rest of their domesticated brethren, demonstrating a fondness for splashing, slurping, and even swimming when they are close to water.
We've rounded up 17 courageous Maine Coon that love swimming, proving once again that this breed is truly unique and undeniably a loveable addition to the family.
Jump to:
1. Clayton Dives Right In
Maine Coons are famous for their canine-like behaviors, and Clayton is living proof. He's happily practicing his doggy paddle with his owner close by, just in case this little lion needs a lifeguard.
2. Fish or Feline?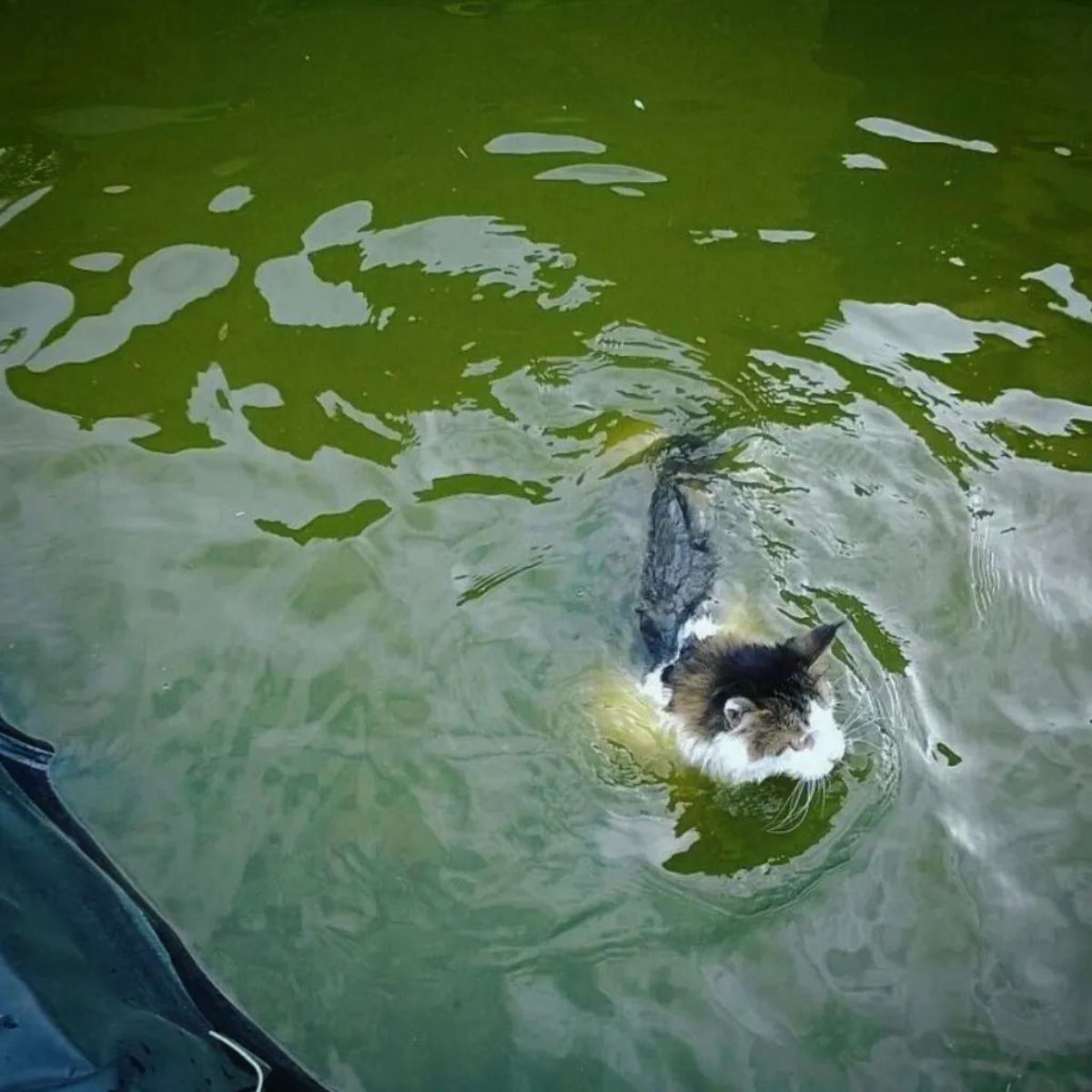 A touch of green in the water won't stop this furball from taking the plunge. With such an affinity for swimming, could this kitty secretly be a catfish?
3. Bravery at the Beach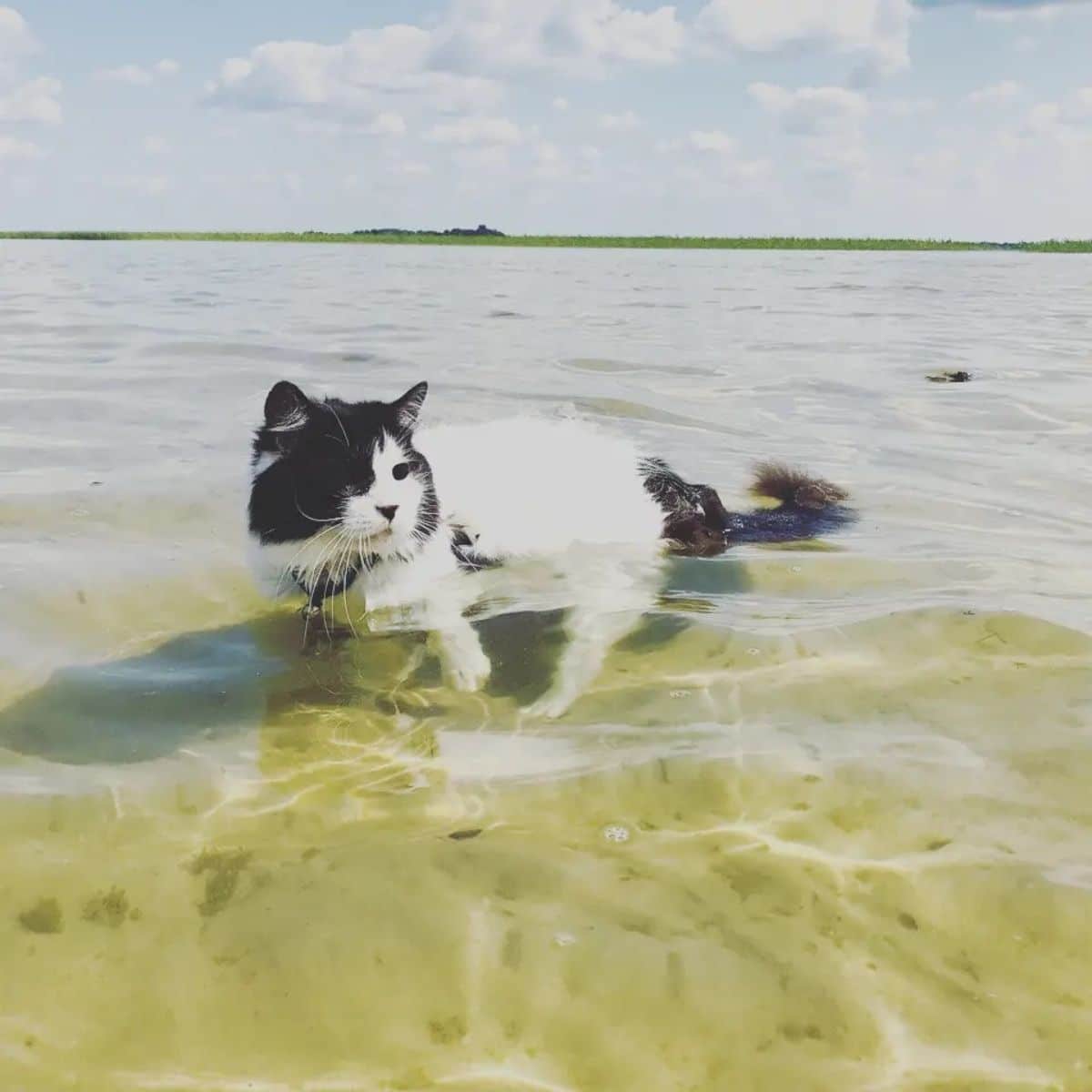 Markiz doesn't let his blindness stop him from wandering off the shoreline on a hot summer day. His owner always stays within arm's reach to keep this brave kitty from wandering too far out, and the Maine Coon trusts that his human will always be around to protect him.
4. "Water" You So Angry About?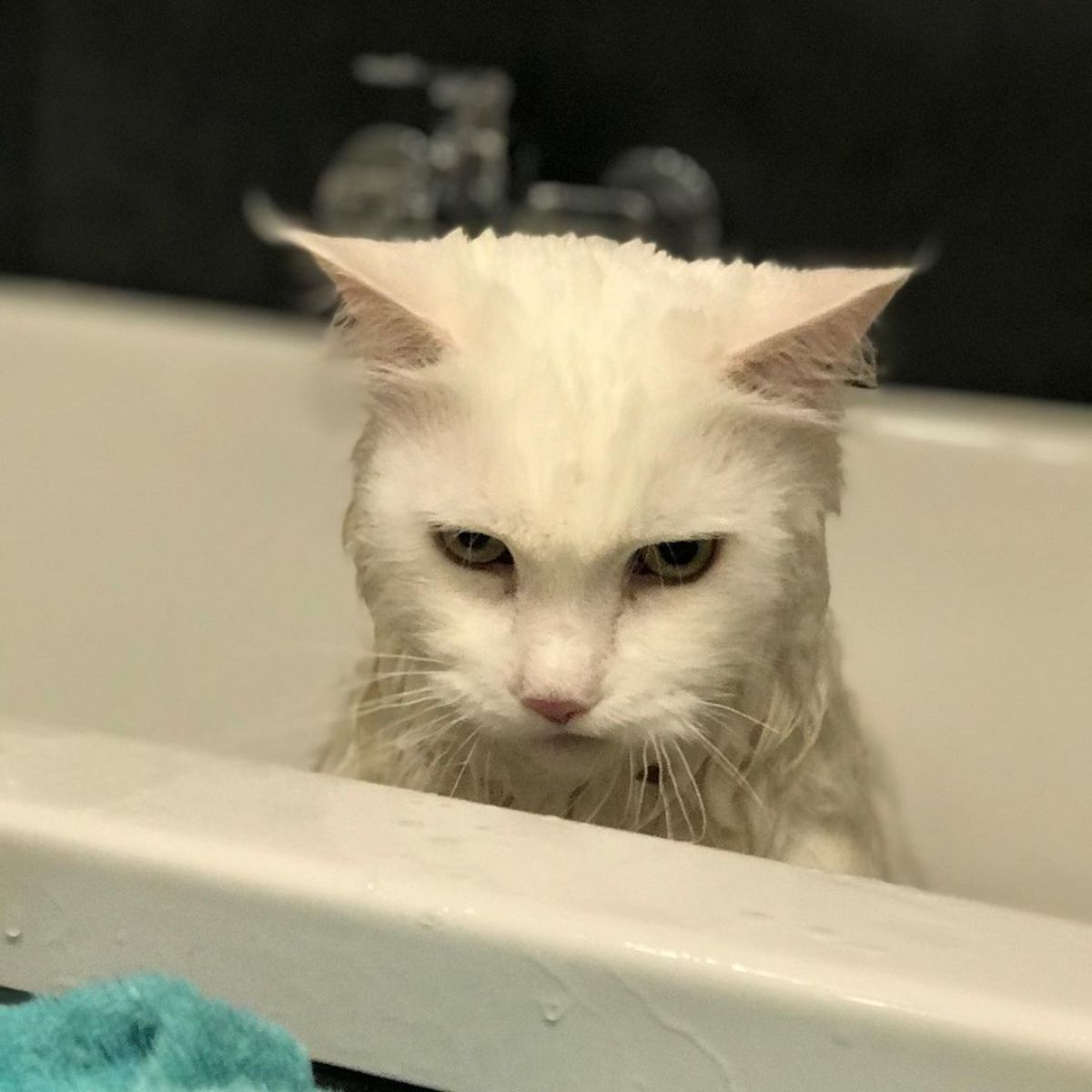 While true that Maine Coons are more likely to enjoy the water more than other breeds of cats, that doesn't mean they all enjoy going for a dip. Simba, a stunningly snow-coated Coon, shows through expression alone that he's merely tolerating his current state of affairs.
5. Sunning on a Swan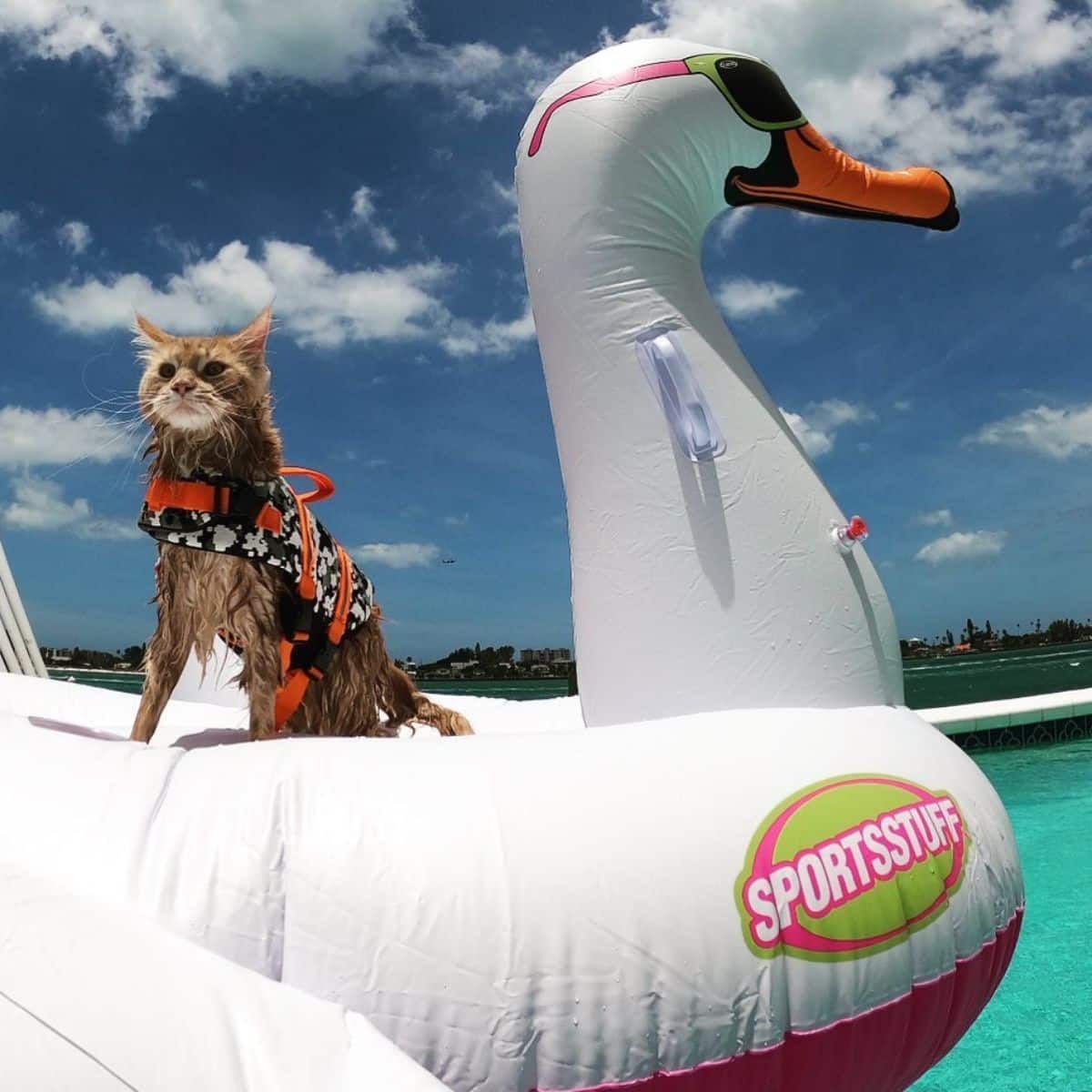 Fisher and his sister Sailor are famous for their adventuring exploits, including wiling away the days in the water. When he needs a break from swimming, Fisher likes to catch a few rays on his swan floaty before diving back in.
6. The Right Cat-itude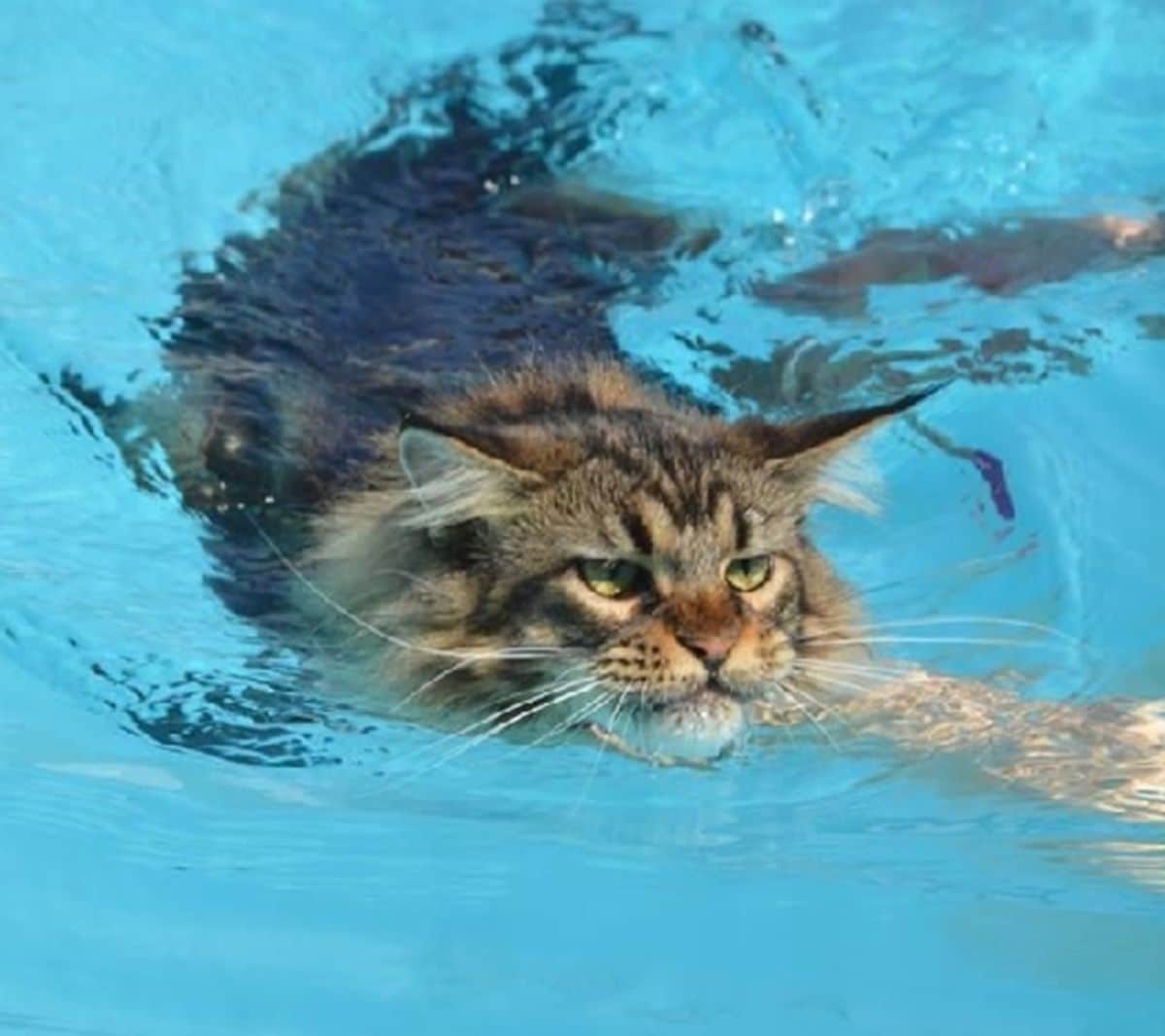 This handsome, green-eyed tabby shows that determination and confidence are all you need to become one with the water. He keeps his eyes on the prize and demonstrates perfect form as he takes a few laps around the pool.
7. Aquatic Aslan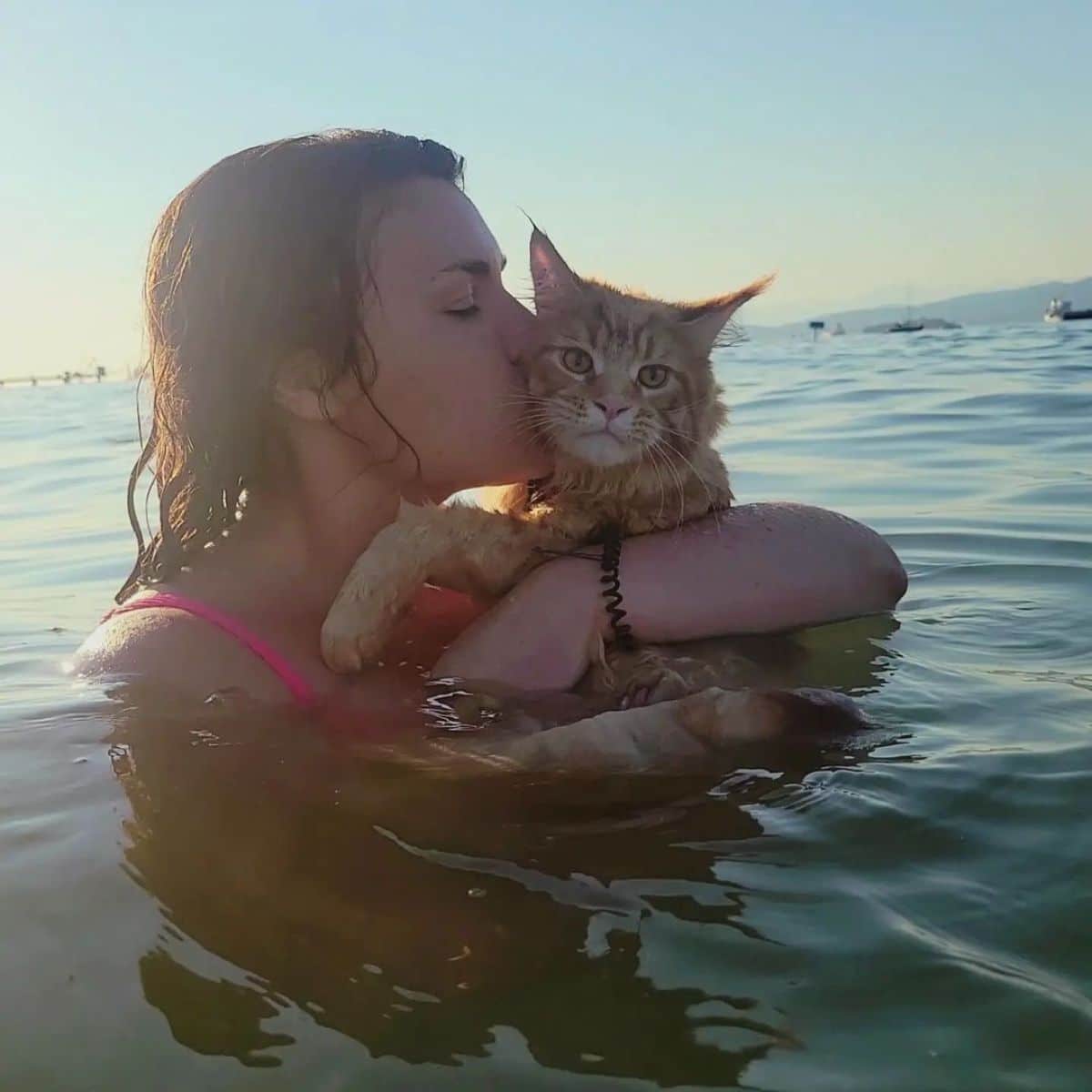 According to Aslan's owner, this is his first time in the water. He wasn't a fan at first, but by the end of the day, the ginger tom was warming up to the idea of being amongst the Maine Coons that love swimming.
8. Going for Gold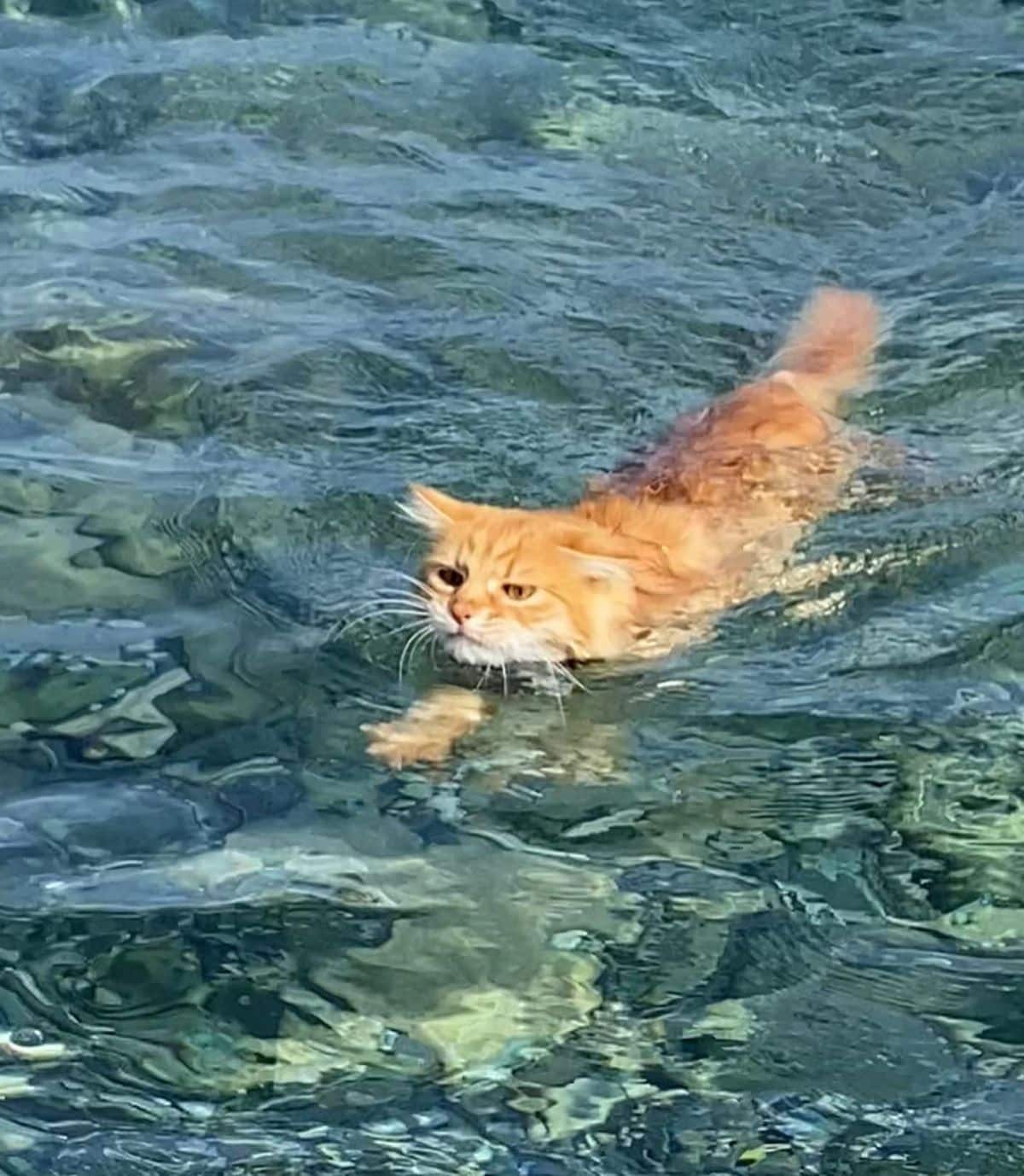 Pixie and her sister Moxie the Shorkie, are inseparable. After the family ventures down the beach without their feline friend, this confident kitty decides to join them whether they invite her or not. It was Moxie's first time following her owner in the water, and Pixie soon paddled out to join her.
9. A Noble Purr-Suit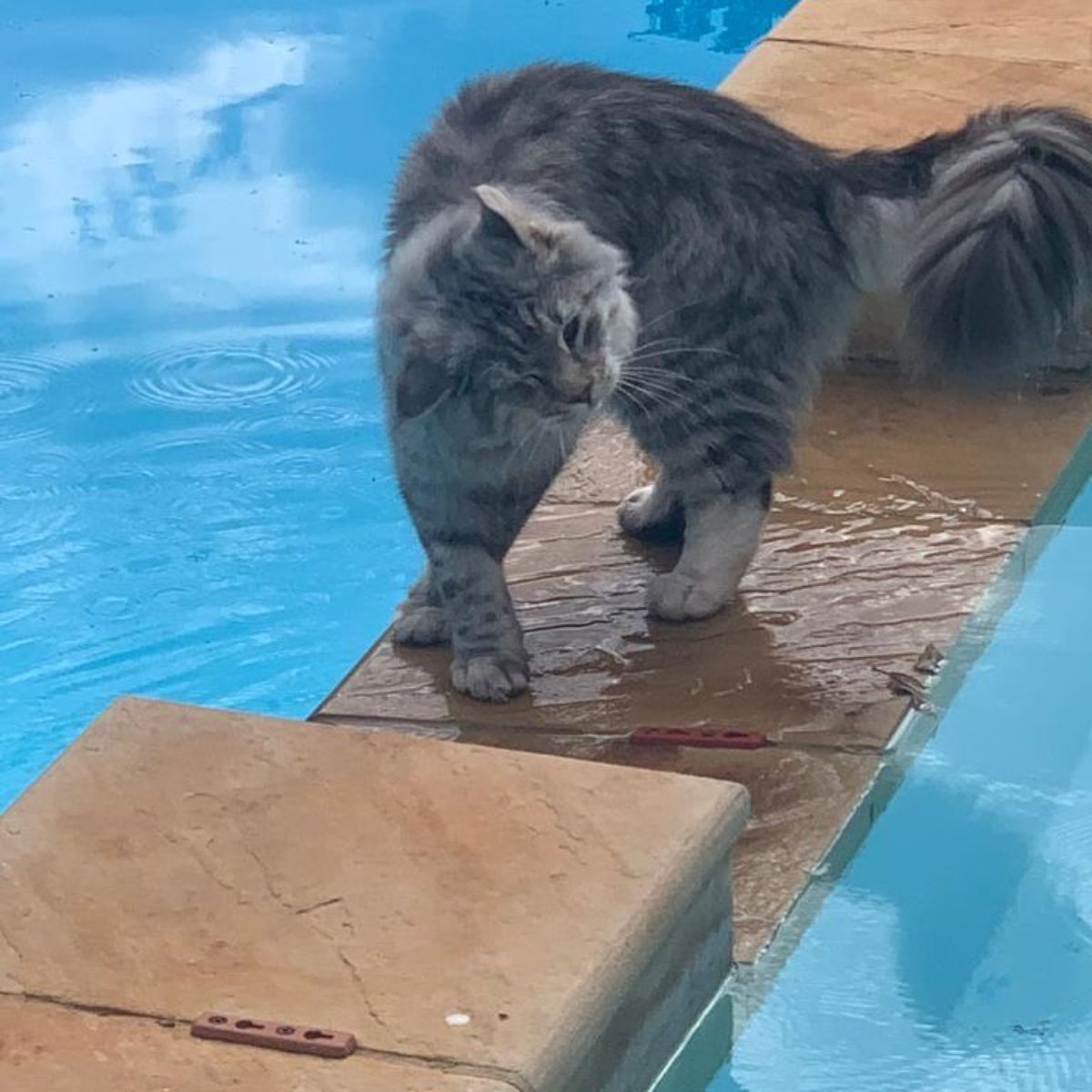 Duke doesn't mind dipping his toes in the family pool. However, given his royal title, he must ensure there's not a single fluff or tuft out of place, which makes splashing a big no-no in his book. This silly photo captures his typical reaction to feeling wayward water when he's unprepared.
10. Bodie Takes a Break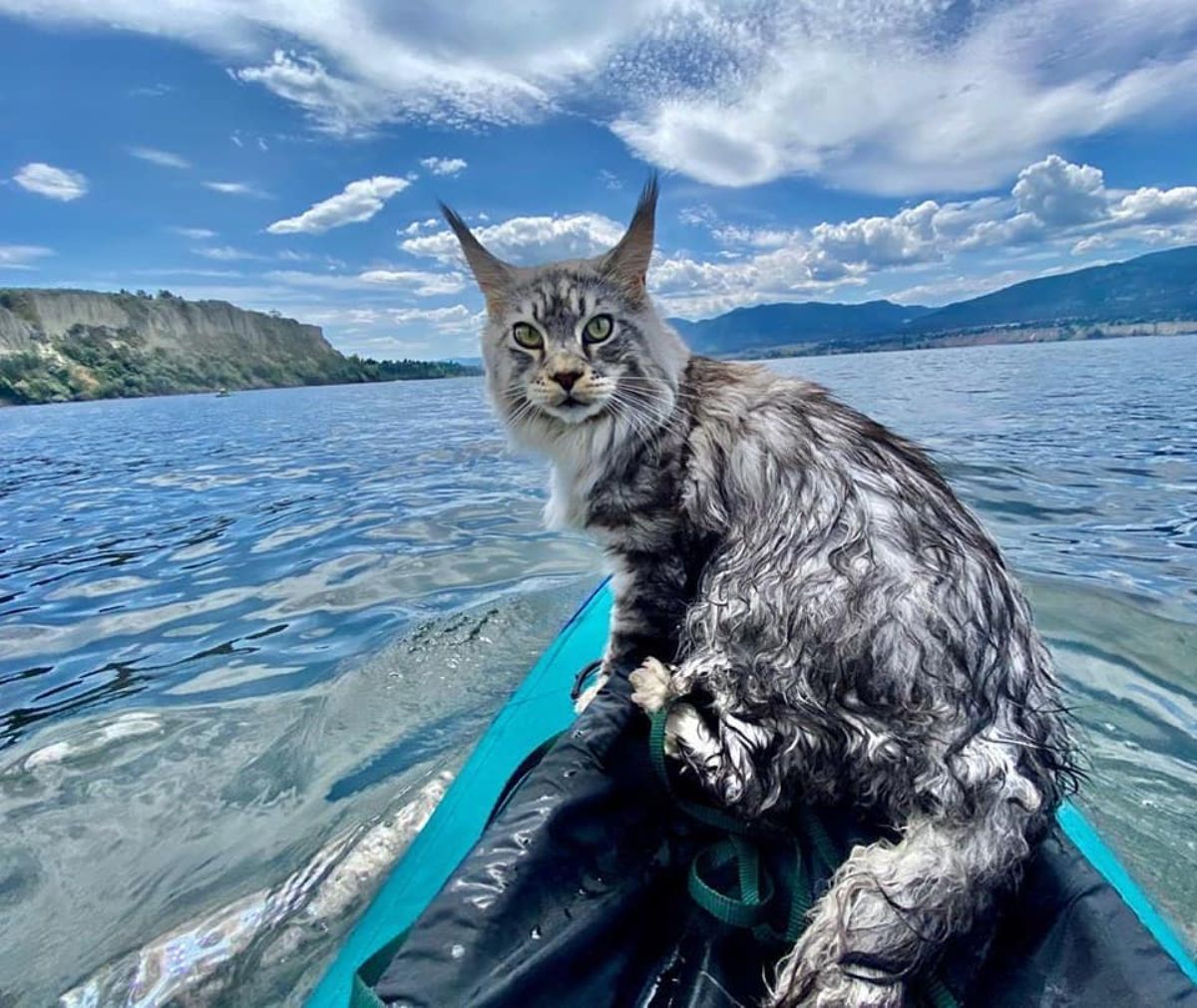 Bodie is a stunning black and silver Maine Coon who spends his life canoeing, swimming, hiking, and traveling with his family. When he gets a bit too warm, he finds reprieve in the cool water before hopping back onto his owner's canoe.
11. Fancy Cat Dreams on a Friskies Budget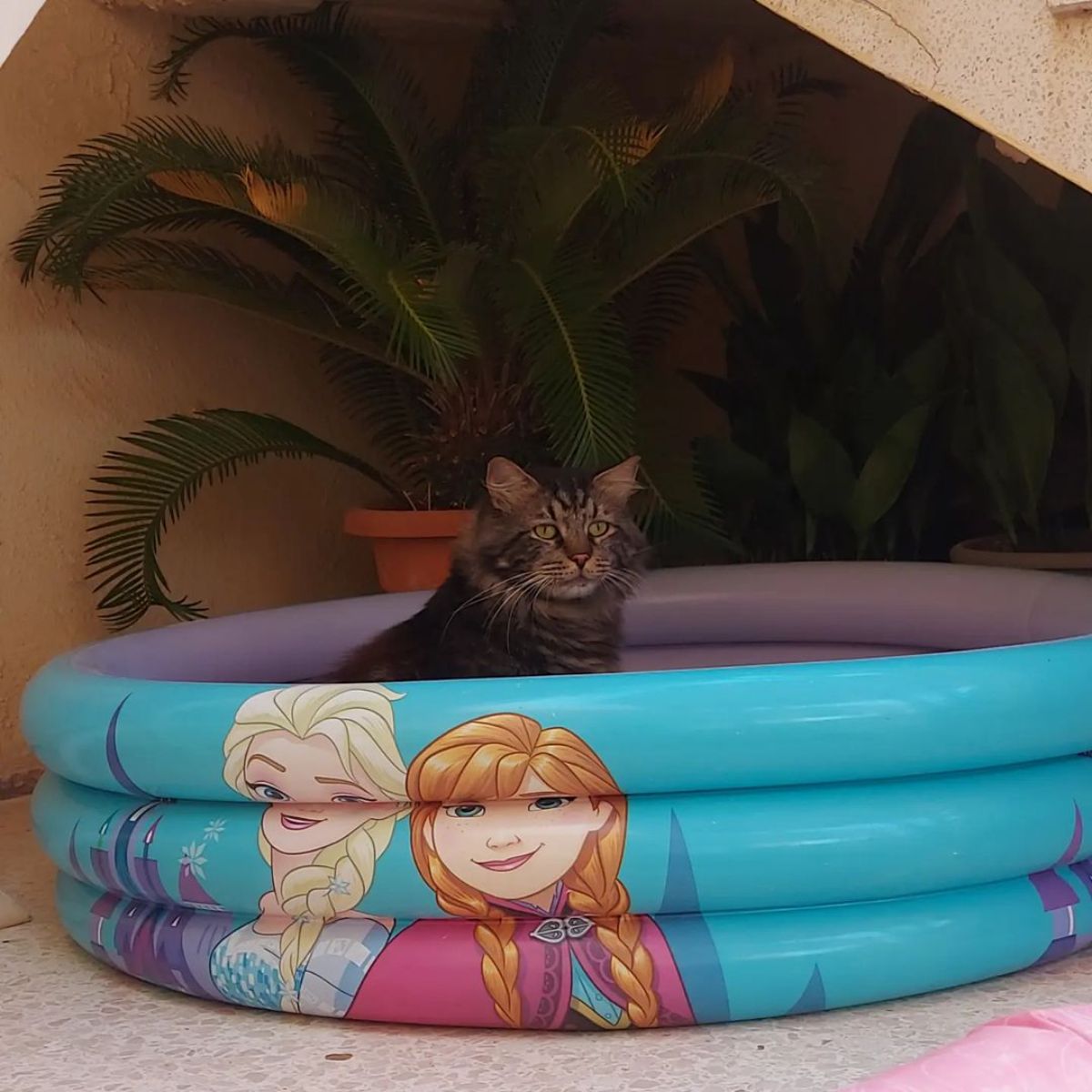 We've all felt the sting of longing for lounge chairs and fruity drinks by the poolside when all we can afford is drinking a bottle of water in the bathtub. Perhaps Topsy can upgrade her blow-up kiddie pool to an in-ground oasis someday, complete with waiters delivering trays of kibble at her request.
12. Deploy Water Wings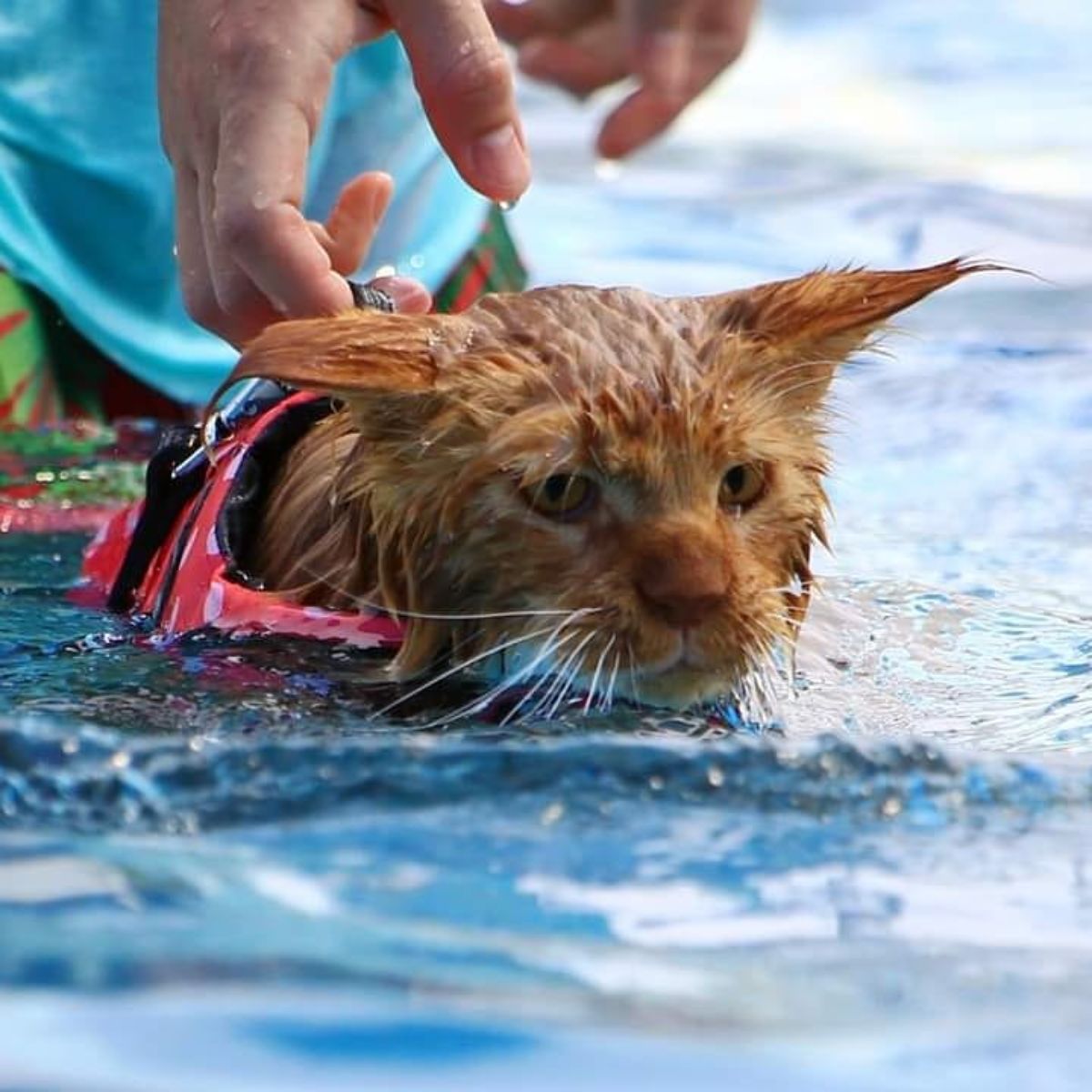 Lucky believes that laying his ears flat will make him more aerodynamic in the water. Unfortunately, his owner's hand on his harness keeps him from using those tufts like turbojet engines.
13. Hanging 12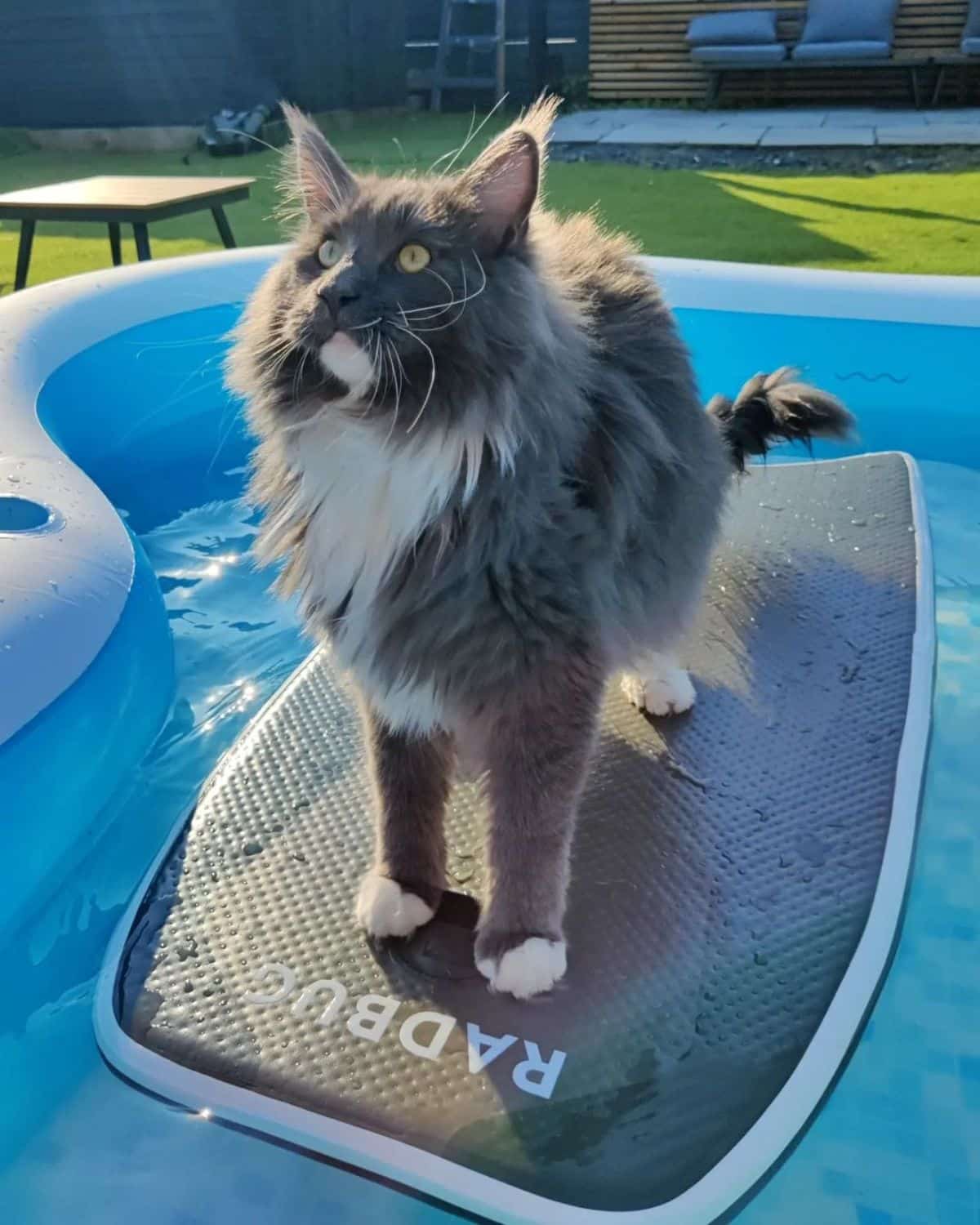 Surfing superstar Freddie's polydactylism may help keep him balanced on his board, but with twelve toes on his back feet, it also means he can never technically pull off "hanging 10" like the pros.
14. Swimming With a Purr-pose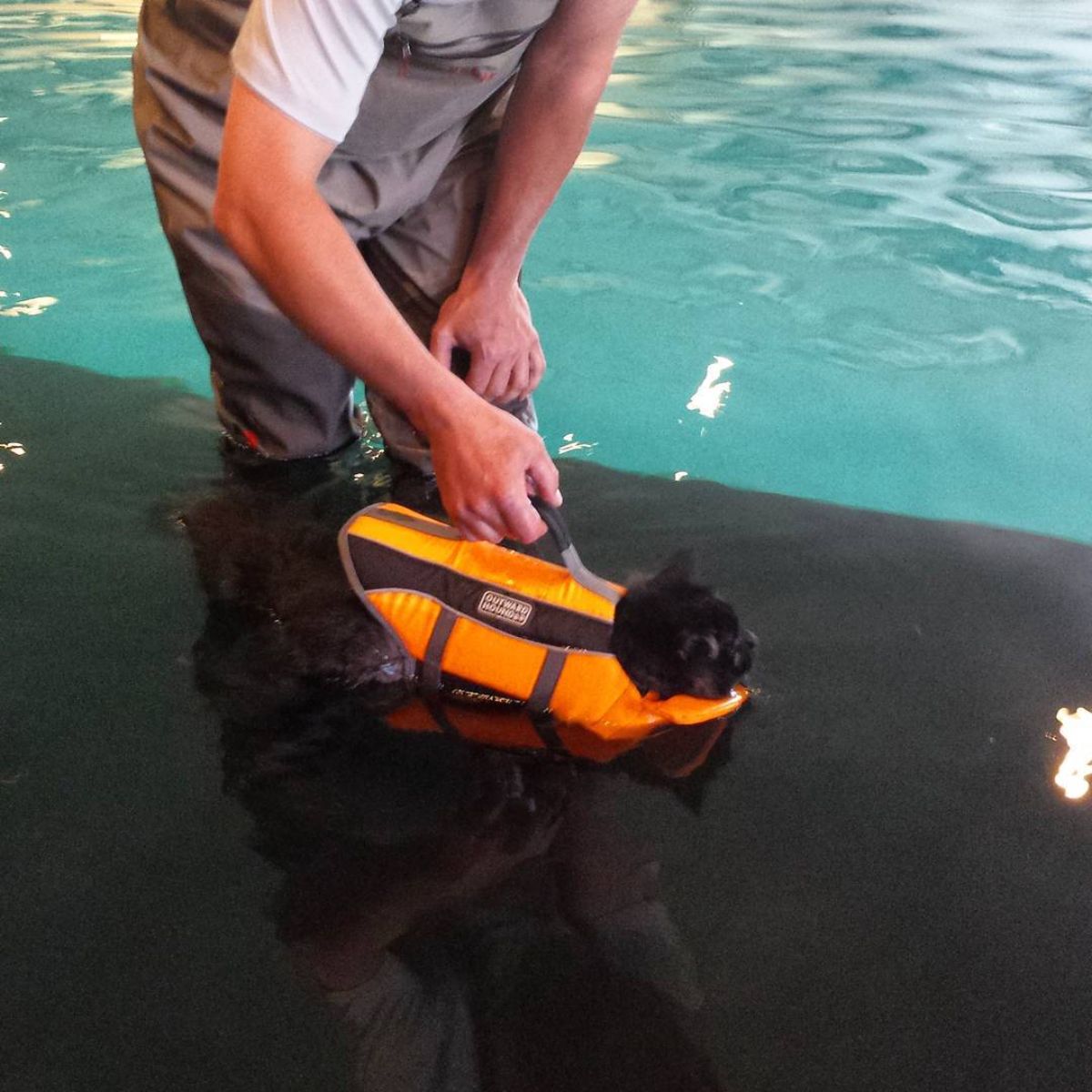 Feline hydrotherapy is an increasingly popular medical intervention for overweight felines who need joint-friendly exercise. Harvey's love of treats and wet food means donning a swim vest for a bit of cardio to keep him fit.
15. Help From a Fur-iend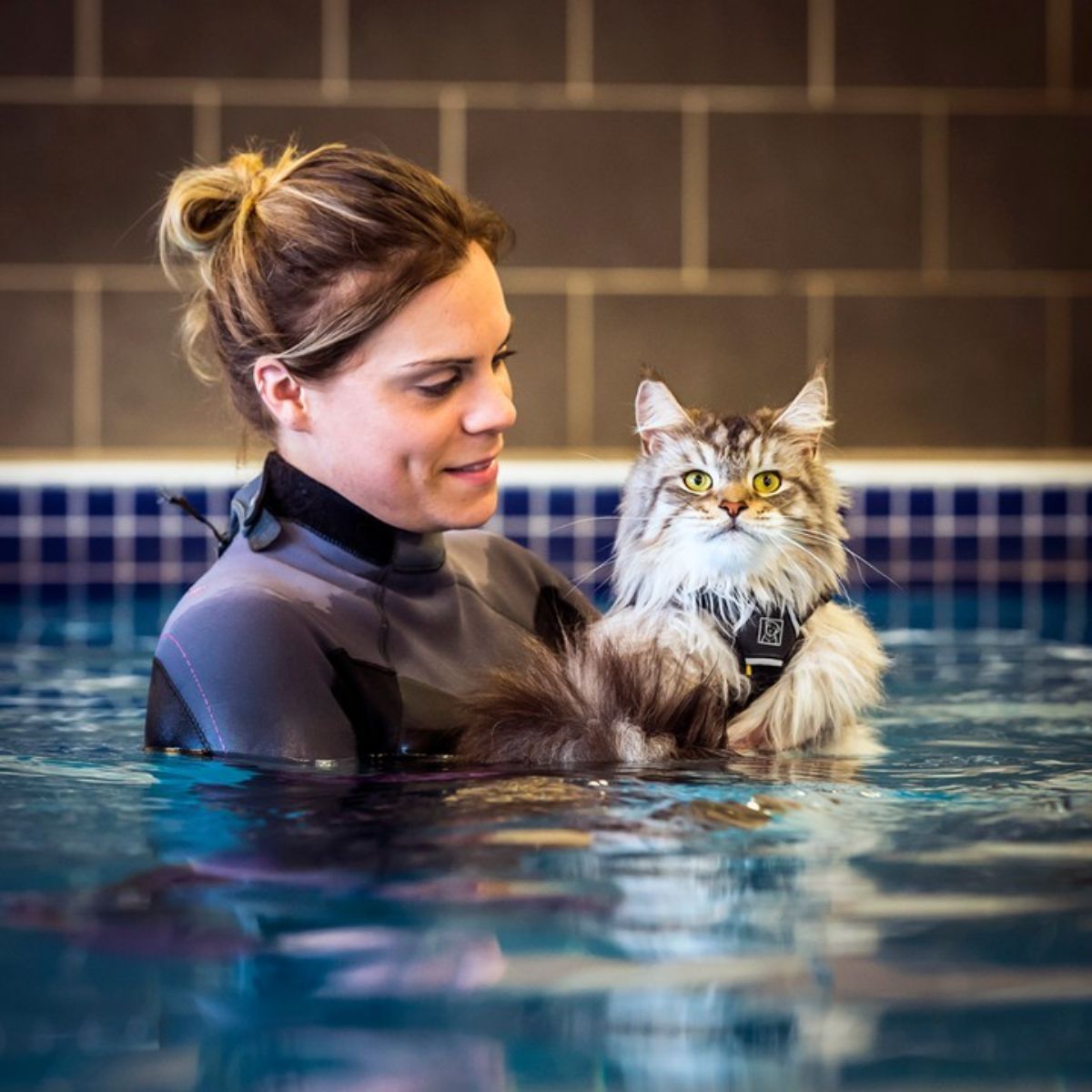 Hydrotherapy is also helpful for rehabilitation after an accident or surgery. This stunning Maine Coon looks completely at ease in the hands of his veterinary orthopedist, who ensures she has an easy road to recovery.
16. Corgi Companion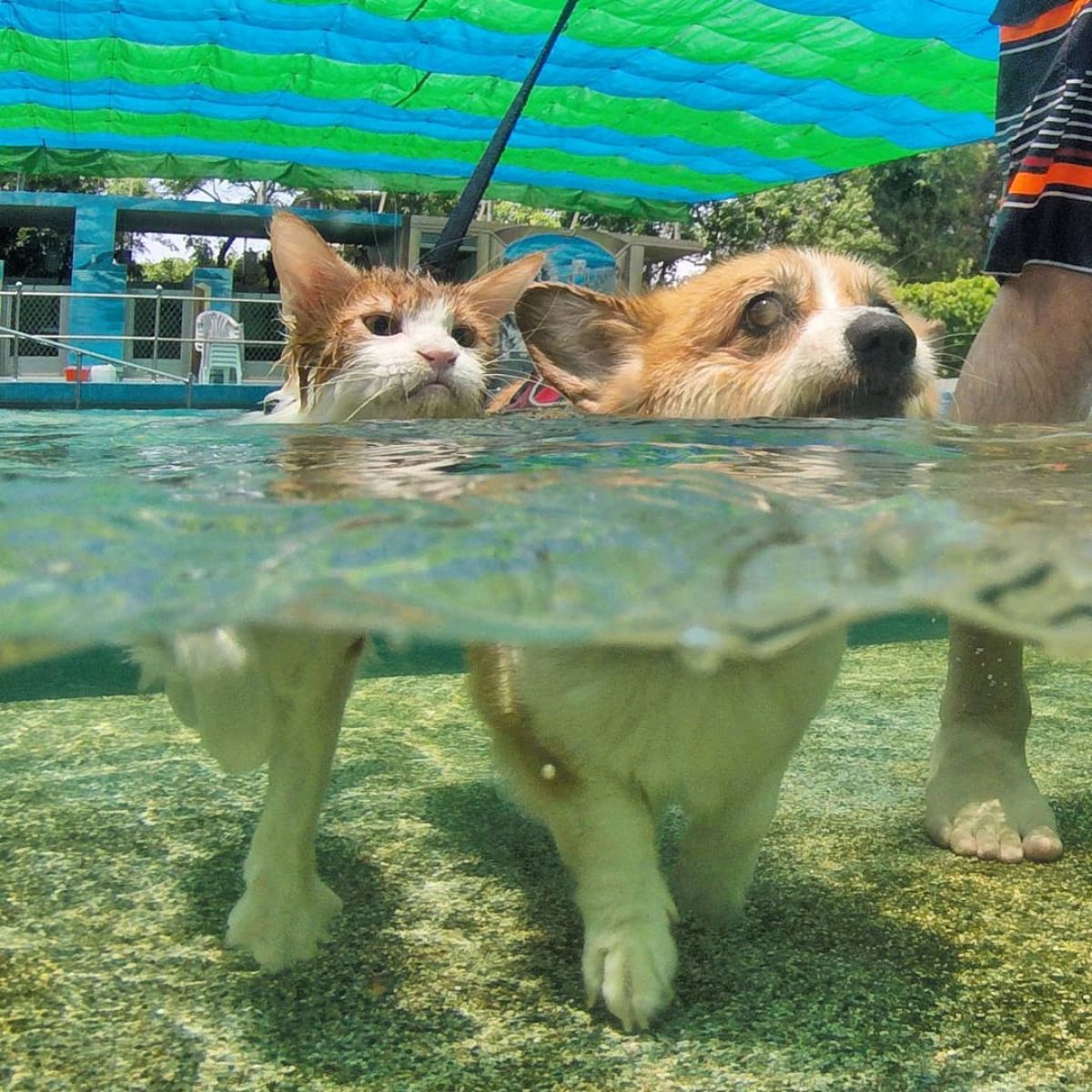 Dudi the Maine Coon and Panpan the Corgi are constant companions who do everything together. That means that when Panpan gets the urge to go for a swim, his feline friend is right by his side.
17. Swimming Stanley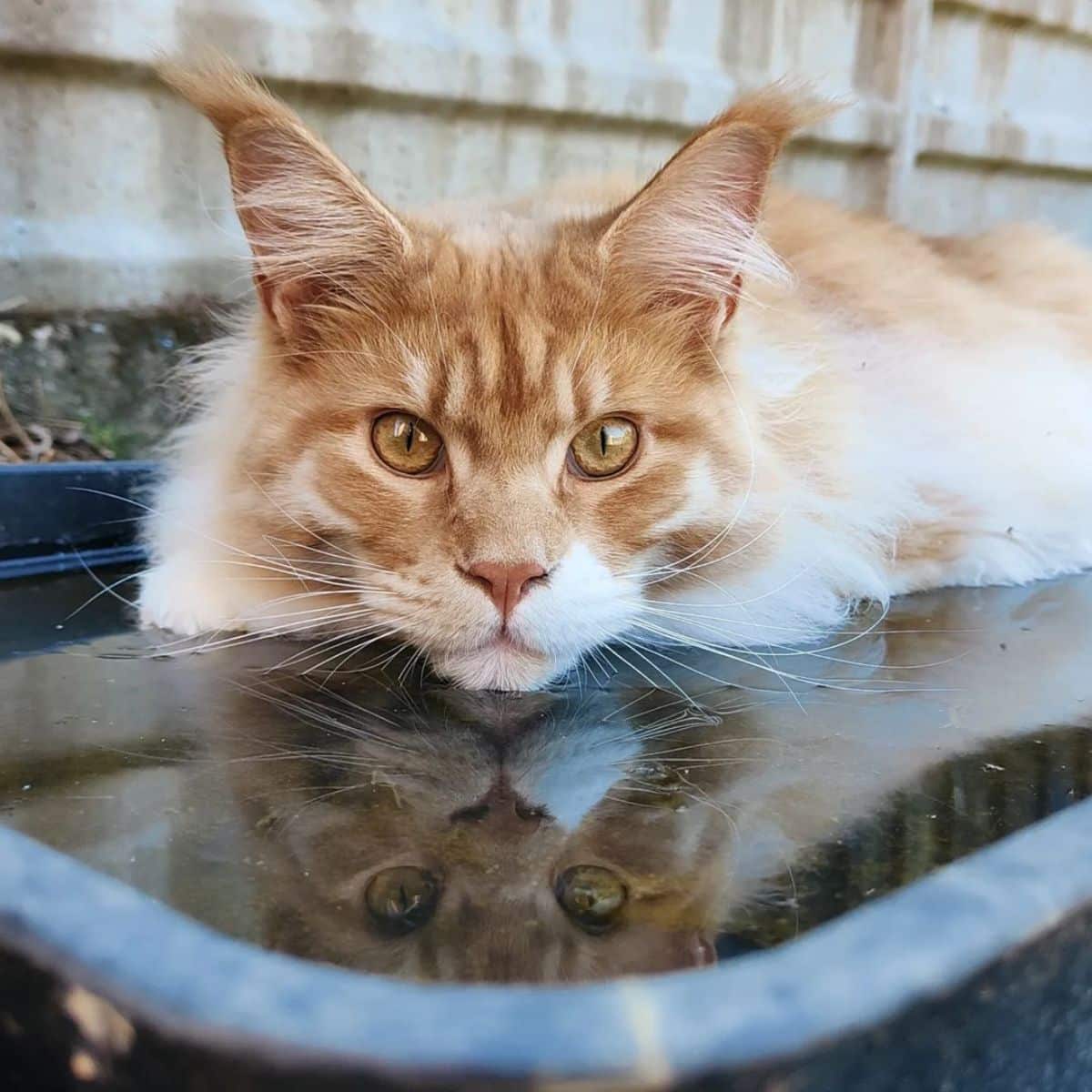 Stanley is a beautiful ginger and cream Maine Coon that loves swimming, even when there's no pool available to accommodate his above-average size. He'll happily cool off in any water-filled receptacle, from storage bins to kitchen sinks.
See if Your Maine Coon Likes To Swim
While it's not known exactly why Maine Coons are more likely to take like fish to the water, it might have something to do with their water-resistant fur and playful personalities.
They may also see the benefits of a refreshing dip in the pool when their doubled-layered pelts leave them feeling overheated.
It's much easier to introduce your Coon to water when they're still a kitten and eager to explore its world. Older cats tend to resist new experiences, and even Maine Coons can lash out if they feel they might be in danger.
If you decide to try it, make the experience as pleasant as possible, staying nearby and avoiding splashing. With patience and practice, your Maine Coon could become the Michael Phelps of the cat world!
Final Thoughts
Have you ever seen a Maine Coon that loves swimming? Would you be interested in taking your big kitty for a dip? If your Maine Coon ends up liking the water, snap a photo so you can add to the lovable content on the internet like these 17 Maine Coons that love swimming.