There's simply no other domestic feline that equals the majesty of a fully-grown Maine Coon. In fact, there's no such thing as an enormous Maine Coon cat that isn't majestic. They're simply regal.
Today, we're bringing you a fun list of 11 Maine Coons that are especially impressive in how wonderfully beautiful and majestic they are. No matter what color coat and eyes, Maine Coons are beautiful. Let's get started!
Jump to:
1. Silver Maine Coon With Amber Eyes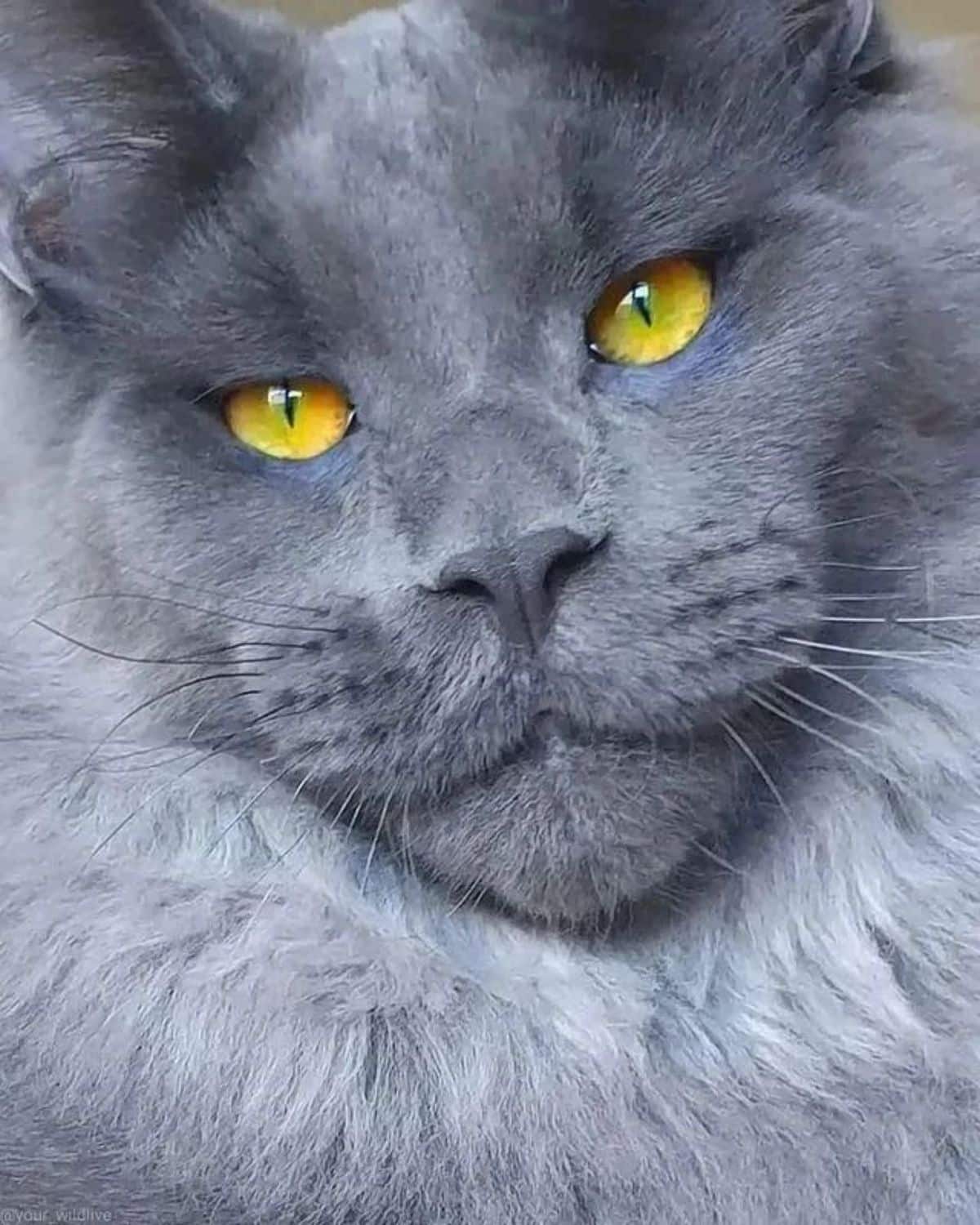 Is this a Maine Coon or a lion? It's a toss-up! This silver Maine Coon has a majestic face and an enviable neck ruff. He's a fabulous fluff ball! This kitty has a unique combination of silver fur and bright amber eyes.
His pose is just as majestic as his appearance. We can't get over how intelligent this feline looks. Honestly, he looks like he's going to start talking! It's all part of this feline boy's regal look.
2. Maine Coon With Green Eyes and Shaggy Mane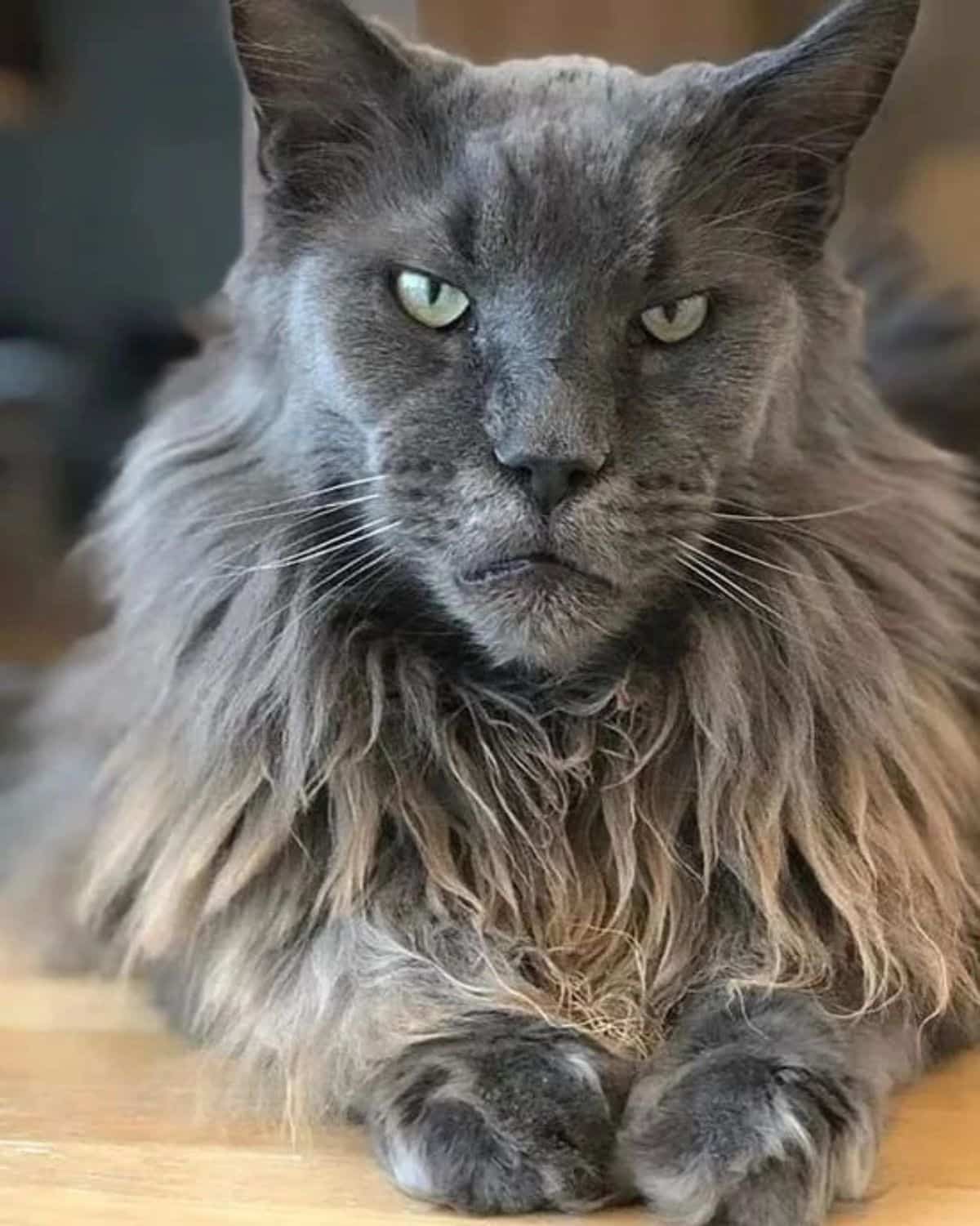 Allow us to introduce Snow, a sweet Maine Coon with an impressive appearance. He looks like a king, showing off a truly regal face for the camera. Adorned by a long, shaggy neck ruff and jade green eyes, Snow knows he can compete with any other cat when it comes to being majestic.
If you're not used to Maine Coons, you might think this cat is angry with his human. But not so. It's just how this breed looks so large and in charge.
3. Snowy White Beautiful Maine Coon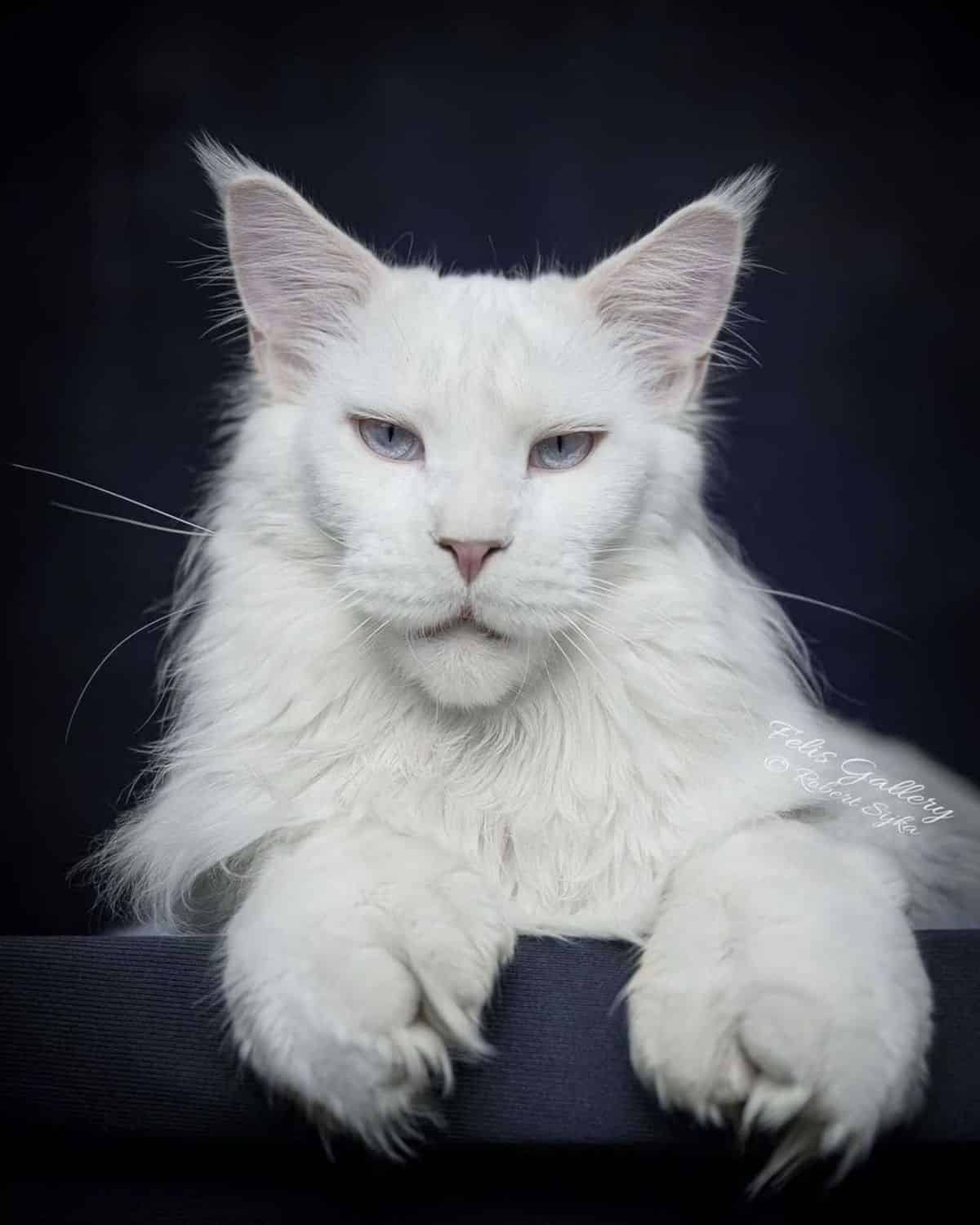 Sometimes even cats need professional photo shoots! Especially Maine Coons, of course. This majestic feline loves showing off her fluffy coat, as white as snow.
It's her snowy coat that makes her human social media manager call her an "ice queen." We love her pale blue eyes and phenomenally long bristling whiskers. Those paws are simply enormous.
4. Fluffy Maine Coon Almost Too Big to Hold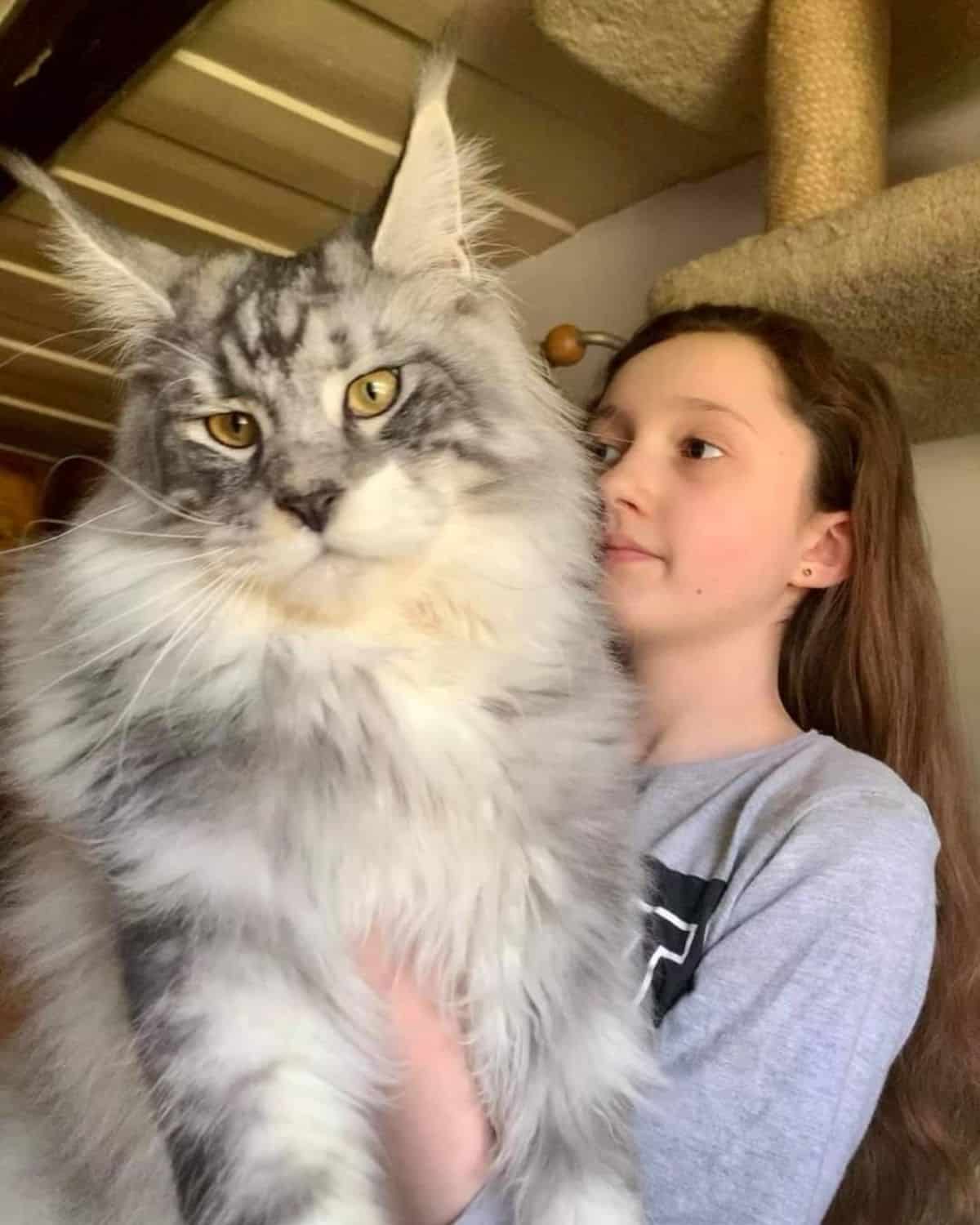 Wow! Is this a lynx or a Maine Coon? Well, it's definitely a Maine Coon, and he's certainly majestic! He's such a gentle giant, which is why a young human is allowed to hold him up. Aww, such a sweetie!
Fluff, fluff, and more fluff! That's what you get from this massive kitty. He's so laid back that he's willing to be patient with human silliness.
5. Black and White Maine Coon Watching the Birds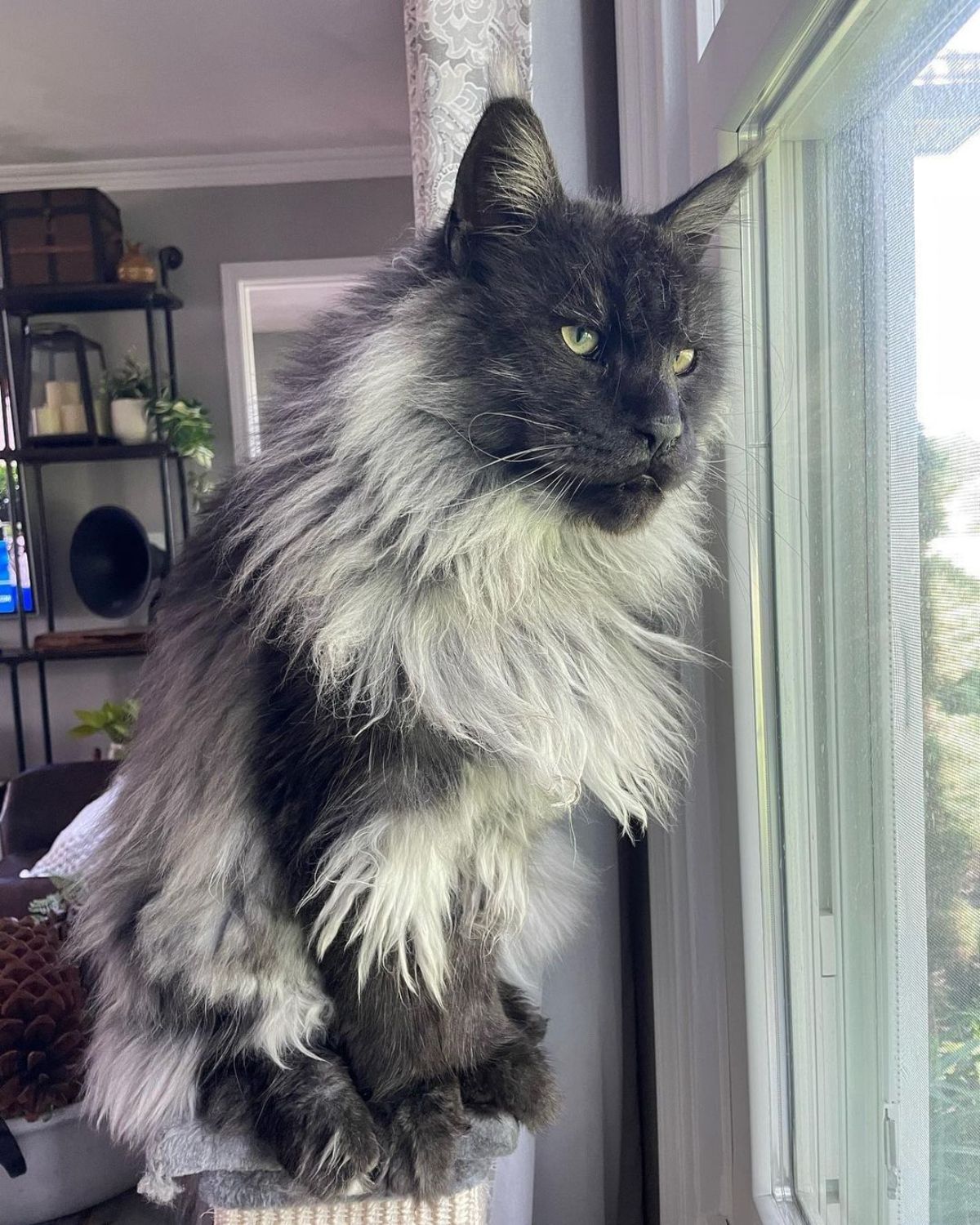 Called Monsa, this Maine Coon is an intense-looking boy! He wants to be the terror of all the birds and squirrels outside. Or maybe he just wants to be friends. Hmmm, not so sure.
We love the contrast between the dark fur on his face and arms and the light fluff on his back and majestic neck ruff.
6. Green-Eyed Maine Coon with White Neck Ruff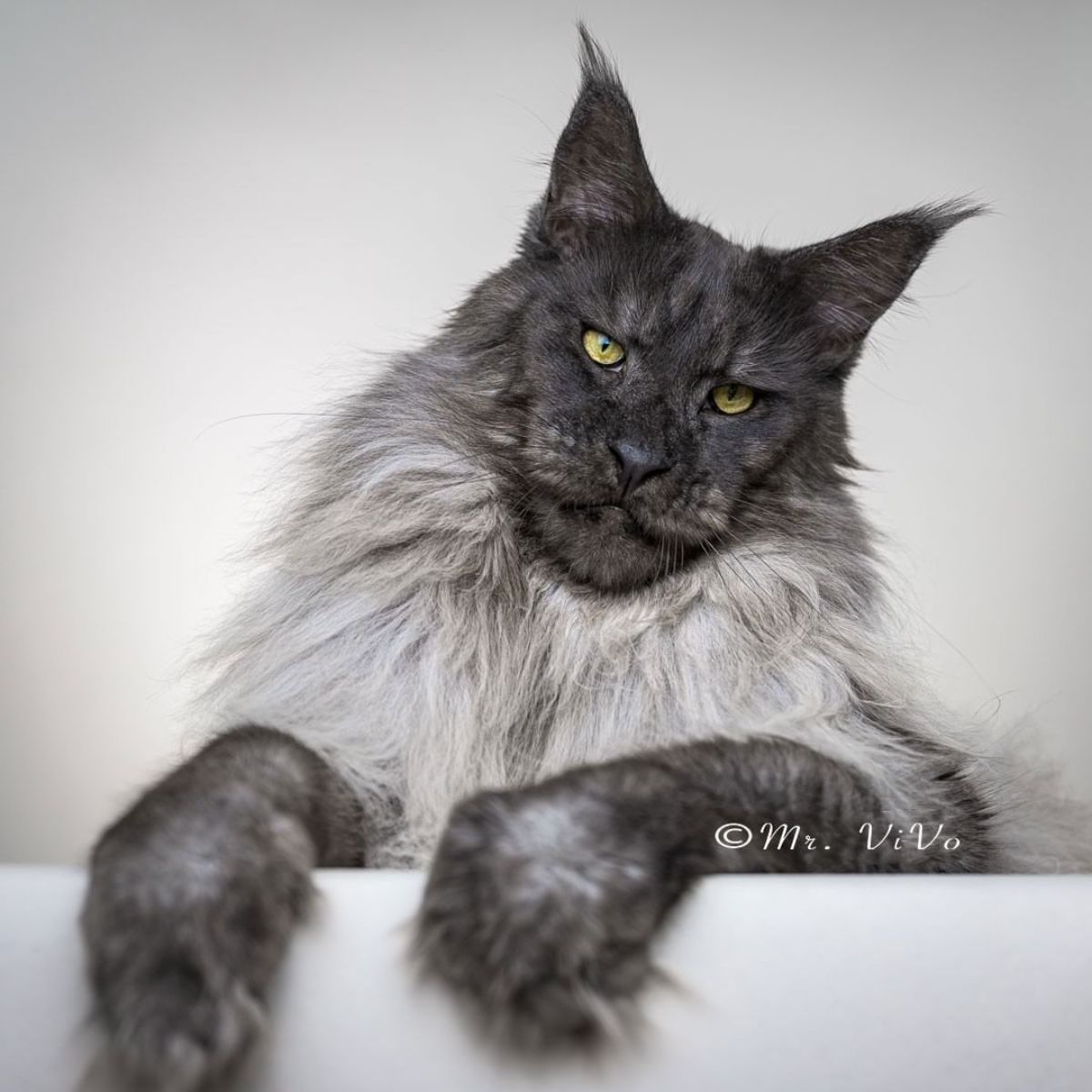 This Maine Coon knows he's beautiful. And like the description says, he's certainly the King. But he's merciful as long as you bow. Really though, isn't this feline seriously majestic? The intelligence you see in his eyes and face is astounding. The King knows that no other domestic cat could compete with these enormous paws.
7. Giant Maine Coon Looking Regal on a Chair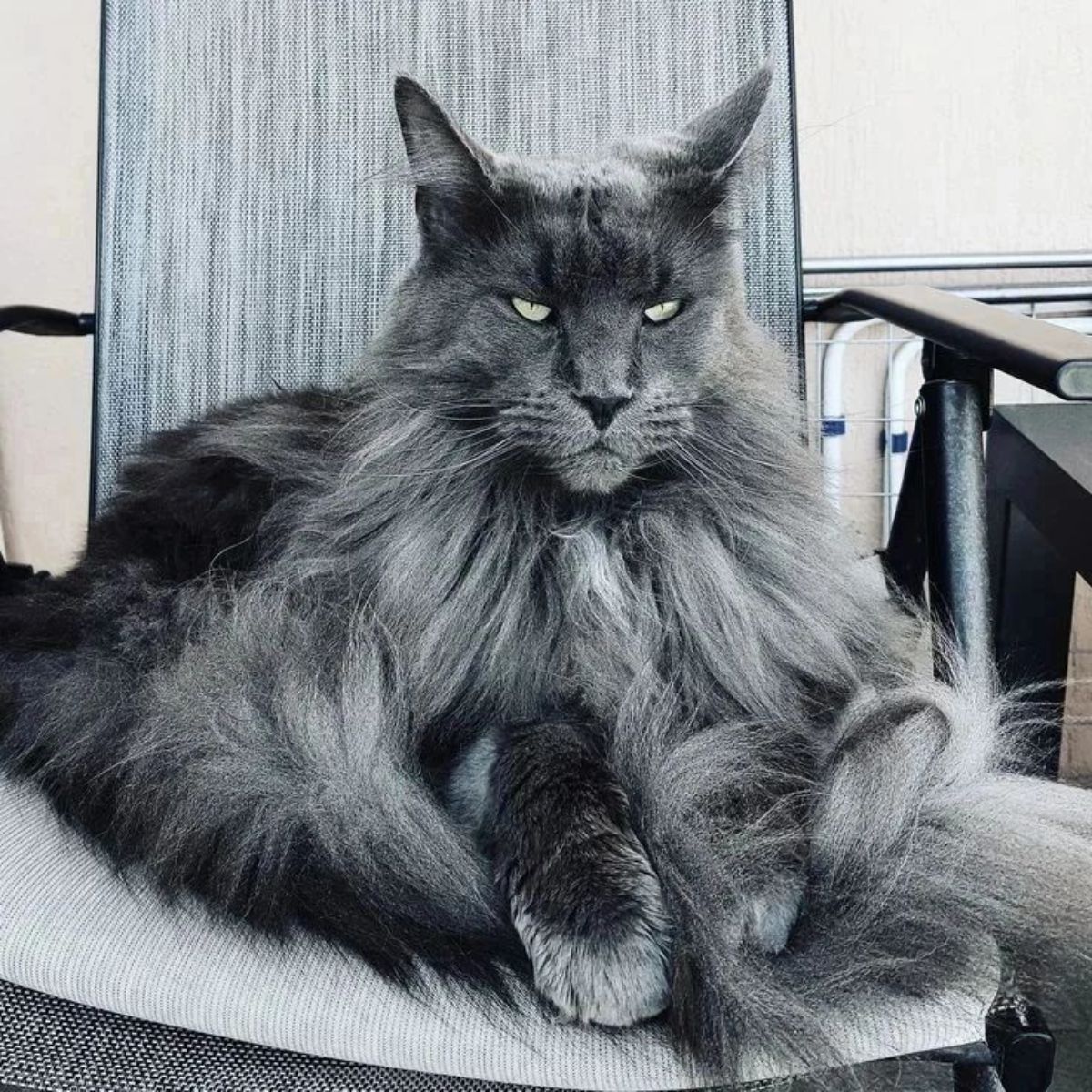 Is this a monarch on his throne? Well, pretty close! This extraordinary animal is none other than a majestic Maine Coon. He looks rather displeased. Wonder what his humans did wrong? The sky's the limit!
We think this is the thickest neck ruff we've ever seen. As his social media manager says, he seems angry. Or maybe he's just thinking of his next treat. Tuna, anyone?
8. Elegant Maine Coon Comfy and Cozy on a Blanket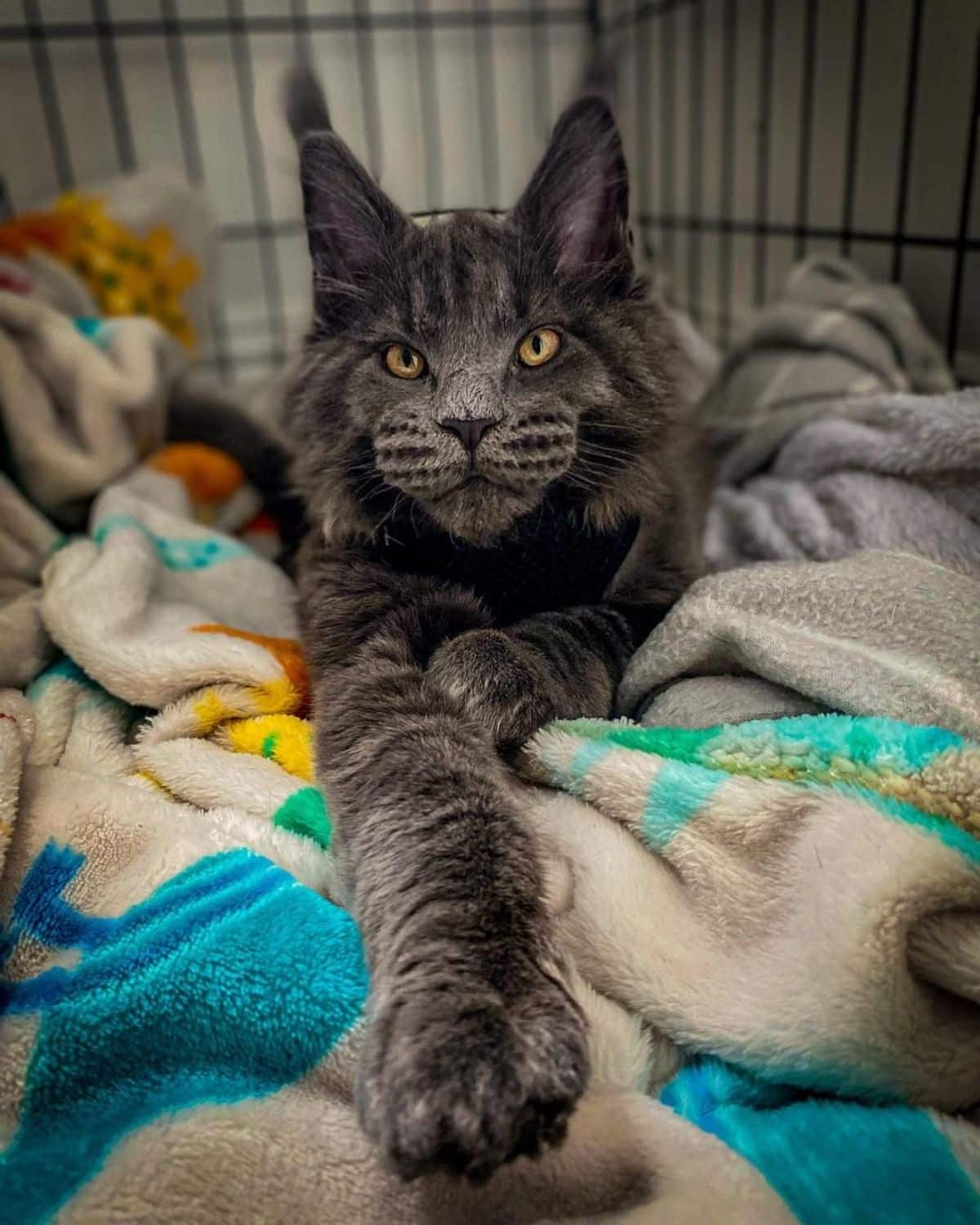 A blanket is a favorite place for any feline friend, and this Maine Coon is no exception. He has enormous lynx tips atop his ears, which adds to his majestic appearance. Check out his thick arm stretching out in affection to his human companion.
He's so sweet. This Maine Coon has the typical feline green eyes and a steely gray coat.
9. Enormous Maine Coon Kitty With Flourishing Lynx Tips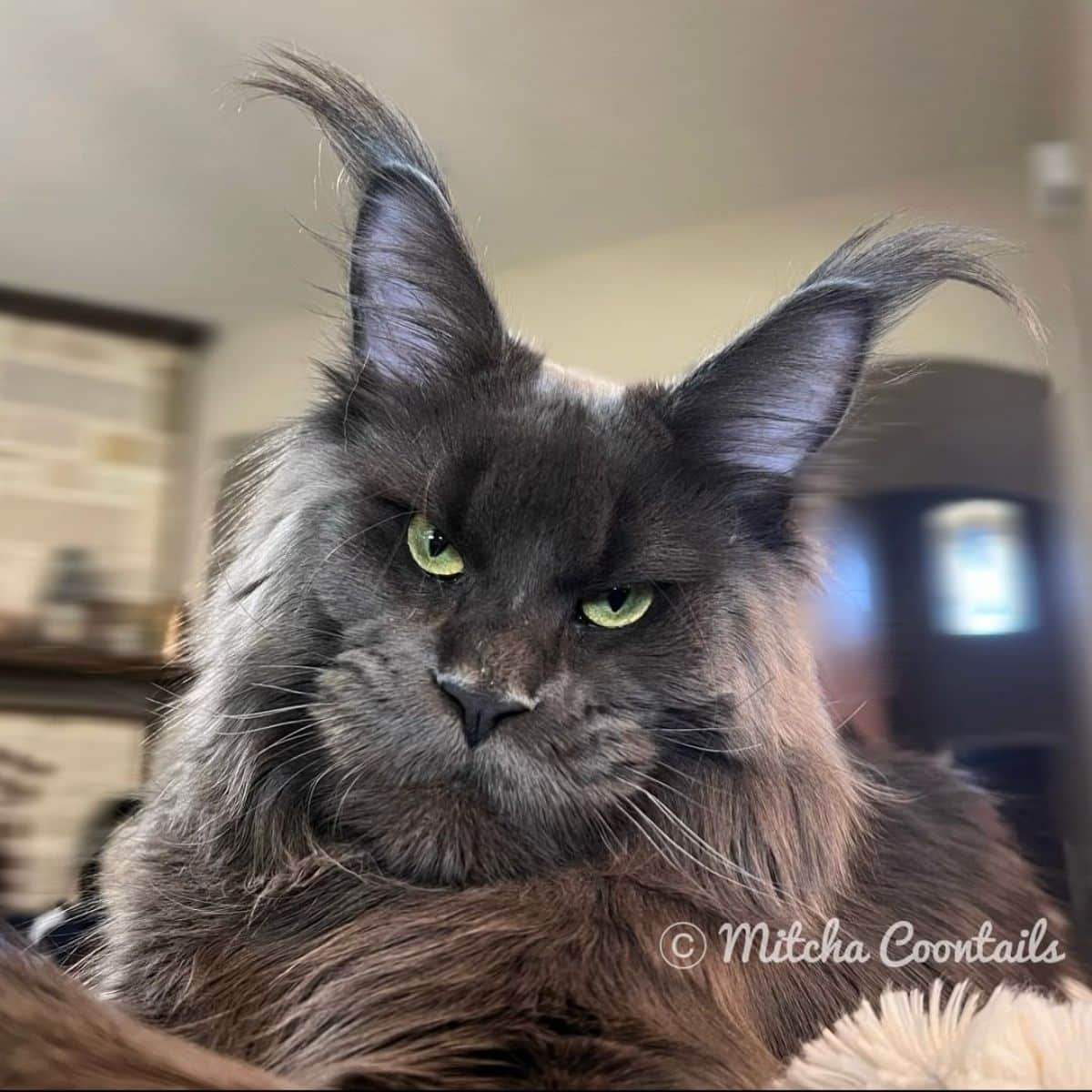 There are lynx tips, and then there are lynx tips! If you're not familiar, lynx tips are the tips at the end of the ears that we see on Maine Coons (and lynx, of course). This kitty's lynx tips are a bit droopy. Maybe it's humid outside? Whatever the reason, he looks a bit perplexed. We think he wants a nap and can't understand why his human can't stop worshiping him, at least for a few hours.
10. Black Maine Coon with Brown Neck Ruff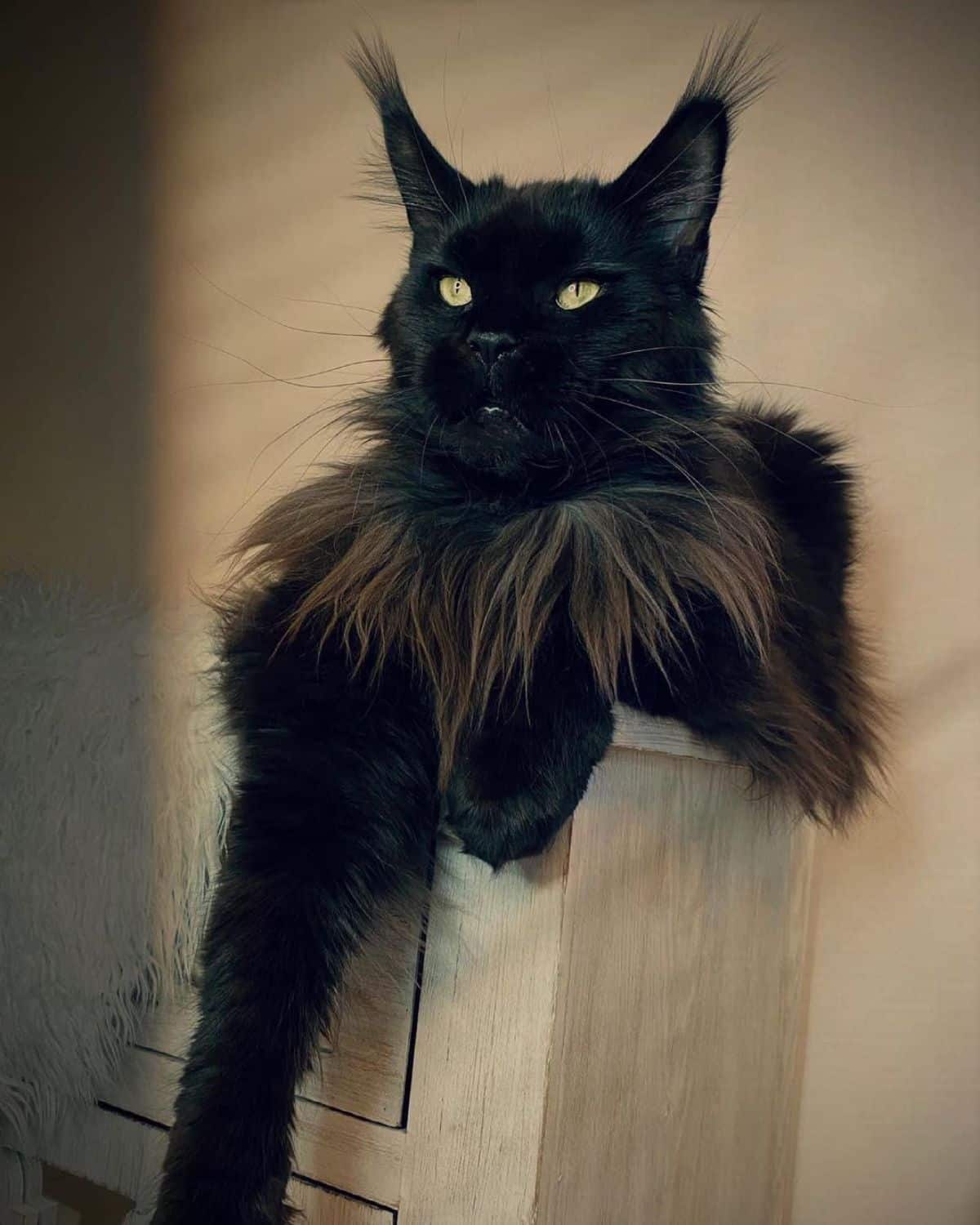 This majestic Maine Coon is striking a pose. Truly, he looks like he could be in a fashion magazine. His neck ruff looks like a shaggy bib, while the fur on his head and arms looks delectably soft. He's posing on his human's furniture. And why not? All hail the king!
11. Tuxedo Maine Coon Posing on the Coffee Table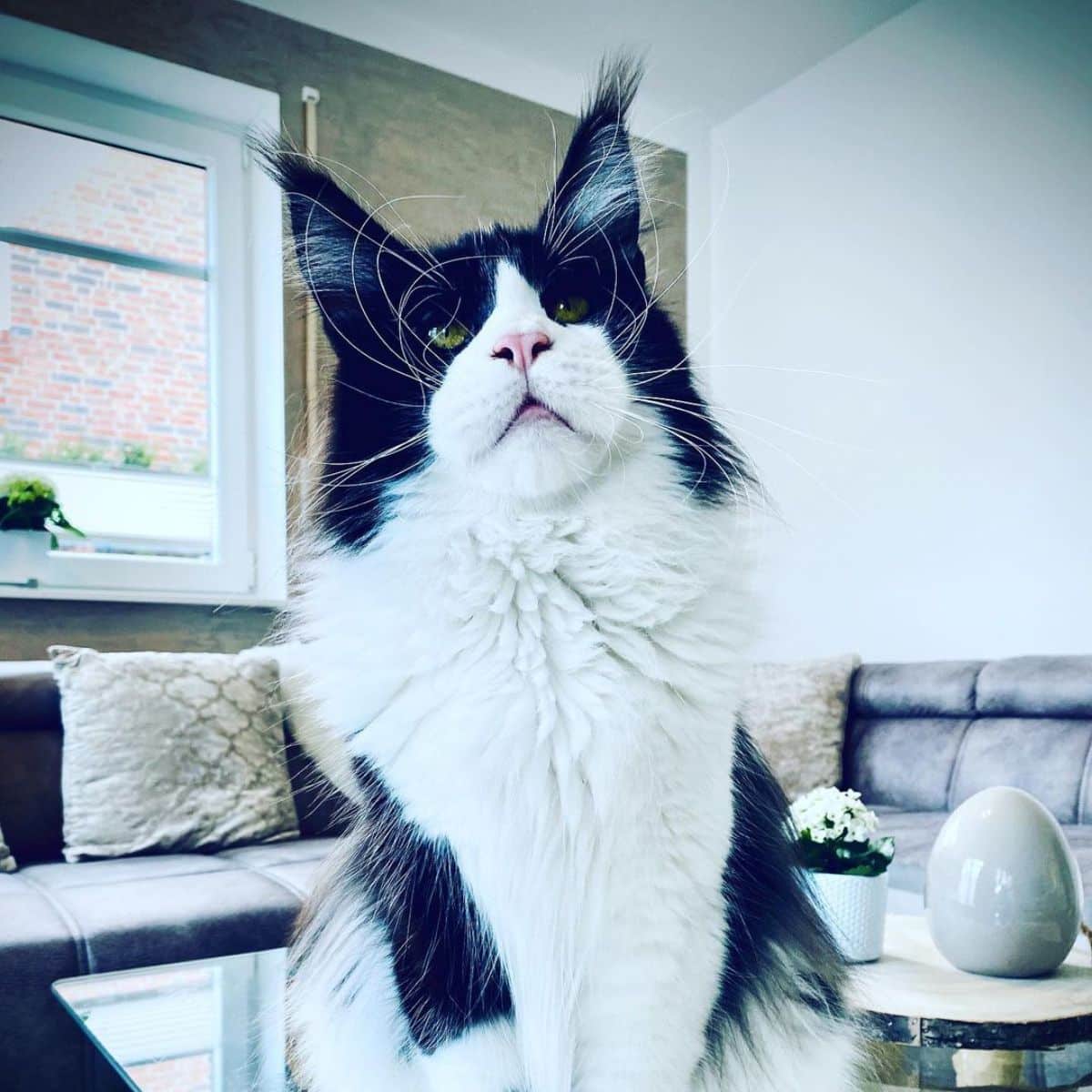 This tuxedo Maine Coon has whiskers growing in every direction. He's looking up as if to see if he can find some more! Such a fluffy white neck ruff and chest! This feline companion is pure perfection. And don't forget majestic. He's super majestic. Why aren't his humans bowing down? They should be.
Final Thoughts
Now you've seen and admired all these majestic Maine Coons, can you choose a favorite? If not, that's okay. There's all the time in the world to admire these feisty furballs. When it comes to adjectives that describe the Maine Coon, majestic comes top of mind. Beautiful, gorgeous, enormous, fluffy, and affectionate are others you shouldn't forget.