There's nothing quite as adorable as a Maine Coon in the winter when the full extent of its fluff is on display. Often, they're more playful thanks to the cooler weather, and if you're lucky, you might coax these gentle giants into enjoying a snowy stroll.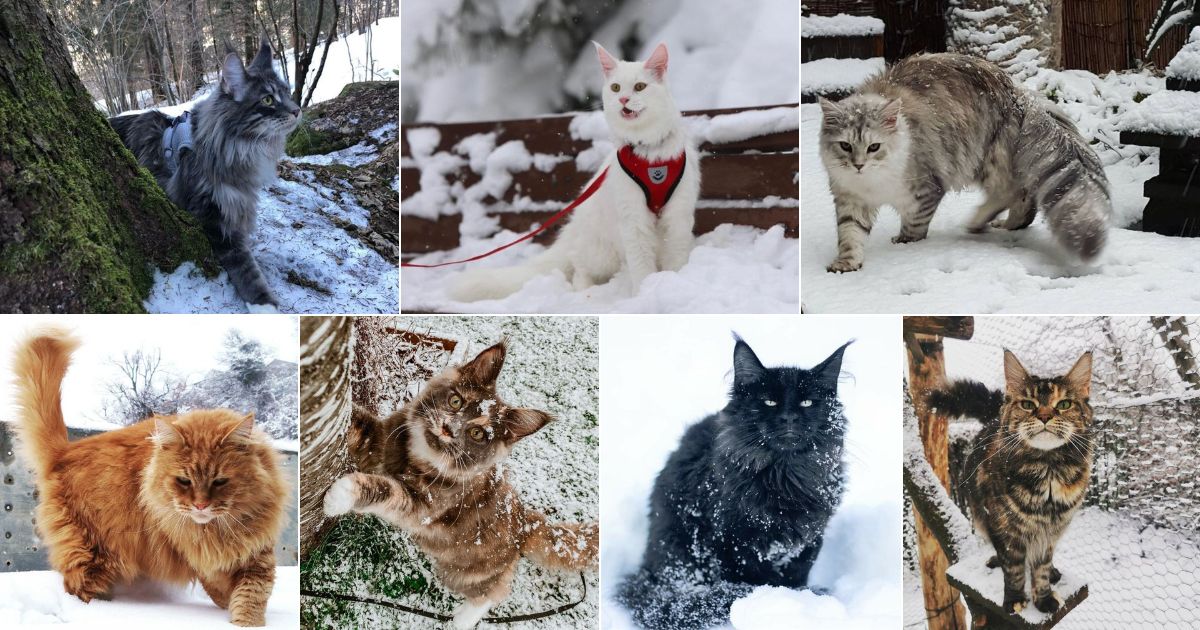 Suppose you haven't had the pleasure of seeing your big kitty leave behind tiny, glistening pawprints or digging through a snowdrift.
In that case, these adorable pictures of Maine Coons who love snow might be the inspiration to introduce your pet to a winter wonderland waiting for them outside.
Jump to:
Maine Coons: Cats Built for the Cold
As New England natives, Maine Coons have many adaptations that help them survive the bitterly harsh winters.
Winter Coats
Maine Coon's shaggy, double-layered coats are sleek, water-resistant, and highly dense. Not only does this keep them cozy in frigid conditions, but it also acts as a rain slicker, keeping melting snow from penetrating through to their skin.
It's also significantly longer on their bellies and the ruffs around their necks, making walking through even thick layers of snow a less bone-chilling experience.
Built-In Snow Shoes
The puffs of fur that stick out between a Maine Coon's paw pads are a source of delight for their owners, but they also act like snow shoes to make walking across ice, snow, and other slick surfaces much more comfortable.
The hairs keep water from reaching their skin and increase the overall surface area of their feet to help them gracefully sashay through slush.
Their "toe beans" also have more fat than your average housecat, creating an insulating layer of squish between them and cold surfaces.
Tufted Ears
Those lynx-like tufted ears are far more than a fashionable feline accessory. They help keep the Maine Coon's ears safe from nippy air and icy conditions by providing an additional insulating layer.
The fur also grows inside the ear, but that doesn't affect their stellar predatory hearing. These auditory aficionados can turn their ears in a wide range of directions to make hunting a breeze in the winter when prey is more scarce.
Bottlebrush Tails
Like squirrels rely on their big, bushy tails for protection from the elements, Maine Coons will either wrap their plumed posterior around their face like a scarf or curl it under their backside for an on-the-go seat cushion.
The tail's plushness also ensures it rests atop the surface of the snow instead of sinking in.
1. Ginger Maine Coon Takes a Winter Trek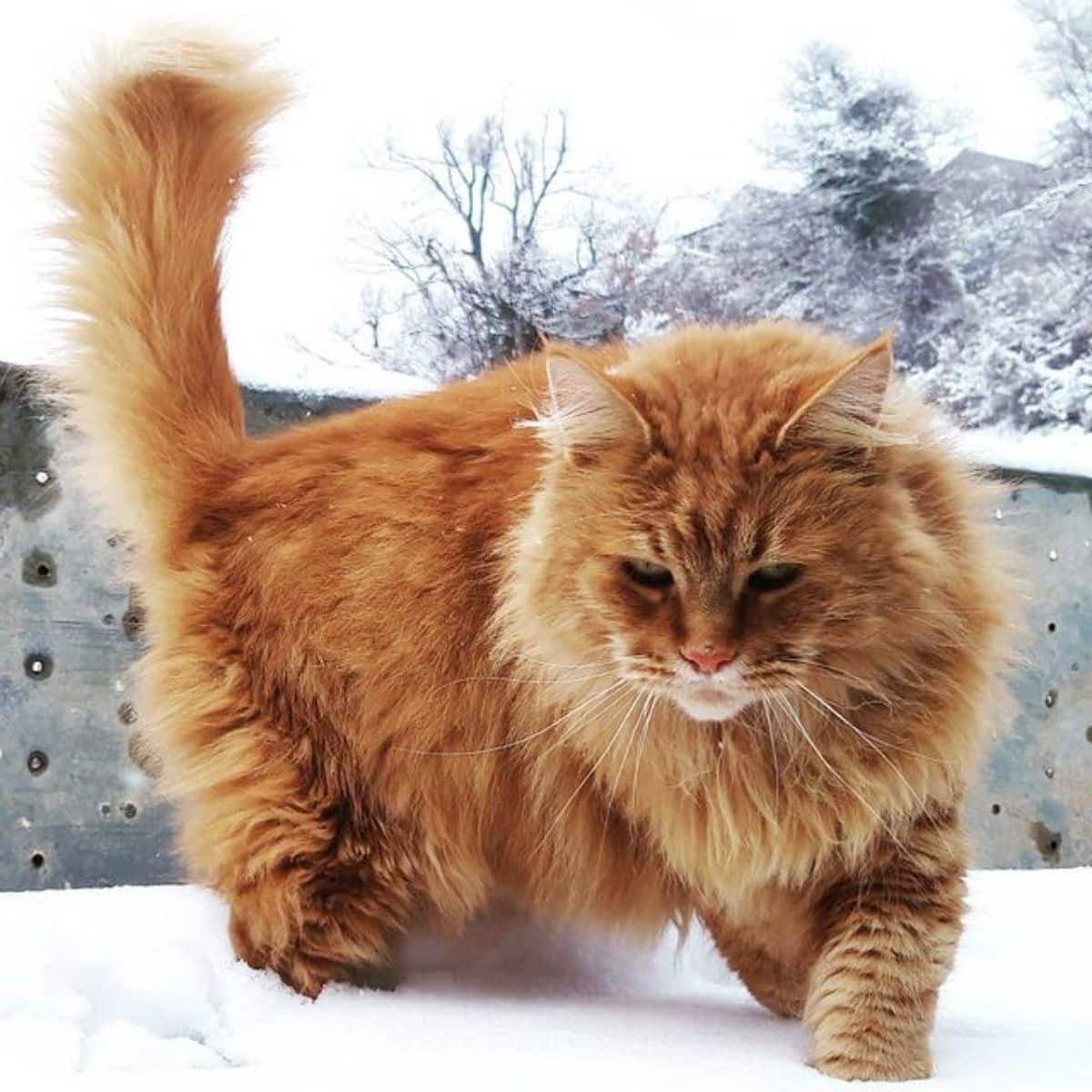 Olivia's stunning, rusty-red coat is ideal for outdoor adventuring in even the whitest of winters. Those thick ruffs and inner ear tufts make a handy barrier to hamper hypothermia.
2. Snow-Dusted Sweetie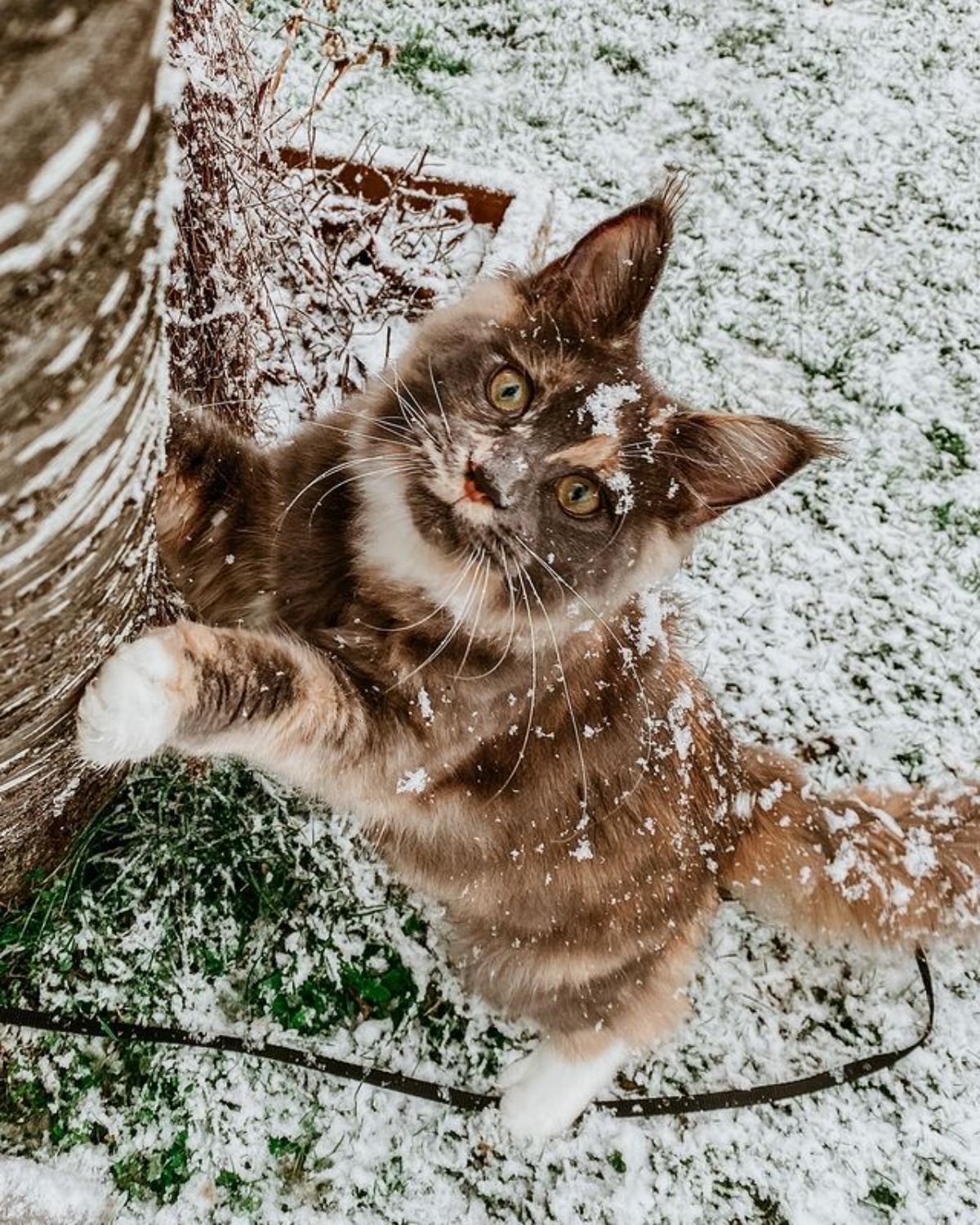 While most breeds would be bothered by the dusting of powder from using their favorite outdoor scratching post, Ralph's winter-ready coat keeps the cold and moisture away from his skin.
3. White as the Freshly Fallen Snow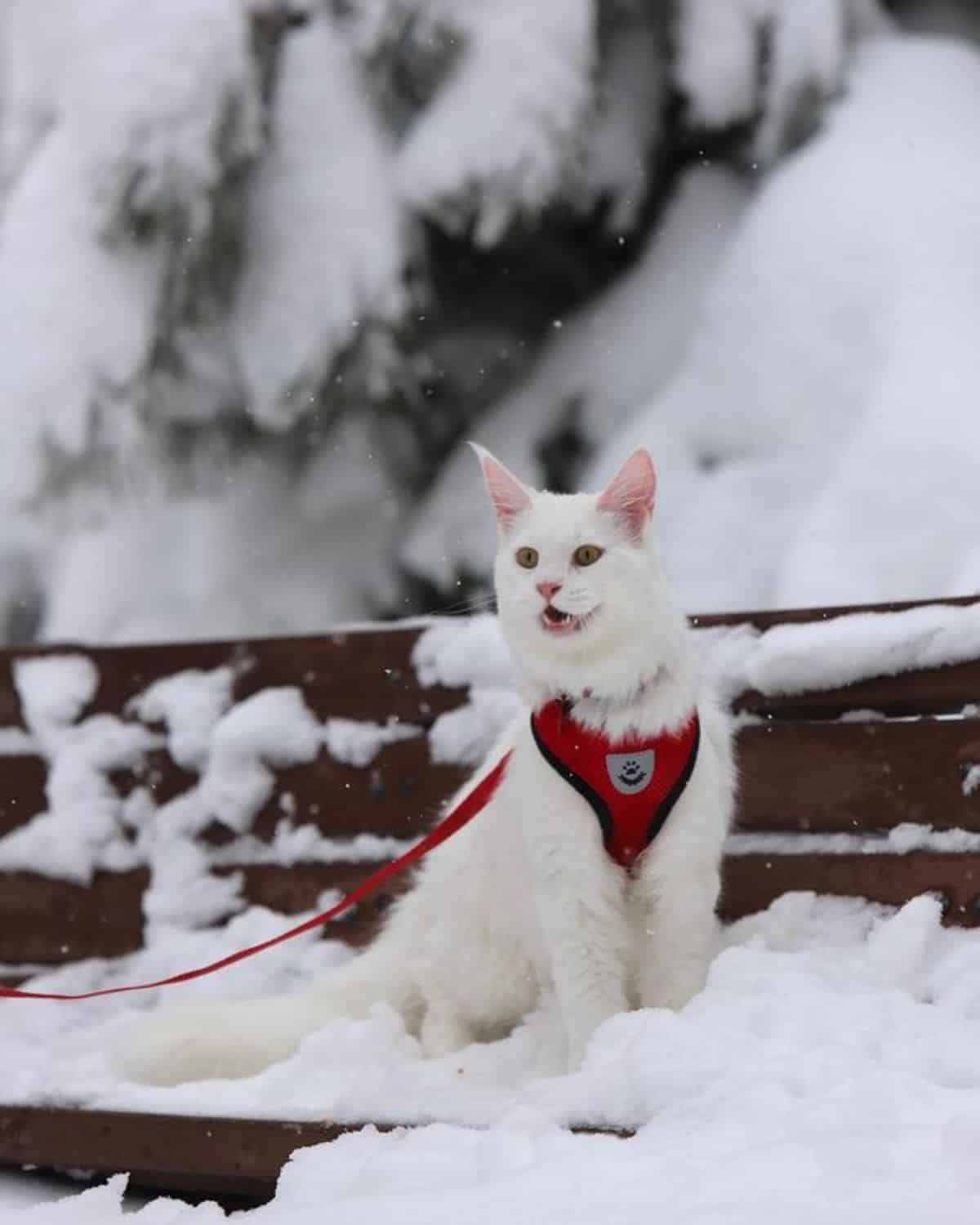 Lilith's majestic, pearly-white pelt matches her snowy environment quite well, but the pop of pink on her nose and ears is even more swoon-worthy.
4. Bonnie the Blue Tortie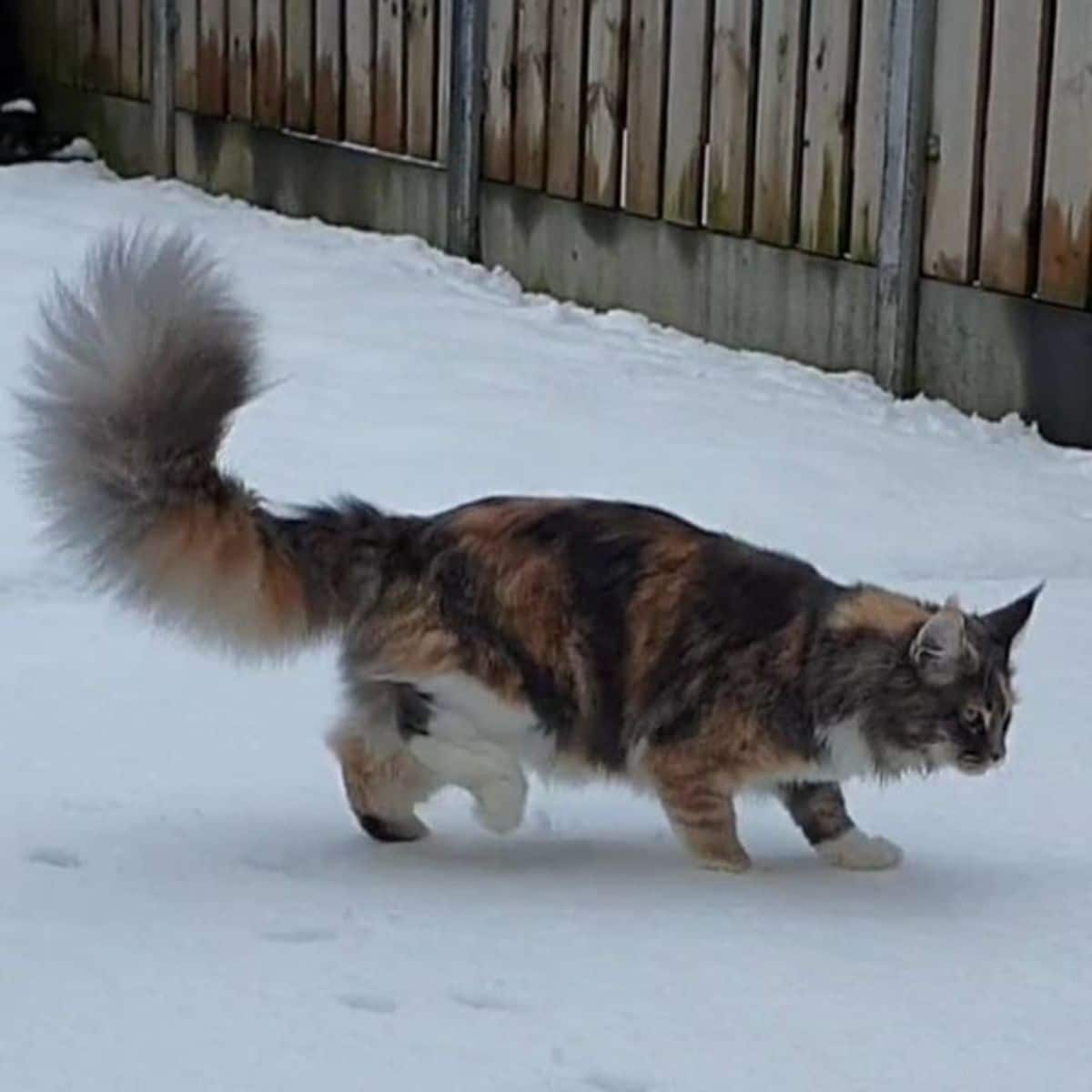 It's hard to tell which is fluffier: Bonnie's tail or the frosty powder she's tiptoeing through. With her tail puffed out in all of its feathery glory, it's easy to see why Maine Coons rank at the top of the cat cuteness charts.
5. Gareth Stands Tall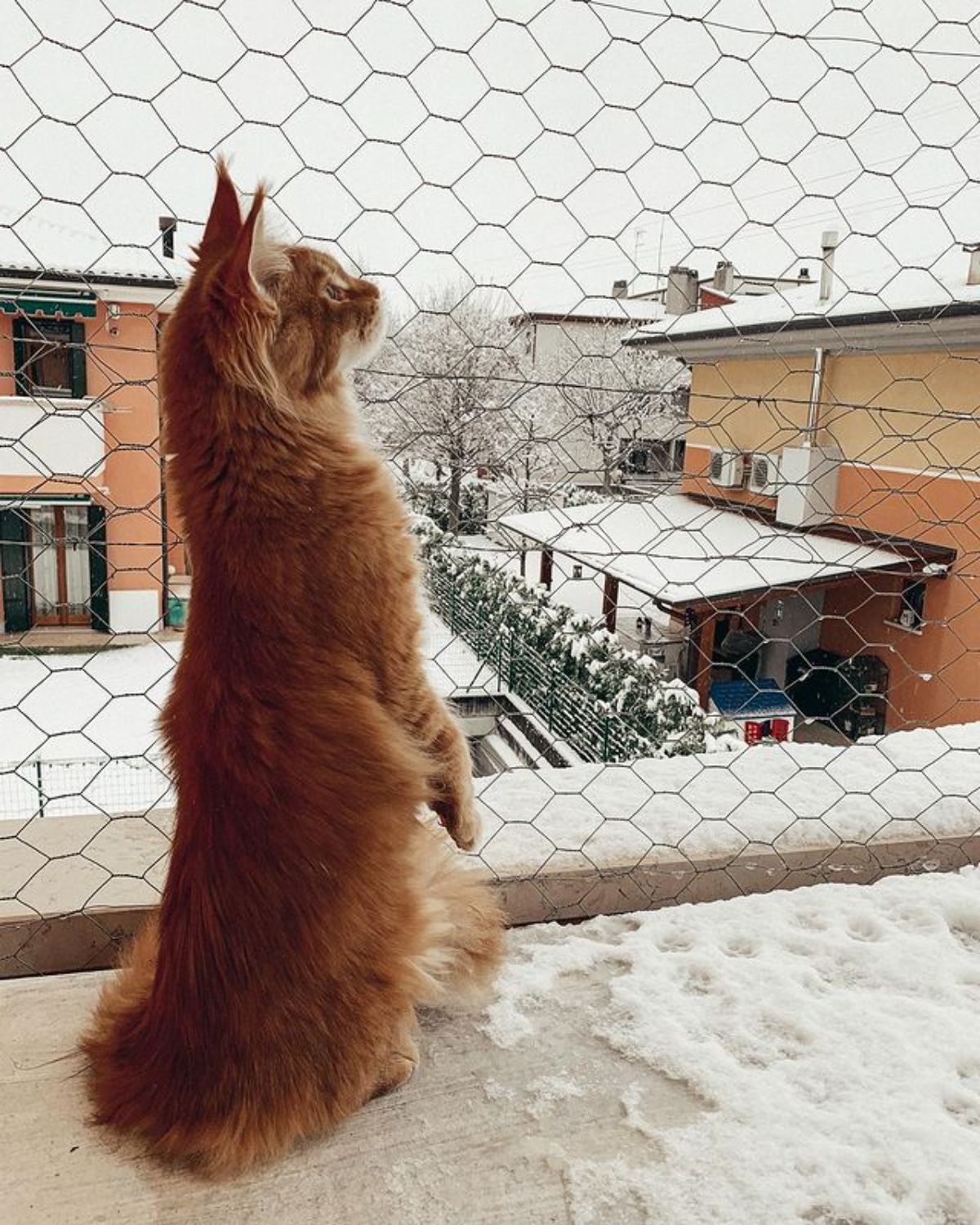 To prevent the cold concrete from bothering his bottom, Gareth wraps it around his lower half so that he can enjoy a cat's eye view of his snow-covered kingdom.
6. Tiger-Striped Tabby
Nikita looks stunning with her emerald-colored eyes and multicolored toes. She relies on her lightning-fast reflexes to make easy work of slick platforms and icy branches to gracefully explore the surrounding environment.
7. Little Maine Coon Loves the Snow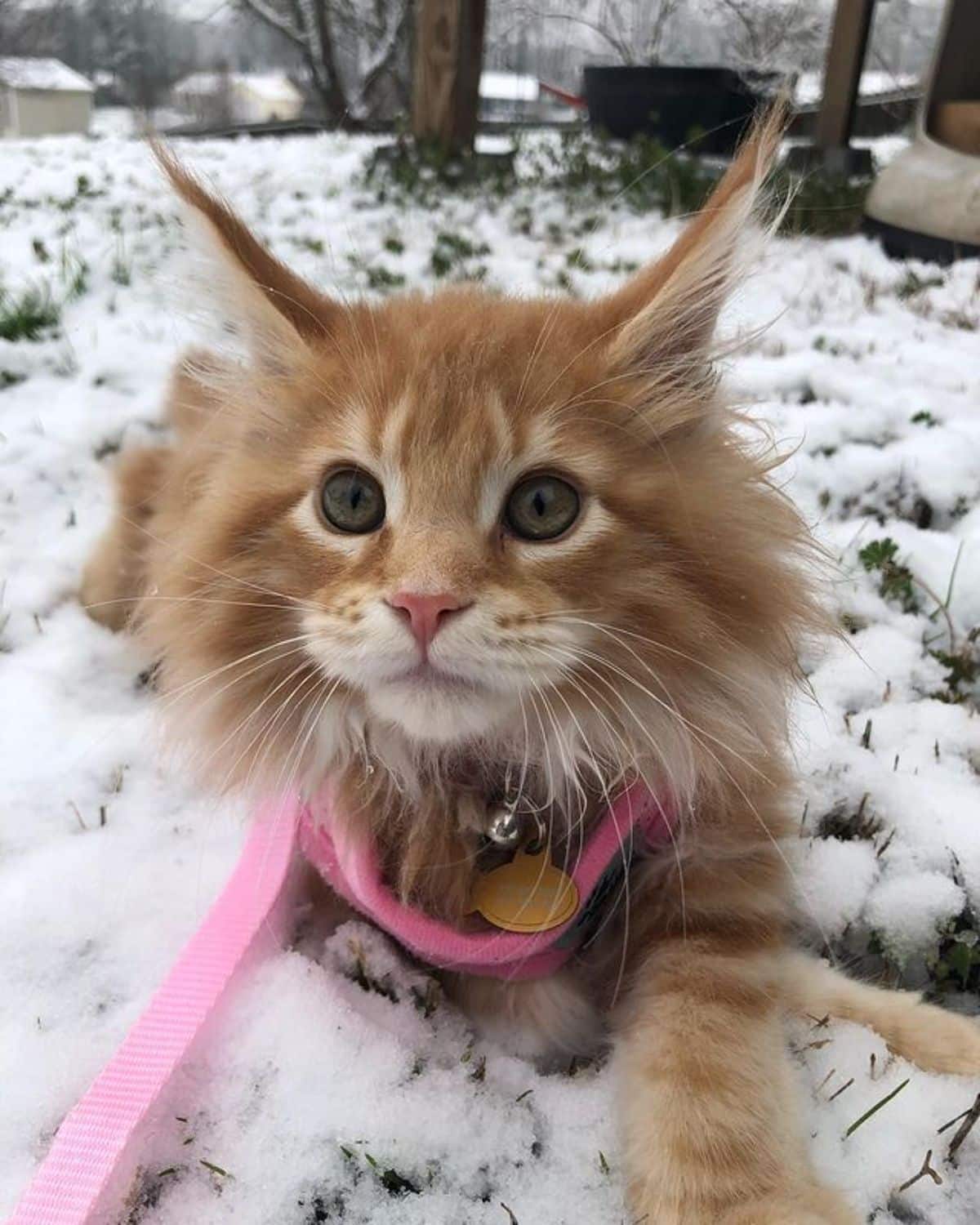 Lion-faced Todd seems tiny when he's bundled up in his older sister's harness, but it's the safest way for him to enjoy a quick siesta on his snow-covered lawn. Soon enough, he'll grow into his baggy travel gear.
8. Fluffy-Tailed Feline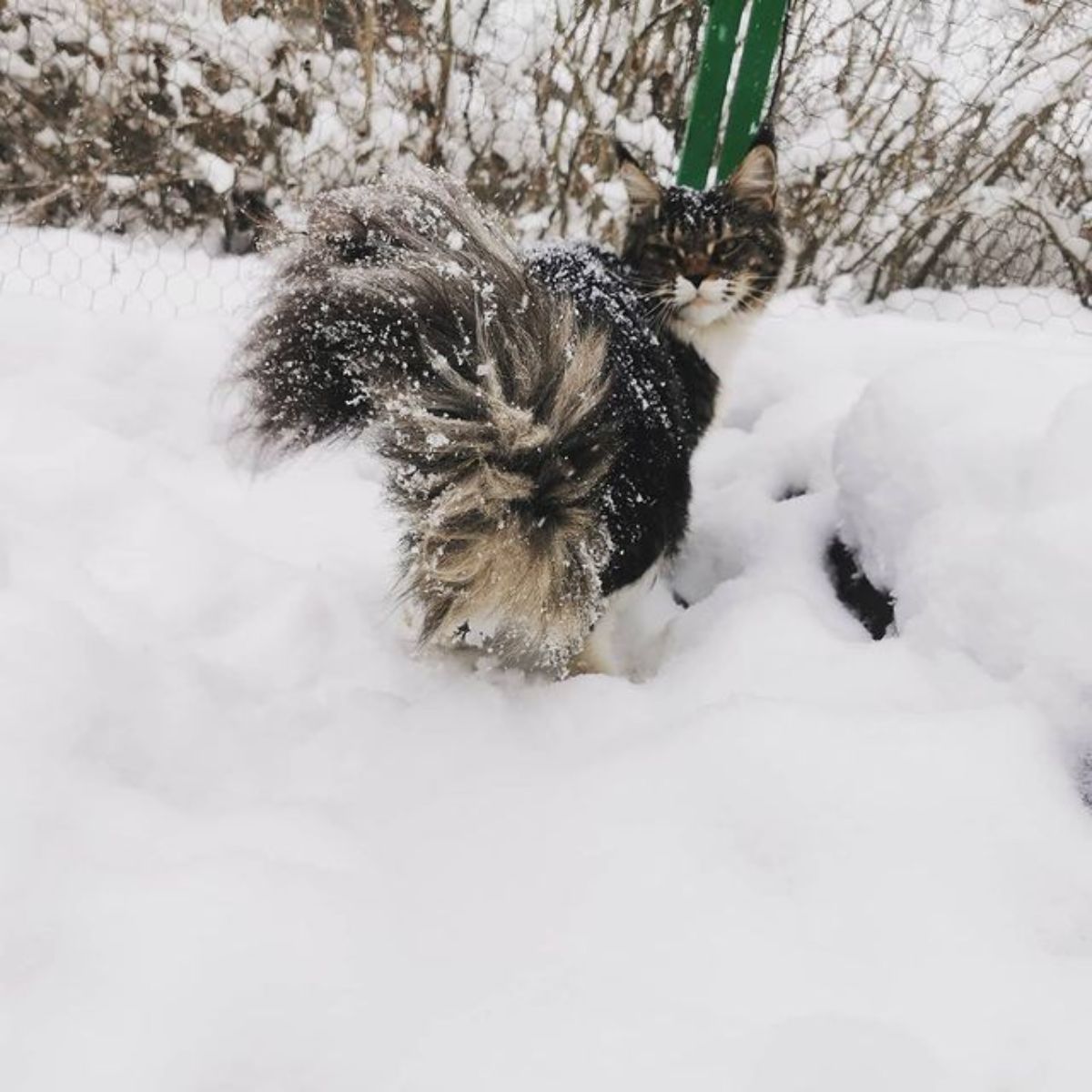 This snow-loving Maine Coons looks like she's striking a pose as she looks back toward the camera. She proves that even the most elegant animals like to cut loose when the conditions are right.
9. Alicia, the Arctic Explorer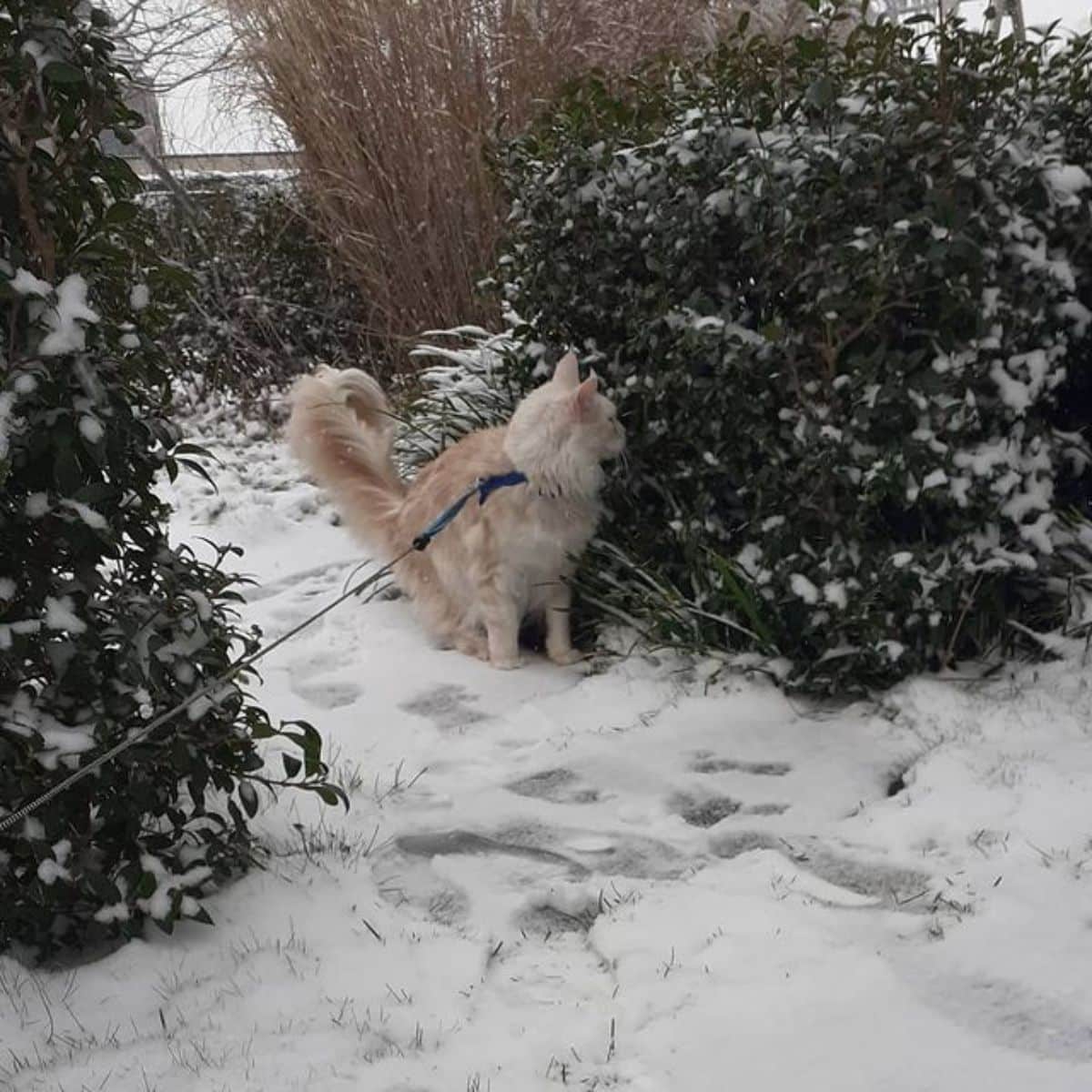 The saying goes that curiosity killed the cat, but creamy-coated Alicia doesn't let a leash or freezing temperatures stop her from investigating the evergreen foliage adorning her backyard.
10. Enjoying the Swedish Chill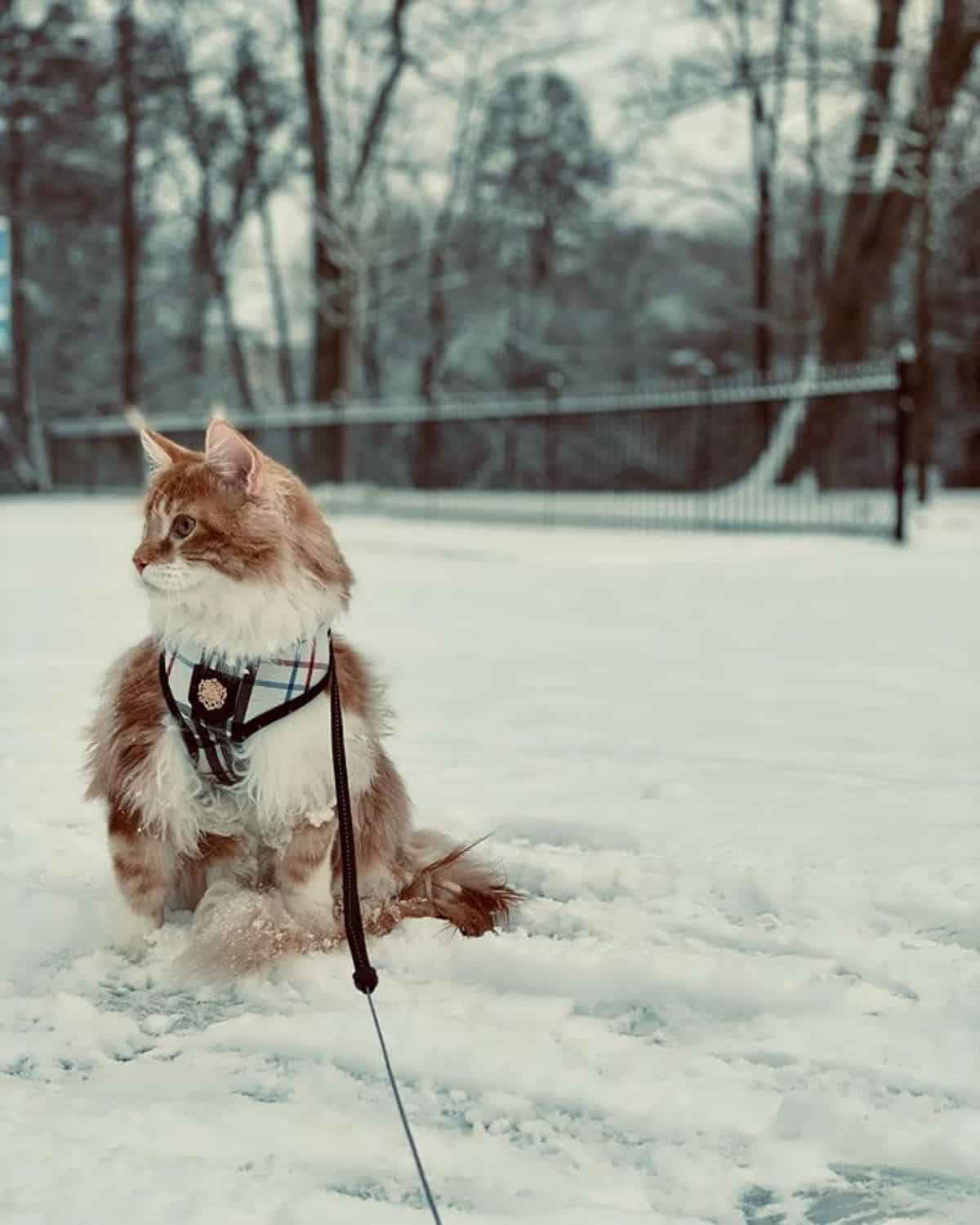 Swedish Sami's natural snowsuit makes surviving the sub-zero Arctic temperatures much more enjoyable than his short-haired brethren.
11. A Vigilant Gatekeeper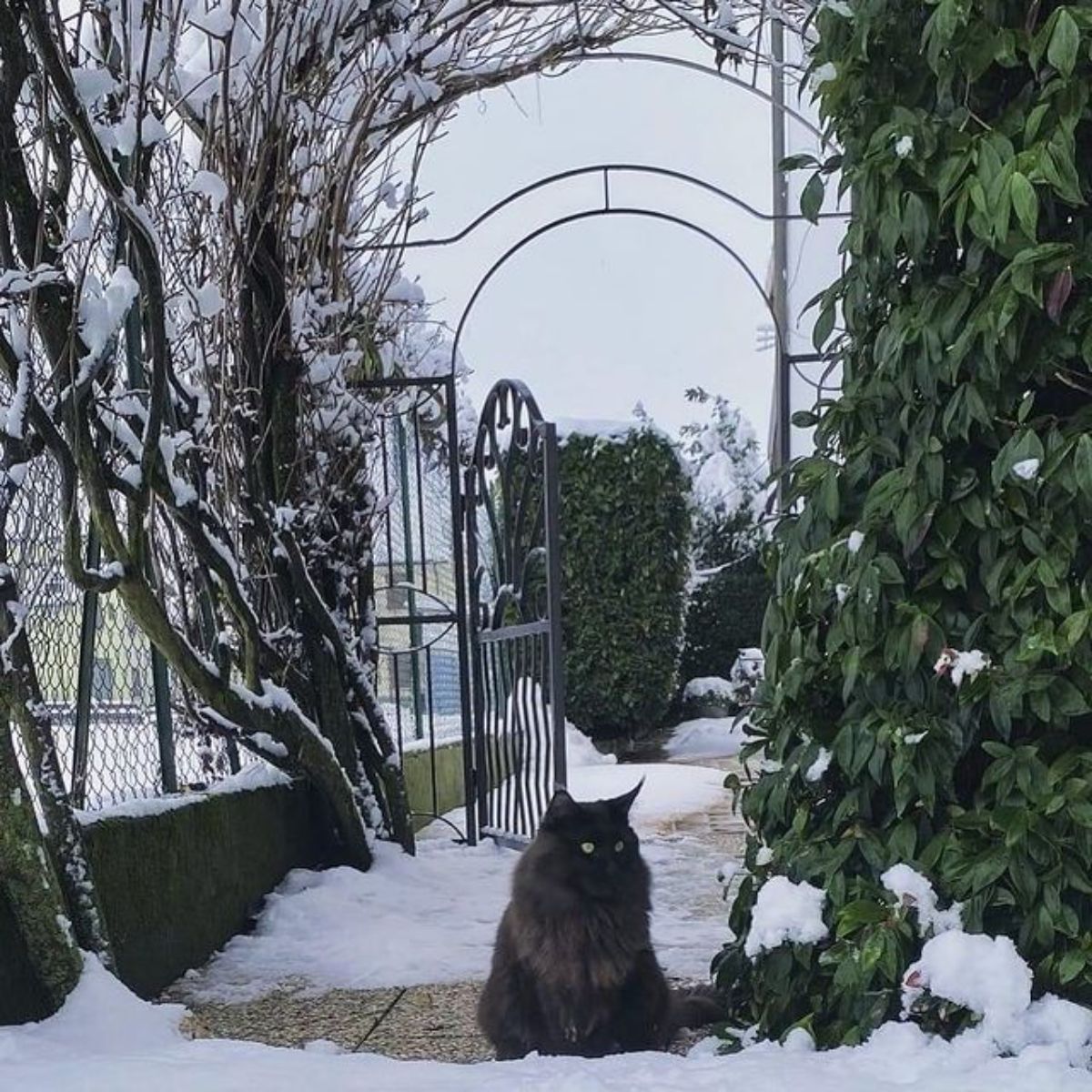 If your guard dogs can't hang when winter rolls around, Enea might be Maine for the job. He looks mysterious and stately, standing like a sentry outside the wrought-iron gate.
12. Tiptoe Through the Forest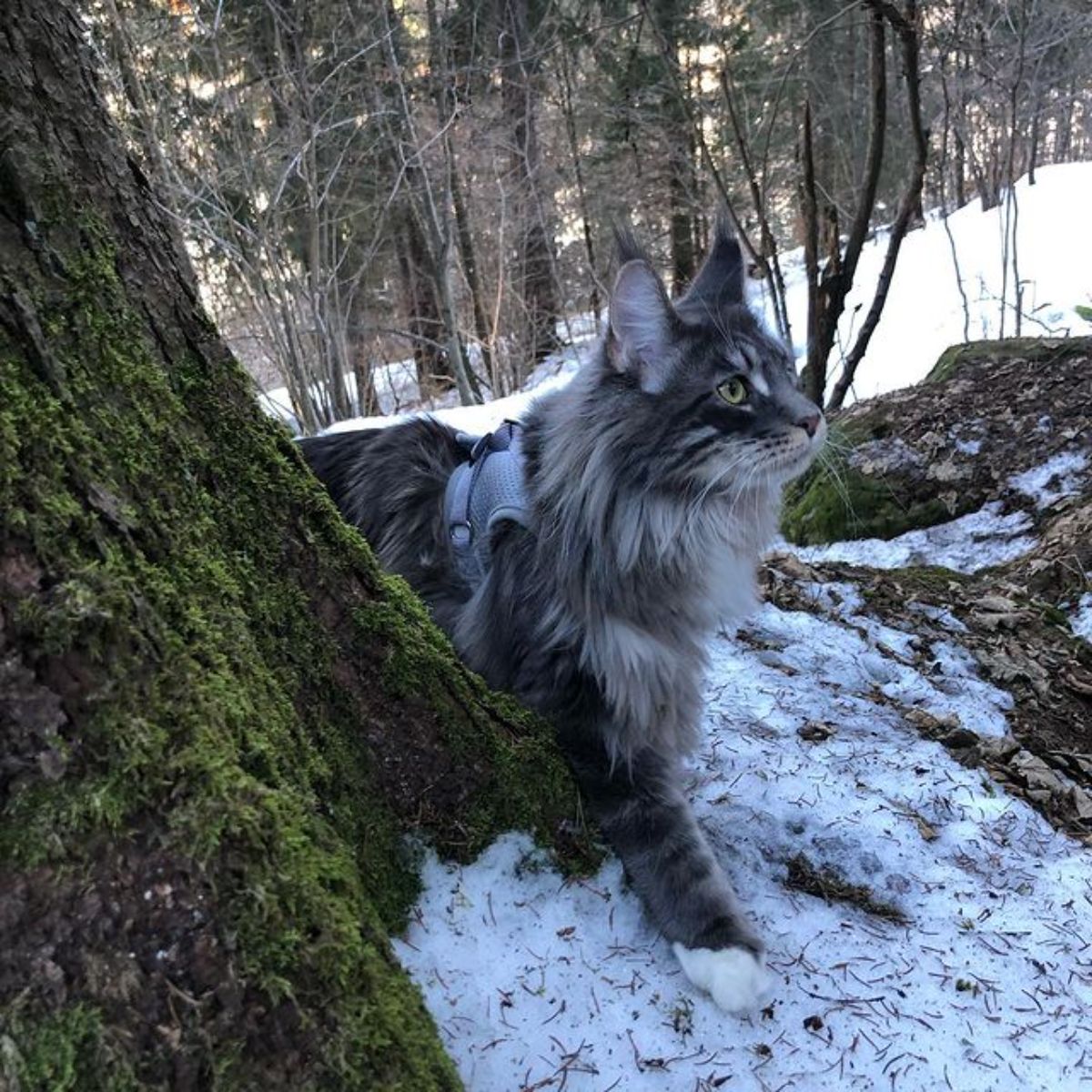 Aptly named Storm due to her beautifully colored fur, she doesn't let tempestuous winter weather damper her sylvan adventures. She deftly navigates around moss-covered trees in her homeland of Chamonix, France.
13. Peaches-and-Cream Pretty Kitty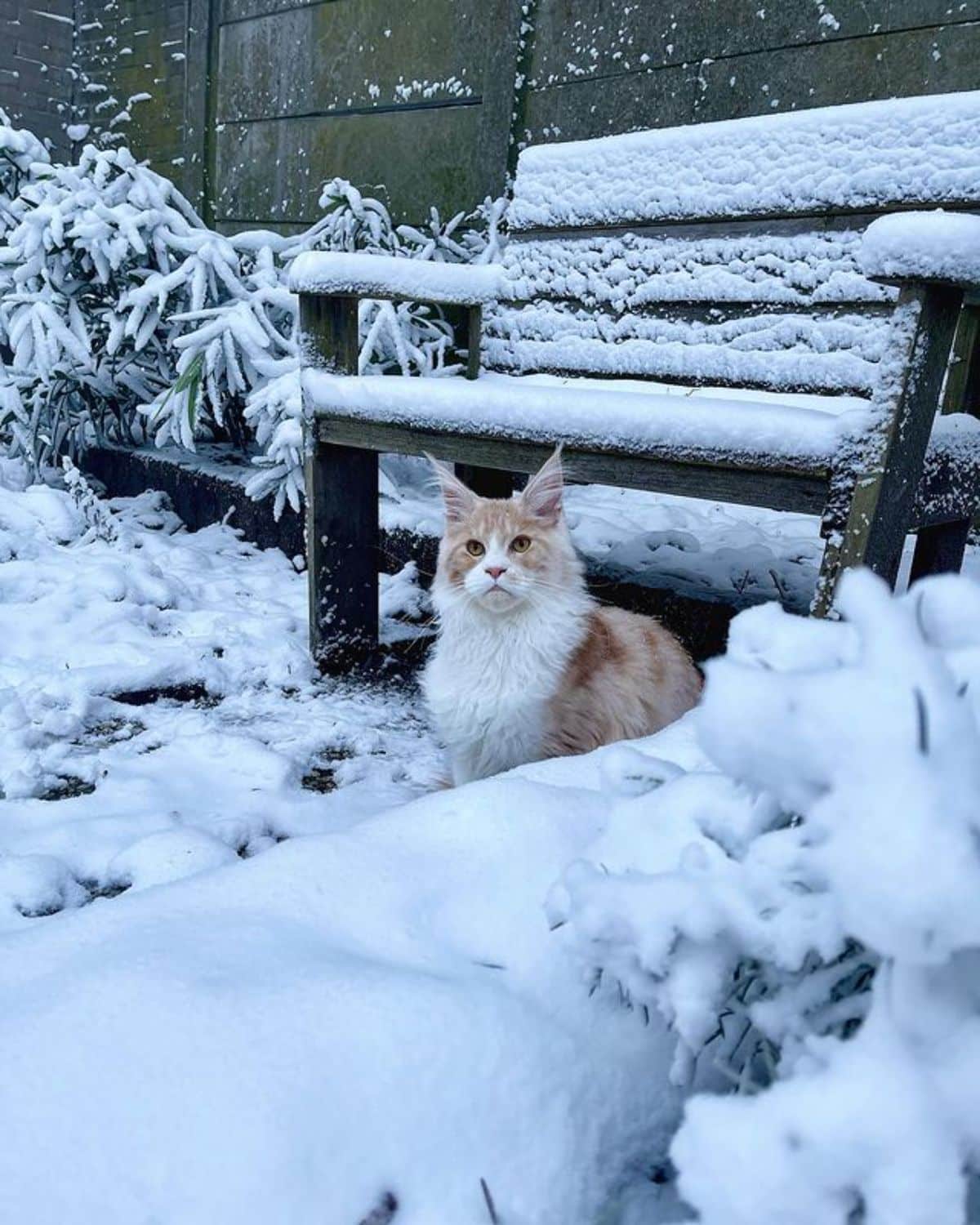 While it's true that Maine Coon cats are more resilient to the snow, that doesn't mean it fills every feline heart with wonder and joy. Archie Harrison likely loved the snow when it was exciting and new, but his facial expression shows he's had just about enough of this glistening nonsense.
14. Green-Eyed Snowy Day Stunner
Darling Diesel looks content to enjoy a bit of wintertime sunshine. Even though the ground is covered in frost and flakes, her furry paws and thick coat offer her plenty of protection from the cold.
15. Leaving Pawprints Behind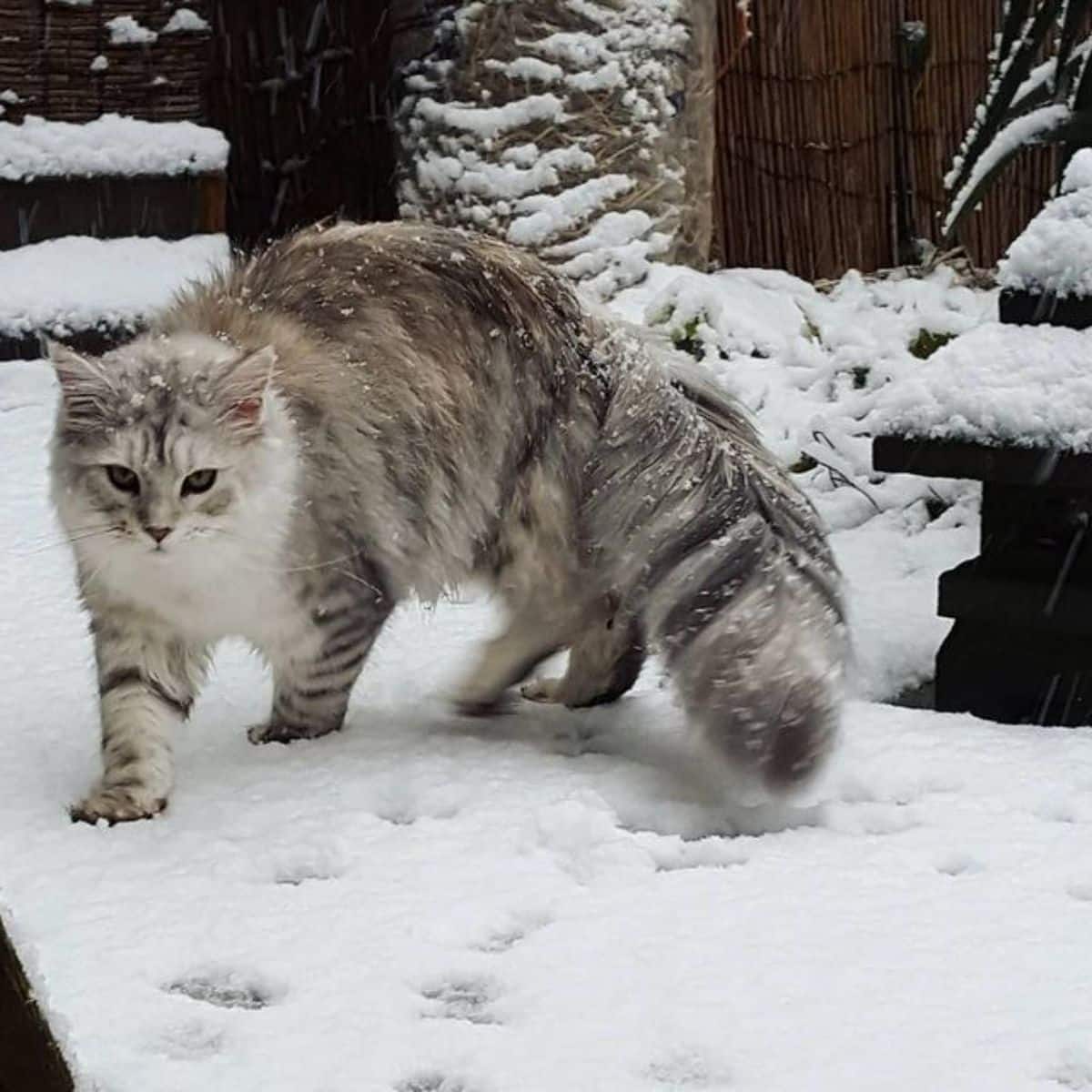 Only half a year old when first introduced to the Netherlands' heavy snowfall, Ayu already displays here how comfortable she is in such an environment. If anything, she treats it like a personal invitation to romp around without getting overheated by her thick double coat.
16. Grumpy Gus Prefers His Warm Bed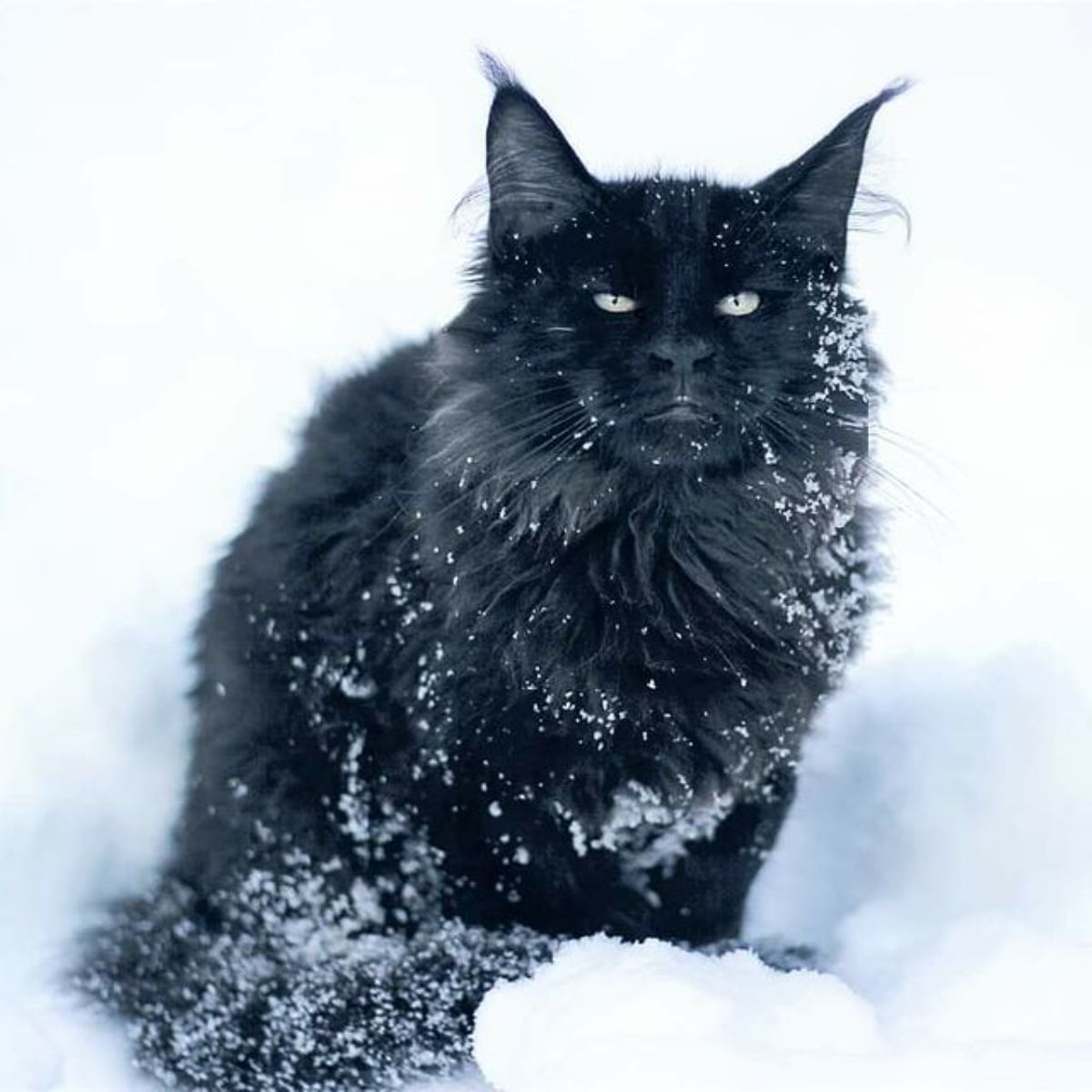 Luka's expressive mouth and squinting eyes say, "Bring me inside," but it's clear from the star-like snowflakes dotting his inky black coat that he's enjoyed a brief but exhilarating playdate with the great outdoors.
17. Alise and Her Umbrella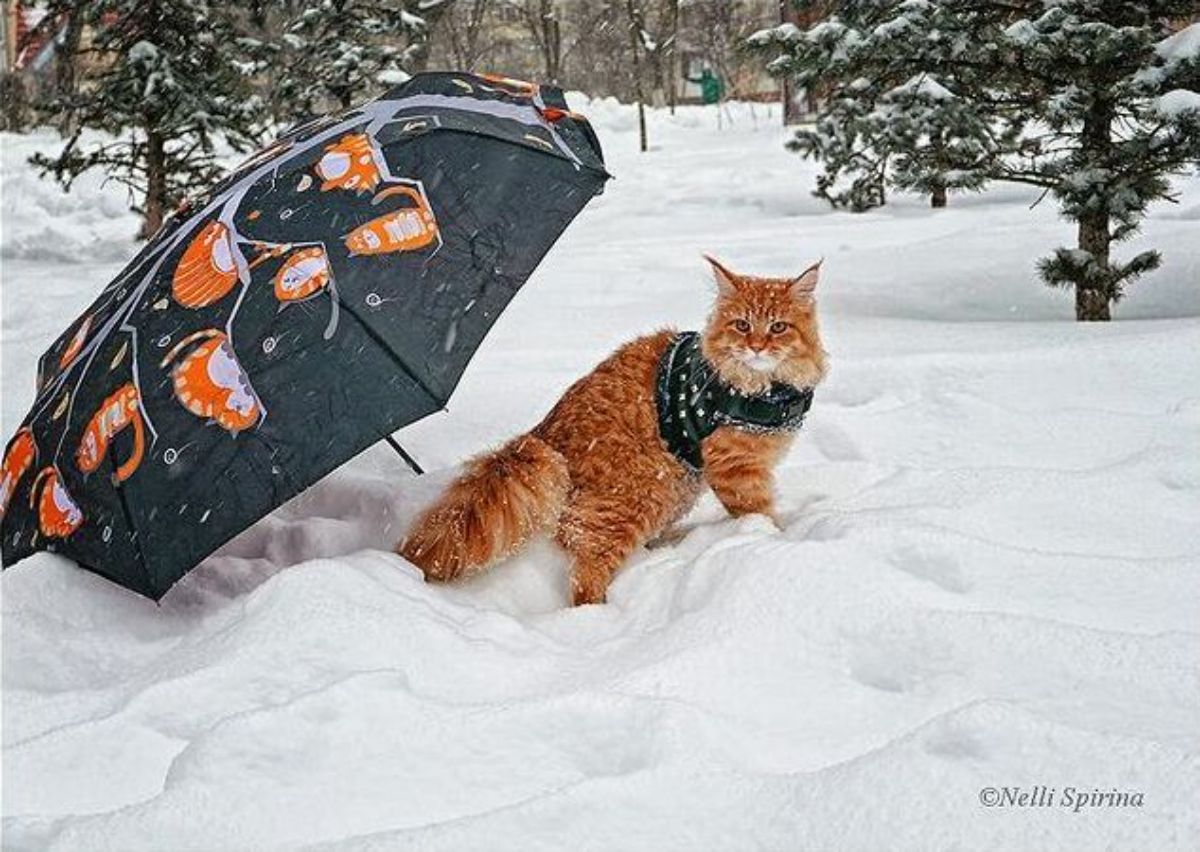 Alise's owner was thoughtful in setting up an umbrella for this crimson kitty to lounge under, but this ultra-plush ginger queen prefers to frolic al fresco. She looks particularly charming in her knitted sweater vest.
Final Thoughts
Maine Coons are not your average standoff-ish house cat. As a breed, they are popular thanks to their abounding affection, charming demeanor, and youthful playfulness.
That same attitude extends to their species-betraying love of winter weather when they can cut loose and enjoy a brisk breeze while exploring the crunchy cold beneath their tufted feet.
Take things slow if you decide to give your Maine Coon a snowy experience for the first time. While it's true that they tend to tolerate better than other felines, not every cat will appreciate an impromptu snowball fight when they just want to curl up for a nap next to the fireplace.