All cats are beautiful in their own unique way, but some have a special feature that makes them stand out from the crowd. For some cats, this feature is their bright blue eyes.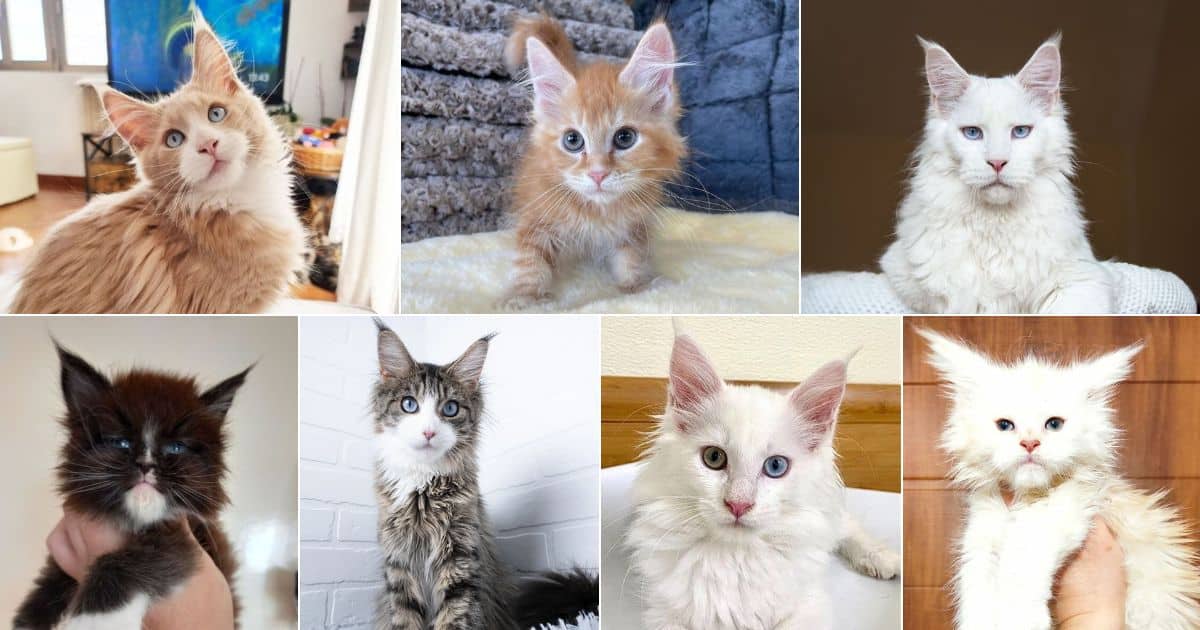 Blue eyes are a relatively uncommon trait in cats and are most often seen among specific types of purebreds like Siamese, Balinese, or Ragdolls. They are rare in other breeds of cats, including Maine Coons.
Check out these gorgeous blue-eyed Maine Coon cats from around the internet!
Jump to:
1. Aquaman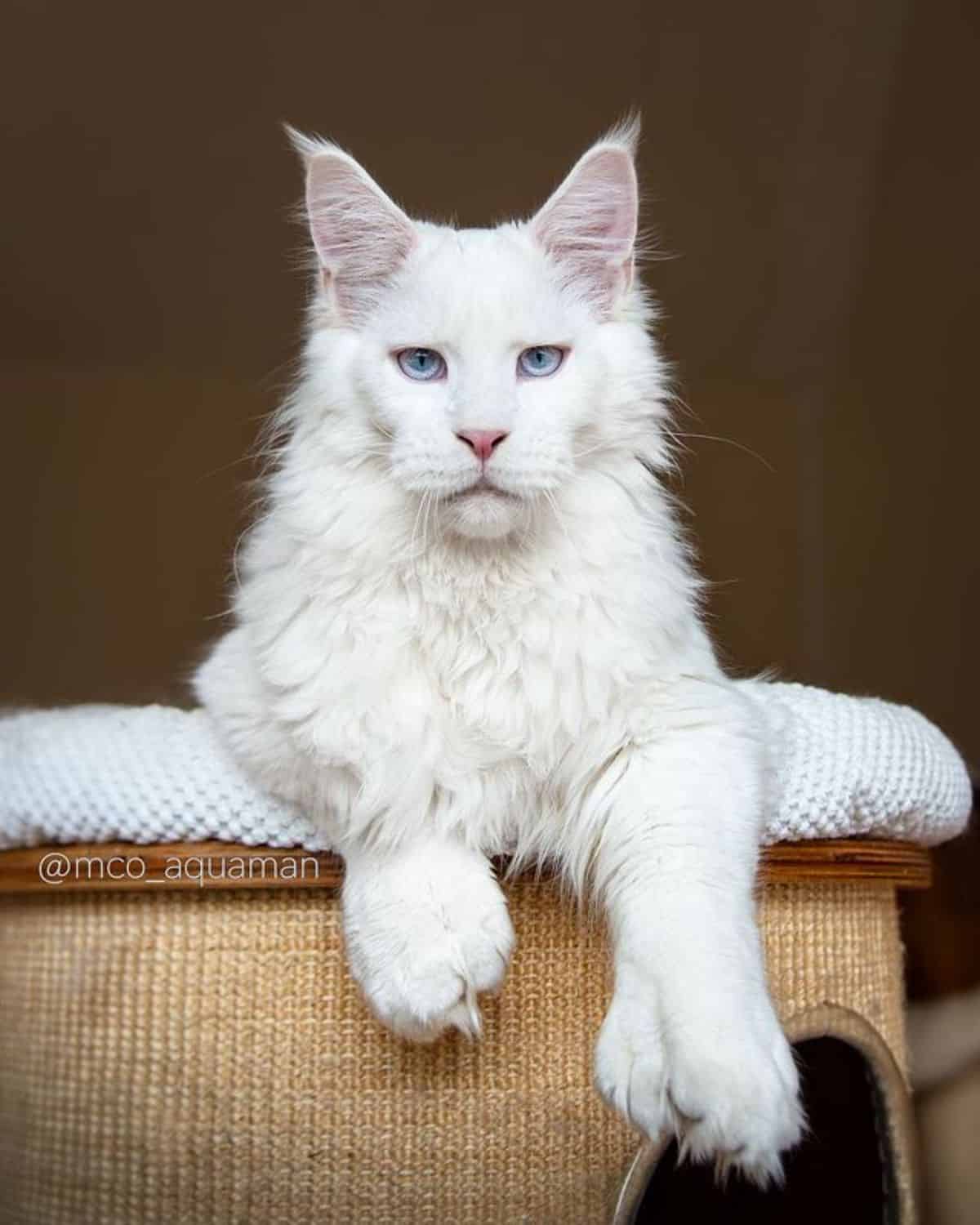 Aquaman is an all-white, blue-eyed Maine Coon who has garnered social media attention for his striking looks and glamorous poses. While Aquaman is mostly caught in serious moods, he loves to play and uses his polydactyl paws to grab his toys. Polydactyl cats have more toes than standard cats, up to seven per paw! This is another feature that makes Aquaman so unique.
2. Pink Panther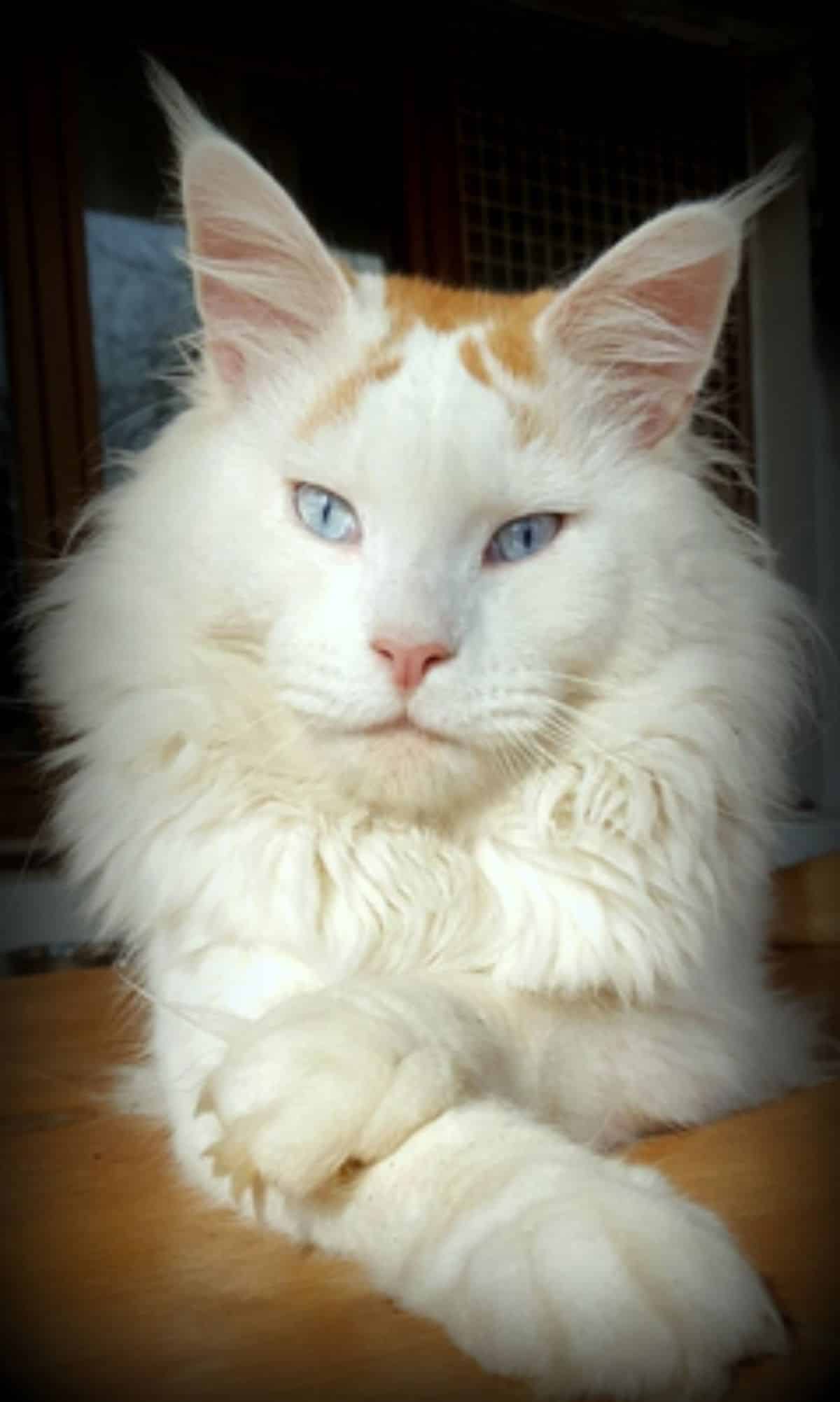 Oxymoron is a Maine Coon cattery that specializes in blue-eyed cats. While nobody can guarantee what color eyes a kitten will be born with, breeders can use their knowledge of genetics to ensure that kittens have the best chance of being born with specific traits.
The strategy worked well for Pink Panther, one of Oxymoron's star kittens. Now a grown-up, Pink Panther sports icy blue eyes and a full, fluffy white coat on his neck, face, and chest. The top of his head has a dollop of tan color that looks a bit like butterscotch topping.
3. Queen Liana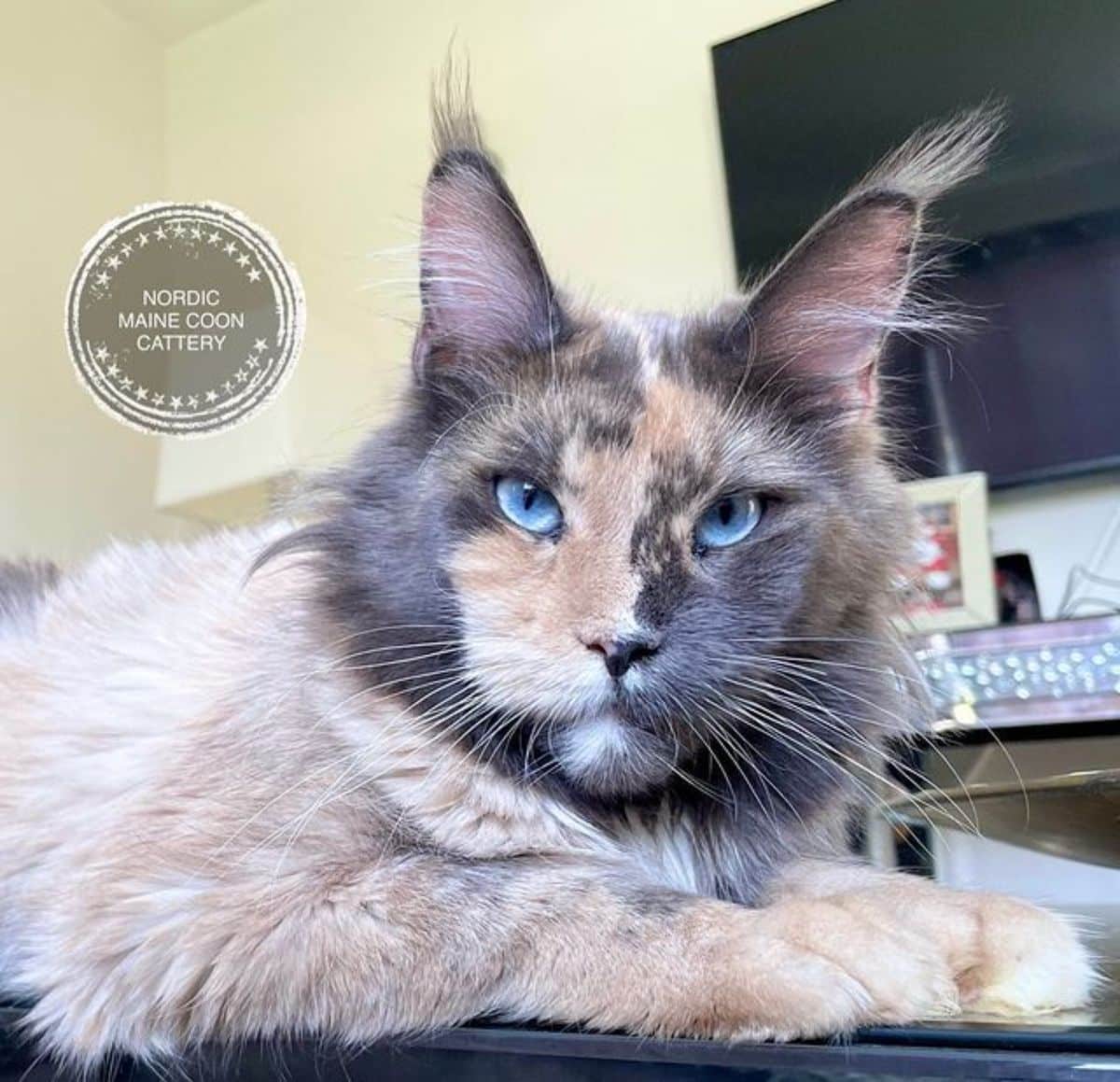 Queen Liana is an Instagram cat who's impossible to ignore. Her deep blue eyes are like glacial lakes staring back at you, but that's not her only striking feature. She's a dilute calico with a very interesting facial color pattern that has more gray on one side and more orange and white on the other. It almost looks like a face tattoo! Dilute calicos are tri-color cats whose fur features white with muted tones of gray and light orange rather than the black and dark orange that commonly occur in calicos.
Liana is part of the Nordic Maine Coon cattery, and she's an excellent example of the diversity in colors and patterns that is possible among Maine Coons.
4. Isla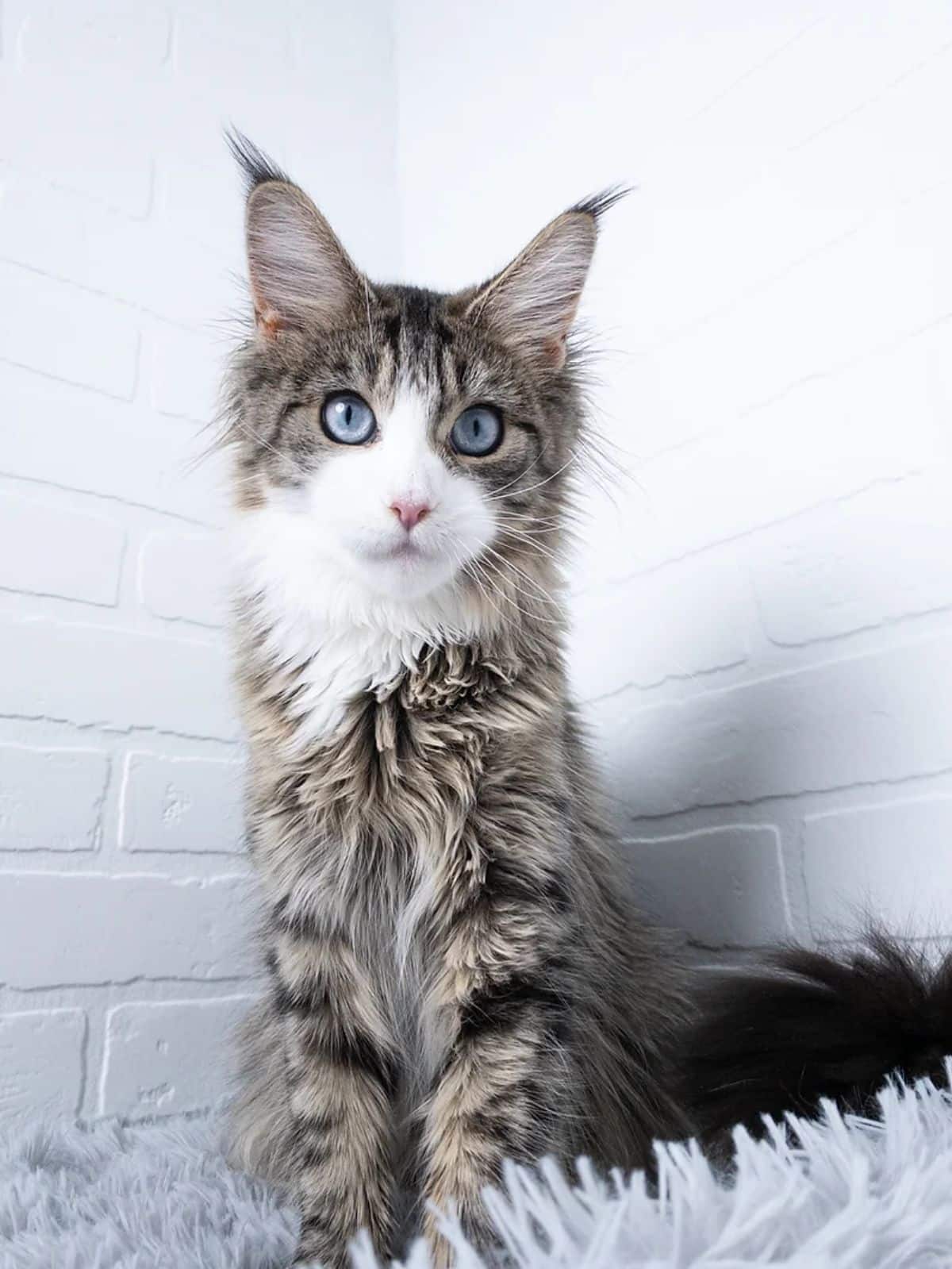 Marwood Maine Coons is a Canadian cattery specializing in blue-eyed Maine Coon cats, and they're proud of their animals. This lovely lady's name is Isla Blue Ridge, and she's one of the cattery's queens - breeding terminology for a mama cat. This petite, feminine cat's light sky-blue eyes give her an air of mystery and grace.
5. Simon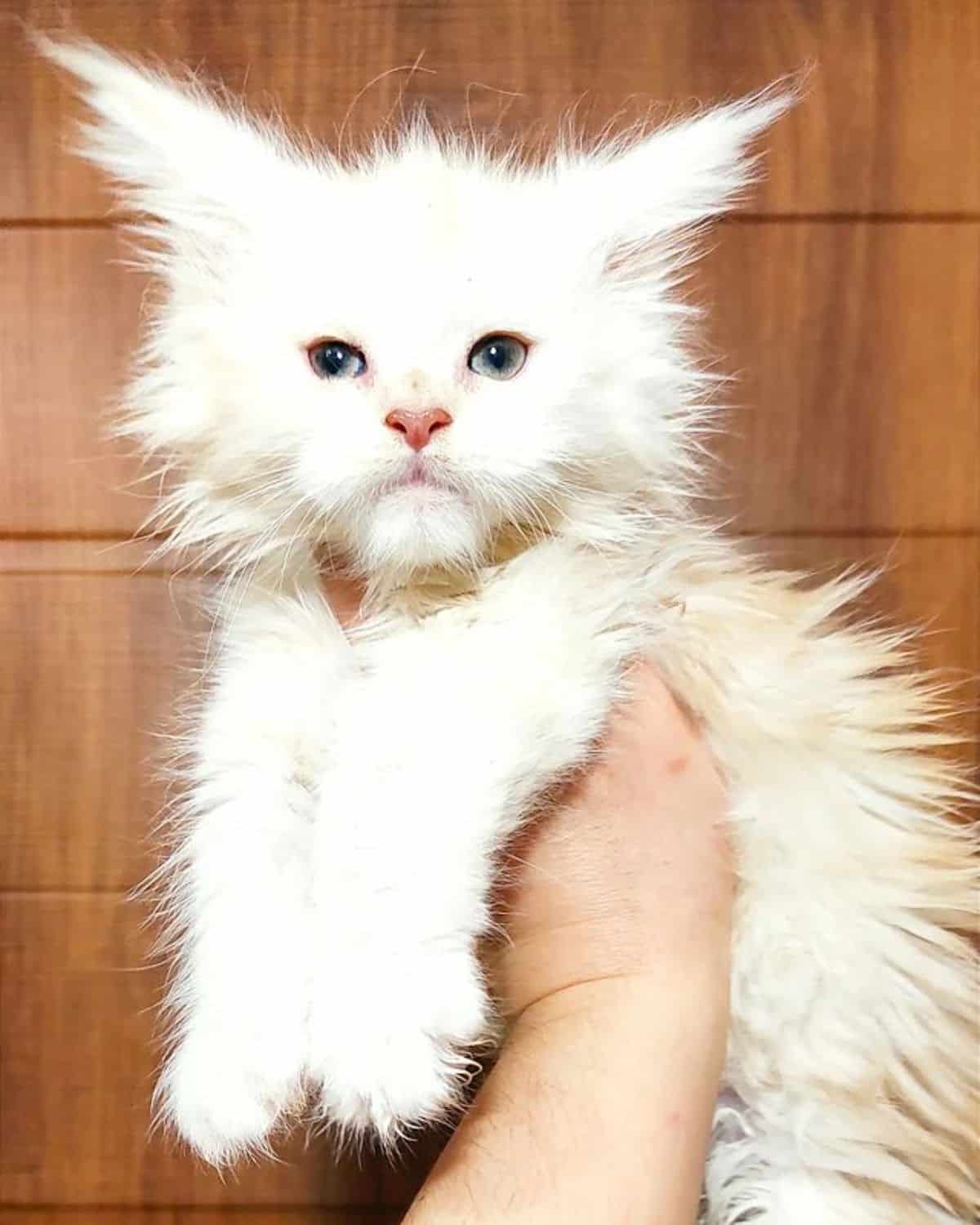 This Instacat, known only as Simon, is an all-white Maine Coon kitten who looks like an old soul. His head and paw size predict he will also be quite a big boy someday. With that soft fur and adorable mug, he will bring plenty of joy to his owners for years to come.
6. Ginger Snap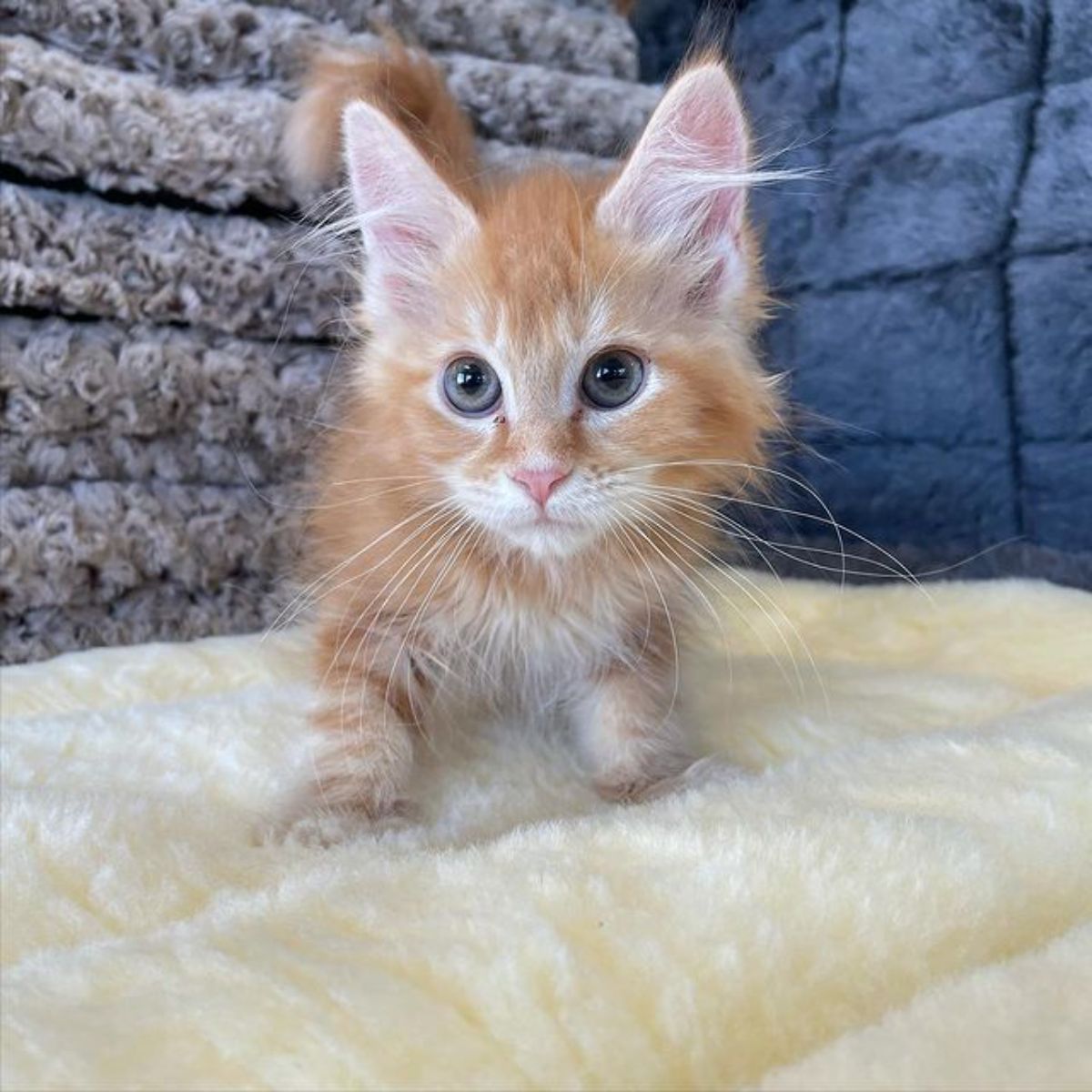 We don't know this kitten's name, but they look like a strong, determined young cat. This ginger baby's eyes may turn to a warm amber or duo chromatic blend at some point, but they're primarily gray-blue for now. Found on Instagram's Puppies and Kittens of Manhattan, it's probably a happy city kitty living its best life.
7. Wise Elder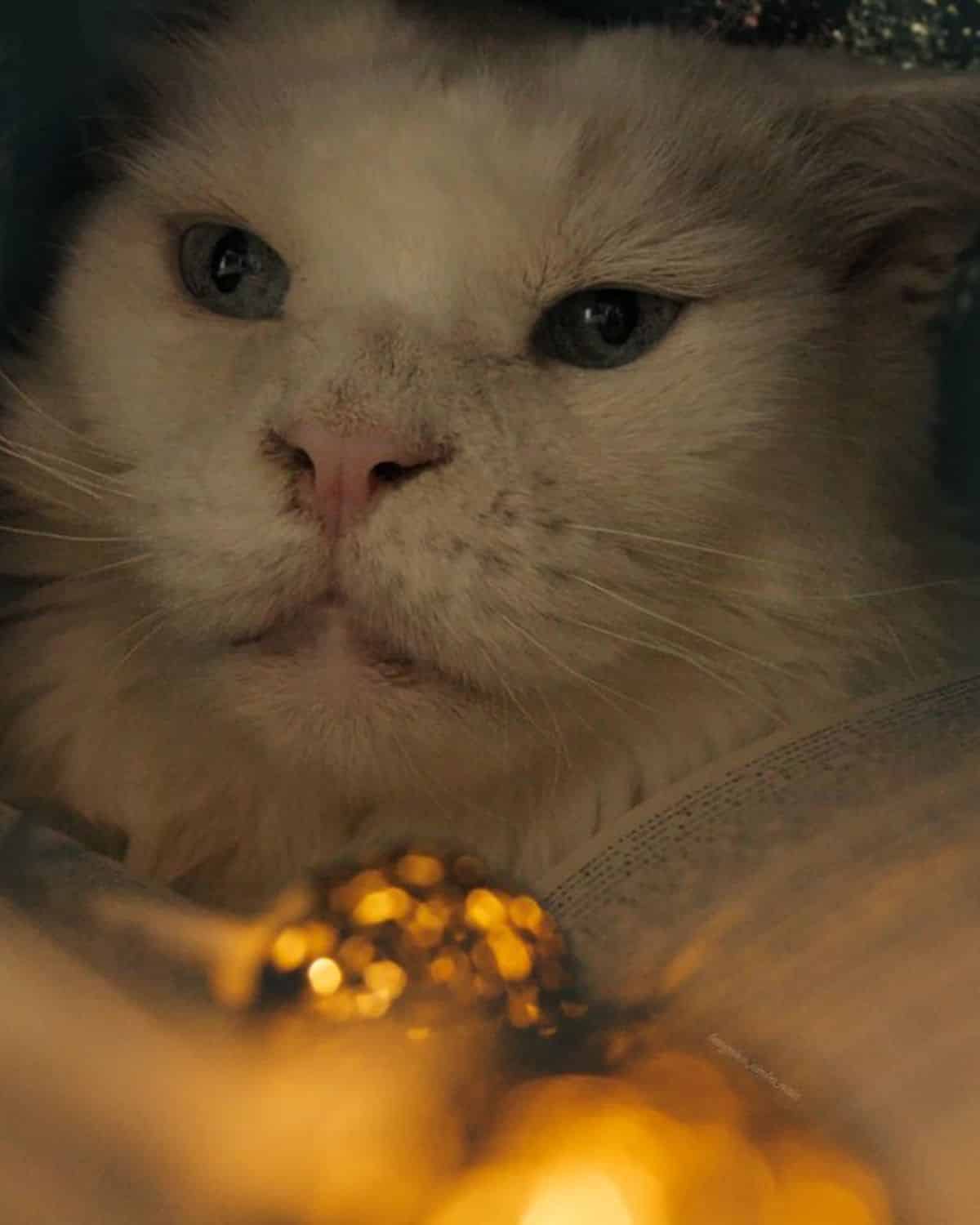 Maine Coons have such amazing faces! They may look a little funny as kittens, but as they age grow into their looks. This older cat's face is strong, wise, soft, and loving. Their eyes look a bit muted now, but in their youth, they were likely a piercing blue.
8. Fiona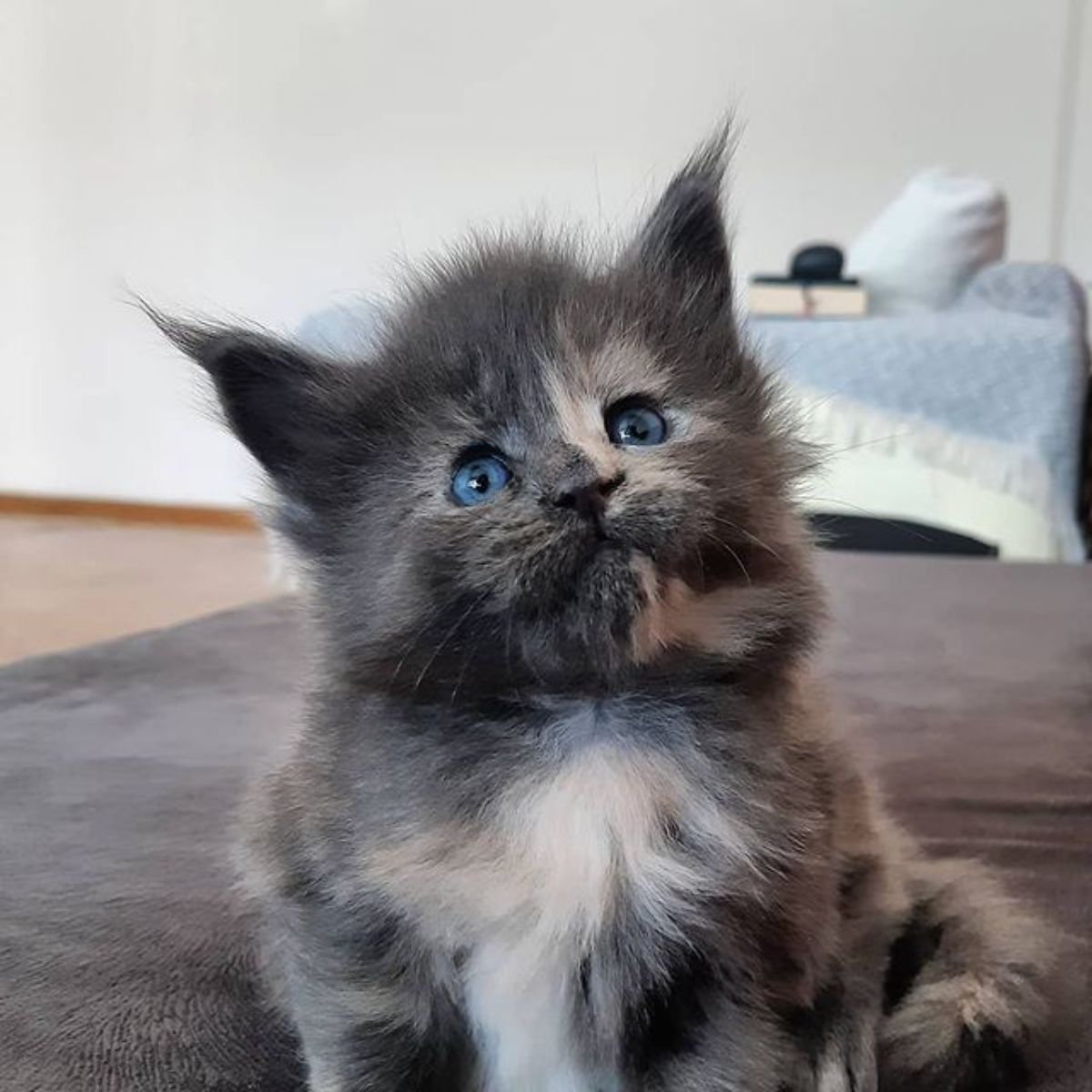 Little Fiona is a Turkish Maine Coon with dilute tortoiseshell coloring. You can see the playfulness and spirit in her eyes. And what eyes they are! Most kittens have bluish or grayish eyes that change later, but Fiona's are such a deep blueberry blue she will likely remain a blue-eyed kitty for life.
9. Saffron
Meet Saffron, a young Maine Coon from PMW Whiskers Cattery. While she has the classic white fur that many blue-eyed cats have, there's a twist: she has heterochromia. That means her eyes don't match. One is blue, and the other is a deep, rich amber. Heterochromia doesn't affect a cat's vision, but in some cases, white cats with heterochromia are deaf on the blue-eyed side due to a genetic mutation.
10. Tall Guy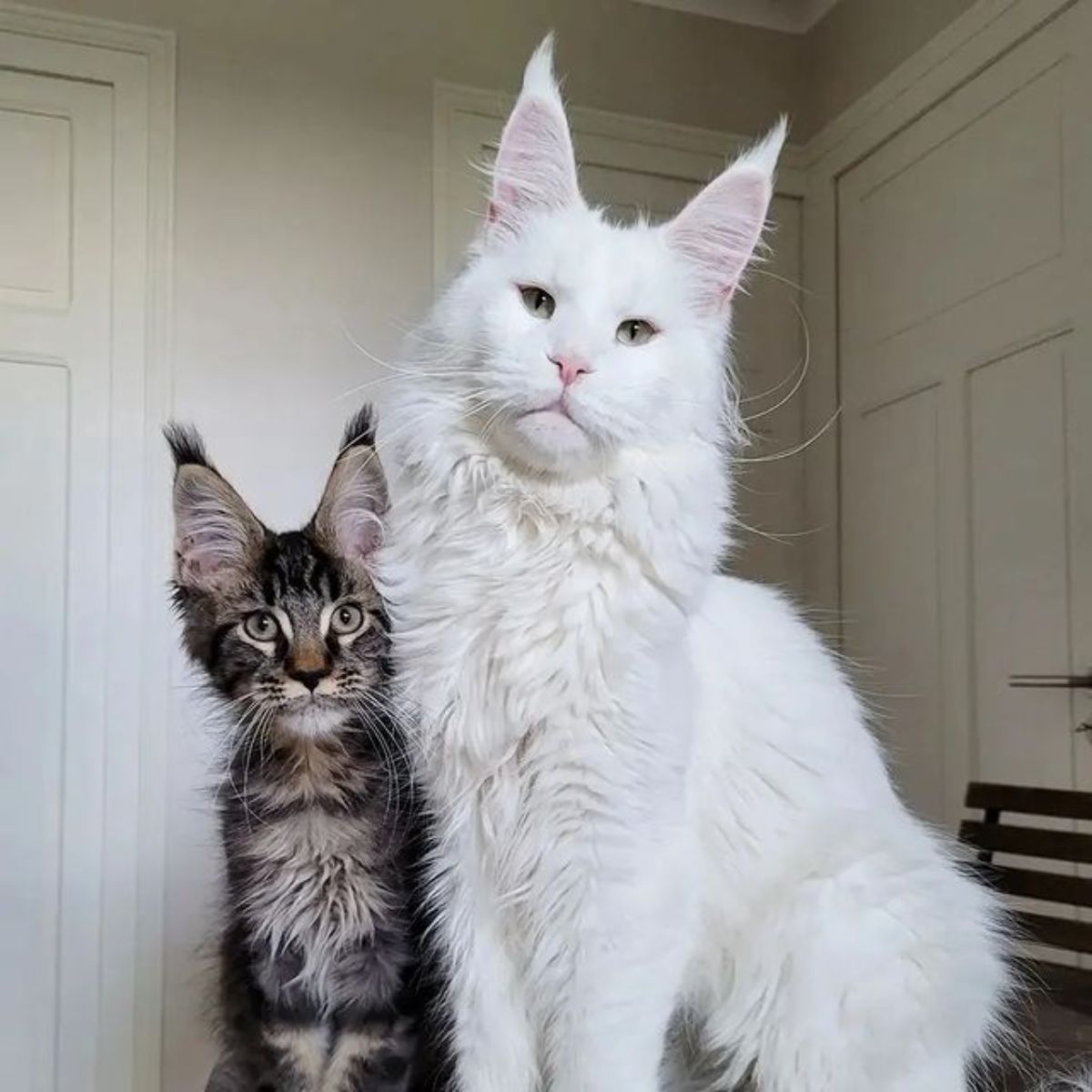 This white Maine Coon cat is one tall drink of water! He's seated next to his smaller friend, and the two look like good buddies. This cat's eyes are unusual because they're not standard blue; they are a very light ice-blue color. He's a great example of what makes Maine Coons with blue eyes so special.
11. Cute Calico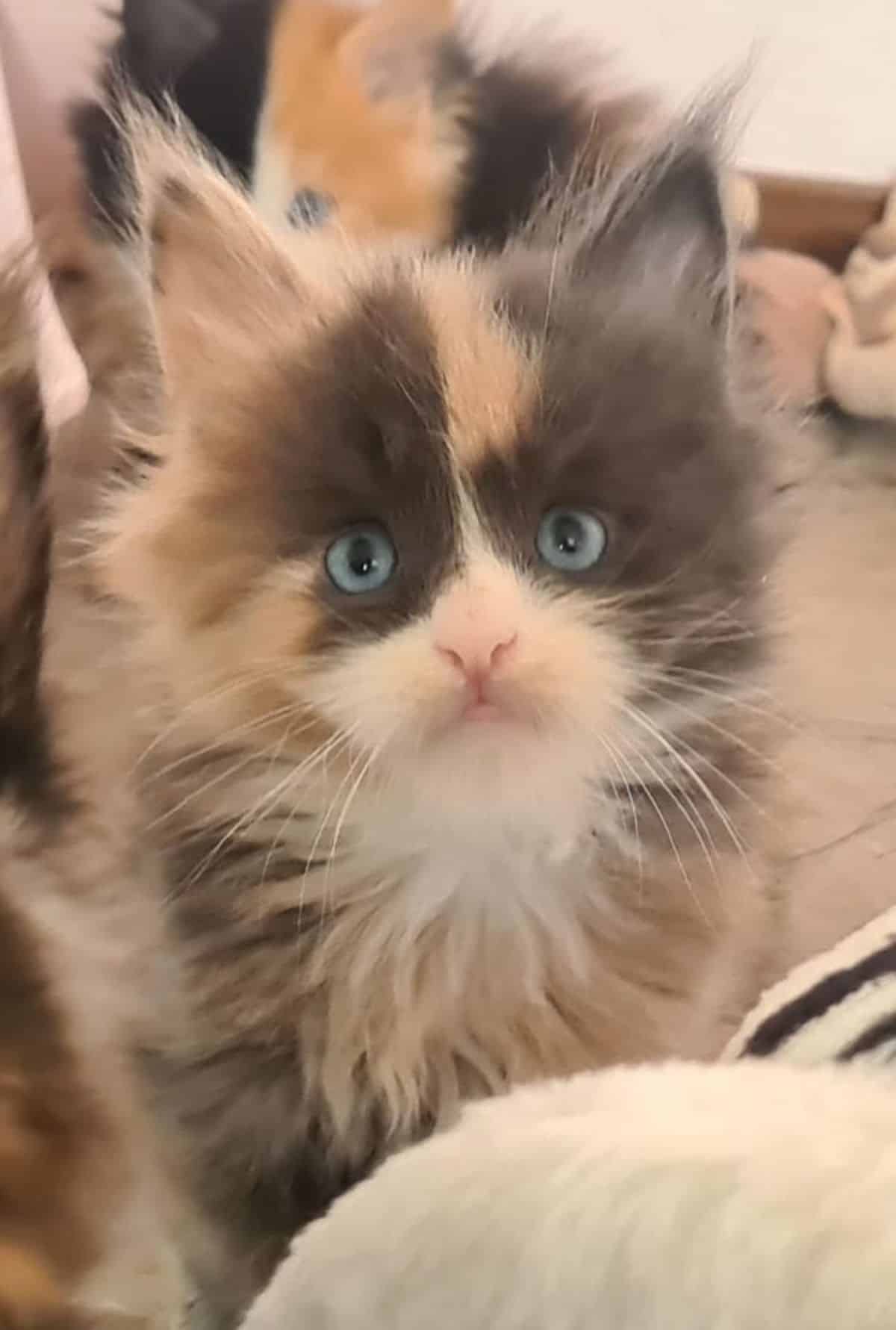 It seems that calico Maine Coons with blue eyes are a favorite on social media. This one, from Joyfield Maine Coons, is a sweet kitten whose bright blue eyes are sure to make you smile.
12. Black and White Baby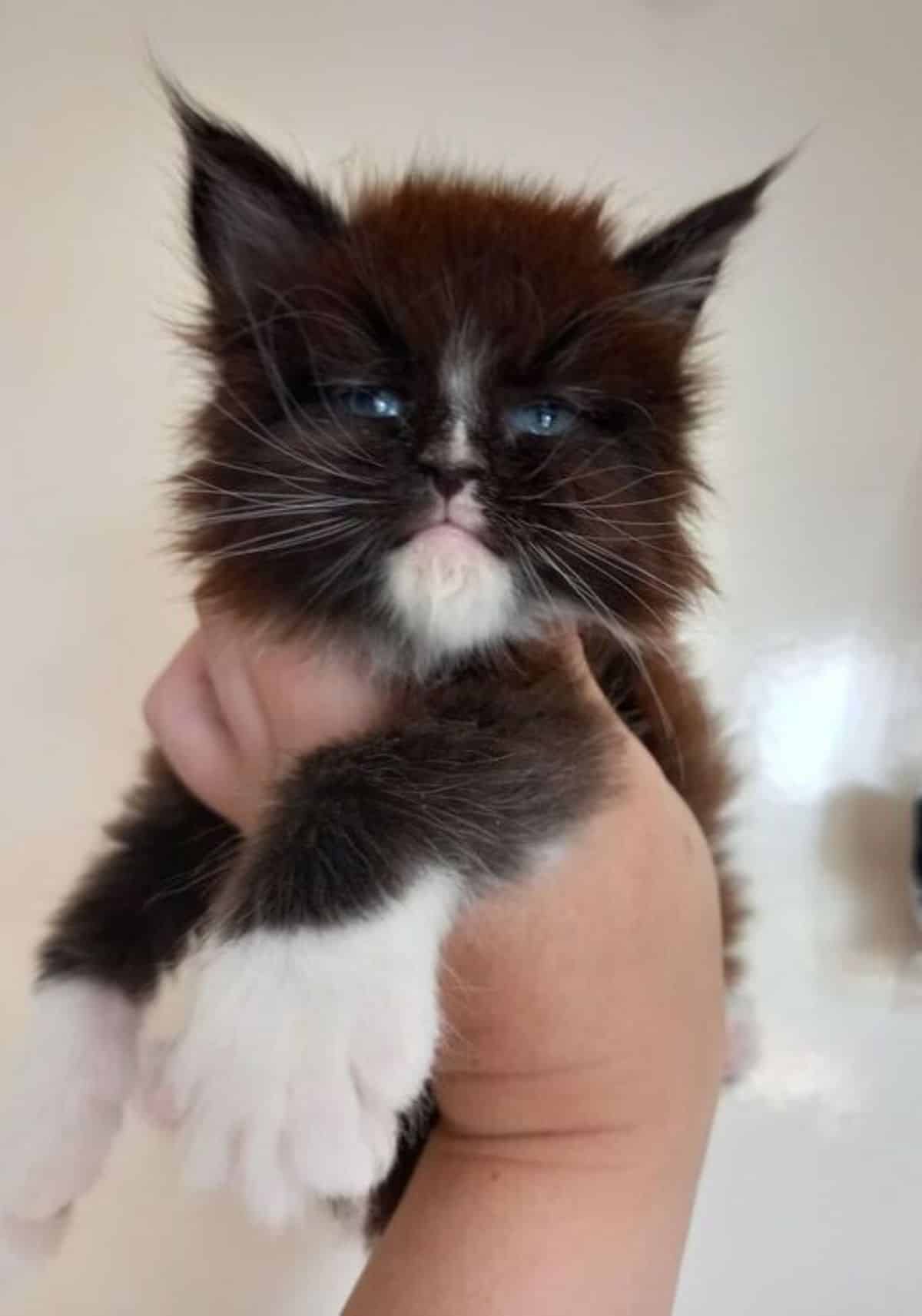 This Maine Coon looks like a toy, but he is very much the real thing. His black and white coloring, friendly blue eyes, and tall, tufted ears are so charming he likely has a long modeling career ahead of him.
13. Chupacabra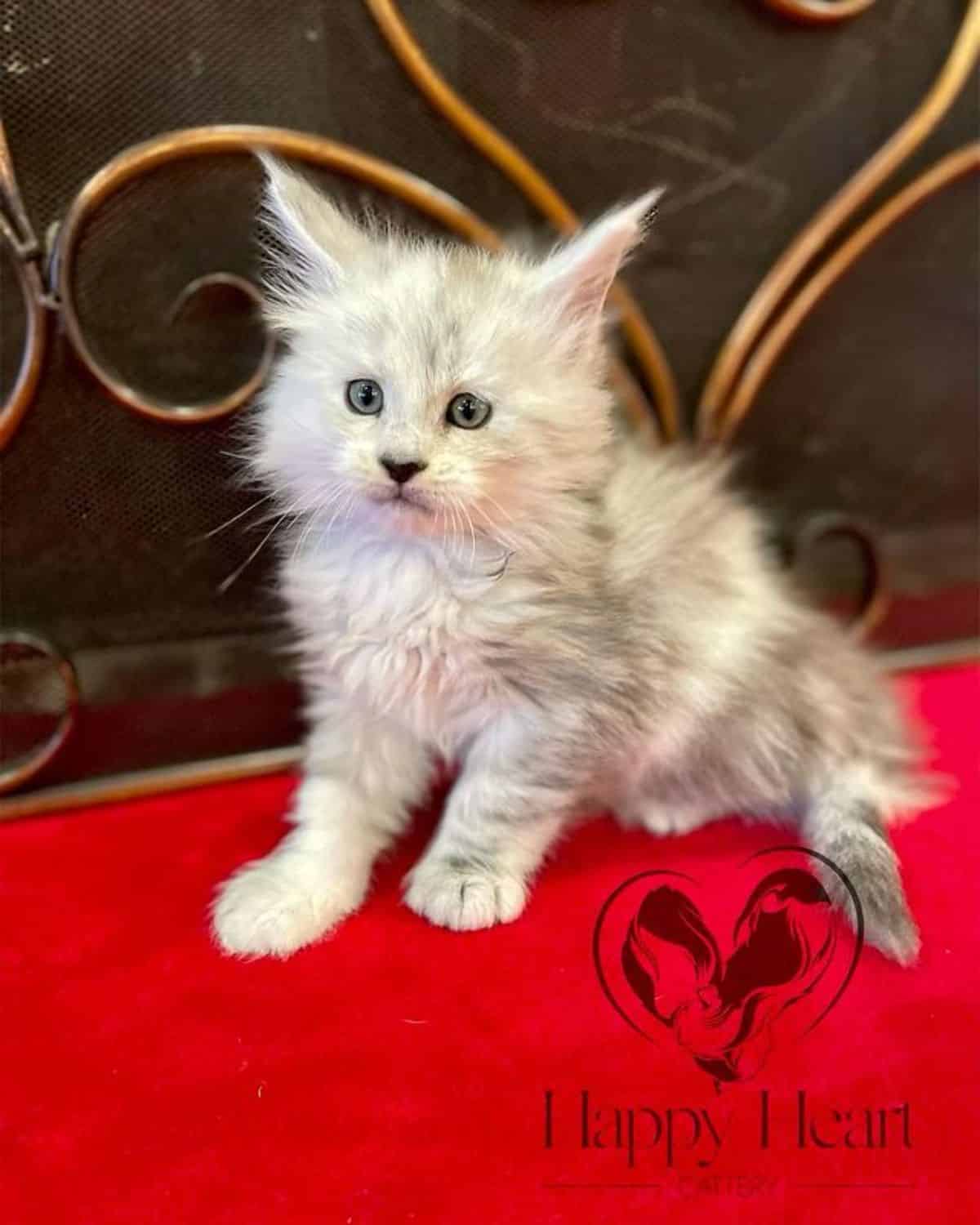 Silver Maine Coons are among the most beautiful cats in their breed category. Their fur is silvery white with slightly darker gray at the tips, and they often have distinct black coloring, almost like an outline around their eyes and lips. This gives them a glamorous, "made-up" look that the camera loves.
This little Maine Coon kitten named Chupacabra is a perfect example of Silver coloring. His dark "eyeliner" makes his blue-gray eyes stand out all the more.
14. Mismatched But Beautiful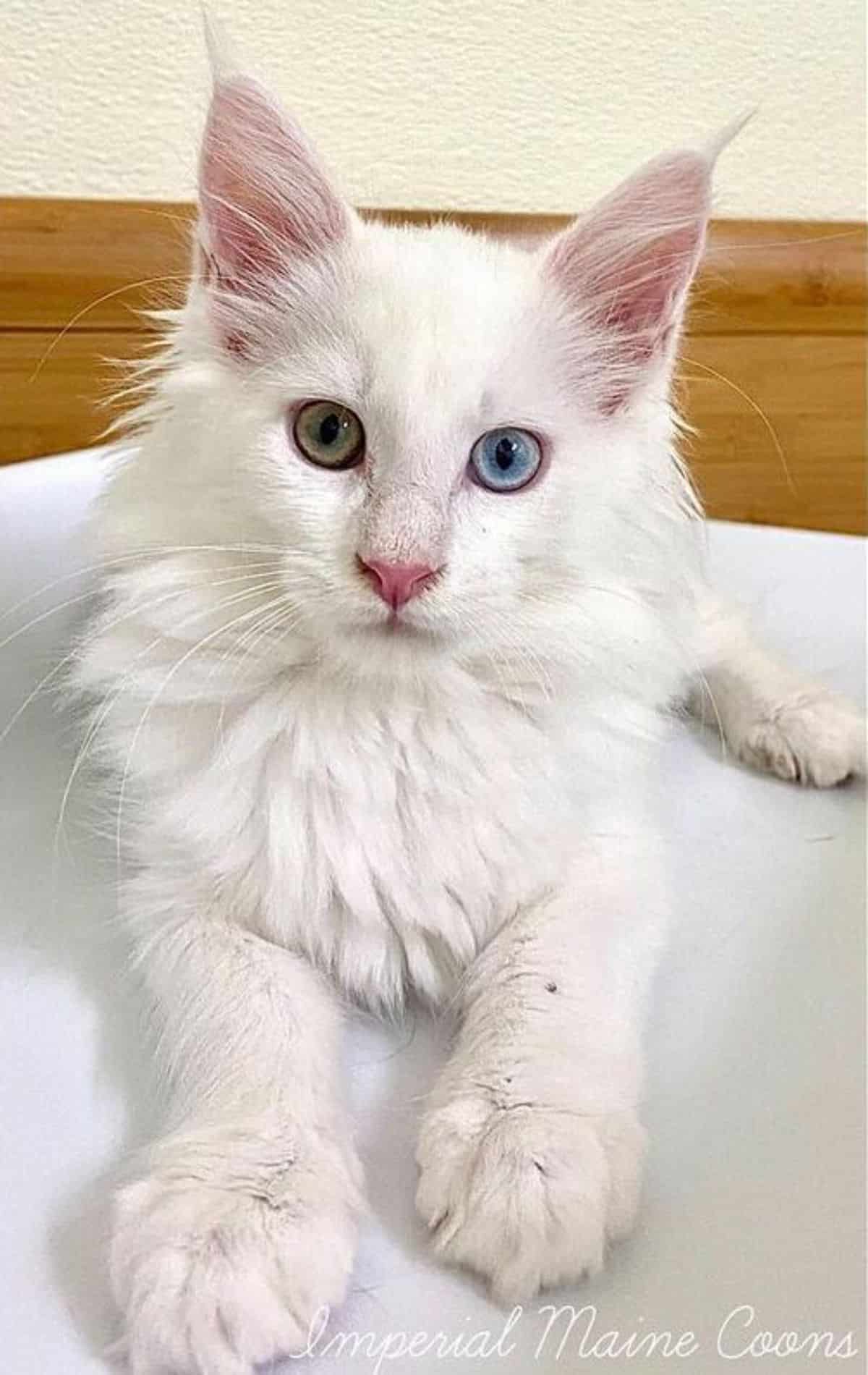 Here we have another white Maine Coon cat with heterochromia. In this case, one eye is blue, and the other is a pretty seafoam green. This kitty looks very alert and intelligent, like a cat who will learn cool tricks or make major mischief!
15.Italian Maine Coon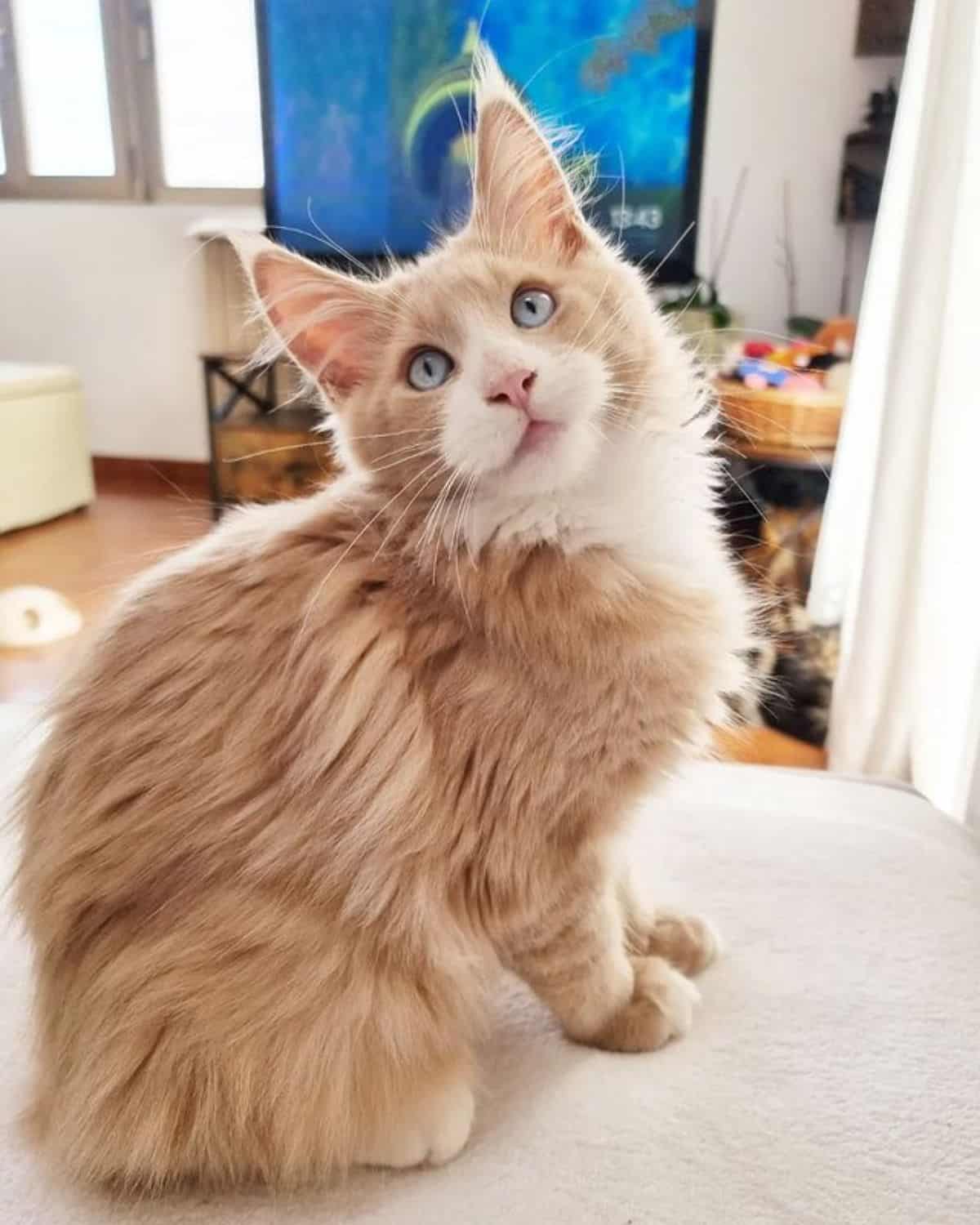 This young Maine Coon cat has strawberry blonde and white markings. Because it doesn't have a lot of melanin, it makes sense that it would have the gene that produces blue eyes. The breed is known for being strong and sturdy, as you can see by this little fellow, who looks like a rough-and-tumble dude.
16. Warrior Kattz All For Liberty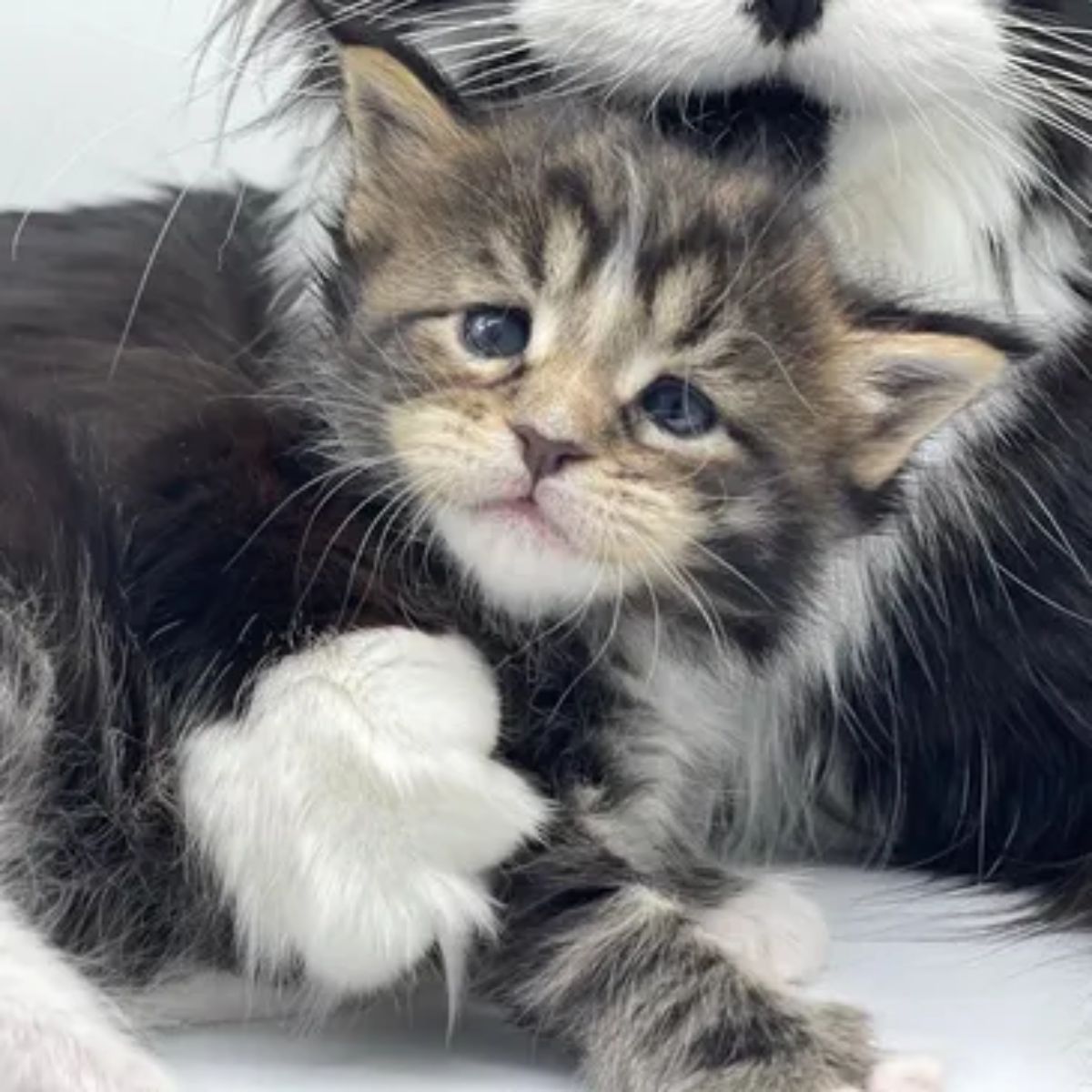 Little All For Liberty is just about the perfect specimen of a Maine Coon Cat. The kitten is a product of Warrior Kattz Cattery, and he's just one example of the blue-eyed Maine Coons they breed there. His long, striped fur and fluffy tufted ears are classic traits of the breed. They're meant to have a wild look suitable for a creature that enjoys walking in the woods and sleeping by roaring fires.
17. Vakker's Black Beauty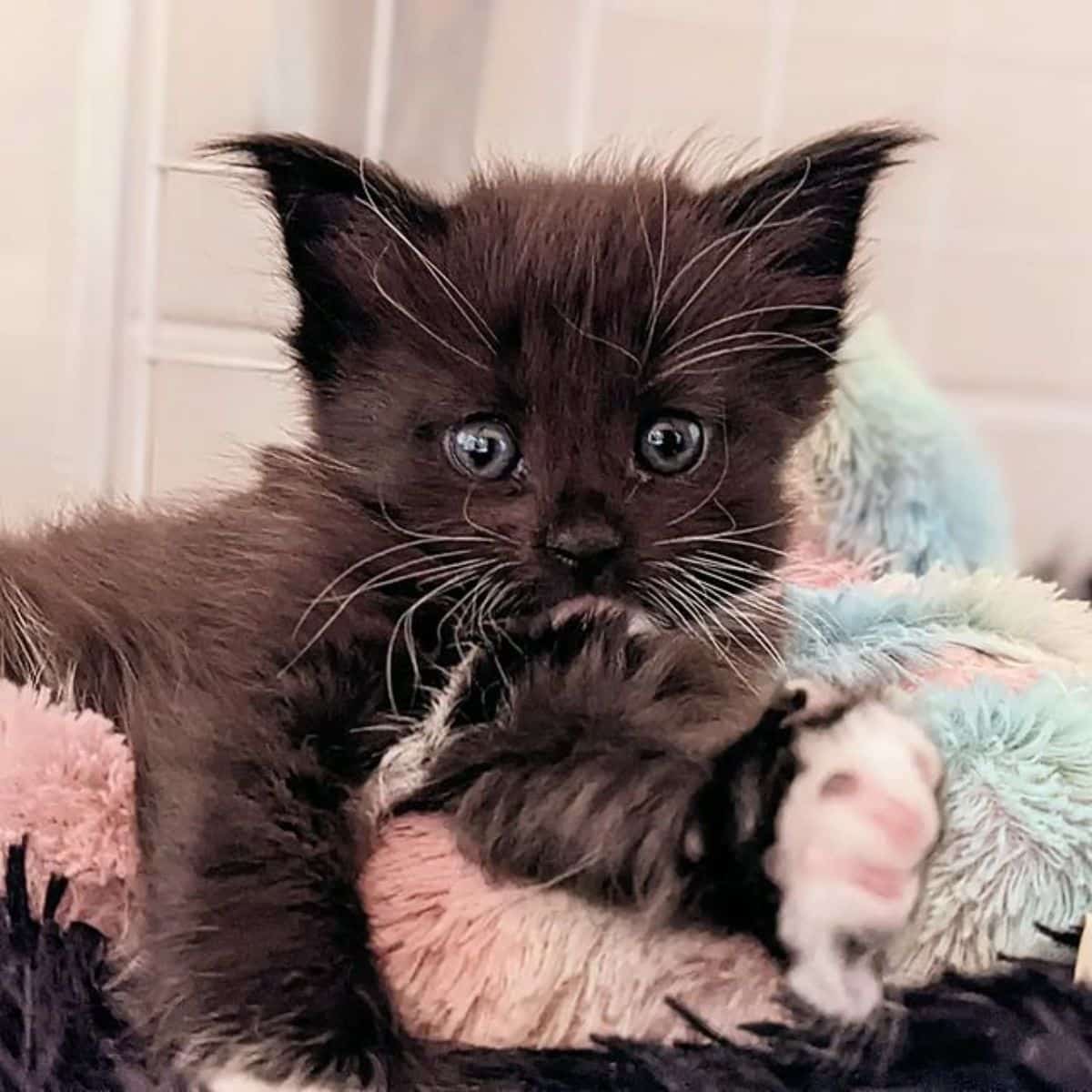 This little darling was the only kit left in their litter - and gets the royal treatment based on appearances in posts from Vakker Maine Coons! With the dark, fluffy fur typical of Maine Coons, and those bright baby blues, this kitten will no doubt have a future as an Instagram model!
Wrap Up
Maine Coons are majestic animals that almost always have yellow, amber, or green eyes. These cats are showstoppers no matter their eye color, thanks to their strong, lion-like facial features, long, luxurious fur, and imposing size. Add blue eyes to the mix, and you have a feline with a truly magical appearance.