Maine Coons are a large, adorable cat breed—and there are many famous ones on the internet. Here's a list of 22 of the most popular Maine Coons on social media alongside their owners.
Jump to:
1. Golden Girls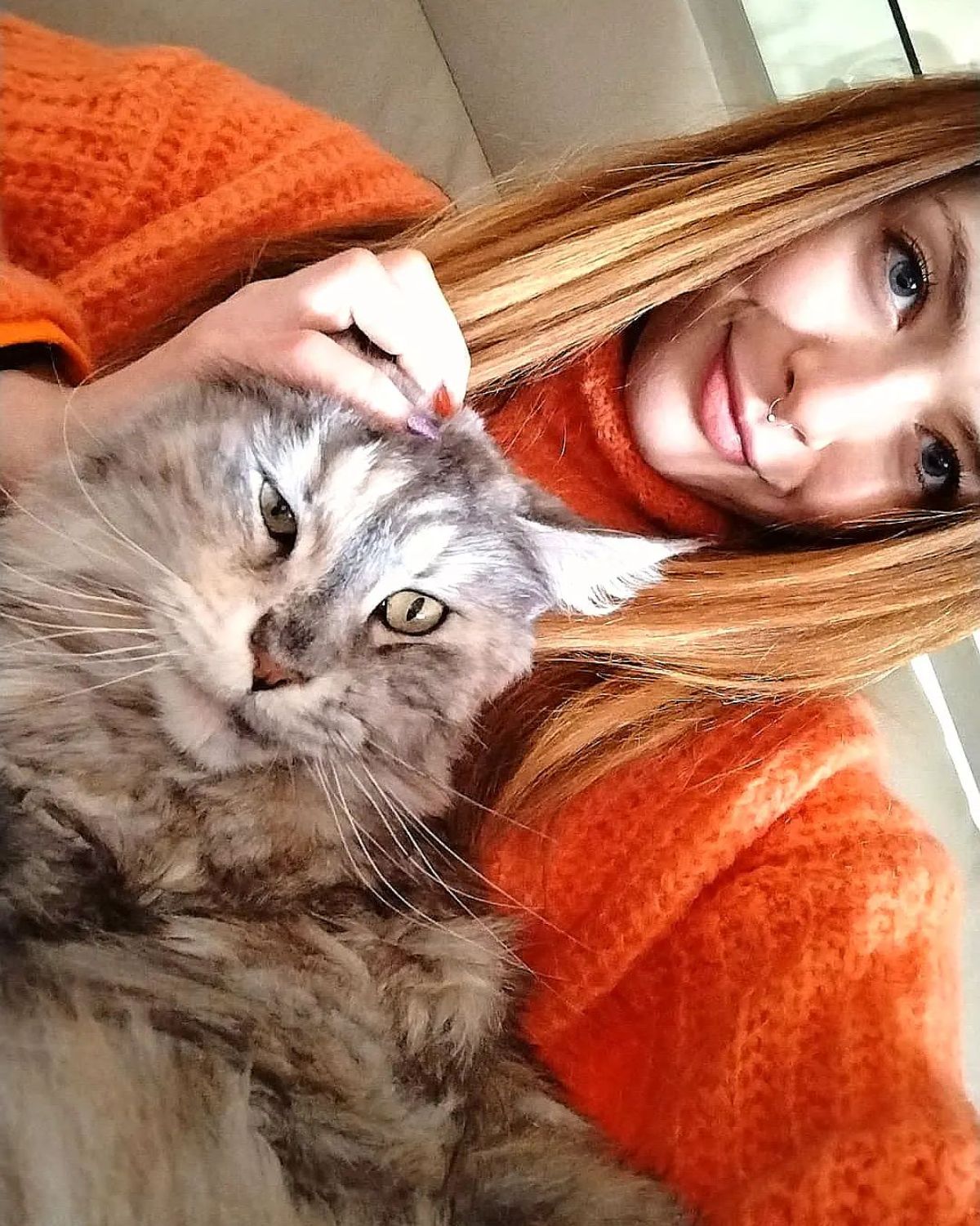 This dilute tortoiseshell Maine Coon and her owner are sporting similar shades of tawny hair. They look very glamorous together!
2. Excuse Me!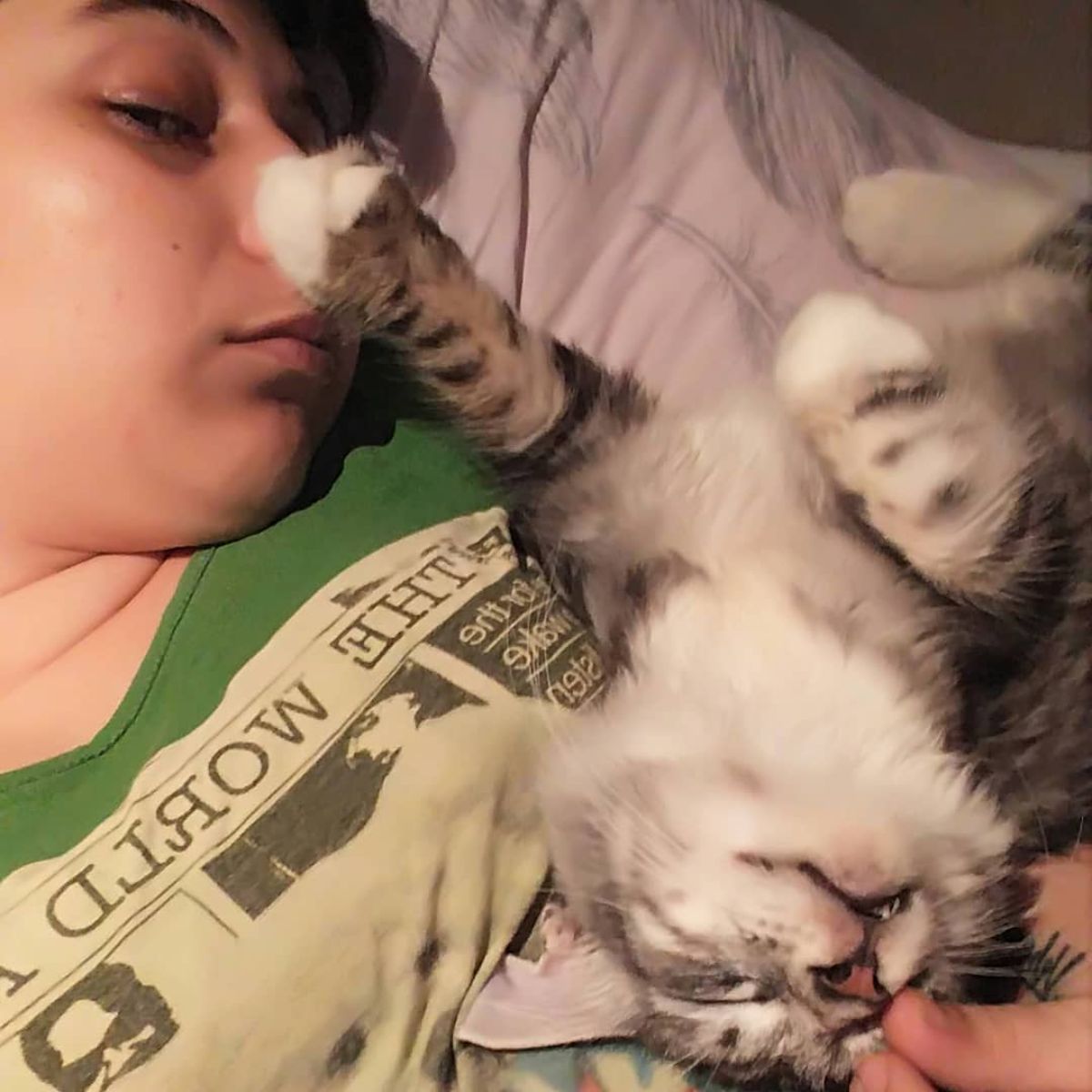 It looks like this Maine Coon's owner was trying to get a pic of the two of them, but the kitty cat had his own plans. A BIG stretch ended up pushing the owner's face out of the shot.
3. Classic Beauties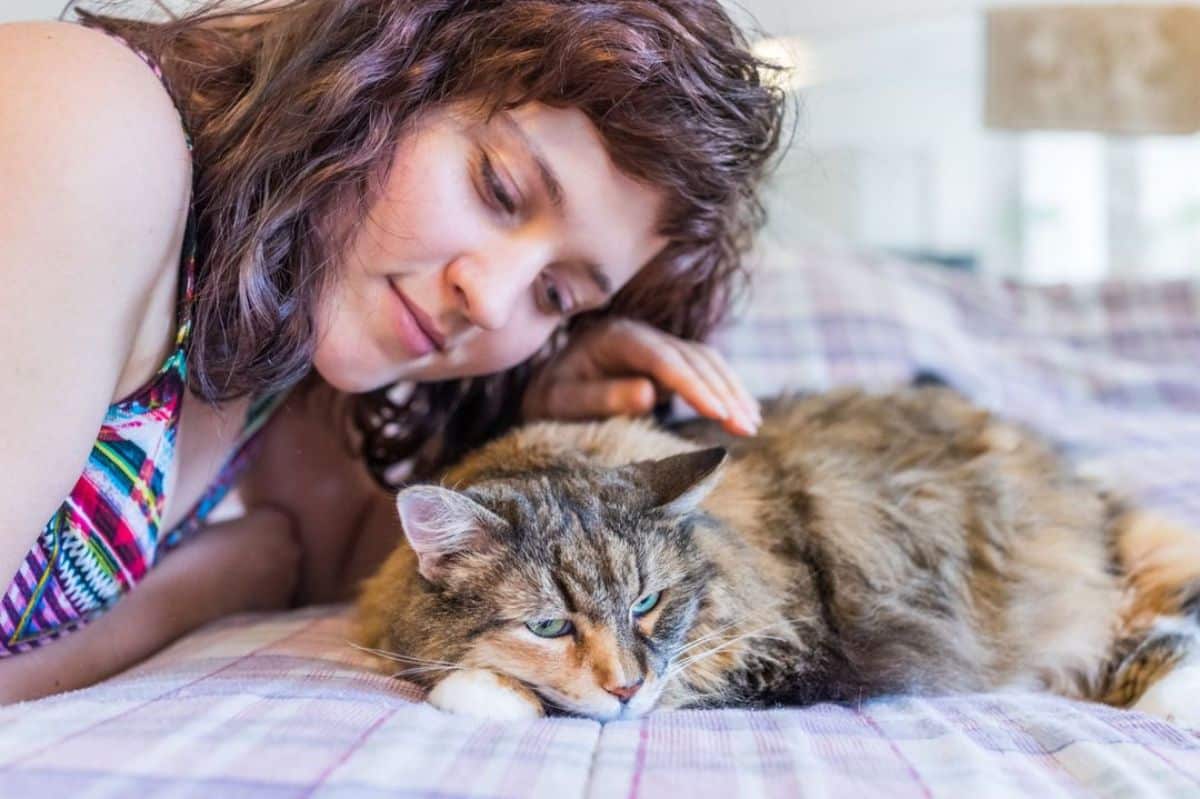 This lovely young woman and her cat look like they could be in a Renaissance painting. They both have classic good looks, and their love is adorably evident.
4. Big Kiss
Awww! This owner is giving her tabby Maine Coon cat a kiss on his head. Cat owners often wonder if cats understand kisses to be a sign of affection. Kissing is not something cats do naturally, so it's logical to assume they might feel confused by this odd gesture. However, cats are intelligent and good at picking up on their owners' emotions and intentions. They learn over time that a kiss is a show of love, and they usually enjoy - or at least tolerate - the action.
5. White Giant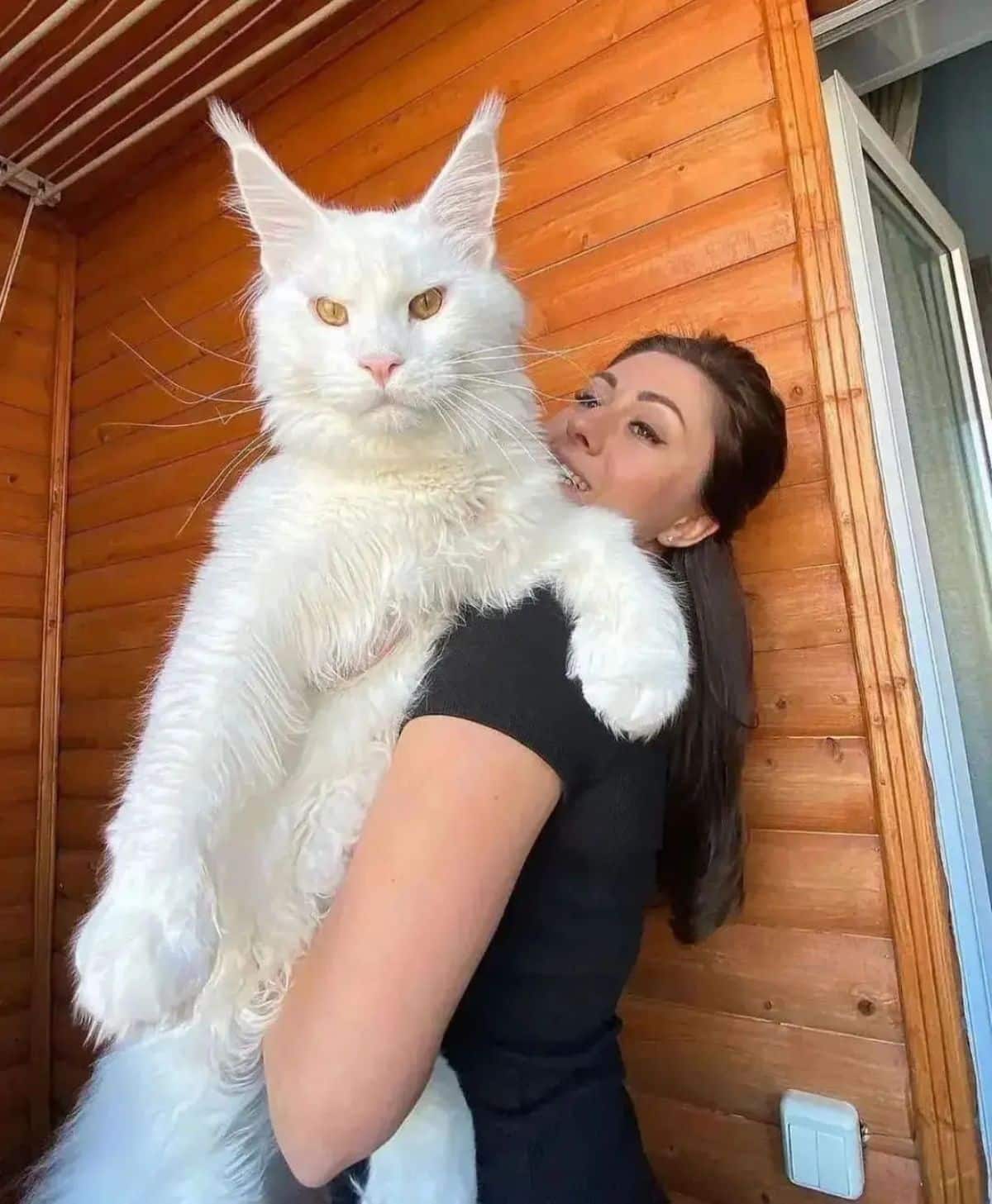 White Maine Coons are one of the most eye-catching of the breed. Look at the size of this big boy, absolutely giant!
6. Pumping Iron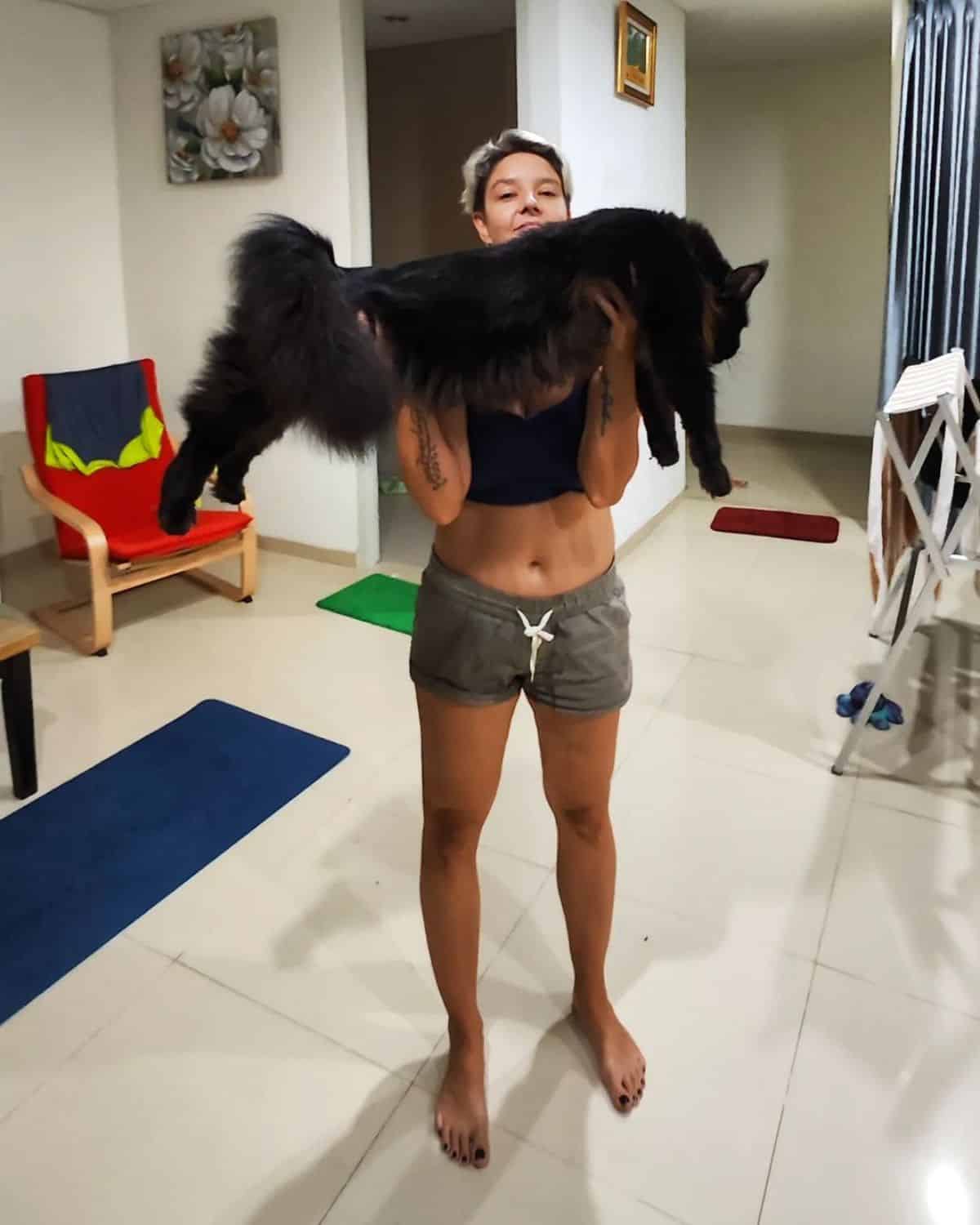 More like pumping floof! This Maine Coon owner is displaying her buff physique and giving her cat a chance to show off its impressive size. Maine Coons are the largest cosmetic cat breeds, growing to lengths of up to 40 inches!
7. Alf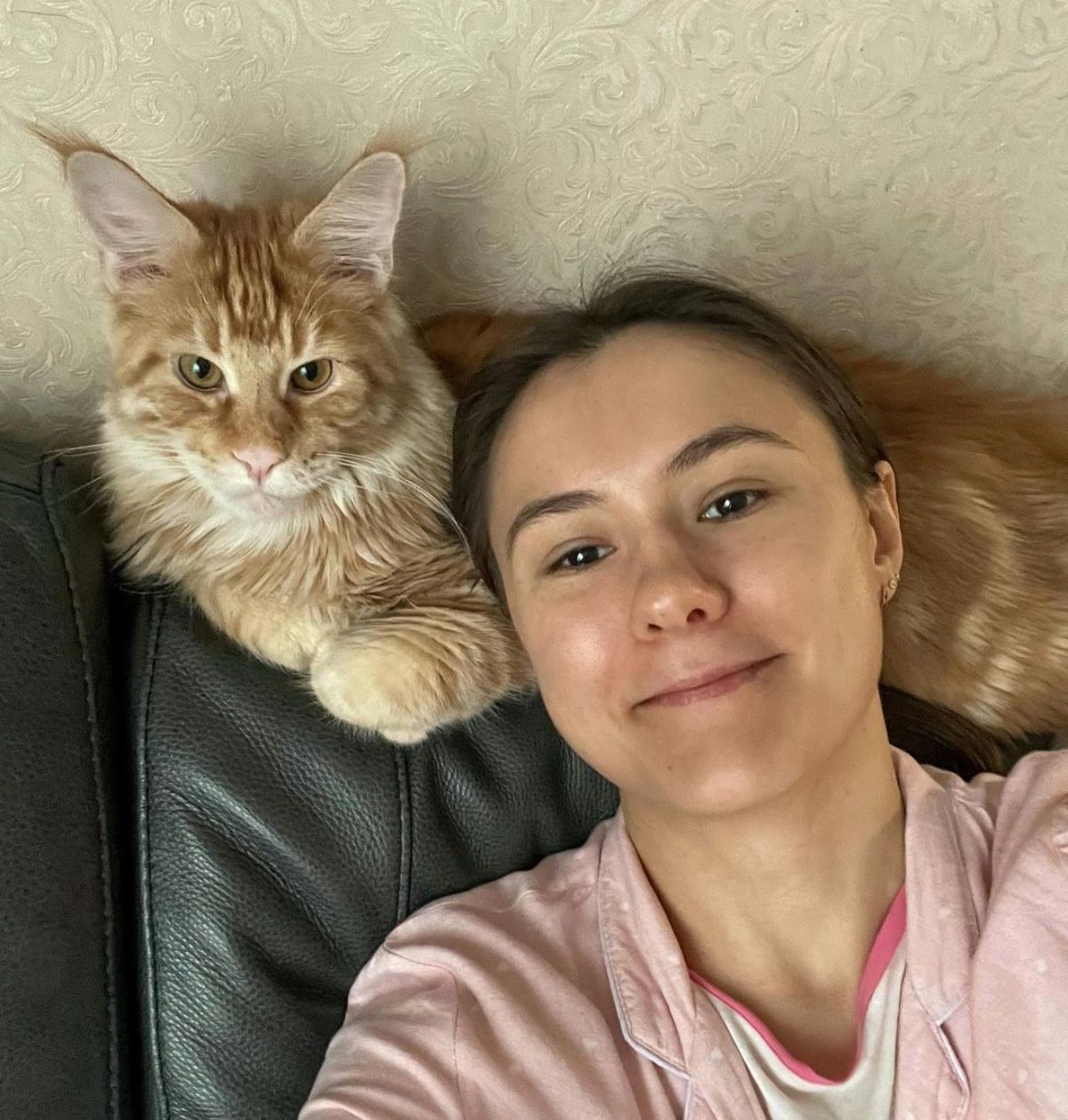 This orange Maine Coon cat looks so proud to pose next to his mom! Alf lives in Russia and enjoys the attention he gets from his family and his Instagram followers.
8. Cup of Coffee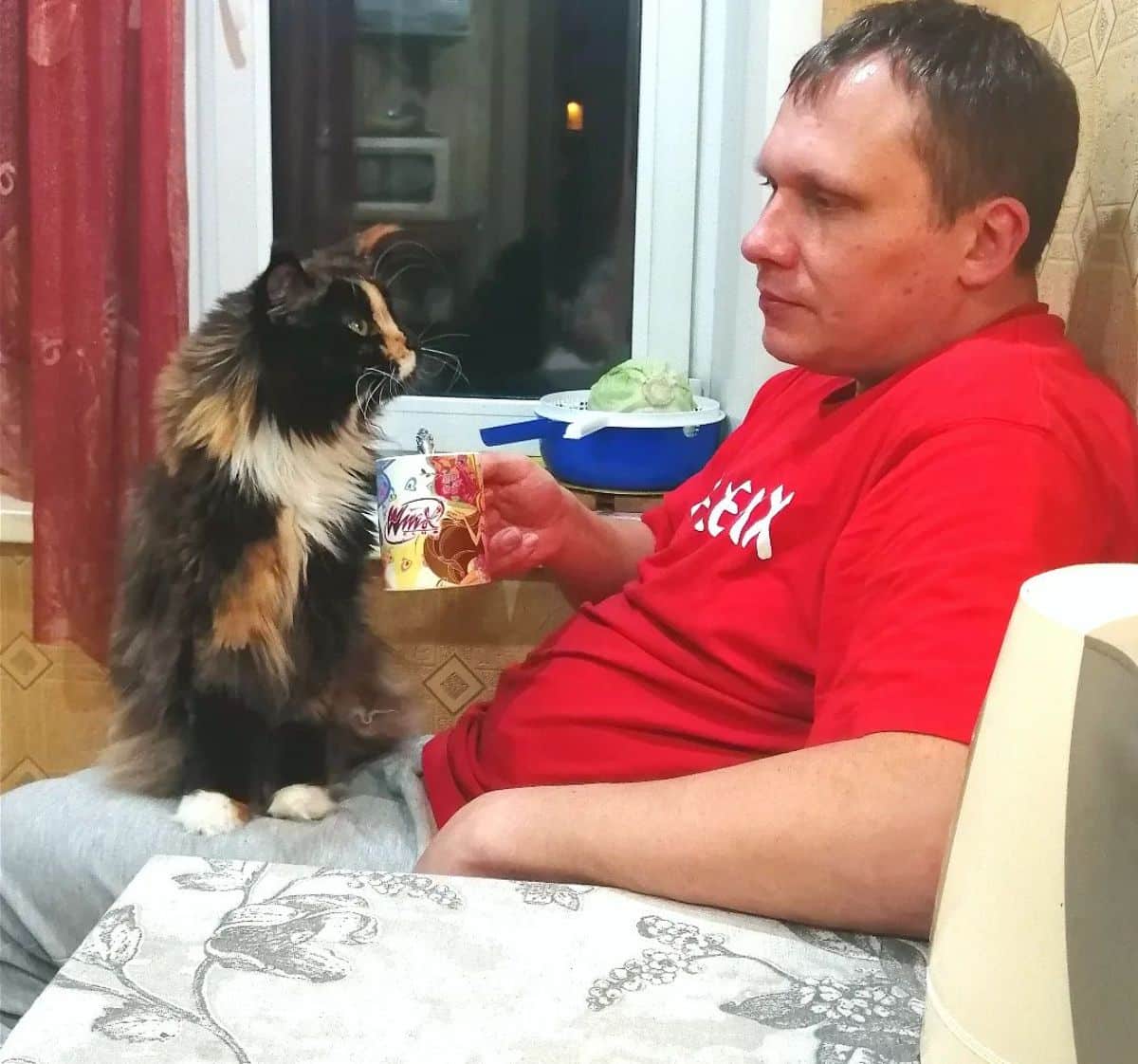 Can I try some, Dad? Eva, the calico Maine Coon looks interested in what her owner has in his cup. Maybe it is coffee with lots of milk.
9. Furbaby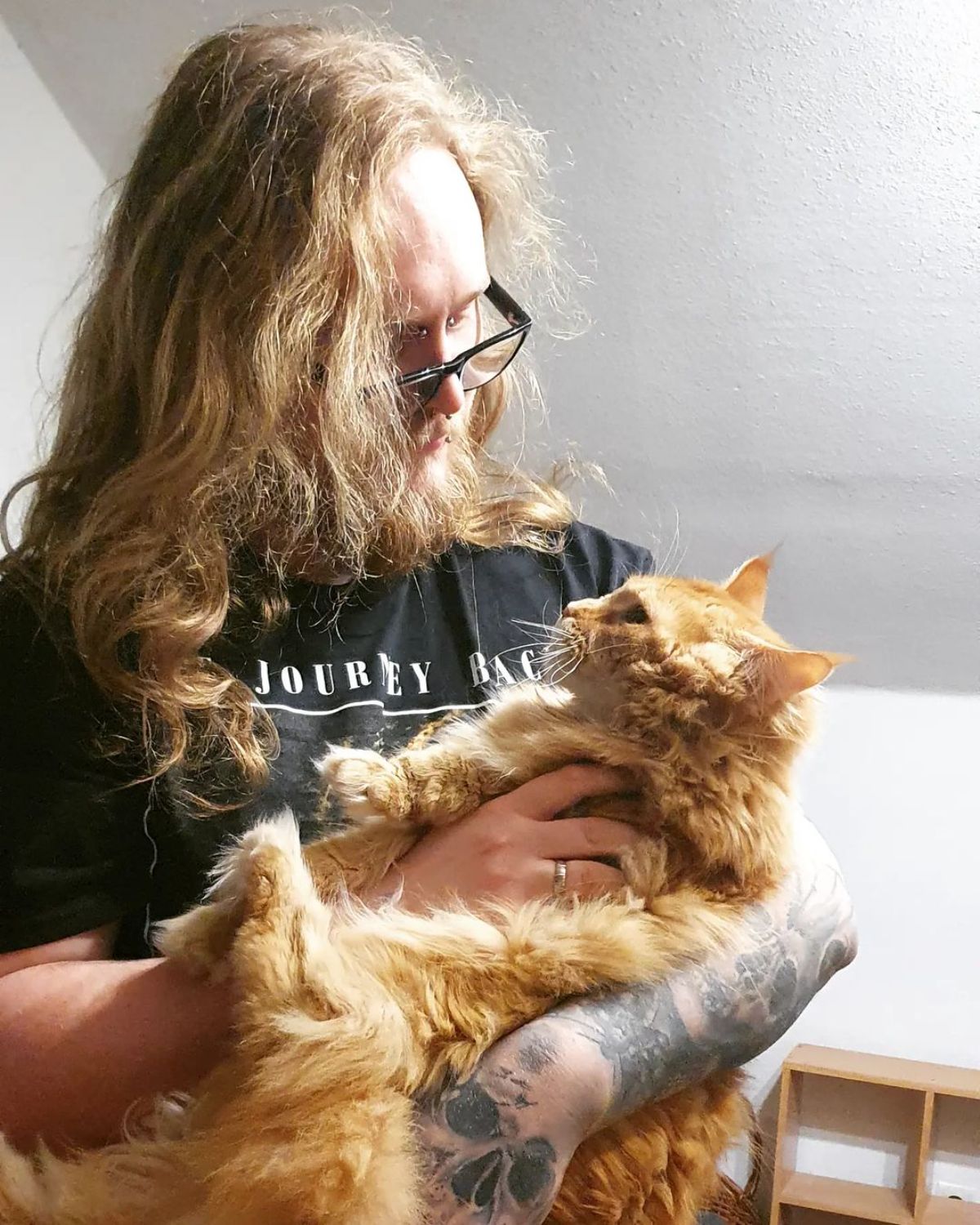 Look at the way this cat dad is cradling his orange Maine Coon like it's a baby! They clearly have a great relationship. This is one lucky cat to have a family who loves her so much.
10. Fiona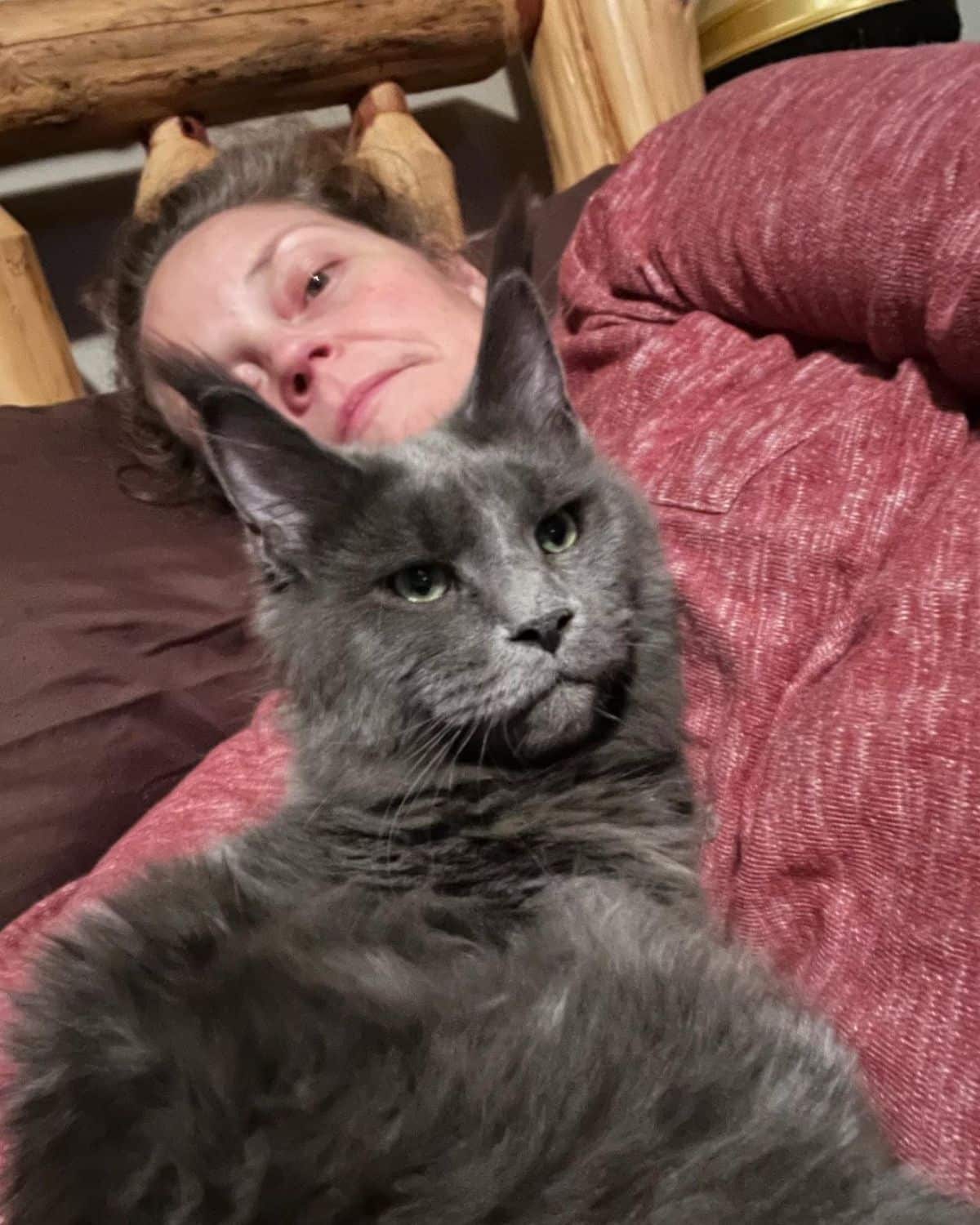 In this picture, Fiona, the gray Maine Coon is with her new cat mom. She's just been adopted into a new family, who we're sure was excited to meet her. Fiona and her owner both have beautiful gray hair, although they are slightly different in tone.
11. Ryelle's Journey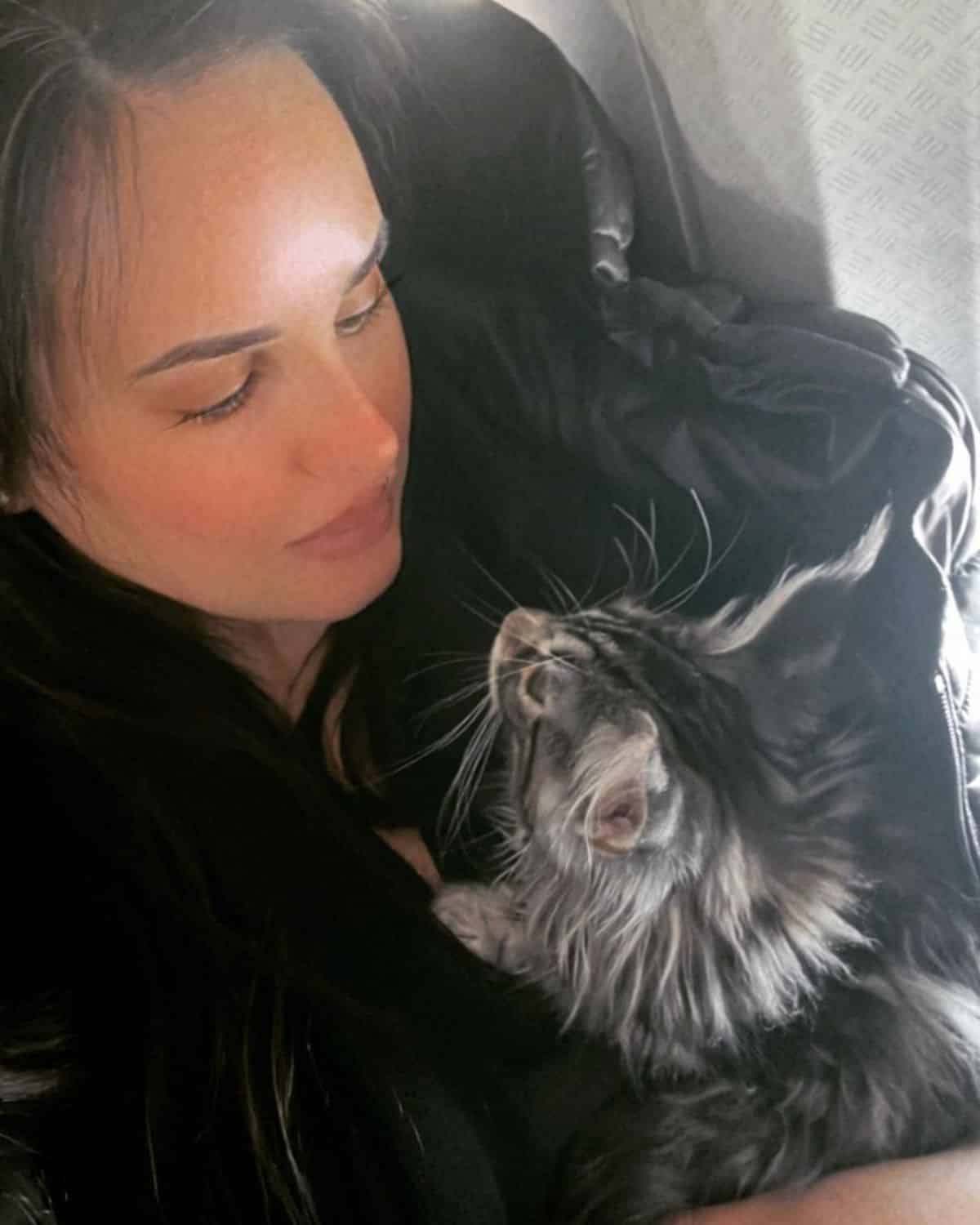 It must be hard for people who work at catteries to send their beloved kittens to their new homes after raising them for weeks, but we're glad they do such a fantastic job! Ryelle is a young Maine Coon on her way to her forever home. Right now, she's being accompanied by Emiliya, the person who raised her.
12. Two Tough Guys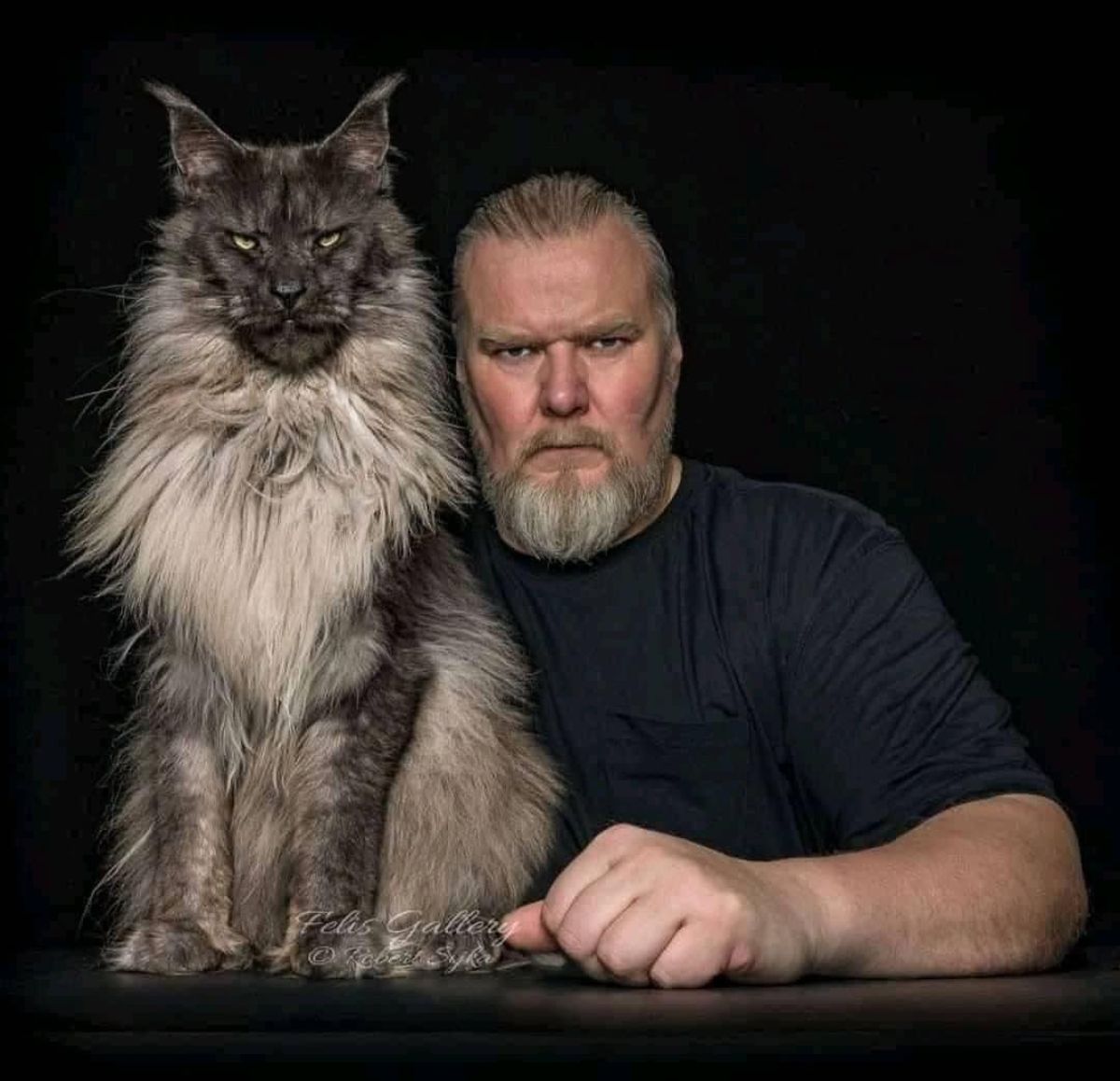 This Maine Coon cat has the same great bone structure and severe expression as his owner! It is hard to say why some people look like their pets, but it is a real thing. Perhaps folks simply gravitate toward animals that have some of their own physical traits. We may never know.
13. Three Times The Love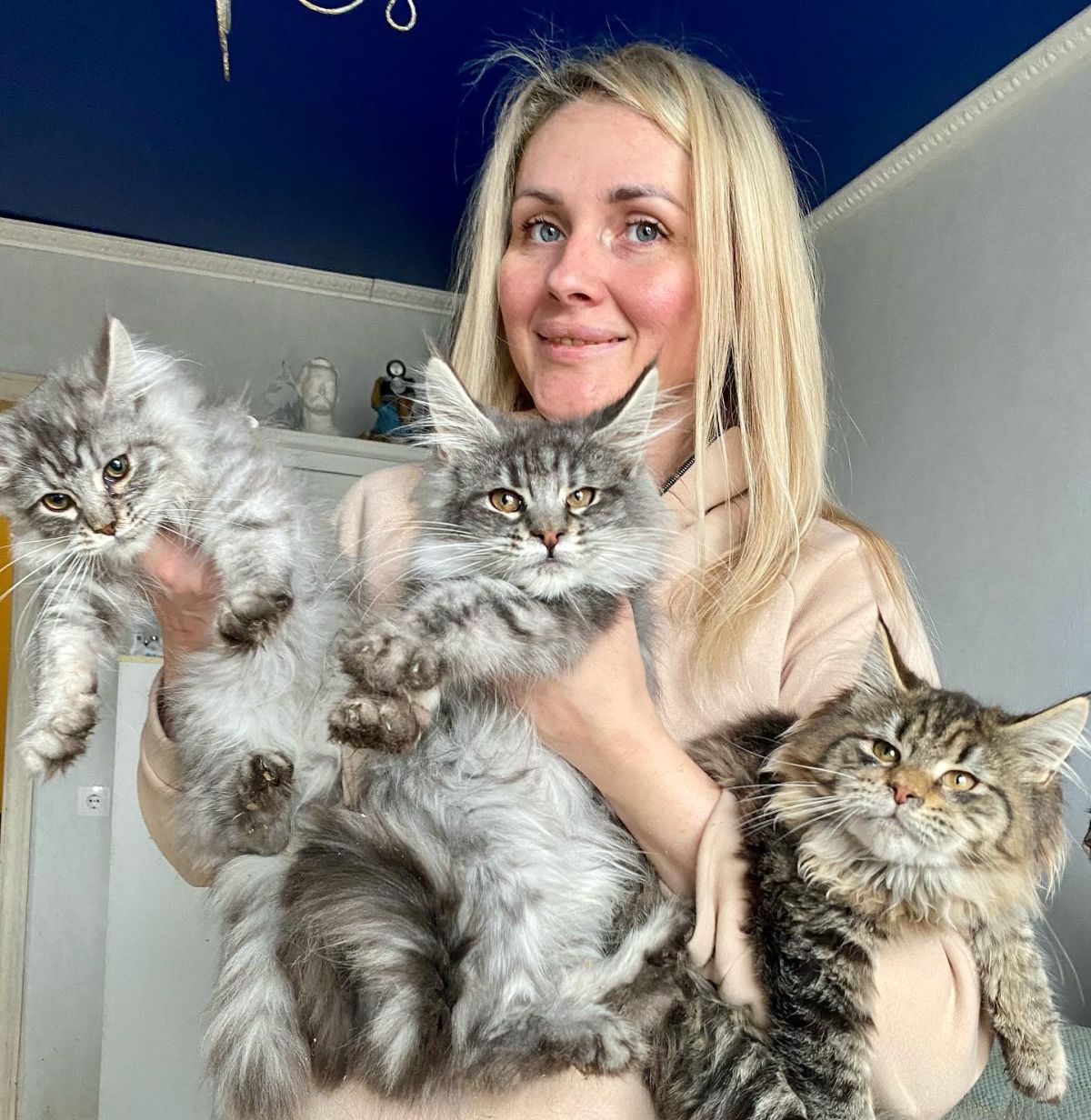 This Maine Coon mom from Russia has her hands full, literally and figuratively! With three kittens around the same age, her house must be full of action and chaos. But she probably wouldn't have it any other way.
14. Just Chillin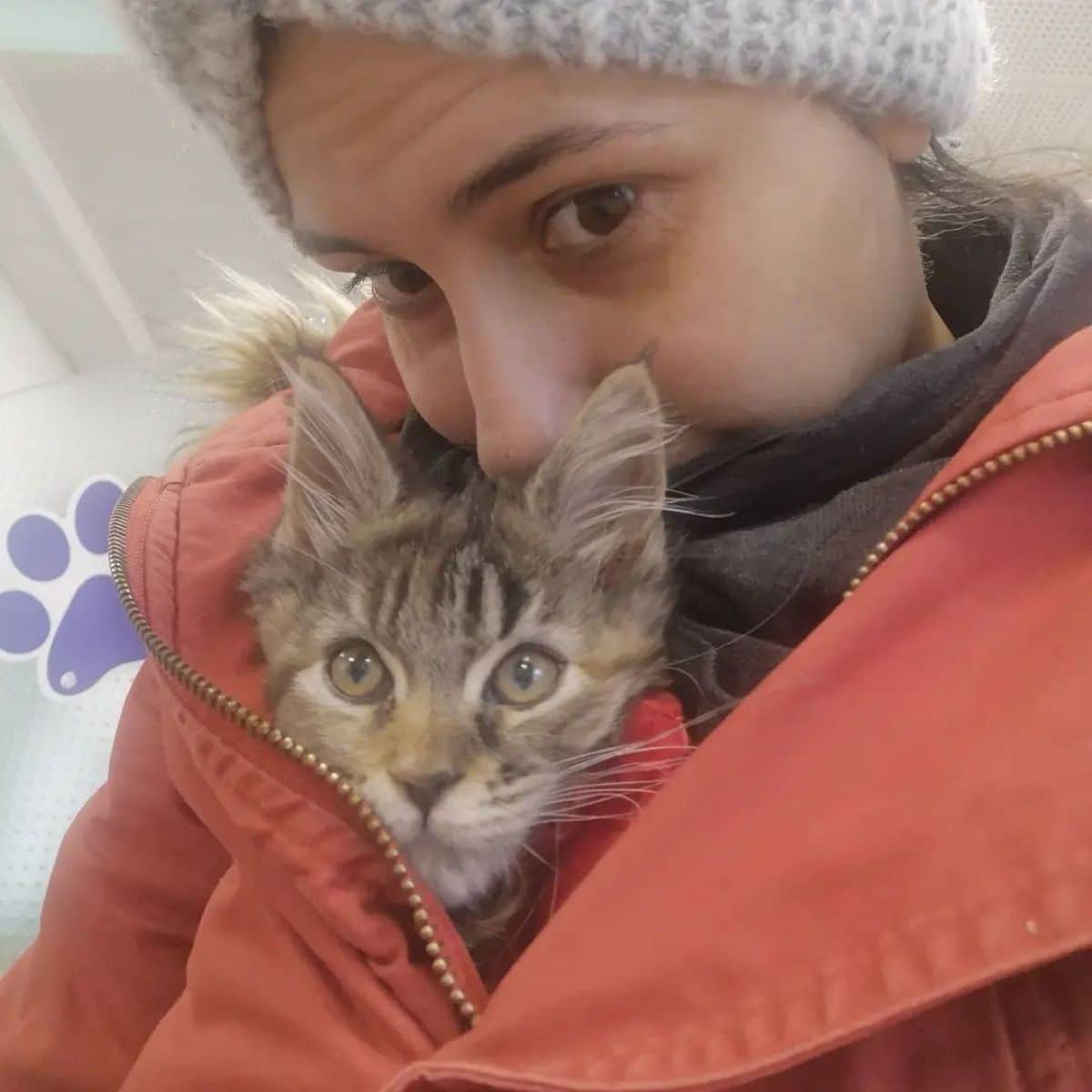 The weather outside is frightful, but his owner's coat is so delightful! The young Maine Coon tabby knows how to stay warm when it is nasty outside.
15. One Lick of Sense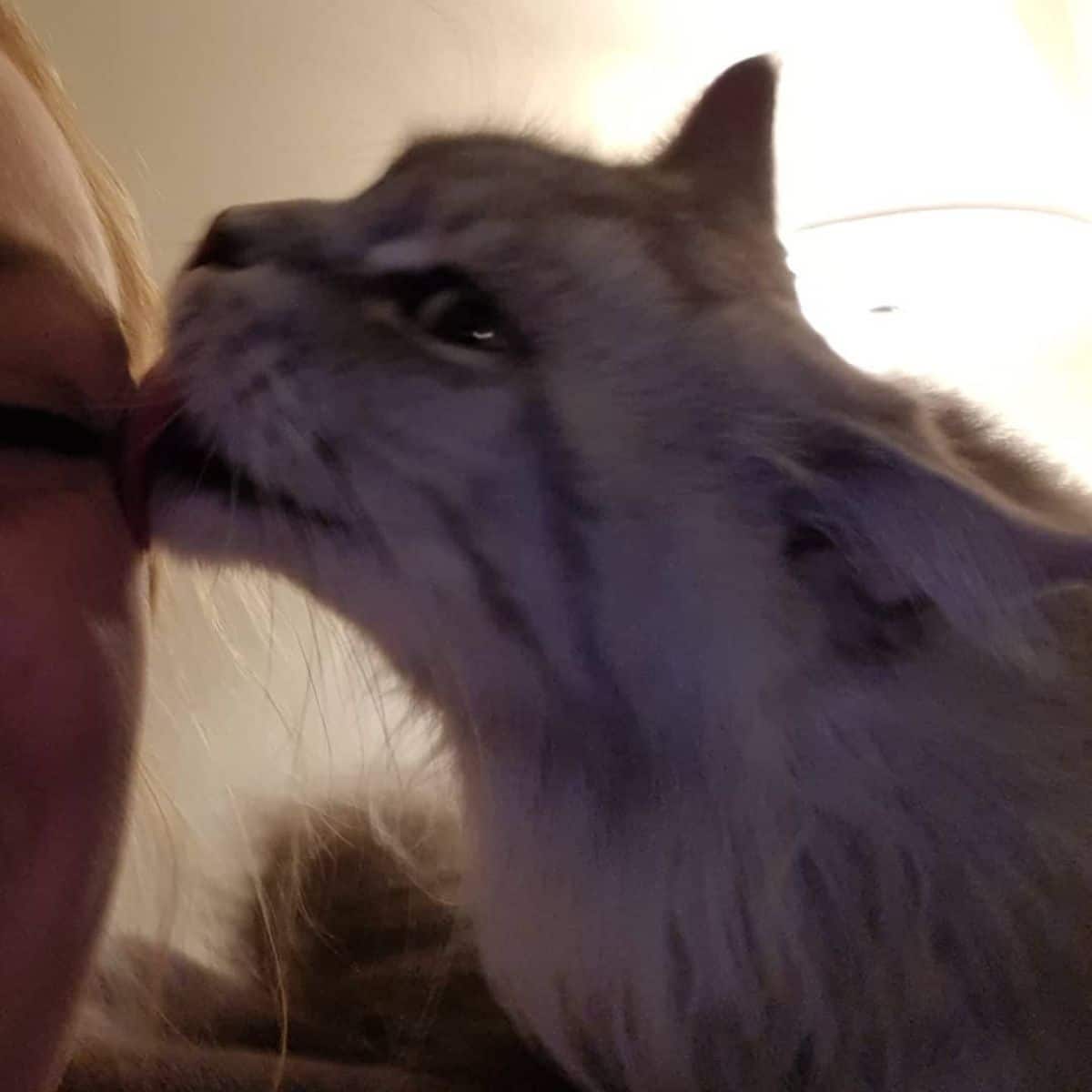 This photo is a little dark and grainy, but anyone who owns a cat knows this moment. You're sitting there, minding your business, when suddenly, there's a rough cat tongue on your face. Your little friend has come over to you to say hello. This picture is precious, and the silver Maine Coon is gorgeous.
16. Family fun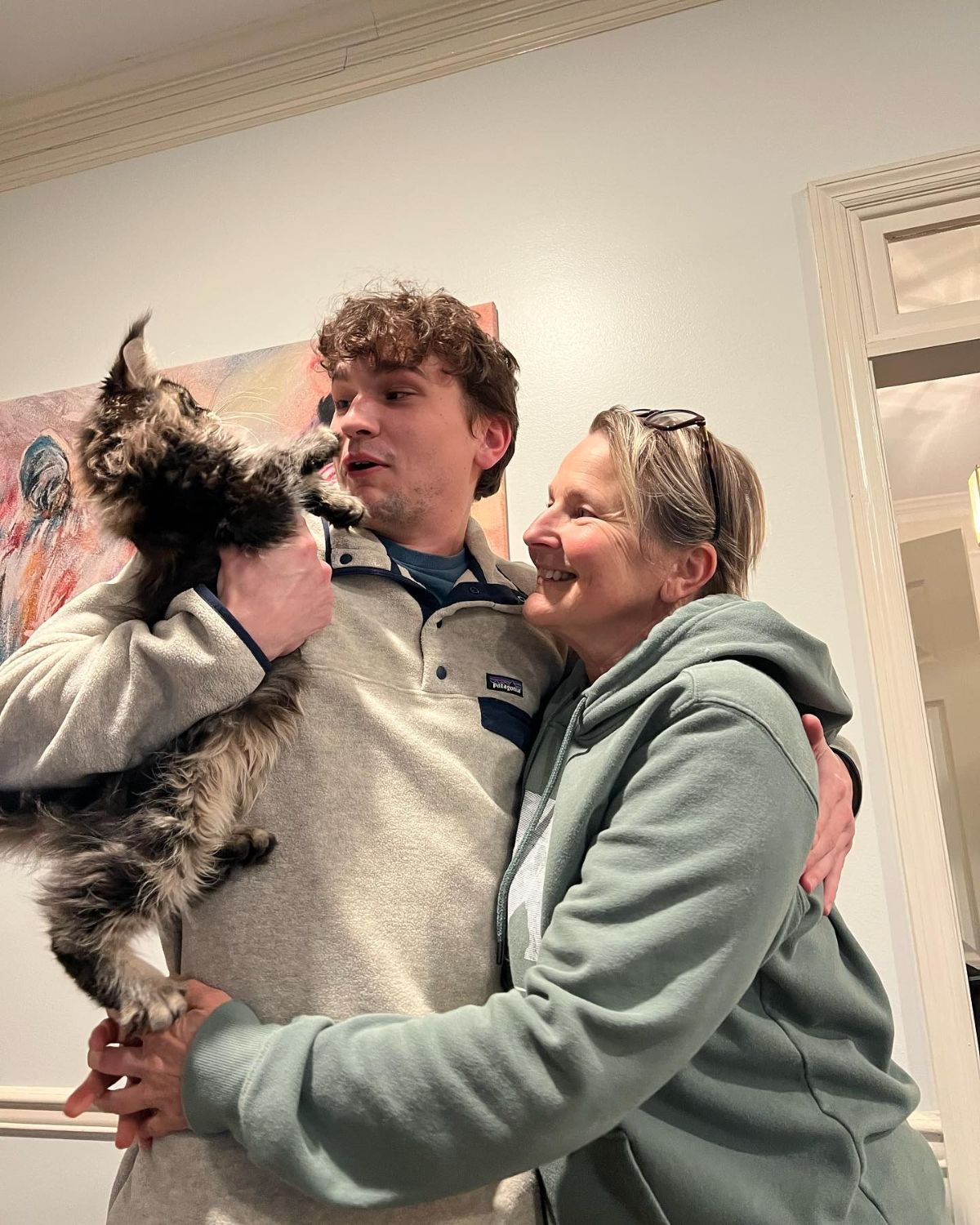 What a heartwarming scene. This family is taking their new tabby Maine Coon home, and they're clearly overwhelmed with joy. Going to a new owner can be a bit stressful for kittens and adult cats alike, but you can take steps to help make the transition easier.
17. Orange Giant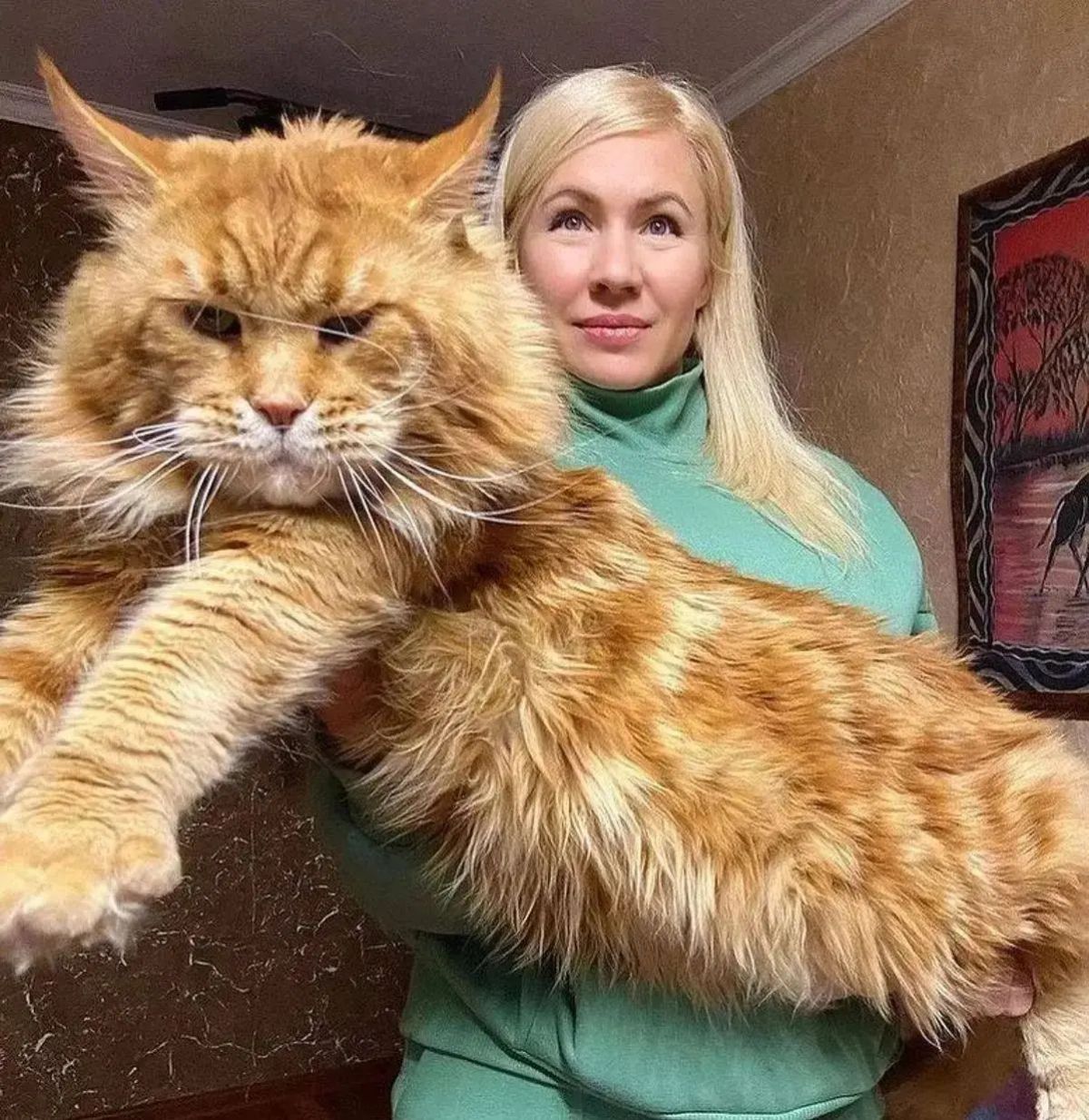 In this picture, a young woman is showing off her orange Maine Coon. He's a big guy, for sure, and super-fluffy. He looks to be having the time of his life in the spotlight.
18. On The Road Again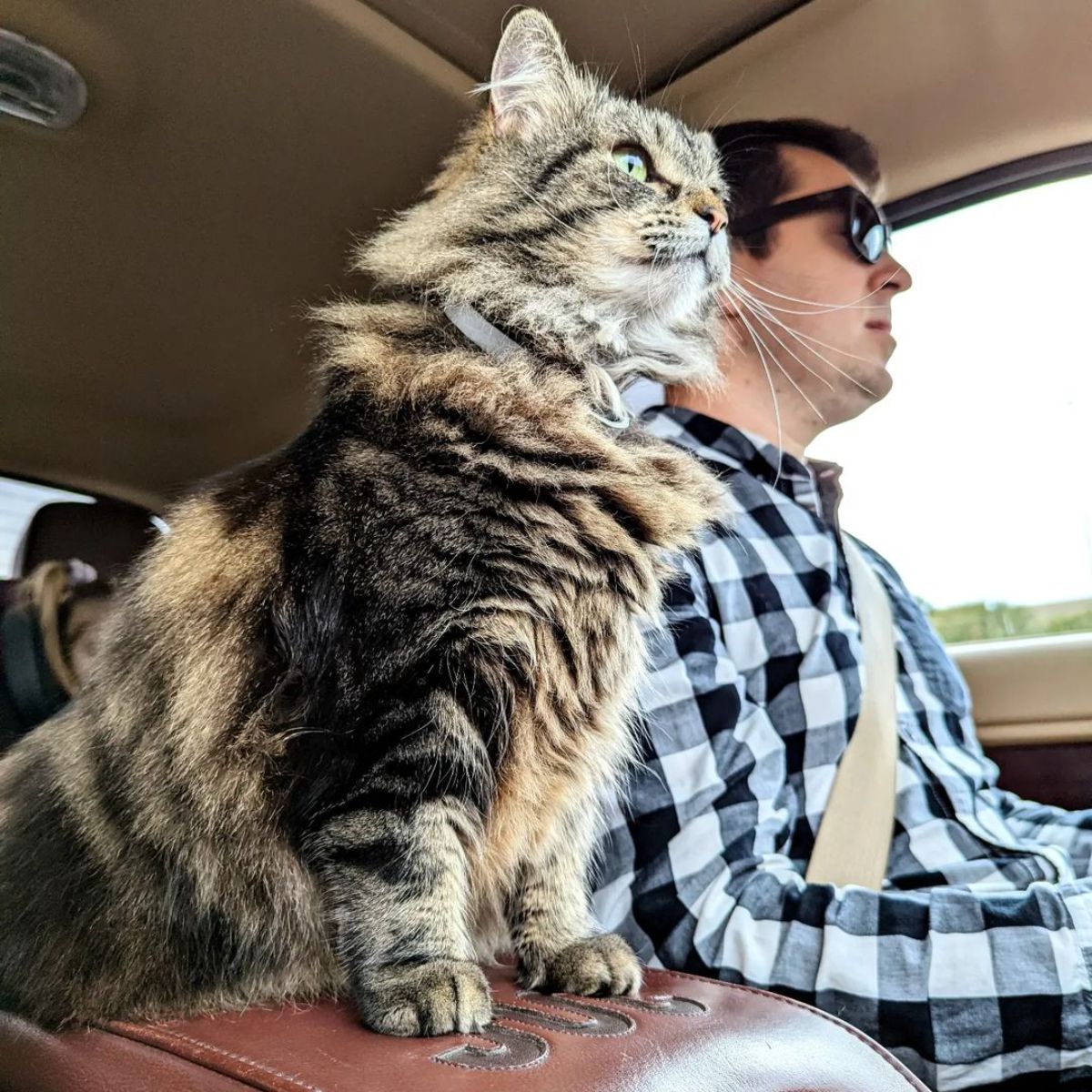 Some cats love to travel, and this classic tabby Maine Coon is definitely one of them! She's watching the road and getting ready to depart on another adventure!
19. Misty and Monty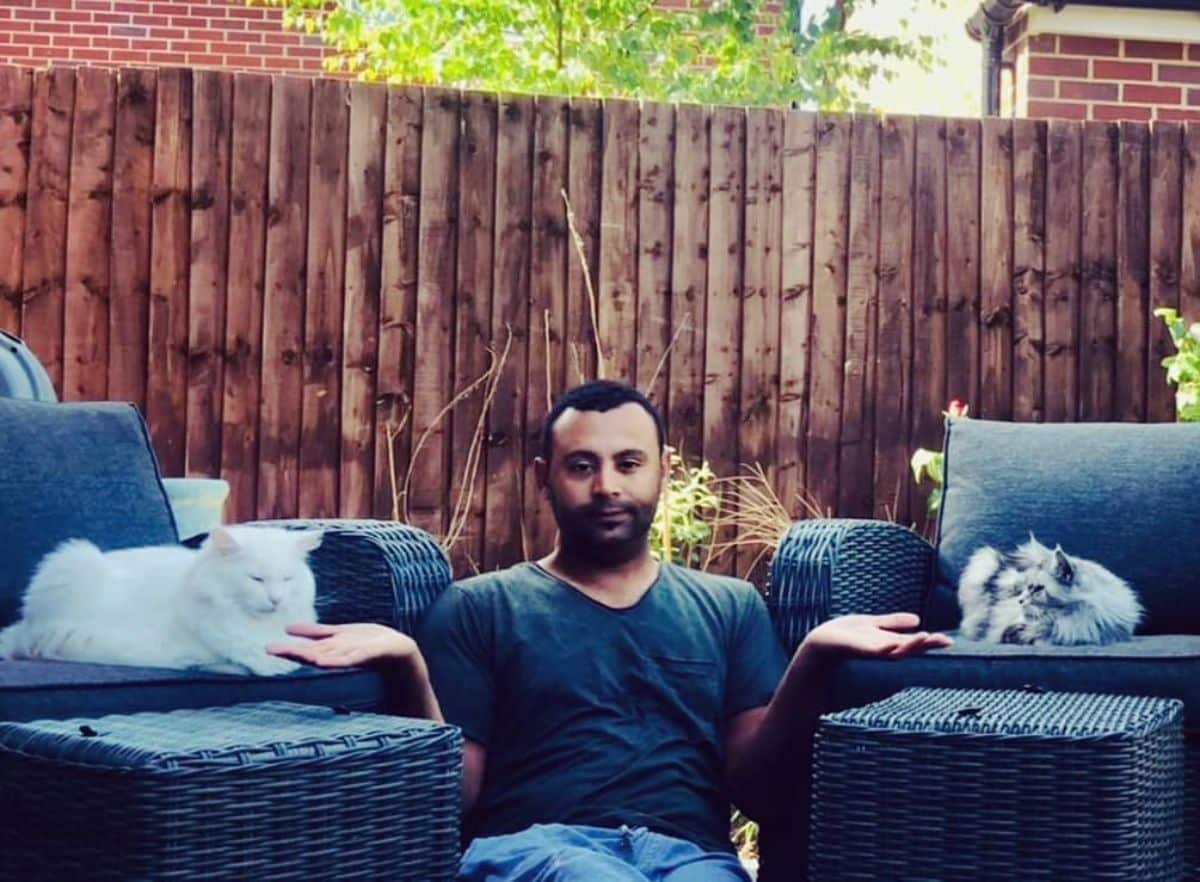 Misty and Monty are a pair of Maine Coons; one silver and one white. They are featured on their own Instagram account and enjoy the attention they get from people following their everyday adventures. Here, the duo is spending some time outside with their owner.
20. Game Time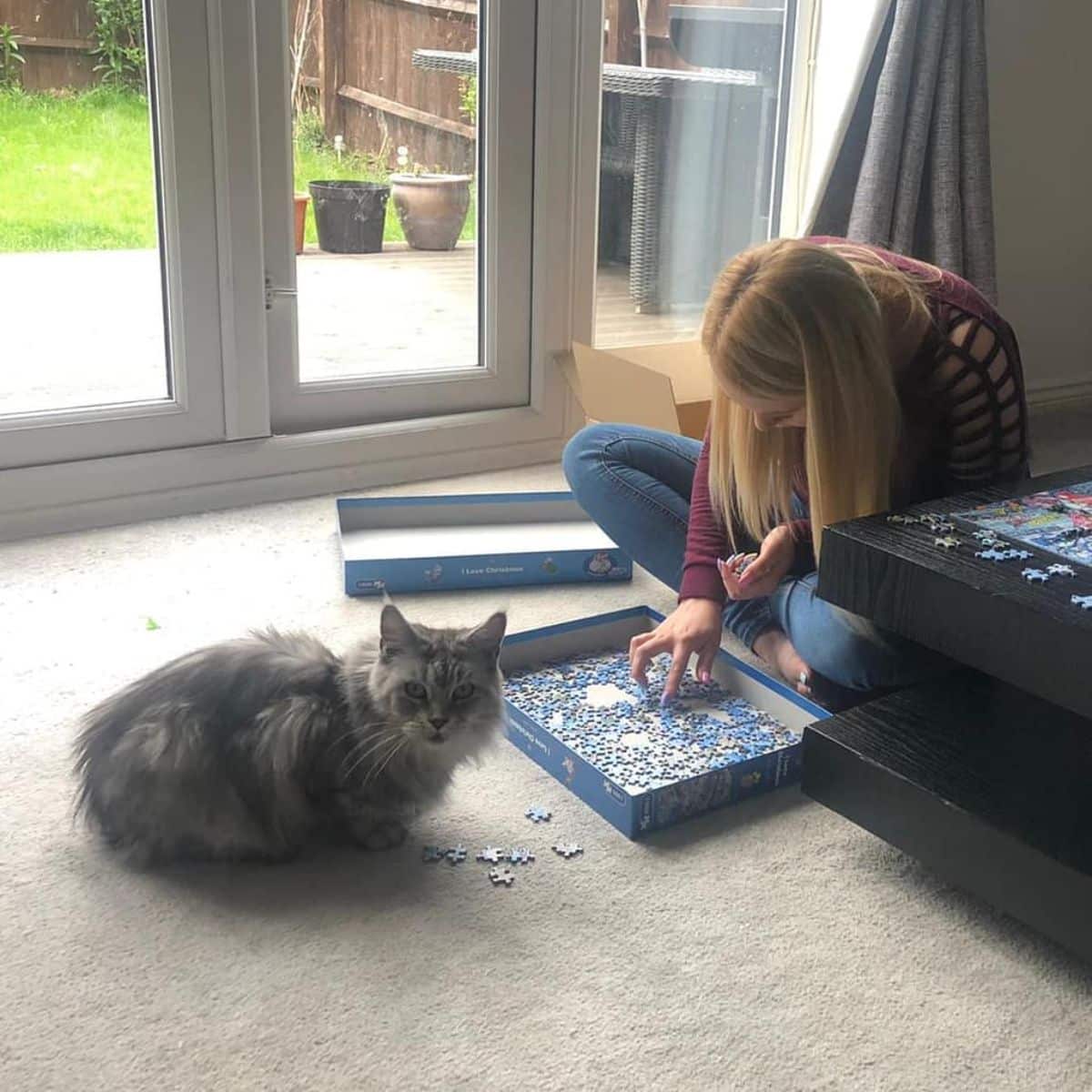 When cats love their owners, they will hang out with them every chance they get, even if the silly human is putting together a large, complicated puzzle.
21. Claws and Nails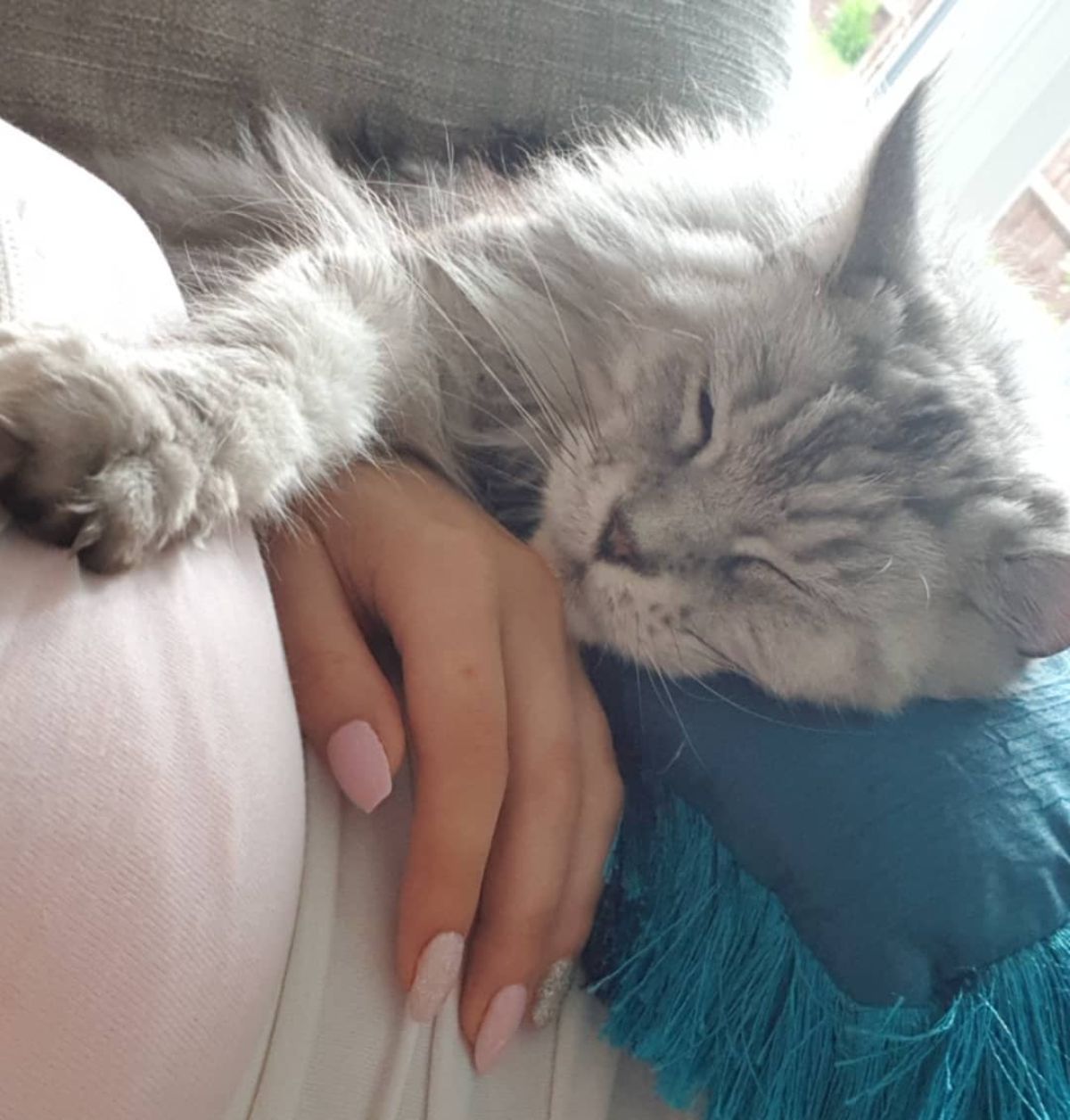 What a sweet picture of this silver Maine Coon and its owner. The lady has very nice manicured nails, and the cat's claws are also somewhat visible in the photo. It's like they're both showing off their manicures.
22. Mr. Hobbes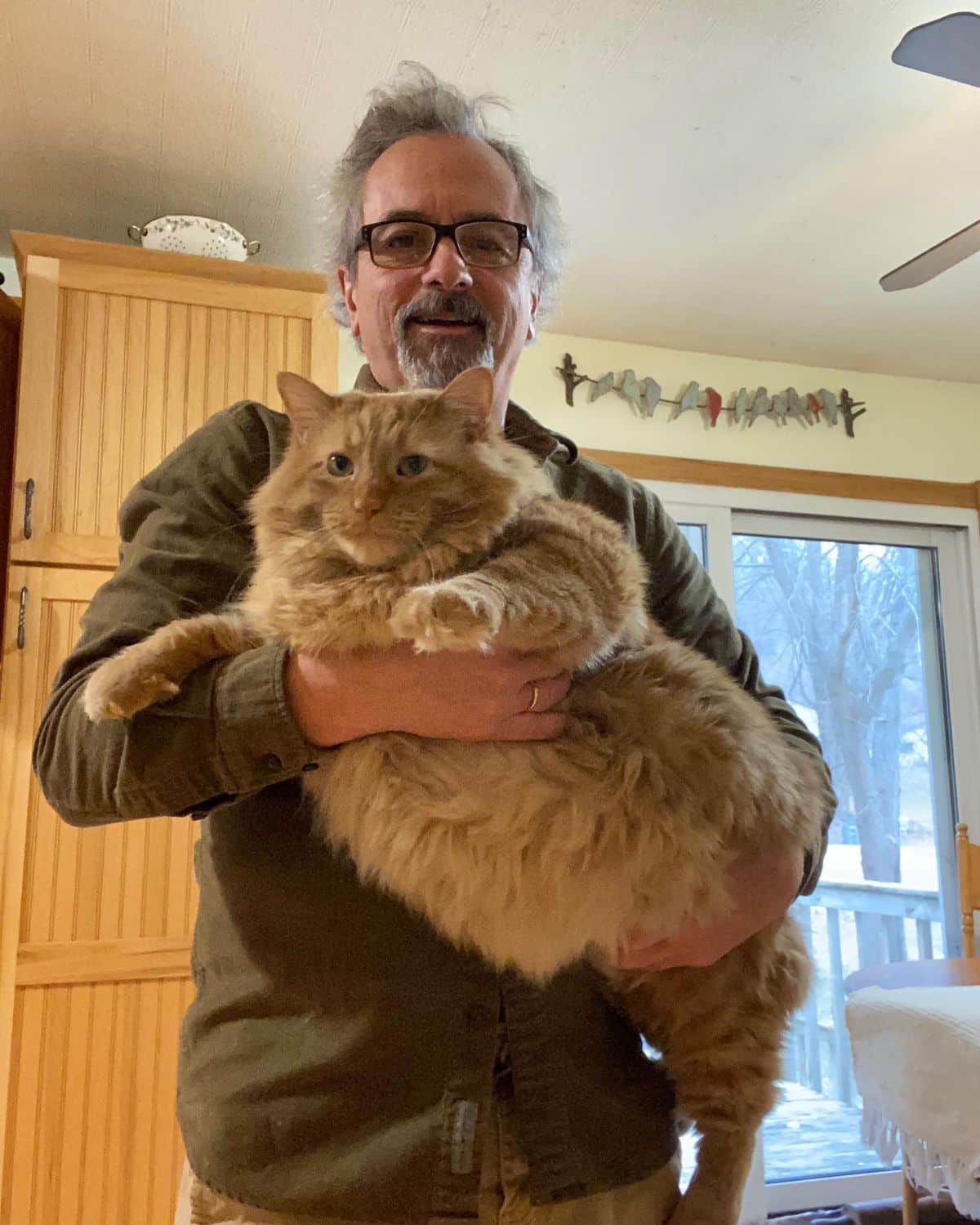 Wow! Mr. Hobbes is a heavyweight champion! The plus-size orange Maine Coon has the cutest face, and his owner has the time of his life showing him off to the camera.