Maine Coon kitten paws are having a moment online right now, and it's well-deserved.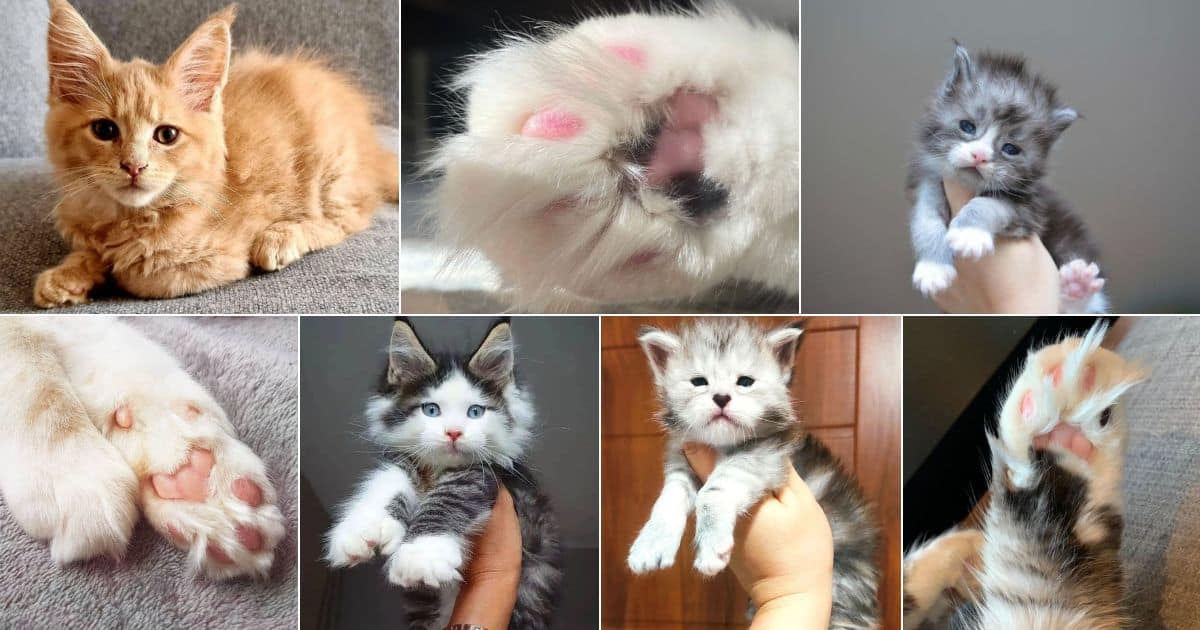 Not only do they have chubby, jelly-bean-shaped toes interspersed with long tufts of hair, but you'll often see the teeniest kittens rocking feet that seem way too big for its body– a good sign that your Maine Coon is going to top the size charts when it's all grown up.
Jump to:
Cute Maine Coon Kitten Paws
While we're busy obsessing over how cute they are, your cat relies on these all-terrain "tires" for safely descending from high spots, temperature regulation, and stalking like the pro-level predators they are.
Even their "kneading" of your legs serves a purpose, as their paw pads contain scent glands that warn other potential lap cats that you belong to them.
To appreciate the multi-faceted, awe-inspiring Maine Coon kitten paws, we've rounded up 21 photos that exemplify why cat fanatics are obsessed with these squishy delights.
1. Toe Bean Tag Team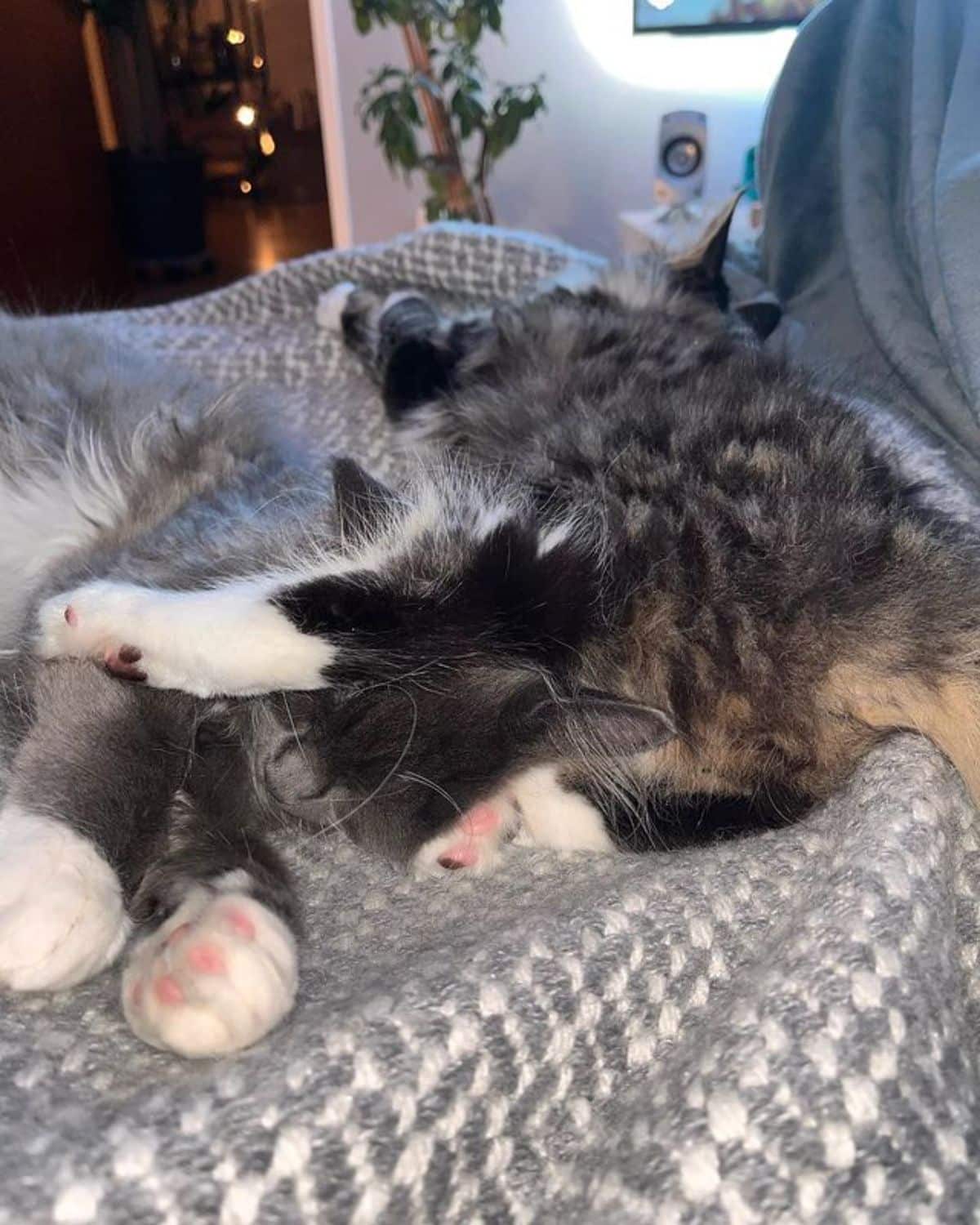 Luna and Stella bring double the cuteness with two sets of sleepy Maine Coon kitten paws. These bonded pair are crisscrossed sleeping position is sweeter than a jumbo-sized bag of gummy worms.
2. Ready for Her Close Up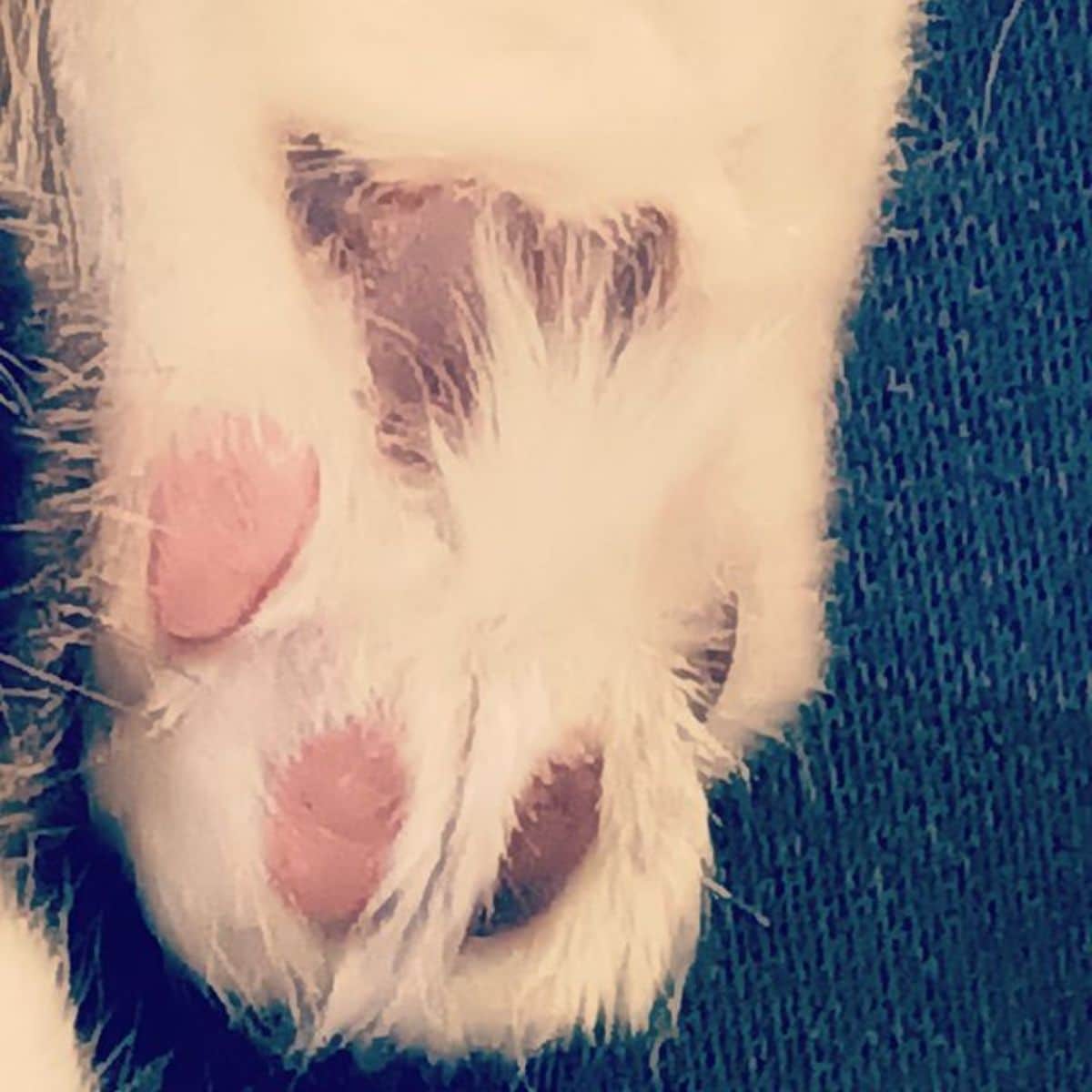 Aster Merlin, a mackerel tabby Maine Coon, proves that color coordination is overrated. Her mismatched paw pads are a feline fashion statement that would look right at home on any catwalk.
3. A Lot of Growing Left to Do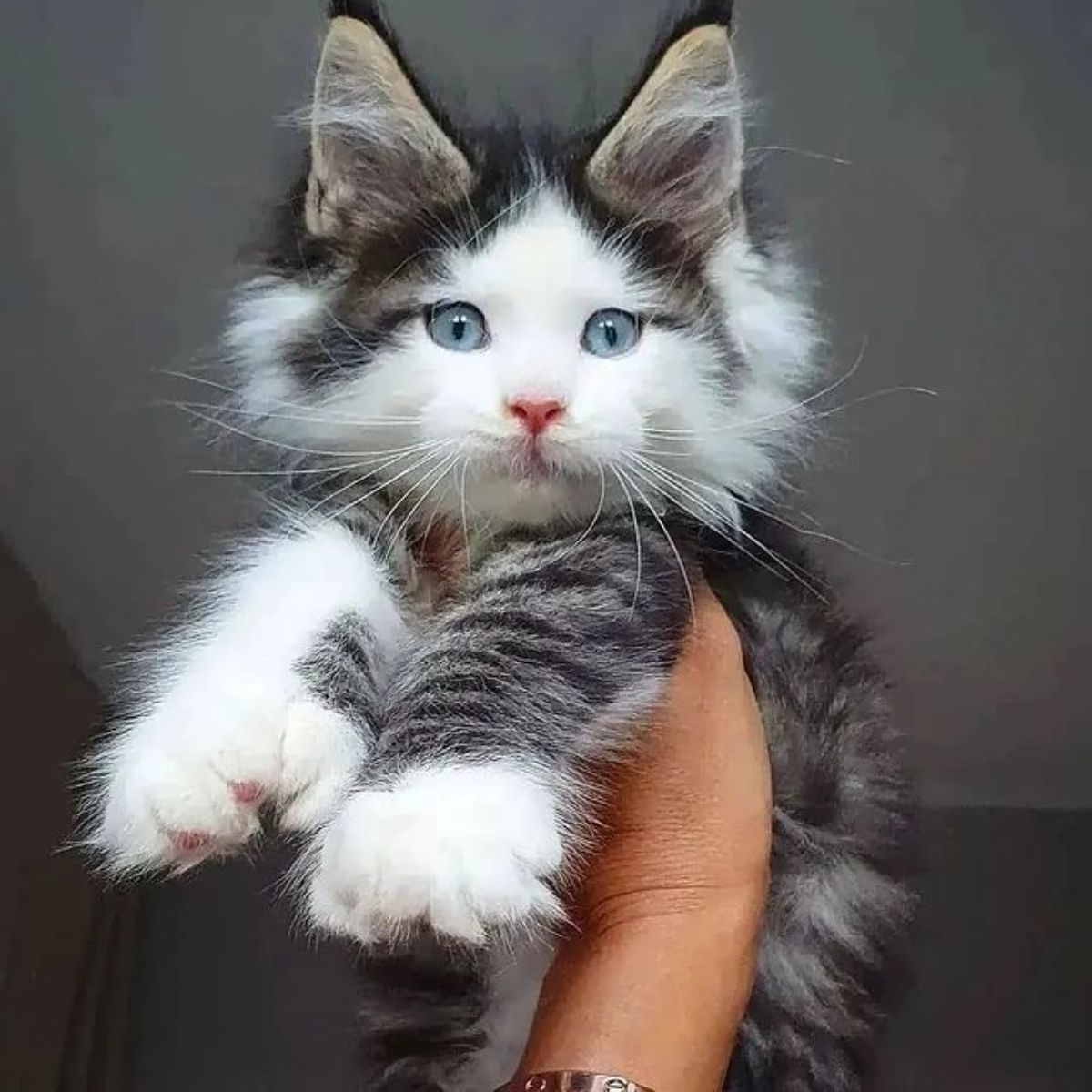 The paws on this blue-eyed baby look oversized for his tiny stature, and he won't grow into them until he's two to three years old. Maine Coons are one of the slowest maturing breeds due to their abnormal size.
4. Tiny Tufts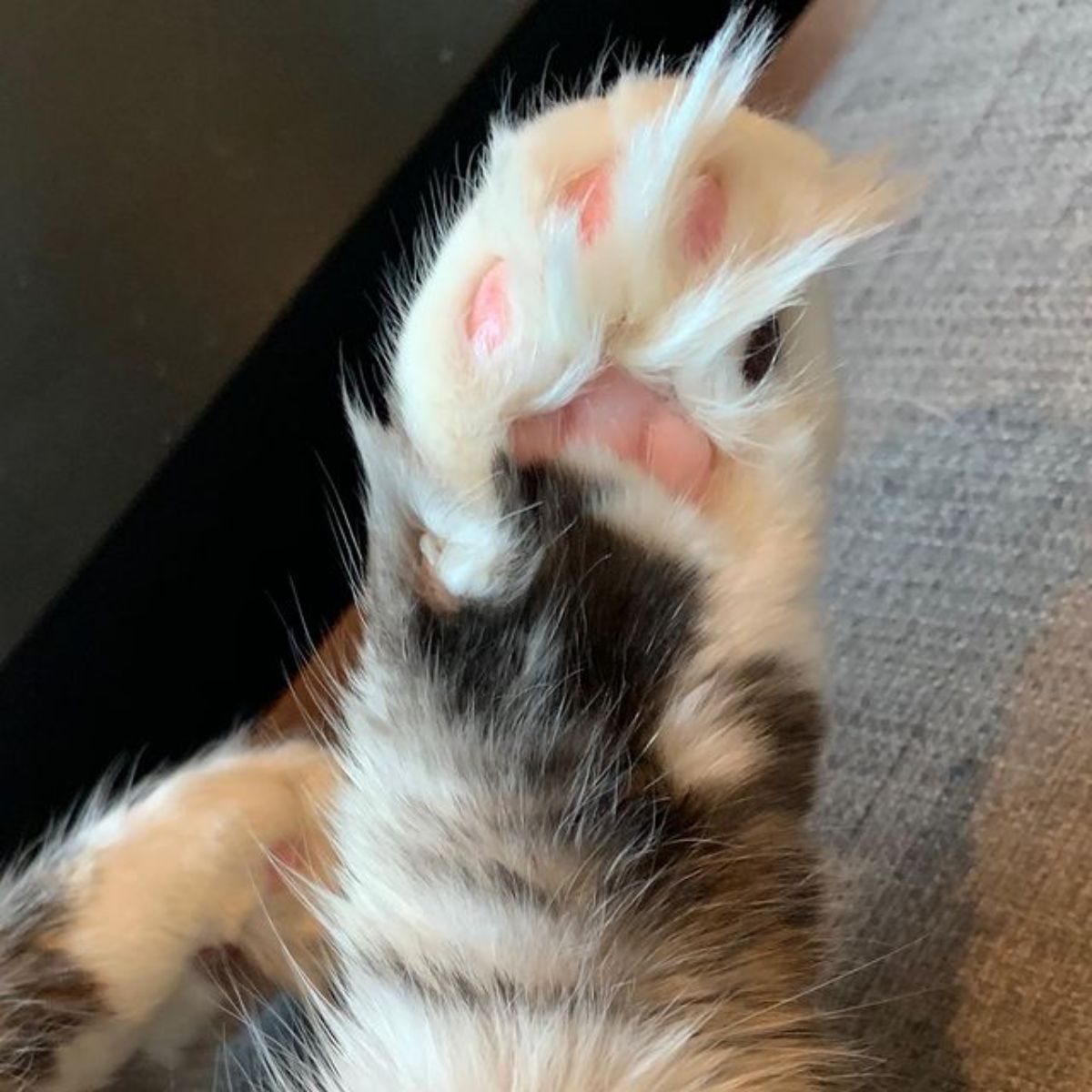 The tufts of fur between Nina's squishy pink toes serve a very important purr-pose. Maine Coons developed this adaptation to make them more resilient against winter weather, acting as an insulating layer between the snow and her skin.
5. Handsome Little Hemingway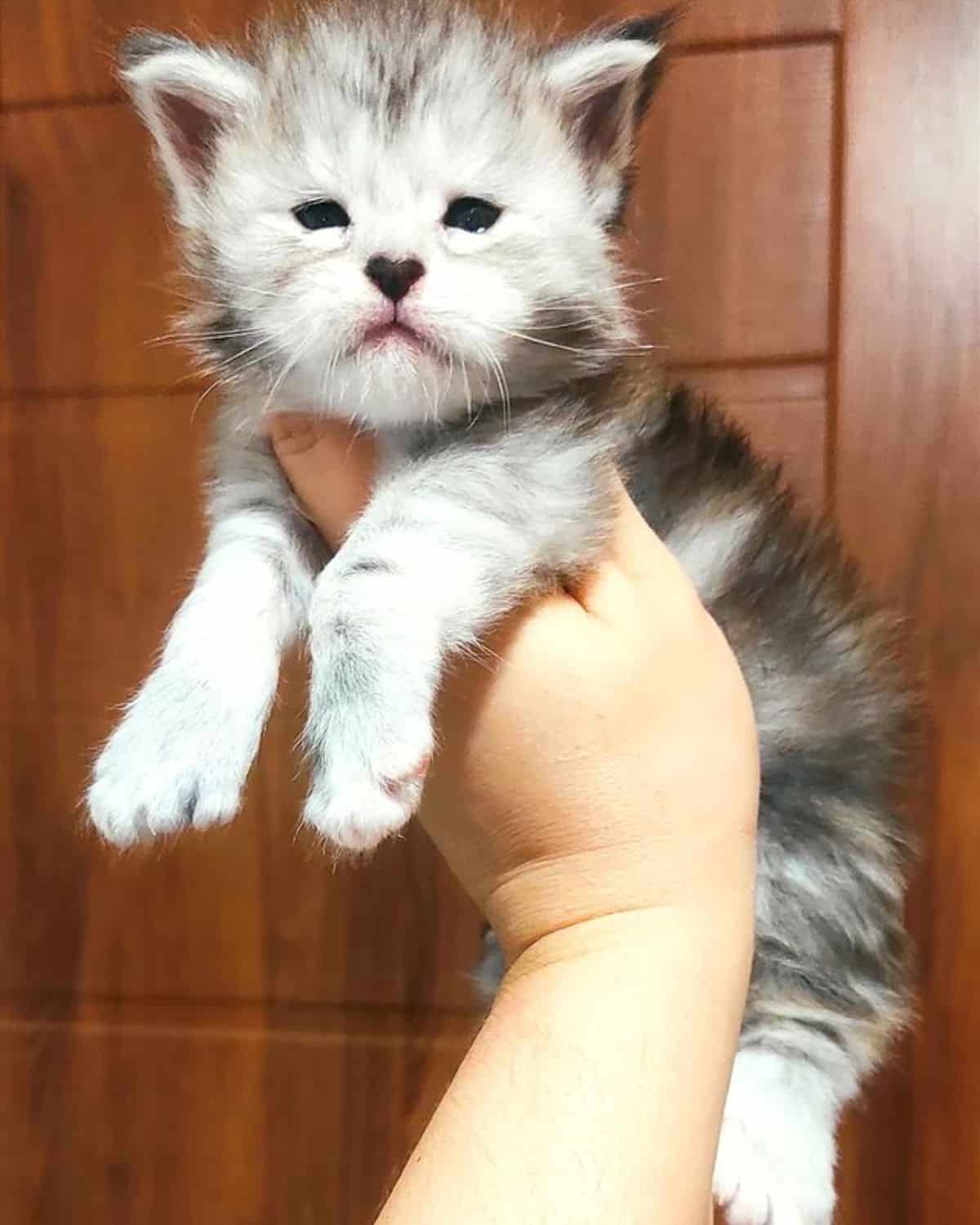 If you notice something strange about these Maine Coon kitten paws, it's because she has six toes. Maine Coons are more prone to polydactylism, a condition that author Ernest Hemingway found delightful. Today, the museum in his honor is home to more than 60 polydactyl cats, some of which come from the same family line as his original Snow White.
6. Pretty in Pink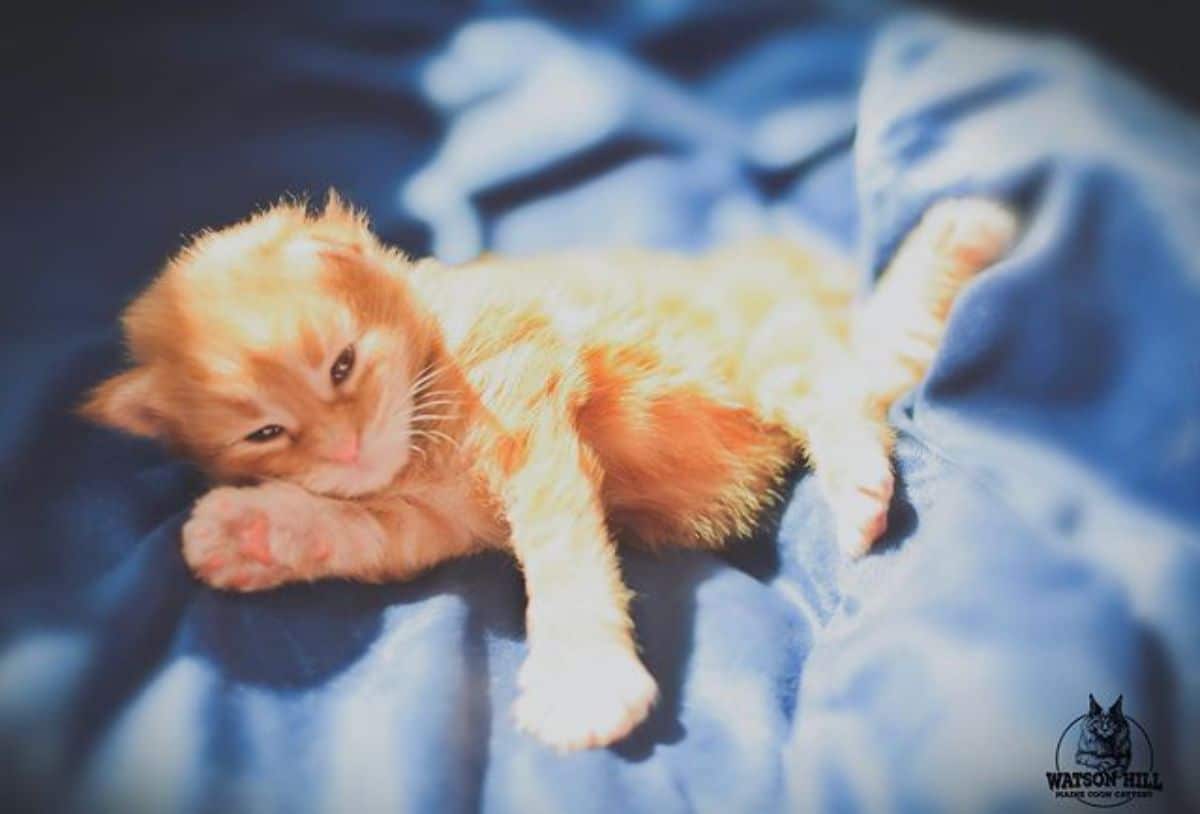 The aptly-named Garfield's tiger-striped fur is cute enough, but a glimpse at those rosy little beans is almost too much to handle. There's no word yet if he's a big fan of lasagna like his namesake cartoon cat.
7. Loveable Luno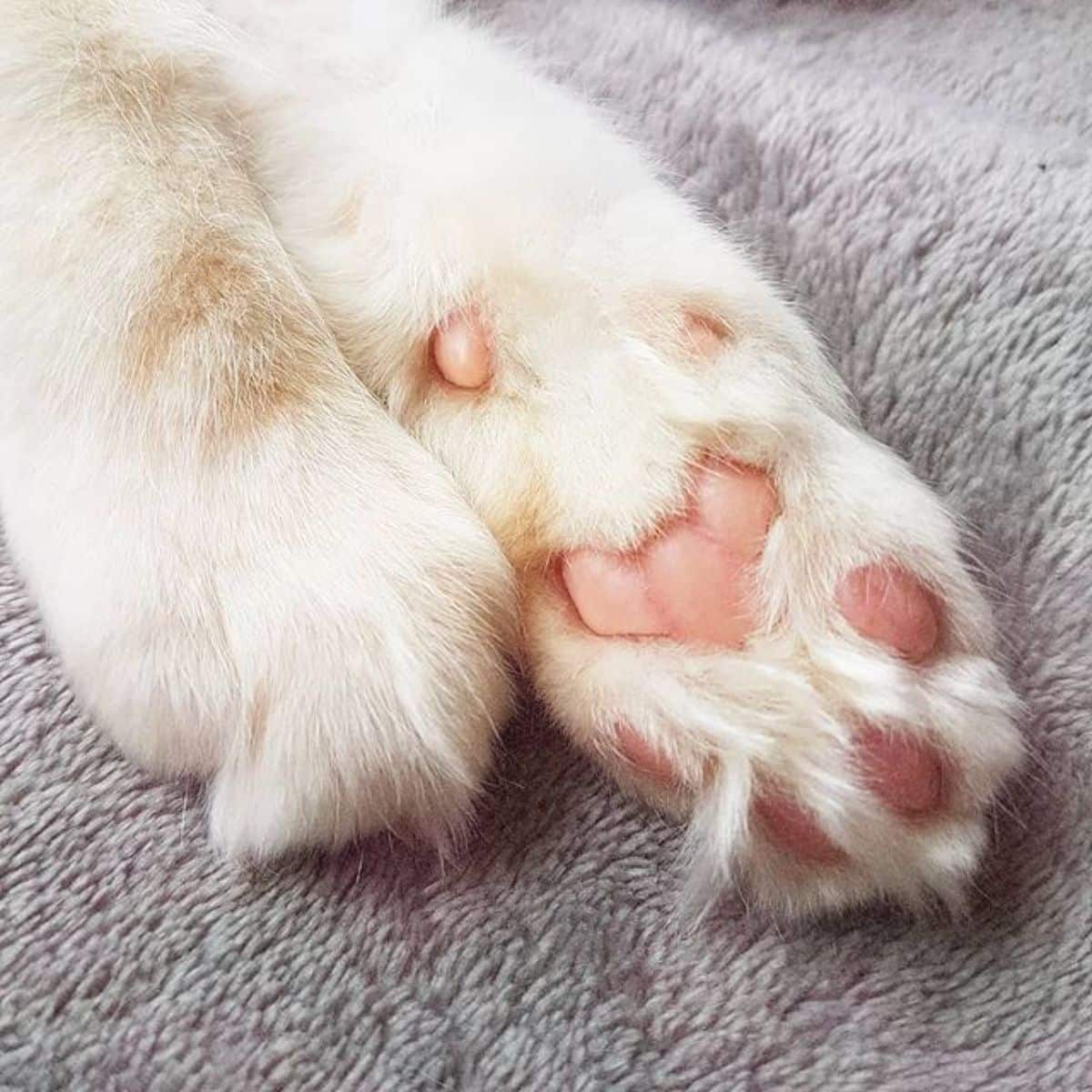 Luno's red and silver coat, big blue eyes, and perfectly blushed toe beans make for an irresistible combination. The Instagram page he shares with his sister Maia is a must-see for any Maine Coon fan who needs a daily dose of wholesomeness.
8. Compact Paws for Easy Travel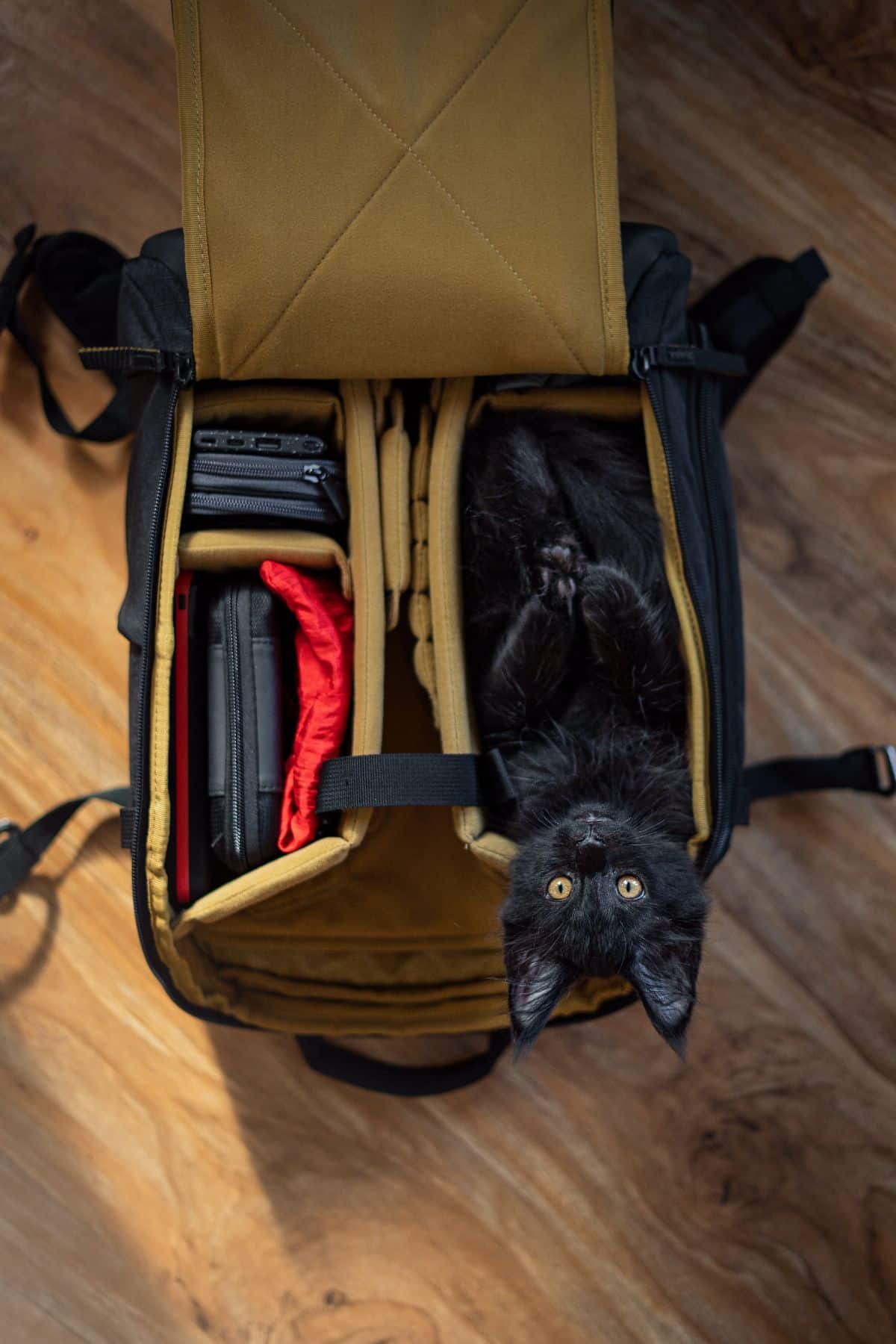 Imagine opening your camera bag to find these topaz-colored peepers and politely folded paws staring back at you. This solid black Maine Coon might not be able to snap a picture of the sunset, but she has a promising future as a contortionist.
9. Looking a Little Scruffy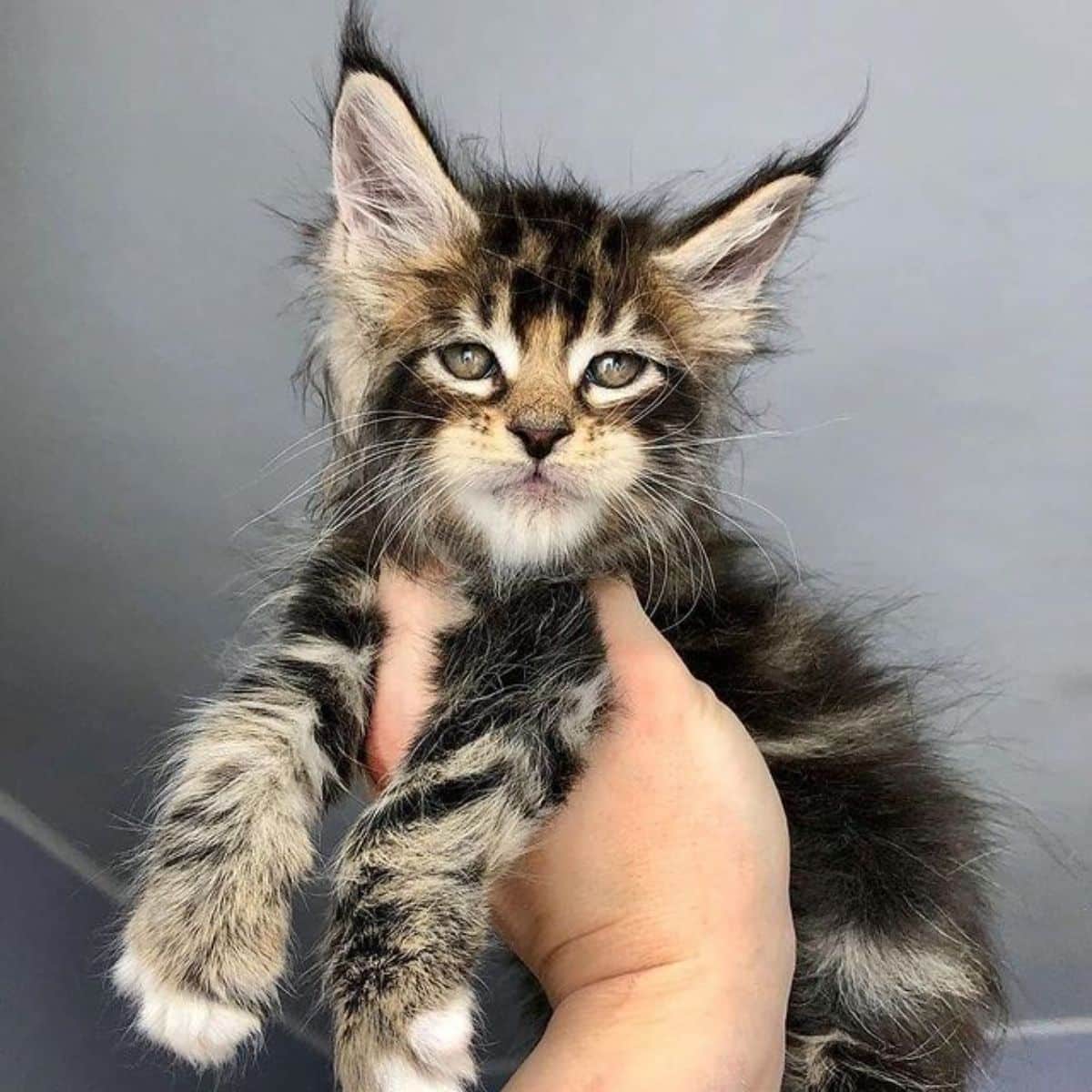 This sweet and scruffy Maine Coon looks like he just had a rough night running up and down the hallways at 2:00 AM. Fortunately, his polydactyl paws provide him with better balance, so he can cause chaos to his heart's content without fear of falling down.
10. Just a Peek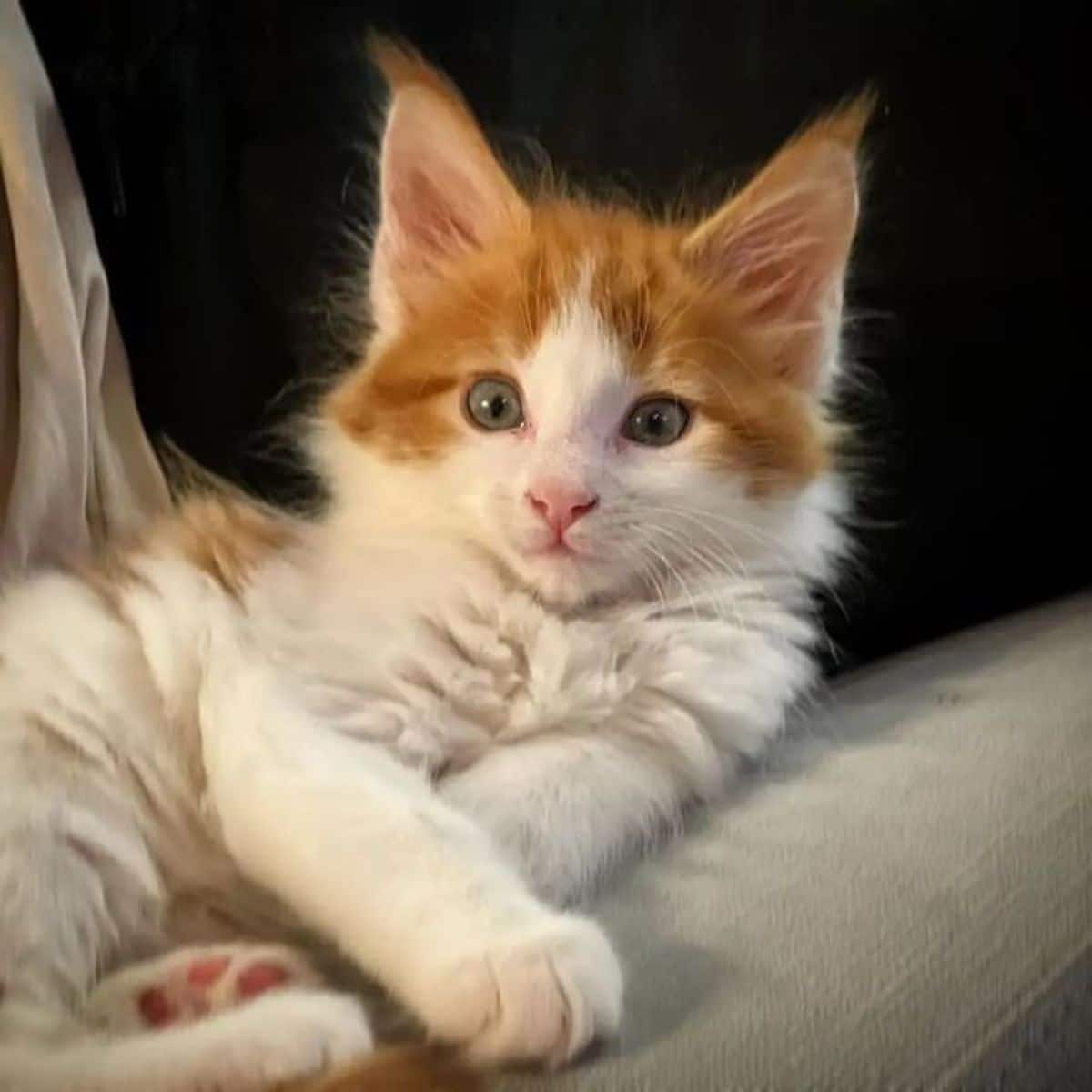 From the tufts of the ears to the peek of petal pink paw pads, this is one Maine Coon kitten sure to steal your heart. It's hard to believe the wee darling will grow into a 20-pound gentle giant that will always steal your spot on the couch when you stand up.
11. Staying Limber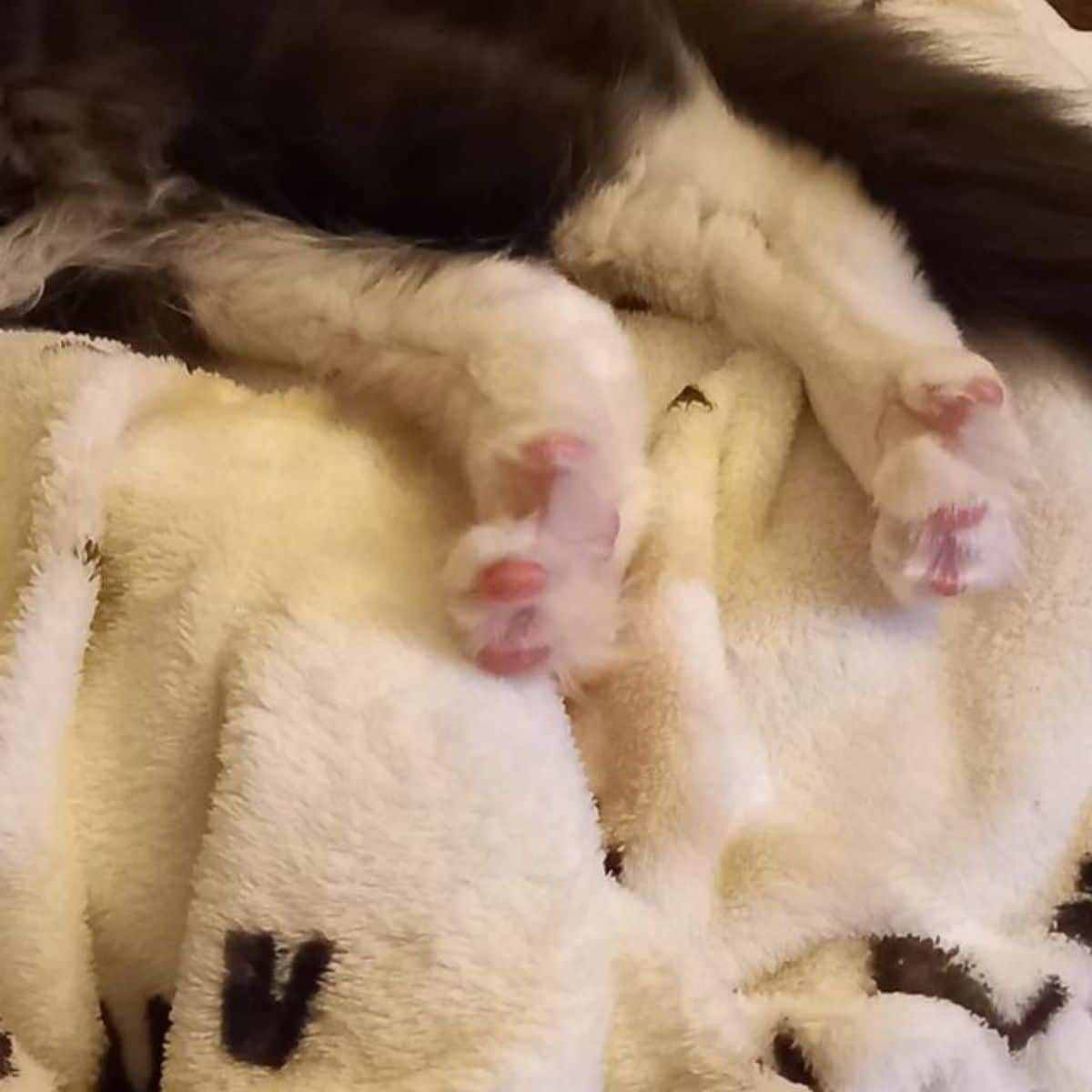 You may have heard of the goat yoga trend, but Mac's toe-ga might be the next big thing at your local gym. His sleepy stretches show off some top-of-the-line squish and tufts for which Maine Coon kitten paws are famous.
12. One Tuft Cookie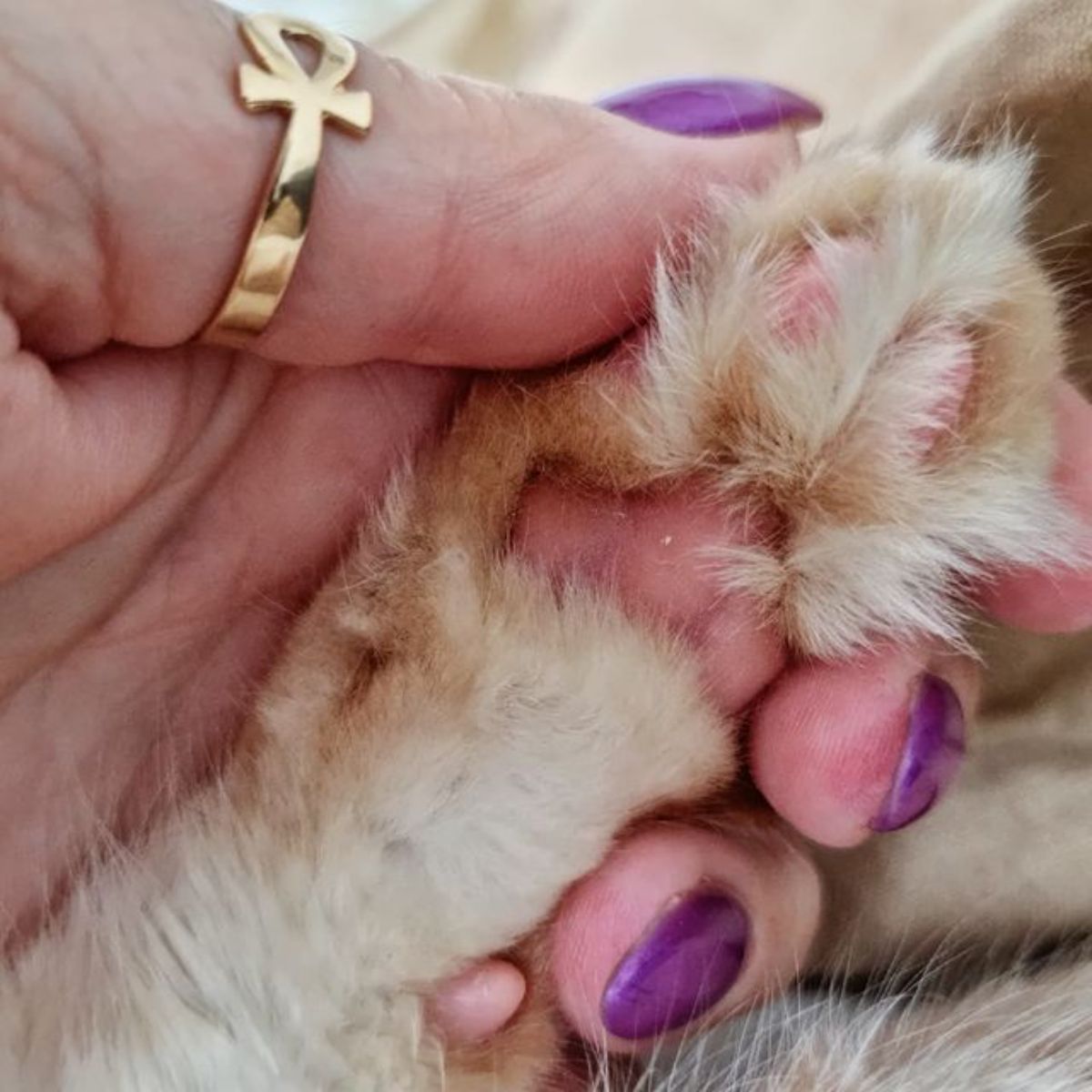 Mimmo has grown into a gorgeous cream tabby tom, but this toe bean photo makes it hard to believe he could have ever been so petite. His built-in snow boots are so thick and fluffy that you can hardly see his pearlescent pads hiding underneath.
13. Duo-To(e)ned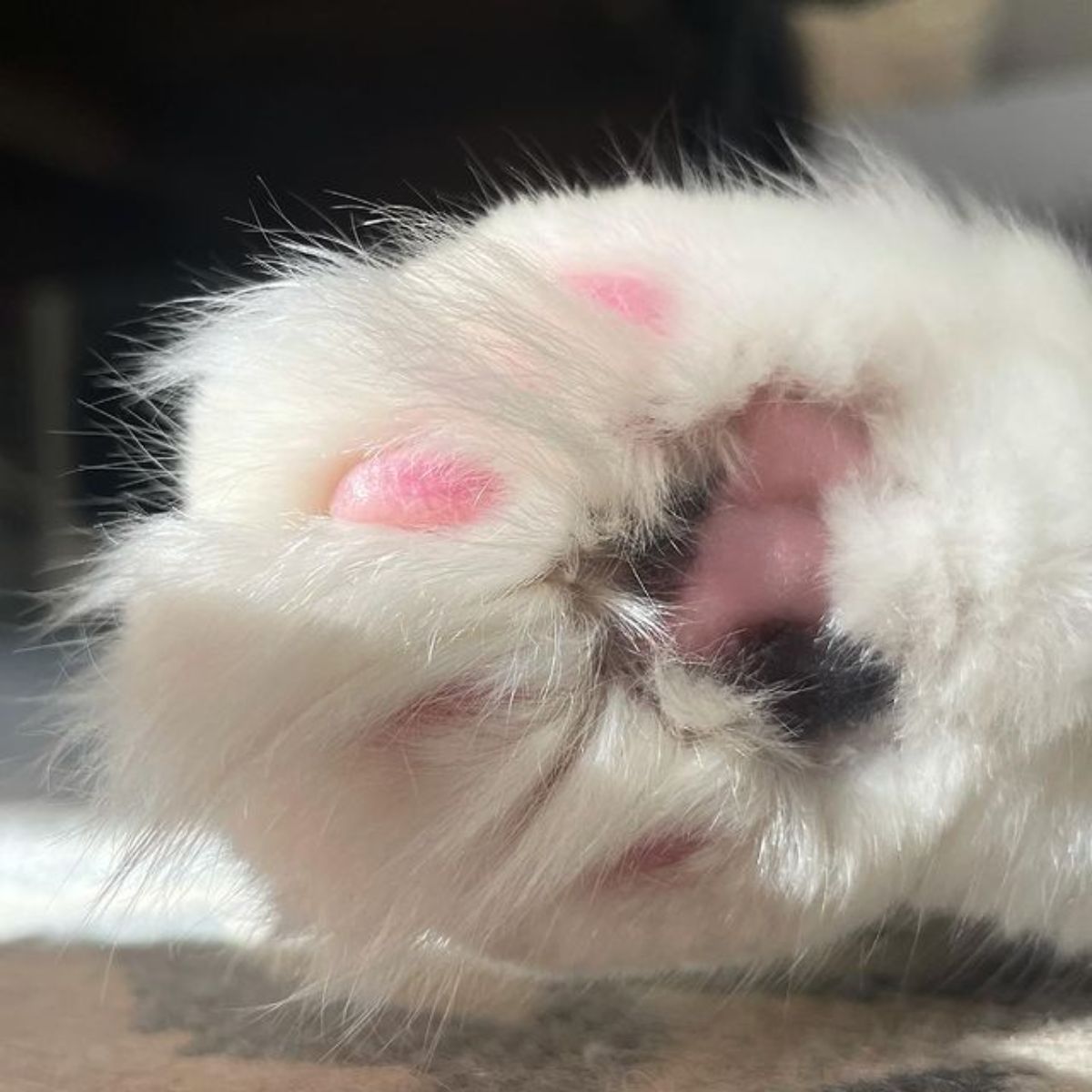 Merlin is a wizard when it comes to rocking the two-toned look. Not only does his stunning black coat with luxe white ruff resemble a tuxedo, but there's also a hint of black spotting on his little pink feet.
14. Sleepy Sweetness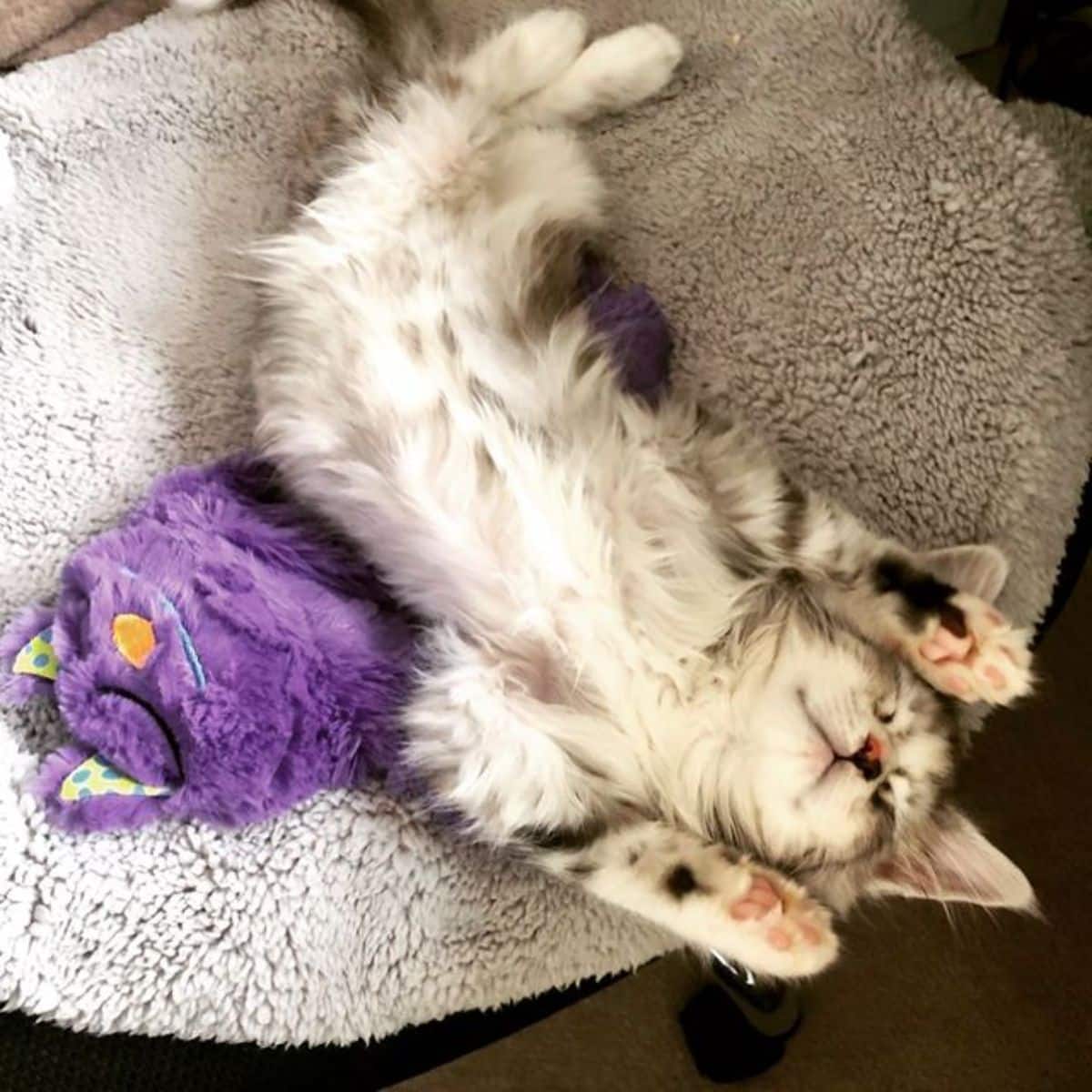 Baby Bluebell looks extra comfy with her dappled tummy and toes on full display, including the smudge of black that extends from her coat onto her pale pink pads.
15. All Tucked In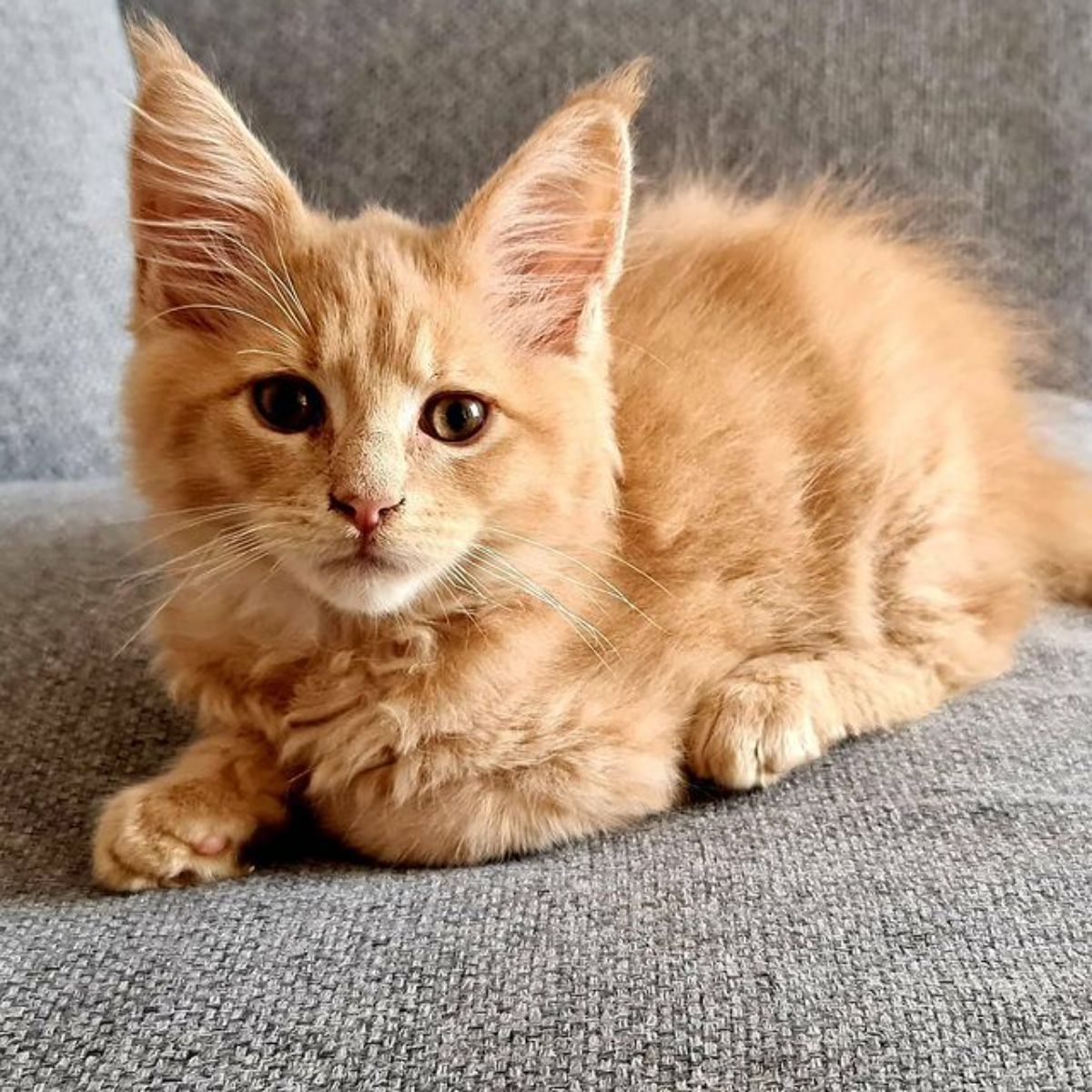 Maine Coon kitty Kubrick is the epitome of cozy cuteness with his front paw nestled under his fluff, but the littlest peek of toe beans ramp up the "Awww!" factor.
16. Maine Coon Day Dreams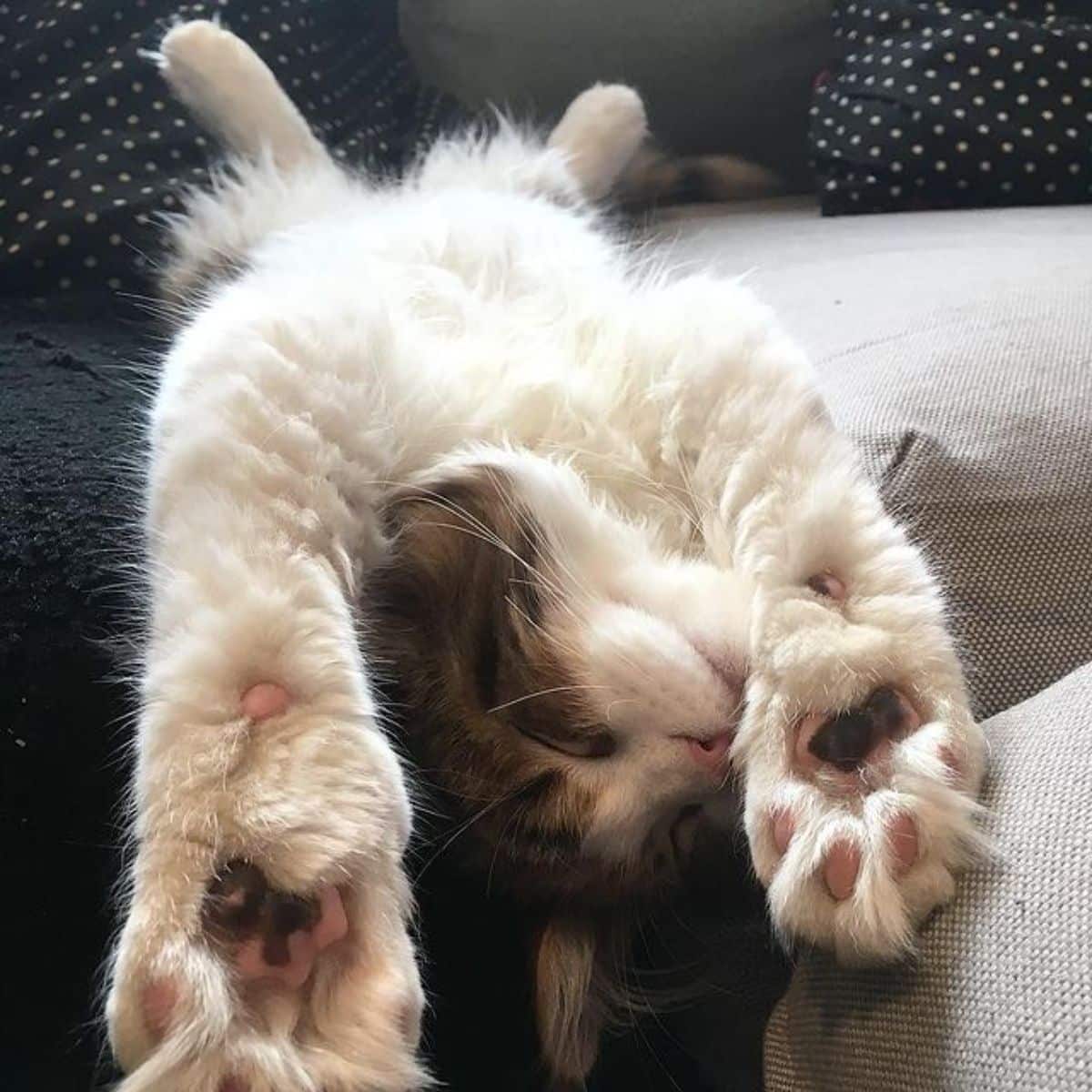 Molly is already a pro at achieving optimal stretched-out siestas in a warm, sunny spot. It's also a treat for anyone who has the opportunity to see the black blotches adorning her precious paws.
17. Laser-Focused Concentration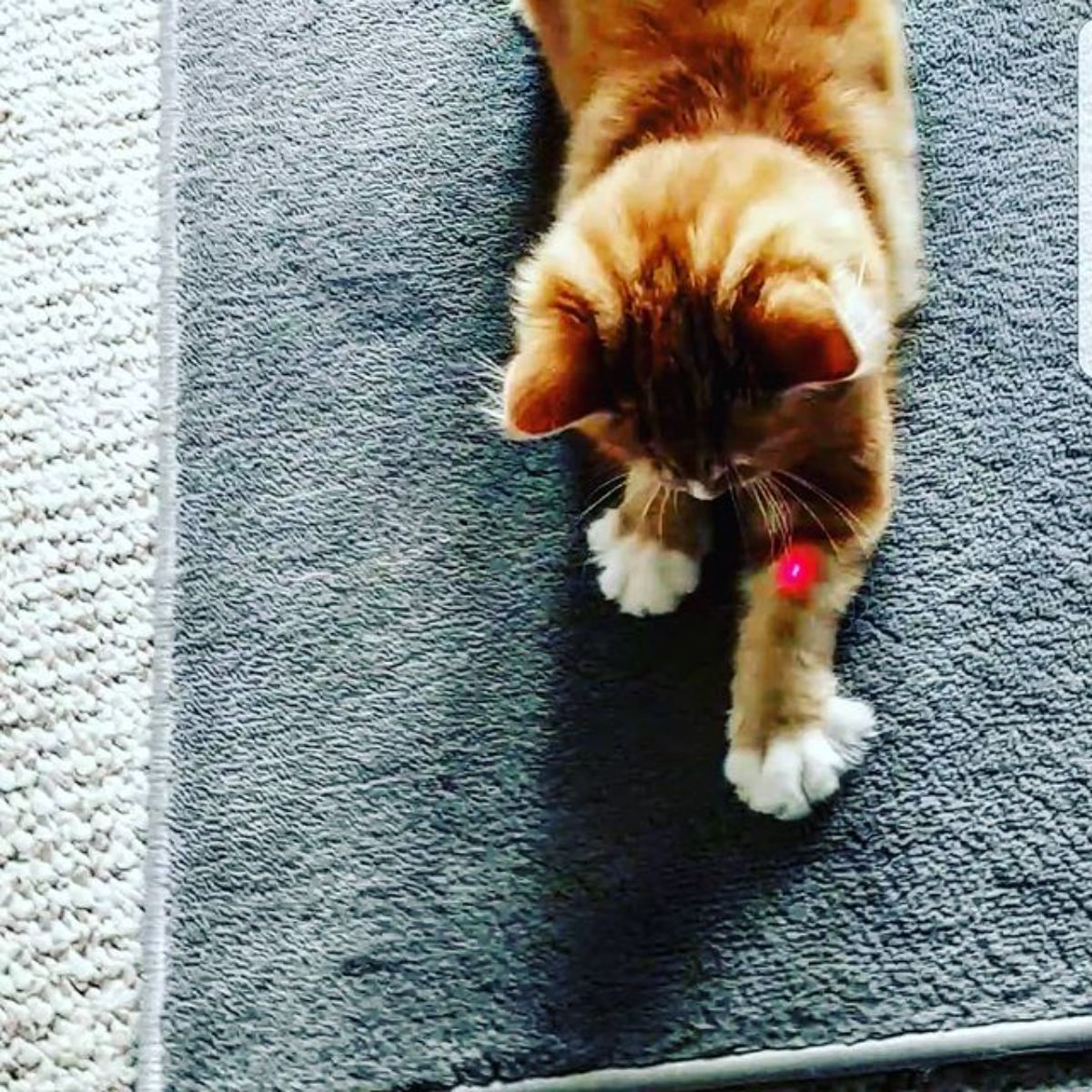 It's easy to forget that underneath that cuddly coat and chirpy meows, Maine Coons are skillful animal assassins with weaponized paws. Luckily for the local wildlife, Mave seems more interested in using her extra toes for laser hunting.
18. Baby Beans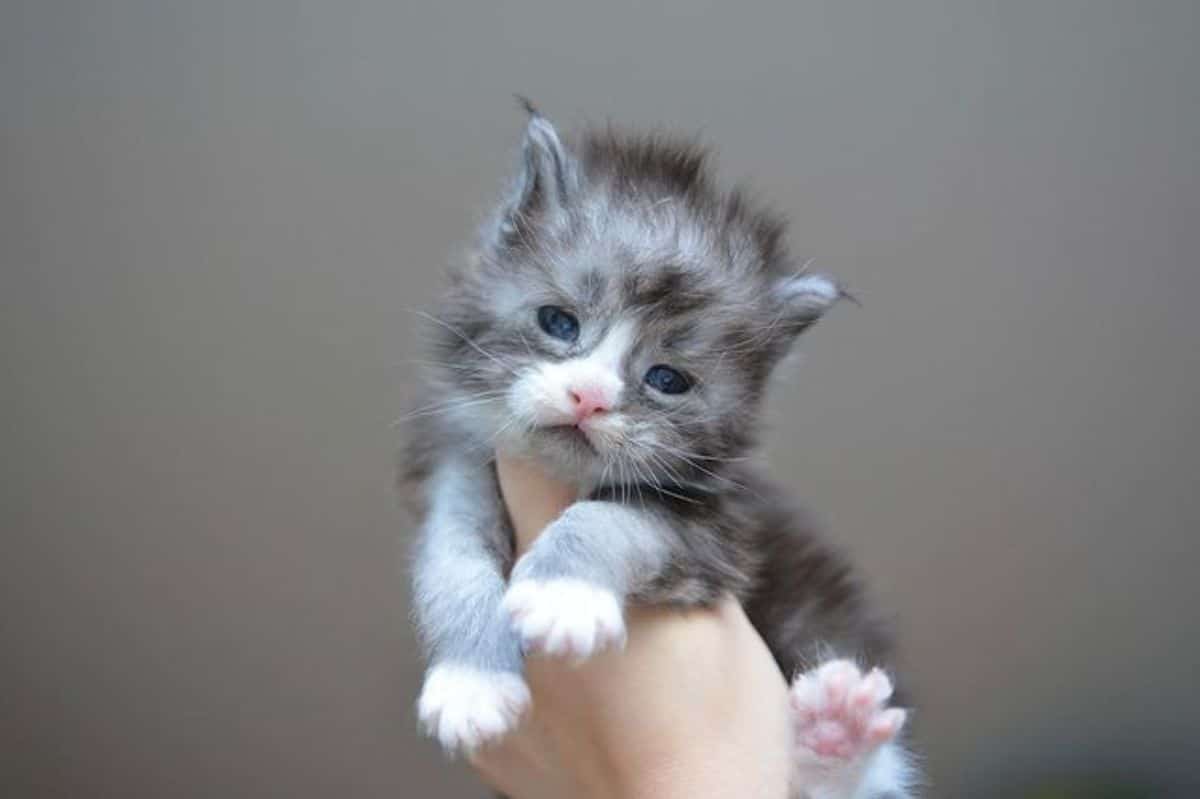 This silver-coated stunner just opened his eyes for the first time, and he's already winning over countless cat-loving hearts. The only things cuter than that perfect pink nose are his white socks and splayed-out toes.
19. Sittin' Pretty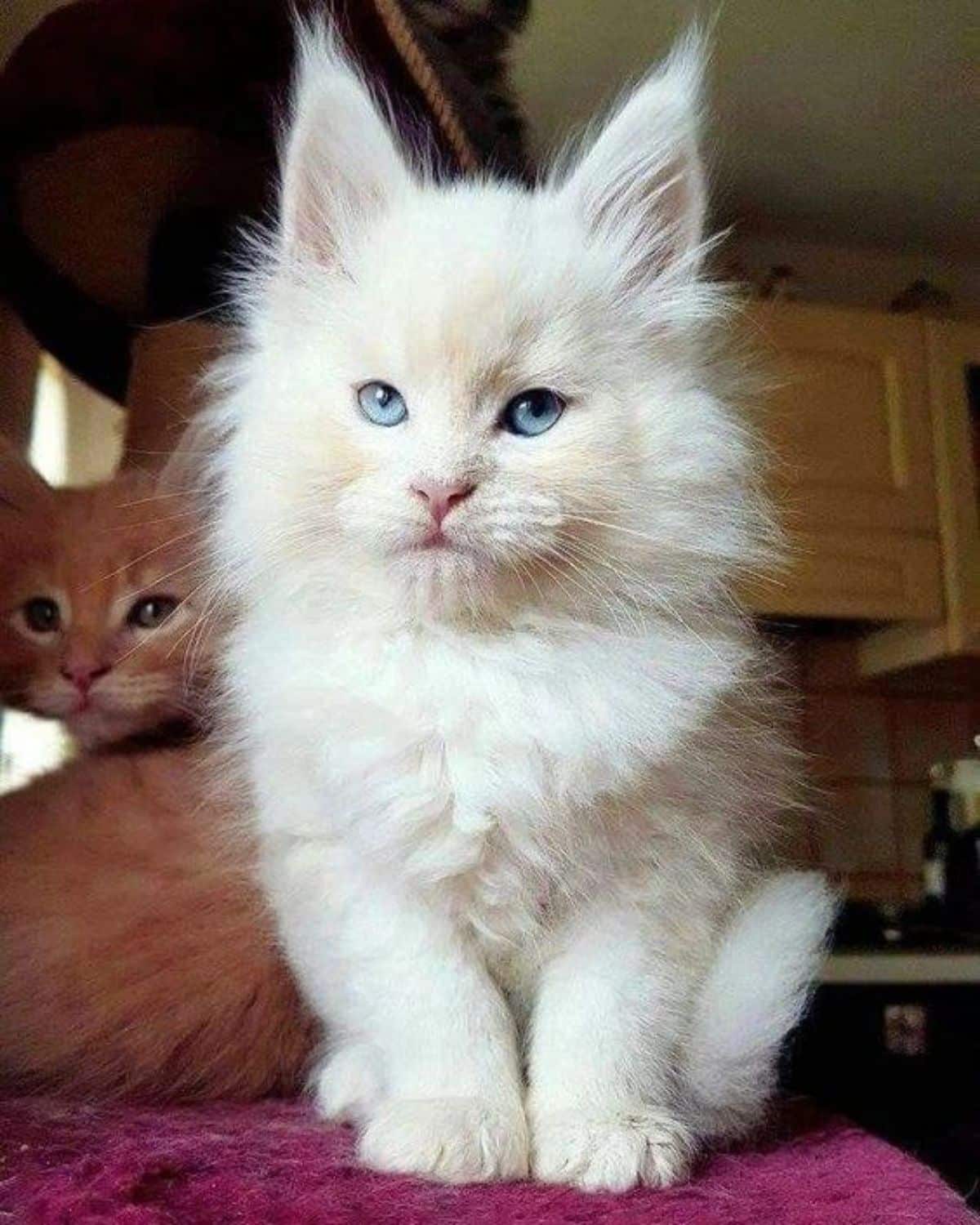 Maine Coon kitten paws are something to behold from every angle. This little lioness has the perfect posture for capturing those fantastically fuzzy toes on film. While she doesn't look delighted to be the subject of the picture, the photo bomber in the back is hamming it up.
20. A Flurry of Feline Feet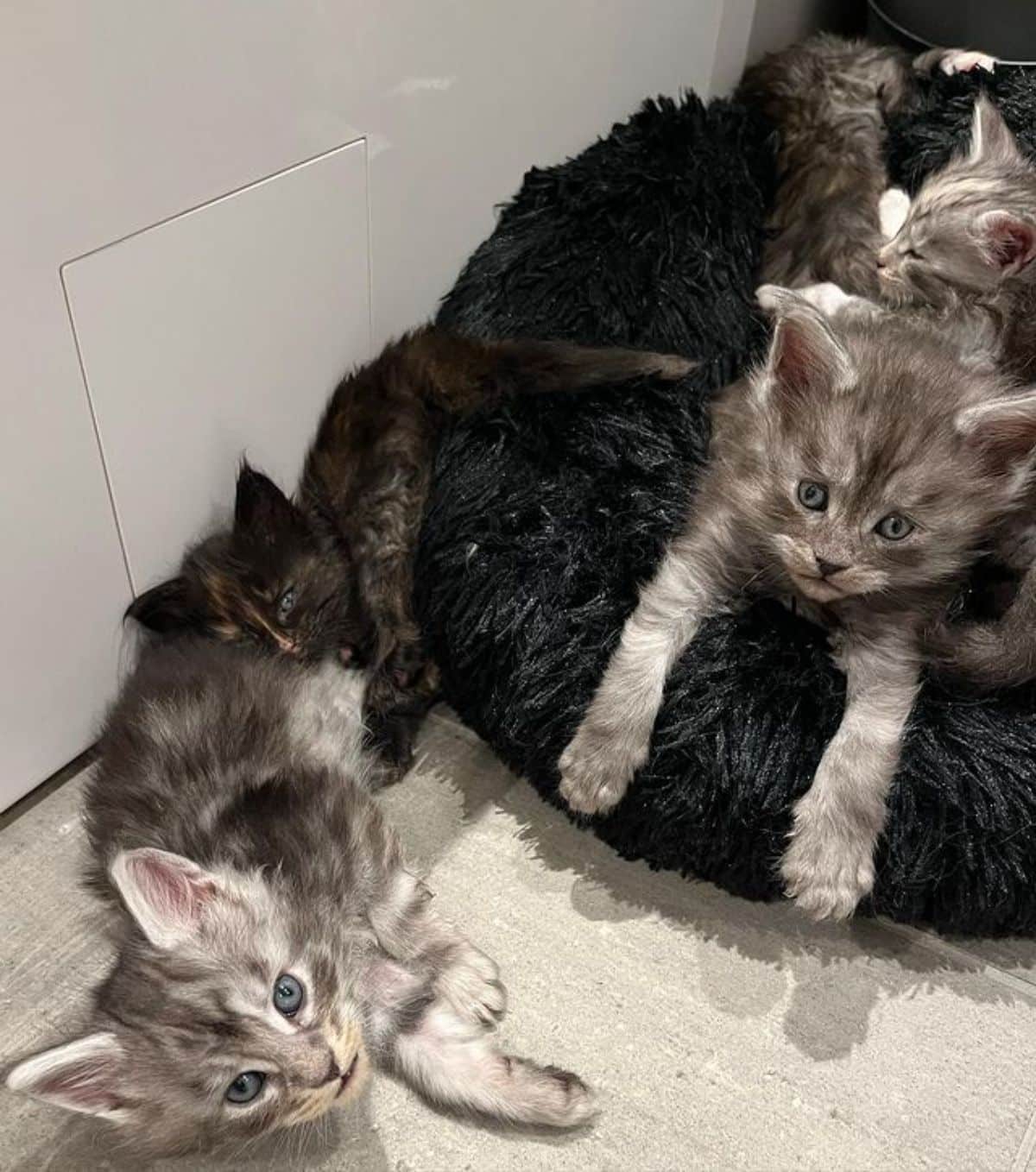 Hailing from Scandinavian, these littermates know how to make the most of a chilly November night in Norway. In just a few months, that pillow will hardly be able to contain this mischievous bunch. All those little paws are so tiny now, but eventually, they will all be so much bigger and fluffier.
21. Kitty Comforts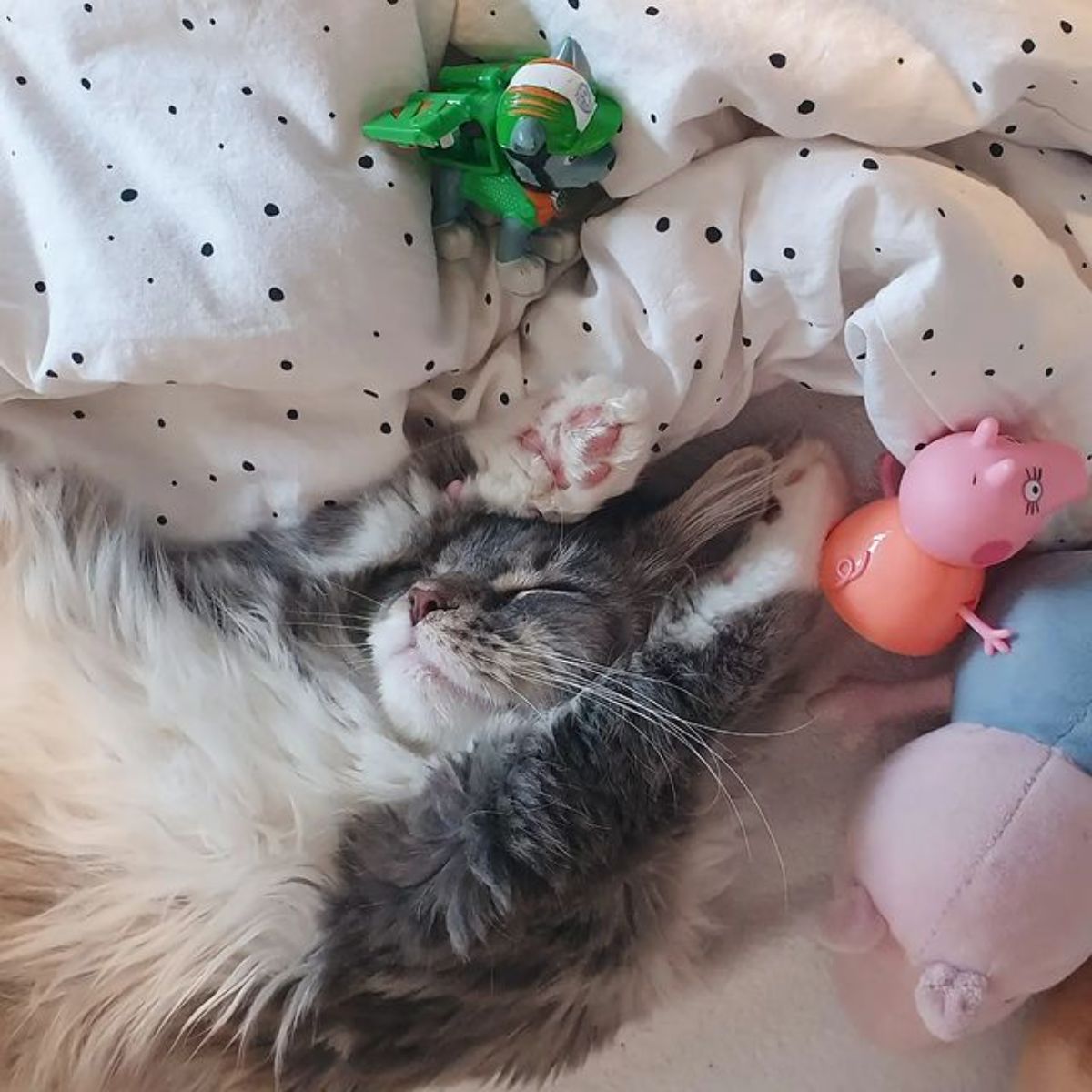 Maine Coon Merlin doesn't need pillows to protect his head, thanks to his perfectly pink, super squishy toes. The little guy looks like he's had a long day chirping at squirrels, stealing warm seats, and knocking knick-knacks off the mantle.
Final Thoughts
Nothing brightens up a bad day or gloomy mood quite like Maine Coon kitten paws. With their jelly bean-shaped toes and tufts of fur sticking out, it's a top contender for things that will make your heart melt every time you see them.
Remember that your little lion cub might not appreciate your handling their paws because they rely on their foot pads for much more than walking around. If you ever get the urge to gently squish a bean, watch your cat's body language and back off when they seem uncomfortable.
Your Maine Coon will appreciate you honoring your boundaries, and you won't have to see your ordinarily friendly feline go rogue. Better yet, stay hands-off and take plenty of adorable pictures instead.