Maine Coons are extravagant cats at the best of times, but what about when they also have rare colorations? Here are Instagram's most famous rare-colored Maine Coon cats, all uniquely beautiful and rare.
Jump to:
1. Richie and Tommie
Everyone knows Richie, the infamously silly-looking gray Maine Coon. With a sooty gray body and darker face and paws, Richie stands out from the crowd with a uniquely sheep-like coloration.
Beyond just the odd coloring, Richie also has one heck of a hairdo. The short black fur on his face ends abruptly at his ears, only for long gray fur to take over and fan out, making him look like a mad scientist.
The recent addition, Tommie, has a standard orange coat, but he contrasts perfectly with Richie's stormy gray.
2. Omar and Strudel (Ru)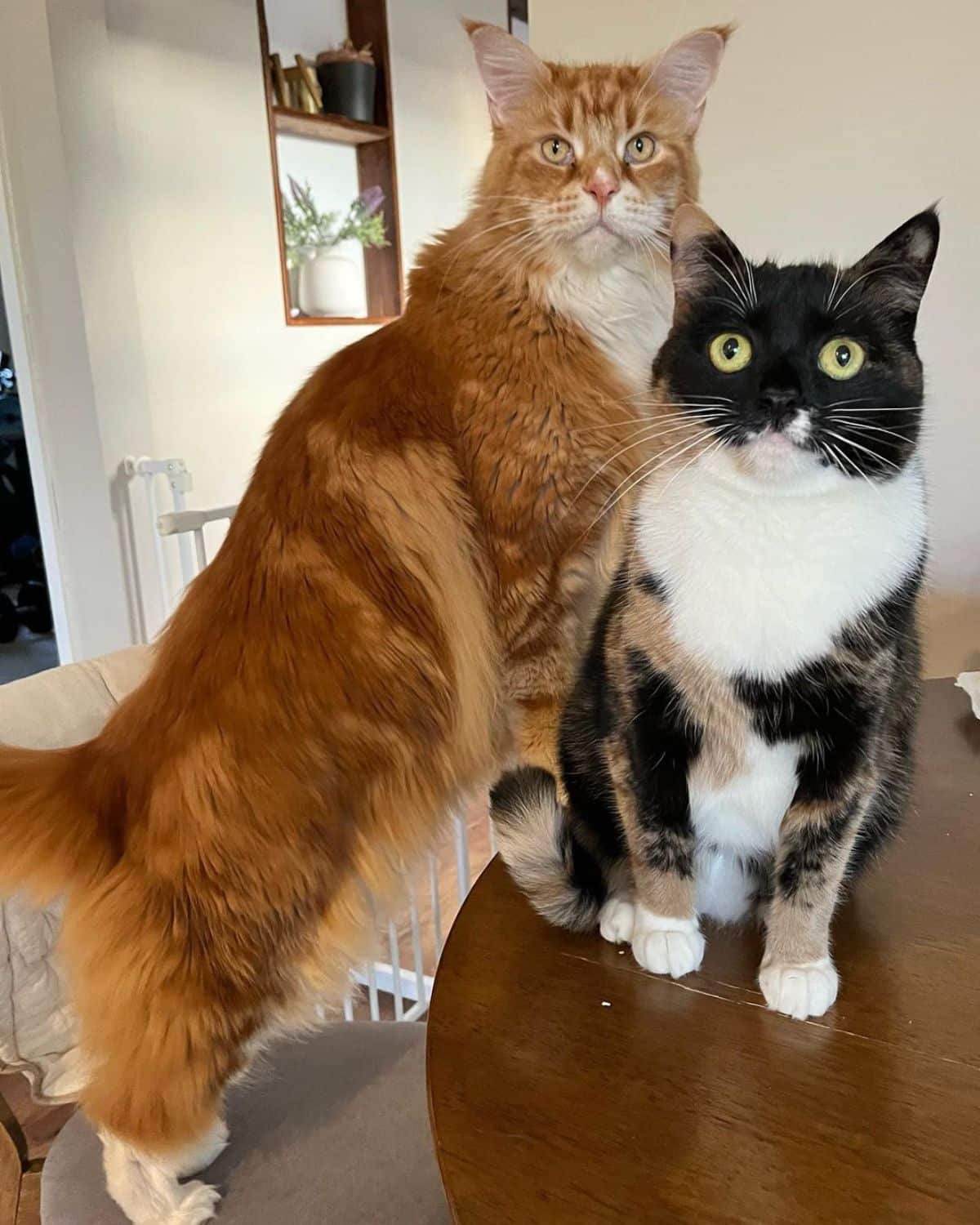 Omar is a large, orange Maine Coon. While that might sound boring at first, you'll realize how striking his coloration is once you see him.
Unlike other Maine Coons, Omar isn't particularly fluffy, allowing for a clearer view of his patterning. Going outwards from his white chin and underbelly, Omar's fur is a creamy orange around the edges, coated by dark orange draped across his back. The contrast of dark and light accentuates the patterning on Omar, showing just how unique his color is.
Strudel isn't a Maine Coon, but they have quite the coloration themselves, too.
3. Freya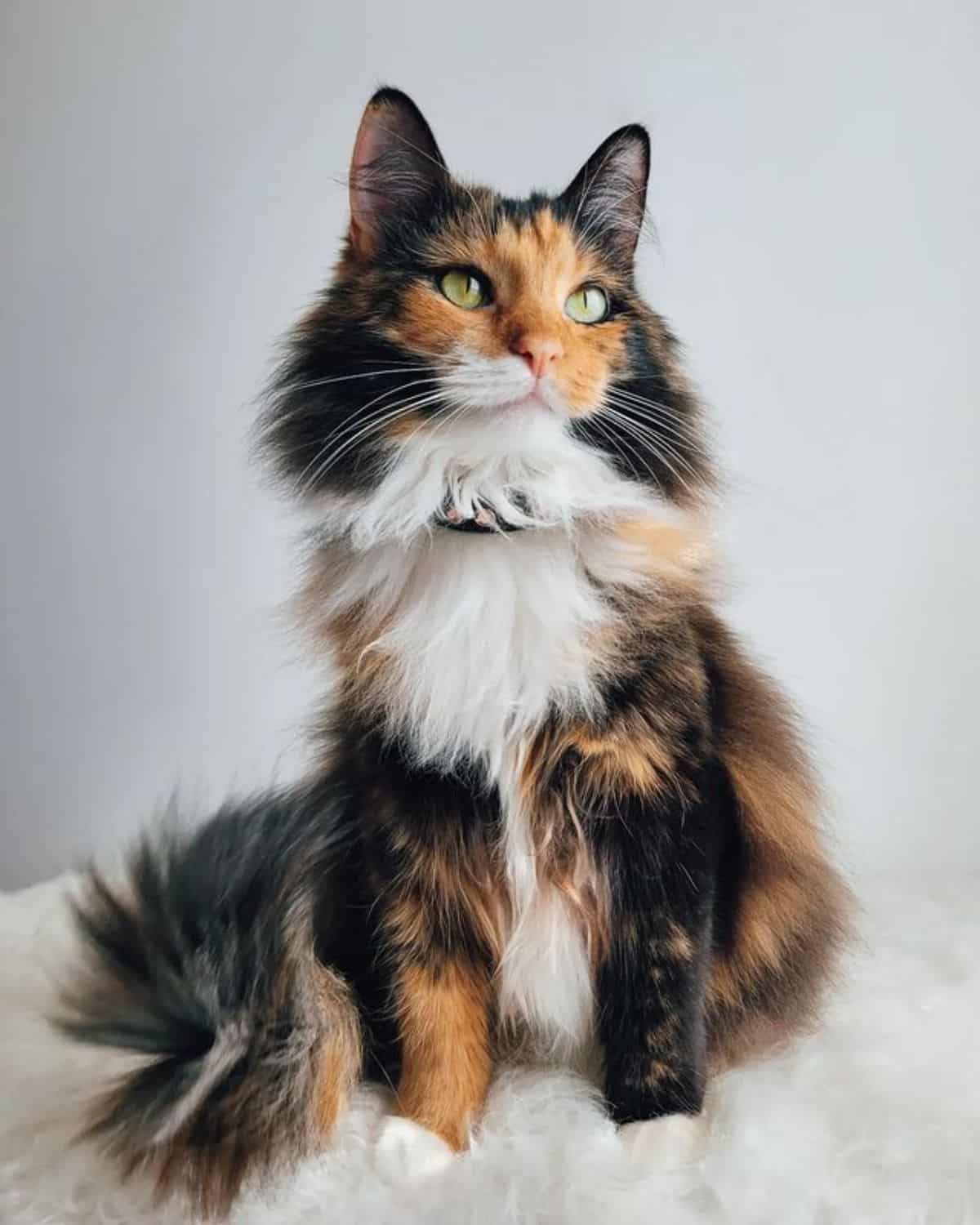 Freya might be the most dramatic-looking calico Maine Coon out there. With her white chin and chest, orange face, and black ears and cheeks, she looks like a painter's palette. The smoky black eyeliner certainly adds to the look, as well.
With such autumnal coloring, Freya looks like she was born to pose for Halloween and Fall-themed photos.
She even has a beauty mark under her left eye, like some sort of old-timey Hollywood starlet.
4. Hugo and Nemo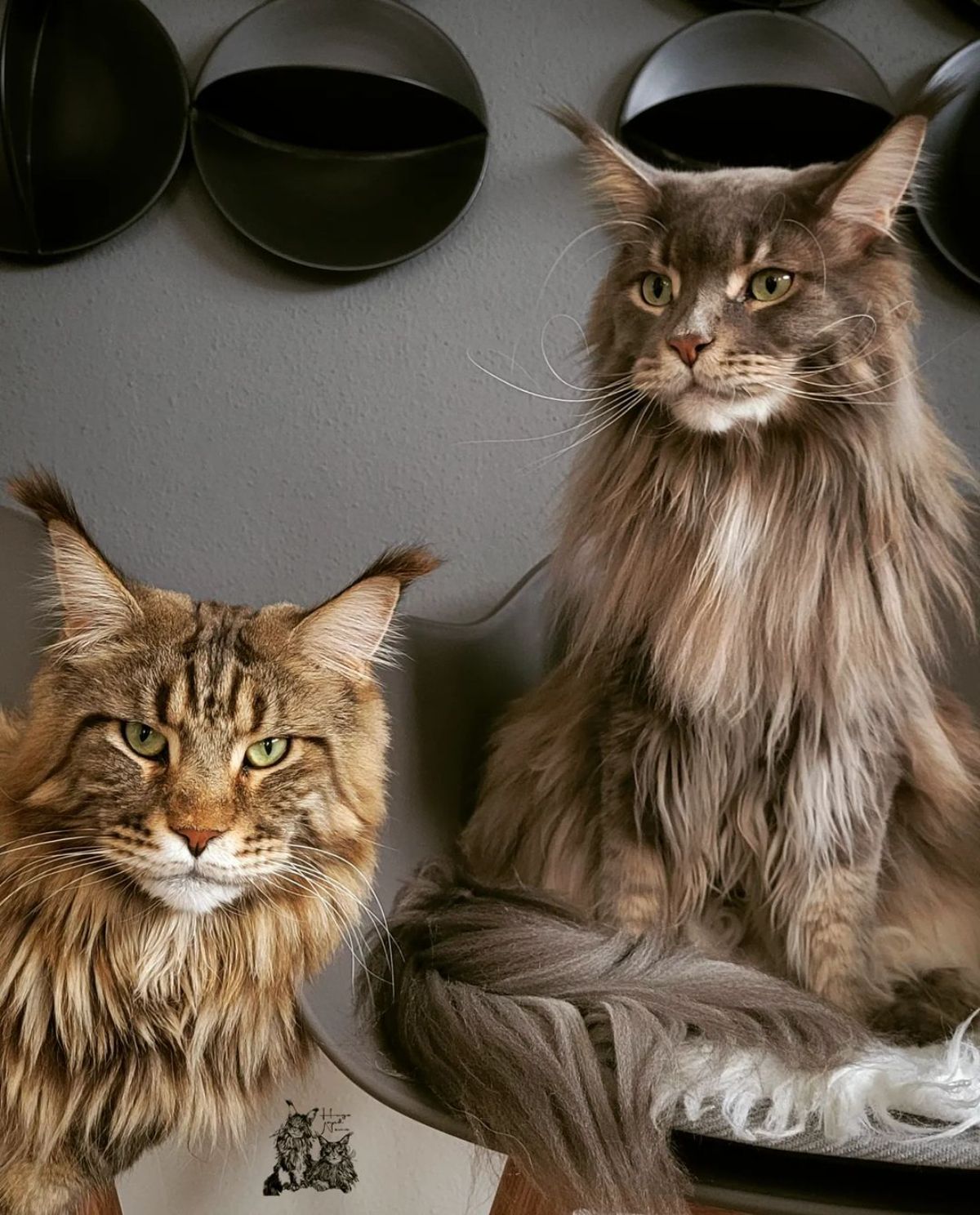 Next up are the beautiful Hugo and Nemo. While Hugo is stunning in his own right, it's Nemo that steals the show for having very unusual coloration.
With an overall gray-brown color and lighter highlights around his eyes, Nemo is majestic in all the right ways. The dark lines above his eyes almost resemble eyebrows and give him a curious and concerned expression. They also guide the eye to his magnificent and complimentary green eyes.
5. Sebastian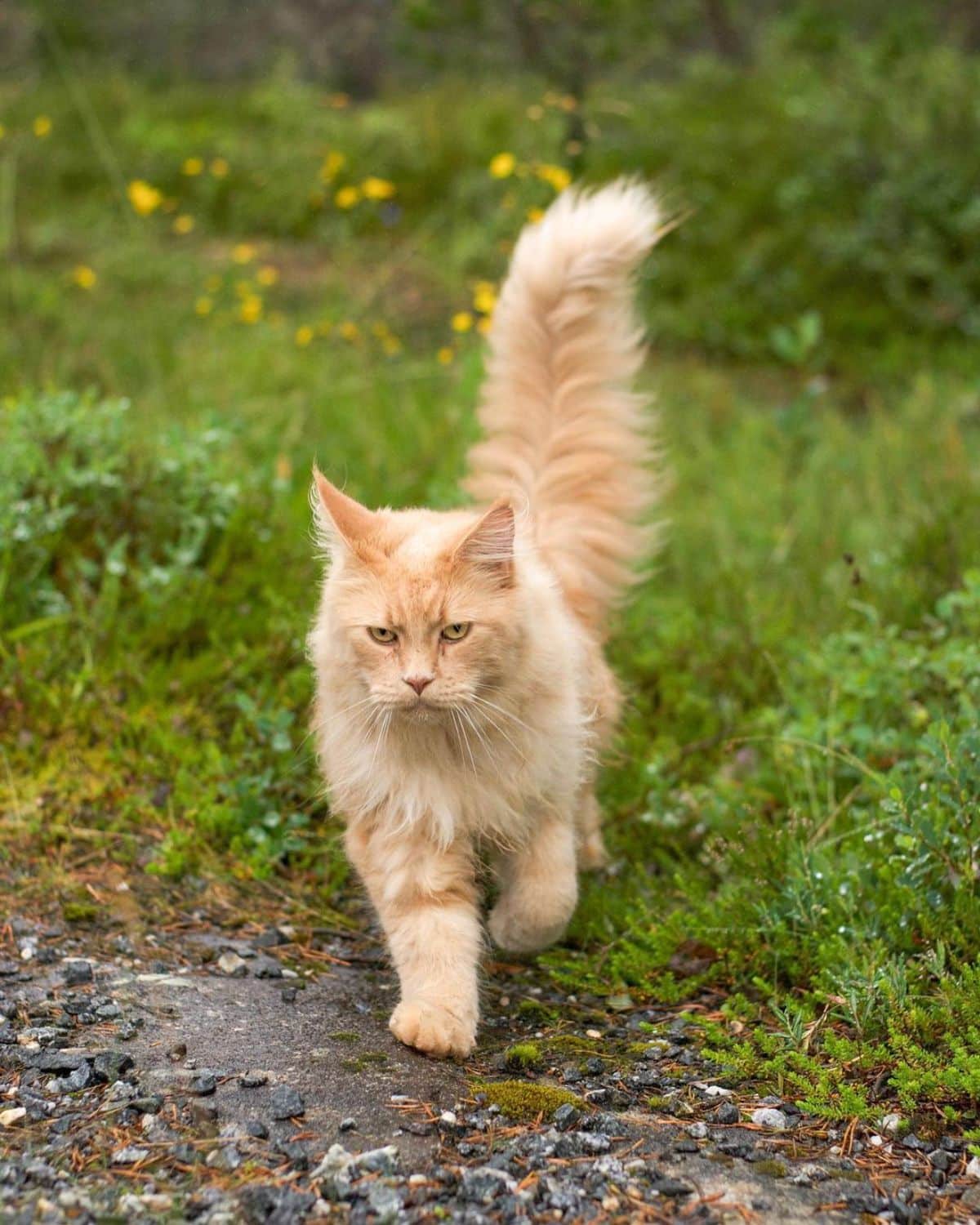 Sebastian is a light orange Maine Coon with orange creamsicle coloring. He isn't typical of other orange Maine Coons, as his fur is much lighter and has an almost blonde tone.
This fluffy feline hails from Norway. He uses his immaculate coat to stay warm on outdoor strolls. While Sebastian doesn't have the rarest coat color, it certainly stands out for its unique shading and extreme fluff. He looks like a feather duster made from carded wheat.
6. Pommery, Pepper Snow, Pharak, Redboy, and Redford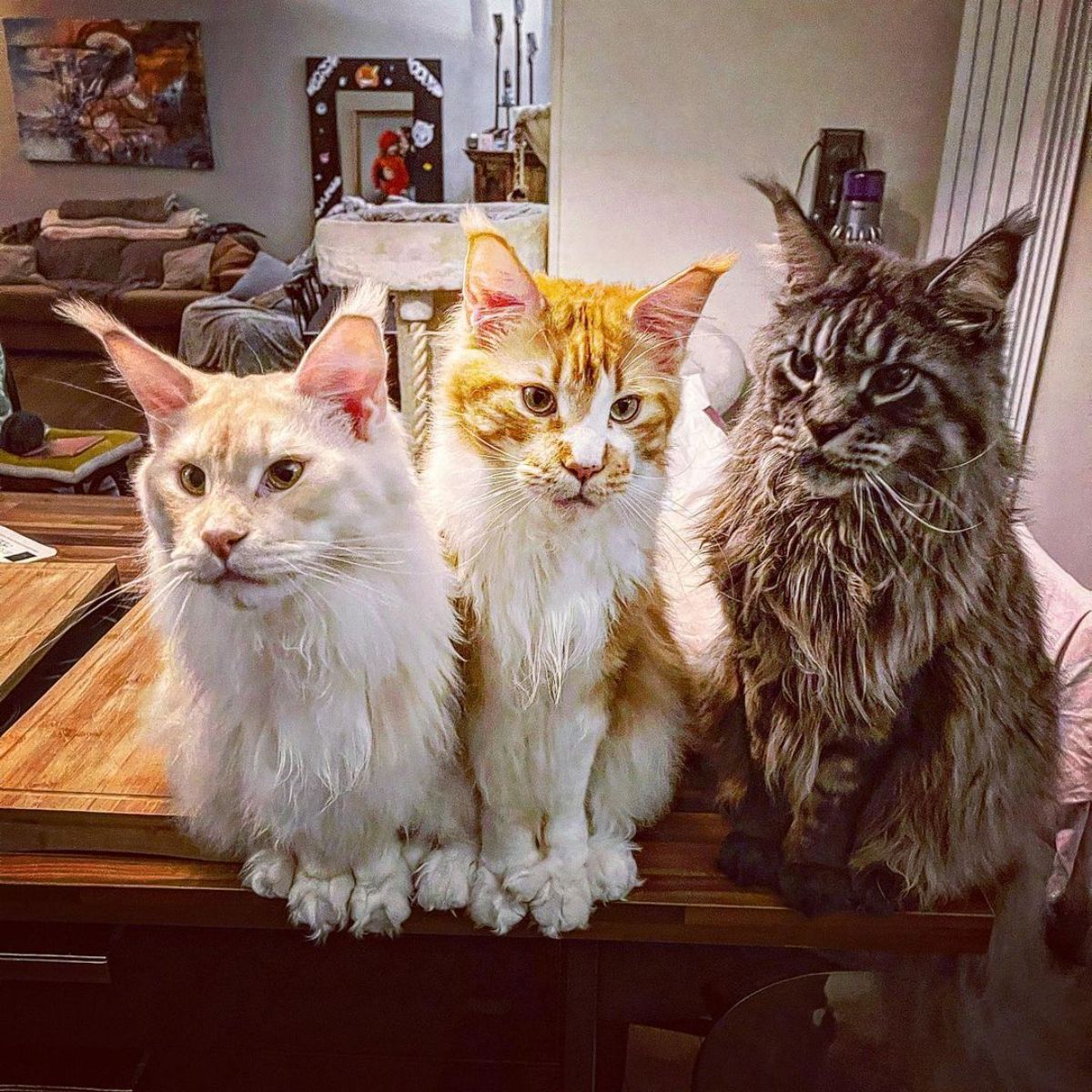 With so many cats to choose from, it's hard to pick a favorite. Pommery is a stand-out contender for its high-contrast tabby markings and black, gray, and light brown color scheme, but Pepper Snow takes the cake for uniqueness.
This rare cat plays host to light gray fur with dark gray tabby stripes. The two-tone grayscale of their fur gives a very monochrome appearance that's only enhanced by their pale eyes.
Pepper Snow's eyes, nose, and mouth are also outlined in dramatic black for an even more intense look.
7. The Madrid Couple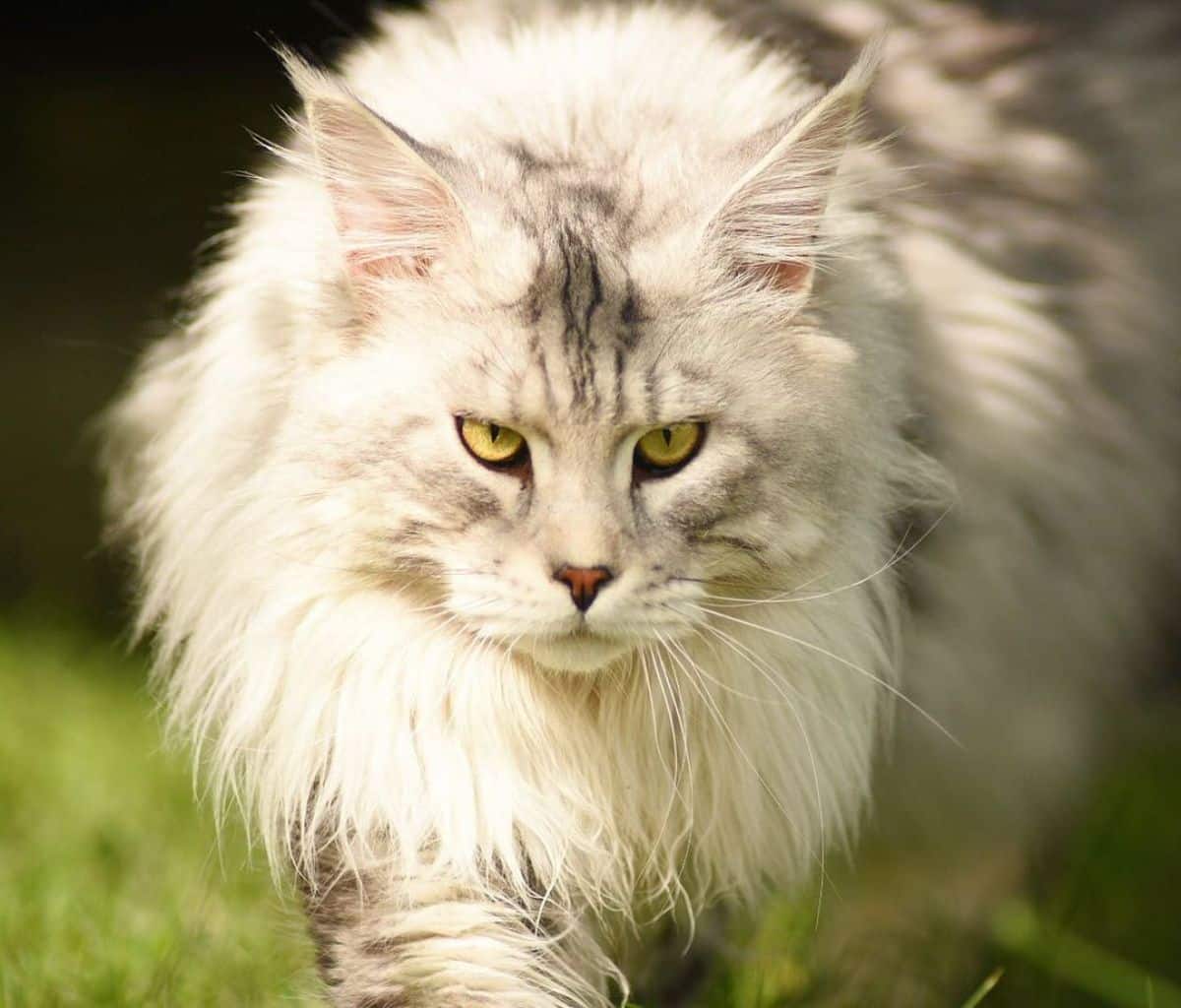 These lovely cats prove that love transcends borders. One is from France, the other from Kazakhstan, but they live together in Spain.
Both cats have unique gray coloring. One has the more typical tabby look but with nearly white fur and medium gray markings; overall a very clean look. While the other is a much smokier gray, the markings are far less pronounced, and they have almost a dappled appearance.
They make quite the pair; a majestic beauty and a storm cloud.
8. Luna and Louie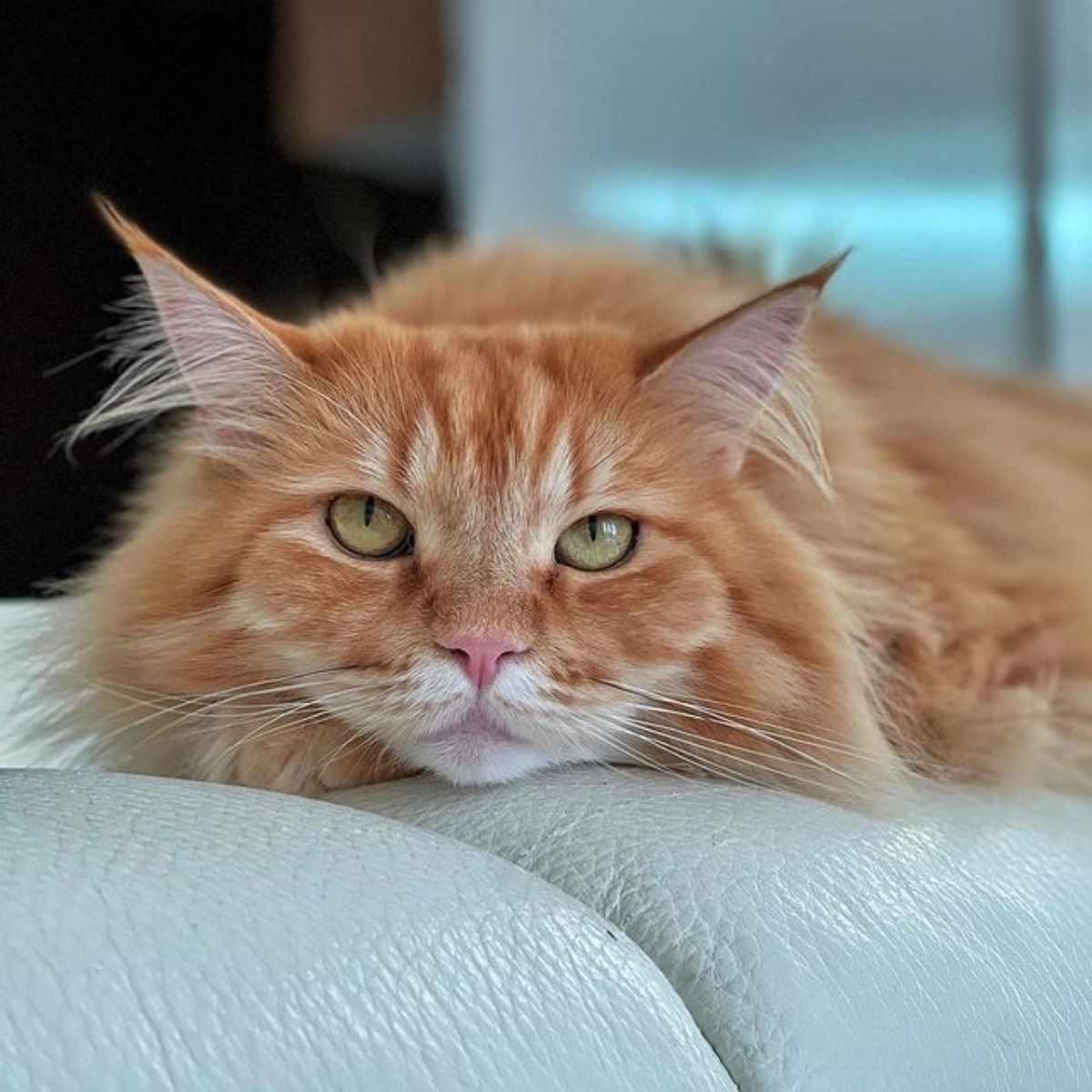 Luna and Louie are an adorable pair. Luna is a silky orange girl with a very uniform and smooth coat, and Louie is a tabby boy with every color but orange. Together they cover the spectrum.
One of the fun things about Luna's fur is that it changes drastically depending on the lighting. She can look strawberry blonde in one shot and almost creamy red-orange in another. Her fur can look brown-orange or fiery red.
Louie has the coloring of a tortoiseshell but the patterning of a tabby, a perfect mottling of browns, black, and white.
9. Mila and Merlin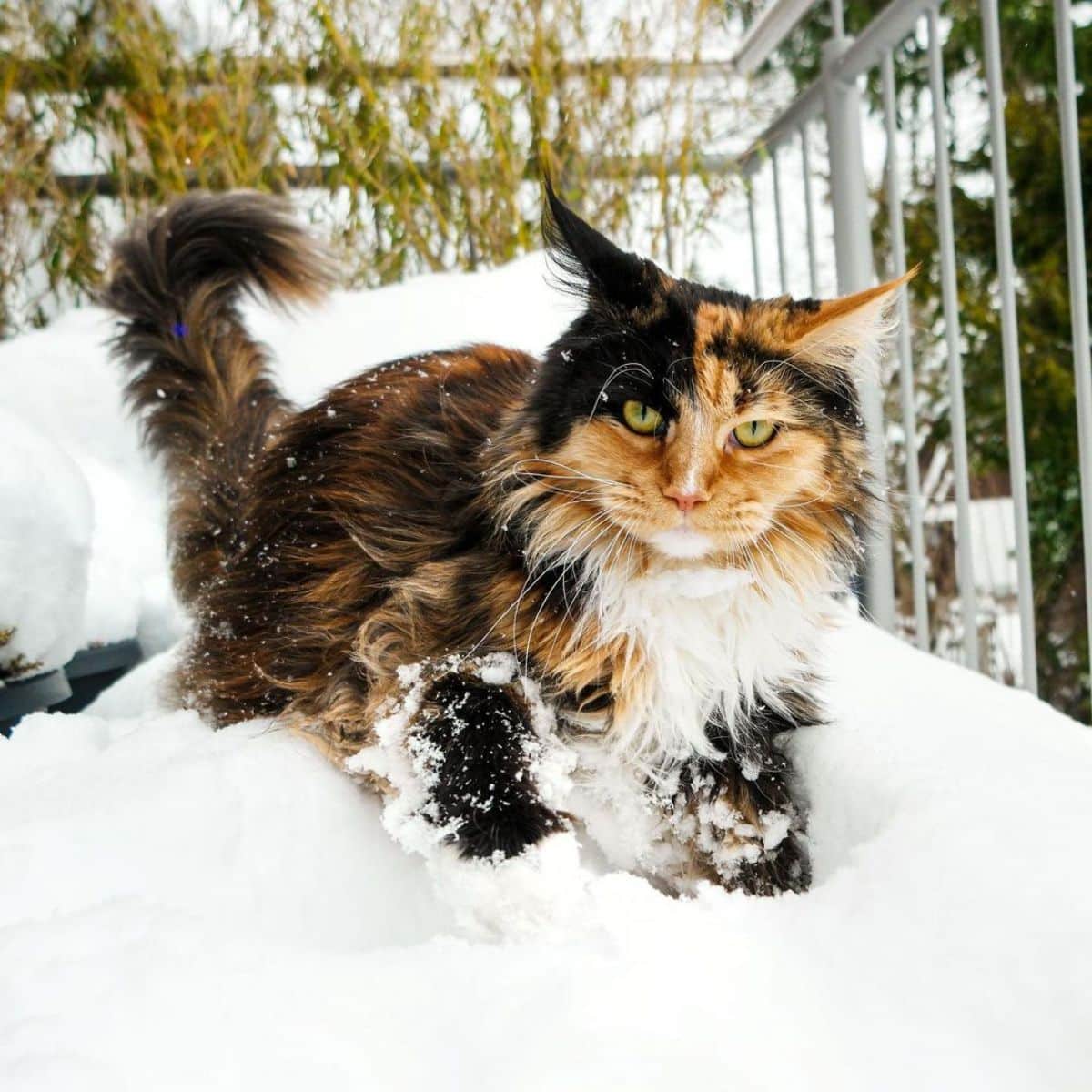 With a name like Merlin, you'd think it would be him that would be the show-stopping cat, but Mila claims that spot with her daring calico coloring.
Mila is a feisty cat with bold coloration. She has a half-black half-orange head and a white ruff under that. Her body isn't distinctly sectioned like most calicos and instead looks mostly black with orange lowlights. She has less white overall than most calicos, too.
10. Lady Unity and Lady Victoria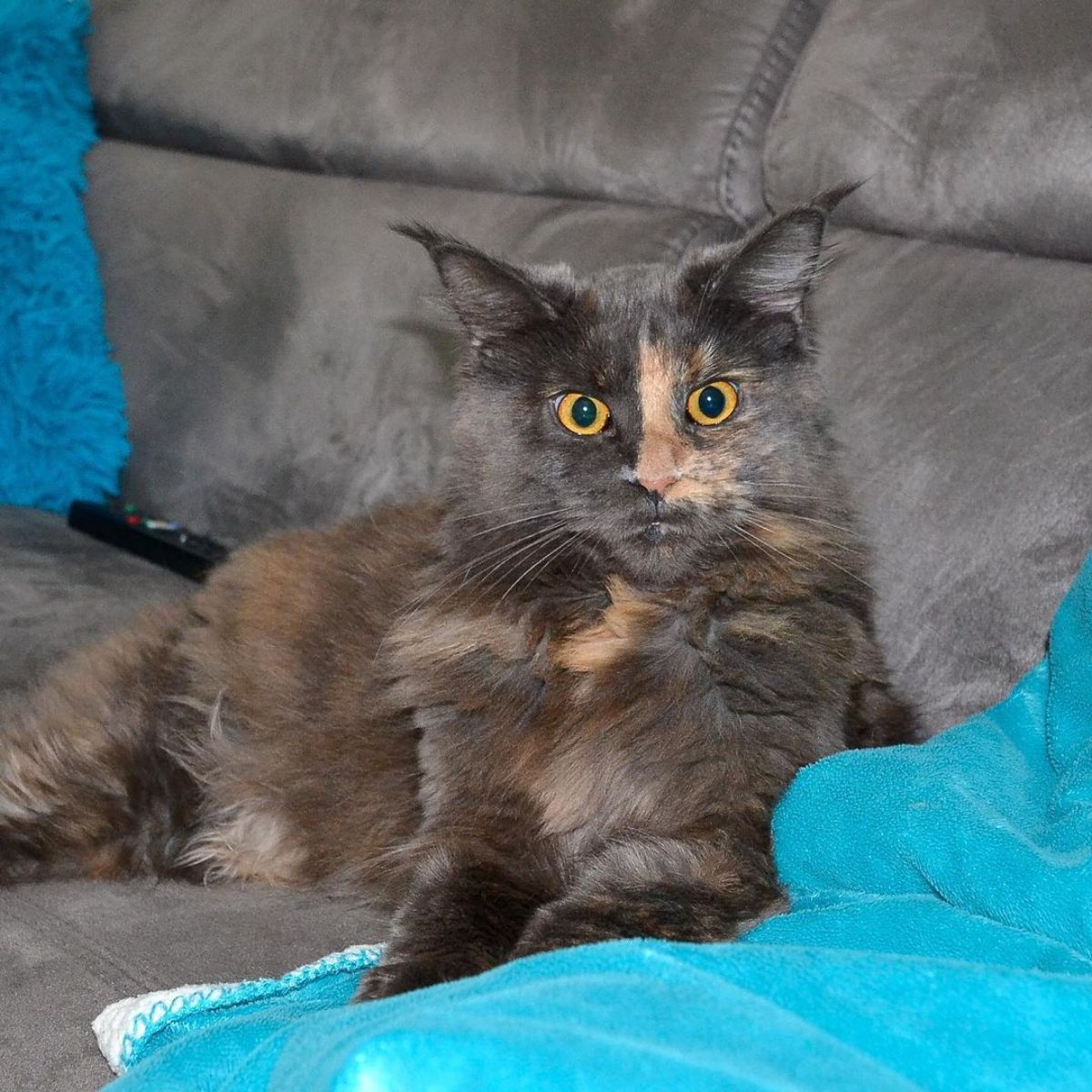 Unity and Victoria are very special cats. Unity is a brown cat with small patches of caramel in her dark brown fur. Very few cats are brown to begin with, but to see a Maine Coon with multiple shades of brown is a real treat.
Victoria also has an overall brown tone, though her front is completely white. Her back and head are a much more even mix of caramel and brown than Unity, giving her a lighter appearance, though she has many of the same colors.
11. Jenni's Cats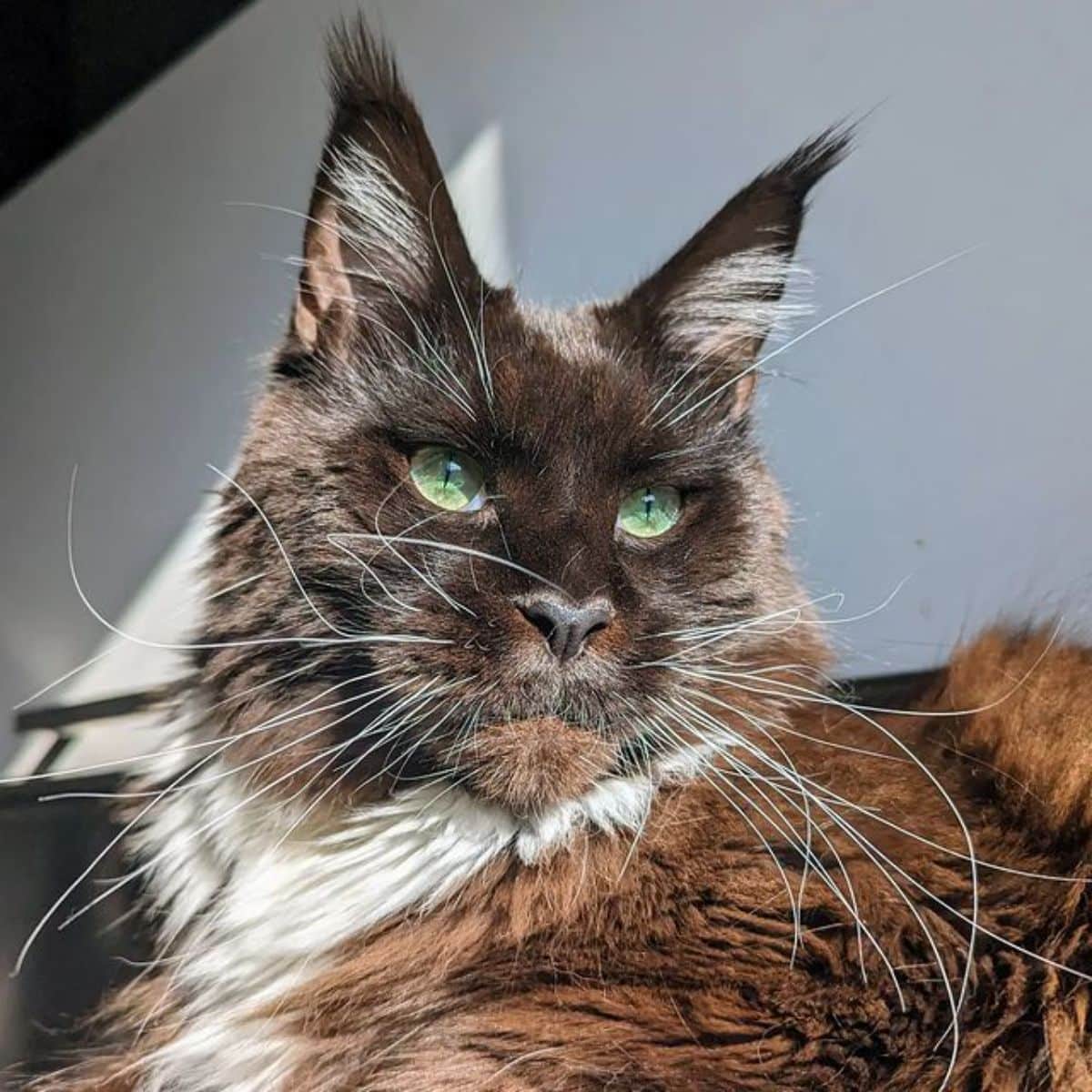 While Jenni has many cats, her Maine Coon takes center stage as a uniquely colored boy. With very dark fur, he appears almost black, but his coat is, in fact, a dark brown. The fur inside of his ears and around his neck and chest is white, like a draped scarf.
The most fun thing about this cat is how deceptively dark his fur is. In some lighting, it appears almost black, but in direct sunlight or bright light, it's brown.