Nothing is better than spending an afternoon curled up on the couch and scrolling through Maine Coon pictures on Instagram (except maybe cuddling with your own). Maine Coon cats are famous for their beautiful locks of hair and wild demeanor. These cats are almost dog-like and thrive on play and cuddles.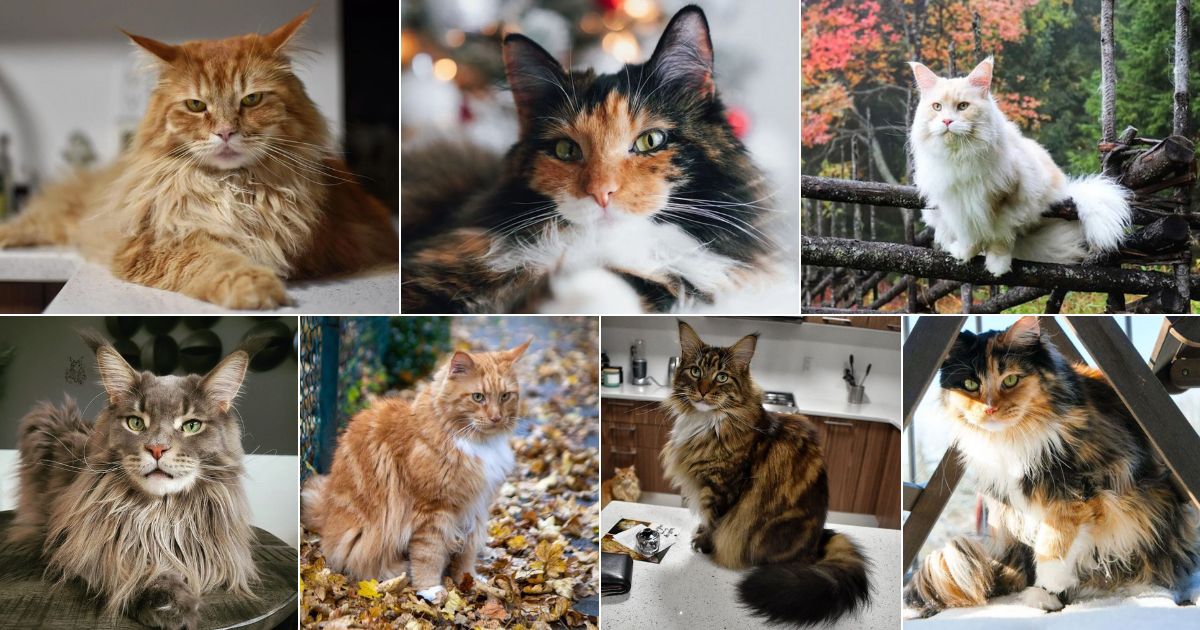 Maine Coon cats are also known for their colors and patterns. They typically have more than one color in their coat, giving them the appearance of dangerous felines who could tear you apart if they wanted. Many Instagram account holders will comment about how ferocious these lovable cats look even though they know just how loving their pets are.
Although unrelated to wolves, Maine Coon cats bare a similar wild appearance and will prowl around, laze about, and jump at you when they're ready to play. Read on to learn about 11 rare tri-color Maine Coon cats that have earned fame on the internet.
Jump to:
1. Moose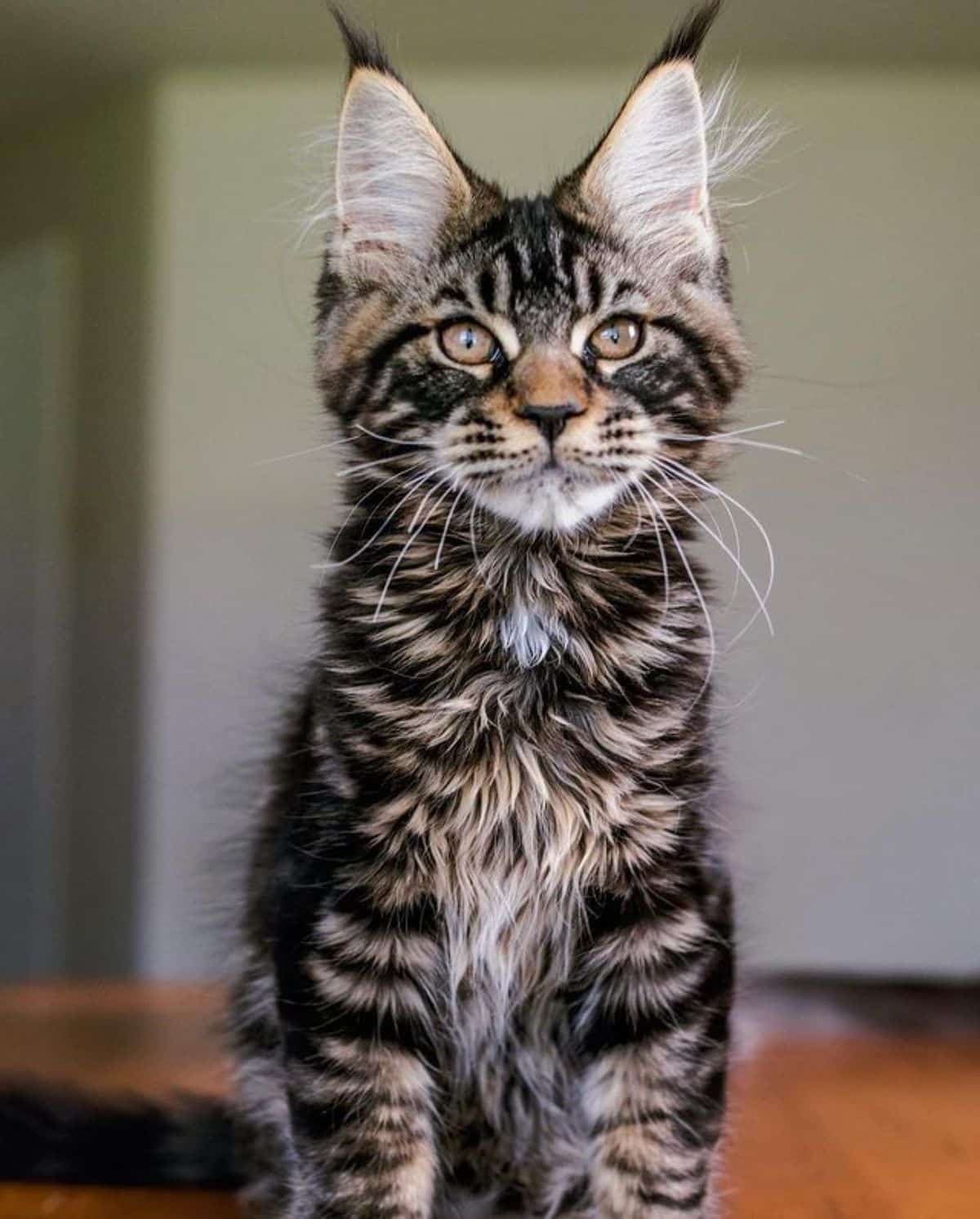 Moose is a stunning tri-color Maine Coon cat on Instagram. This cat looks innocent and kind and has a penchant for sitting around and watching people pass by outside. Moose's owners claim he is a big baby and adores affection, even if he looks like he could pounce and hurt someone with his fierce claws and jaws.
Moose loves to cuddle up on his cat tree and nap as much as possible.
2. Ru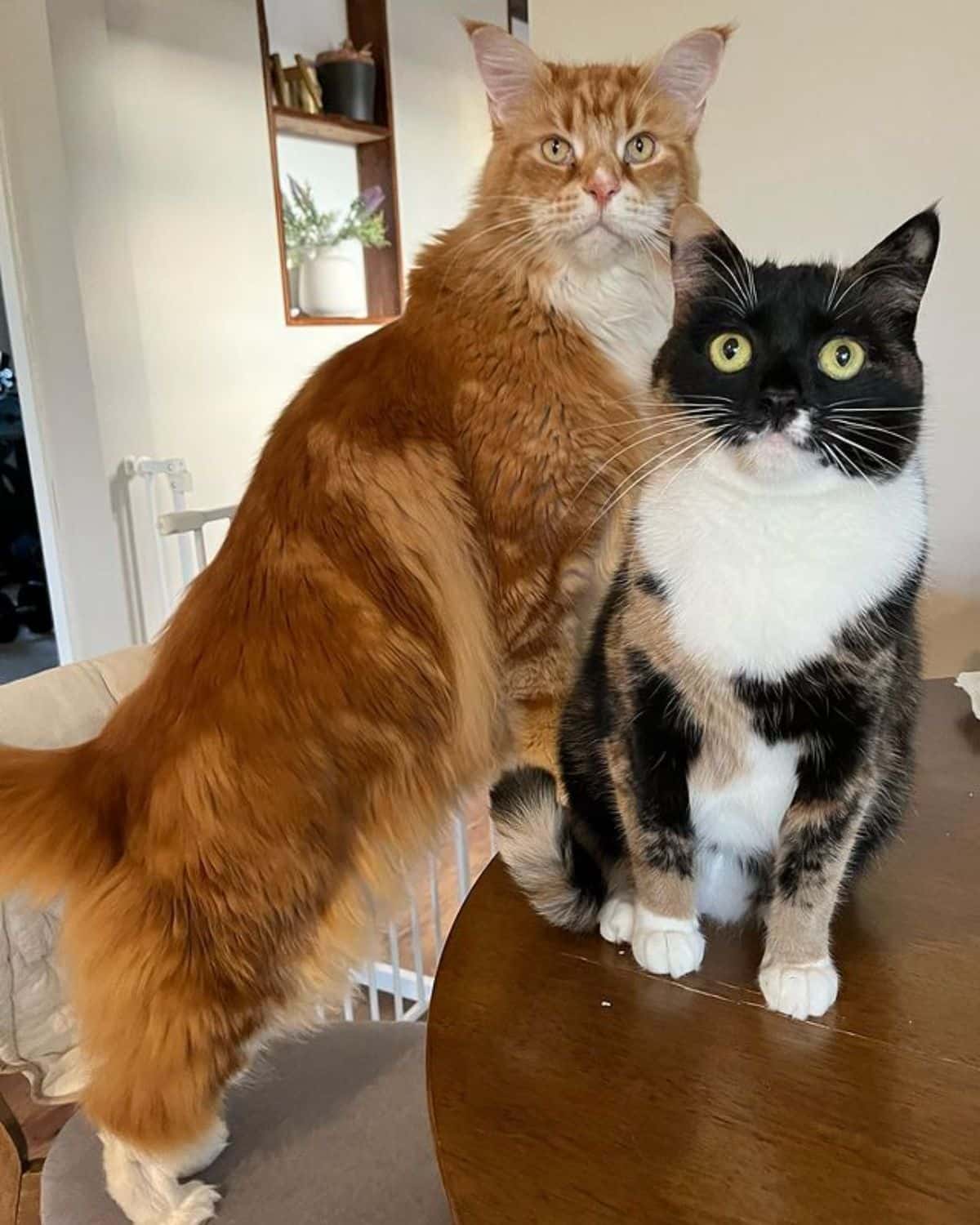 Ru lives with another Maine Coon cat named Omar. This cat looks innocent, cute, and like he could do no wrong. While other cats may have a fierce and strong appearance, Ru looks more like he's always ready to cuddle.
Ru has a large patch of white fur on his chest and front neck, going up to his bottom jaw. However, the rest of his body has beige, black, and white patches that are rare in tri-color Maine Coon cats.
3. Vivo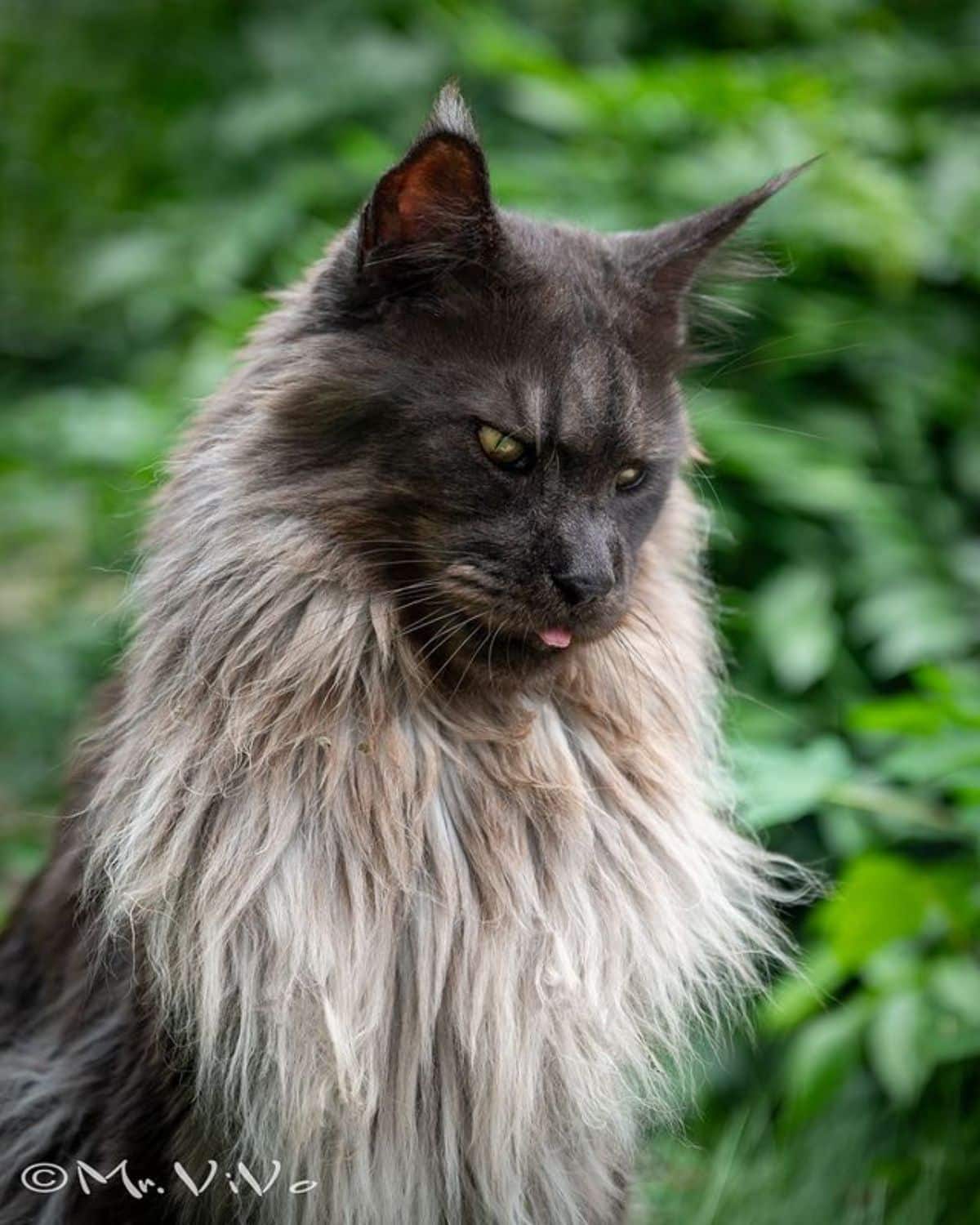 Vivo may look like an aggressive cat, but he's a sweet boy. This cat has three stunning colors in his coat, but his white strands of hair are muted and harder to see among the dark brown and gray tones.
Vivo almost looks like he has a human face, something rare in Maine Coon cats. However, this cat looks eerie and can make some members of their Instagram audience uncomfortable just looking at him.
4. Lotus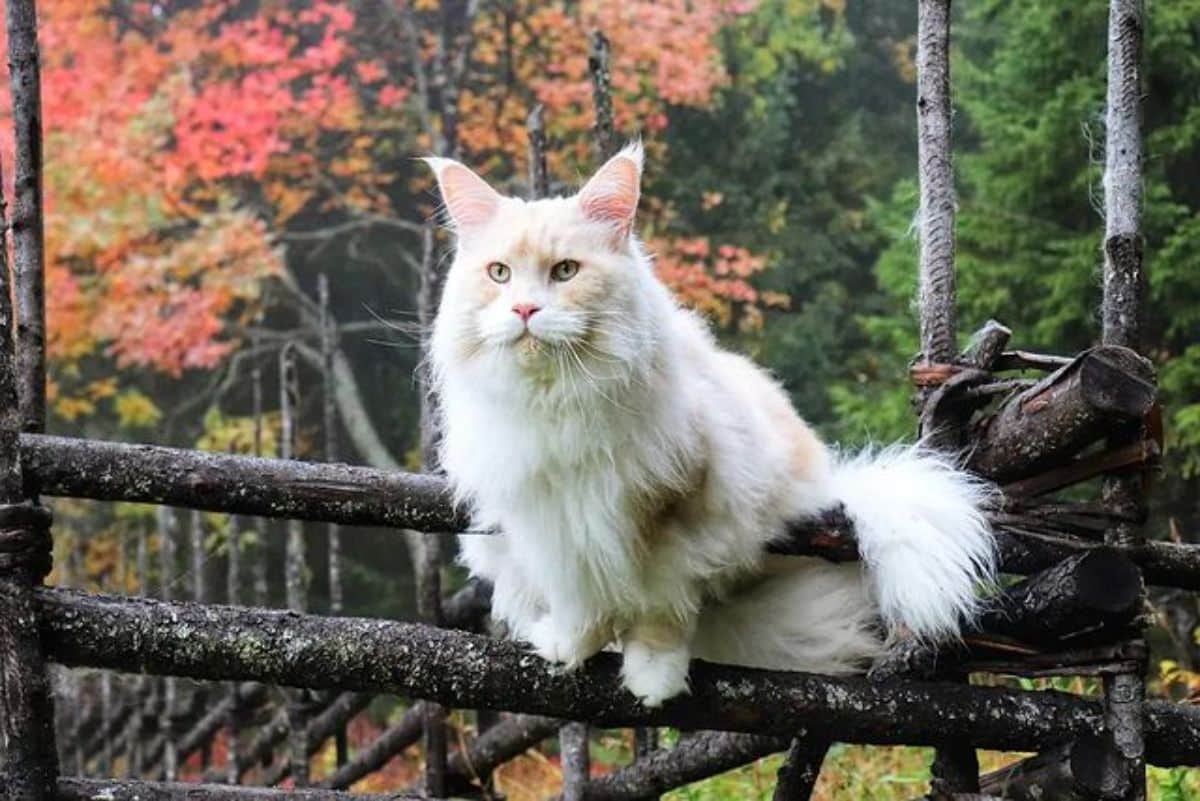 Lotus is a Maine Coon cat from Sweden and has three stunning colors on its coat. This cat is among the most famous Instagram cats in the world. Lotus is beautiful and has white, beige, and apricot hair that gives her a nearly ethereal look.
Lotus loves to play in the snow and will happily flick her pointy ears at the wind. With 250,000 followers, Lotus can be found all over the internet and makes people happy by doing everyday things like sleeping, eating, and playing.
5. Mila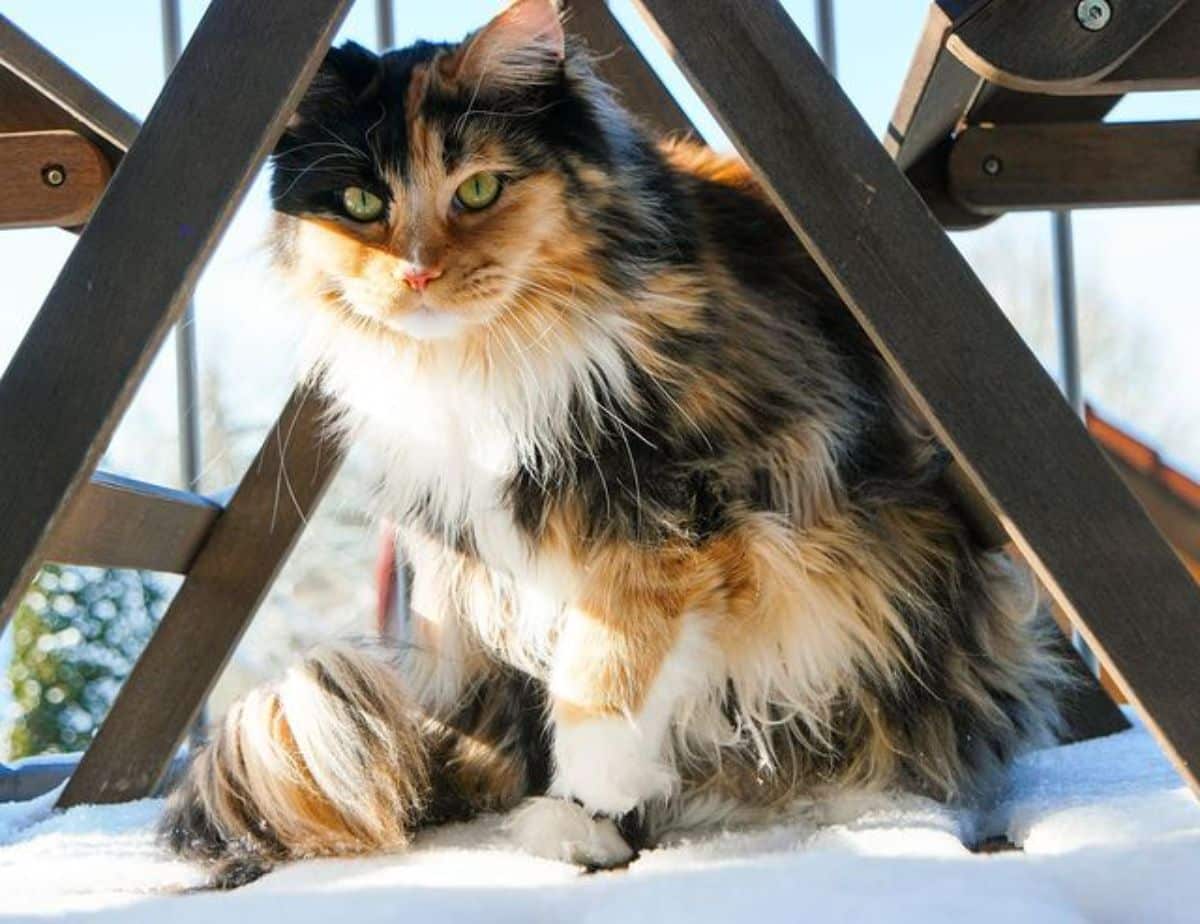 It's hard to find a tri-color Maine Coon cat with sectioned blocks of color, but Mila defies expectations. Mila is the sister of another Instagram-famous cat named Merlin from Germany.
Mila has a mind-blowing mixture of orange, brown, and black in her coat. The color mixtures flow down Mila's back, making her look stunning, but she shows her true colors when she rolls around and displays her belly and paws.
Mila has blocks of color on her face, neck, and legs that are so bold, it's hard to believe they belong to a cat with a rare tri-color pattern. Mila loves spending time outside and playing in the snowfall in Germany.
6. Hugo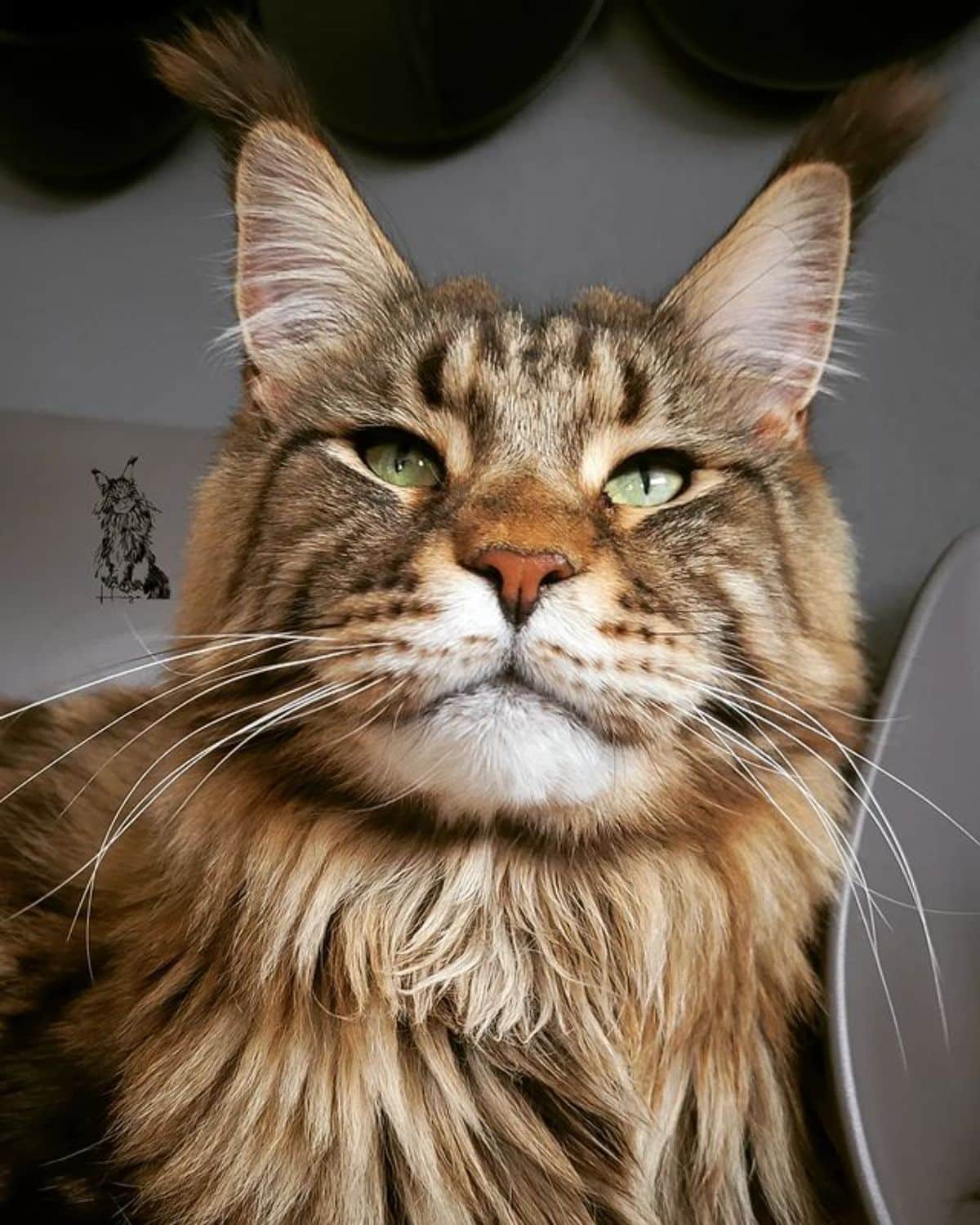 Hugo almost looks human-like instead of cat-like. This Maine Coon cat adores sleeping and has a large, puffy mouth that makes him look like a human or a character from a Dr. Seuss book. Hugo has brown, black, and white on his coat of hair and stripes going down over his face.
These stripes make Hugo look fierce and may cause those around him to be uneasy since he looks similar to a tiger or lion.
7. Merlin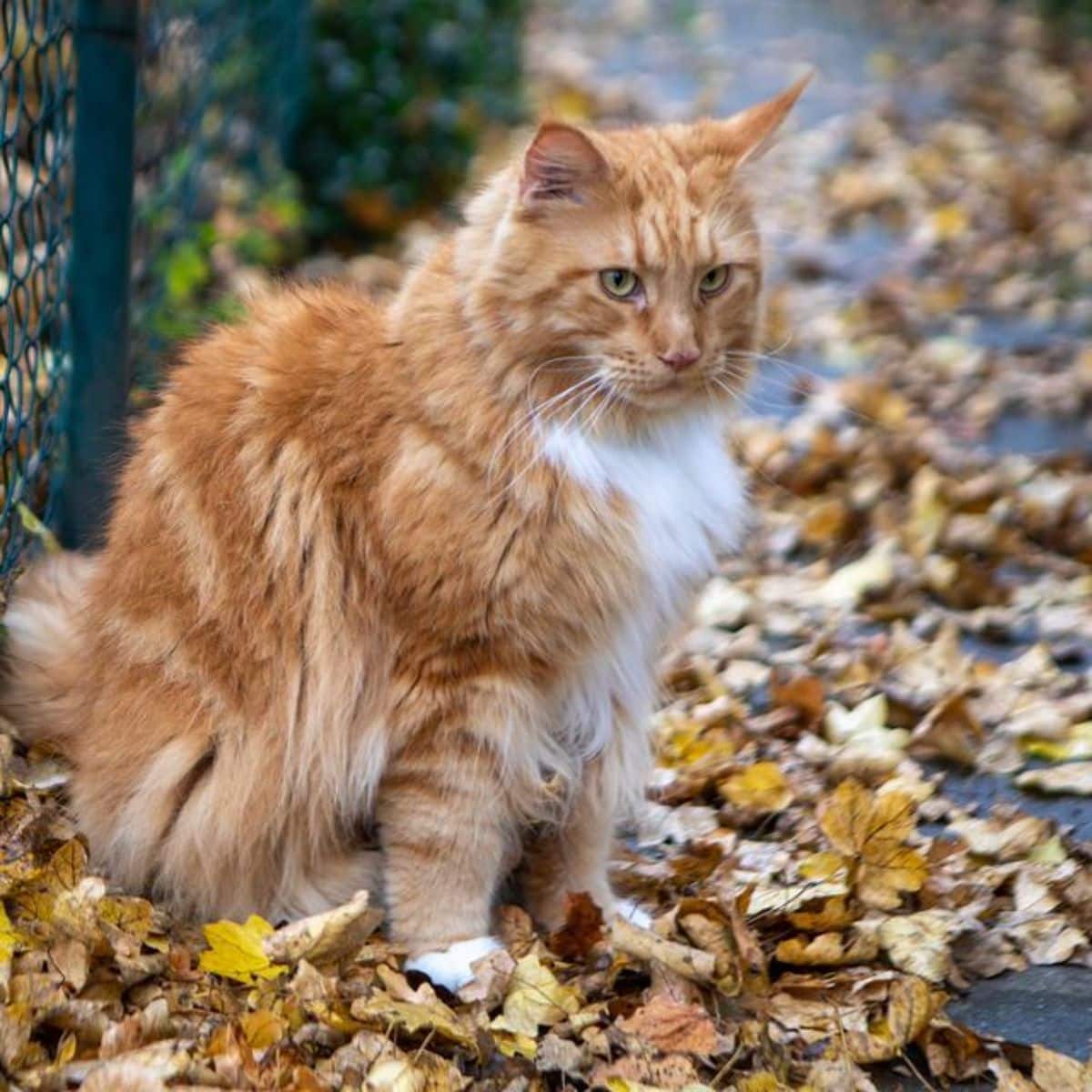 Merlin has a stunning mixture of orange, apricot, and white tones. This Maine Coon cat adores time out and loves to play with others. Merlin is especially happy when frolicking about fall leaves that match his stunning coat of dark and light orange stripes.
These stripes trail down Merlin's body and cover his legs, belly, and tail. This cat is constantly curious and captures the hearts of everyone around him with a simple photo.
8. Nemo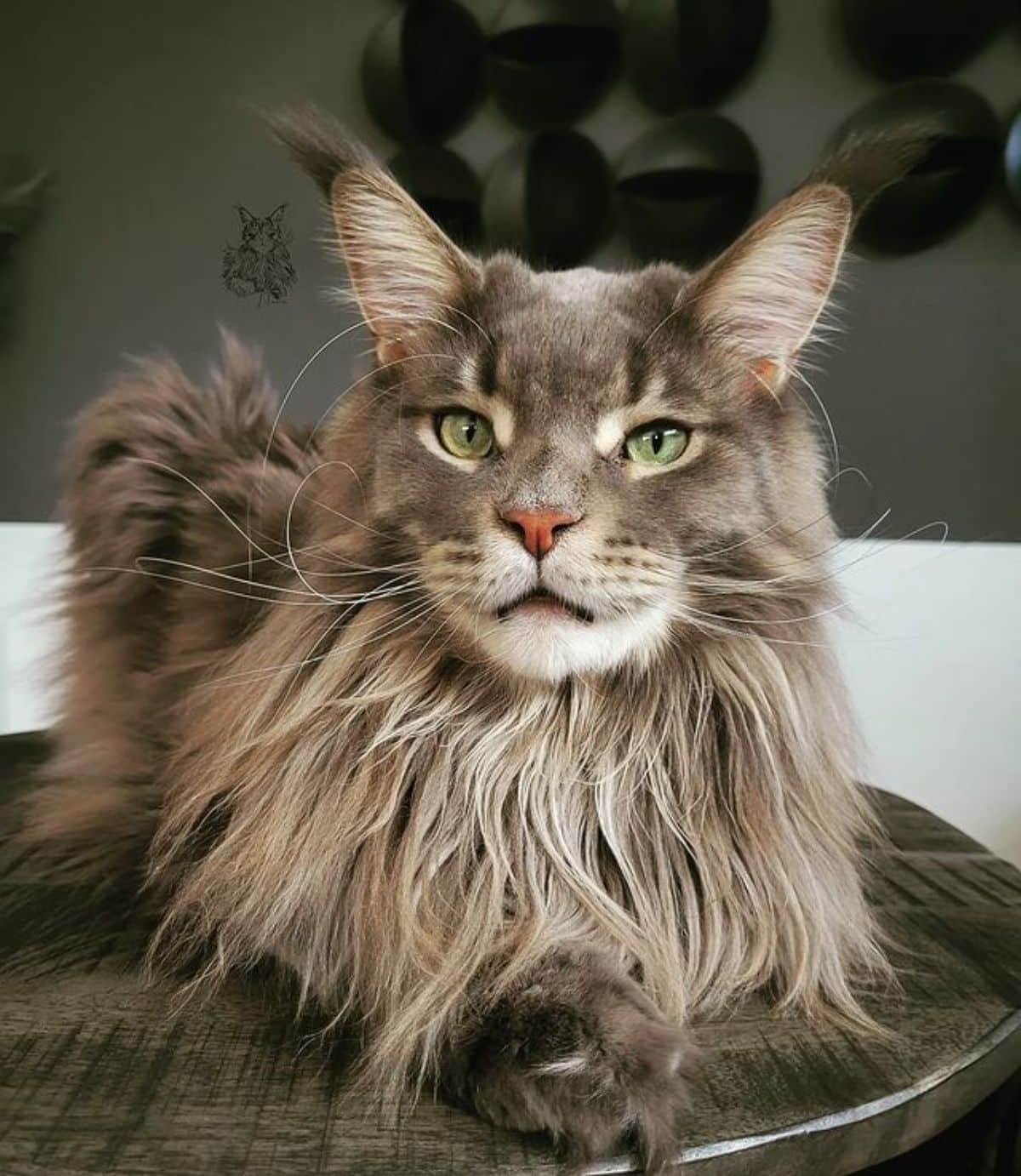 Nemo lives in Germany and has a stunning coat of hair with three colors. This cat has a long, luxurious coat of colors that hangs downward and makes him look like a fierce fighter. He has a stunning pair of green eyes with eyelashes so thick it looks like the cat is wearing mascara or eyeliner.
Nemo loves to lounge around the house and play with his siblings.
9. Louie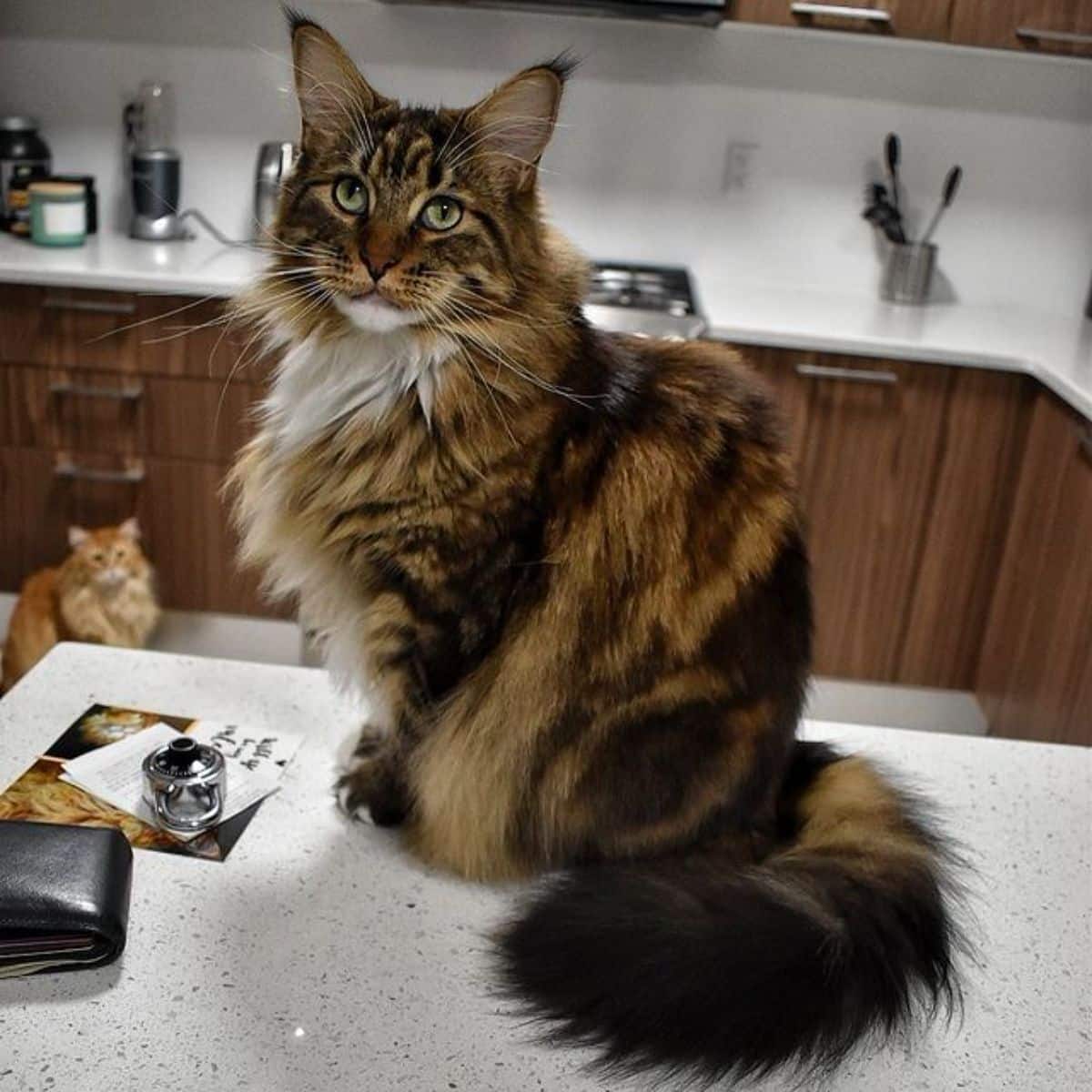 Louie is one of two cats in a home with owners who love Maine Coon cats. This cat has three beautiful colors in his coat: dark brown, black, and white. These colors resemble that of a dog more than a cat. For example, Australian Shepherds are known to have this color scheme the most.
Louie has green eyes, like his sister Luna. His favorite pastimes are rolling around on the counter and lounging where he shouldn't.
10. Luna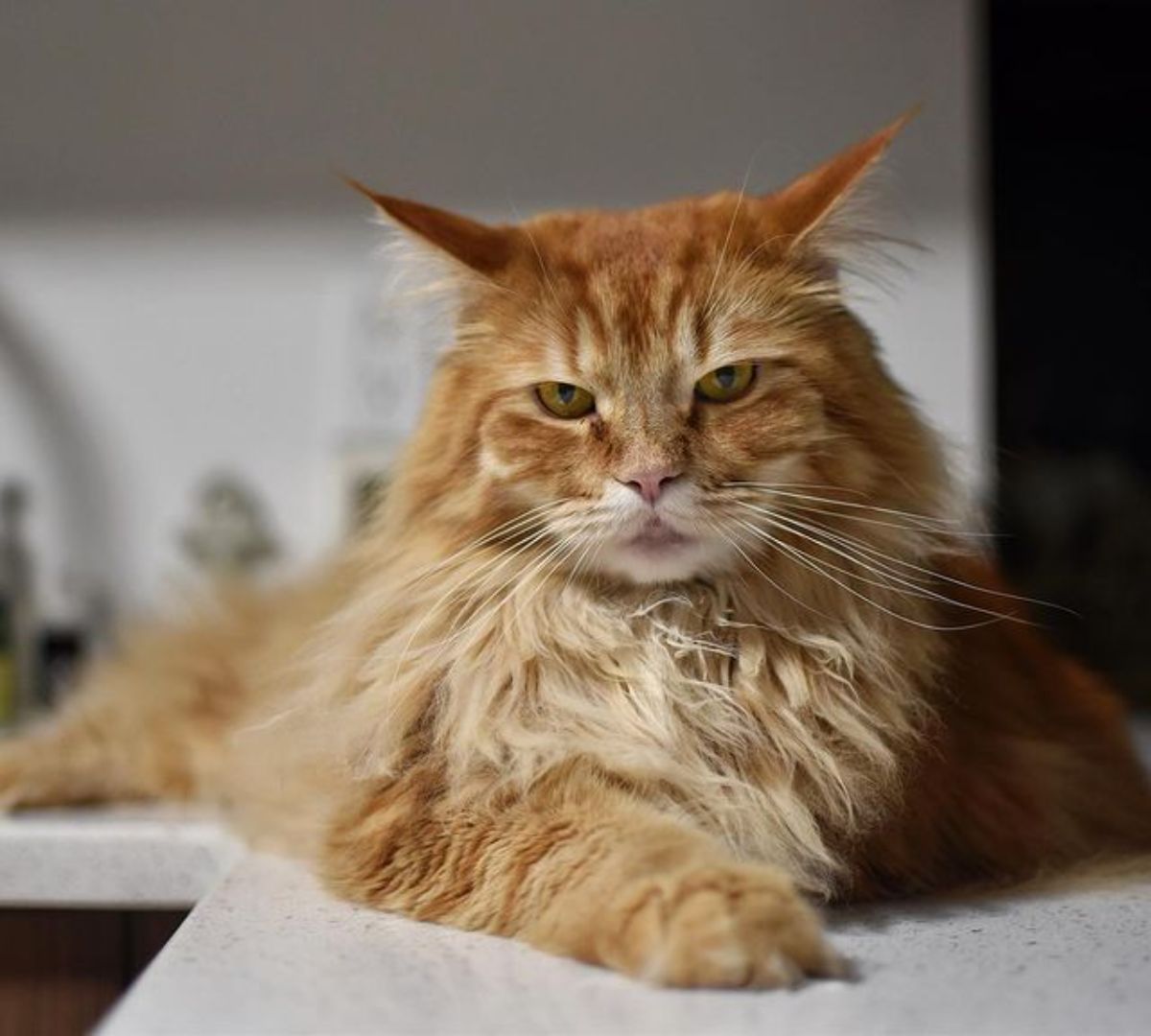 Luna looks more like an orange creamsicle than a Maine Coon cat. This cat adores laying and lounging around, but she also adores playing with her brother Louie. This cat has three rare colors in her coat: orange, brown, and white. The colors in her coat of hair tend to blend to create something truly stunning to observe.
Luna has mesmerizing green eyes that make the shades and tones of her coat stand out even more than normal.
11. Freya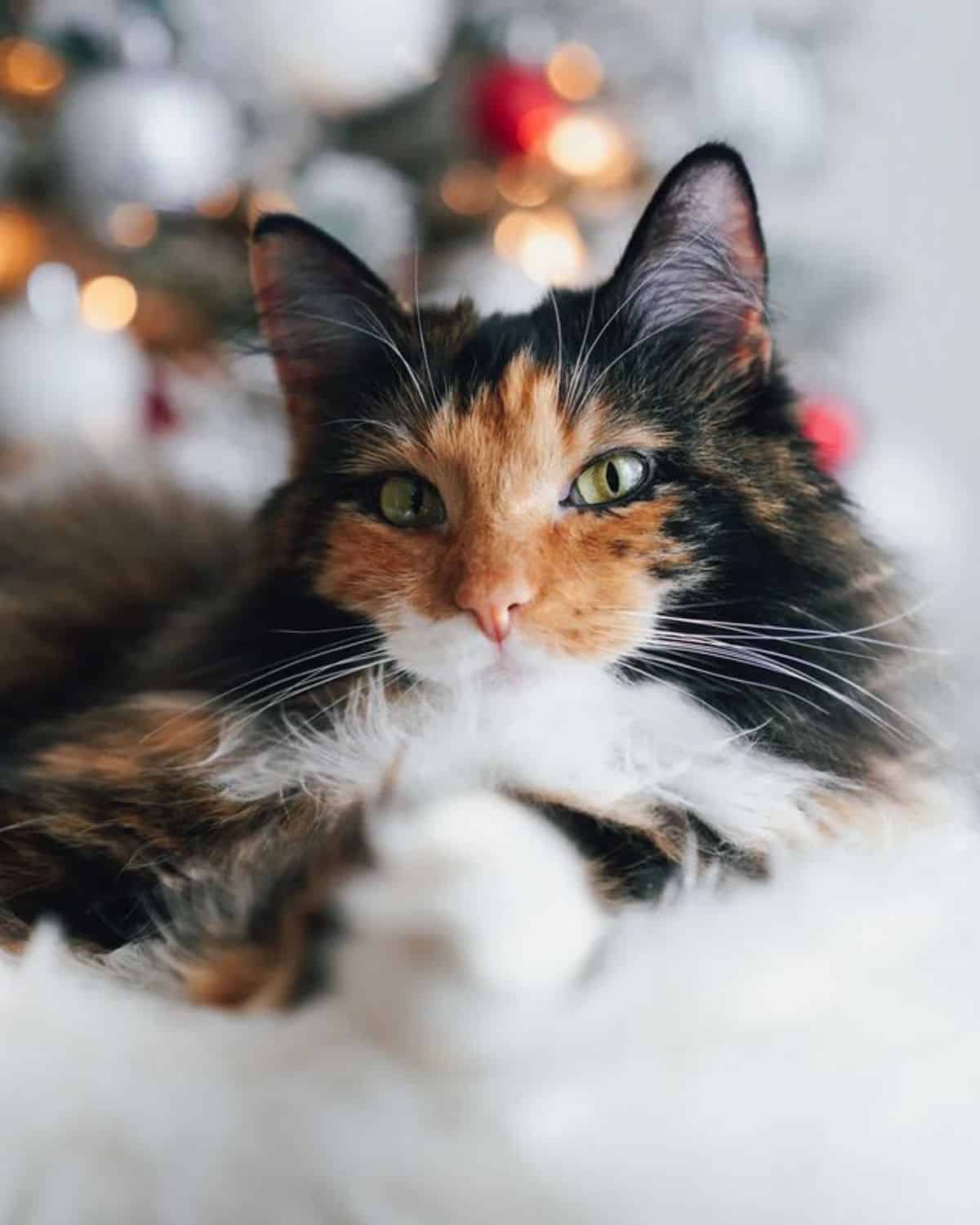 Freya is a Maine Coon cat with a mind-bending set of colors on its coat of hair. This cat has an almost orange face, but the color bleeds gently into black. Freya also has a large section of black starting at her lower jaw that extends downward across her chest and neck.
Freya was rescued from a shelter in Michigan in 2021 and has a brother with stunning white hair. These cats love to spend time playing together and cuddling.
Final Thoughts
Maine Coon cats are not only fun but also thrilling to be around. These cats never stop playing and will gladly run about the home, harass their owners for play, and cuddle up with those they love at the end of the night. Many people think Maine Coon cats are more like dogs than cats, making them a loyal and loving breed.
Maine Coon cats look fierce with their wild hair, and these 11 Instagram-famous tri-color Maine Coon cats have tons of color and stunning looks to flaunt. Some of these Maine Coon cats are siblings or live in the same home with owners who adore their breed.
Regardless of who owns the cats or runs their Instagram accounts, we're just glad they're online for us to adore!