If you've ever seen a majestic Maine Coon cat, you know every one of these felines is sweet. But as with every other breed, some stand out. In this article, we'll admire 21 silver Maine Coons that deserve an "awww." Let's jump in.
Jump to:
1. Maine Coon Posing with a Panda Toy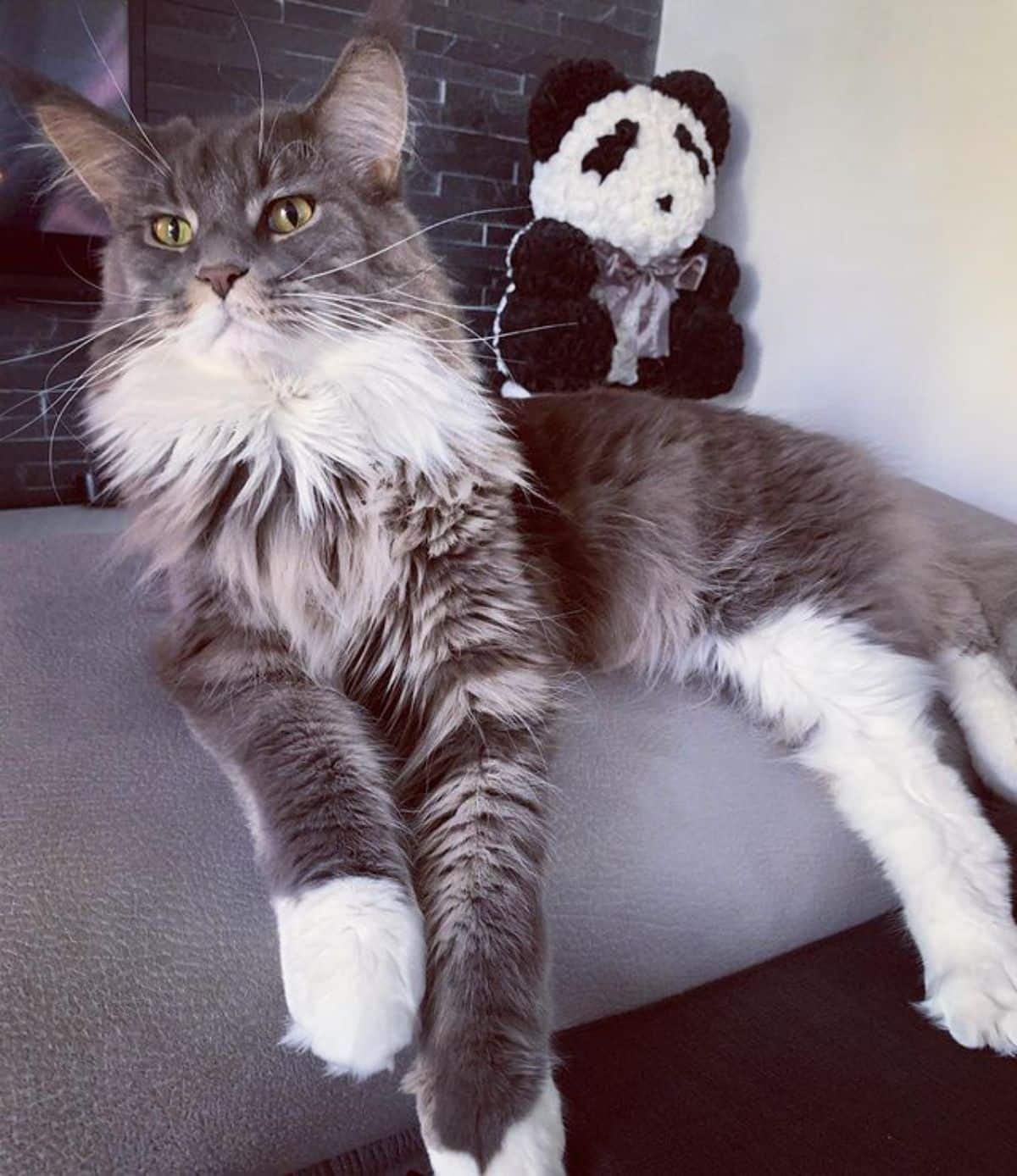 This cuddly Maine Coon knows how to strike a pose. One of his French admirers on Instagram calls him "magnifique," and we must agree. This beautiful feline has a silver coat with a fluffy white bib and bears, as well as back legs and paws. We love this feline's sparkling green eyes.
2. Cozy Maine Coon Licking His Chops!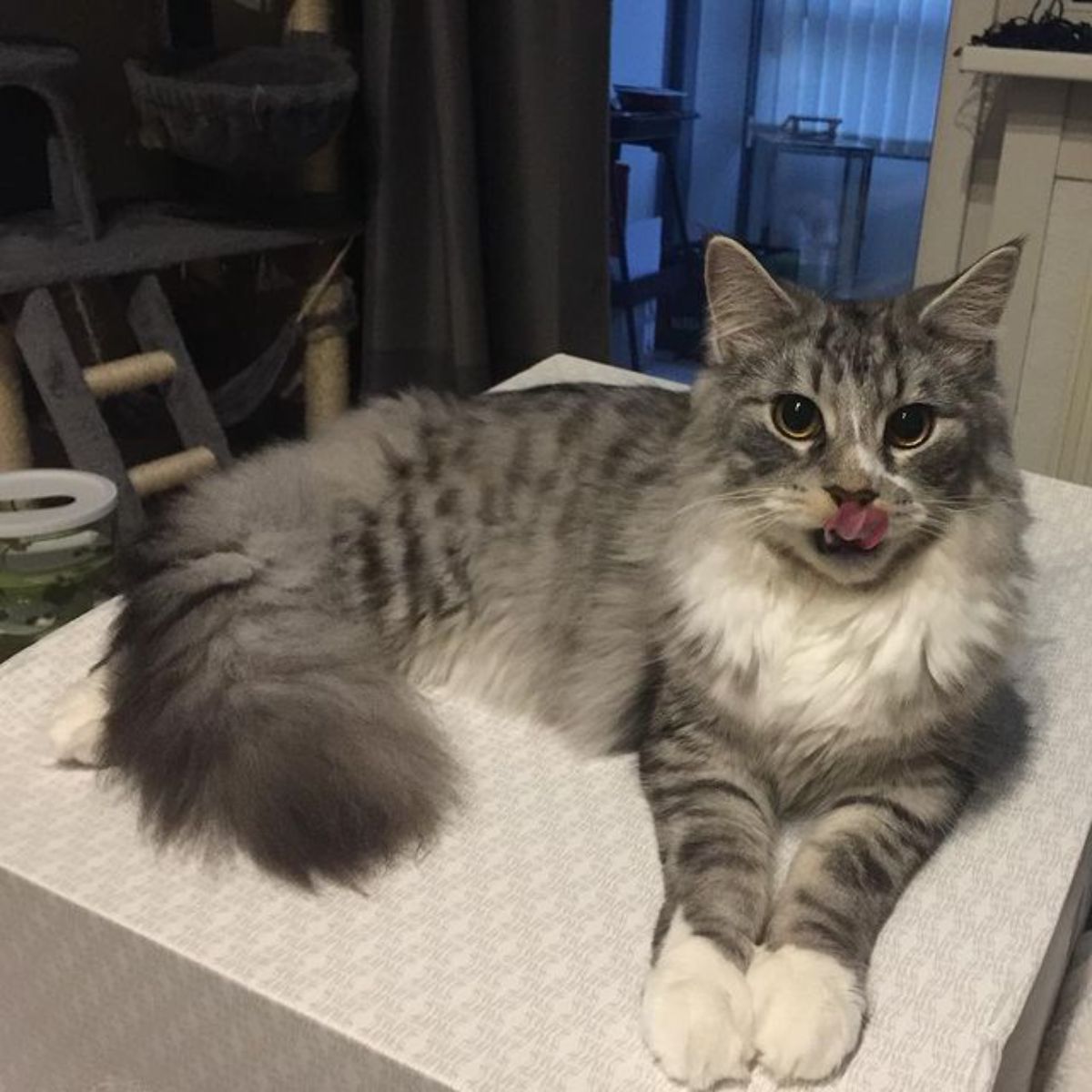 Guess what this silver Maine Coon's name is? Nothing less than "Silver"! Silver the Maine Coon looks on the young side, as she's small compared to other Maine Coons. Silver has made herself comfy on a folded blanket. Maybe his human is opening a can of tuna or sardines. She's licking his chops in anticipation!
3. Maine Coon in Autumn Setting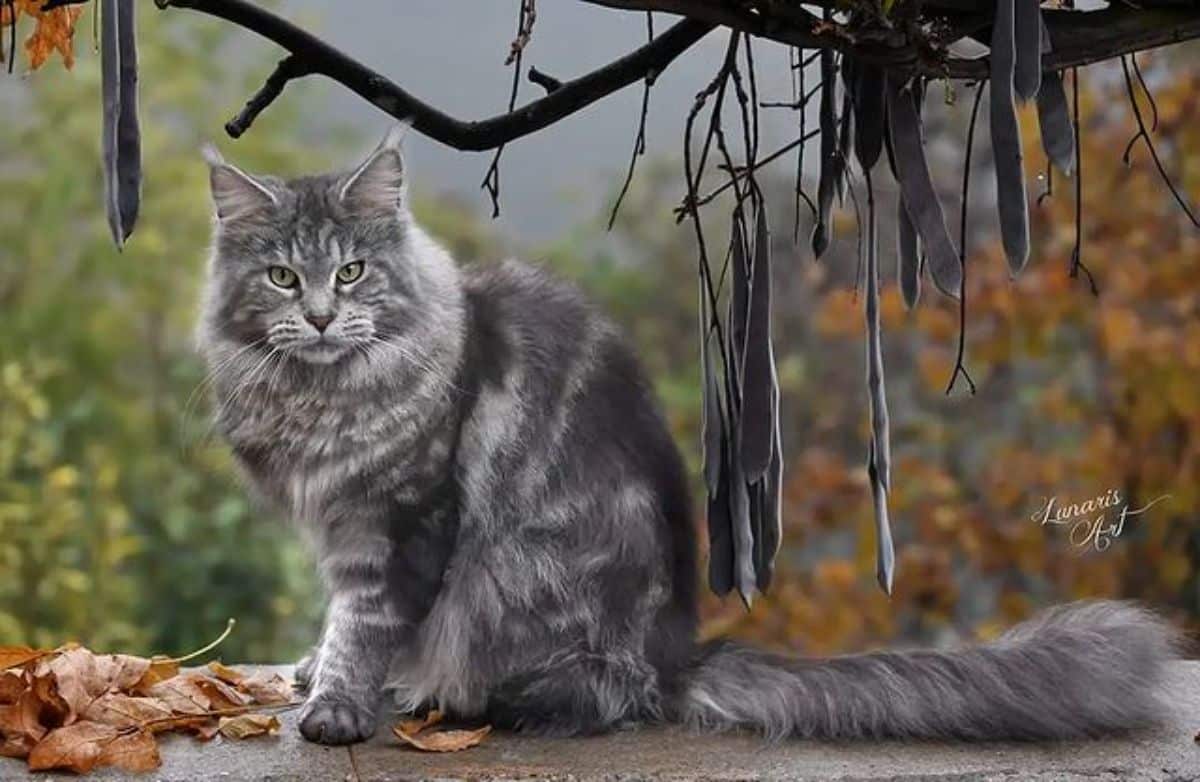 This Maine Coon has a glorious silver coat with light patches, and she enjoys having a crisp autumn background. The brisk breeze has put a lively look on this kitty's bright green eyes. This silver Maine Coon's fluffy tail also deserves admiration.
4. DIY Silver Maine Coon Kitty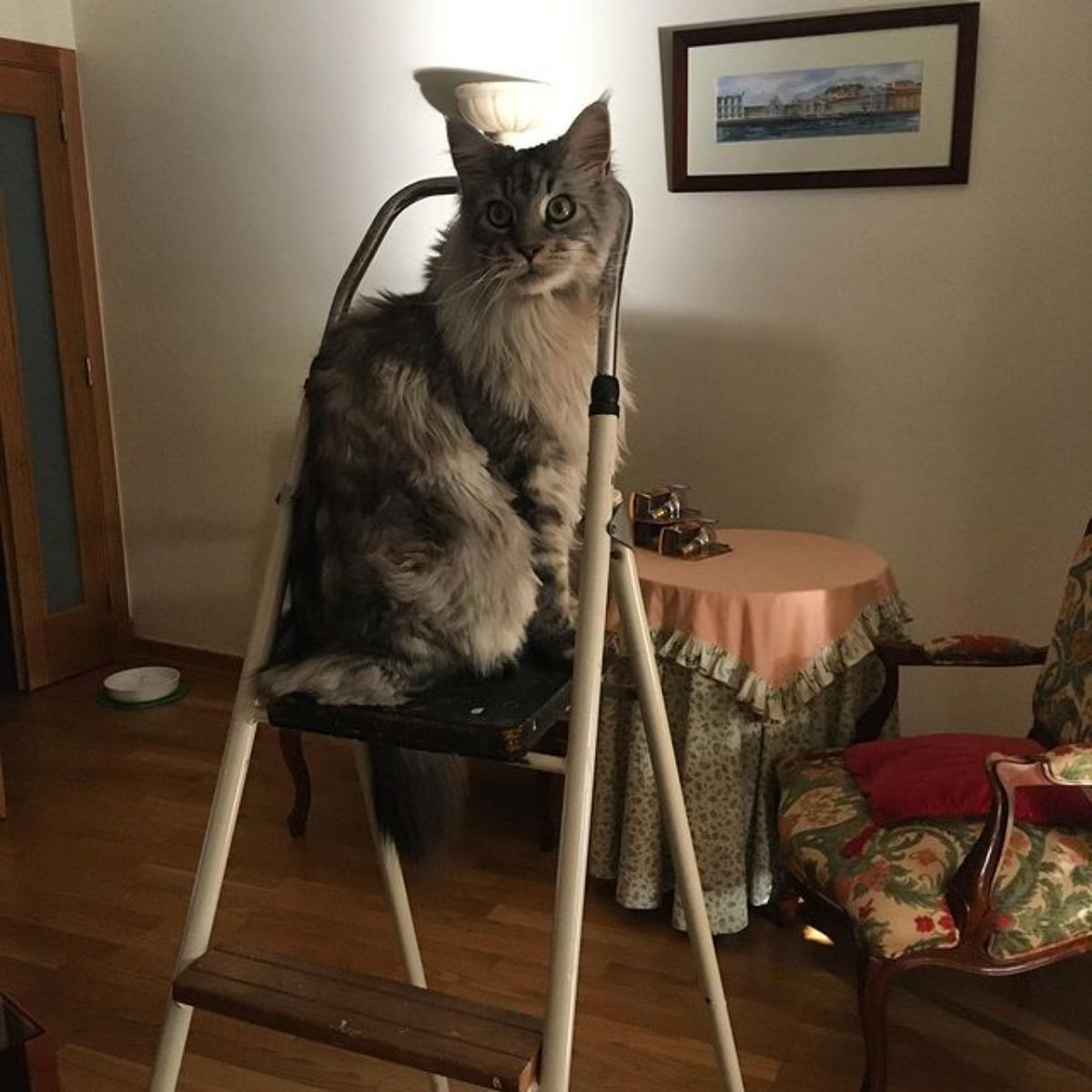 This enormous silver Maine Coon sits on the highest rung of a step ladder. Is she helping her humans with a little bit of DIY? We believe she decided it was the perfect place to pose. Named Floki, this silver cat is one to admire.
5. Silver Maine Coon Kitten With Big Ear Tufts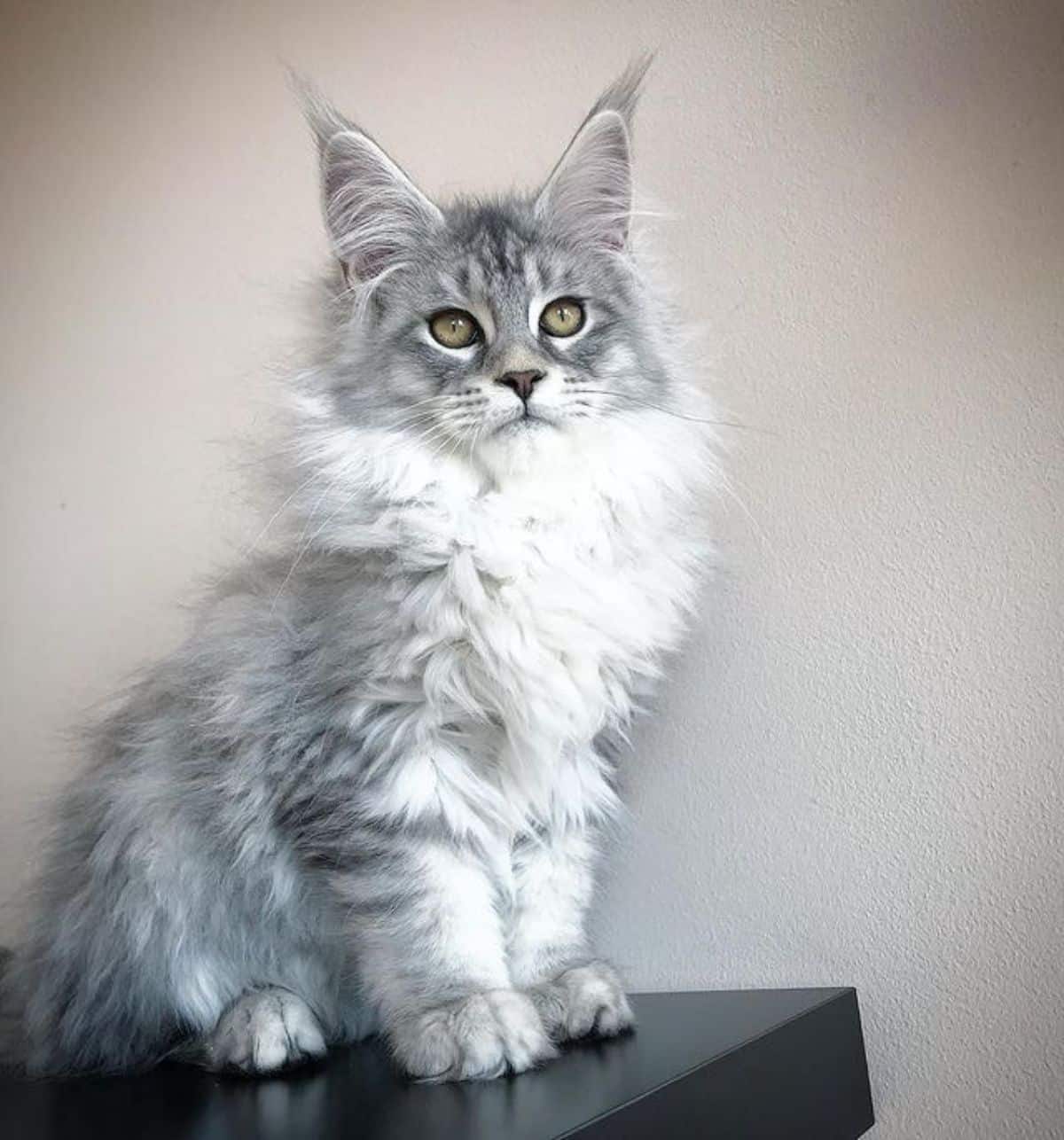 This silver-hued fluff ball is a Maine Coon kitten only four months old. As the Maine Coon breed is a large feline variety, this kitten is much larger than others you've seen. This little one has a silver coat with a white chest. Its ears are the usual triangular Maine Coon shape, paired with big ear tufts.
6. Clever Silver Maine Coon Helping His Human With Work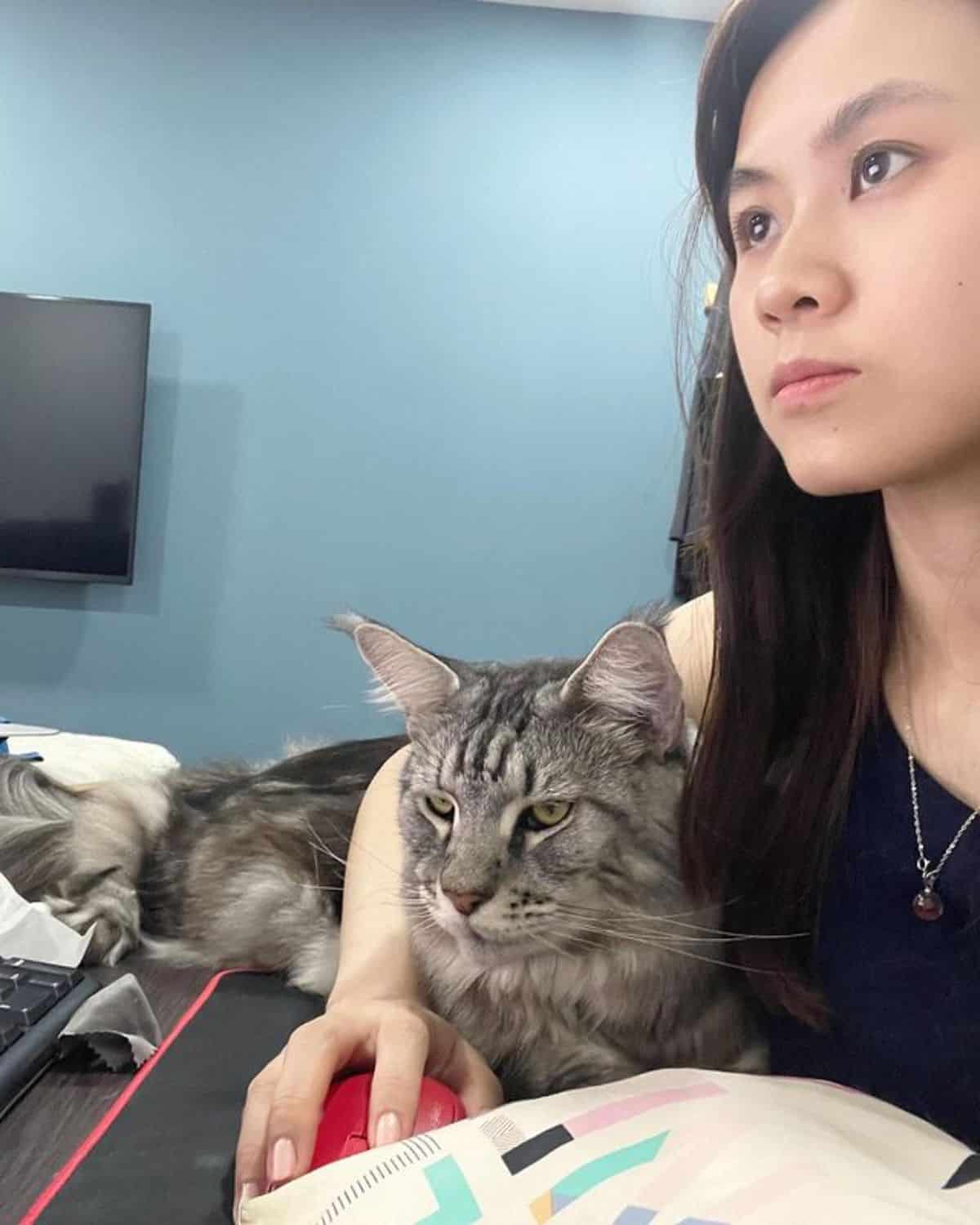 This Maine Coon seems almost lynx-like. Okay, a mini-lynx, but this cat is big. He's just a big baby looking for attention from his human companion. His owner (this cat objects to that word) is trying to be productive, but a feline has decided he's what she should be focusing on!
7. Pale Silver Maine Coon with Luxurious Lion's Mane
Wow! We knew Maine Coons often have ruffs, but this cat's fluffy adornment is more like a lion's mane. Awww! We wish we could pet this kitty's glorious long-haired coat. All the other Maine Coons must be jealous. You just can't compete with this. Just look at his ears and their tufts.
8. Silver Kitty Relaxing on the Patio Furniture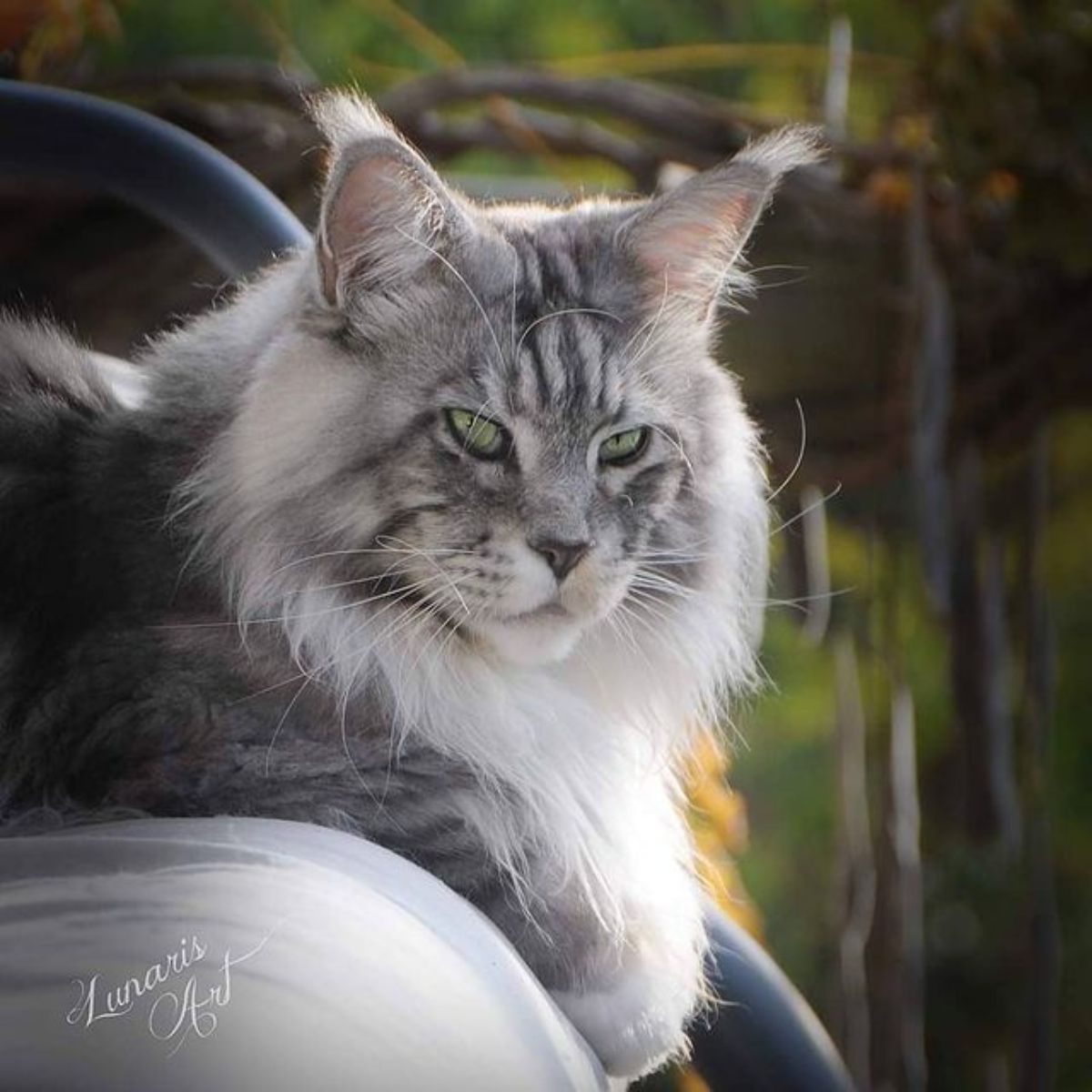 This big Maine Coon's name is Kenzo, and he knows he's in charge. No chance of the human sitting in that chair. Kenzo's there to stay! This cat has impressive lynx tips on his ears, and other Maine Coons are jealous of his long white ruff.
9. Maine Coon with Silver Coat in a Winter Wonderland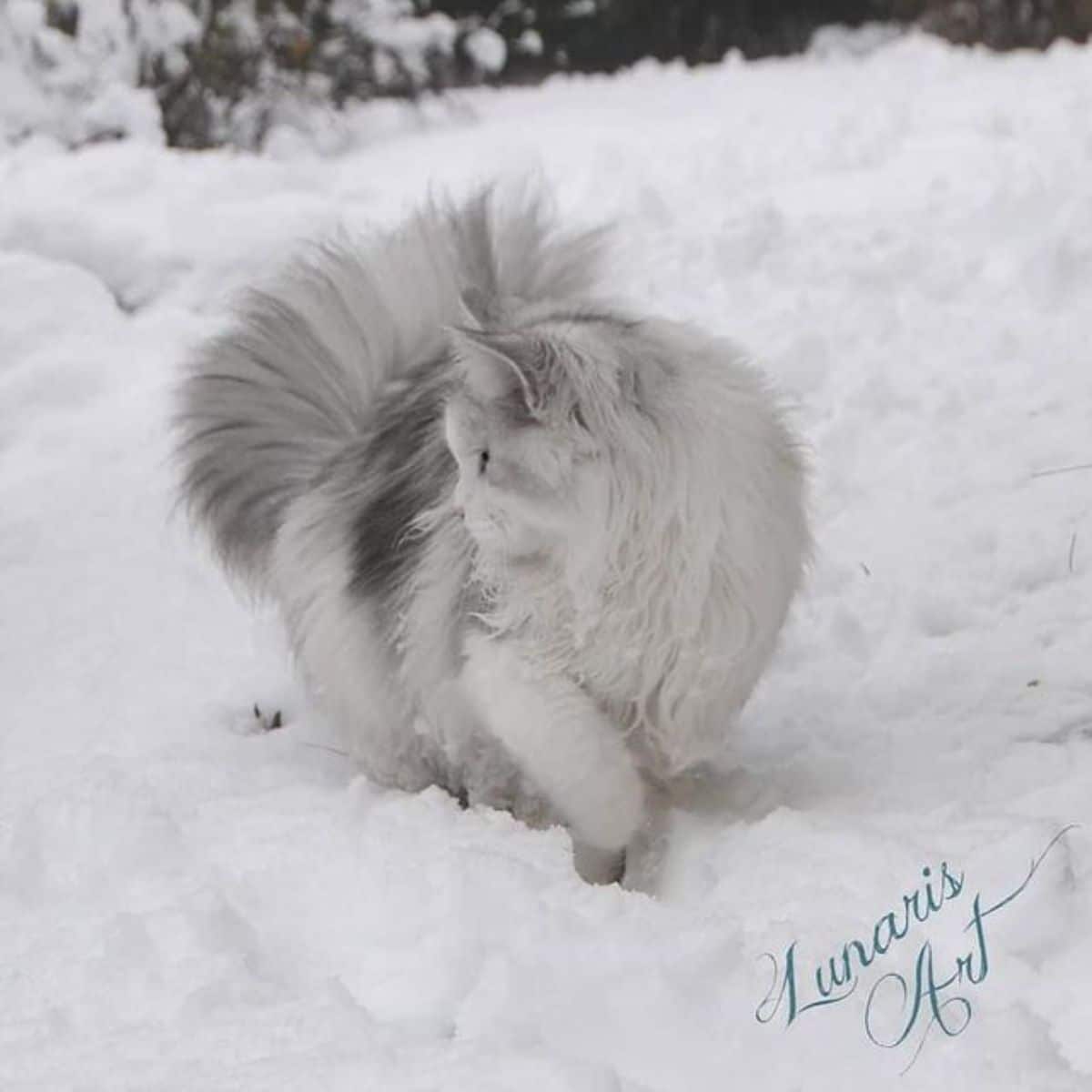 With a luxurious pale silver coat and dark silver patches, this Maine Coon is a little on the smaller side but still majestic. She looks so lovely in this snowy setting. Maine Coons are known for being adventurous. The snow is cold against her little paws, but there is a warm chair for her to sleep on later.
10. Selfie With Silver Maine Coon (and a Human)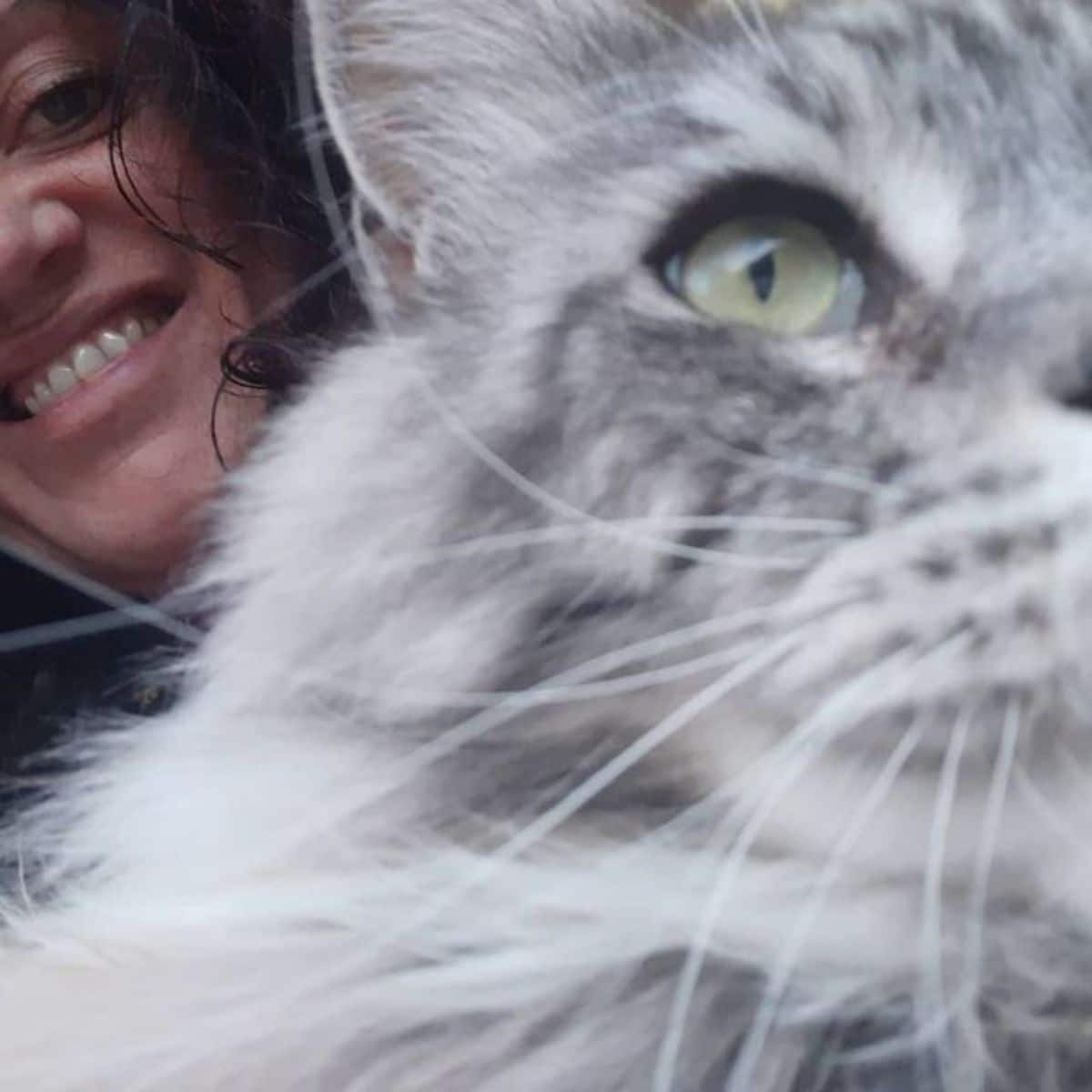 Hmmm, who's taking this selfie? Can felines take their selfies, after all? It looks like it! But we think the human probably lent her skills to this photographic feat. The kitty looks fascinated by the camera lens or phone. Could there be a snack inside?
11. Gorgeous Maine Coon Drinking from a Mug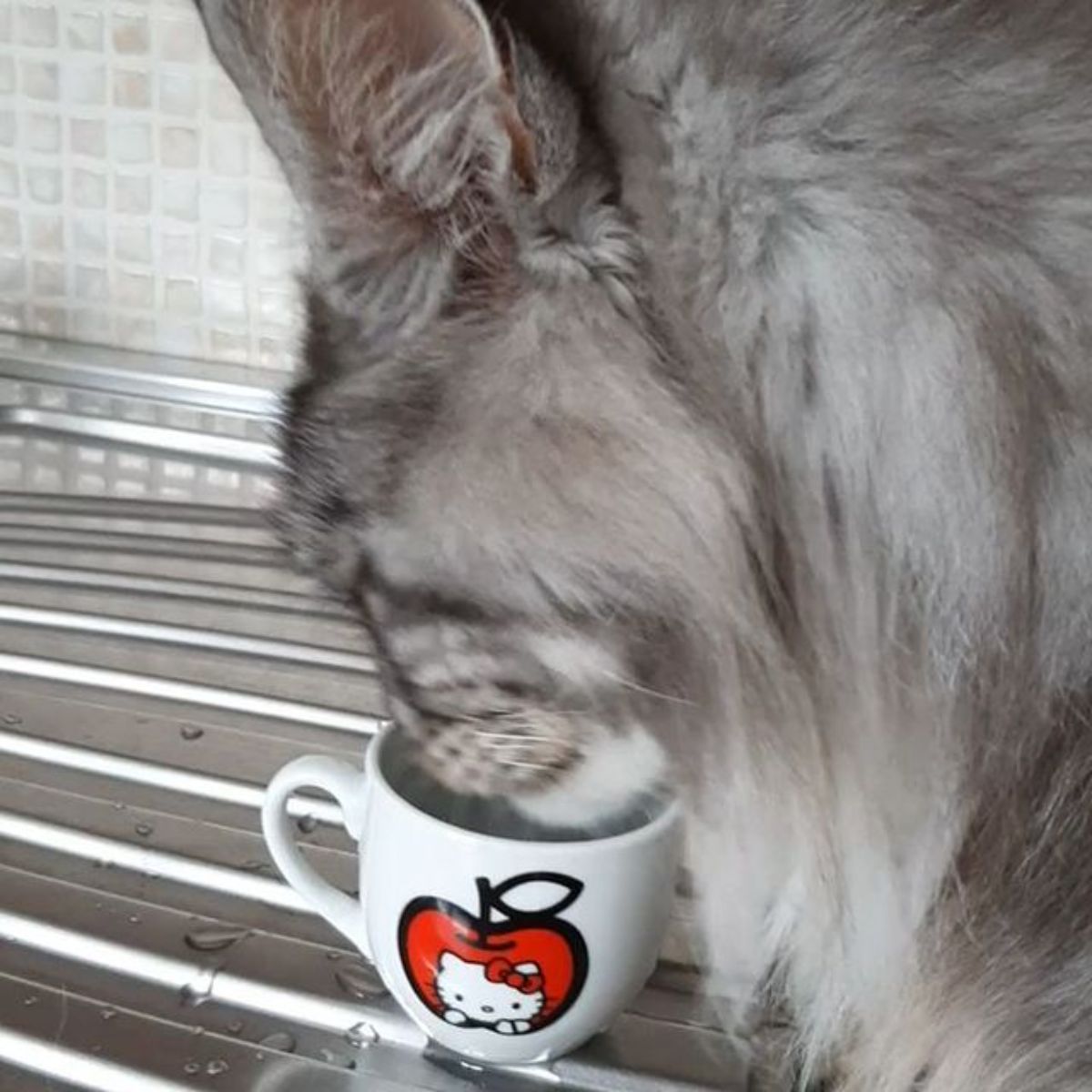 Is this silver-hued kitty being naughty? Maybe that drink was meant for his human companion, but he's decided to have it! You know cats. They always want what we have. And why not? With such a majestic lion's mane, we're all overawed by this cat's beauty.
12. Silver Maine Coon Lounging on the Lawn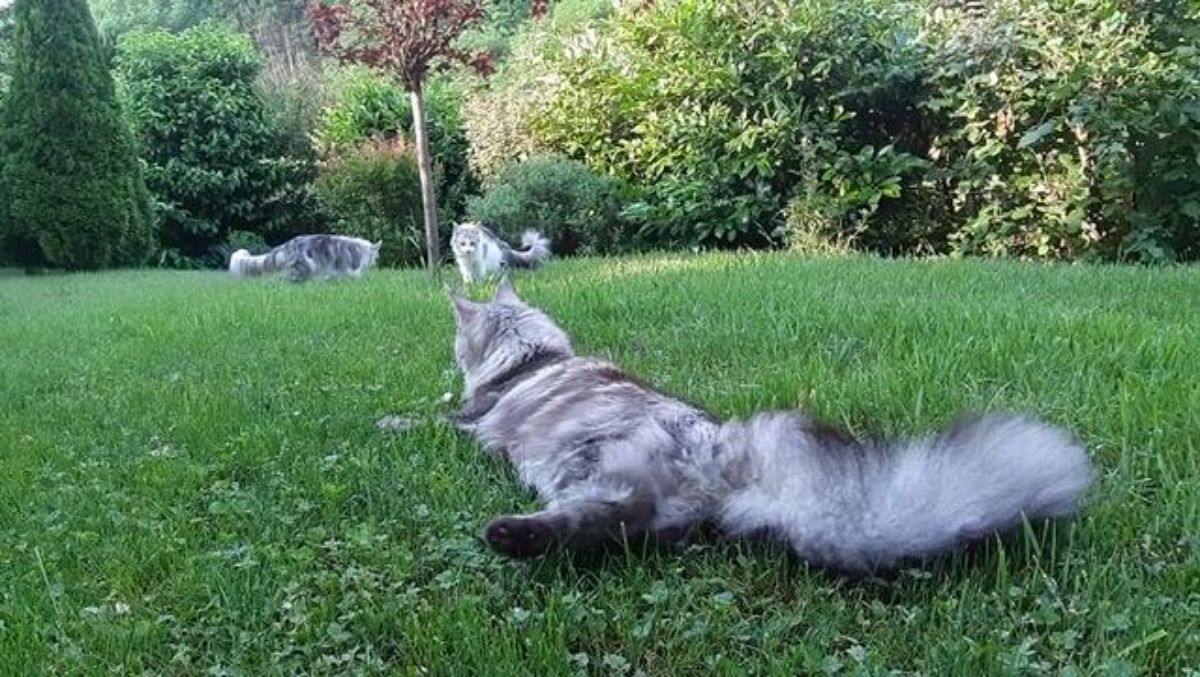 This giant of a feline boasts a divine silver coat, complete with a long, fluffy tail. And he's enjoying some time with his cat friends on the lawn. The other kitties seem lively, but this majestic beauty just wants to relax and be admired. He'll probably have a nice nap soon.
13. Is this Silver Maine Coon Talking?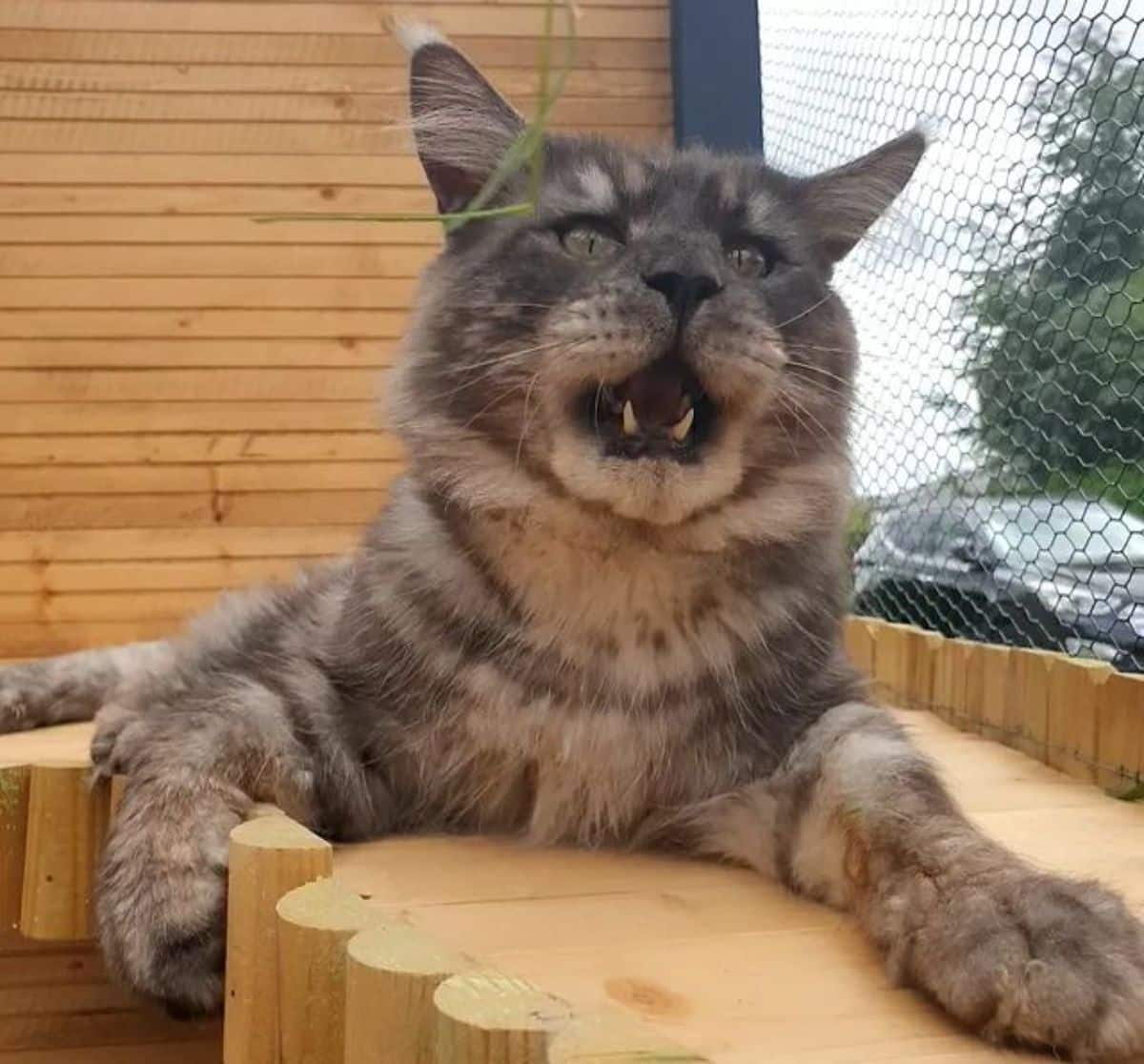 We knew Maine Coons were smart, but can they talk? Seems like they can! This enormous silver Maine Coon has his mouth open as if he's chatting. He has enormous paws and sturdy legs, too. What a funny kitty with a great personality. His silver and white coat has an interesting tabby pattern.
14. Cat With Fluffy Tail Cuddles on a Pink Blanket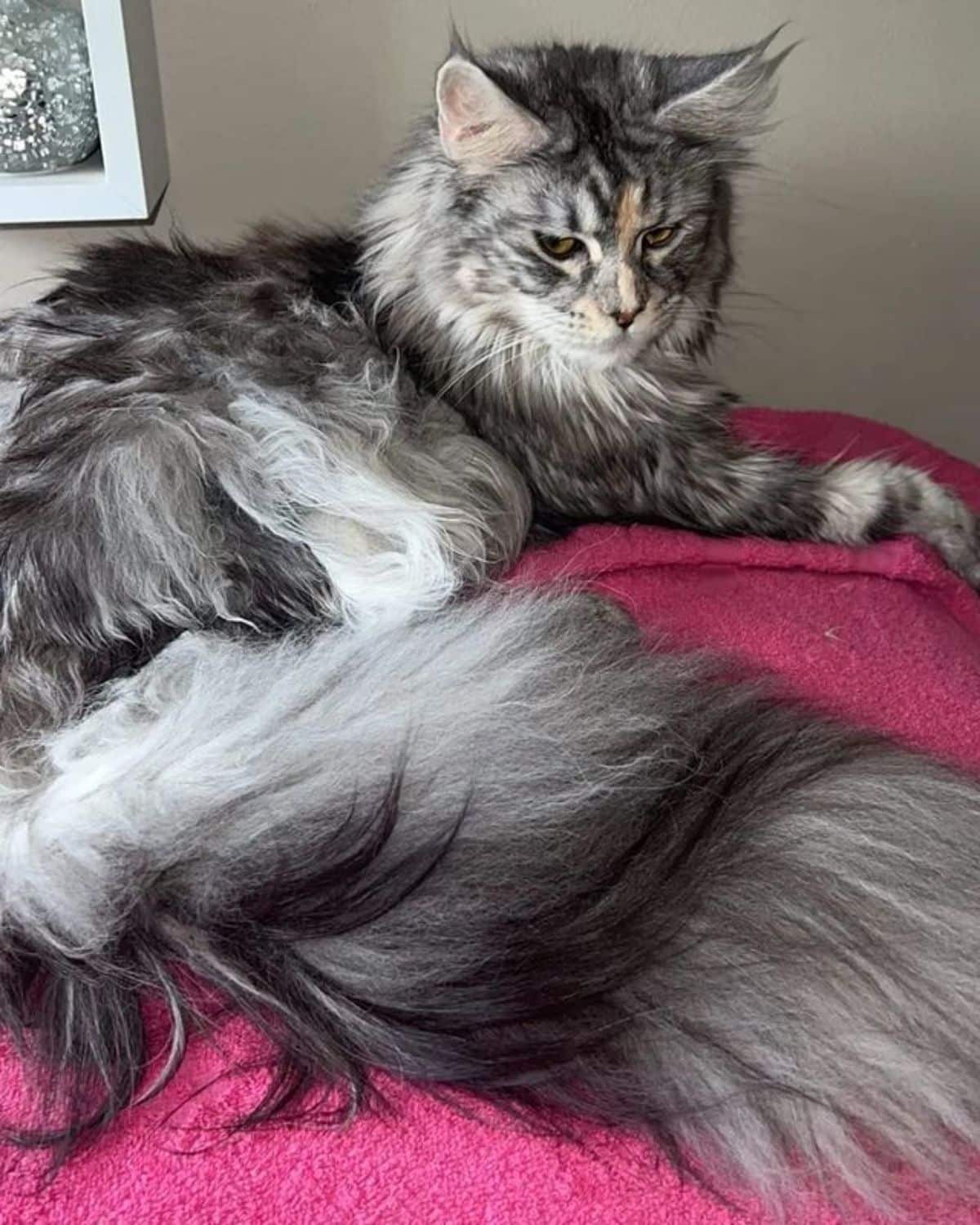 If there's a blanket around, your cat is sure to find it. That's the case with this enormous silver Maine Coon. What an impressive tail! It is so long and has so much fur; it almost looks bigger than the cat itself. This kitty is looking at her tail as if she's admiring it. Awww!
15. Dark Silver Maine Coon An Adventure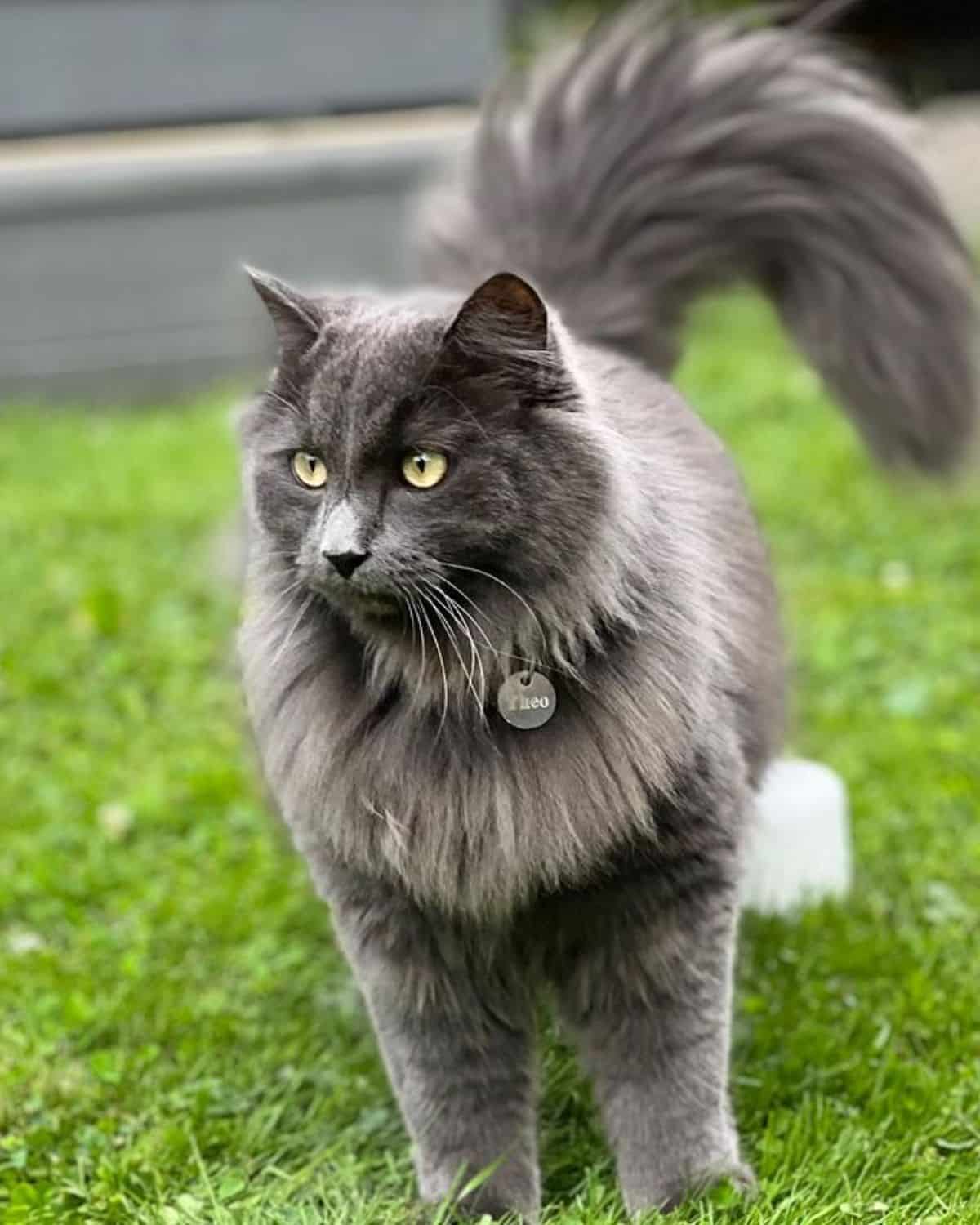 Meet Theo, an impressive Maine Coon with a dark silver coat. He's beautiful, and he knows it, and his human companion is there to admire him. We're amazed by how thick his front legs are. This is one strong kitty cat. Mice and chipmunks, beware!
16. Pale Silver Cat Cuddles on His Human's Chest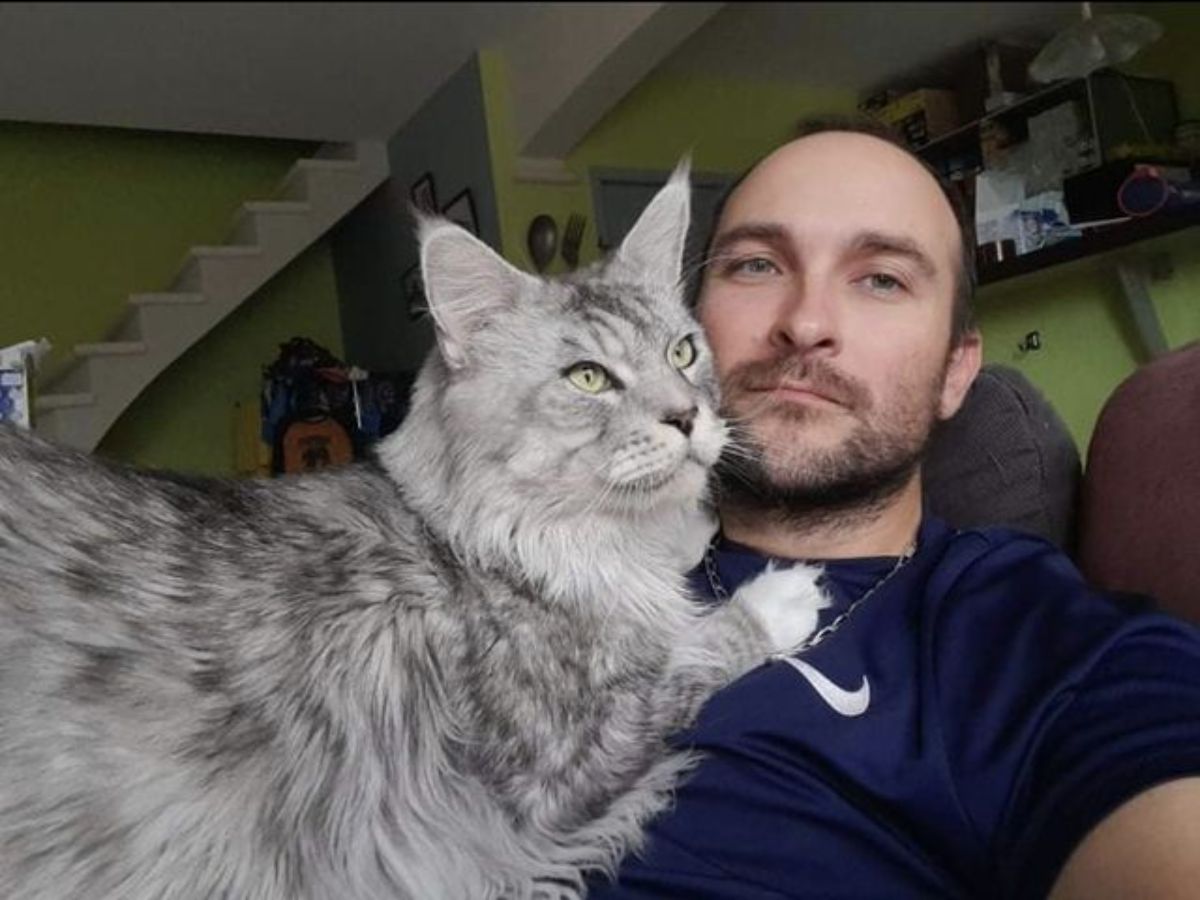 Maine Coons are known as one of the most affectionate cat breeds, and this cat is a great example. He's cuddling on top of his owner's chest. It shows how big this kitty is, too. Hope the human doesn't have to get up any time soon.
17. Lion-Like Silver Maine Coon with Startling Amber Eyes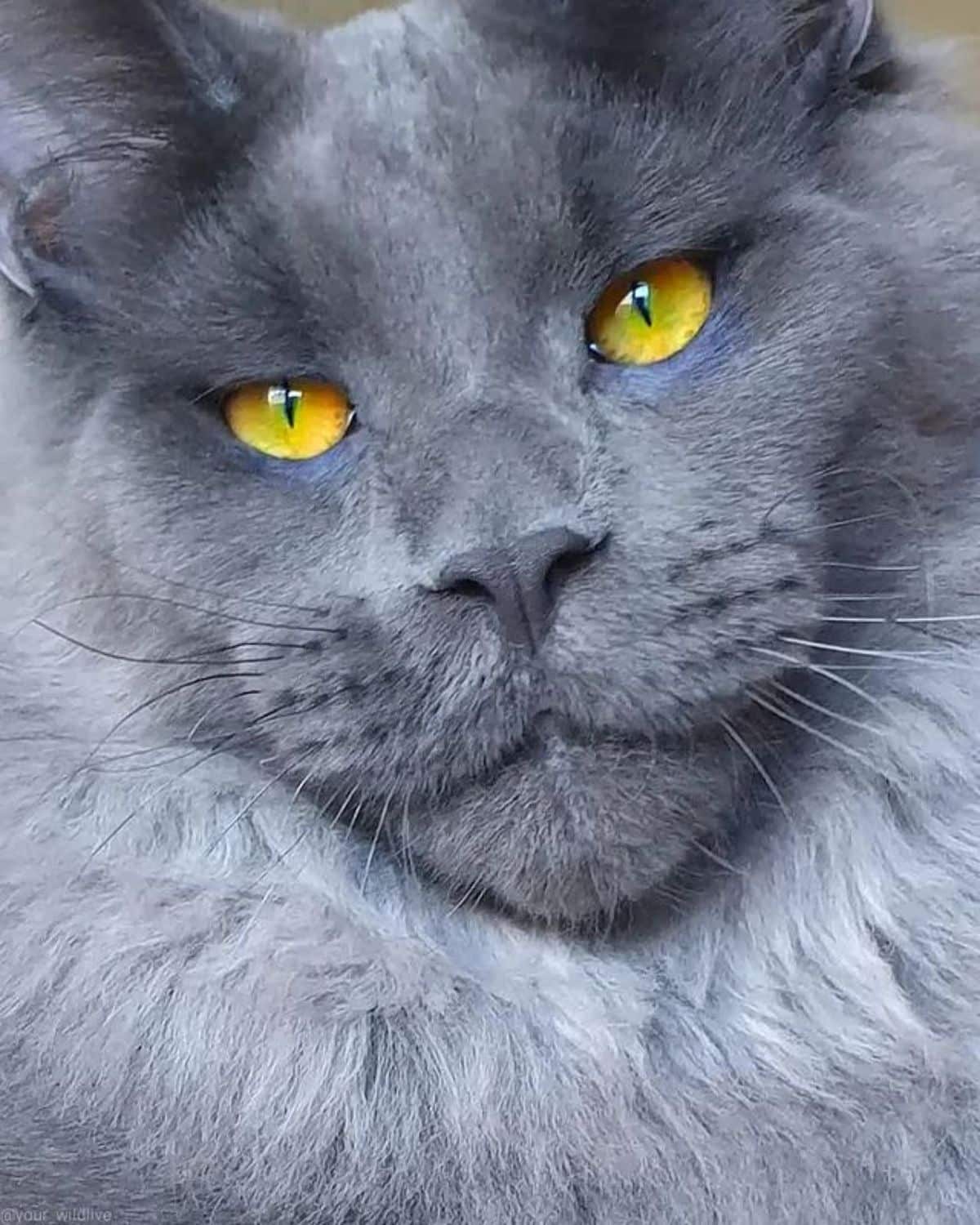 This silver Maine Coon coat has a gorgeous purple undertone that contrasts with his bright amber eyes. Compared to other Maine Coons, this beautiful feline boy has a large face, and its mouth area creates a lion-like look. It has a ruff that looks like a lion's mane, too.
18. Maine Coon With Dark Silver Coat and Crossed Paws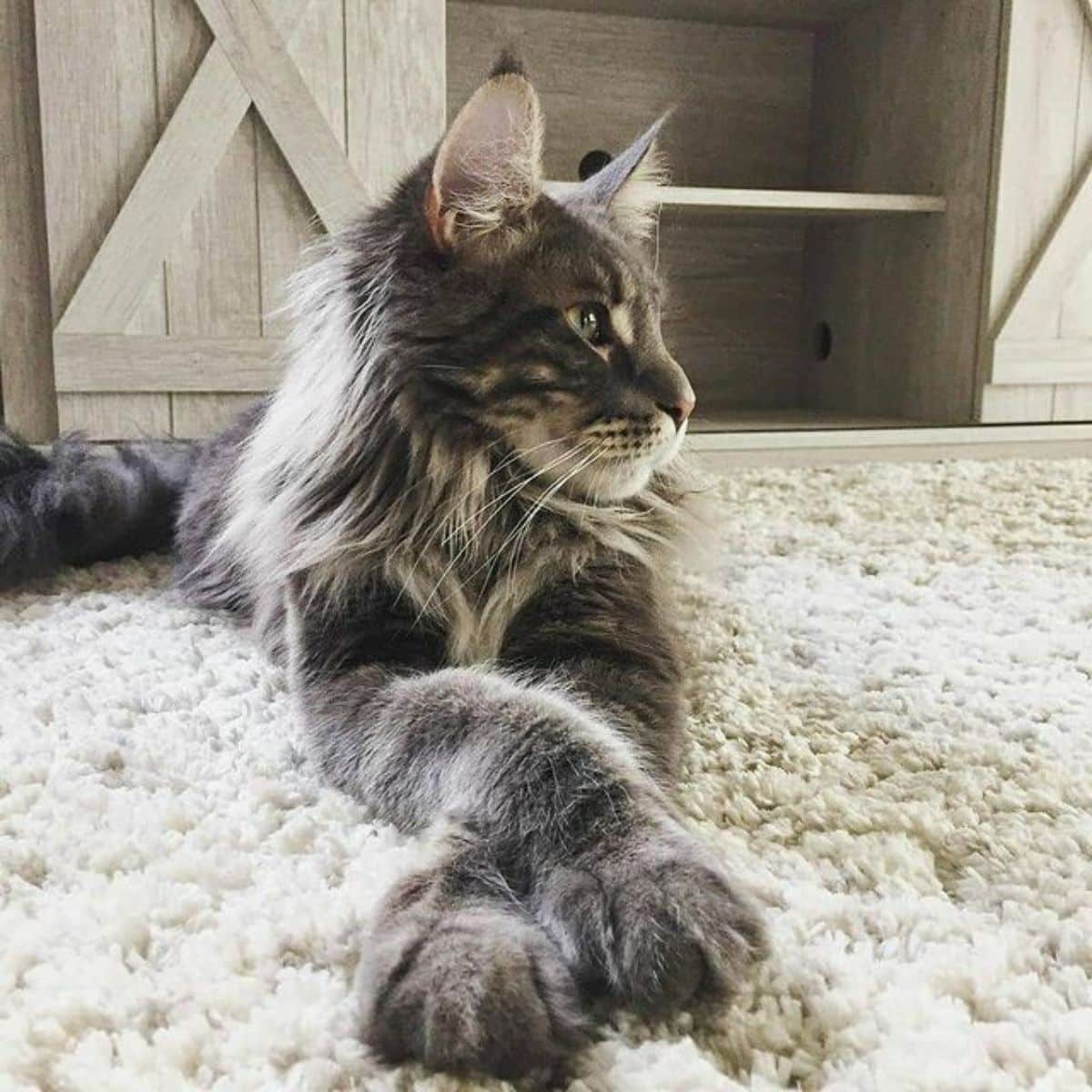 This Maine Coon has a silver coat with a brownish undertone. We just love how he crosses his paws. So sophisticated! This isn't just a regular kitty. He's pondering the meaning of life, or maybe just when he'll get some sardines.
19. Silver Tabby Maine Coon with His Canine Friend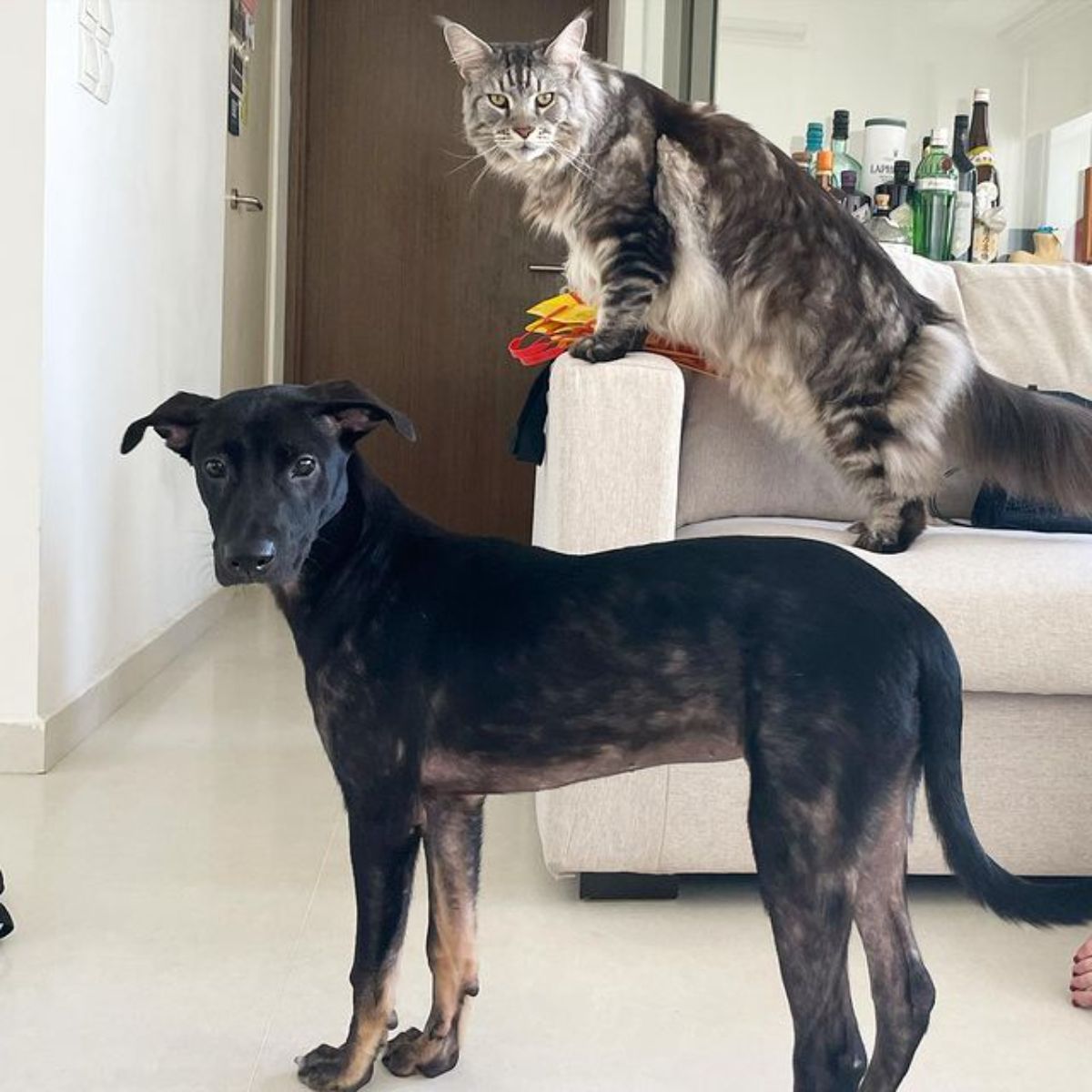 Look at these furry friends! This large Maine coon loves his canine companion, and it seems the feeling is mutual. This cat and dog duo looks like they're planning some mischief and their human caught them.
20. Yawning Maine Coon With Silver Tabby Coat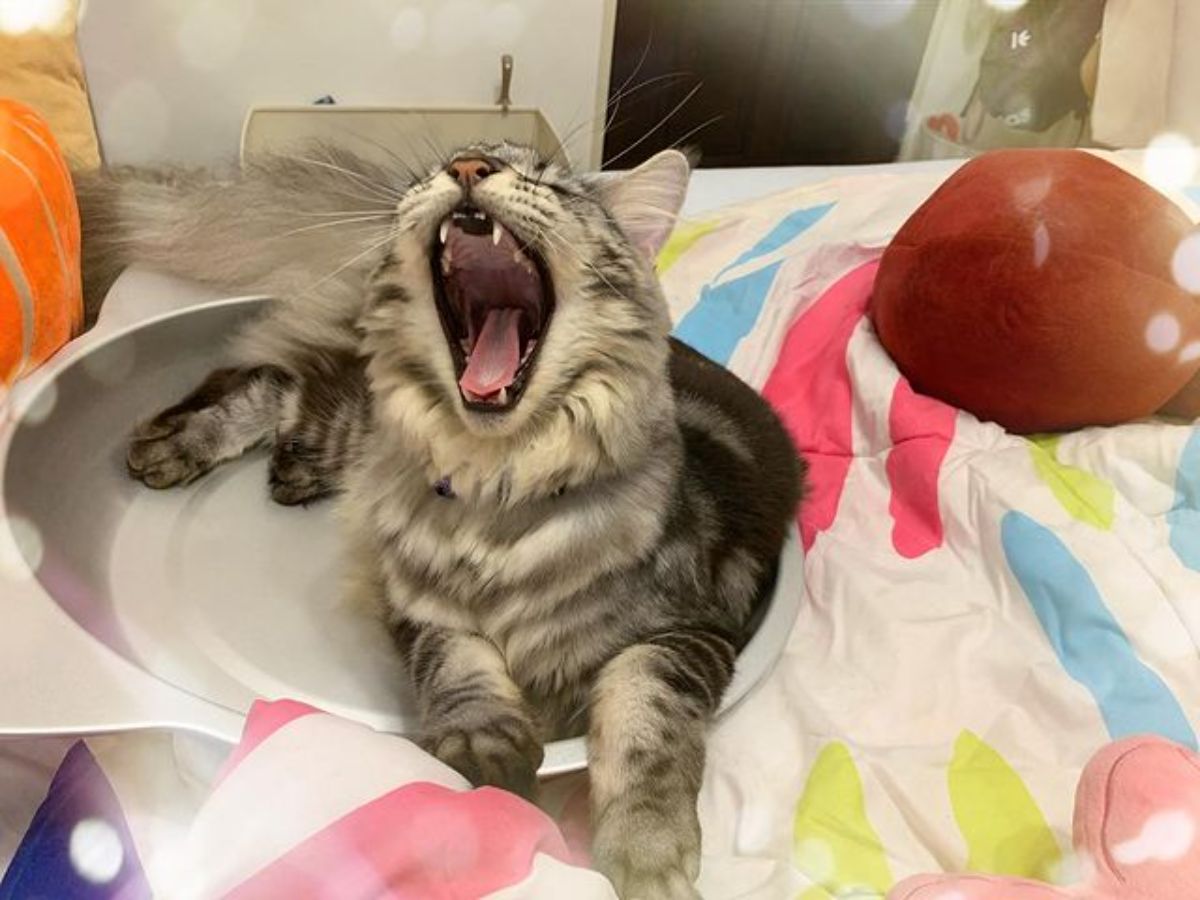 Is this kitty roaring? She's a ferocious lion! Or maybe she's just sleepy and wants a nap. My, what fangs do you have. But she doesn't want to bite anyone. She just wants a comfy bed. And she's found that on a birthday party table.
21. Silver Maine Coon with Corgi Friend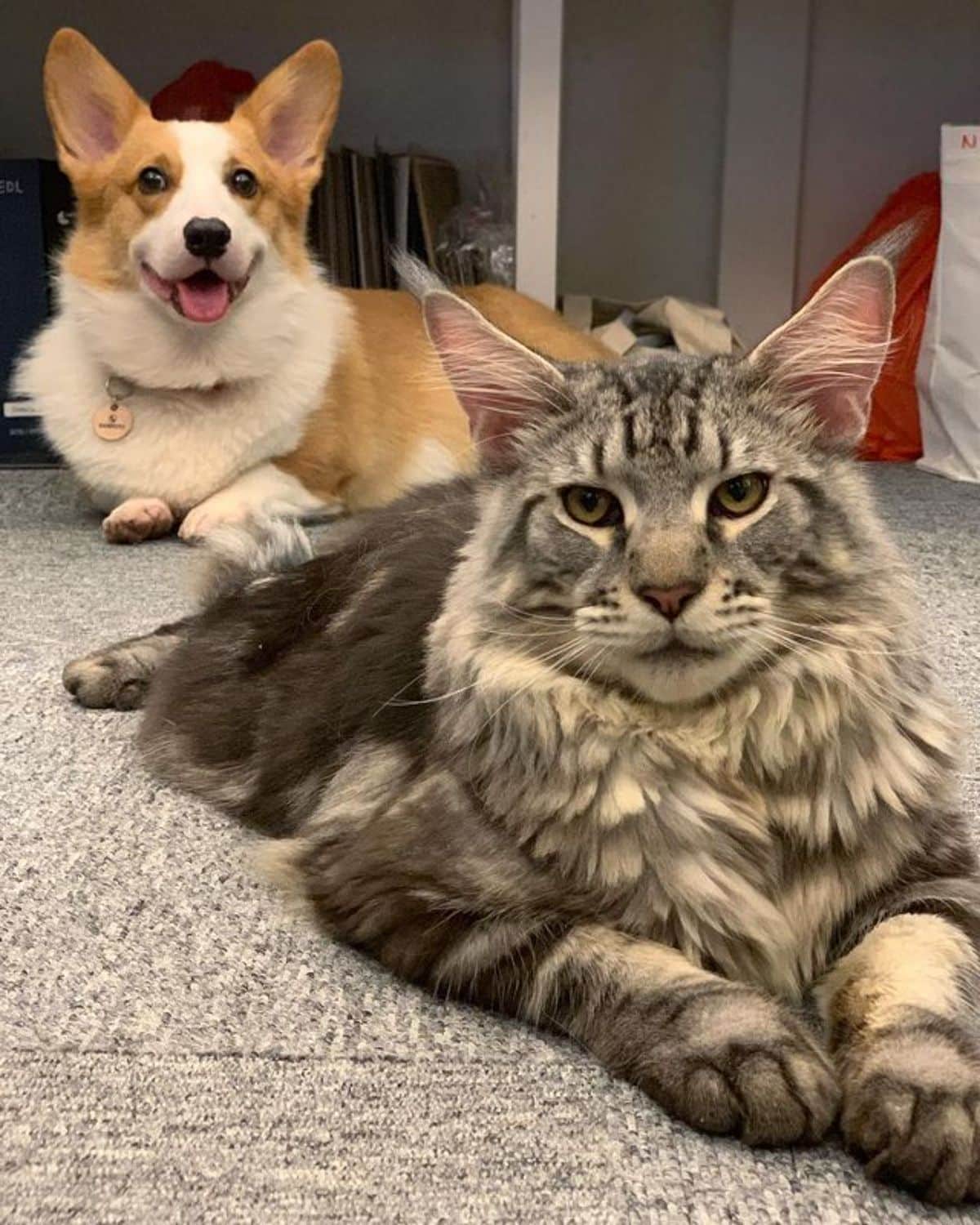 Here's a silver Maine Coon with the royal touch. How so? Well, she has a corgi in tow! Everyone knows that the corgi was Queen Elizabeth II's favorite dog breed. These sausage-y dogs are known for being spunky, but Orion, the cat, knows how to keep them in line.
So, there you have it! Now you have a list of 21 silver Maine Coons to admire.