Silver Tabby Maine Coon cats are among some of the most beautiful of their breed with their bright silver fur, fluffy manes, and intense dark stripes. This article will introduce you to the cute, funny, and dramatic silver tabby Maine Coons on social media.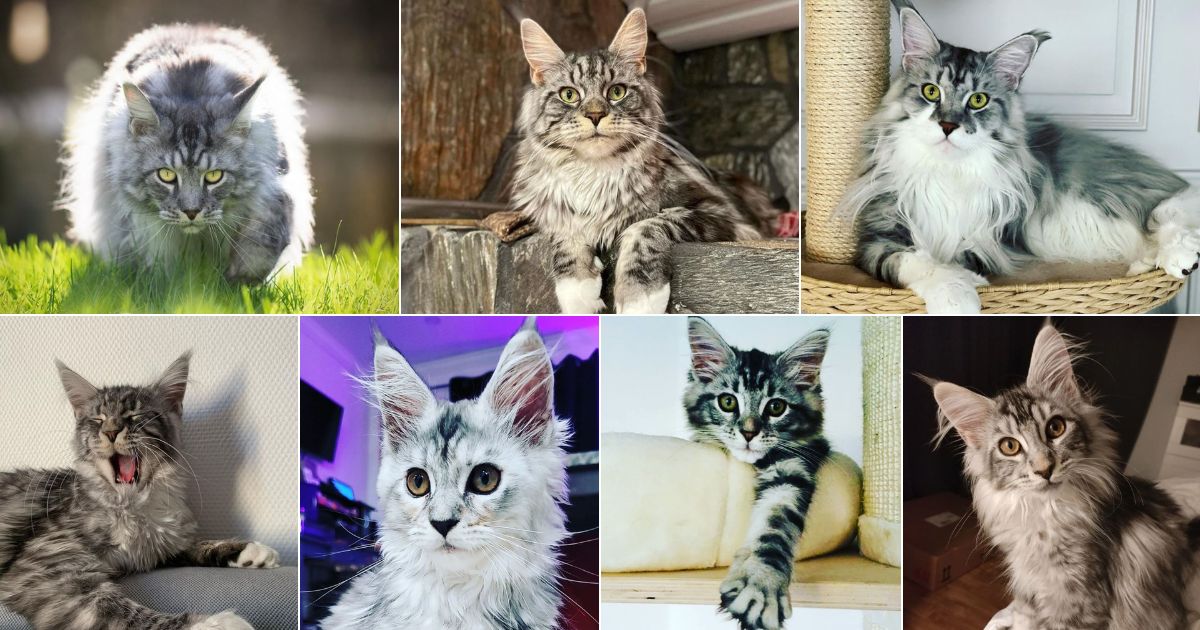 Jump to:
1. Mila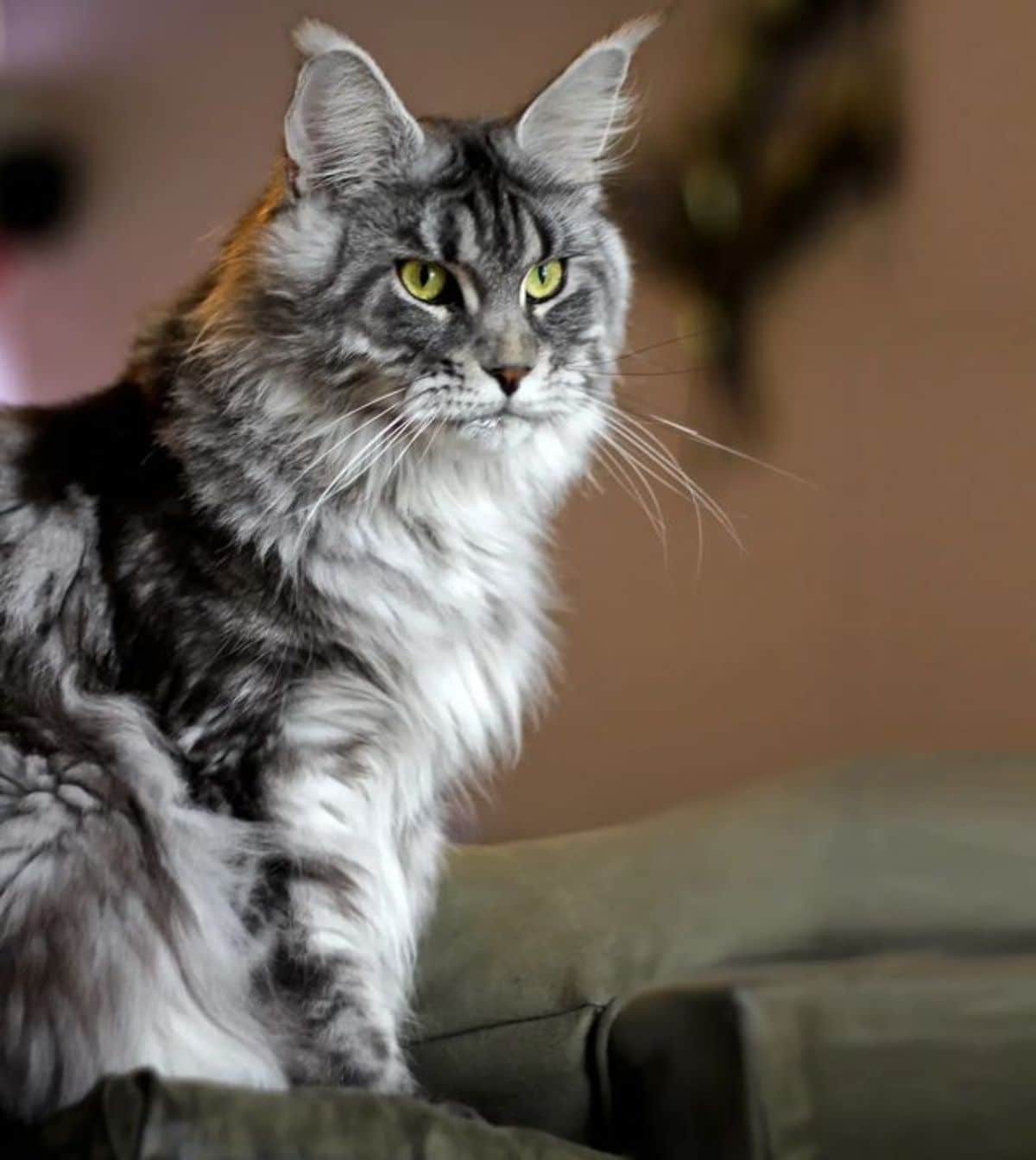 Mila is a classic silver tabby Maine Coon cat. You can find her and her cat-sibling Bandit on their Instagram profile posing, frolicking and enjoying life to the fullest at their Florida home. Many people believe Maine Conns are cold-weather cats, but this isn't entirely true.
They are all-weather cats whose bodies perfectly regulate their internal temperature. As a result, they can handle a warm day just as well as any cat, with fresh air, ample drinking water, and a shady relaxing spot.
2. Loki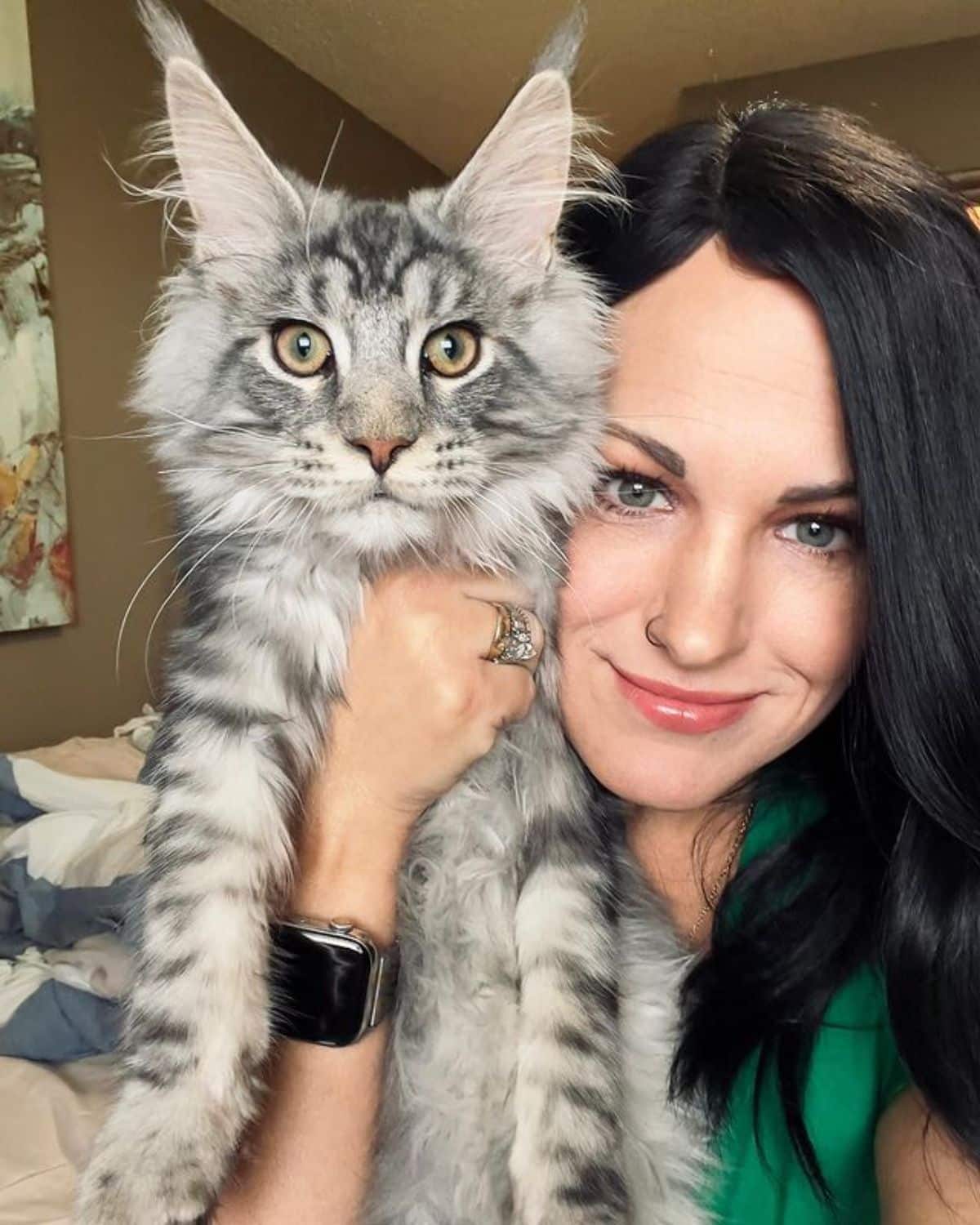 Loki and his owner are showing off their beautiful eyes! In this picture, Loki is five months old. Because Maine Coon cats are large, they often look more mature than other kittens growing up, but they still like to play and be silly, as any kitten does.
3. Kompis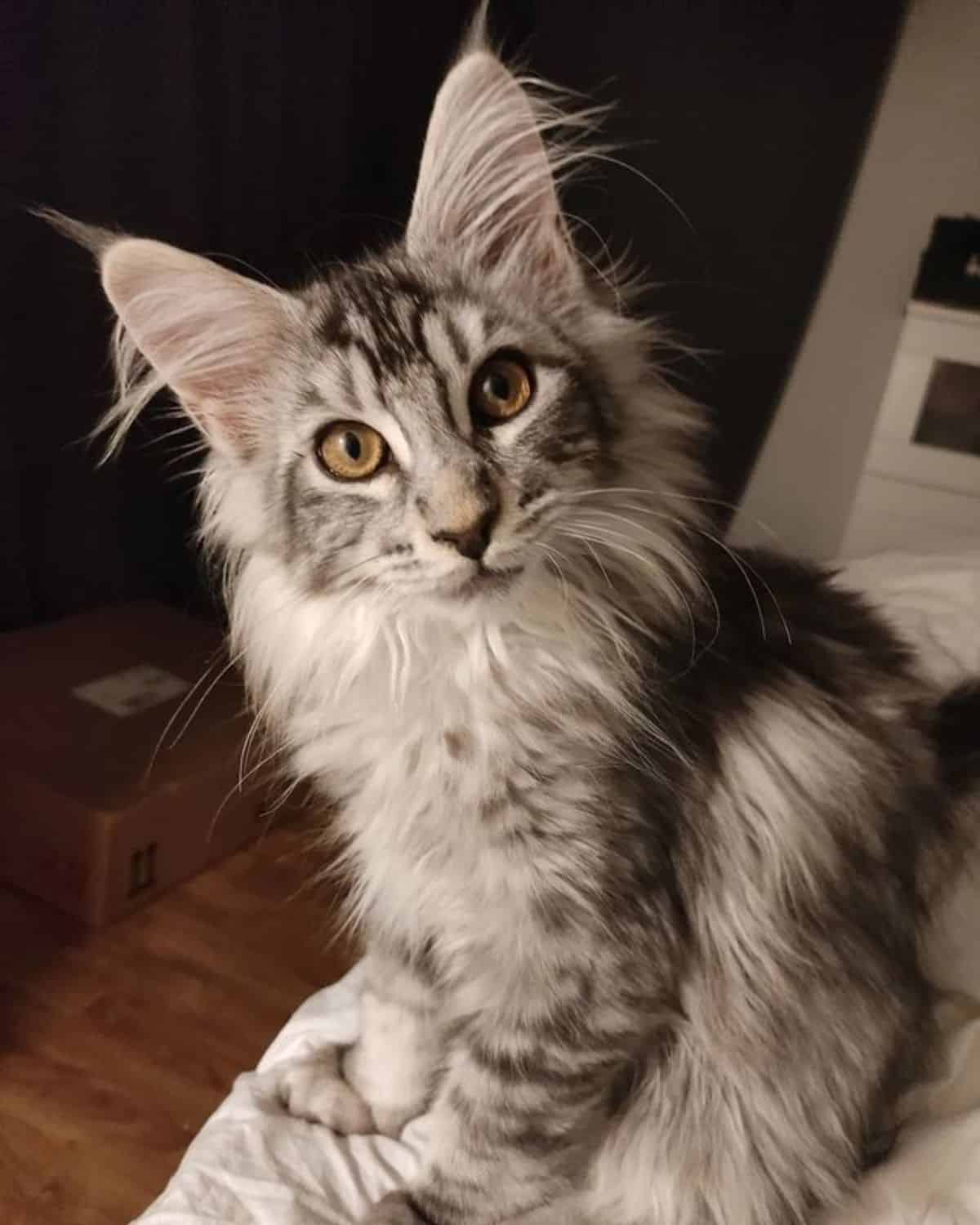 Kompis, the silver tabby Mine Coon cat, lives in Sweden. He has a more obvious striped pattern on his body than many Maine Coon tabbies.
Usually, their fluffy fur blurs the stripes on the body, so the tabby pattern is often visible only on the face. But as you can see, Kompis is covered in defined stripes from head to tail.
4. Scotty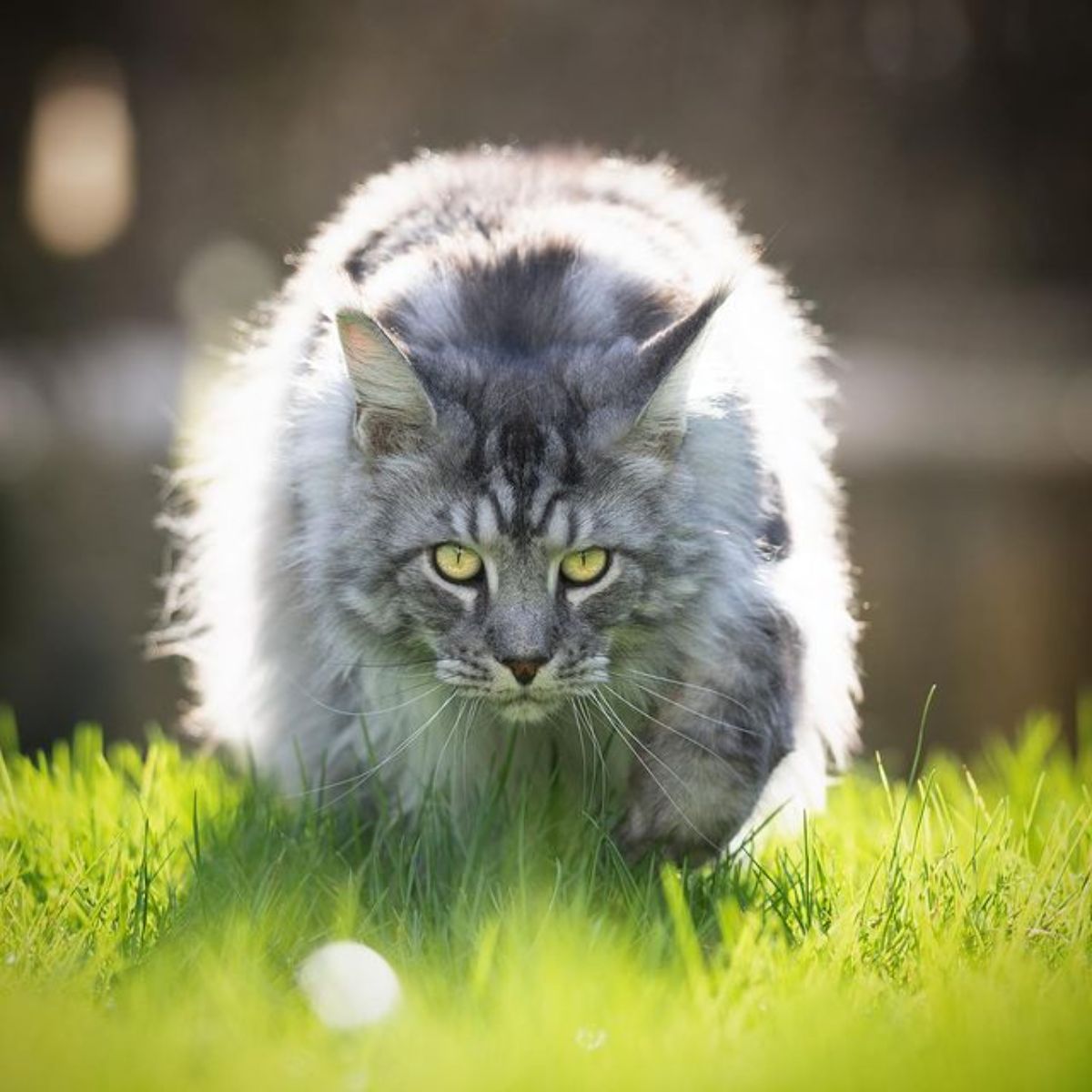 I wouldn't want to be a field mouse in this guy's sights! Scotty has the "stalking posture" down pat, and his large size makes him an even more imposing presence. Maine Coon cats' formidable looks often lead people to believe they are aggressive, but this isn't true.
By nature, Maine Coons are laid-back felines who are no more likely to start a fight than any other breed.
5. Lounging in The Sun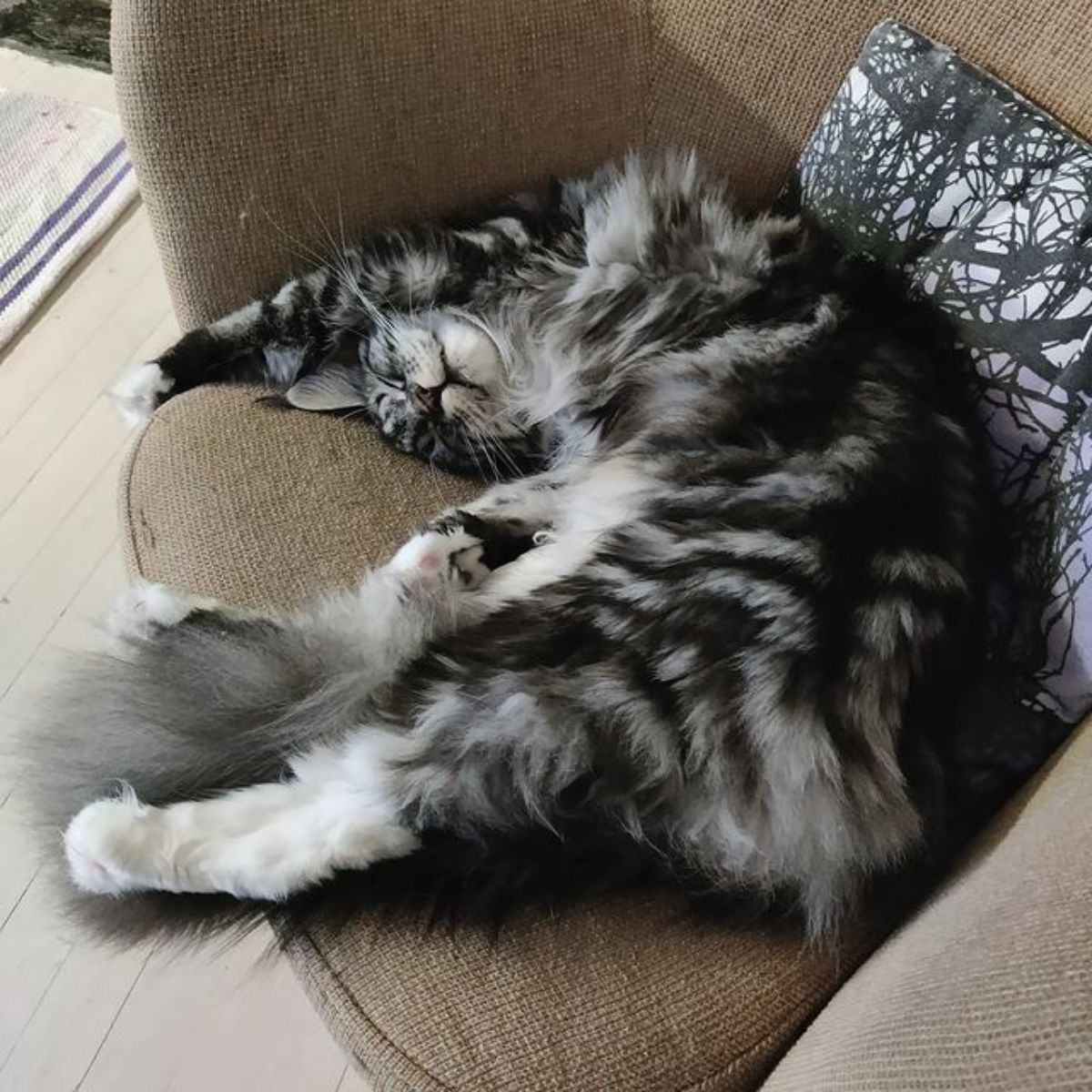 When cats relax, they really relax! This beautiful silver tabby Maine Coon is lounging on an outdoor chair, enjoying what appears to be a lovely day. By his partially turned-over posture, it would seem he is extremely comfortable with his surroundings and trusts his owners completely.
6. Reaching Kitten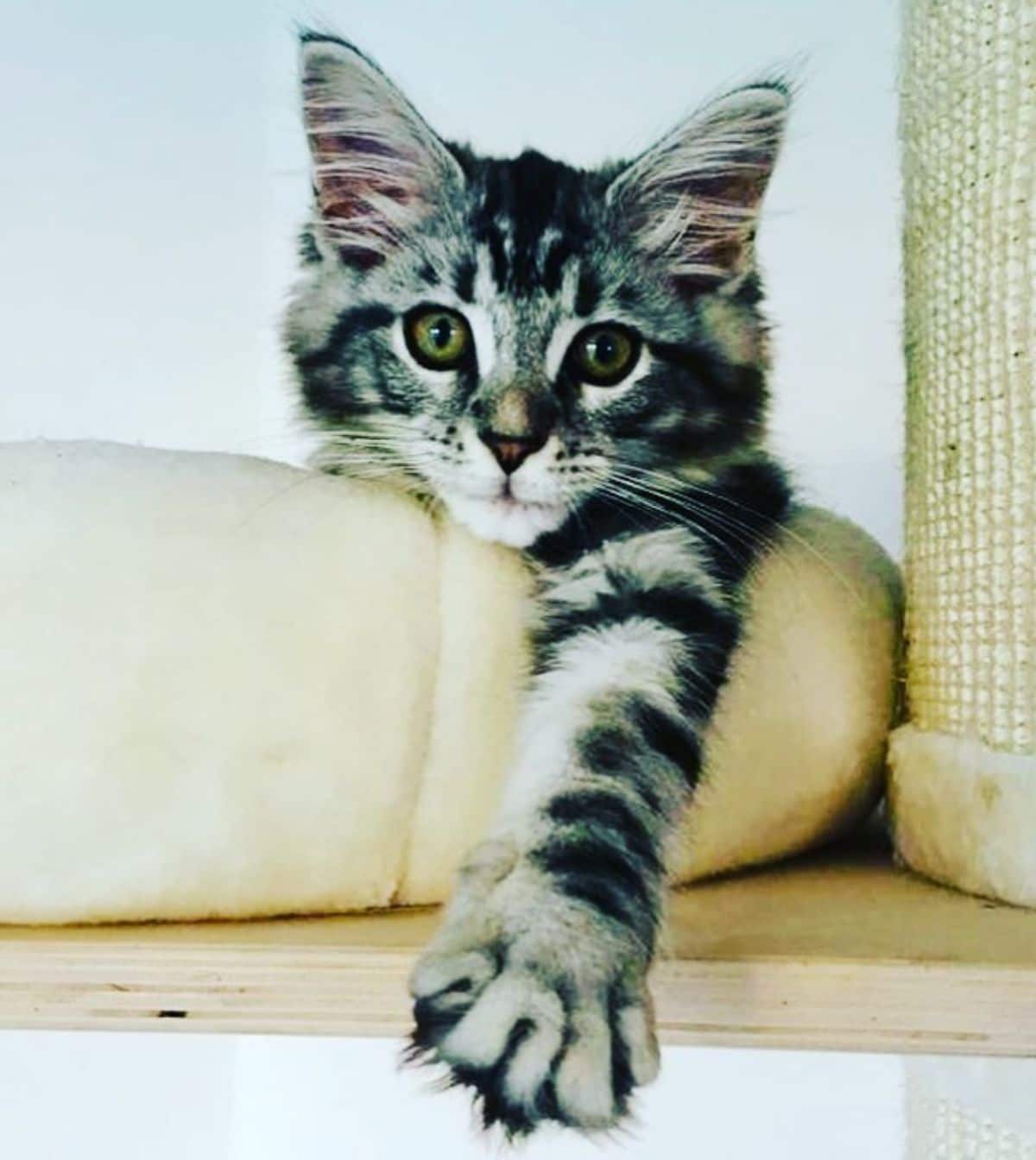 Silver Tabby Maine Coon cats have such striking looks. Even as a kitten, their dark markings and strong bone structure stand out from the crowd. This kitten - named Filly - looks like a model in front of the camera.
7. Milo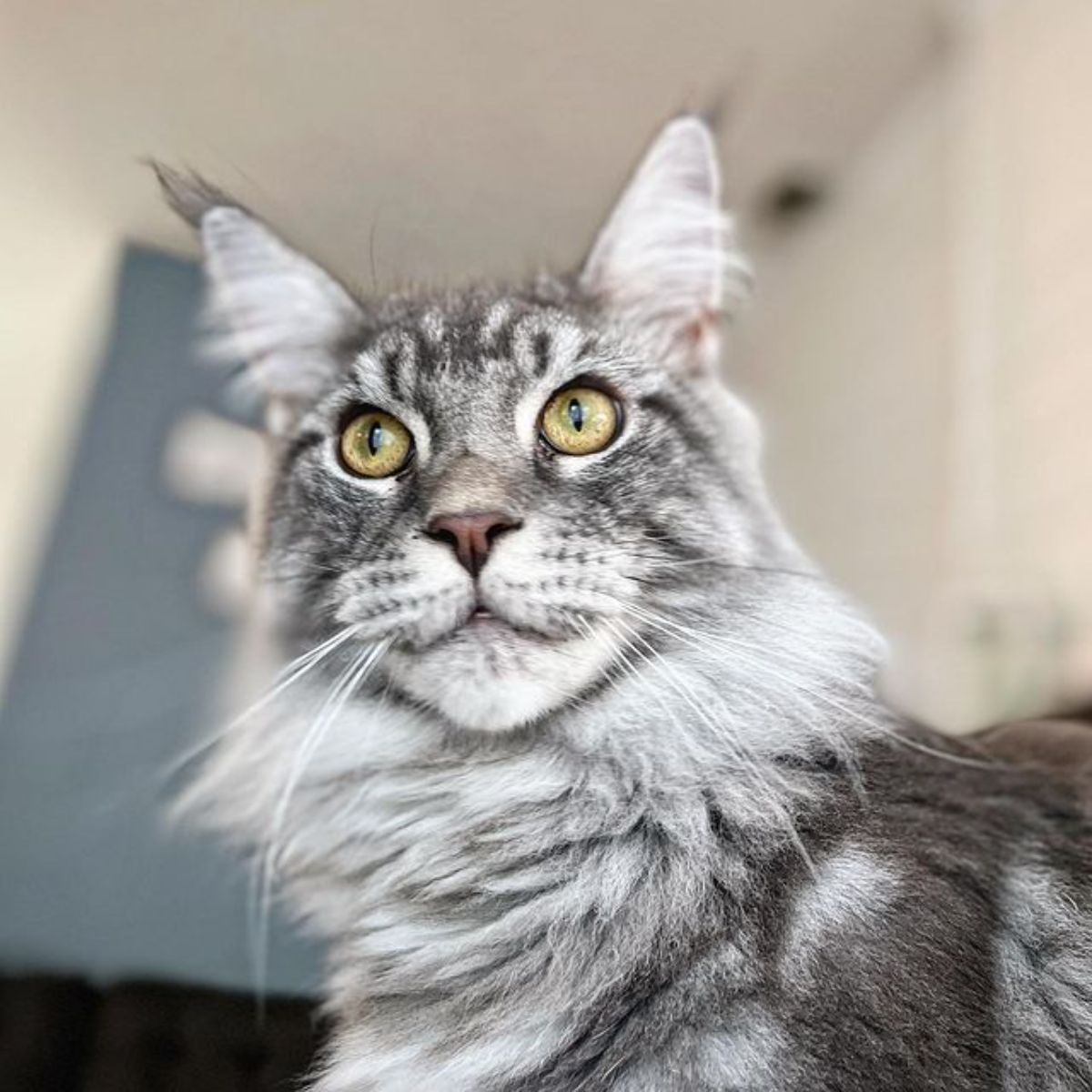 Oh, the intelligence and mischief in this silver tabby Maine Coon's face! You can only wonder what's going through his mind. Milo is part of the duo Malcolm and Milo. He and his friend - a blue Maine Coon - have never met a camera they didn't love.
8. Rustic Giant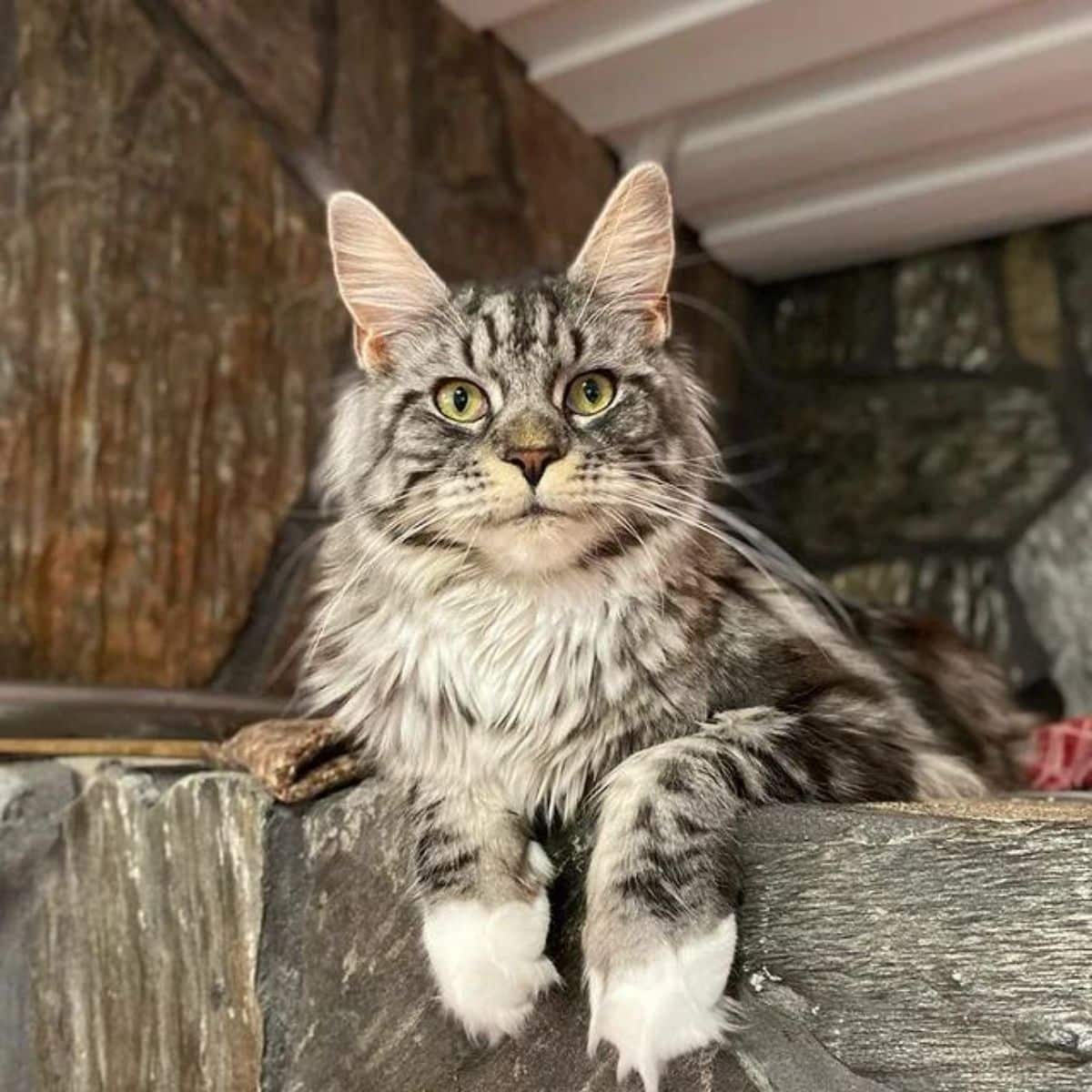 What's the perfect ambiance for a Silver Tabby Maine Coon cat? A rustic cabin in the woods, fireplace crackling, something yummy on the stove, and the sun shining on a lake outside the window. That's the vibe this guy gives off. All he needs is a lumberjack hat, and the look will be complete!
9. Counter Cat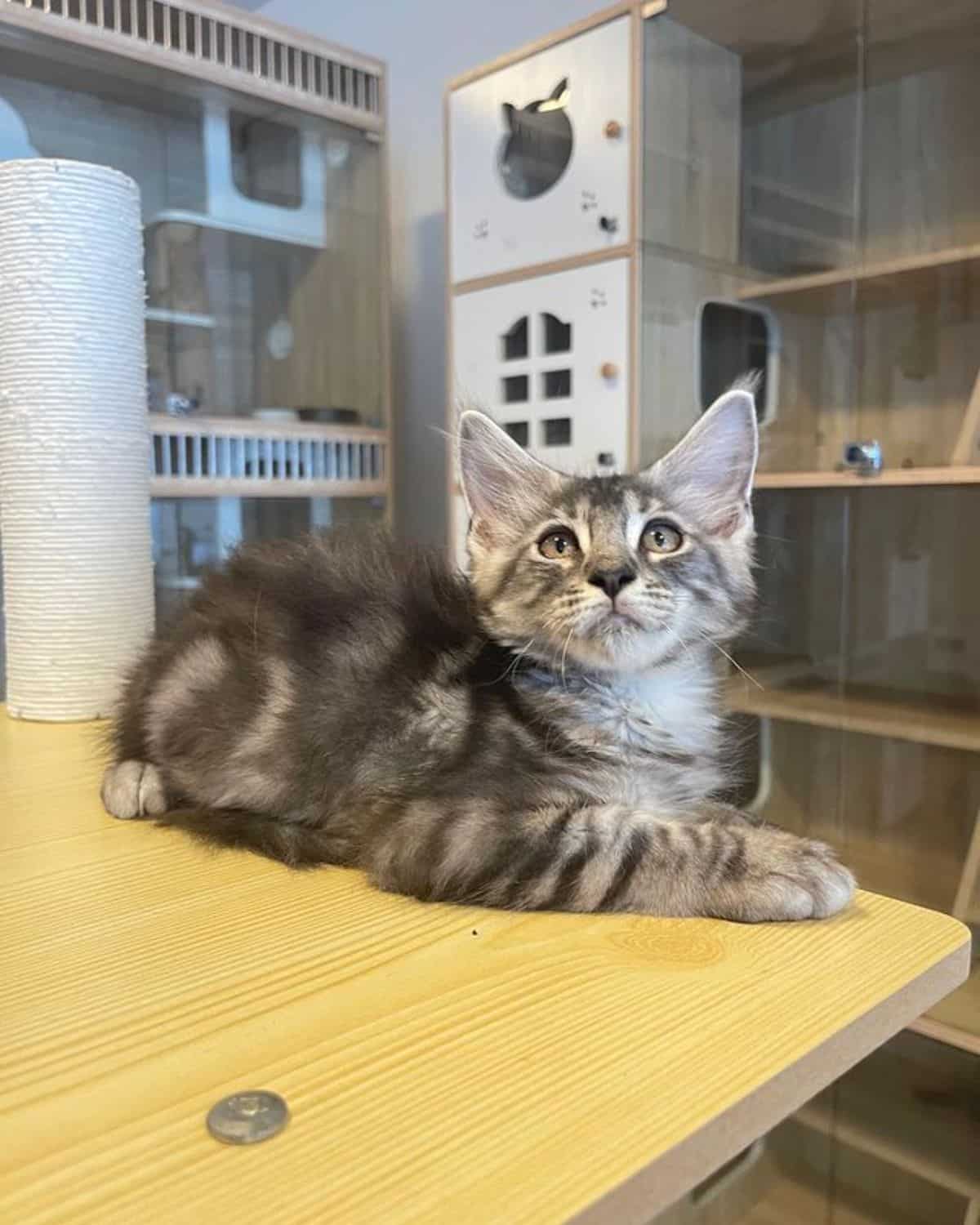 Some cats like to be where the action is, whether it's a kitchen, living room, or office, so they can be around the people they love. This adorable little SIlver Tabby Maine Coon cat is looking up trustingly at her owner - or whoever is taking her picture. She seems so content on her counter.
10. Luscious Locks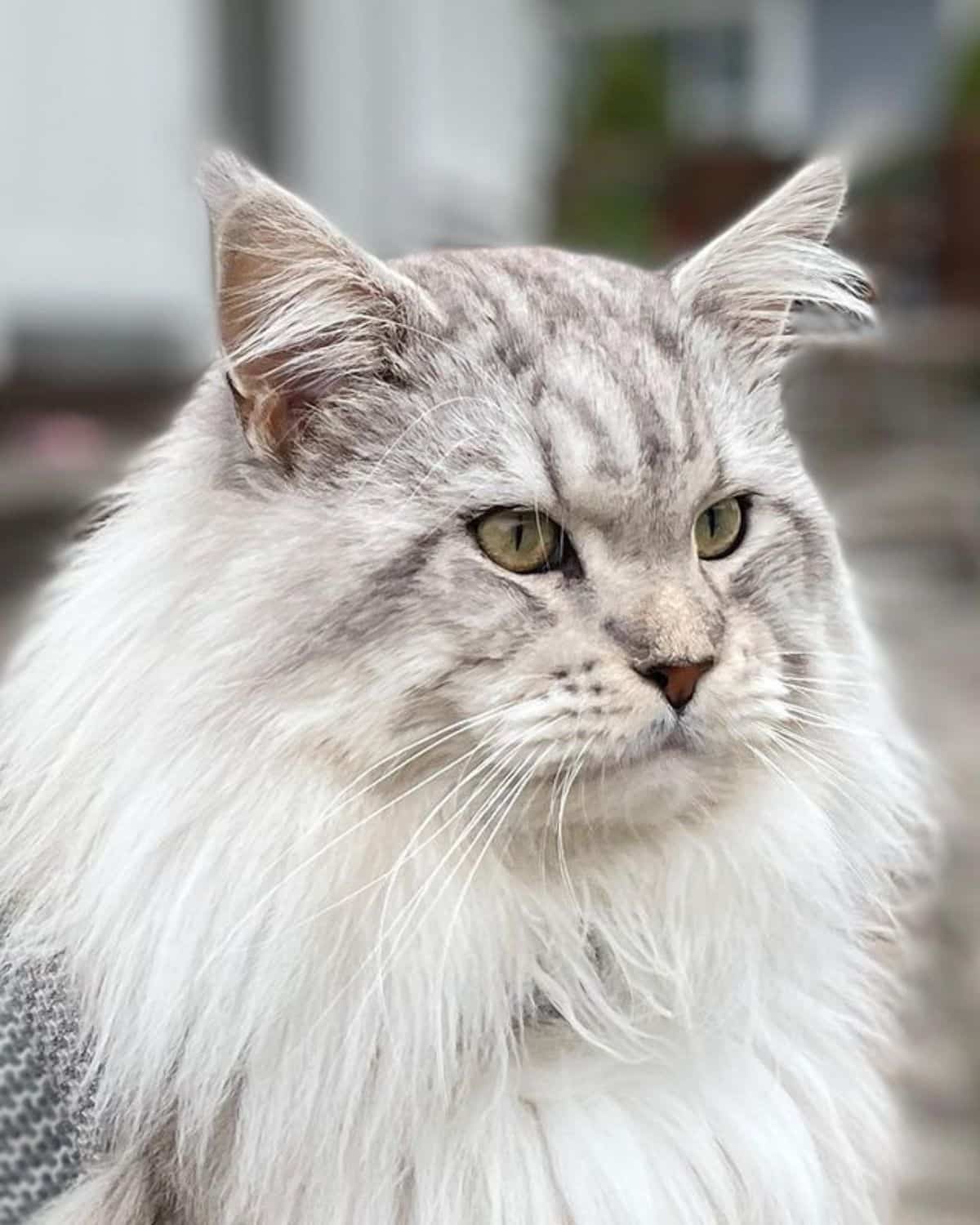 This cat really struck gold - or rather silver - in the fur department. The long, luxurious fur around his neck and chin looks a lot like a long silvery-white beard. He could easily play Santa at your next holiday party. And his regal postures and graceful movements make him look like a tiny, white tiger.
11. Platinum Baby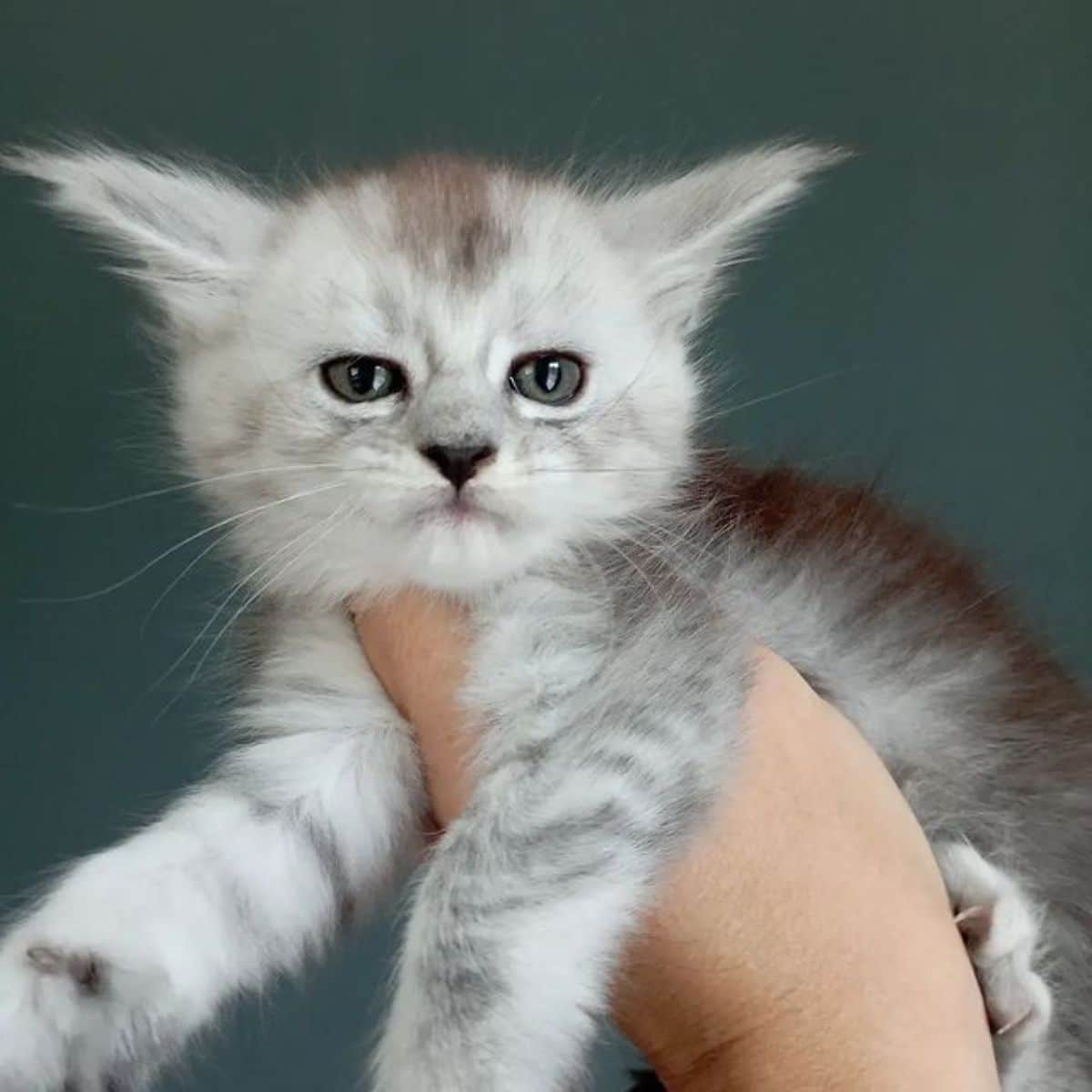 Some Silver Tabby Maine Coons start off with lighter, almost brownish stripes when they're babies but end up with bold, black stripes when they grow up. This might be the case for this kitten, whose subtle striped pattern is just developing.
12. Perky Ears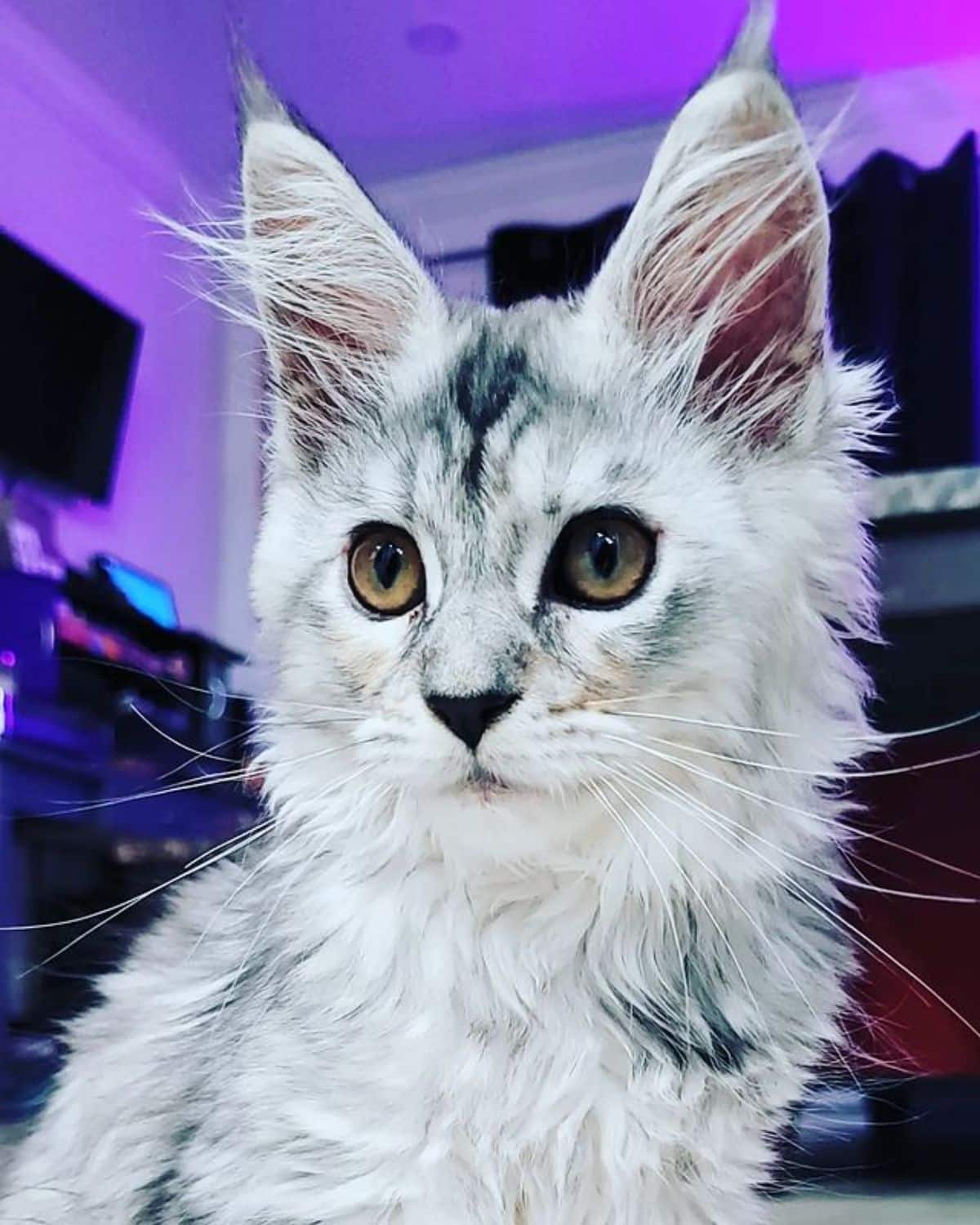 One of the most notable things about Maine Coons are their prominent ears with points of hair right at the tip. This lovely silver tabby Maine Coon, named Indigo, has some very perky ears that go perfectly with its large, beautiful eyes.
13. Three Musketeers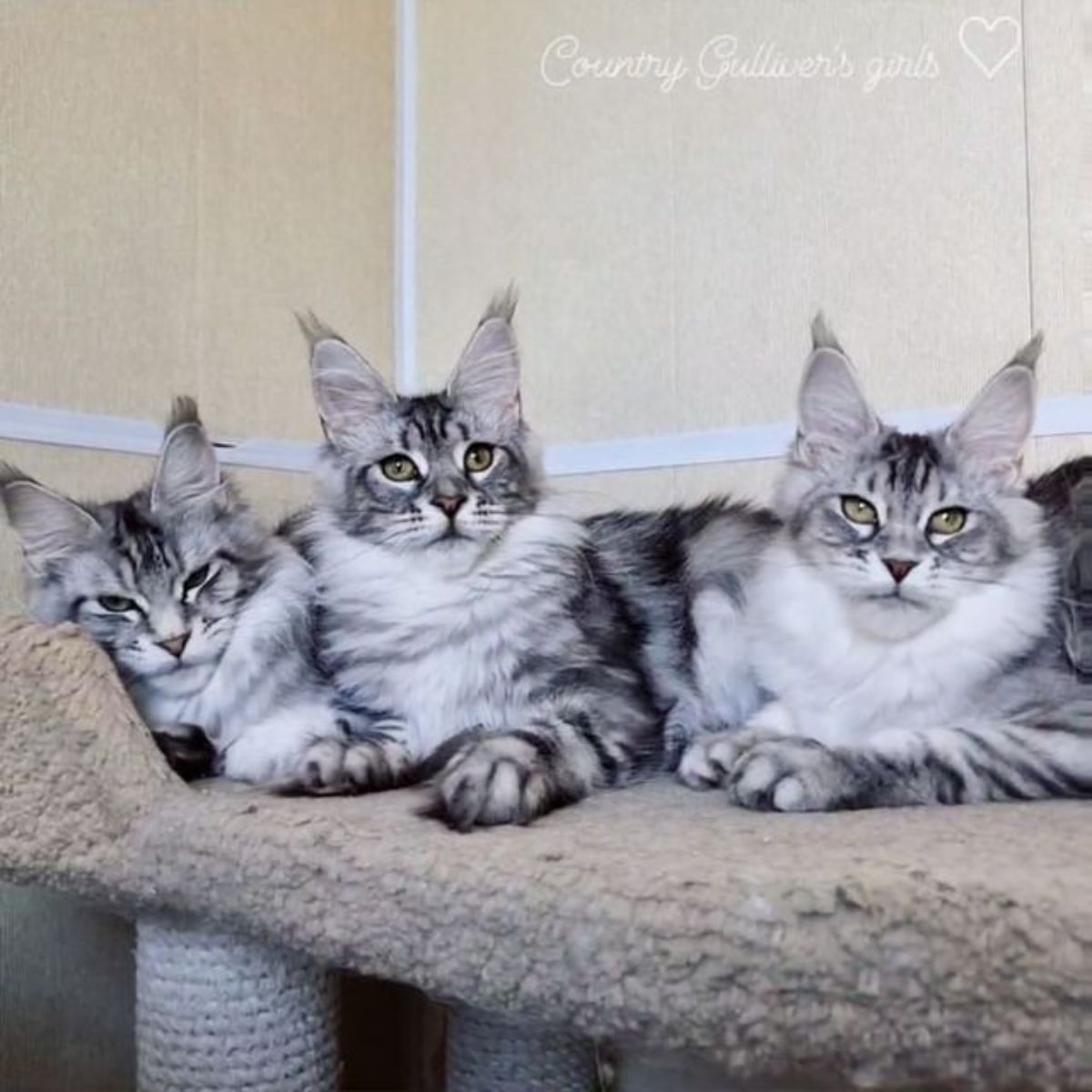 These gorgeous Maine Coon Silver tabbies are siblings from the same litter. They look almost identical, but if you look closely, there are some unique facial expressions. They've all gone to loving forever homes, and we're sure their families are absolutely in love.
14. Sleepy Boy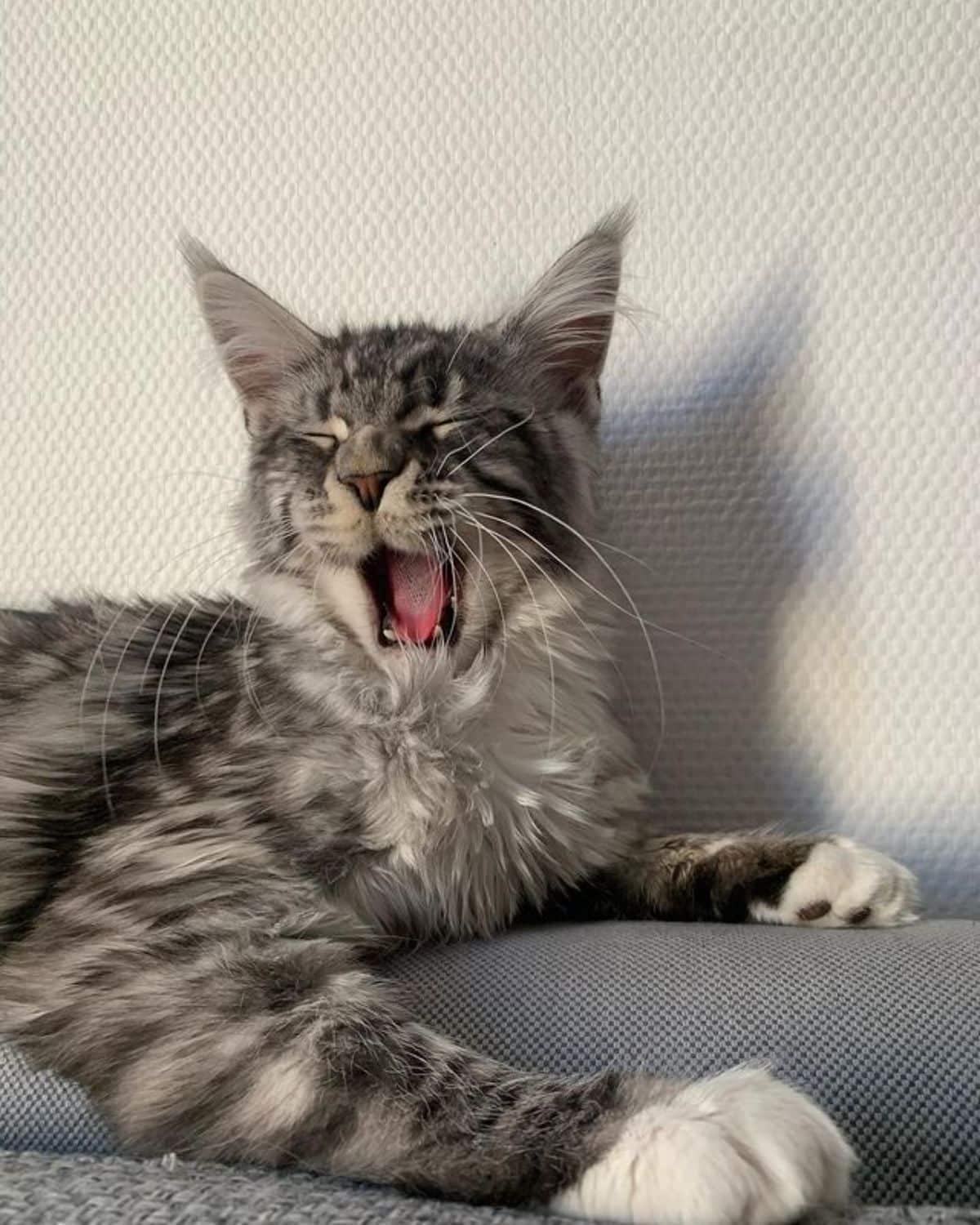 This silver tabby Maine Coon has the right idea. What better way to pass a lazy weekend afternoon than to have a long, peaceful nap?
15. Thoughtful Gaze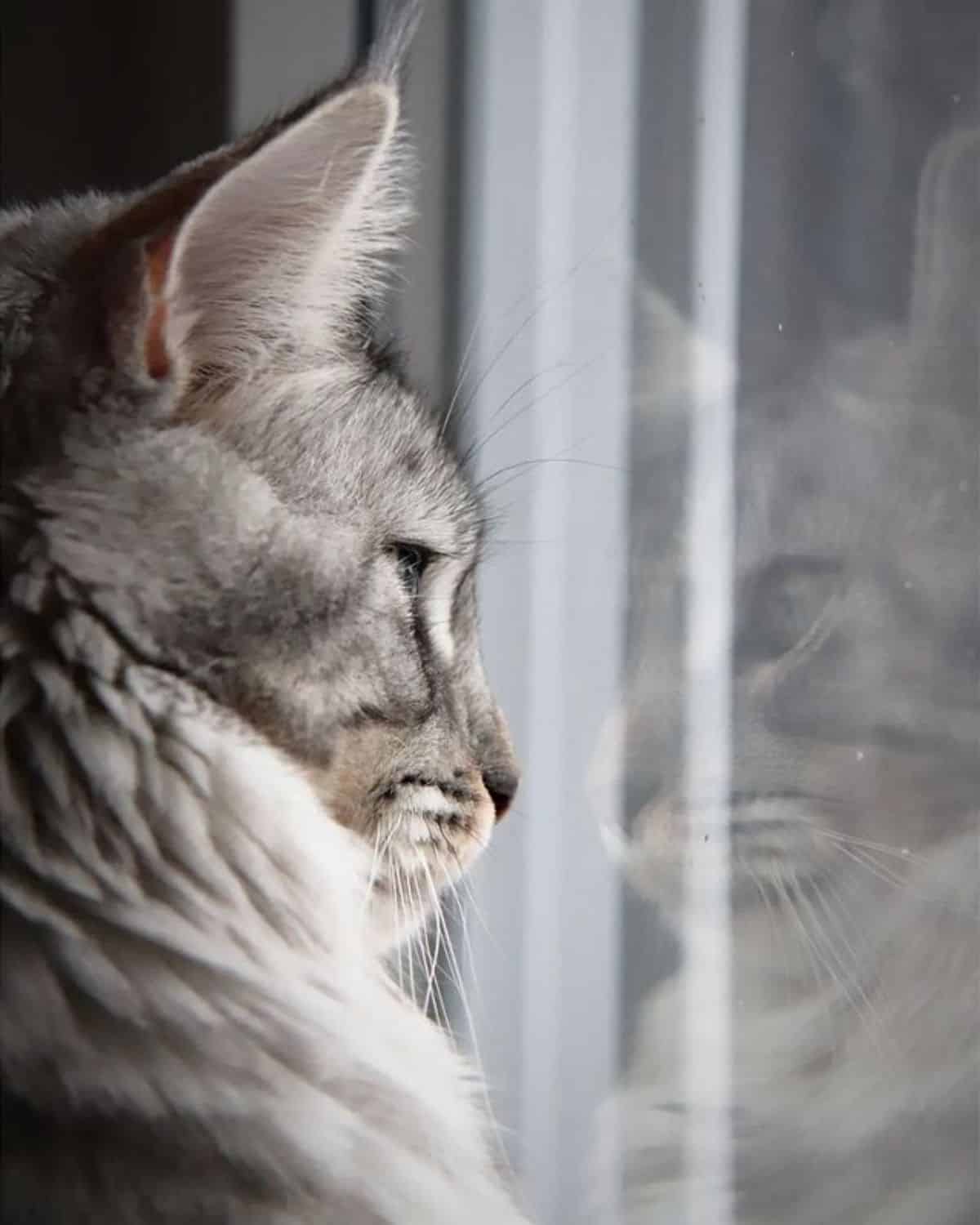 This lovely photo shows a side profile of a thoughtful silver tabby Maine Coon cat gazing out the window. Maine Coons are curious cats and often like to sit on windowsills, observing the animals outside and all the excitement going on in the streets.
Whether you live in the city or the country, something fascinating is always going on that can entertain your Maine Coon.
16. Maru Yuki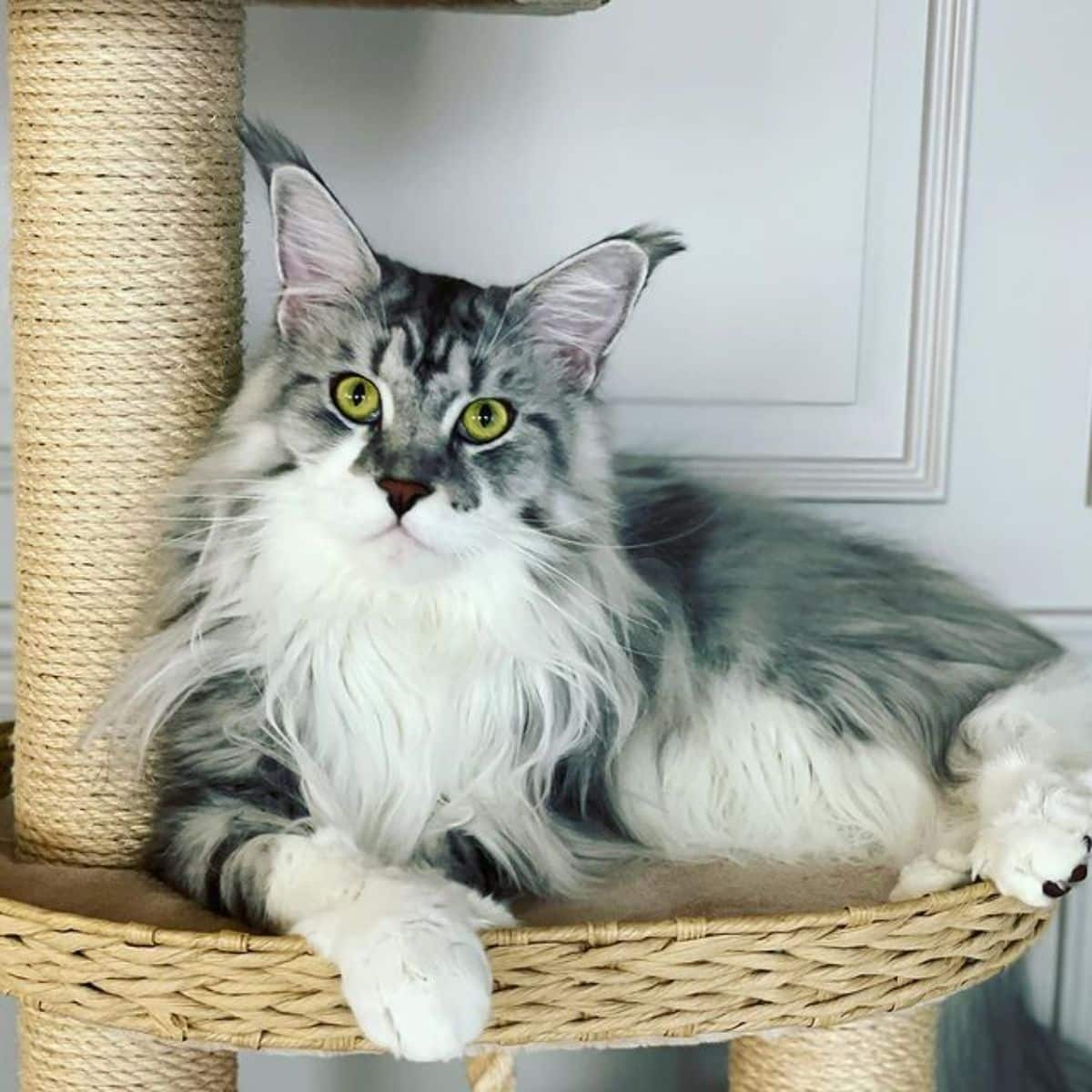 This cat has the most striking color contests! Between the white mane, the silver tabby fur, the bright grass-green eyes, and the black-outlined red nose, she looks more like a painting than a real cat.
17. Holiday Cheer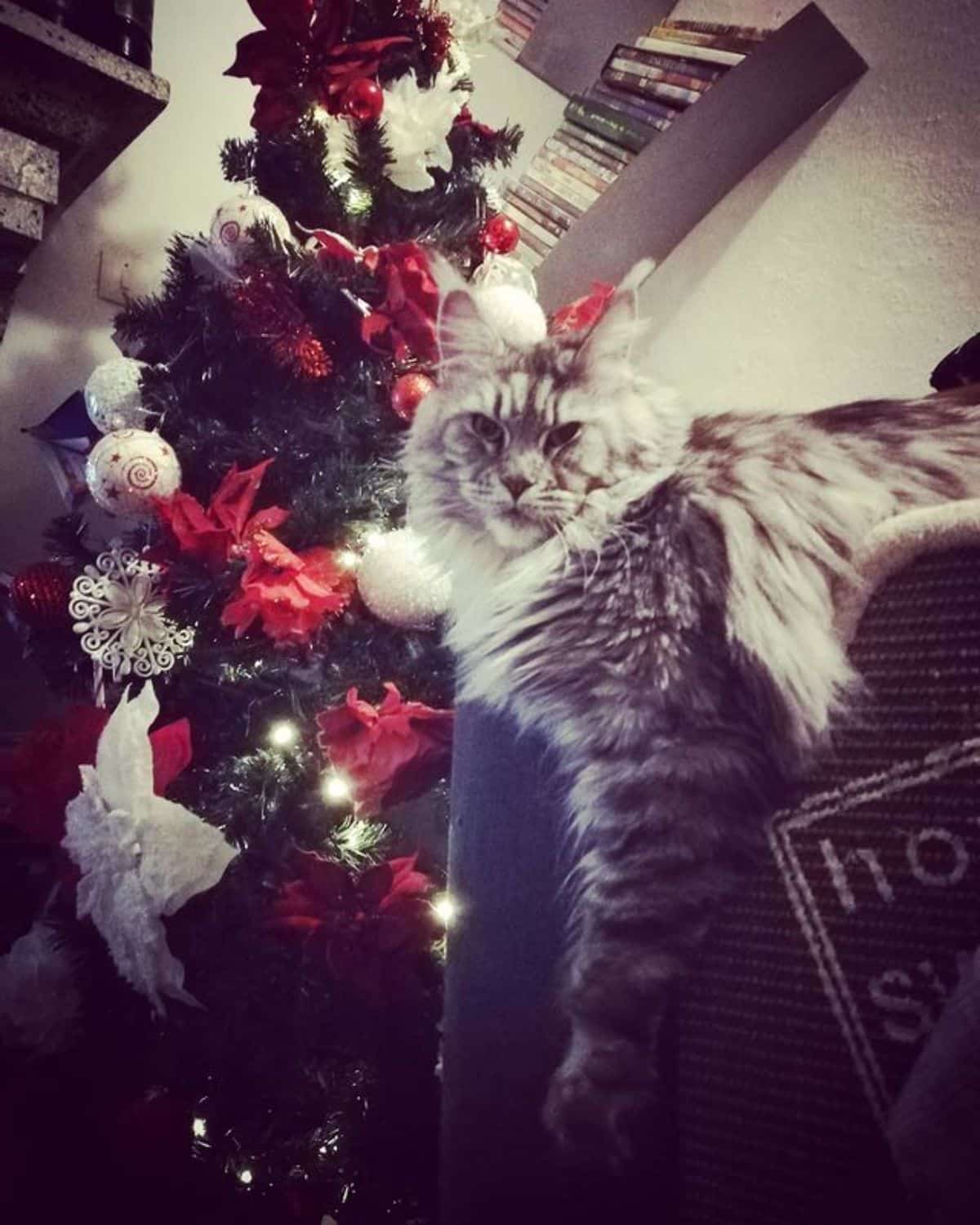 This Silver Tabby Maine Coon is ready to kick off the holiday season. Not all cats like this time of year, though. Some cats get stressed out during the holidays when there's an ongoing stream of people coming through the house or if their owner leaves them to go on a trip to see family.
Be gentle with your cat during this busy time. Give them lots of petting and love, and ensure they have a quiet space when things get overwhelming.