Silver tabby pattern Maine Coons are the sweetest pets. They're very friendly and love to cuddle. Since they're so large, you'll love the feeling of a Maine Coon resting on your lap. If you're looking at Maine Coons, consider those with beautiful silver tabby patterns.
Jump to:
Silver Tabby Maine Coon Patterns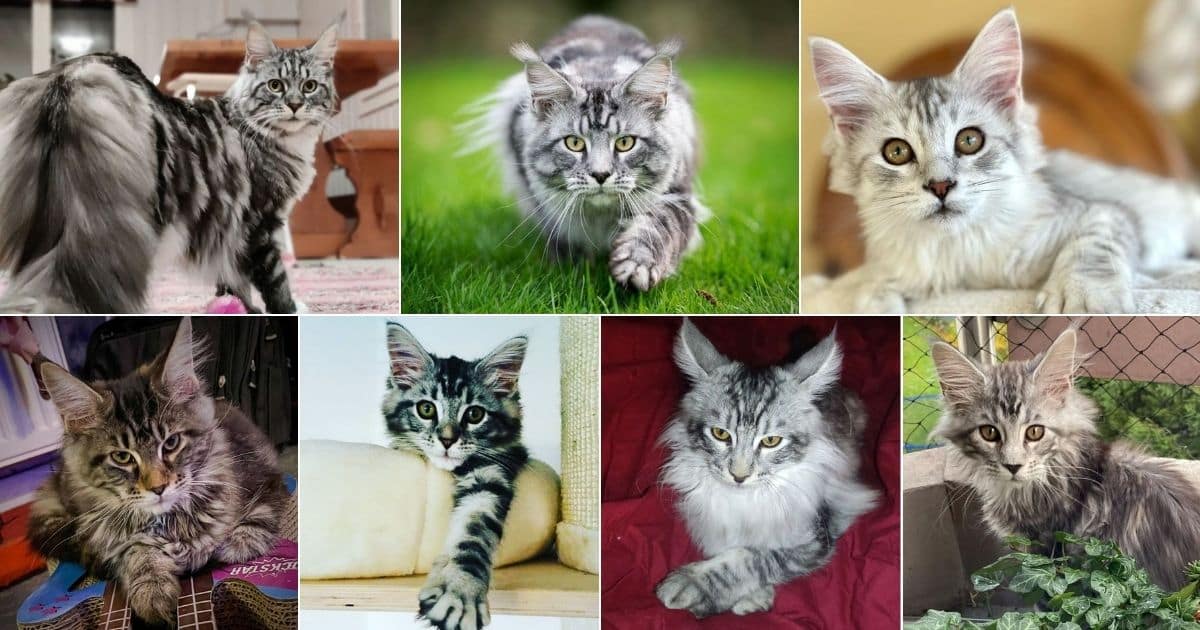 Silver tabby Maine Coons have a smoke coloration with hints of cream, white, and black. Since the hair roots are silver, you can also have a Maine Coon cat with a blue, red, or black tint. In addition, they have unique markings around their eyes and cheeks, giving them adorable faces.
Classic Silver Tabby
Classic silver tabby Maine Coon cats have swirl patterns on their bodies. It gives them a marbled appearance, which pairs perfectly with the "M" shape on their foreheads.
Mackerel Tabby
Mackerel tabby Maine Coons have parallel stripes on their sides. The markings resemble that of a mackerel fish, which is how they got their name. Like other tabby pattern Maine Coon cats, mackerel tabbies have an "M" on their foreheads.
Spotted Tabby
Spotted tabbies resemble classic or mackerel Maine Coons, but the pattern gets broken across their body. So instead of presenting as stripes or swirls, the designs look like sports of color.
Ticked Tabby
Ticked tabbies don't have the apparent markings like classic or mackerel Maine Coons. Instead, the pattern is on each hair. The agouti gene suppresses hair pigment, so only parts have shading. As a ticked tabby matures, the color may disappear, making it look like they only have tints at the tip of each strand.
The Most Adorable Silver Tabby Pattern Maine Coons
Check out the silver tabby Maine Coon patterns in action. These sweet pets have coats as unique as their personalities.
1. Scotty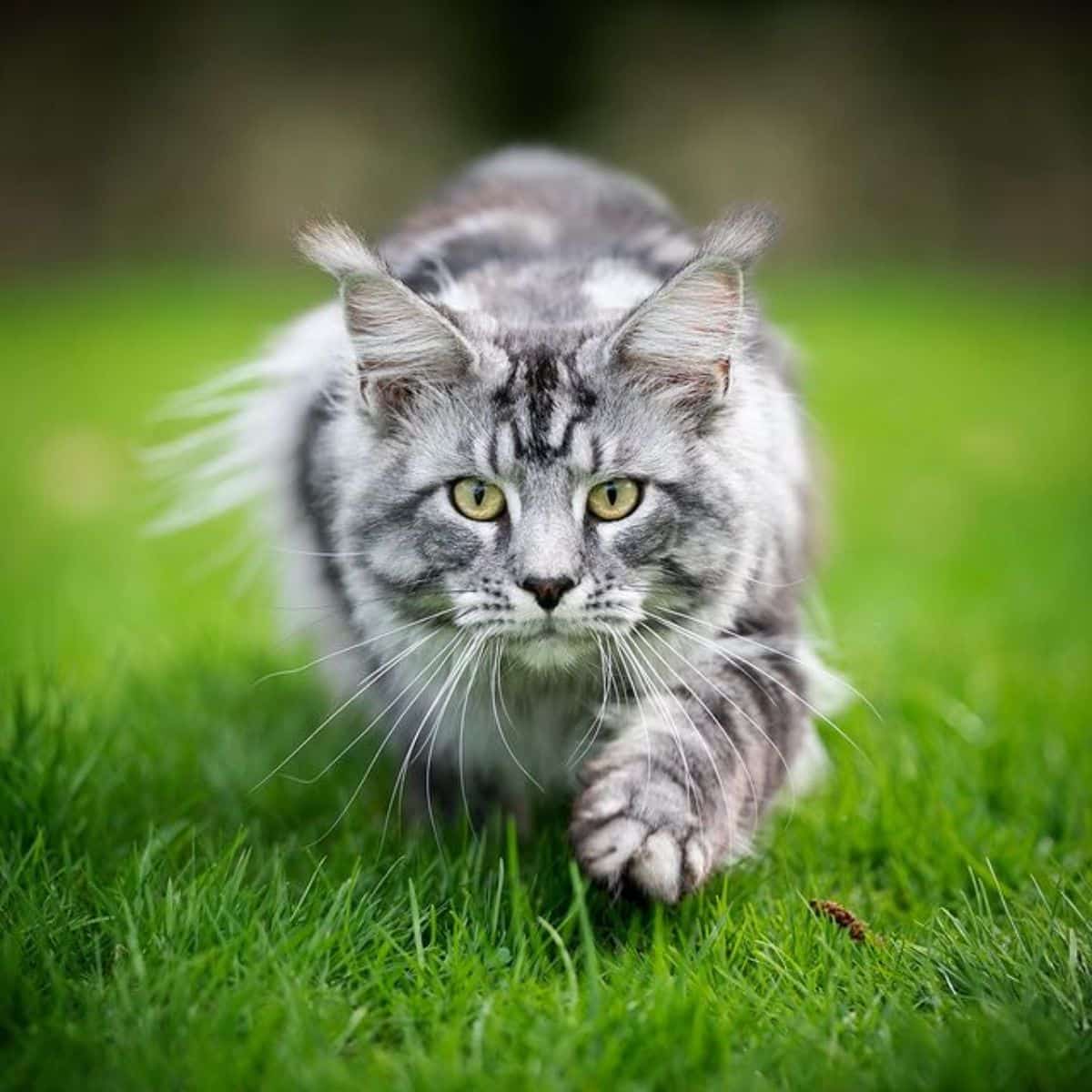 Scotty is a beautiful silver tabby Maine Coon who loves exploring the outdoors. He lives with several other Maine Coon cats because his owner runs the Maine Coon Cattery of Kelloselka.
2. Cooper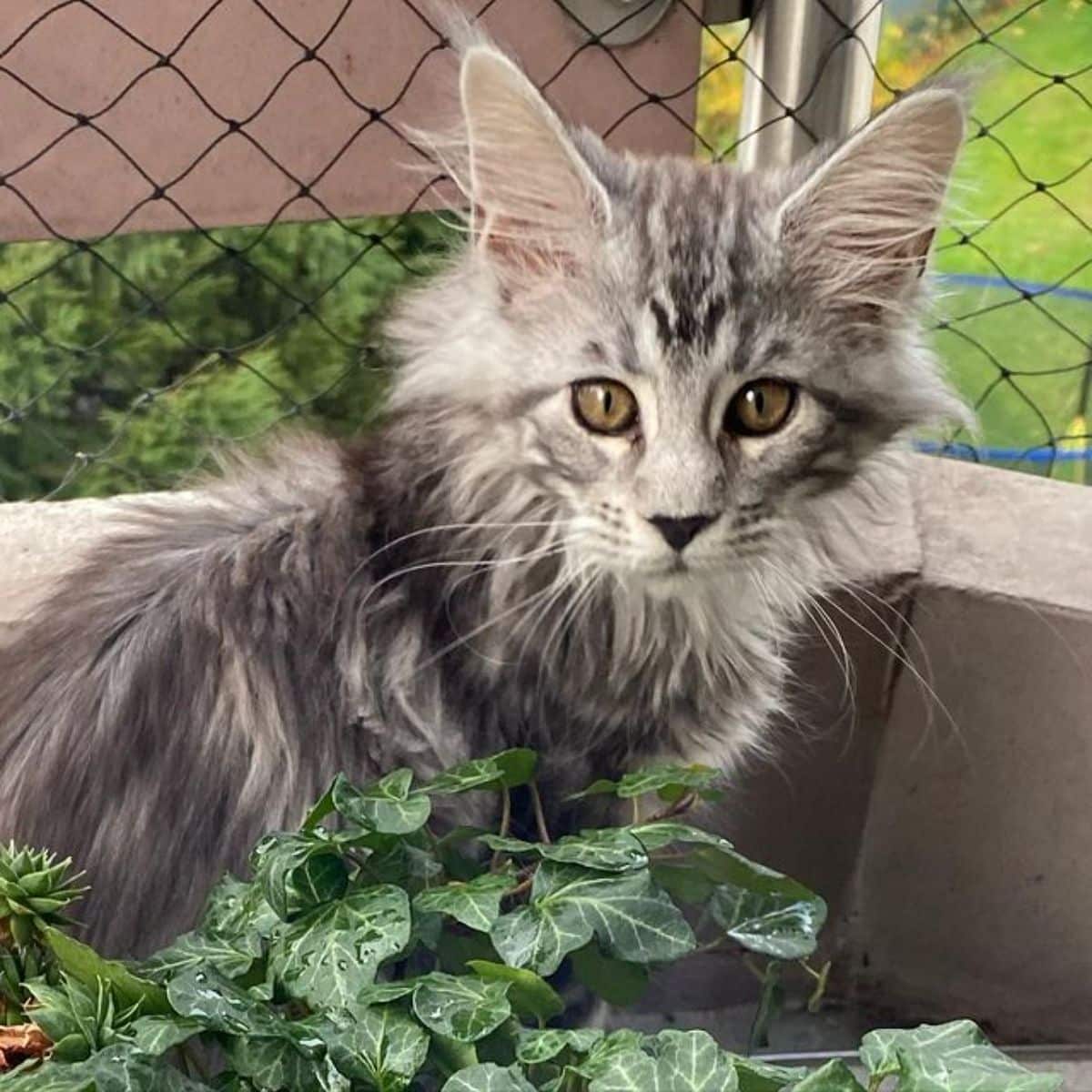 Cooper loves getting spoiled. He's also mischievous and likes shredding toilet paper off the roll. However, you can often find him relaxing on his cat tower or in fluffy towels and blankets.
3. Filly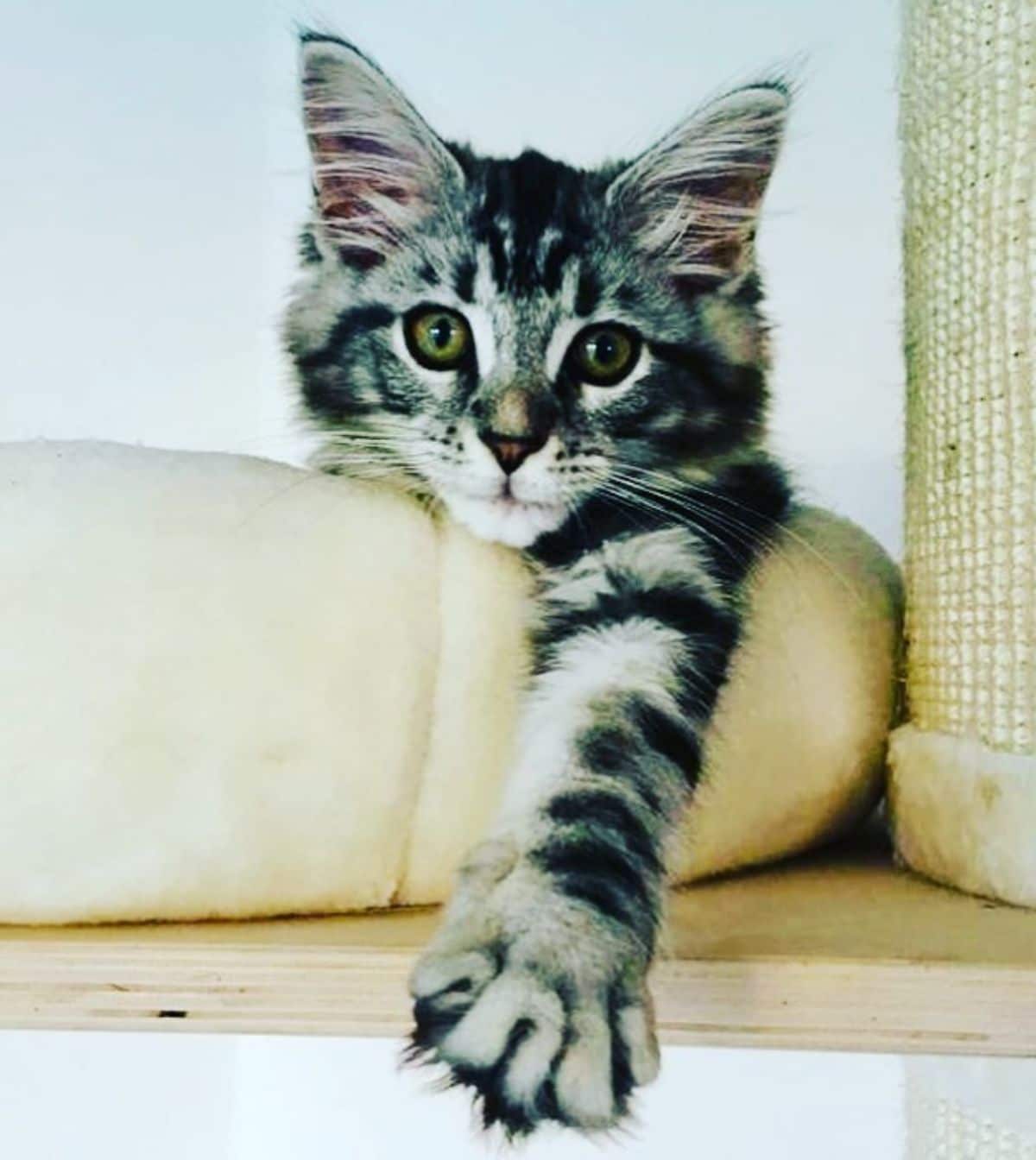 This stunning Maine Coon has an exaggerated mackerel pattern it likes to show off. You can see stripes coming from its eyes, on its cheeks, and down its stretched-out legs.
4. Elsbeth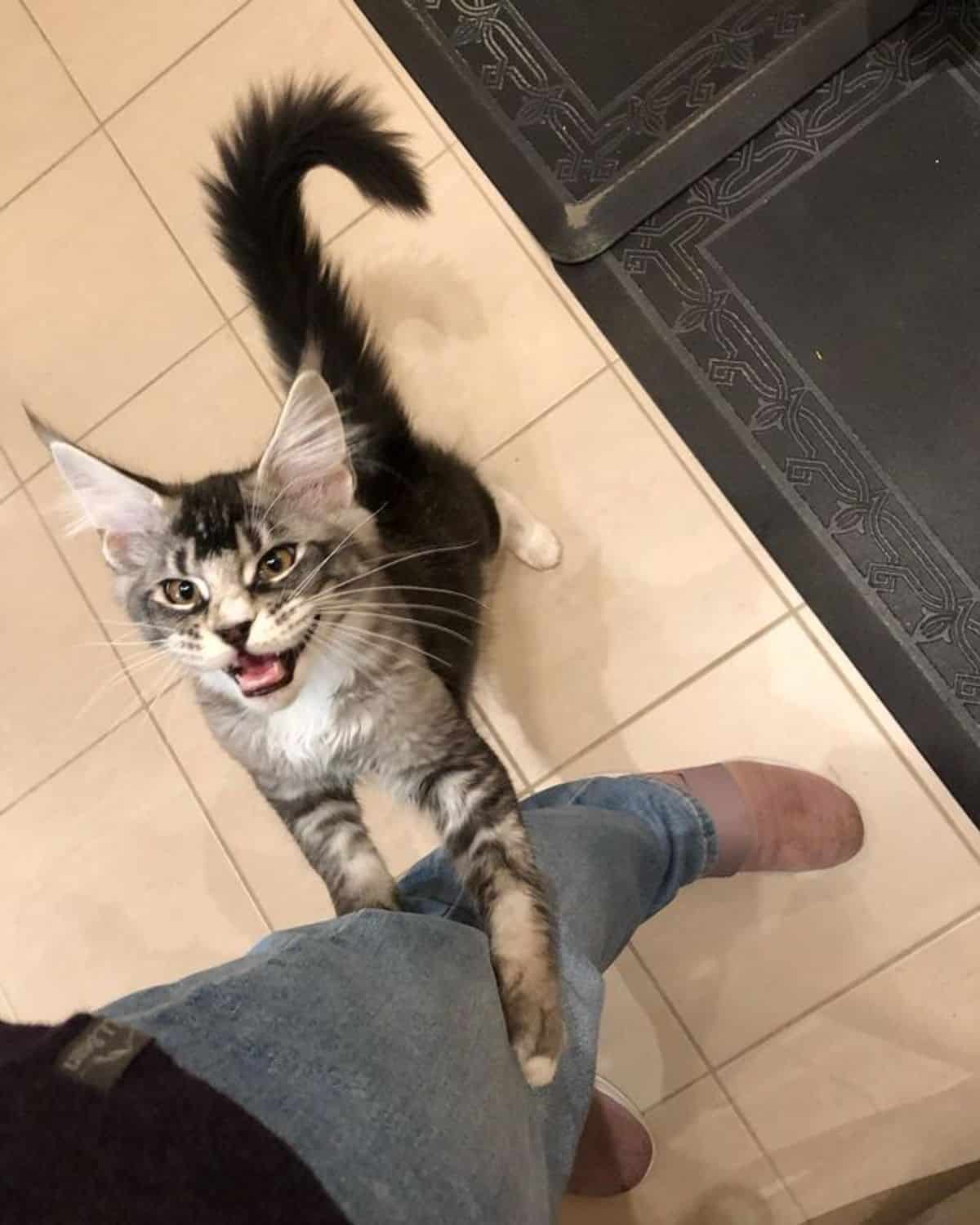 Even though Elsbeth's owner also adopted her brother, William Wallace, this girl loves attention and isn't afraid to ask for it.
5. Malia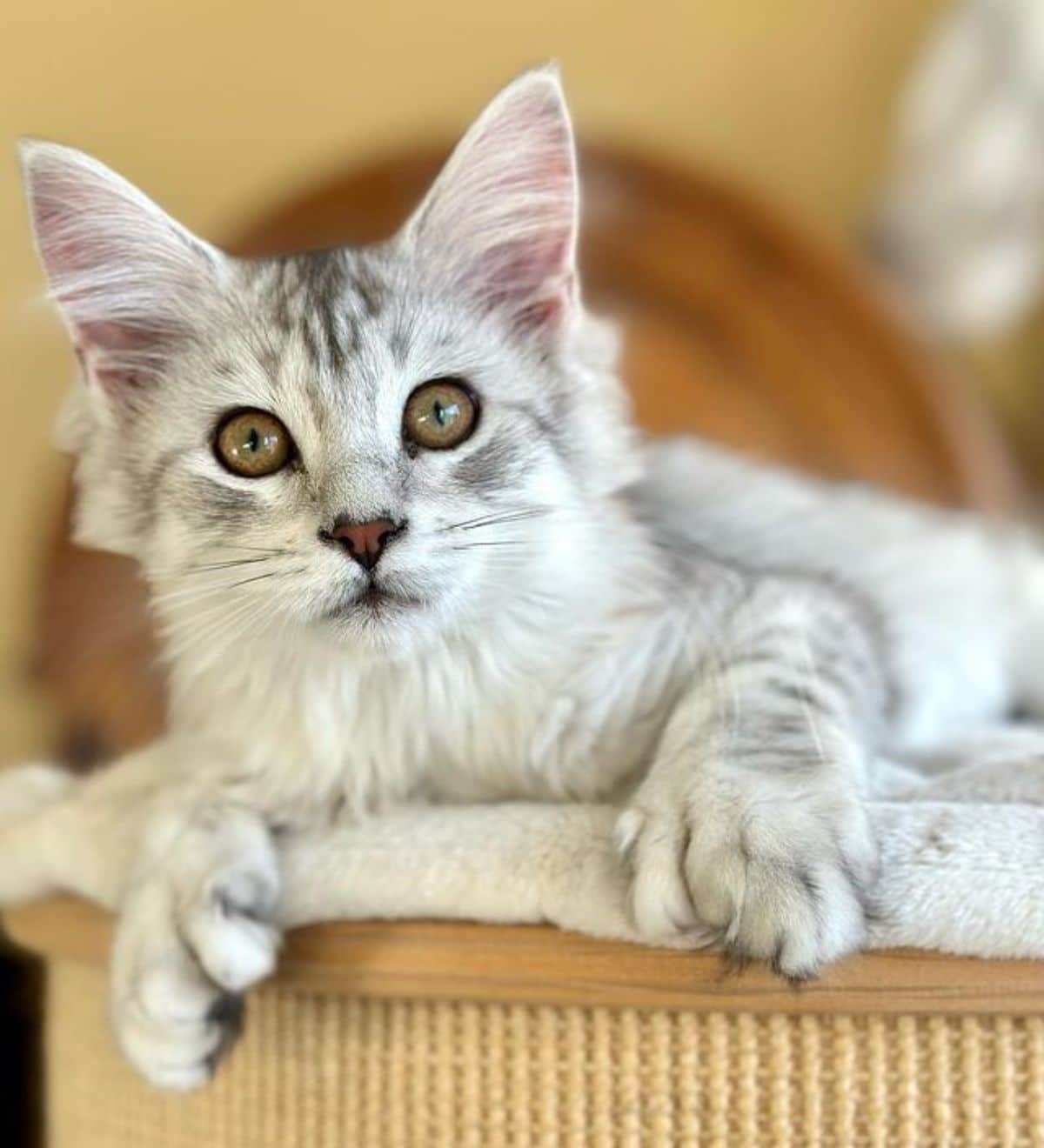 Malia is a beautiful silver tabby Maine Coon. Her coat is light, with plenty of white and cream mixed in with the gray. Her body and belly look mostly light gray since she has a ticked pattern.
6. Milo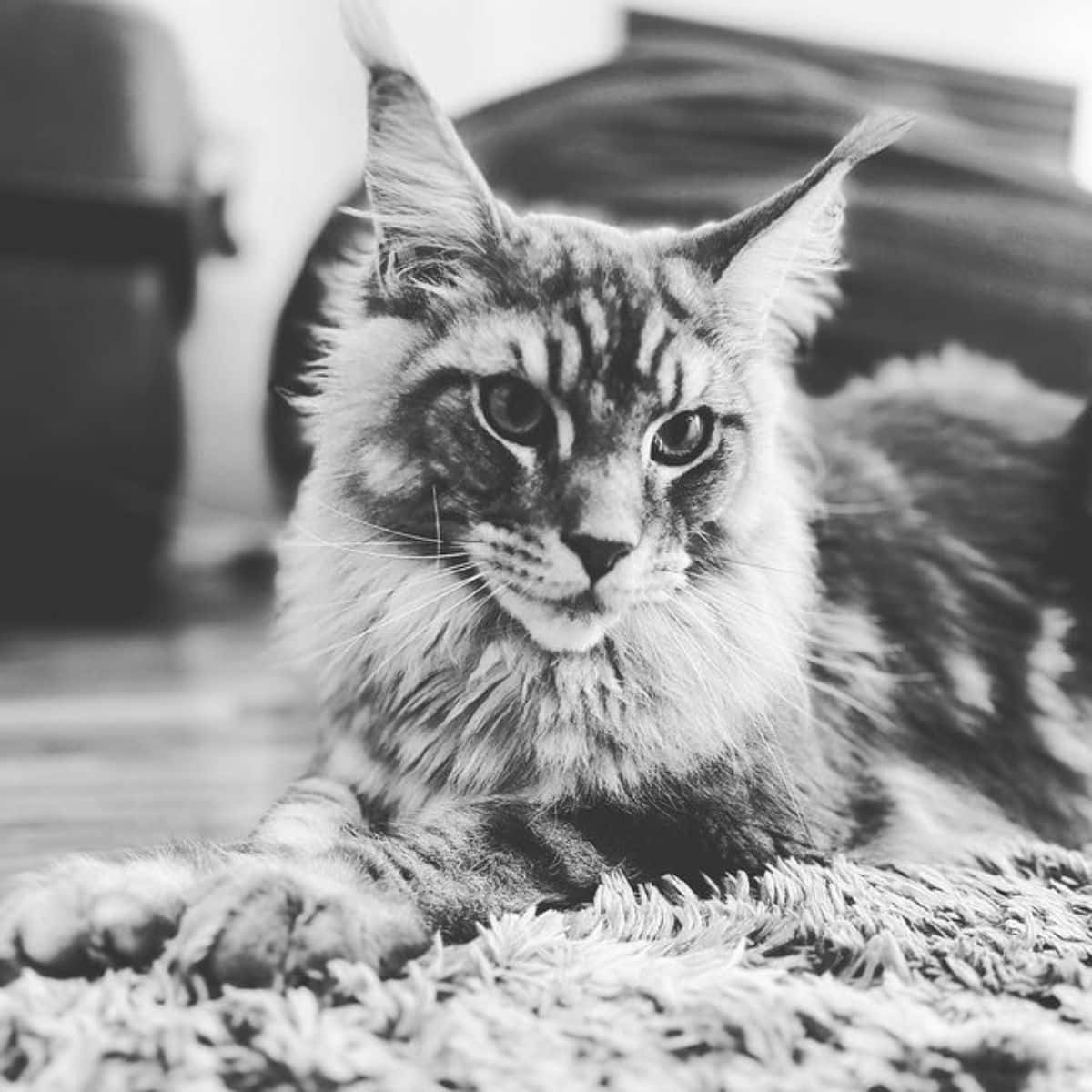 Milo is a stunning classic silver tabby Maine Coon who lives with Malcolm, a blue smoke Maine Coon. They get along well and love to cuddle together.
7. Unah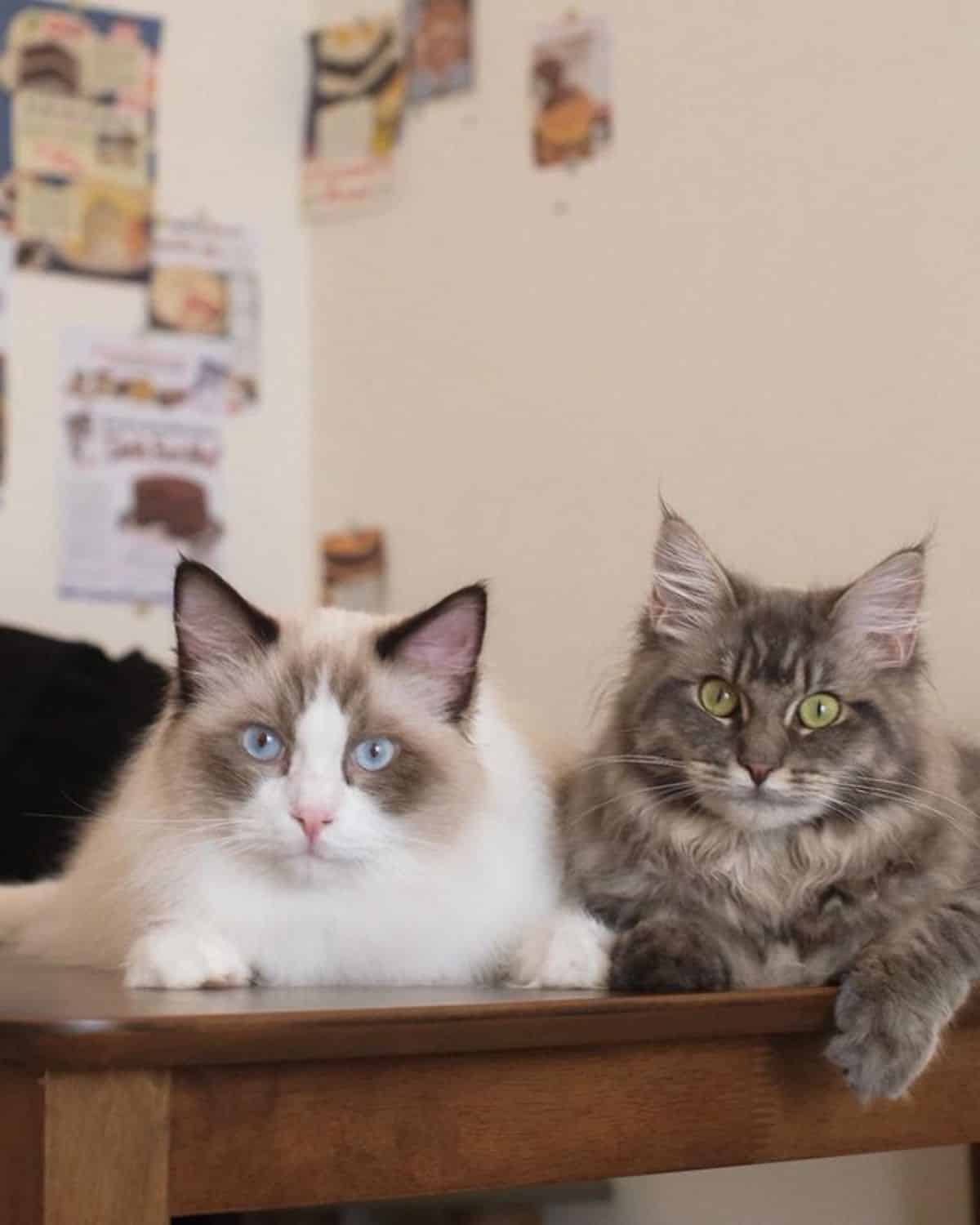 Unah is a friendly silver tabby Maine Coon that lives with the Ragdoll cat Bearbear. Unah loves staying close to Bearbear, whether they're playing or relaxing.
8. Duvel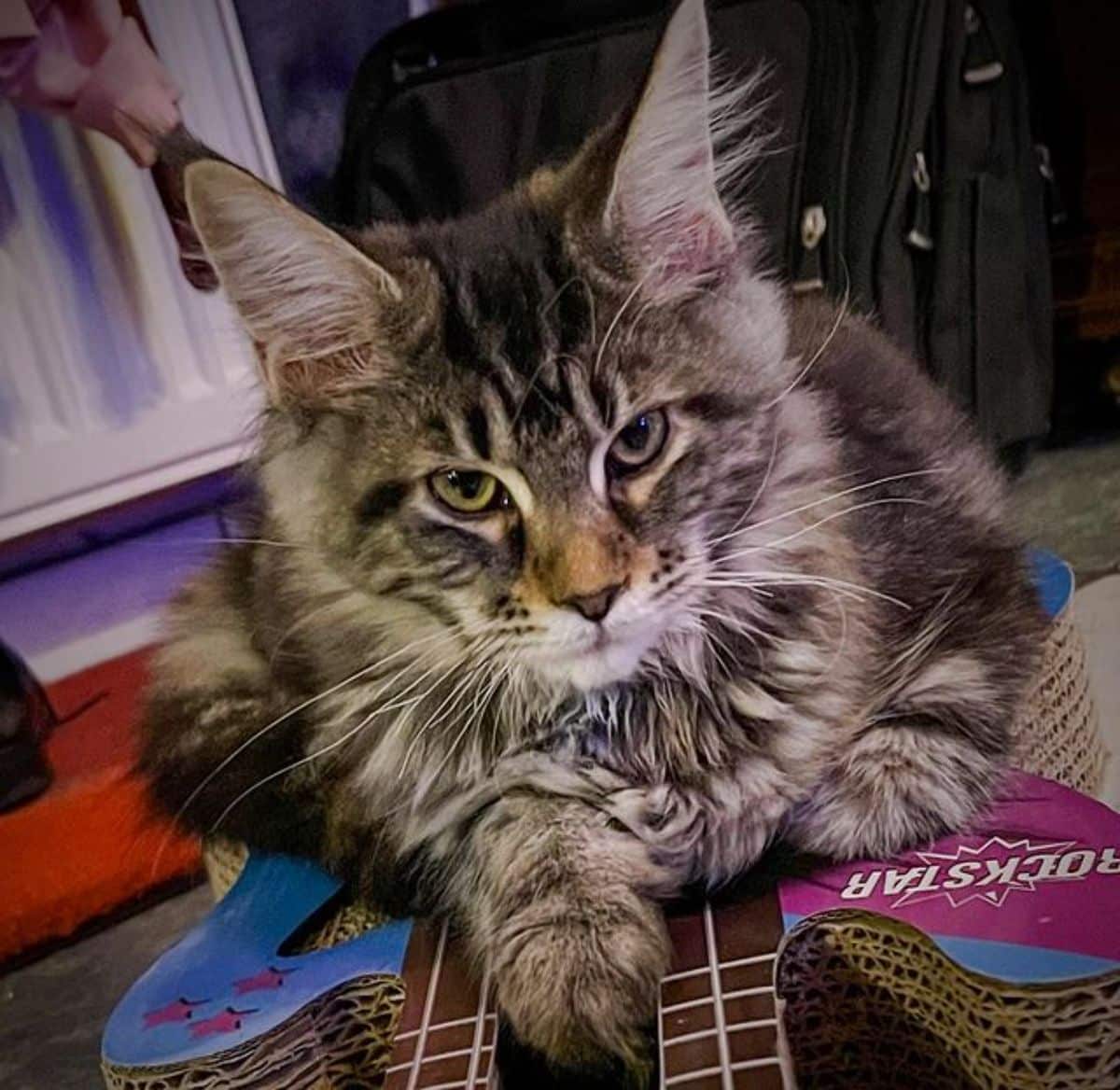 Duvel doesn't look happy in this picture, but he loves spending time with his British shorthair roommates Simba and Nala. The cats even get along with the Pomeranian named Diva.
9. Katy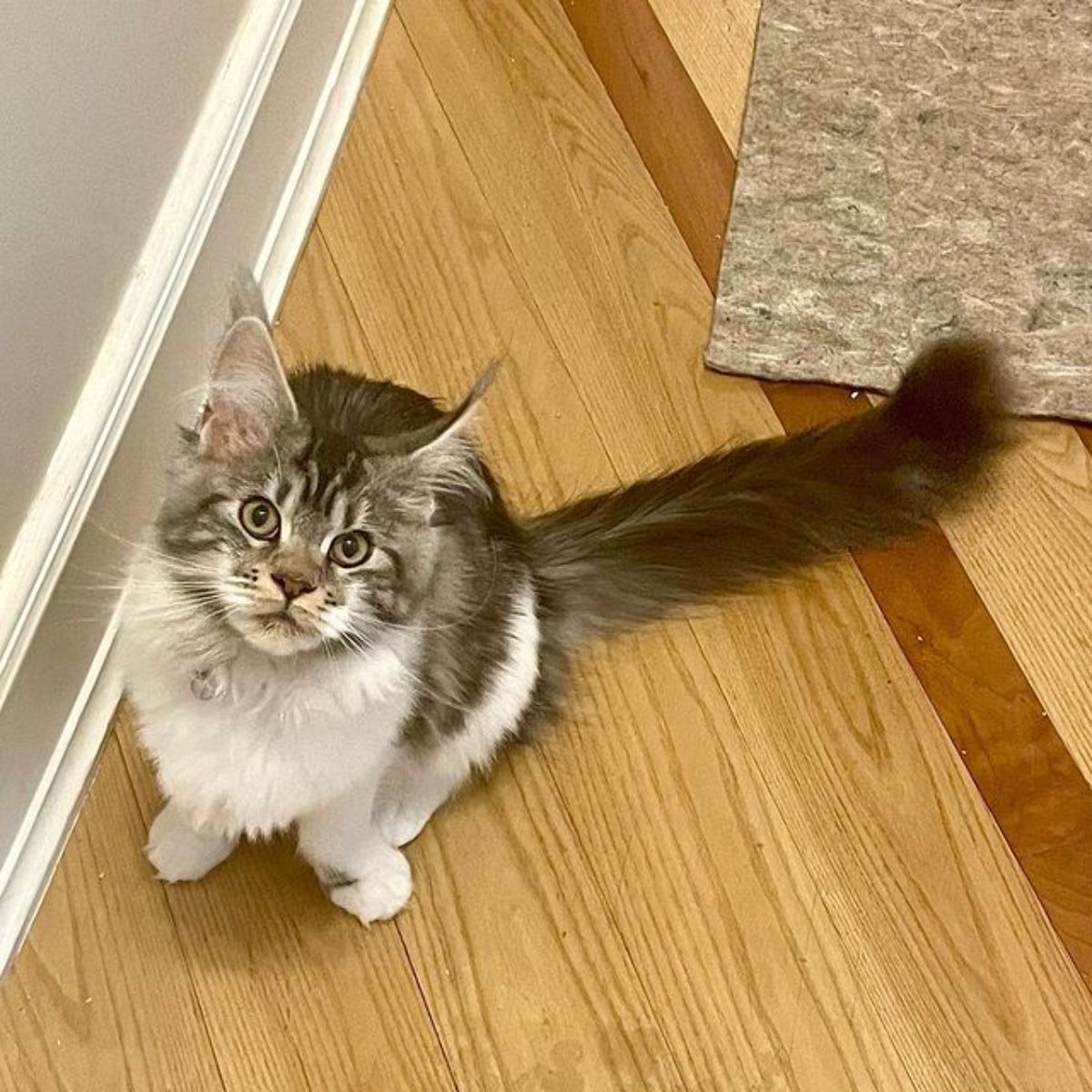 Katy has a soft white belly and dark gray ticked coat. She's still a kitten but has a long tail that will get fluffy as she matures.
10. Kompis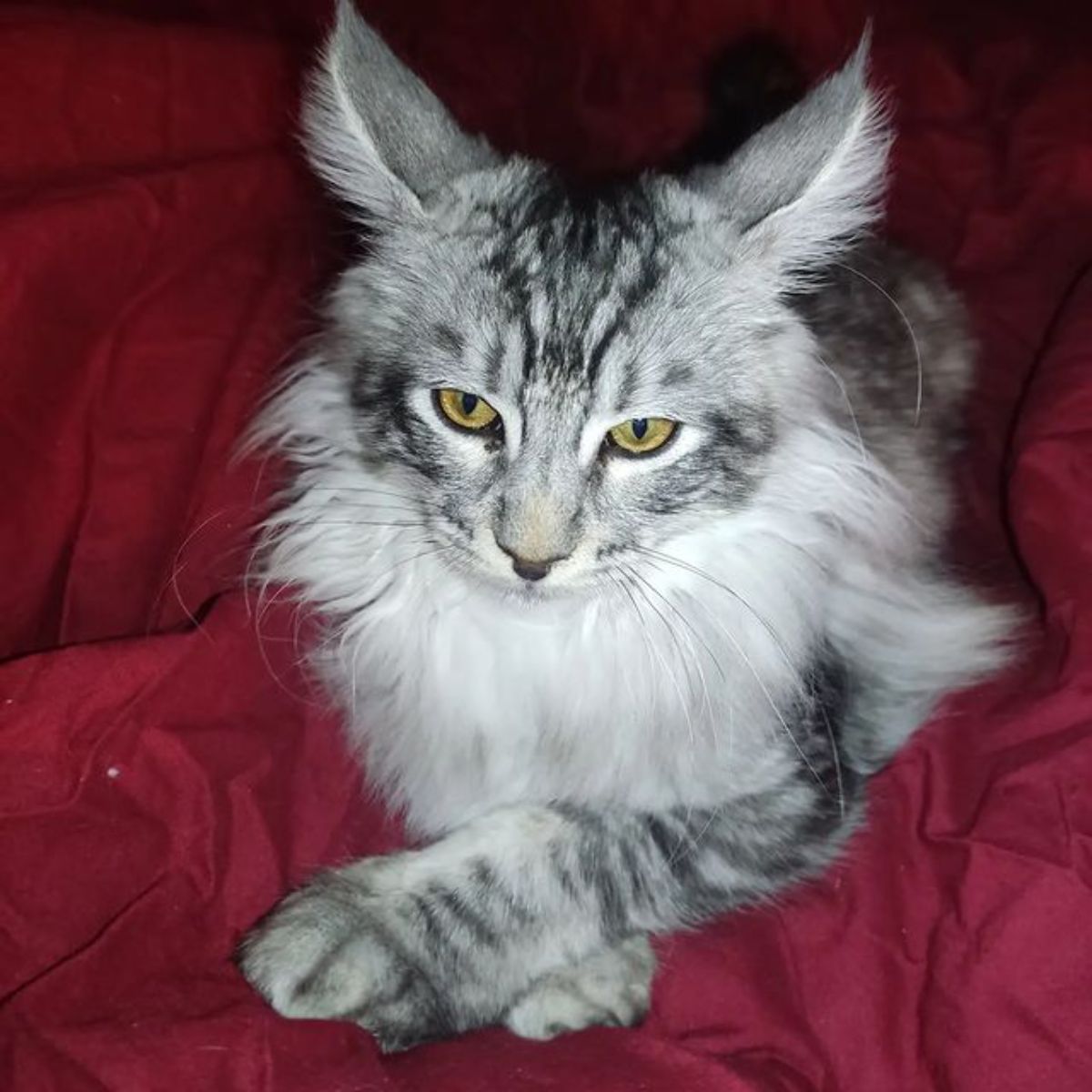 Kompis knows how to pose, and he looks good doing it. He has dark mackerel stripes all over his body and tail, which is as fluffy as his mane.
11. Mimosa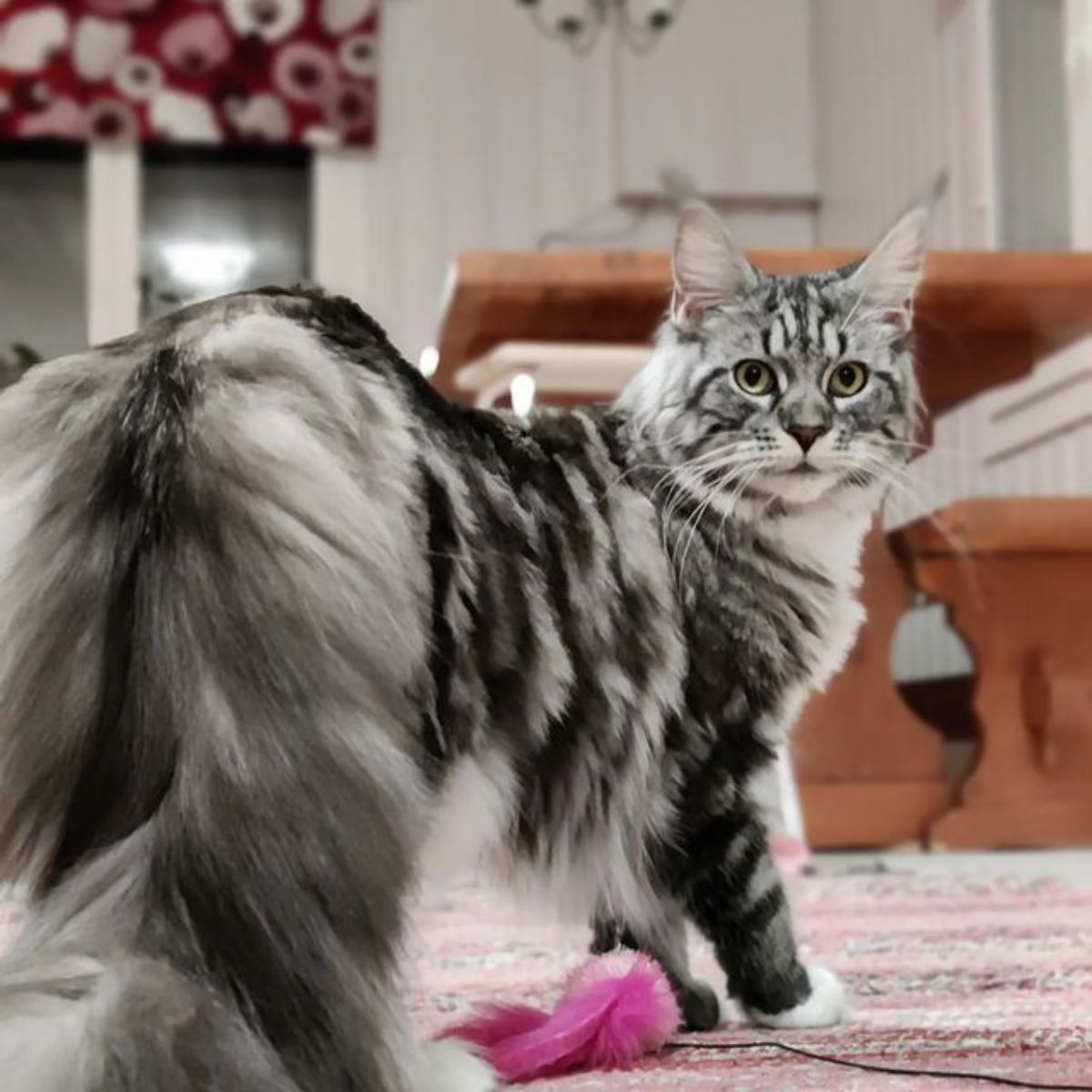 Mimosa is a young silver tabby with a dark mackerel pattern all over her body. As she gets older, the texture of her coat will change, and she'll develop the signature thick mane.
Conclusion
Consider a silver tabby if you're looking for a unique Maine Coon. The patterns above show you how different each cat can look. Since they have all the lovable qualities typical of a Maine Coon cat, you'll get a loyal pet.