As one of the largest cat breeds, Maine Coons pack a lot of love into their 30-inch (76 cm) long frame. They also sport luxurious coats that run the gamut of patterns and colors to sweeten the deal, offering seemingly endless variety for the owner with a particular "look" in mind.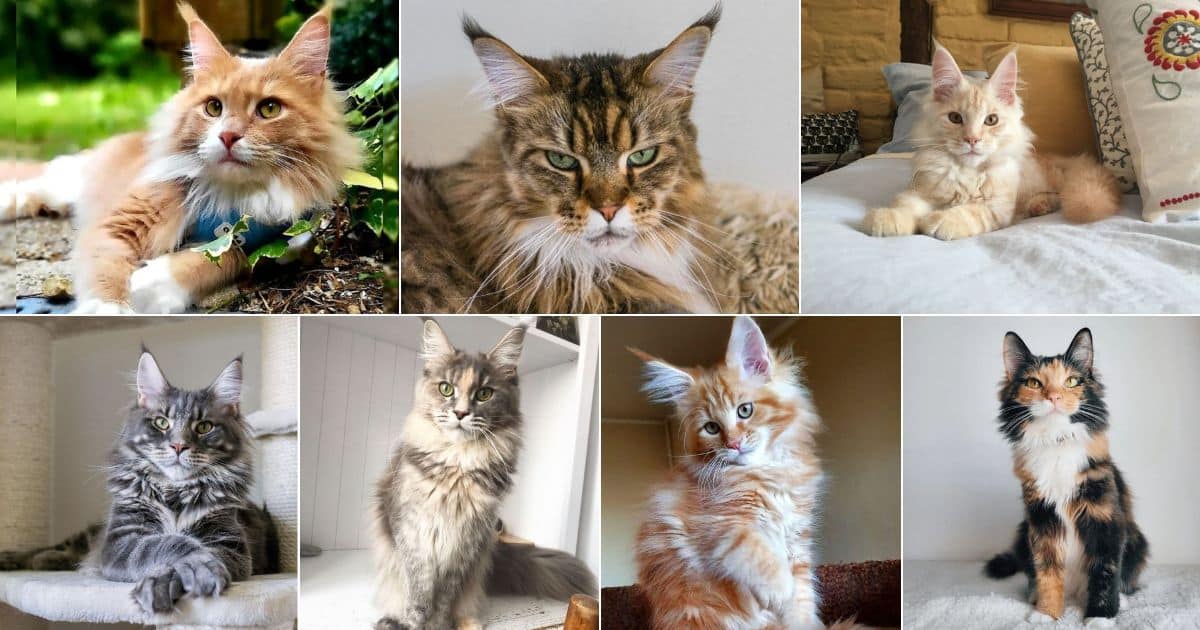 Jump to:
What Are Spotted Maine Coon Cats?
According to the Cat Fancier Association, there are more than 80 different coat color and pattern combinations considered breed "official" for Maine Coons.
These guidelines include rules for every part of the breed's body, from the shade of pink on their paw pads to the depth of shading on the individual hairs.
Spotted Maine Coon cats have rounded areas of color distinct from the rest of the fur. It's a striking look that is relatively rare in the breed compared to tabby striping and solids with white patches.
This miracle of genetics is thanks to several parent-passed traits, such as broken mackerel tabby, classic tabby, tortoiseshell, and van patterning. In most cases, one feature is dominant, while the other is recessive or "hidden."
However, coat patterns and colors sometimes practice codominance, with both showing together in a fireworks show of stripes, spots, and splashes of pigment, which is often the case in the dotty versions of the breed.
While there isn't a breed standard for true rosettes, as seen on the Bengal, Egyptian Mau, and Ocicat, these long-haired fluffballs manage to produce random spots of color.
In some cases, these dots are smaller or centralized in a single area, but others have more prominent patches that showcase a splotch of pigment on their otherwise solid coats.
Read on to learn more about 21 cute, spotted Maine Coon cat coat variations you won't be able to resist going ga-ga over:
1. Silver Broken Mackerel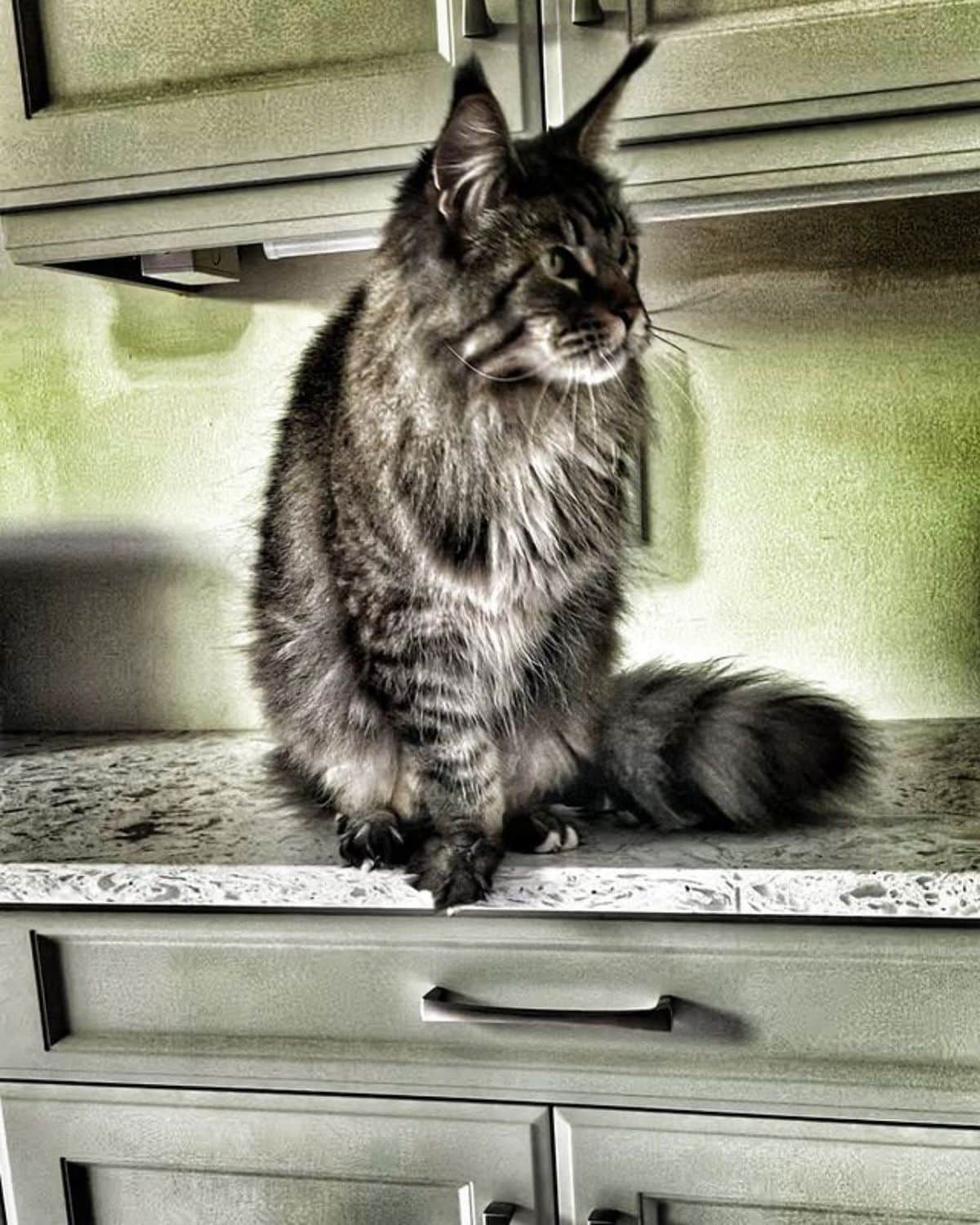 One of the most stunning spotted Maine Coon cats are the silver broken mackerel tabby. Their gunmetal gray coats boast a gorgeous arrangement of inky black dots and stripes.
2. Red Broken Mackerel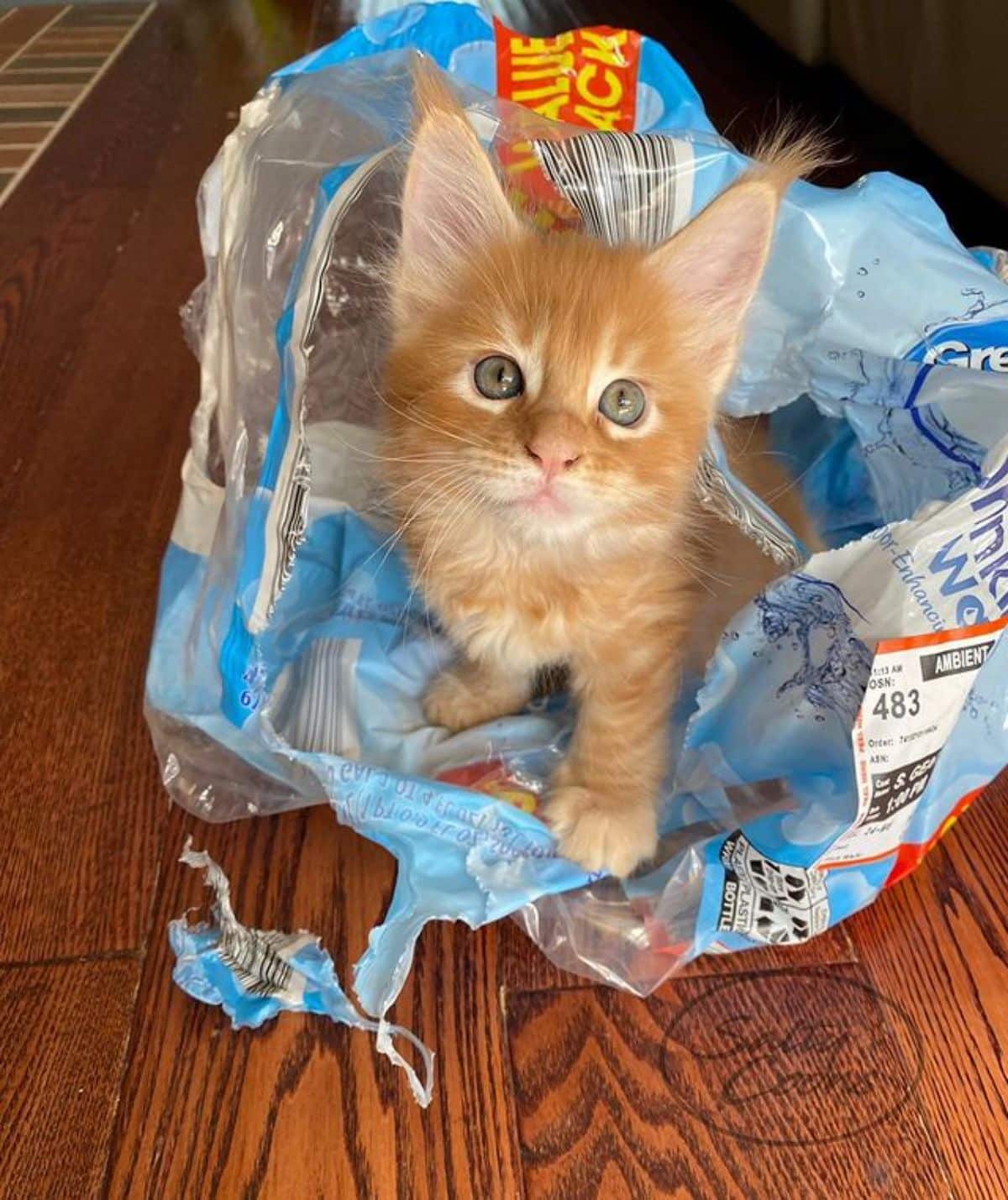 Red broken mackerel coats are quite eye-catching, thanks to the pinkish-red undercoat with a smattering of distinctive dusty-orange markings.
3. Calico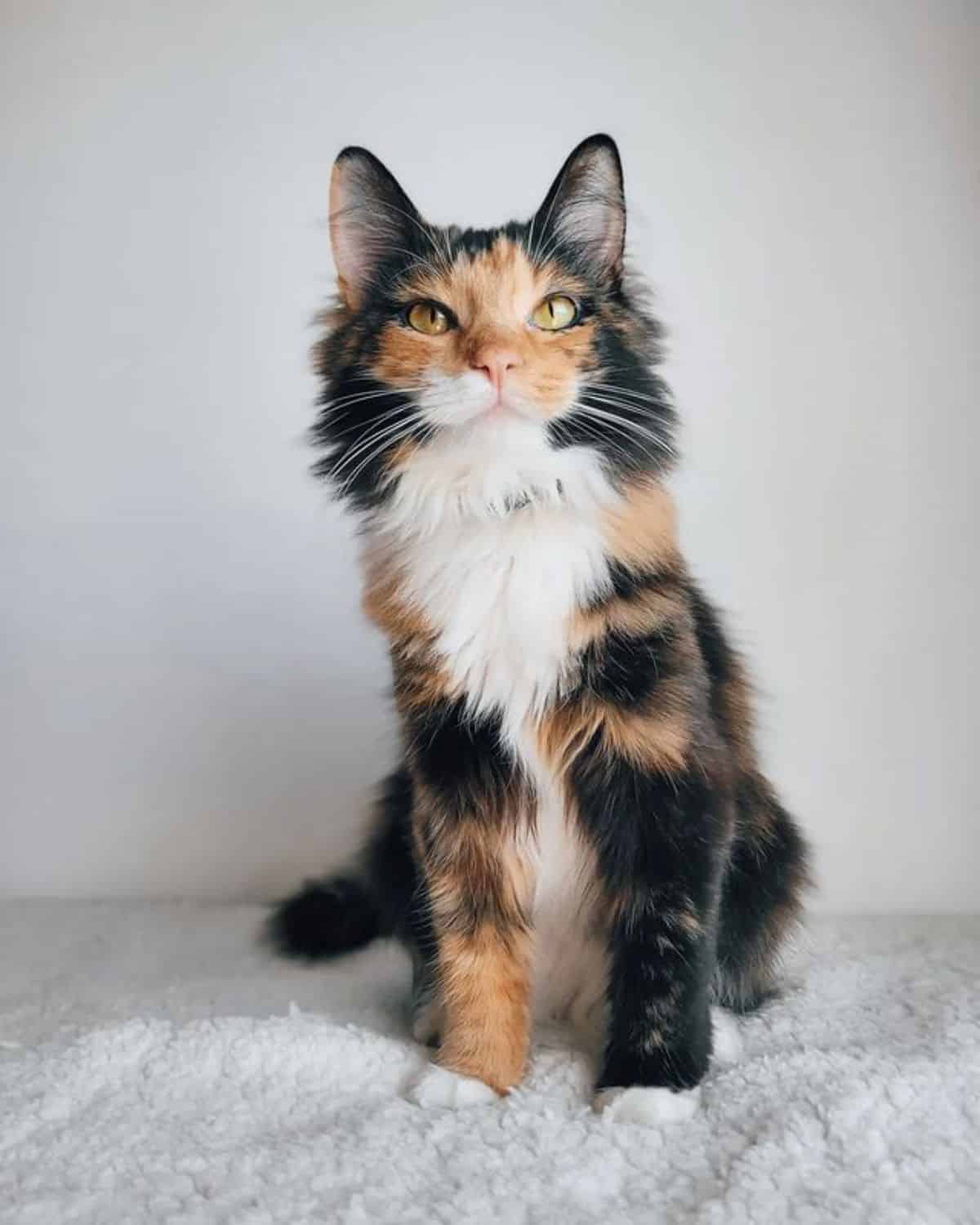 Calico, which is primarily white with intensely pigmented patches of scarlet and black, is one of the most exciting coat colors because it's almost exclusive to females!
Males can have the trait, but because it's recessive, it only appears when the mother and father pass it down on the X chromosome. Some mutations cause exceptions to the rule, though.
4. Brown Spotted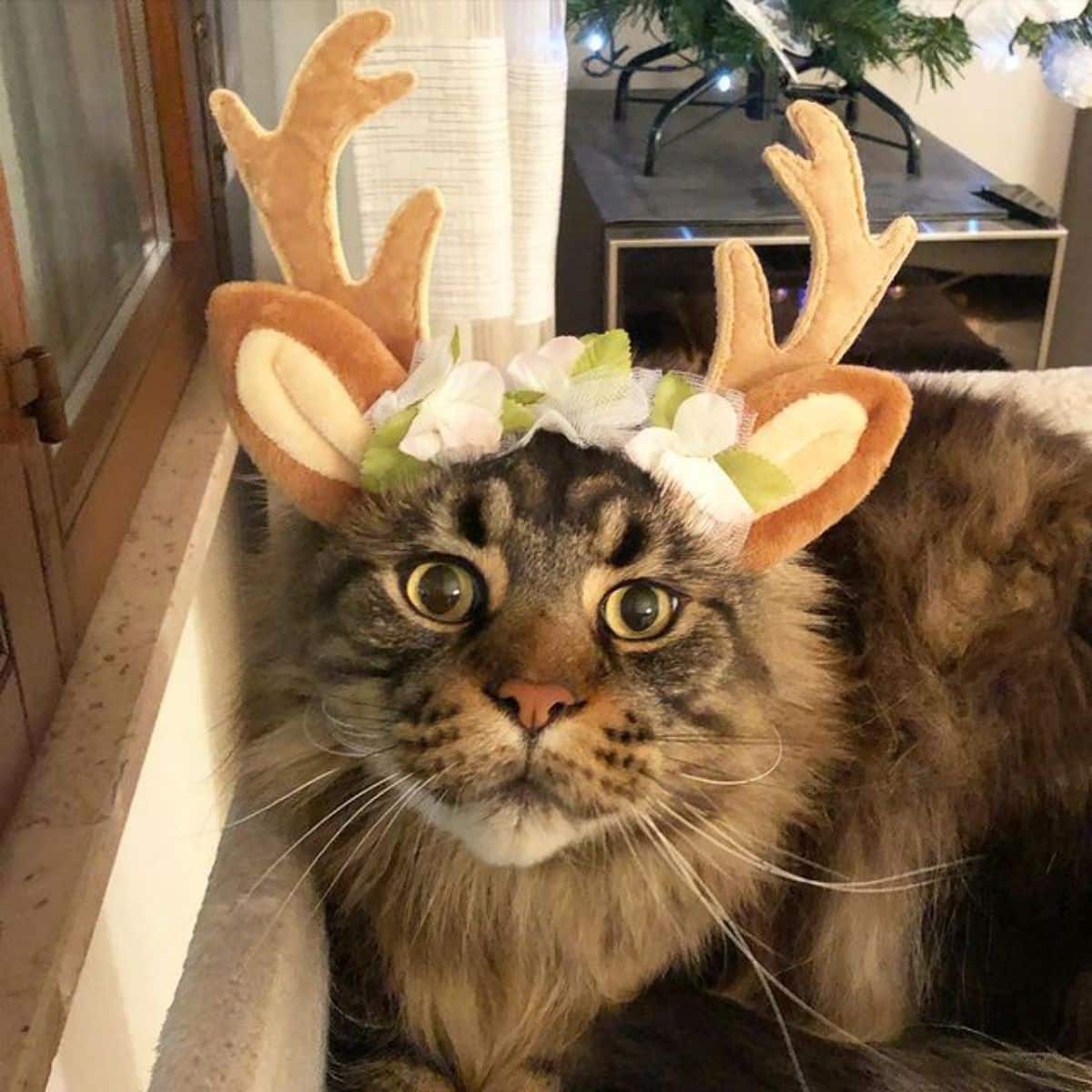 One of the most popular spotted Maine Coon cat colors is brown spotted tabby, as they often have hypnotic yellow eyes with speckles of emerald green.
5. Tortoiseshell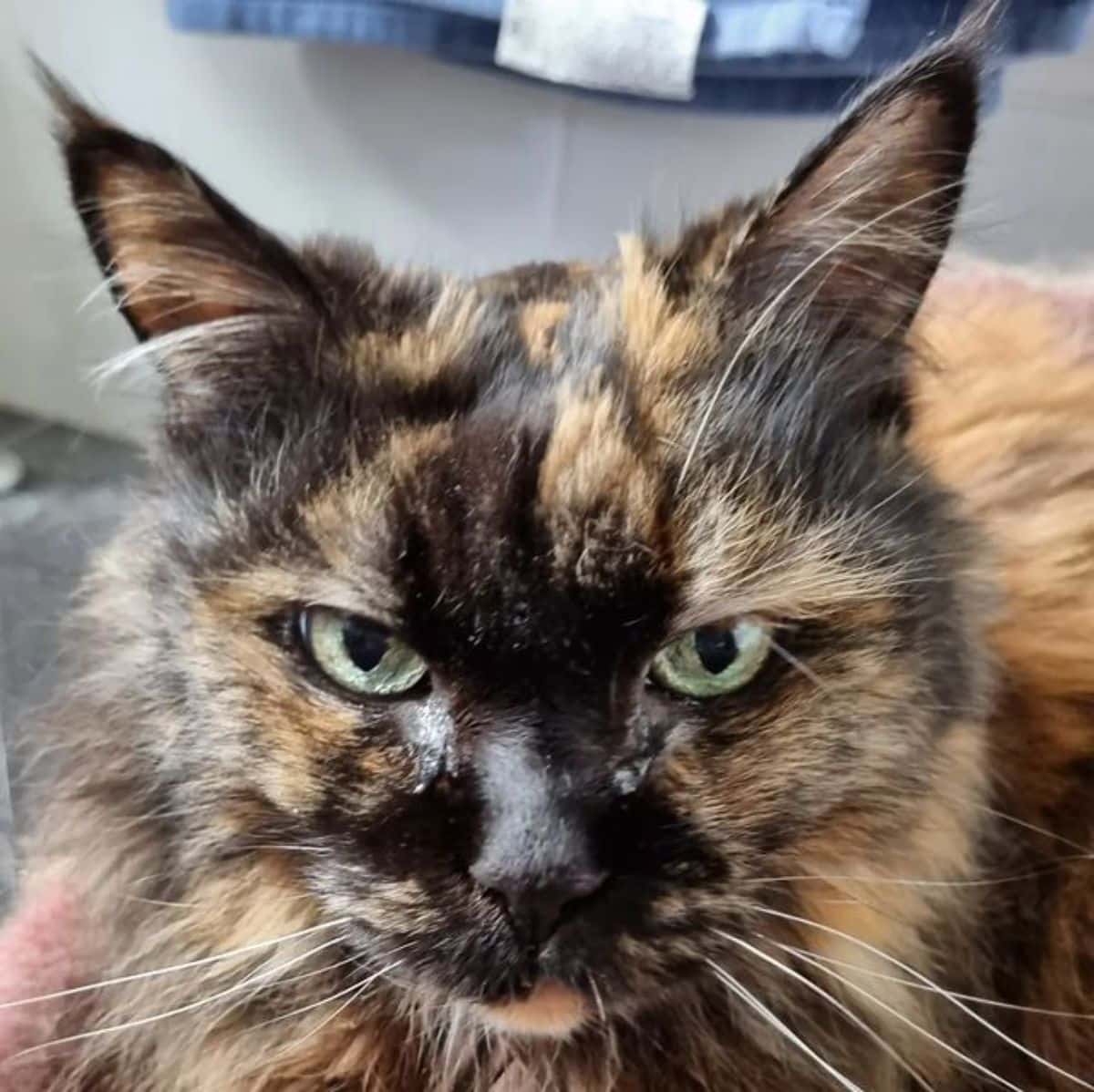 Similarly to the calico, tortoiseshell cats are typically female. The moniker comes from the splotches of red, brown, black, and cream that resemble its namesake reptiles' protective outer shell.
6. Torbie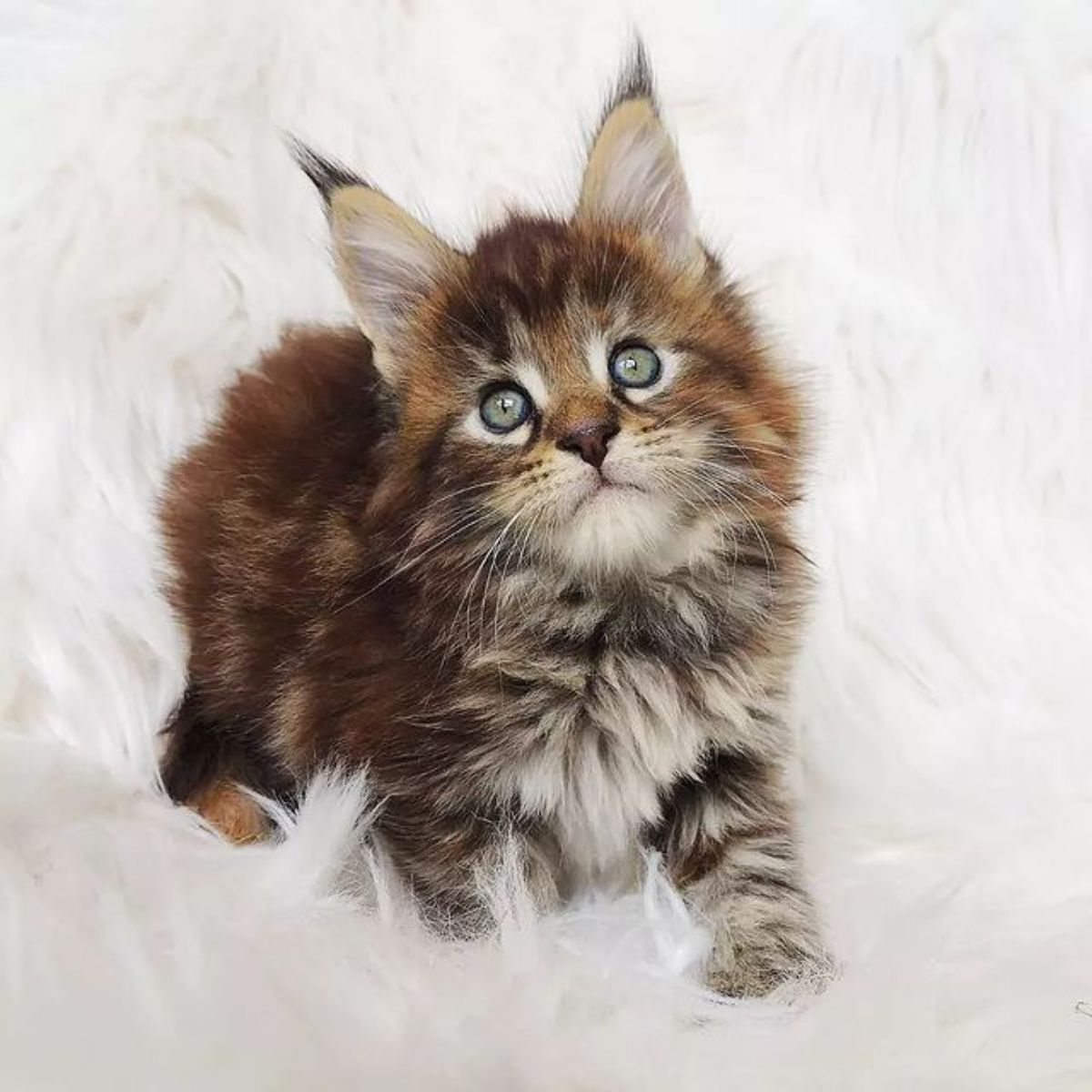 Torbie is a portmanteau of "tortoiseshell" and "tabby." This Maine Coon variety is something to behold, as it has classic tortie spots combined with tabby striping. Interestingly, torbies tend to be slightly more aggressive than other coat colors.
7. Silver-Patched Classic
The silver-patched classic tabby coat will look familiar if you've ever sliced into a freshly-baked marble cake. The swirls of black on a smokey background often include a surprising splay of spotting on their white bellies.
8. Tabby and White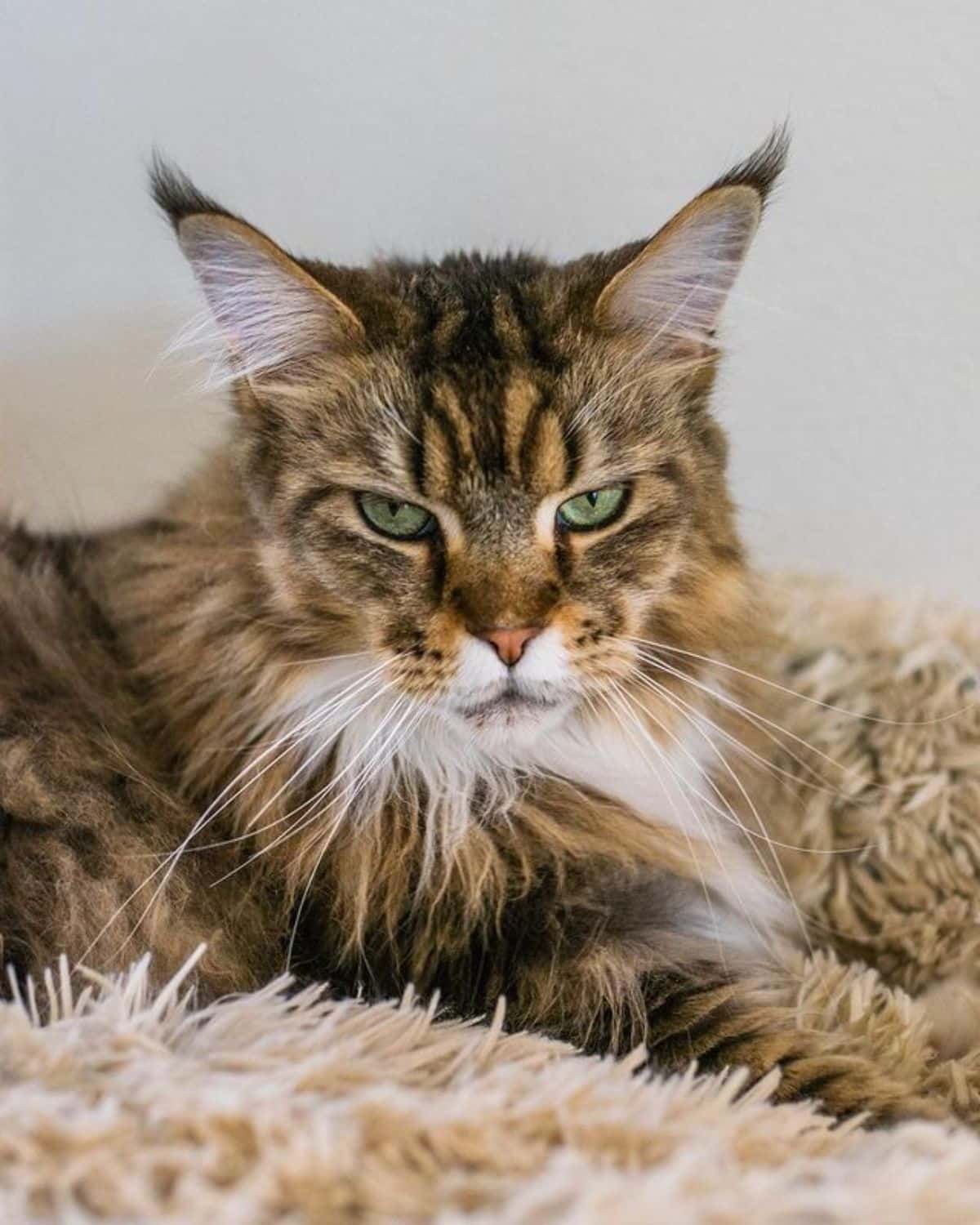 A tabby and white coat refers to any kitty that has tabby patterning with a pure white ruff, feet, and underside. The spots look even more distinctive in contrast to the solid fluff.
9. Cream-Spotted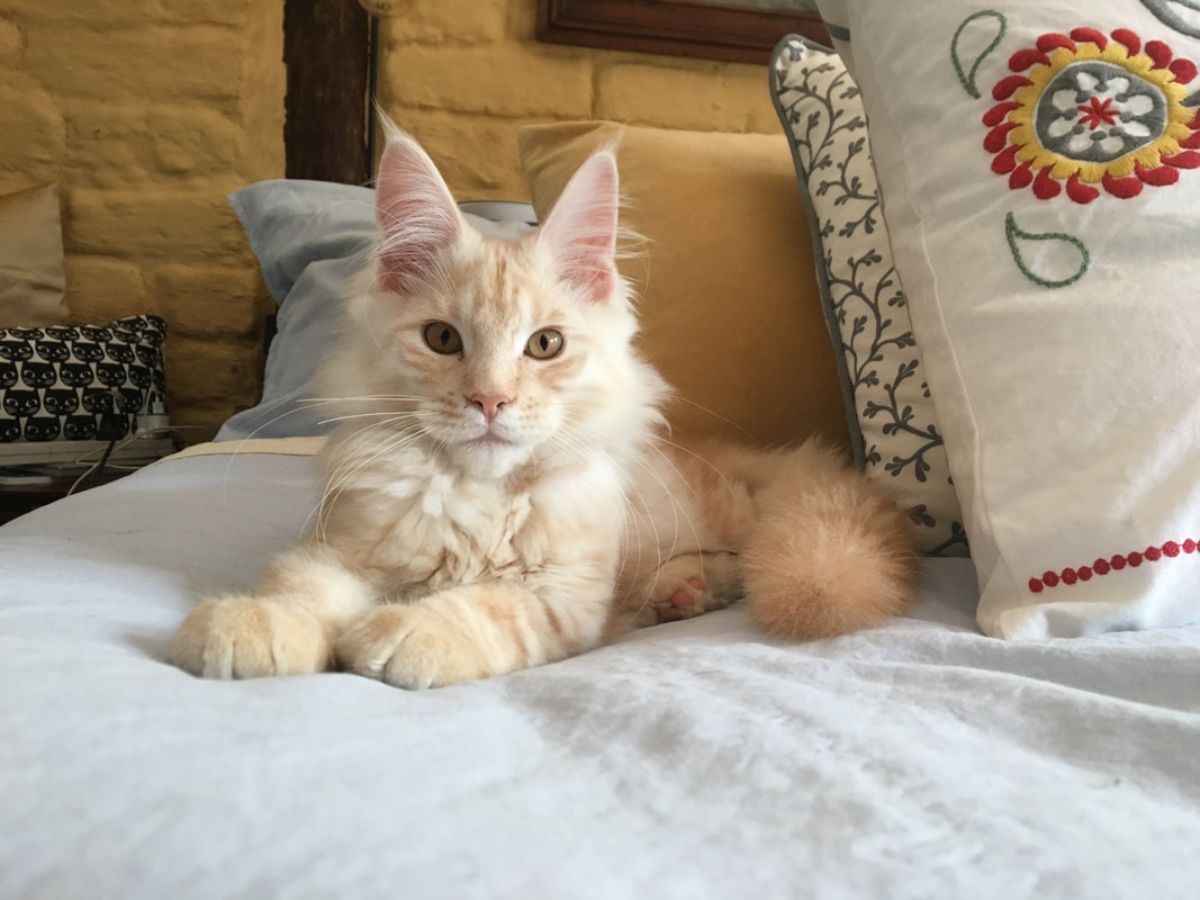 Also known as "peaches and cream," cream-spotted Maine Coon cats have buff orange spots in the background of snowy white fur.
10. Red Spotted and White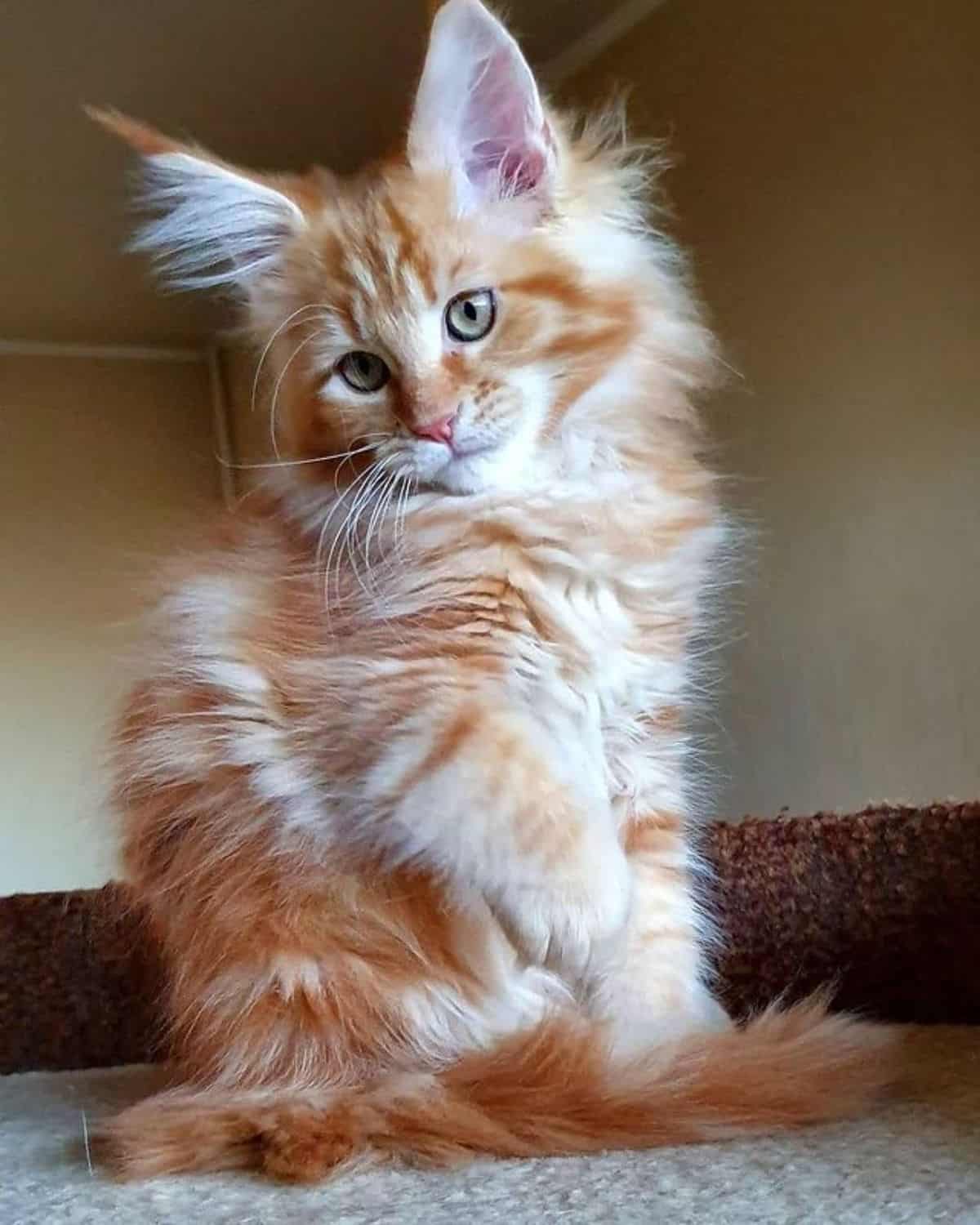 The primarily white coats of this variety have striking ginger patches that often form a partial facial mask on the forehead and eyes.
11. Tortie Broken Mackerel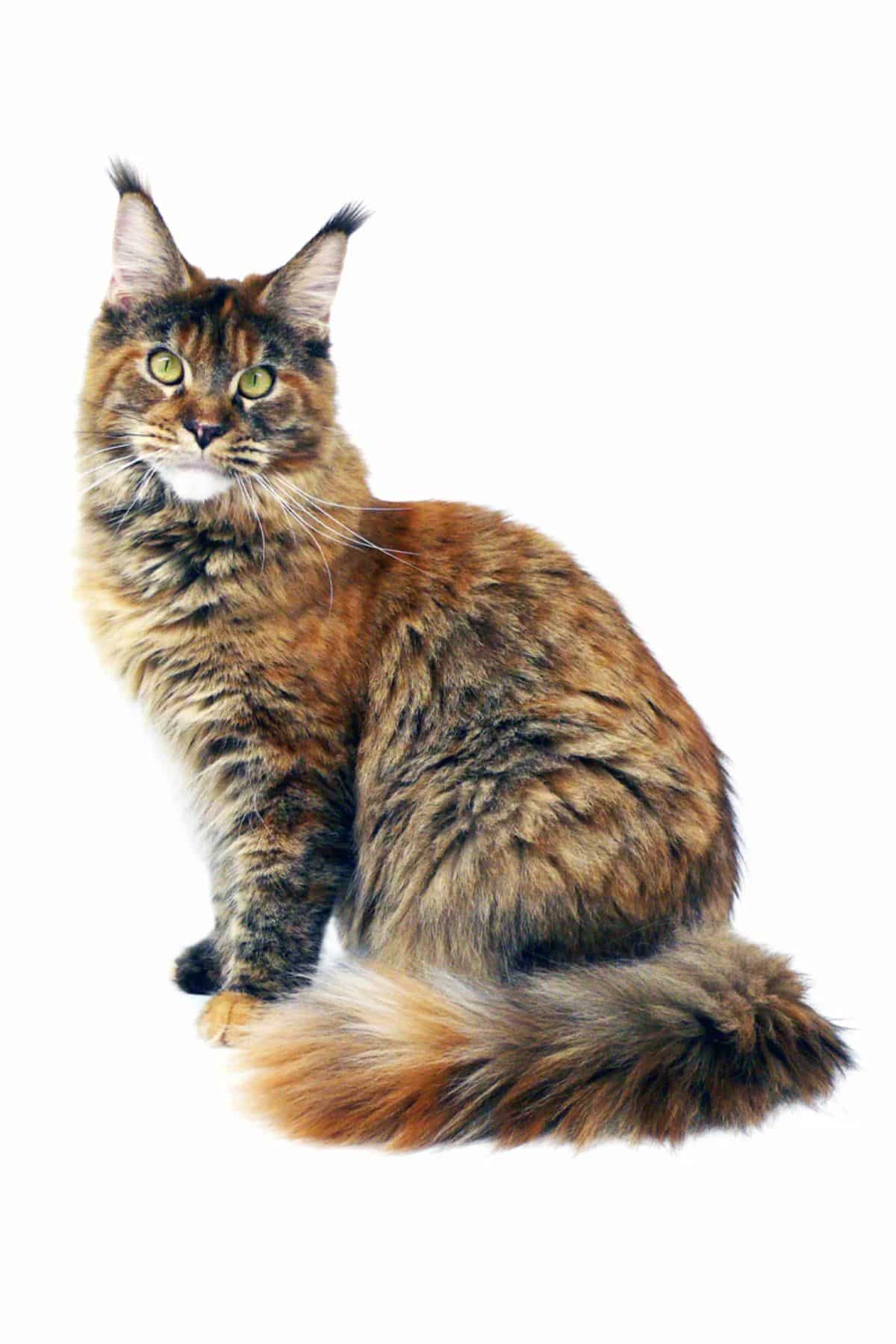 Tortie broken mackerels have an enormous range of pattern possibilities, thanks to the random configurations of patches, bars, and stripes from this genetic trait pairing.
12. Harlequin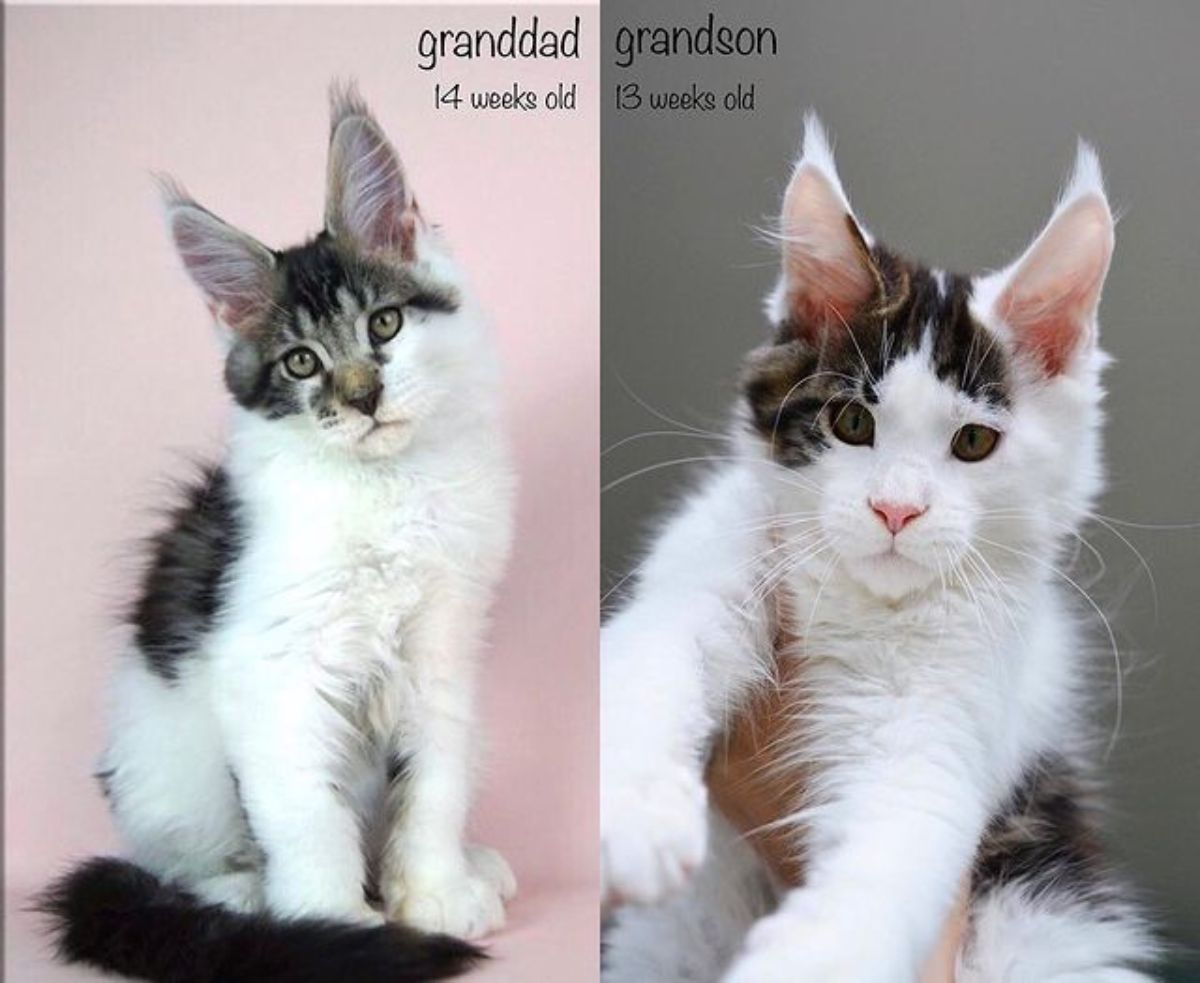 One of the rarest spotted Maine Coons is the harlequin. They have solid black tails with two or three coordinating spots on their backs and heads.
13. Turkish Van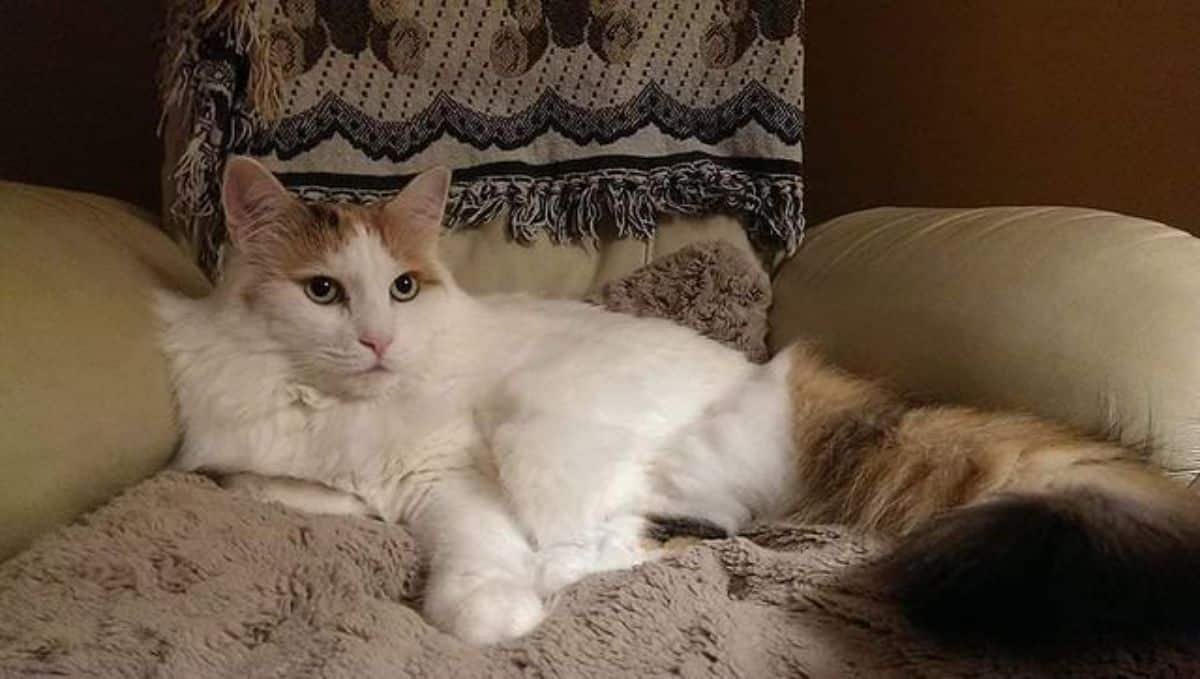 The Turkish Van is a breed that looks very similar to Maine Coons in size and hair length. Rather than the vast array of patterns of Maine's state cat, though, they have a very specific dual-spot on their tails and head.
Some Maine Coons also sport this cap and tail combination, which can come in red, black, silver, or cream. In some cases, it's a combination of several different colors!
14. Red Classic and White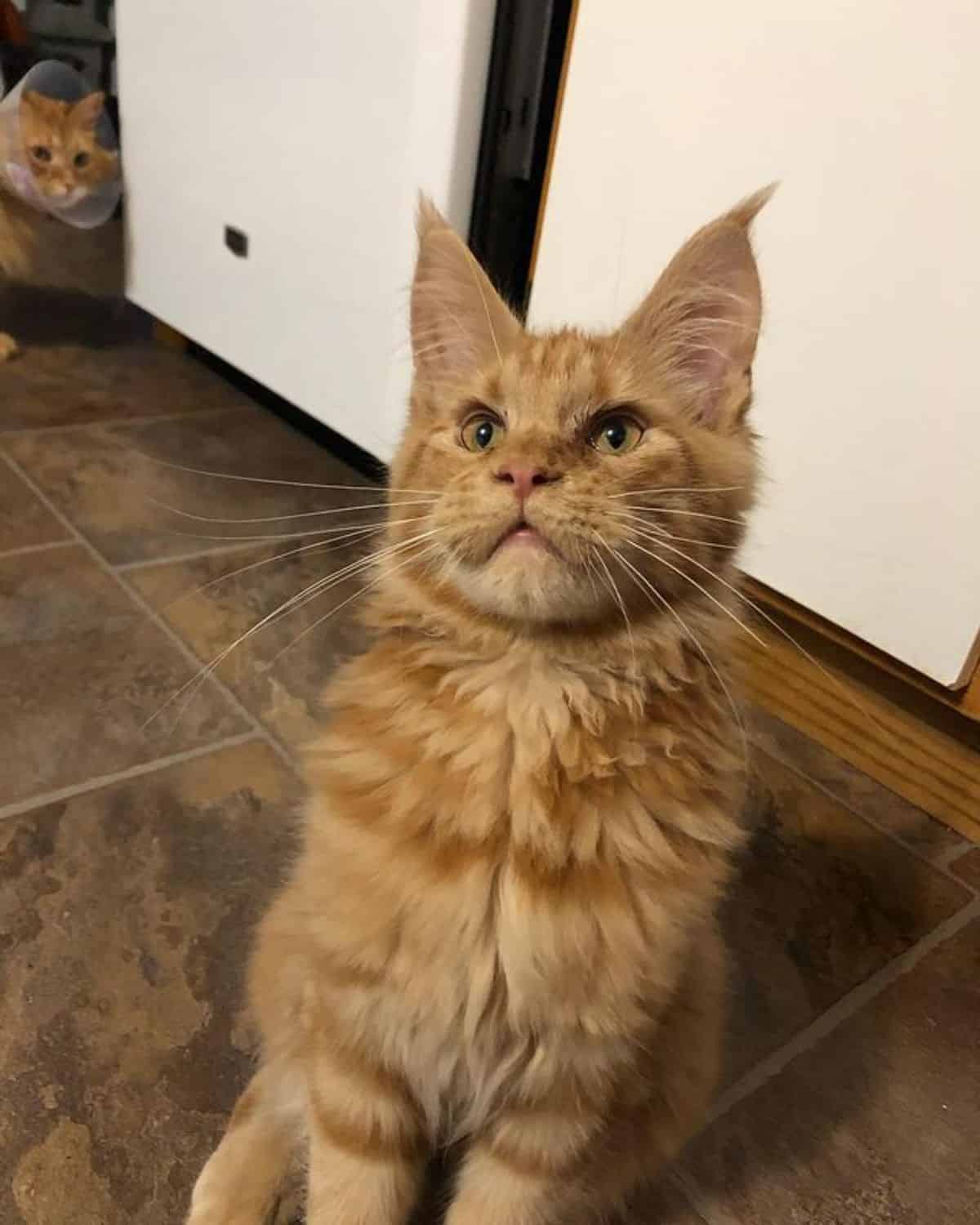 Unlike the spotted tabby, your red classic tabby Maine Coon will display whorls of ruddy ochre on its peachy base coat. Their freckling will mainly appear on the lower rib cage, as their bellies should be pure white.
15. Tortie Smoke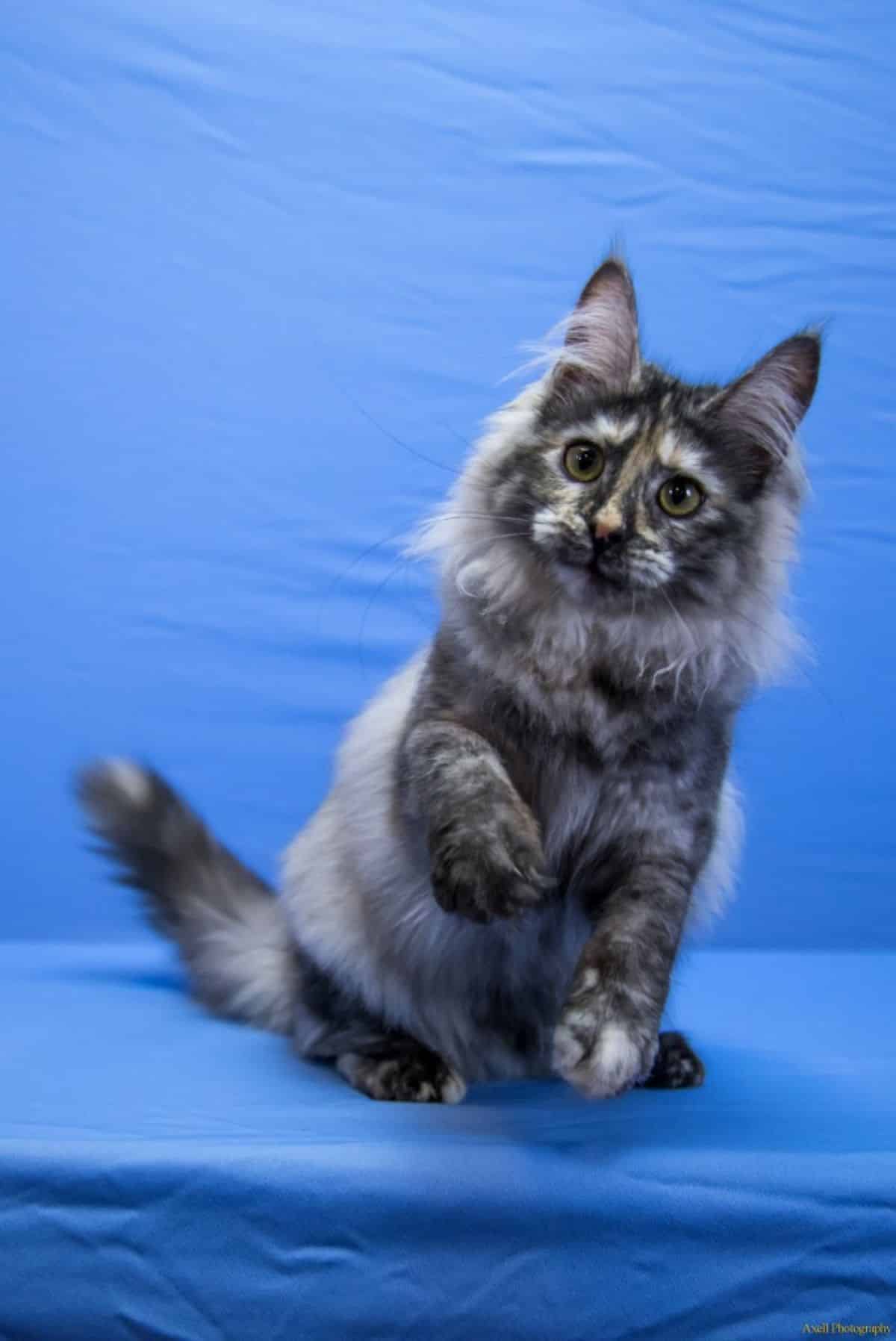 All smoke coats have graduated hair shafts with ½-inch darker-colored tips atop a white undercoat. Add in the patches, splotches, and spots of a tortie, and you've got a plethora of ombre colors you'll love running your hands through.
16. Cream Broken Mackerel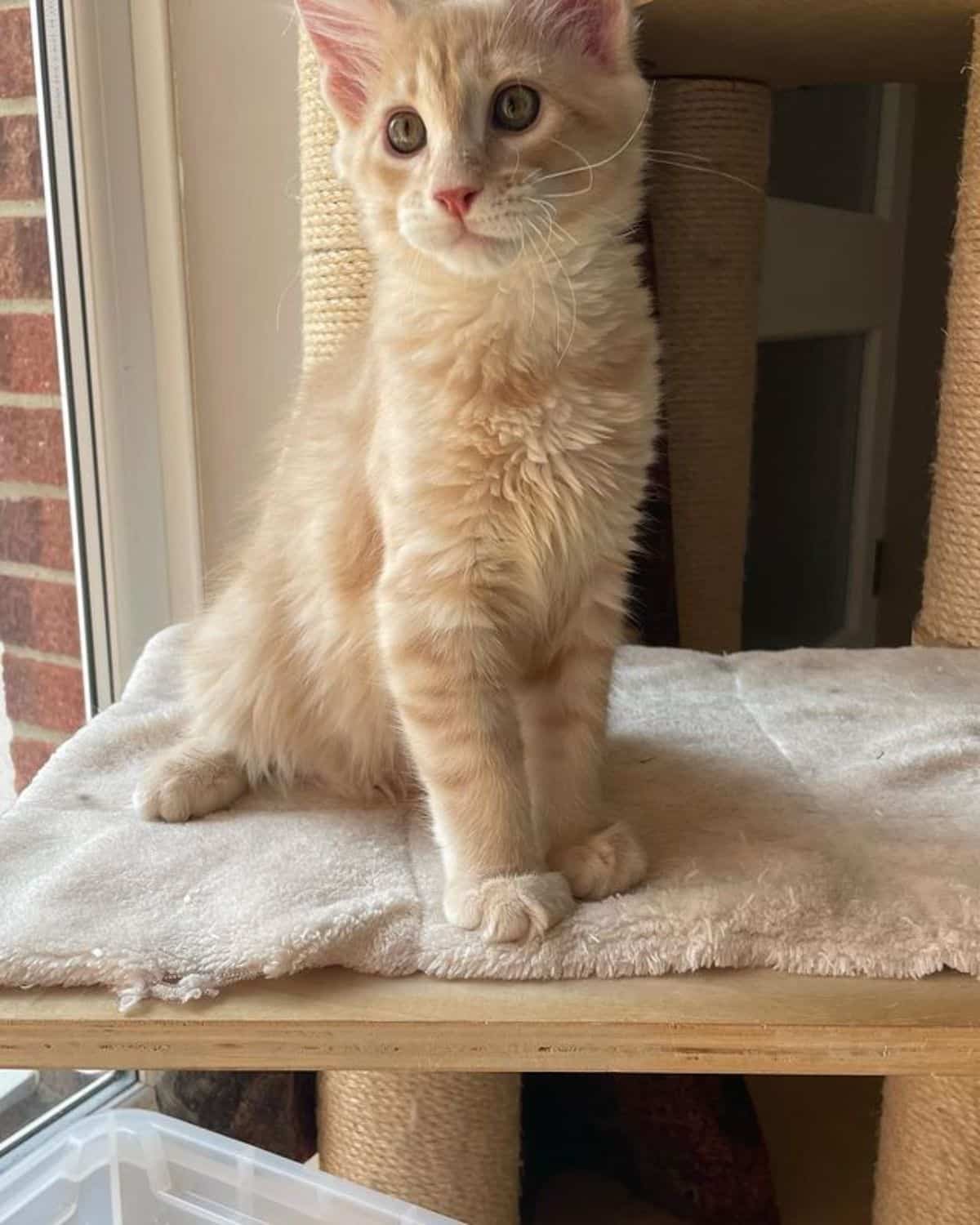 Switch up the standard silver broken mackerel by trading in the luminescent undercoat for a cozier cream, then add ginger bars and spots from head-to-toe. It's certainly less flashy than their similarly patterned cousins, but it's sure to turn heads.
17. Blue Patched Classic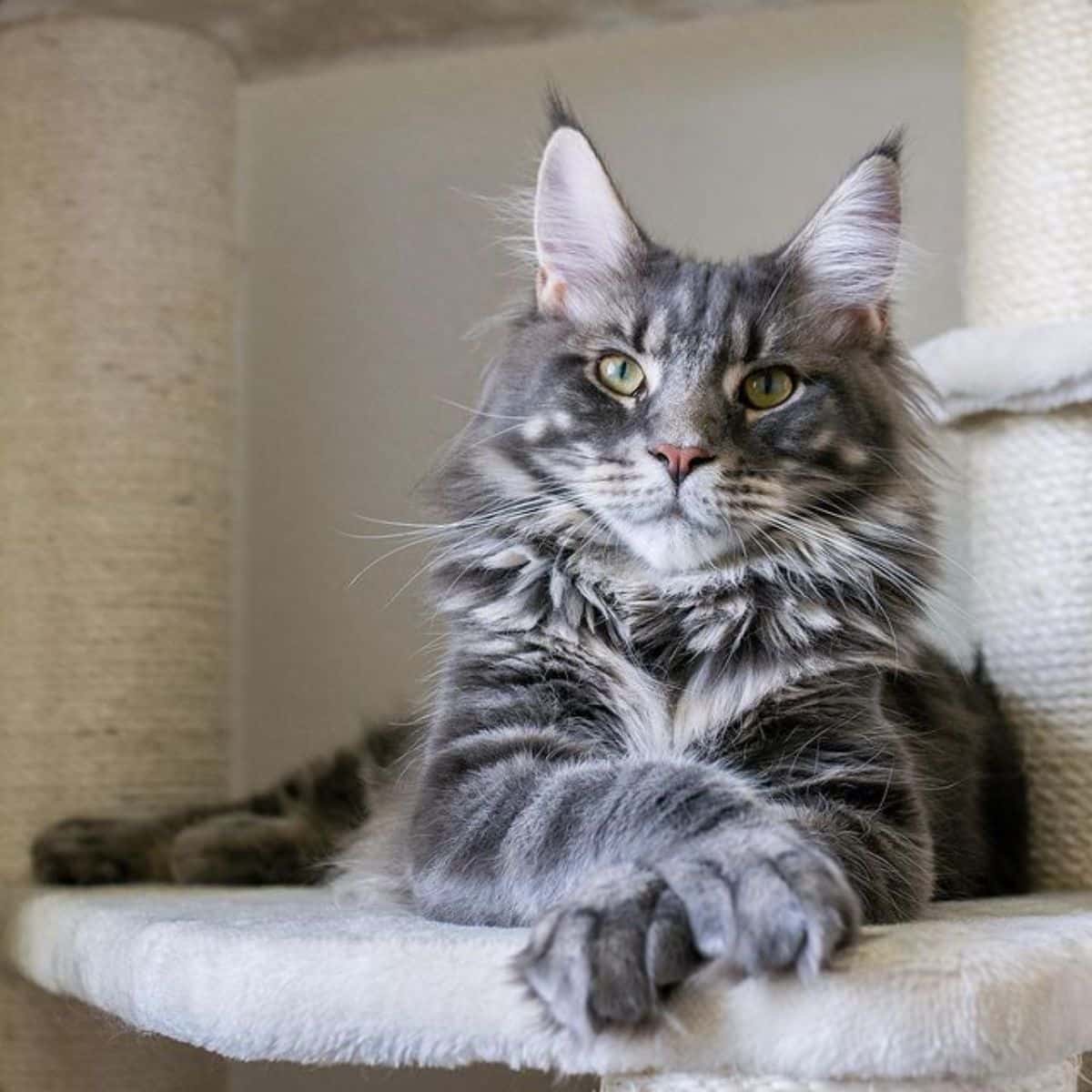 Cream, blue, and fawn come together in perfect harmony with blue-patched classic spotted Maine Coon cats.
The classic tabby markings are deep, dark blue with buff swirls atop an ivory background. Then, the entire coat is brushed in a delicate brown for just a hint of warmth.
You can also find this coat in broken mackerel for more irregular spotting along your cat's side.
18. Cream Cameo Classic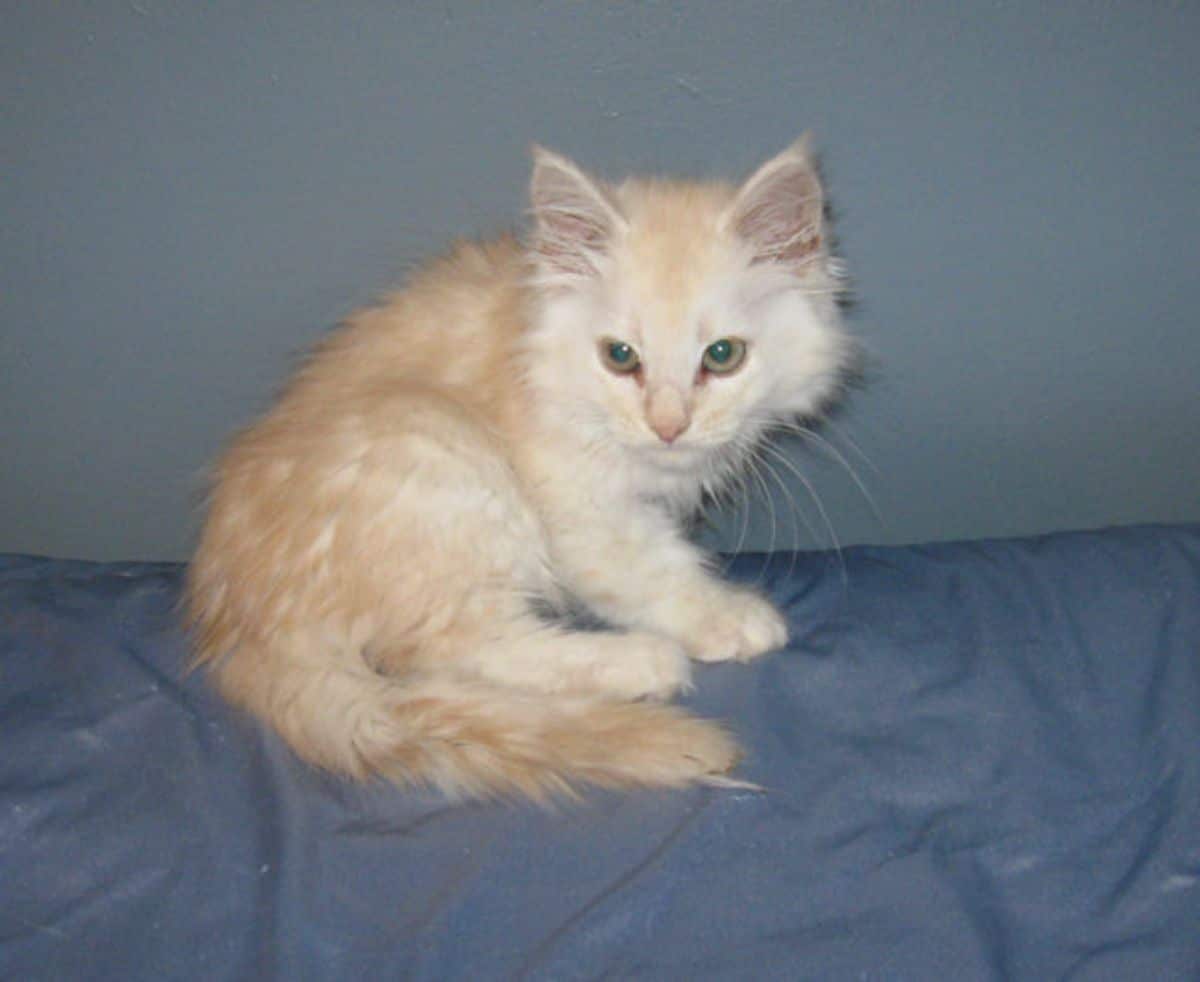 Cameo coats offer understated classic tabby markings in a muted cream rather than black. The rest of the fur is white, and these kitties typically sport rosy-colored noses.
19. Silver Broken Mackerel Torbie and White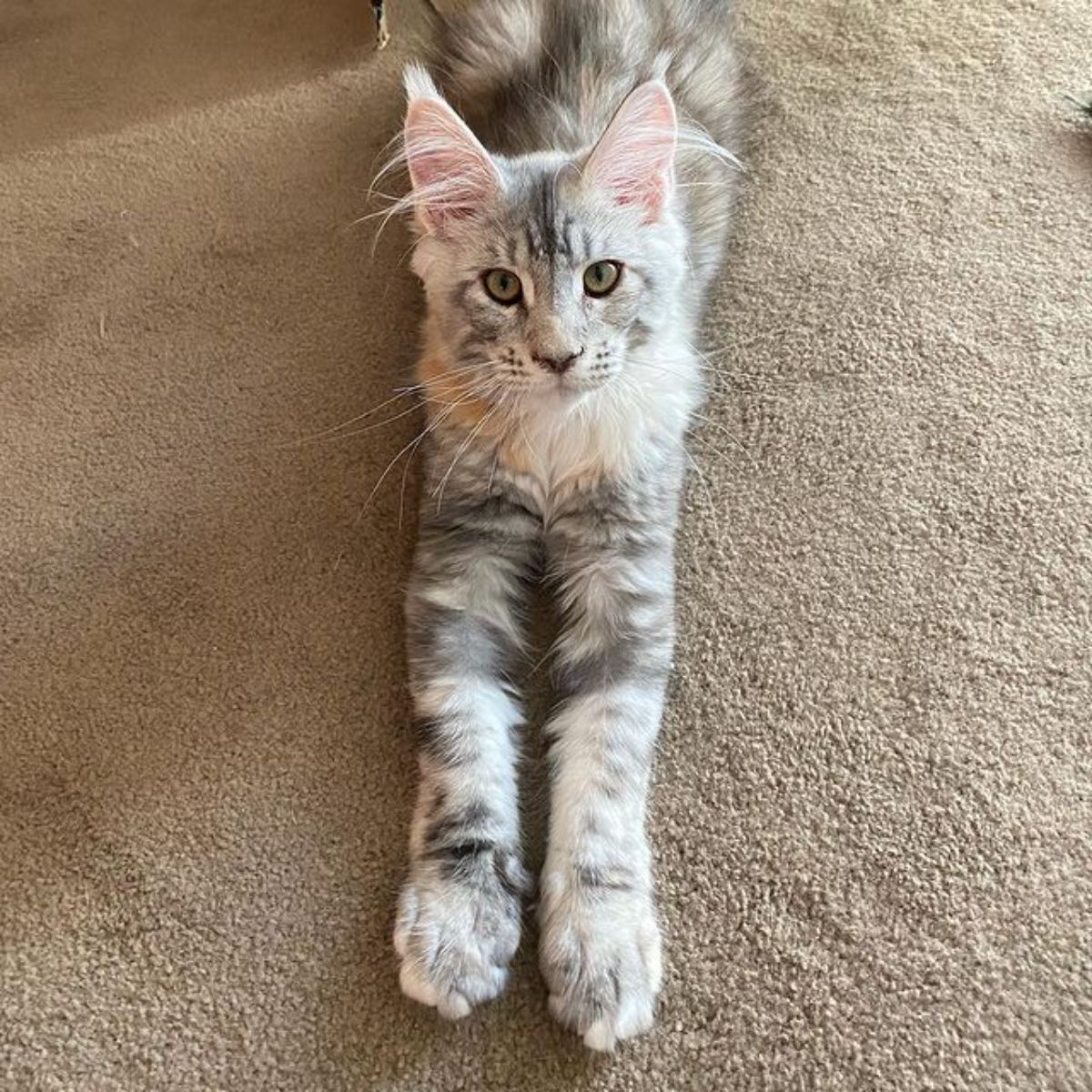 For maximum visual interest, consider the silver broken mackerel torbie and white. Most of their bodies are patches of light, icy gray, cream, and red, accented with thin, black stripes and spots. The white is exclusive to the chest, belly, boots, and face.
20. Red and White Bi-Color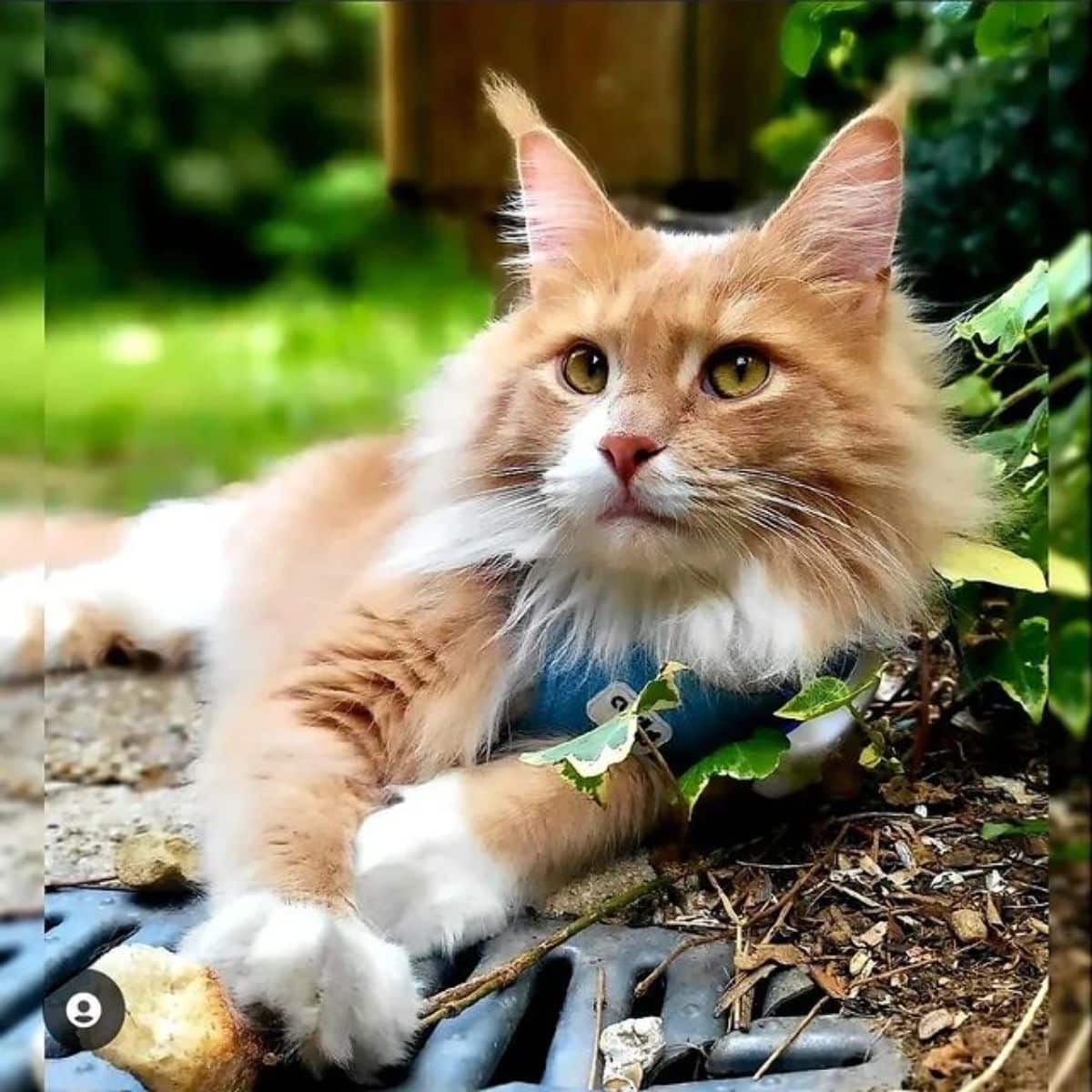 If you're looking to hire a keen mouser, the red and white bi-color Maine Coon could have the edge over the competition. A study on more than 500 felines showed that ginger cats are more likely to be keen predators than any other color.
21. Blue-Cream Parti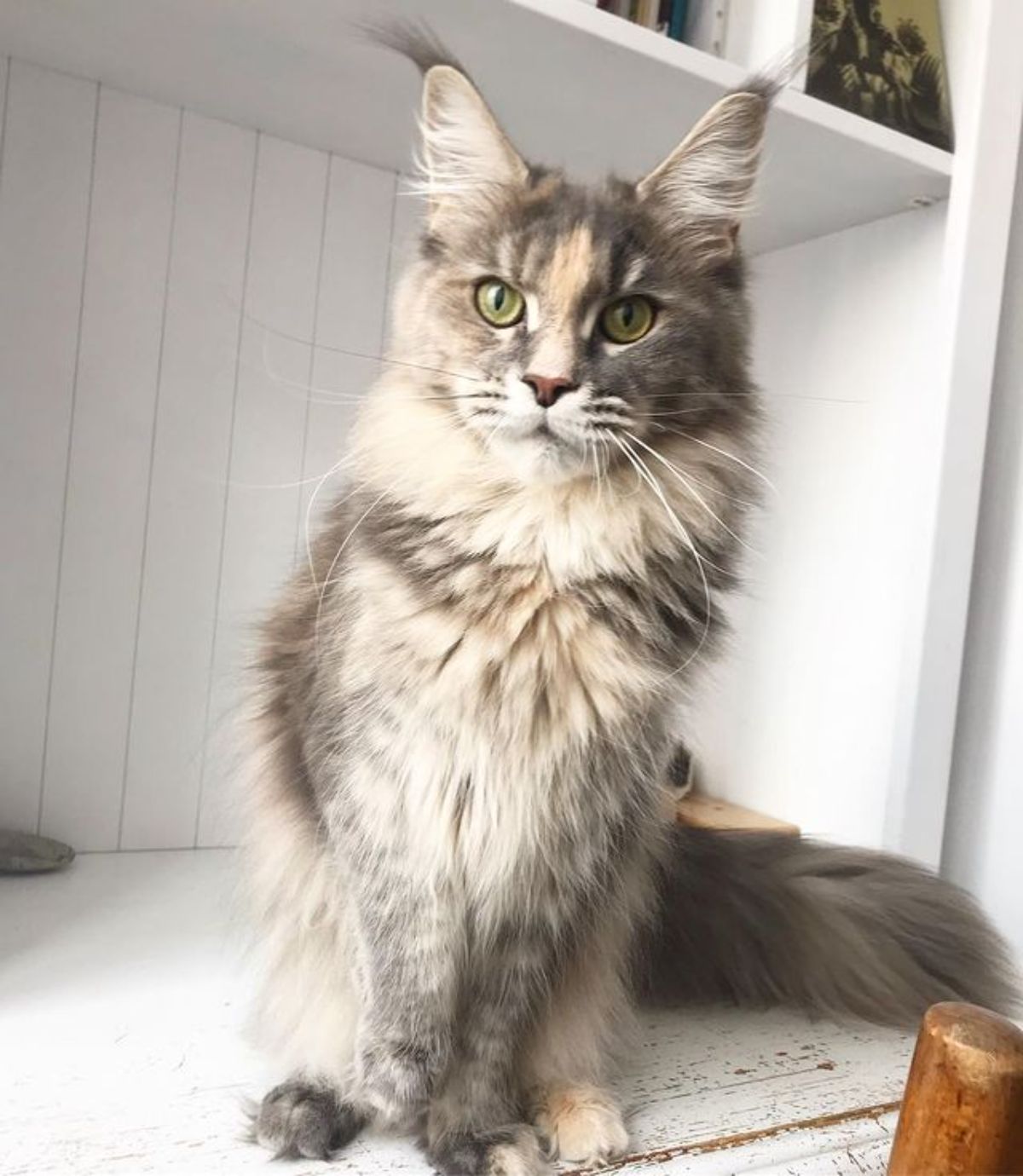 While true that Maine Coons know how to have a good time, the "parti" in this coat color is short for "partial," as they are partially white with blue and cream patches. The dusty, muted tones are breathtaking in their subtlety.
Wrapping Up
Unlike the Bengal and Egyptian Mau, Maine Coon cats don't commonly sport small, regular spots. Instead, dotting appears in the form of tabby or color patch patterning.
Some rare iterations include calico, tortoiseshell, harlequin, and torbie, while the classic and patched tabby are more common.
Regardless of which of these spotted Maine Coon cats you're considering adding to your family, you're sure to enjoy this breed's gregarious personality, affectionate displays, and appreciation for curling up to take a cat nap.