We all know them as the most elegant or the ones who appear the wisest, but Main Coon cats can vary a lot in patterns. Tabby patterns are the most classic coon cat pattern, but even then, there can be three different variances; classic, swirls, and botched. No matter what's your favorite, this list of tabby coons is sure to make your heart melt or your IQ higher.
Jump to:
1. Oscar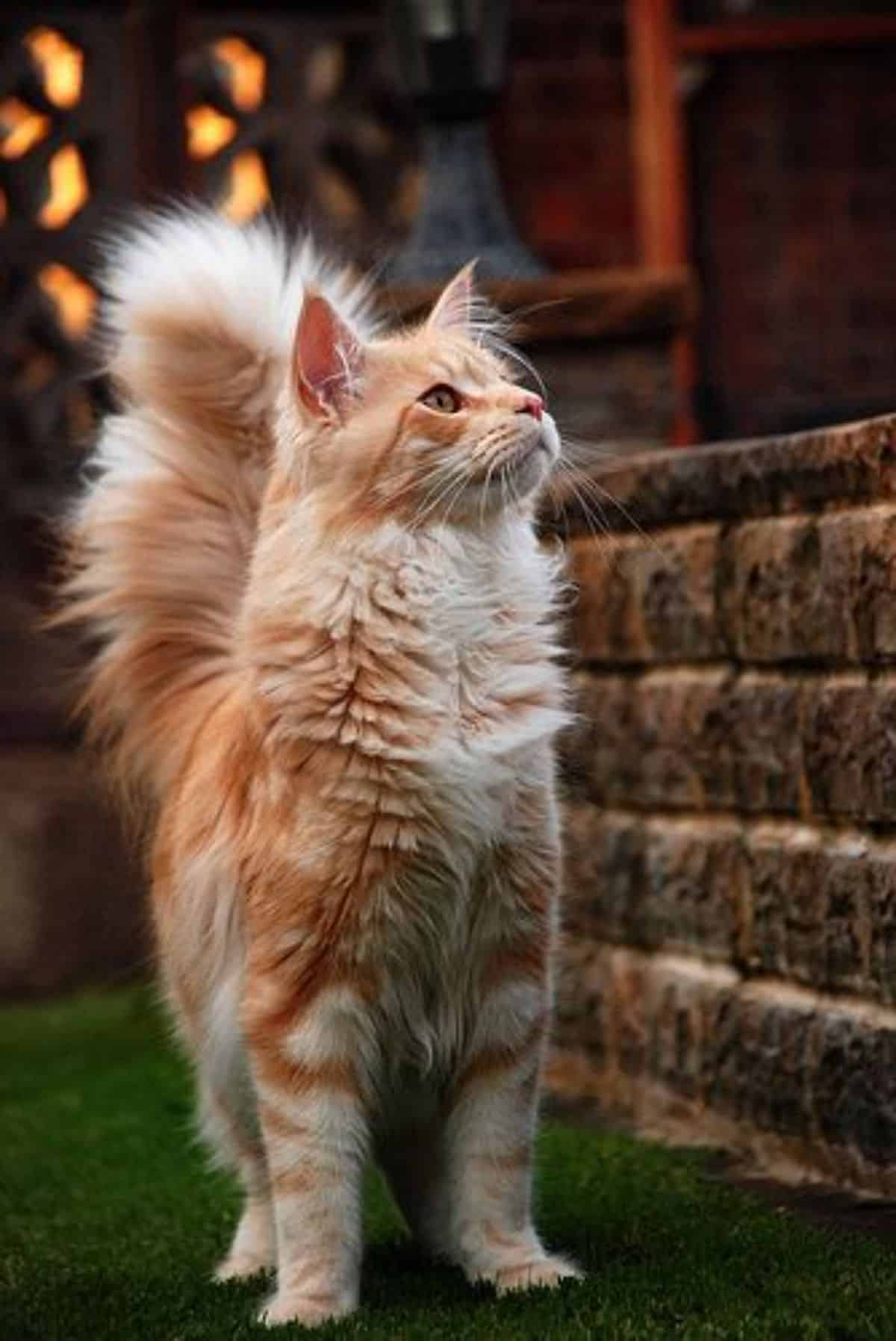 This 8-month-old orange tabby Maine Coon is busy exploring the world. You can see the look of curiosity on his face as he peers over the wall at whatever is on the other side. Despite not being fully grown, this boy is already quite a big cat.
2. On the Alert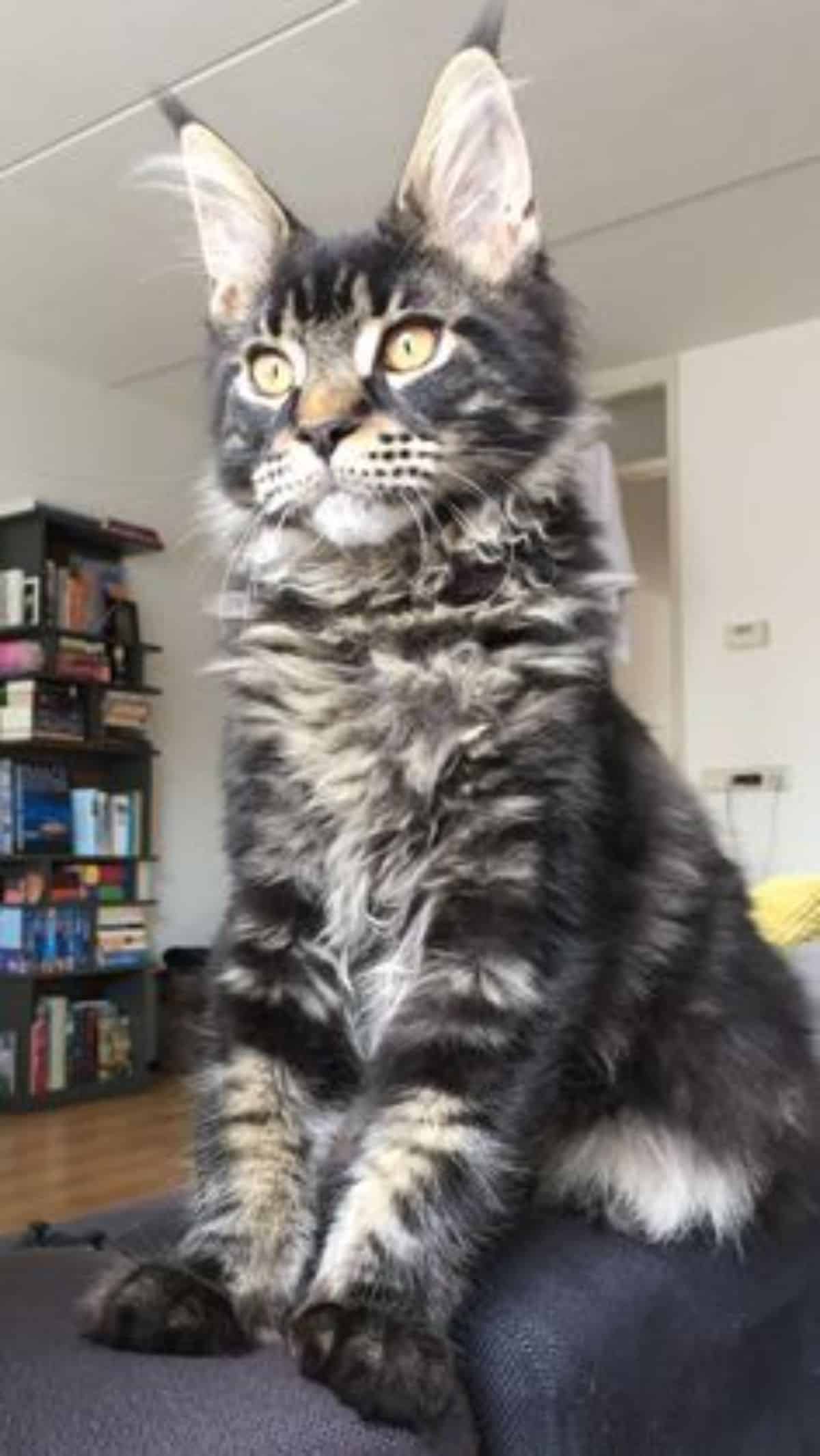 This black tabby Maine Coon looks like she's seeing something interesting out the window. Cats love sitting by windows and taking in the sights and sounds of the world that exists just outside. It's a safe way for them to experience nature.
3. Striped Silver Baby
This kitten really lucked out in the color department! His coat is a combination of lighter and darker gray, with highlights of white and black. He's so fluffy and adorable, although his little face looks grumpy.
4. Content Kitty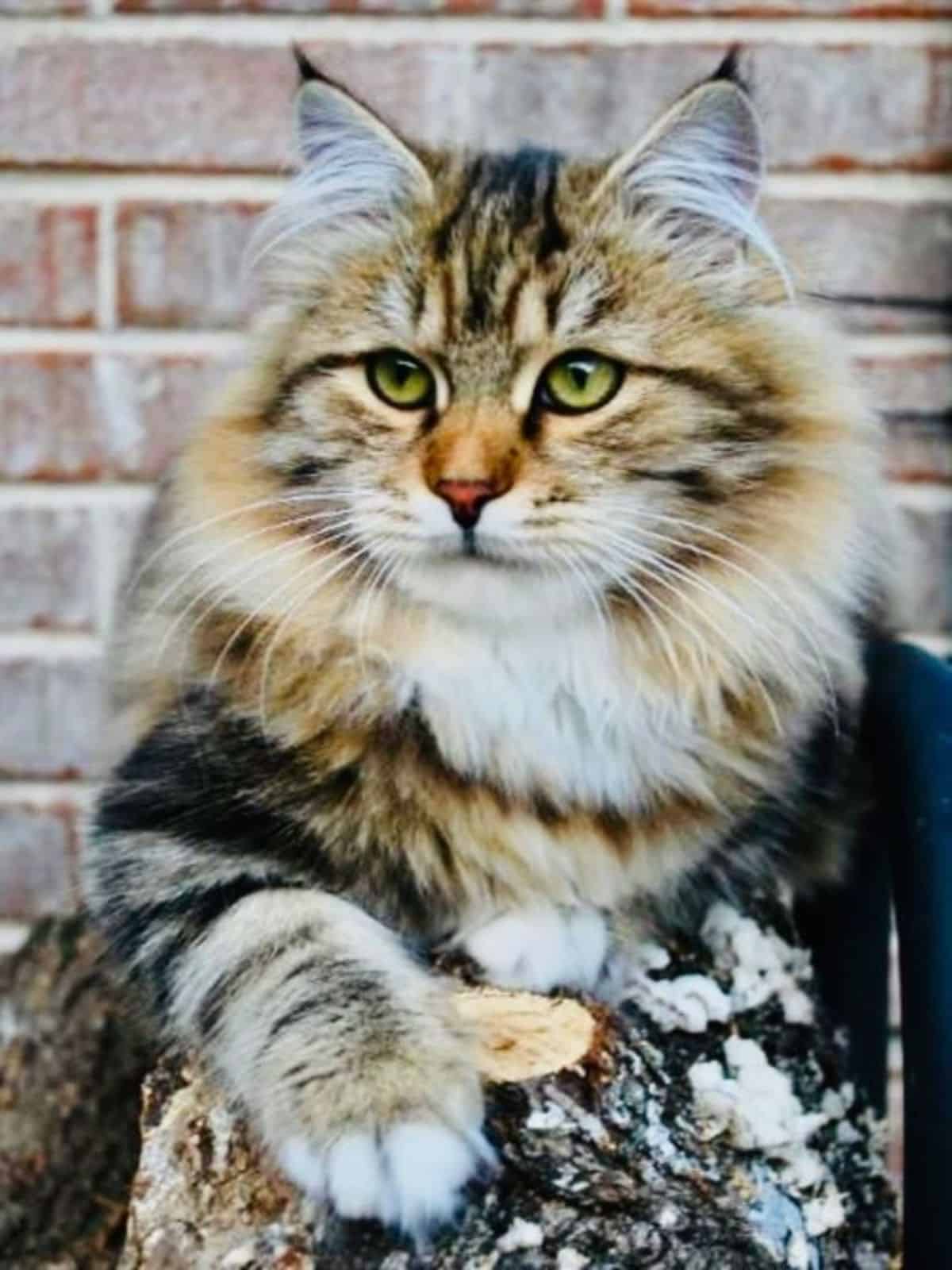 This lovely classic Maine Coon tabby looks so calm and peaceful. Her light green eyes are framed with a black, making them stand out even more.
5. Little Miss Texas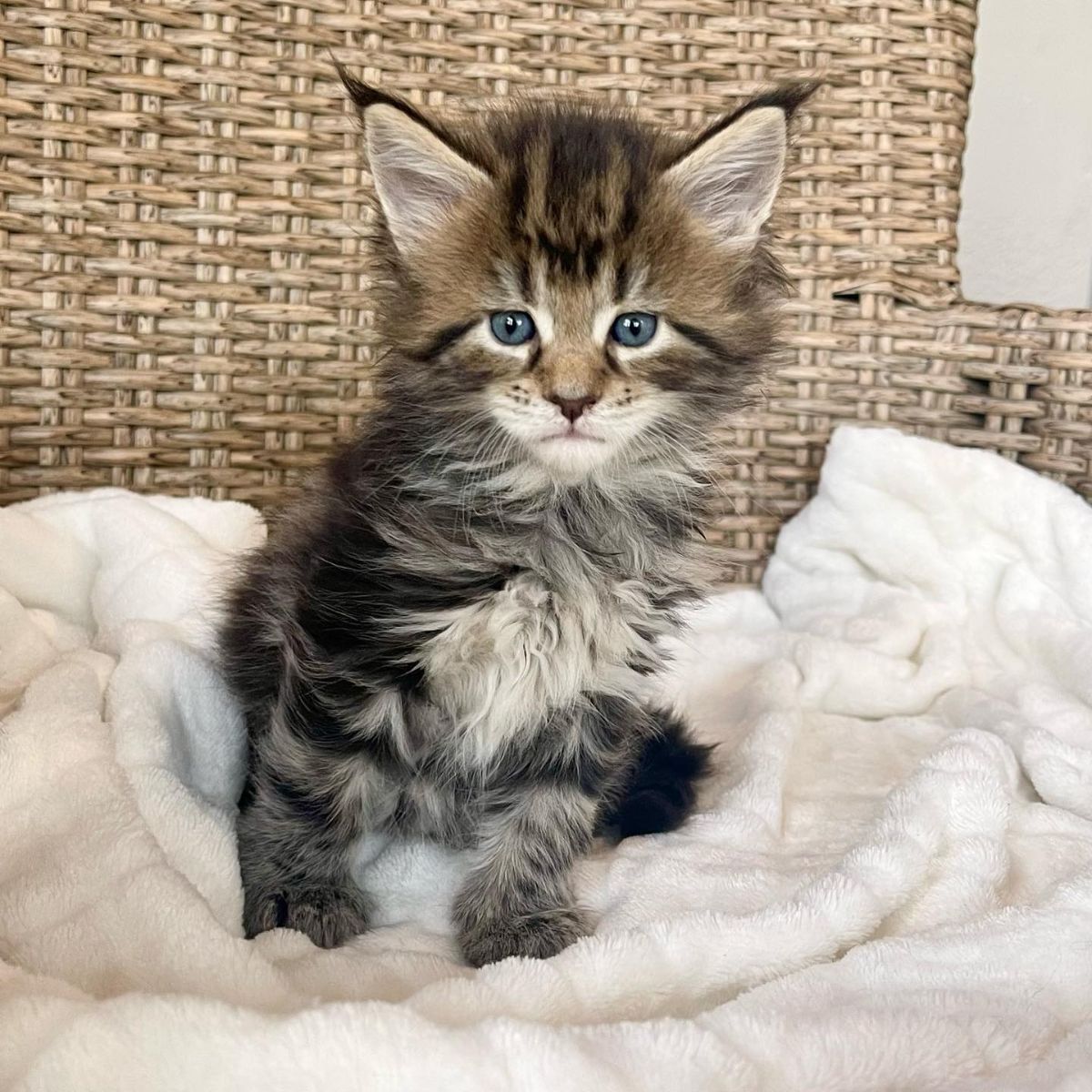 This sweet little lady isn't going to be little for long. She comes from a cattery specializing in breeding extra-large Maine Coon cats. Soon this brown and gray tabby will be a fluffy force to be reckoned with. Everything really is bigger in Texas!
6. Not-So-Happy Hat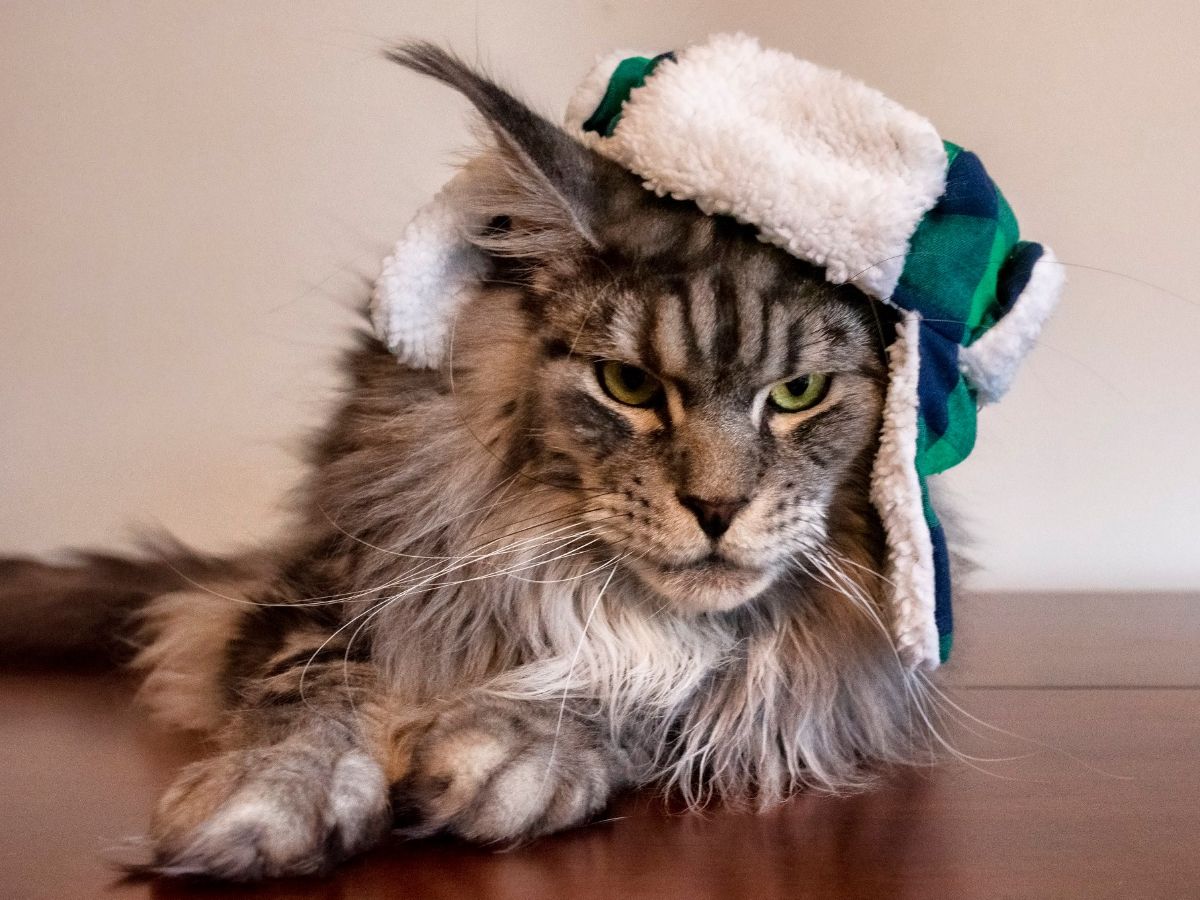 This tabby Maine Coon cat looks ready for winter in his flap-eared hat! He doesn't seem too keen on wearing headgear, but he was nice enough to allow his owner to put it on him for this cute photo op.
7. Hugo and Nemo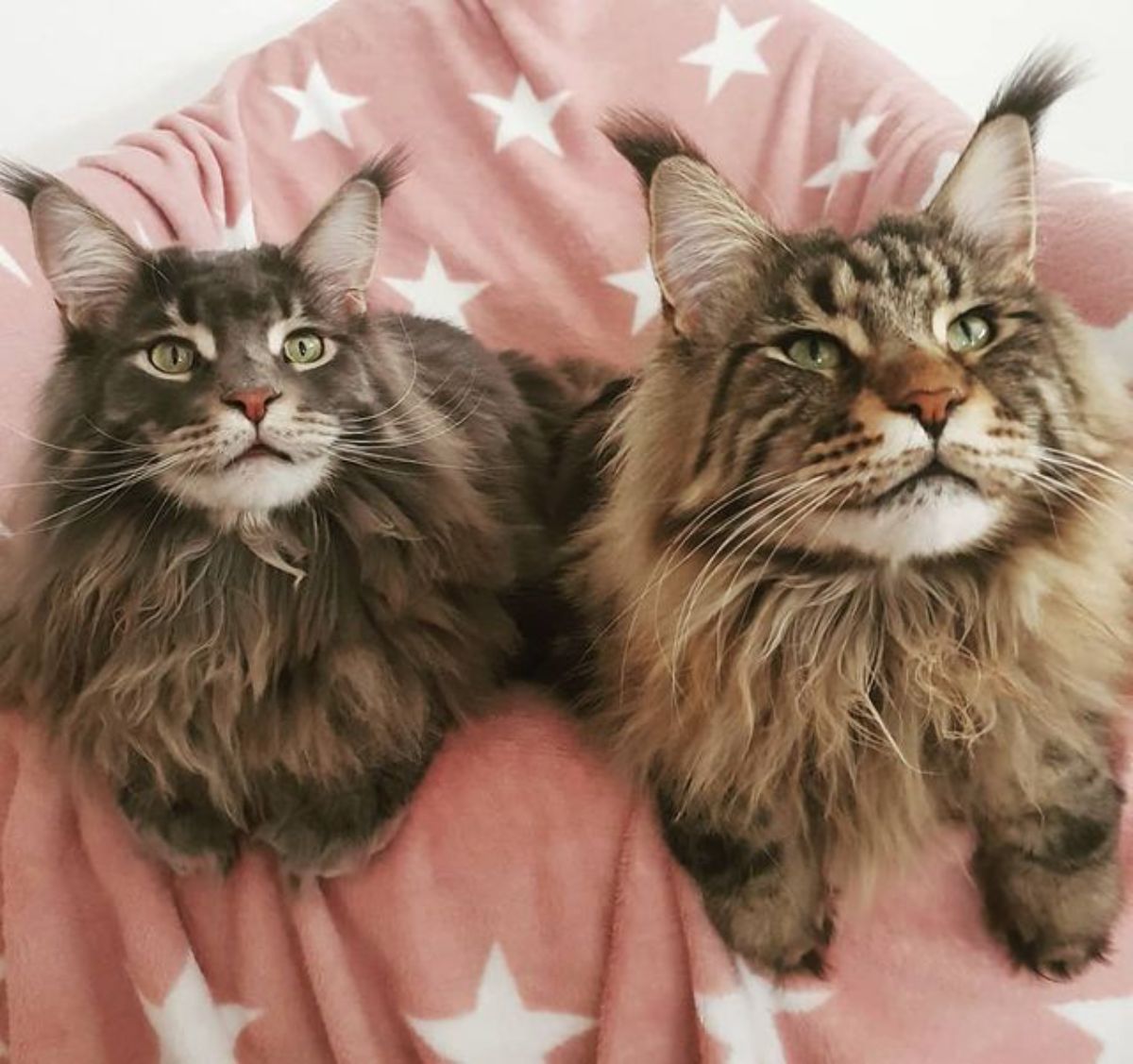 Hugo and Nemo are a pair of German Maine Coon cats who have made quite a splash on social media. There's no doubt Hugo is a tabby with strong, dark stripes on his fawn-colored coat. On the other hand, Nemo is a gorgeous lilac-gray smoke. While he's mostly solid in color, the "M" on his head and his love for his brother make him an honorary tabby.
8. Draven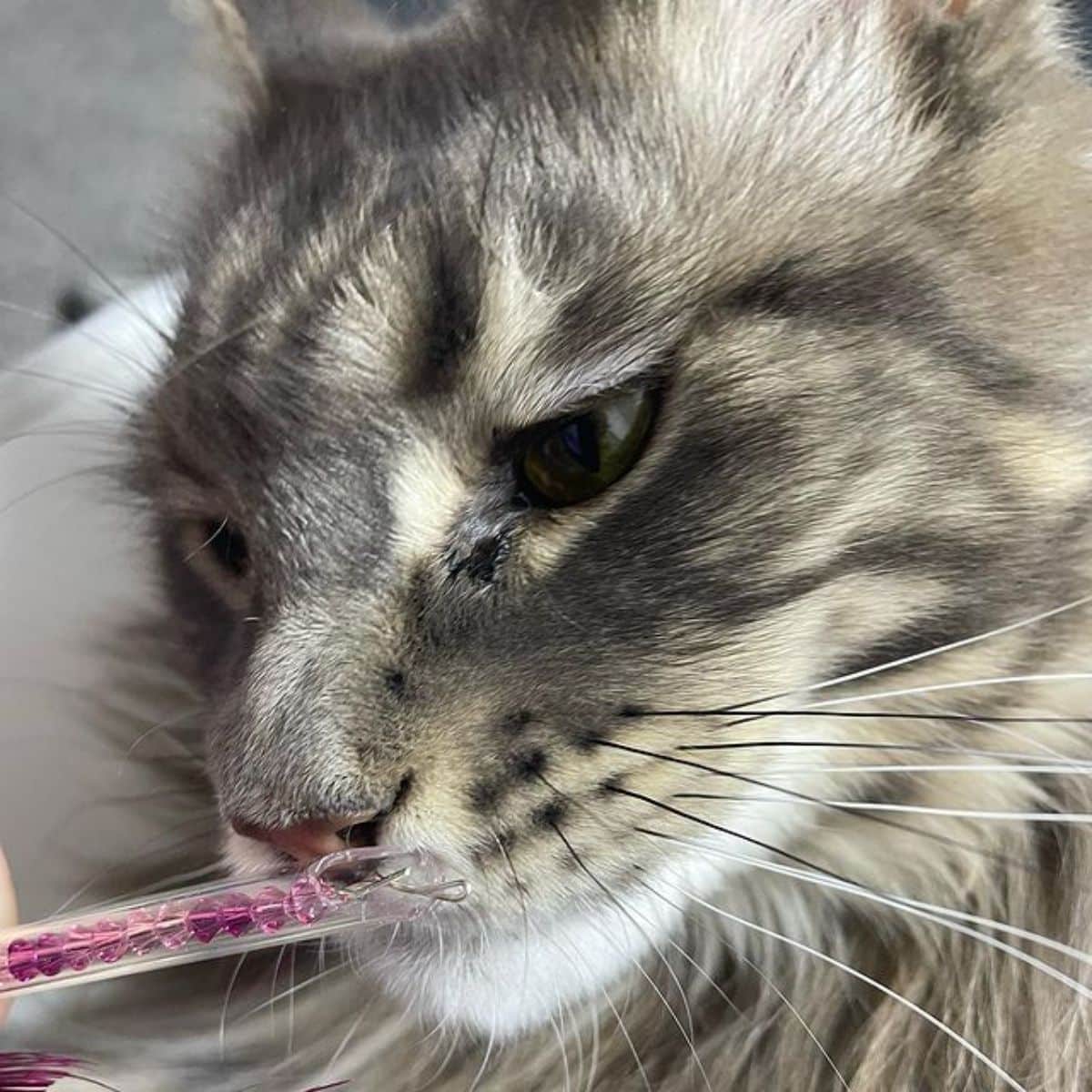 This close-up shot shows all the details of Draven's wonderful coloring. The darker stripes and dots on his face give him so much character.
9. Autumn Perfection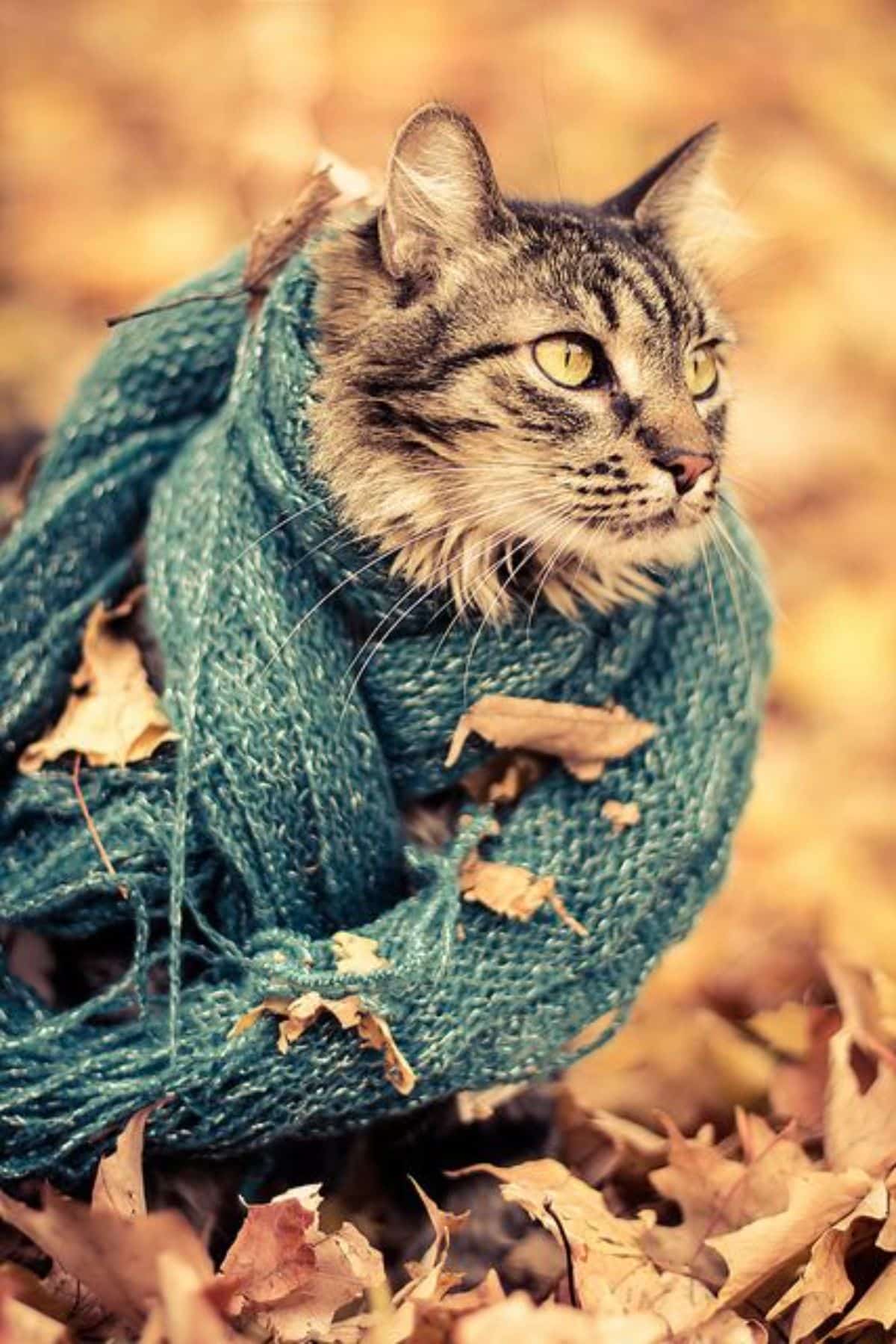 Getting a cat to cooperate for a magazine-worthy seasonal photo shoot is not easy. This tabby Maine Coon did her owners proud.
10. Meg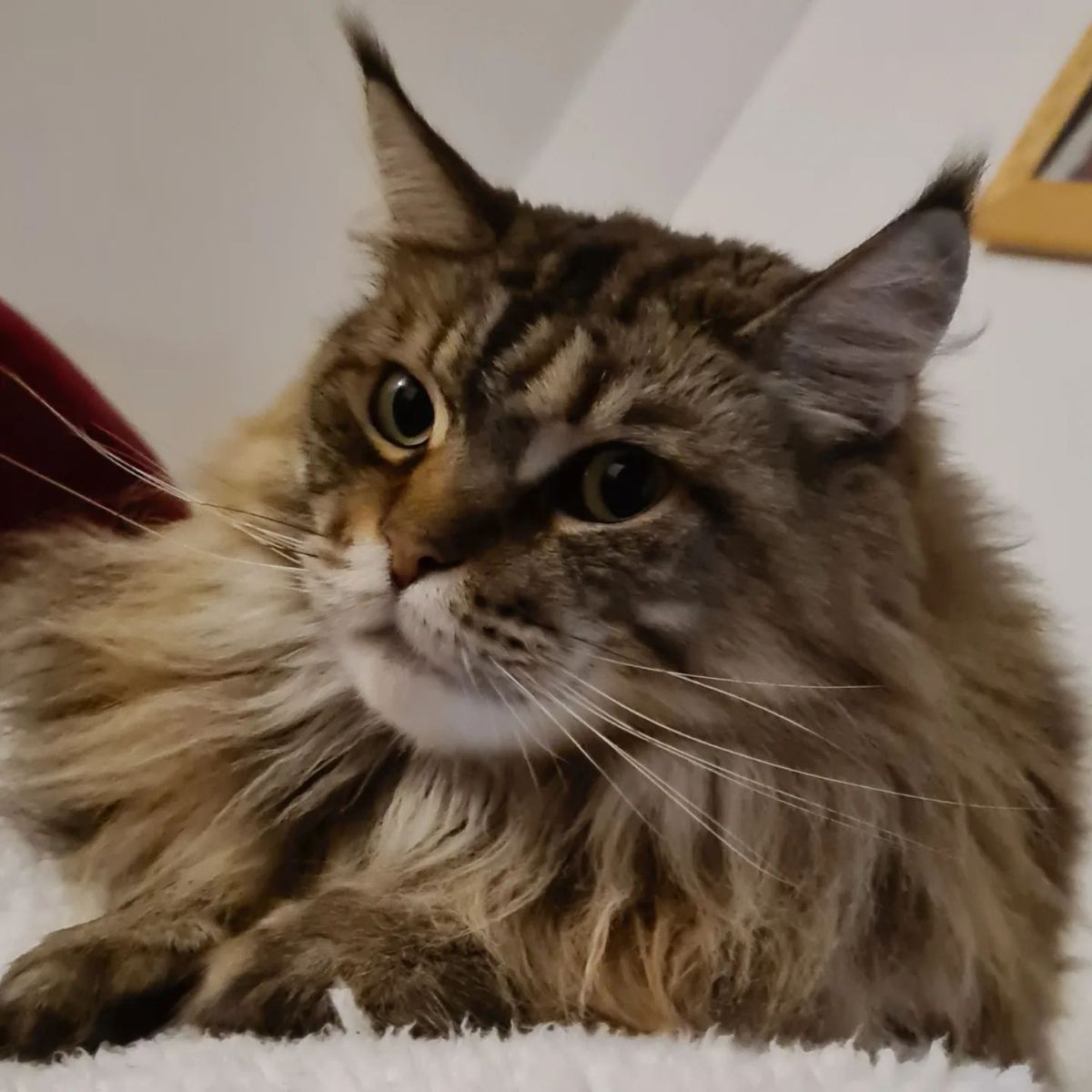 Congratulations, Meg! Meg is a purebred Maine Coon cat who lives in the UK. She's introduced as "Mama Meg', which tells us she's either had kittens or is about to.
11. Lounging in The Library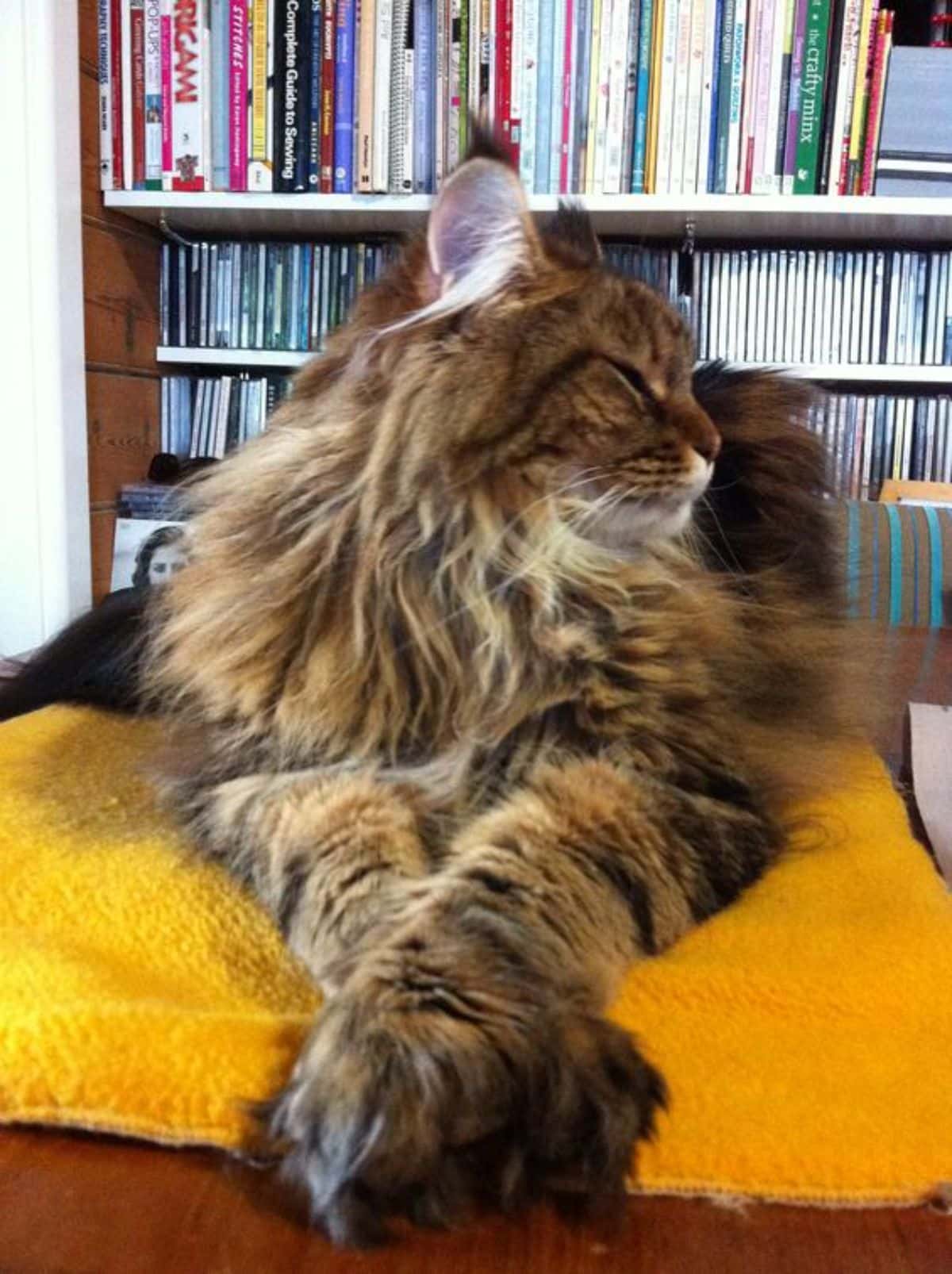 Coco knows how to be quiet in the library. This extra-fluffy Maine Coon tabby looks so peaceful, just chilling among the books.
12. Cassiopeia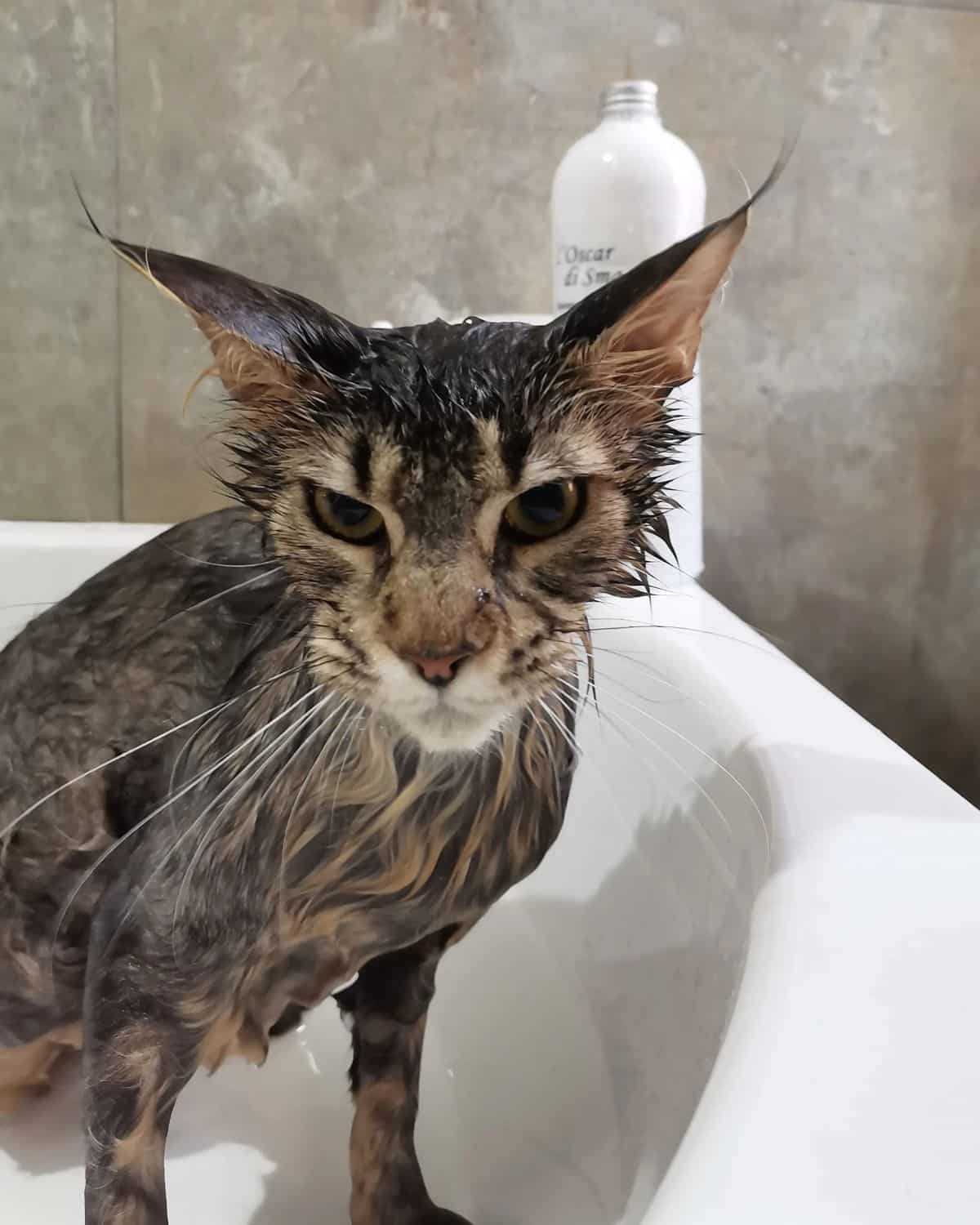 Cassiopeia doesn't look amused by her bath. While many Maine Coon cats like water, some dislike getting wet as much as any other cat breed. With all the fluff slicked down, it's easy to see this tabby's amazing bone structure.
13. Silver Majesty
This frosty silver tabby Maine Coon looks just like a miniature white tiger. Look at the size of those paws!
14. Artsy Cat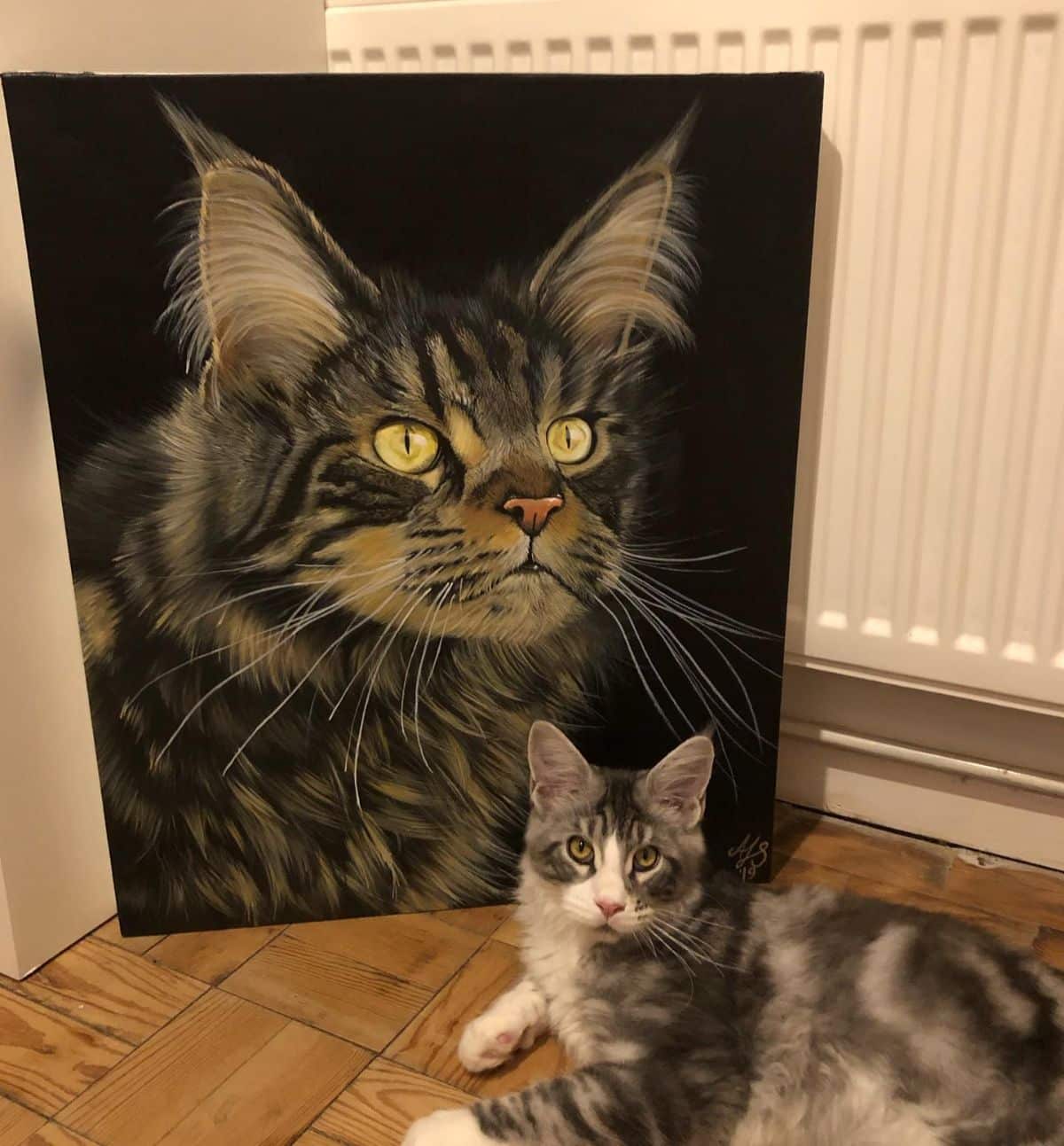 This gray and white tabby Maine Coon cat is posing in front of a picture her owner drew of a friend's cat. She's likely waiting for her own turn to be immortalized on canvas.
15. Tabico Love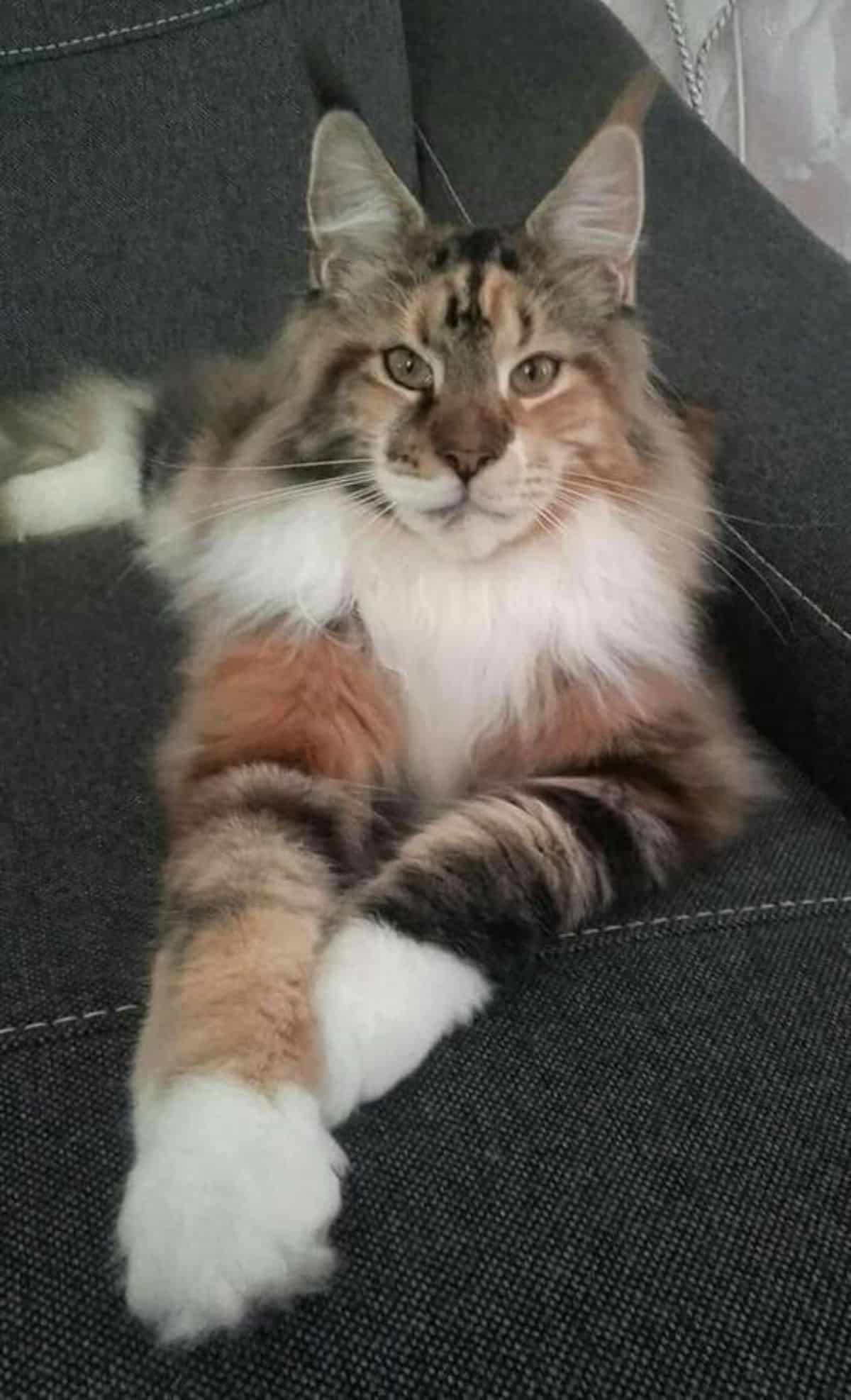 A tabico is a tabby cat that's also a calico. These cats have a combination of black or gray stripes and white and orange patches. This Maine Coon cat's tabico coat is very luxurious.
16. Versace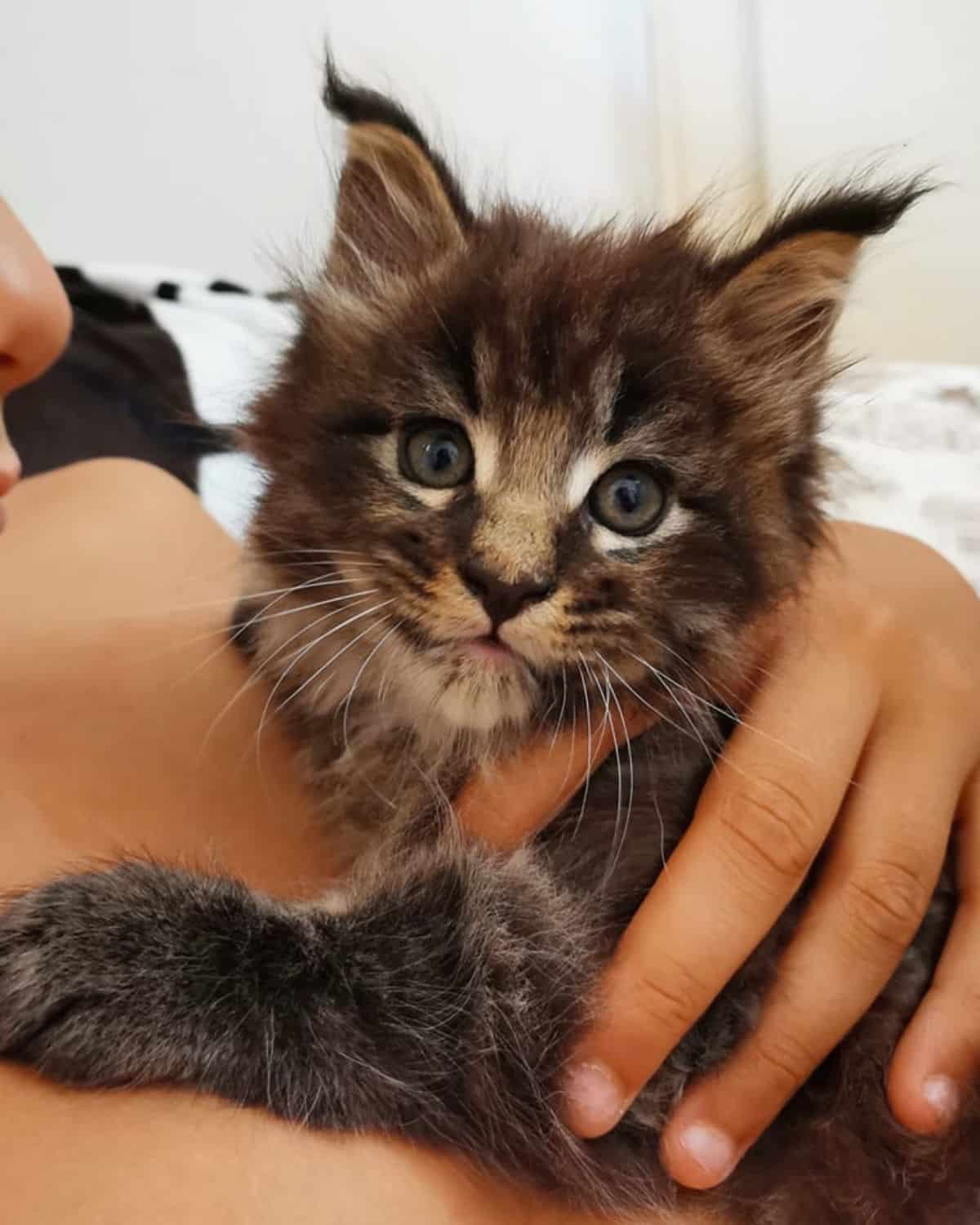 Versace is a kitten with the classic Maine Coon tabby pattern and colors. This unique coat is the reason Maine Coons got their name. People used to believe that the breed resulted from cats breeding with raccoons.
17. Kira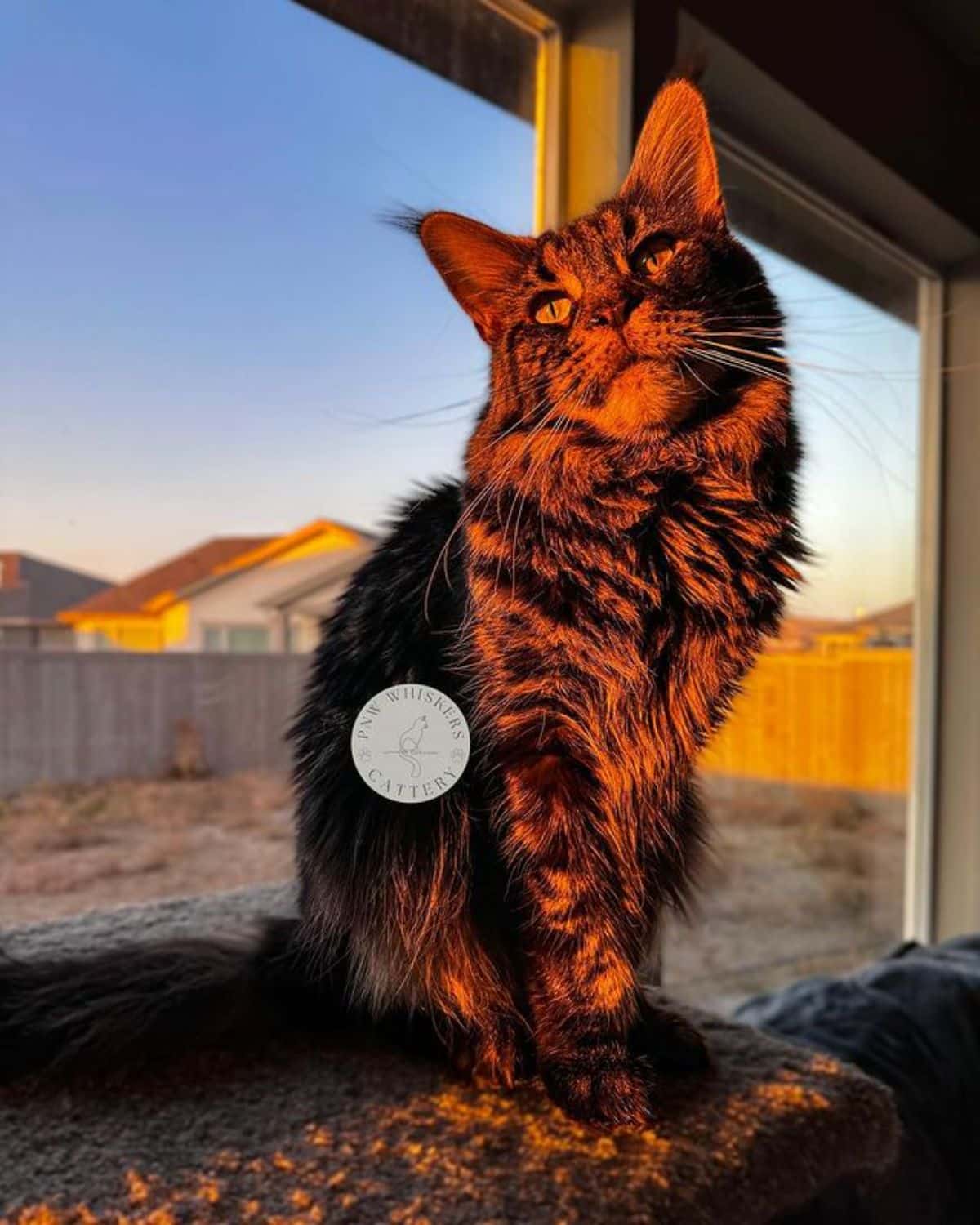 Kira is soaking up the sunset at her West Coast home. The golden hour really brings out the amber highlights in her fur.
18. Dapper Fellow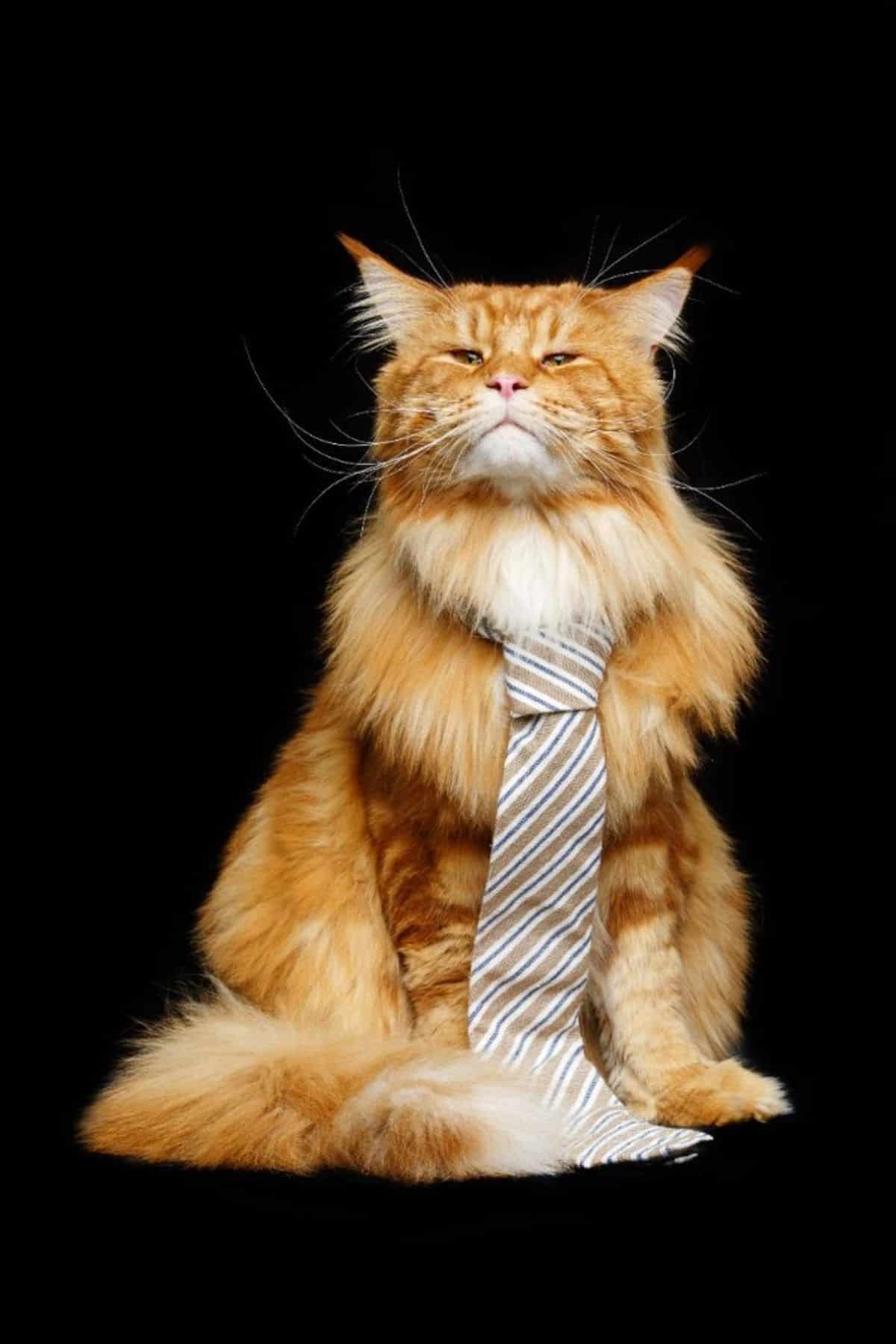 We love everything about this guy. The floof, the tie, the crazy whiskers, that face!
19. Santa Beard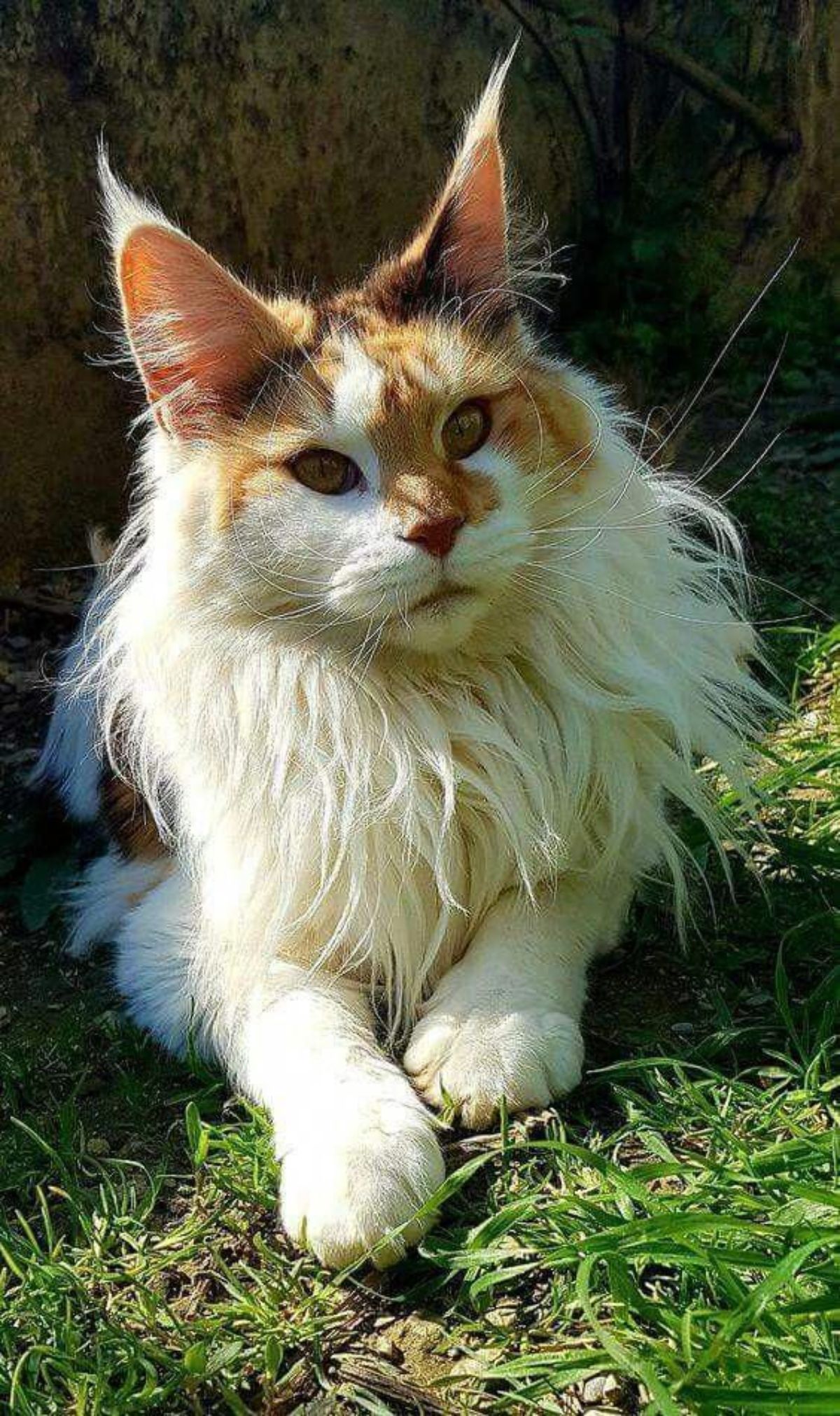 This tabby Maine Coon cat - in this case, a tabico - has the coolest mane! It's pure white and falls around his chin, just like a Santa beard. Someone needs to get this cat a gig at the mall.
20. The Lap of Luxury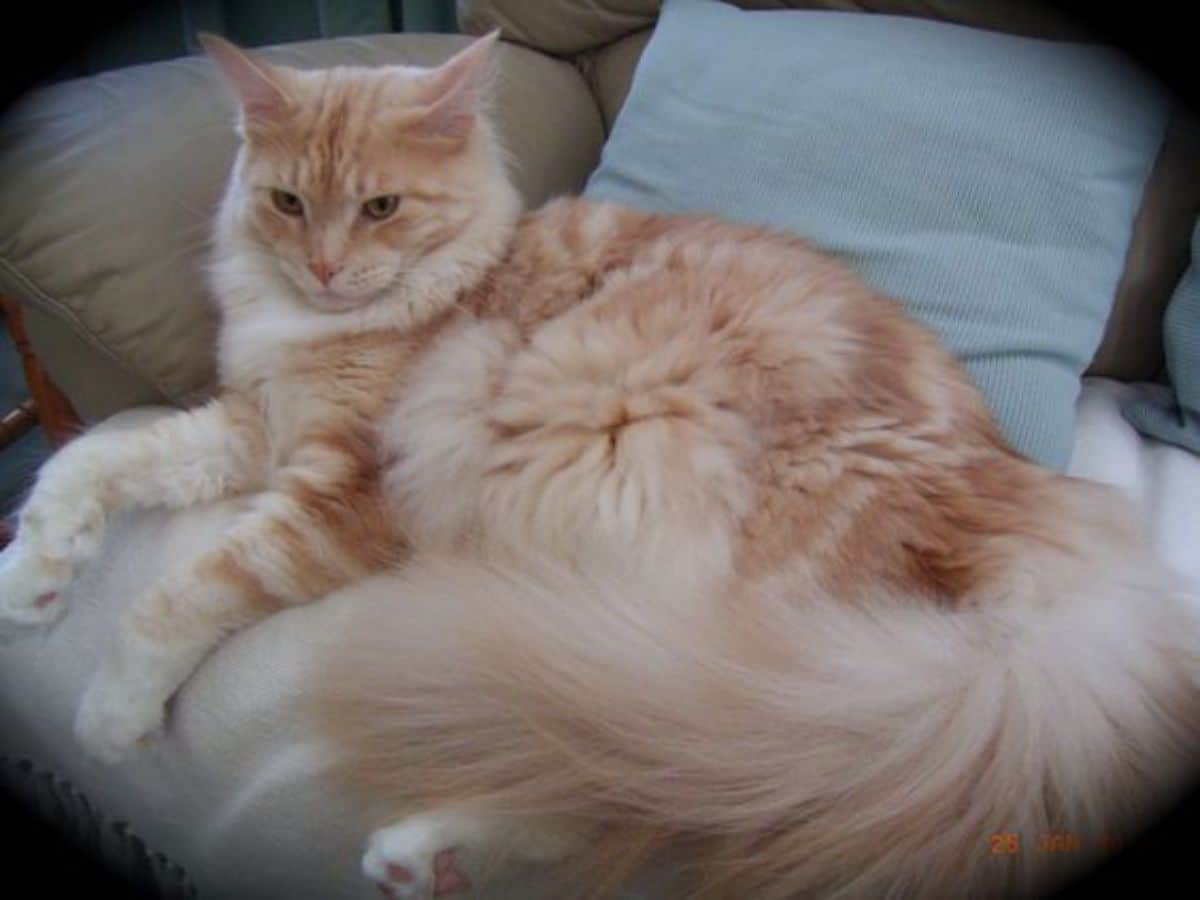 With the beauty and poise of a silver-screen starlet, this orange tabby Maine Coon is a real knockout. Keeping a Maine Coon's fur in good condition like this takes some work. If you want your cat to be fluffy and shiny, you'll need to invest in good grooming tools.
21. Unique Face
This kitten has an exaggerated version of the typical Maine Coon face. He looks a little goofy right now, but he will grow into his handsome face as time goes on.
22. Mom and Daughter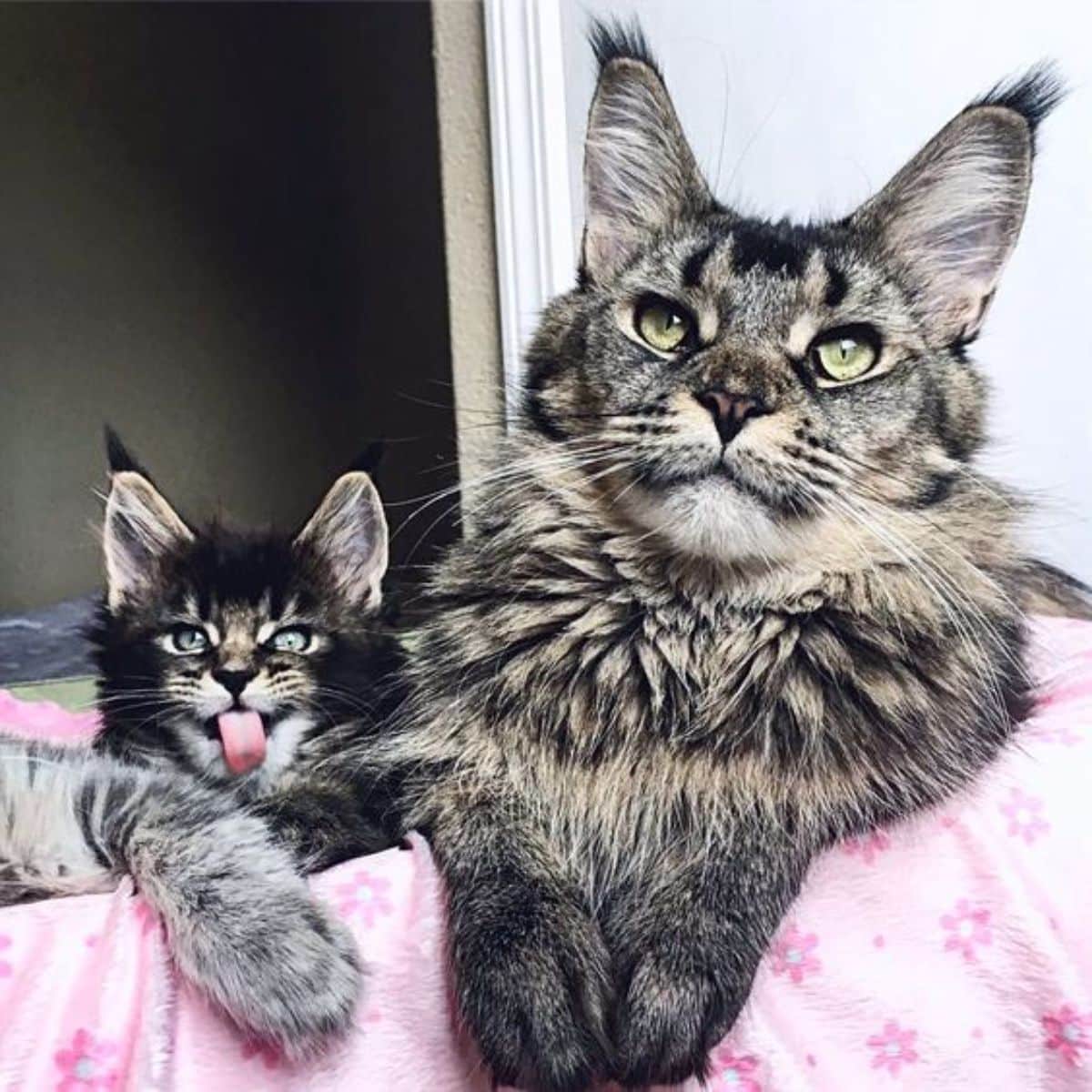 This duo is one of the cutest pairs of cats we've ever seen. The mom is so pretty with her classic tabby pattern. The baby is almost identical to her mom, except she has darker fur around the face. But the best part of this pic is the kitten's whimsical tongue-out pose.
23. The Home Stretch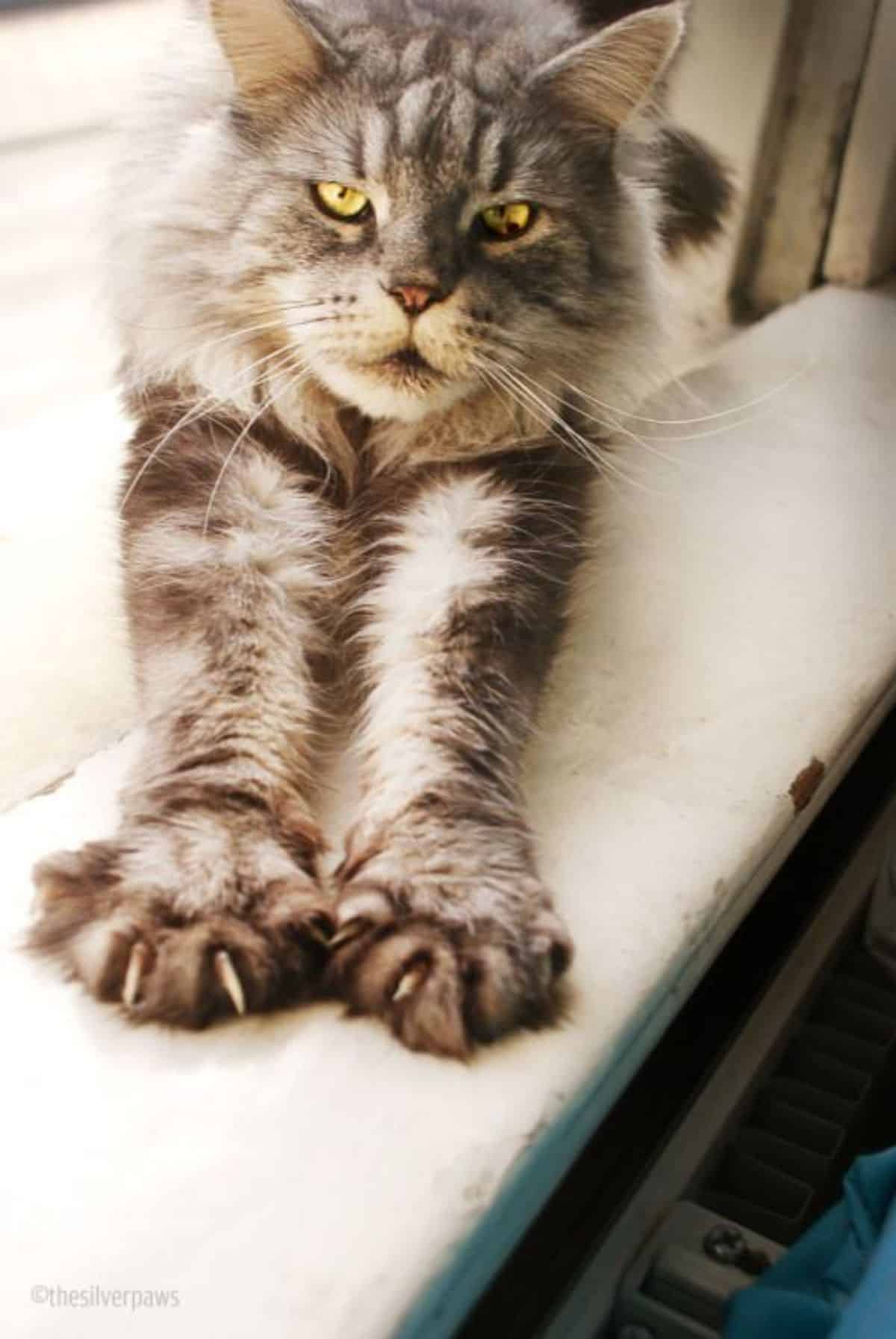 This lilac tabby Maine Coon was caught mid-stretch. Cats use their muscles a lot throughout the day to do all their fancy cat acrobatics. Sometimes, a good stretch is just what the doctor ordered.
24. Willow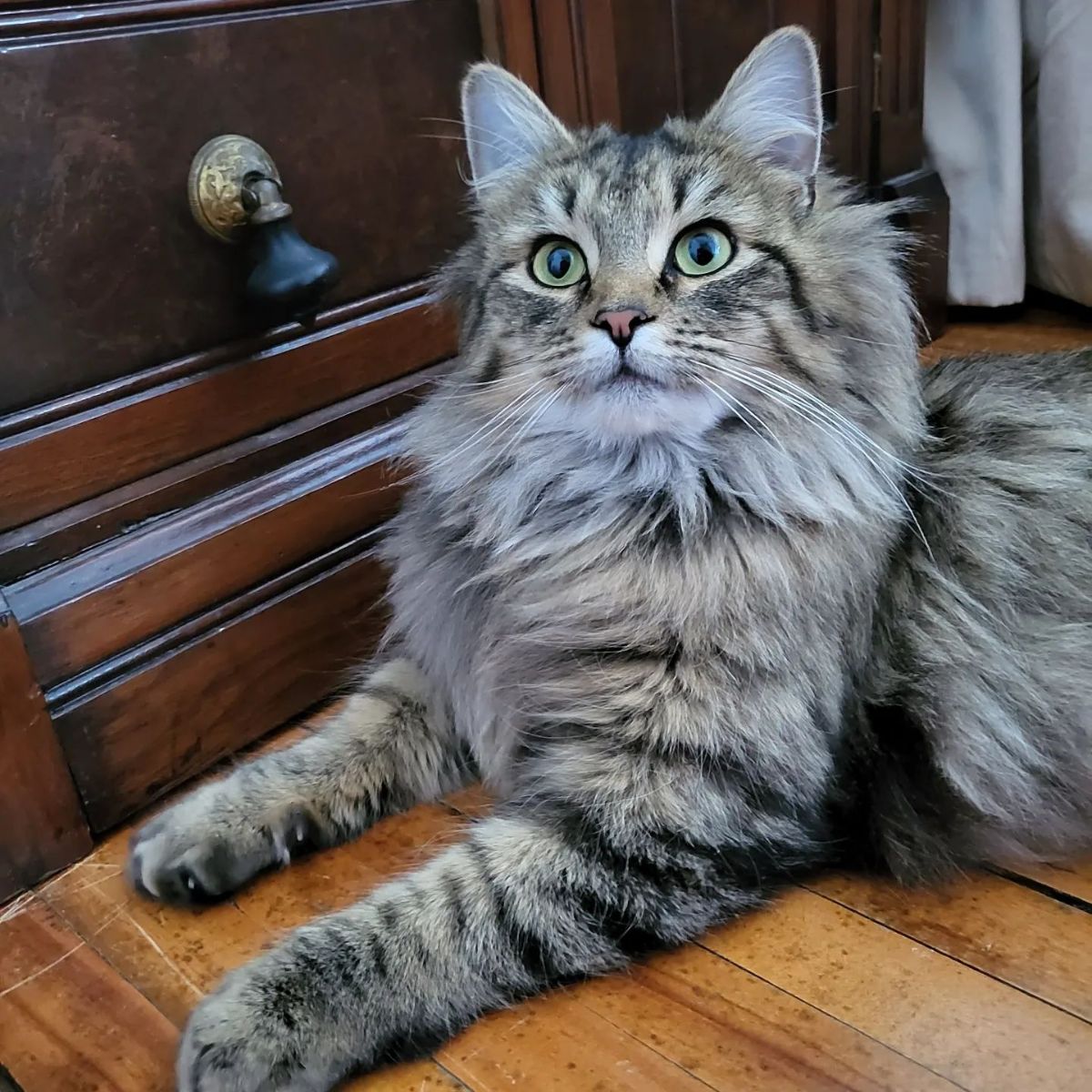 Willow's clear eyes and inquiring gaze give her such an intelligent look. She blends in very well with the antique furniture.
25. Striking Pose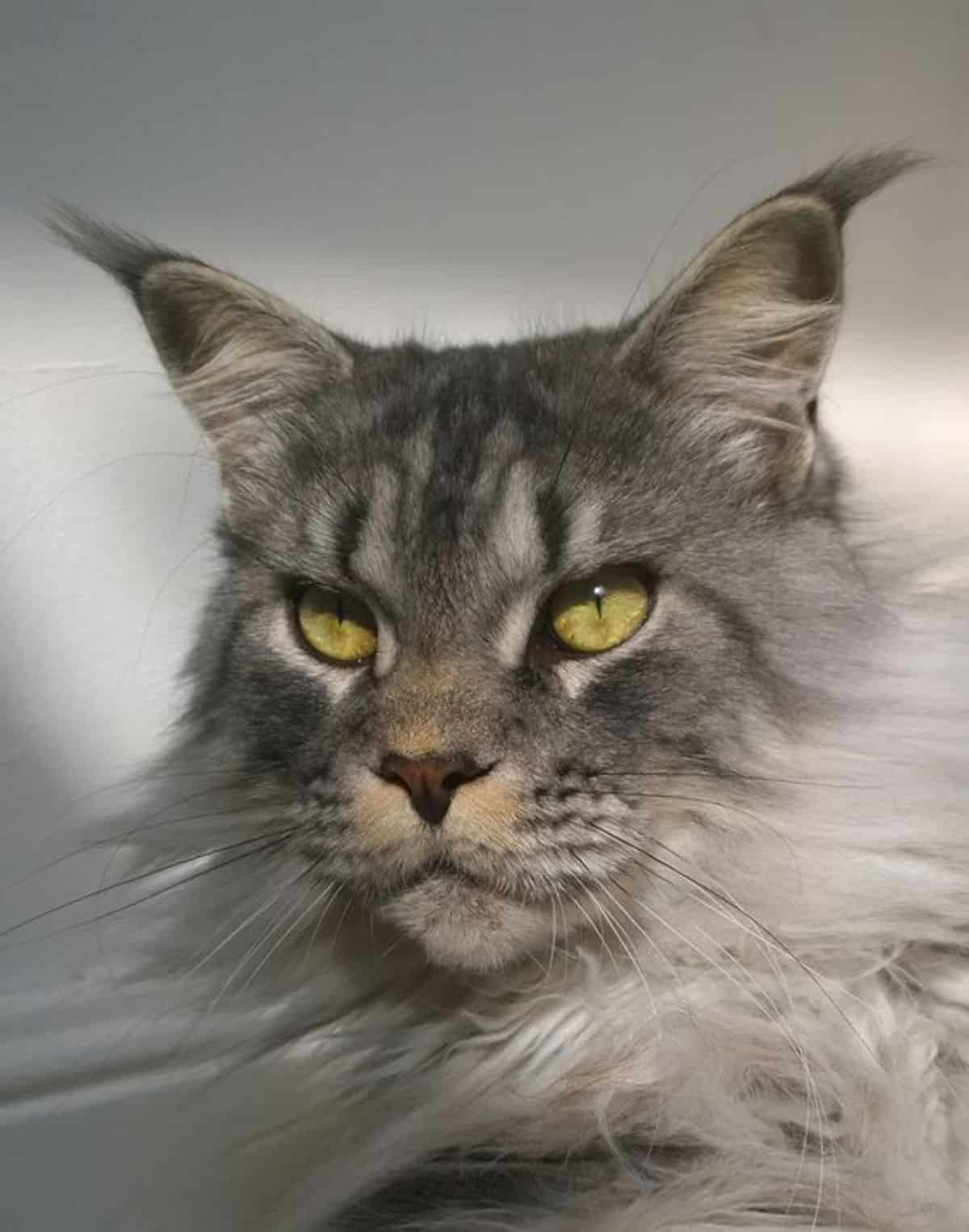 This light gray tabby Maine Coon appears to know he's being admired, and he's loving it. The cat's chiseled cheekbones, olive green eyes, and impressive ear tufts make him an excellent model.
26. All Ears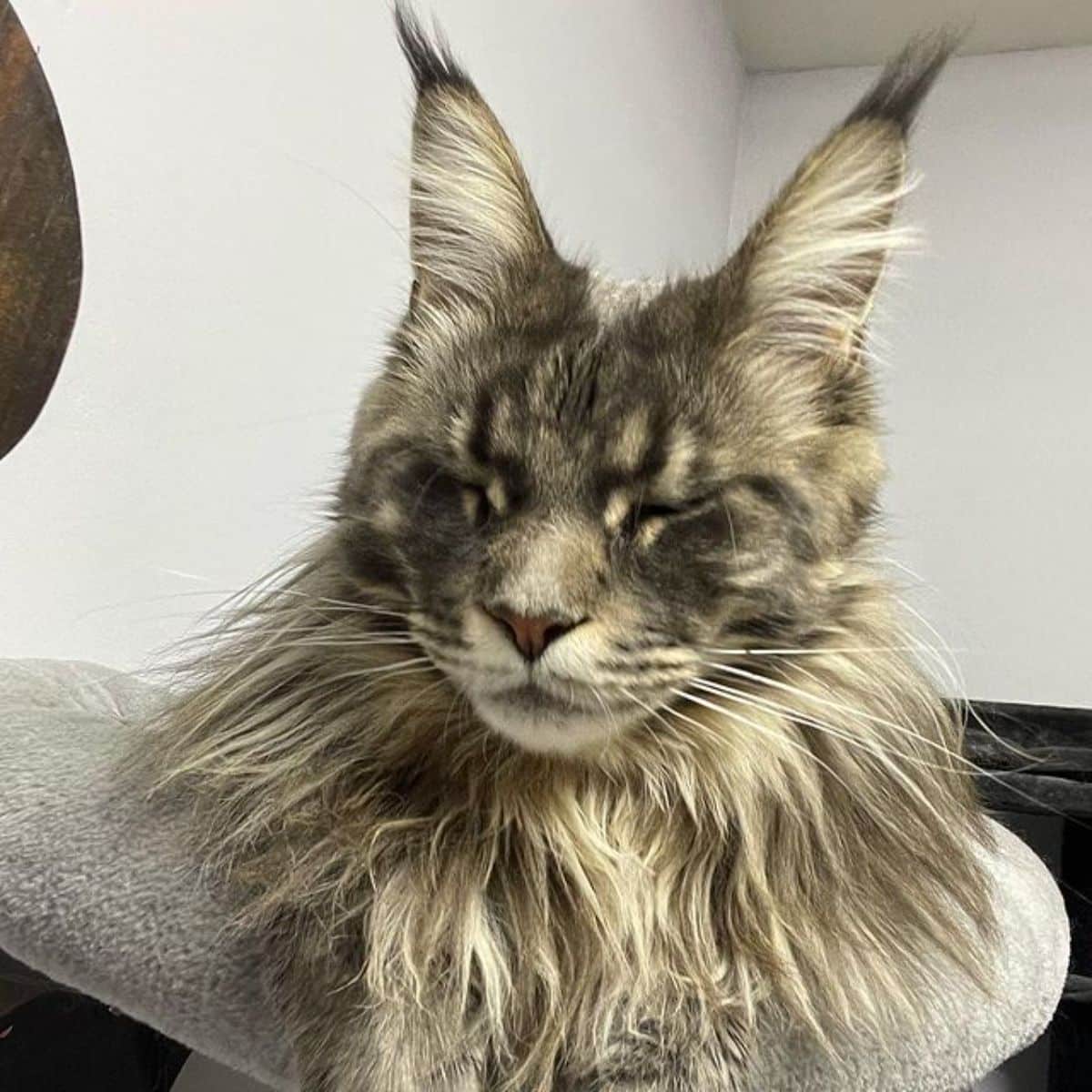 Maine Coon cats have extra fur on the inside of their ears and tips. Both types of fur are believed to have evolved to help protect Maine Coons' ears from icy weather. This tabby was blessed with ear fur in abundance.
27. A Face for the Ages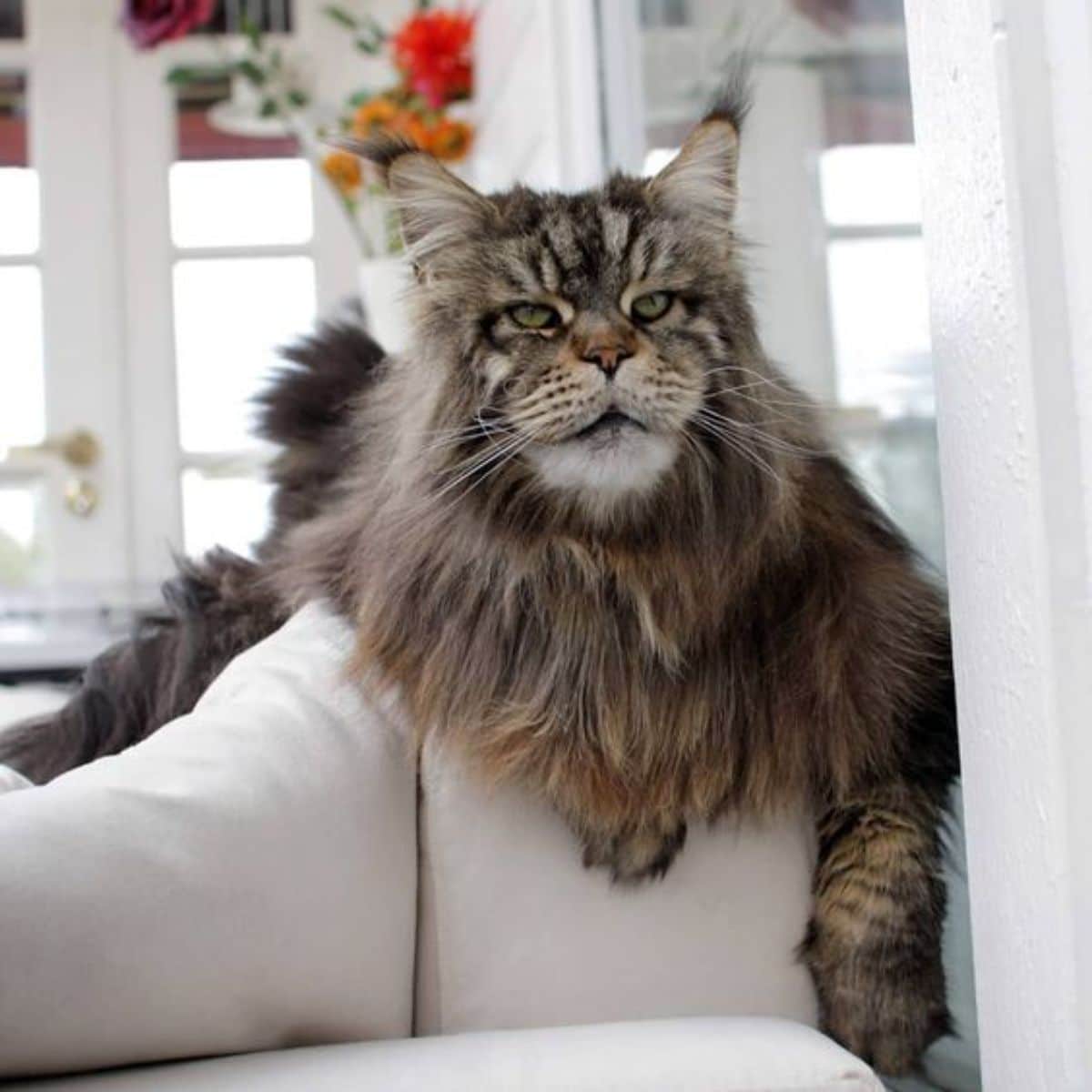 It's not easy to tell the age of this tabby Maine Coon cat. The breed can often have a mature-looking face when they're very young. But our guess is this guy has been around for a few years. He looks so wise and sweet.
28. Tiny Beauty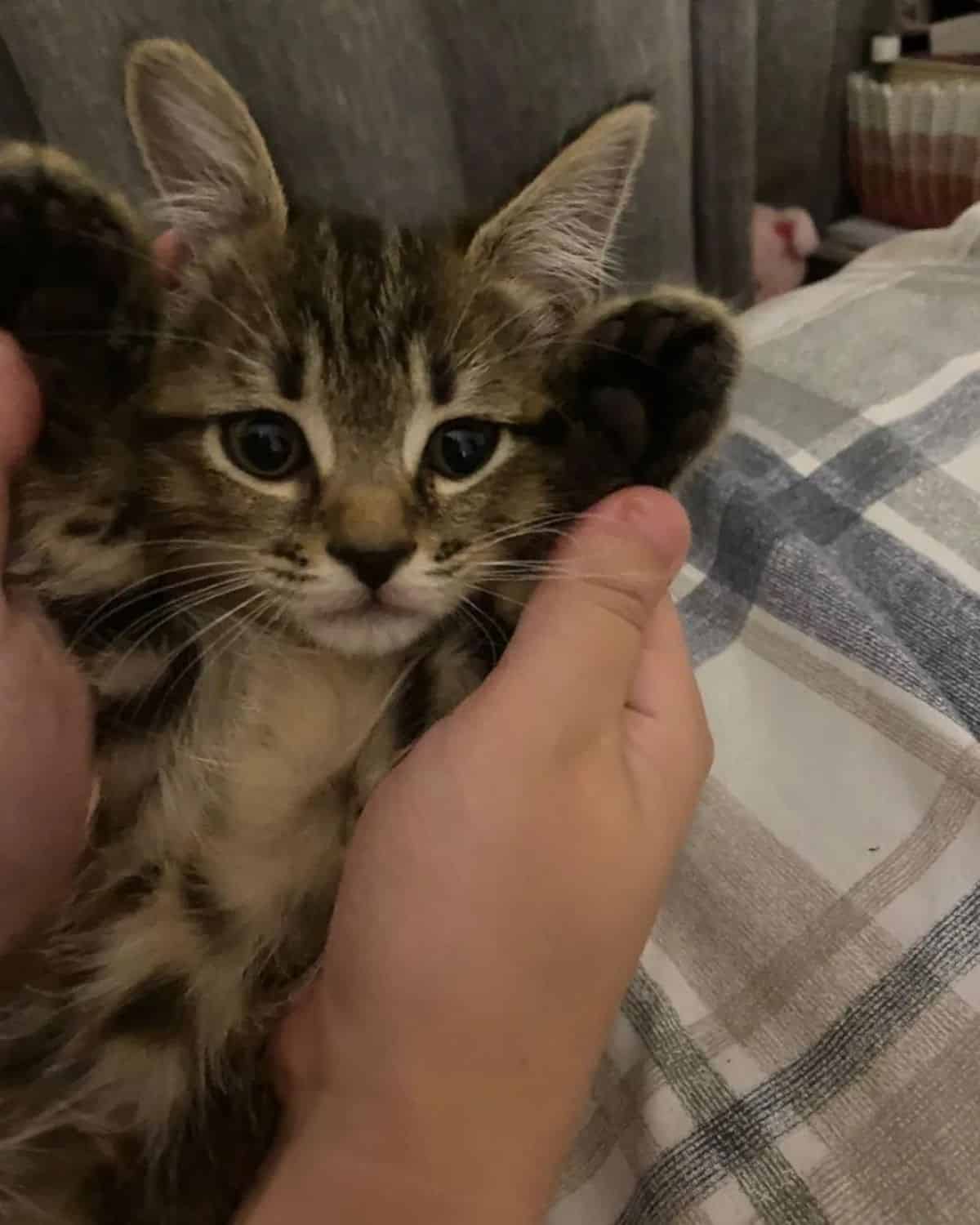 Have you ever seen a tabby Maine Coon play peek-a-boo? Now you have! This kitten is enjoying her time with her human.
29. Tiger Time
Between the orange and black coloring, the bone structure, and the regal stare, this Maine Coon tabby is a near-perfect replica of a jungle cat.
30. Creamsicle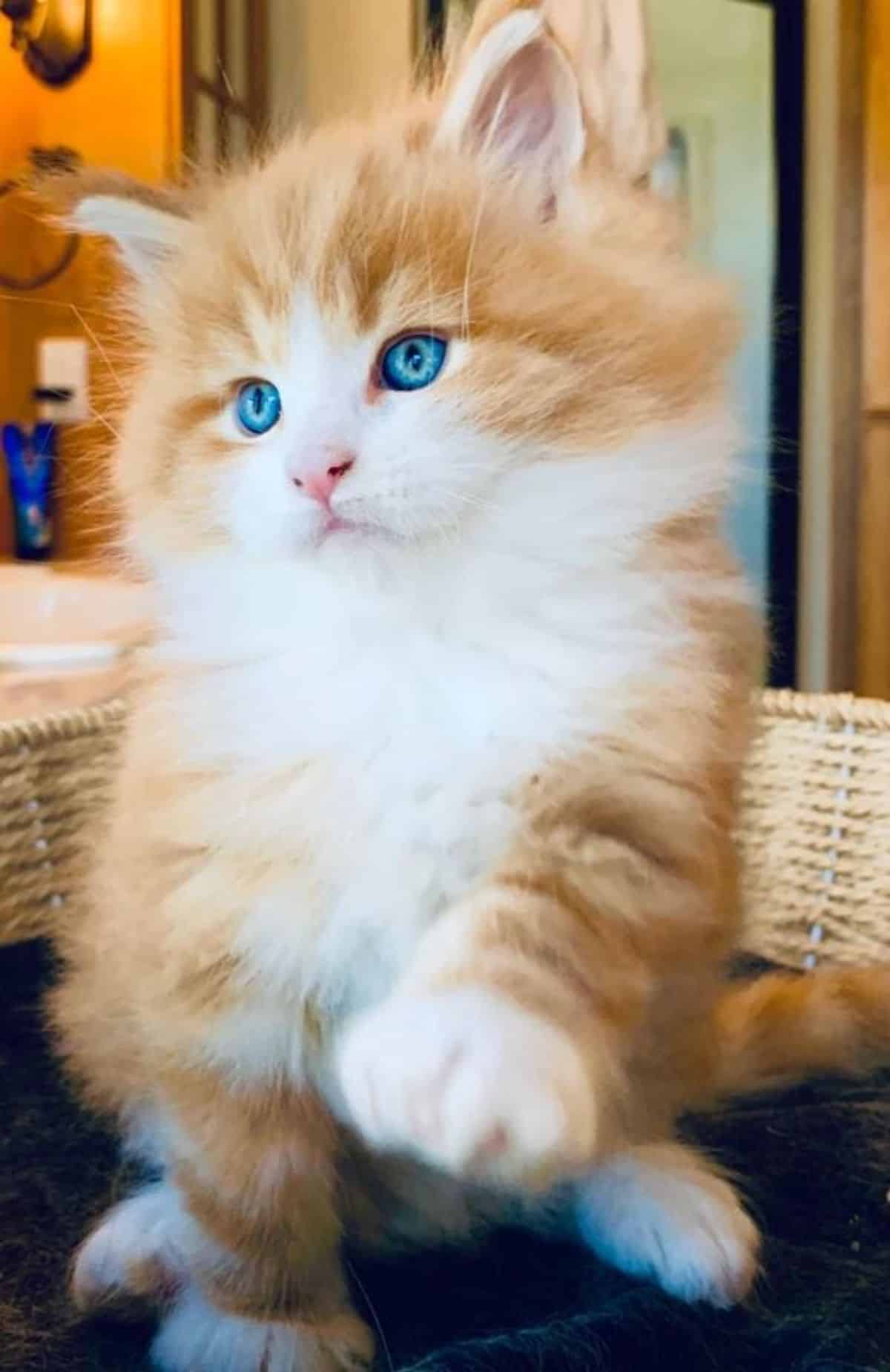 Orange and white tabby Maine Coons have a special magic. This baby's bright fur and angelic face make her look like a plush toy come to life.
31. Boreus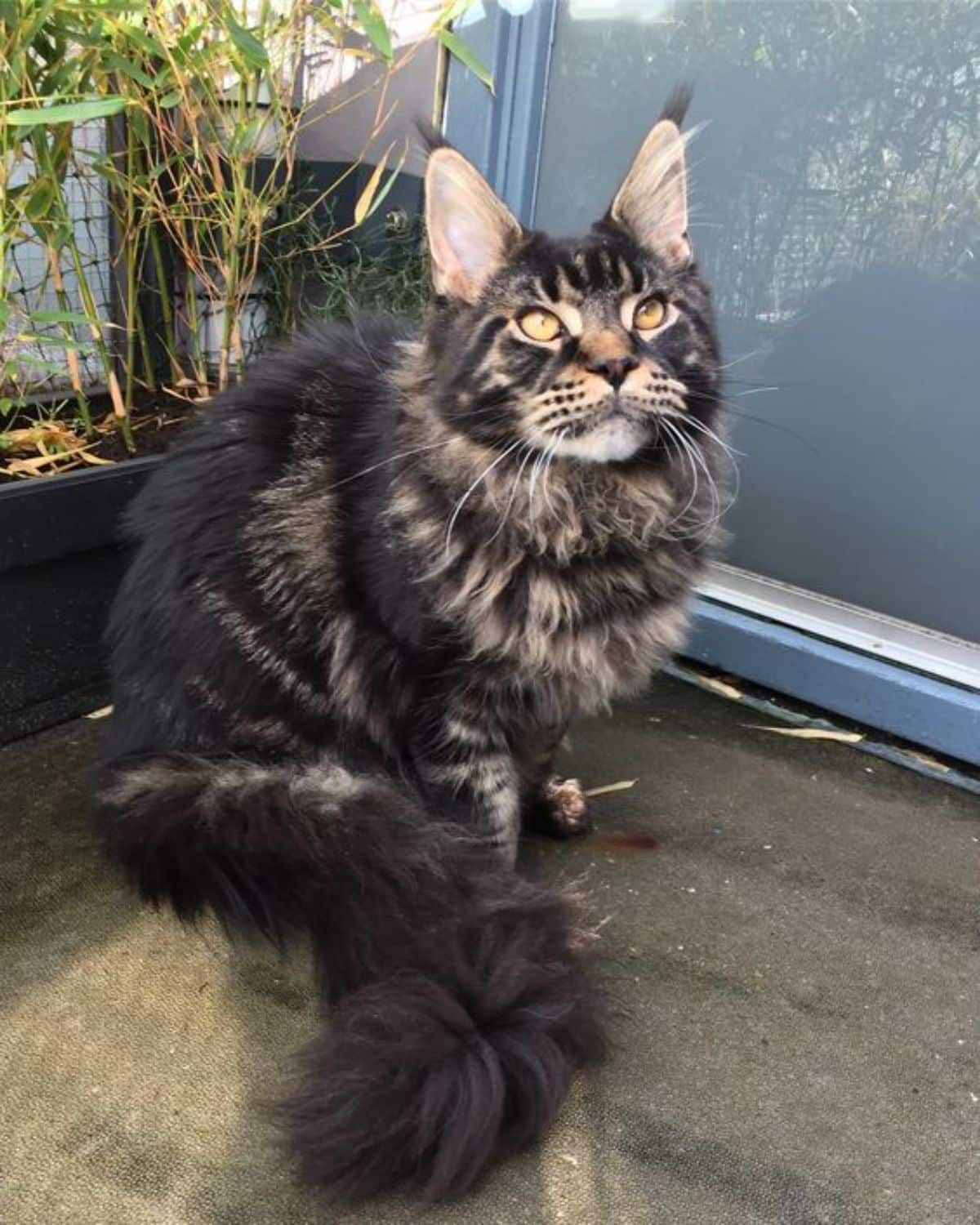 Boreus was blessed with a beautifully vivid color contrast in his coat. The darker sections are brown-black, while the light parts are frosty blonde. This combo makes his tabby stripes stand out magnificently.
32. Rosie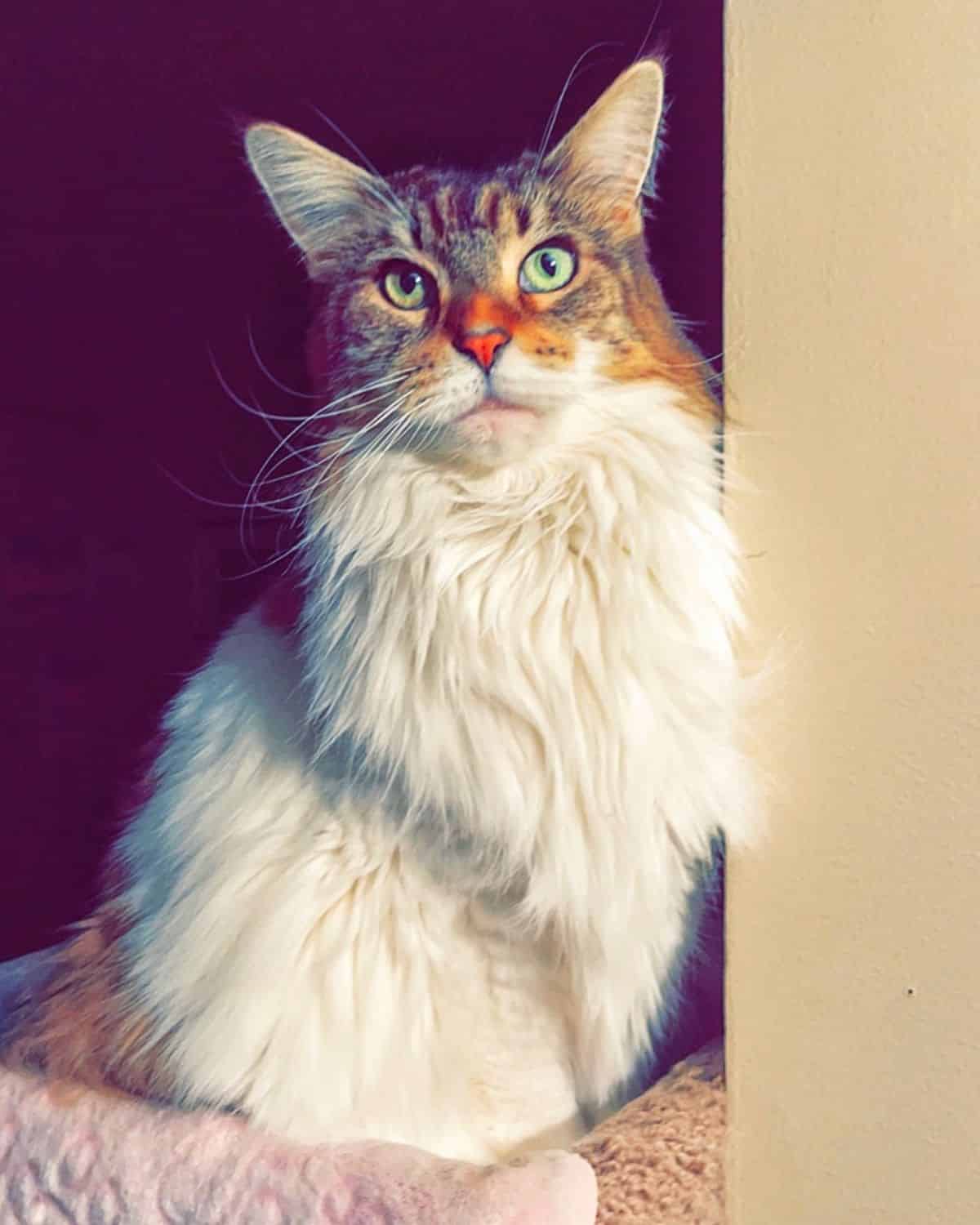 Maybe Rosie should be called a "mane" coon rather than a Maine Coon! Her long, fluffy mane is the same color as her belly, so it seems to cover the whole front of her body.
33. Lovely Markings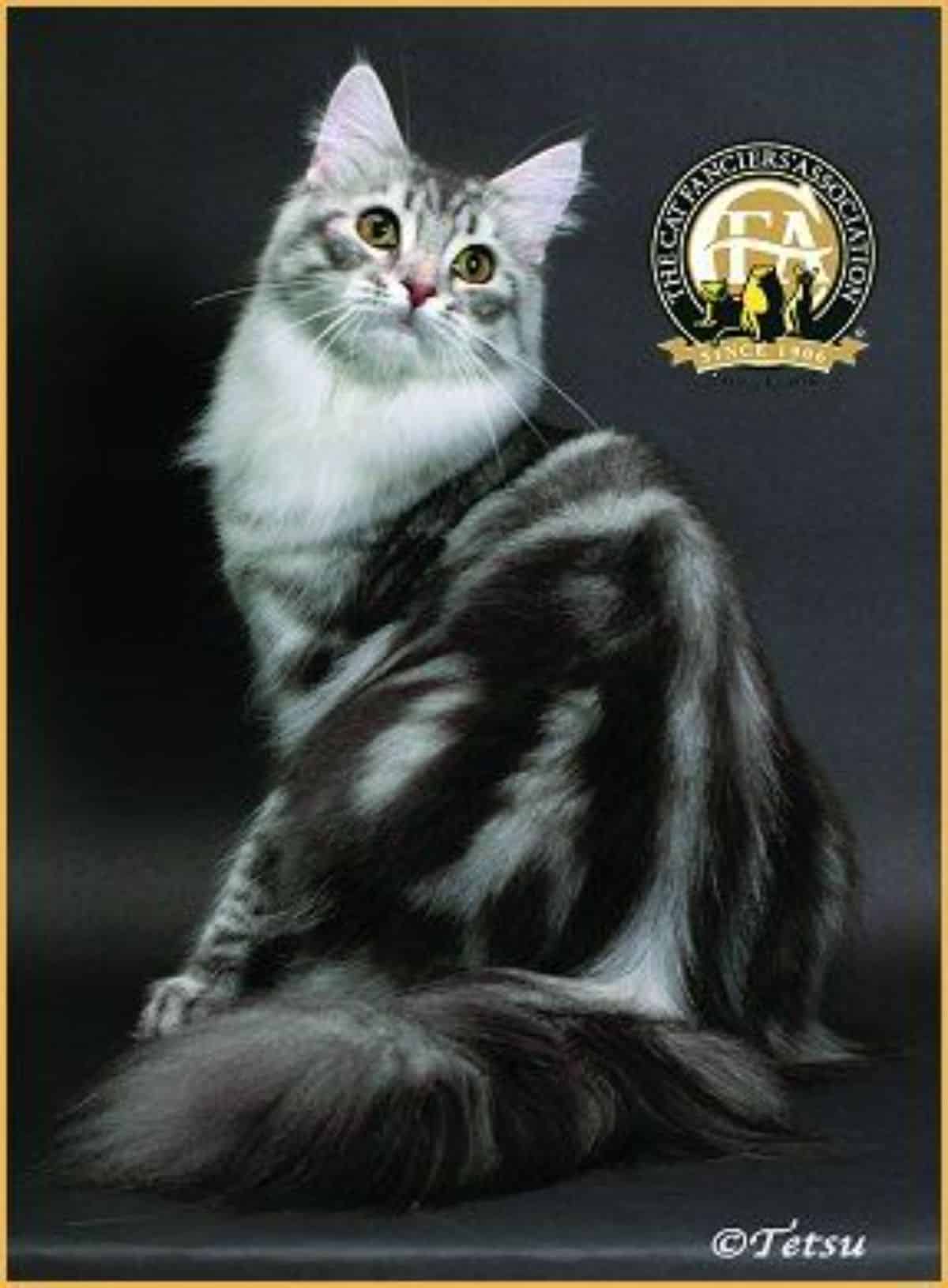 Look at the breathtaking markings on this silver Maine Coon tabby cat. Her stripes are thick and run vertically up and down her back. It's so cool to see what shapes tabby stripes can take.
34. Utopia, Urania, and Universe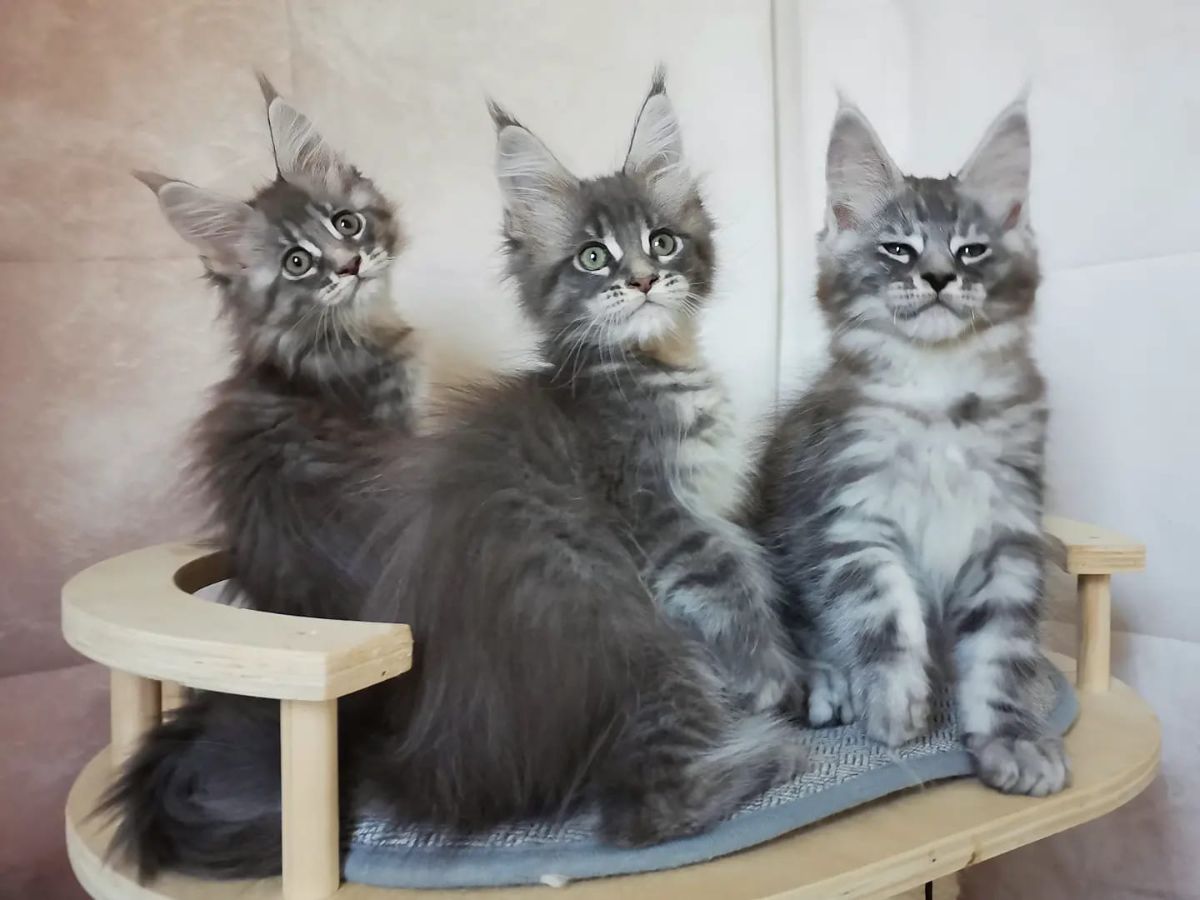 What an adorable three-for-one! These sisters may look alike, but you can tell they will have different personalities. Urania and Utopia look alert and ready to play, but Universe seems to still be waking up.
35. Grow Where You're Planted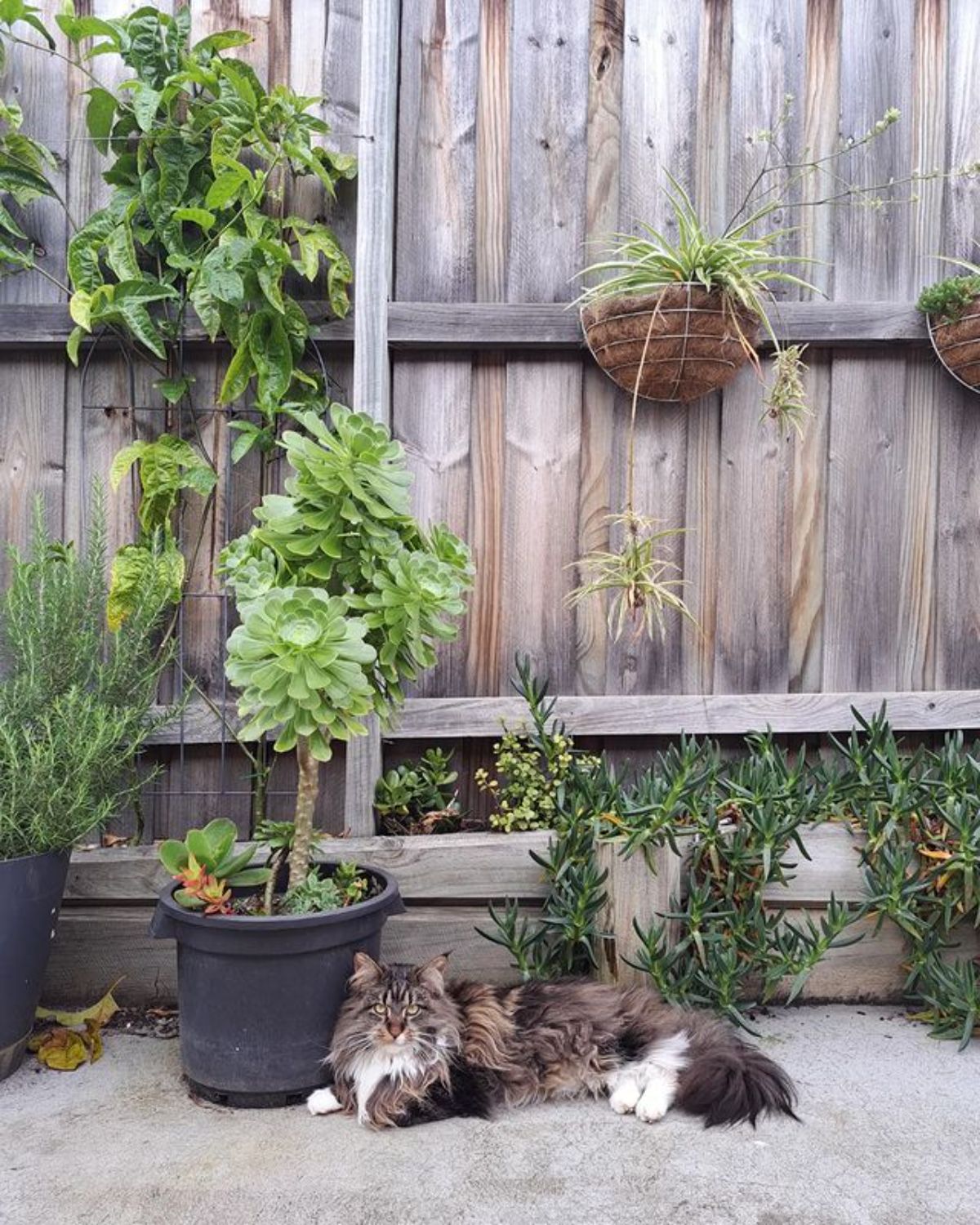 Rory June is simply having a relaxing day in the garden. Tabby Maine Coon cats look very content and natural in outdoor settings. Just be sure to help them explore safely.
36. Gimme, Gimme!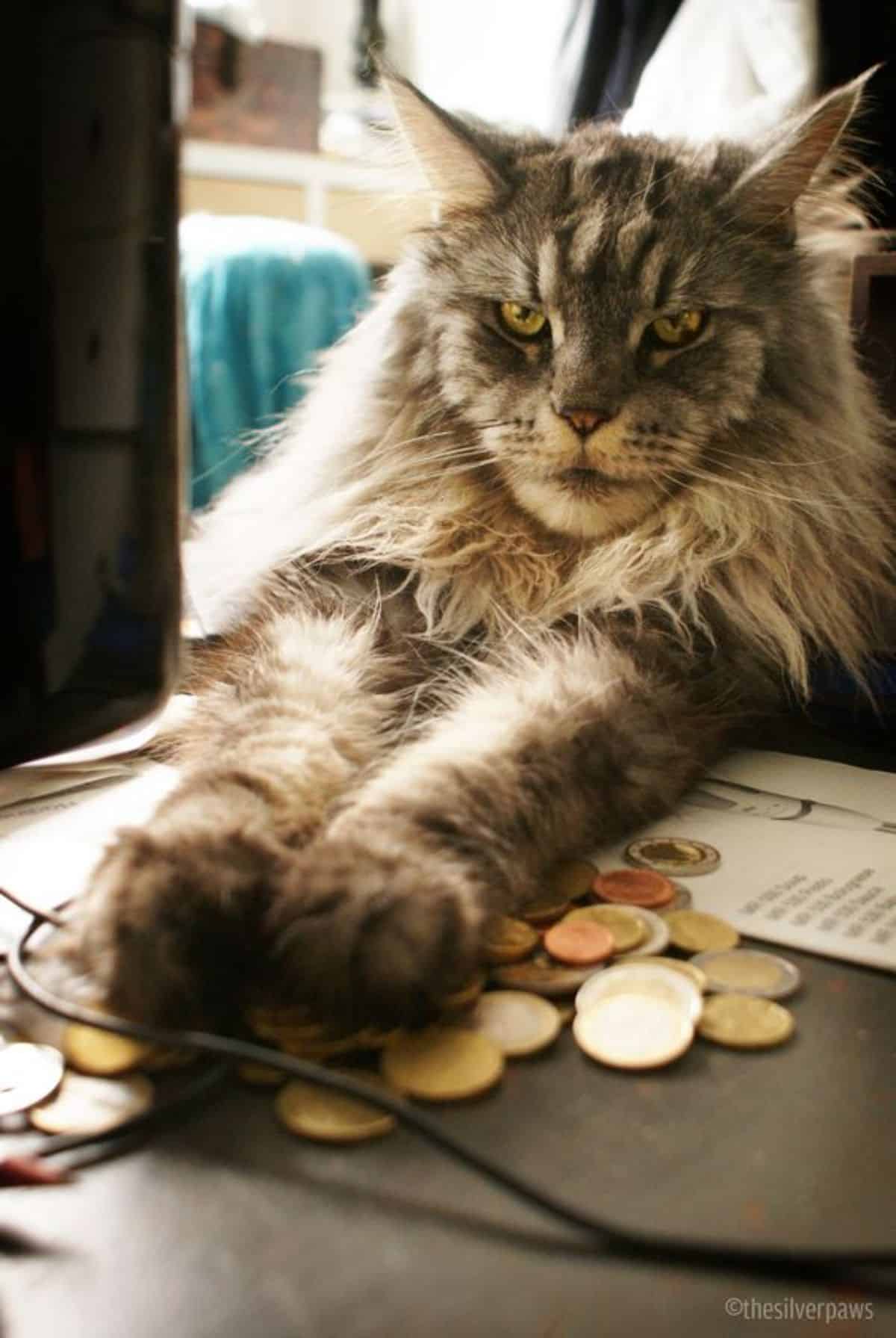 This lilac Maine Coon has found the stash of extra money, and he's not letting go. I think someone is planning a trip to buy more cat treats.
37. Ricky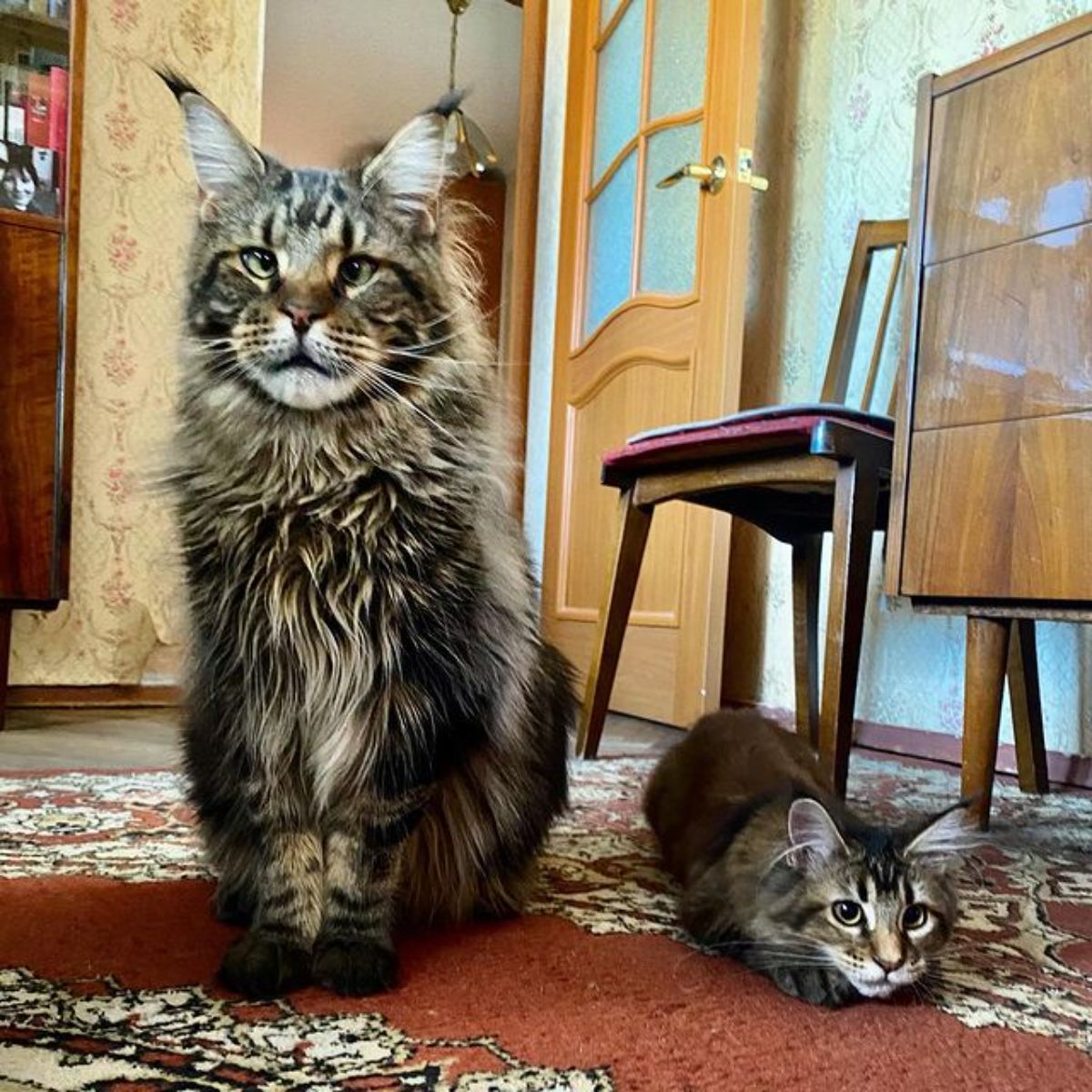 Ricky is so good at taking care of his little niece Wanda. He stands by like a sentry to guard her as she plays. You can see the family resemblance.