Maine Coons are fluffy, majestic cats always ready for a cuddle session. New and experienced cat owners love them for their lovely temperaments. And they're very likely to cooperate when you take them on a walk!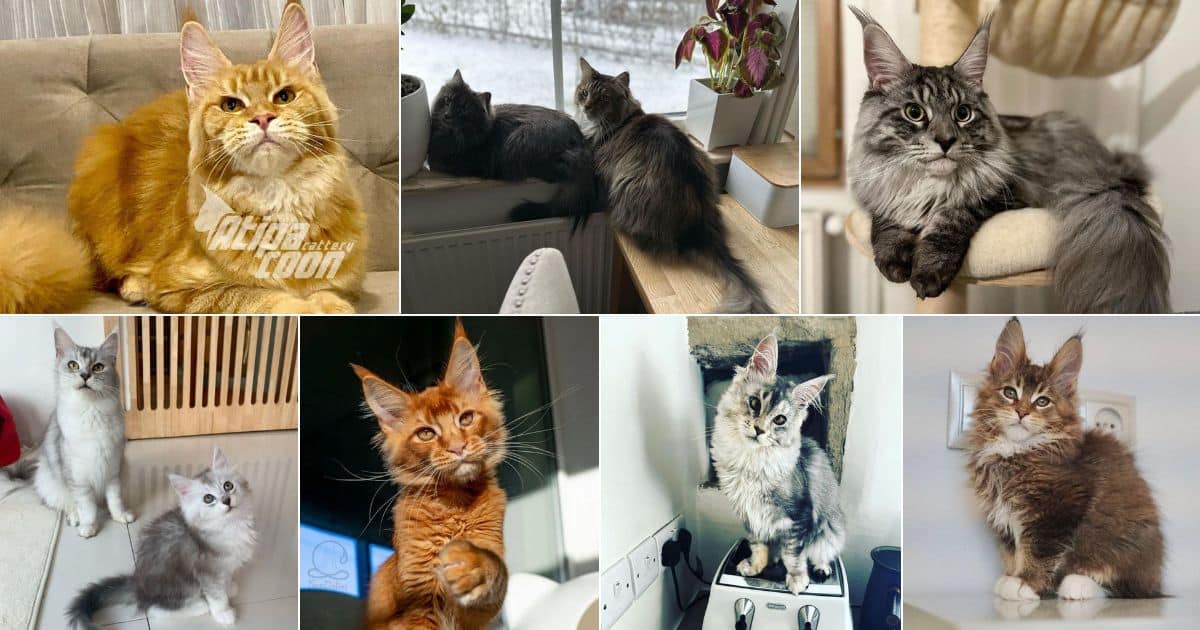 Jump to:
Ticked Tabby Pattern Maine Coons
Maine Coons are gorgeous animals, and Ticked Tabby Maine Coons are often the cats you think of when you picture these kitties. They have a soft, subtle striped pattern to their fluffy coat and long fur at the tip of their ears, making them look like little bobcats or lynxes.
Do you have a Maine Coon of your own? Are you looking to adopt one? No matter where you fall, these cute ticked tabby pattern Maine Coons will warm your heart!
1. Mabel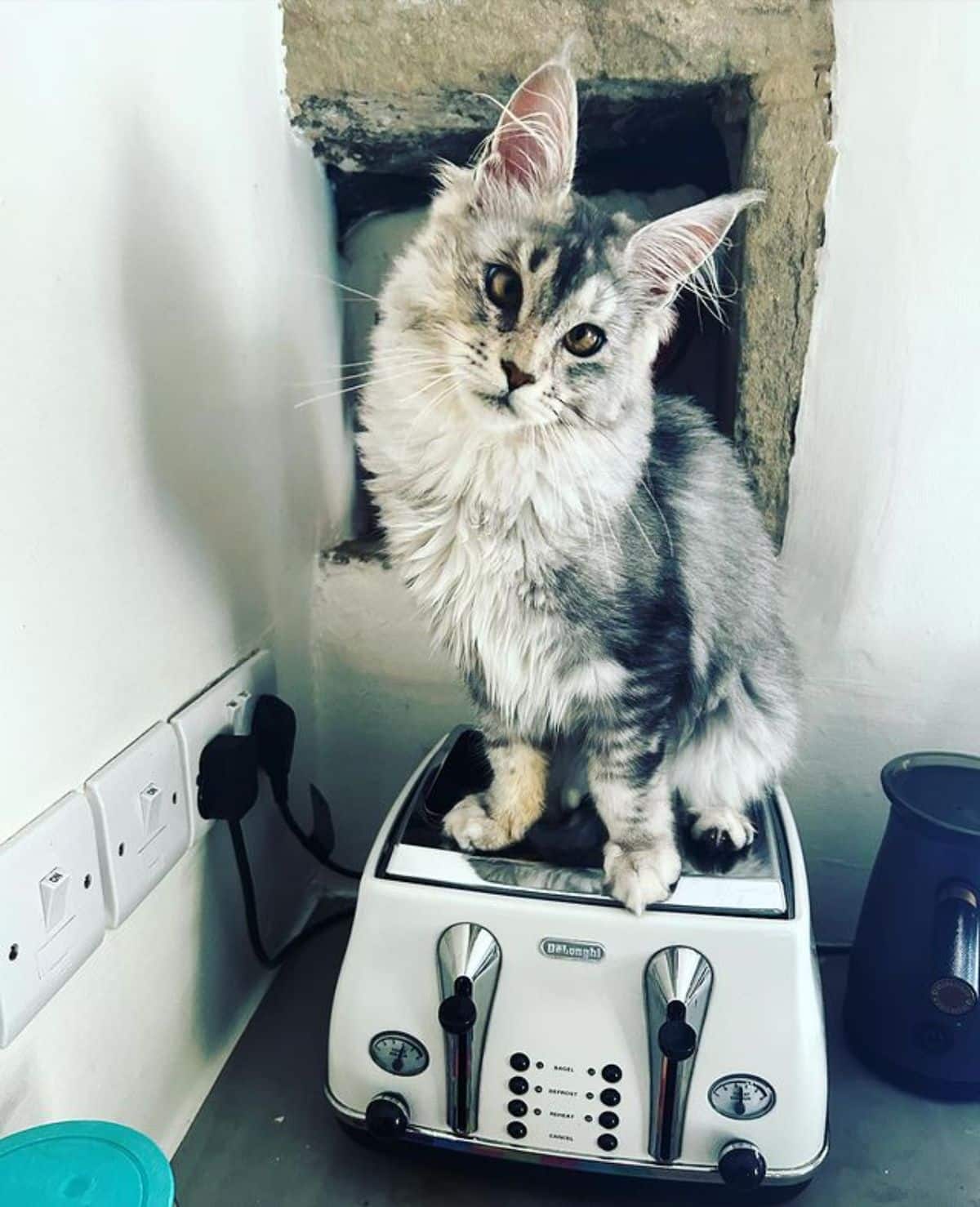 Mabel is a beautiful specimen of the ticked tabby pattern. She might look like a solid gray kitty, but the stripes on her legs and forehead are a dead giveaway! The ticked tabby pattern also does wonders for accentuating the Maine Coon fluffiness. Mabel lives in a loving home with her human family.
2. Jupiter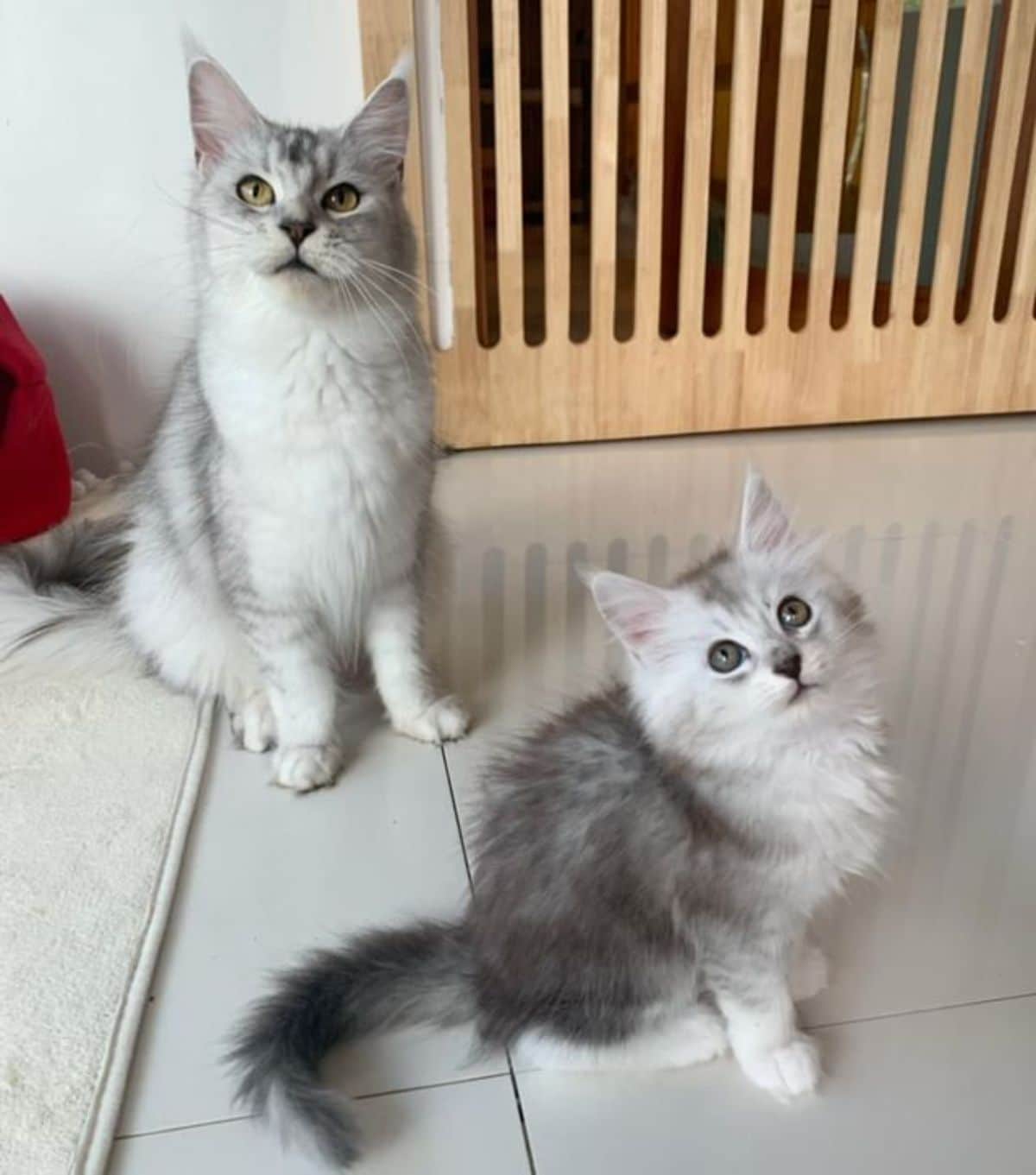 Jupiter gets his beautiful looks from his mother! Right now, he looks like a gray fur ball, but when he grows up, he'll be the cutest ticked tabby out there, next to his mom, of course. Maine Coon kittens are especially cute because of their extra fluffy coat, which the ticked pattern exaggerates! Jupiter lives with his mom and his family of humans.
3. Zlata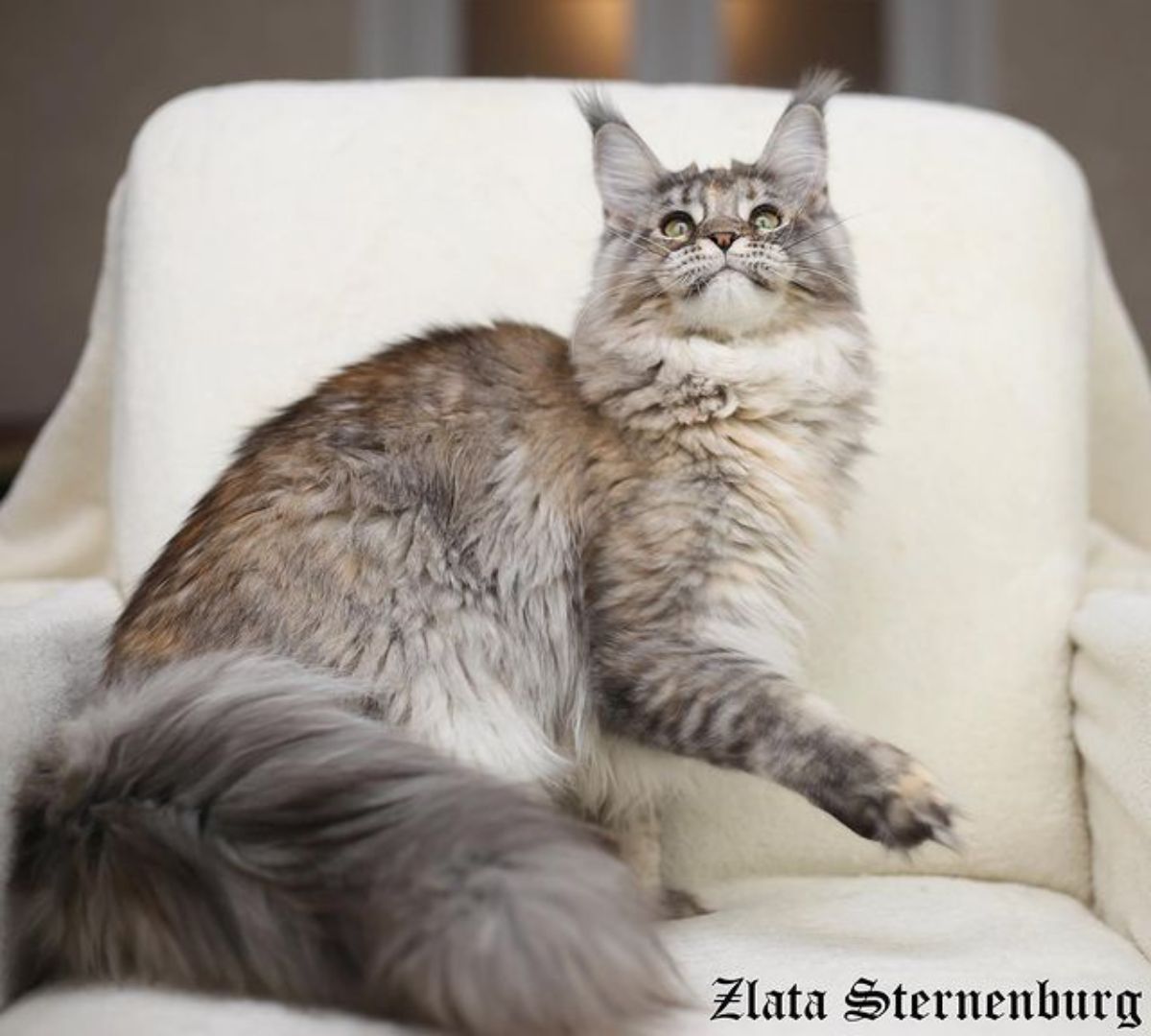 Zlata is showcasing some beautiful fur colors, very reminiscent of a calico. But you can tell she's this adorable pattern by the stripes on her legs and face! This blend of colors and ticked patterning are a beautiful combination, making Zlata one of our favorites in the bunch. Zlata lives in a cattery with other beautiful Maine Coon kitties.
4. Brooklyn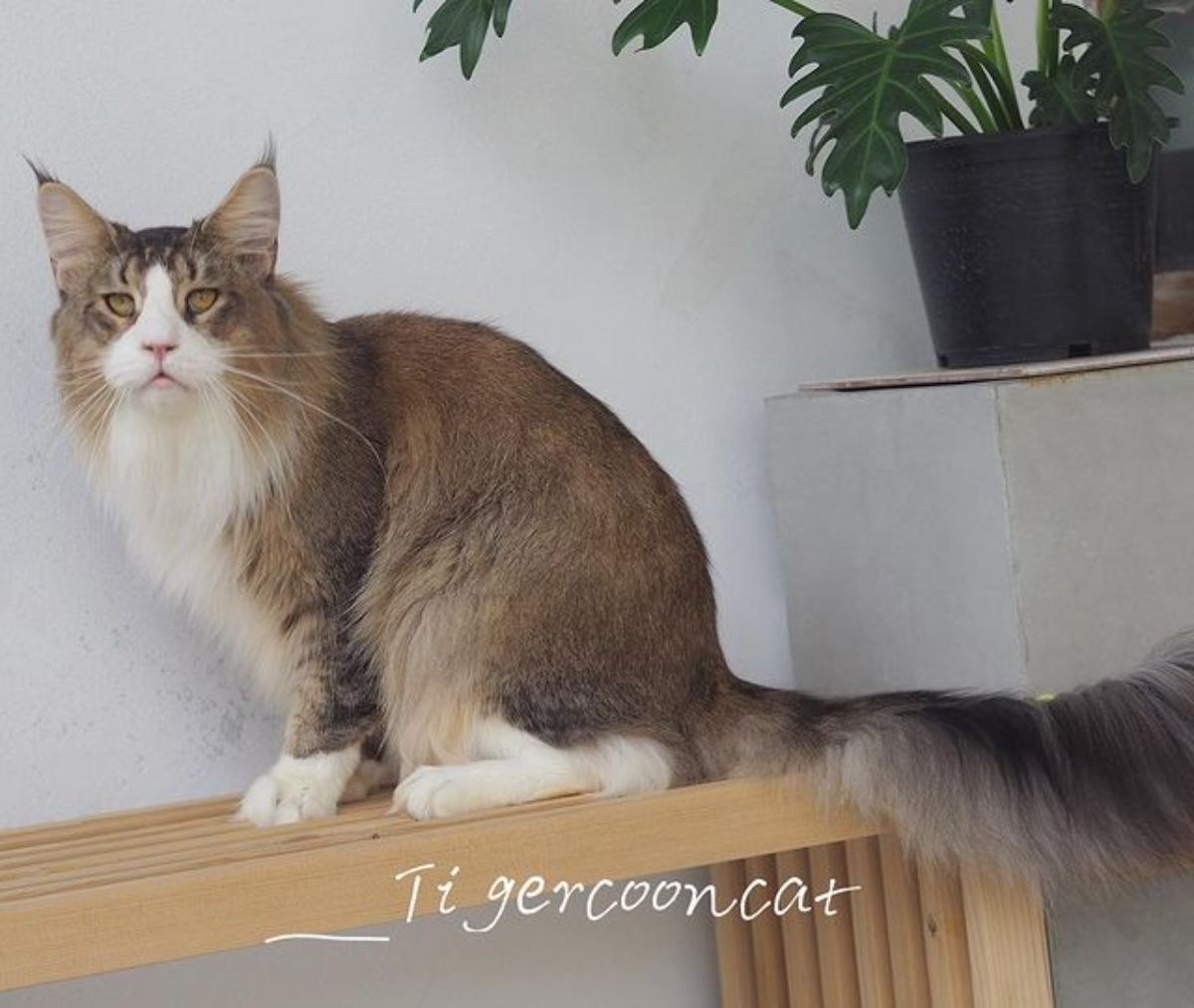 Brooklyn is showing off just how breathtaking a brown ticked tabby pattern is! You see so many gray and silver ticked tabbies that you might forget that they come in all sorts of colors. His fluffy tail and ears increase the cuteness factor Maine Coons are known for. Brooklyn lives with his family of humans and other kitties in a cattery.
5. MC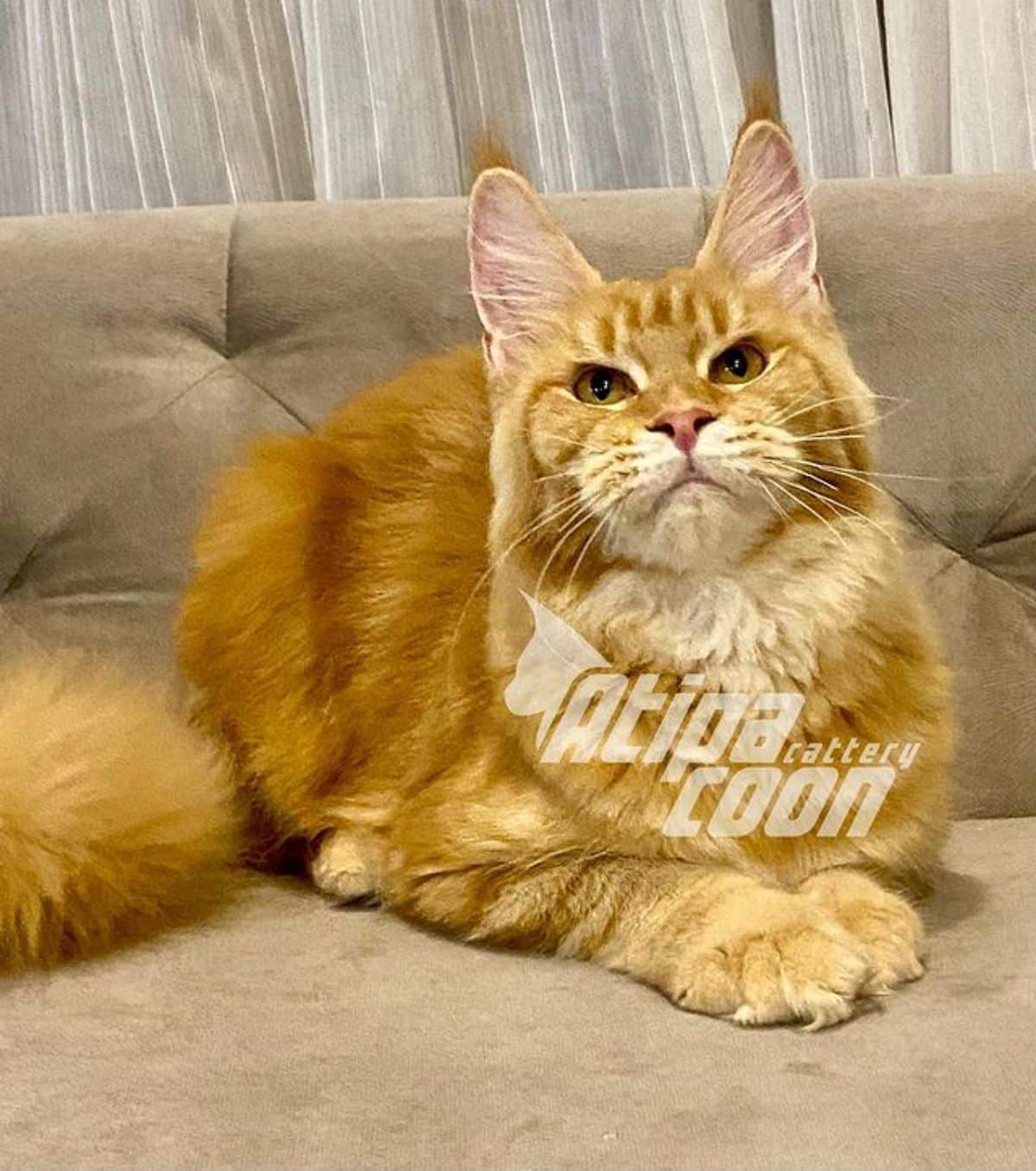 MC is a beautiful orange ticked tabby with a striped face to prove it! Her expression practically screams your nonchalant cat on a windowsill, but her fluffy coat is too cute not to cuddle. She's showcasing a beautiful chest fluff as well, one of the features Maine Coons are known for! MC lives in a cattery with her other Maine Coon siblings.
6. Kongo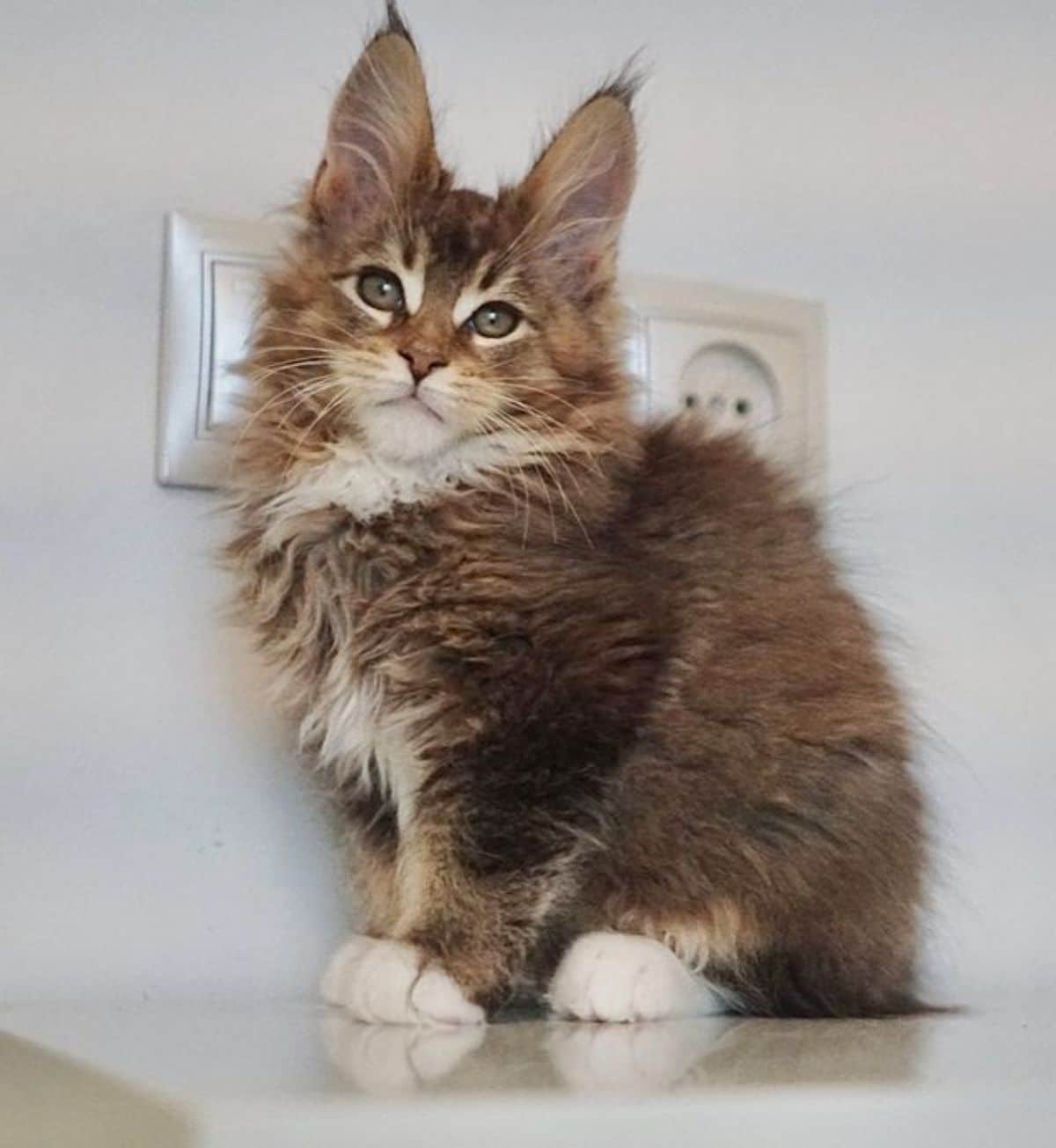 Kongo is the fluffiest little Maine Coon kitten with a beautiful honey-brown pattern! This adorable little kitten is made cuter by his white paws and fluffy ears.
This photo is made adorable because of the big paws he has to grow into, but he will definitely grow up to be a gorgeous ticked tabby! Kongo lives in a cattery with other beautiful Maine Coons and the humans that work there.
7. Dante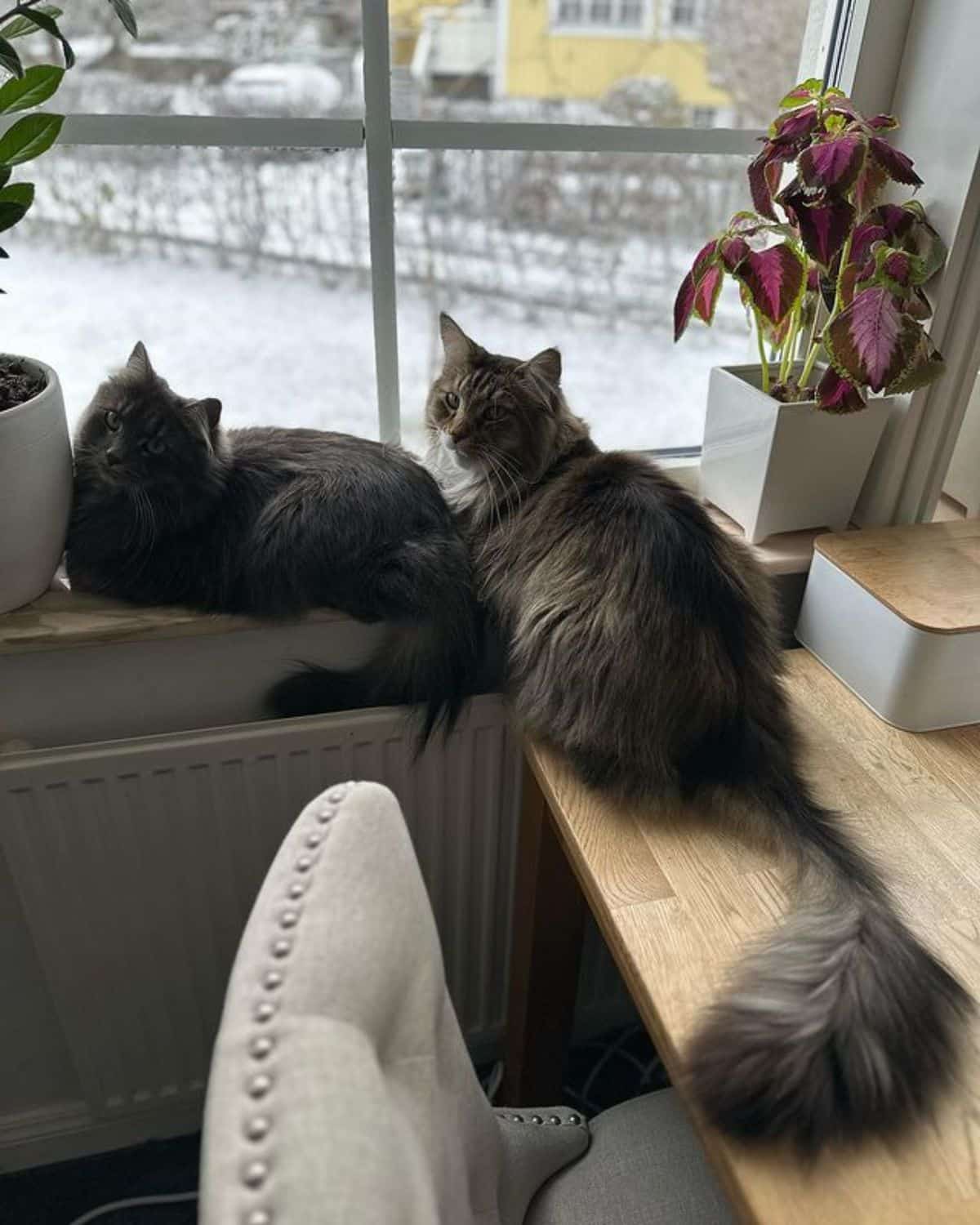 Dante is the beautiful kitty on the right with a fluffy tail! Lounging on a windowsill has never looked so majestic. We love seeing the iconic fluffy Maine Coon tail, especially when you can see the extra floof at the end. But that doesn't mean that his brother Loke isn't also a beautiful kitty. Dante lives in a loving home with his kitty siblings.
8. Jerry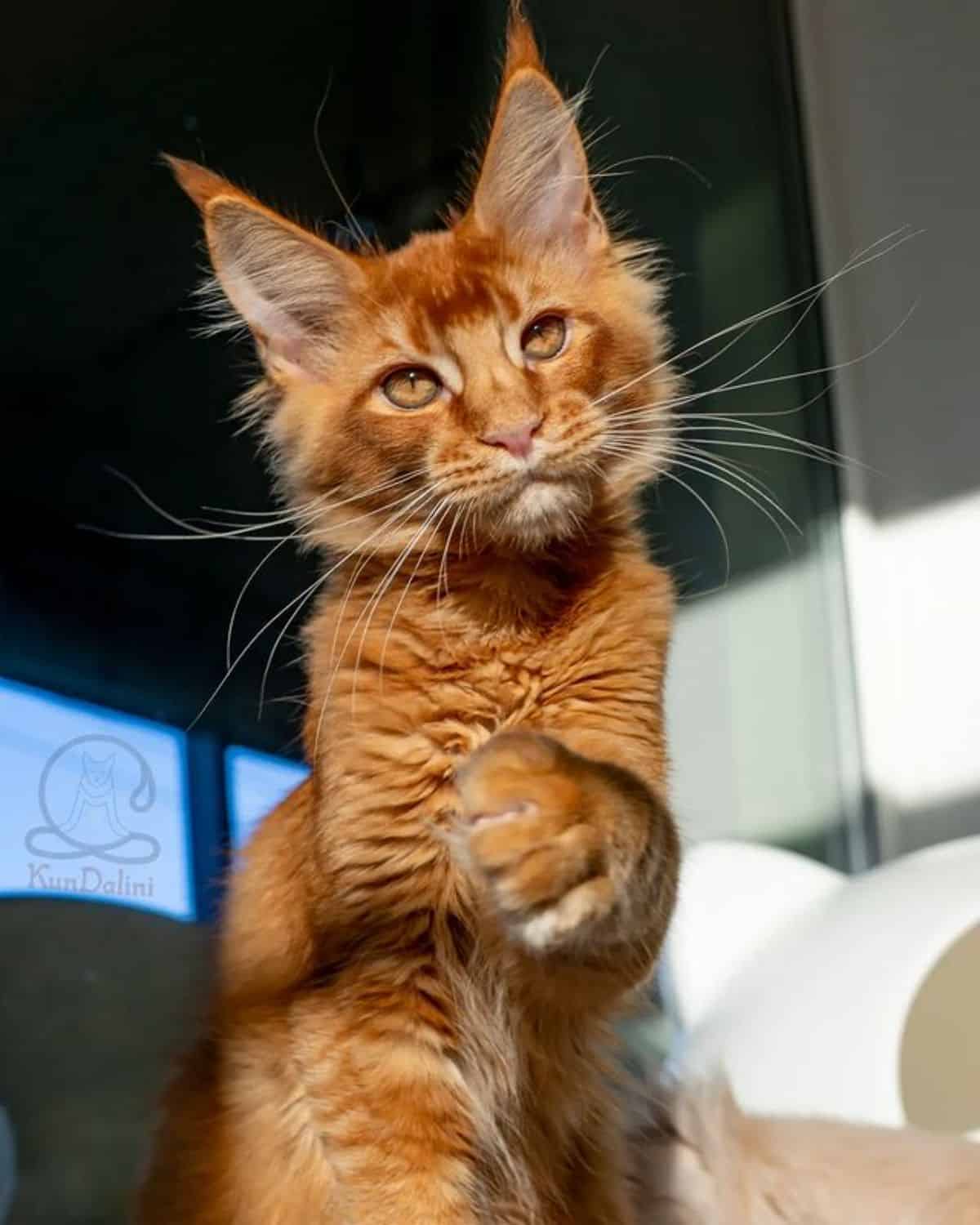 Jerry is another beautiful red tabby with adorable ear tufts! We love to see the long whiskers and fluffy paws too. You may not be able to see his ticked pattern clearly, but the stripes on his face and bristly-looking coat are good giveaways! Jerry lives in a loving home and grew up with other pretty Maine Coons in a cattery.
9. Ziggy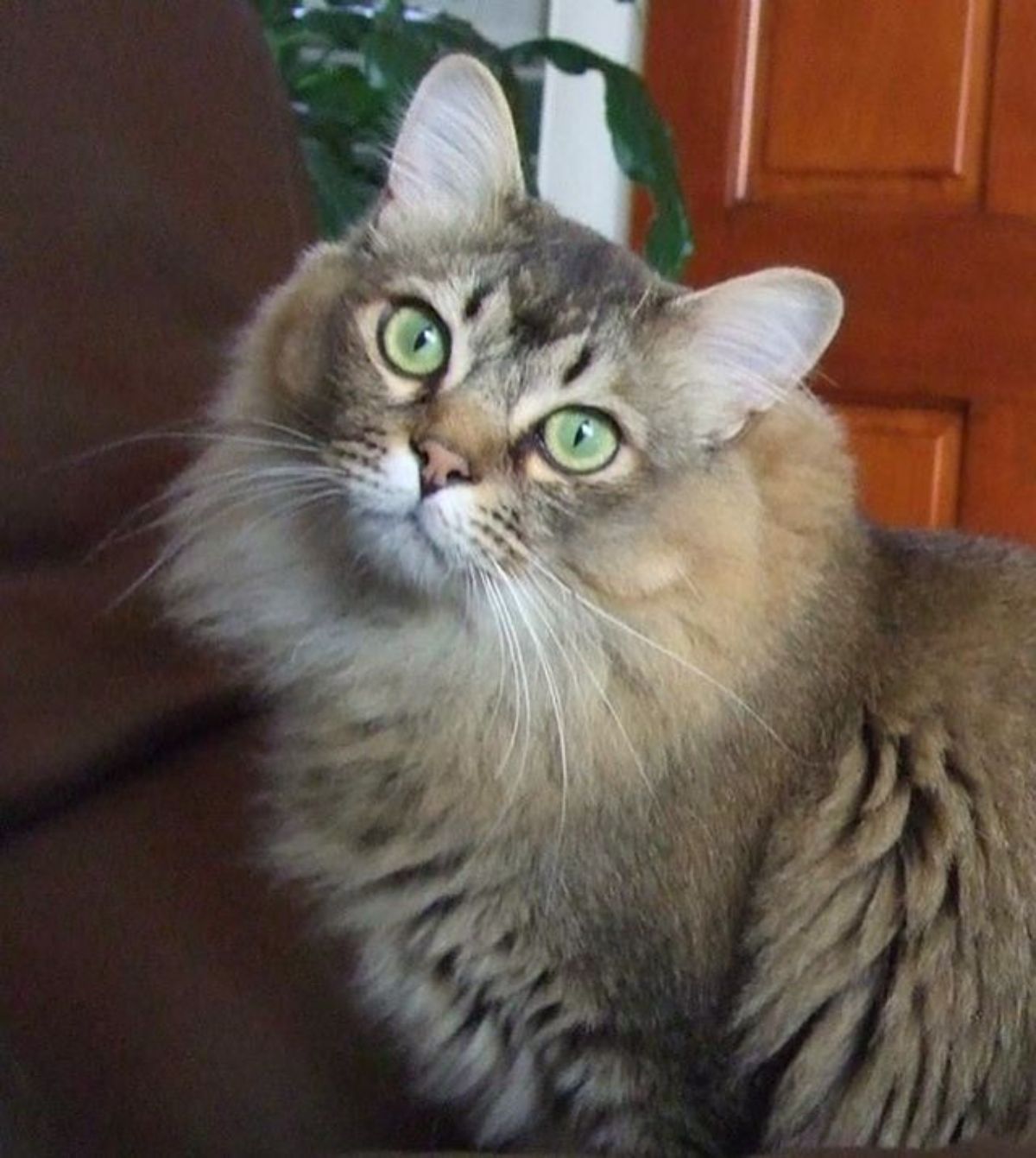 Ziggy is an adorable round kitty with magnificent whiskers to boot. And with eyes like that, how could you resist giving him a good snuggle? With his beautiful ticked tabby pattern on display, Ziggy is a beautiful kitty.
While he may be a Maine Coon mix, that doesn't mean he isn't an adorable cat with a fluffy draw to the breed. He lives in a loving home with his humans.
10. Franz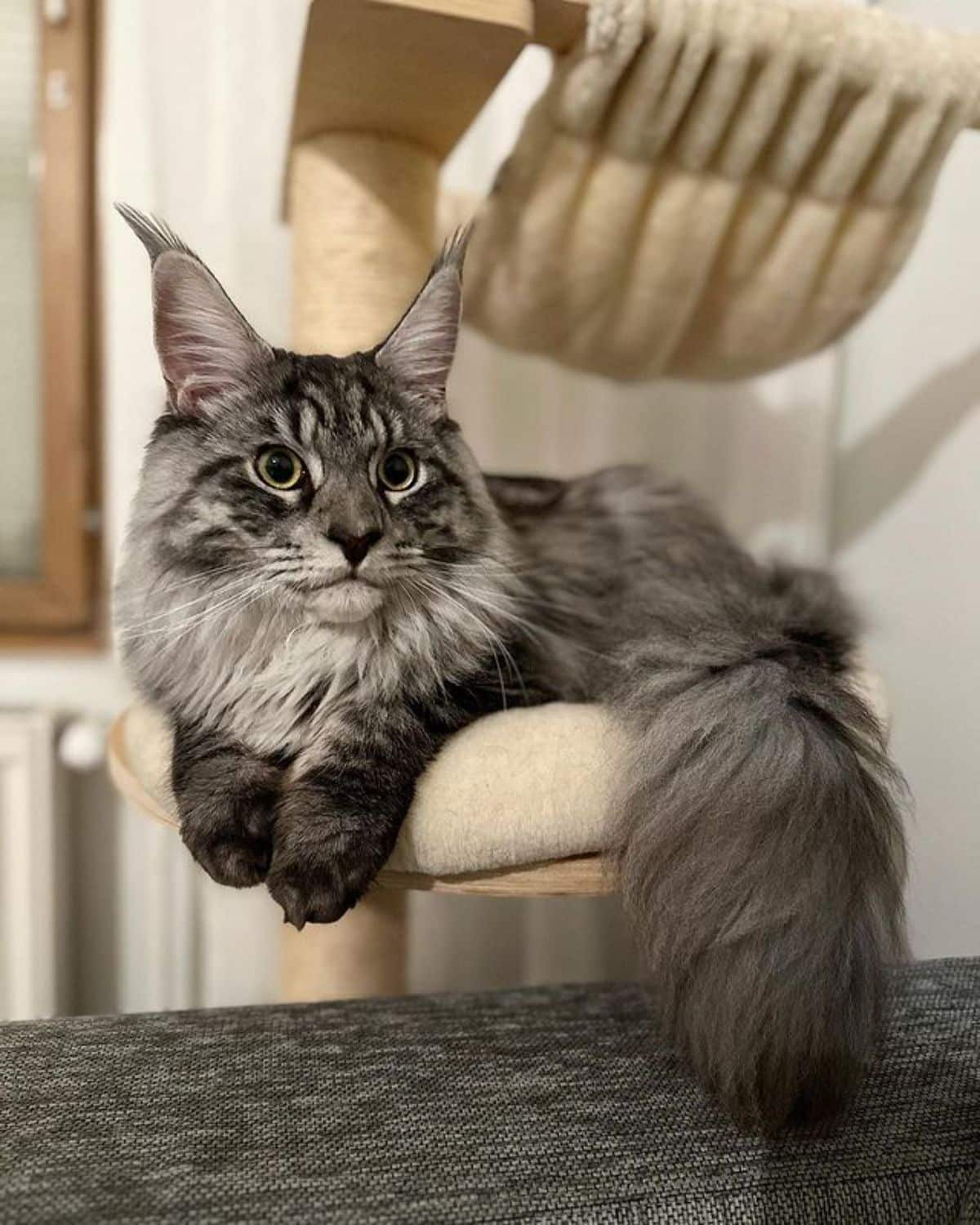 This adorable Maine Coon is Franz! His fluffy tail and chest fur are eye-catching and adorable with his sweet expression. You can tell by looking at his tail that his ticked tabby pattern is super smooth and as fuzzy as it must feel! We also can't help giving an extra "aww" to those big paws contrasting his chest fur. Franz lives in a loving home with his humans.
11. Otis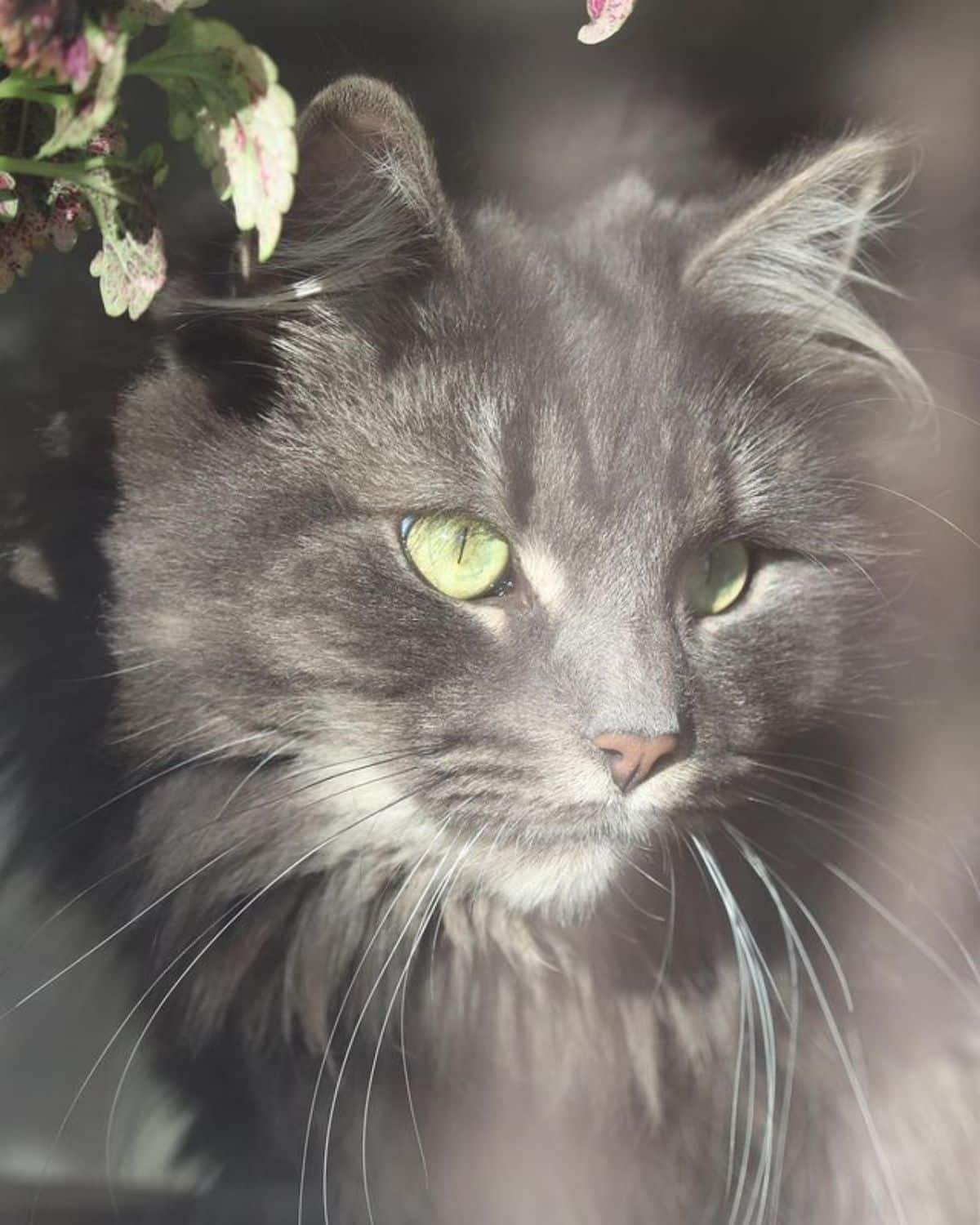 You've seen Dante, now here's his beautiful brother Otis! In the clear sunlight, his brilliant green eyes are just as breathtaking as his gray ticked tabby patterning. You may not get a clear view of it, but the telltale stripes on his face give it away.
And in this photo, his whiskers and ear fluffs are on full display to fall in love with! Otis lives in a loving home with his kitty siblings.
Wrap Up
Ticked Tabby Pattern Maine Coons are beautiful cats you'll love to have in your family. Don't let their larger size fool you. They can be just as cuddly and sweet as a regular house cat but with even more to love.
If these cute cats don't convince you to adopt one for your home, we don't know what will! But you won't regret welcoming one of these gorgeous cats into your home and family.