The Maine Coon cat is one of the most unique breeds of cat in the United States. Getting its name from its native area, Maine Coon cats adapted long ago to be powerful mousers in a harsh climate, giving them long, thick fur, tufted ears, and a large, athletic build. Today, Maine Coons are known for their size and have become one of the most popular breeds in the U.S.
The typical male Maine Coon cat is around 15-25 pounds, whereas females tend to be smaller at 10-15 pounds. From their nose to the tip of their tales, average male Maine Coon cats are about 40 inches long and can stand up to 16 inches tall. Females, as usual, are a little bit smaller in height at up to 14 inches tall, but they can be up to 40 inches long just like their male counterparts.
Main Coon cats, on the larger side, can be up to 45 inches long and weigh nearly 30 pounds.
To put this into perspective, the average mixed breed cat will be about 8-10 pounds, 10 inches tall, and 25-30 inches long.
Maine Coons are also known for being highly affectionate and intelligent. However, because of their size, having these cats as household pets can bring its own string of challenges and setbacks.
Even finding an appropriate collar can be difficult. But that's why we're here! We've compiled a list of the top 10 cat collars for Maine Coons.
1. Best Cat Collar – Reflective, Breakaway Collar by Bemix Pets (6-pack)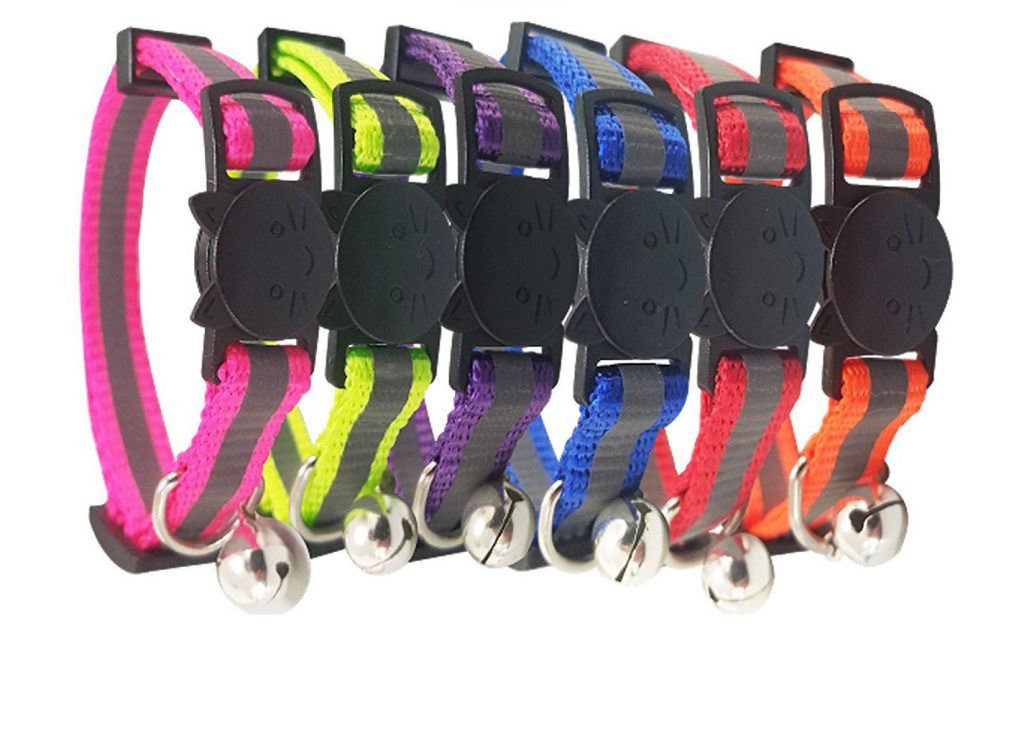 With almost 5000 reviews, Amazon's Best Seller & Amazon's Choice badges these collars are really number one on the top by far.
Affordable, colorful, and adjustable, these reflective collars by Bemix Pets are great choices for your Maine Coon. Made of nylon and featuring a large reflective strip and a breakaway system, this collar is durable and will help keep your cat safe.
With an adjustable size of up to 11 inches, this collar is wonderful for larger and smaller Maine Coons. Their durability makes them great for smaller dogs as well! This adorable collar also features a cute kitty closure and a bell! With a lifetime warranty or a free replacement, this collar is a great choice for your kitty.
2. Stars and Moon Cat Collar by Bemix (3-pack)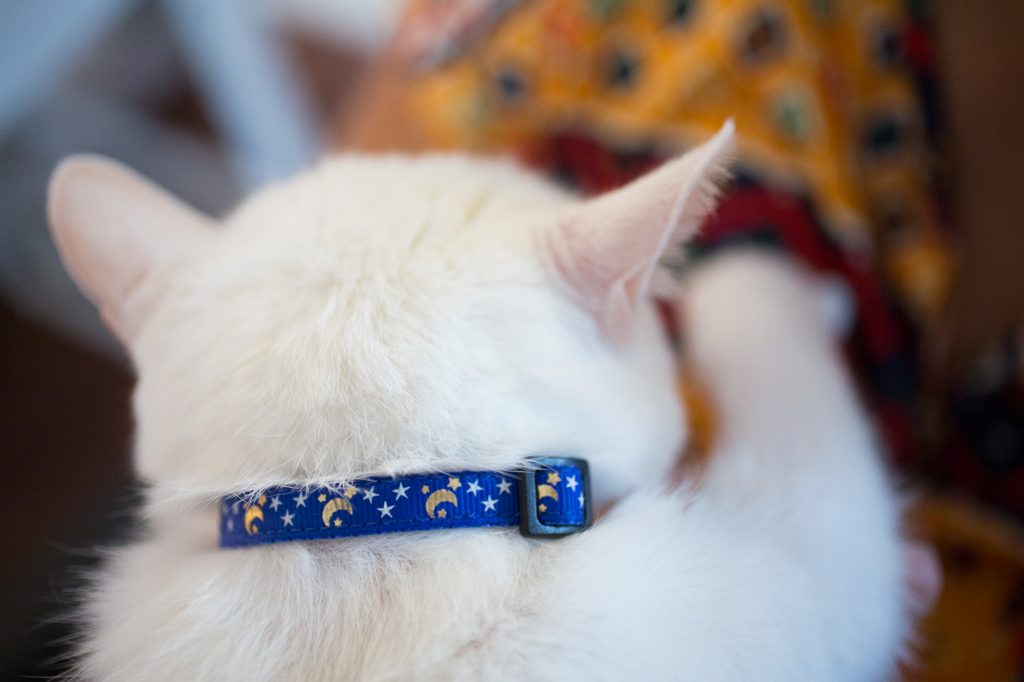 This beautiful cat collar is perfect for your Maine Coon. It's adjustible size (up to 11 inches) is great for your larger breed. In addition, it has a breakaway system to keep your inquisitive kitty safe! This affordable, 3 pack comes with black, red, and blue collars, so if you've got more than one Maine Coon or even a puppy, you've got some colorful options for your pets.
Made from nylon, this collar is also durable and features reflective stars and moons as well as a bell! With a lifetime warranty and a free replacement if you're not satisfied, you can't go wrong with this collar!
3. Scenereal Cat Collar (2-pack)
The Scenereal cat collar is much like the other collars on this list. However, if you're looking for an aesthetically pleasing design featuring mountains and trees, this Sceneral collar is the one for you. Like others, it features a breakaway buckle and comes with a bell. Adjustable up to 12 inches, it would be perfect for your chill Maine Coon. The soft polyester is breathable but not reflective, but it's still a good choice for your cat!
4. Pineapple Cat Collar by Bemix (3-pack)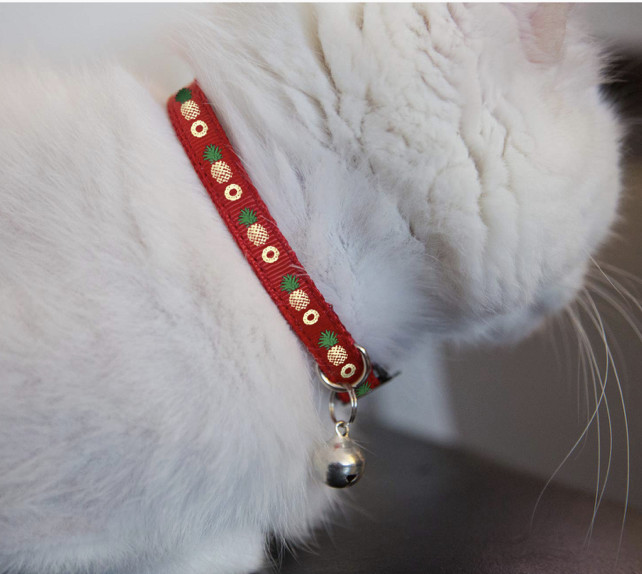 Are you looking for a cute and stylish cat collar for your Maine Coon? The Pineapple Cat Collar by Bemix is a perfect collar to add a little personality with its reflective pineapple designs.This collar is adjustable up to 11 inches, which is perfect for larger cats and small dogs.
The breakaway system, durable nylon material, and bell also make this collar stand out. If three colors options and a signature kitty closure system doesn't make this a great choice, then Bemix's lifetime warranty and free replacement policy will!
5. Lamphyface Halloween Cat Collar
If you're feeling festive and in the Halloween spirit, consider this cat collar from Lamphyface. With removable ghost, bat, and pumpkin decorations to match the unique colors of this collar, it also features a breakaway system, adjustable size up to 12 inches, and a bell.
The nylon material is durable but not reflective, so this collar is a good choice for looks and for getting in the spirit!
6. Joytale Breakaway Bow Tie Cat Collar
The Joytale Breakaway Bow Tie cat collar offers a cute look for your little gentleman or lady Maine Coon! The plaid bow comes in a variety of colors and is removable and replaceable.
The collar is adjustable up to 11 inches and features a breakaway closure system to help keep your cat safe. The cotton fabric is comfortable for your kitty, but it's not reflective, so consider this collar for its cuteness!
7. DayDay Patch Personalized Cat Collar
This DayDay Patch collar comes in a variety of colors and offers unique personalization for your Maine Coon cat. This collar can be embroidered with your cat's name and your phone number, just in case your cat goes on a walkabout.
It's adjustable up to 11 inches, which makes it suitable for larger cats. In addition, there is a breakaway buckle that offers additional safety for your cat.
8. CollarDirect Aztec Cat Collars
Yet another collar with a cute design is the CollarDirect Aztec cat collar. In addition to featuring three color combinations and patterns, the collar is adjustable up to 11 inches, making it a good choice Maine Coons. The collar is made from high-quality, but not reflective, nylon and comes with a breakaway system and bell. If you're a fan of color, consider this collar.
9. Dynmeow Blue Mixed Pattern Cat Collar
The second to last collar on our list is for cat lovers and lovers of blue! This Dynmeo cat collar is adjustable up to 10 inches, which would be great for a smaller Maine Coon cat. In addition to different shades of blue and a removable bell, this collar is also lightweight and features a safety breakaway buckle to help keep your cat safe. Though not all options are reflective, this collar is still a good choice for largers species of cats!
10. Gyapet Bandana/Bowtie Cat Collar
Great for the stylish kitty, this collar from Gyapet features a removable bandana and bowtie set in a variety of cute colors. Made from a duo of leather and a mix of polyester and cotton, this collar can adjust up to 11.5 inches, which is big enough for the Maine Coon that likes to dress up.
Though this collar isn't reflective, doesn't come with a bell, or have a breakaway system like many of the other collars on this list, the Gyapet collar could be a wonderful choice for a show kitty!
Final Thoughts
Maine Coon cats are incredible mousers with their large and strong build. They can be affectionate and intelligent and deserve the best out of their collars. With so many unique designs, make sure to get one that's durable, has a breakaway system, and matches your cat's personality.