Majestic is the first word that comes to mind to describe Maine Coon cats. These large pets look stunning with their long hair, serious expressions, and piercing eyes.
We've put together a list of the best Instagram accounts to follow if you love white Maine Coons.
Jump to:
1. Sam the Gentle Giant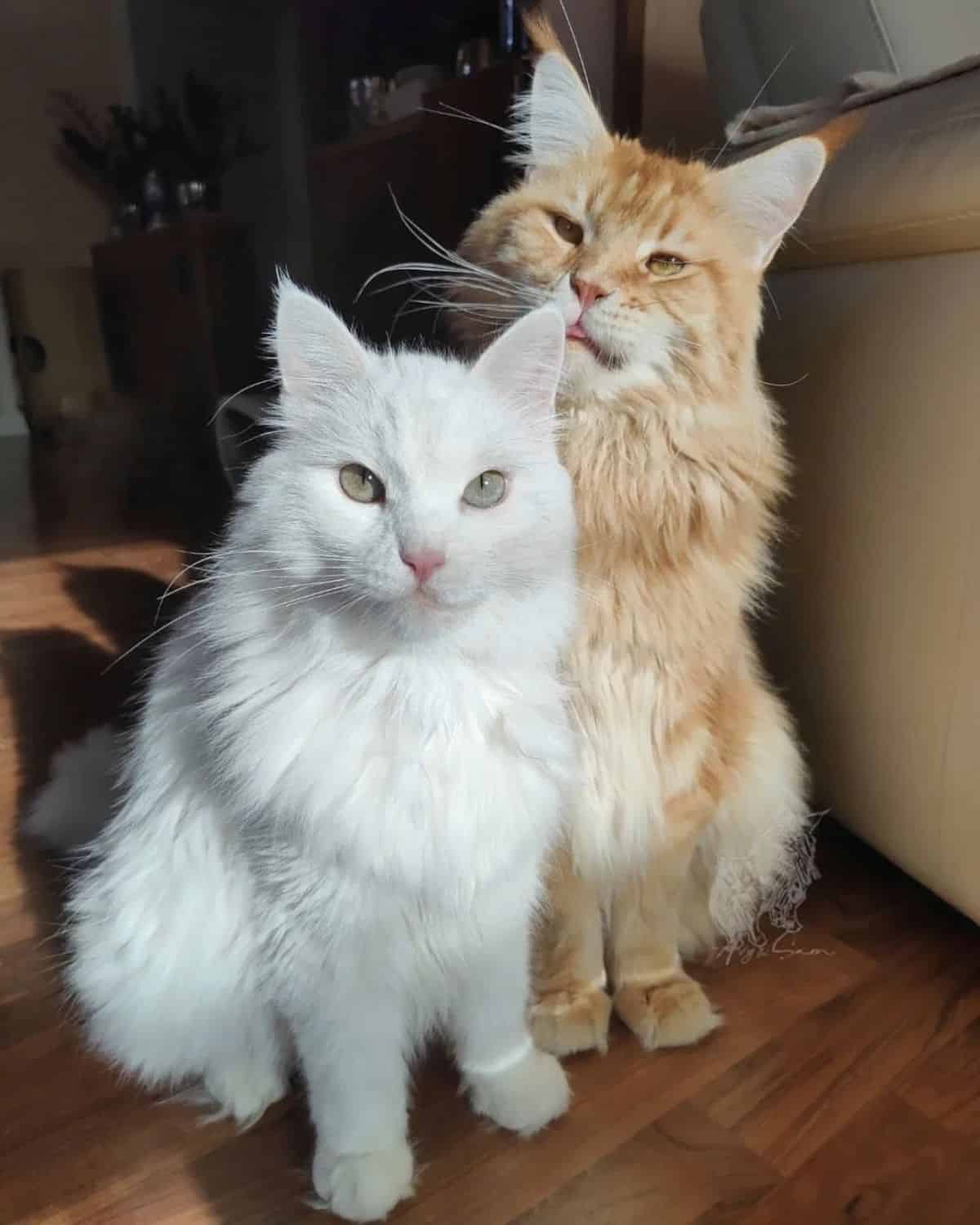 Sam the Gentle Giant is a popular Instagram petfluencer from Germany with thousands of followers. Sam is a gorgeous ginger Maine Coon, but Sam's owner also has a second cat with a breathtaking white coat. Their Instagram page is full of cute pictures where the two cats pose together!
2. Diamond Maine Coon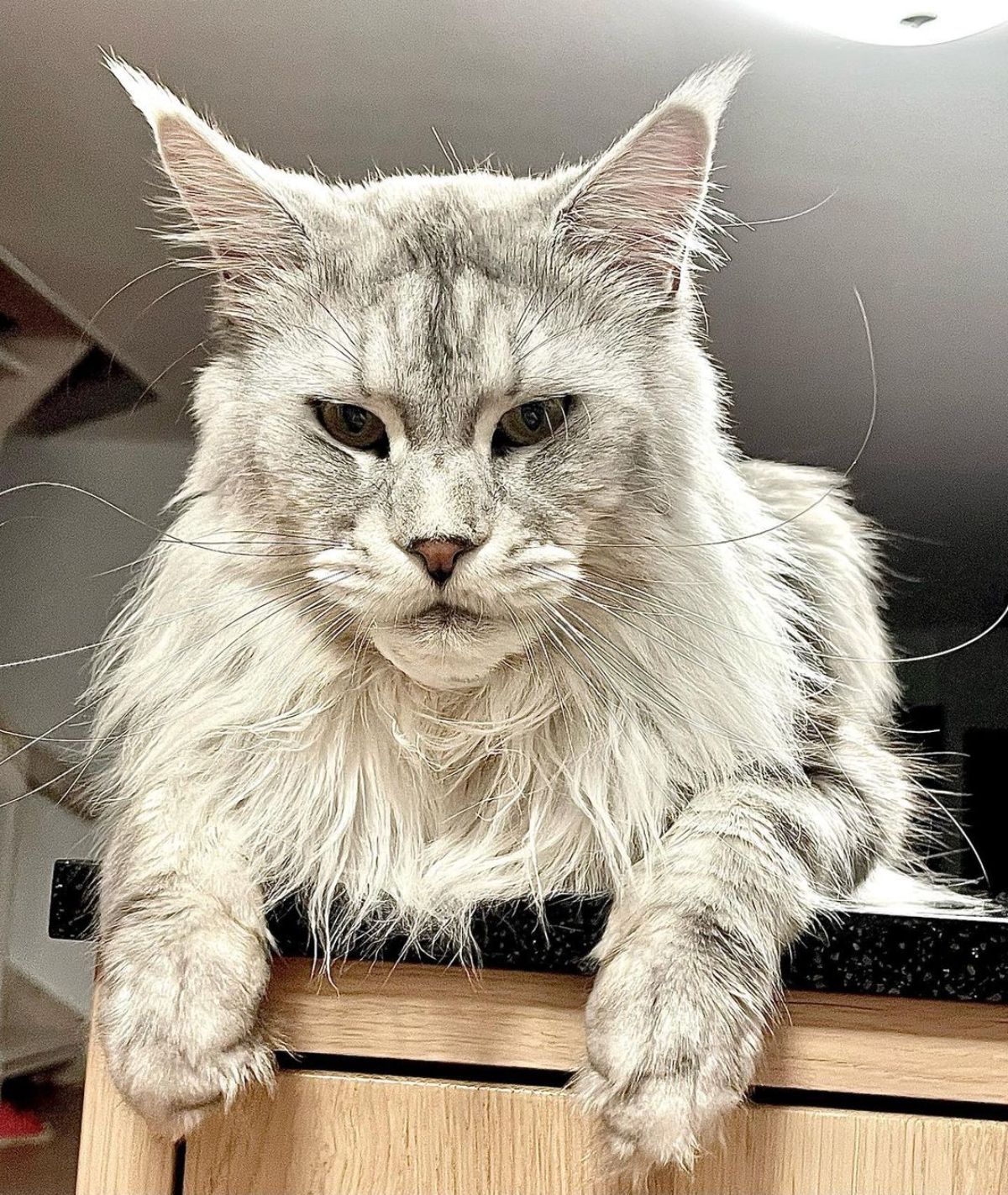 Diamond is an incredibly photogenic white and gray Maine Coon. This gorgeous pet likes to pose and delights its followers with stunning pictures and videos every week. Diamond is also a harness-trained cat who enjoys exploring the outdoors!
3. Richie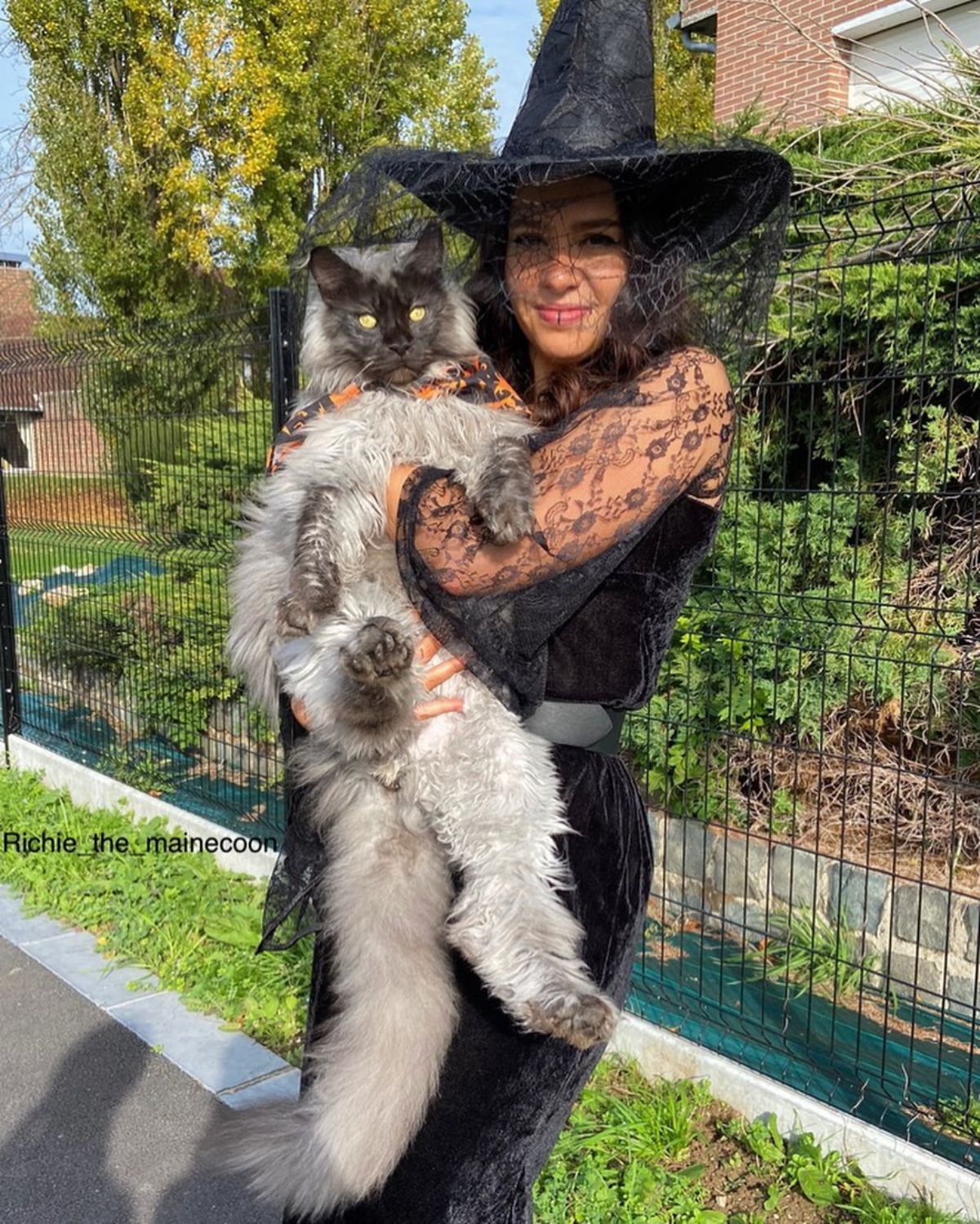 Richie is a Maine Coon with a unique coat pattern. This gorgeous cat has a black face mask that contrasts with its white fur. Its owner describes Richie as a lemur cat, and we couldn't agree more with the comparison! Richie is an Instagram star with tens of thousands of followers.
4. Aquaman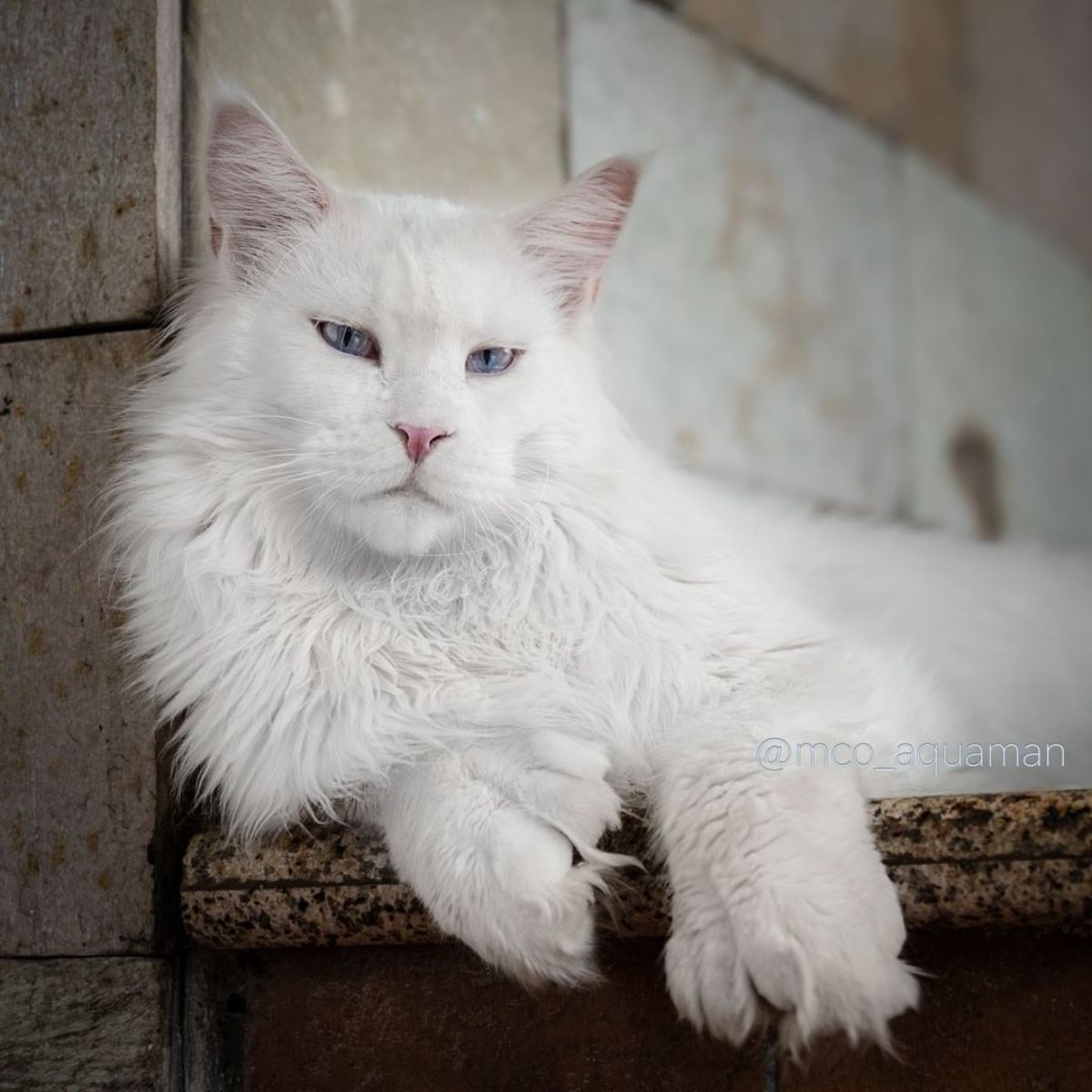 Aquaman has captured the hearts of its followers with his unique blue gaze and incredibly fluffy coat. This gorgeous white Maine Coon is an Instagram star, and it's worth noting that his owner knows how to take excellent photographs.
5. Chatterie de la Villa Verona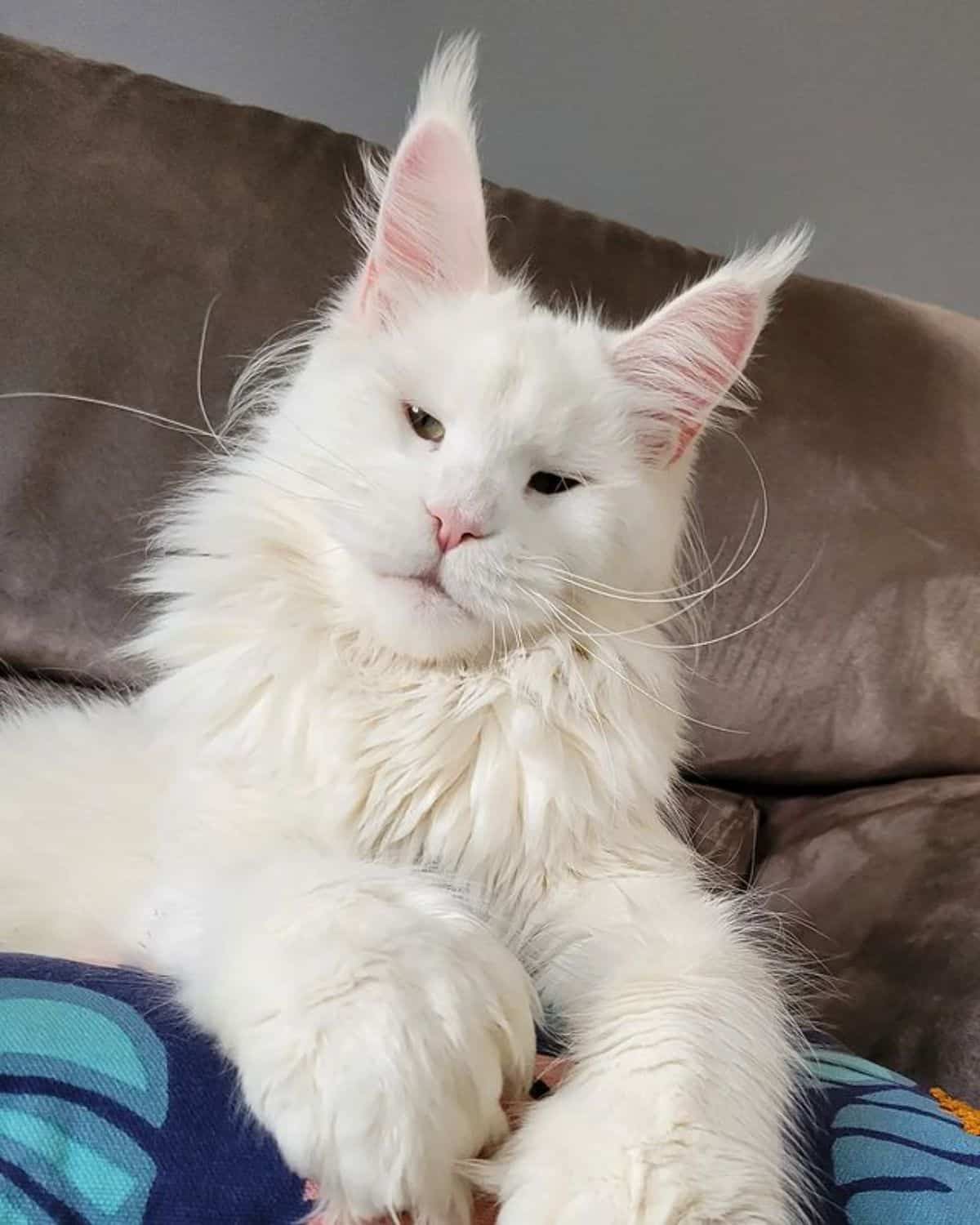 The Chatterie de la Villa Verona is a Maine Coon breeder located in France. This Instagrammer occasionally shares pictures of white Maine Coon kittens, but you can also find photographs of Sharlie, a gorgeous white Maine Coon that the breeder keeps as a pet.
6. Blues Maine Cattery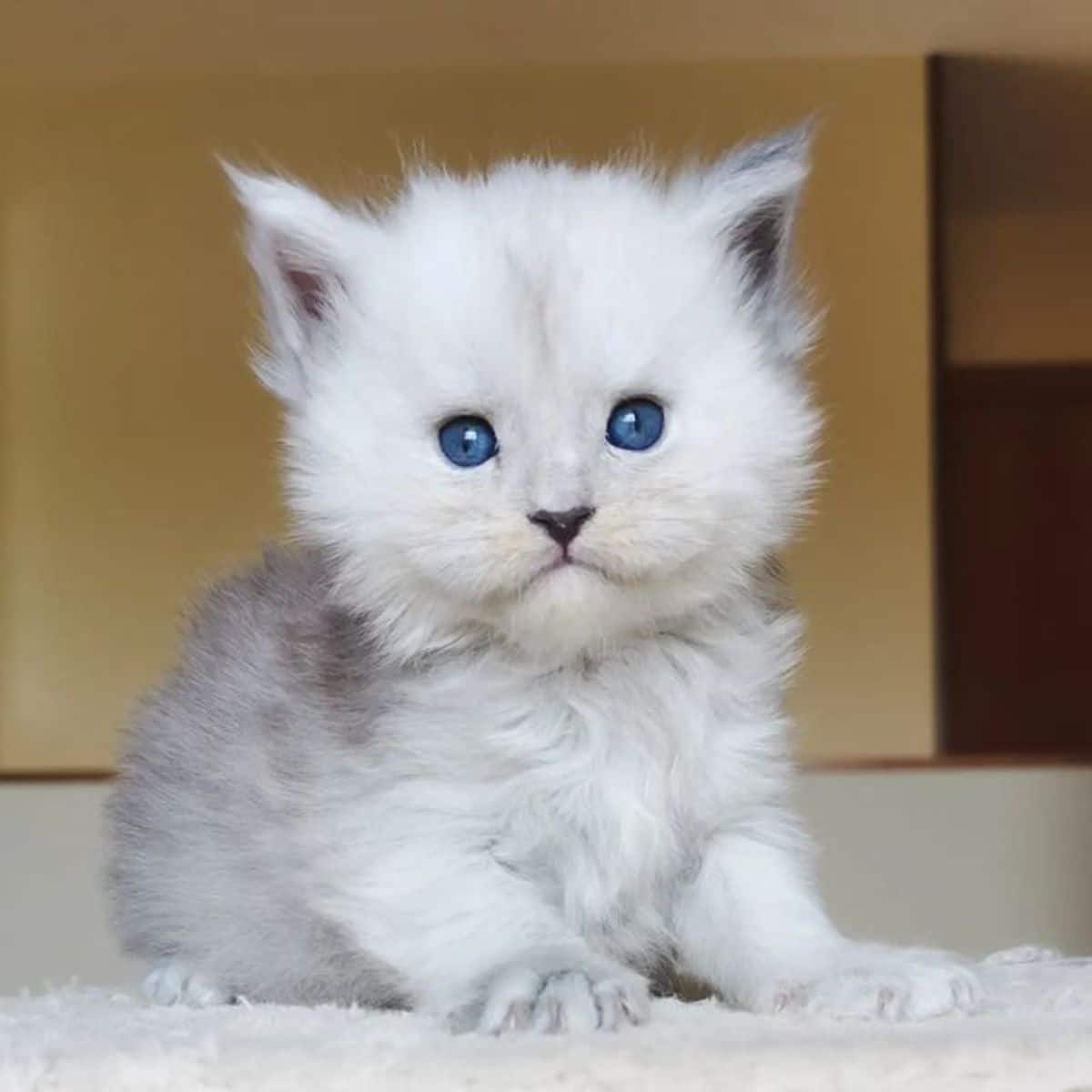 This Spanish Maine Coon breeder specializes in silver and shaded kittens. Their Instagram page is a go-to resource for adorable pictures of white Maine Coon kittens.
7. London and Bella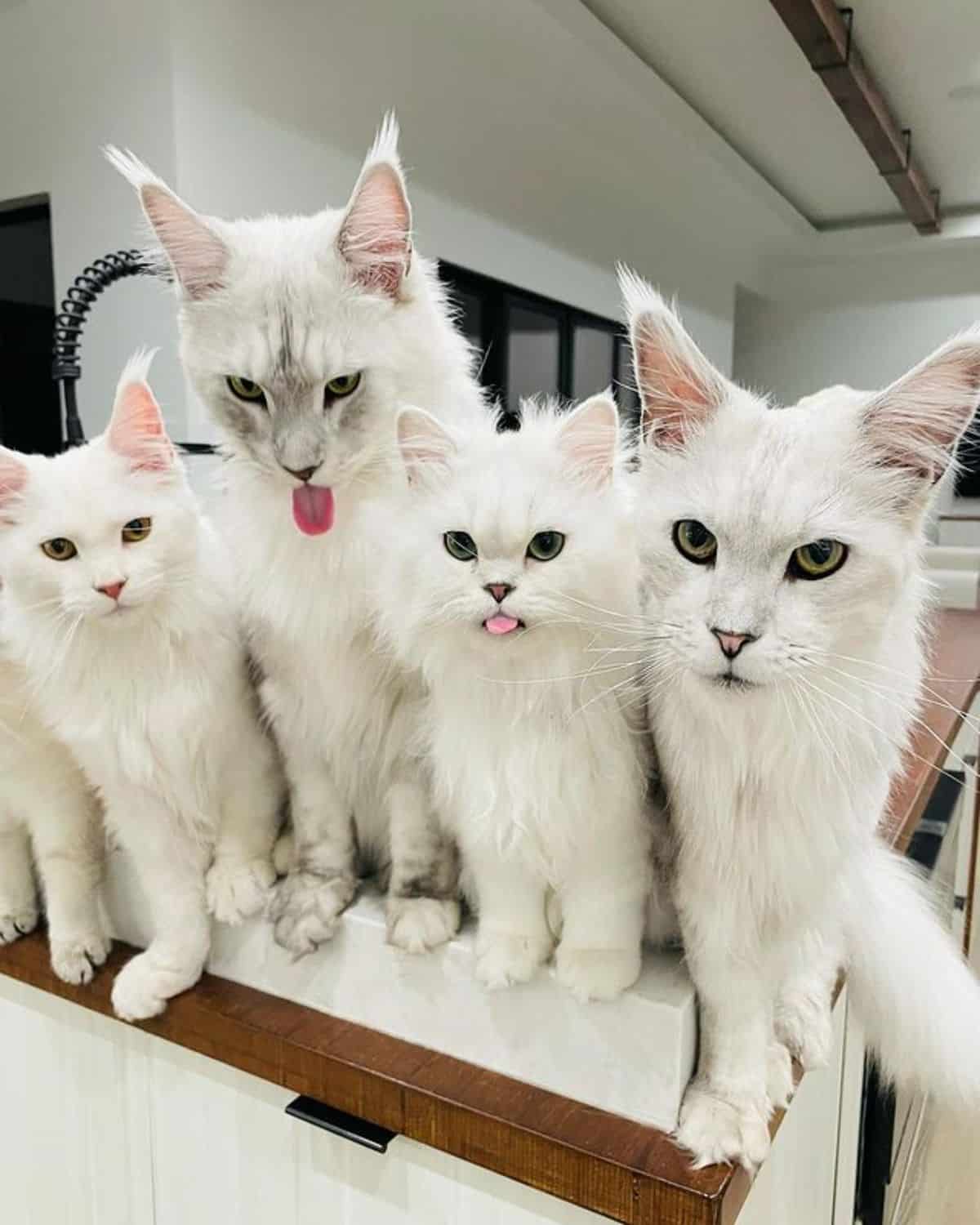 Follow the adventures of London, Bella, Million Dollar Baby, and Aerys on this fun Instagram page. This cat owner shares their daily lives with their four gorgeous cats, including a charming white Maine Coon.
8. Chatterie du Plateau Picard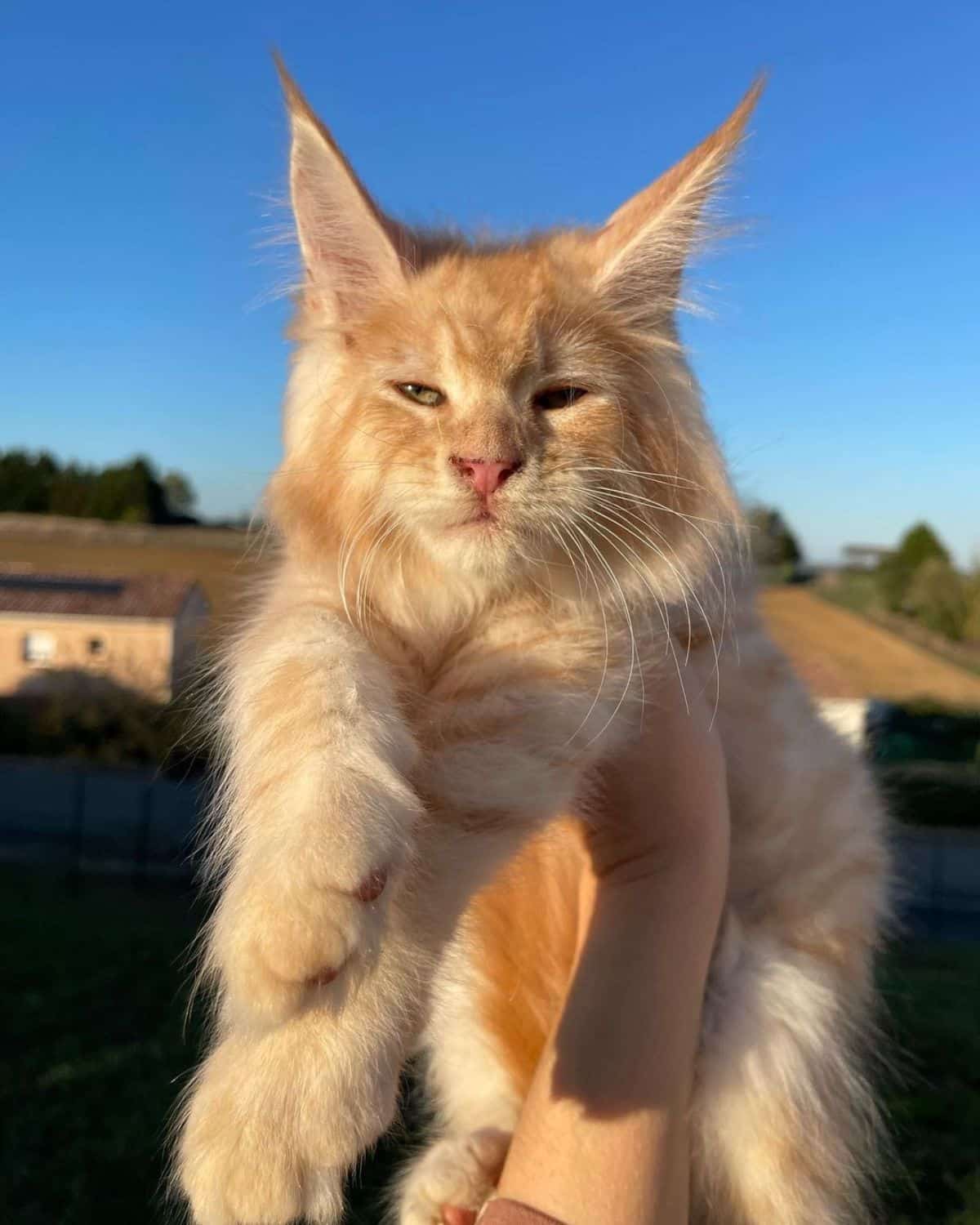 Located in France, this Maine Coon breeder regularly shares images of gorgeous kittens available for adoption. If you scroll through their page, you'll find some white Maine Coon kittens with serious facial expressions that make this breed stand out.
9. Picasso Dreams Maine Coon Cattery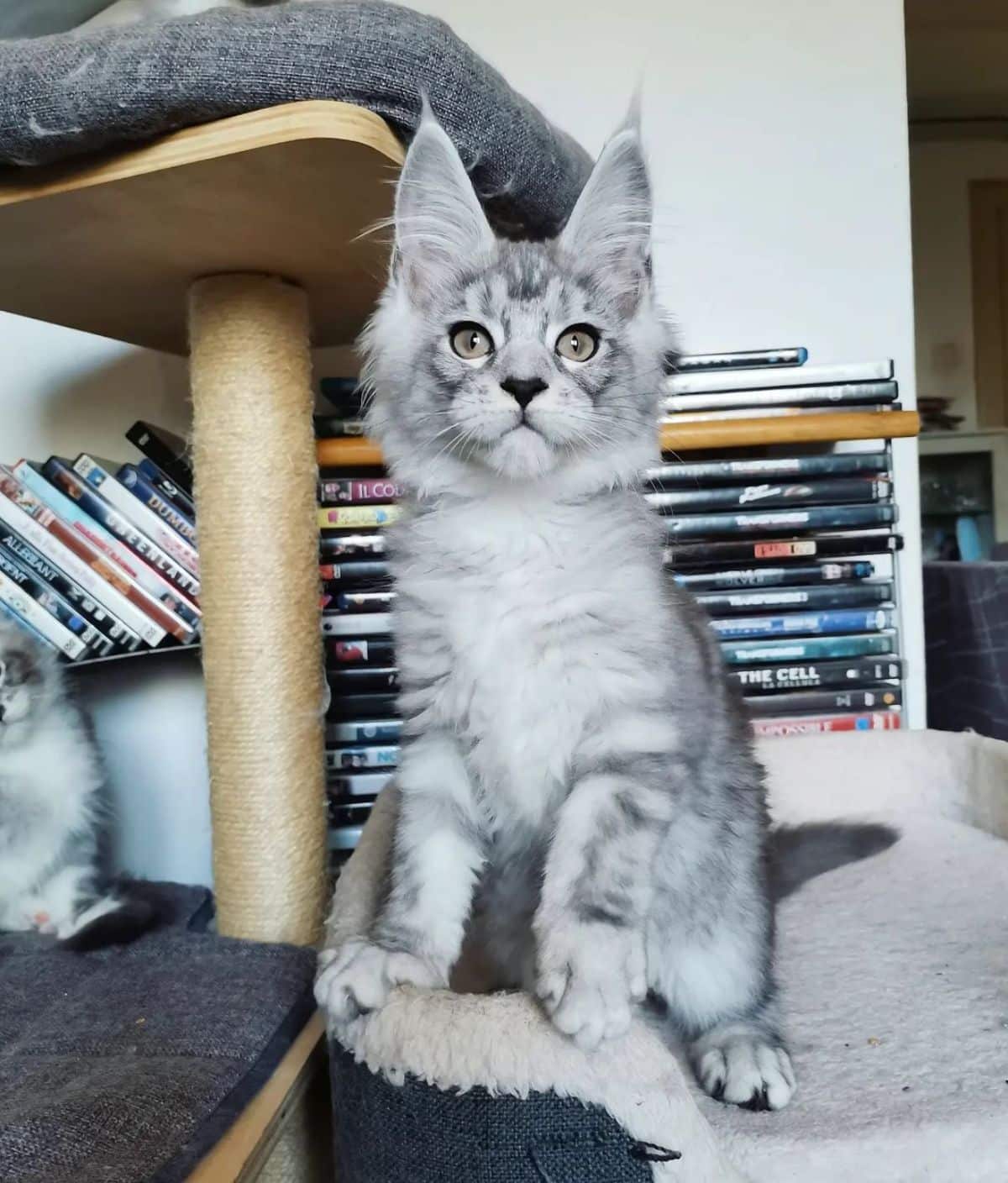 This Maine Coon breeder gives their followers an exclusive look into the process of caring for newborn kittens. You'll find images of Maine Coon kittens discovering the world, taking their first bath, and socializing with each other on this Instagram page, including some snow-white Maine Coons.
10. Bram and Pluk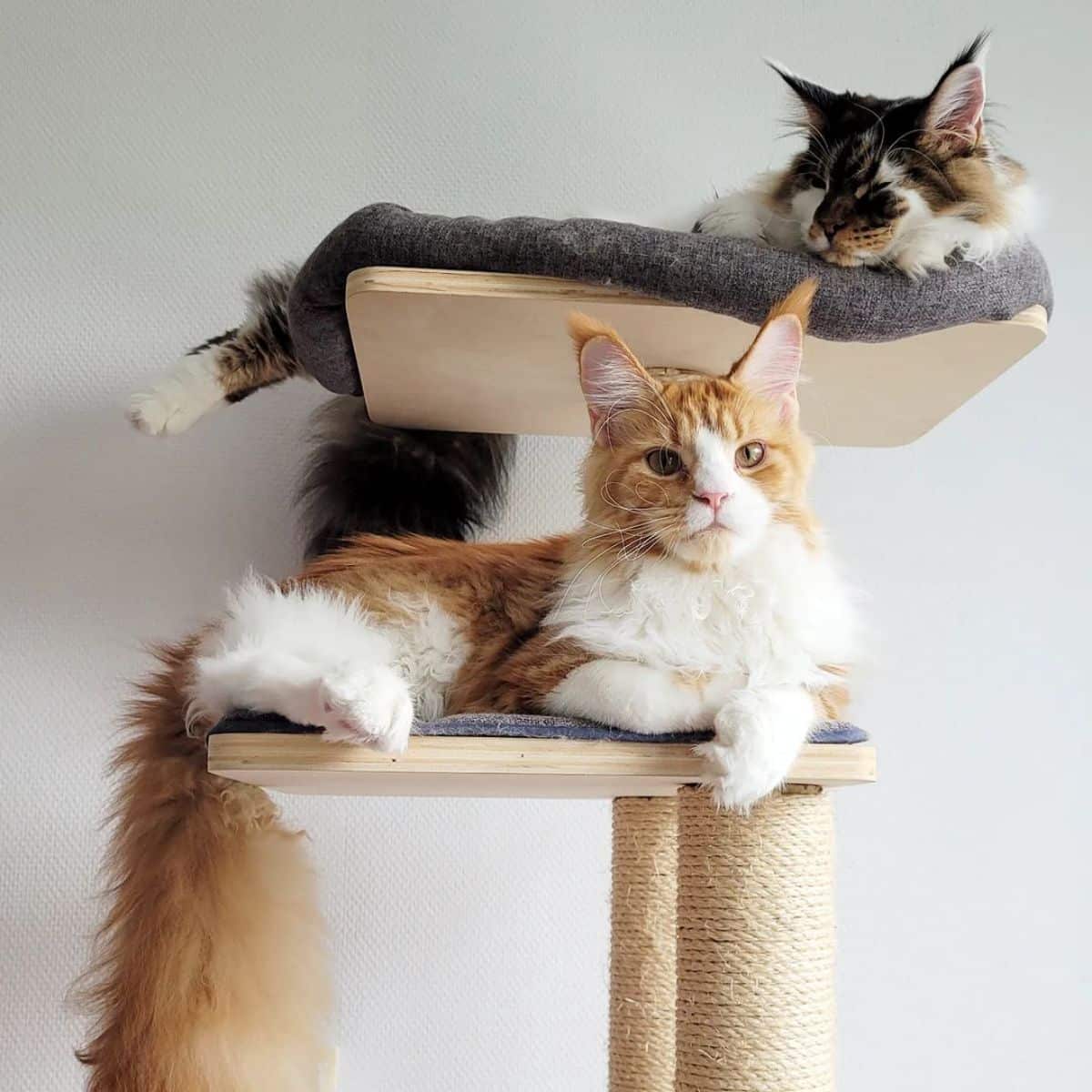 Bram and Pluk are two Maine Coon siblings who enjoy napping, lounging in their cat tree, and begging for treats. These two gorgeous cats have white fur with ginger or gray spots.
11. The Fluffy Siberians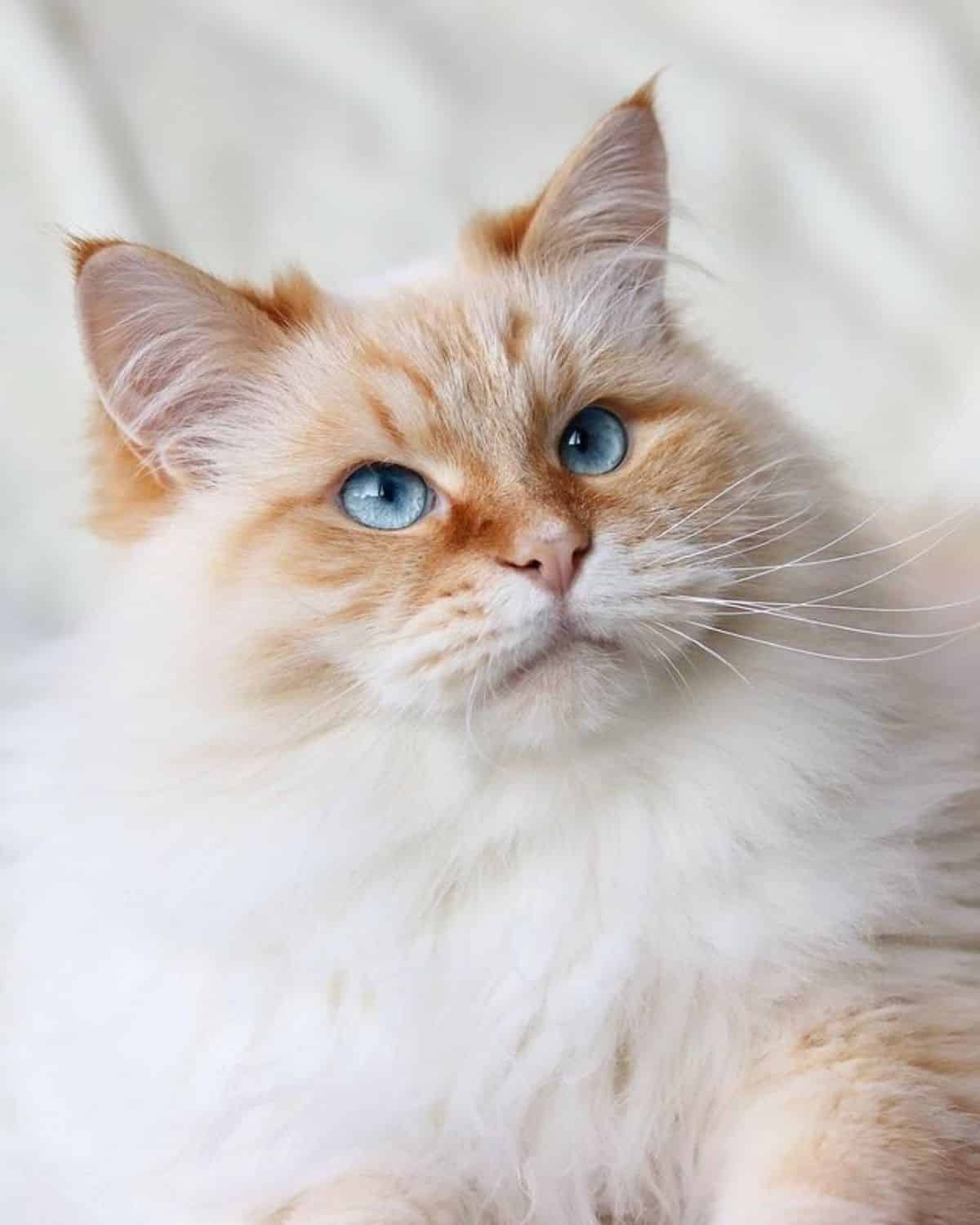 The Fluffy Siberians are three beautiful Maine Coons from the Netherlands. Mika, Indy, and Sammie live a cozy life, and you can enjoy many photographs of them lounging and cuddling on the couch. If you're looking for images of white Maine Coons, you should know that Mika has a unique white and ginger coat.
12. Nova, Griffin, and Wolff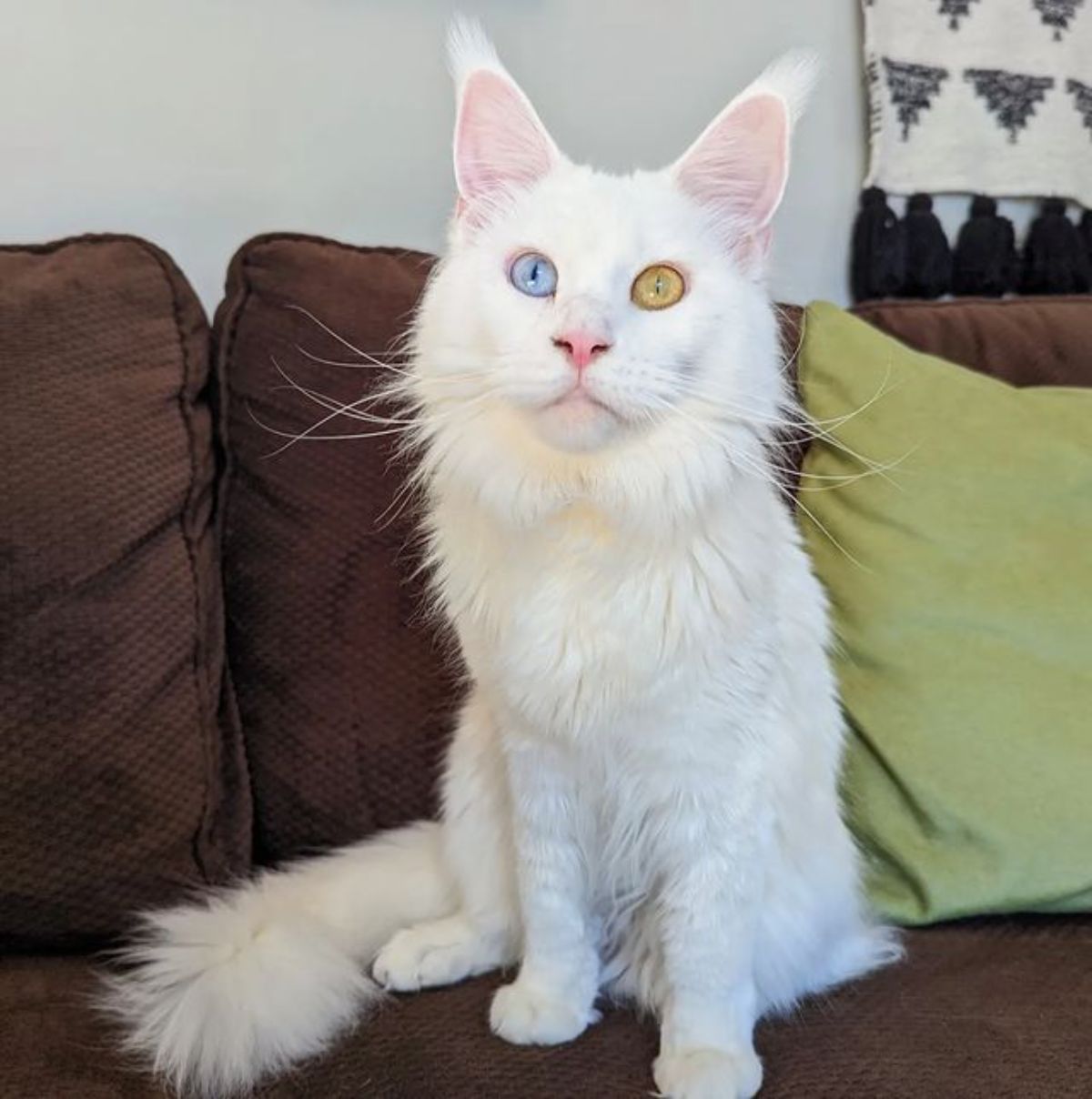 Nova, Griffin, and Wolff are three Maine Coon siblings with a large Instagram following. These cats have their own gated patio where you can relax and nap in the afternoon sun!
Lovers of white Maine Coon will appreciate the pictures that feature Nova, a unique white Maine Coon with heterochromia.
13. Hunter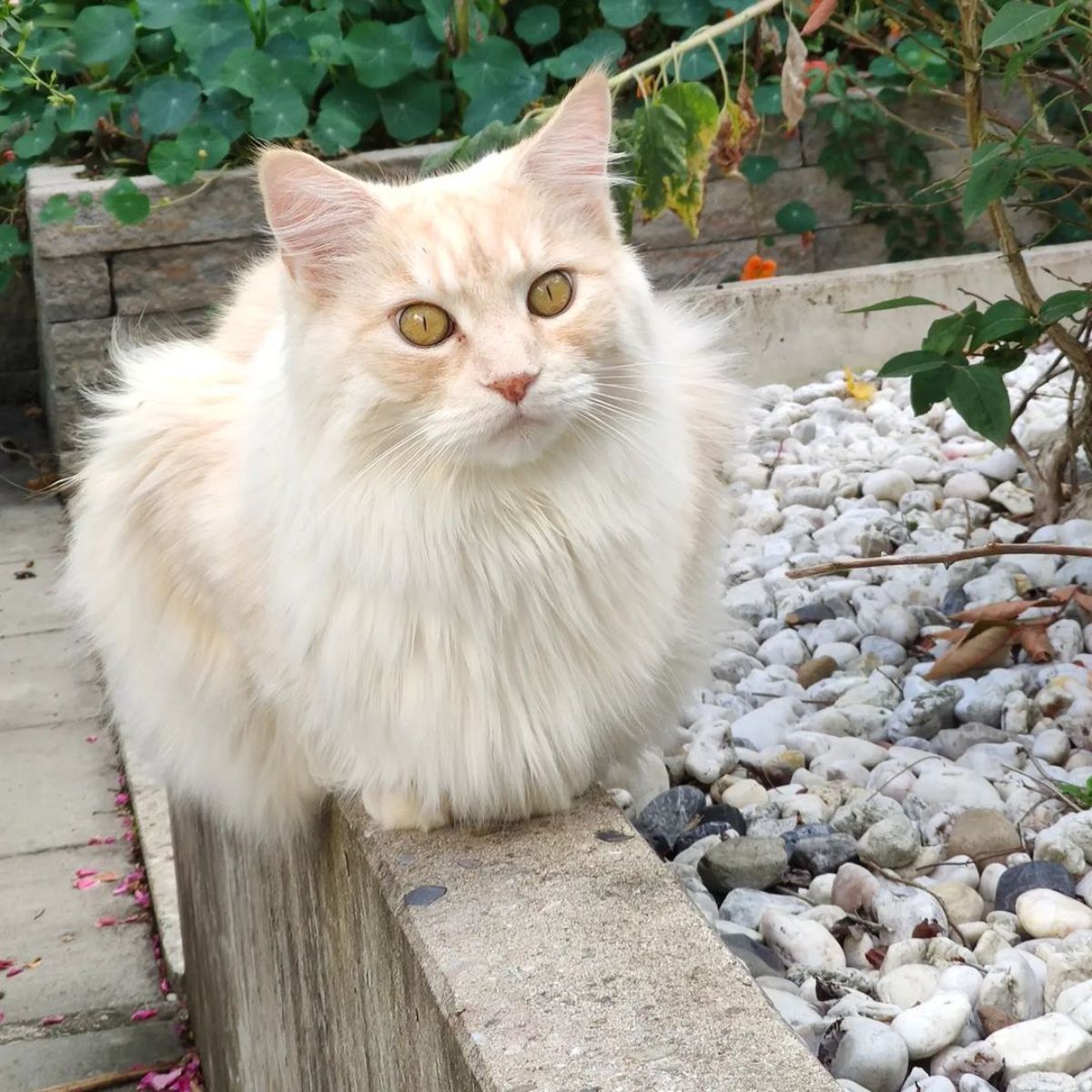 Hunter is a fun and energetic white Maine Coon who loves exploring the outdoors. This adventurous cat has thousands of Instagram followers who love seeing updates about the new places Hunter discovers, the cats he meets on his adventures, and his favorite napping spots.
14. Maine Coon Cats Family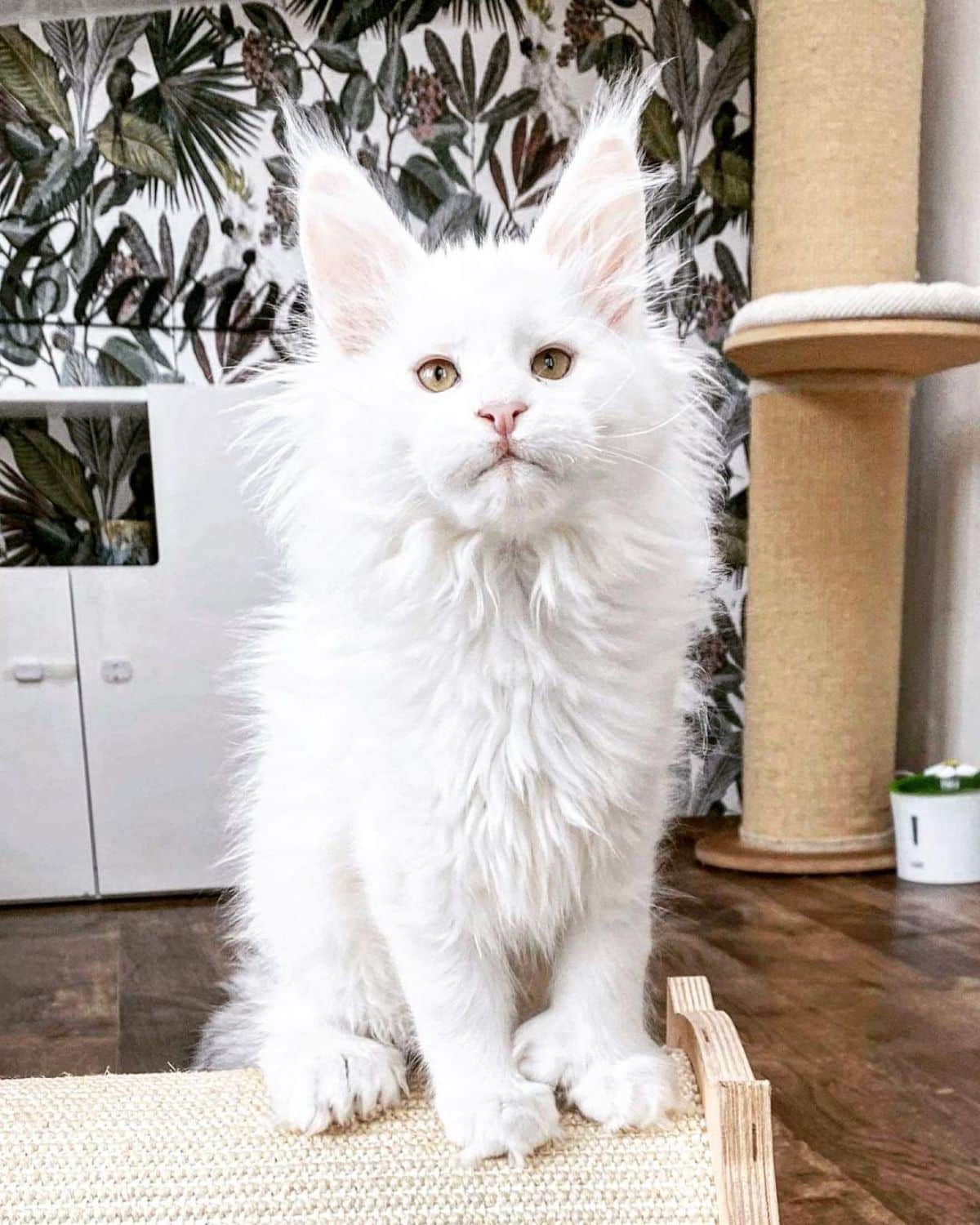 How many cats are too many? This French Maine Coon lover shares their passion for this breed through quality photographs showing life with their six cats. Don't miss out on this Instagram page since the owner recently adopted a new kitten with white fur named Tolkien.
15. Thapojere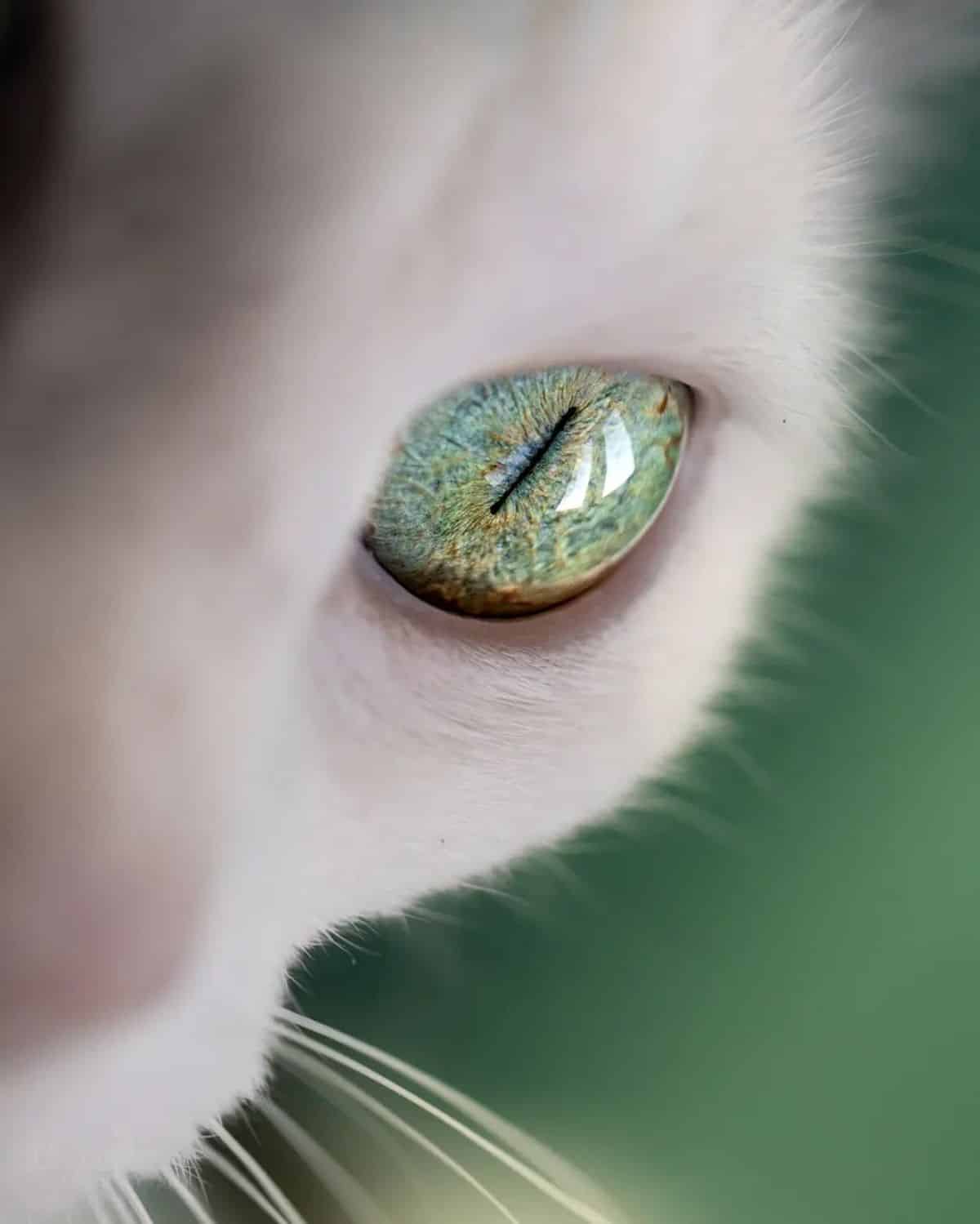 This Instagram user is a talented pet photographer. You can follow their page to find creative pet photography ideas or admire their work that frequently features white Maine Coons.
16. Olga Naomineko Cattery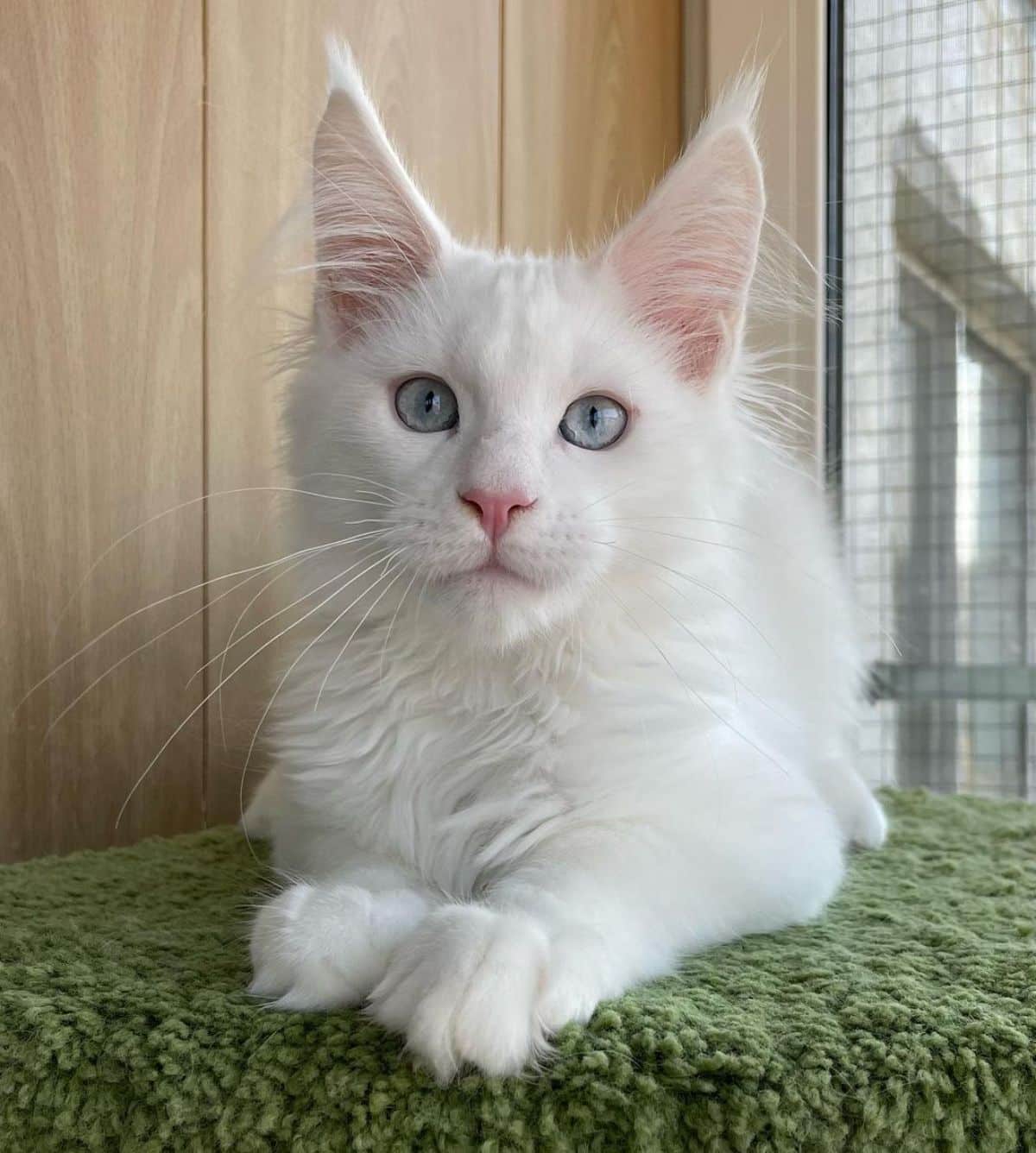 This Russian cat breeder raises Maine Coon kittens and regularly shares updates about their pets and new kittens on Instagram. This Instagram page often features white Maine Coons, and it's a fun way to see kittens go through different growth stages.
17. Adrastia Maine Coon Cattery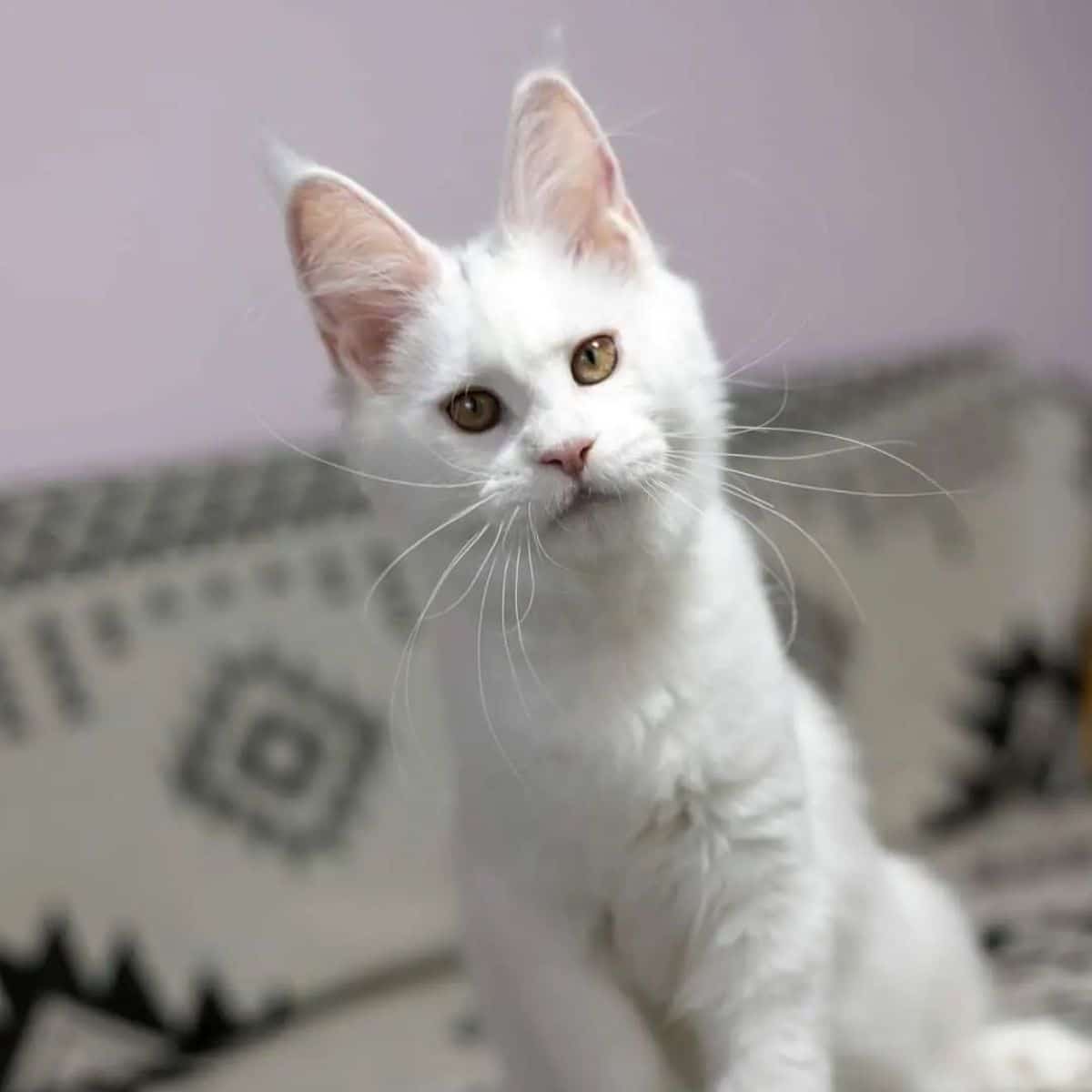 This Greek Maine Coon breeder has a noteworthy Instagram page where they share photographs of their new kittens. You'll see main white Maine Coons and discover other rare coat patterns.
18. Moka and Sundae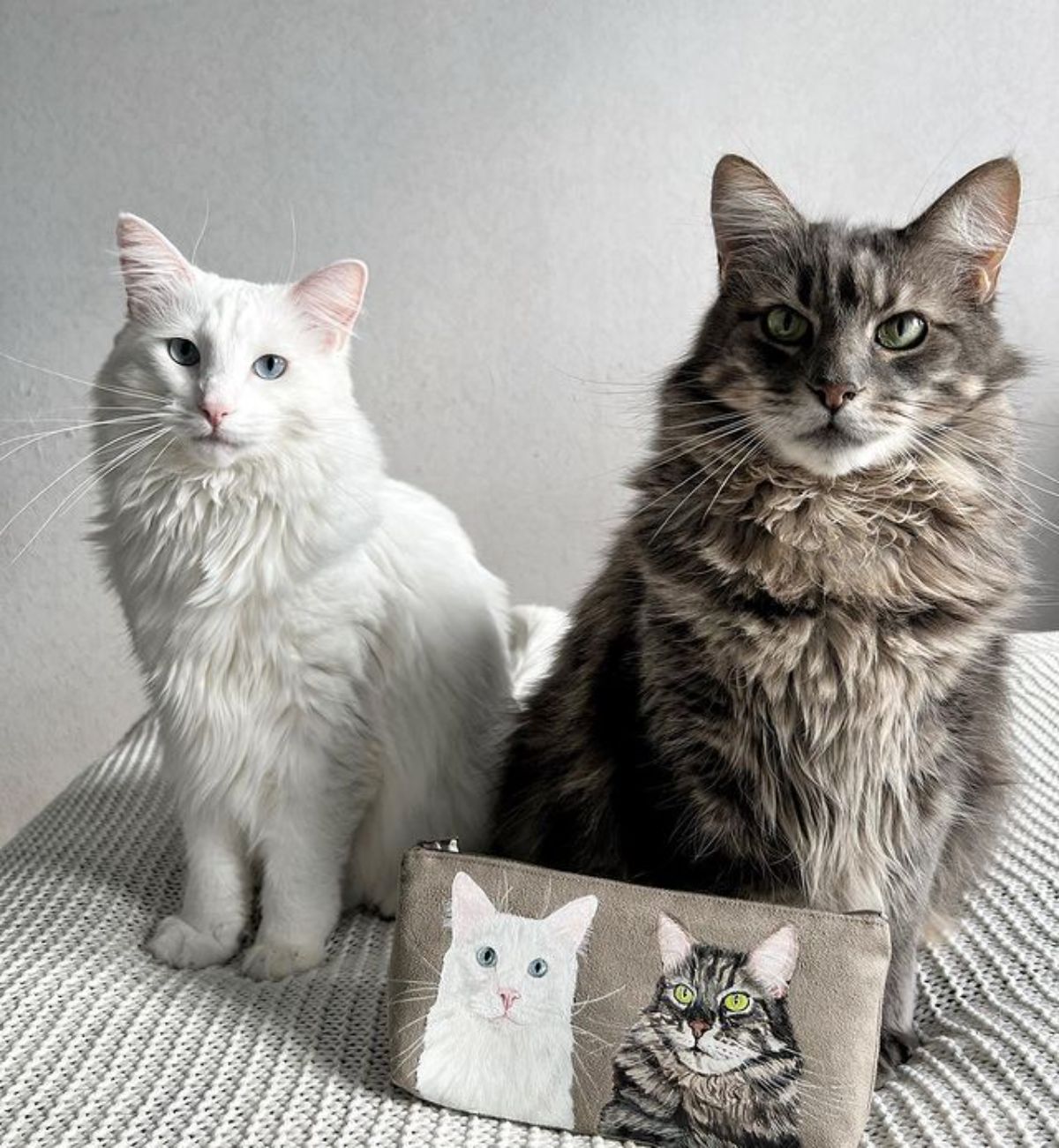 Moka is an Instagram-famous white Maine Coon with stunning blue eyes. Their owners regularly share pics of Moka and Sundae lounging on the couch, exploring the outdoors, or posing to have their portrait taken by a professional photographer. Their owner even has a tattoo of Moka!
19. TasselEars Maine Coon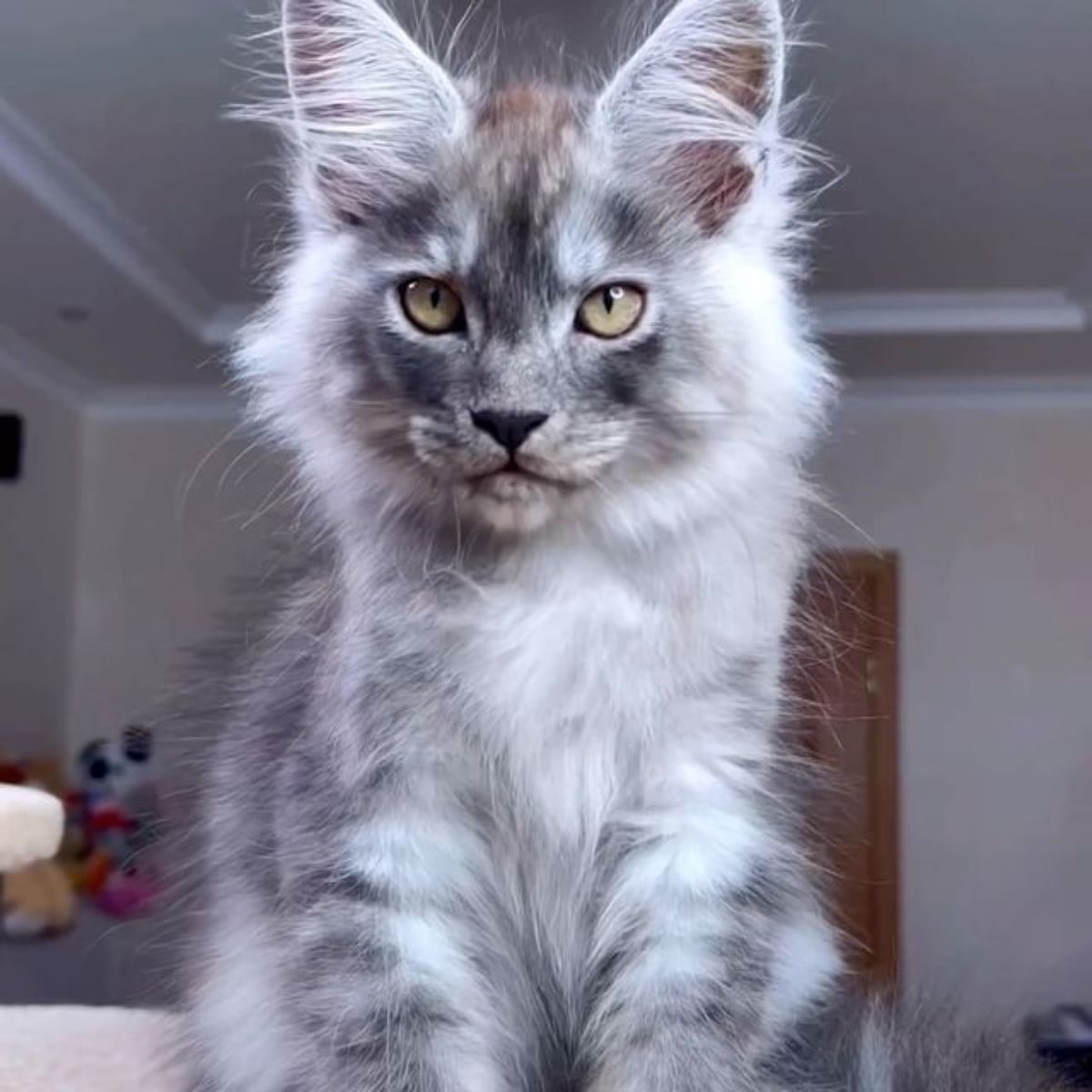 TasselEars Maine Coon is a cat breeder from Ukraine. Their Instagram page is a great place to find adorable pictures of Maine Coon kittens, including white cats. You can also find some videos showing kittens playing and socializing. We can't get enough of how fluffy these kittens look!
20. Xena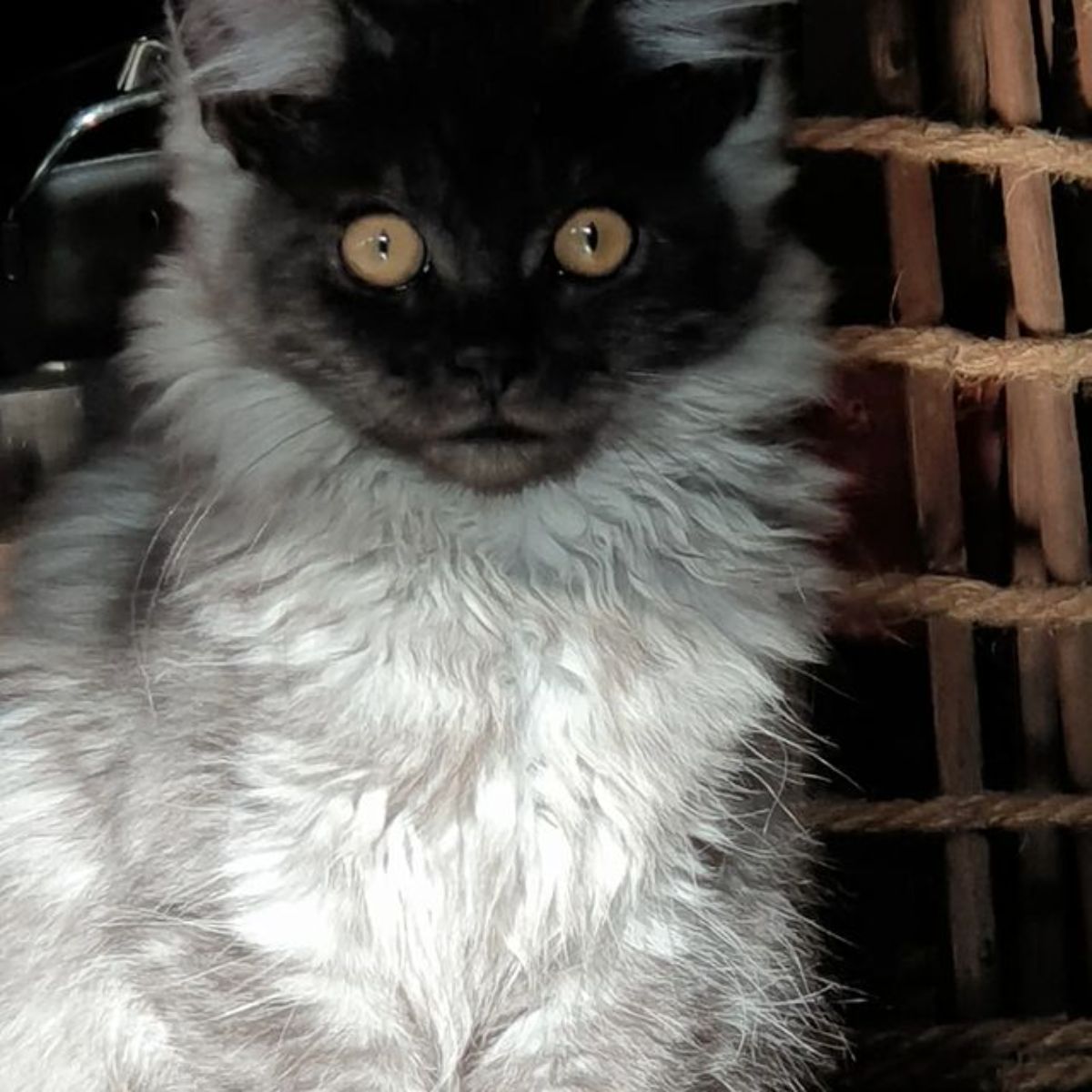 This Instagram user has no fewer than nine cats, including a beautiful white Maine Coon! You can follow their antics and find out more about the things their owner does to keep these cats active and healthy.
21. Coon Land Cattery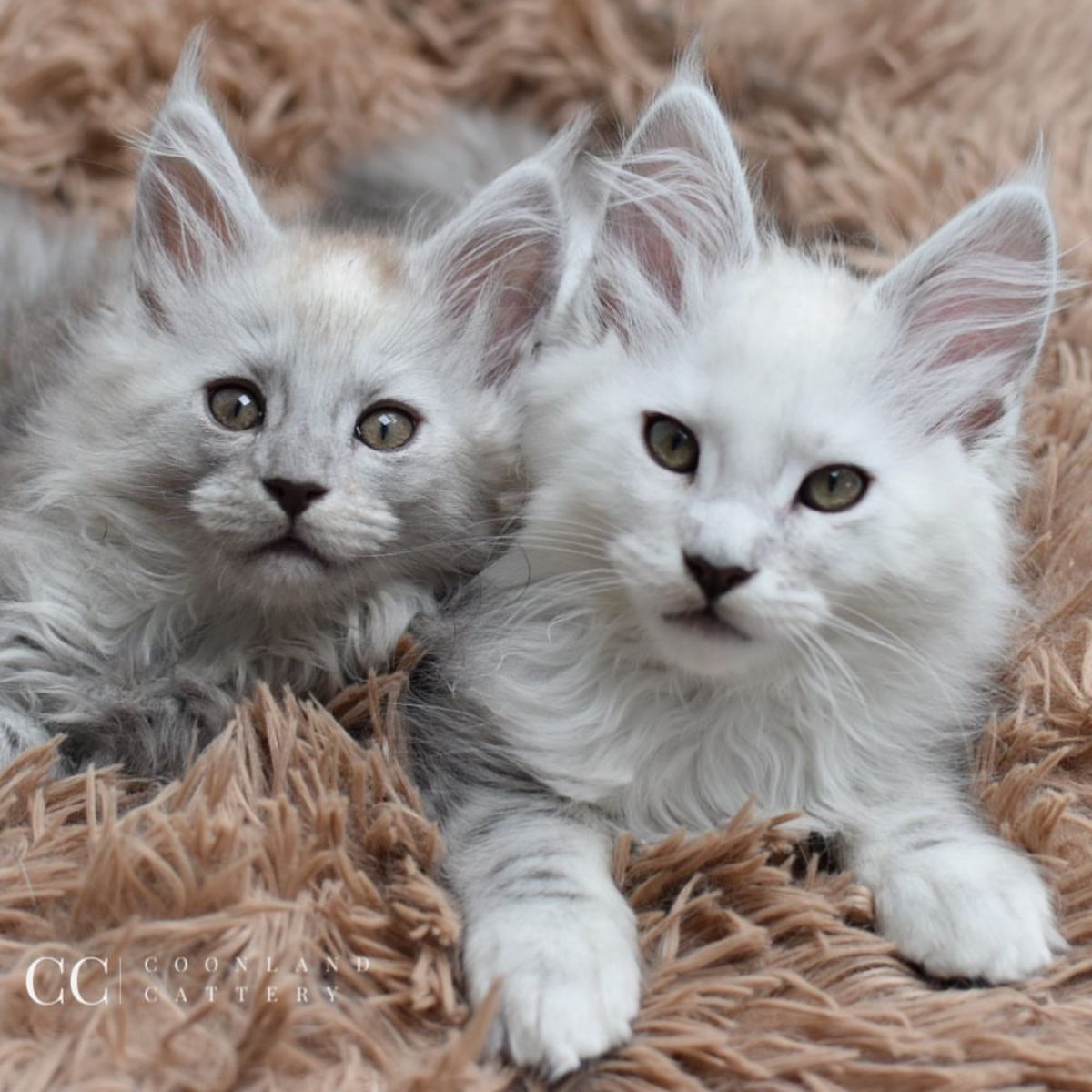 This Maine Coon breeder located in the Netherlands produced gorgeous white, silver, and smoke Maine Coons. You can follow their Instagram page to enjoy pictures of cute kittens or see what the parents look like. It's always interesting to see how kittens inherit color and other characteristics from their parents.
22. Khaleesi and Ole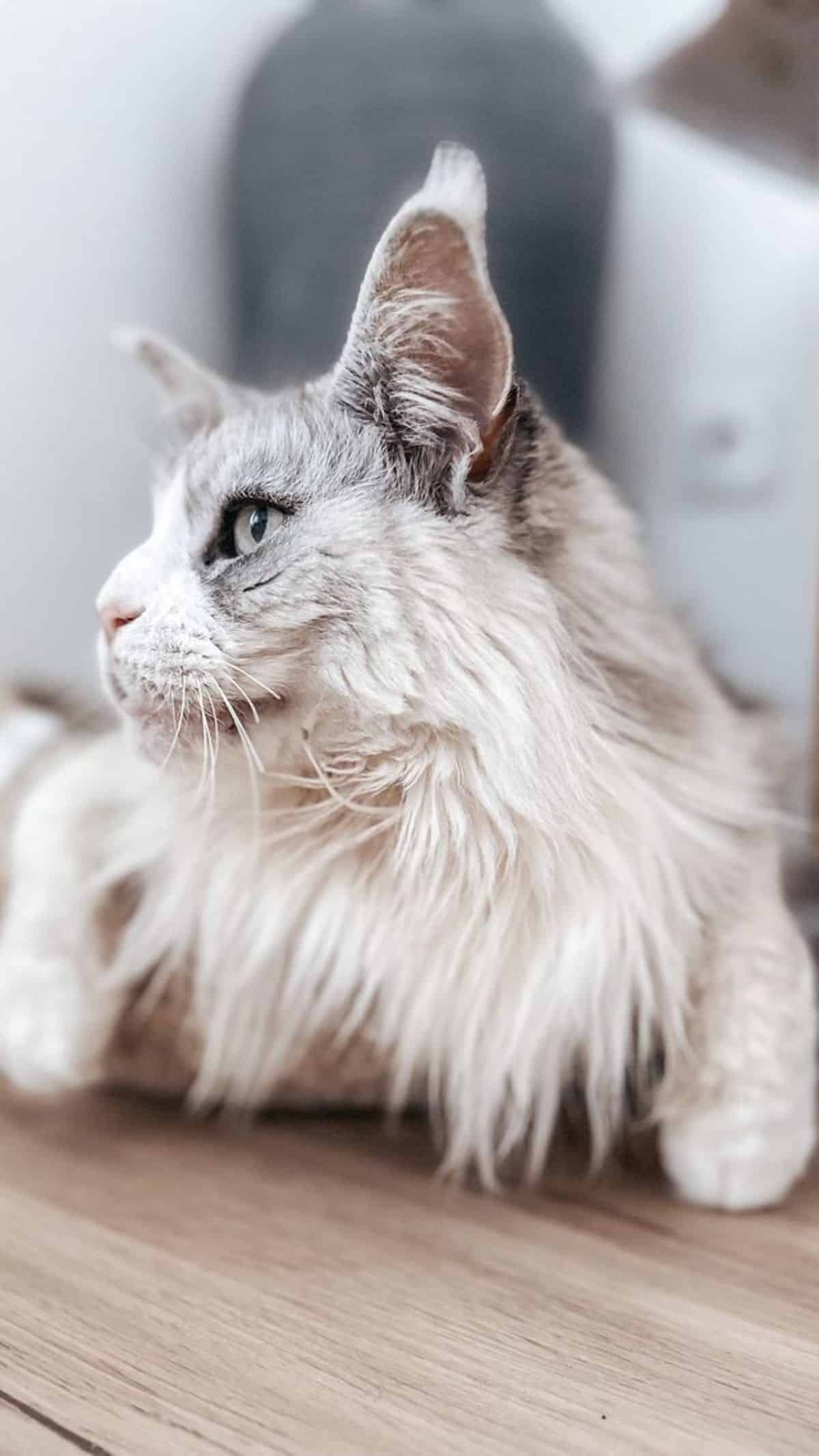 Ole is a majestic white and gray Maine Coon from Germany. You can follow his Instagram page to keep up with his adventures with his sister Khaleesi. The two cats often explore the outdoors, pose for cute pictures, and enjoy delicious treats.
23. Fussel's Cat Band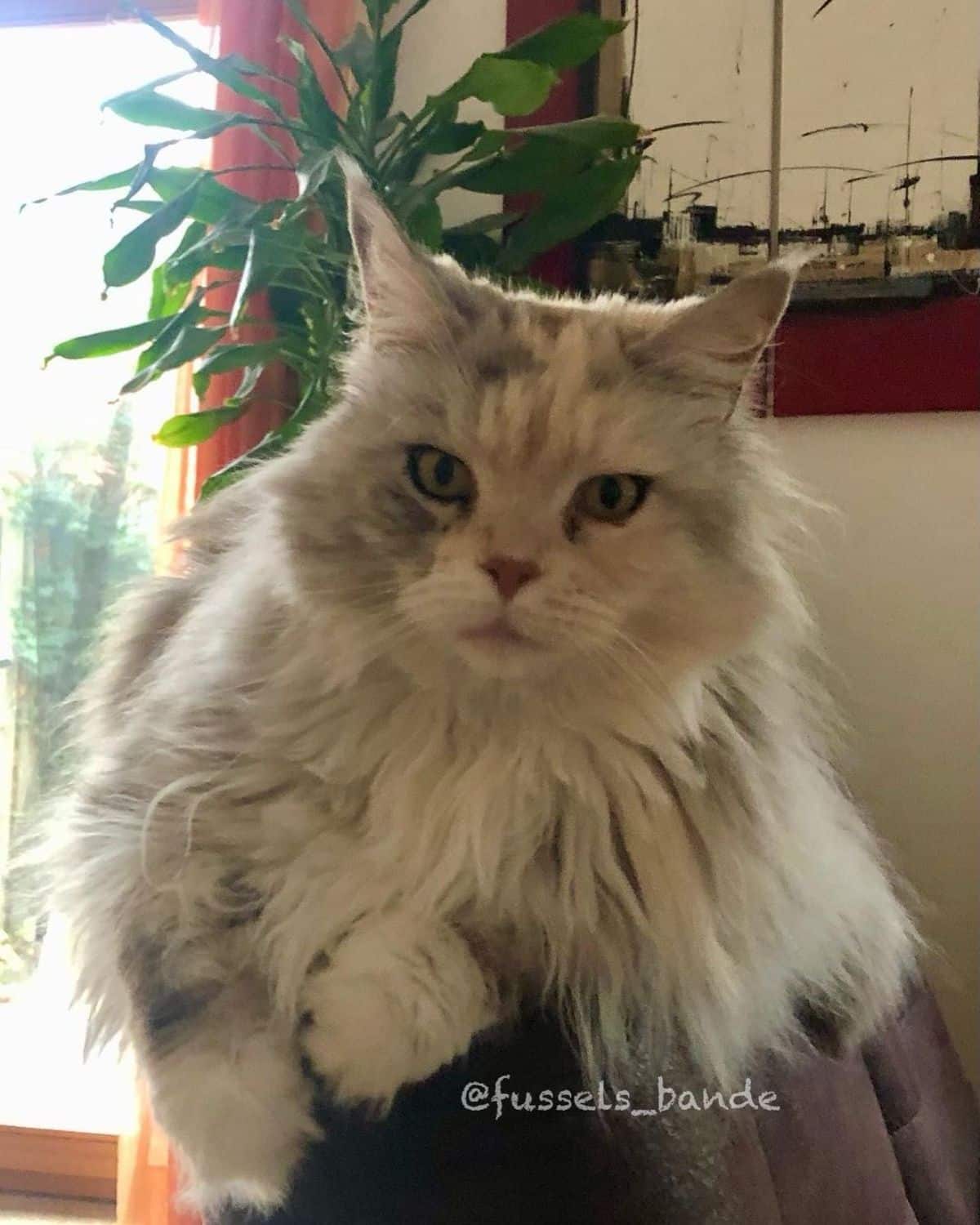 Fussel's cat band has created a unique concept. Each post includes a short text that educates pet owners about important issues like pet health or nutrition while featuring a gorgeous shot of one of their cats. You'll find pics of a gorgeous white Maine Coon, among other pets, on this educational account.
24. Maine Coon MC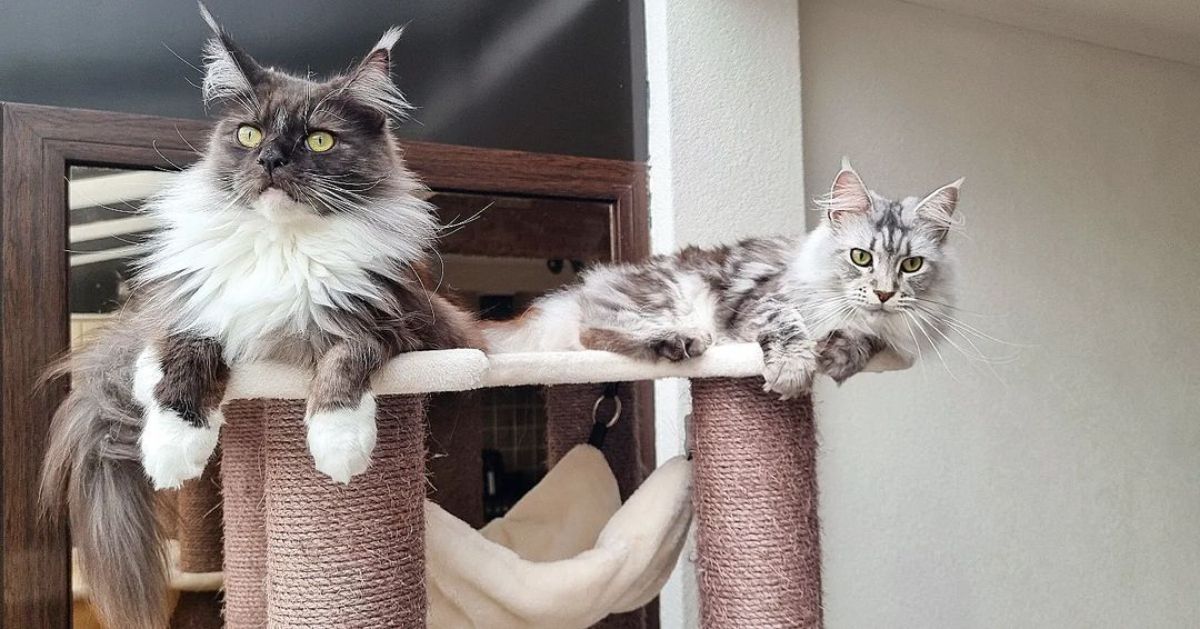 This Instagram user turned to social media to share pics of their photogenic cats. You'll find many photographs of Maine Coon, including a white and silver cat.
25. Selva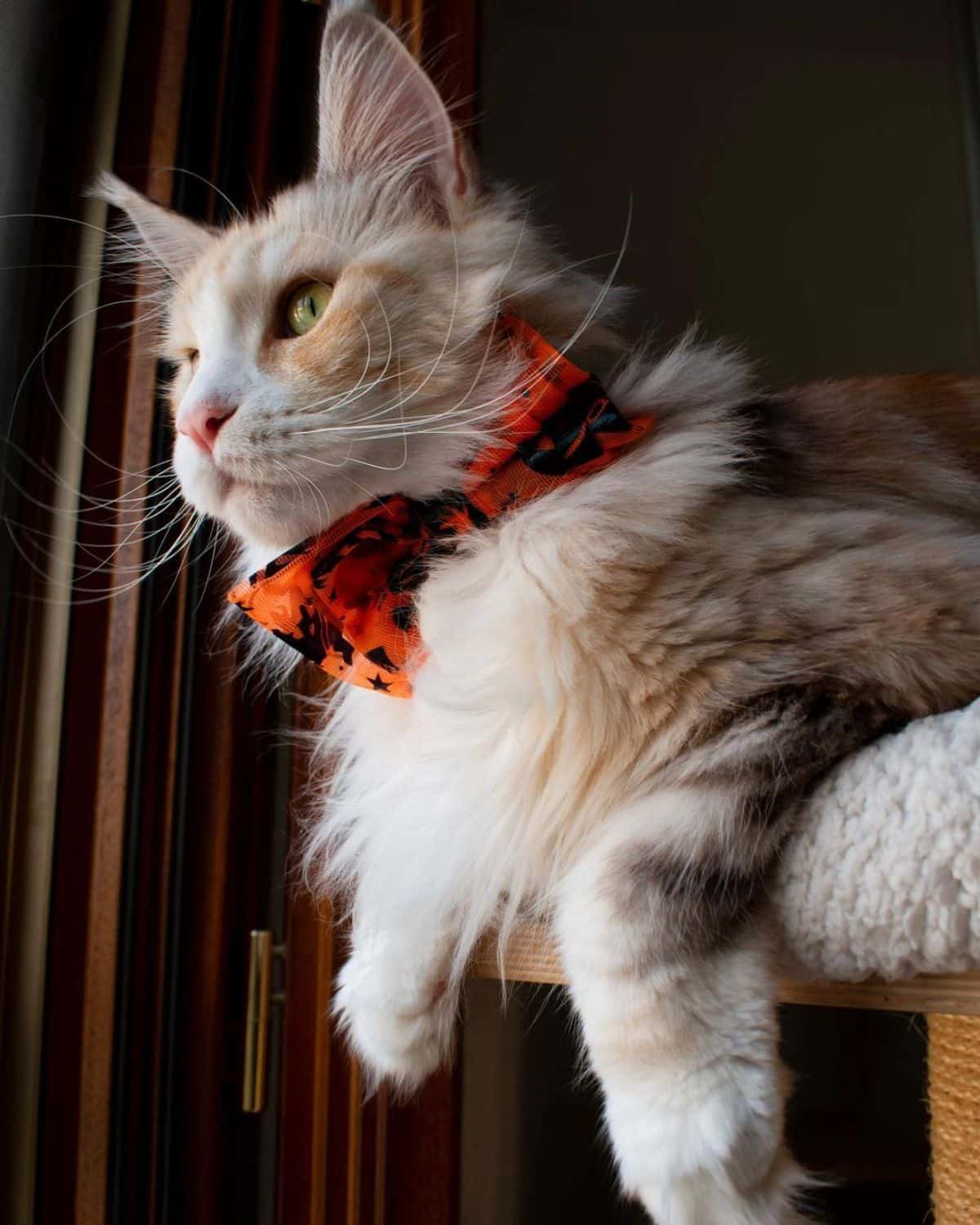 Selva is a stunning white and ginger Maine Coon who enjoys posing with accessories and napping in her cat tree. Her owner often takes her on hikes and captures stunning outdoor pictures.
26. Kefir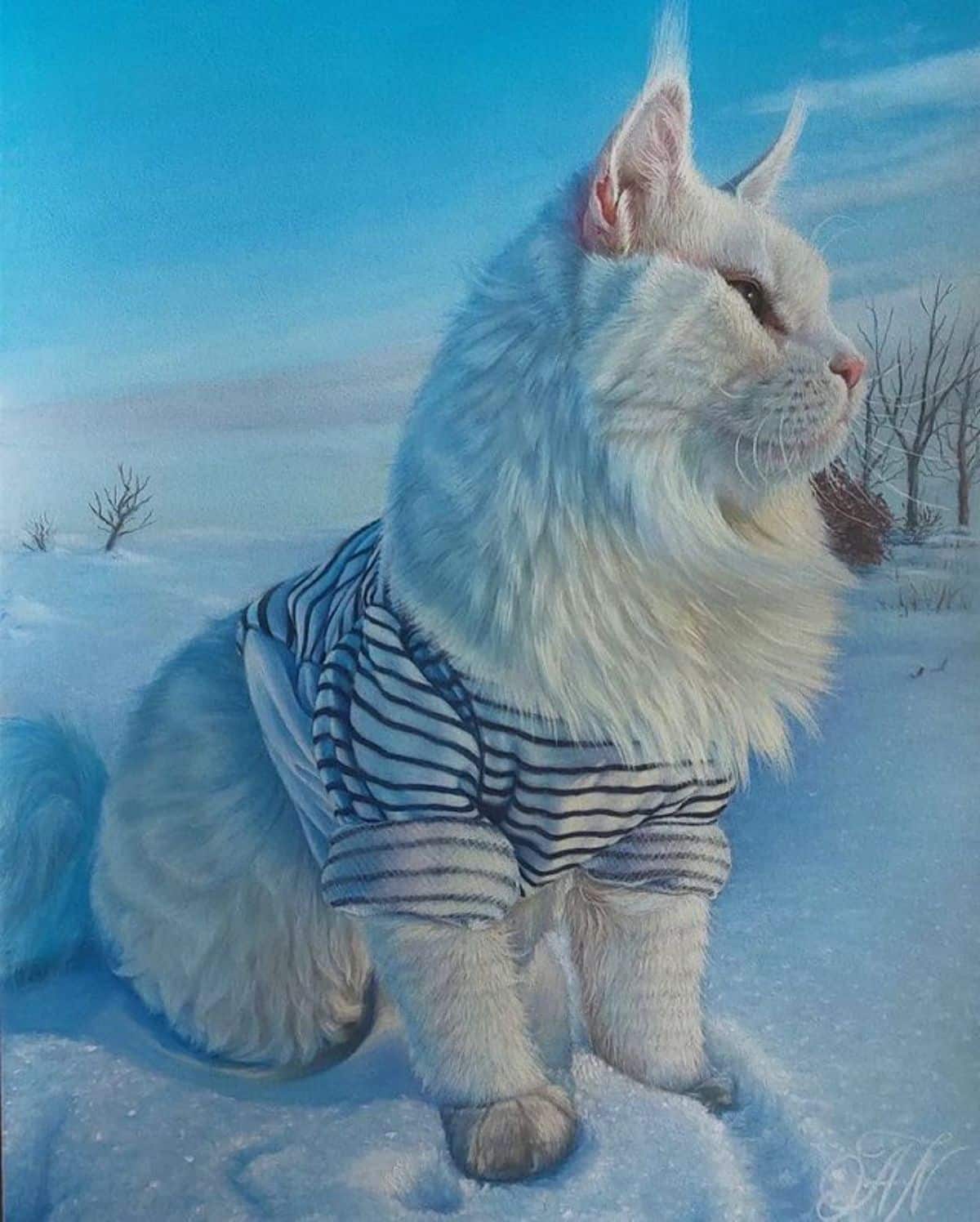 This Russian Instagram user shares photographs of her majestic Maine Coon, Kefir, in all kinds of fun situations. Kefir enjoys dressing up like a human, posing for pictures, and lounging on the couch.
For more content featuring this majestic animal, you can follow its owner's TikTok account.
Wrap Up
These Instagram accounts should help you add some cute cat pictures to your feed. Don't hesitate to reach out to these users to let them know how much you appreciate their gorgeous pets, and think about starting an Instagram account of your own if you have a cat!