The benefits of cat treats are often overlooked by Maine Coon owners. They can help train cats and allow you and your cat to bond. Plus, many treats can improve your cat's health.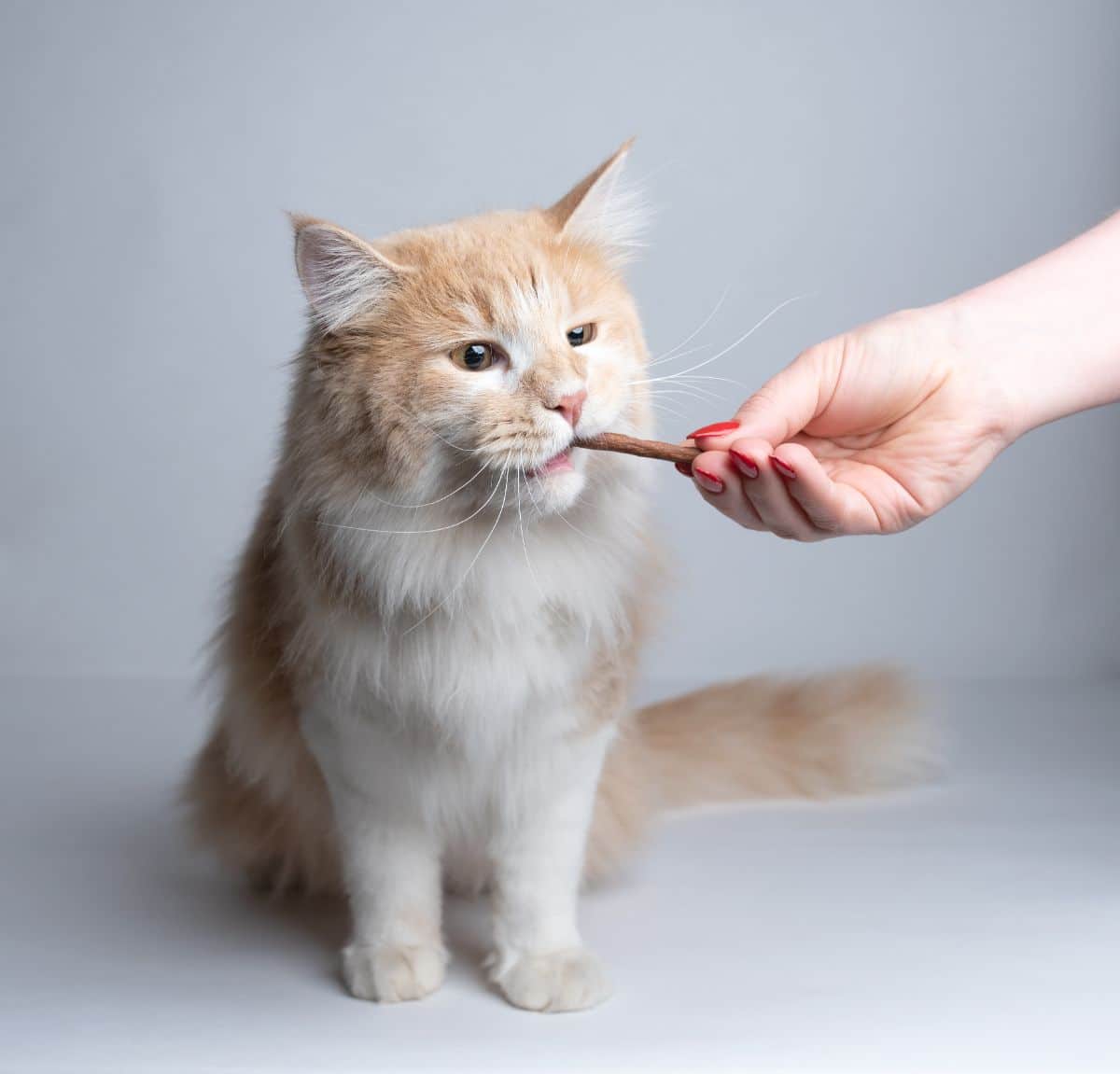 Below, you will find the 11 best Maine coon treats of 2022. Continue reading for substitutes for cat treats and answers to frequently asked questions.
Jump to:
The Best Maine Coon Treats
Main Coons are large cats that can attain impressive sizes. However, don't overfeed them on either regular meals or treats. They do best on multiple meals a day and the occasional treat.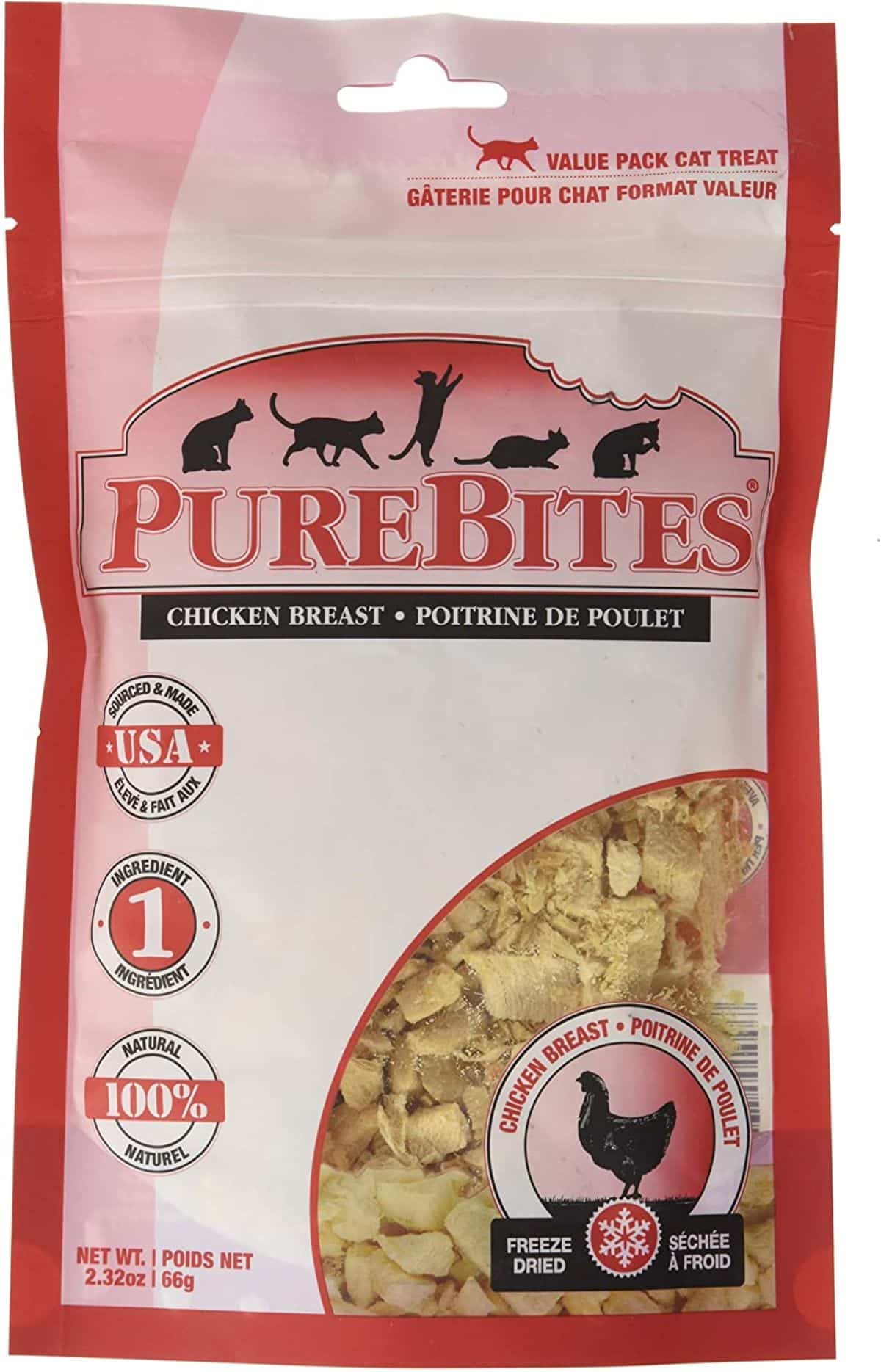 These chicken breast treats are about as simple as it gets. They only contain 100% pure USA chicken breast. This simplicity allows your cat to reap the benefits of protein without filling up on added carbs and filler ingredients.
When these treats are freeze-dried raw, the smell, texture, and freshness are still evident when your cat bites into them. The treats have an average of two calories each, so your cat is unlikely to gain weight from these snacks.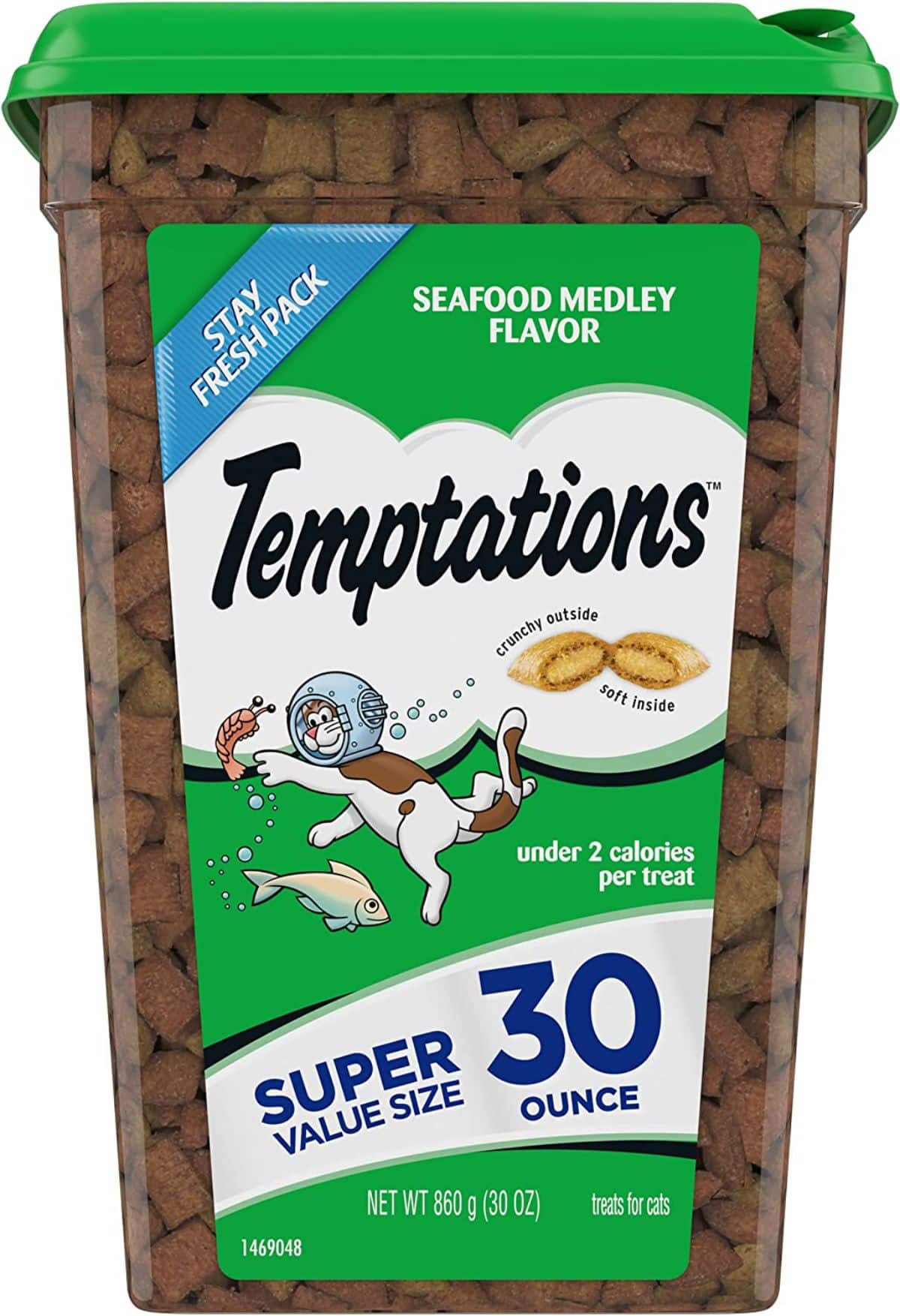 Temptations focuses on treats that are 100% nutritionally complete and balanced. They have enough nutrients that some cat owners top their cats' meals with them. Each treat contains less than two calories, so you don't have to worry if your cat wants them daily.
Cats love Temptations treats because they have crunchy shells with soft insides. Your cat will adore the variety of flavors and textures each time they get a snack.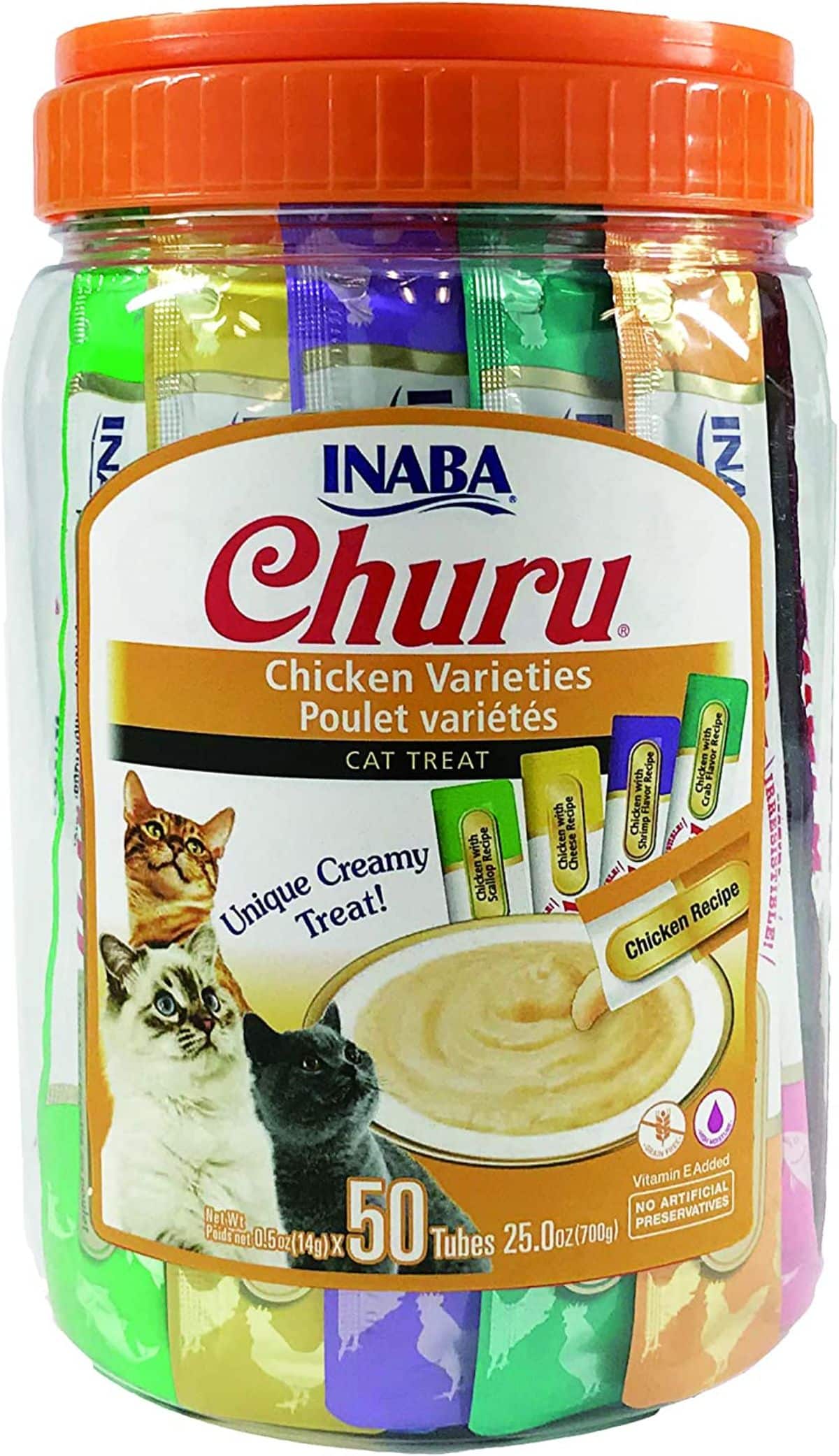 INABA knows that your cat is family, so its cat treats include only human-grade ingredients. Chicken-flavored treats are made from farm-raised chicken, and wild-caught tuna make up the tuna-flavored treats.
These treats never contain:
Grains
Preservatives
Artificial colors
Carrageenan
There are only six calories in each tube to help reduce the risk of obesity. Additionally, they contain 91% moisture to keep your furry friend hydrated.
Because these treats are from tubes, you can feed your cat by hand to help the two of you bond.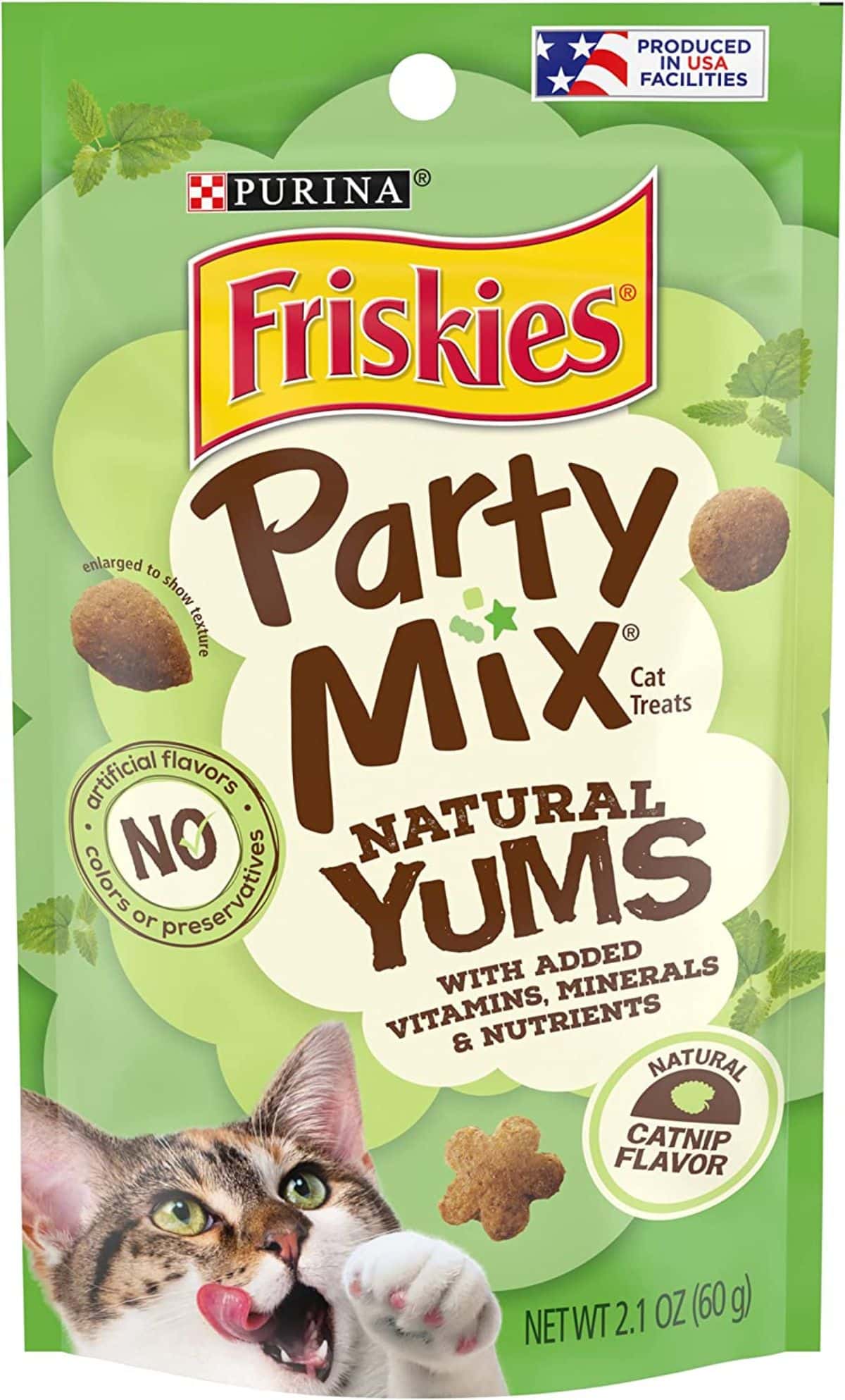 Purina Friskies cat treats include all-natural ingredients alongside added vitamins, minerals, and nutrients. You don't have to worry about artificial flavors, colors, or preservatives when you feed your cat these snacks.
Each treat contains less than two calories, and the crunchy texture helps to clean your cat's teeth. Your cat will love mixing it up with catnip flavor rather than meat or fish flavors.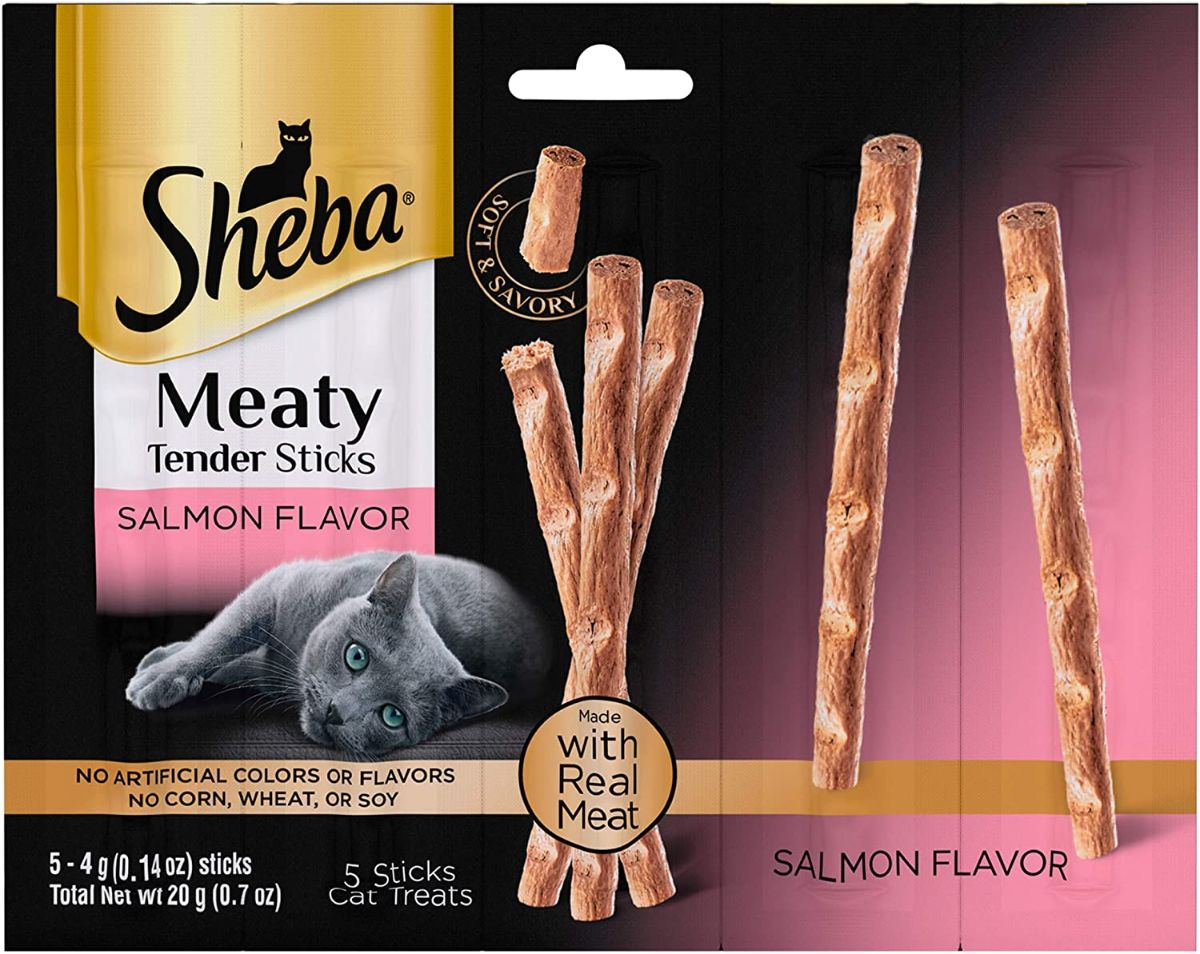 Salmon is great for Maine Coons because it provides protein and omega-3 fatty acids. SHEBA makes these treats with real salmon, so you can rest assured that your cat will receive all of the benefits without artificial flavors.
Meaty Tender Sticks are free of corn, wheat, and soy, which makes them accessible to many cats with sensitive stomachs. Plus, every treat is individually packaged, locking in freshness until your cat is ready to devour his snack.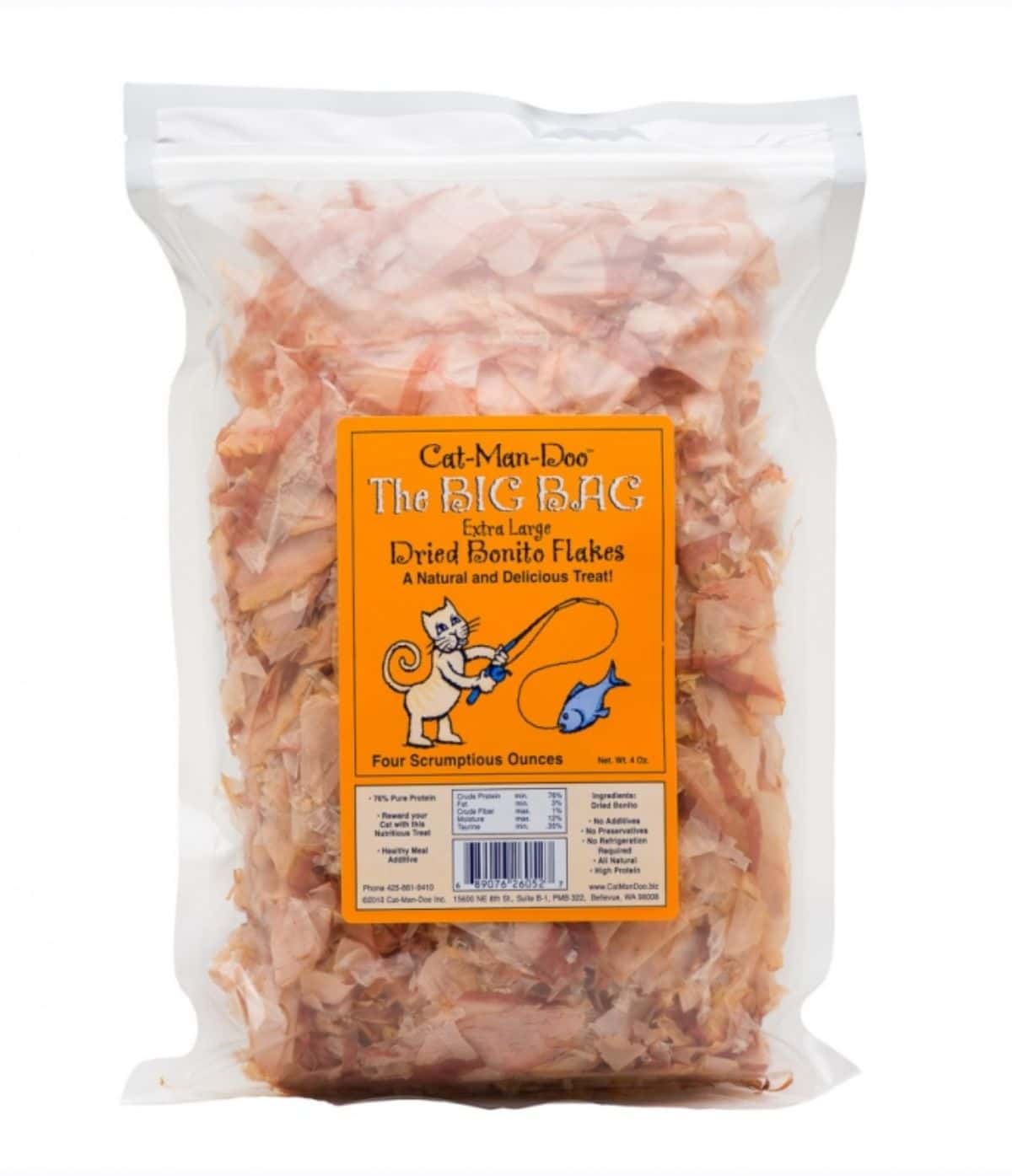 Each flake produced by Cat-Man-Doo comes from one protein source, simplifying the ingredient list and ensuring hearty treats. The treats include natural oils which help maintain your Maine Coon's beautiful coat.
Other advantages of these flakes include:
No additives
No supplements
Low calories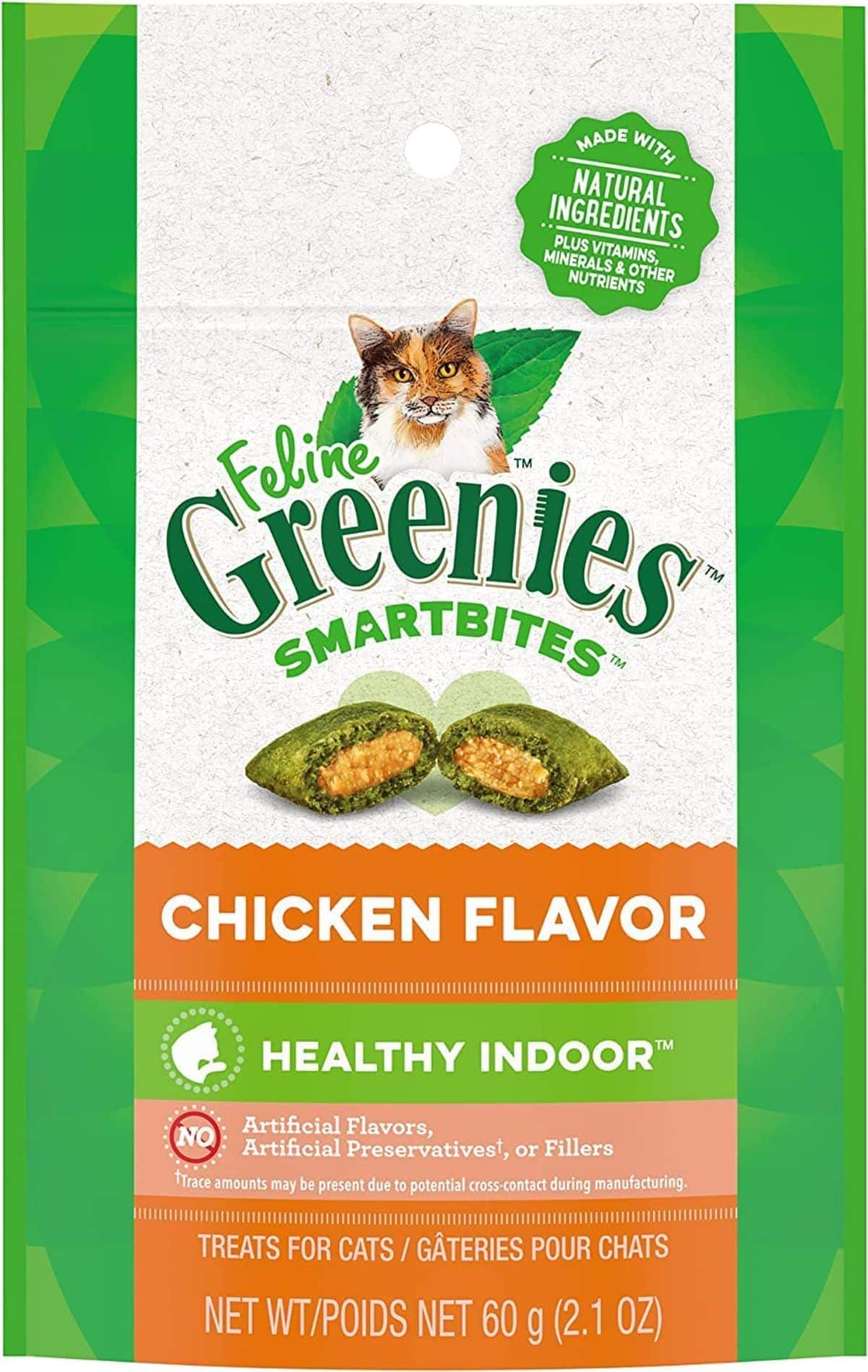 Vets recommend Greenies SMARTBITES for a good reason. Natural ingredients topped with vitamins, minerals, and other nutrients make these treats healthy and delicious for your Maine Coon.
Every treat has less than two calories, which is important when your cat begs for more. You can reward your cat frequently without worrying about obesity. The snacks have a crunchy coating and soft insides, which surprises and delights your cat with each bite.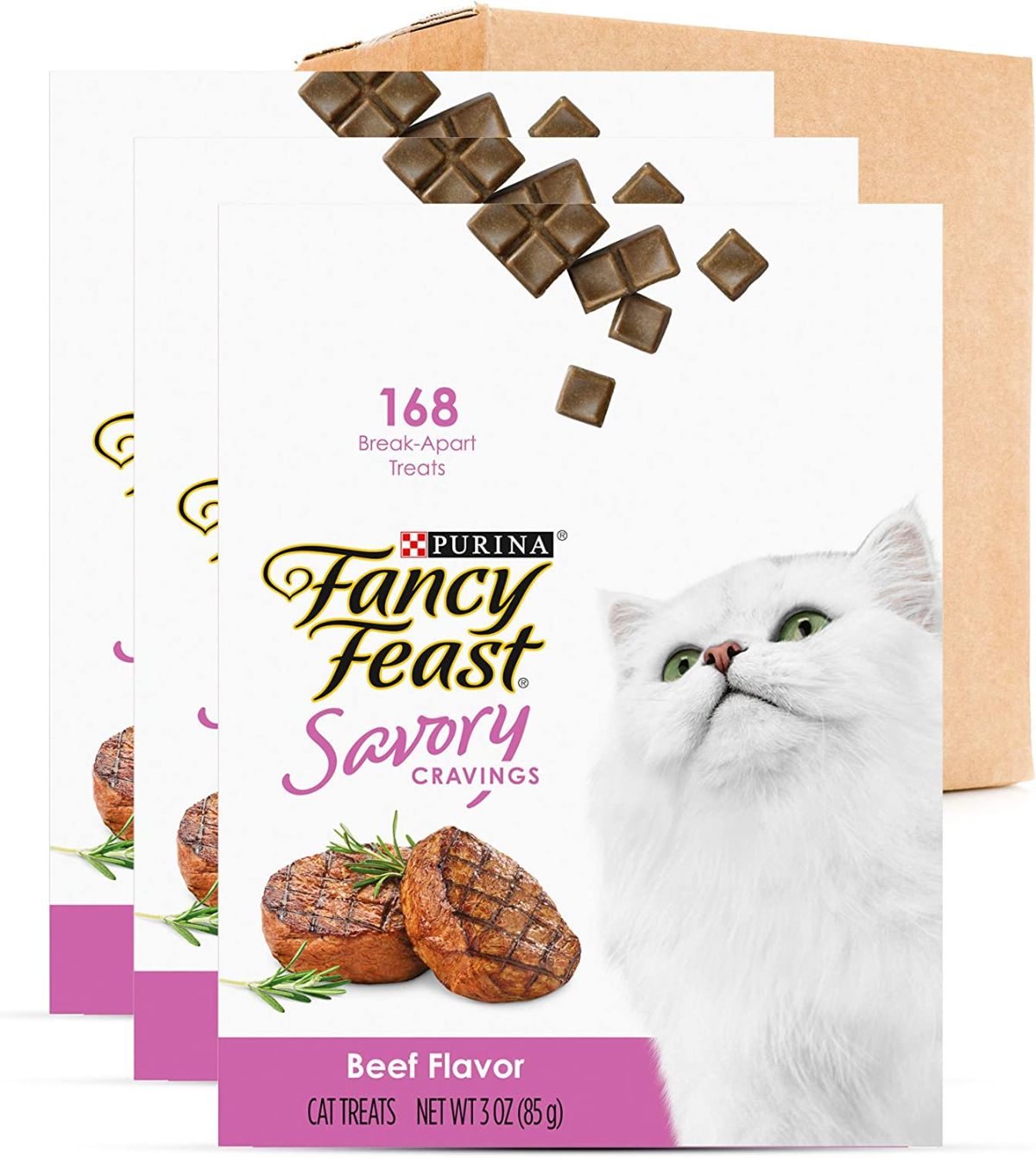 This variety pack of treats includes only one ingredient per snack. Your cat will be delighted to find chicken, tuna, and salmon treats in each container. Purina manufacturers choose only the best real, whole fish, and natural chicken to make high-quality snacks for your Maine Coon.
You will never find hidden by-products or fillers in single-product treats like these.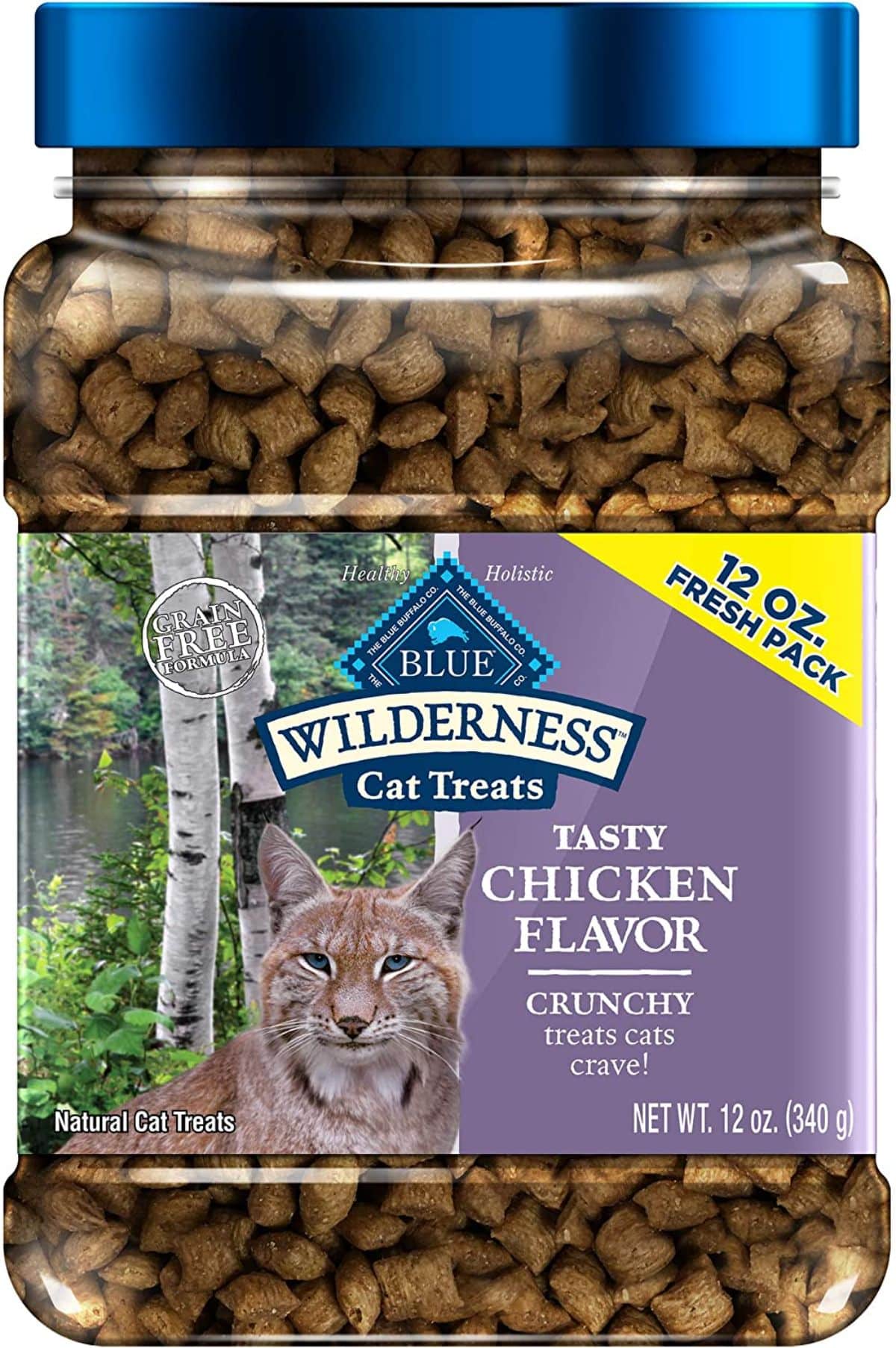 Blue Buffalo boils their cat treats down to the basics. The treats are protein-rich and use real chicken, and there are no chicken by-product meals. Corn, wheat, soy, and artificial flavors or preservatives have no place in these healthy snacks.
The treats contain only 1.5 calories each and are baked in an oven to ensure a crunchy texture.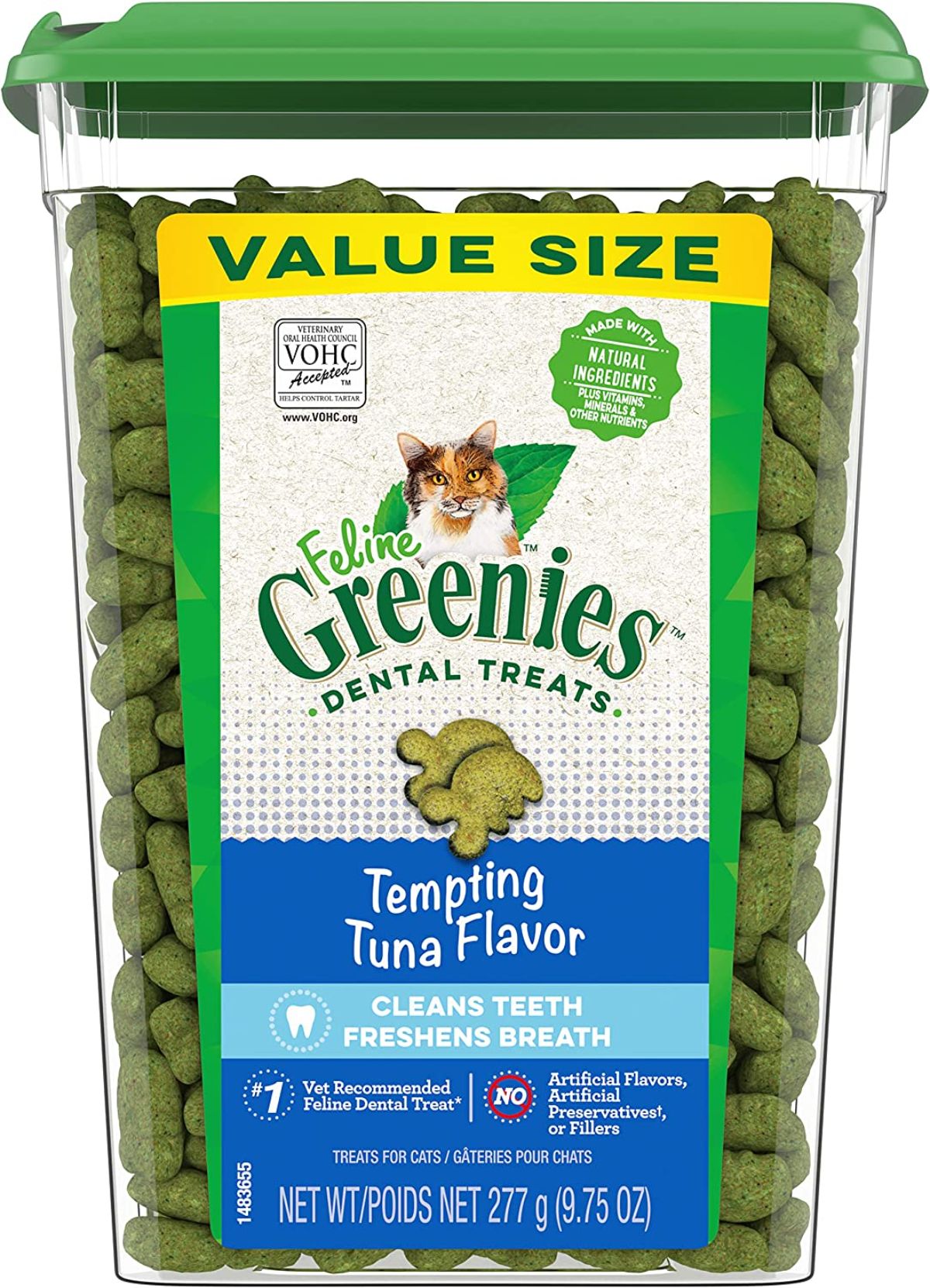 Many cat owners overlook dental care for their pets. With dental cat treats, your cat can clean your cat's teeth while freshening its breath.
These snacks use natural flavors with vitamins, minerals, and other nutrients. Luckily, Greenies eliminates all artificial flavors and preservatives from their recipes. Plus, they are made in the United States using the best ingredients.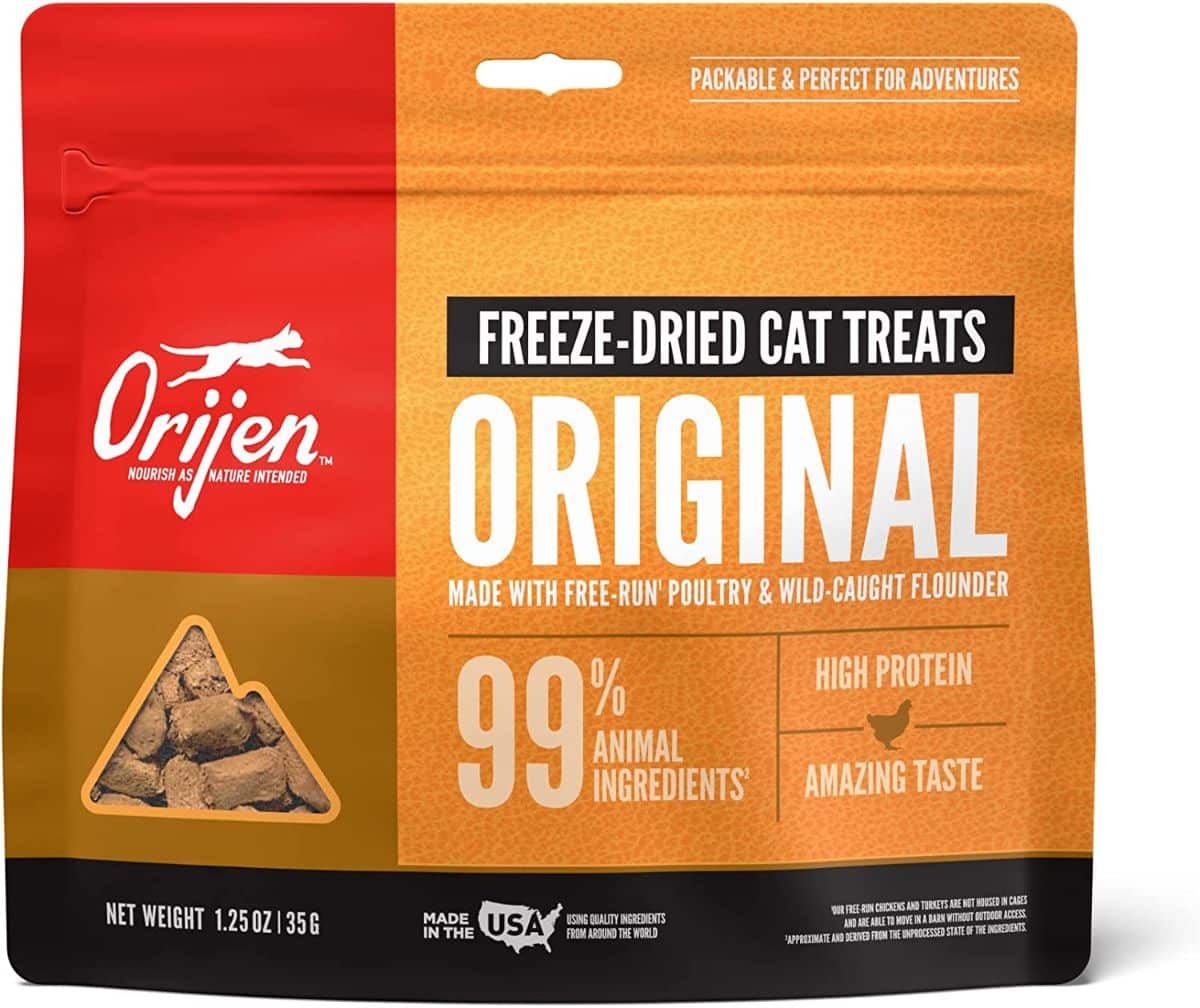 ORIJEN's original treats have the classic flavors cats love, poultry and fish. All protein is raw and frozen just when the ingredients are the freshest.
Additionally, only the most nutrient-dense areas of the animals and fish are included in these recipes. Each treat has only one calorie, and you can be confident there is no filler in these snacks.
What To Give a Cat That Doesn't Like Treats
If your cat doesn't like treats, you can try other types of rewards. For example, your cat may love to be petted or brushed. In these cases, you can dedicate a certain amount of time each day to giving special attention to your kitty.
Cat owners occasionally need to reward their pets for good behavior, such as scratching a scratching post instead of furniture.
You can pair a sound with petting or brushing the same way shaking a bag of treats alerts a cat to the presence of a reward. For example, tapping the couch next to you can notify your cat that he has done well and will be rewarded.
Frequently Asked Questions
Do you still have questions about cat treats? Check out the frequently asked questions below.
What are the healthiest treats for a cat?
Some cat owners assume that more ingredients in treats offer more health benefits for their cats. Unfortunately, most ingredients in cat treats are detrimental. When looking for the best cat treats, remember that simple is best.
Avoid added sugars, grains, and artificial ingredients. Focus instead on protein and natural foods.
Maine Coons need natural treats loaded with protein, but there should be very little filler.
What treats do cats love most?
It is no secret that cats love catnip, which is a great treat before playtime. Once you offer catnip, you can expect your cat to have a surge of energy and take a long nap afterward.
Cats also love natural treats because they do not cause upset stomachs and low energy. Many cats prefer flavors such as poultry, meat, and fish.
What to give a cat that doesn't like treats?
Although it's rare, some cats don't like treats. If your cat doesn't like treats, consider introducing it to cooked fish or chicken baby food. These items are safe when consumed in moderation, so they can become your friend's new favorites.
What is the most natural cat treat brand?
Feline Greenies is the most natural cat treat brand. This company focuses on natural ingredients with added vitamins and minerals. Plus, the treats are free from artificial flavors, preservatives, and fillers.
Conclusion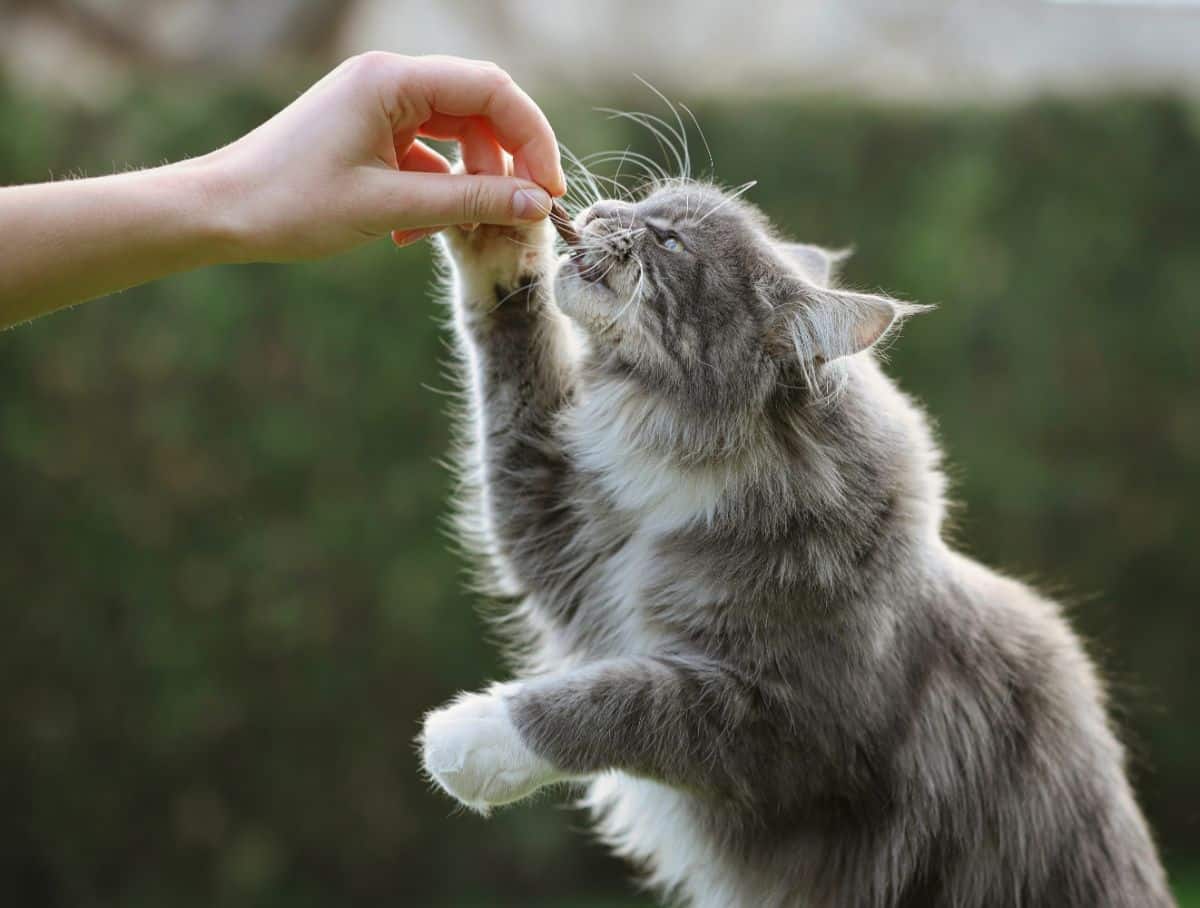 Although treats have received a reputation as unhealthy and leading causes of obesity, many snacks can supplement your cat's diet without overwhelming it with unnecessary additions.
If you choose a treat with limited ingredients, low calories, and plenty of protein, your cat can enjoy daily snacks that supplement its meals.