Maine Coon cats are one of the most well-known and natural breeds available for pet owners to have in North America. Since they came from Maine in the United States, this is the reasoning behind their name.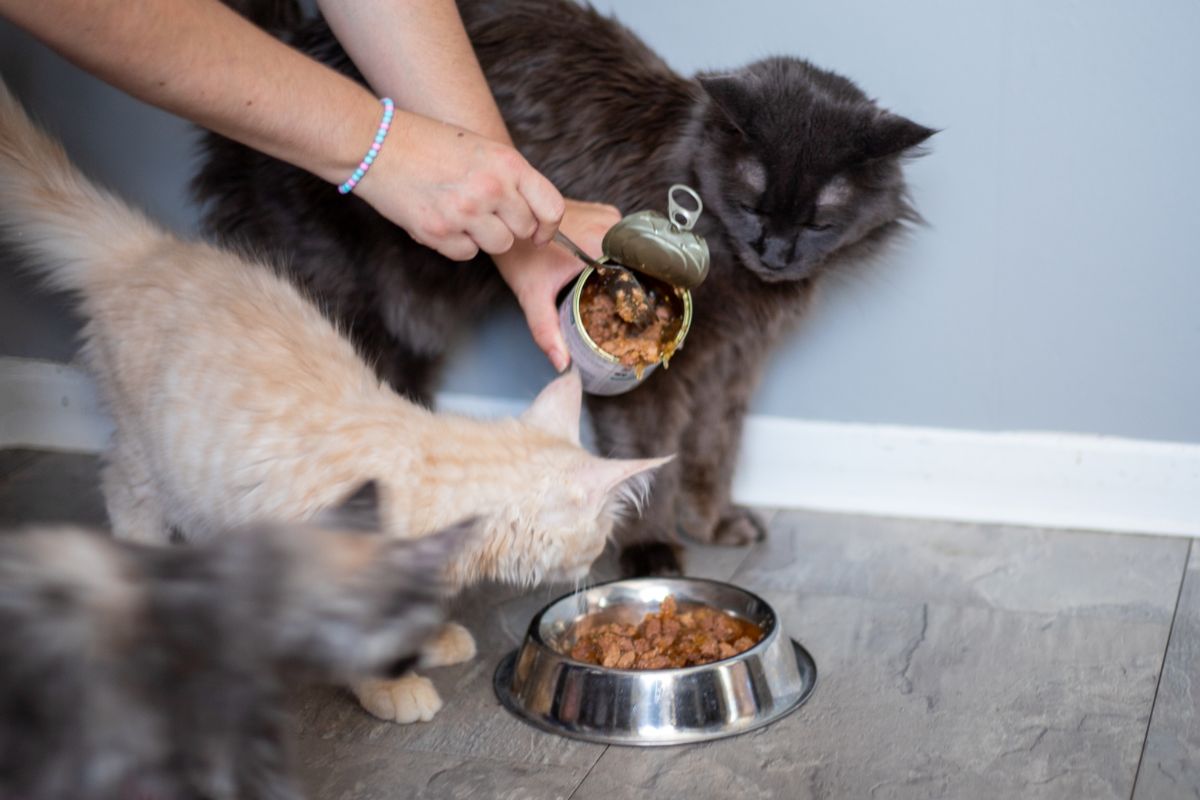 If you own one of these gentle giants, you may wonder about the best Maine Coon wet food. We have seven of the best Maine Coon wet foods to give to your majestic feline.
Jump to:
The 7 Best Maine Coon Wet Food
You only want to get the best food for your lovely Maine Coon, and we have done the work for you so it's one less thing you have to do as a cat parent. Every cat food we selected for your Maine Coon has its specialty, which will be noted on each listing. Let's pounce for the mouse and explore the best Maine Coon wet food!
1. Best for Healthier Alternatives: ZIWI Peak Venison Grain-Free Canned Cat Food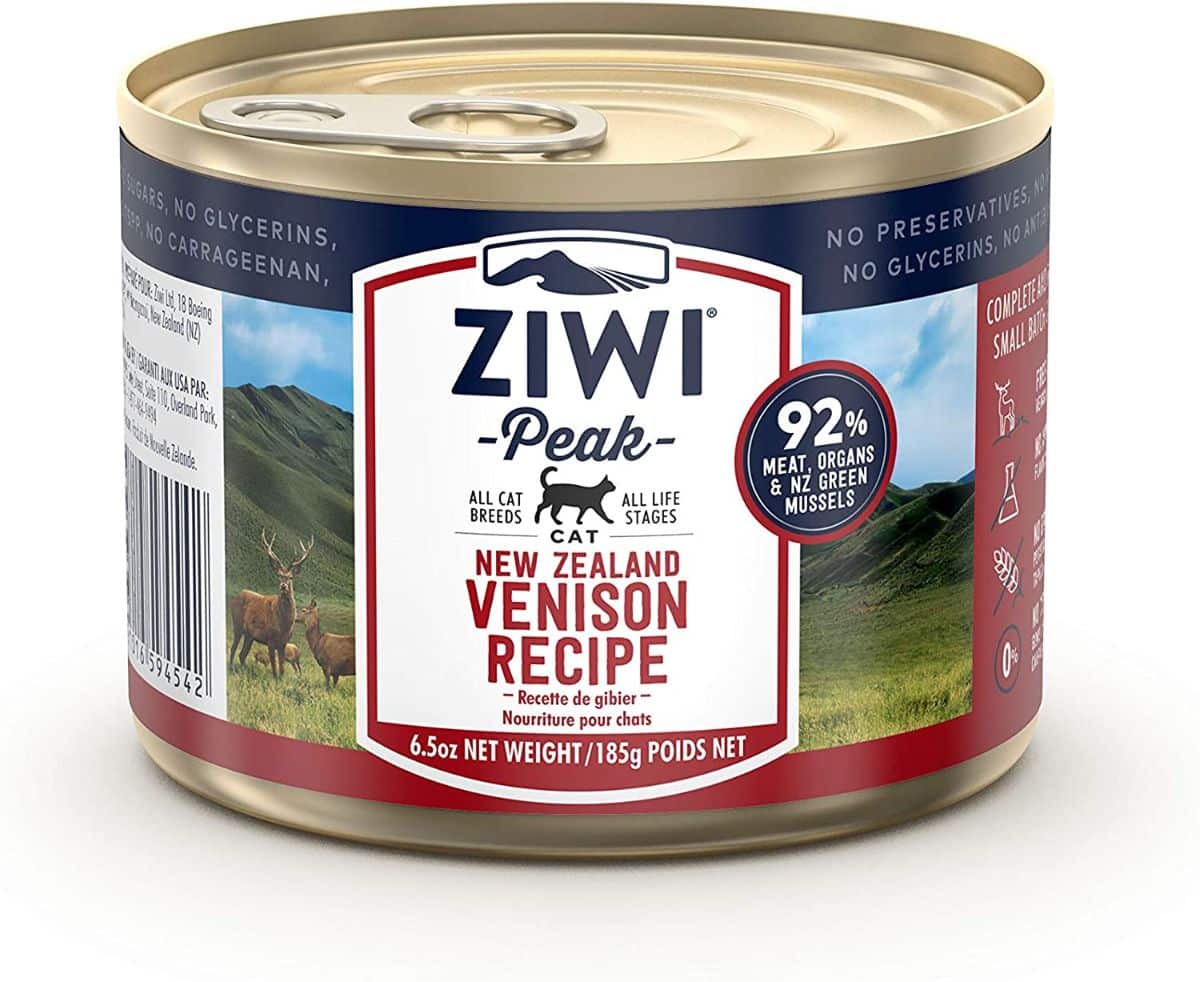 ZIWI Peak Canned Wet Cat Food – All Natural, High Protein, Grain Free, Limited Ingredient, with Superfoods (Venison, Case of 12, 6.5oz Cans)
REAL MEAT, HIGH PROTEIN: Our Venison wet cat food delivers Peak Nutrition without Compromise, matching your cat's natural, whole-prey diet: featuring 92% meat, organs, and New Zealand green mussels. Our pâté-style, moisture-rich, highly palatable, chunky-loaf canned cat food delivers the nutrition and taste your cat craves.
Grain-free cat food is healthier for your Maine Coon because some who may have skin sensitivities can have fewer issues by consuming a diet free of grains. Cat food that contains barley, wheat, and other grains can cause problems for your Maine Coon's fur and digestive system if you are not careful.
Enter the ZIWI Peak Venison grain-free canned cat food! The delicious can of venison contains 92% meat with just enough moisture for the hydration your Maine Coon needs. Plus with low carbs and the tasty addition of New Zealand green mussels, your kitty will be satisfied after eating up! Another 10% of the can is included in Z superfoods!
2. Best for Protein Variety: Weruva B.F.F. OMG - Best Feline Friend Oh My Gravy! Grain-Free Natural Wet Cat Food Cans
Sale
Weruva B.F.F. Omg - Best Feline Friend Oh My Gravy!, Variety Pack, Rainbow Road, Wet Cat Food By, 2.8Oz Cans (Pack Of 12)
Rainbow Road Variety Pack (2.8oz Cans, Pack of 12) OMG, Six different flavors in one variety pack! Featuring premium proteins like chicken, salmon,turkey, lamb, duck, and beef in a tasty gravy.
B.F.F. stands for Best Feline Friend, and Weruva has Maine Coon's best interests in mind with a grain-free cat food with protein variety. Multi-packs come with flavors such as turkey, duck, salmon, beef, and lamb.
Besides being grain-free, the nutritious blend does not contain soy, wheat, preservatives, or artificial colors. The all-natural protein blend is more importantly Carrageenan-free which is an unhealthy additive that thickens different foods and drinks.
3. Best for a Natural Diet: Reveal Natural Wet Cat Food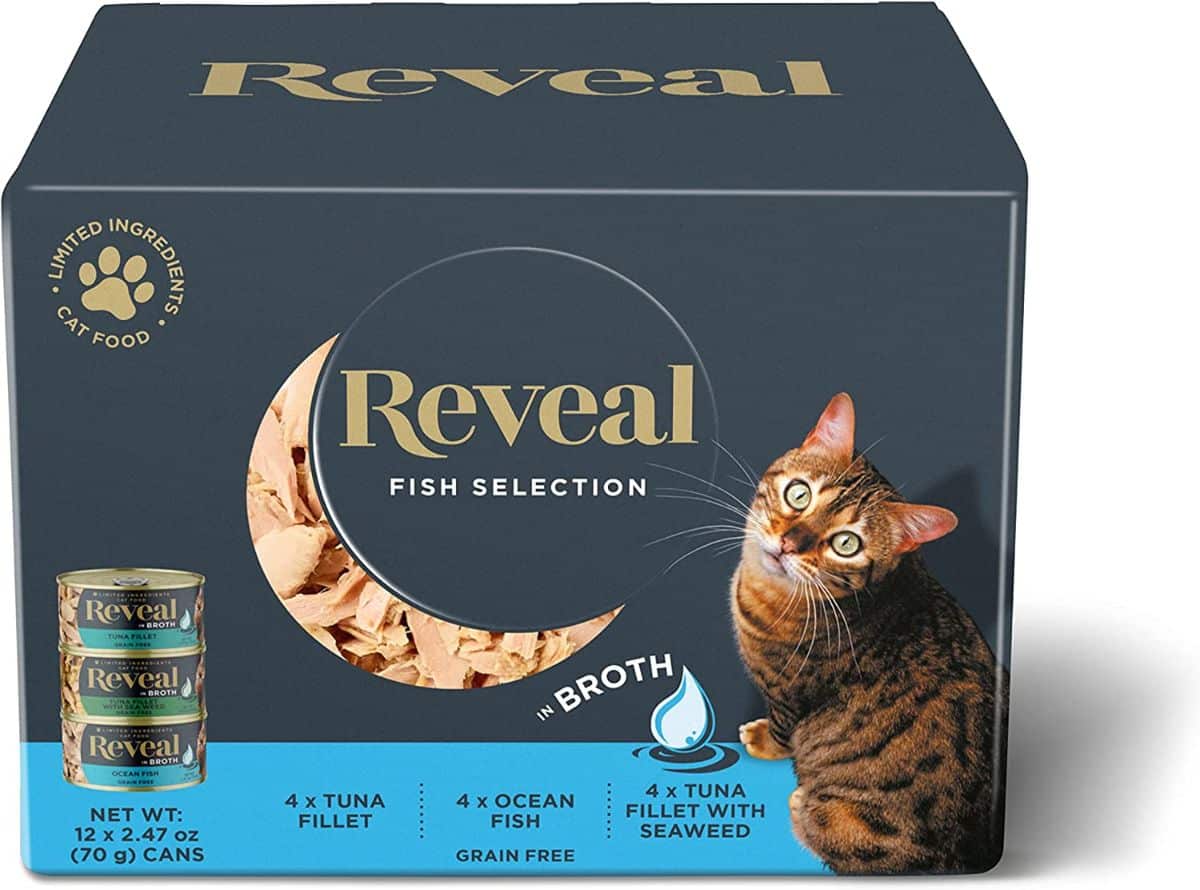 With delicious varieties such as regular tuna filet, tuna filet with seaweed, and ocean fish, Reveal Natural grain-free cat food keeps your Maine Coon's intake low-carb and high-protein.
The limited ingredient makeup reassures that your Maine Coon is only consuming the most natural ingredients without unhealthy additives that could cause health problems for them in the long run.
4. Best for a Balanced Maine Coon Diet: Royal Canin Adult Maine Coon Wet Food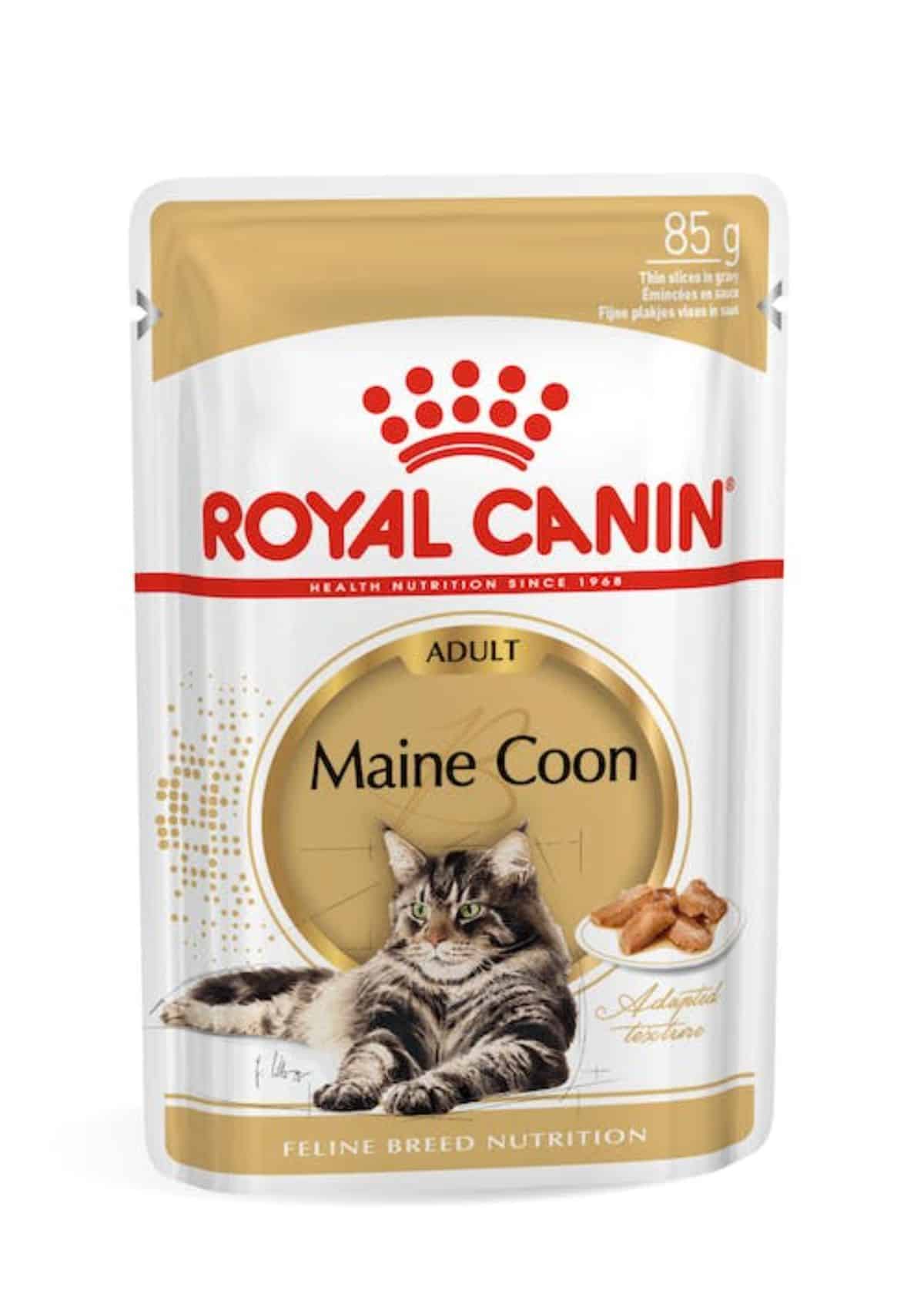 Royal Canin has a wet food specially formulated for a Maine Coon's dietary needs. Thin slices of meat soaked in gravy are inside a convenient pouch that you can store in a dry place until you are ready to feed it to your furry feline friend. Adult Maine Coons aged 15 months and older can enjoy this delicious and nutritious blend of various types of meat to enhance their protein intake.
With 310 IU of Vitamin D3 and 11 mg of iron, the Adult Maine Coon wet food is packed with the nutrients your gentle giant needs to go about his playful pursuits of curiosity. There are also 2.6 mg of copper, 34 mg of zinc in the form of Vitamin E6, and 3.4 mg of manganese in the form of Vitamin E5.
5. Best for Pate Lovers: Blue Buffalo Wilderness High Protein Grain-Free Natural Adult Pate Wet Food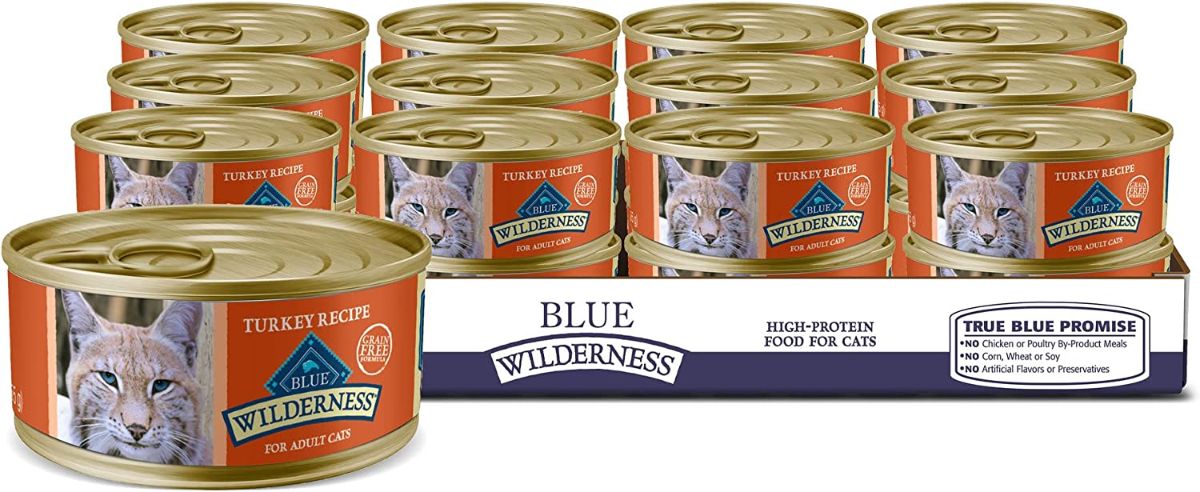 Blue Buffalo specializes in grain-free, well-balanced meals for cats and dogs. This delicious and soft pate does not have any chicken by-products or wheat or corn that could cause skin sensitivity for your Maine Coon.
Providing an energy boost from the high-protein turkey, beef, or other meat, your Maine Coon will love the pate's smooth and luscious texture. Even the pickiest of Maine Coons will love Blue Buffalo.
6. Best for Sensitive Stomachs: Tiki Pets Aloha Grain Free Wet Cat Food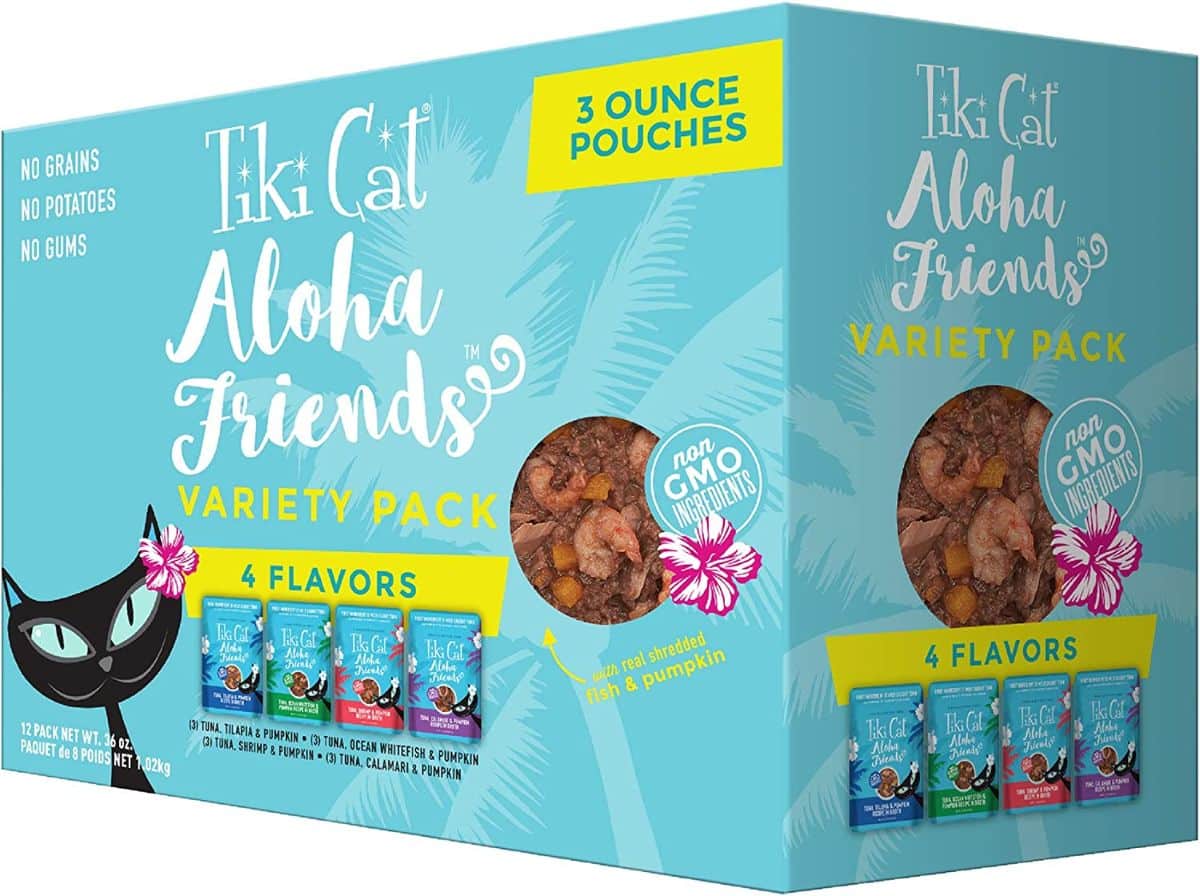 Tiki Cat Aloha has a delicious seasonal blend of chicken or another protein with pumpkin. It's naturally formulated to help your Maine Coon that may have a sensitive stomach.
With no added potatoes, carrageenan, or hormones, your furry feline friend will thank you for this high-moisture best Maine Coon wet food that will leave them licking their chops.
7. Best for Weight Management: Royal Canin Feline Health Nutrition Adult Instinctive Cat Food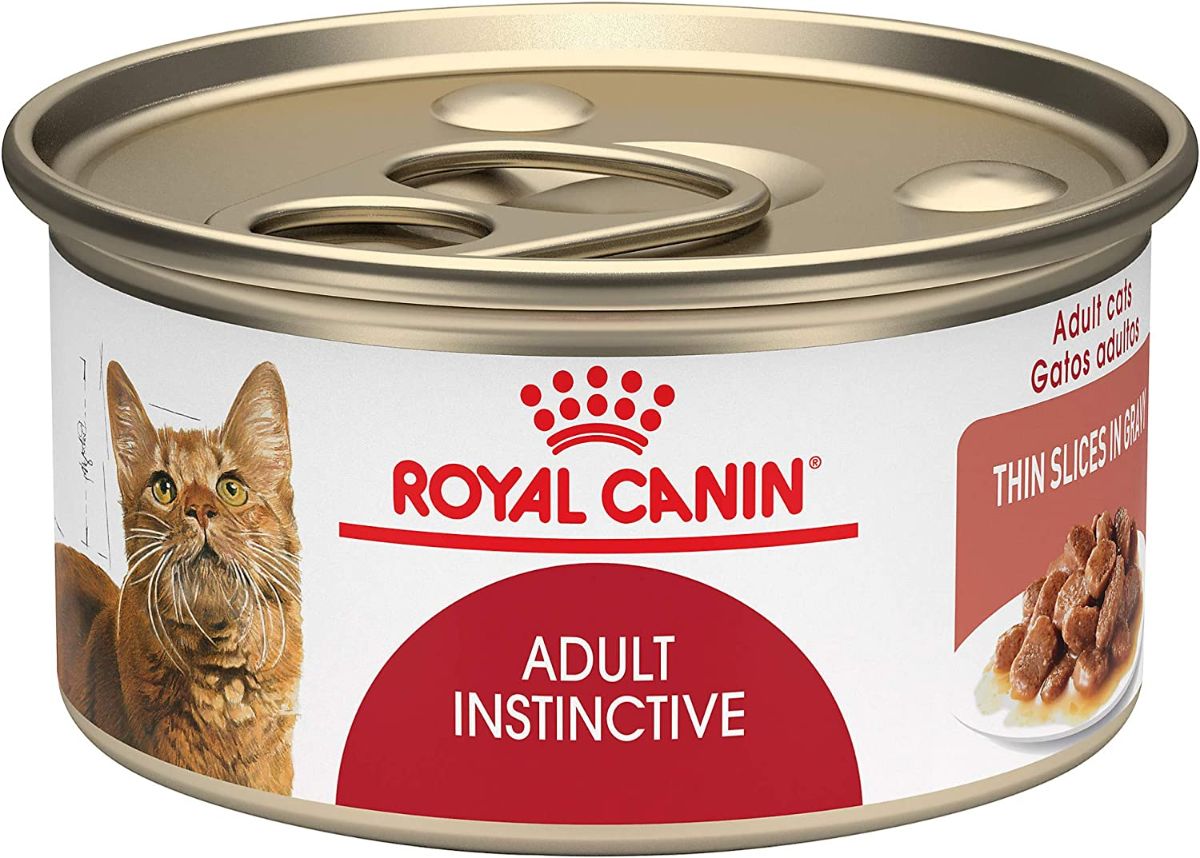 Filled with essential vitamins such as thiamin, vitamin B12, zinc, and folic acid, Royal Canin Feline Health Adult Instinctive cat food is great for Maine Coons that live an indoor lifestyle while still being active and playful. Maine Coons and other breeds aged one to seven will benefit from eating this brand of wet cat food.
Amazon reviewers rate the ingredient quality, flavor, and scent all at four stars. Even if your Maine Coon is a picky eater, Royal Canin believes that they will love this unique and balanced blend of liver, pork, chicken, and salmon.
Frequently Asked Questions
The following are some questions owners frequently ask regarding their Maine Coon's diet.
Is It OK To Give Cats Wet Food Every Day?
Cats should eat wet food daily. Not only does it provide them with adequate hydration, but it also agrees with their digestive system better than kitty kibble.
How Often Should Cats Eat Wet Food?
Pet nutritionists suggest that Maine Coon cats should consume wet food every day to satisfy their high protein requirements. Give your cat a small portion of wet food two to three times per day for a high-quality diet.
Is It Healthy To Feed Cats Wet Food?
Yes, it is healthy to feed your cats wet food. Wet cat food contains more protein than kitty kibble, which contributes to your cat's healthy lean body mass.
Is Dry or Wet Food Best for My Maine Coon?
A combination of wet food and dry food is essential for your cat's health. Dry cat food has more concentrated nutrients than wet food. Its crunchy texture gives their teeth a good brush to keep them clean and reduce the likelihood of developing decay. Alternatively, giving your cat enough wet food can keep them hydrated while enjoying their favorite protein flavors.
What is the Maine Coon Diet Like?
Maine Coons are larger-than-normal domestic house cats. Males can reach as much as 3.5 feet long. Most Maine Coon males can weigh up to 25 pounds while females can weigh around 12 pounds.
If you are getting a Maine Coon kitten, you should follow the feeding schedule that the breeder tells you and feed them what they are used to eating. Changing the brand of cat food they consume can cause stomach problems.
Because of their large stature and playful, active nature during their lifespan, veterinarians recommend that Maine Coons eat a diet high in protein. Pet nutritionists recommend that Maine Coons have more than 50% of their diet consist of high-protein sources. Fat content should not exceed 20%, and carbohydrate intake should not surpass 3% of their daily intake.
Since meat and fish have naturally high taurine levels, this is beneficial for your Maine Coon because cats cannot produce this amino acid on their own. Cats require arachidonic acid for their reproductive organs and forming blood clots to heal injuries.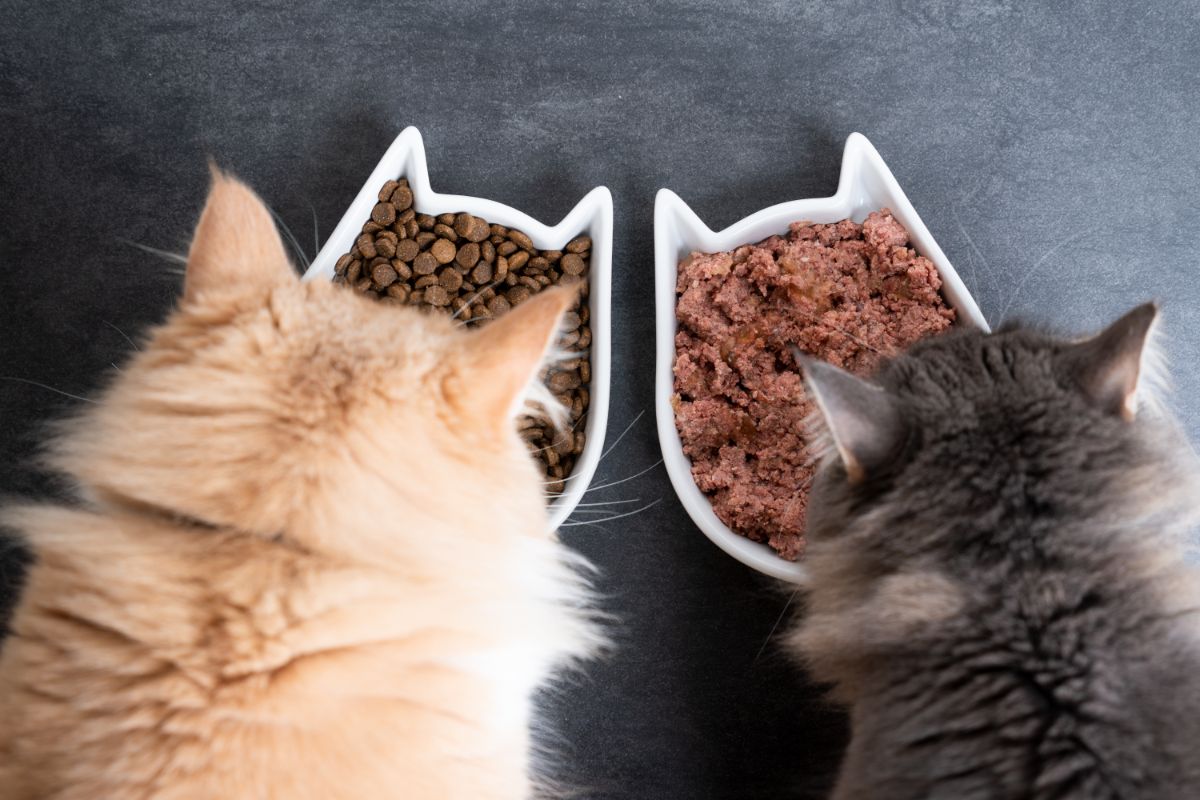 No matter what type of food you decide to feed your Maine Coon, make sure it is high in protein, very low in carbs, and has a much lower fat content. Grain-free and all-natural cat food is the best way to go to feed your Maine Coon.