Cats are truly unique and captivating animals. If you've spent any amount of time on social media, or the internet in general, you've likely encountered an adorable video or picture of a cat. The best explanation for this is that cats are simultaneously cute and fascinating. This article contains 31 Calico Maine coon cats that deserve an "awww."
Jump to:
Maine Coon Cats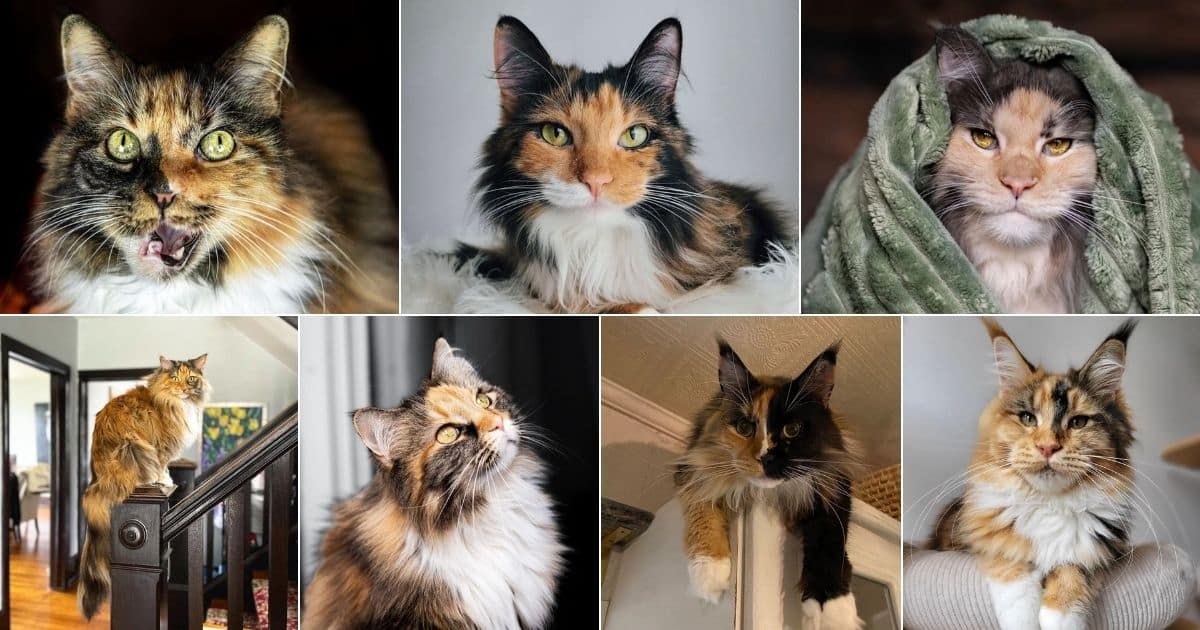 Maine coon cats are peculiar cats with incredibly lush fur, especially on their tail. Many Maine coon cats can grow quite large compared to other cat breeds, but don't worry, as they are usually one of the most gentle breeds. There are many speculations about how Maine coons were initially bred. Still, many of these speculations can be easily dismissed due to their scientific impossibilities.
The origin of this breed is hard to pin down, especially the source of Calico Maine coons.
What Are Calicos?
Calico cats are essentially cats that possess three colors in their coat. These three colors are commonly black, orange, and white. The pattern of the colors can vary widely, from big blotches of color all over the cat's body to a more blended coat. Furthermore, another attractive trait of Calico cats is that there are very few male cats with this fur pattern.
This rarity of males is since the chromosome responsible for color in a cat's fur is the X chromosome. Female cats possess 2 X chromosomes making it easier for the occurrence of each chromosome to produce a different color, resulting in a Calico pattern. However, male cats only have one X chromosome unless they have a rare condition that results in them having three sex chromosomes instead of 2.
There's a lot of mysticism around cats and their fur patterns, and Calicos are no exception. Many consider Calico cats a lucky charm due to their beauty and mild rarity.
1. Freya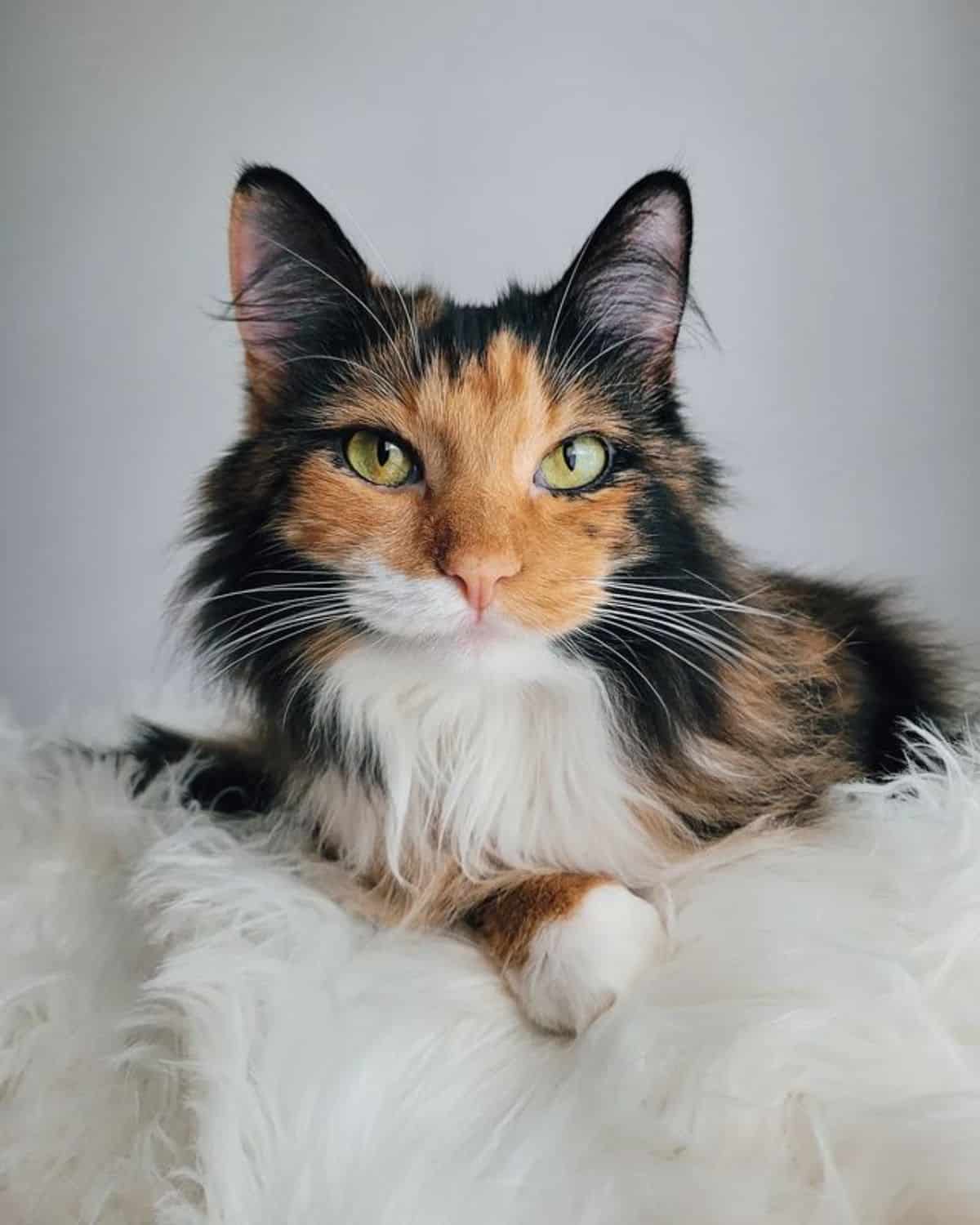 Starting off our list is Freya. Freya is a gorgeous Calico Maine Coon with a beautiful Instagram gallery of photos and hilarious cat videos. This Calico cat turned one year old earlier this year and continues to grace our eyes with her cuteness.
2. Tornade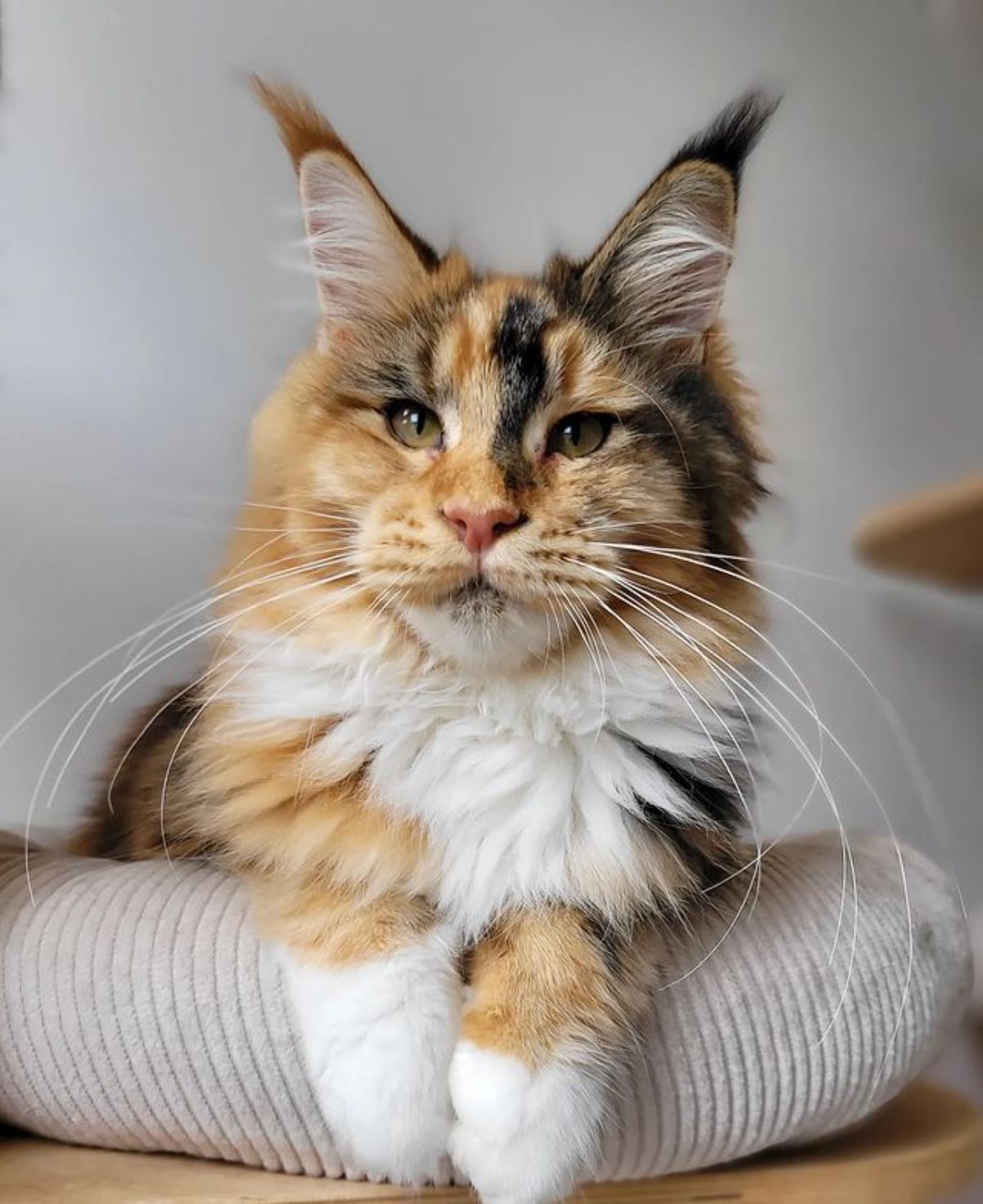 Tornade has to be one of the most excellent names for a Calico Maine coon. Tornade is an extra fluffy Maine coon with adorable tufts of hair pointing out from the tips of her ears. She is six months old and spends a lot of time with several other Maine coons.
3. Callas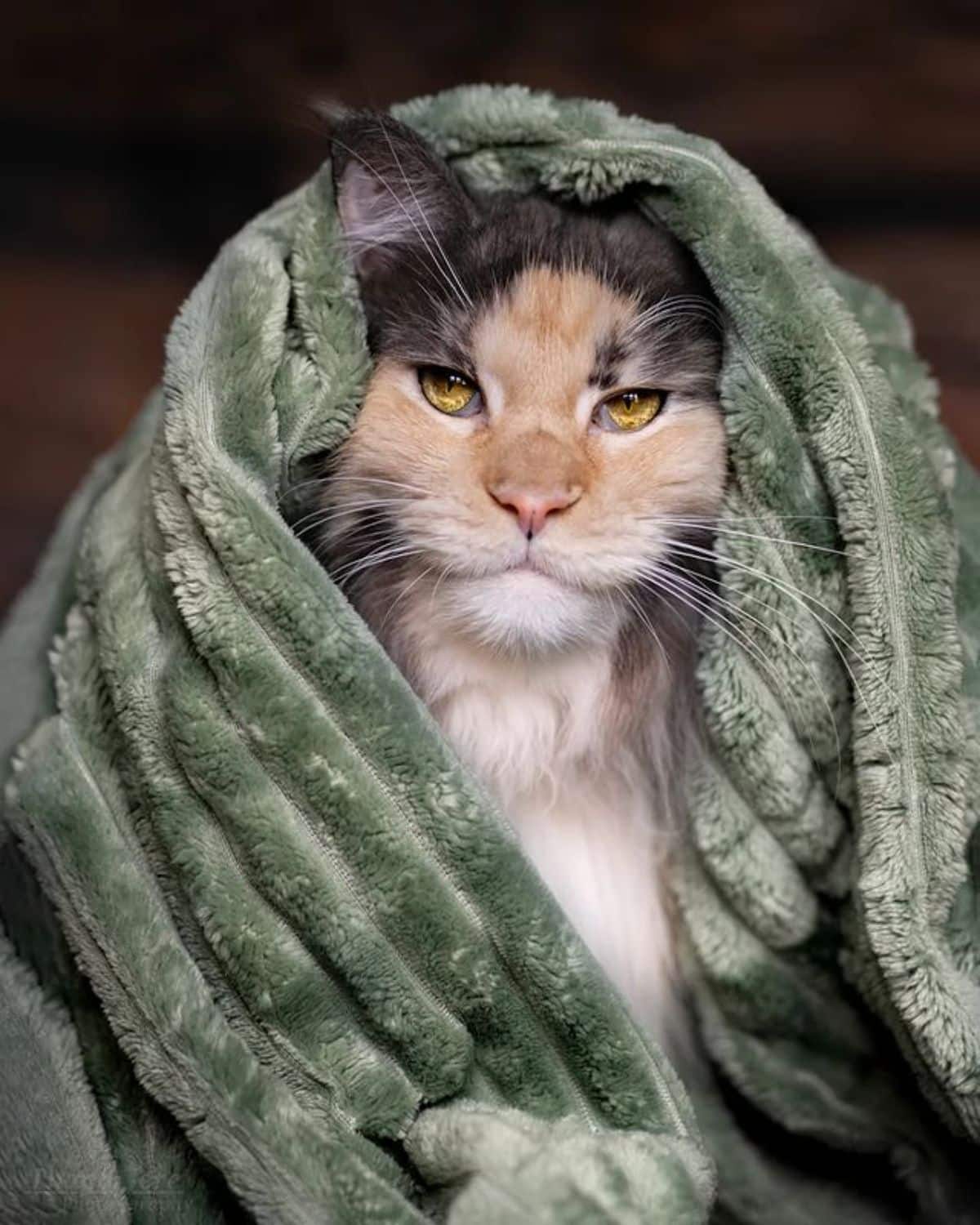 Callas has to have one of the most breathtaking photo galleries of any Calico Maine coon. One of the most striking traits about Callas is her deep golden eyes. Furthermore, Callas is four years old and adorably shares a birthday with her owner.
4. Plukkie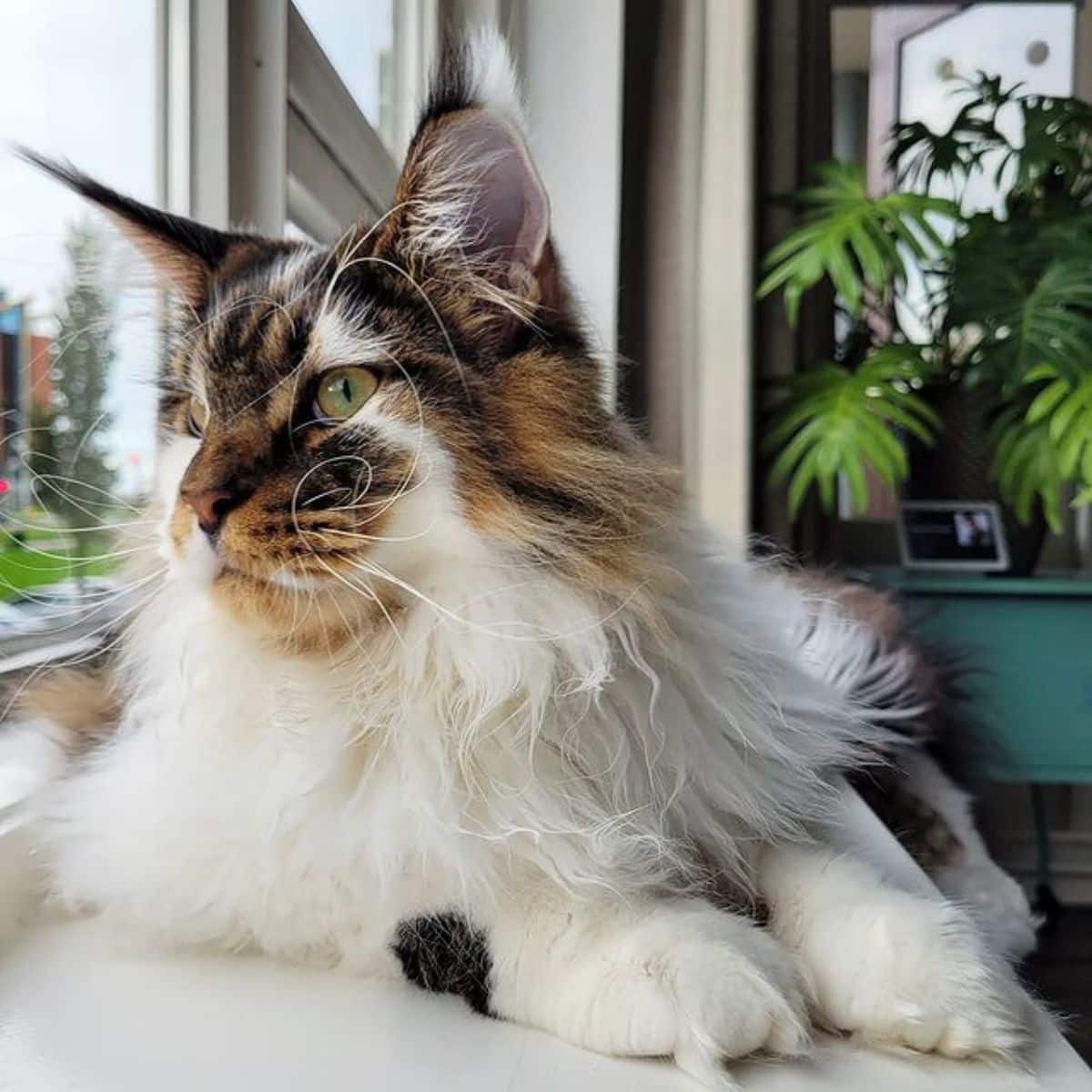 Pluk is an adorable cat from the Netherlands. Pluk's blended coat is genuinely something to behold, and the white lines that cut through the blended blotches of black and orange make this cat stand out.
5. Saroo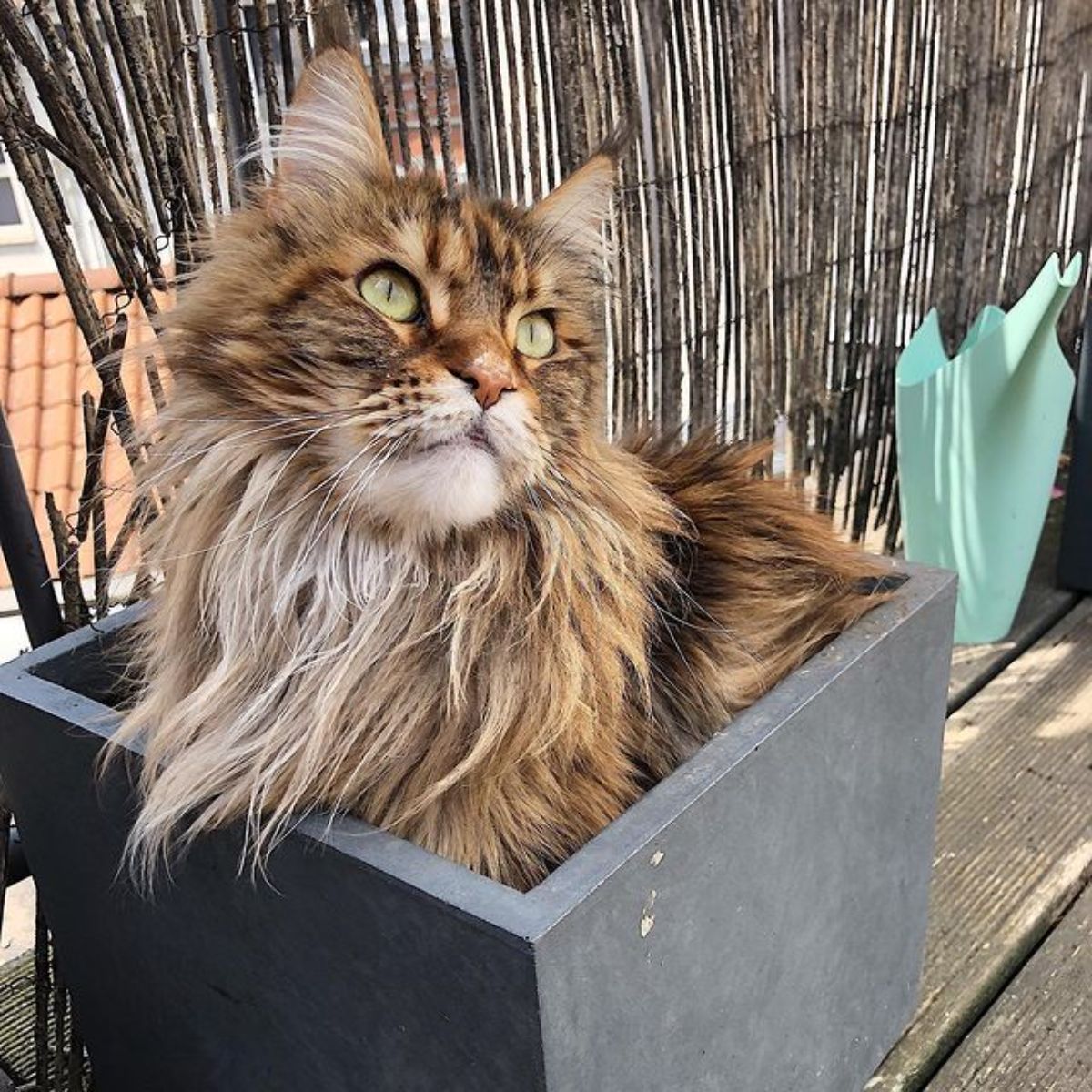 Saroo is a highly vibrant cat. Saroo shares a home with another Maine coon named Navy and a Bernese Mountain dog named Oscar.
6. Luna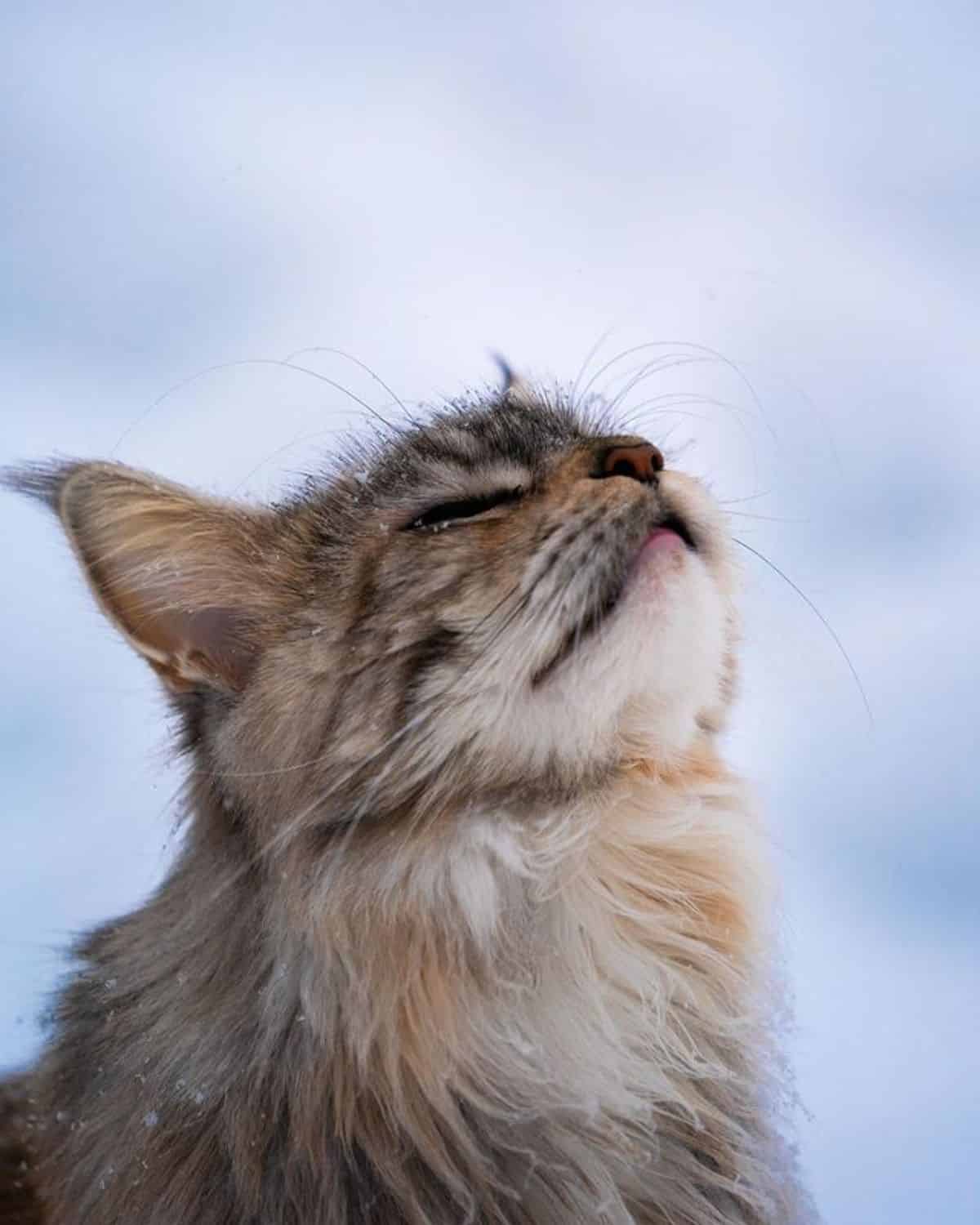 Luna is a Maine coon who is truly in her element as she lives in Norway. Luna shares a home with two sisters, Tiara and Lizzie. There's something so eye-catching about seeing a Maine coon cat playing in nature.
7. Navy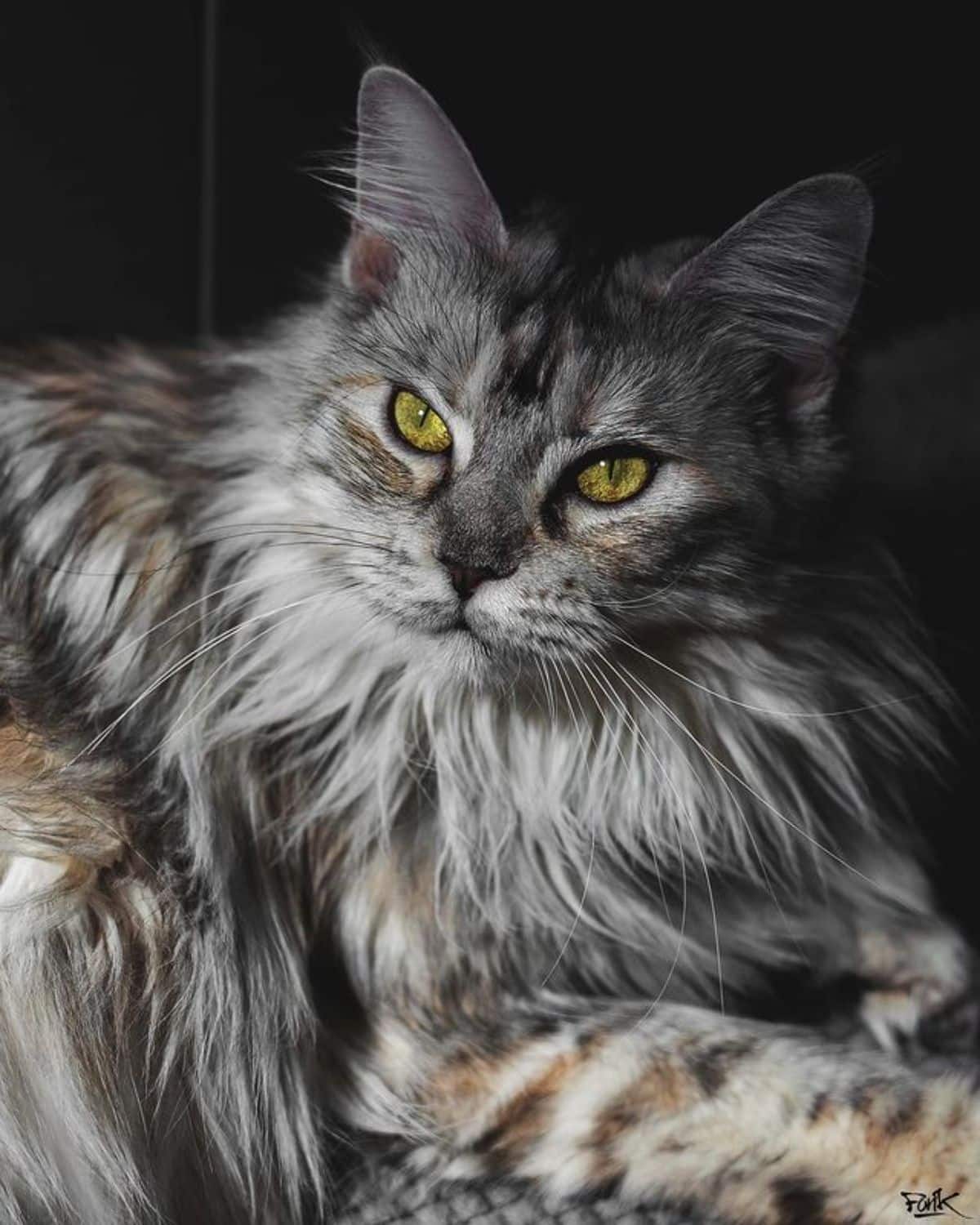 Navy has a more light coat than a traditional Calico cat, but you can still see the sprinkles of orange amidst the waves of gray and white fur. Navy is a 5-year-old girl from France.
8. Char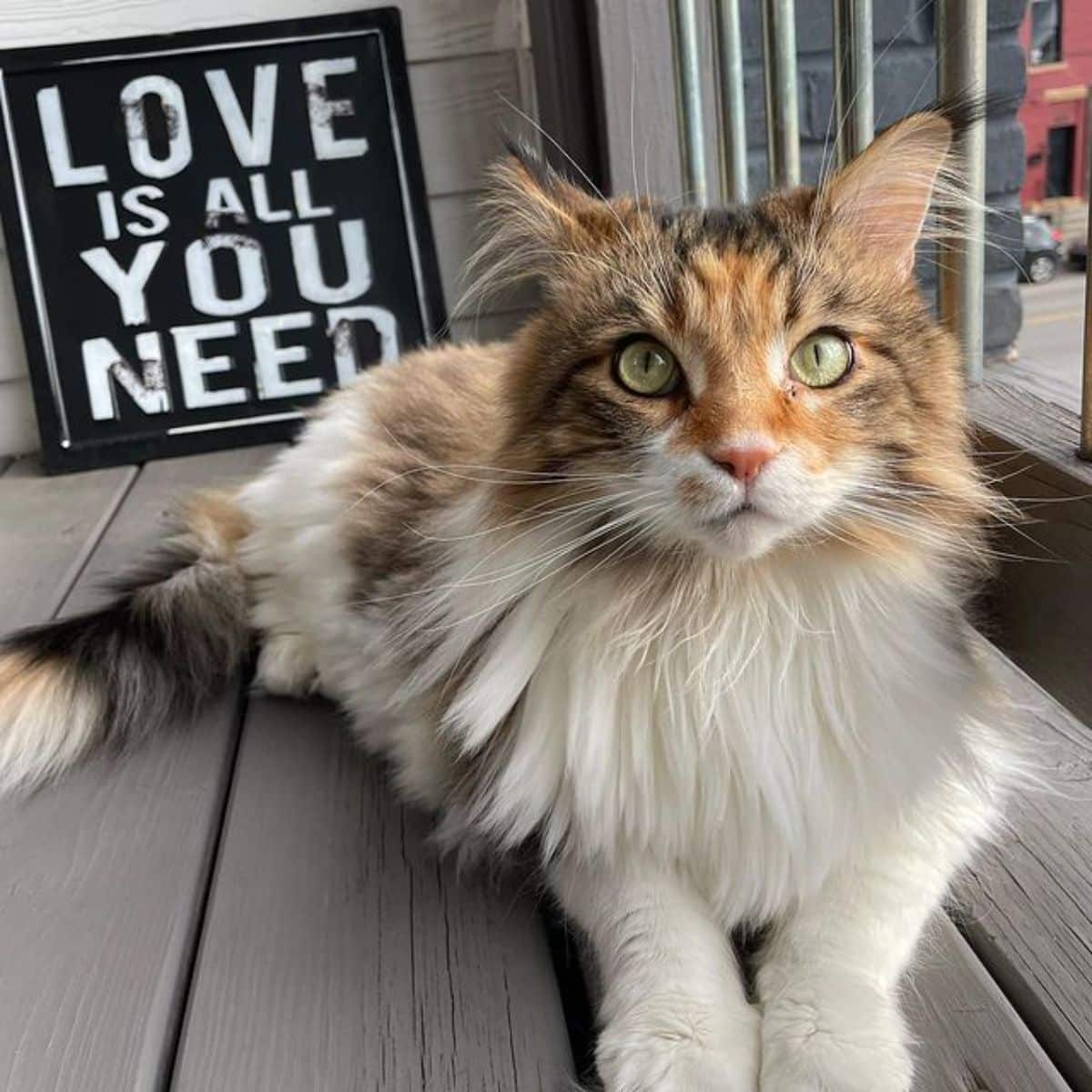 Char is an adorable Calico Maine Coon from the US. Char shares a home with another Maine coon named Emmy.
9. Gustav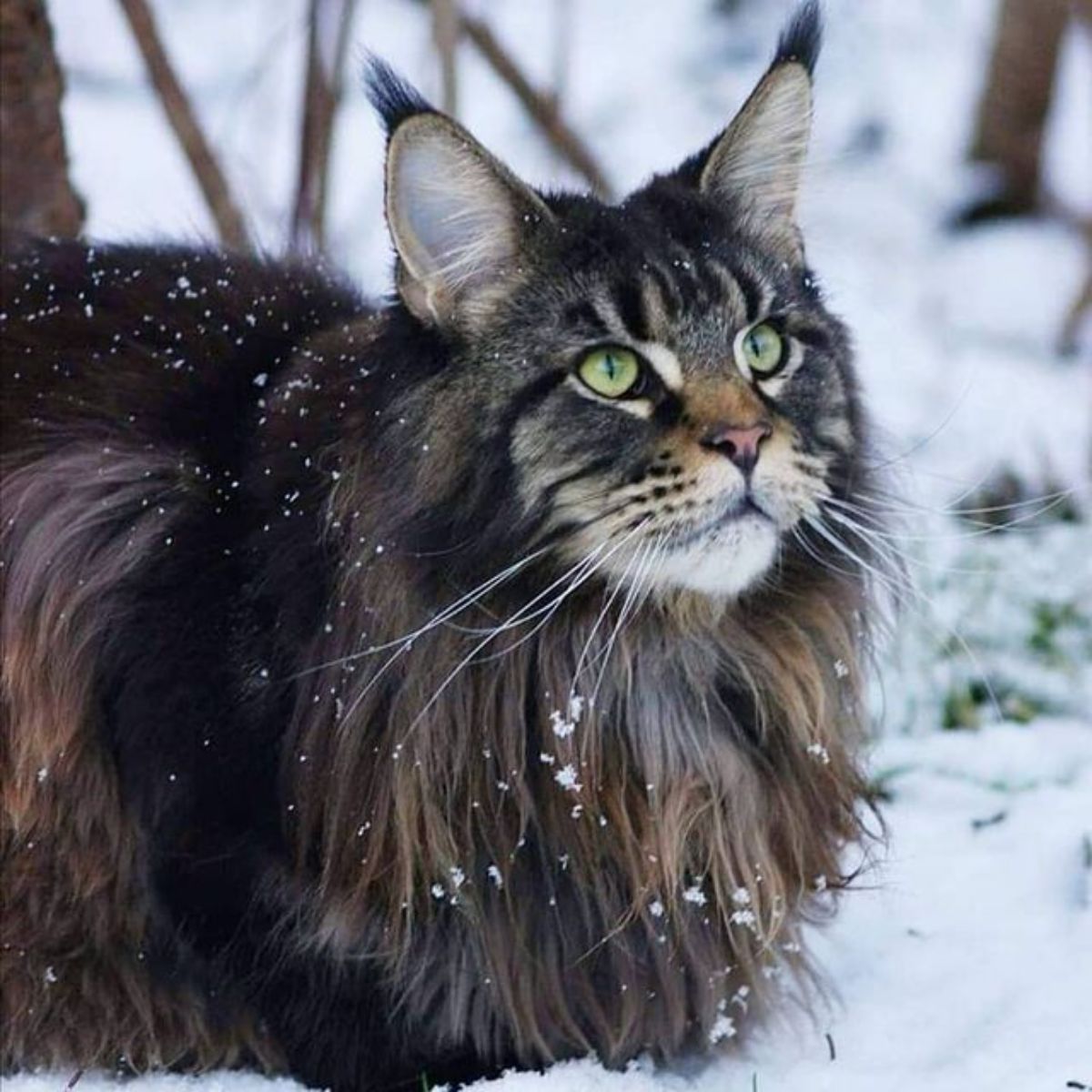 Gustav is another faded Calico Maine coon with a gorgeous gradient of color across its fur, giving him the semblance of a king. Sadly, he is no longer with us today, as he passed in 2019.
10. Sampy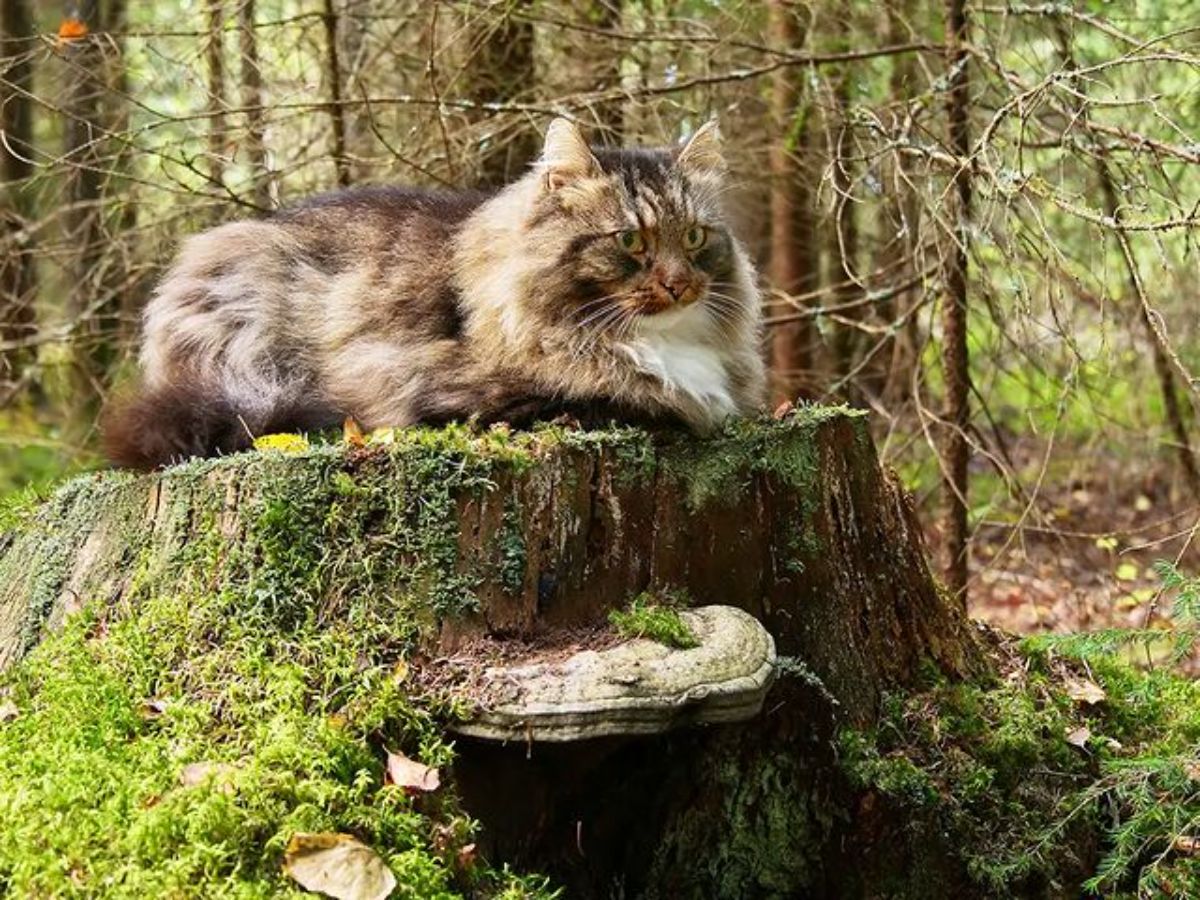 Sampy is an adorable bundle of fur and cuteness from Finland. Sampy spends a lot of time playing with other cat friends in the woods, resulting in some gorgeous photos.
11. Haru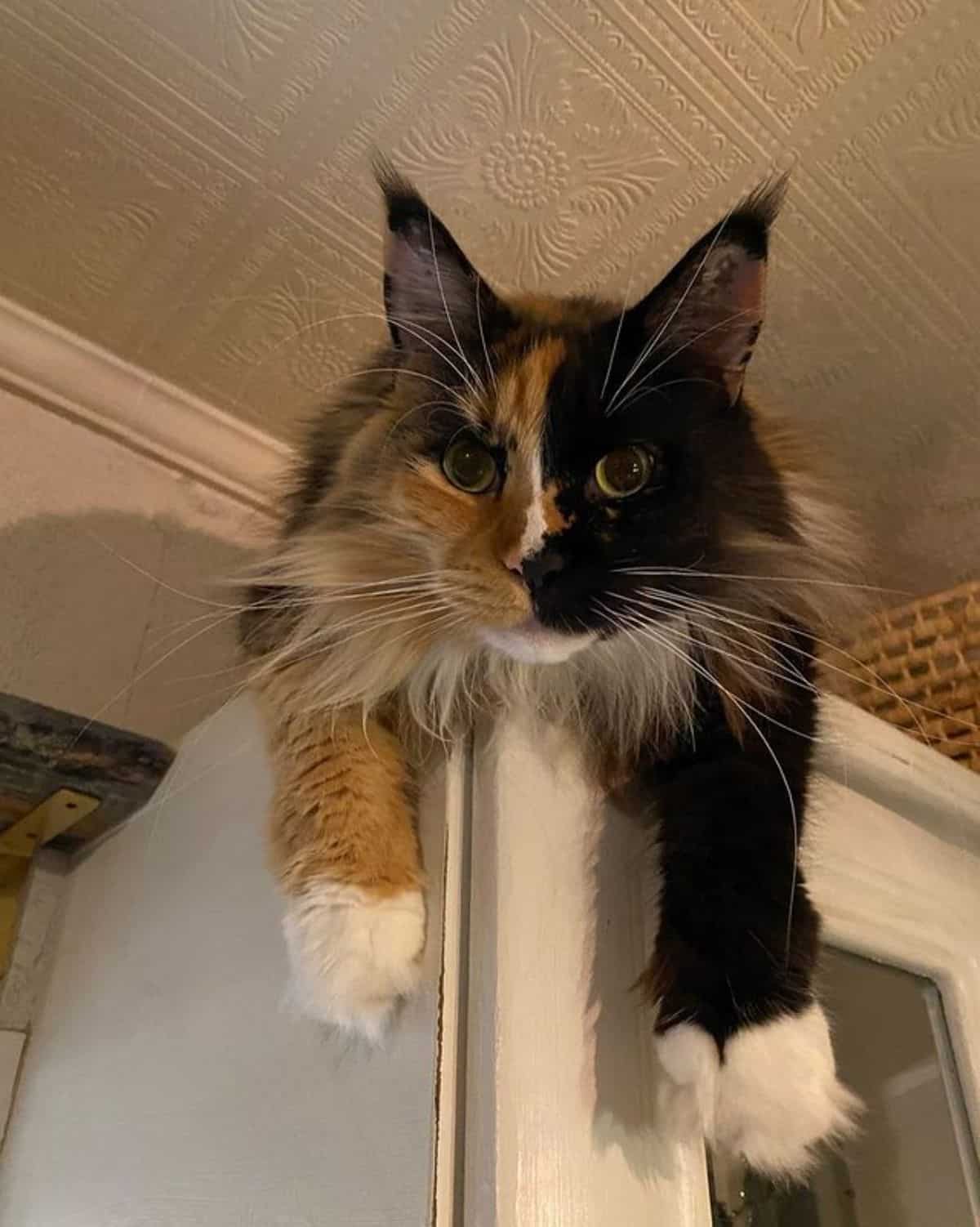 This Calico Maine Coon resides in Japan. They possess a beautiful coat with one-half of the face and respective paws being black. At the same time, the other is orange, creating a beautiful complexion.
12. Dajana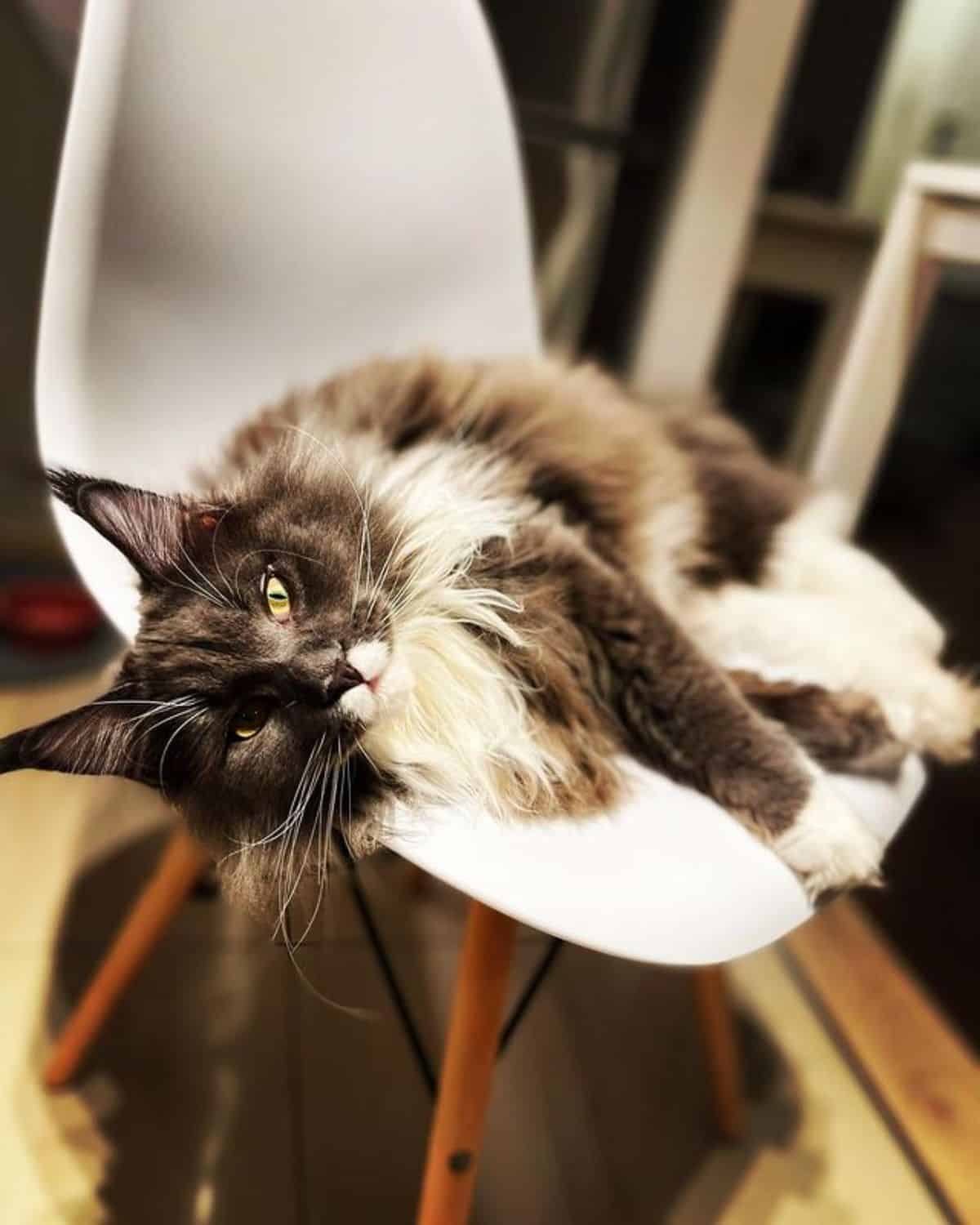 Dajana is another beautiful cat who shares a home with several other cats and dogs. This happy family is undoubtedly wholesome and adorable.
13. Uberto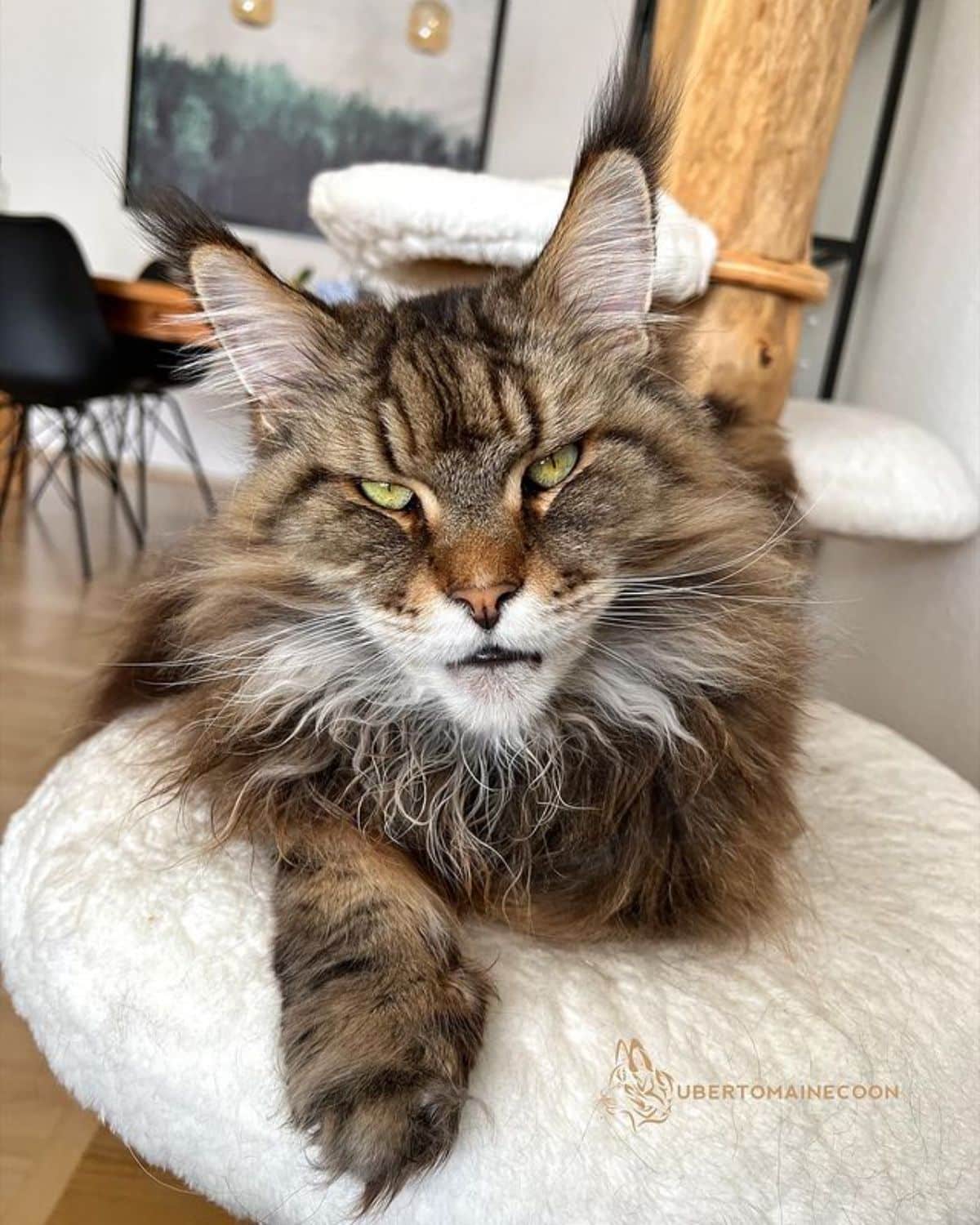 Uberto is an endearing Calico Maine coon from Germany. Uberto is an eight-year-old Maine Coon boy with a sweet face.
14. Finn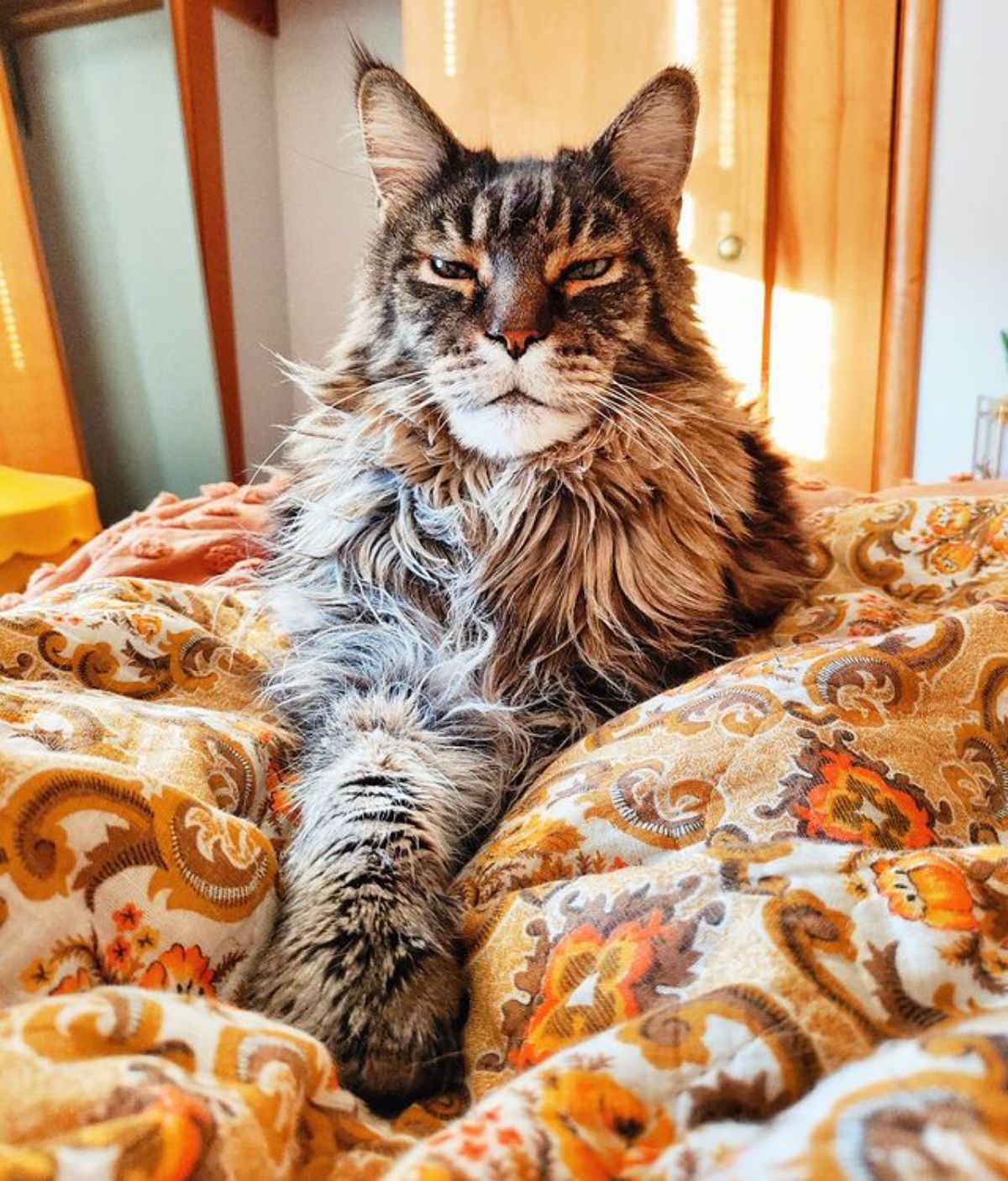 Finn is a gorgeous Calico Maine coon with Heterochromia Iridum, meaning their eyes are two different colors.
15. Spike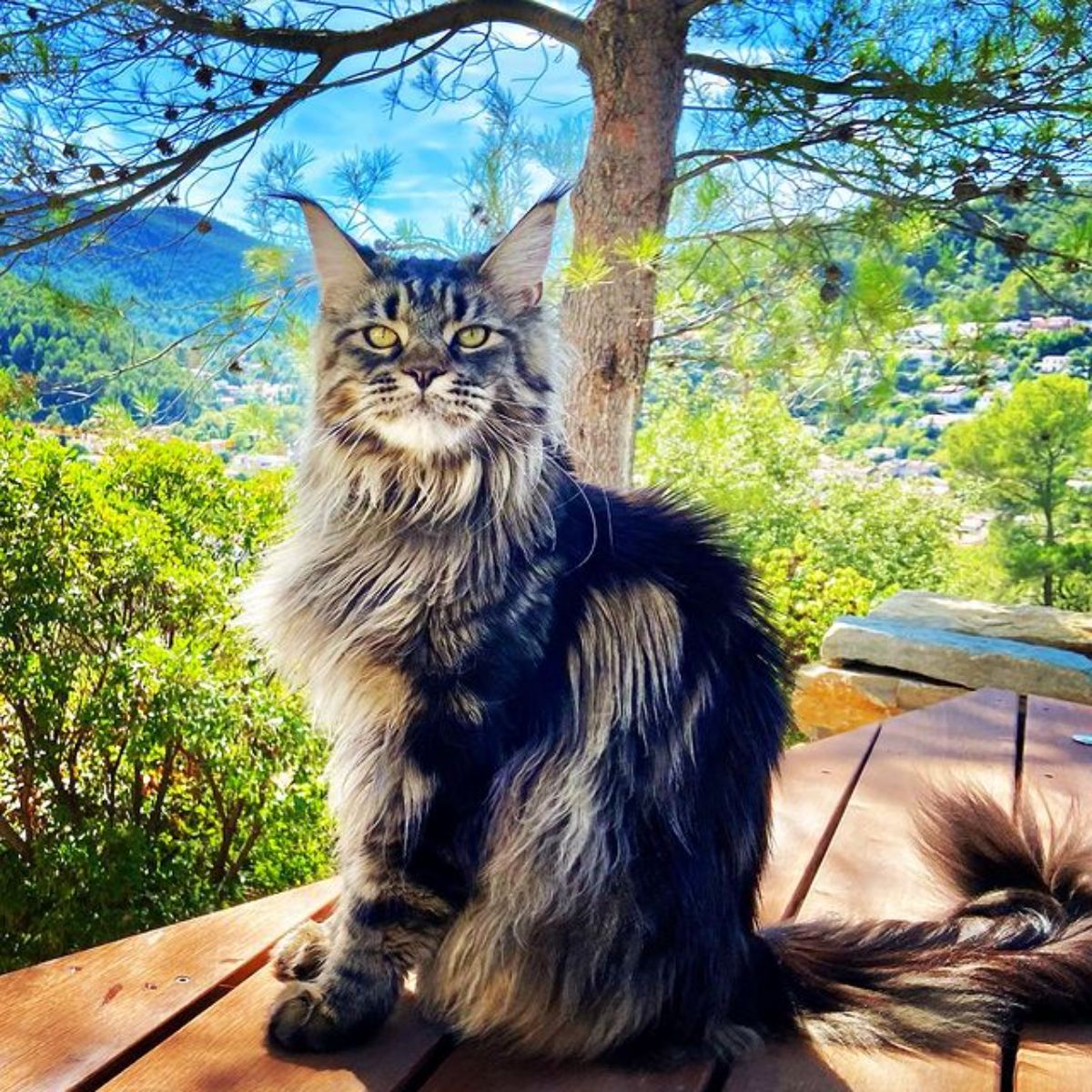 Spike is a lovely Maine coon from France with a gorgeous fur pattern. Spike has recently turned one year old and continues to grace our eyes with multiple weekly posts on their dedicated IG page.
16. Kira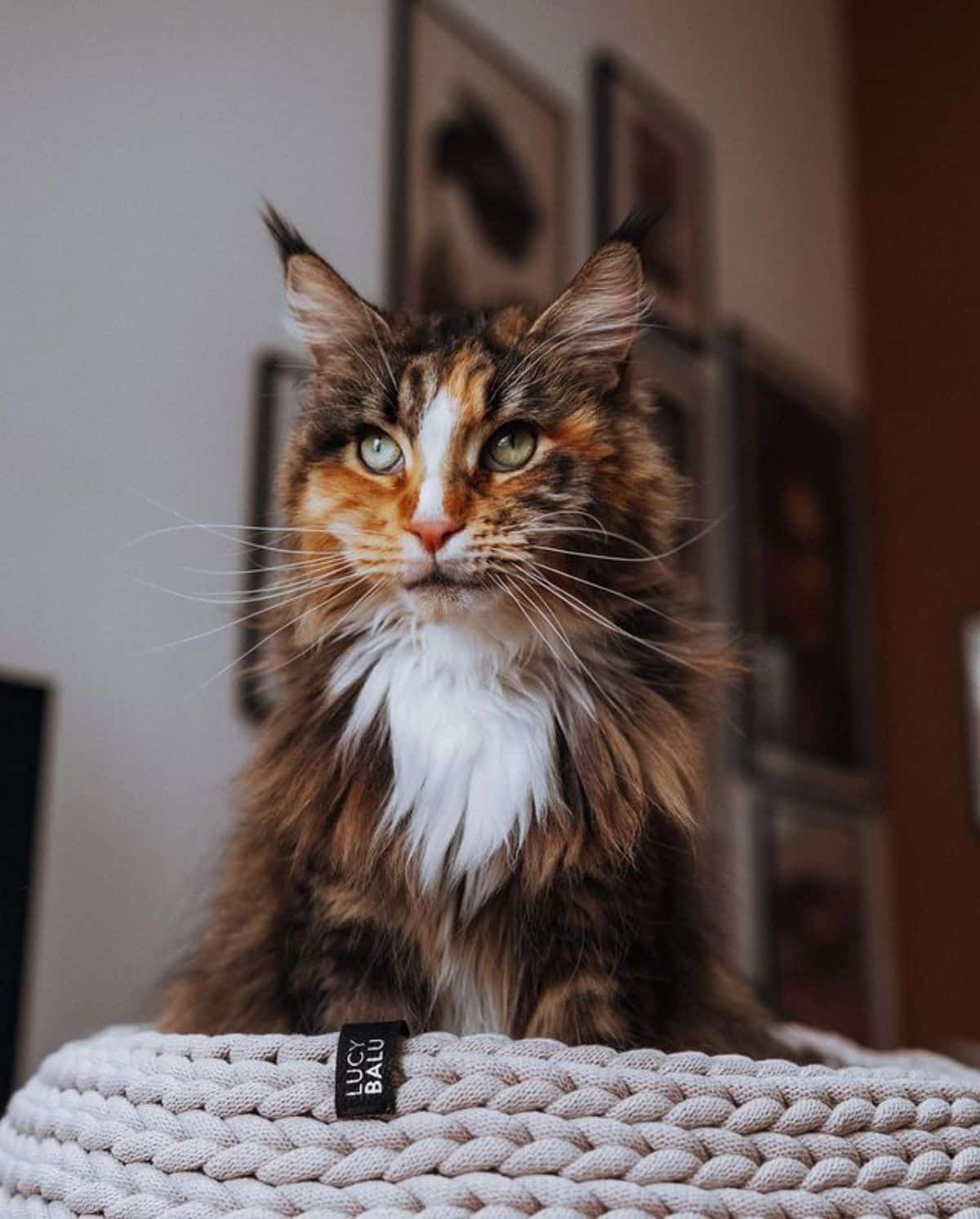 Kira is a delightful cat from Vienna, Austria, and lives with a loving cat dad. Her charming fur pattern is only matched by her cat dad's artistic appreciation and talent for tattoos and photography.
17. Elanor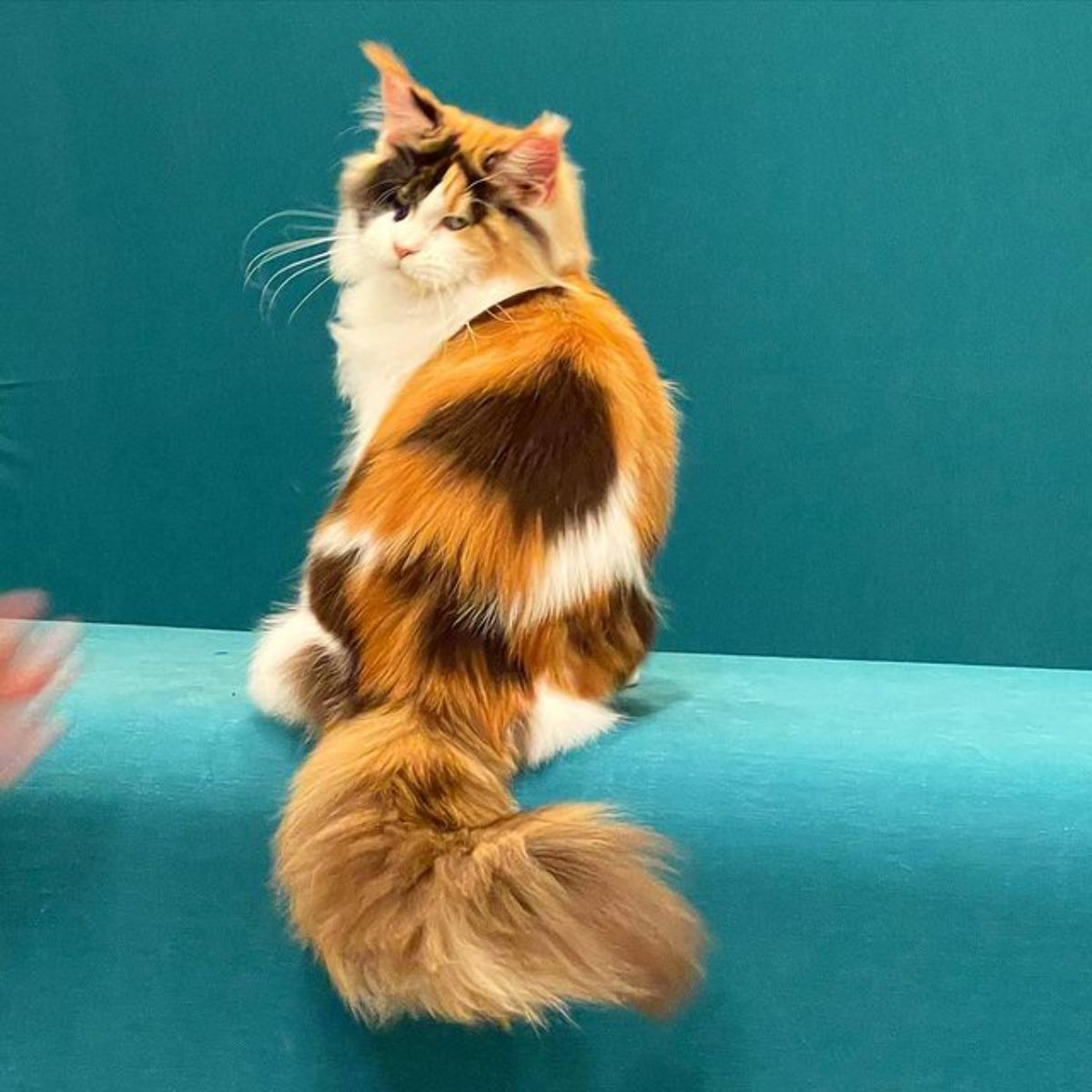 Elanor is a befitting name for this princess of a Calico cat. She has won high marks and awards for her looks in Brazil.
18. Merlot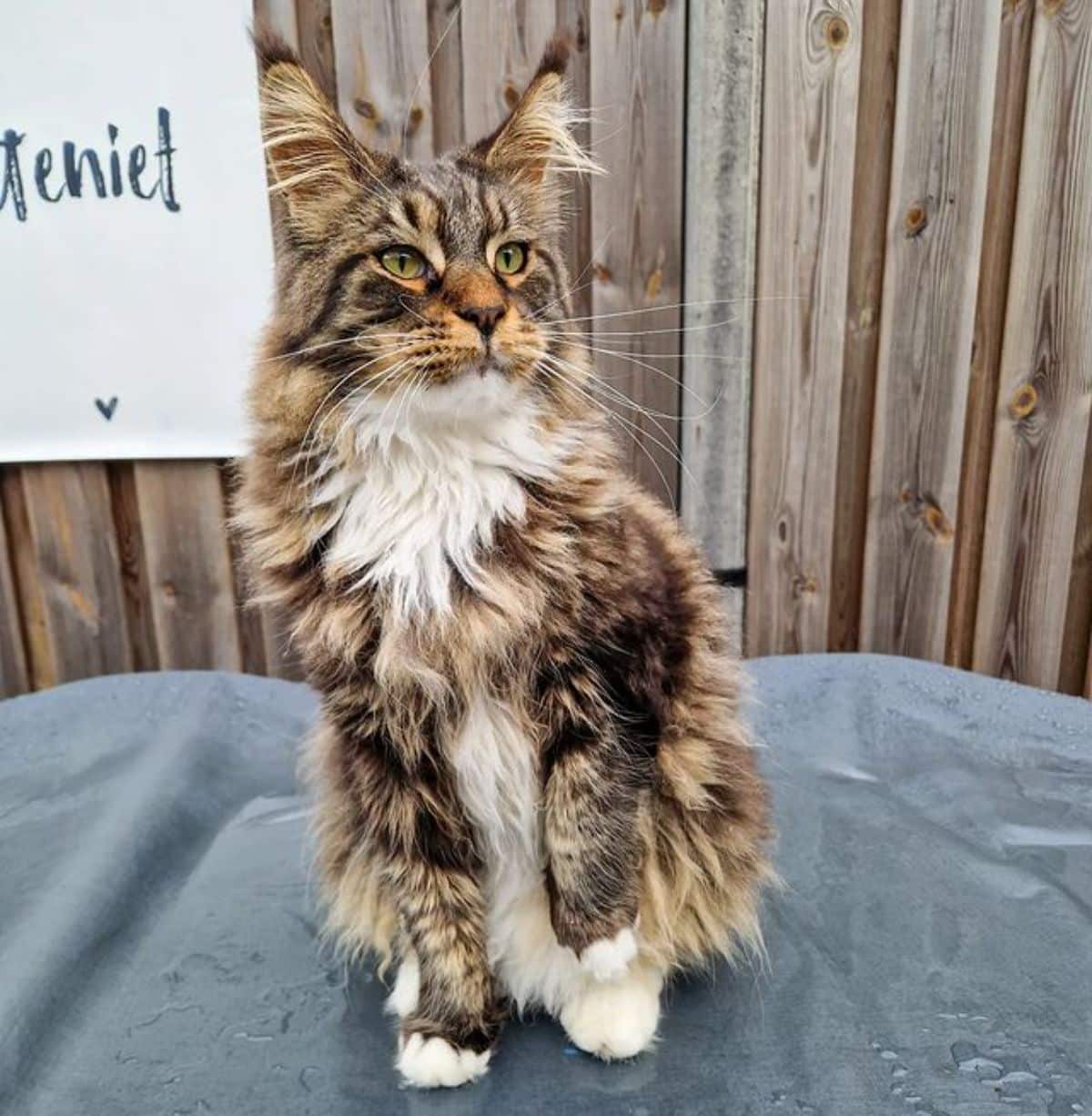 Here we have the stunning Merlot, another cute cat from the Netherlands. Merlot seems to enjoy spending their time sunbathing in the gorgeous garden of their owner's home.
19. Tilla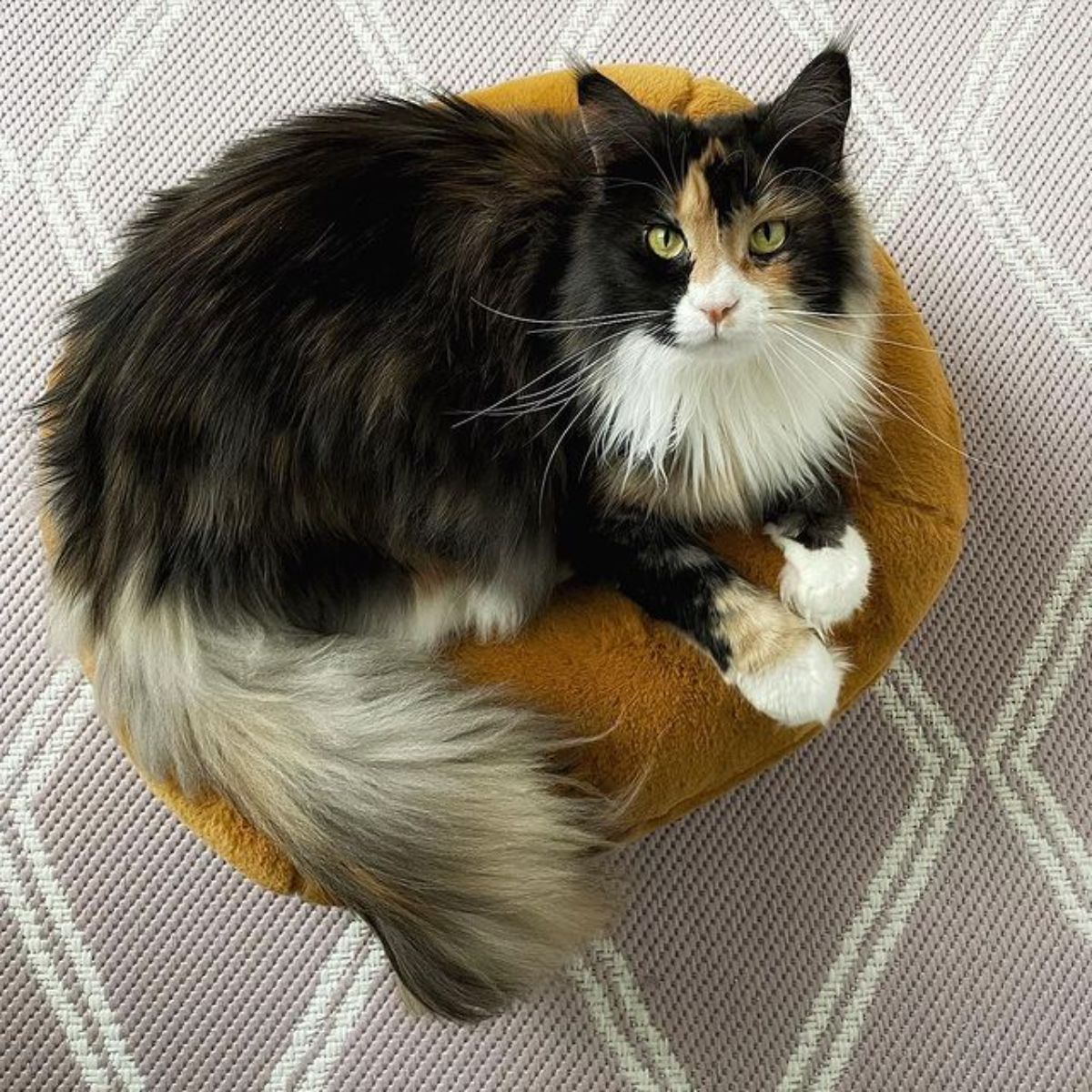 Tilla is one of 3 Calico Maine coon cats that reside in their German home. Tilla is recognizable among the three because most of the fur on their back is black, and there is a patch of orange in the center of their face.
20. Tammi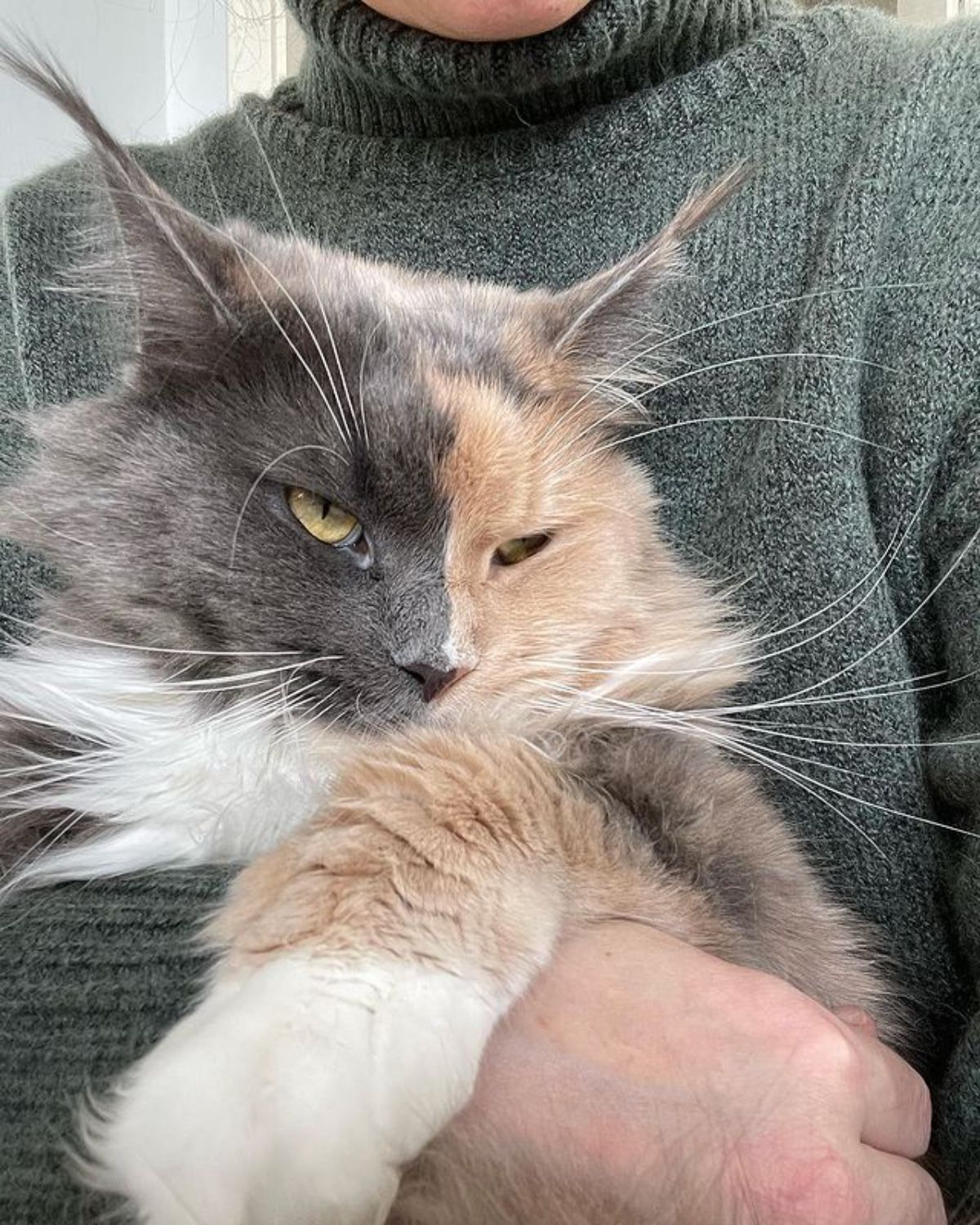 Tammi is the 2nd cat of the 3 Calico Maine coon cats which live together. Tammi is easily recognizable from their siblings because the dark parts of their fur are a faded gray.
21. Toffi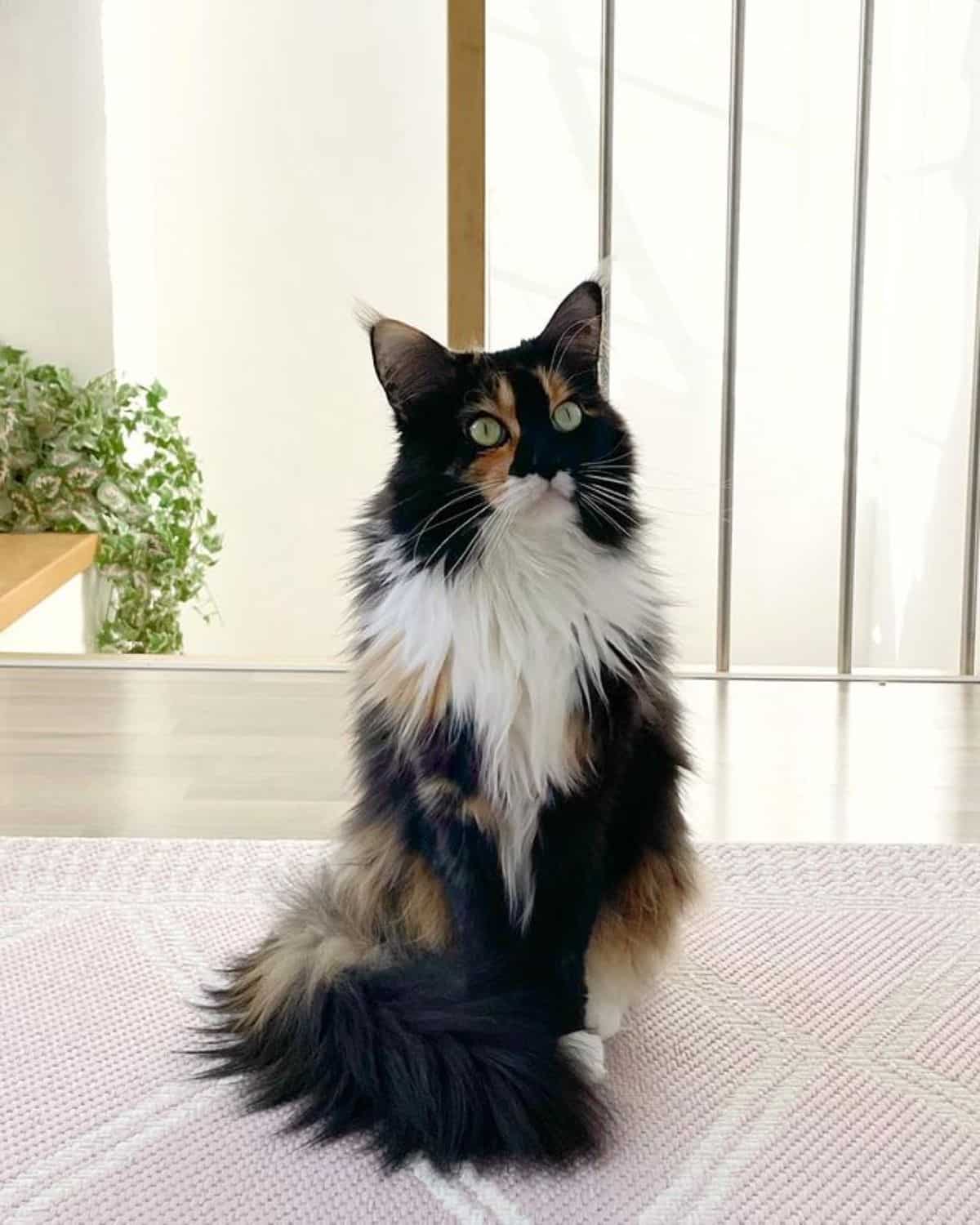 The 3rd cat of this little cat family is Toffi. Toffi is recognizable among the other two because their nose is solid black.
22. Ruby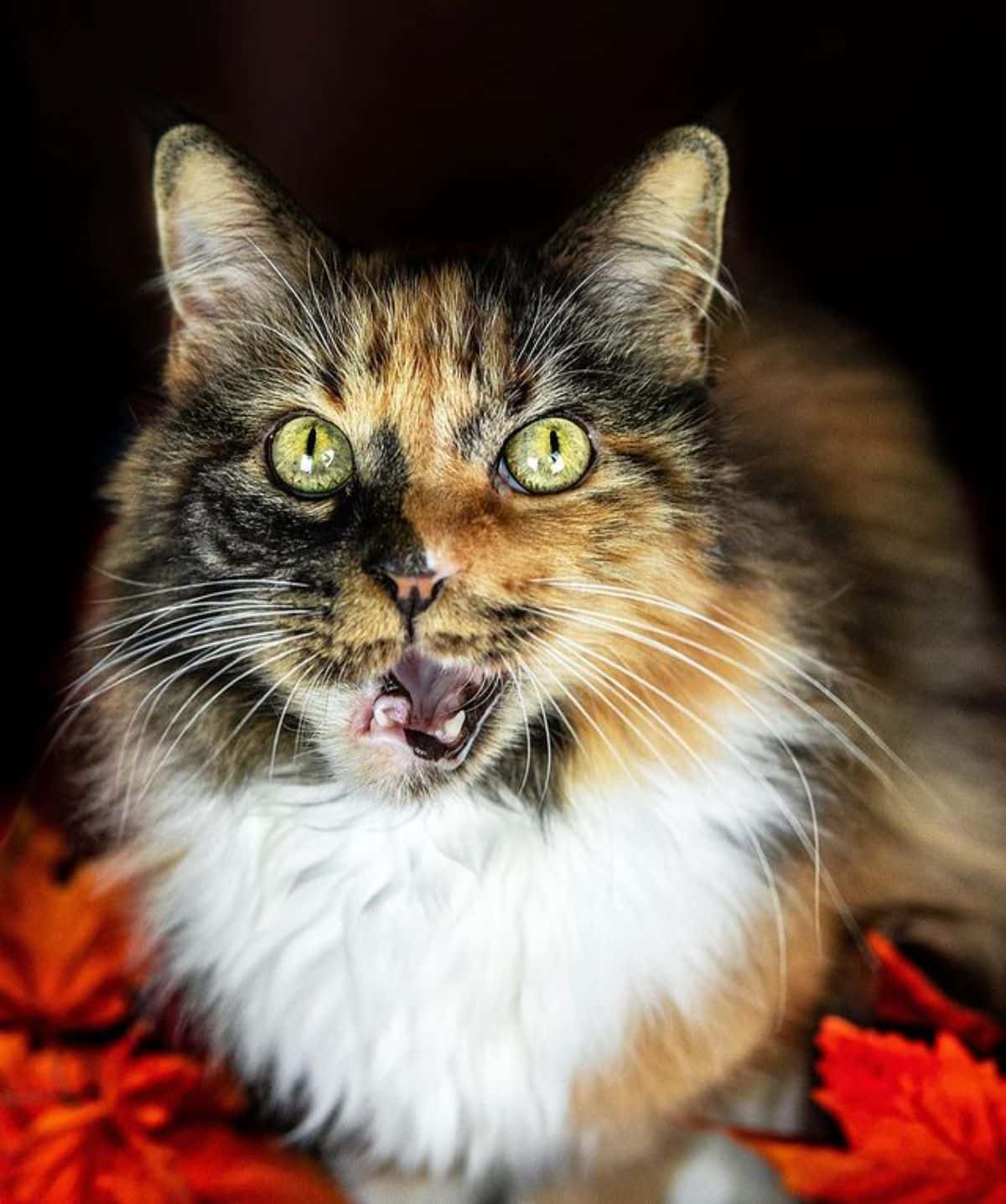 Ruby is a spunky Calico Maine coon from Germany. Her bright eyes match the vibrancy of her coat, making her a delightful sight to behold.
23. Faye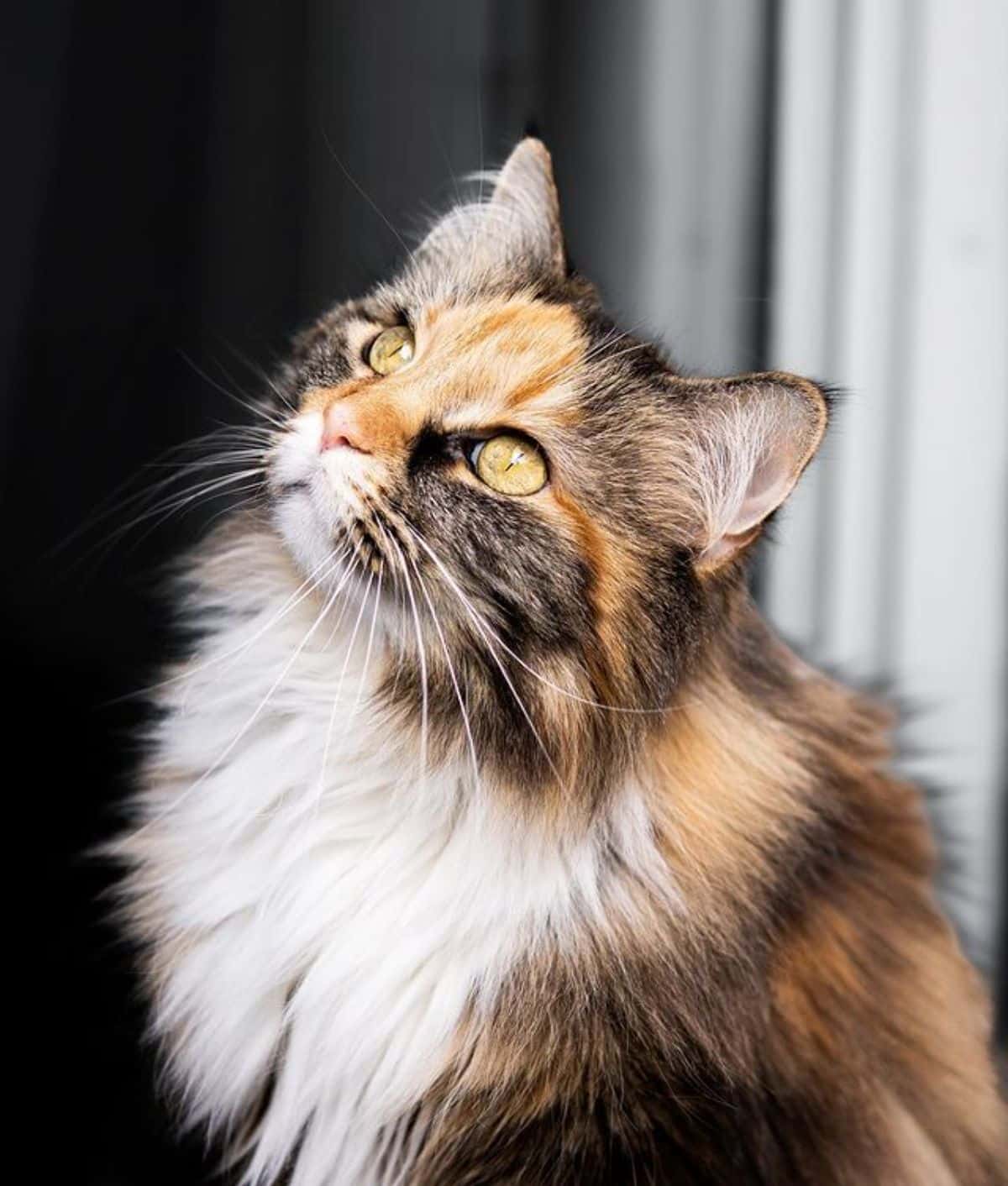 Faye resides in the same home as Ruby in Germany. These beautiful cats are roughly nine years old and very photogenic.
24. Kiwi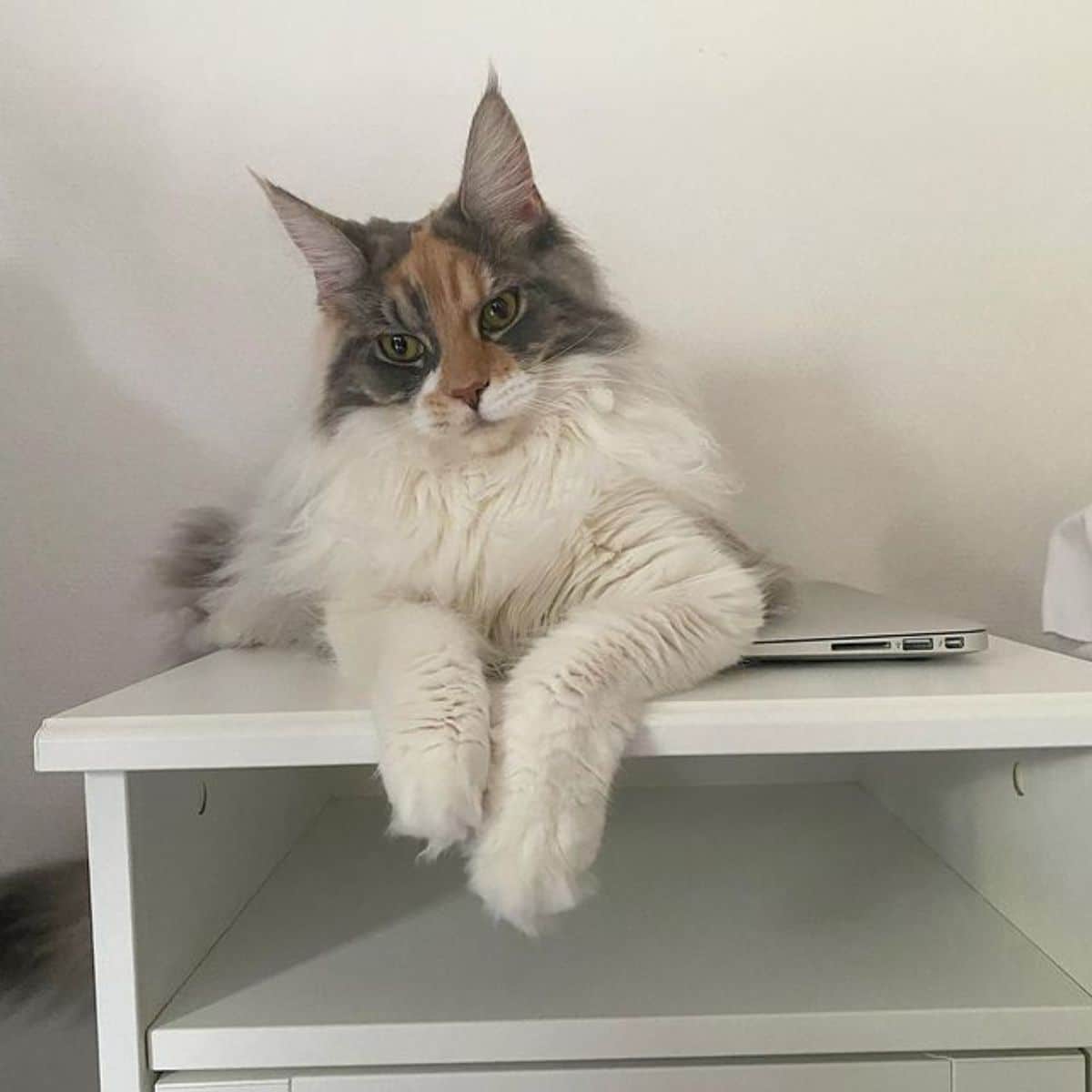 Kiki, the Calico Maine coon resides in Belgium. Kiwi has a sibling named Wellington, and they were both born in 2020.
25. Sansa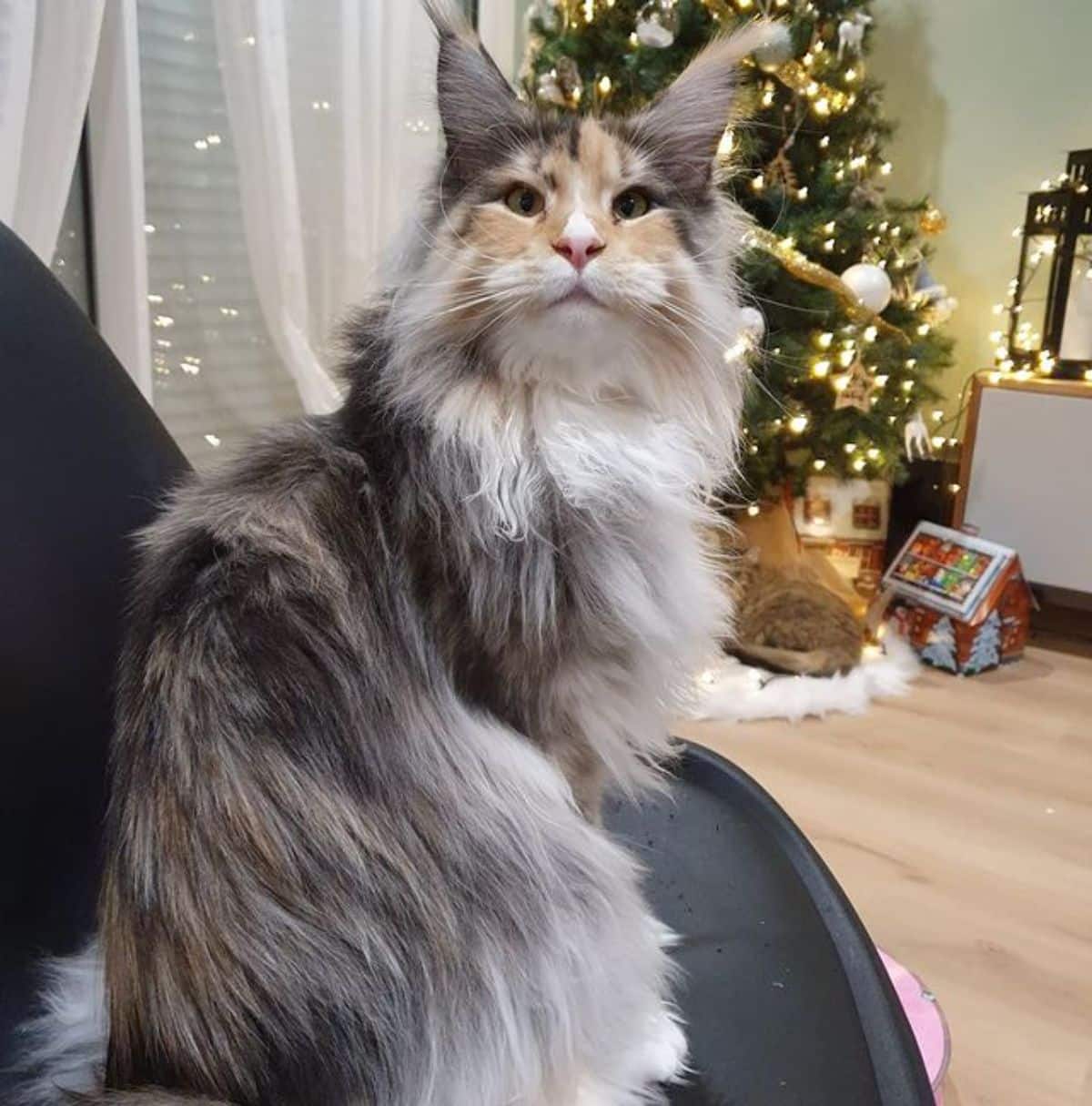 Sansa is undoubtedly a queen among Calico Maine coons. The colors of her vibrant coat align well with the length of her fluffy fur.
26. Nezha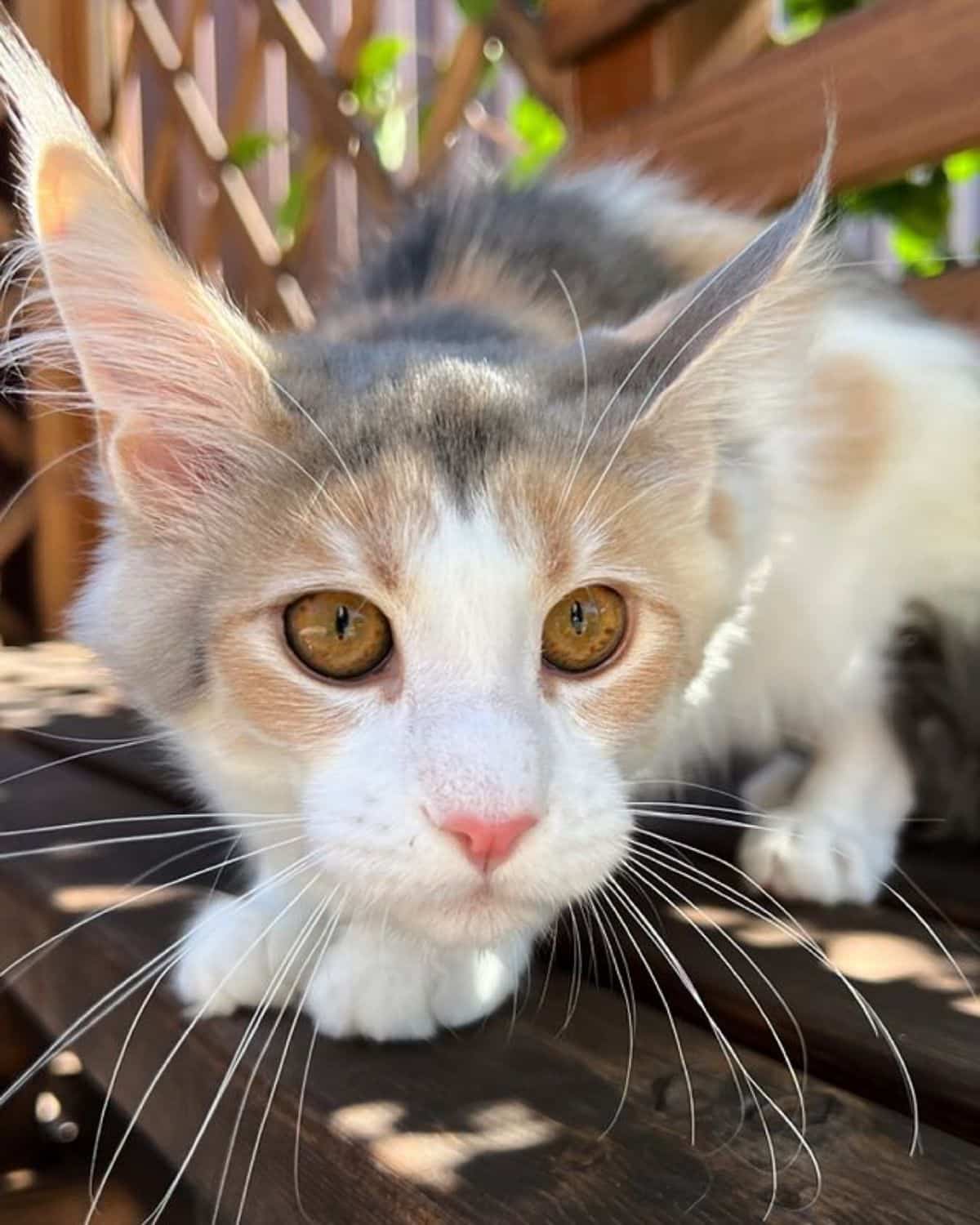 Nazha is a young Calico Maine coon from Russia. She is an adorable cat with deep orange eyes.
27. Athena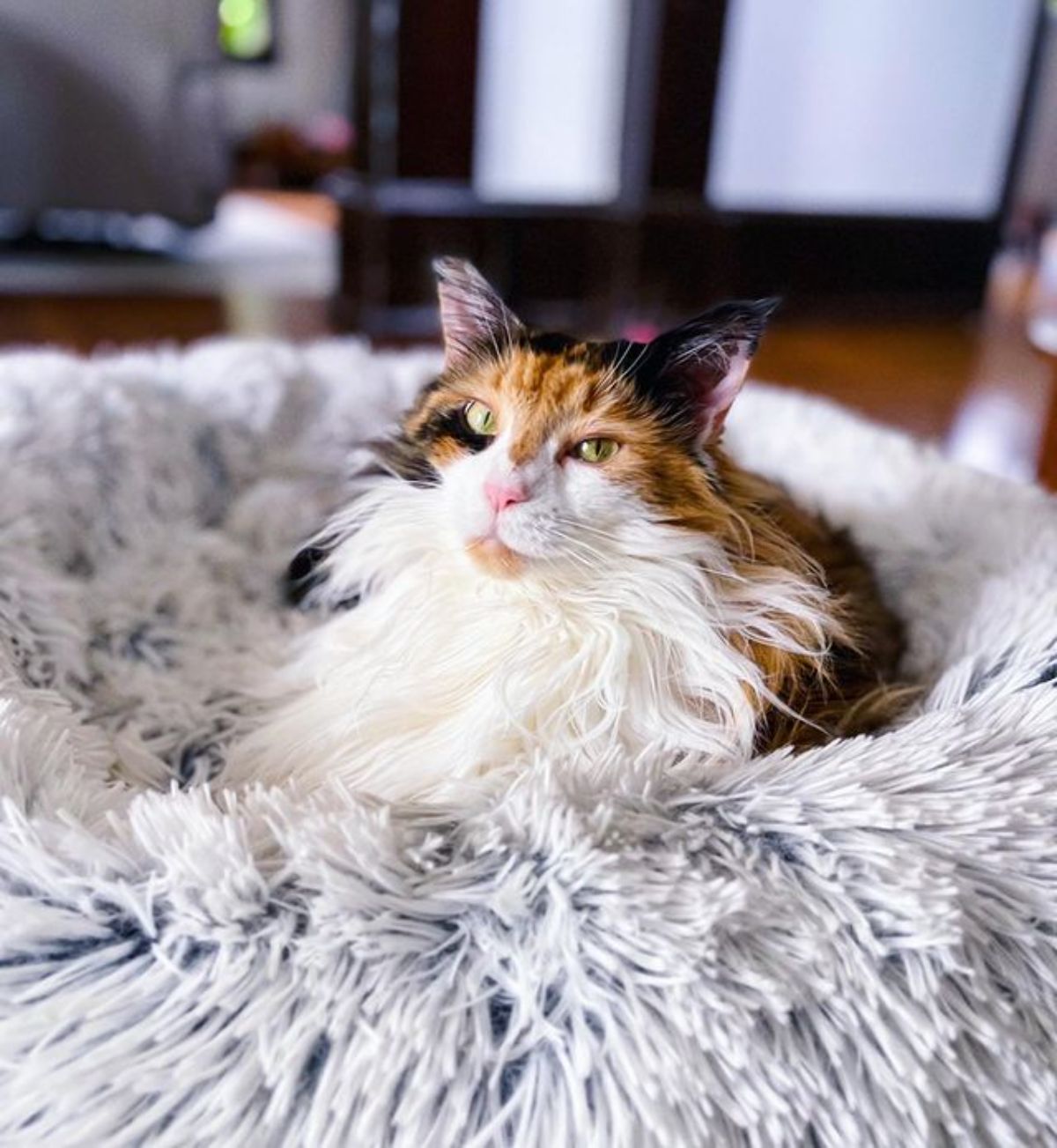 Athena is a 6-year-old Calico Maine coon who lives in the US. This beautiful cat shares a home with another Calico Maine coon.
28. Callie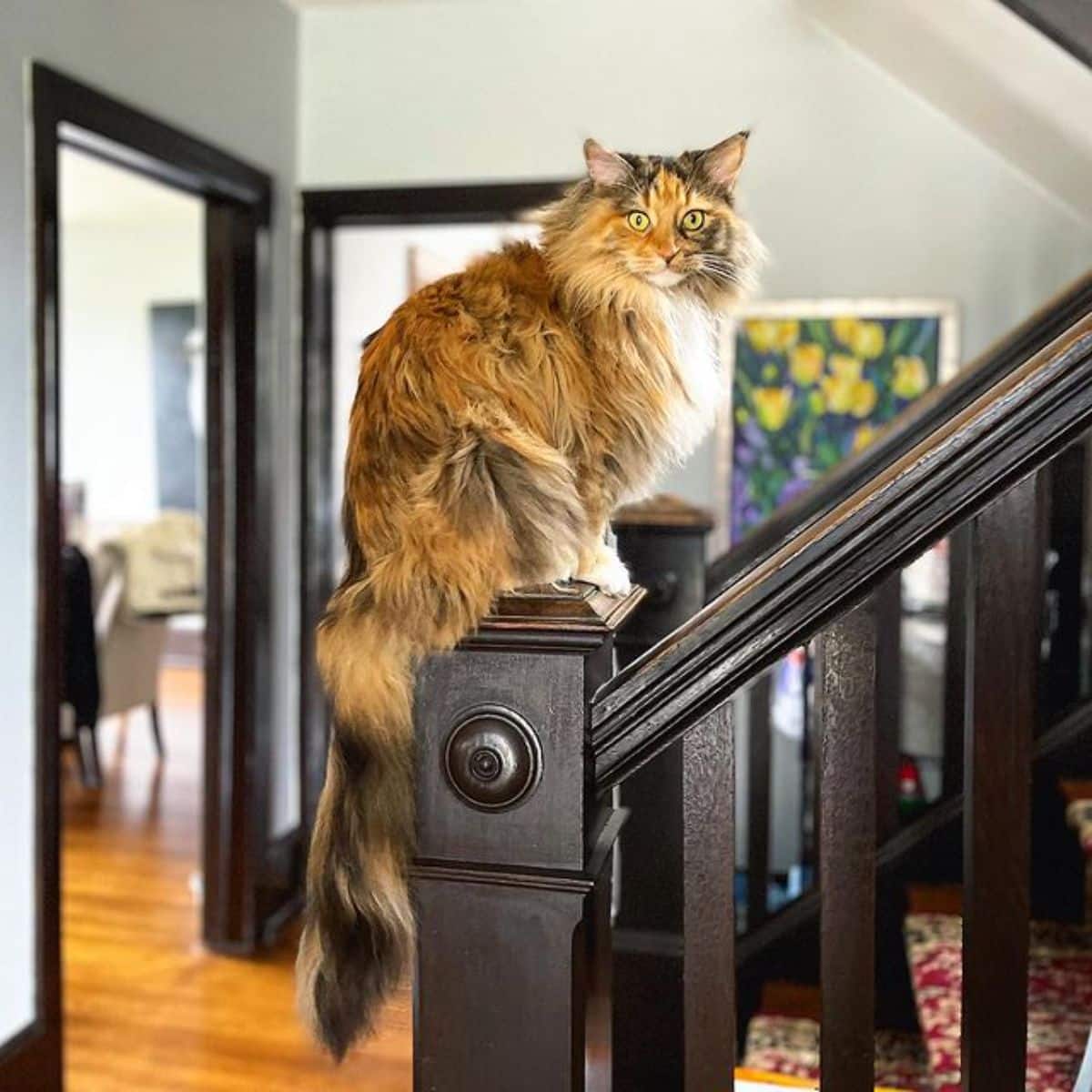 Callie is a fellow housemate of Athena. Callie has a luscious Calico coat with a large amount of orange spread across the fur pattern.
29. Garmo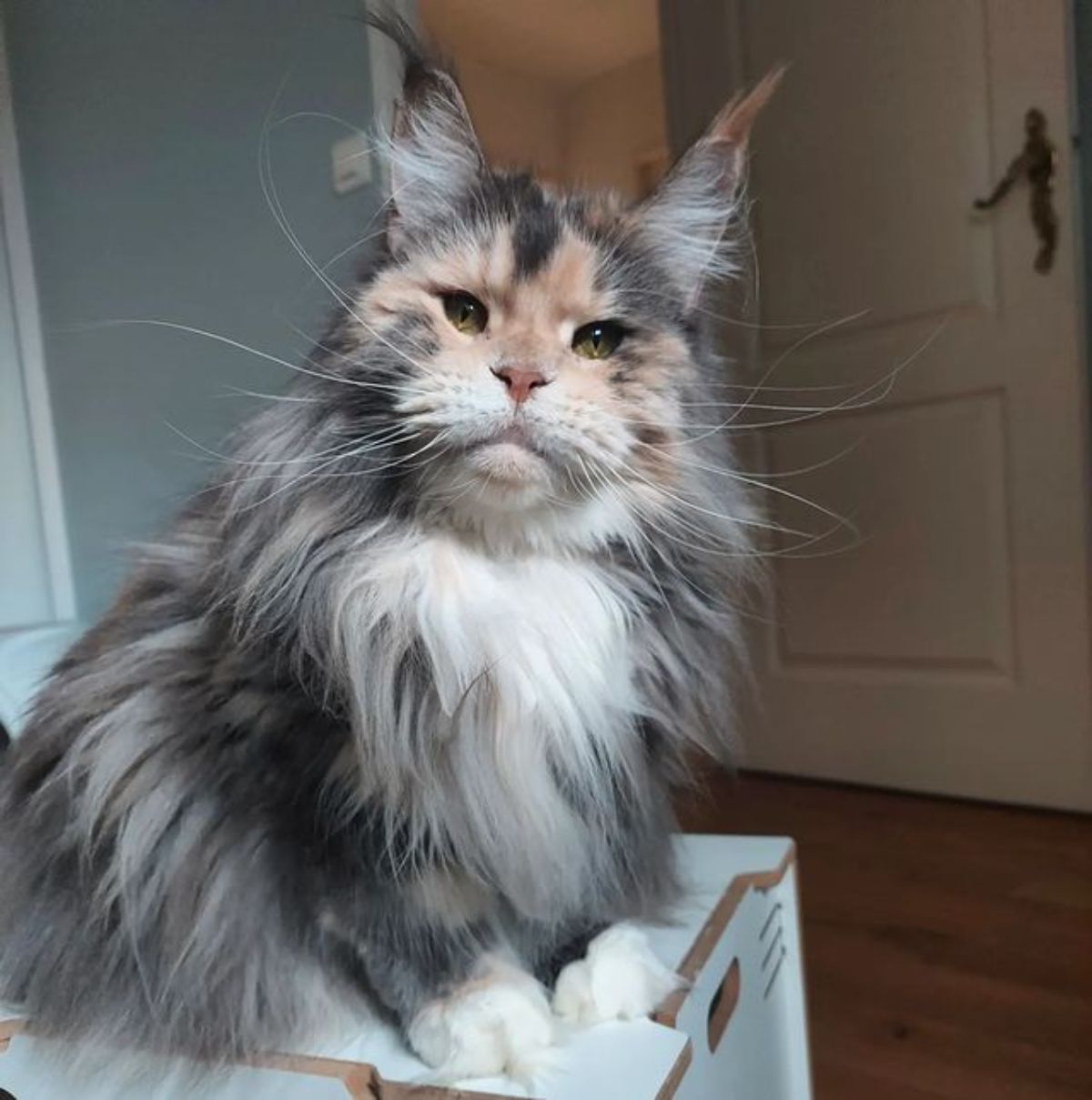 Garmo is a 6-year-old Maine coon with voluminous fur that looks gorgeous. In addition, Garmo has a genuinely lovely and fluffy face.
30. Veenie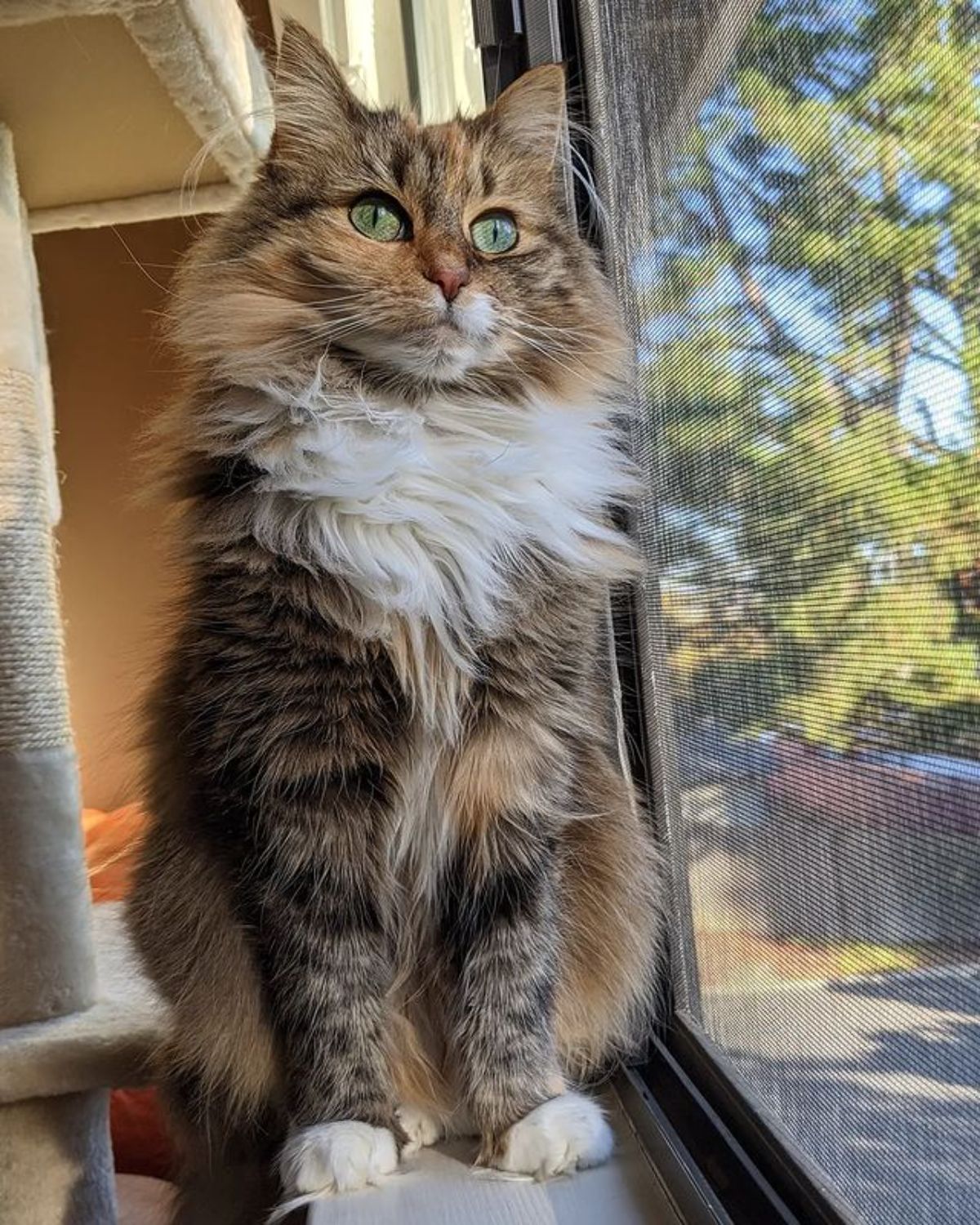 Veenie is a small Calico Maine coon with some of the most gorgeous eyes of any cat. Veenie's big blue eyes contrast sharply with the rest of her orange and black fur.
31. Liana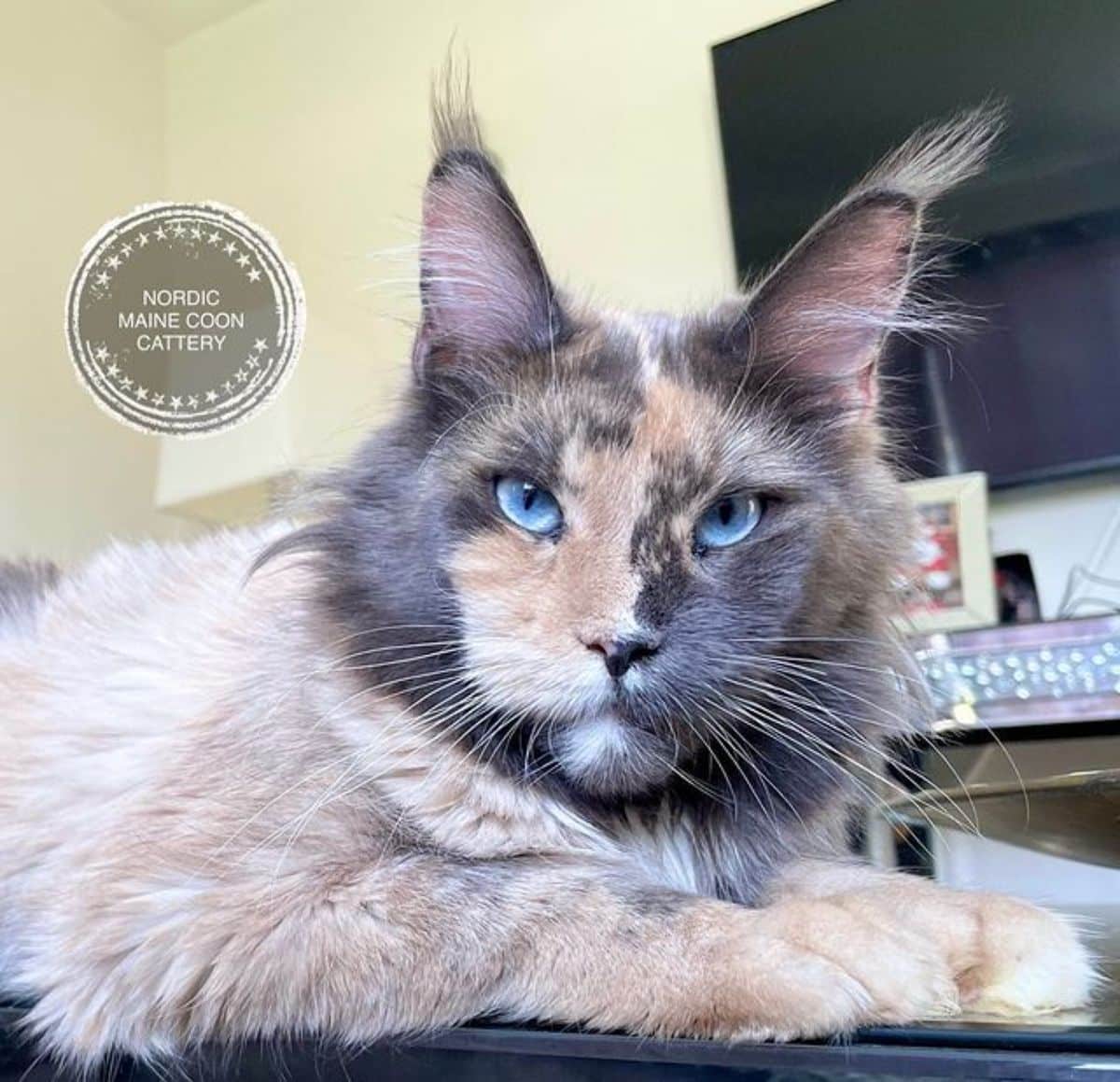 Last but certainly not least, we have Liana, the final gorgeous Calico Maine coon, on our list. The faded orange patterns on her coat go well with the high-contrast black fur on her face.
Conclusion
As you can see, Calico Maine coons are truly beautiful and make for wondrous household companions. From the pleasant personality attributed to the Maine coon breed to the mesmerizing colors of Calico fur, there is something extraordinary about these cats.