Cats are intelligent, often perplexing creatures whose hypersensitivity and clarity of thought make them charming furry buddies. However, like humans, cats occasionally experience stress, which can be detrimental to their general well-being.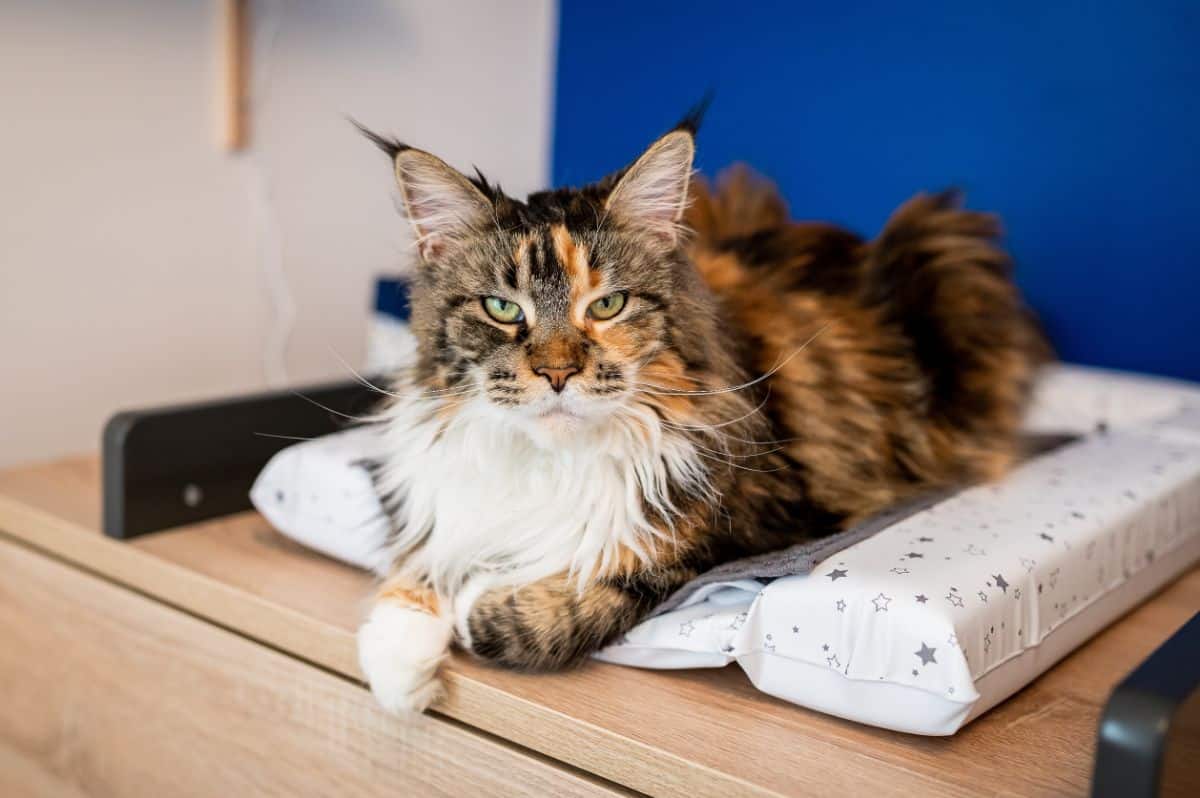 Various vet-recommended products are available to help ease anxiety and stress in cats, from sprays to diffusers, drops, and treats. So, what's the best option for calming your four-legged buddy?
This article has highlighted all you need to know about calming aids for cats, including the best vet-reviewed and pet-approved products.
Jump to:
Best Calming Sprays for Cats
Calming sprays for cats are products that contain botanical extracts and pheromones to help calm cats in situations that can cause stress or anxiety.
The synthetic pheromones in some calming spray formulas replicate the ones produced by mother cats to soothe their kittens. So, the pheromone stimulates your cat's olfactory system and helps alleviate anxiety.
Conversely, calming sprays made from natural extractions, including chamomile and lemongrass, have a relaxing impact on cats.
When using the calming spray, apply it to anything your cat smells when stressed such as its bed. Also, spray in your cabin and travel bag when traveling with your kitty.
Here are the best calming sprays for cats: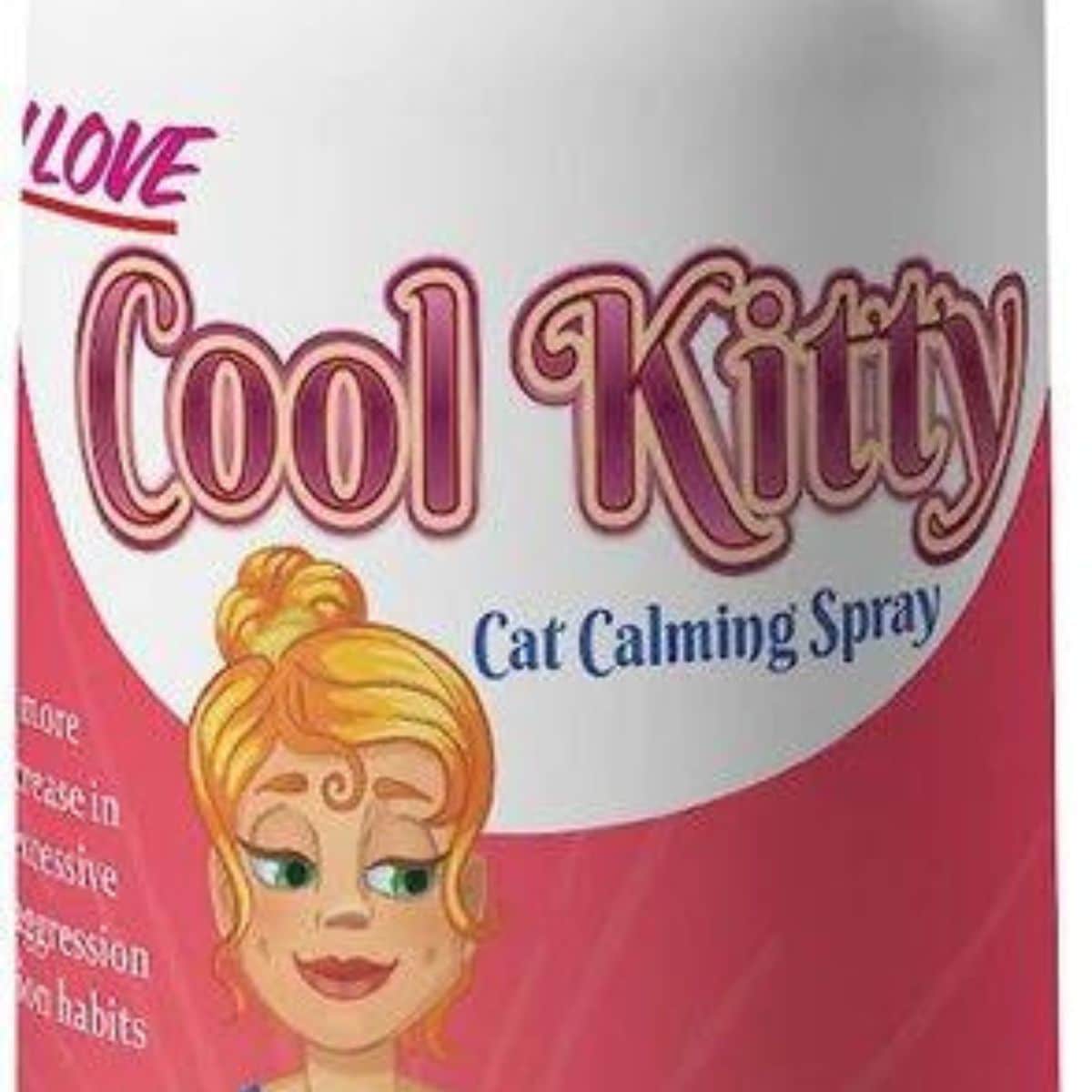 Calm your purring buddy with Pet MasterMind's Cool Kitty Calming Spray for Cats. The all-natural formula features a unique blend of natural extracts, including passion flowers and jasmine, incorporating synthetic pheromones to relieve stress and mitigate any stress-related behavioral issues.
Also, the calming spray is paraben and synthetic-preservative-free, making it ideal for pet appointments, travel, and other stressful events.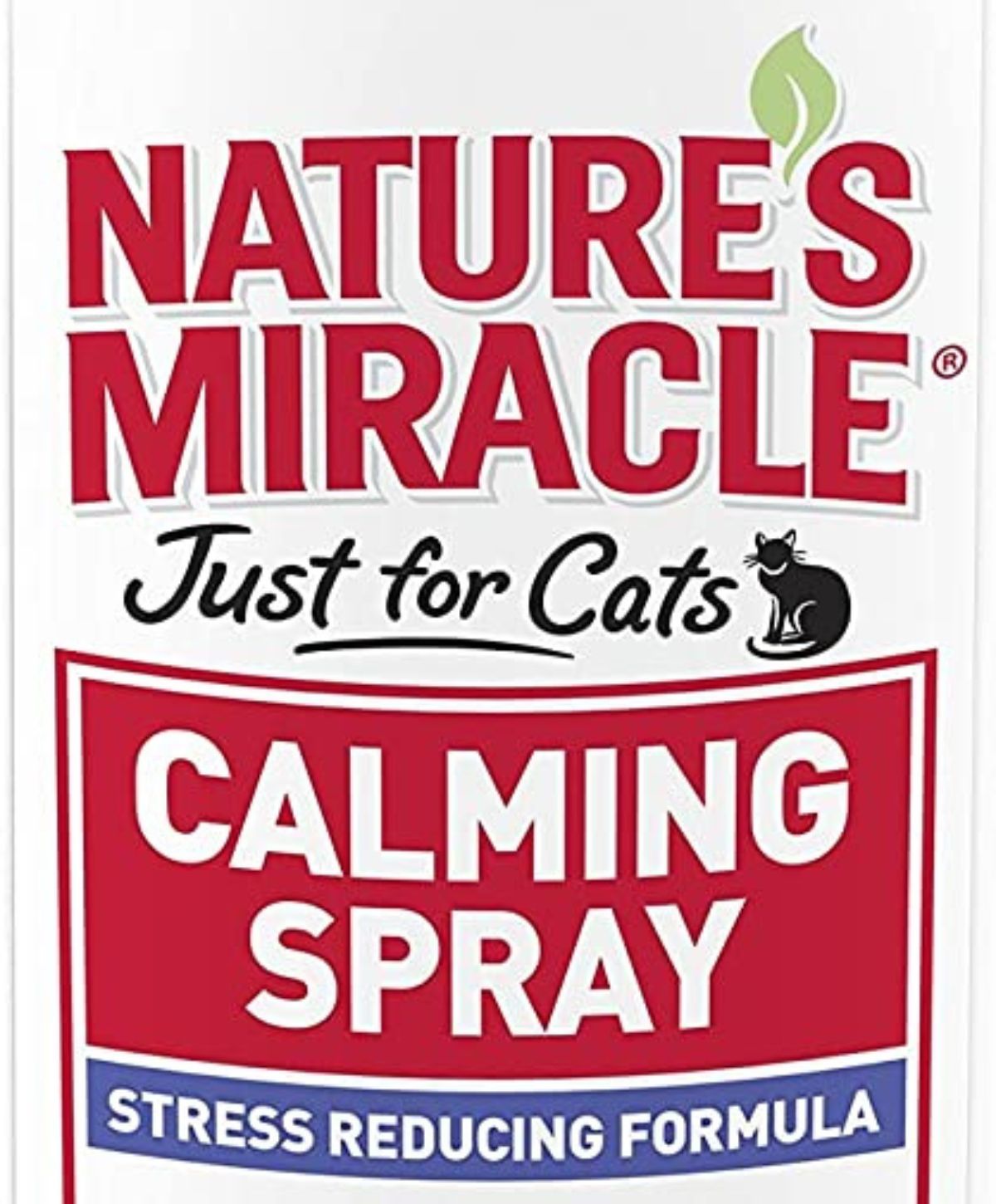 If you seek a non-sedating formula to calm your kitty, Nature's Miracle Just for Cats Calming Spray is an excellent fit. This long-lasting concentrated spray contains a calming scent that relaxes your feline pal and minimizes the hyperactivity in stressful situations without using toxic sedatives.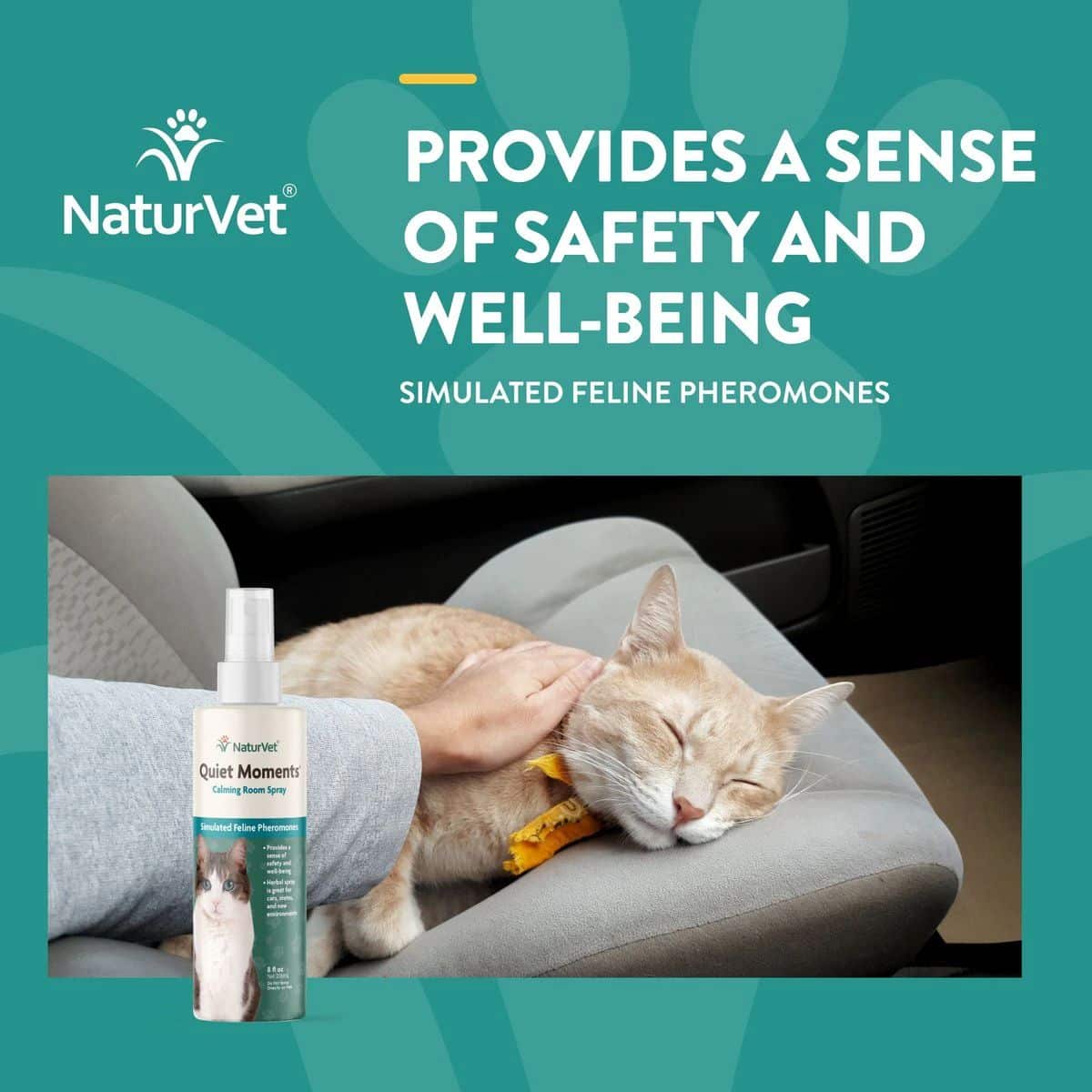 If your kitty acts out in stressful events, consider getting this pheromone calming spray. The calming spray features a mimic of organic pheromones complemented with natural ingredients like rosemary oil and thyme to help relax your cat.
Remember not to spray it directly on your cat.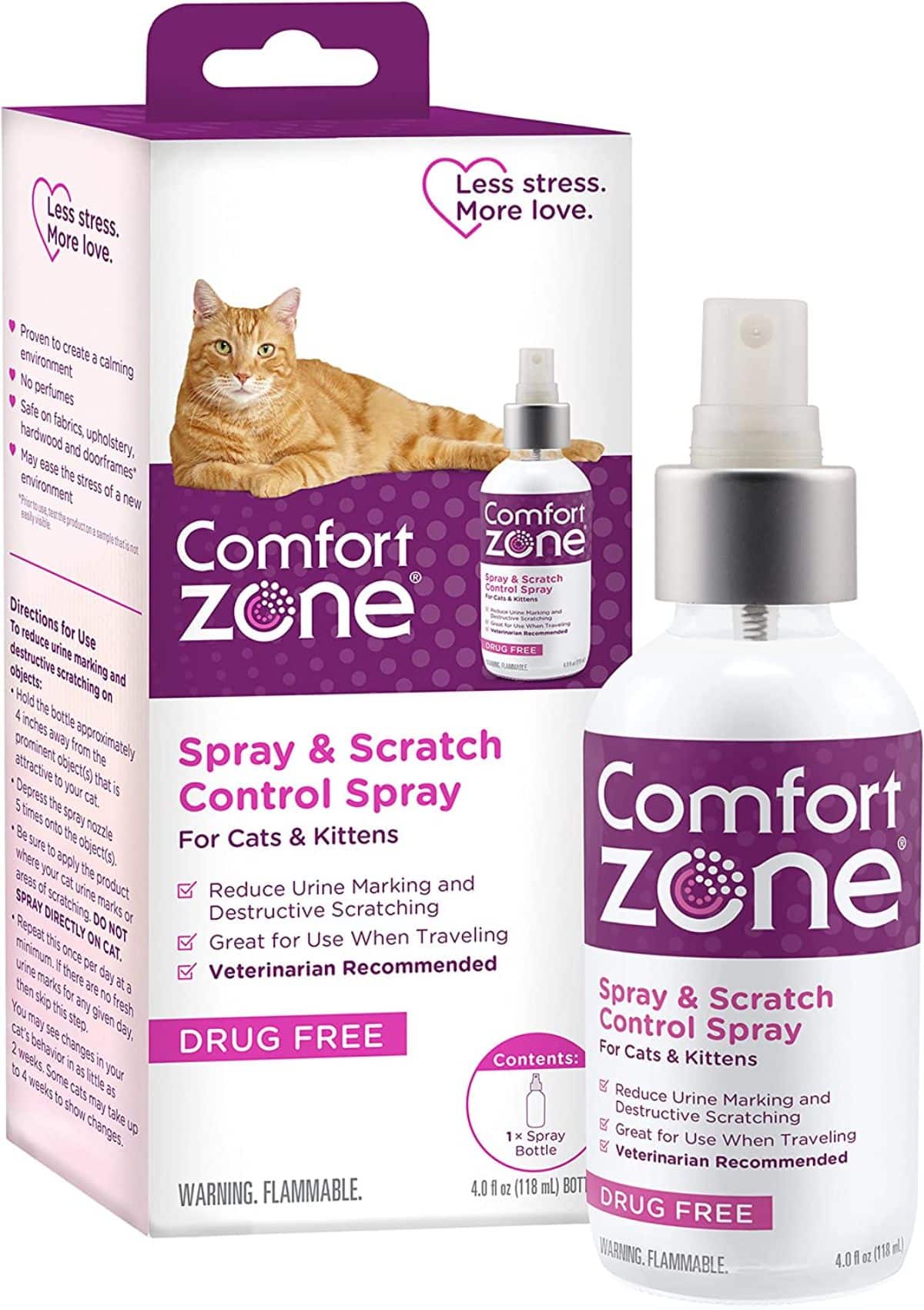 Comfort Zone Scratch Deterrent and Cat Calming Spray is well recommended for kittens. This vet-approved calming spray features pheromones that signify comfort and safety to kitties, enabling them to relax in stressful environments.
The spray also limits destructive scratching and urine marking in cats.
Cat Calming Drops
Cat calming drops are administered orally to help relax your cat in stressful situations. The drops work faster than sprays, offering relief in 24 hours, depending on the condition of your cat.
Here are the best cat-calming drops for your four-legged buddy.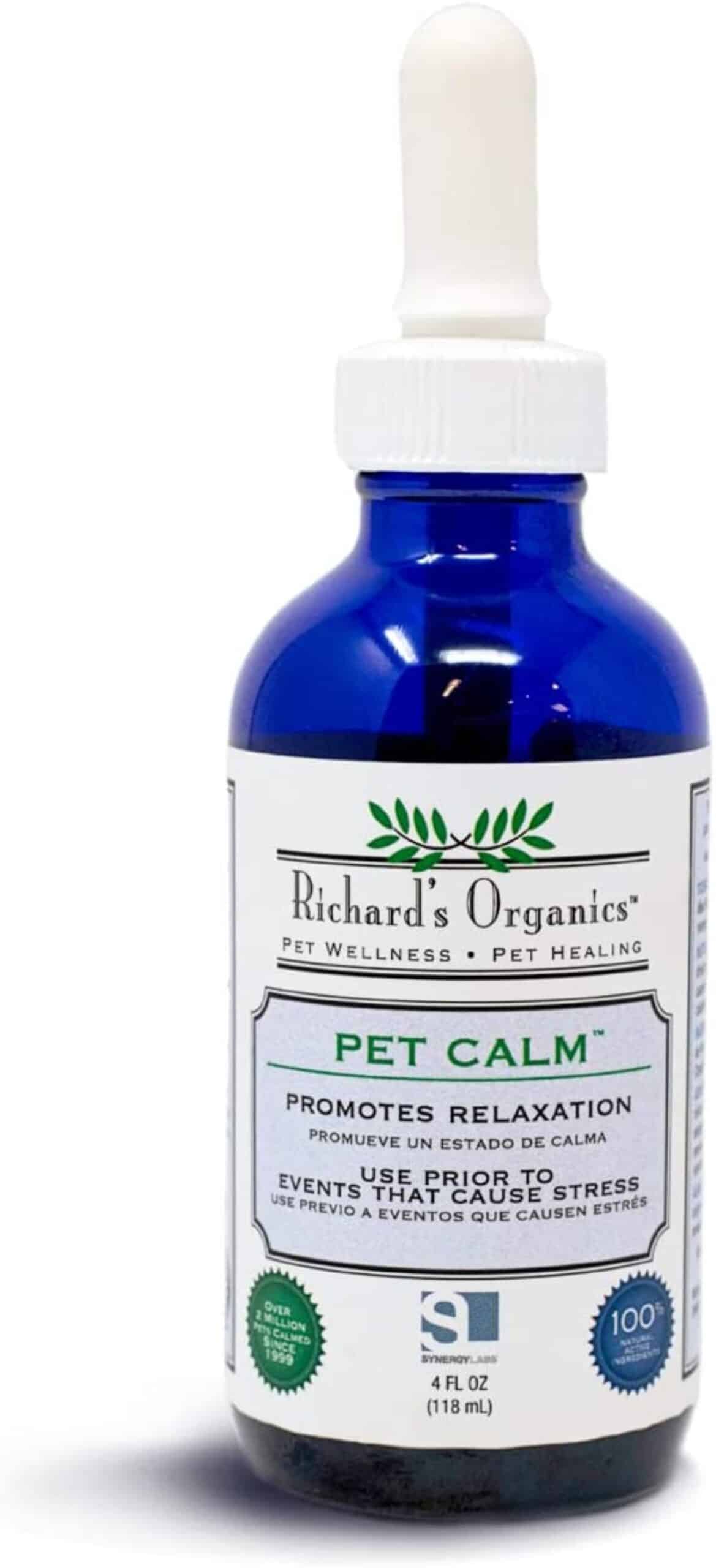 Soothe your cat's stress with Richard's Organics Pet Calm sedative-free drops. The drops are made from calm-inducing herb extracts, including:
Chamomile
Skullcap
Valerian
Passionflower
The extracts help relieve your cat's stress and anxiety.
However, administering the drops can be daunting; it has no flavor additives to entice your kitty. So, consider dropping the product on your cat's paws and letting them lick the droppings off.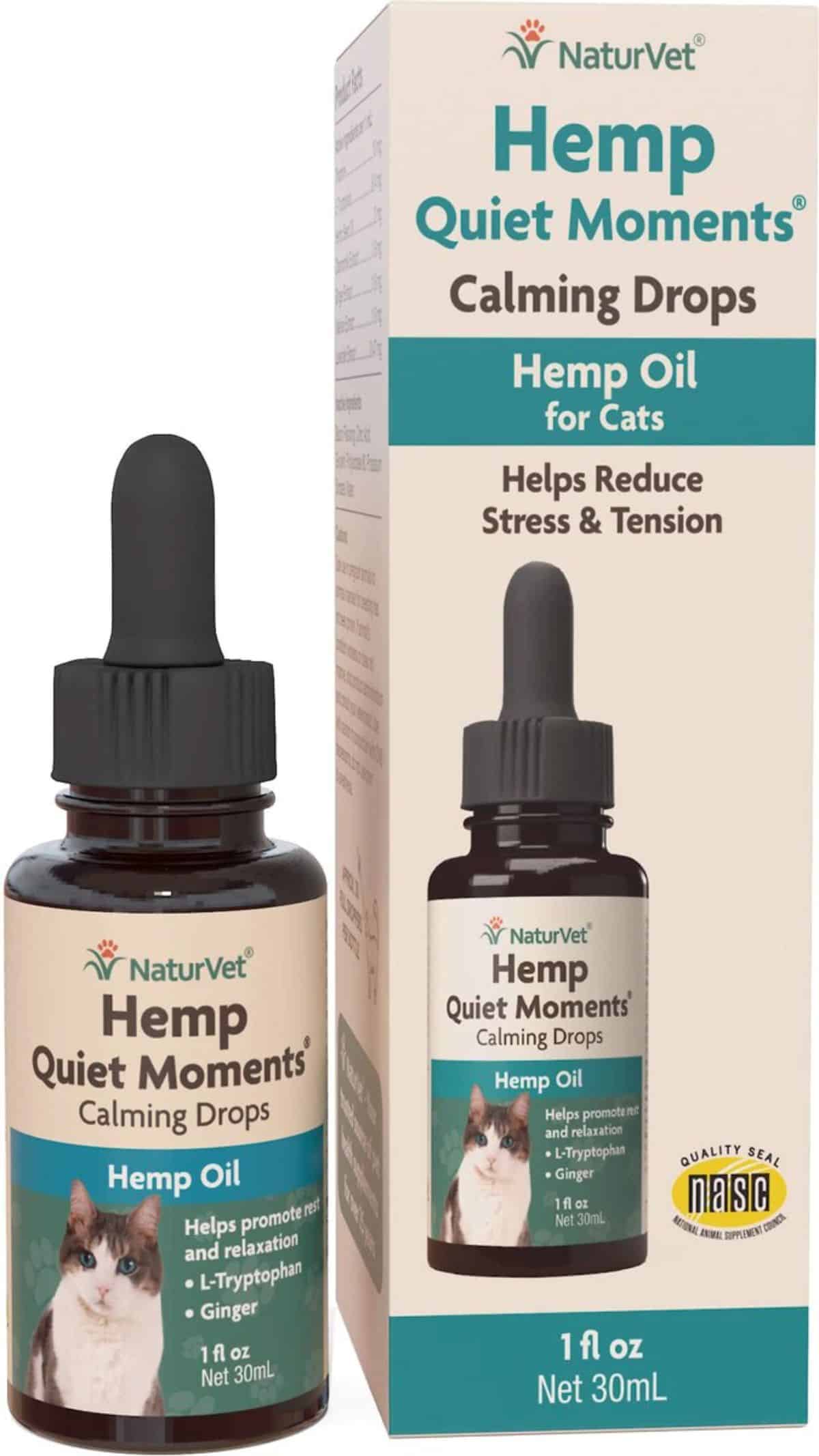 Hemp oil finds its way to our recommended cat calming drops in the NaturVet Hemp Oil Quiet Moments Calming Supplement for Cats.
The vet-formulated drops come with a mix of natural ingredients, such as valerian, ginger, chamomile, and hemp seed oil, releasing tension while enhancing rest. This product is meant for kitties older than 12 weeks.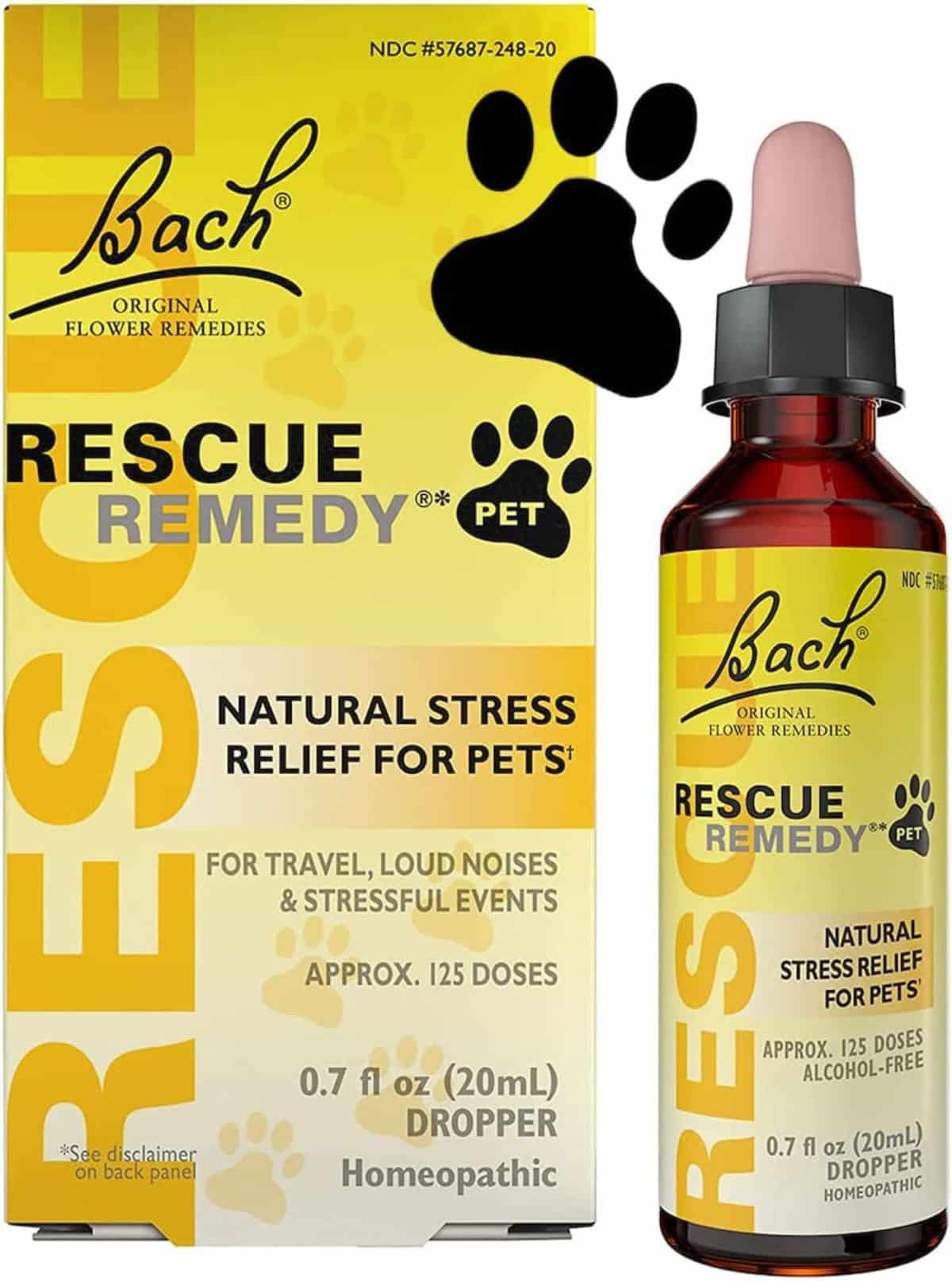 Bach Rescue Remedy is another effective sedative-free cat calming drops product. The organic-based drops feature five relaxation-inducing herbs, including rock rose, impatiens, clematis, star of Bethlehem, and cherry plum, creating a pet-friendly calming formula.
For best results, administer four drops daily with food or water.
Cat Calming Diffusers
Cat calming diffusers feature synthetic pheromones to relax your kitty. While other kitty calming remedies work, diffusers continuously release pheromones, offering prolonged benefits to your cat.
Besides, cat-calming diffusers save you the hassle of administering calming remedies daily, allowing you more time to bond with your purring pal. Here are the best cat-calming diffusers: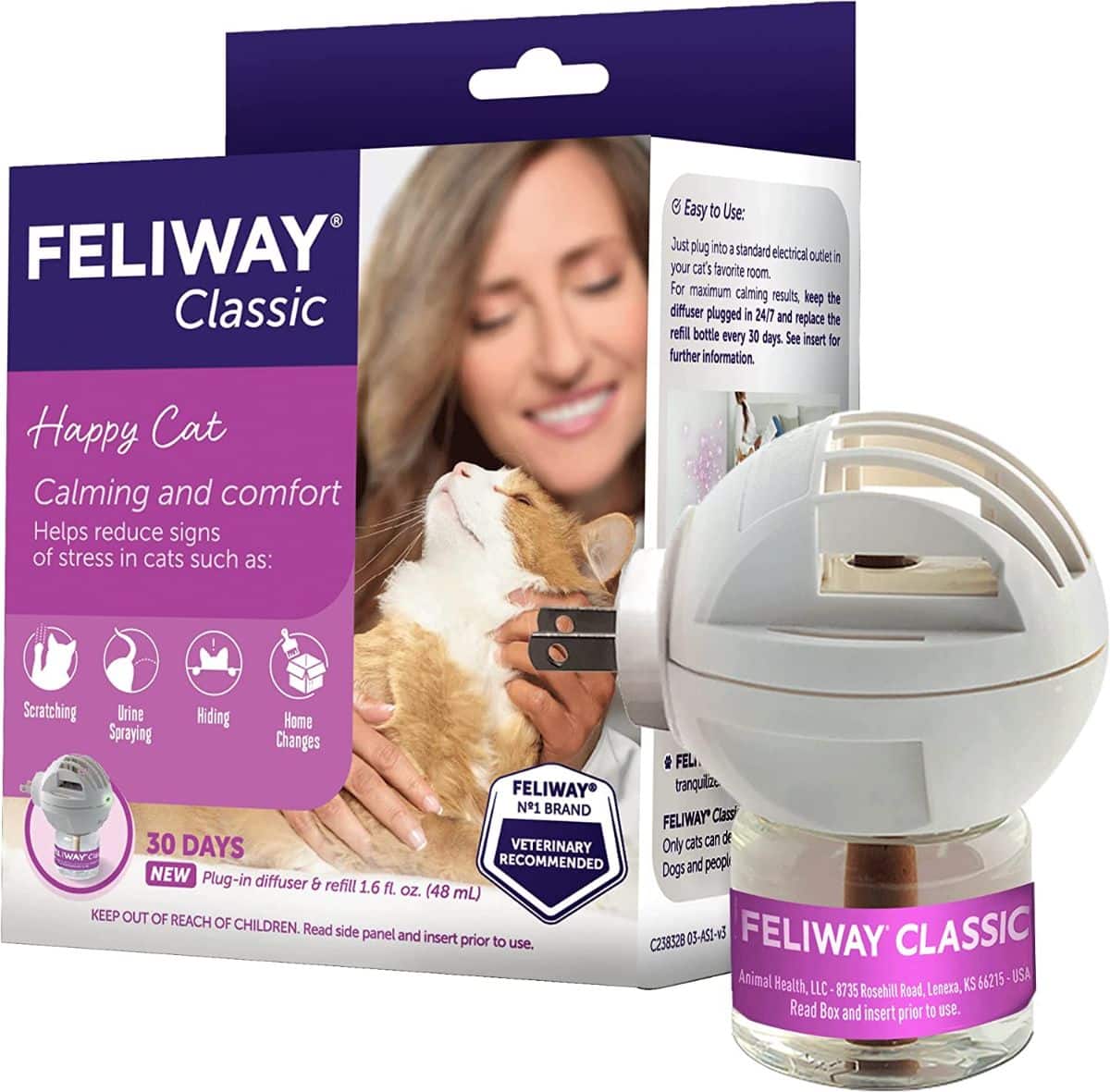 Is your cat scratching surfaces, constantly fearful, or spraying urine? These are stress-induced behaviors, and FELIWAY Classic offers a vet-approved remedy.
The diffuser assists cats in adjusting to stressful situations and reduces fear-related behaviors. Also, this diffuser can cover a large room.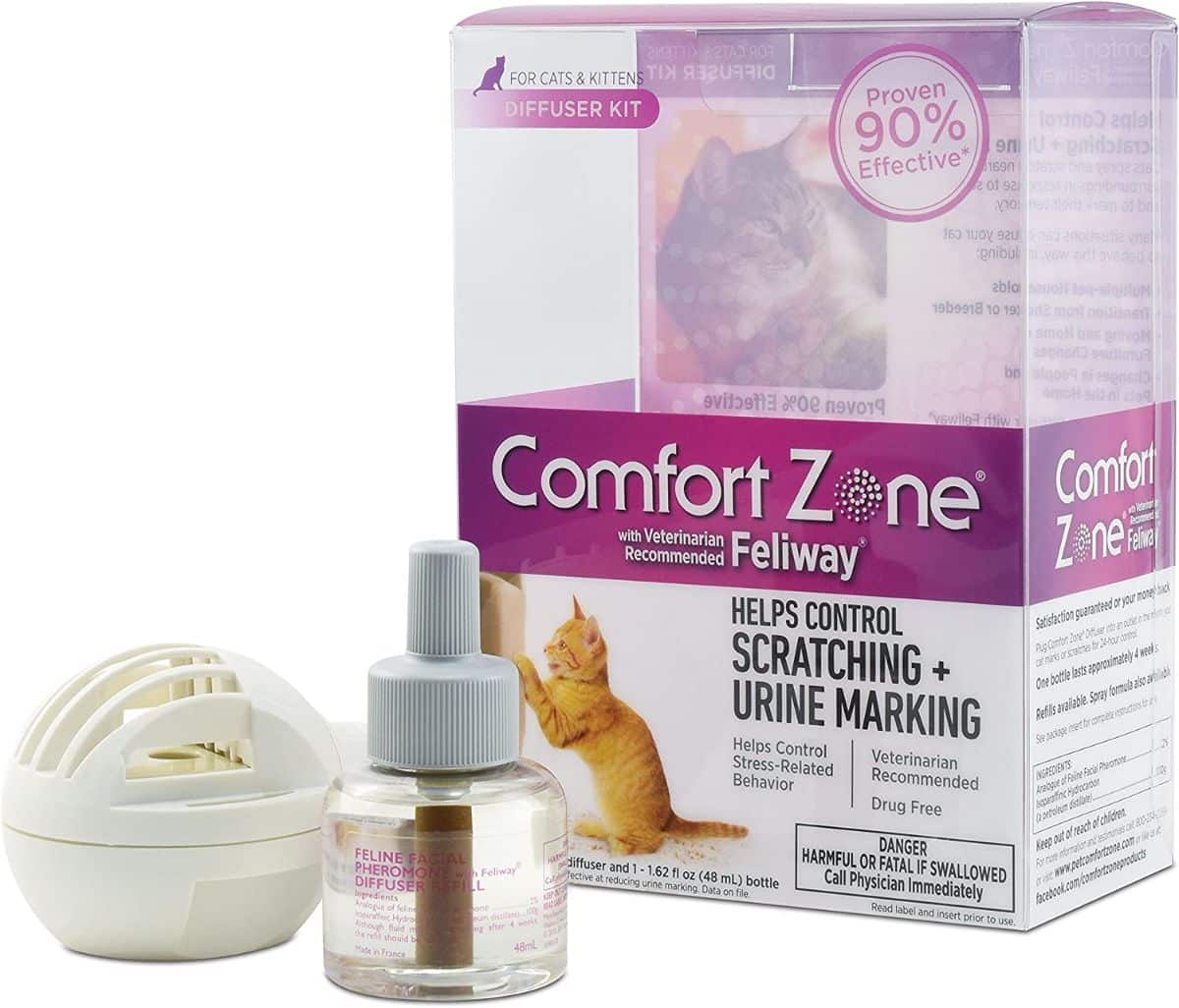 The Comfort Zone Calming Diffuser Kit contains a double dosage of pheromones, which means your cat will get twice as many feel-good sensations.
In addition, the clinically proven formula effectively alleviates stress-related behaviors, especially excessive scratching and urine spraying. This diffuser is ideal for single-cat homes and is suitable for kittens and cats.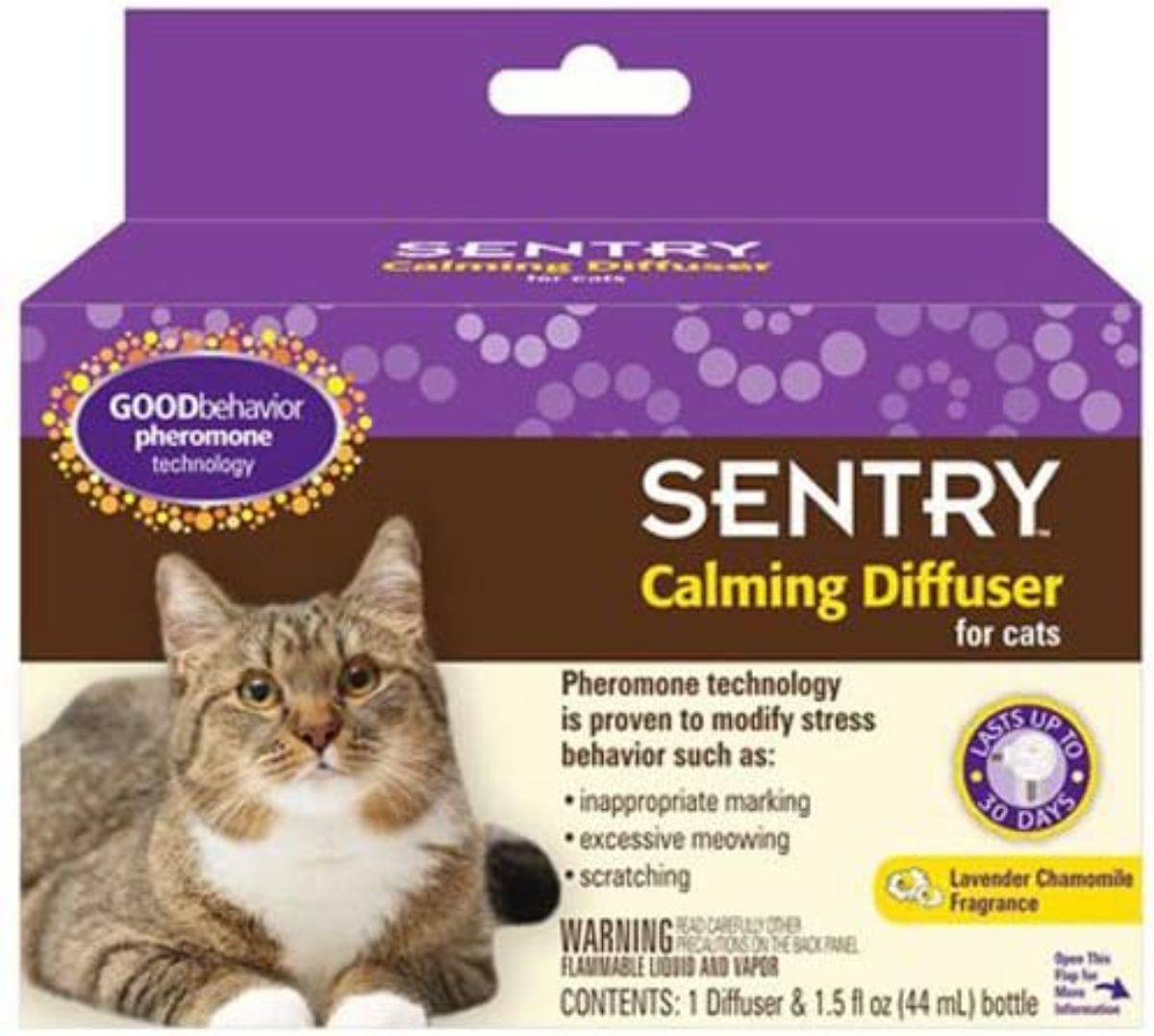 The Sentry Calming Diffuser is designed for single-cat households. Like other diffusers, it releases soothing pheromones to help modify stress-induced behaviors.
However, the diffuser stands out from the rest in its sweet lavender-chamomile scent. Most users like the scent, sprucing your home while relieving your kitty's anxiety for up to 30 days.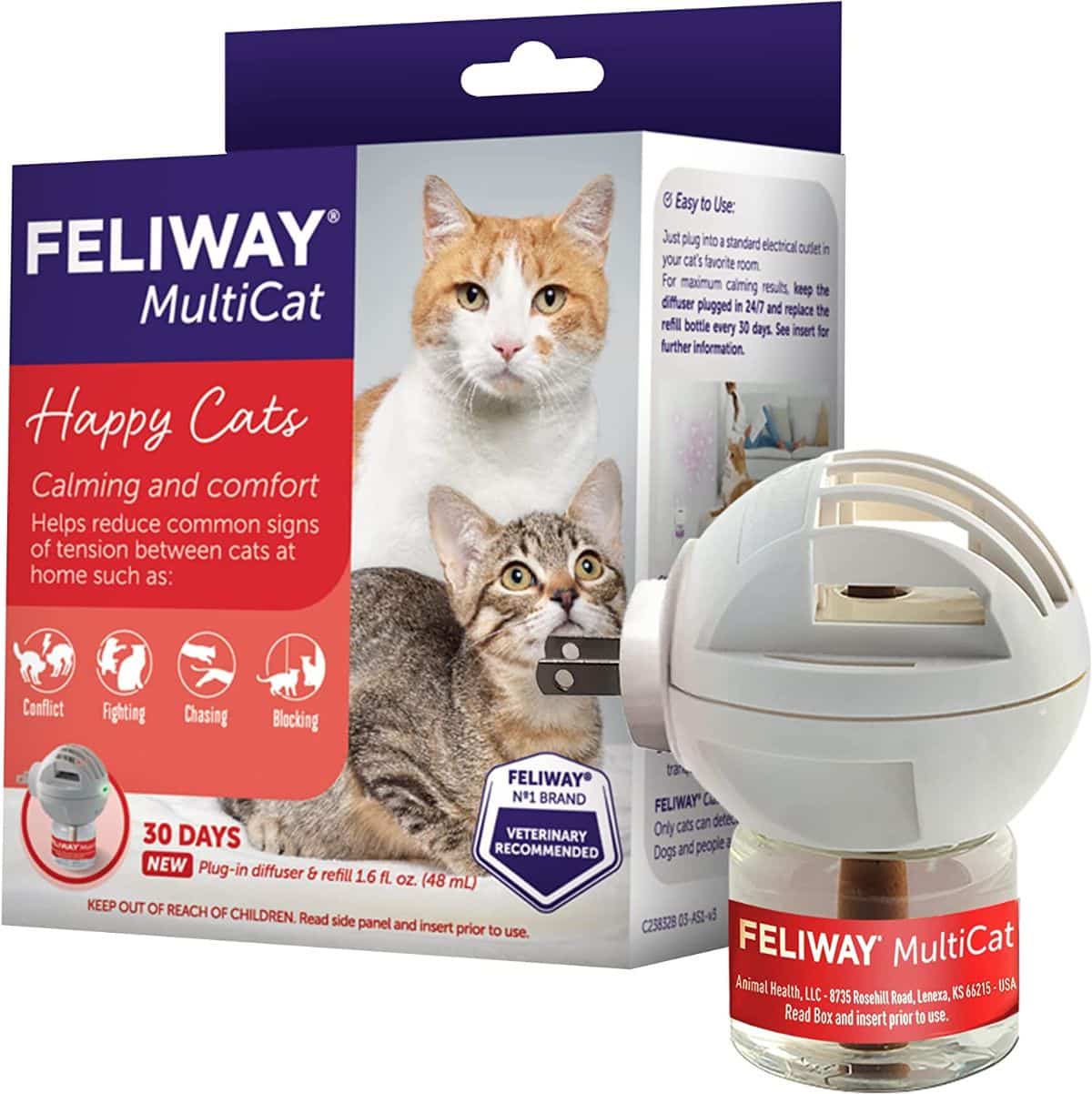 Sale
If you have more than one kitty in your home, the FELIWAY MultiCat is the ideal diffuser for your needs. The diffuser aids in minimizing the prevalent indicators of tension between two or more cats, including hissing, fighting, chasing, and conflict.
The diffuser can spread up to 700 sq. ft and offers up to 30 days of peace in your home.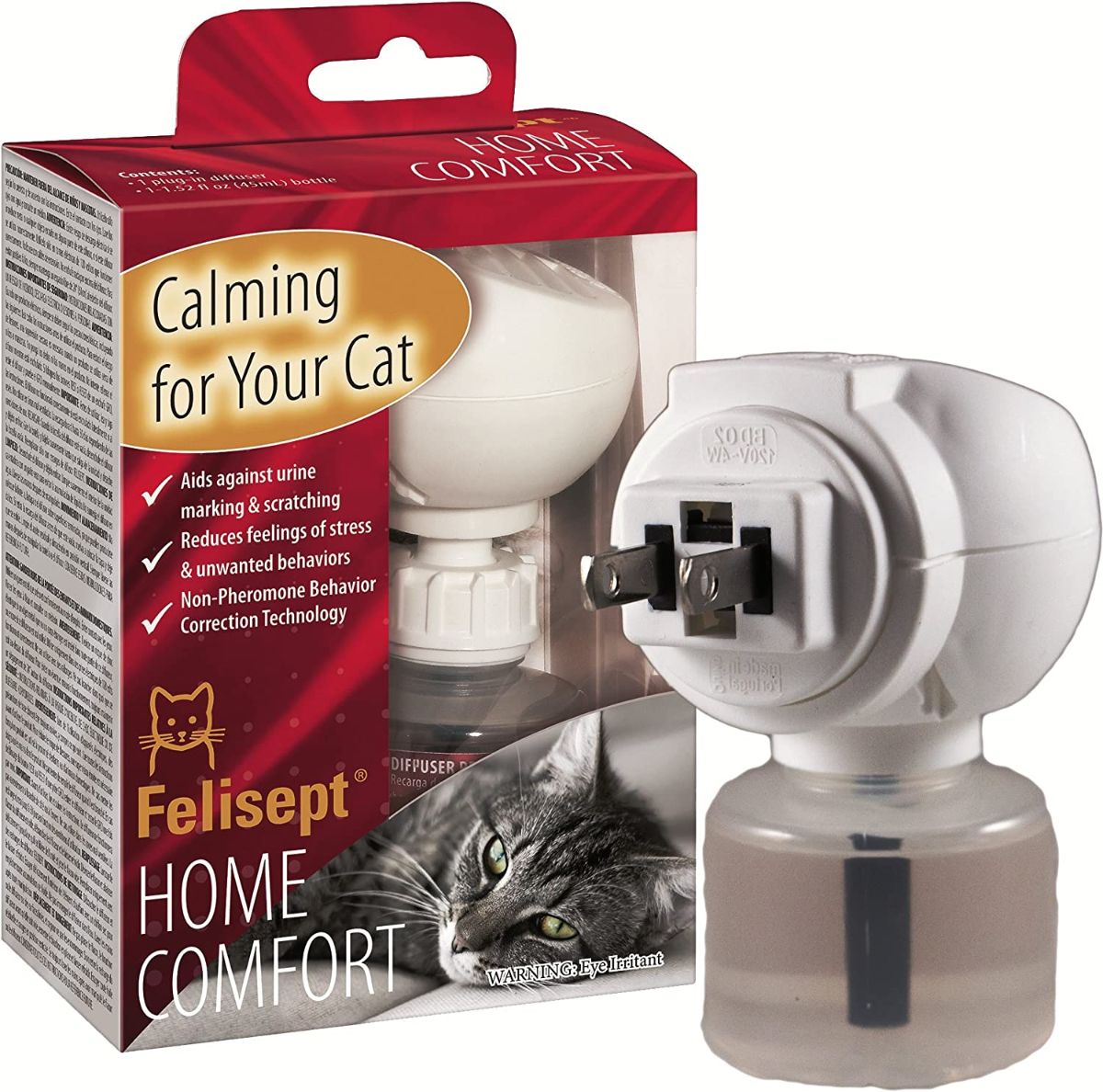 Unlike other cat-calming diffusers, the Felisept Comfort Diffuser doesn't feature synthetic pheromones. Instead, the diffuser contains an organic extract, catnip, to soothe cats and minimize stress-related undesirable behaviors. Felisept's solution covers up to 500 sq. ft and lasts 30 days before refill.
Cat Calming Treats
Cat calming treats are supplements that help your cat feel less anxious, stressed, and fearful. The treats typically contain soothing herbs and clinically proven ingredients to calm the central nervous system.
Here are the best cat-calming treats.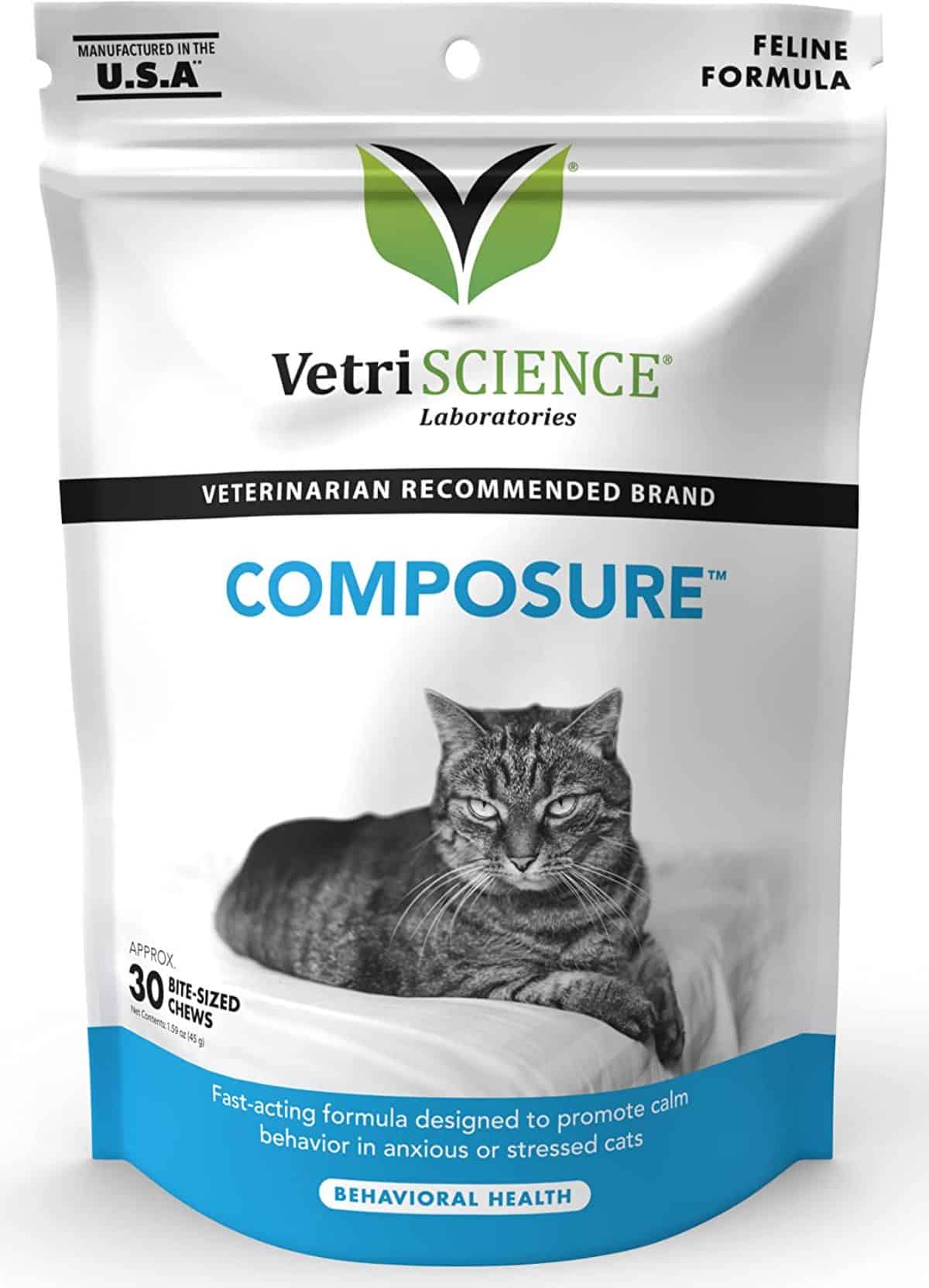 VentriScience Composure treats offer a patented combination of L-theanine, thiamine, and proteins to calm your kitty in as little as 30 minutes.
Besides calming the nervous system, these treats enhance your feline friend's cognitive ability and brain health. The number of chews you administer to your cat will vary with your pet's weight.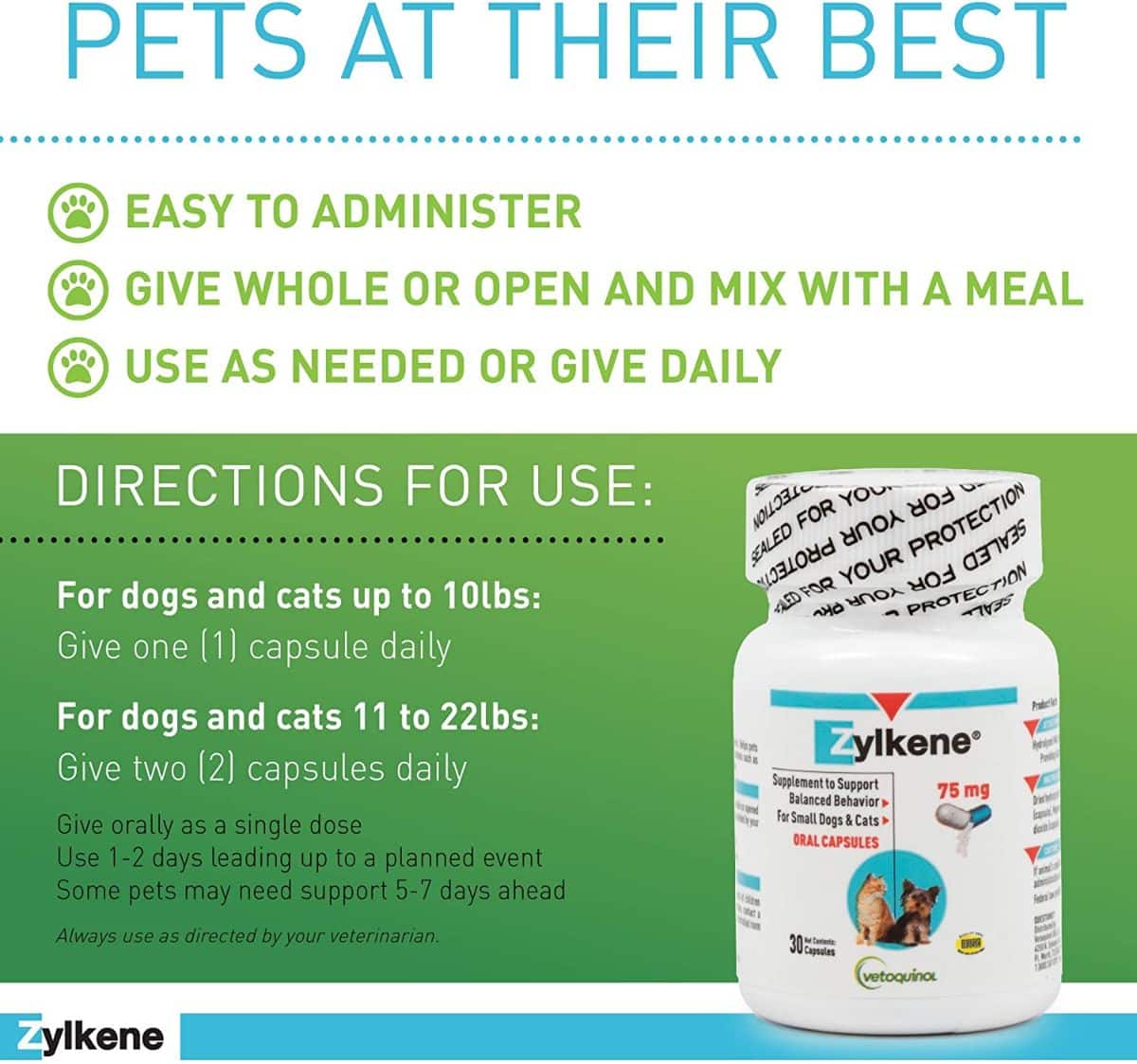 Vetoquinol Zylkene Calming Supplements are made from high-quality natural ingredients that are gentle on sensitive stomachs, lactose-free, and preservative-free.
Zylkene's formula is clinically proven to relieve stress in kitties without the typical drowsy side effect. For the best results, administer the treats a day to two before the stressful event.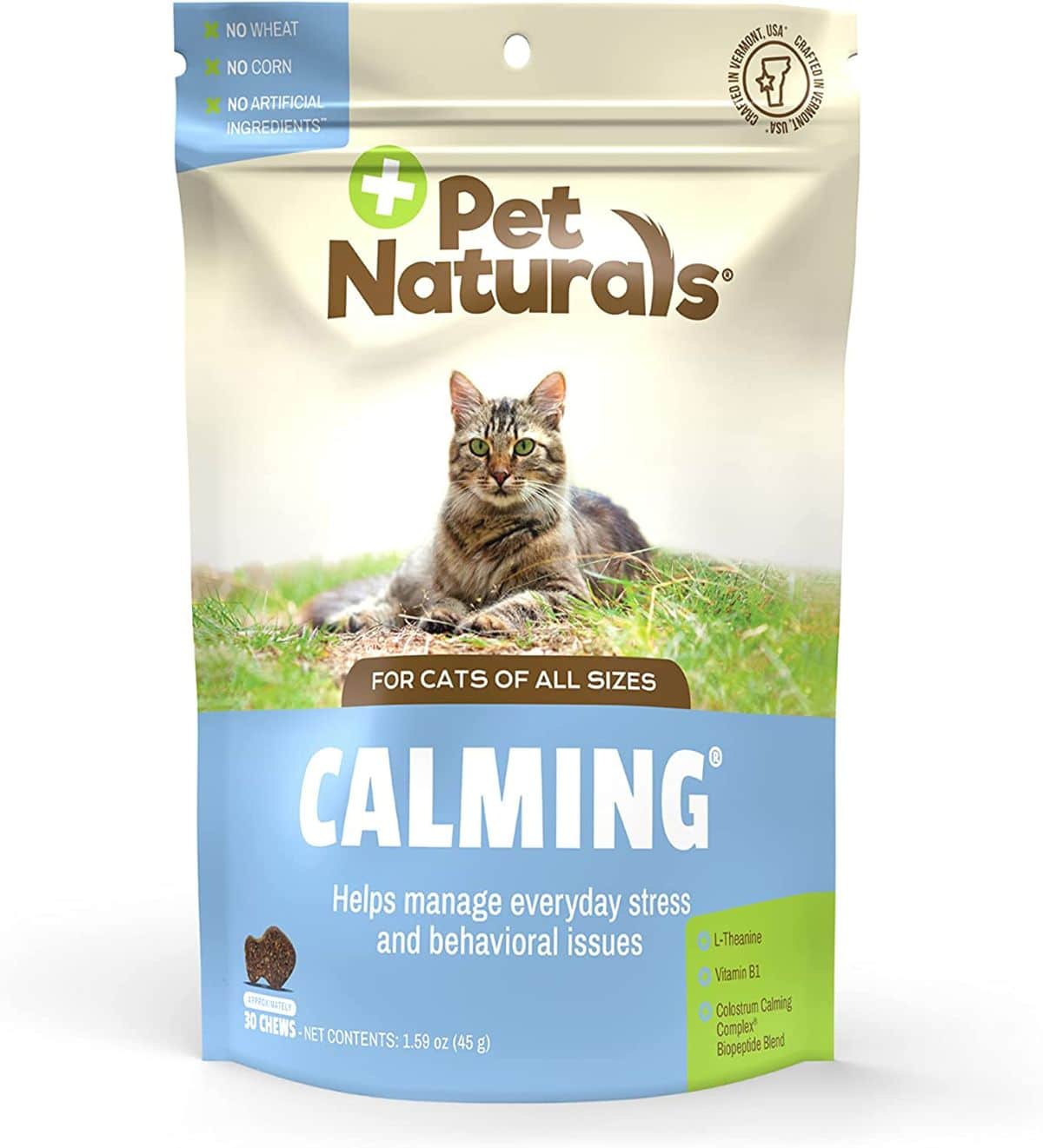 Restore your kitty's chill with these Calming Chews by Pet Naturals. These treats come with three primary ingredients – proteins, L-theanine, and thiamine – that synergize to help relax your cat without the sedative-like side effects.
These chews are easy to administer and tasty to suit the needs of even the pickiest cats.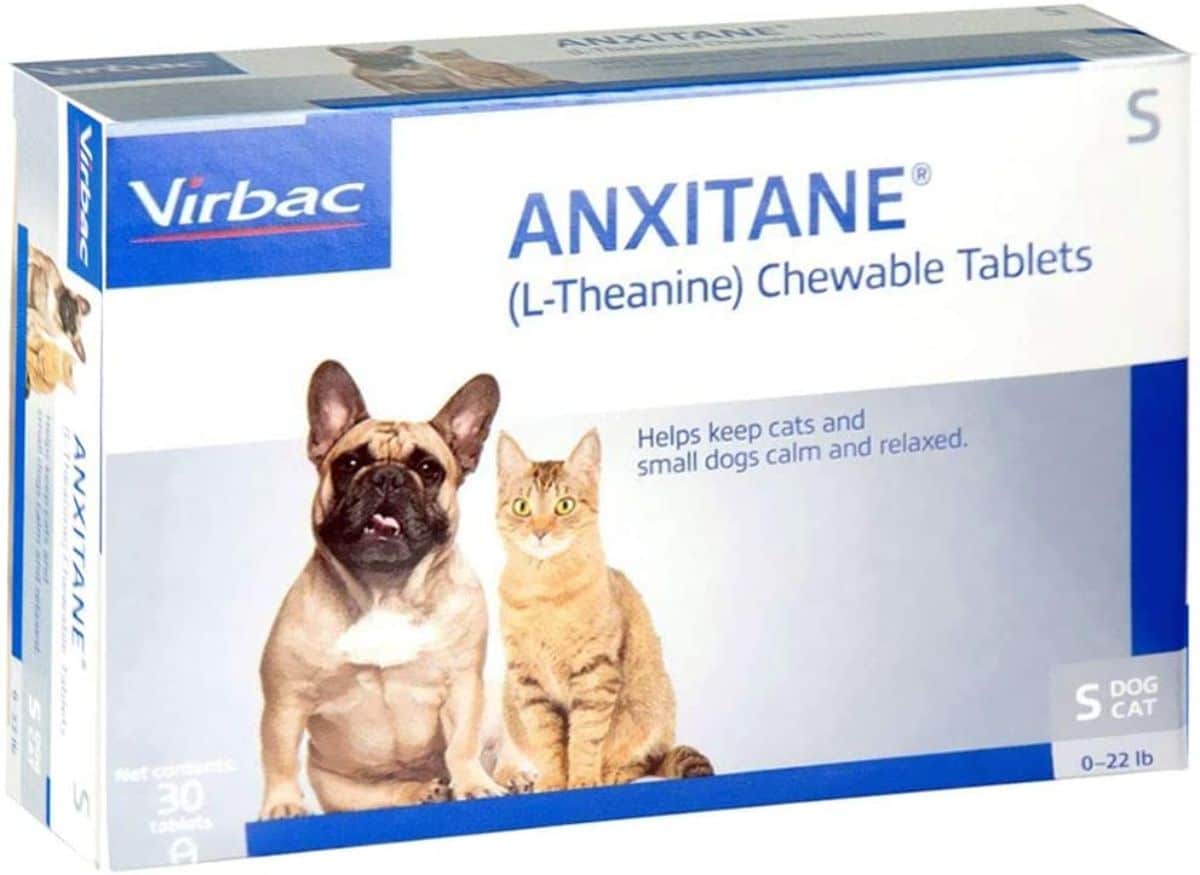 Anxitane Chewable Tablets help bring back calm and relaxation to four-legged buddies that show signs of fear, anxiety, and stress. These clinically proven treats feature L-theanine as the active ingredient that alleviates anxiety in your pet in the long and short run.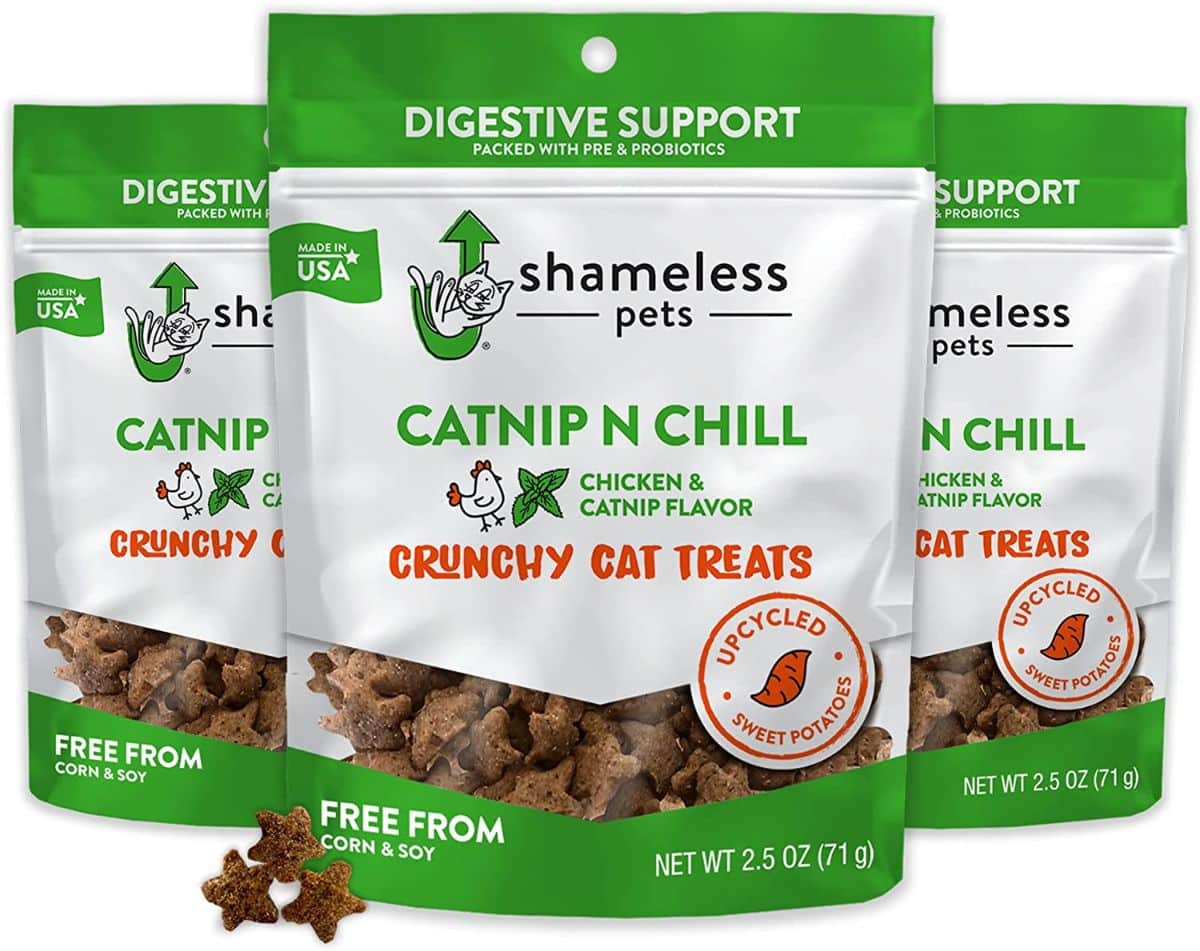 Calming has never been quicker or more delicious. Shameless Pets' cat treats are made from natural ingredients, including:
Chicken
Fresh catnip
Brown rice
Sweet potatoes
Also, these low-calorie cat treats come loaded with pre and probiotics to enhance your furry feline pal.
Frequently Asked Questions
Let's look at some of the most asked questions about calming aids for cats.
What is the best thing for calming cats?
The best way to calm your kitty is to take a multi-modal approach, including eliminating all stress triggers, using natural calming aids, and using anti-stress solutions.
What can I give my cat to calm its anxiety?
To restore calm in your anxiety-ridden kitty, give them vet-recommended and pet-approved cat-calming aids. These aids are available as treats, sprays, diffusers, and drops.
Are CBD products safe for cats?
Yes. CBD is typically safe for kitties, but since the market isn't well-regulated, you can't guarantee the product's quality.
Final Words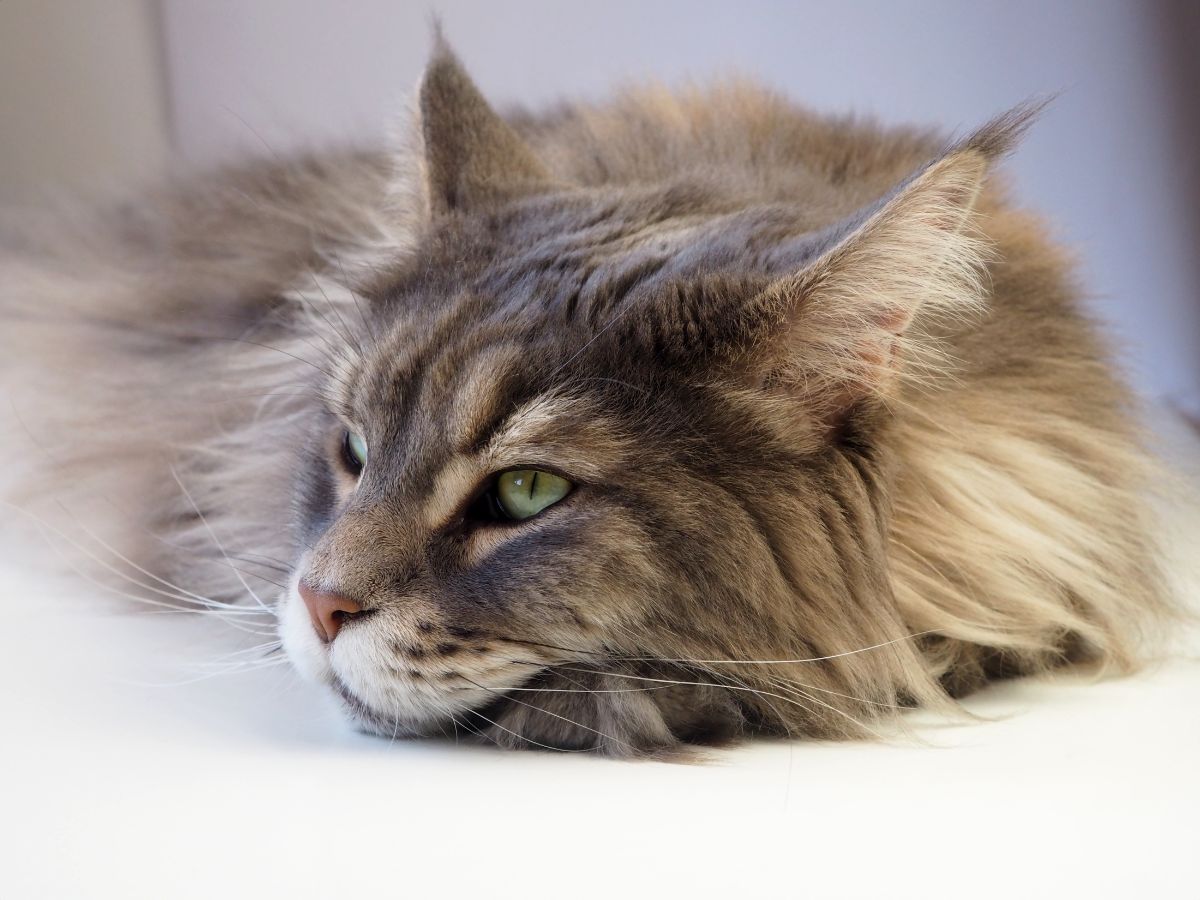 Some factors that trigger stress in cats include boredom, change in routine, environmental changes, and overstimulation from excessive noise and contact. While you can remedy the situation by keeping your cat's environment stress-free, calming aids are handy when environmental change is inevitable.
Don't worry if your feline friend has anxiety; there are several ways to help them feel better. Calming aids are one way to calm your pet, but they don't offer a cure. If you notice prolonged stress symptoms in your kitty, including overgrooming, aggression, and frequent accidents, it's time to seek professional help from a vet.