It's no surprise that Maine Coons are among the most popular cat breeds in the U.S. These friendly, fluffy giants are pretty playful and get on well with people and other pets and animals.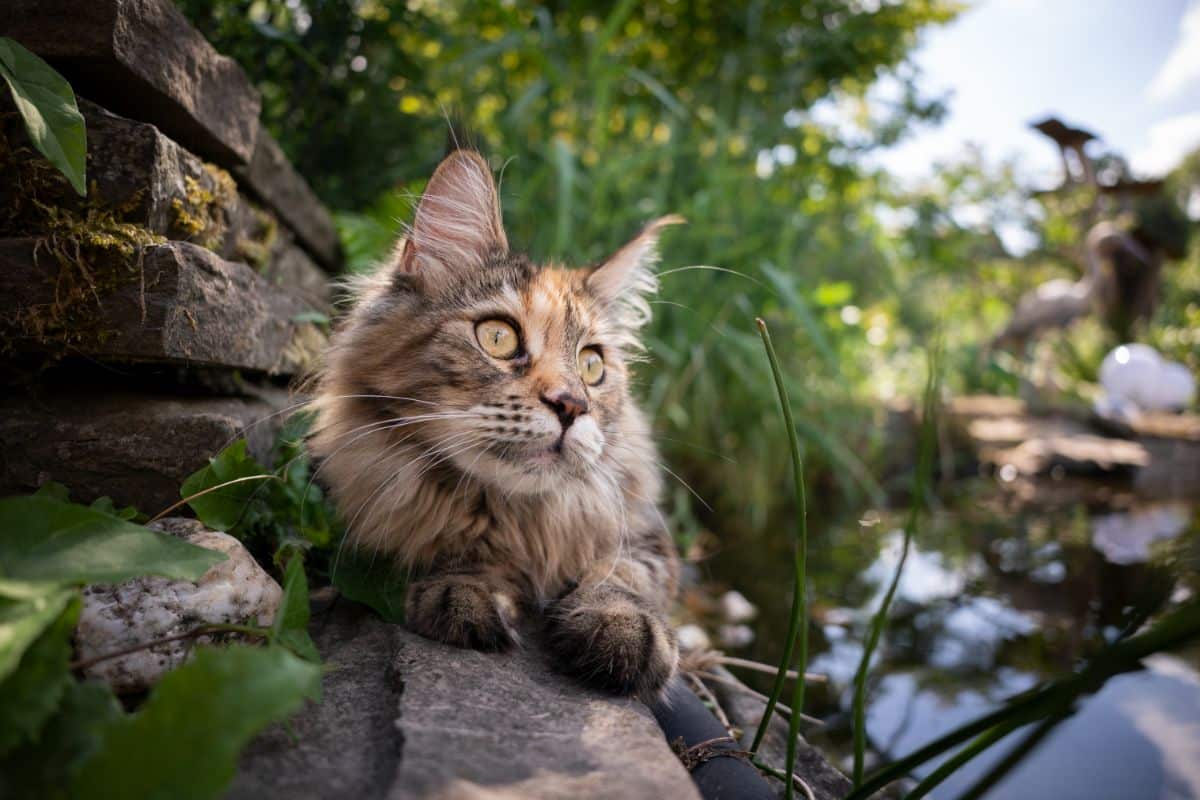 Nonetheless, there's one trait of Maine Coons that frequently surprises owners. These felines adore water.
So, this begs the question, can Maine Coons swim? Read on to learn more!
Jump to:
Can Maine Coons Swim?
Simply put, Yes, Maine Coon cats can swim! There is numerous online footage of Maine Coons swimming around in tubs, sinks, and other water pools.
Unlike other cat breeds, Maine Coons appear to love wetting themselves. They'll dip their paws in their kiddie pools, play with running water, and sometimes join their caretakers in the shower or bathtub.
Their water-repellent fur prevents them from becoming wet like other felines. Besides, the Maine Coon's long tails assist them in navigating and maintaining balance as they swim around.
Do Maine Coon Cats Like To Swim?
Although Maine Coons can swim, this doesn't necessarily imply that they enjoy swimming. Sometimes, mature Maine Coons object to being bathed. Therefore, it's reasonable to presume that not every Maine Coon enjoys swimming.
Often, your Maine Coon will only be receptive to bathing or swimming if its master exposed it to such at an early age. Therefore, you shouldn't expect much success in training your furry feline to swim or bathe if it didn't experience these as a kitten.
If you're going for a stroll with your Maine Coon and it finds a stream, pond, or other water body, it's likely to jump in and have a relaxing swim. This love for swimming allows them to catch fish and other aquatic animals to feed on. So, always try to provide your Maine Coon with chances to go for a swim.
7 Interesting Facts About Maine Coon
Here are other interesting facts about Maine Coons and swimming.
1. They Have an Adventurous and Curious Personality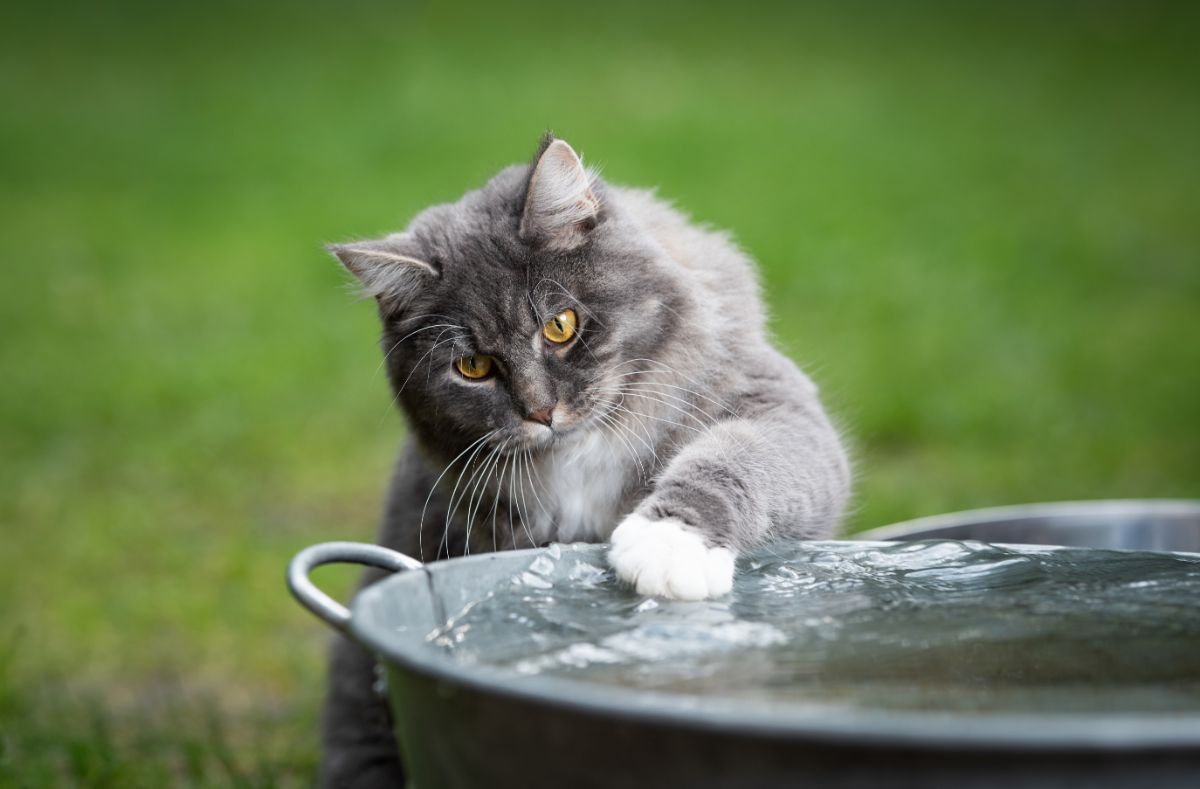 Perhaps one of the most admirable characteristics of the Maine Coon is their inherent curiosity. They're naturally curious felines, which probably explains their affinity for water.
Maine Coons are easily fascinated by running faucets, fish tanks, showers, toilets, and even puddle pools. They'll find it difficult to resist those amusing reflections, intriguing sounds, and water's movement!
Maine Coons are also quite daring cats. Unsurprisingly, they won't hesitate to explore the large puddle in your yard since they adore adventure and are always ready for a new challenge. Your cat will, therefore, not hold back splashing any water pool it comes across.
2. They Have Water Resistant Fur
Maine Coons are native to The Pine Tree State and can endure harsh frigid winters. Their coat has three layers; two undercoats and one guard coat. The undercoat shelters their bodies against hard winters, whereas the outer coat is water-resistant, making it suitable for snow.
The Maine Coon's fluffiness is, therefore, more than simply for aesthetic purposes. The fur keeps your cat warm during cold climates and dry in wet environments. This means your Maine Coon doesn't need to worry about its coat becoming wet once it leaps into a pool or plays with a sprinkler.
3. They're Huge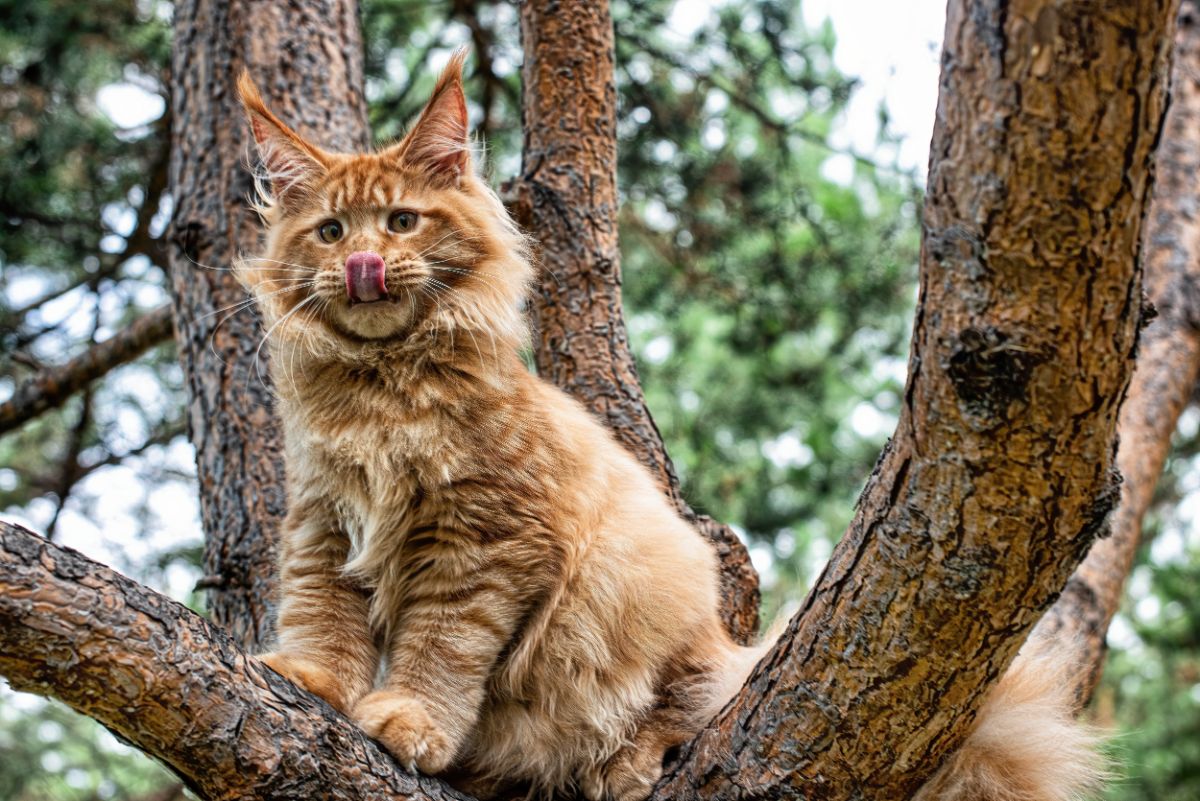 One of the most distinctive characteristics of Maine Coons is their huge size. They reach maturity in about two years, unlike other cat breeds that mature in one year. While the other house cats rarely exceed 10 pounds, a Maine Coon can reach 25 pounds!
This huge build allows your Maine Coon to remain afloat in water easily. They can swim longer distances with little training than the average human.
4. They Have a Friendly & Playful Nature
If you'd like to bring a family-friendly feline into your household, your best bet is the Maine Coon. These cats are lovable and will get along well with other pets and people in your home. You might assume that their huge size reciprocates to their character, but contrarily, they love cuddling and will often follow you wherever you go.
You might notice your Maine Coon following you into the pool while swimming. Sometimes you'll find your cat resting in your bathtub, splashing the water, or even sitting in your sink. These cats' playful nature ensures they follow the lead when you start swimming.
5. They're Quite Intelligent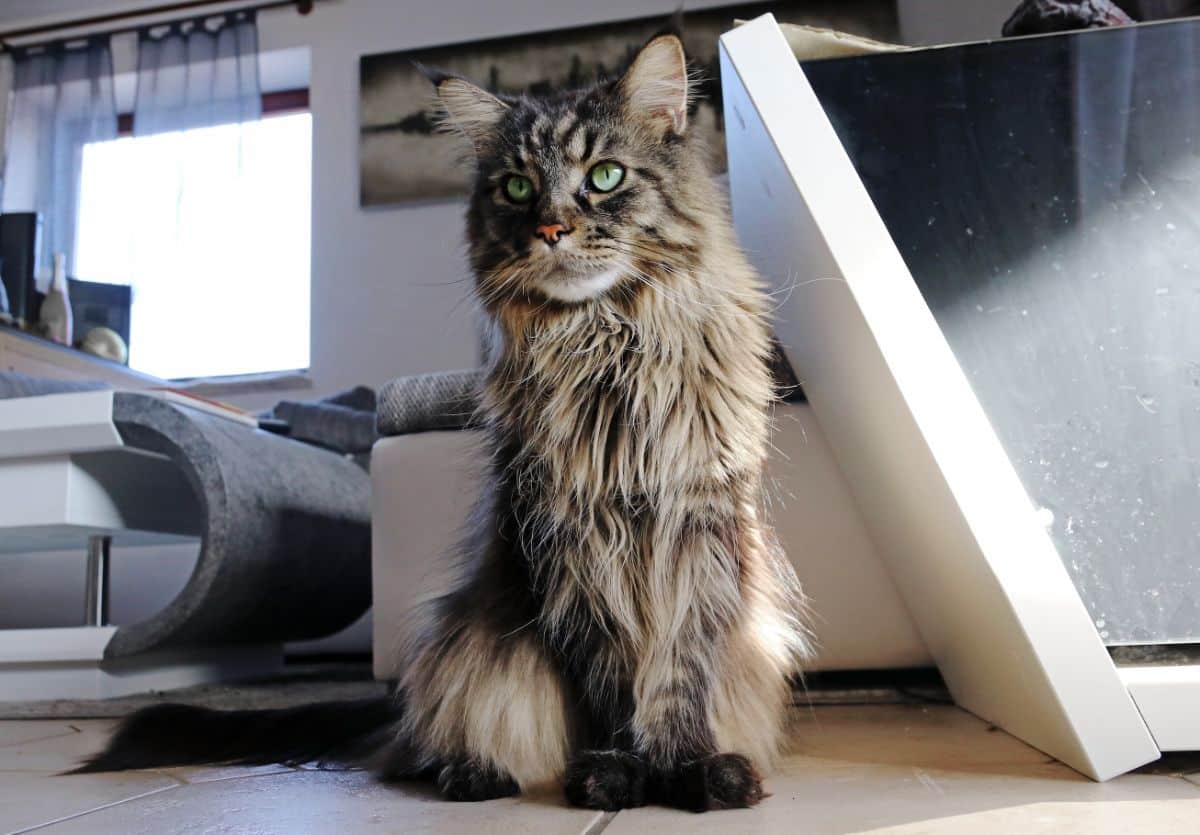 Maine Coons are intelligent felines. Combined with their desire to please their owners, these cats can quickly learn new tricks and commands. However, don't expect your cat to respond as fast to these cues as dogs do, as they are incredibly stubborn and can get distracted easily.
The intelligent nature of these cats means you can easily train them to swim. It won't take long before your Maine Coons learn how to swim, especially if they're still young. Providing treats or rewards after a swim also builds a positive attitude towards swimming for your cat.
6. They Have Intriguing Origins
Maine Coons have a rich history, with numerous folk tales revolving around how this breed came about. The most practical theory is that these cats are descendants of long- and short-haired cats introduced to America by European sailors or Vikings in the 1700s.
Genetic studies support that the parent breeds for the Maine Coon are likely the Norwegian Forest Cat and an unknown extinct breed, making the Vikings story closer to the truth.
The Norwegian Forest Cat loves water, so it's safe to assume that's the reason the Maine Coon loves water as well. Besides, you'd expect that during the long voyages in the Viking era, these cats hunted for food and spent significant time at sea. So, you can expect they are good swimmers, and your cat can dive into a pond if it senses there's a catch!
7. They Have Webbed Feet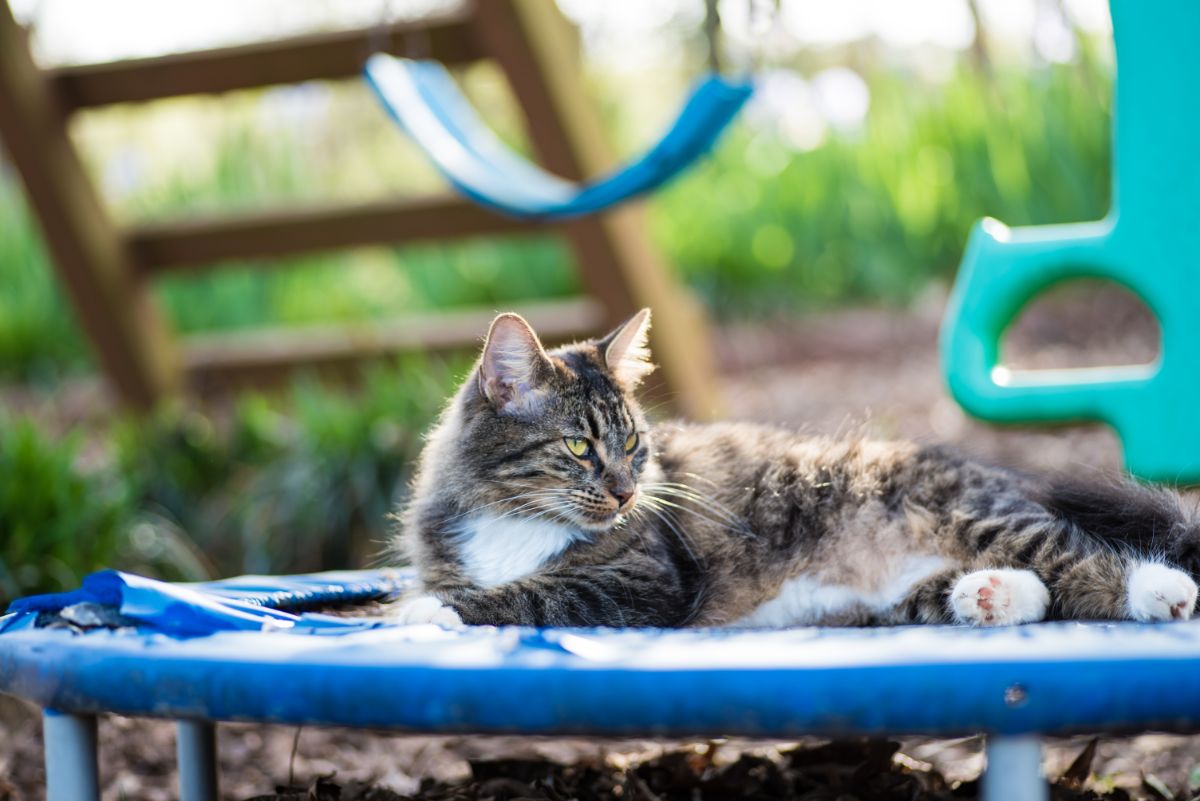 Like other domestic cats, Maine Coon possesses webbed feet. But the feet webbing isn't consistent like with ducks and frogs. For the Maine Coon, they inherit partially webbed feet.
Most people, unfortunately, won't recognize these webbed feet because they're covered in fur. The webbed feet help your cat swim, and with their long tails, it's easy to maintain balance in the water.
Conclusion
Ultimately, these fun stats concerning Maine Coons add to the numerous reasons they're so adored and are expert swimmers.
If you're seeking a one-of-a-kind companion who enjoys swimming, strolling, and has a warm temperament, the Maine Coon is your best bet! Huge and adorable, these cats will melt your heart.