Cats love vertical spaces. They're a fantastic way to enhance a domestic environment without sending your cat outside.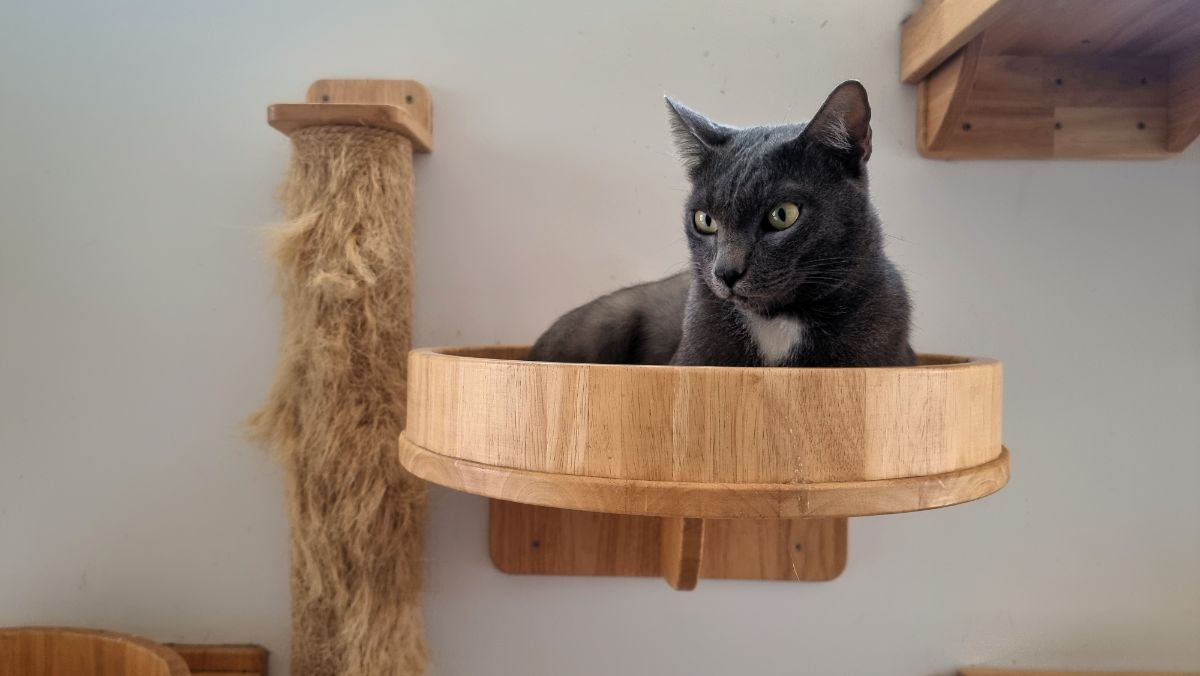 But not everyone wants a cat on their countertop or even on a bookshelf, where they might knock things over.
Luckily a variety of unique cat shelves can help enrich your cat's home environment.
Jump to:
7 Unique Cat Shelves Your Feline Will Love
When selecting a unique cat shelf that suits you and your cat, there are several options. Here are some of the best for you to consider.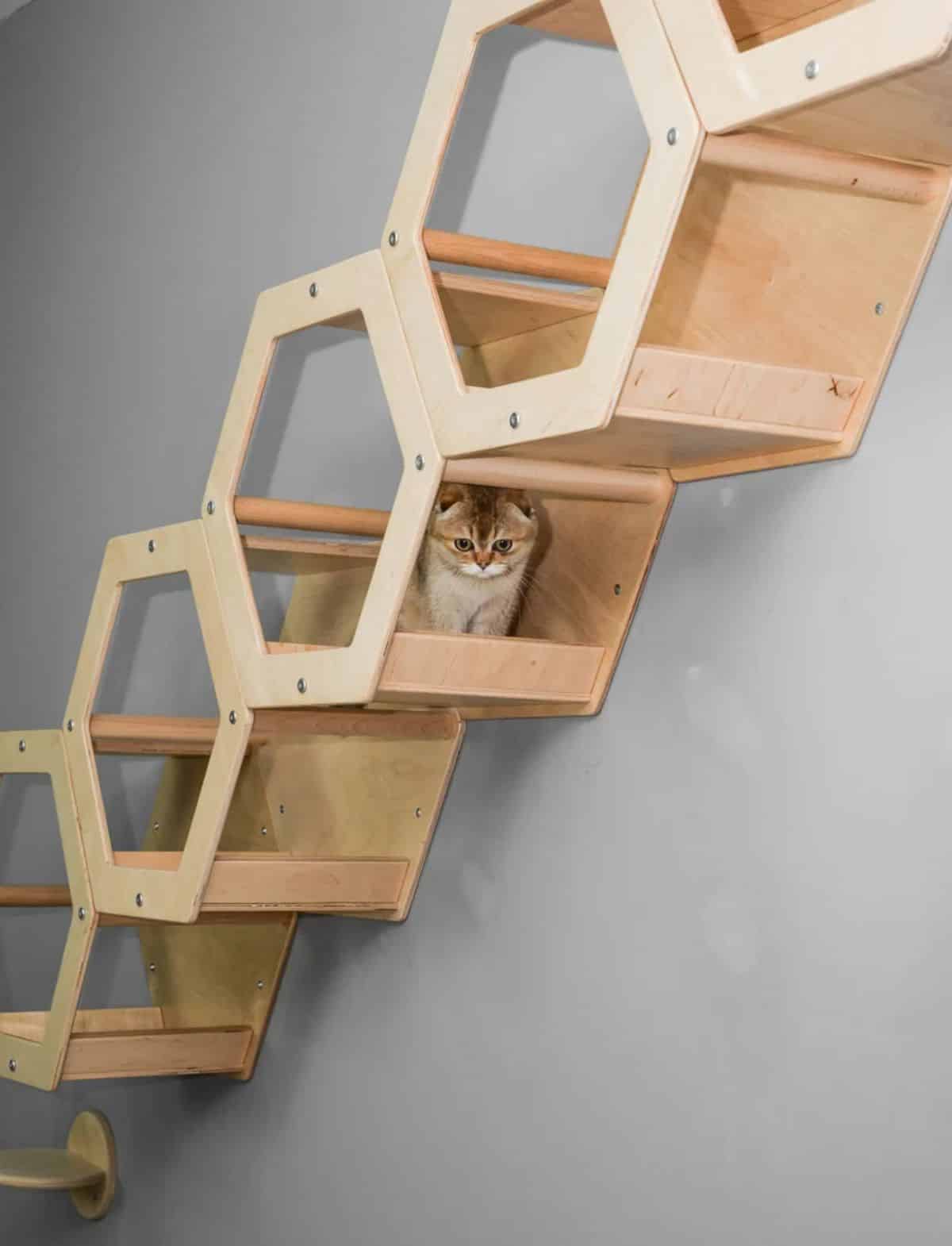 This cat shelf features four hexagonal pieces. When affixed to the wall, cats can walk between them or perch or sleep in individual boxes.
It's ideal for multi-household cats where the animals regularly compete for purchases. It's also an excellent way to add space to your house and extend your cat's territory.
The wood is carefully sanded and made from eco-friendly wood. However, while the assembly instructions are clear, less handy cat owners may struggle to interpret them.
Pros:
Eco-Friendly
Well-made
The enclosed shelf appeals to cave-loving cats
Cons:
Expensive
Requires assembly
This cat hammock is considerably less expensive than some of the handmade shelf options. It's also ideal for the cat that enjoys lounging in the sun.
It features two hammocks and two 'bridge' type pieces to connect them.
However, it's not suitable for cats that enjoy perching on shelves. The hammock nature doesn't readily support the classic cat 'loaf,' and the road pieces don't have the room to perch comfortably.
Pros:
Includes wall-based hammock for relaxing
Several pieces for a range of climbing activities
A hammock can accommodate multiple cats within reason
Cons:
Perches are better for walking than perching
Installation can be challenging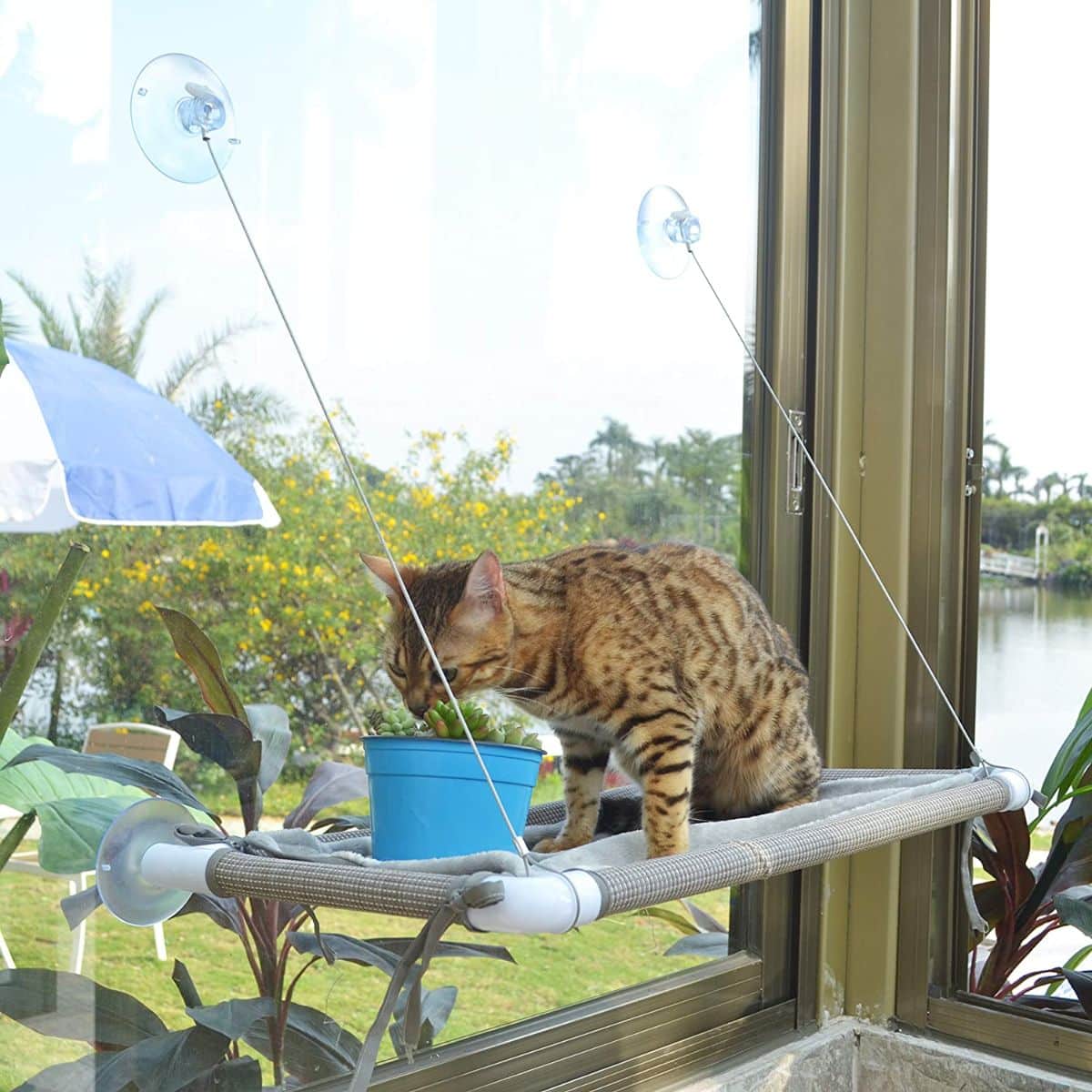 Sale
Another variation on the cat shelf is the window perch. Pupagree's Window perch attaches to your window using powerful suction cups.
It doesn't offer the same climbing options as wall-mounted shelves, but it's perfect for the cat that enjoys sleeping in sunspots.
The frame is deceptively strong, and the hammock is easy to clean.
Pros:
Cleans easily
Durable
Affordable
Cons:
Less climbing potential
Not suitable for cats heavier than 15lbs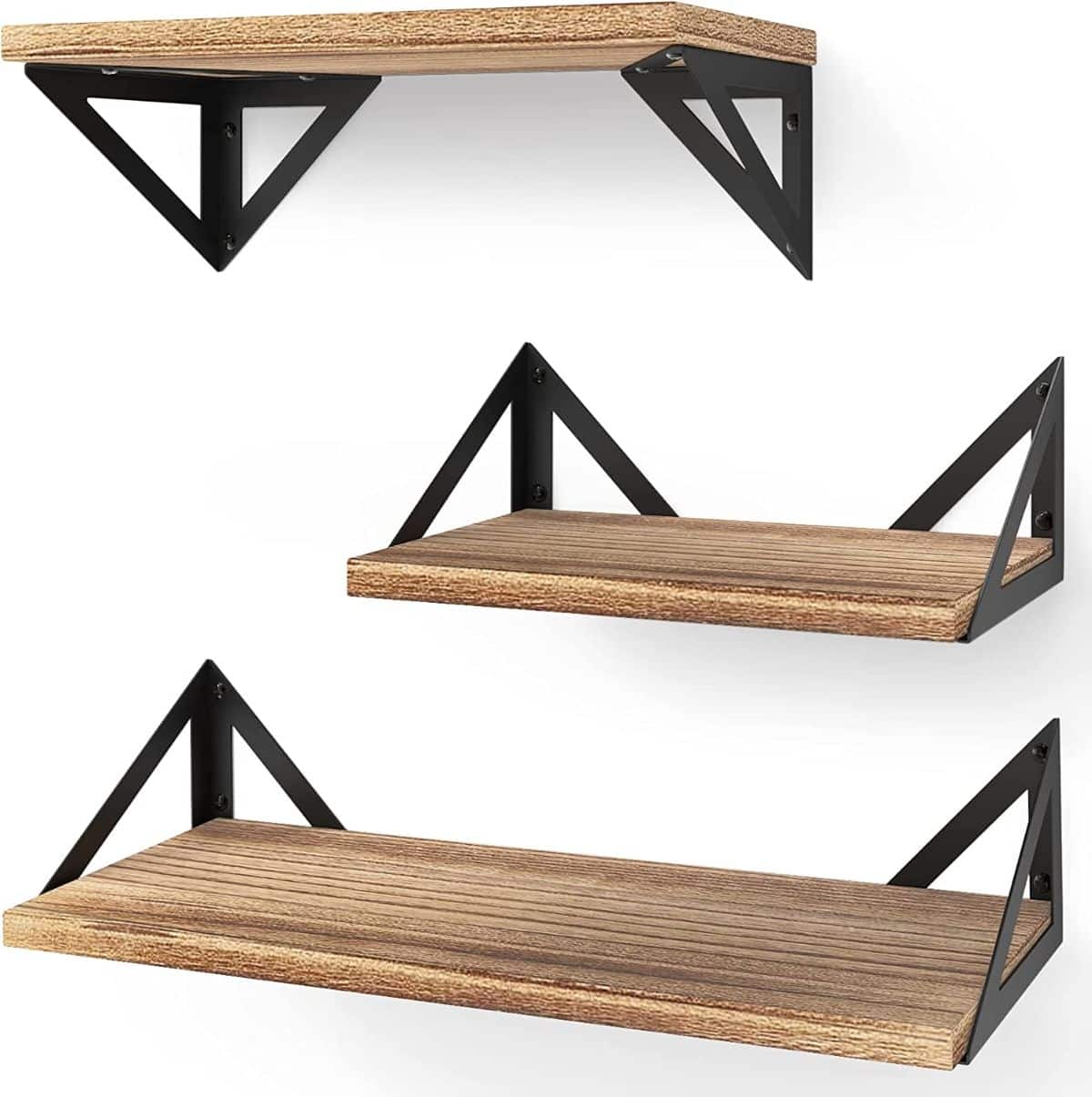 BAYKA Floating Shelves for Bedroom Decor, Rustic Wood Wall Shelves for Living Room Wall Mounted, Hanging Shelving for Bathroom, Laundry Room, Small Shelf for Plants, Books(Brown,Set of 3)
Magically Transform Your Walls with Our Floating Shelves: Tired of placing stuff around horizontally? Try vertically! Make full use of the empty places up above the table and create versatile storage space to organize your fancy items. With a snap of your fingers (kidding, you have to install the wall shelves), your messy living room, bedroom, bathroom and kitchen will be given an entirely new look.
Floating shelves are ideal for cats that like to climb. They're sturdy, long-lasting, and long enough that your cat can comfortably turn around on them.
They aren't carpeted, but they still offer a comfortable perch, especially when the sun hits them.
There are several ways to assemble them, which allows you to tailor the cat-friendly décor to your taste. However, some customers found the many options that made interpreting the instructions challenging.
Pros:
Multiple assembly techniques
Ample climbing opportunities
Comfortable perch that the cat can stand up and turn around safely
Cons:
Instructions can be confusing
Shelves may not support heavier cats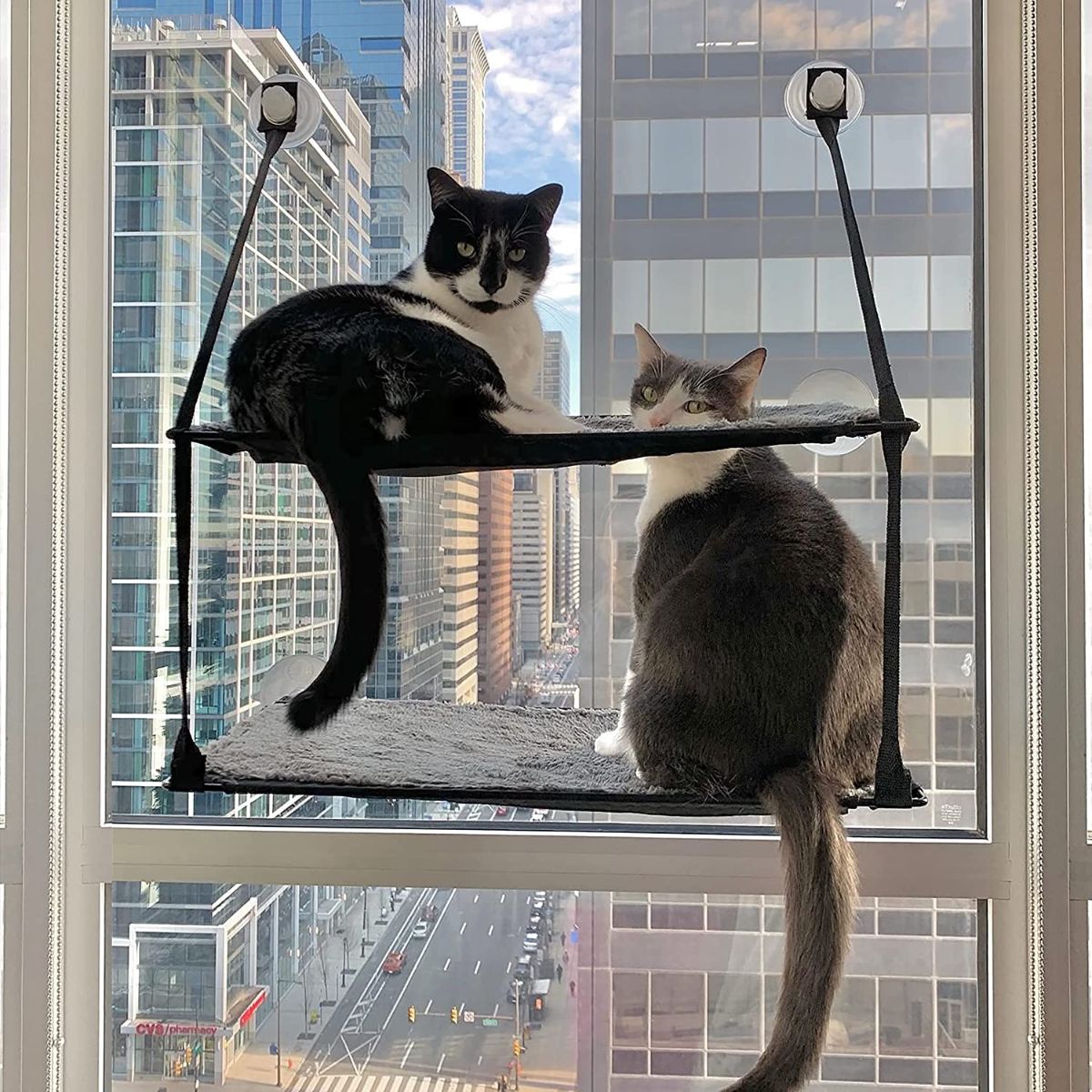 The K&H EZ Mount Window Perch is another variation on the window cat shelf. What stands out about this model is that it's available in several styles.
The different stacking options allow more vertical climbing space for your cat. They also accommodate multiple cats, making them ideal for a multi-cat household.
Pros:
Affordable
Multiple perch options
Additional vertical space
Cons:
Not durable
Determined cats may chew through cables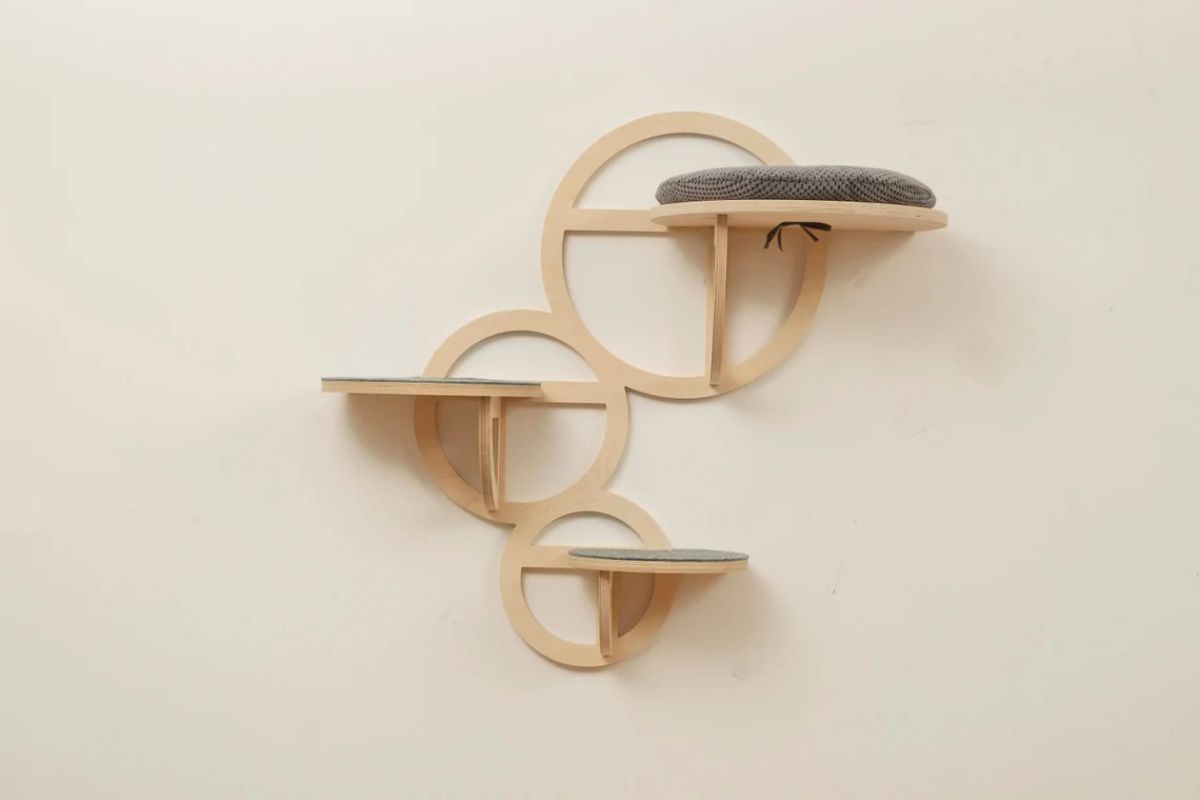 The Bubble Shelf for cats is both a climbing apparatus and a cat bed.
The design is elegant, and the polyester cushion offers somewhere comfortable for your cat to sleep without impeding its ability to jump.
The shelves are made from sturdy birch wood and attach to various wall materials for a secure, cat-friendly perch.
The number of cat shelves also means several cats can use the structure at once.
Pros:
Durable
Includes cushion
Several colors/styles to choose from
Cons:
Expensive
Not be suitable for cats over 30 lbs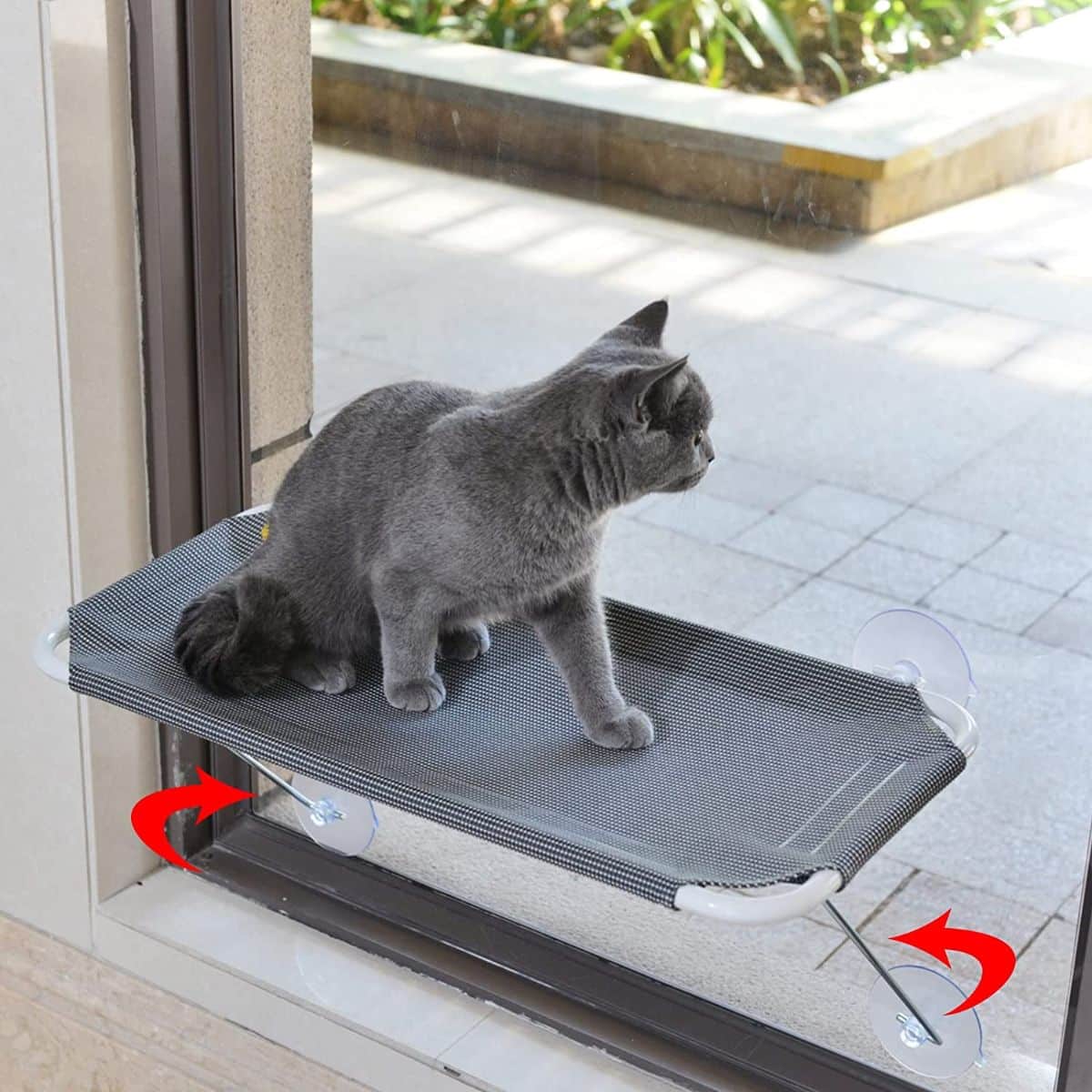 Sale
The All Around Sunbath and Cat Window is an excellent way to encourage older or arthritic cats to exercise gently.
It sits lower on the window, making it easy to access for any cat. It's also a sturdy cat shelf that comes in several styles and colors.
The seat cover is machine washable and easy to remove. However, some customers found it difficult to assemble and said the suction cups were tricky to the position.
Pros:
Cons:
Suction cups tricky to position
Instructions hard to interpret
FAQs
Here are other questions people ask about cat shelves.
Are cat wall shelves safe?
Not only are cat shelves safe, but they are also an excellent way for indoor cats to exercise. They allow your cat to survey rooms and scale heights the way they would in nature.
Provided you follow the installation instructions and ensure the shelves are secure, there's no reason to worry for your cat.
What size should cat wall shelves be?
Cats are acrobatic by nature, but that's no reason to make them walk a tightrope.
A cat shelf should be between 10-15 inches long and at least ten inches deep. That allows your cat to stand up comfortably and turn around. It also gives them ample landing room.
Do cats like cat shelves?
Cats love shelves. There are several reasons for this. Shelves:
Offer a safe retreat
Provide a vantage point to watch for prey/predators
Enables them to assert dominance over other animals
Like people, cats have different personalities. While most cats like shelves, some prefer to stay level with their humans. 
How do you make homemade cat shelves?
So far, we've described various cat shelves you can buy. It's also possible to make your own.
Cut the wood to size, taking time to measure carefully. Remember: Your shelf needs to be at least 10 inches long and deep.
Using wood glue and a stapler, secure shorter pieces of wood to the edges of your 10-inch board. This ensures the edges are smooth and won't give your cat splinters. You may need to hold the wood in place until the glue sets. If there are gaps, apply glue and fill with sawdust.
If you decide to add carpet, now is the time to apply it. You can staple the carpet in place using the stapler. For extra security, you can also glue it to the board.
With the carpet attached, secure your new shelf to the wall using brackets.
What can I use for cat shelves?
If you decide to make your cat shelves, the best materials include:
Sturdy wall brackets
Plywood
Remember that plywood on its own may not be safe for cats, so take a minute to cover it securely with a fabric of your choice.
How do I get my cat to use wall shelves?
Some cats need time to warm up to new cat furniture. To encourage your cat to use their shelves, try sprinkling treats on the shelf or spraying the shelf with catnip spray.
Wrap Up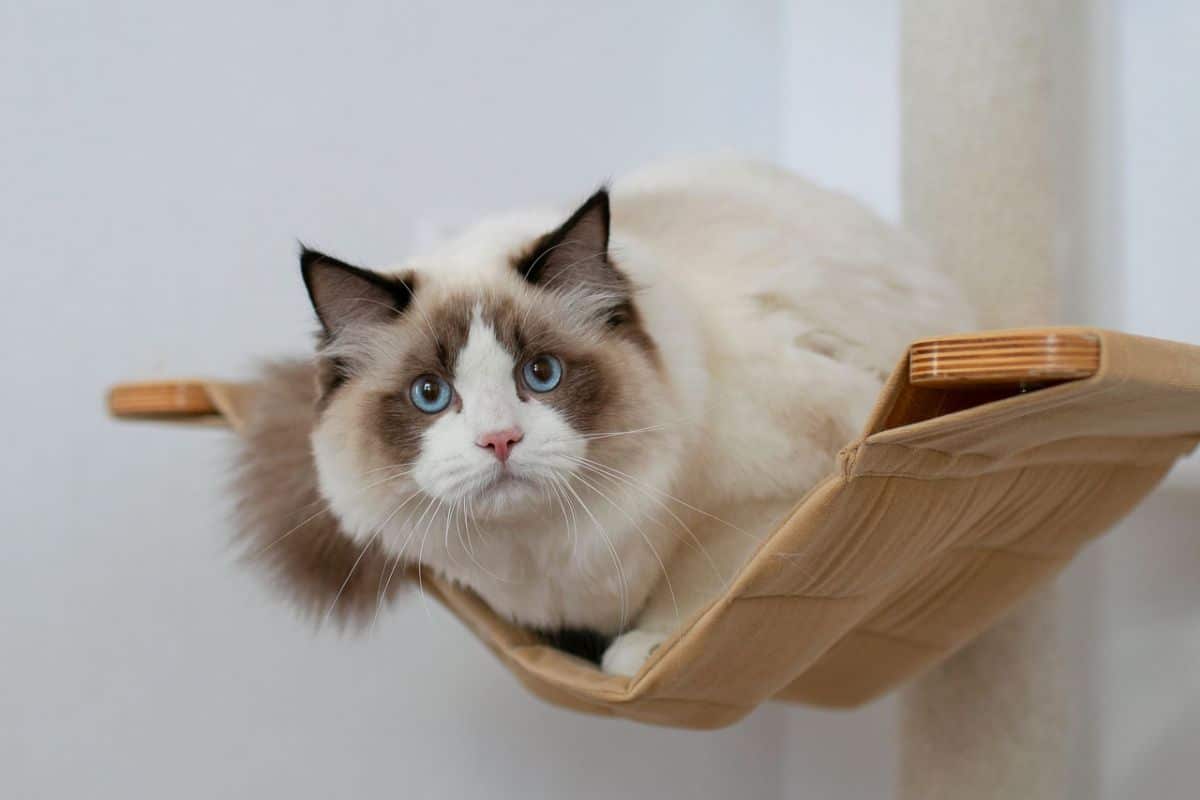 Cats love to climb, and providing them with environmental enrichment is just the first step to having a happy cat. With the above wall shelves, hopefully, you'll find something that's perfect for your feline friend.