A bored cat is a force of nature. When not adequately entertained, they claw your furniture, tussle with the rug, and wreak havoc on your house.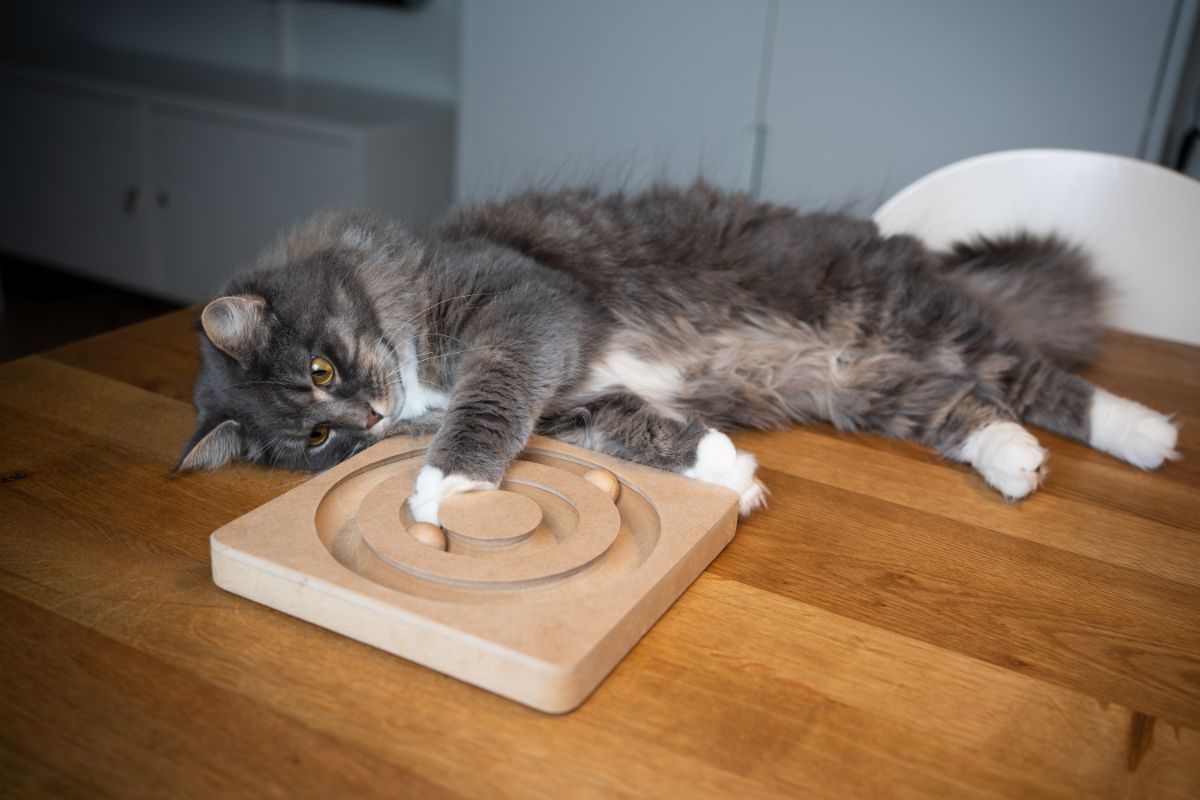 With that in mind, what are the best cat toys for bored cats?
Jump to:
17 Best Cat Toys for Bored Cats
Not all cat toys are created equally. Here are the 17 best cat toys for bored cats. With luck, they keep your cat entertained and your furniture intact.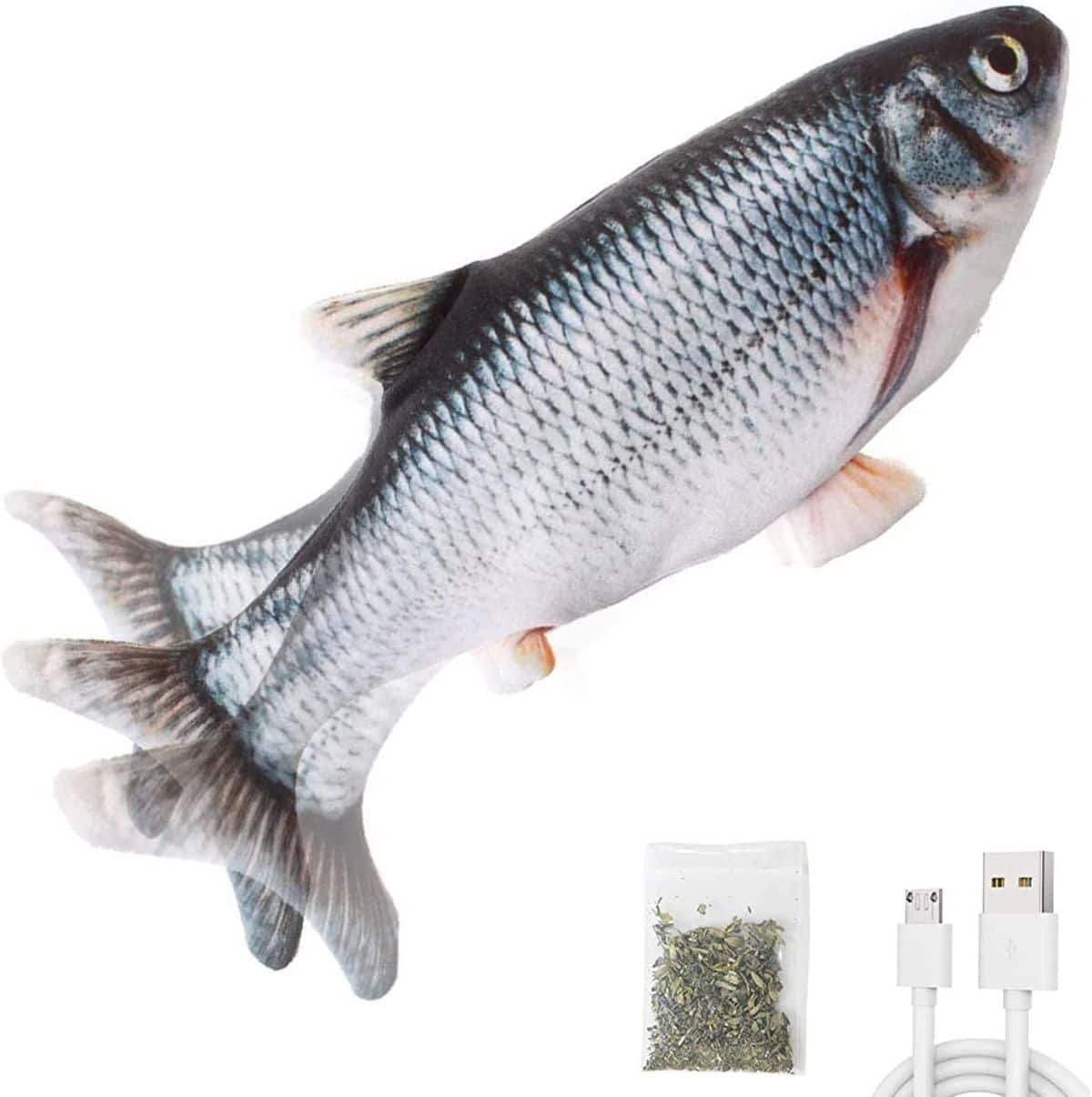 The fish is motion-triggered and responds to poking and prodding from your cat with robotic flopping. It's an excellent way to stimulate a cat's prey drive. And since the fish never does the same thing twice, the unpredictability keeps your cat interested.
Pros:
Fish speed changes to keep the cat guessing
Activated by touch from cat
Designed for kicking/wrestling
Cons:
Can be noisy
Not suitable for nervous/easily-frightened cats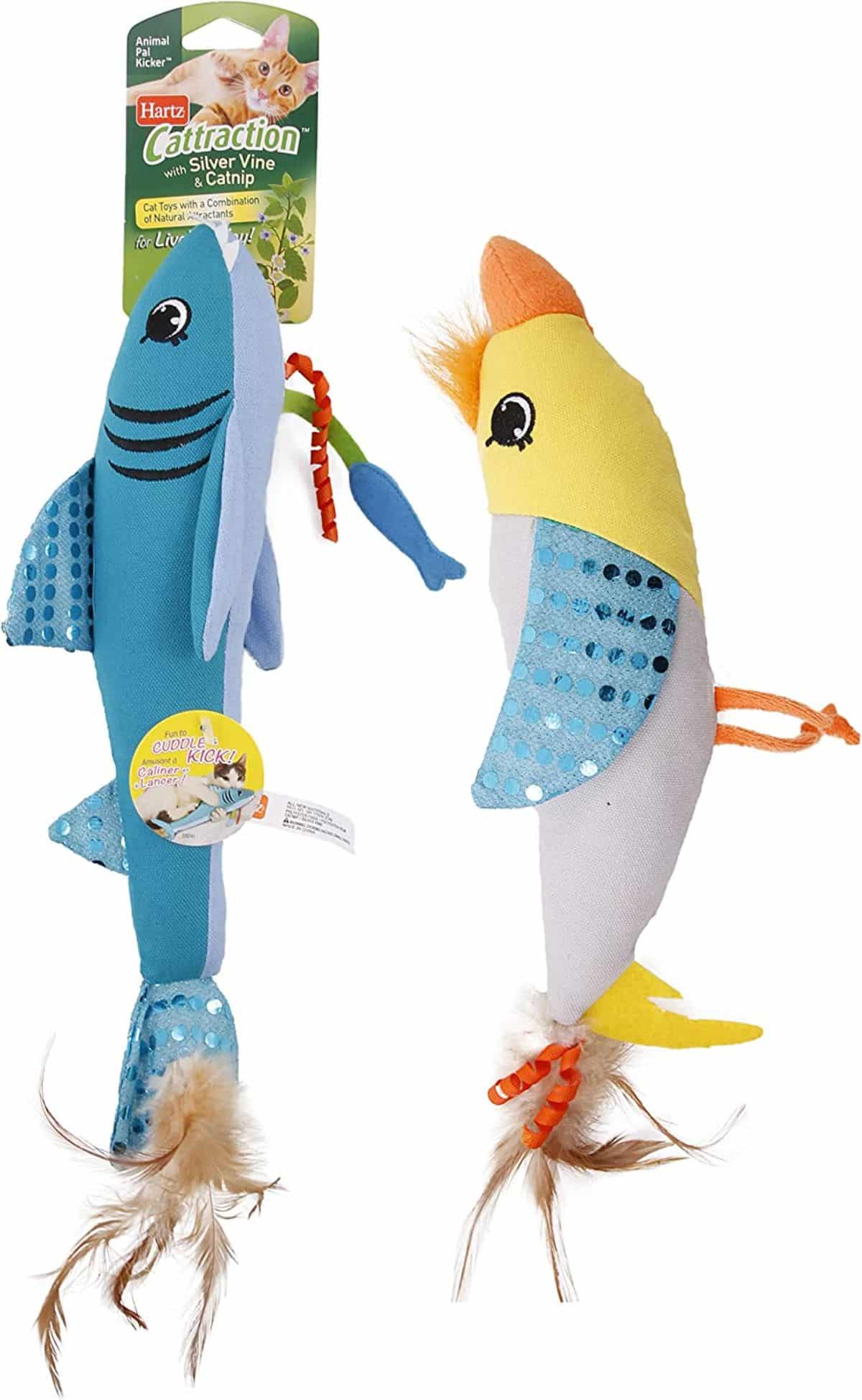 Catnip is notorious for its effect on cats. Less well-known is silvervine, a catnip alternative that's even more potent.
The feathers on this toy make an ideal lure for cats with honed hunting instincts, while the elongated shape is perfect for wrestling.
Pros:
Affordable
Appeals to hunting instincts
Embroidered eyes make for safer play and fewer choking hazards
Cons:
Feathers could be a choking hazard
Nose falls off easily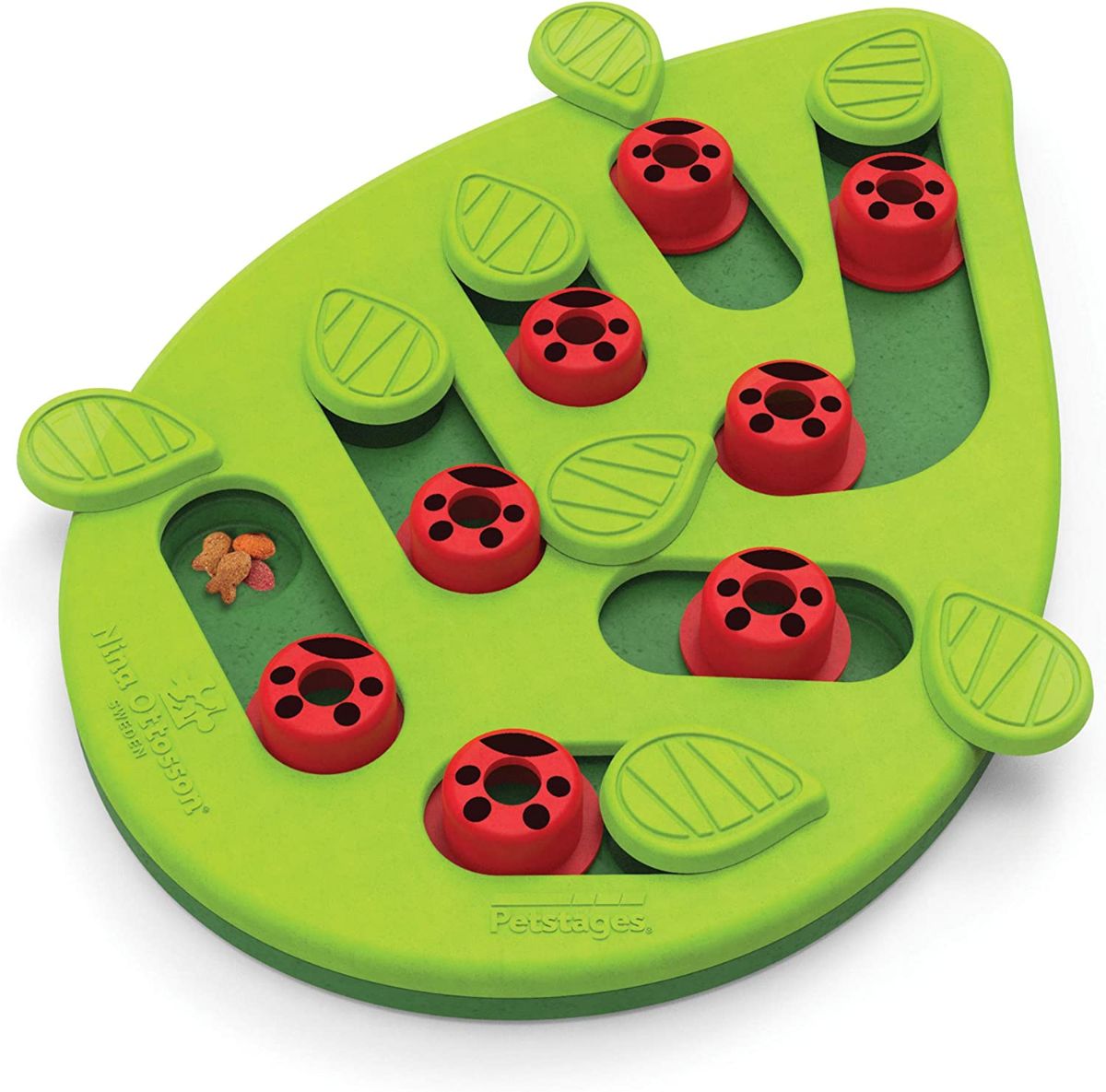 Puzzle toys take a bit of planning because you must remember to stock them with treats before you leave for work. But they are an excellent way to keep a food-motivated cat entertained while you are out of the house.
One of the advantages of the Bugging Out puzzle toy is that it has different levels of challenge.
Pros:
Two puzzle levels for a variety of challenges
Good for food-motivated cats
Affordable
Cons:
Clever cats can solve quickly
Must remember to top up before leaving for work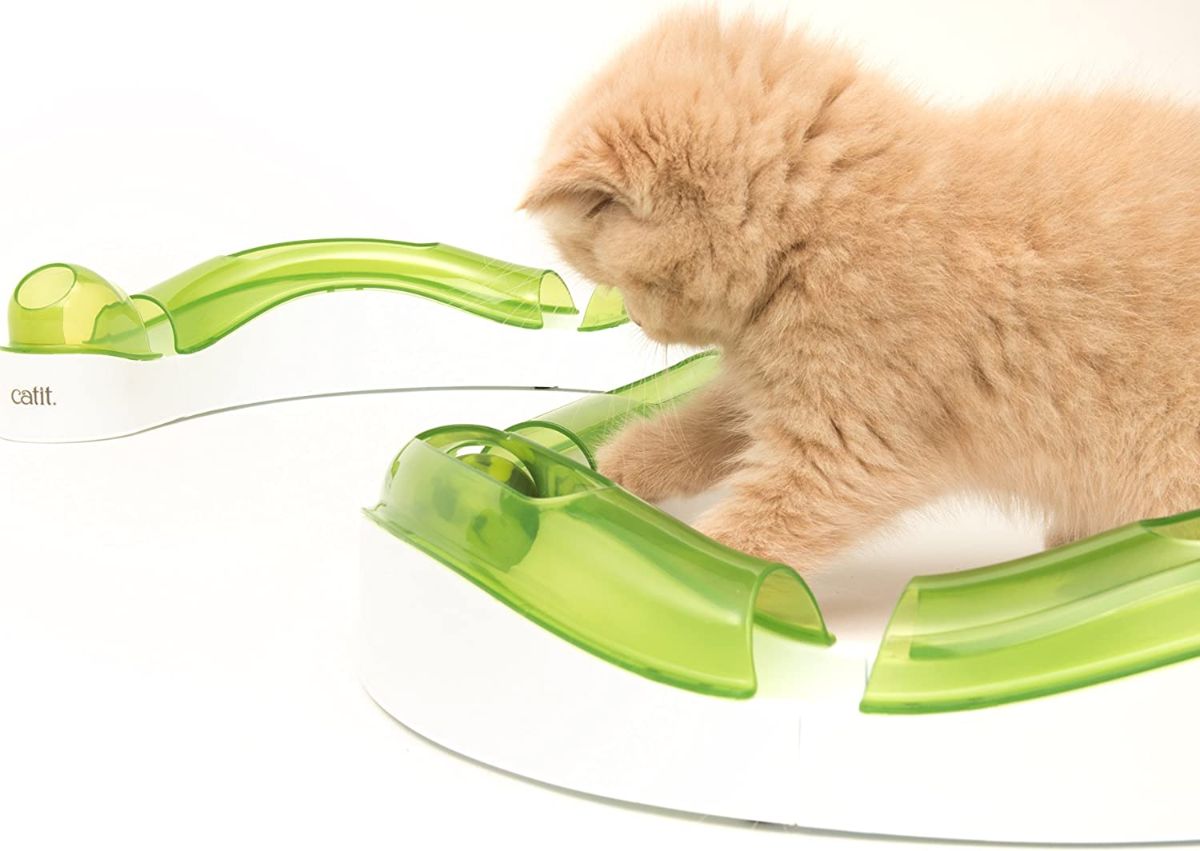 Wondering, 'How do I keep my cat entertained while I'm at work?' Catit Senses is an excellent answer. The toy features a track and a ball that rolls through it.
Leave sections of the tunnel uncovered while your cat learns how to engage with the Catit circuit, and soon they'll spend hours chasing something besides their tail.
Pros:
Variety of set-ups
Uncovering the track offers easier play
Works with Catit Fireball with flashing lights for extra stimulation
Cons:
Ball doesn't roll independently
Takes up significant floor space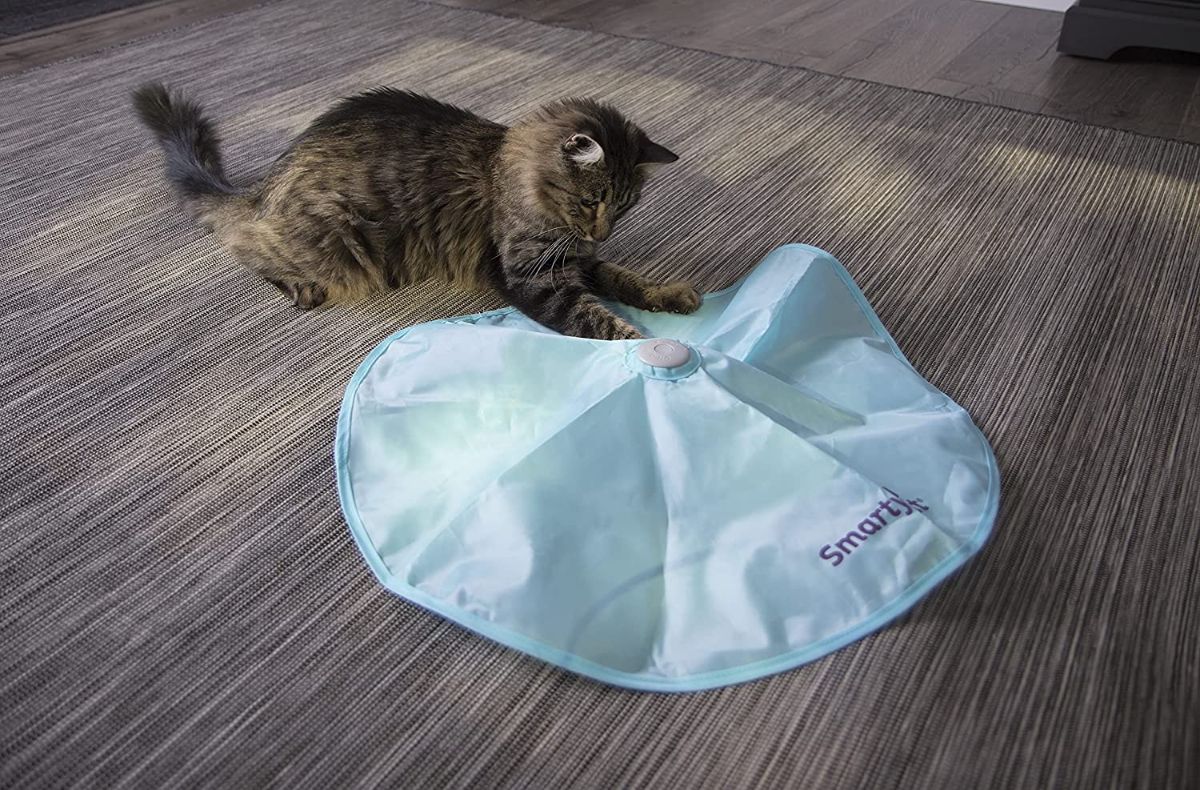 Lure toys like fishing poles are ideal for when you are home to play with your cat. But what are the best cat toys for bored cats?
SmartyKat offers a potential answer with their Concealed Motion Toy. Press the center button, and a lure moves independently around the sheet.
Pros:
Several play speeds
Provides exercise for indoor cats
Stimulates hunting instincts
Cons:
Battery-operated
Must press the button to initiate the toy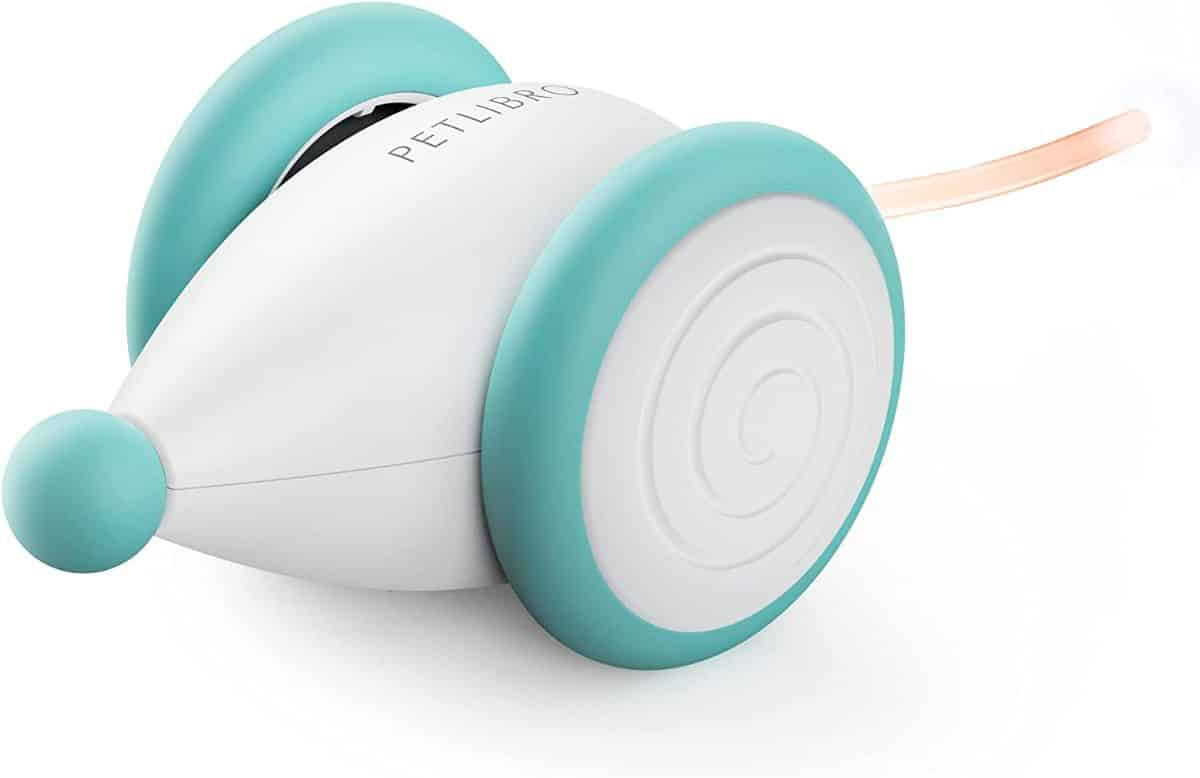 The Petlibro Electronic Mouse is another of the best cat toys for bored cats. Its LED display is safer than a laser pointer and gets your cat's attention. It moves like a mouse navigates obstacles independently.
Pros:
LED is safer than a laser and catches a cat's attention
Moves unpredictably
Autonomously starts and stops, initiating play with the cat
Cons:
Can get stuck under/in front of objects
Requires charging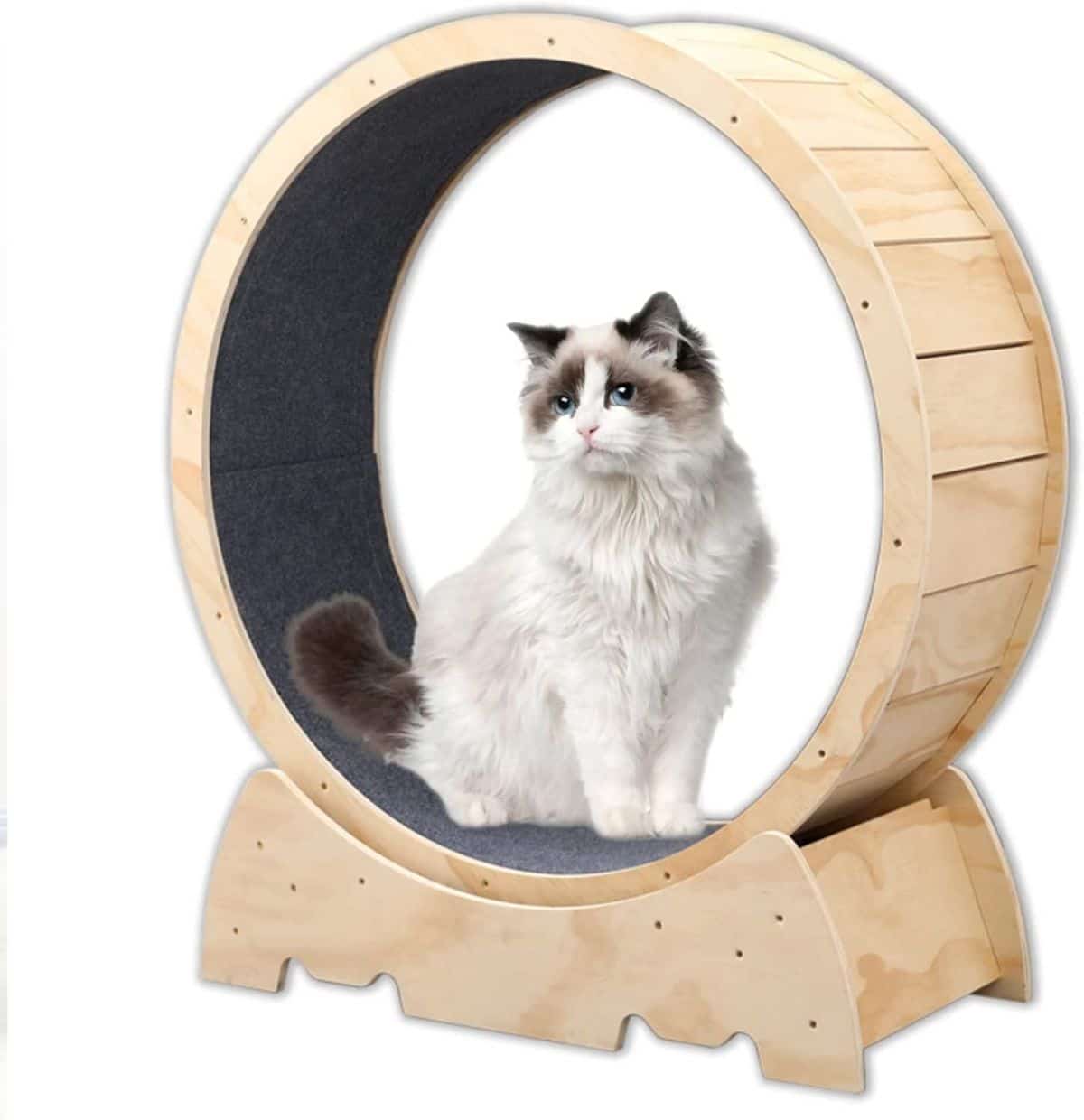 The Cat Running Wheel is another of the best toys for bored cats. Indoor cats, especially, are more prone to obesity than their outdoor contemporaries.
A cat running wheel combats that problem. Provided you leave the break off while at work, your cat can get hours of exercise and entertainment from it.
It's noise-free and easy to clean between uses. However, it can take up a considerable amount of space. It's also more expensive than any other toy on this list.
Pros:
Noise-free
Easy to clean
Provides exercise for indoor cats
Cons: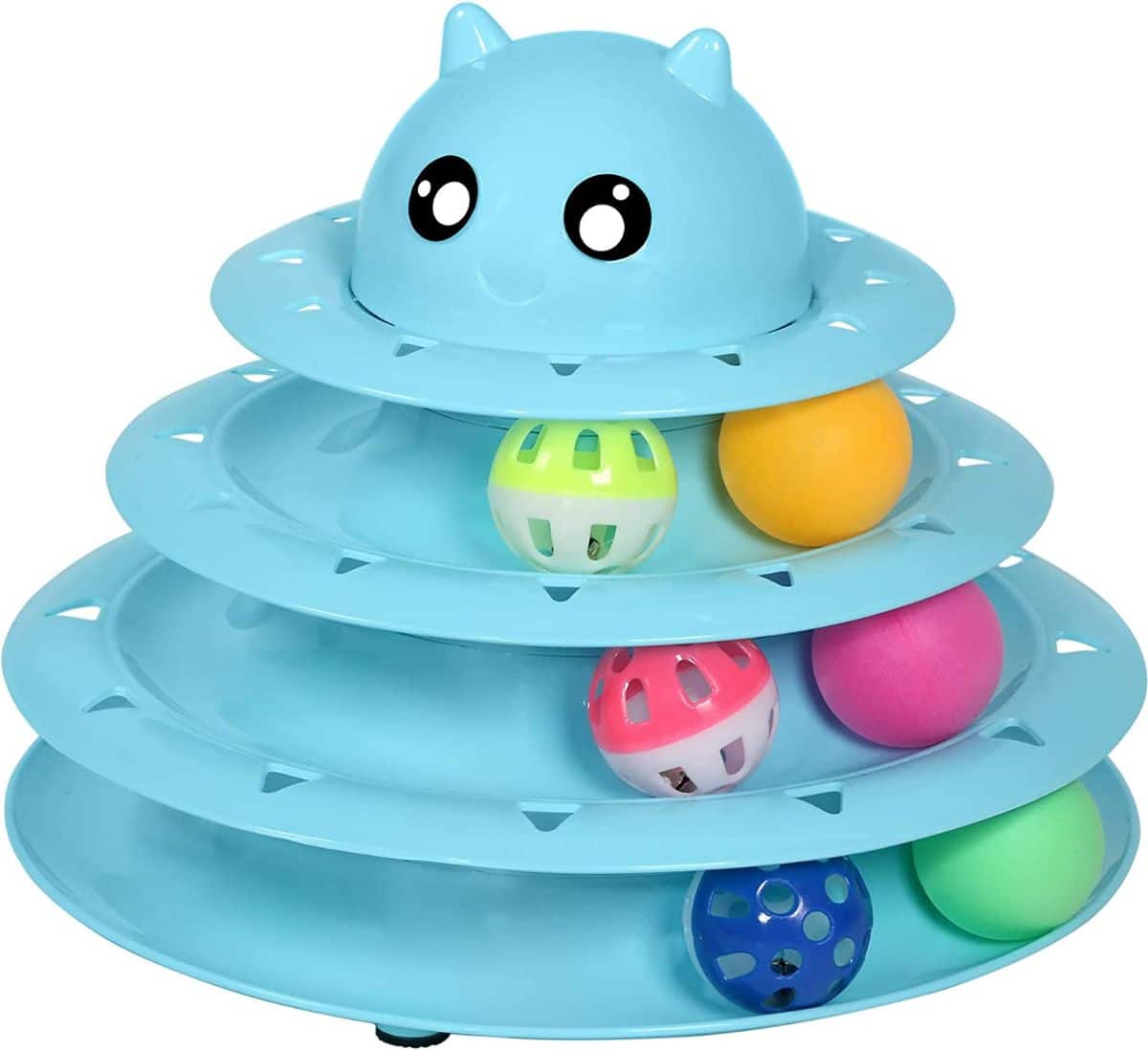 Sale
The UPSKY cat toy roller is another of the best toys for bored cats.
The wonderful thing about this ball-based toy is that all your cat needs to do to initiate play is give one of the balls a swat.
It's also ideal for multi-cat households. Several cats can use the toy simultaneously without complications. That can foster bonding between cats and encourage wrestling and socialization.
Pros:
Can be used by several cats
Balls can't fall off track or get lost
Affordable
Cons:
Bells inside ball
Requires some assembly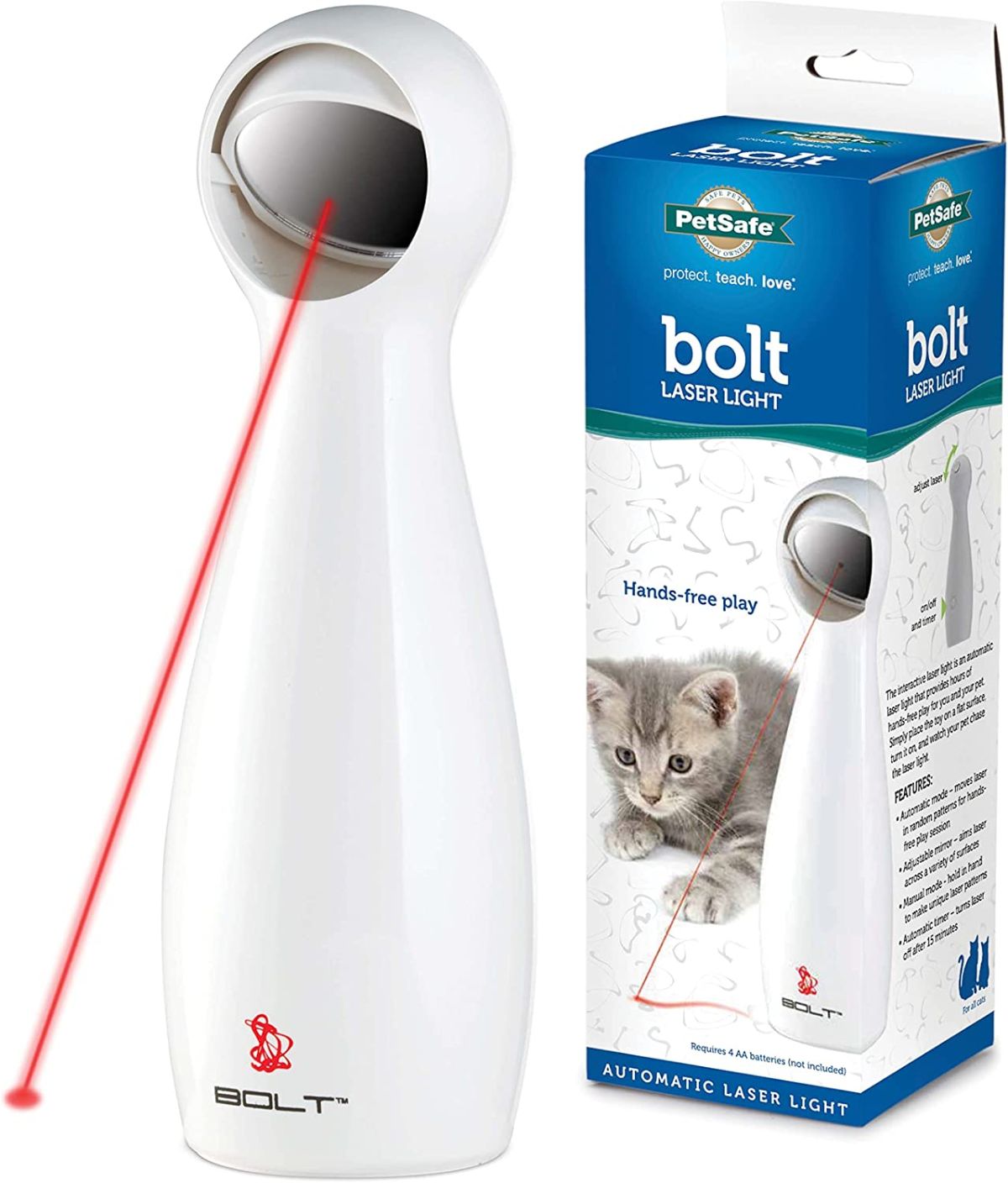 Cats love laser toys. It used to be the case that you needed to point and click a laser to make your cat chase it, but the Automatic Laser changes that.
Now all you need to do is switch it on. The laser rotates on its own, with none of the potential dangers of shining the light in your cat's eyes.
Pros:
Automated play
Opportunities for exercise
Hones hunting instincts
Cons:
Battery powered
Cats may get frustrated that they can't catch the laser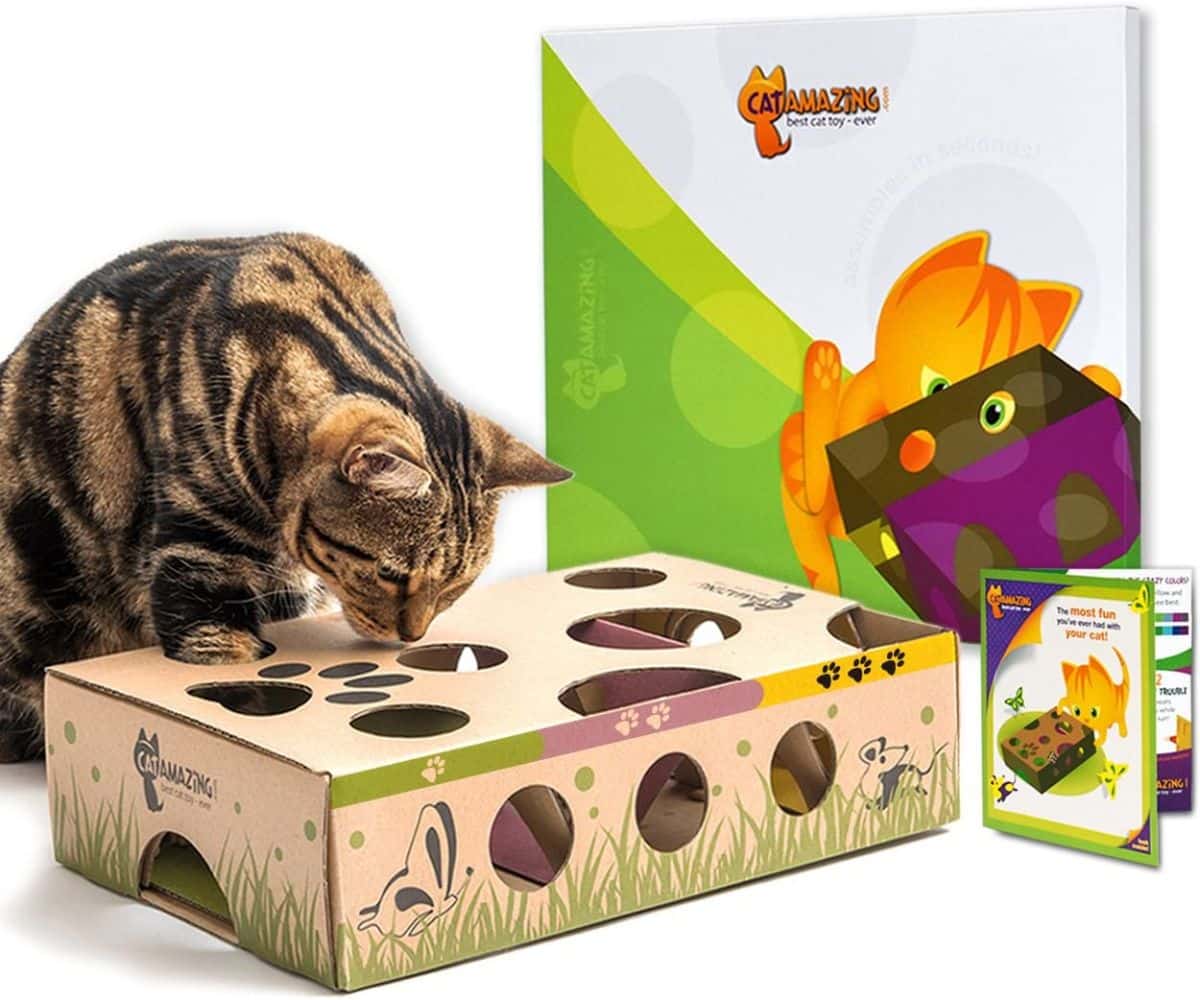 The Interactive Treat Maze is another variation of the puzzle toy. You can fill it with toys, treats, or catnip and keep your cat entertained for hours.
The openings are big enough for a cat to stick their paws in but small enough to offer some challenge. It's an excellent way to provide environmental enrichment for bored cats.
Pros:
Alleviates boredom
Affordable
Can be used by multiple cats at once
Cons:
May not survive aggressive chewing
Inquisitive cats may try to climb into the box and become trapped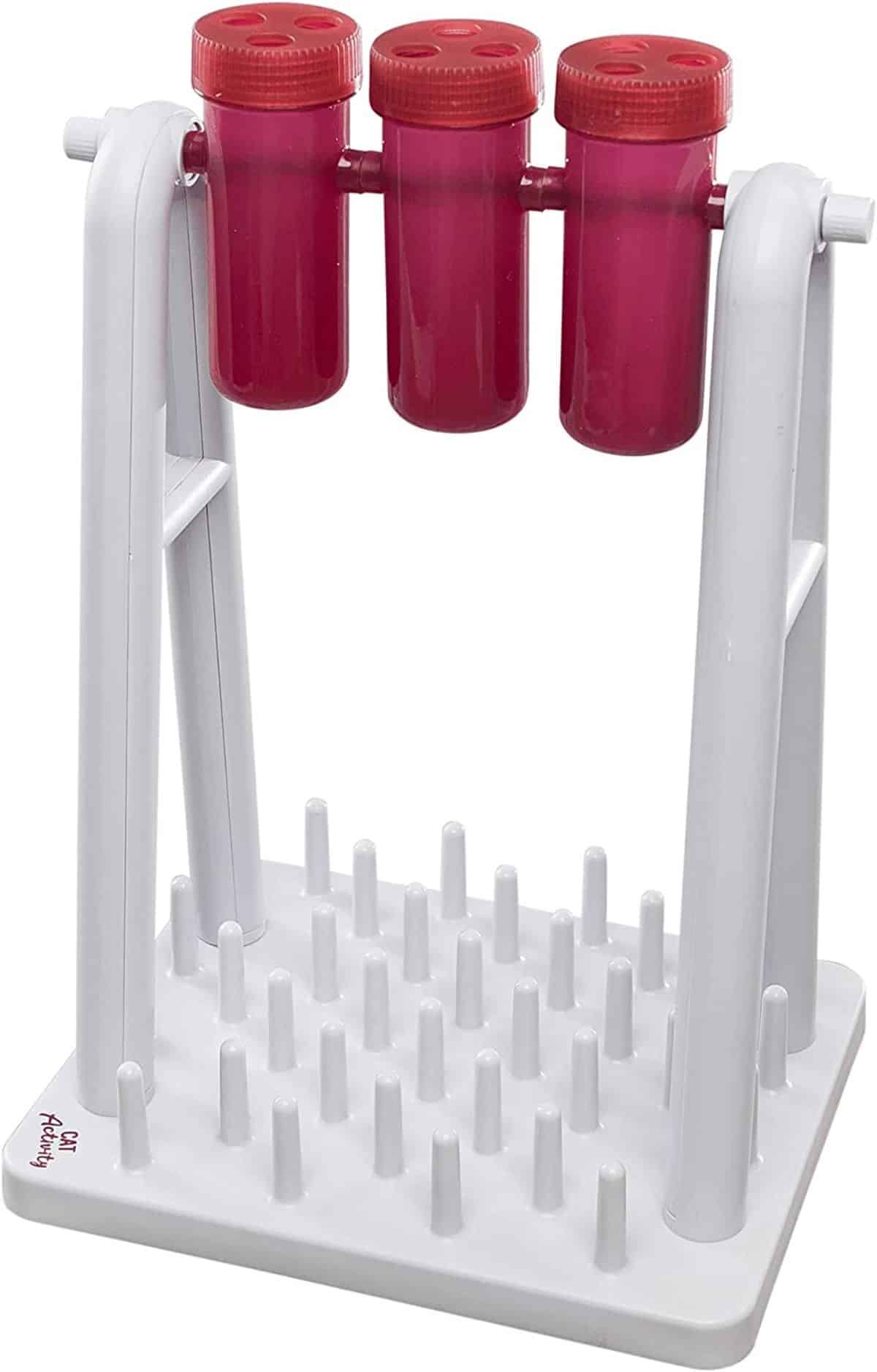 Trixie does some excellent puzzle toys. This one, shaped like a test-tube set, doubles as a slow feeder.
It offers several levels of challenge for cats of all abilities. It also reduces boredom and weight gain by forcing your cat to gobble its treats slowly.
Pros:
Slow feeder as well as toy
Various levels of puzzle
Can be used by several cats
Cons:
Somewhat complicated assembly
Certain puzzle levels may be too difficult for a cat without training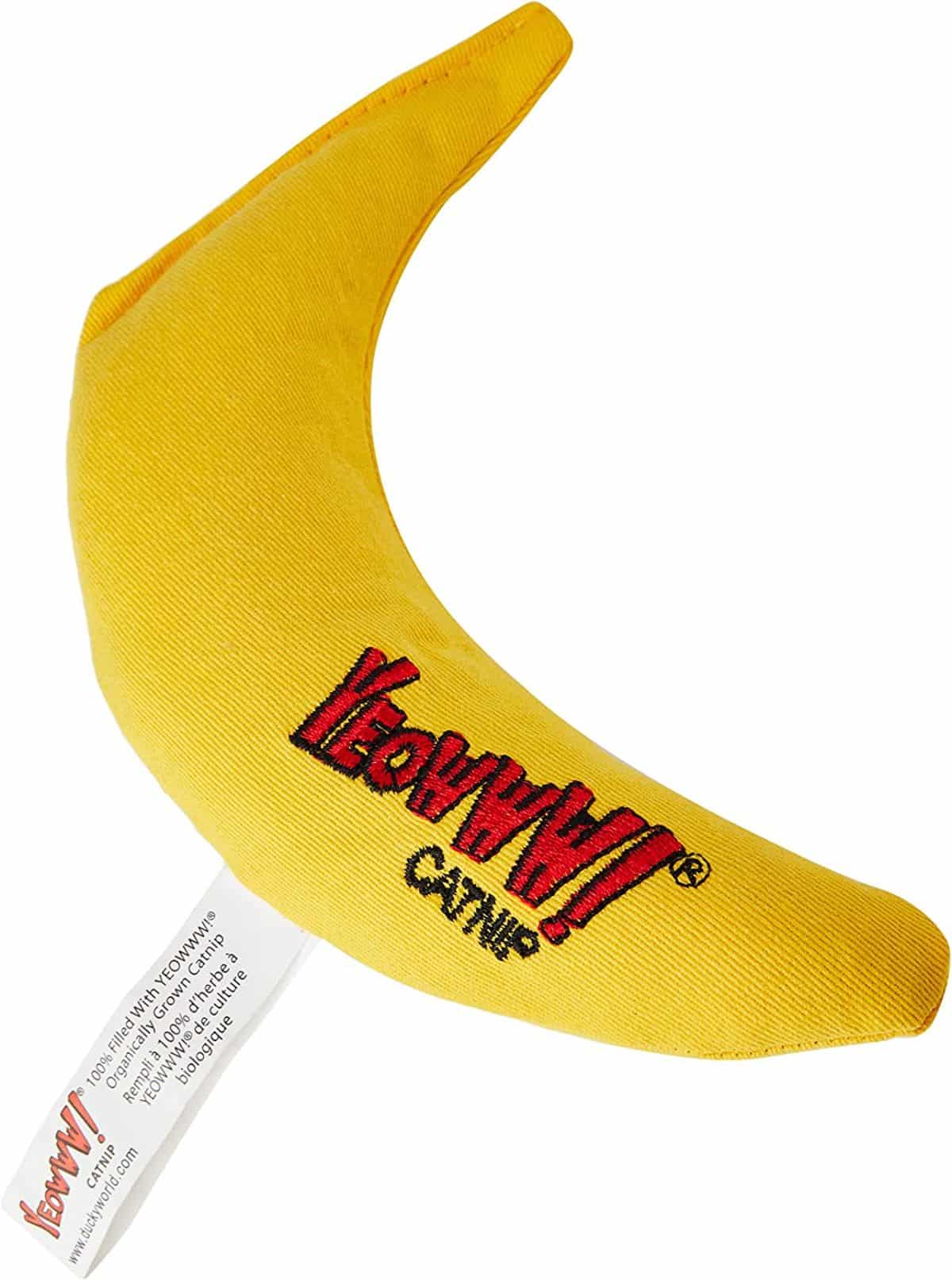 Sometimes the best cat toys for bored cats don't have to be complicated. Yeowww! Catnip Banana kicker is a fantastic example.
It's packed with high-quality, potent catnip that should appeal to the most indifferent cat. When the catnip lessens, spray it with your favorite catnip spray, and your cat will resume playing.
Pros:
Affordable
No choking hazards
Durable
Cons:
Not refillable
Difficult to wash
Cat climbing trees are another way to entertain your cat and add vertical space to its environment.
This cat climber offers various vantage points to surveil territory. There's also:
A cube for cave-loving cats
Hammock for sleeping
Dangling lures for independent play
Pros:
Enriches cat's environment
Provides several sleeping/lounging spaces
Includes toys for independent play
Cons:
Takes up space
Assembly required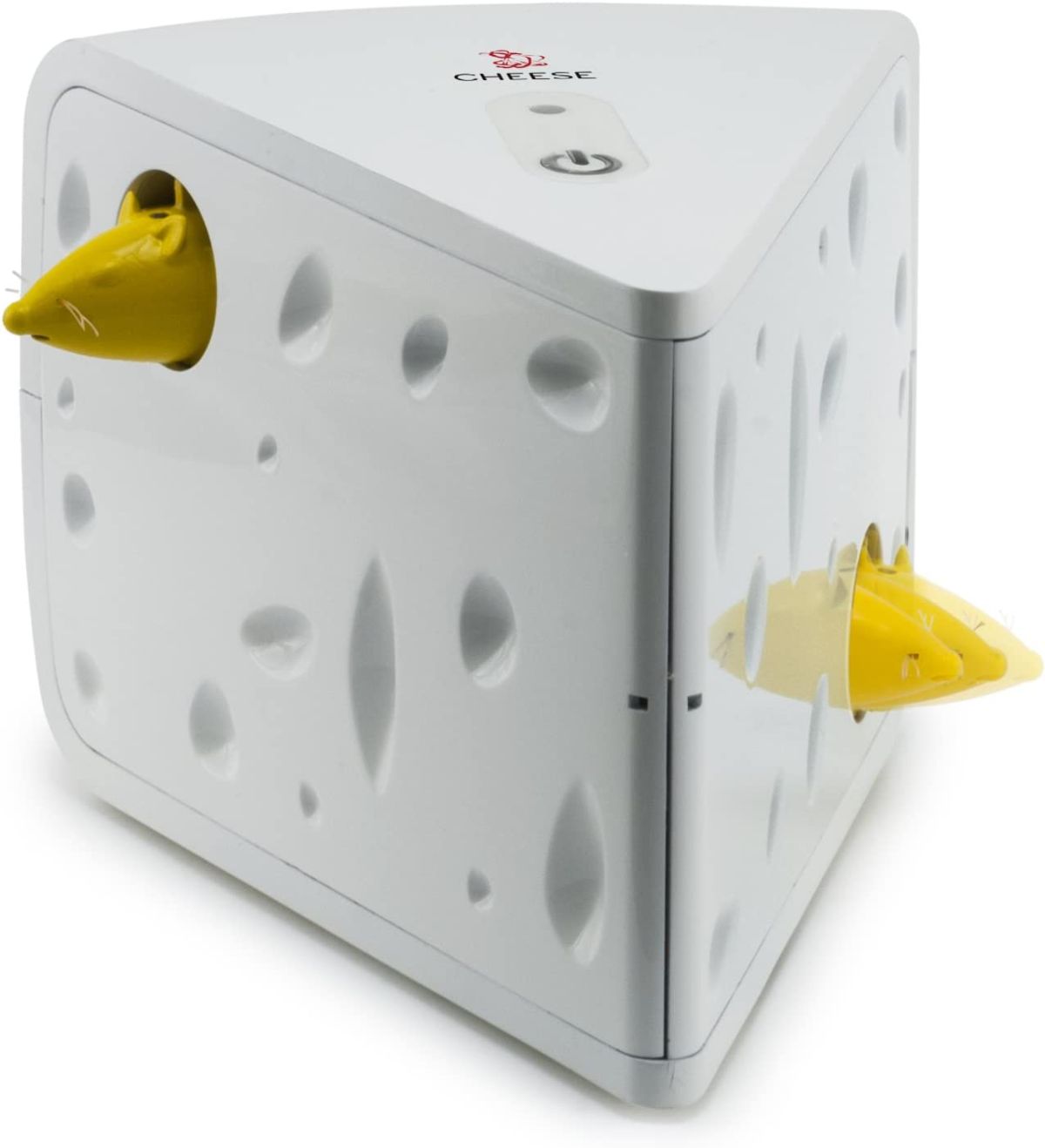 This whimsical cat toy features a mouse that autonomously pokes out from a cheese-shaped block.
The mouse operates on a timer to keep your cat guessing and nurture their hunting instincts.
It's also available in several other models, including a robotic rat and a peek-a-boo-style bird.
Pros:
Several styles to choose from
Automated timer makes play unpredictable
Works without human interaction
Cons:
Batteries necessary but not included
Mouse replacements are hard to find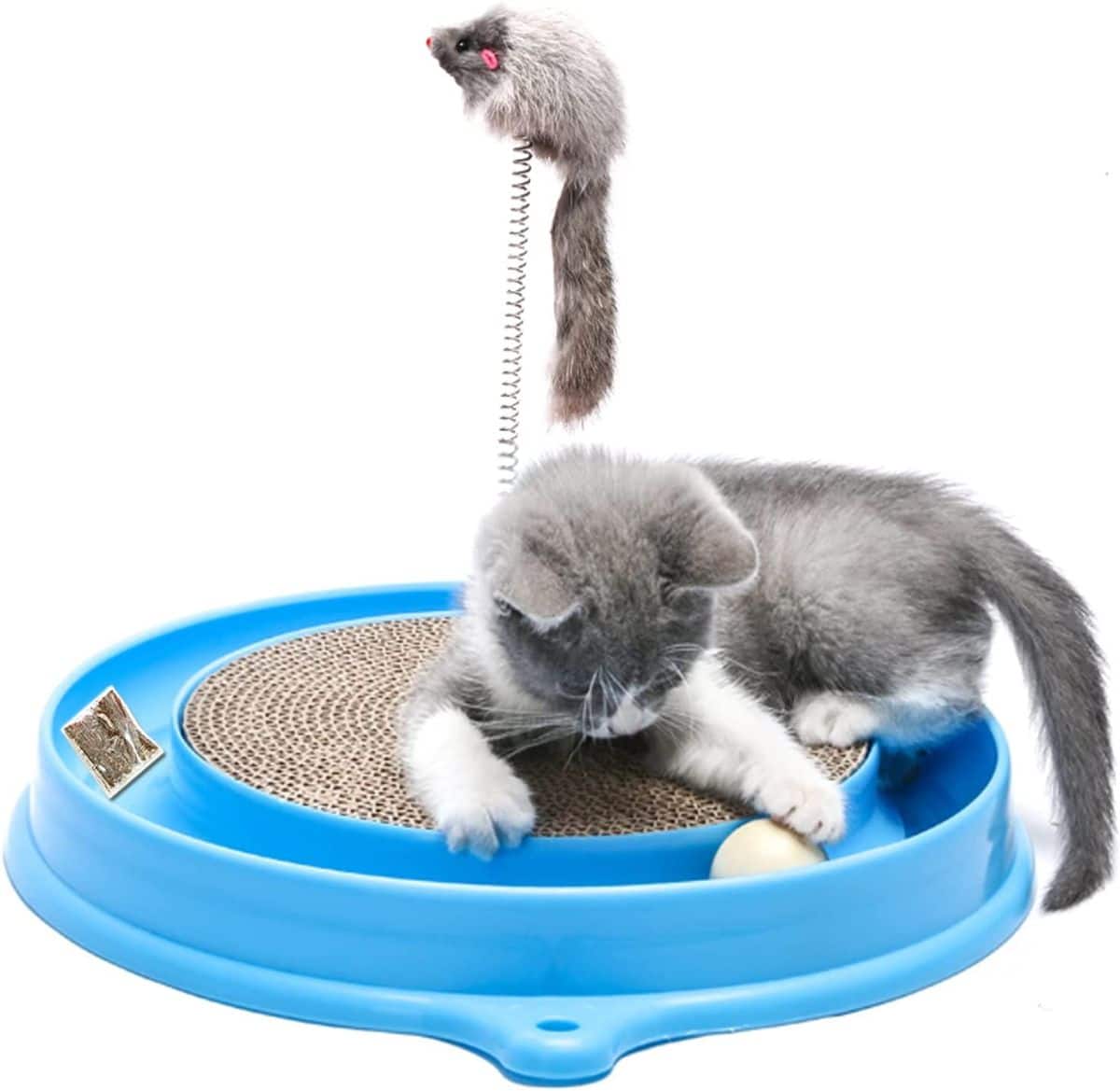 Sale
One of the reasons Scratch-and-Roll makes one of the best toys for bored cats is that it's multipurpose.
It features a central cardboard scratching post and an exterior ring with a ball. The ball can be batted to stimulate prey instincts, while the scratching post encourages scratching something besides your furniture.
Pros:
Affordable
Multipurpose
Ball doesn't rattle/jingle
Cons:
Requires some assembly
Ball hard to replace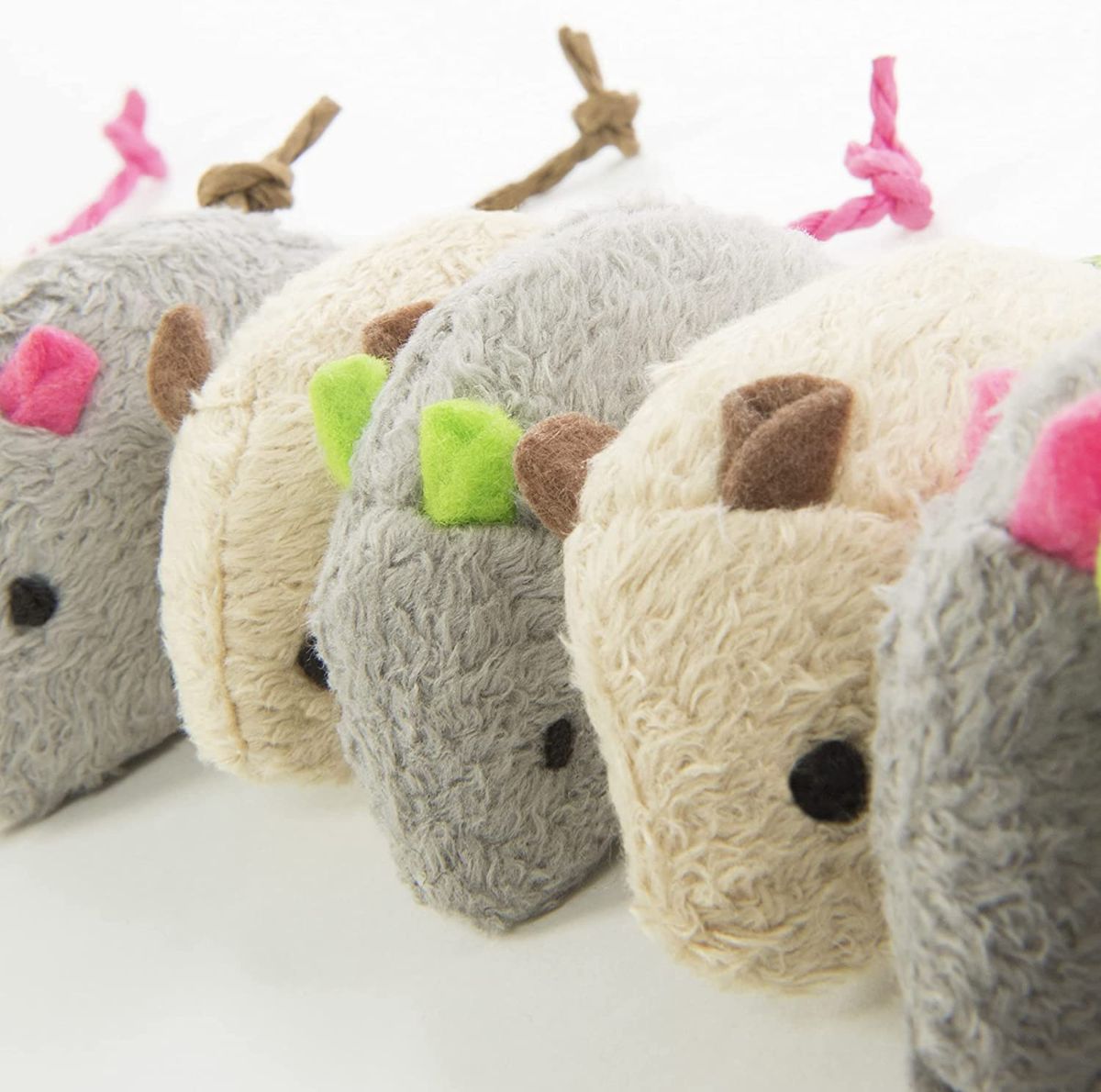 Catnip mice are a staple of the cat entertainment roster. SmartyKat's mice are free of choking hazards.
They are full of potent catnip designed to encourage your cat to play and wrestle with colorful mice.
Pros:
No choking hazards
Affordable
Multi-sensory appeal
Cons:
Not all cats respond to catnip
Catnip degrades with time and needs spraying to keep your cat continually interested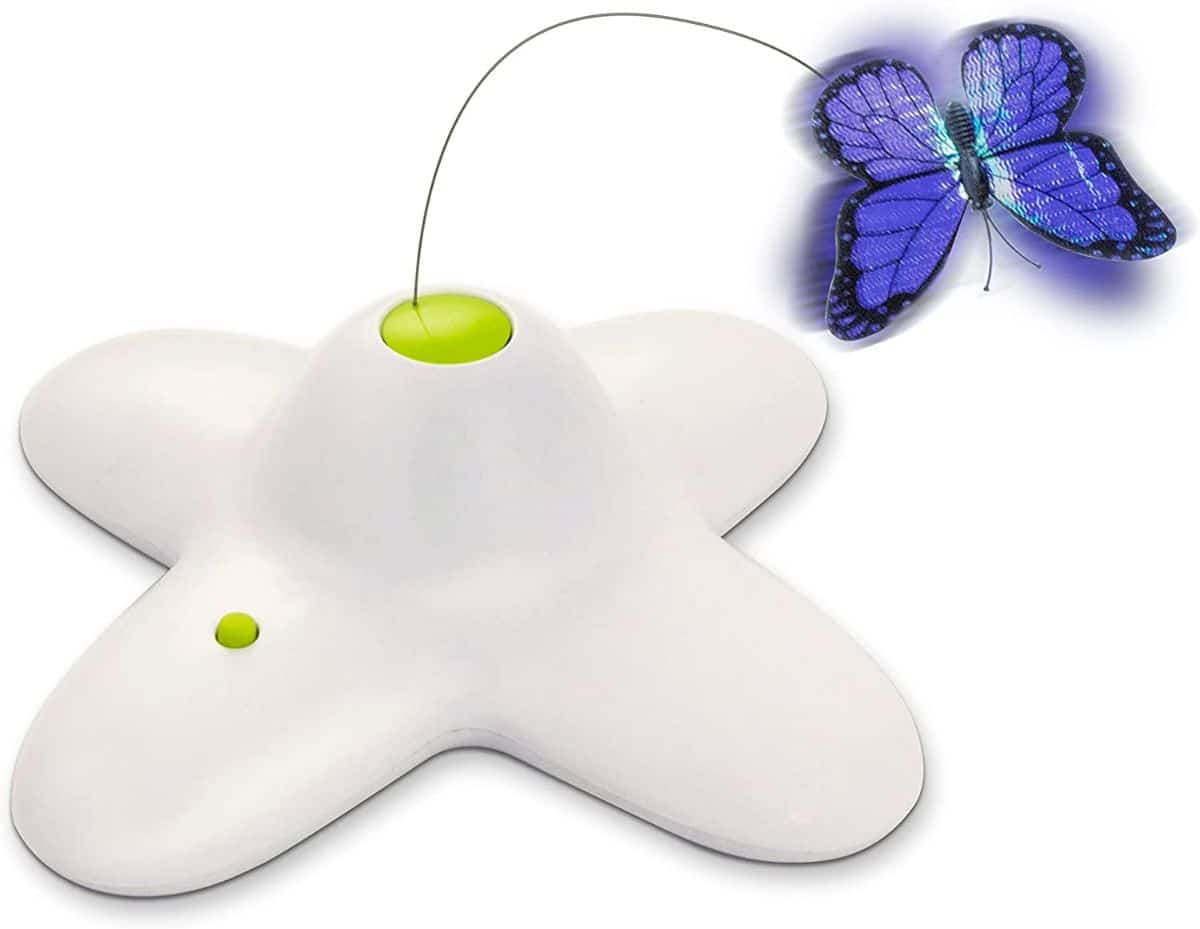 There are two versions of the Flutter Bug cat toy, and both are among the best cat toys for bored cats.
One uses a charger and integrates a ball tower for more play options. The other is battery-powered and only features the automated butterfly.
Both rotate the butterfly at various speeds, providing your cat with an opportunity to exercise and indulge their hunting instincts.
Pros:
Several models available
Butterfly turns at several speeds
Affordable
Cons:
Butterfly too fast for some cats
Batteries not included
Frequently Asked Questions
Still looking for the best cat toy for bored cats? Here are other questions people ask about finding the right toy for their favorite feline.
What are the most stimulating cat toys?
The most stimulating cat toys encourage hunting behavior. Cats have a high prey drive and love to indulge it by chasing or wrestling imaginary prey. Ideal toys include:
Catnip mice
Robotic mice
Automated fishing-pole-style toys
What is the best toy to keep a cat busy?
The best toy to keep your cat busy depends on its taste. Some cats respond to catnip, and others to flashing lights. Experiment with a wide selection of toys to discover which your cat likes best.
How do I keep my cat entertained while at work?
Toys are a fantastic way to keep your cat entertained while you're away at work. Automatic toys that can be used without supervision and contain no choking hazards are fantastic - and even better are things like cat towers, which provide hours of entertainment just with your cat and their energy and imagination!
Conclusion
Most cat owners choose between having cats or good-looking furniture. The best cat toys for bored cats strive to give you both. They offer hours of entertainment and divert your cat from clawing the furniture, wrestling the rug, or knocking stuff off of high shelves.
And because they range from automated toys to catnip mice, there's something out there to entertain every cat's tastes.